Do you feel like you are constantly fighting for space in your small bathroom? If so, you are not alone. Many people find themselves struggling to make the most of a cramped bathroom.
However, it is possible to maximize your storage space and create a functional and beautiful bathroom retreat with a bit of creativity.
With the right design, it is possible to have storage space in even your smallest bathroom.
For example, try using shelves (ensure you don't overload) and drawers underneath the cabinet. Also, keep baskets available for round objects like coasters and toiletry hairbrushes that will tuck away nicely when not in use.
Are you looking for more clever storage solutions to maximize your small bathroom organizer? Here are 20 creative small bathroom storage ideas that will make your space feel twice as big.
1. Simple Small Bathroom Organizer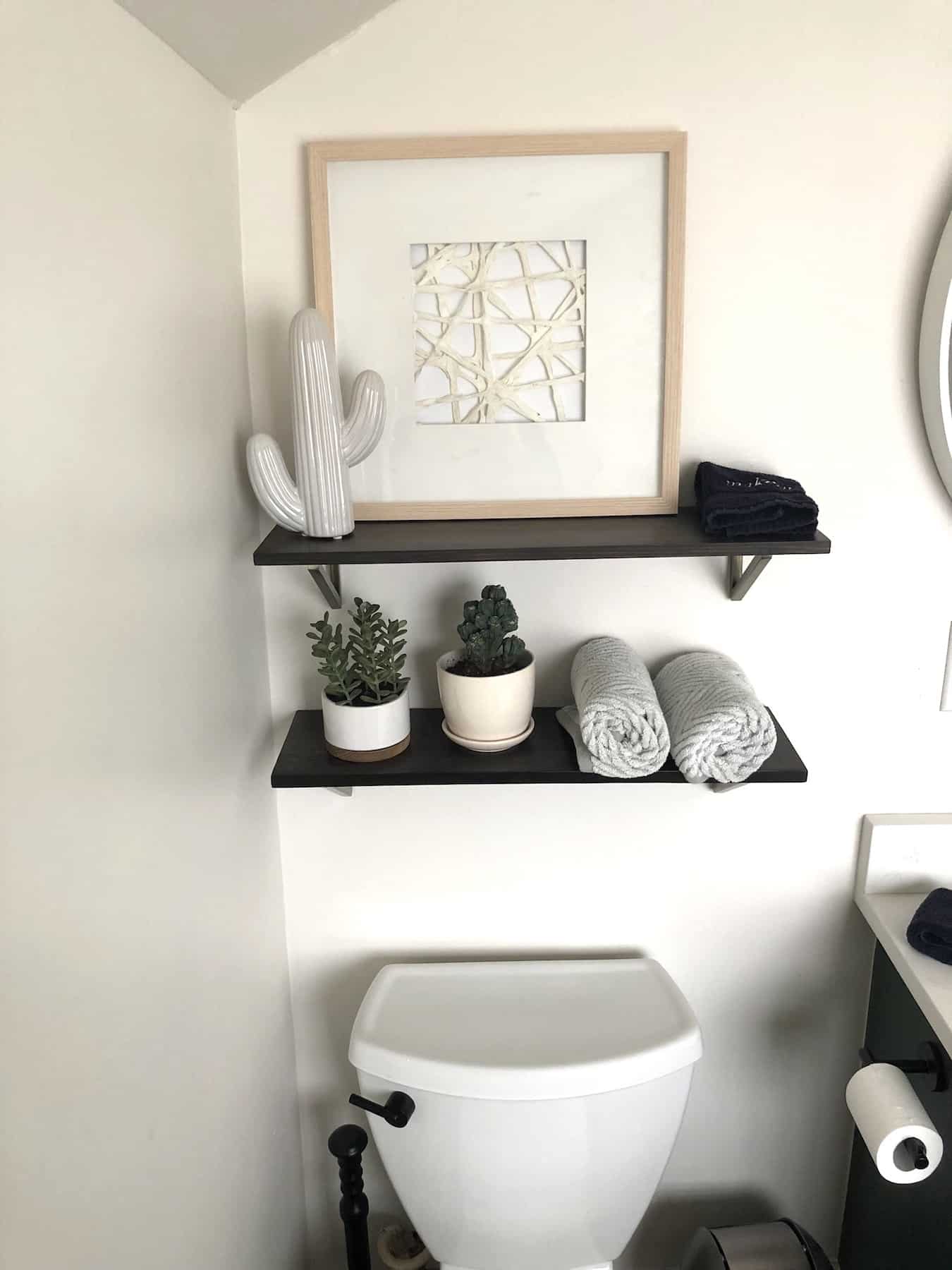 The wooden board can be the best option if you want everything to be done effortlessly. Let the wood expose its natural color and its pattern.
You will be amazed at how much difference these small changes can make in your bathroom. Plus, the board can be used to store toiletries or other items, making it a practical addition to your bathroom. So if you're looking for a simple way to give your bathroom a makeover, consider investing in a wooden board.
2. Minimalist Small Bathroom Storage Ideas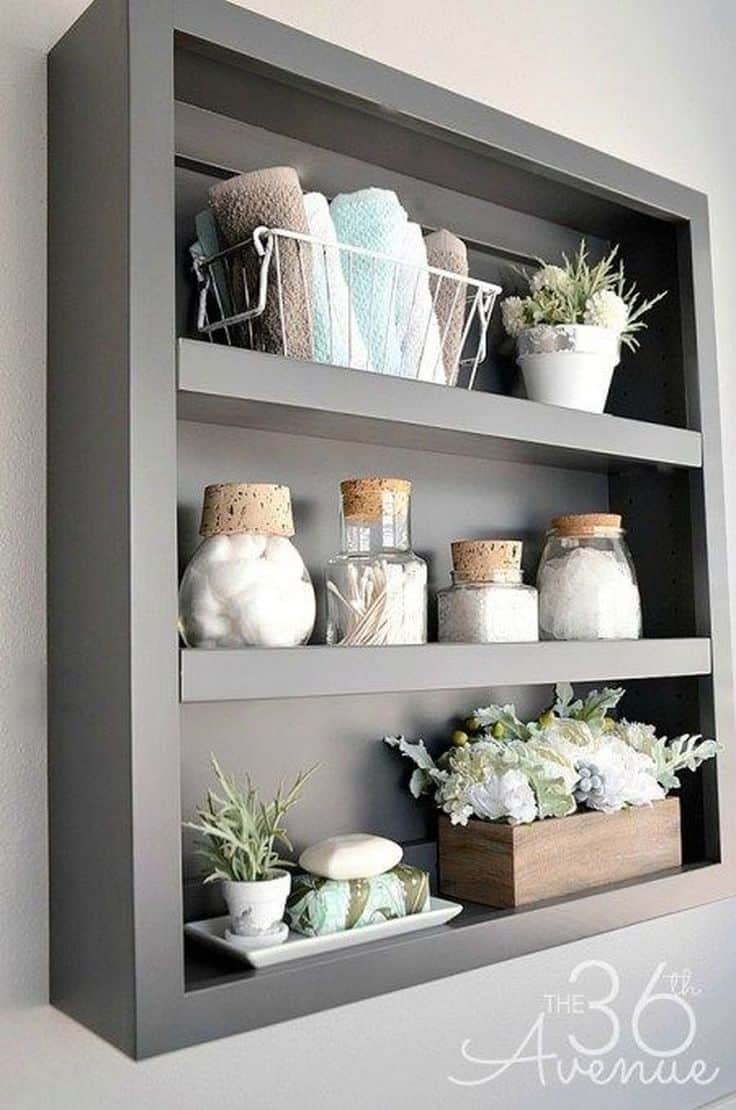 If you're tight on space and want to keep things as minimalistic as possible, consider using small, clear jars or containers to store items like cotton balls, Q-Tips, and other small bathroom necessities. You can even label them, so you know exactly what's inside.
Another great way to save the bathroom space is by hanging things up instead of storing them on surfaces. Towels, robes, and other items can be hung on hooks or racks to free up space. You can also use over-the-door organizers for things like hair dryers, curling irons, and other appliances.
3.
DIY
Small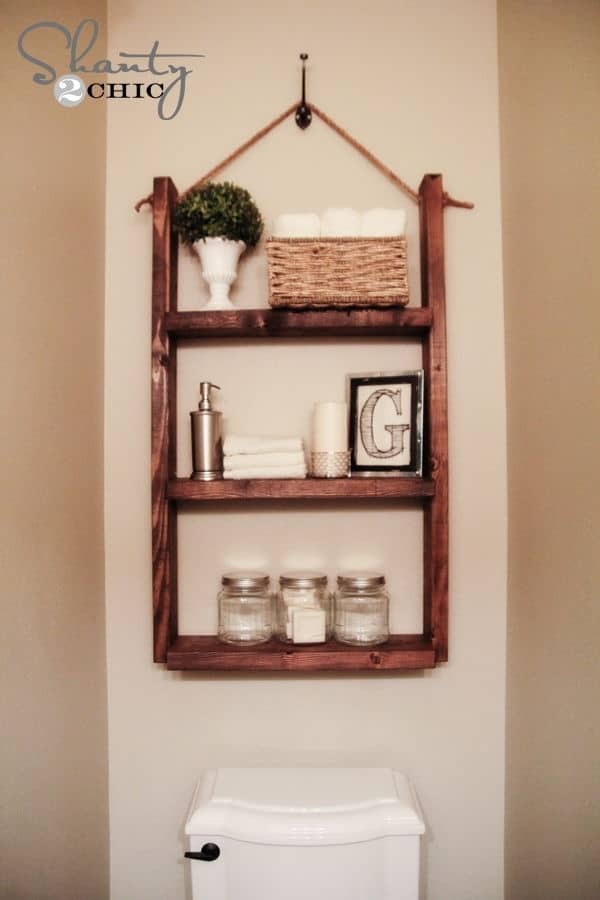 There's no need to put up with clunky, unnecessary furniture in your small bathroom wall. With the clever idea of using hanging storage instead and saving space, you can finally have all that luxury without taking over what little is left.
What you will need:
1 – 2x4x8 whitewood or pine board
1 – 2x6x8 whitewood or pine board
Kreg Jig
Wood screws
Gorilla Wood Glue
Sisal Rope
Hook
Consider using mason jars to organize small items like cotton balls and swabs. Add a touch of beautiful accent through the potted plants or some simple decorative pieces.
4. Under Sink Small Bathroom
Organization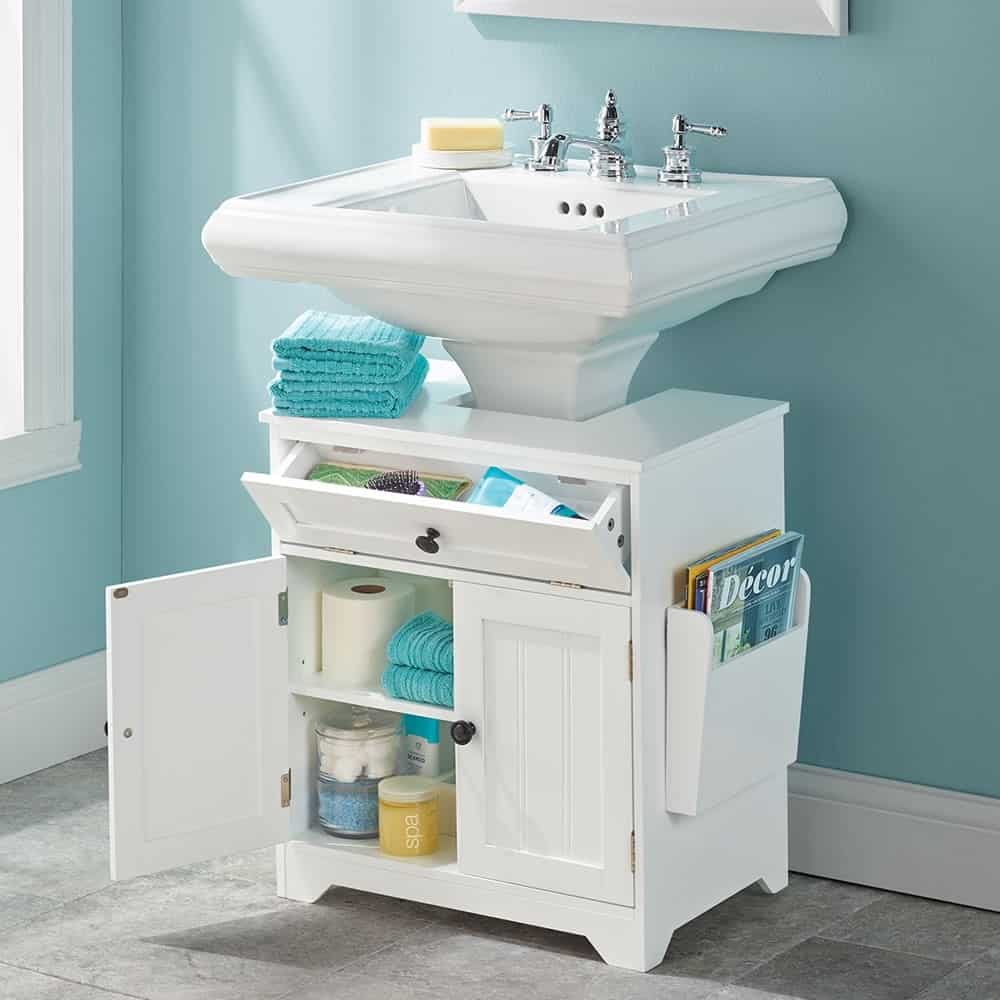 This compact bathroom cabinet will organize every single thing in your bathroom as well, which will be such a storage solution. So there is nothing to worry about having lots of stuff in the bathroom, even if the space is limited. The plenty of free space offer you to make it as a medicine cabinet as well.
The cabinet is made of wood, which means that it is durable and will not easily get damaged. You can choose between white or oak finish to perfectly match your bathroom style.
5.

Small
For Towels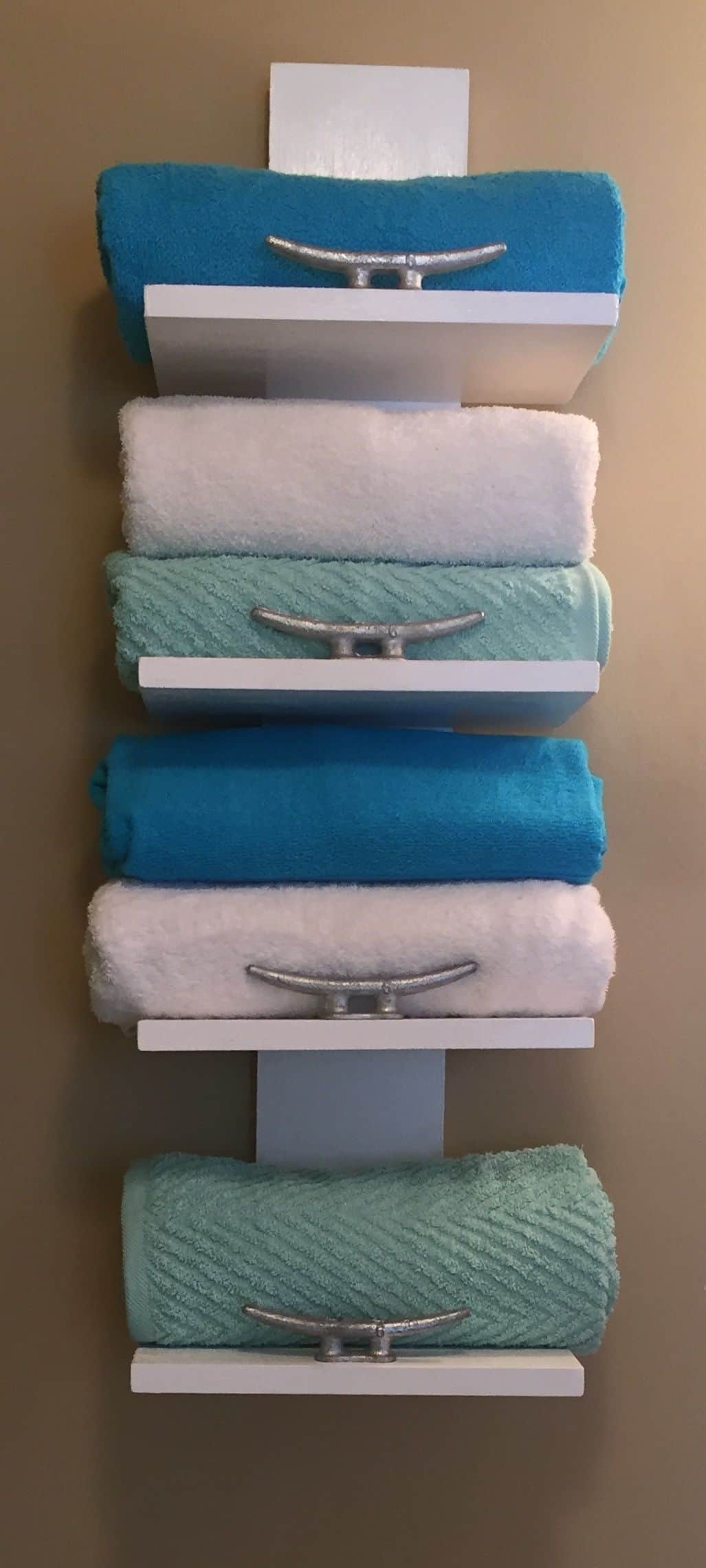 Towels take up a lot of space, and they're often left out in the open, taking up valuable space that could be used for other things.
One option is to hang them on a towel rack or bar. This will keep them off the floor and out of the way, but they'll still be within reach.
This open shelf helps you to deal with the small bathroom, while also accommodating the towels tidy.
6. Small Open Shelf For Toiletries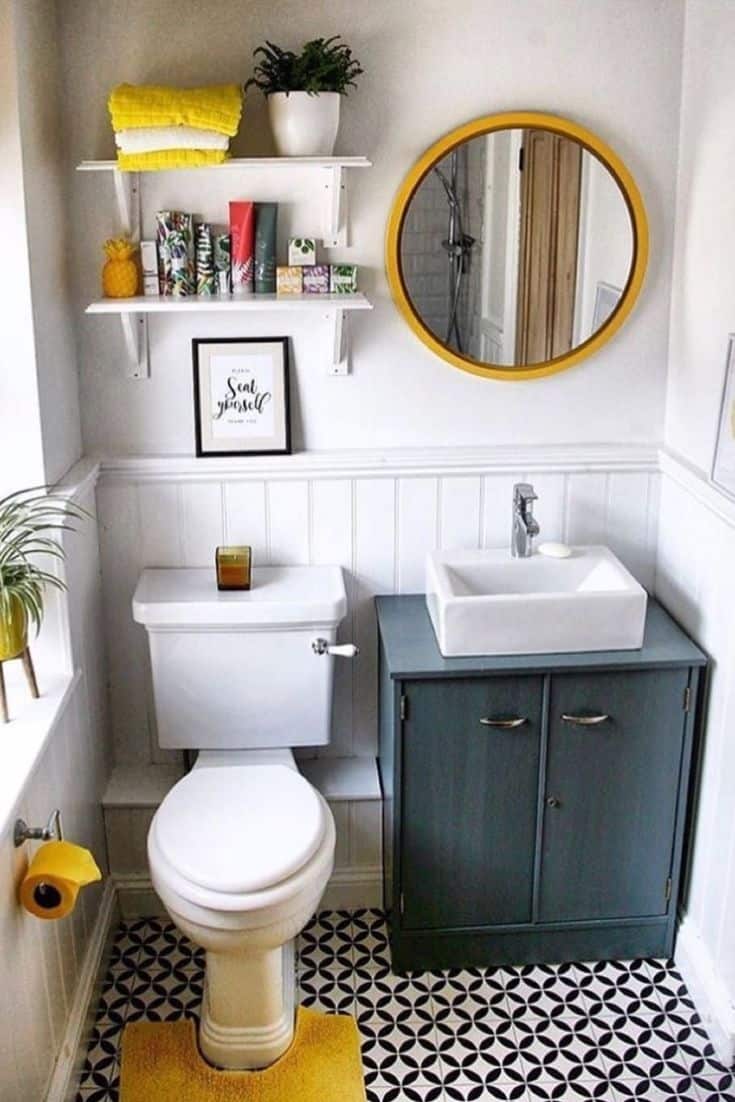 Say goodbye to your messy toiletries once you install this small bathroom storage. It is a very clever way to keep all of your items in place and easy to grab when you need them.
Install a small cabinet or floating shelf near the sink for toiletries like toothbrushes, toothpaste, razor, shampoo, conditioner, and soap. If there's no space near the sink, install one on the wall opposite it. This tiny bathroom storage idea is constructive if you have a small bathroom.
7. Small Bathroom Storage Ideas for Linens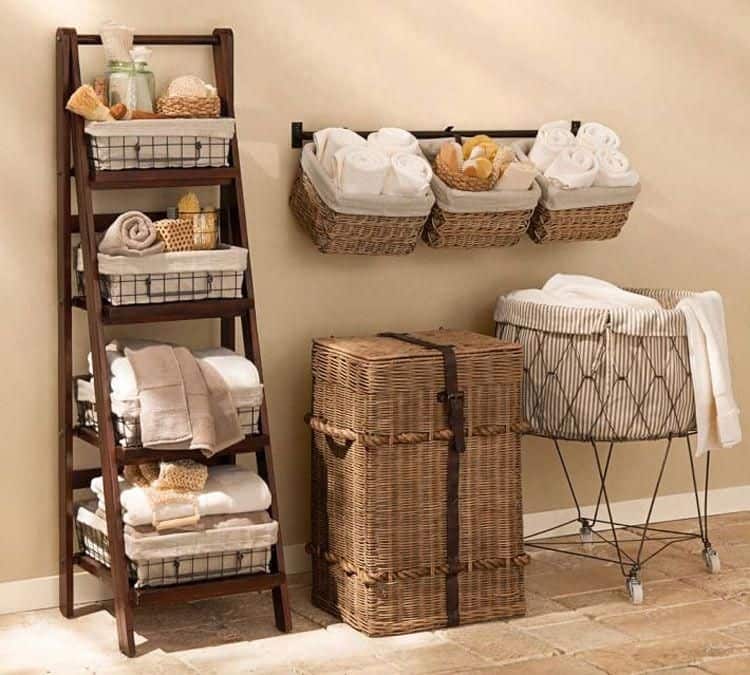 If you have a small bathroom, finding storage space for all of your linens can be a challenge. Baskets are a great way to store towels and other linens. You can hang them or stack them.
If you have a lot of linens, use multiple baskets to store them. This will keep them organized and easy to find. You can also use baskets to store other bathroom items such as toiletries and cleaning supplies. Organize the baskets on this bathroom shelf.
8. Rustic Small Bathroom Storage Ideas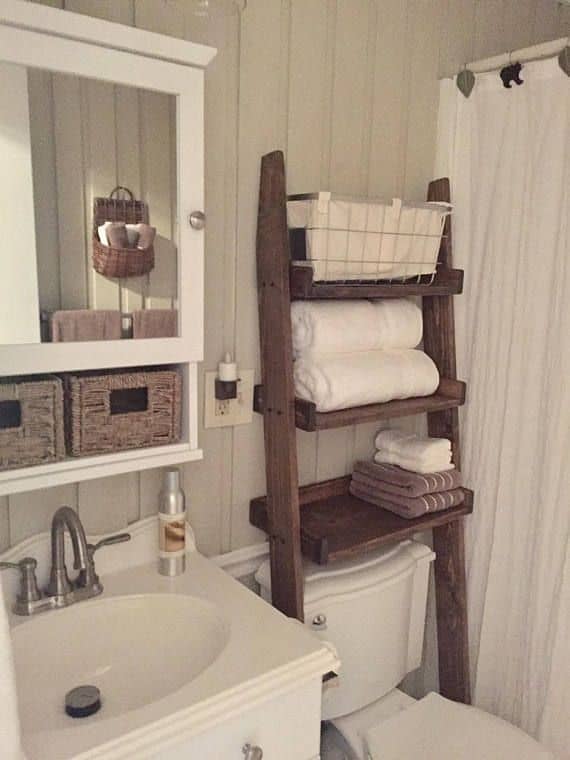 Create small bathroom storage ideas with rustic charm without lots of things to do and spend much money. A small ladder can easily be repurposed into a storage ladder.
Other than that, add some hooks to add extra space to store your items. Finally, you've got yourself a stylish and unique towel rack that won't take up much space.
9. Farmhouse Small Bathroom Storage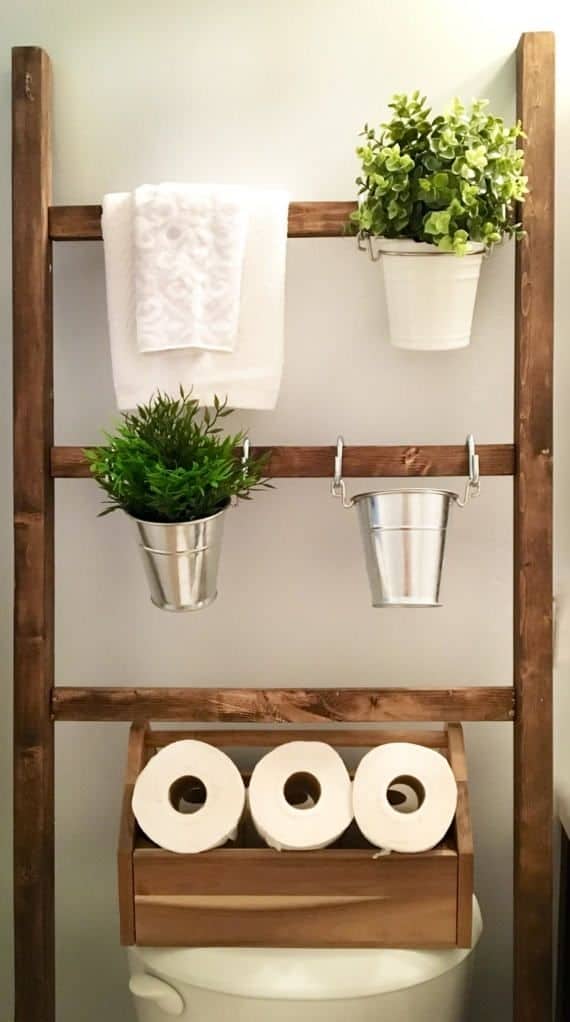 The farmhouse style can easily be created by this wooden material that exposes its natural look and highlights the aged look.
The small bathroom storage ideas with farmhouse style can be used using wooden crates. The crates will be perfect for storing the small toilet paper and giving the room more texture. You can also use the dowel that works functionally as the natural towel bar you will love.
Add the touch of the fresh atmosphere through the faux potted plants.
10. Upcycled Baskets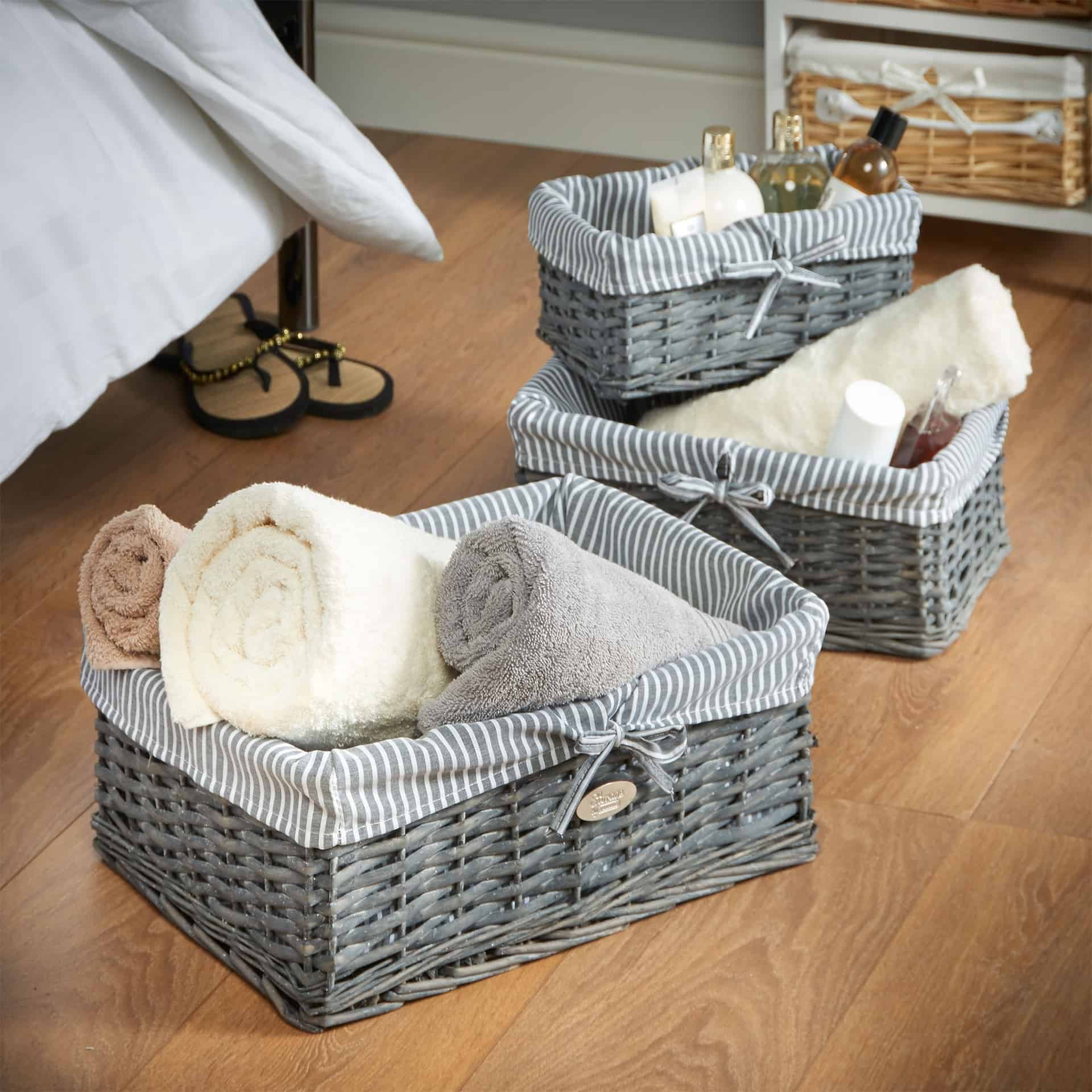 However, if you are on a tight budget while also wishing to have a clean and tidy bathroom, you can create this storage. You will need some old boxes or baskets and a small amount of fabric. If you have any extra fabric lying around, give it a try.
Cover the boxes or baskets with the fabric to hide them and store your items inside. Consider choosing the fabric that beautifully blend with the natural basket to create an aesthetically pleasing bathroom organizer.
11. Recycled Bathroom Organization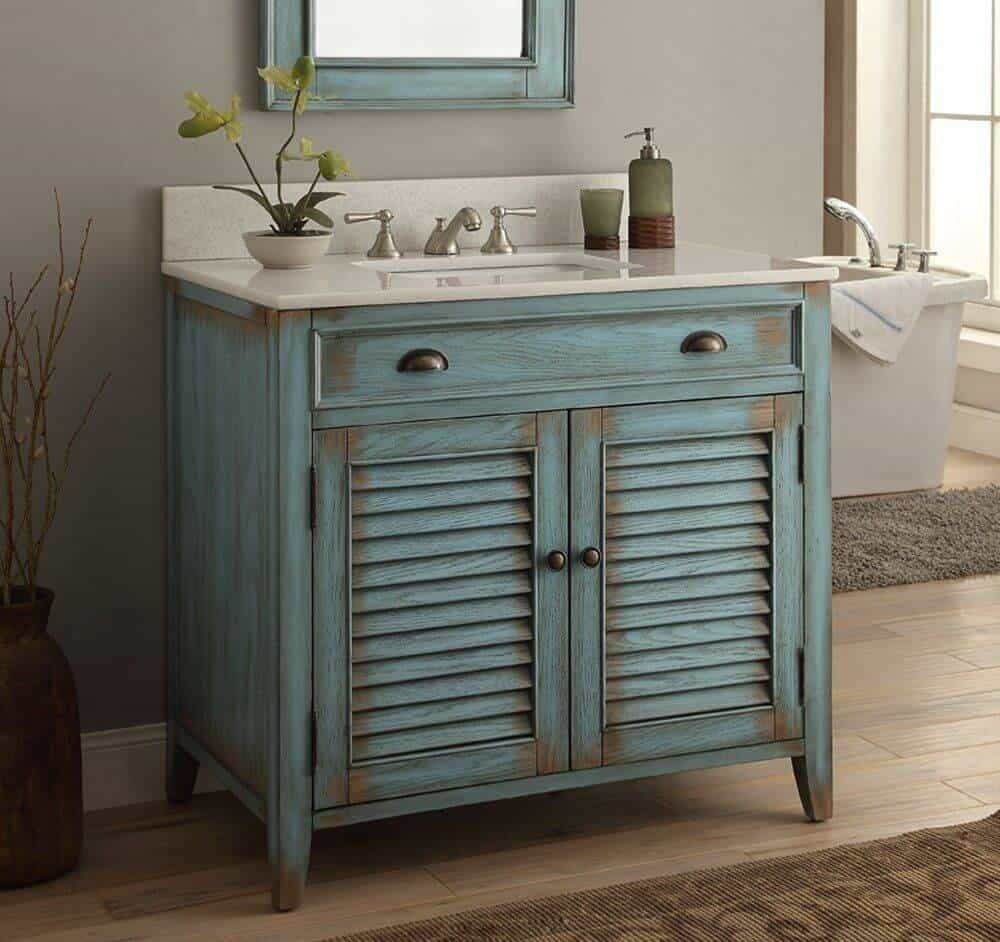 Instead of throwing away old drawers, consider transforming them into something more versatile. For example, in a small bathroom, you can use the repurposed space underneath an existing dresser or vanity mirror to hold your items and keep everything organized tidy.
The distressed finishing creates a farmhouse design that seamlessly melts with the framed mirror above it. With the white countertop, it becomes a focal point in the room and provides extra storage without taking up valuable floor space.
12. Stylish Shelving Unit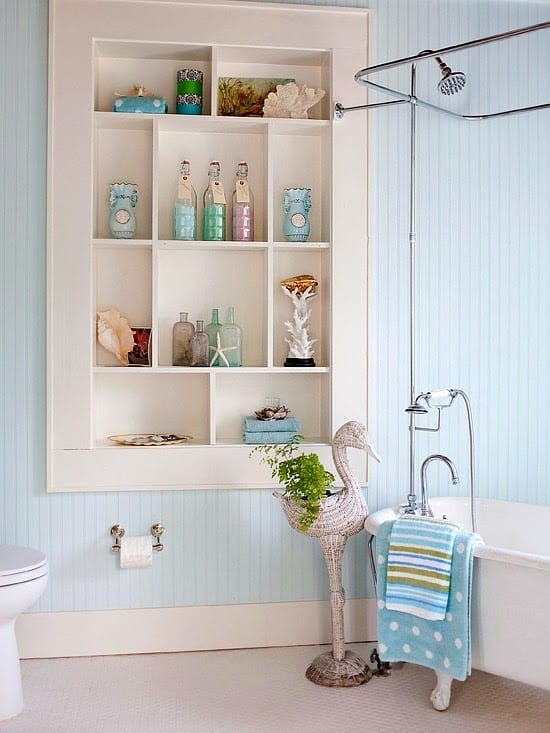 Installing a storage solution for your bathroom goods is the perfect way to make sure that you don't have any clutter cluttering up space in there.
The nautical decorating pieces are especially great because they'll look so good on top of this maritime-themed stuff, too. It is also perfect if you have to deal with the small space.
13. Use The Wooden Material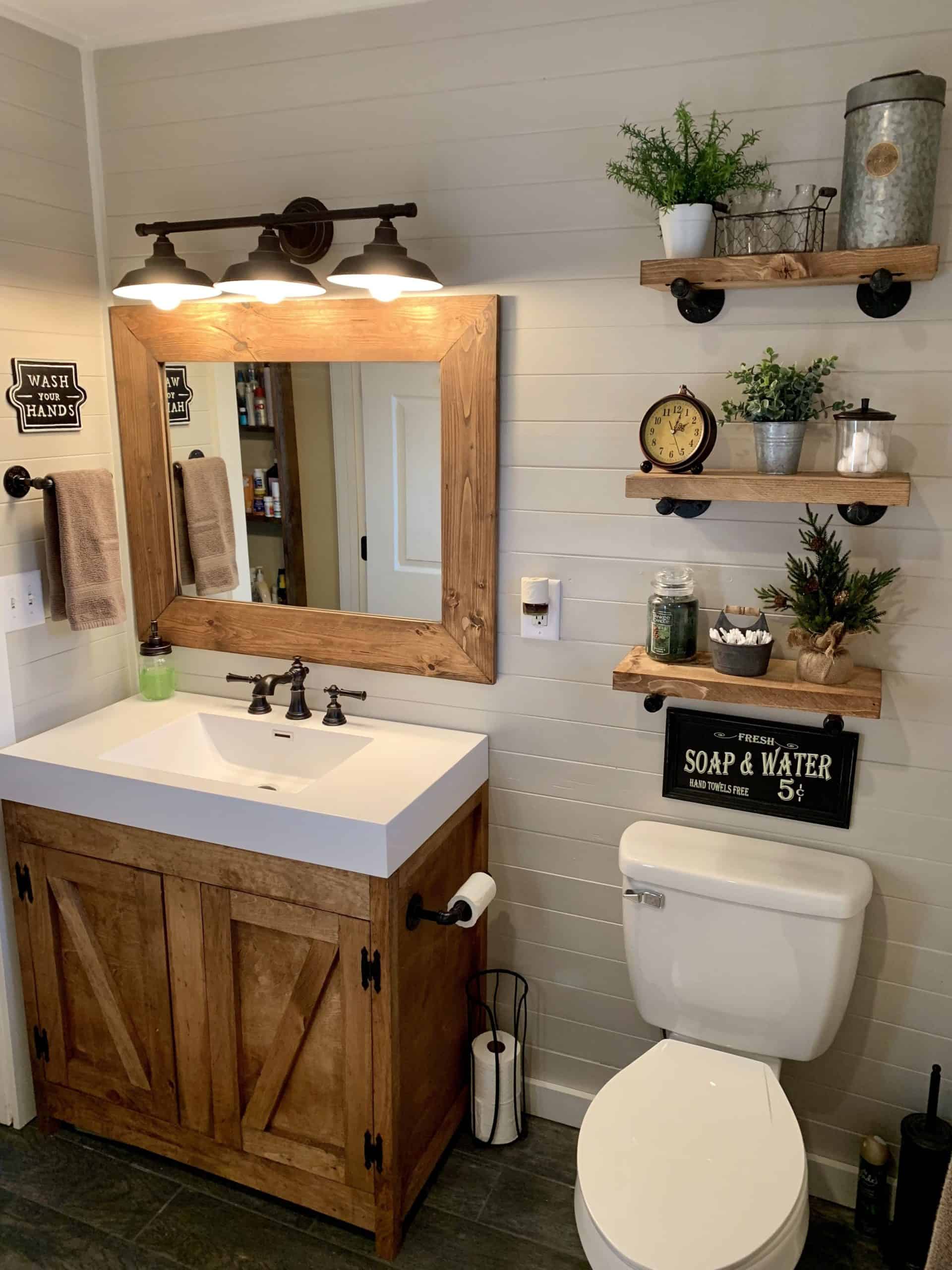 You can either use an existing piece of furniture or have a carpenter create something specifically for your needs. For example, there are many different ways to use wood as small bathroom storage, from open shelving to closed cupboards.
If you choose to have a carpenter create something, be sure to tell them the dimensions of your bathroom and what you need to store.
The wall-mounted towel rod installation will help you reach the hand towel way much more practical.
14. Plastic Small Bathroom Storage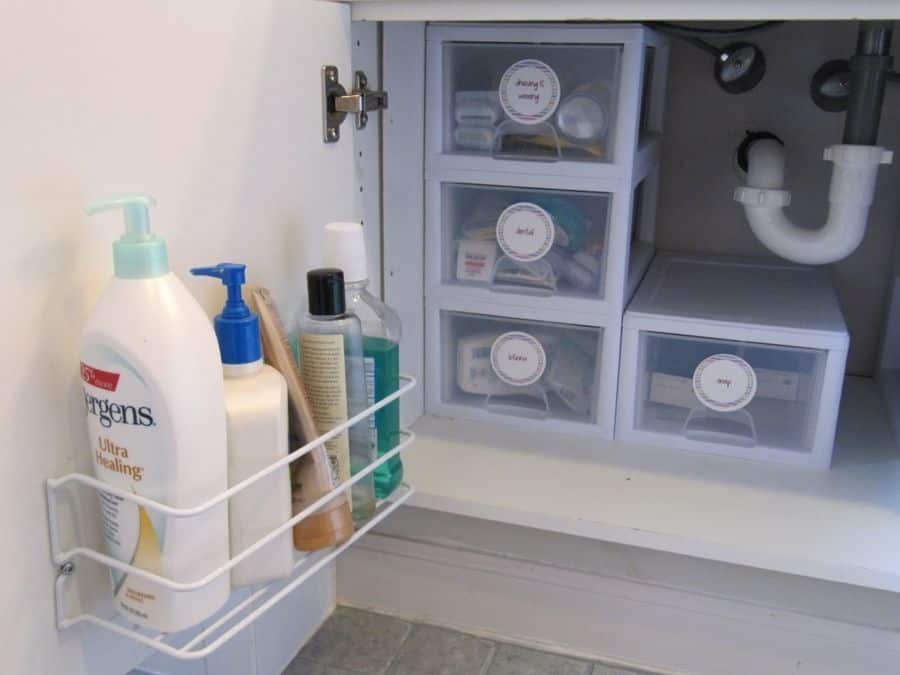 You can use a small plastic container to store all of your small items in one place. This is a great way to keep your bathroom necessity perfectly organized and tidy. Also, it is water-resistant, which is durable enough and will be a great extra storage in your bathroom.
The best thing about this storage idea is that it is easy to access and you can see everything that you need without having to search through a bunch of different drawers.
15. Store The Items On The Jars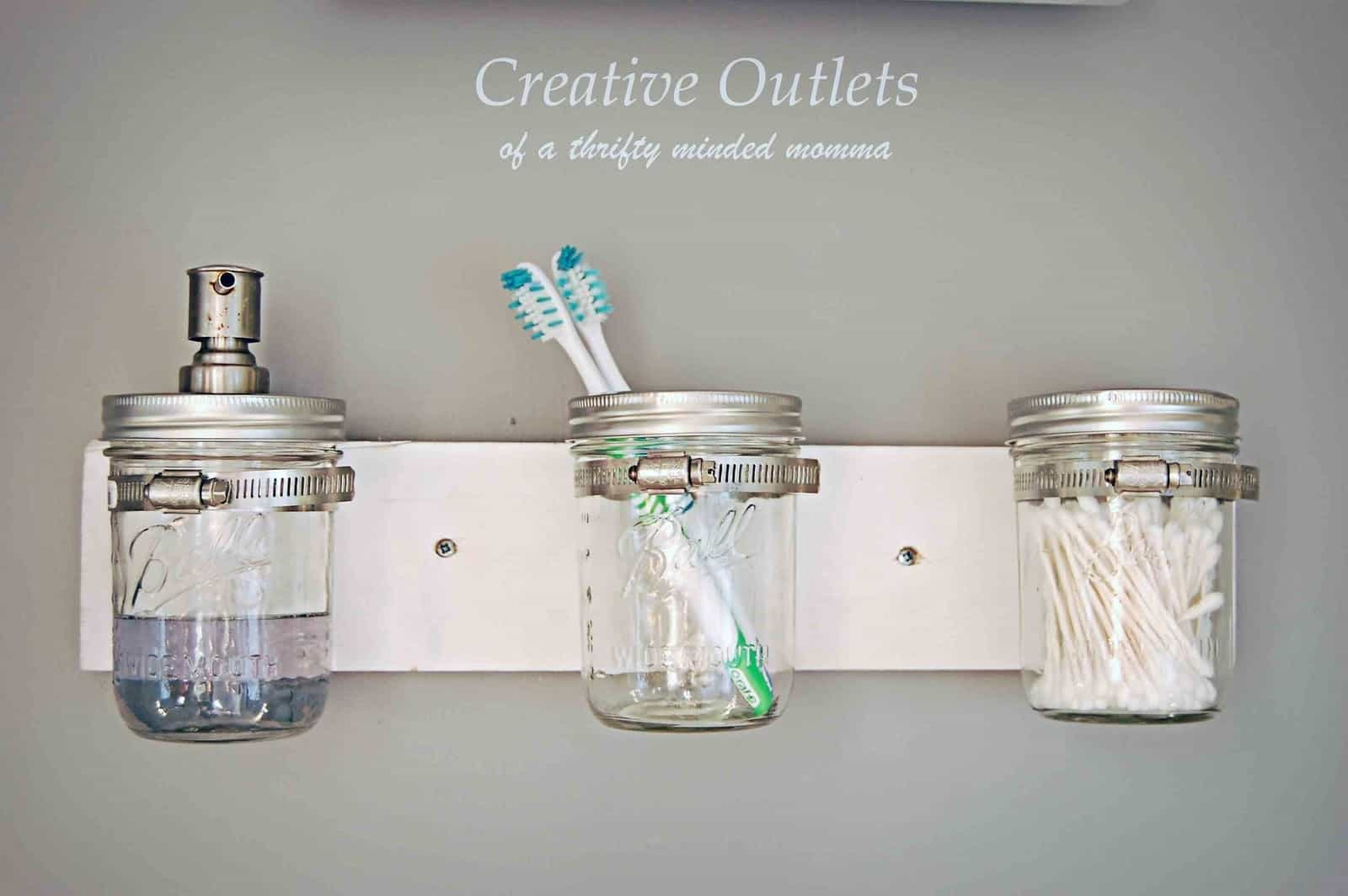 Glass material small bathroom storage ideas are perfect for small bathrooms because they add a touch of elegance and style while taking up very little space.
You can use glass jars, boxes, or even shelves to hold all of your toiletries. This type of storage is also great because it allows you to see what you have stored in it to find what you need quickly.
16. IKEA Small Bathroom Storage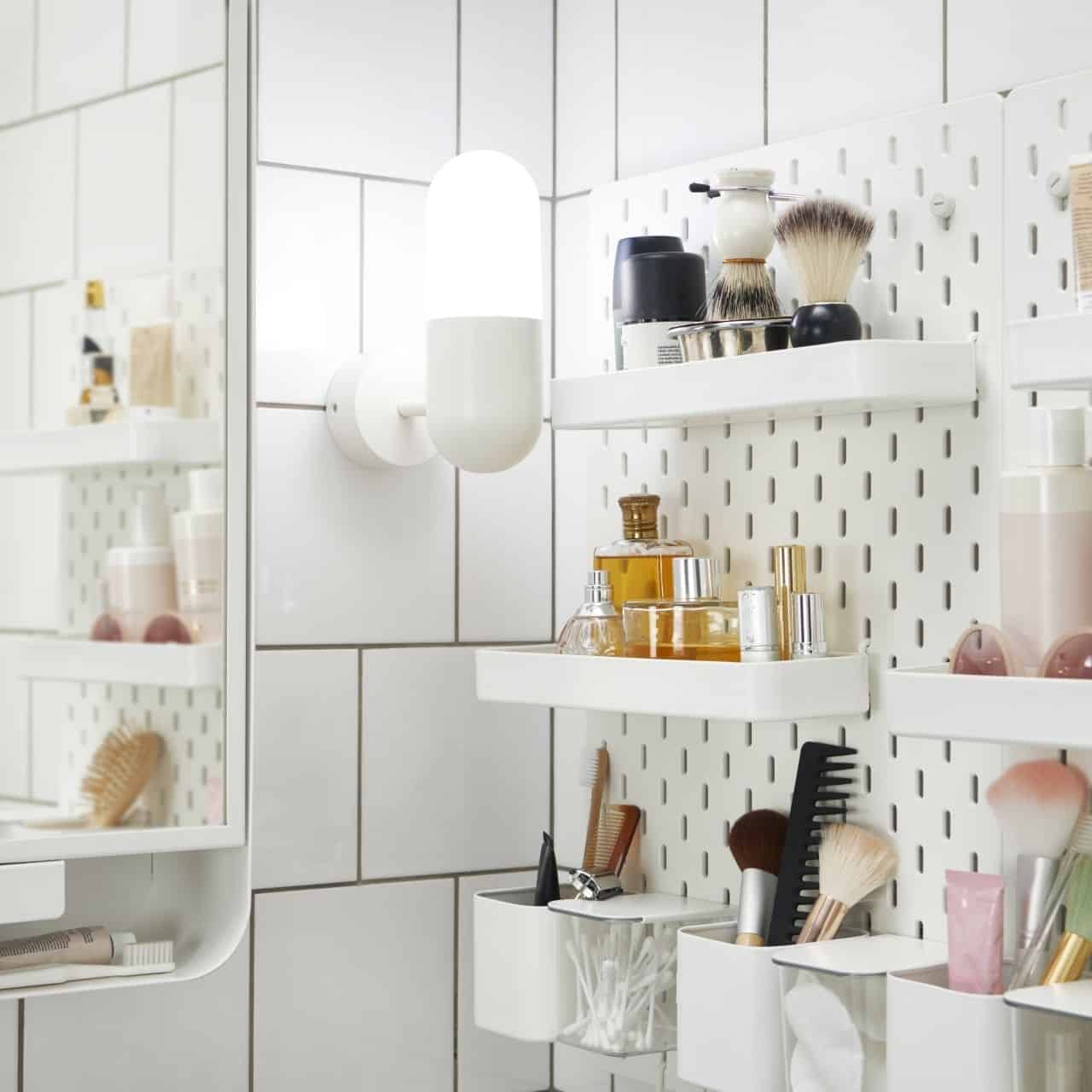 If you're looking for small bathroom storage ideas, IKEA is always a great place to start. They have a ton of small-space solutions that are both stylish and functional.
This wall-mounted shelf is perfect for storing toiletries and other small items. Plus, it's easy to install and won't take up any valuable floor space.
17. Movable It As You Wish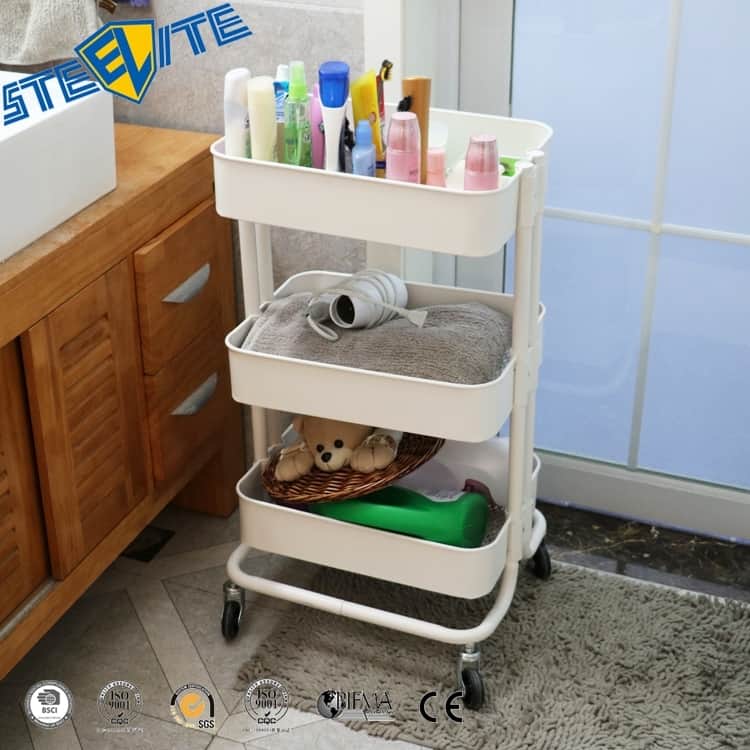 The wheels on your bathroom cabinets will help you make the space more functional. For example: if I wanted to change up my layout in here during cleaning time, then all it takes is moving those shelves around easily.
This will help me get better use out of every inch because we know how frugal (or cheap) some people are with their storage options. Also, this white storage and the black hint of the wheels are blend easily any bathroom style in your house.
18. Stacked The Wooden Crates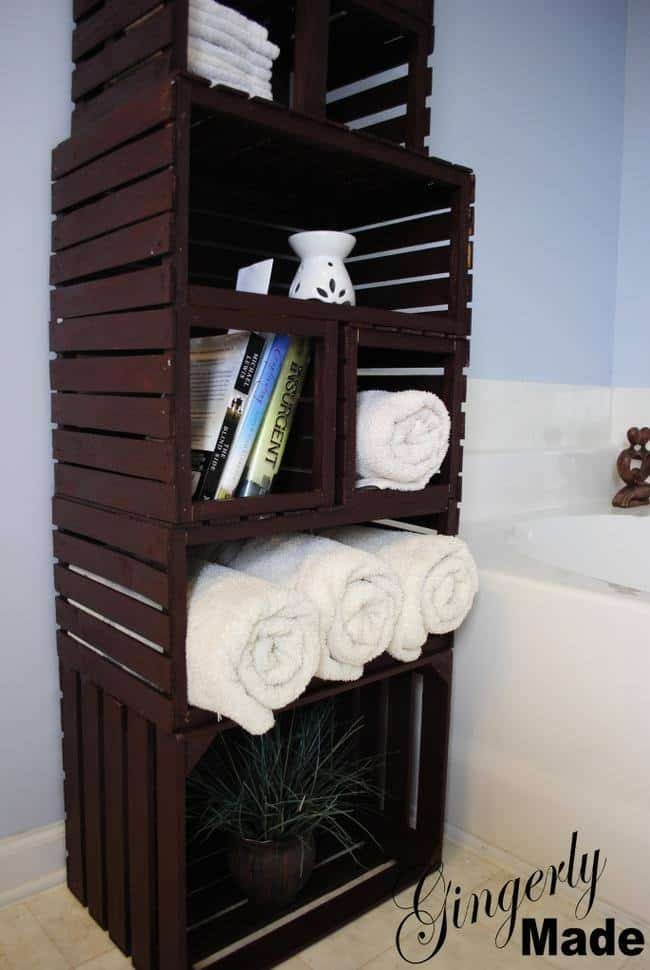 If you have a small bathroom, you may need to be creative with your storage. One way to do this is to stack things on top of each other.
For example, you can stack towels on each other or put a basket on top of the toilet paper holder. Also, if you love reading, but some of your favorite books.
This will help you maximize your space and keep your bathroom looking tidy.
19. Portable Small Bathroom Storage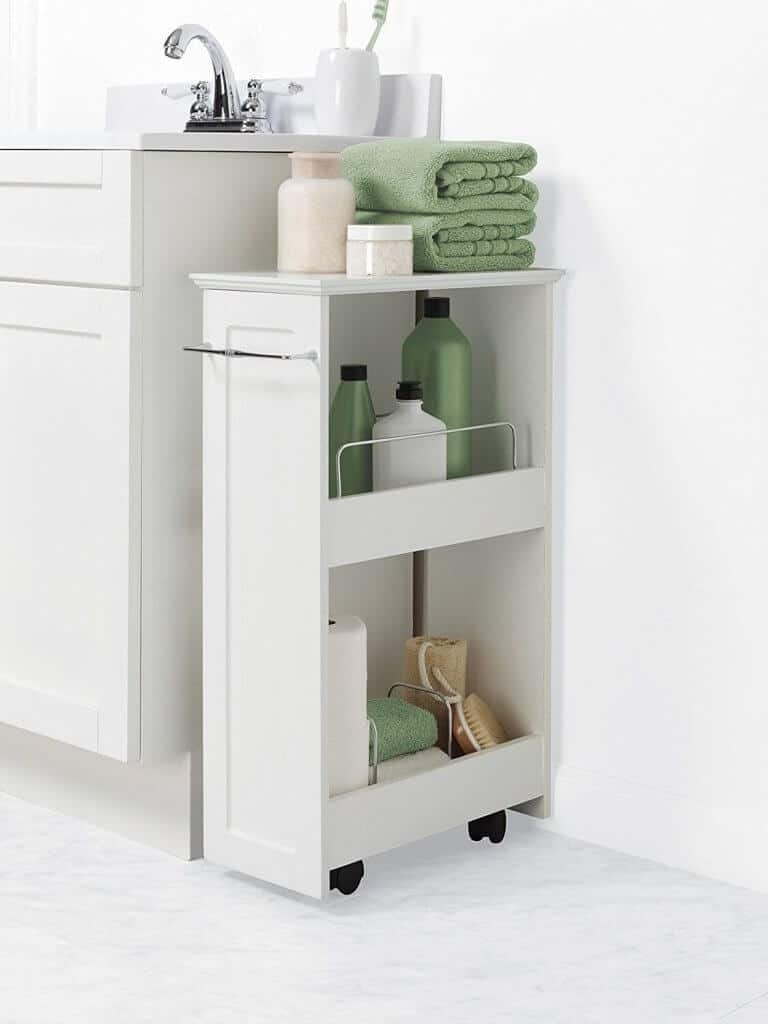 The small bathroom storage can be moved around easily as needed, which will help keep the small things tidy and in their place while still being readily available when needed.
This can help keep all of your small items organized and within reach, while still freeing up floor space in your bathroom. Another option for tiny bathroom storage is to use a corner shelf unit. These are perfect for storing those items that you don't use very often, but still need to have close at hand.
20. Wall-Mounted Small Bathroom Storage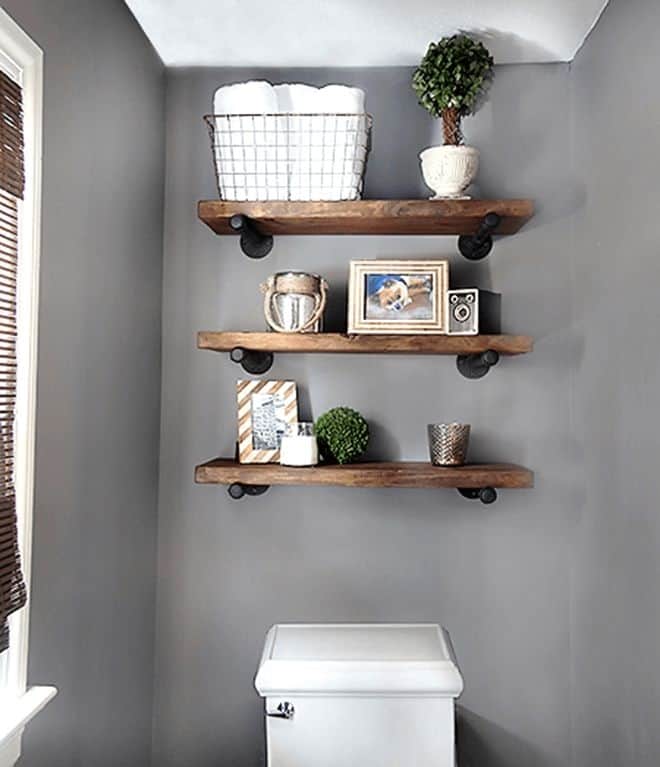 We all know that small bathrooms are the absolute worst. But this vertical storage takes up so little room and you can use those empty walls for something good.
Hanging shelves or cabinets on them will help organize your towels, toiletries etc., which means they'll be easier to find when needed too. Ensure that this floating shelf is versatile enough, bringing in the aesthetical hint while also being functional at the same time.
The combination of the metal pipe, which holds the wooden board infuses the rustic flair, making the toilet look prettier with the touch of a fresh hint of the faux potted plants.
Tired of having a messy bathroom? You're not alone. We've compiled some great storage ideas for small bathrooms that will help you create order in there.
The key is coming up with creative solutions and our list below offers plenty of inspiration. Try them out today to start changing your perspective about this space.