Do you ever struggle to find the motivation to work? It can be tough to get into the groove when your office is in a cramped, uncomfortable space.
If you're lucky enough to have a bedroom with enough space to set up an office, why not take advantage of it?
This blog post will give you some bedroom office ideas that will help you create a cozy and productive workspace.
1. Bring The Fresh Vibe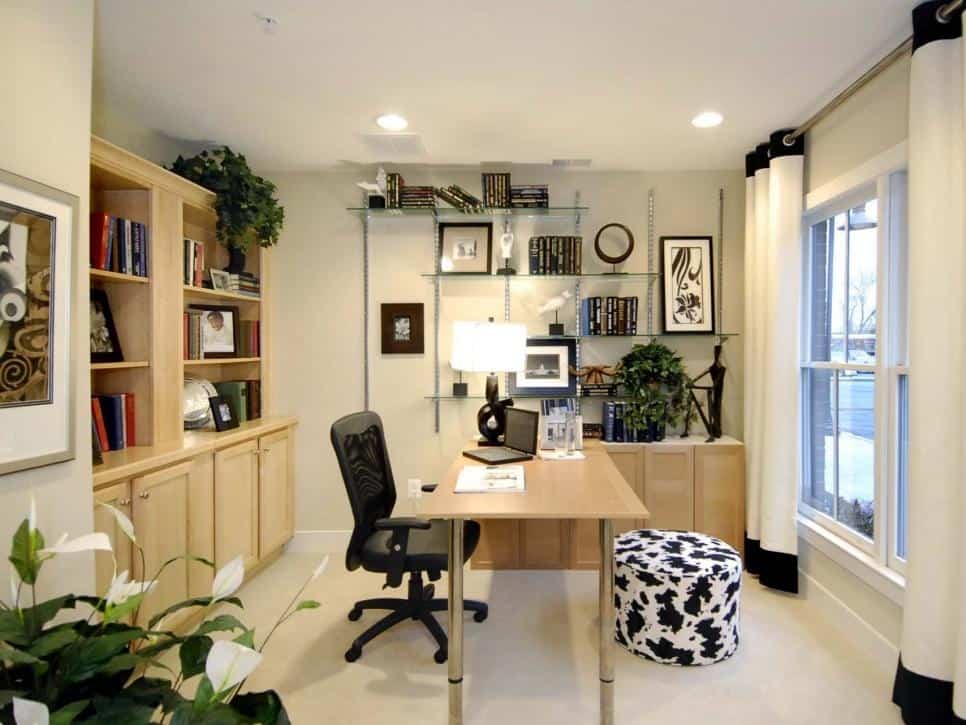 Both office and bedroom need a correct setup to create a relaxing atmosphere. Consider the natural light. If you can get a window seat or desk next to the window, it will give you great light and views while you work.
On the other side, the indoor plant would be great to complement the natural atmosphere. Hang up some plants or use a small table to create a makeshift office desk. Not only will this add natural beauty to your home office space, but it will also help improve air quality.
2.
Small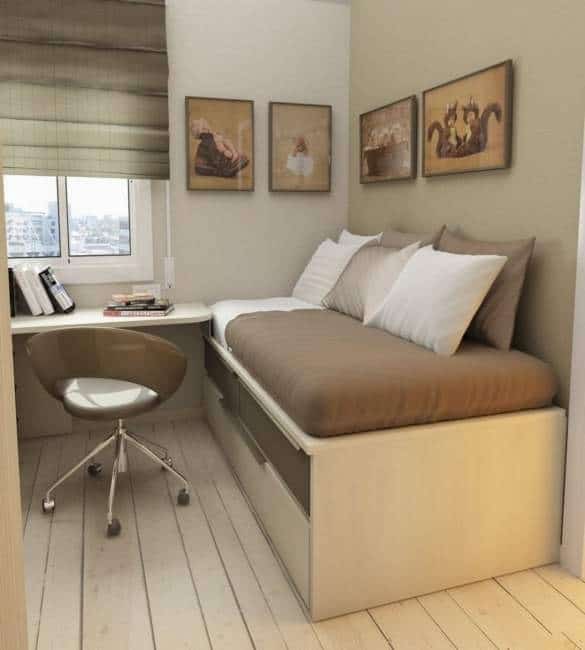 Another great way to maximize small home office space is to use multipurpose furniture. A sleeper sofa, for example, can be used as both a place to sleep and a place to work.
Similarly, an ottoman with storage can function as a coffee table and a place to store extra office supplies.
3. Rustic Work Desk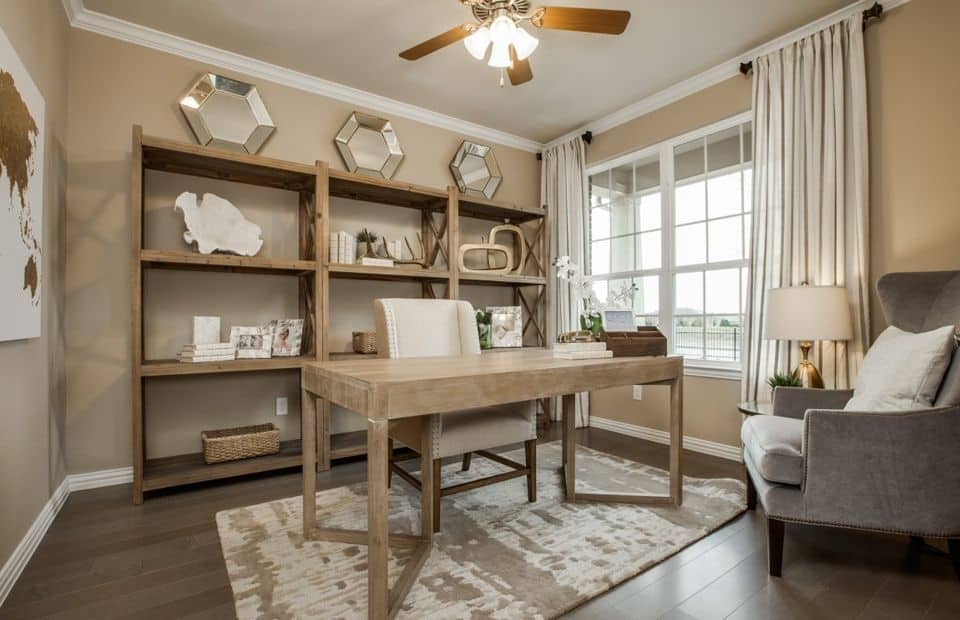 If you want a bedroom office that has a cozy and rustic feel, then try using wood accents. For example, you could add a wooden office desk or dresser to the space.
You could also bring wooden shelves on the walls or use a rug with a woodsy shade. This type of bedroom office will make you feel like you're working in a cabin in the woods!
4. Make It Simple And Elegant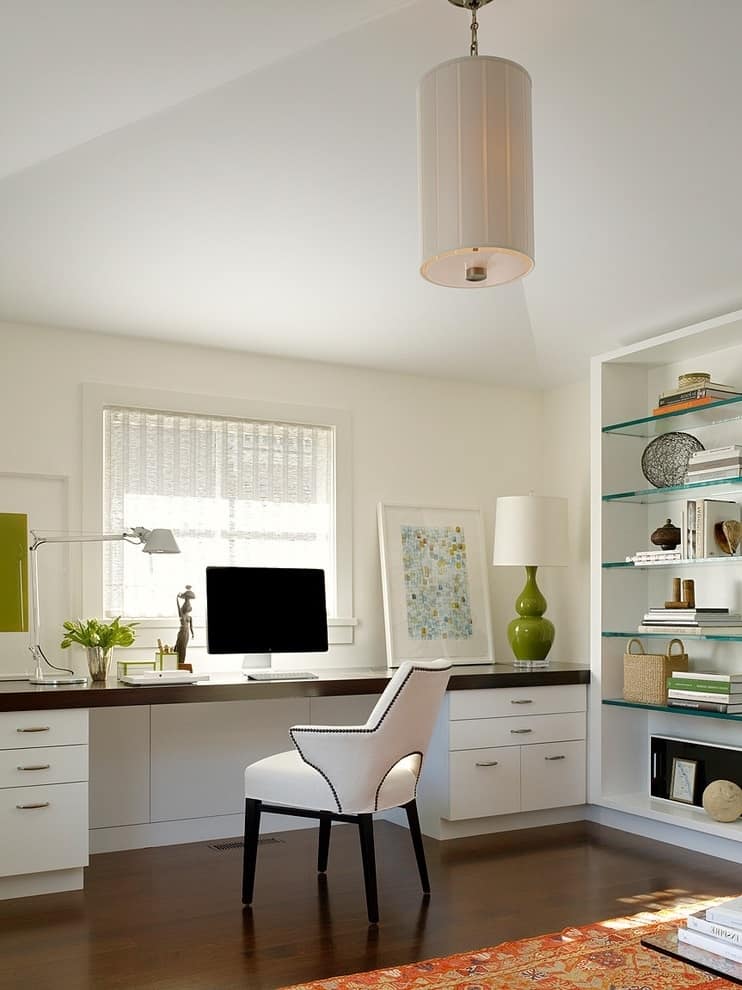 A home office doesn't have to be all work and no play. You can still get a stylish and elegant space that is comfortable and productive.
Opt for using soft, muted colors like shades of gray, tan, or blush pink. Then, add decorative touches like plants, artwork, or a pretty rug. And don't forget about the lighting! Soft, ambient lighting will help you create a spacious and inviting space.
5. Minimalist Small Desk on Perfect Spot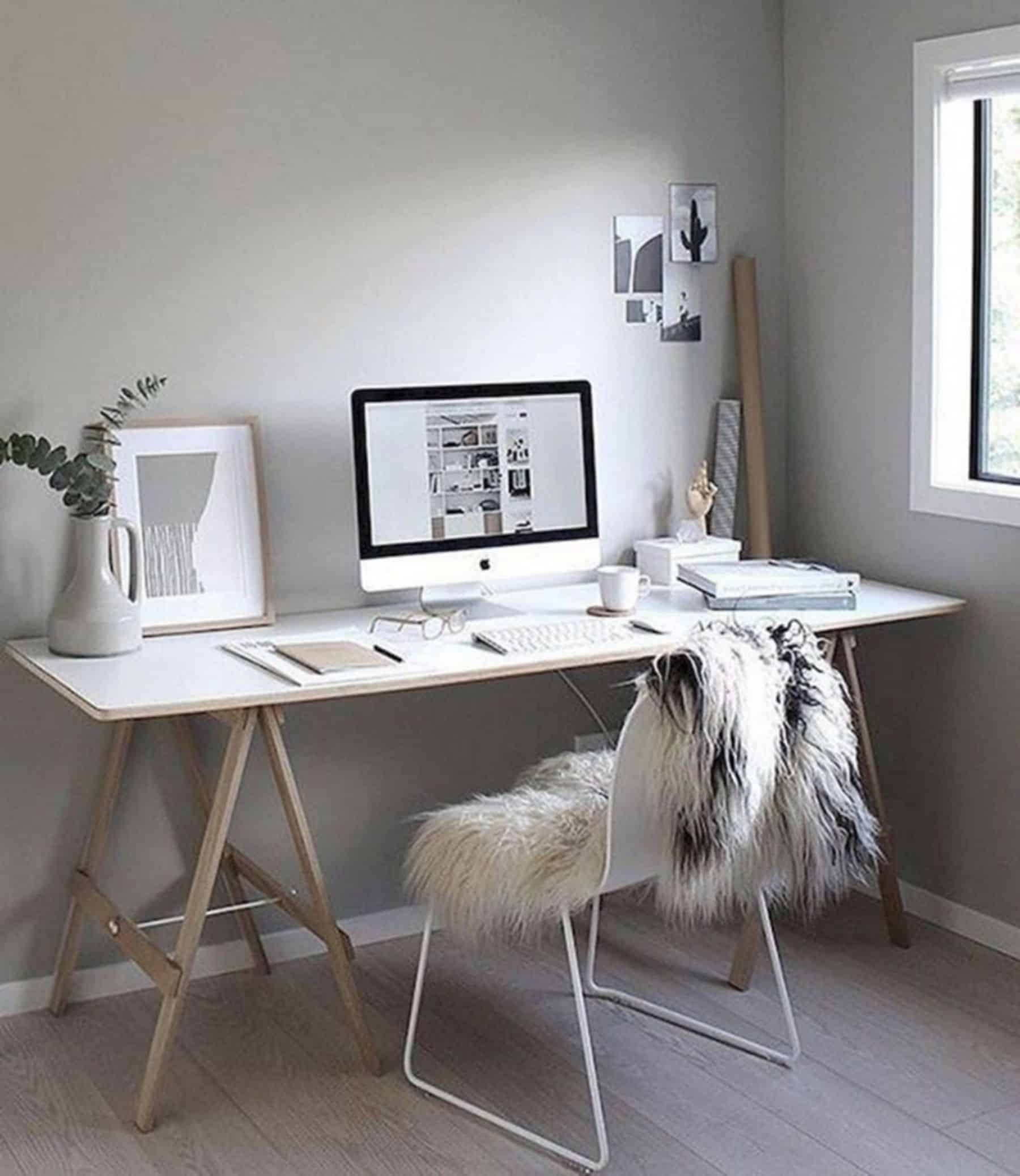 A minimalist desk can be a great way to declutter your work area and create a more productive space. Start by removing any unnecessary items from your desk or shelves, and try to stick to a simple color palette of black, white, and gray.
You may also want to consider using furniture with clean lines and little decoration not to distract you from your work. Also, put the desk near the window for more natural light.
6. Simple Work Area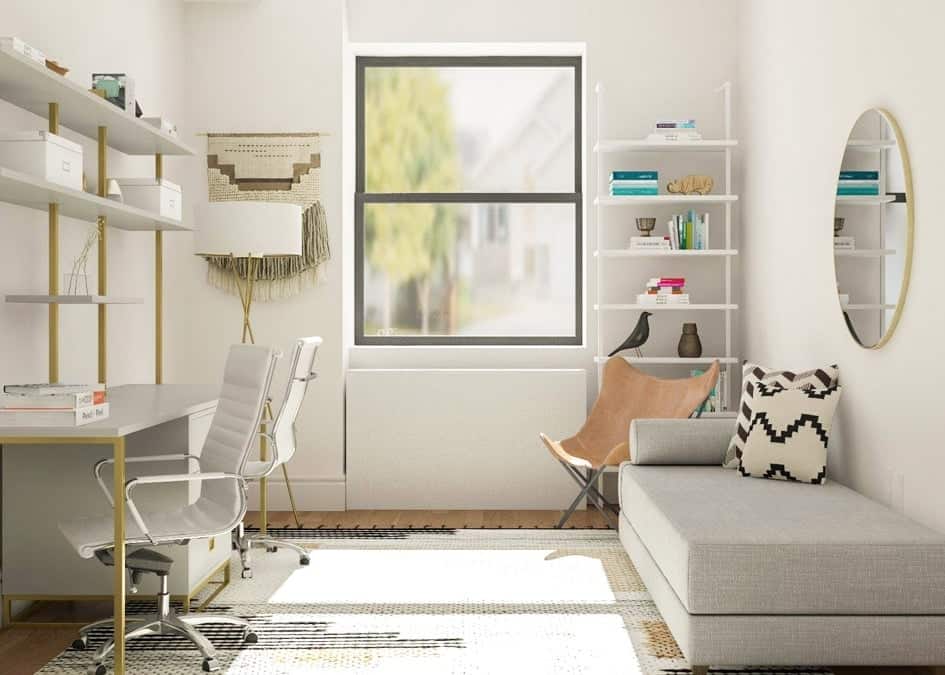 If you're short on extra space or just looking for a simple way to create a bedroom office, these ideas are for you.
If your bedroom is already cramped, a small desk or table can help free up some space. This option also gives you the flexibility to move your workspace around if needed.
7. Expose The Concrete Wall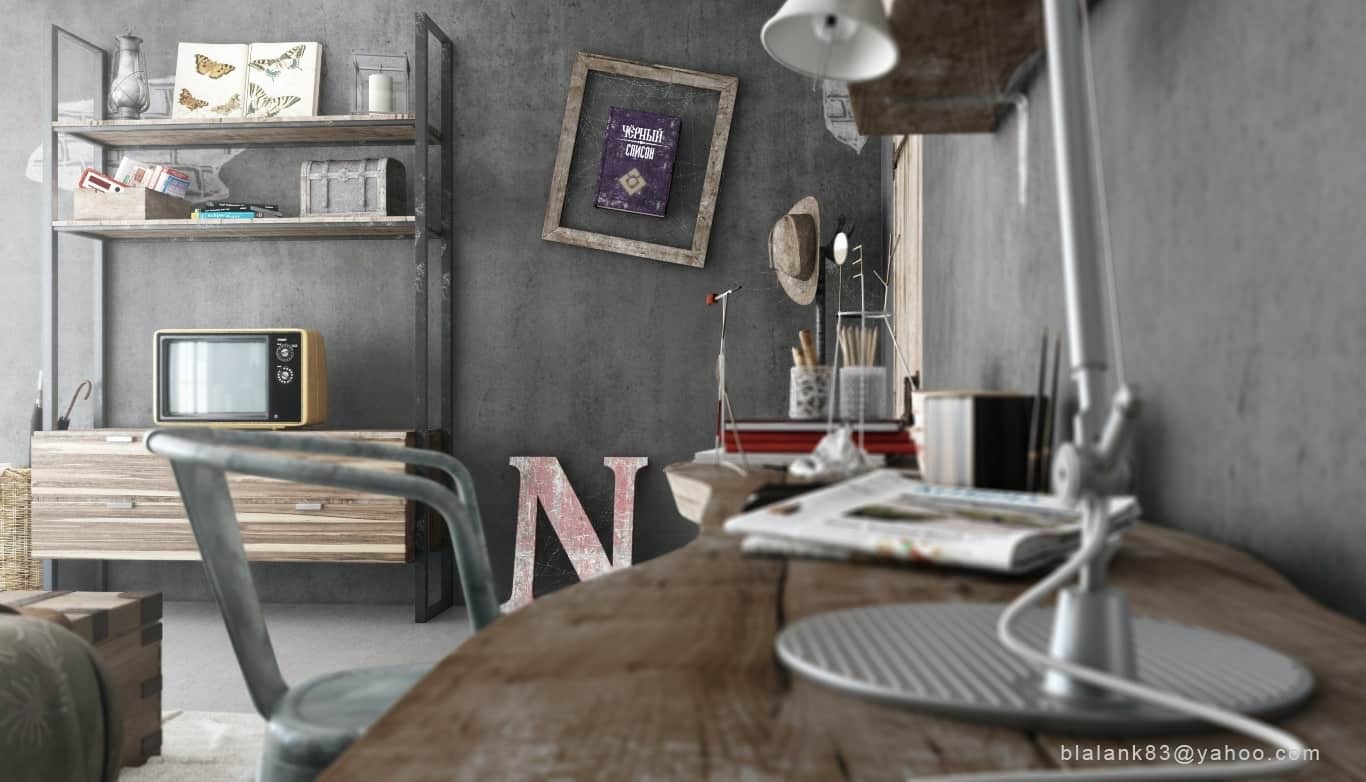 To create the industrial style in your living space, you need to think about the design elements, furniture, wall colors, and flooring.
You can use dark wood or metal for the desk, chair, and shelves for bedroom office furniture. To get the industrial look on the walls, you can either paint them dark or expose the concrete beneath.
8. Feminine Bedroom Office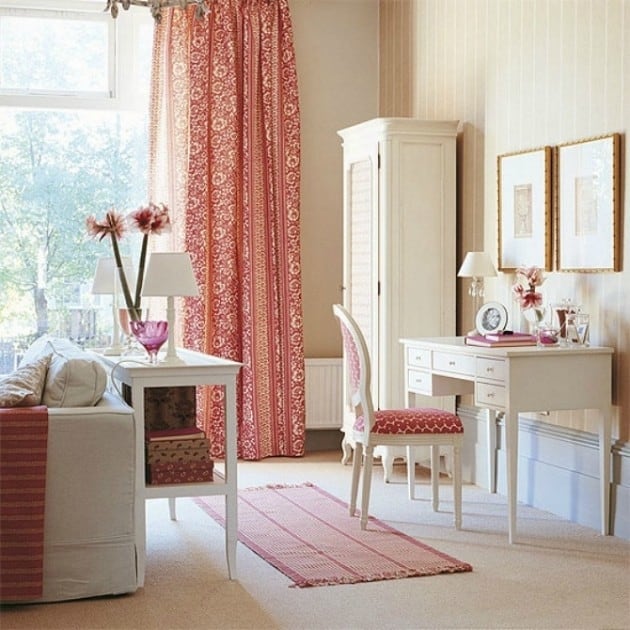 A feminine bedroom office can be a beautiful and serene space, perfect for escaping the stresses of the day. Adding a walk-in closet can be a great solution, as it can provide a place to store clothes and other items out of sight. This can help create a calm and relaxing environment, perfect for getting work done or simply unwinding at the end of the day.
Choose soft colors and textures for your walls and furniture. Incorporate floral patterns and feminine details to give your spaces a stylish vibe. Some simple designs that incorporate a feminine aesthetic include hanging sheer curtains in front of your window and adding a soft, plush rug to your floor for a perfect look.
9. Large Bedroom Office Space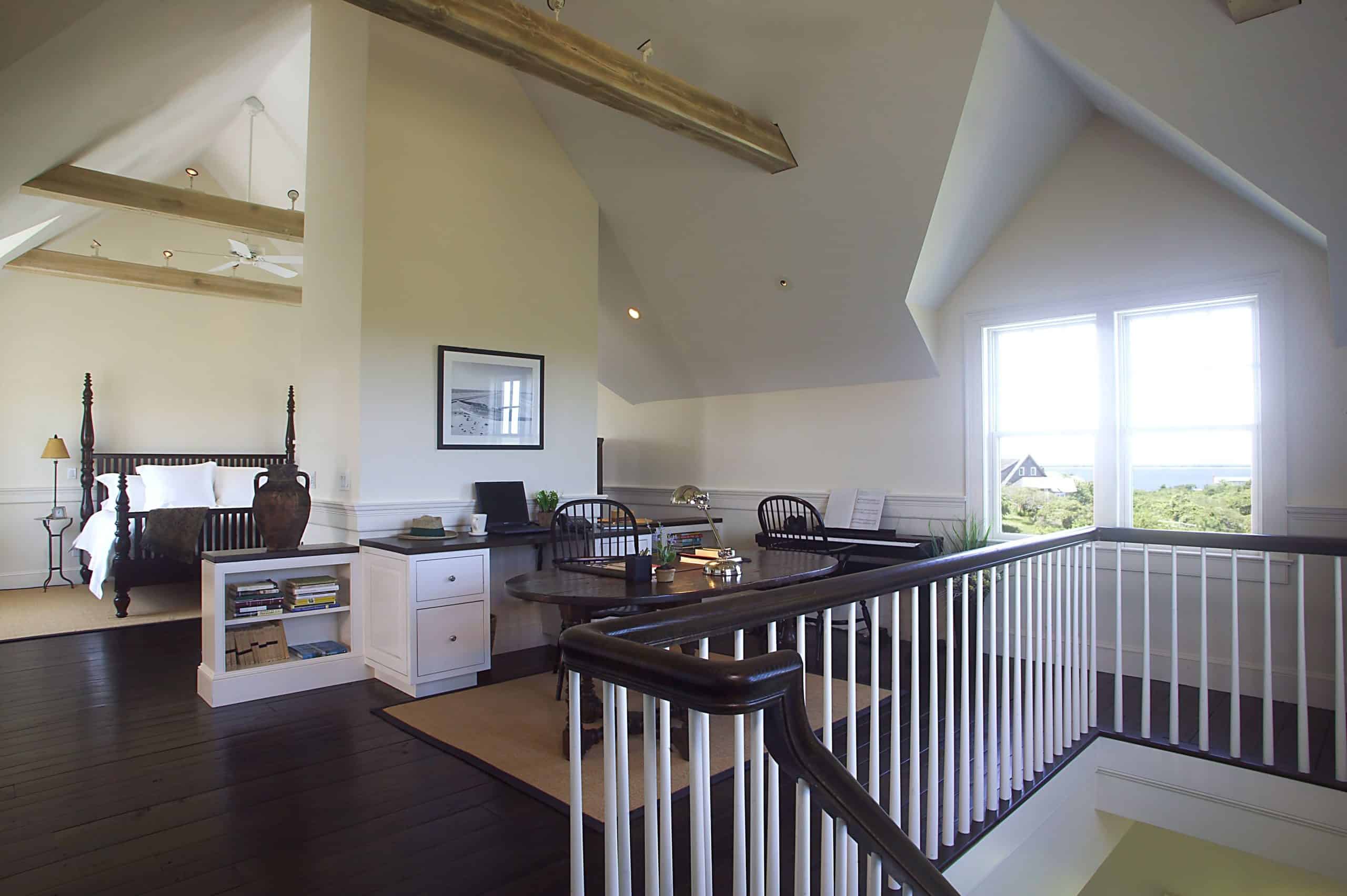 If you have a large master bedroom, you may want to consider using part of it as an office. This can be a great way to get some extra work done while also enjoying the comfort of your home. Use one wall for your desk.
If you have extra space, you can even install a Murphy bed so that you can easily convert your office into a bedroom when needed.
10. Off White Bedroom Office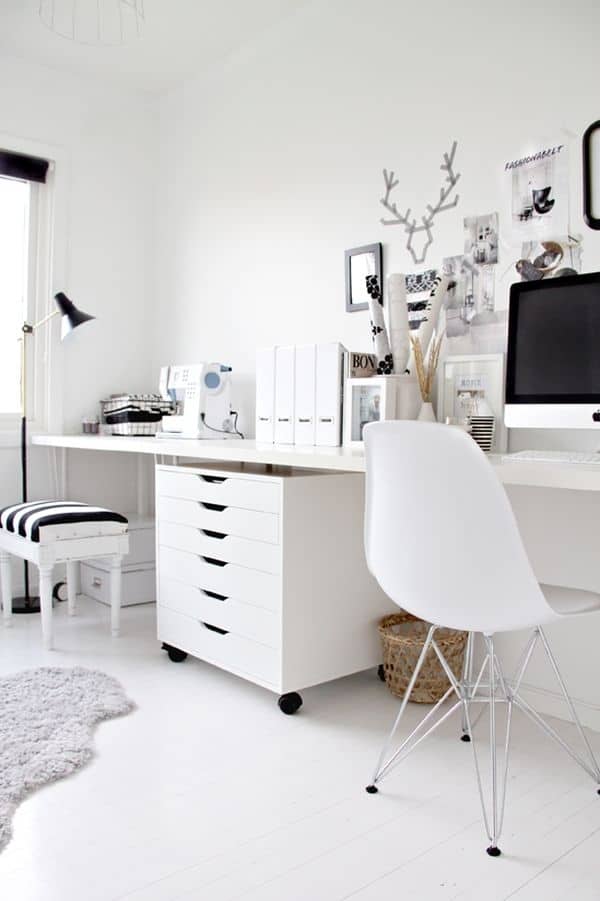 A home office idea doesn't have to be all about work. A light and airy working area can be the perfect place to relax and rejuvenate during your off-hours.
Decorate your spaces in a white color palette for a refreshing look that will help you feel both productive and relaxed.
11. Contemporary Home Office Ideas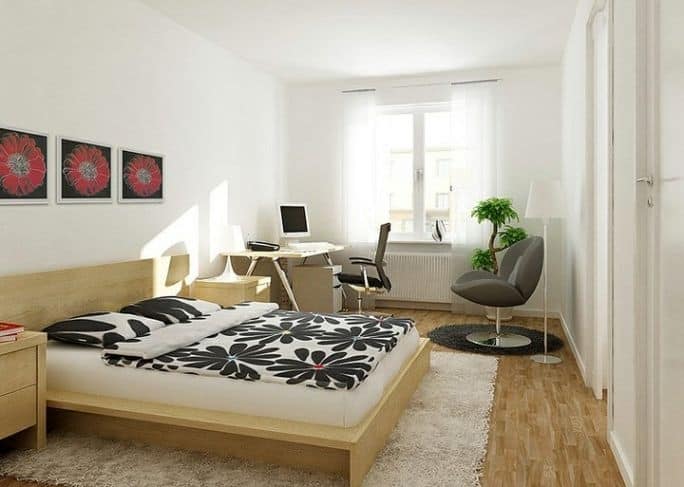 First, consider your needs. What type of work do you need to do in your home office? If you plan to do a lot of writing, you'll need a desk with plenty of space. If you plan to work on the laptop, you'll need a good chair and an adequate desk size.
12. Deal With The Tight Budget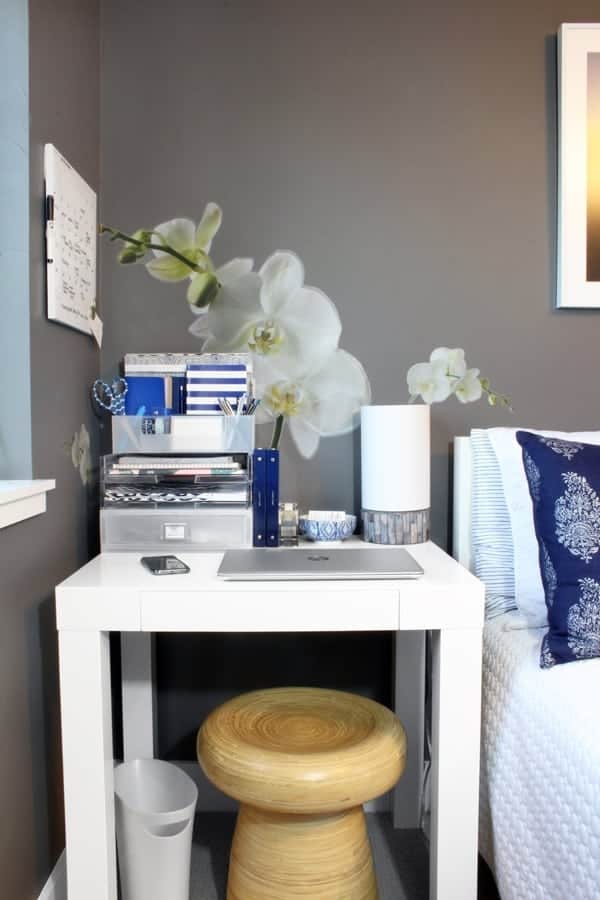 If you're looking for an office design on a budget for small bedrooms, one option is to use a desk and chair that you already have. You can also purchase an inexpensive desk and choose the small one.
Complement it with the wooden stool. It gives you both aesthetical points while also being functional at the same time.
13. Luxurious Bedroom Office Ideas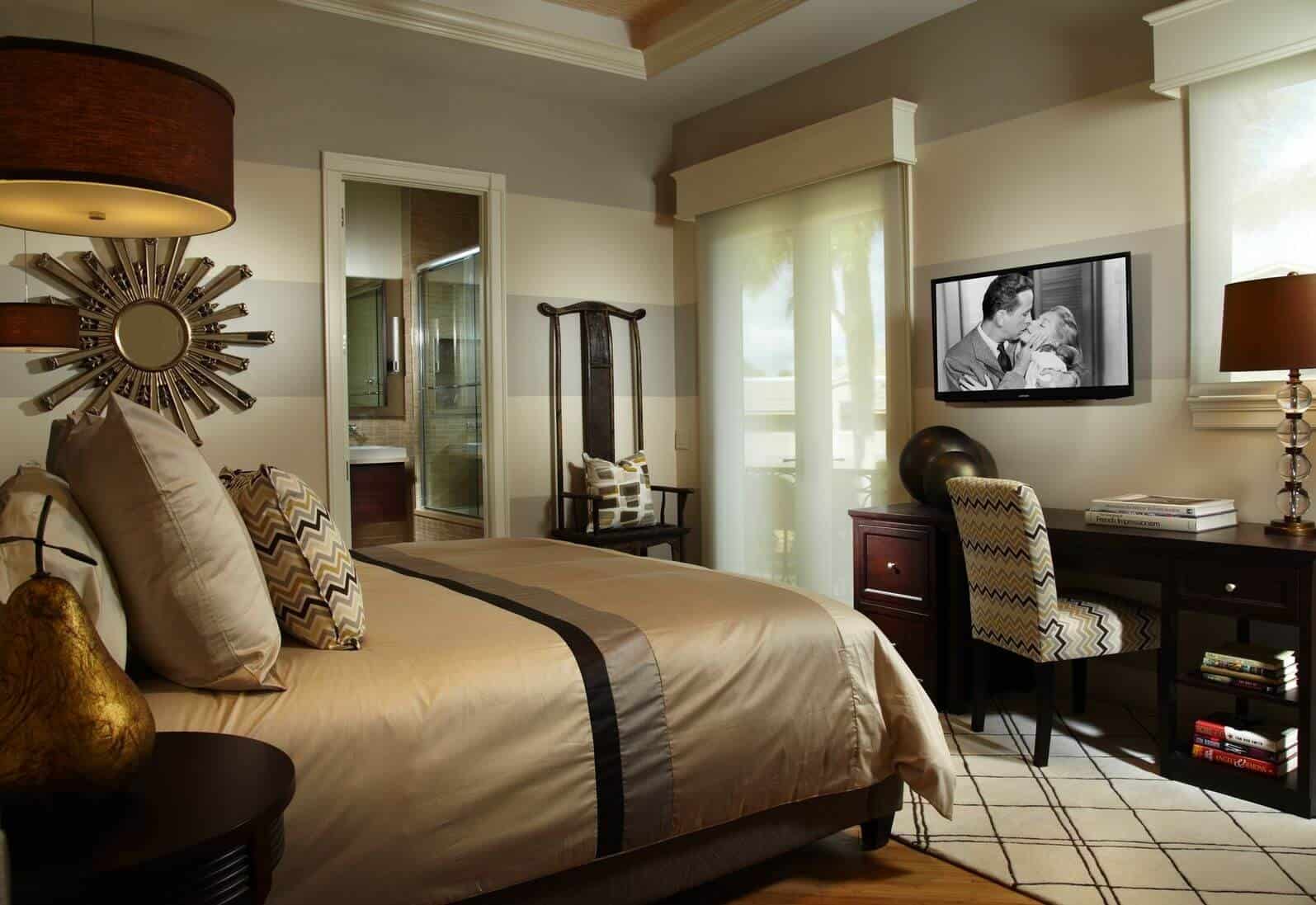 As you can see, bedroom office ideas don't have to be boring. You can make your space stylish and productive at the same time. With a little bit of creativity, you can turn your bedroom into the perfect office. Add the decorative pieces that expose the elegance to decorate the bedroom office. But, this kind of design is not everyone's favorite.
14. Bohemian Bedroom Office Ideas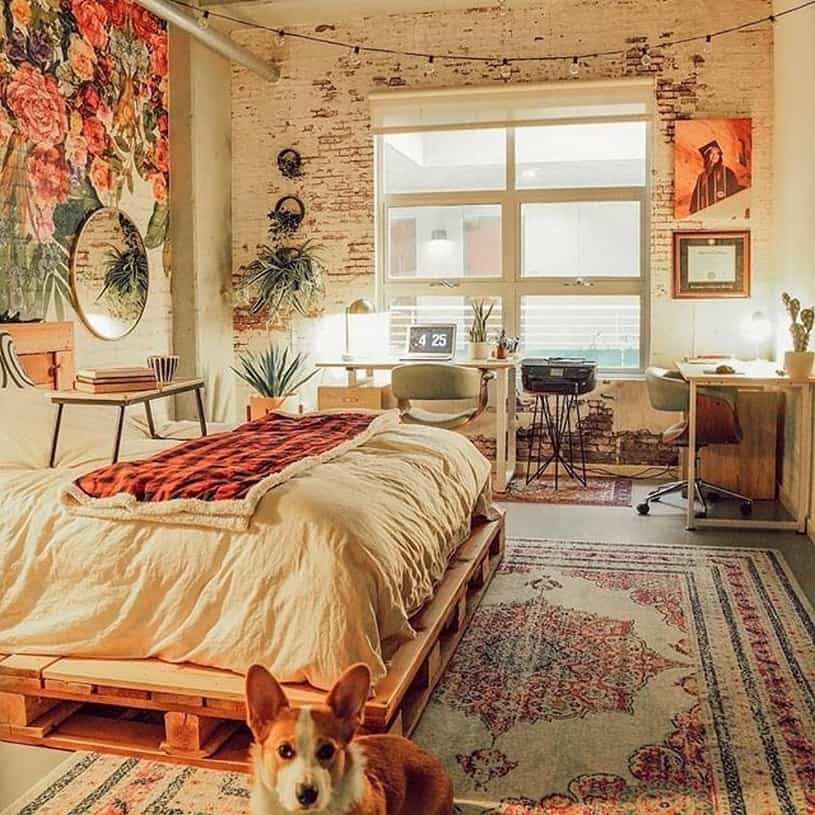 If you're looking for bedroom office ideas with a bit more of a boho vibe, consider adding some greenery, natural texture, and some colorful decorative pieces.
To get the look, start with a neutral foundation like white walls or beige bedding and then add in colorful accents like patterned pillows, Moroccan-style rugs, and artwork with global flair.
Pick furniture that can keep things simple and streamlined with pieces like a sleek desk and chair. And don't forget to bring in plenty of plants to create a sense of tranquility.
15. Black And White Bedroom Office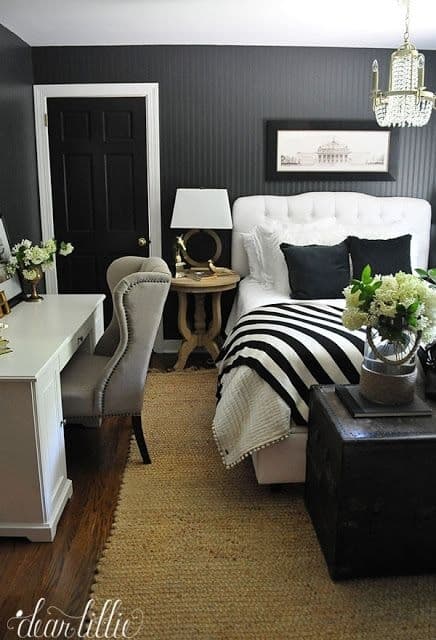 Consider using minimalistic furniture and decor, opting for a monochromatic color scheme, or adding a pop of color with an accent wall or piece of art.
You can also add little creativity by incorporating natural elements into your bedroom office design, such as plants or wood accents.
16. Scandinavian Home Office Space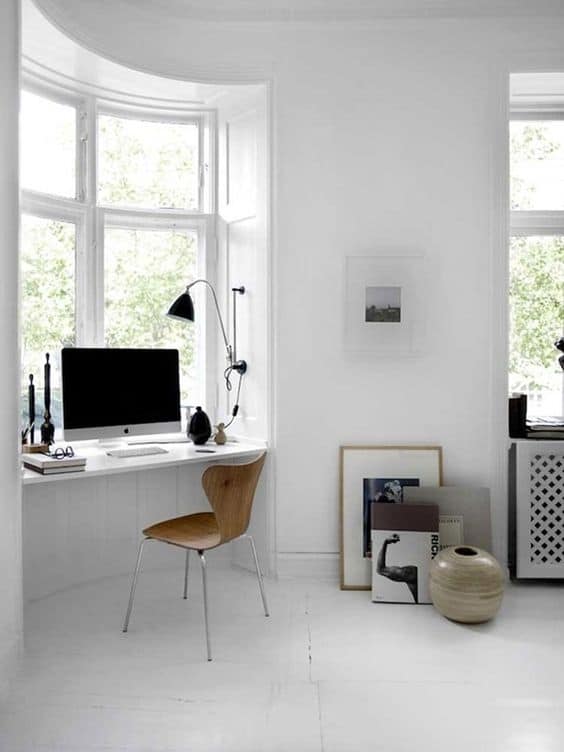 The beauty of the Scandinavian style is its simplicity. This bedroom office nook embraces crisp white walls and light wood floors.
The desk is small but mighty, perfect for getting work done without taking up too much space. A simple desk chair and rug complete the look and feel cozy enough to stay focused.
17. Modern Bedroom Office Ideas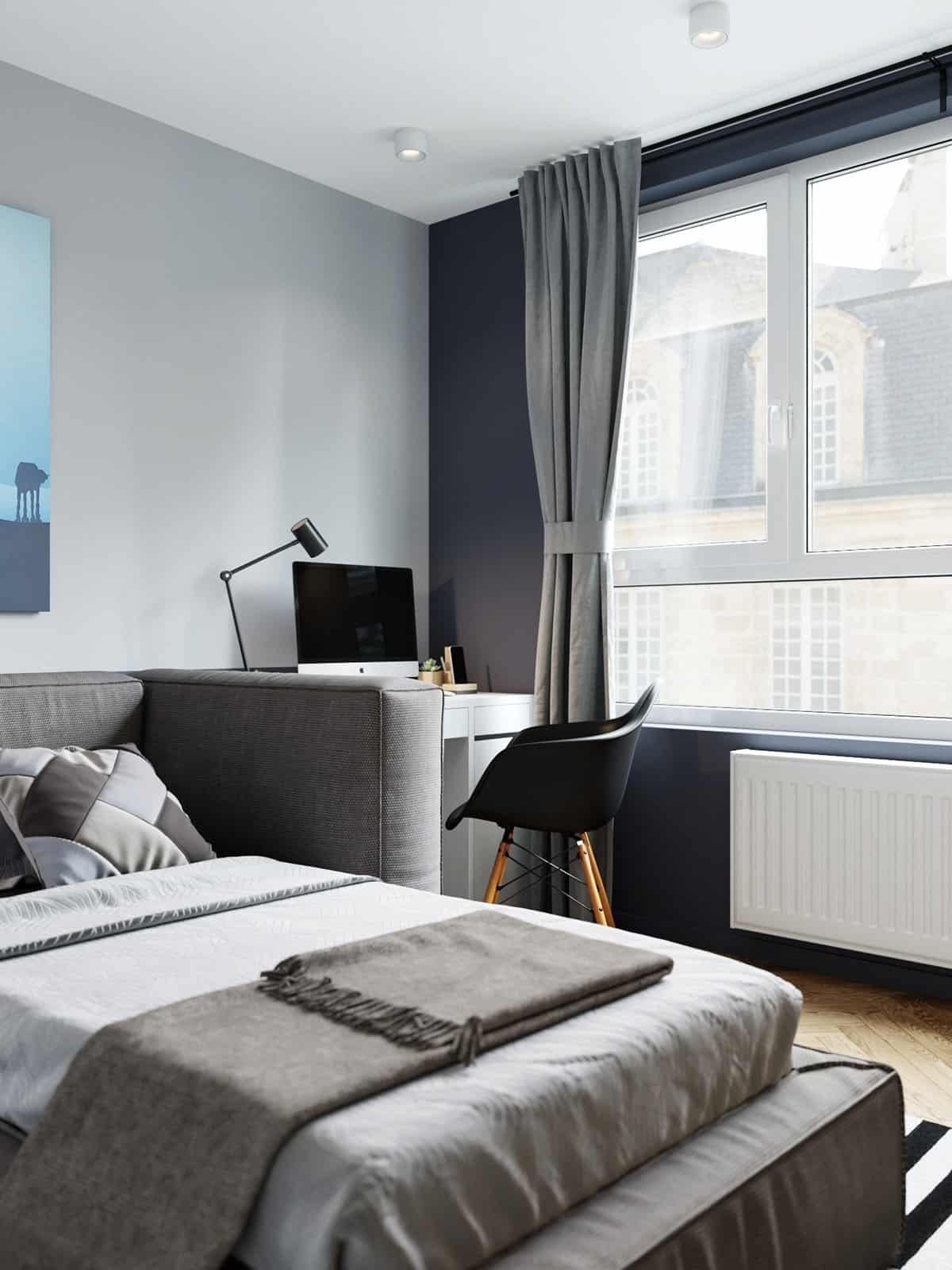 Whether you're a freelancer, remote worker, or need a place to focus on homework, these modern bedroom office ideas will create a cozy and productive workspace in no time.
There is nothing much you need to do to make it work. Choose the sleek furniture and design with the gray shades.
18. Mid-Century Modern Desk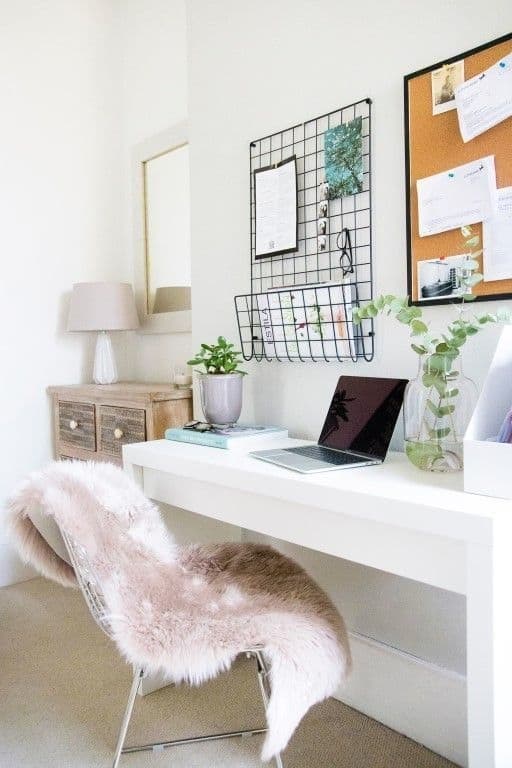 When you see a white desk in mid-century modern style, what do you think of?
If you're like most people, your thoughts are probably along the lines of "It looks nice. But it would be so much better with some office lighting!"
After all, what good is a beautiful piece of furniture if the surface isn't illuminated adequately for tasks such as writing, reading, or using a computer?
The good news is that adding task lighting is easy and can make a big difference in the overall look of your desk.
19. Glam Vibe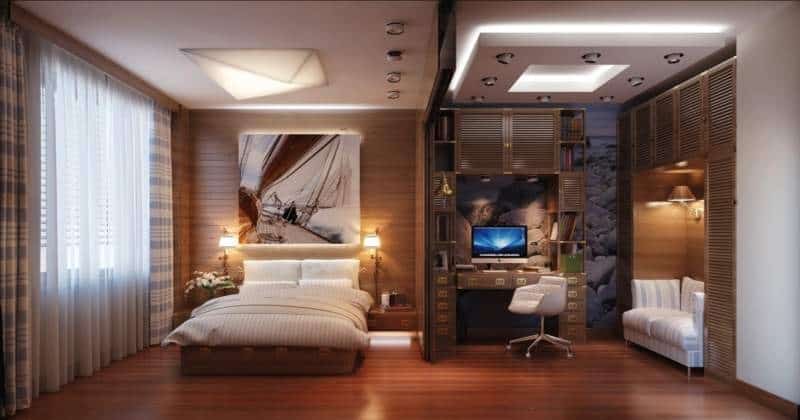 Creating a luxurious vibe in your home doesn't have to be expensive. In fact, there are many ways you can do it on a budget. One of the easiest and most affordable ways is by adding some luxurious details. This could be anything from elegant curtains to a few pieces of gold accent furniture.
This could mean adding some floor lamps or accent lighting. Just be careful not to go overboard and make your bedroom space look too cluttered. A little bit of luxury can go a long way, so don't be afraid to add a few touches here and there.
20. Transitional Style For Limited Space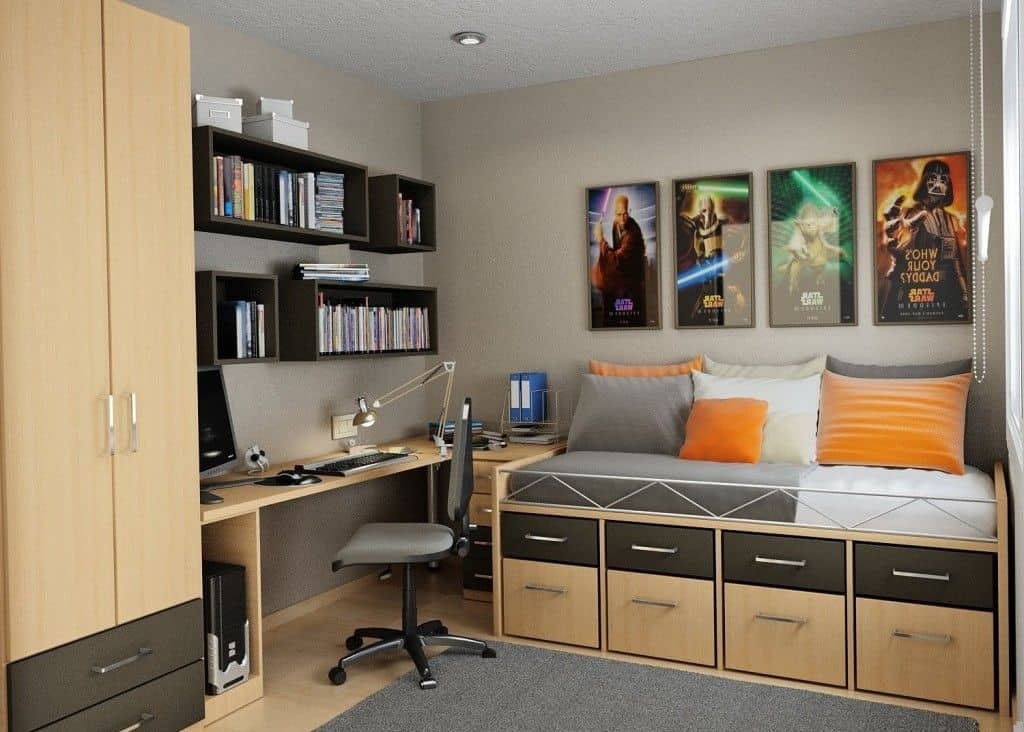 The transitional office space can be both stylish and functional. Choose a desk that will fit in with the rest of your bedroom furniture, but make sure it has enough storage for all of your supplies. If you don't have a lot of space in your bedroom, look for a desk with a built-in hutch or shelves. You can also use a small table as your desk if you prefer. Just make sure it's big enough to hold all of your supplies.
When choosing office fitted furniture, think about what type of work you'll be doing. If you're mostly working on your computer, you'll need a desk with plenty of surface area and storage for your computer tower and peripherals. If you're mostly working on paperwork, look for a desk with lots of drawer space.
So, there you have it! Our list of bedroom office ideas to help make your working space more versatile.
We hope at least one of these home office ideas sparked your interest and gave you the inspiration to get started on creating a functional and beautiful bedroom office space.