Bohemian bedrooms are all about being creative and expressing your individuality.
With Bohemian style, you can create a bedroom to be whatever you want it to be, whether that's an urban loft or a cozy cabin in the woods.
Bohemian decorations include everything from mismatched patterns to found objects like driftwood or seashells. Bohemians tend to favor earthy tones of brown, green, and tan – colors found in natural element such as wood and stone.
Bohemians also love bright pops of color for contrast; think jewel tones pillows or throws on the bed or vibrant paintings on the wall!
Those who appreciate unique artwork and do not conform to any particular mold may appreciate bohemian style.
A Bohemian bedroom is a unique and eclectic space that reflects your personality and interests. Bohemian bedrooms often feature an eclectic mix of furniture and decor, bold color and and patterns, natural materials, and free-flowing or improvisational design.
If you are looking for a way to add some personality and flair to your bedroom on a budget, here are 36 boho bedroom ideas that will do the trick.
1. Use Rattan Accents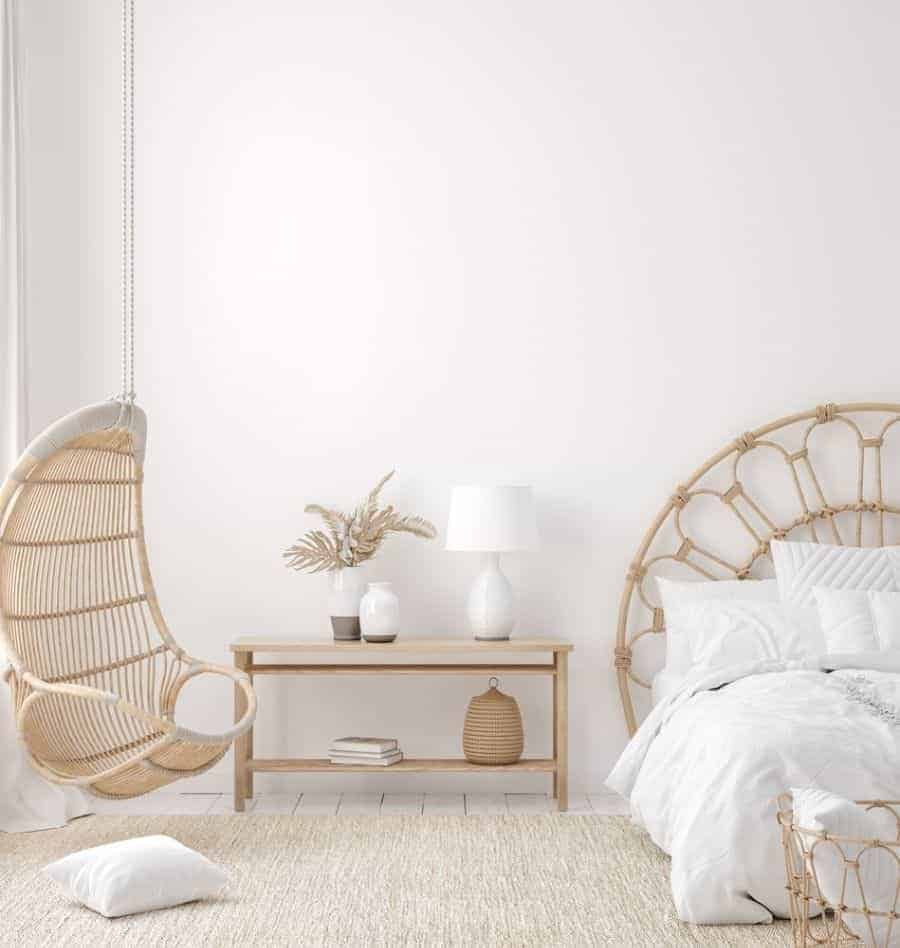 Incorporate natural element into your bohemian bedroom with rattan furnishings. This chair is the perfect addition to any space and will help you relax while you unwind. The rattan accent can also be a key element of the bohemian style.
2. Earth Tone Shade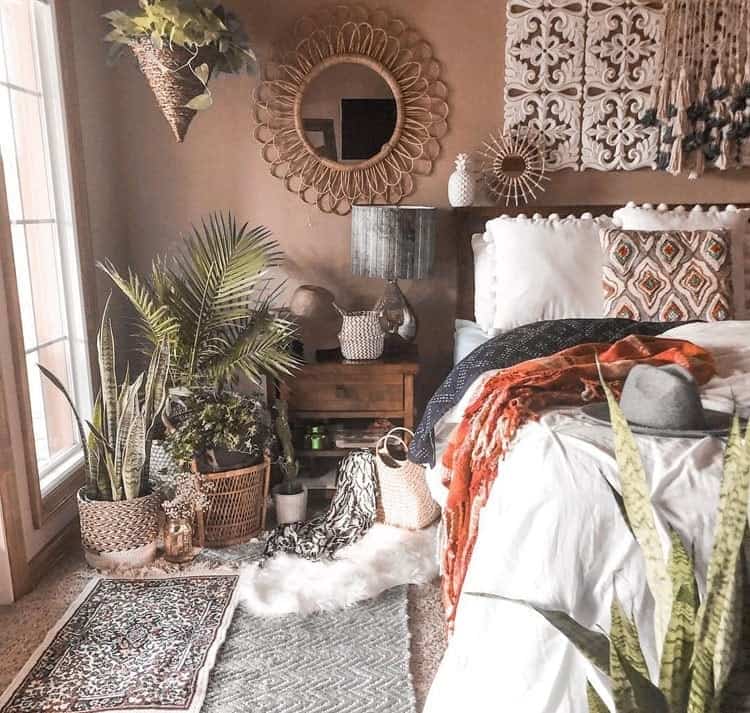 One bohemian bedroom idea is to use an earth tone shade for the walls. This will create a relaxing and calming environment.
You can also add some plants or flowers to the space to help bring in some natural elements. It will complement the bedroom's look, making it feel way cozier.
3. Use Palette Material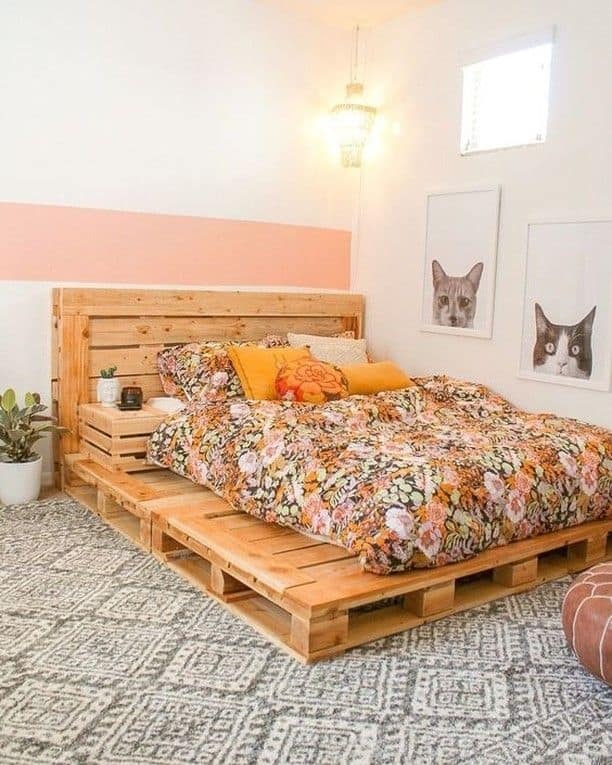 One of the possible pieces of furniture that will bring a palette material is the bed. It will be the most bohemian and relaxing space in your bedroom.
Palettes are usually big and chunky, so they will also make a statement in your room. You can use other bohemian materials like tapestries or rugs to bring more bohemian feels into the room.
4. Touches of Black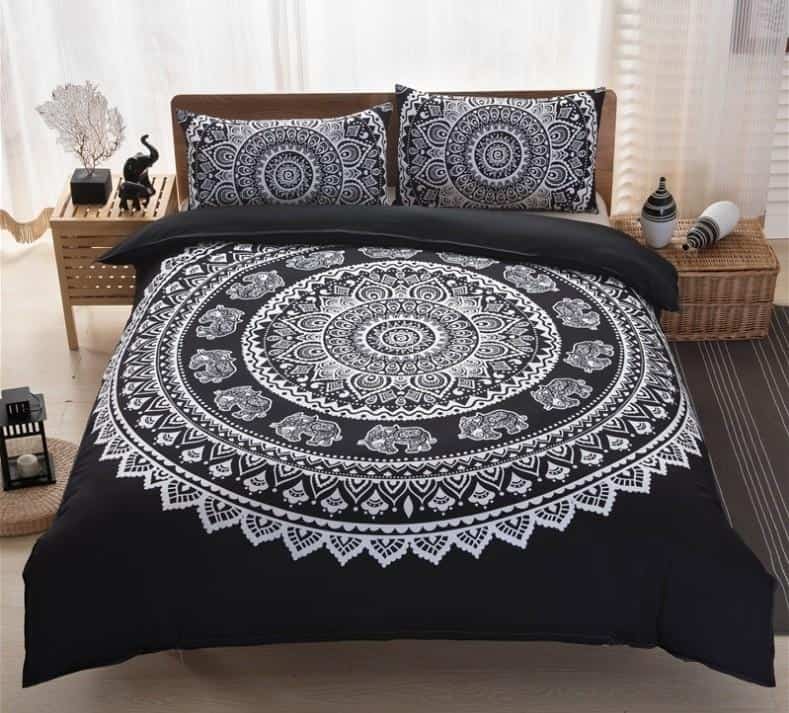 The black hint of the boho style can be seen from the bedcover. You can have a black bohemian bedcover with some white ornaments on it.
This will give a unique and elegant look to your bohemian bedroom. Besides, you can also add some black touches to other parts of the room, such as on the curtain, rug, or tablecloth.
5. Textured Rug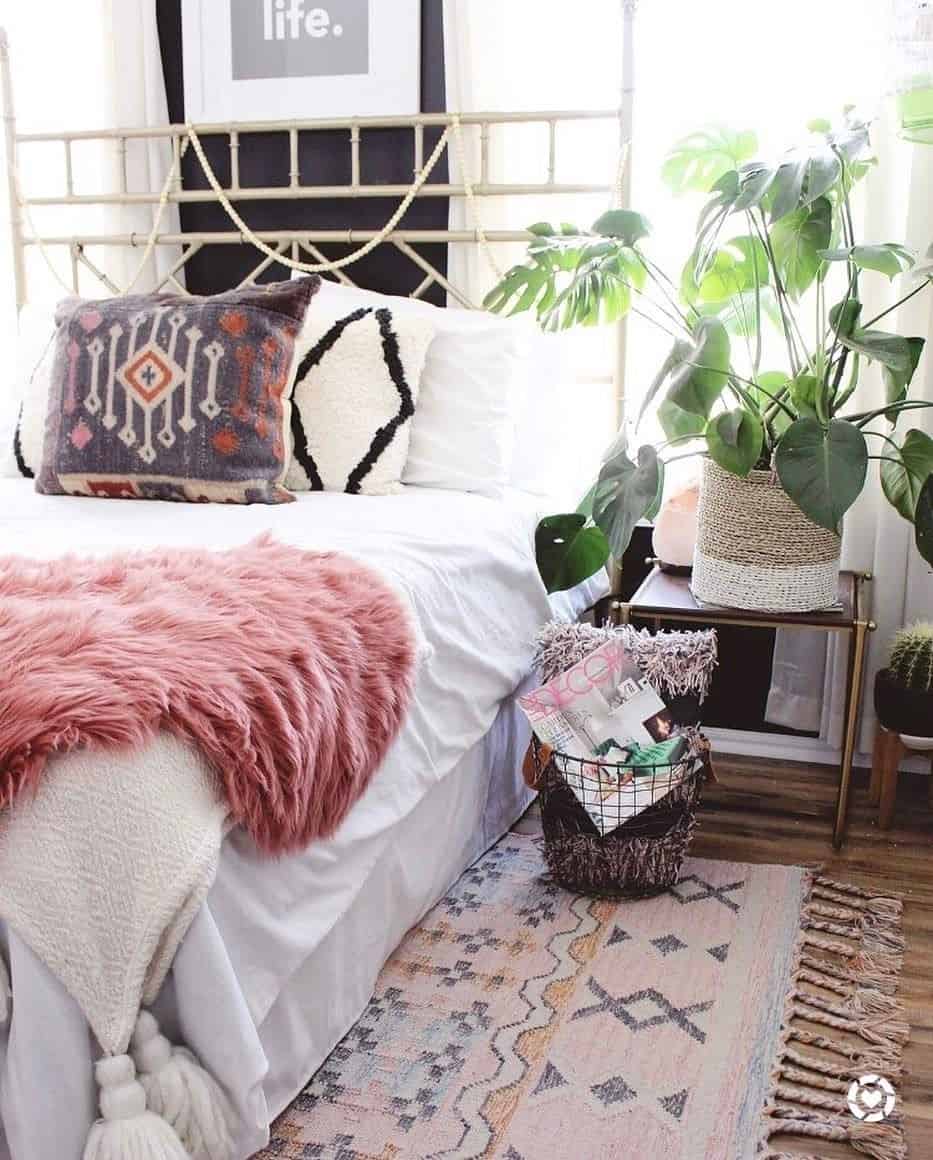 A bohemian bedroom is a perfect place to relax and unwind, so it's important to make sure that your space is as comfortable as possible.
A textured rug can add extra warmth and comfort to your floor and help create a relaxing atmosphere in your bedroom. Choose a rug with a soft texture and earthy colors to create a bohemian feel in your bedroom.
6. Tribal Flair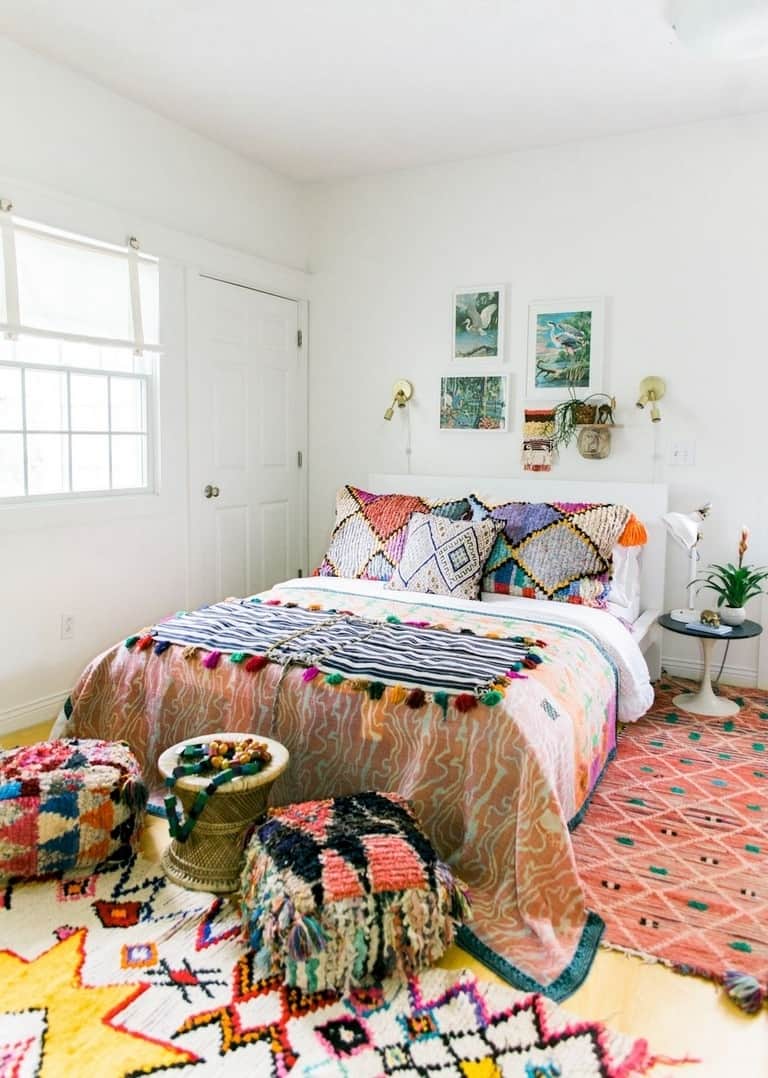 The other key element of the bohemian interior design is the tribal accent. Add tribal flair to your bedroom with a few items. A dream catcher is an essential bohemian accessory, and it will also help you have sweet dreams.
You can also add a tapestry with a tribal print or beaded curtains for the doorways. These items will give your bedroom an ethnic and bohemian vibe that you are going.
Tip: The bohemian decor is perfect for any college student who wants an authentic, yet modern feel in their dorm room.
7. Add the Rattan Headboard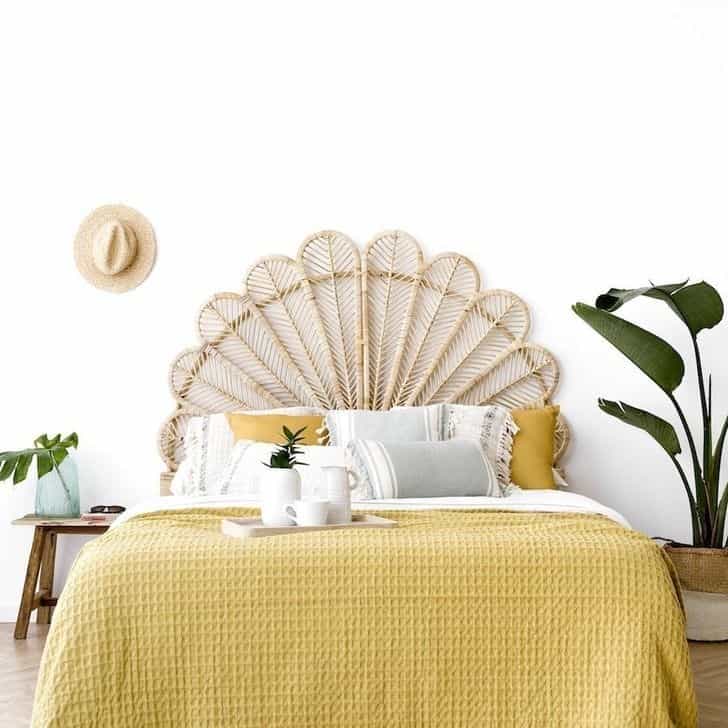 Rattan and wicker furniture is often associated with bohemian or beachy design, making it the perfect addition to your bohemian bedroom.
A rattan headboard will add both texture and visual interest to your space. You can find rattan headboards at most home goods stores or online retailers.
8. Minimalist Boho Bedroom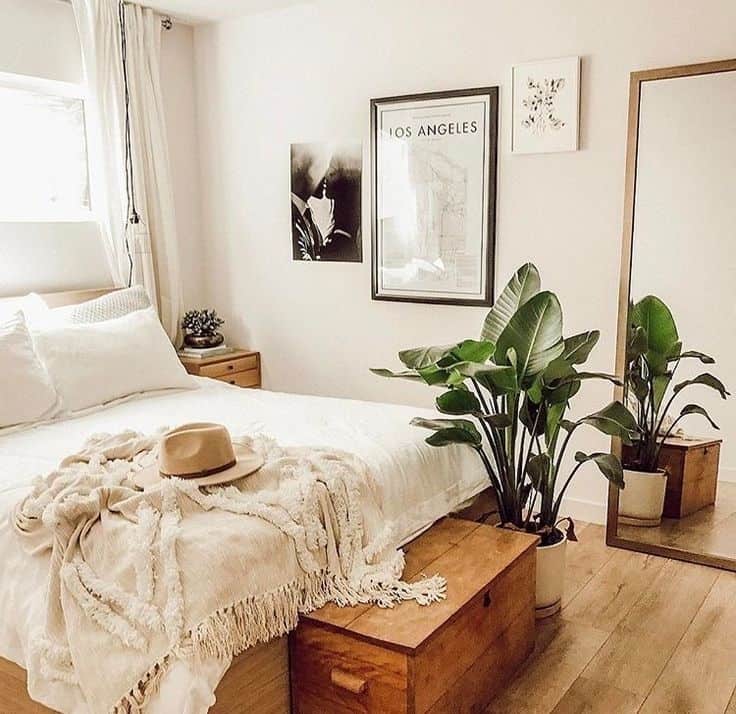 Whether you're a bohemian at heart or want to add a touch of bohemianism to your bedroom, there are endless ways to do so. If you're looking for boho bedroom ideas but don't want the space to feel too busy, opt for a minimalist bohemian look.
With a light color palette of whites, creams, and pastels, it is possible to create a minimalist bohemian bedroom. Keep the walls and floor bare or add a light rug to help ground the space.
9. On Budget Bohemian Bedroom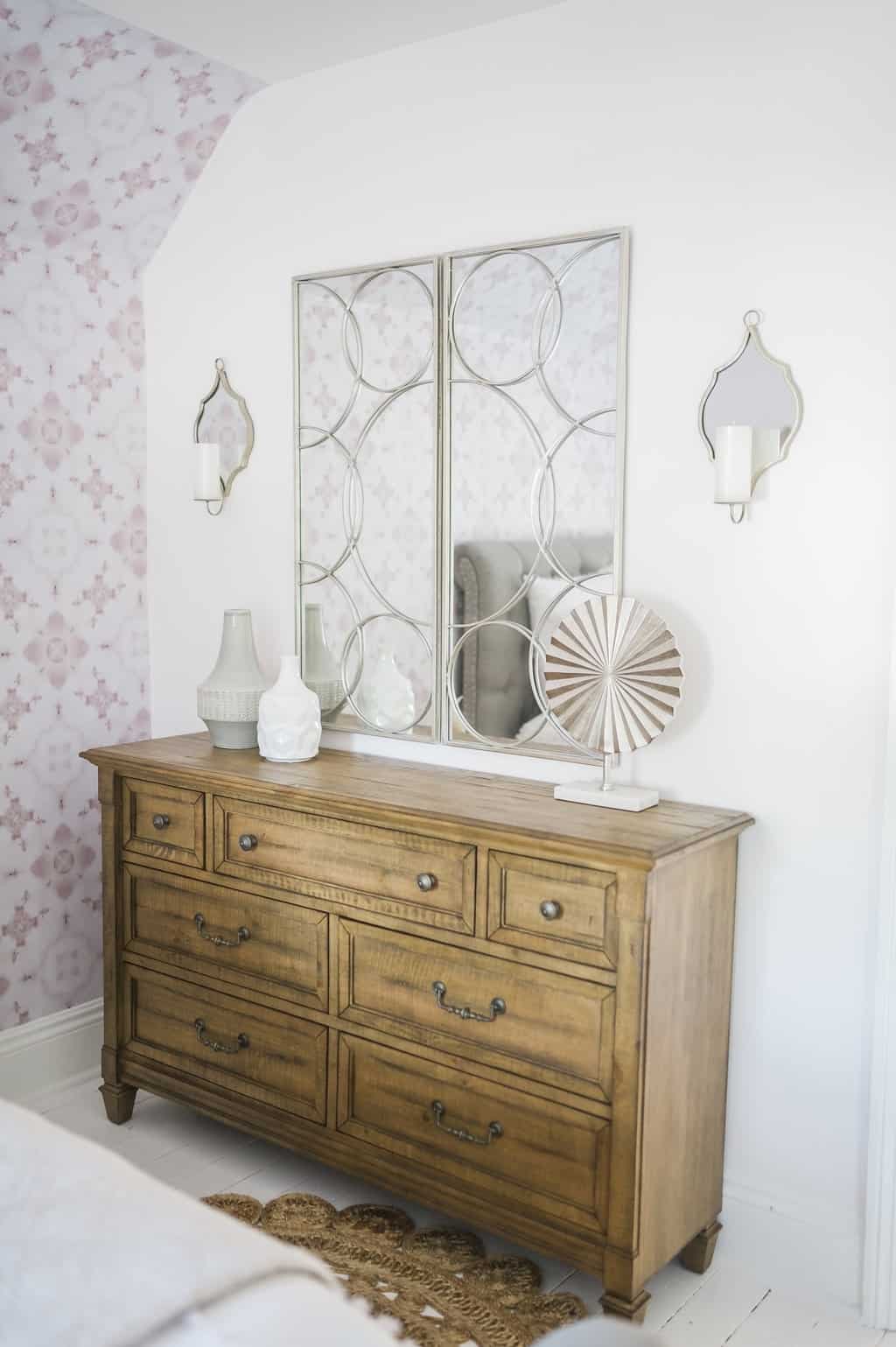 If you're on a budget, there are still plenty of bohemians' bedroom ideas that you can use to create a stylish and relaxing space.
One option is to repurpose furniture or accessories that you already have in your home. For example, an old dresser can be transformed into a vanity with paint and decorative knobs.
10. Macrame Bohemian Bedroom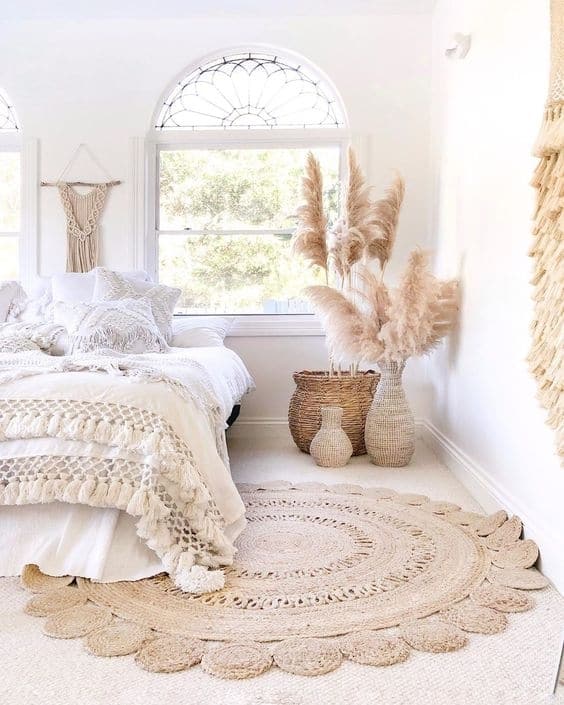 If you're looking for bohemian bedroom ideas with a touch of romance, consider adding some macrame to your space.
Macrame is a type of textile made from knots and loops, and it can add texture and interest to any room. Try hanging a macrame wall hanging above your bed or draping one over a mirror or piece of furniture.
You can also find macrame pillows, rugs, and other home decor items to add a bohemian touch to your bedroom.
11.
with Plants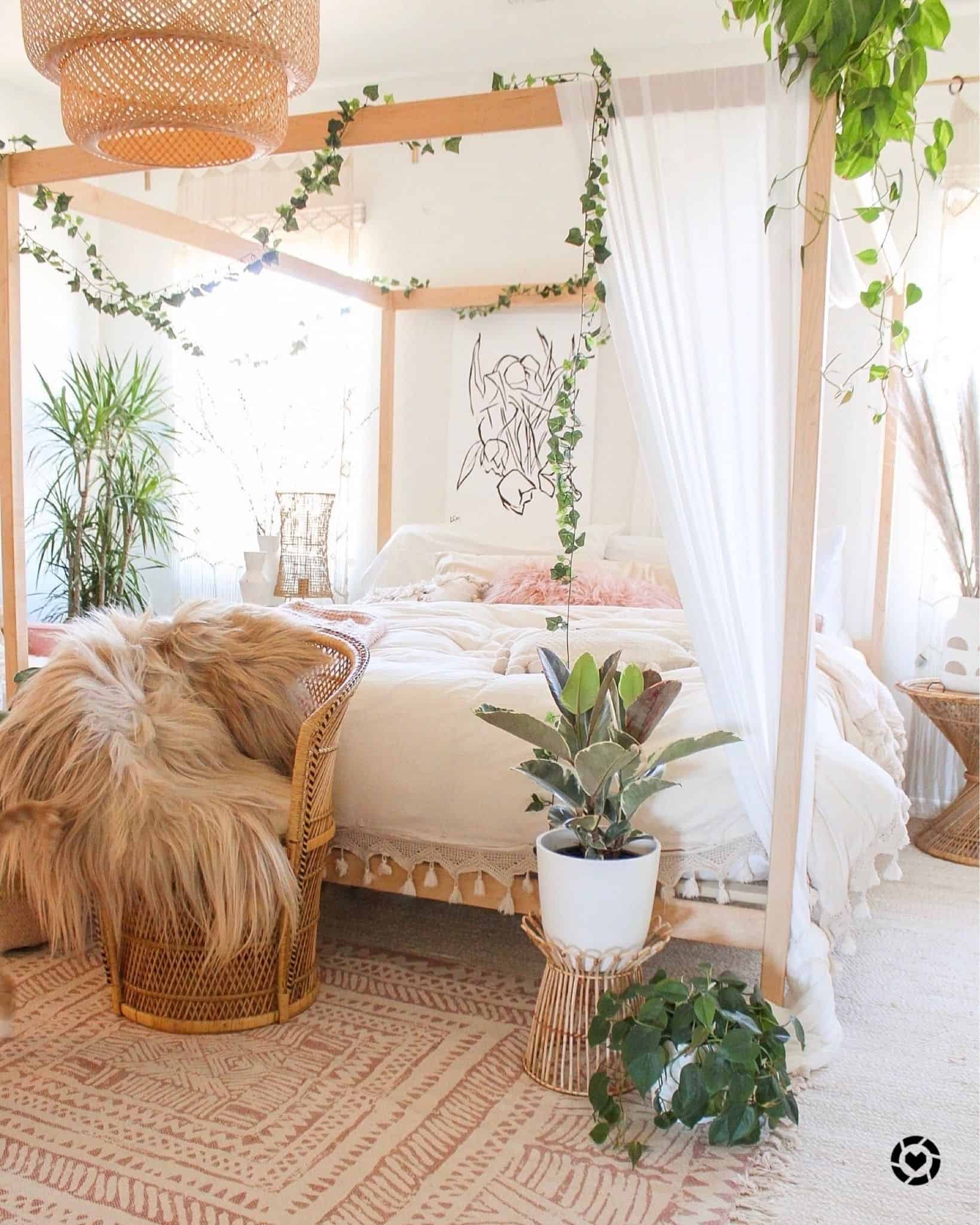 Plants are a key part of any bohemian space, and they can really help create a relaxing and stylish bedroom. Try adding potted plants to your bedroom or hanging some plants from the ceiling.
If you have a green thumb, you could even create a bohemian-inspired indoor garden in your bedroom. Plants not only look great, but they also help to purify the air and can make your space feel more relaxing.
12. Modern Bohemian Bedroom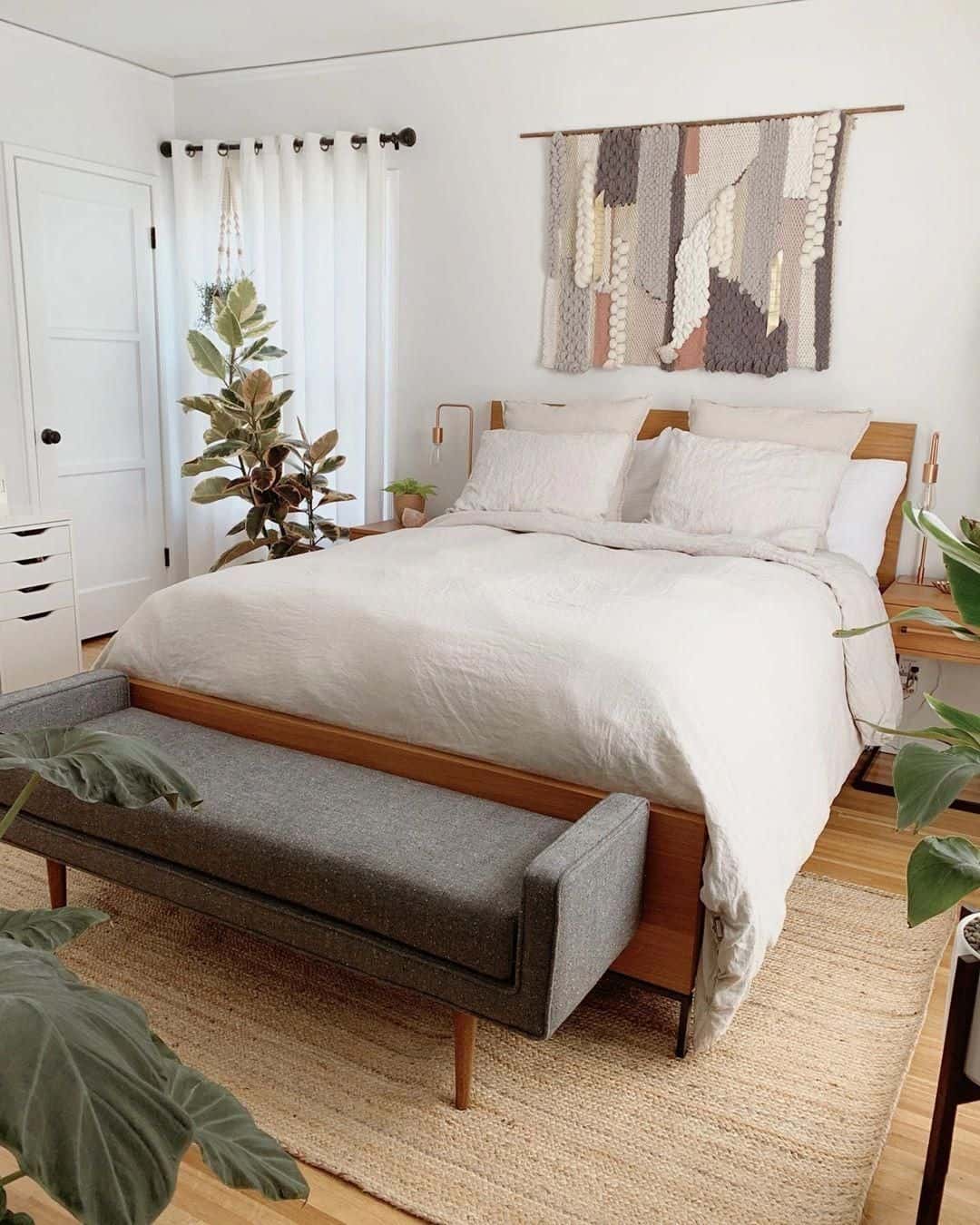 Bohemian bedroom decor can seem a little daunting, but you can easily achieve the look with the right tips and tricks.
Start with a neutral base. Bohemian bedrooms often incorporate lots of different colors and patterns, so it's best to start with a clean slate. White wall is a great option, but you can also choose a more neutral cream or light grey.
Add in some bohemian elements. Once you have your base set, it's time to start adding in some bohemian details—incorporate items like tapestries, rugs, and pillow cover in bright color and patterns. Don't be afraid to mix and match different styles either- bohemian style is all about being eclectic!
13.
Off White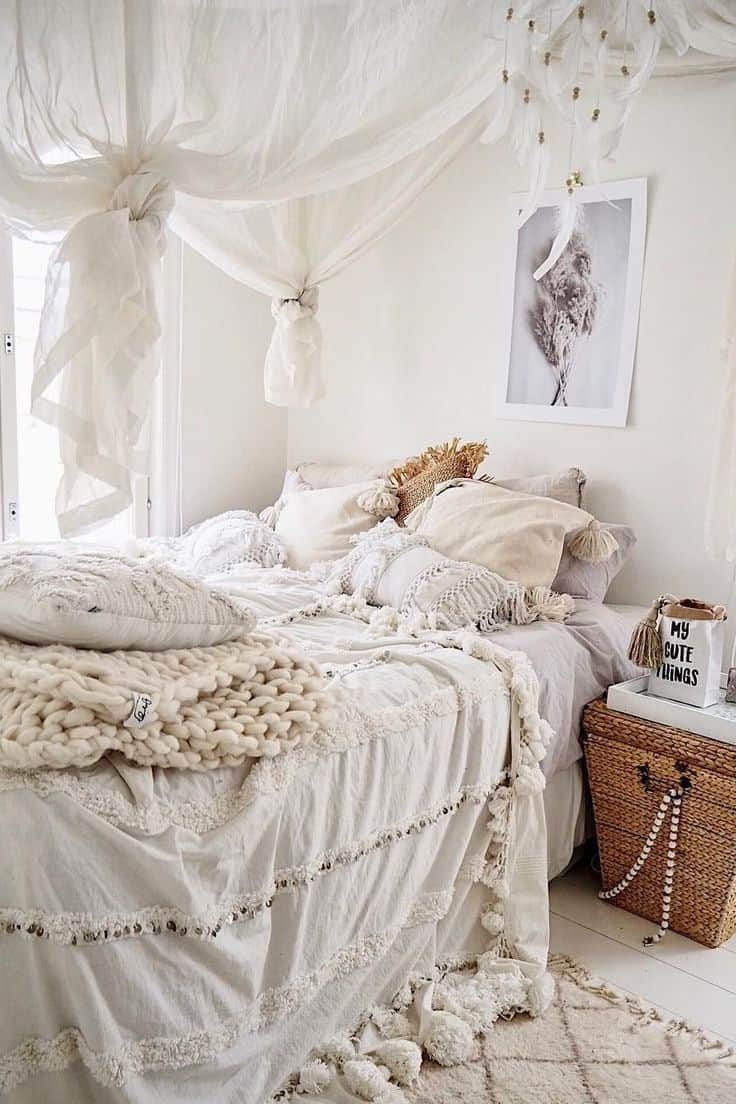 White bohemian bedroom ideas are a great way to create a bright and airy space. Add pops of color with the rattan box and accessories to keep the room from feeling too bland.
14. Neutral Bohemian Bedroom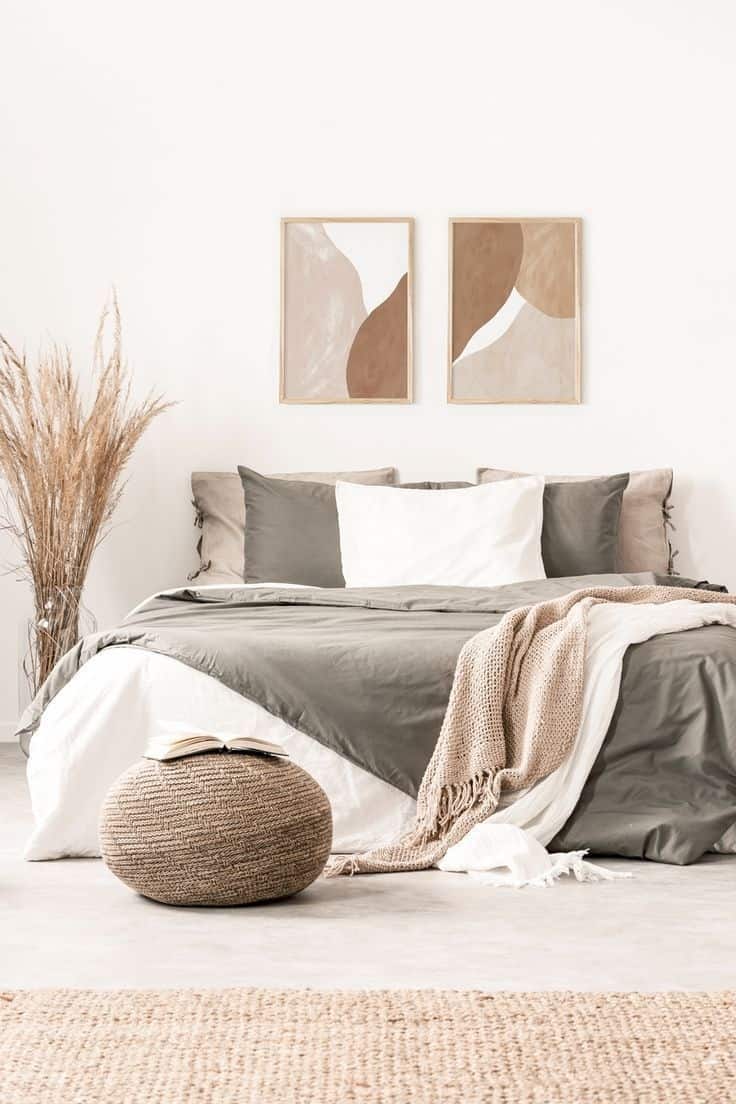 If you want a more subtle boho decor, try using neutral colors like beige and white. You can still add bohemian touches with the simple wall art, pillows, and plants.
15. Dramatic Bohemian Bedroom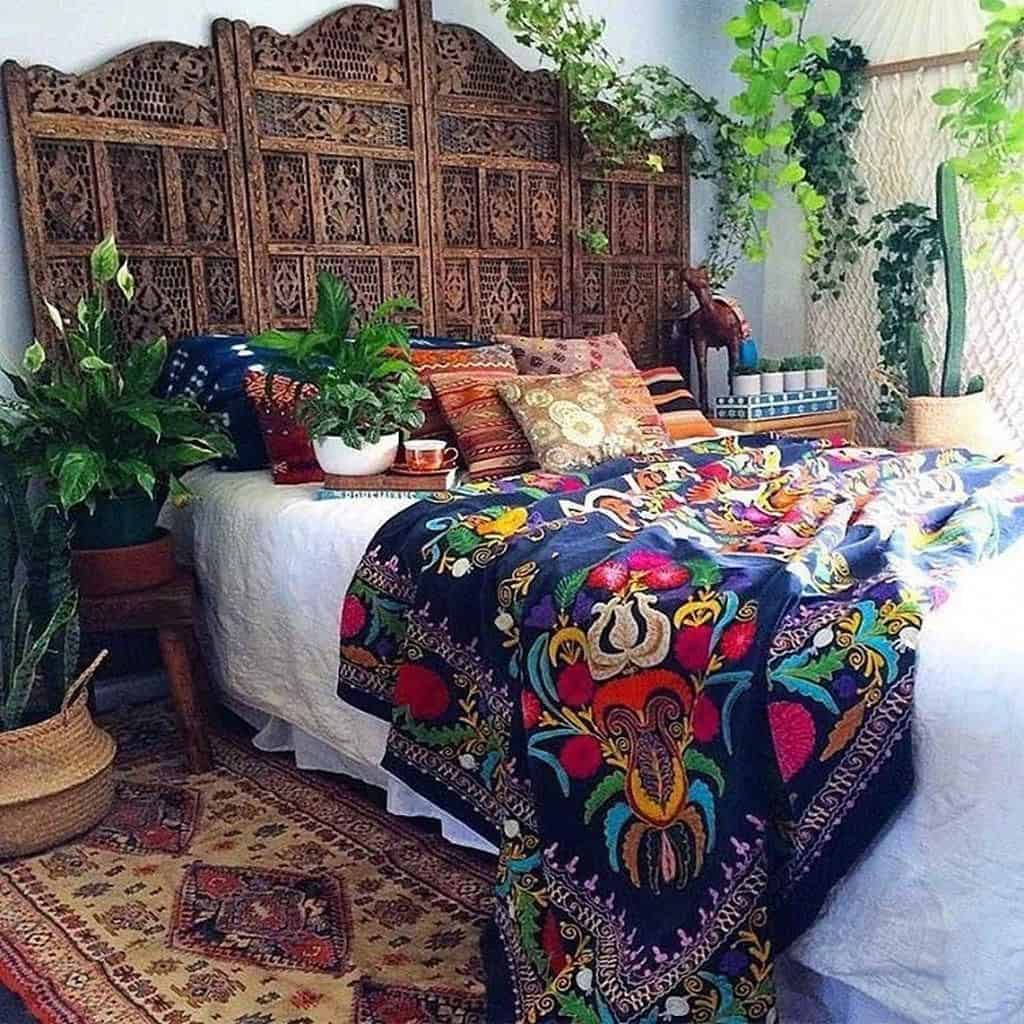 If you're looking for bohemian bedroom ideas that are a little more dramatic, try using dark colors like black and deep purple.
Add bohemian elements like patterned pillows and blankets, Moroccan-inspired rugs, and plants to create a space that feels both bohemian and stylish.
16. Relaxing Bohemian Bedroom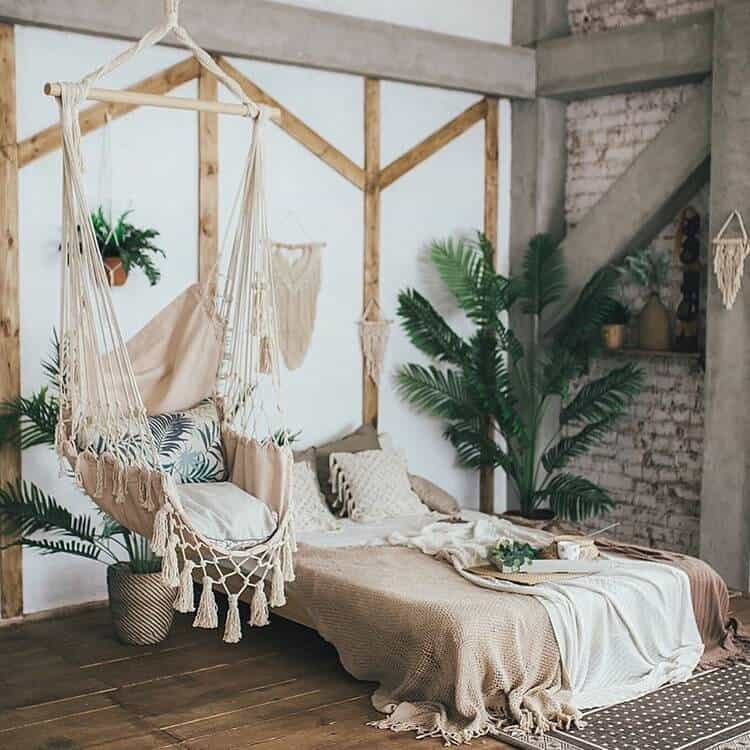 If you want your bohemian bedroom to feel more like a relaxing oasis, stick to lighter colors like pale blue and white. Add plenty of plants and cozy textiles to make it feel like a true retreat that is soothing just as it is beautiful.
17. Hanging Chair Bohemian Bedroom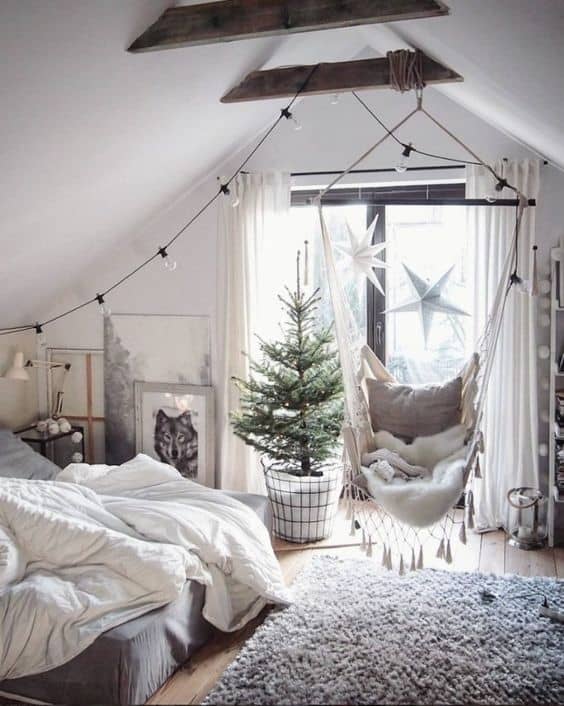 A hanging chair is a great way to add a bohemian touch to your bedroom. You can find hanging chairs made of rattan, wicker, or fabric.
They are perfect for adding a bit of bohemian flair to your space. Also, it offers you extra comfort in the bedroom.
18. Black and White Bohemian Bedroom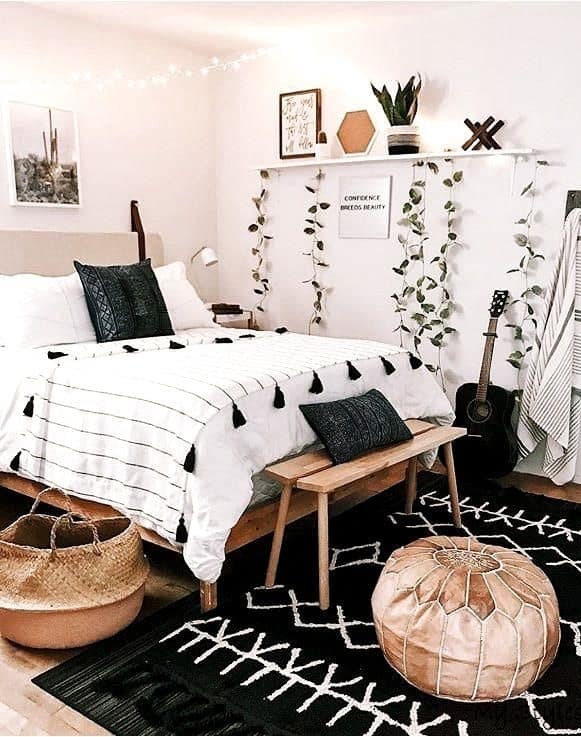 When it comes to designing your bedroom, black and white is always a classic color scheme. Adding in some textured fabrics and eclectic accessories will give your bedroom that bohemian feels you're looking for.
The white walls aren't the only thing standing between yourself and a good night's sleep; get rid of any distractions with an eye-catching bed coverings choice, like damask or plaid!
19. Colorful Bohemian Bedroom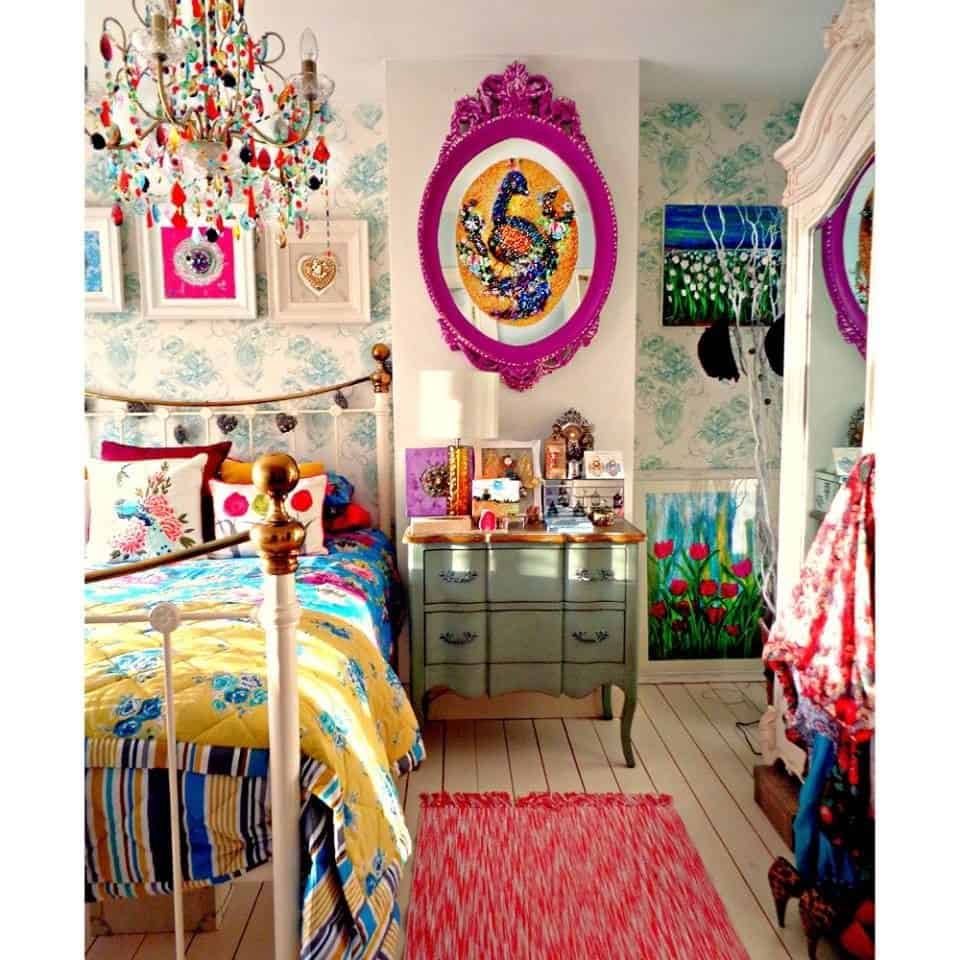 When talking about bohemian style, color is key. Use bright color to create a fun and vibrant space. Think about using shades of pink, blue, yellow, and red to bring life to your room.
20. White Curtain Bohemian Bedroom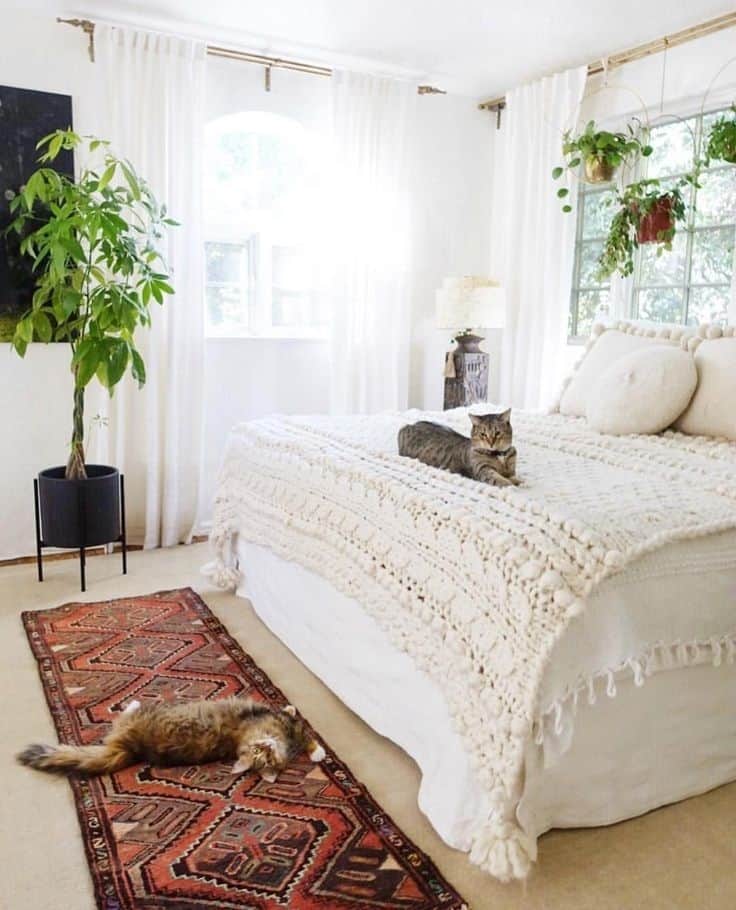 One of the best bohemian bedroom ideas is to use white curtains. They add a touch of elegance and romance to the room. You can use them to frame your bed or window or hang them from the ceiling.
21. Hanging Bed Bohemian Bedroom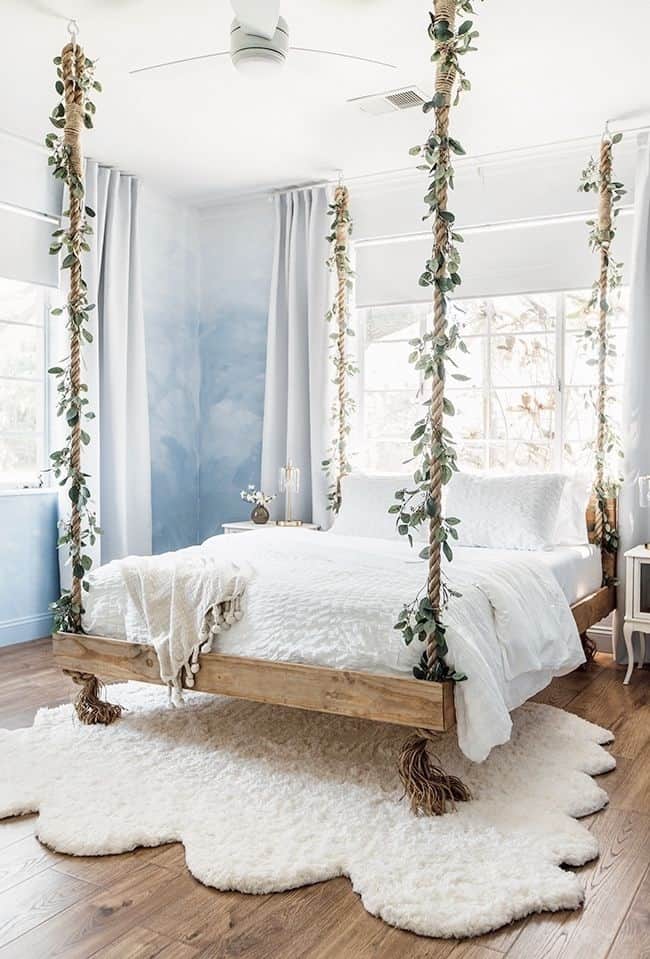 Hanging a bed is a great bohemian bedroom idea if you have the space.
It adds an interesting focal point to the room and can be very relaxing. For example, you can hang a bed from the ceiling or a frame.
22. Bring The Canopy Bed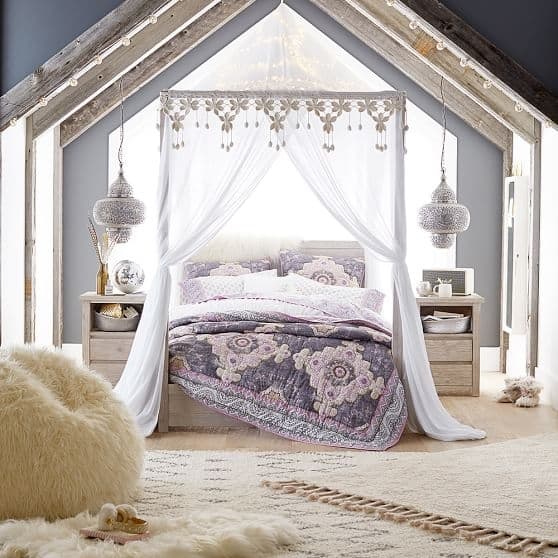 Another option for adding a bit of bohemian flair to your bedroom is using a canopy bed. This will add an extra layer of visual interest and make the space feel more romantic.
23. Repurposed Wooden Pallet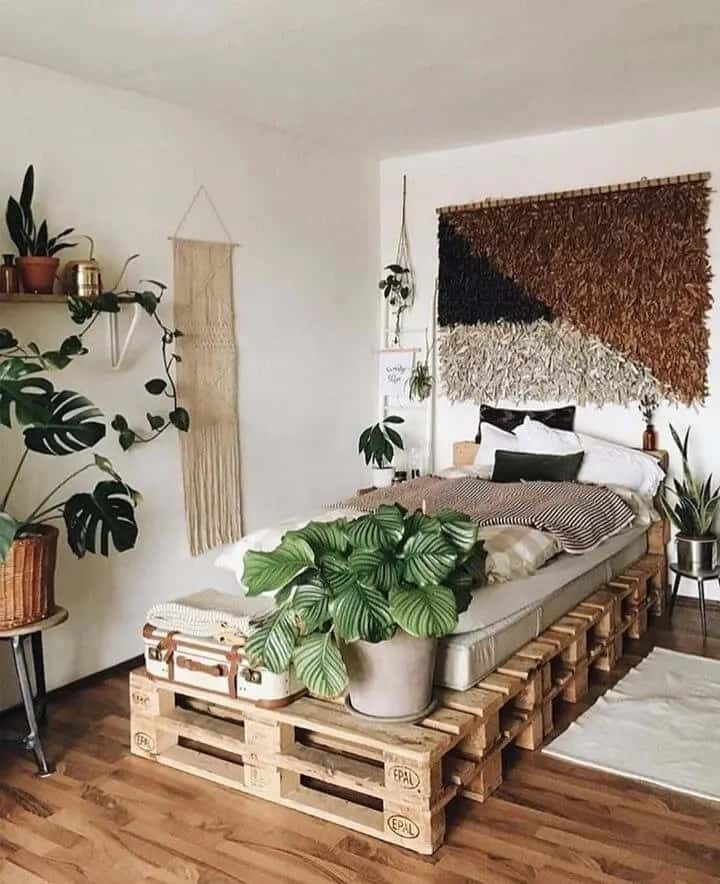 With a wooden palette bed, you can create a bohemian design bedroom. This bed type is unique and stylish, perfect for any bohemian space.
Add a few different color pillows to the bed for extra comfort and style. You can also hang a tapestry or piece of art above the bed to complete the look.
24. The Simple Look At Its Finest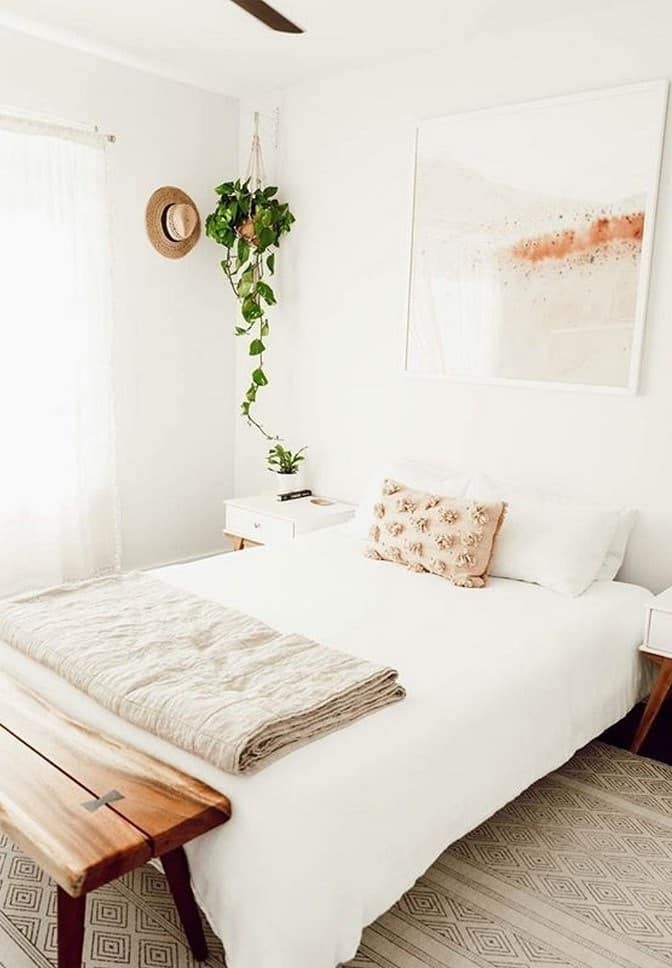 If you're looking for bohemian bedroom ideas but don't want to go too crazy with color or patterns, start with a basic bohemian vibe.
Think of natural materials like wood and rattan, neutral colors, and simple yet stylish furniture. From there, you can add in bohemian-inspired details like a textured pillow.
25. Simple Headboard Bohemian Bedroom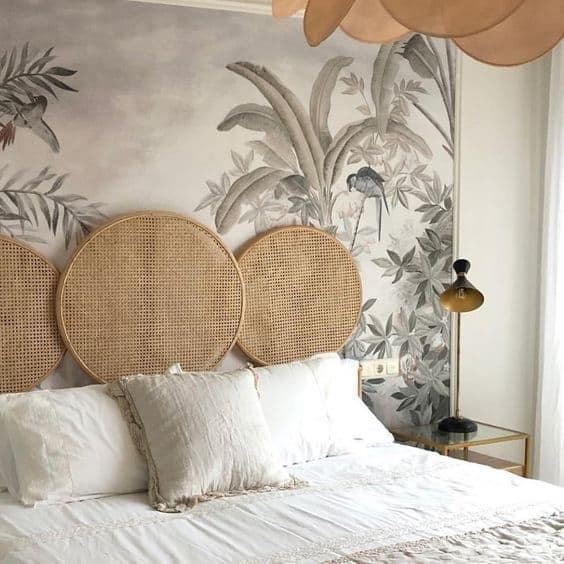 A simple headboard can be the perfect solution if you want to keep the bohemian vibe going but don't want too much clutter. It creates a bohemian touch while also being functional at the same time.
26. Small Bohemian Bedroom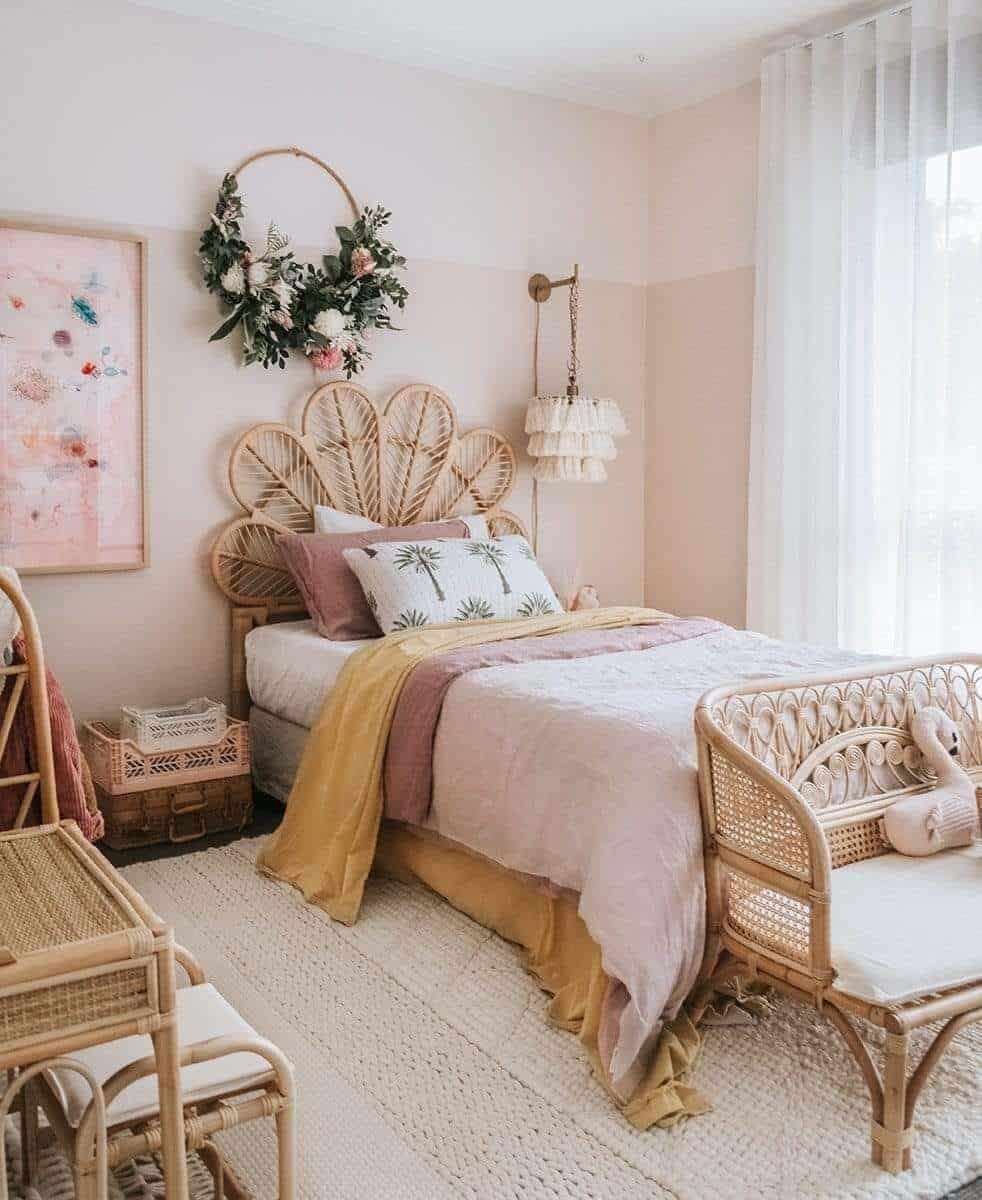 If you're tight on space, bohemian decorating is still possible. Try a small bohemian bedroom with medium colors for the walls and bedding.
This will help make the room look larger. Keep furniture to a minimum to prevent the narrow feel.
27. Apartment Bohemian Bedroom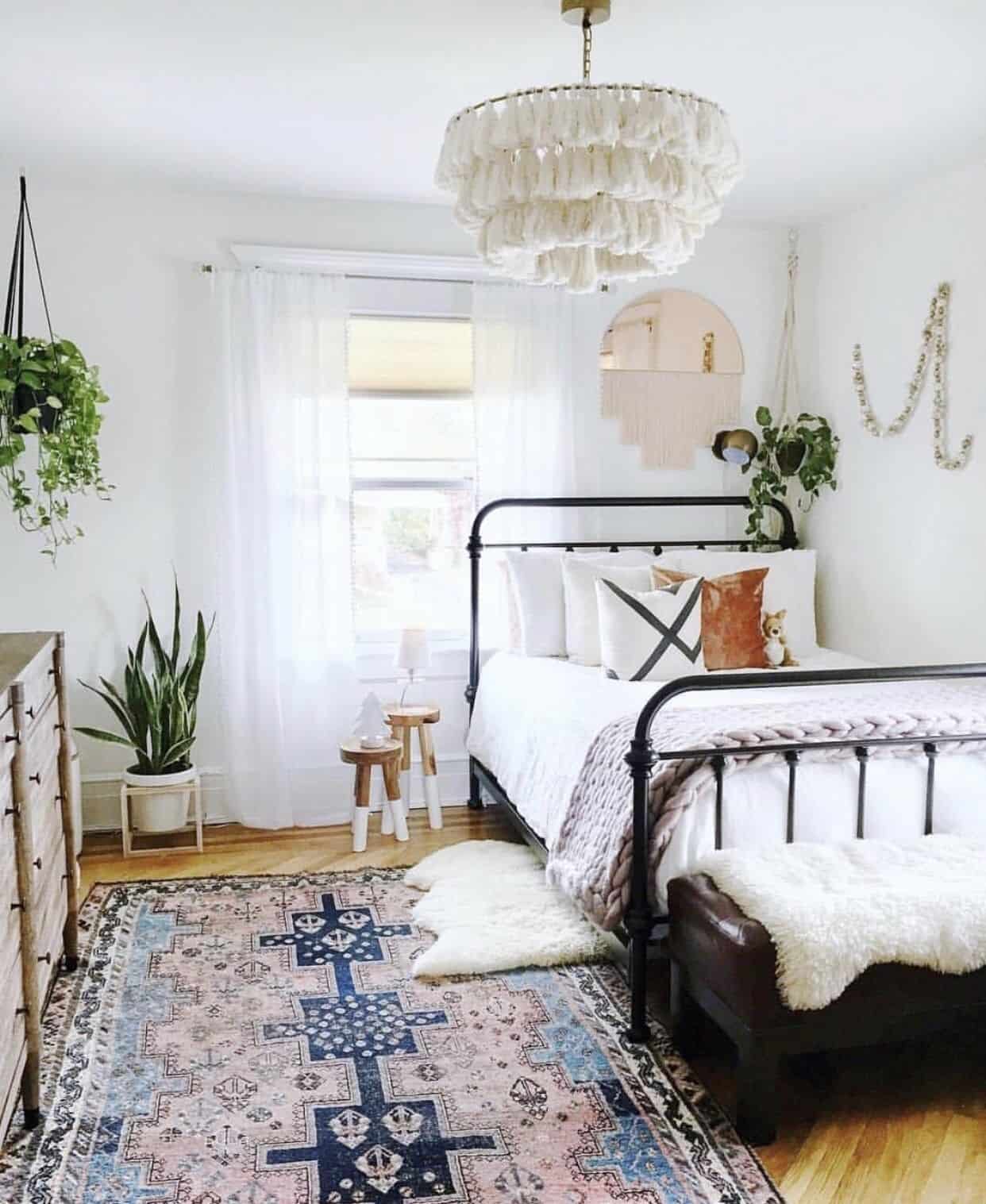 It is not a big deal to decorate your limited apartment with a bohemian style. This bohemian style will make your small space feel cozy and warm.
Using a neutral tone is the best option. The touch of bohemian style comes from the simple decorative piece on the wall.
28. Loft Bohemian Bedroom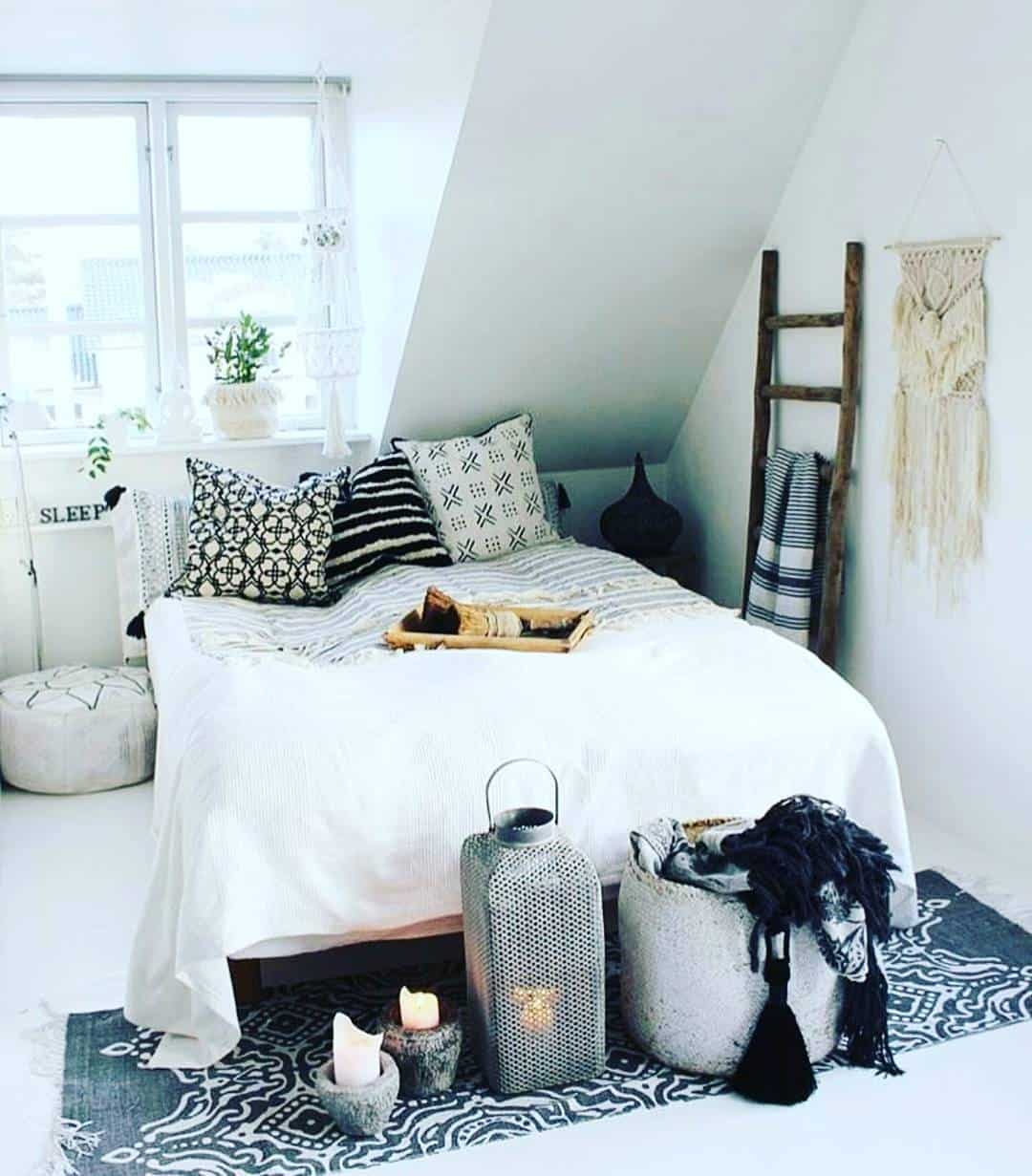 If you want to add a touch of bohemian style to your bedroom, consider using a loft bed. This can give you more space to work with and create a relaxing and stylish oasis.
29. Wooden Wall Decor Boho Design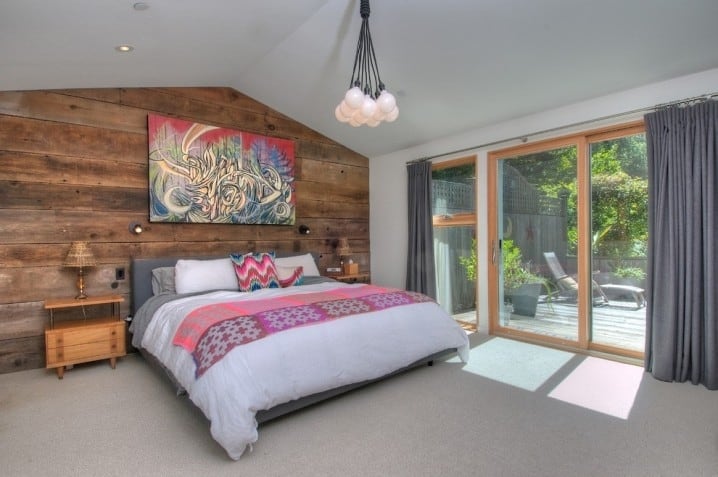 The light tone of the wooden wall decor will infuse the bohemian style to the bedroom. It infuses the warm atmosphere while also bringing in the beauty of natural hints.
The hanging tapestry and the plant add more bohemian character to the room.
30. Natural Bohemian Bedroom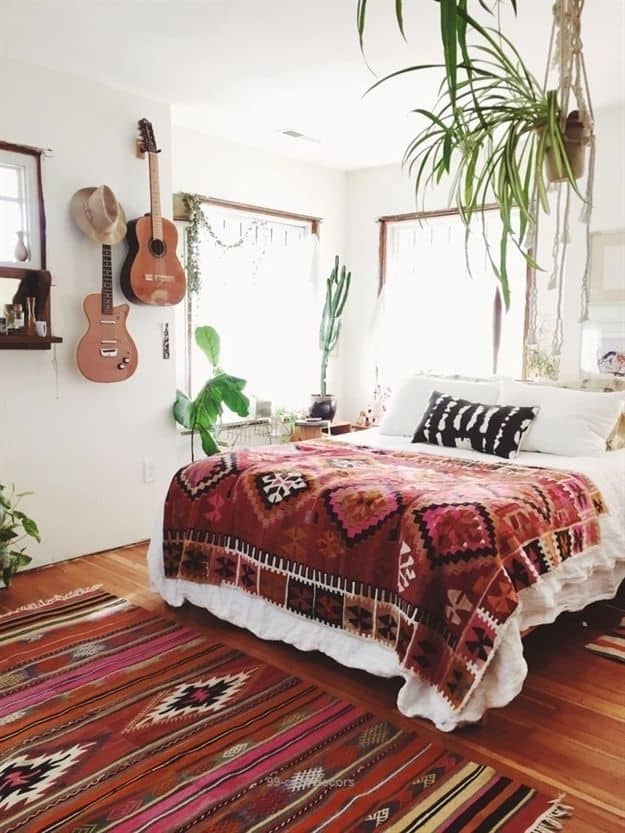 Incorporate lots of greenery and natural elements like wood and stone to create a space that feels grounded and peaceful. Also, adding indoor plants to the bedroom will be a smart decision to highlight the boho vibe.
31. Wall Paint Bohemian Bedroom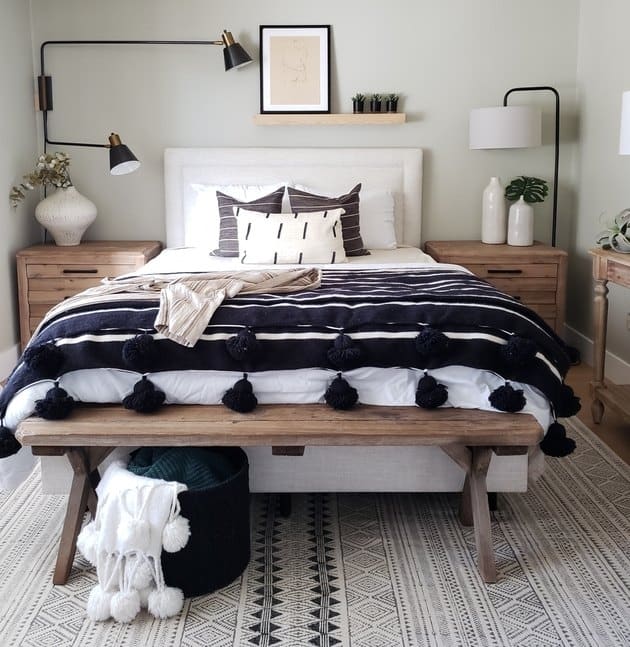 Paint your bohemian bedroom walls white for a clean and serene look. You could also go for soft gray or brown hues to create a more relaxed atmosphere.
32. Bohemian Bedroom Lighting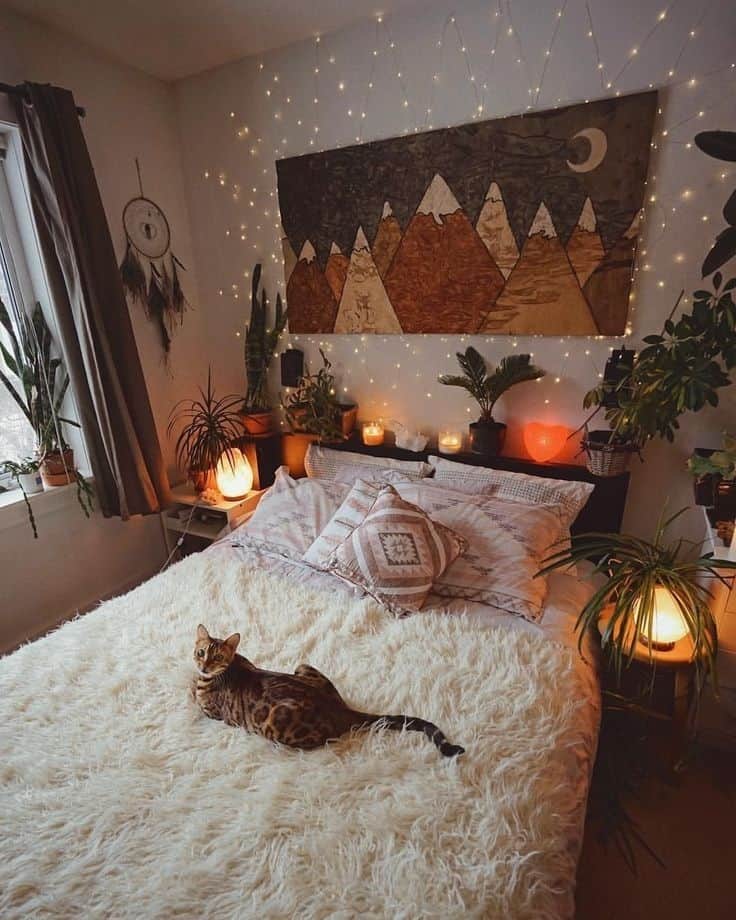 Candles are always a great option for bohemian bedrooms since they create a warm and inviting ambiance. Fairy lights are also a popular choice, and they can be used to create a whimsical feel in the room.
33. Wallpaper Bohemian Bedroom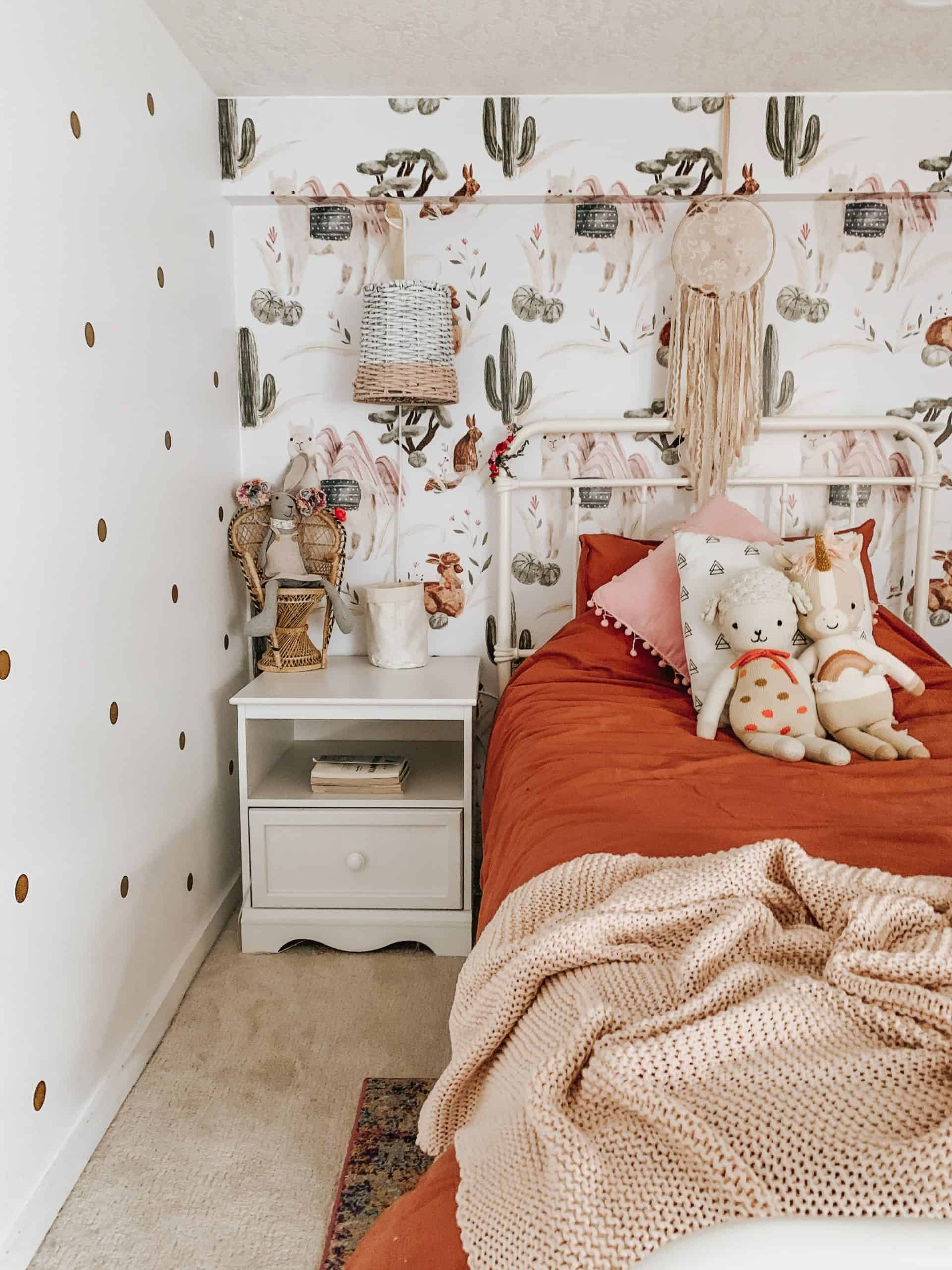 Wallpaper is a great way to effortlessly add texture, color, and pattern to your bohemian bedroom. I love the look of wallpaper behind a bed or in a reading nook. It's such a cozy way to add personality to your space.
34. Cozy Bohemian Bedroom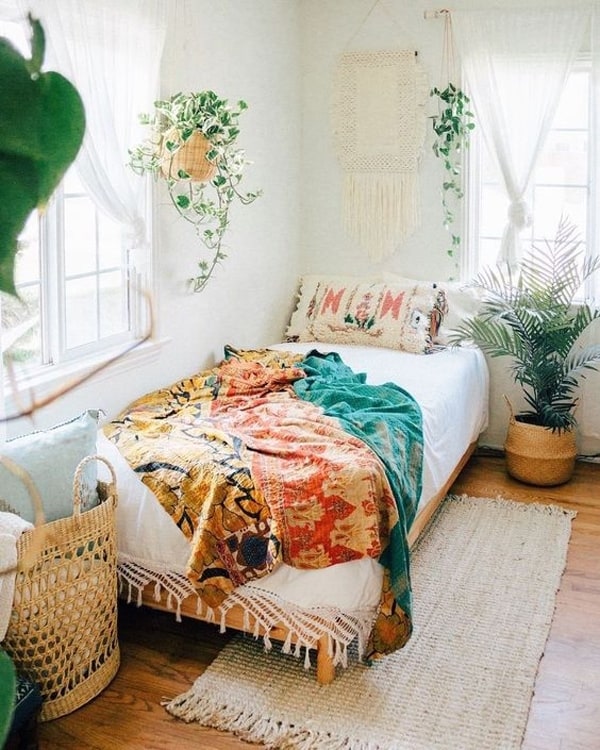 The cozy bedroom is the best. Whether you're snuggled up in bed with a good book or just taking a quick catnap, it's the perfect place to relax and forget about the world.
35. Contemporary Bohemian Bedroom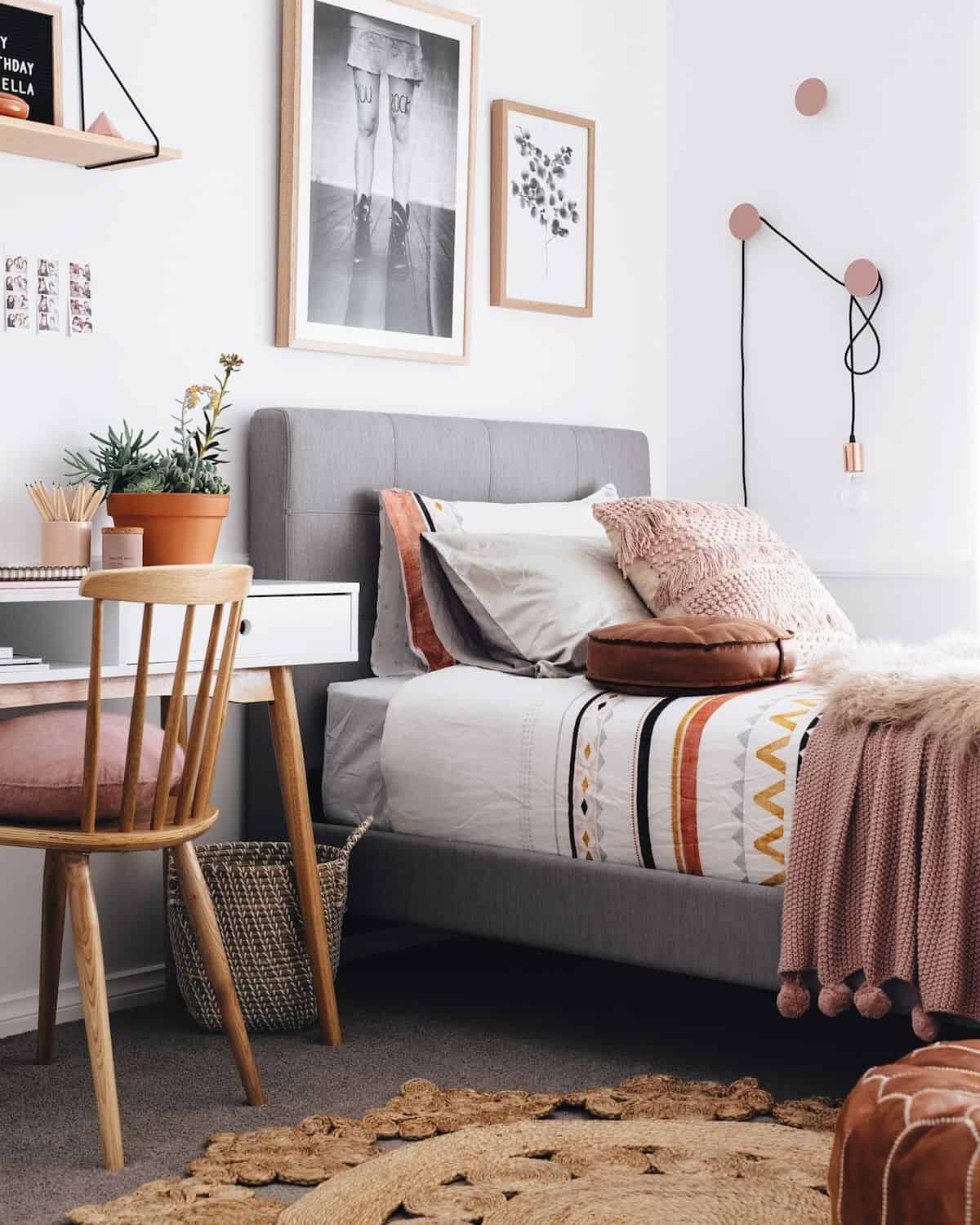 Bohemian bedroom ideas don't have to be rustic and old-fashioned. A contemporary bohemian bedroom can be just as stylish and relaxing.
36. Moroccan Bohemian Bedroom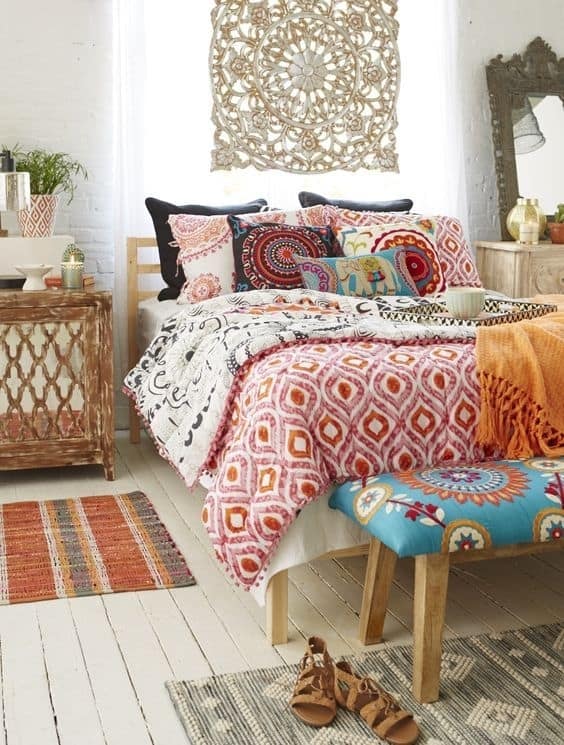 If you're looking to add a touch of bohemian flair to your bedroom, consider using Moroccan-inspired decor. This can include colorful tiles, ornate bedding, and hanging lanterns.
Not only will this create a relaxing and stylish space, but it'll also be unique from any other bedroom in your home.
Bohemian bedrooms are all about comfort and relaxation, so making a few small changes can go a long way in creating the perfect atmosphere for rest and rejuvenation.
From adding textiles to changing up your lighting, there are plenty of simple changes you can make to give your space an instant update.
With these bohemian bedroom ideas, you can transform your space into a haven of tranquility where you can escape from the hustle and bustle of everyday life.