Rustic interior is popular for a reason: it's calm, comfortable, and relaxing. Rustic bathrooms are perfect for those who want to get away from it all. Natural materials and earthy tones create a warm, inviting atmosphere, perfect for relaxation.
Finding the best rustic bathroom ideas is not a big matter.
Once you have found some inspiration, it is time to start planning your rustic bathroom.
If you are not sure where to start, we have some rustic bathroom ideas that will help you create the perfect relaxing retreat and make you feel at ease.
From reclaimed wood plank walls to copper accents, there are endless possibilities when it comes to creating a rustic oasis in your home!
Let's figure out the list of rustic bathroom decor ideas down below:
1. Small Rustic Bathroom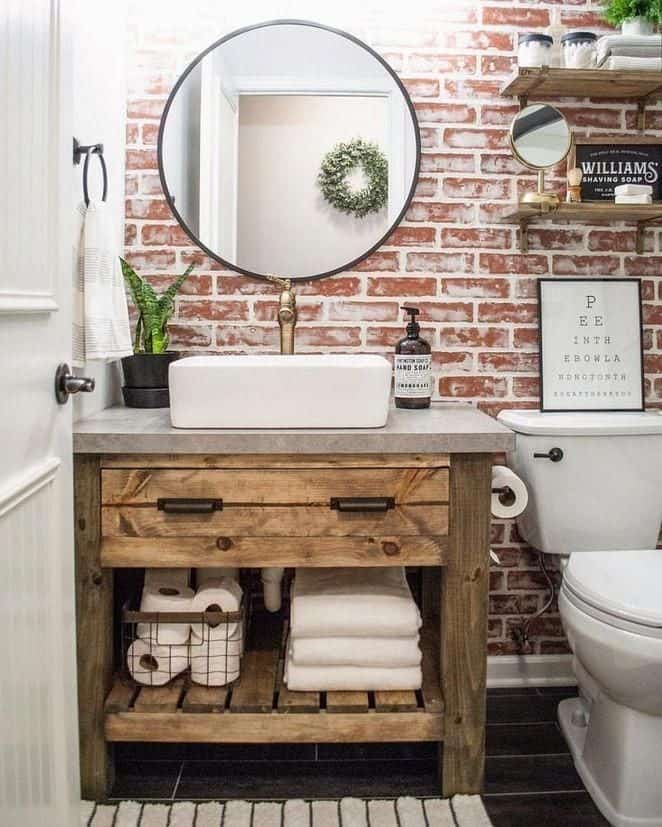 You don't need a spacious area to make an excellent rustic bedroom. A small bathroom can be as cozy and inviting as a large one.
Stone, wood, and brick give a warm, earthy feeling that is perfect for a rustic bathroom, even if it is not too spacious. Also, the framed mirror plays a role in making the bathroom feel more spacious.
More ideas: DIY Bathroom Shelves.
2. Simple Rustic Bathroom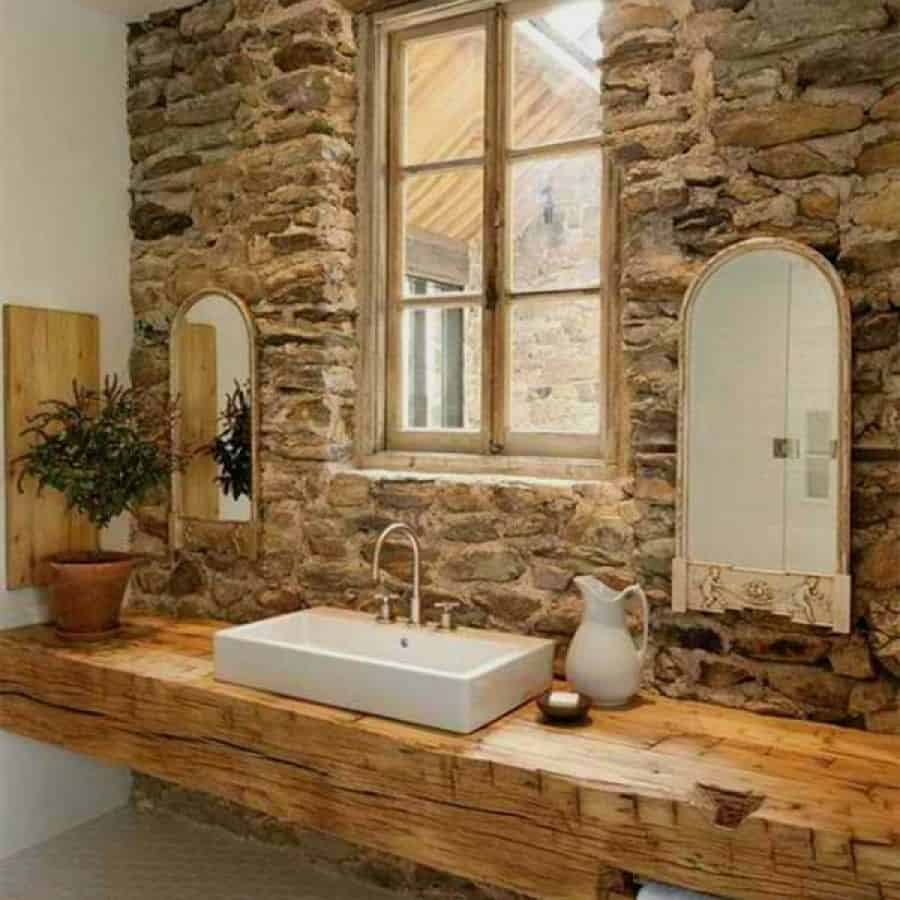 Without lots of touches, the rustic style in the bathroom will define the beauty of simplicity.
Rustic style is identical to something old-fashioned and classic. This bathroom decoration applies natural elements as the main point, such as stone, wood, and plants.
3. Rustic Chic Bathroom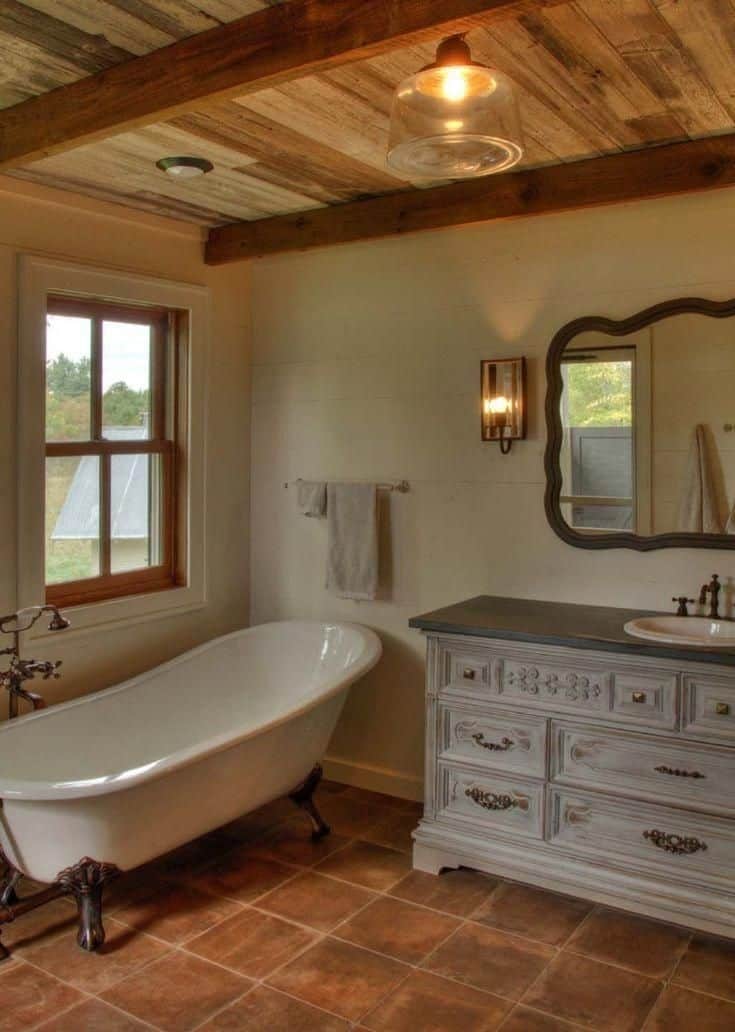 This rustic chic bathroom uses a mix of modern and vintage elements to create a relaxing retreat.
The clawfoot tub, antique wooden vanity, and shiplap walls all work together to give this space a cozy yet stylish feel. Rustic bathrooms can be both simple and luxurious, which falls into the latter category.
4. Farmhouse Rustic Bathroom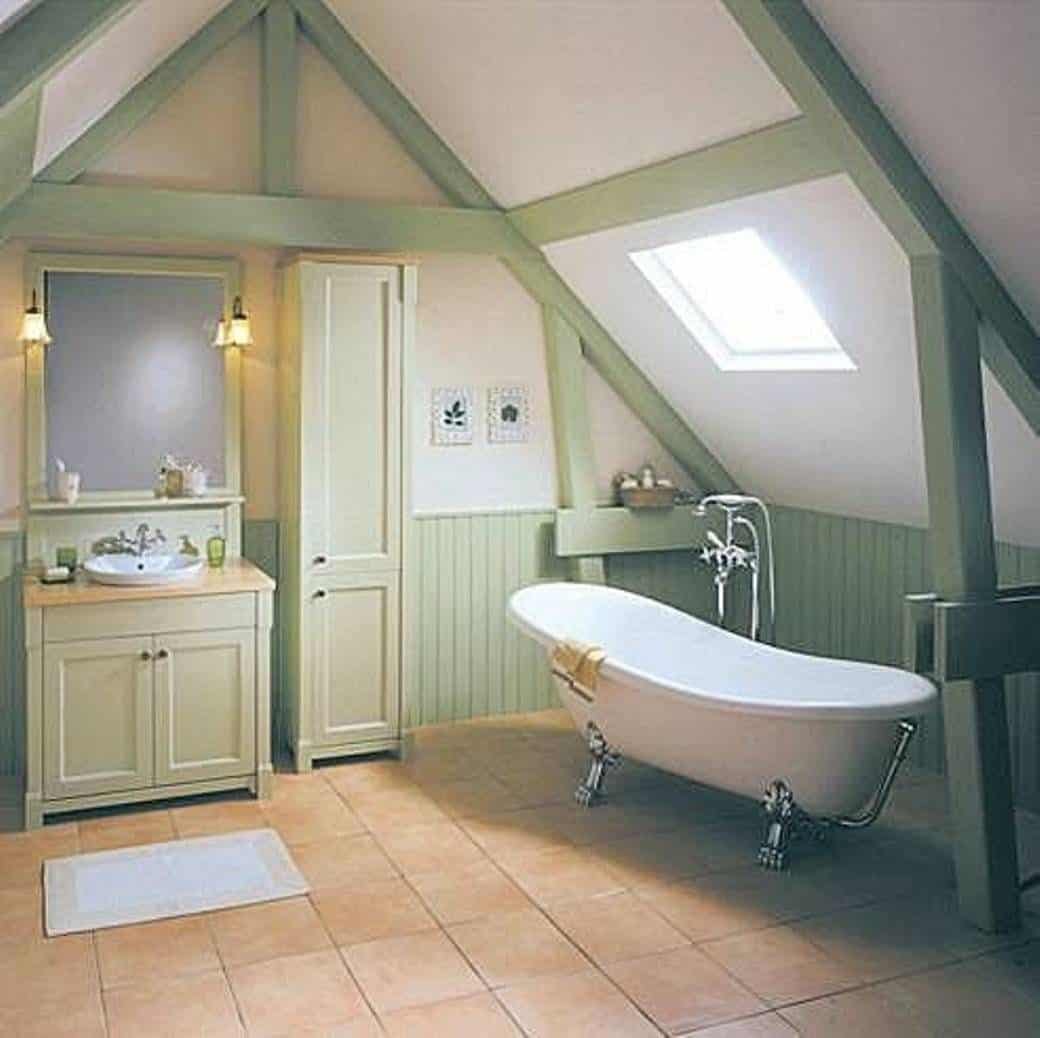 The farmhouse flair gives the rustic bathroom a fresh touch. Exposed wood beams, white walls, and a clawfoot tub create an inviting atmosphere. In addition, it brings together the bathroom, creating an outstanding look.
Also, you will need a rustic bathroom vanity to accentuate the rustic vibe of the bathroom. This simple interior design can update style of the bathroom, offers you a delightful experience of soothing time.
5. Modern Rustic Bathroom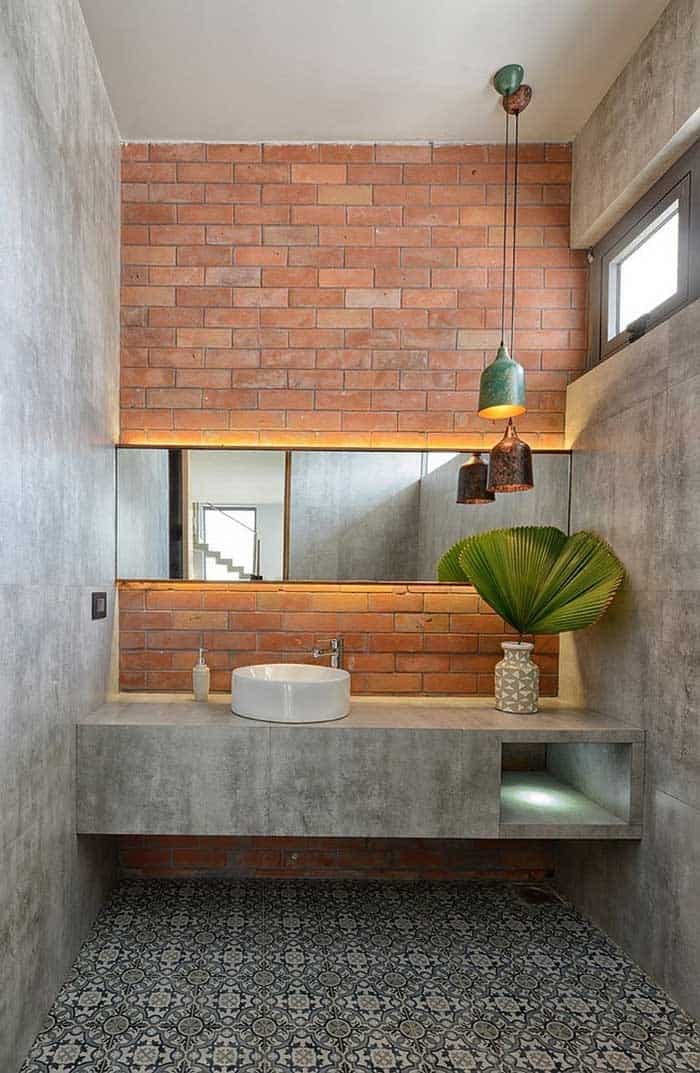 This gorgeous bathroom is a perfect example of how rustic design can be combined with the modern hint. The exposed natural accent, although not much in terms of furniture or decor choices, is done so beautifully by simply using neutral colors to paint over its stone flooring and brick walls, which gives off such an inviting feeling – think cozy instead.
The modern rustic bathroom can be minimalist by using natural materials and keeping the design simple. This type of bathroom can be cozy and relaxing while still appearing modern.
6. Minimalist Rustic Bathroom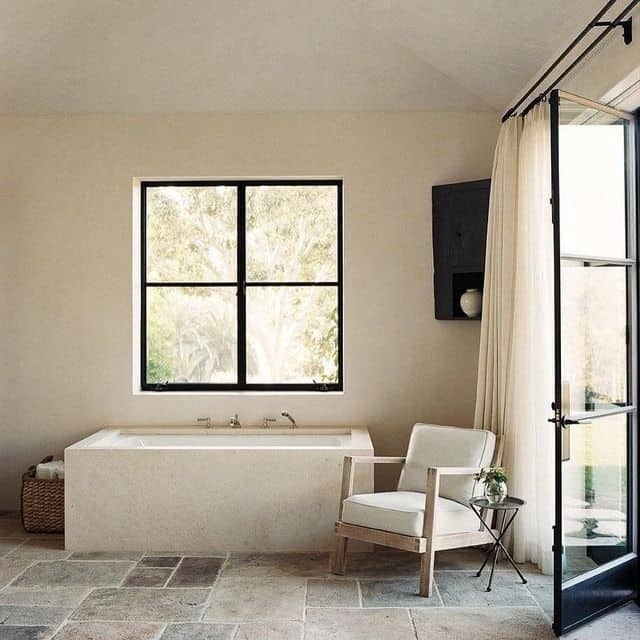 Minimalist bathrooms are perfect for anyone who wants their space to be relaxing and functional. They're also stylish, which means they won't date easily.
A minimalist bathroom should have natural materials like wood or stone in order not only to look cute but to feel comfortable too. Especially since minimalism is all about purity without any excesses. The concrete bathtub looks perfect with the stone tile, exposing the rustic element to the bathroom.
7. Traditional Rustic Bathroom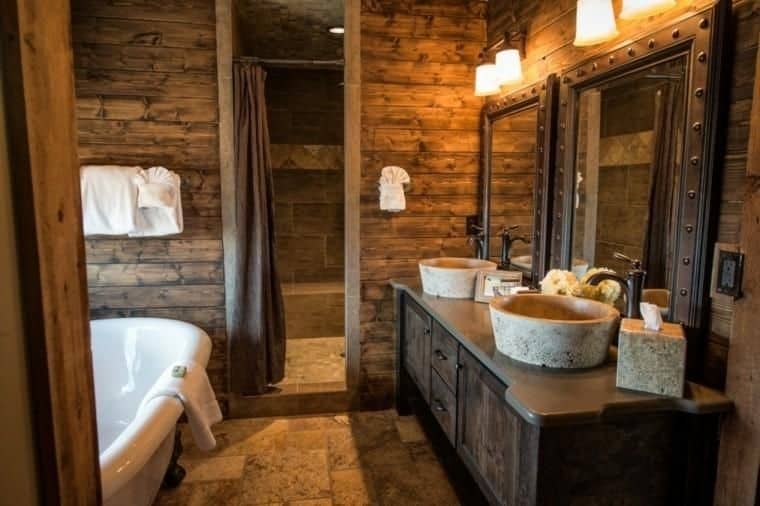 The distressed touch will be an important element of the rustic style, making the traditional accent look more appealing.
It can be created by adding imperfections to the furniture pieces or the fixtures. The weathered look on the metal elements will also create a perfect traditional rustic bathroom.
Rustic wooden walls are also lovely to create the traditional bathroom style you desire.
8. Rustic Industrial Bathroom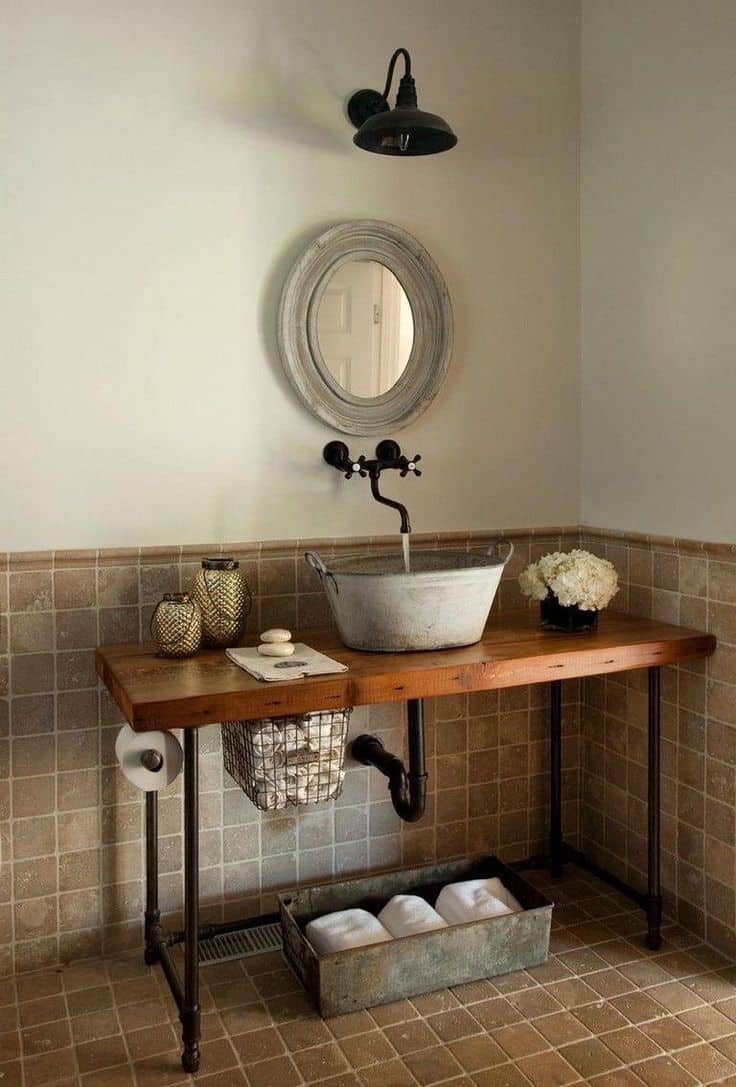 There's something about a rustic industrial bathroom that feels so relaxing. Maybe it's the combination of textures and materials or how the space is designed to be both functional and inviting.
The exposed pipe will be a hint of industrial style, complementing the rustic flair.
9. Rustic Glam Bathroom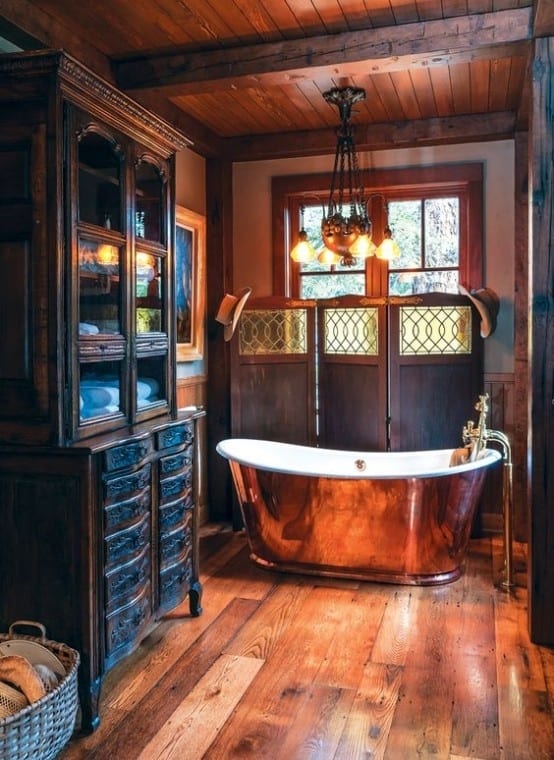 Add a touch of glamour to your rustic bathroom with some metallic accents.
Try using gold or silver hardware on cabinetry and fixtures, or choose a metallic wallpaper to create a focal point. If you're looking for something more subtle, consider adding metallized tile to the space.
They'll add a touch of sheen without being too overpowering.
10. Budget Rustic Bathroom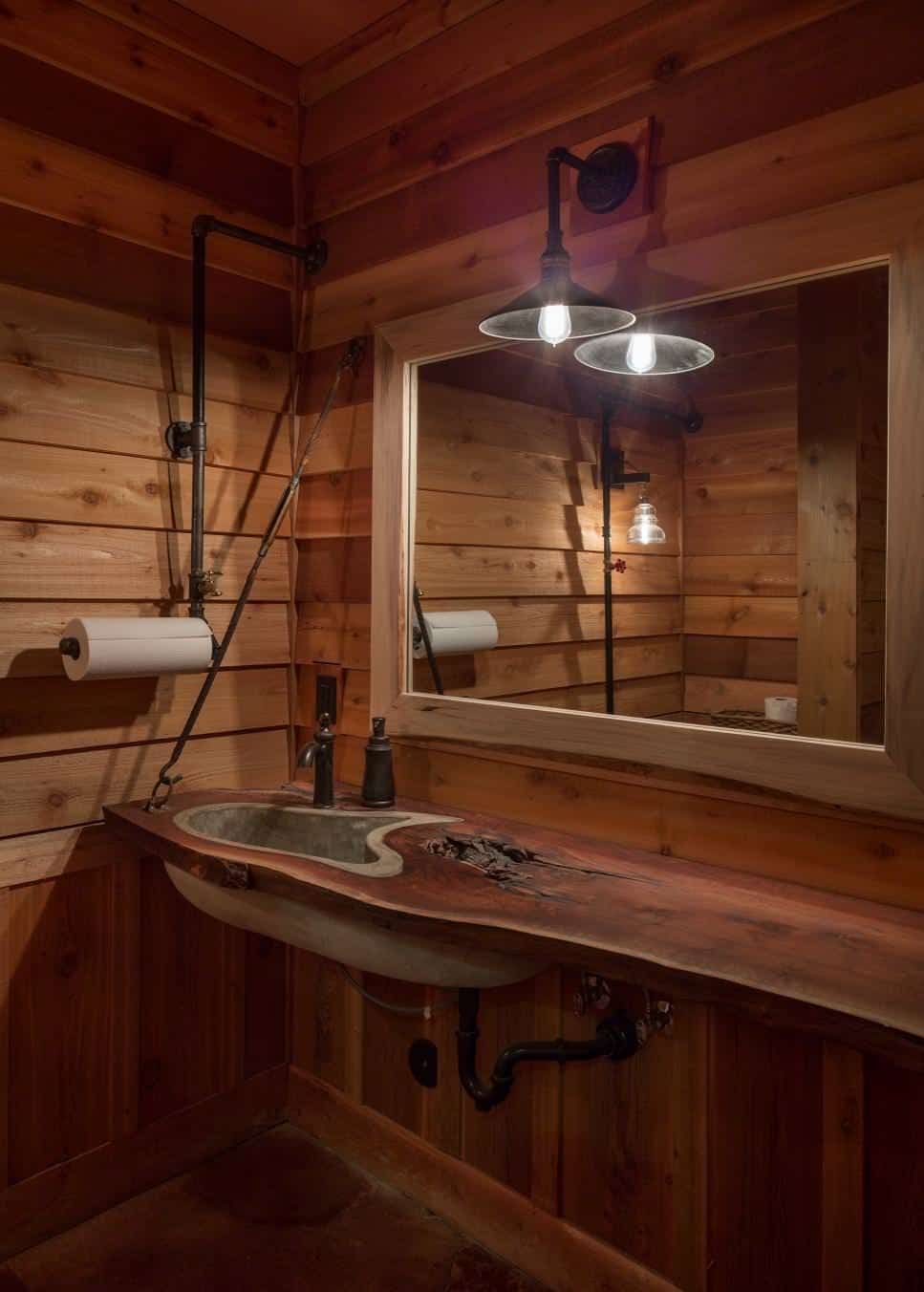 A bathroom doesn't have to be expensive. You could use reclaimed wood for walls, floors or cabinets and add a cast iron tub instead of your typical porcelain one.
Add the rectangular framed mirror that exposes its natural color of the wood, which blends seamlessly, highlighting the rustic element to the bathroom.
11. Easy Rustic Bathroom Ideas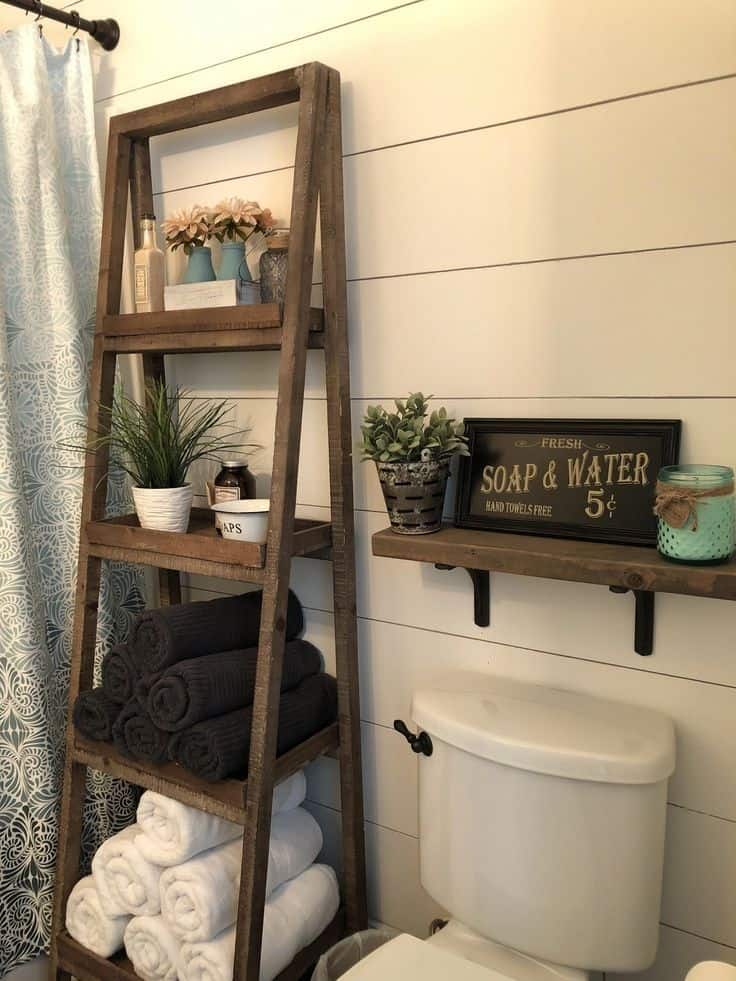 An effortless step is one of the most-wanted ideas, which would be perfect for any occasion. This step can be created by simply repurposing old ladders, adding some baskets, and filling them with greenery or flowers.
Consider using mason jars as vases if you want to take a more rustic approach. Rustic wall sconces are another easy way to bring light into your space without having to worry about cords.
12. Barn Door Rustic Bathroom Ideas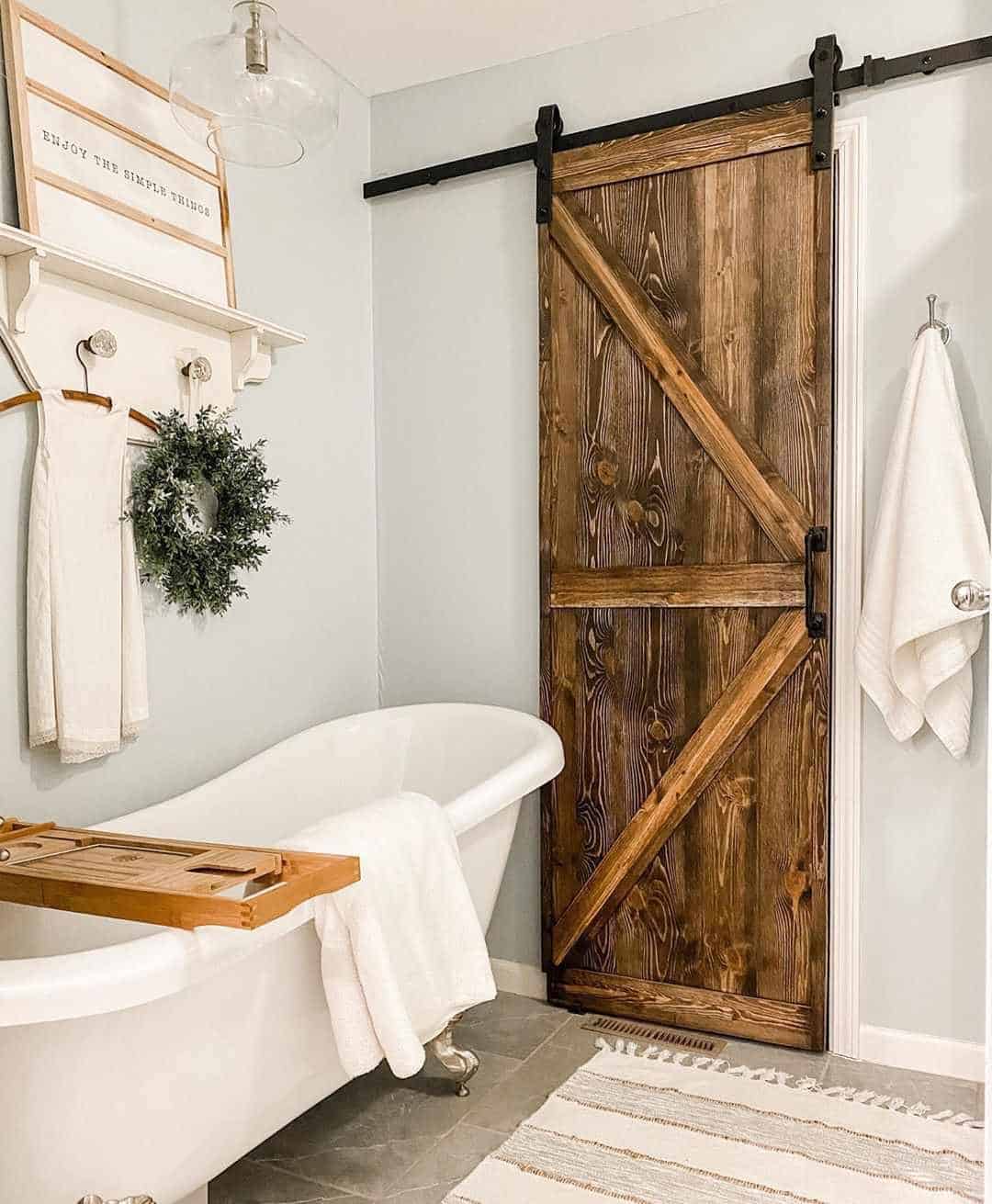 One way to give your bathroom a rustic touch is by adding a barn door. This can add both function and style to the space.
You can find barn doors at most home improvement stores or online. Be sure to measure the opening before you purchase the door to fit properly.
13. Rustic Bathroom with a Spa Feel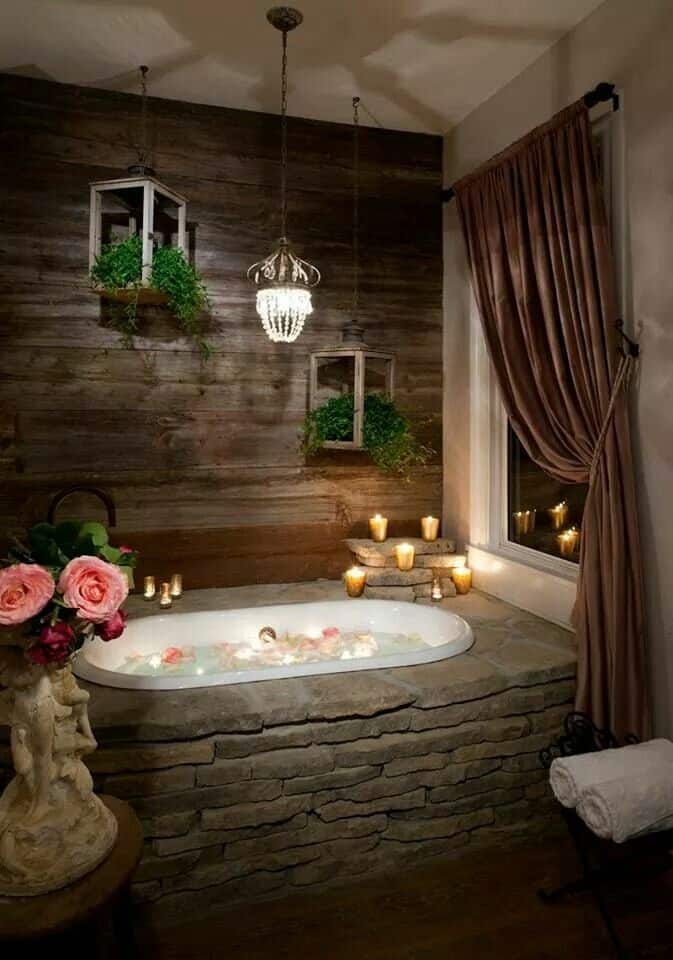 The perfect spa feel can be achieved through the use of earthy tones and natural materials. To complement this, candles will create a warm atmosphere that's both inviting as well relaxing for your customers.
It is also complemented by the small detail of chandelier over the bathtub that will make the spa stand out. Adding plants is also a great way to bring in some natural elements and improve the look and feel of your spa.
14. Rustic Bathroom with a Vintage Touch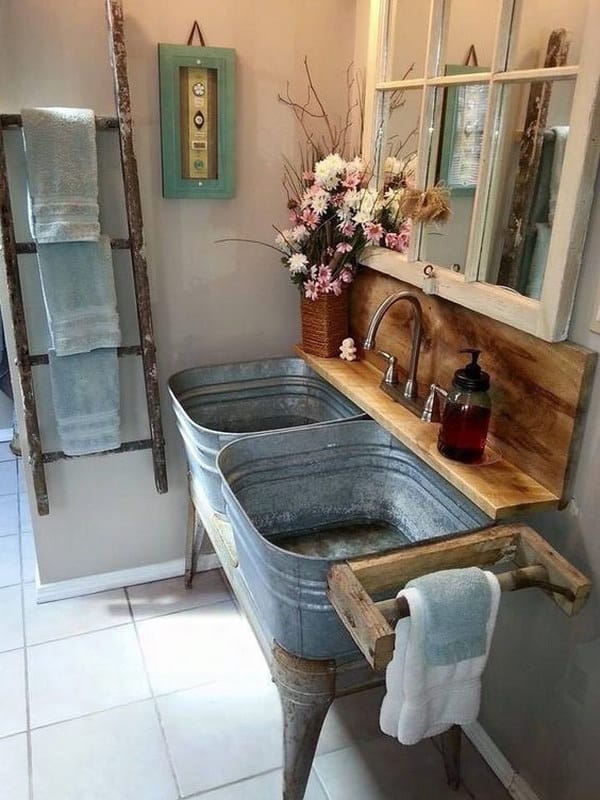 Vintage furniture is a great way to give your bathroom an authentic feel. Just be sure that the items you choose are in good condition before using them for this purpose.
Another way to add character to your bathroom is by choosing vintage-inspired fixtures. This can be anything from an antique sink made out of metal material that highlights the vintage style.
15. Rustic Contemporary Bathroom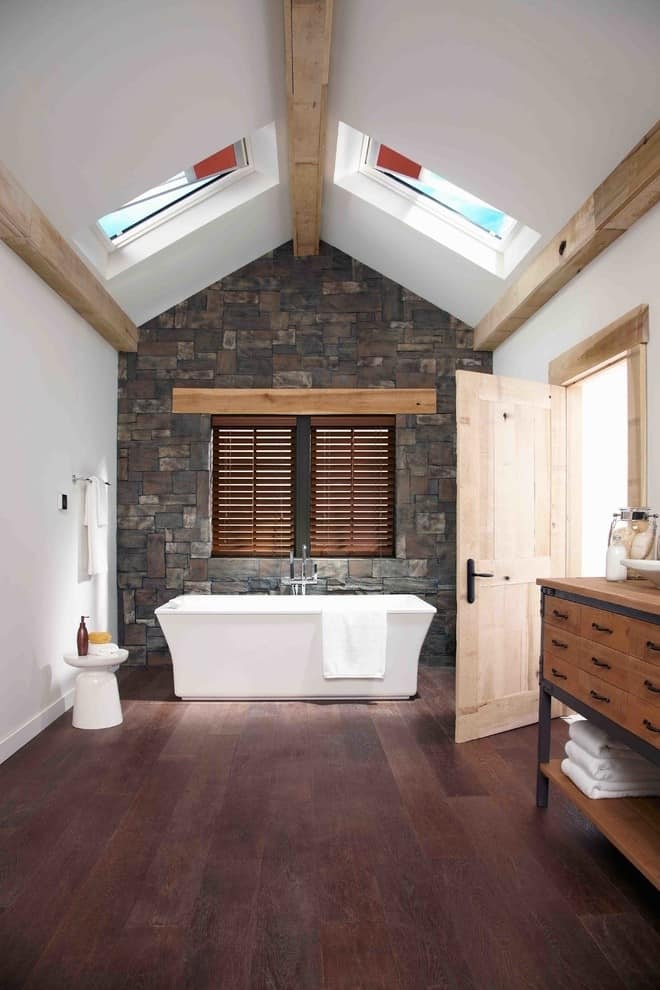 This cozy bathroom is the perfect place to enjoy a relaxing shower. The freestanding tub, floating wood vanity and the large window allow plenty of light in, making this a perfect place to start your day or wind down in the evening.
The wall stone behind the bathtub will be such an eye-catching natural wall decor between the white plain wall surrounding it. With everything you need at your fingertips, this bathroom is sure to become your favorite escape.
16. Wallpaper Rustic Bathroom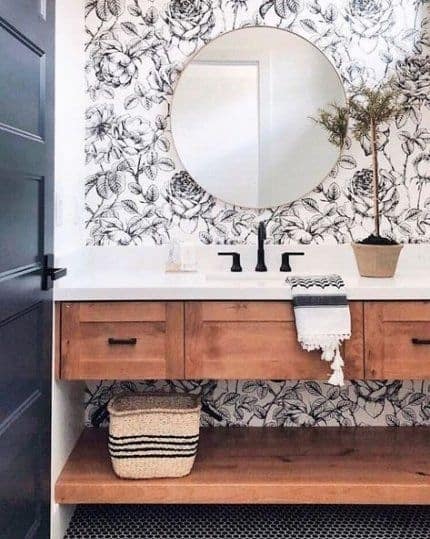 Wallpaper can be a great way to create a rustic look in your bathroom. There are many different types of wallpaper that can give you the look you want, from wood paneling to the faux brick.
If you're looking for something subtle, try using textured wallpaper. This will add depth and interest to your walls without being too extra.
Ensure it contains a functional feature of the rustic vanity to make it look cleaner and tidier.
17. Rustic Bathroom with a Touch of Color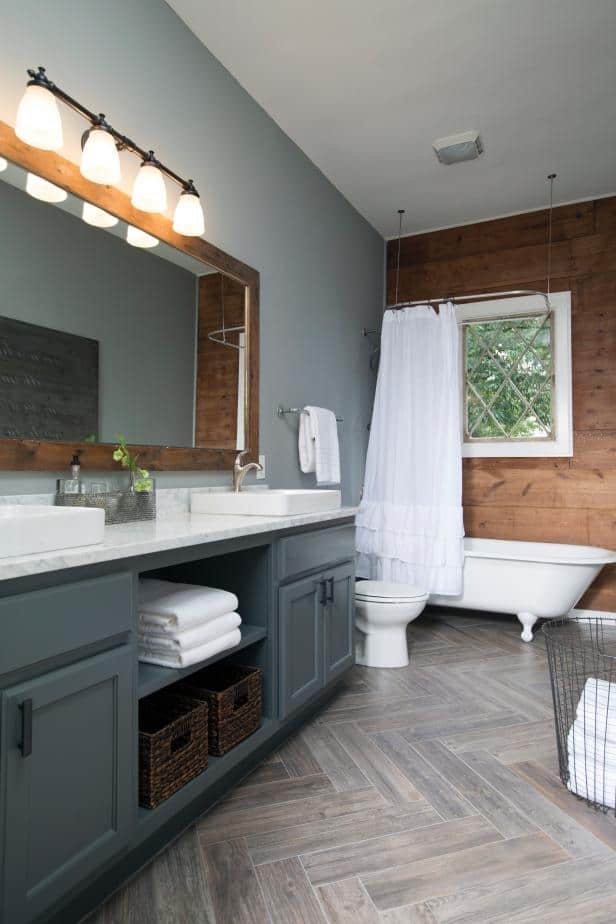 A touch of color can brighten up any space, and a rustic bathroom is no exception. If you want to add a pop of color without going too crazy, try painting one wall a different shade than the others. This will add visual interest without taking away from the room's natural beauty.
18. Modern Farmhouse Rustic Bathroom Design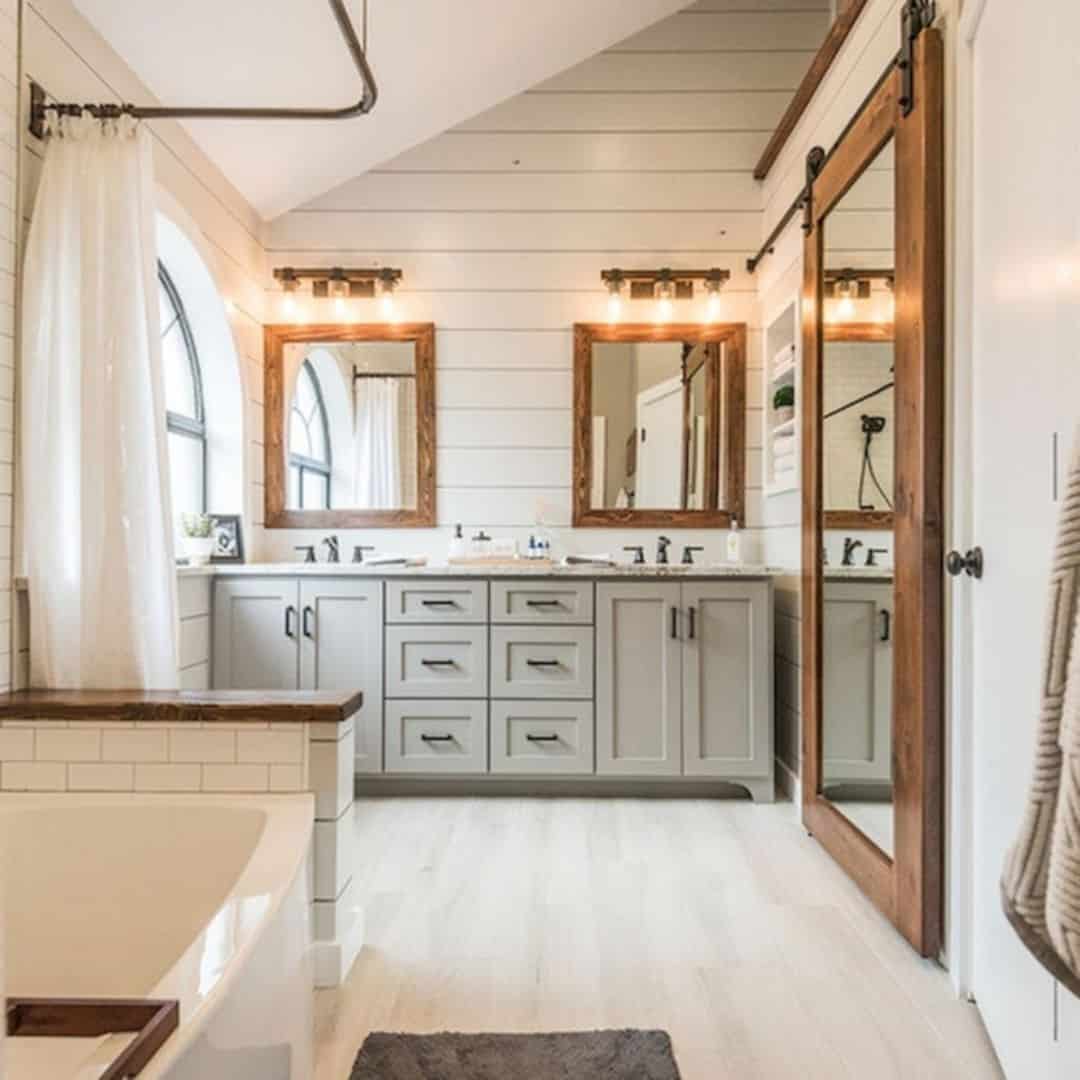 The rustic farmhouse bathroom is a popular style for many homeowners. This type of bathroom often includes distressed wood, antique fixtures, and a warm color palette.
The white shower curtain complement the rustic decor functionally and aesthetically at the same time.
19.
Outdoor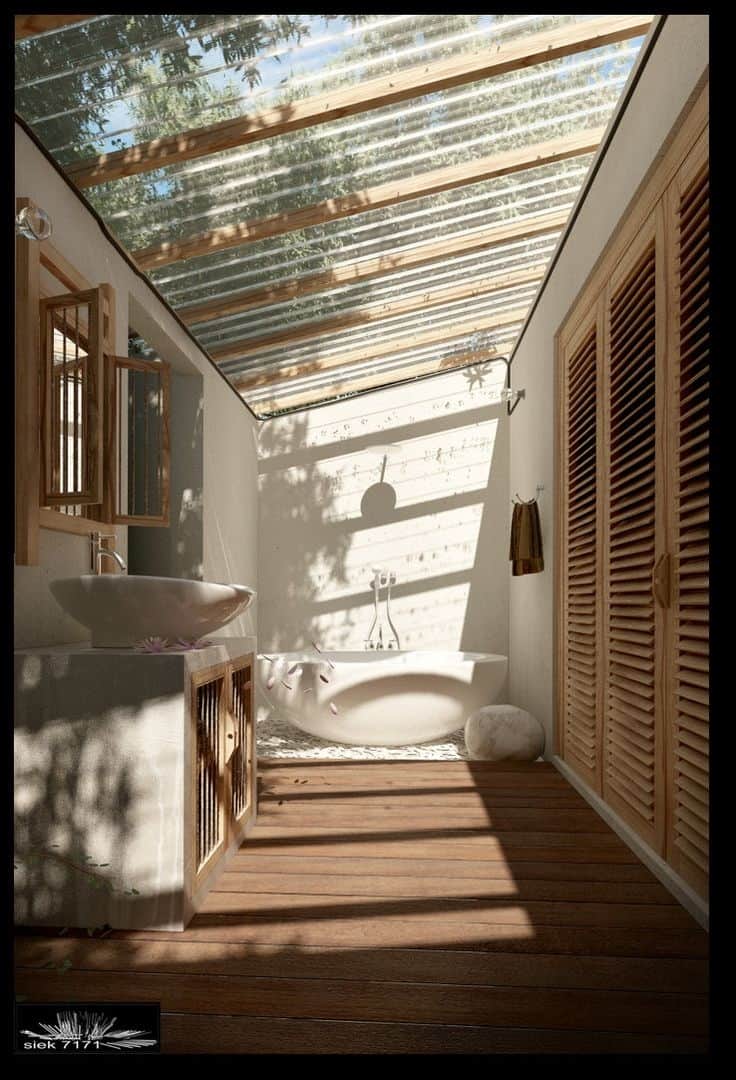 If you're lucky enough to have a bathroom with an outdoor view, take advantage of it by adding rustic charm.
Exposed brick or stone wall, natural wood beams, and even a freestanding tub can make your space feel like a luxurious mountain retreat. If you're not blessed with a scenic view, try hanging some nature-inspired artwork or adding potted plants to give your space a fresh, outdoorsy feel.
20. Shabby Chic Rustic Bathroom Ideas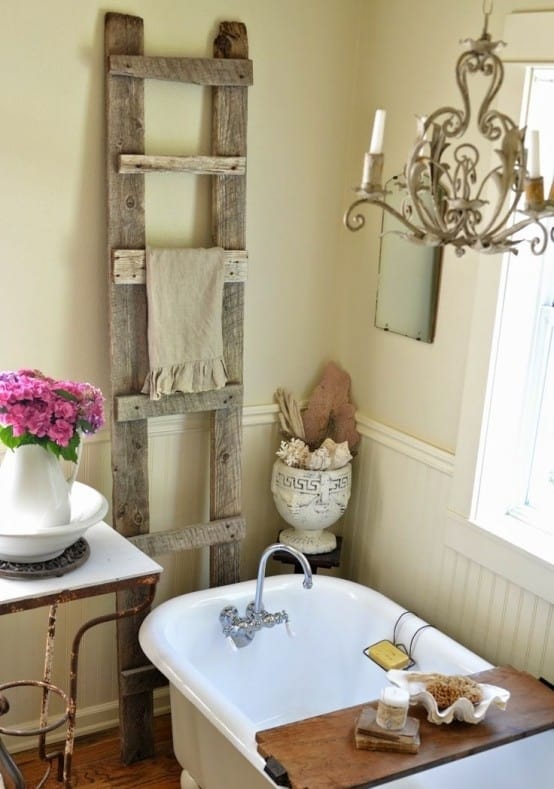 If you want to create a relaxing retreat that is both stylish and comfortable, consider using some shabby chic rustic bathroom ideas.
Add the shabby chic feature to complement the look of the bathroom, which is working both functionally and also aesthetically at the same time.
21. Rustic Bathroom with a Touch of Nature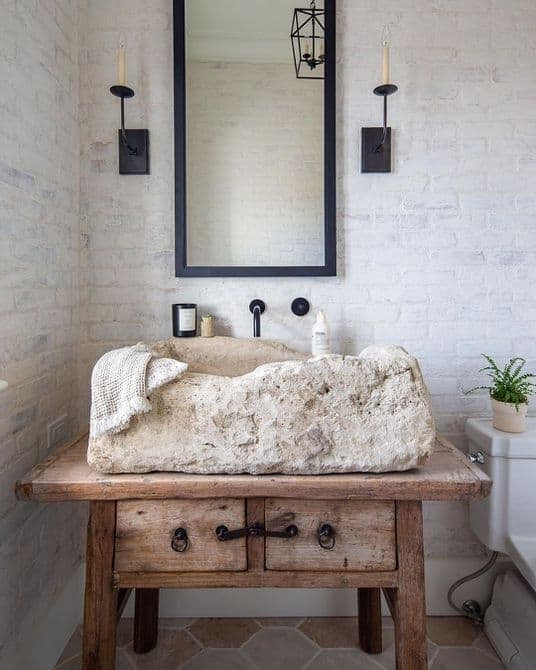 If you want to bring the outdoors in, a rustic bathroom is a perfect way to do it. Incorporate natural elements like stone and wood, and use earthy colors throughout the space. This will create a serene and relaxing environment that you can enjoy any time of day.
22. Neutral Rustic Bathroom Ideas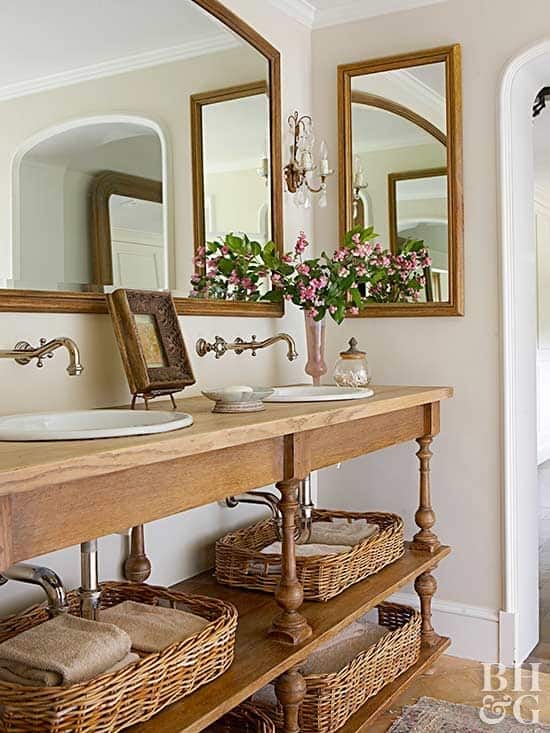 A Rustic bathroom can be a great way to add some character and relaxation to your home. The key to a successful rustic bathroom is to use natural materials and colors to create a cozy and relaxing atmosphere. Also, consider applying the neutral ambiance for a soothing ambiance.
23. Black and White Rustic Bathroom Ideas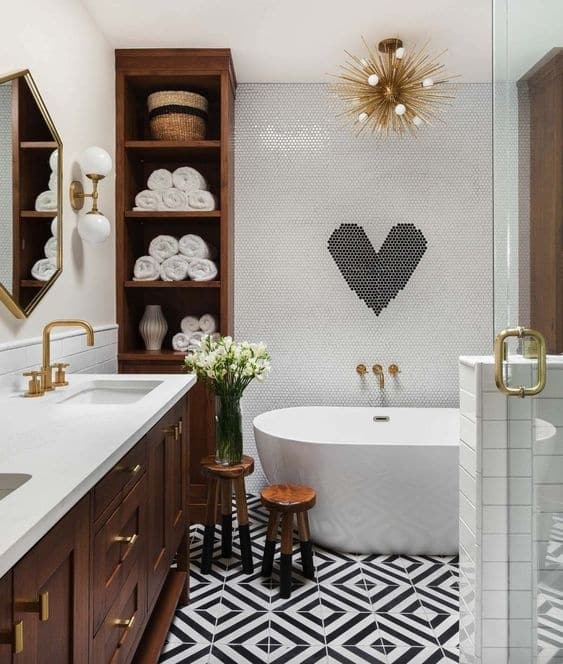 A black and white color scheme is always elegant, making it the perfect choice for a rustic bathroom. Add in some natural wood accents to complete the look.
24. Blue Rustic Bathroom Ideas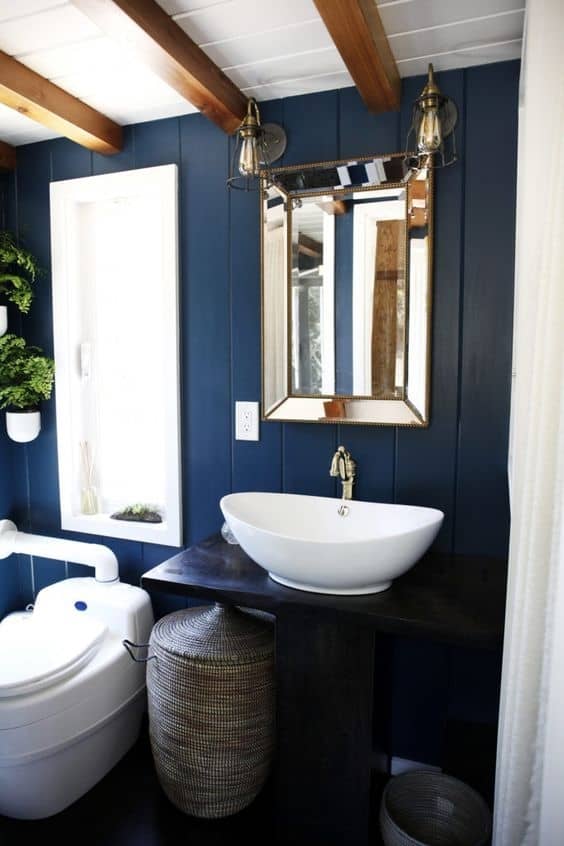 Rustic bathrooms evoke a sense of relaxation and comfort. Consider using blue as your main color scheme if you are looking for it.
From pale blues to deep navy, this versatile hue can be used to achieve any look you desire.
25. Rustic Bathroom with a Pop of Color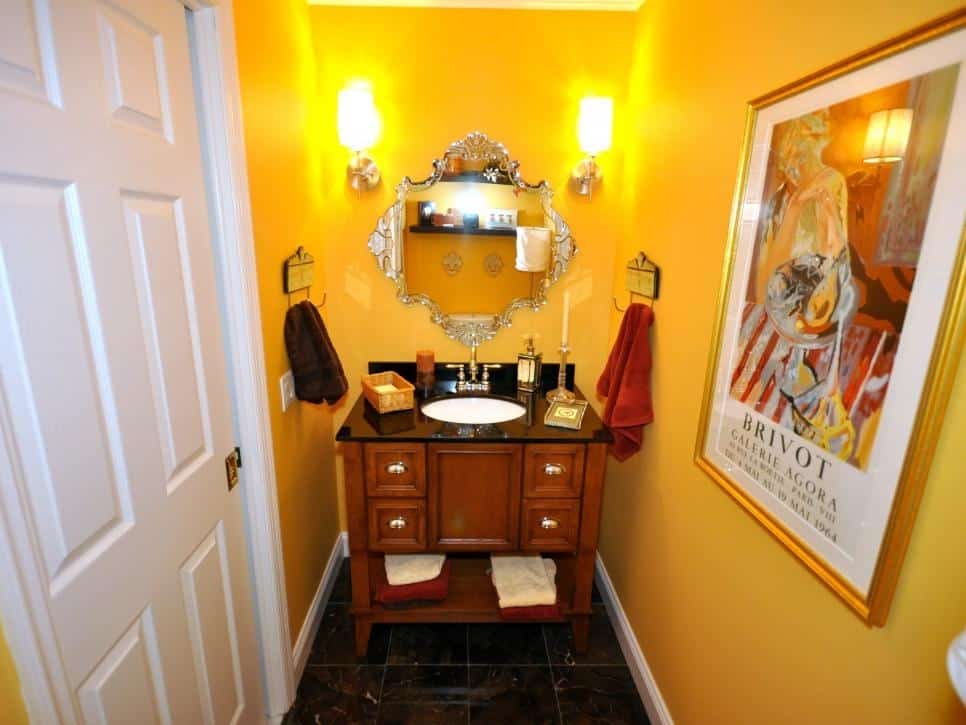 A Rustic Bathroom with a Pop of Color can be the perfect way to add some personality to your bathroom. Whether you choose a bright, bold color or something more subdued, this type of design can make a statement.
26. Gray Rustic Bathroom Ideas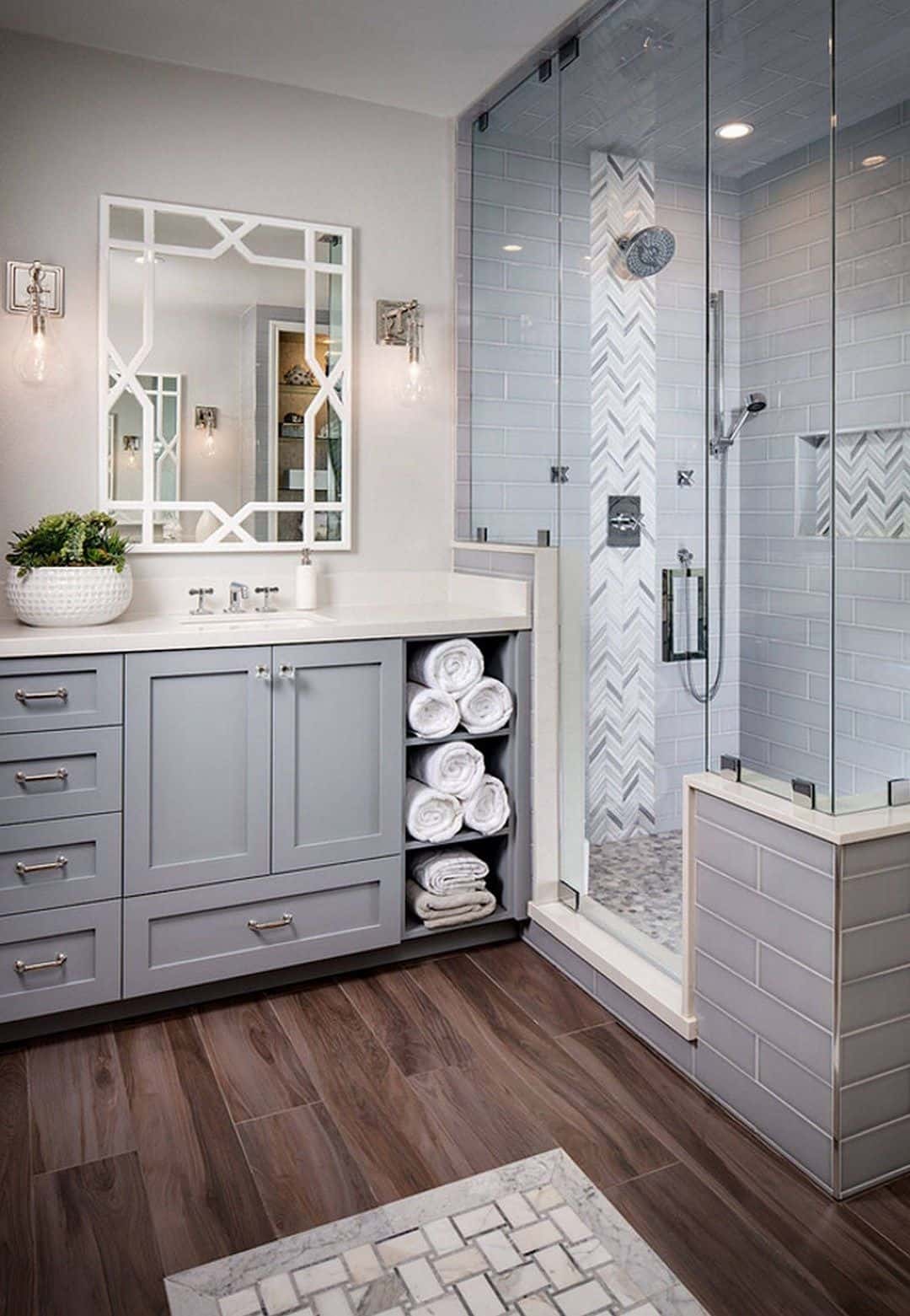 Gray can be a beautiful color for a rustic bathroom. It is calming and relaxing, perfect for when you want to escape the world. This style can be achieved with wooden cabinets, stone floors, and rough-hewn walls.
27. Antique Rustic Bathroom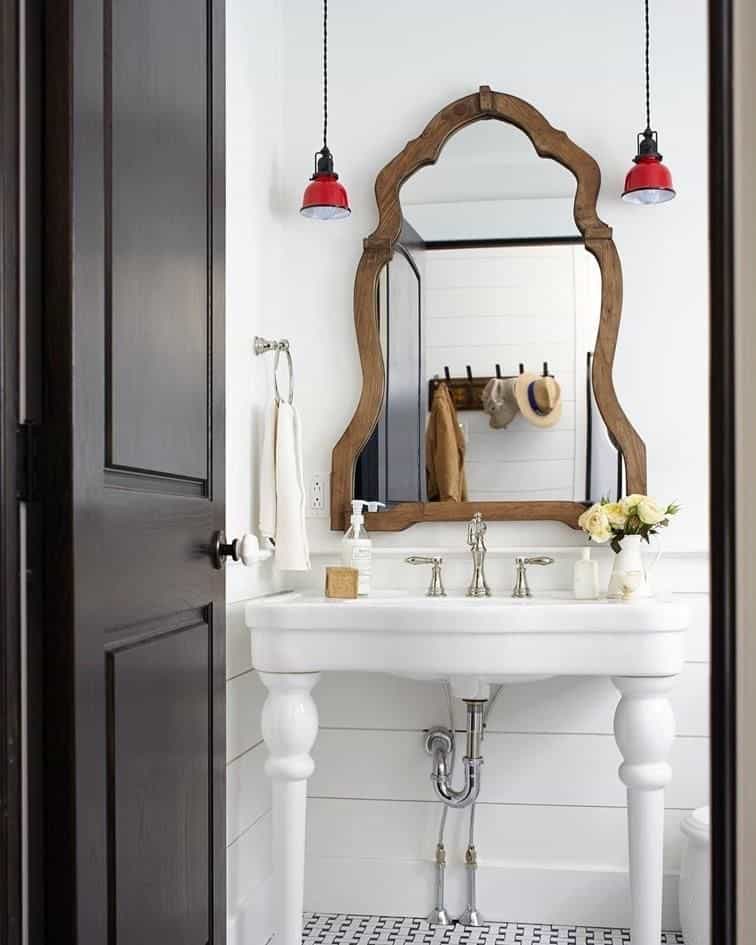 Incorporating antique pieces into a rustic bathroom can give it a unique and charming look. For example, try finding an old clawfoot tub or pedestal sink to use in your design. Install the white shiplap wall, then add hanging light for a perfect rustic bathroom lighting.
28. Cozy Rustic Bathroom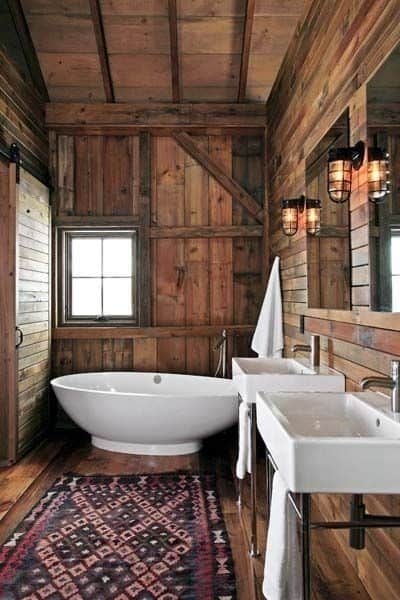 A Rustic Bathroom can be the perfect place to relax after a long day. With these cozy ideas, you can create an ideal retreat for unwinding.
Use warm colors like red, orange, and yellow to create a welcoming atmosphere. Add natural textures like wood, stone, and plants to make the space feel earthy and rustic.
And don't forget to add some cozy accessories, like a soft rug or fluffy towels.
29. Natural Rustic Bathroom Ideas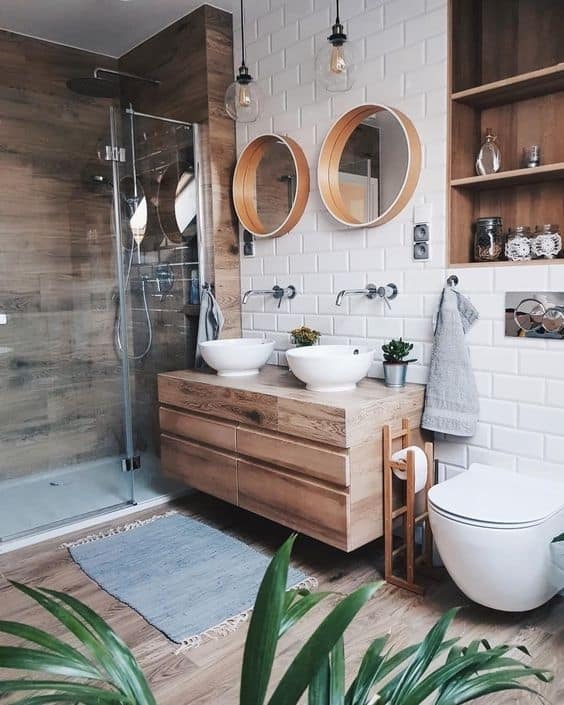 If you're looking to create a natural rustic bathroom, start with earthy tones and materials. Then, use wood, stone, and other natural materials to create a warm, relaxing space.
Bring the bathroom vanity where it holds the double bathroom sink perfectly. On the other side, the framed mirror and the hanging lights work as an eye-catching bathroom accessories that accentuate the rustic appeal.
Add plants or flowers for a touch of nature, and use candles or lanterns for mood lighting.
If you are looking for a way to make your bathroom feel more like home, consider trying out some of these rustic ideas.
From adding natural elements to your decor to using traditional materials in new ways, there are plenty of ways to add a touch of rusticity to your smallest room.
Whether you want to add a few touches or overhaul the entire room, we've got you covered. So take a break from your day-to-day and give yourself the spa treatment in your very own home.