Most people wouldn't think of DIY bathroom shelves as a particularly creative project. They can be turned into something truly unique.
There are a few things to keep in mind when considering DIY bathroom shelves. The first is that they will need to be able to support the weight of whatever you plan to put on them. Second, they should be easy to clean and third, they should fit in with the overall style of your bathroom.
With those things in mind, here are some ideas for DIY bathroom shelves that are both stylish and functional.
1. Floating Shelves To Save Space And Add To Your Bathroom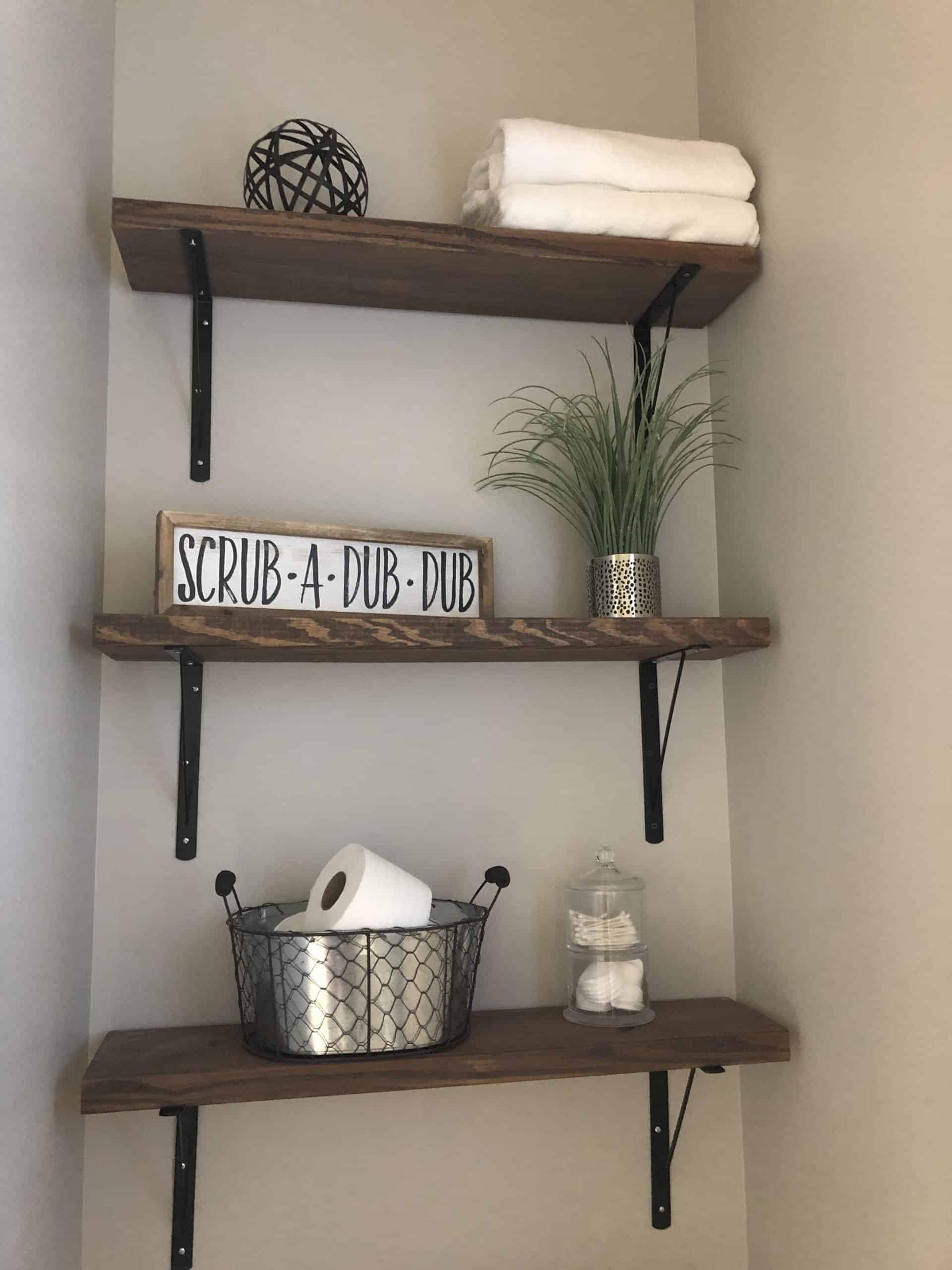 Floating shelves are particularly popular, as they give the illusion of more space and can be used to store a variety of items. DIY-ing your own shelves is relatively simple and only requires a few tools and materials.
You'll need something to use as:
Shelf brackets (like L-brackets or decorative hooks)
Screws
Wall anchors
Drill
Level
Wood or bamboo boards
Once you have everything assembled, it's just a matter of attaching the brackets to the wall and then screwing in the shelves. It's important to use wall anchors if you're not screwing into studs, as this will help keep the shelves from eventually falling down.
2. Easy DIY Bathroom Shelves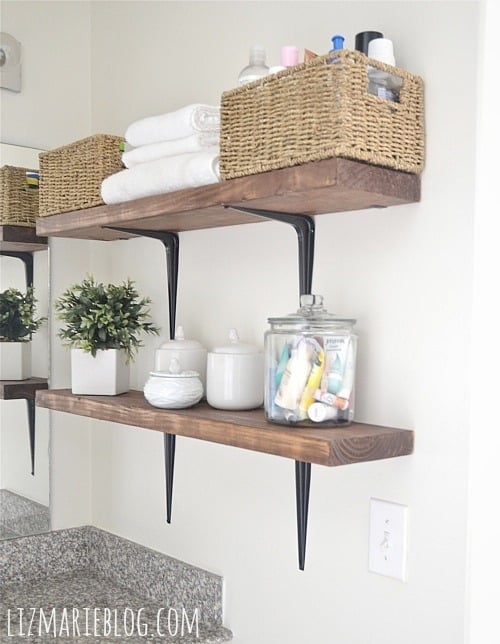 With just a few supplies, you can easily make your own shelving unit. Simply measure the space you have available, and then cut shelves to size. You can use a variety of materials, but wood is a good option because it's easy to work with and durable. Once you have your shelves cut to size, simply attach them to the wall using brackets or screws.
3. Farmhouse Bathroom Shelving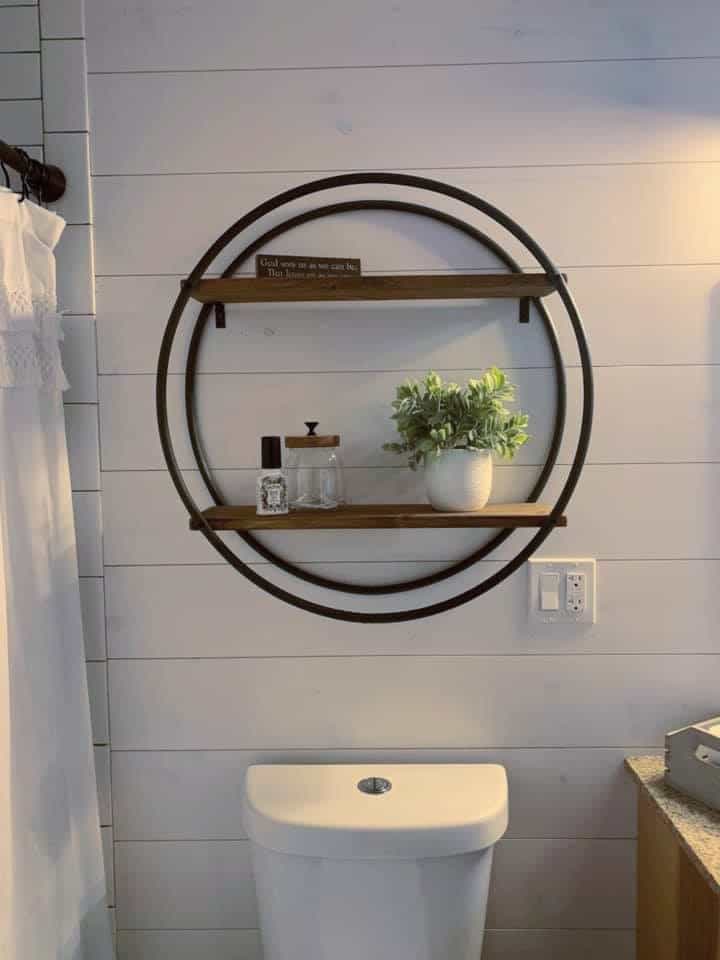 First, measure the space you have available. You'll need to know the dimensions of the shelves before you can start building them. Second, decide what material you want to use. Wood is a popular choice for DIY bathroom shelves, but you could also use metal or plastic. Third, gather the necessary tools and supplies. You'll need a saw, hammer, screws, and other basic carpentry supplies.
4. Budget-Friendly DIY Project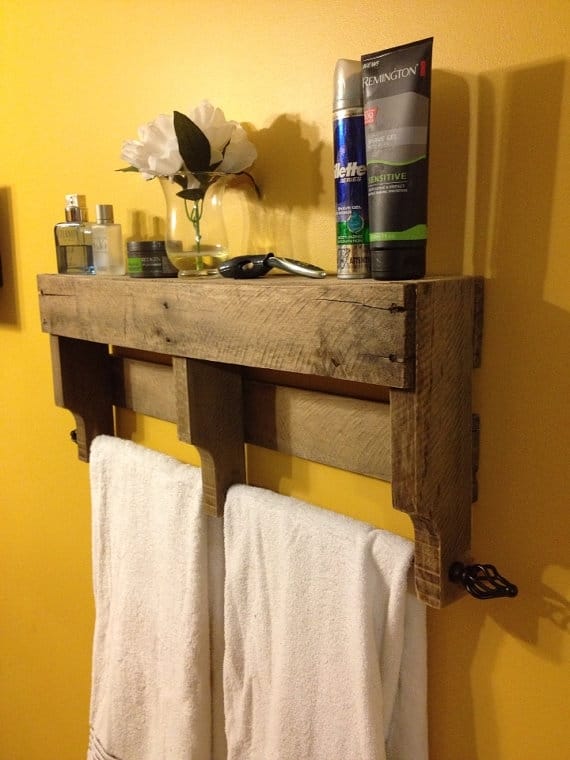 Making an inexpensive bathroom shelves is not a big deal. This budget-friendly project can be completed in a few hours and can add both style and function to your bathroom. The most important thing to consider when planning your DIY bathroom shelves is what you will be using them for.
If you need extra storage space, then make sure to choose a shelving unit that has plenty of room for all of your bar of soap, hair products, and towels. If you want to add some decorative flair to your bathroom, then opt for floating shelves or glass shelving.
5. Reclaimed Wood Shelf For The Bathroom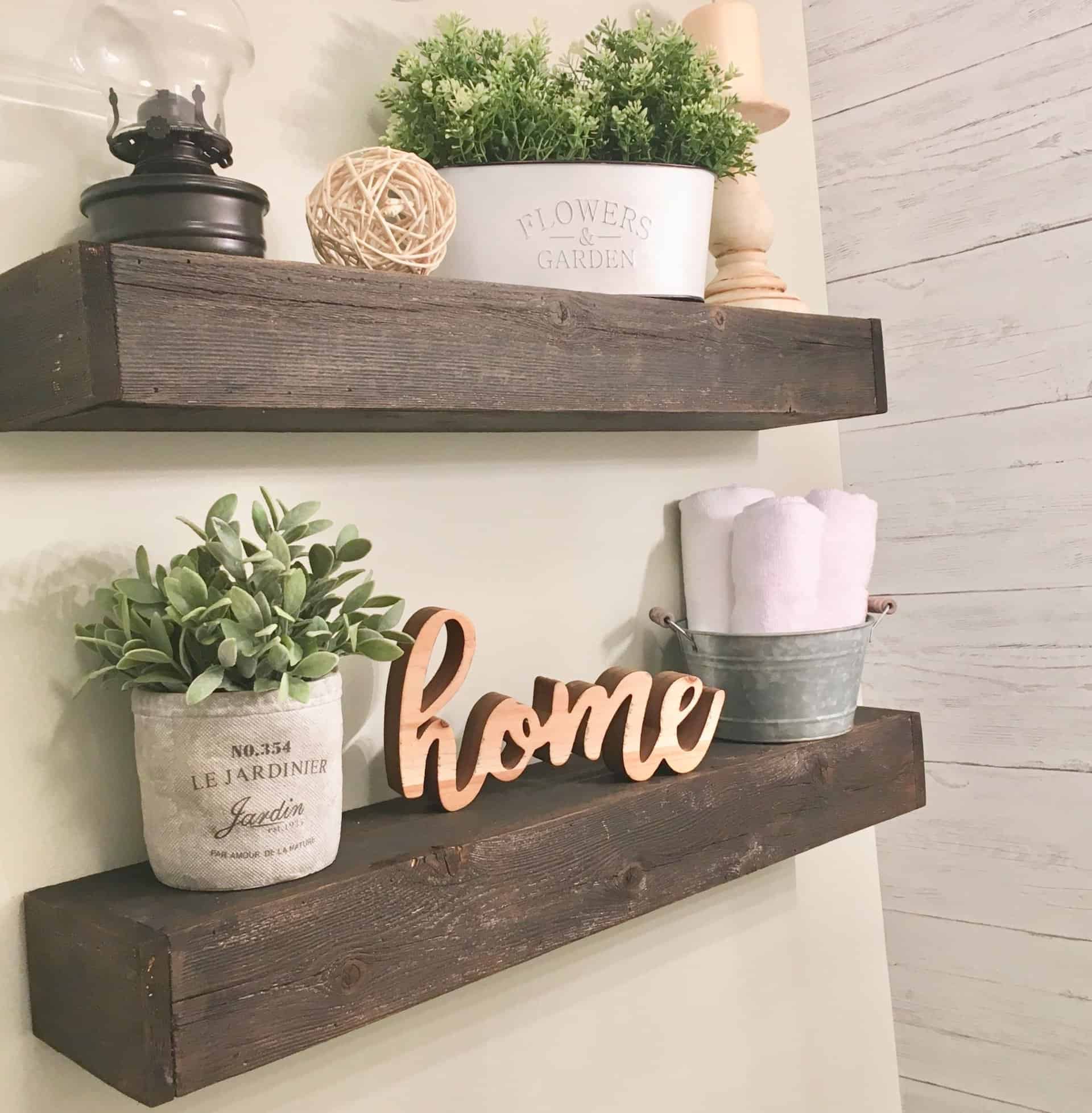 You can find inexpensive reclaimed wood at most hardware stores, and it's easy to cut and sand to create the perfect shelf for your space. Just be sure to seal the wood before you install it in your bathroom to prevent moisture damage.
Once you have your DIY bathroom shelves installed, you can use them to store towels, bathroom supplies, or even plants. Just make sure you don't overload them, as the weight of the items could cause the shelves to sag over time.
6. Pipe Shelf For The Bathroom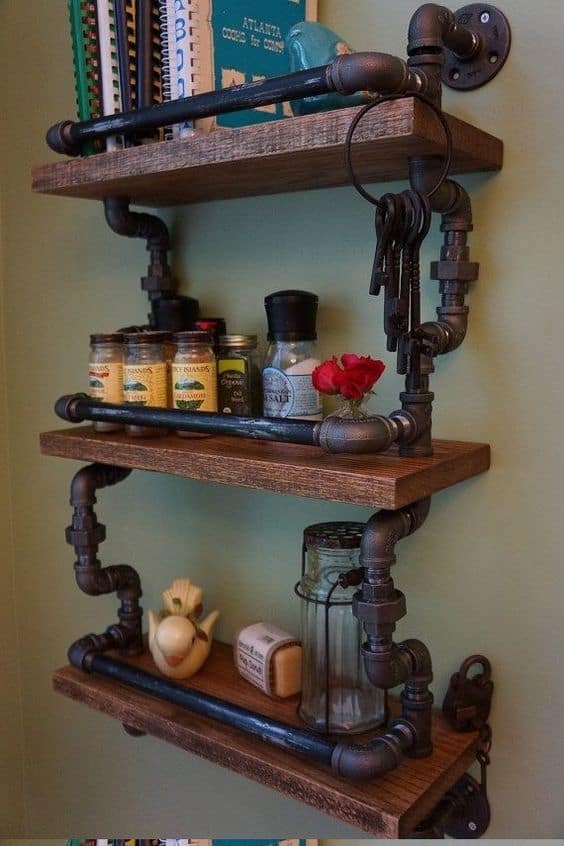 A pipe shelf is a great option for DIY bathroom shelves because it is easy to install and can be customized to fit your space. Plus, a pipe shelf can be an attractive design that adds a touch of industrial style to your bathroom. To make a DIY pipe shelf for your bathroom, you will need some basic supplies like wooden board, screws, and pipes. You can find all of these supplies at your local hardware store or online. Once you have all of your supplies, simply follow the instructions below.
First, measure the space where you want to install your DIY pipe shelf. Then, cut your wooden board to size using a hacksaw. Next, use pipes to secure the wood to the wall. Finally, screw the brackets into place.
7. Rustic Wire Basket Shelf For The Bathroom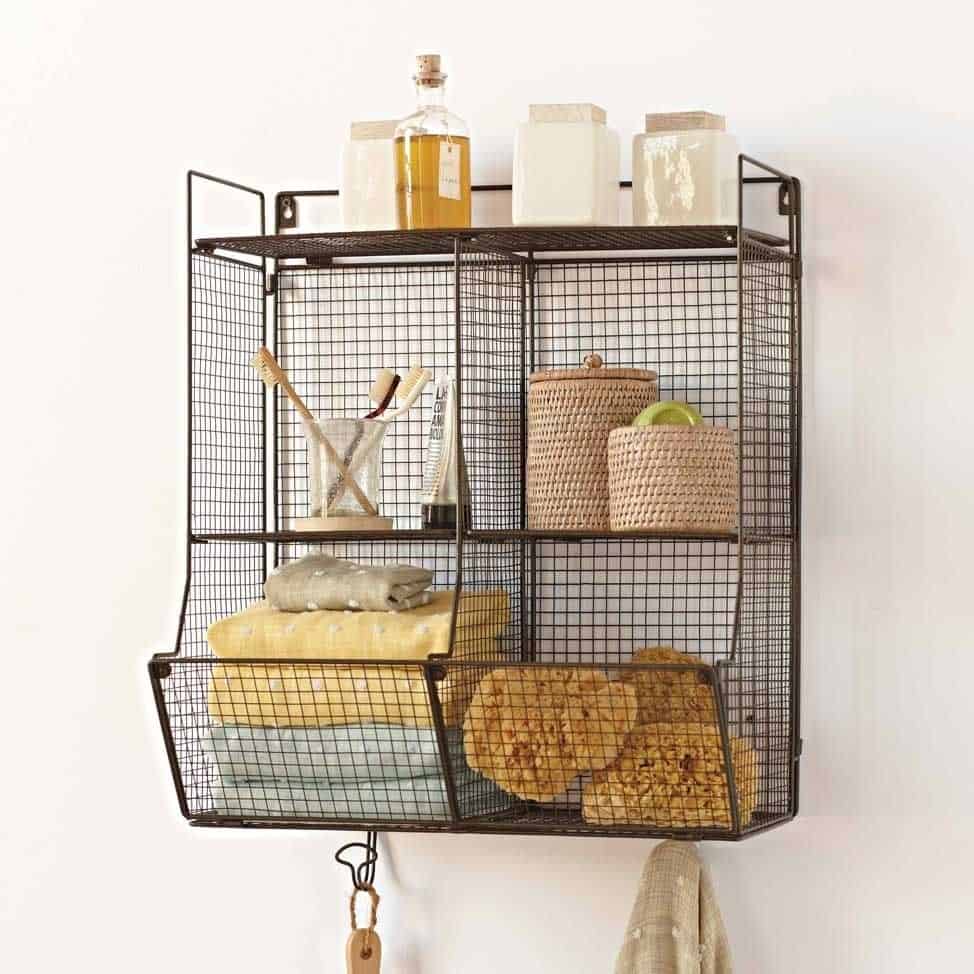 This rustic wire basket shelf is the perfect solution for small spaces. It's easy to DIY, and it's a great way to keep the body wash, extra toilet paper, and other items off the floor. Plus, it adds a touch of rustic charm to any bathroom.
To DIY, simply measure and mark the desired location for the shelf on the wall. Then, use a drill to create pilot holes for the screws. Next, screw the brackets into place. Finally, hang the wire baskets on the brackets and fill with whatever you need to store.
8. Glass Jar Storage Shelf For The Bathroom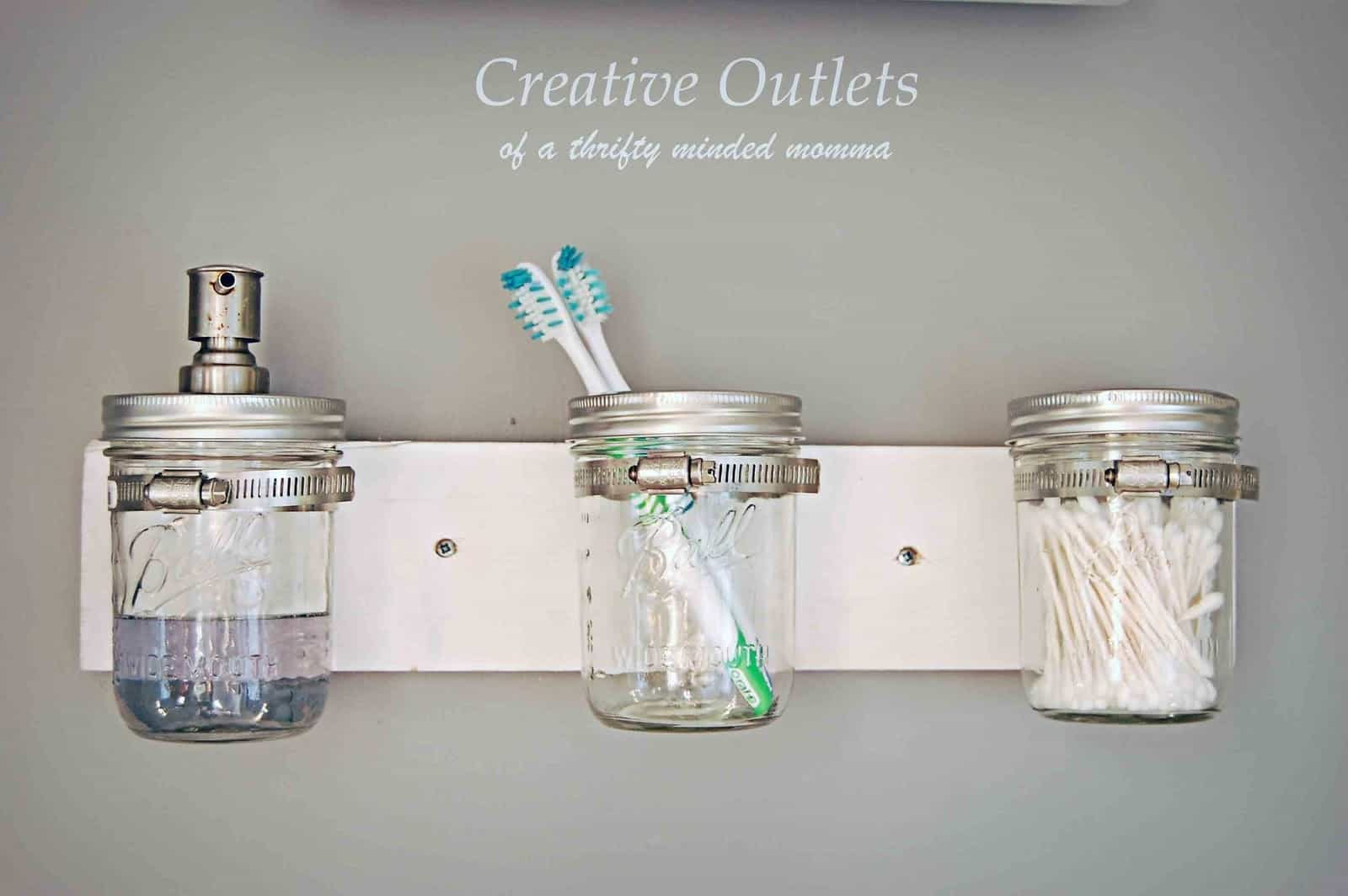 With just a few supplies, you can easily make your own bathroom shelf. All you need is a glass jar, some screws, and a drill. First, drill four holes into the lid of the glass jar. Next, screw the screws into the holes. Make sure that the screws are evenly spaced out. Once the screws are in place, screw the jar onto the wall. You can use this project to store anything from bathroom items to towels. They are also perfect for displaying small plants or decorations.
9. Towel Bar With Shelf For The Bathroom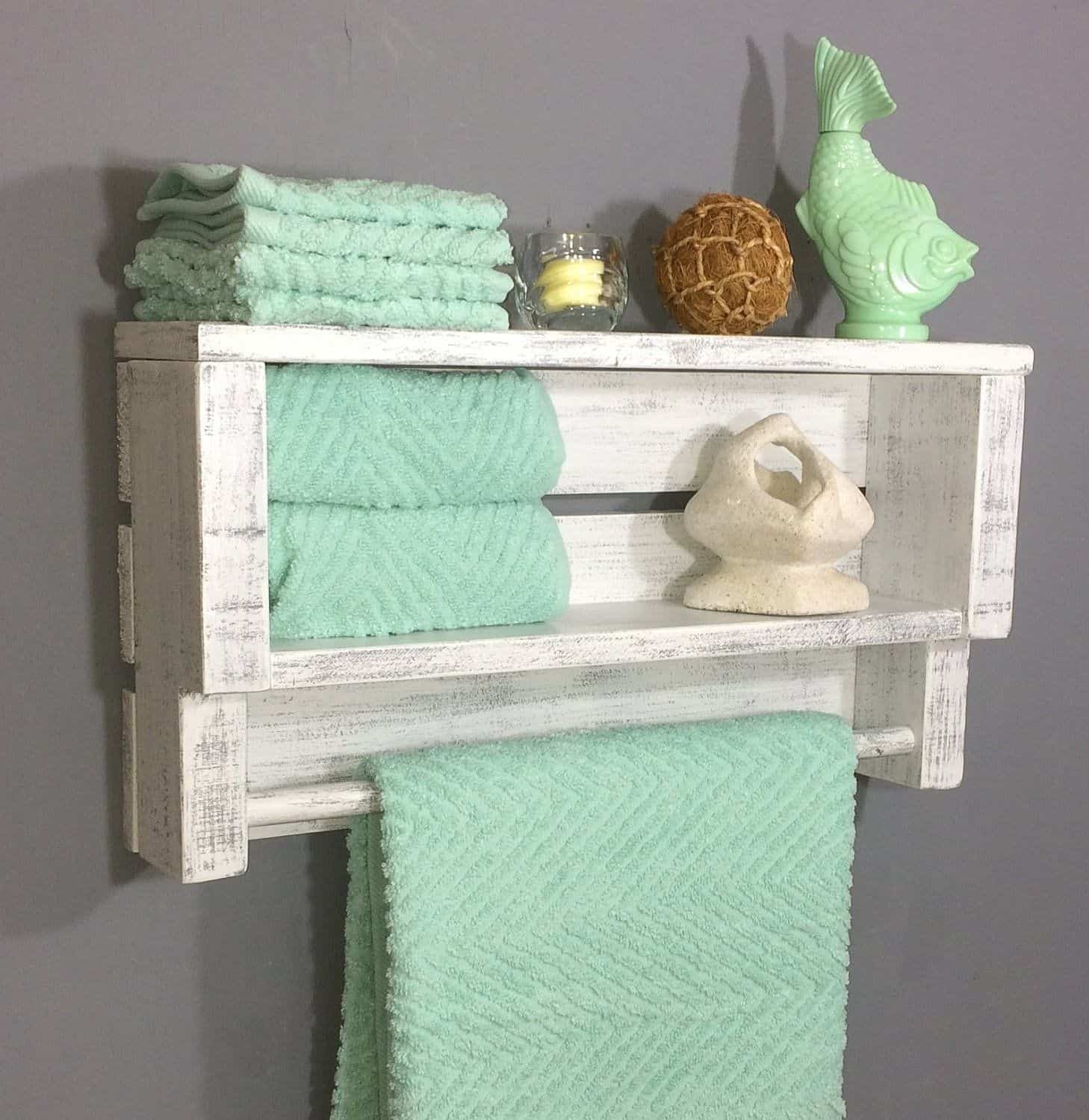 This DIY project is great for small bathrooms because it adds extra storage without taking up much space. The towel bar will keep your towels within easy reach, and the shelf provides a place to store toiletries, towels, or other items. This project is relatively inexpensive and can be completed in a few hours.
Materials:
Towel bar
Wooden board
Paint
Drill
Screws
Level
10. Corner Shelf For The Bathroom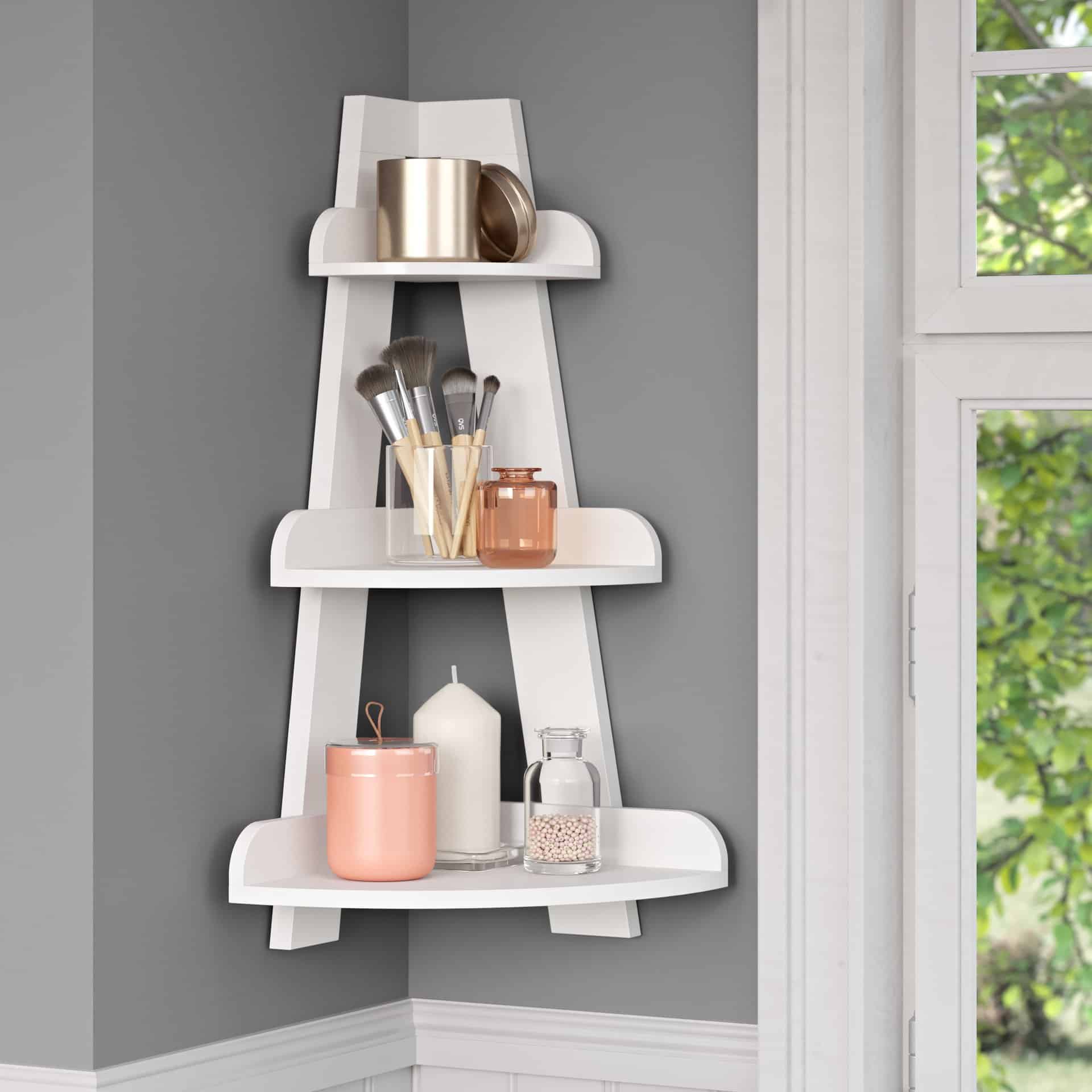 A corner shelf is a great option for a bathroom, as it maximizes every single inch in the room. You can use corner shelves to store toiletries, towels, and other bathroom essentials. DIY corner shelves are easy to make and can be customized to fit your specific needs.
Supplies you will need:
Drill
Saw
Screwdriver
Screws
Level
Tape measure
Wood glue
11. Ladder Shelf For Bathroom Storage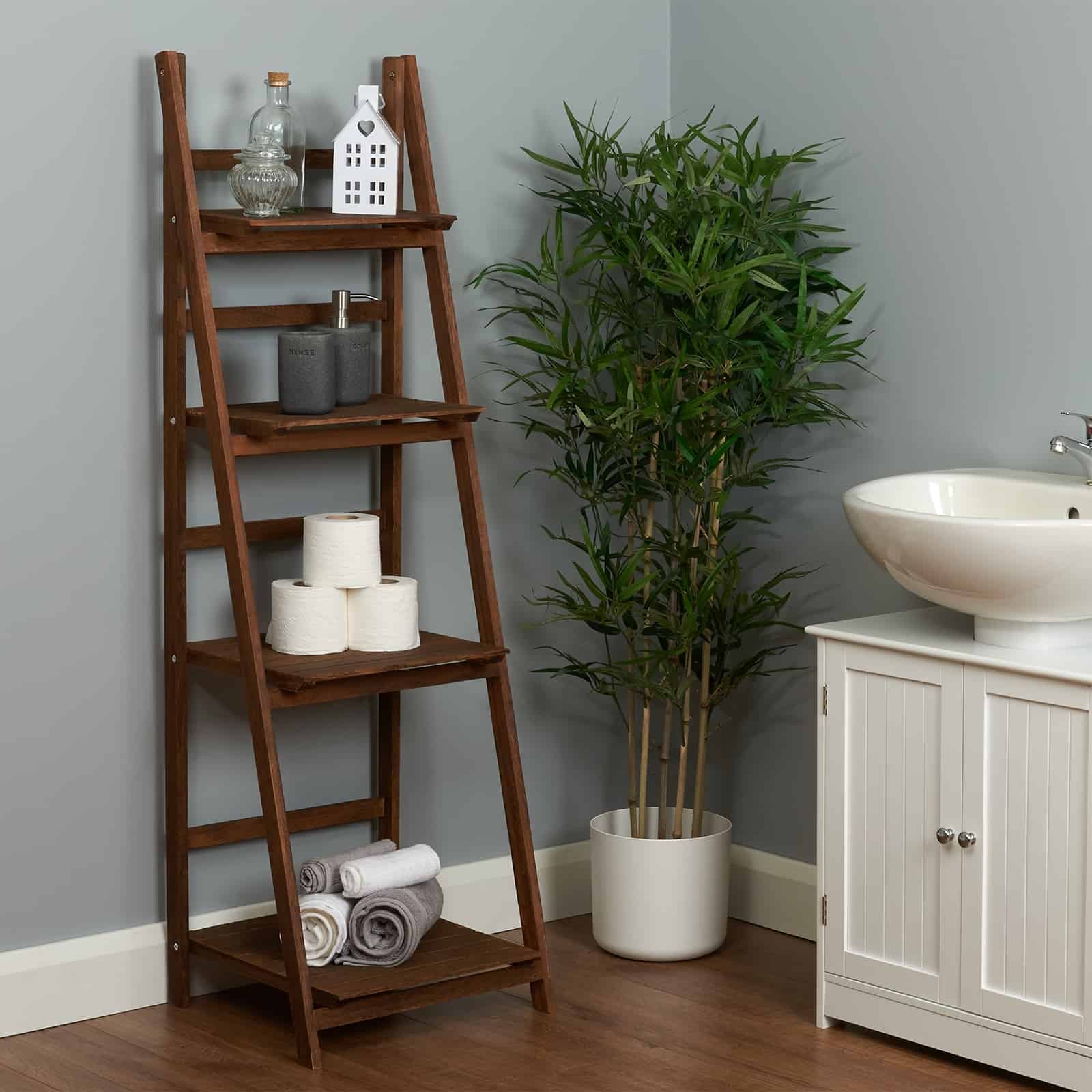 A ladder shelf is the perfect option for a small bathroom, as it takes up minimal floor space and can be used to store a variety of items. DIY ladder shelves are also a great way to infuse rustic style into your bathroom decor. This type of shelf is easy to DIY and can be customized to fit your specific storage needs. It is a great way to maximize storage in a small space and add a touch of rustic charm to your bathroom.
12. Install The Shelves On The Bathroom Wall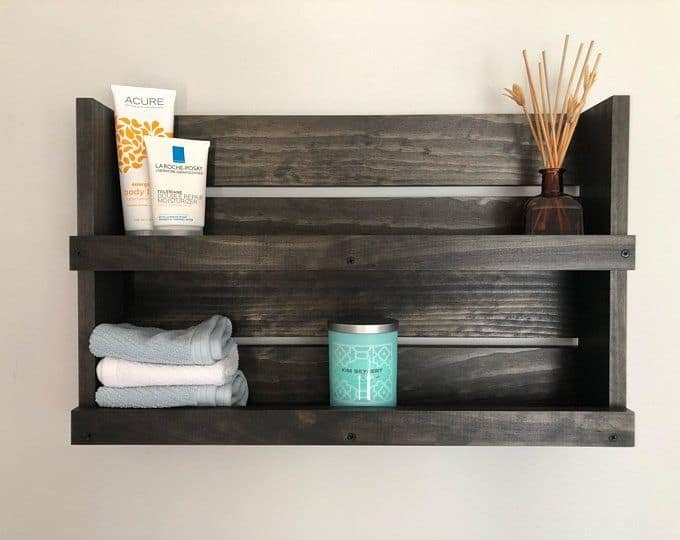 The wall mounted shelves installation on the bathroom is not only easy to install. It can also be customized to fit any space. You can use these shelves to store anything from toiletries to towels. Consider using wood materials to achieve a rustic look, or use white shelves to make the space appear bigger. Besides storing the bathroom items, you can add a touch of natural through the potted plants.
13. Cabinet Turned Open Shelving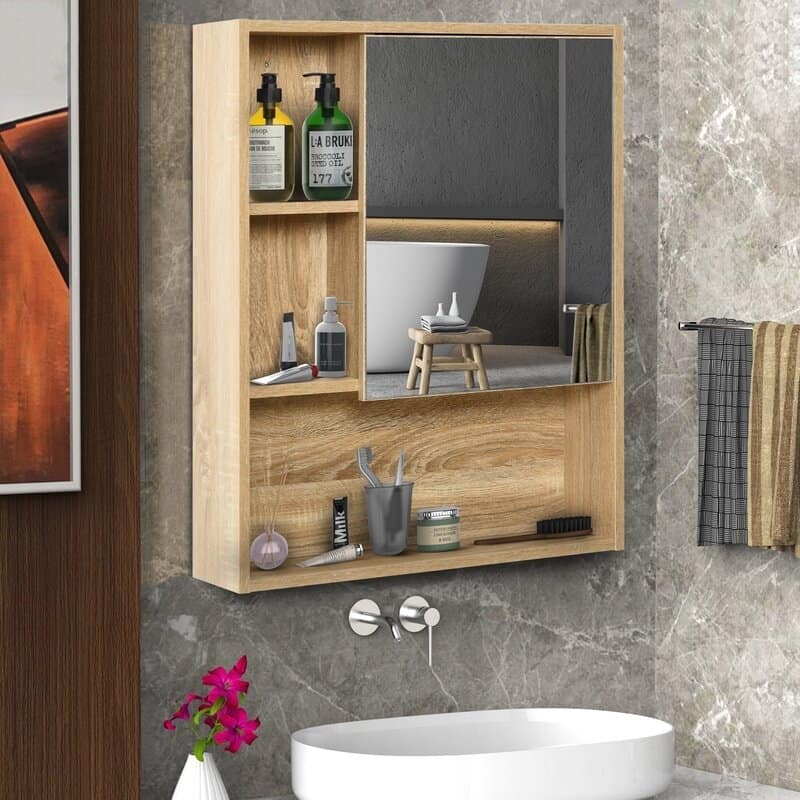 Upcycle the old cabinet in your living space instead of throwing it away. Take it a good cleaning and then removed the doors. Sanded down the rough edges and then paint it with some white paint or any paint as you wish. Add some open shelving brackets that will form a cool open shelving. The good news is that this project is easy to make, which is perfect if you are a beginner.
14. Above the Toilet Storage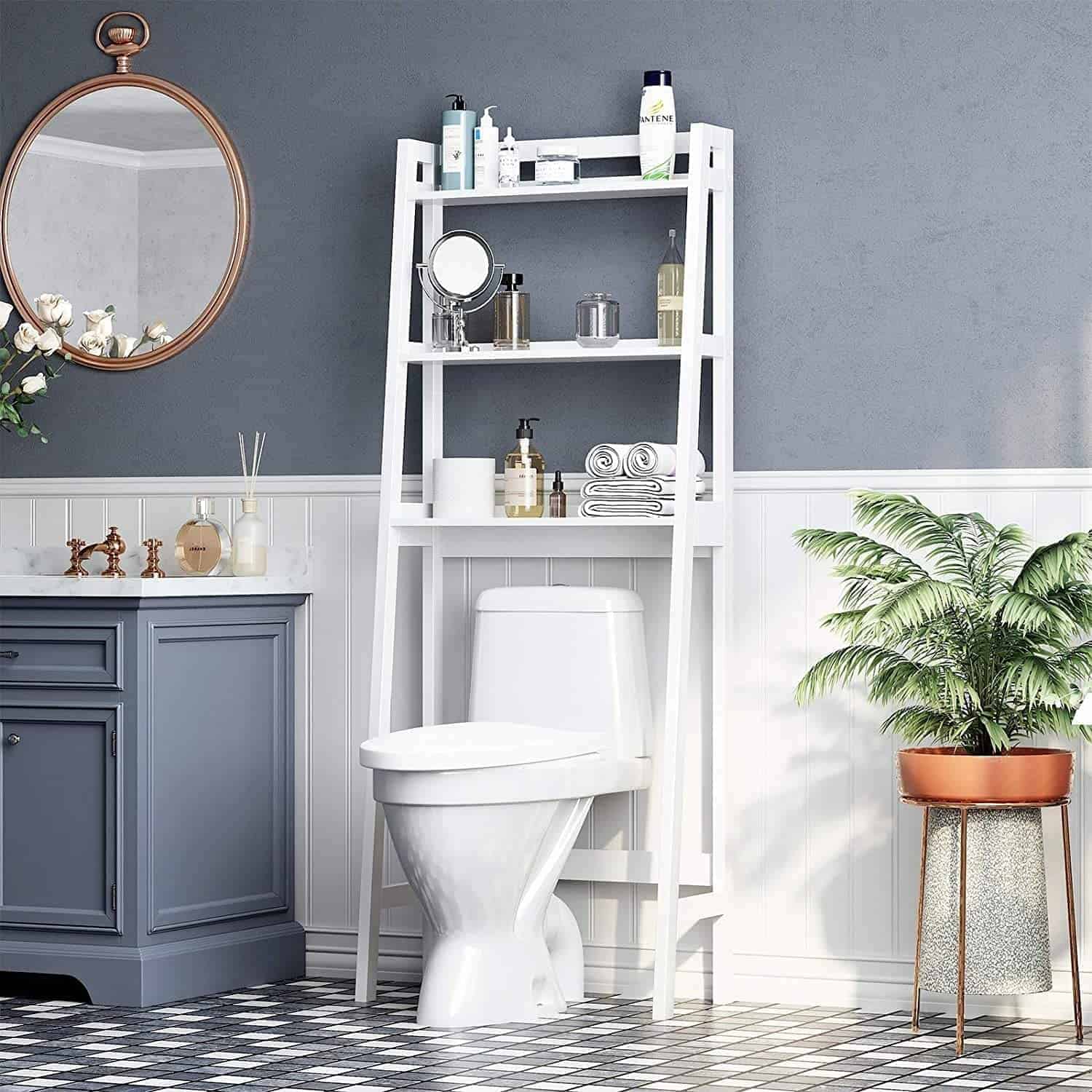 Above the toilet is often one of the most underutilized spaces in the bathroom, so it's the perfect place to add some shelves. It can be a good option to display decor in the bathroom. If you have a small bathroom, this can help you make the most of your limited space. Wood is easy to work with, and it can be cut to fit any space. You can also paint or stain the wood to match your bathroom decor.
15. Over the Door Towel Rack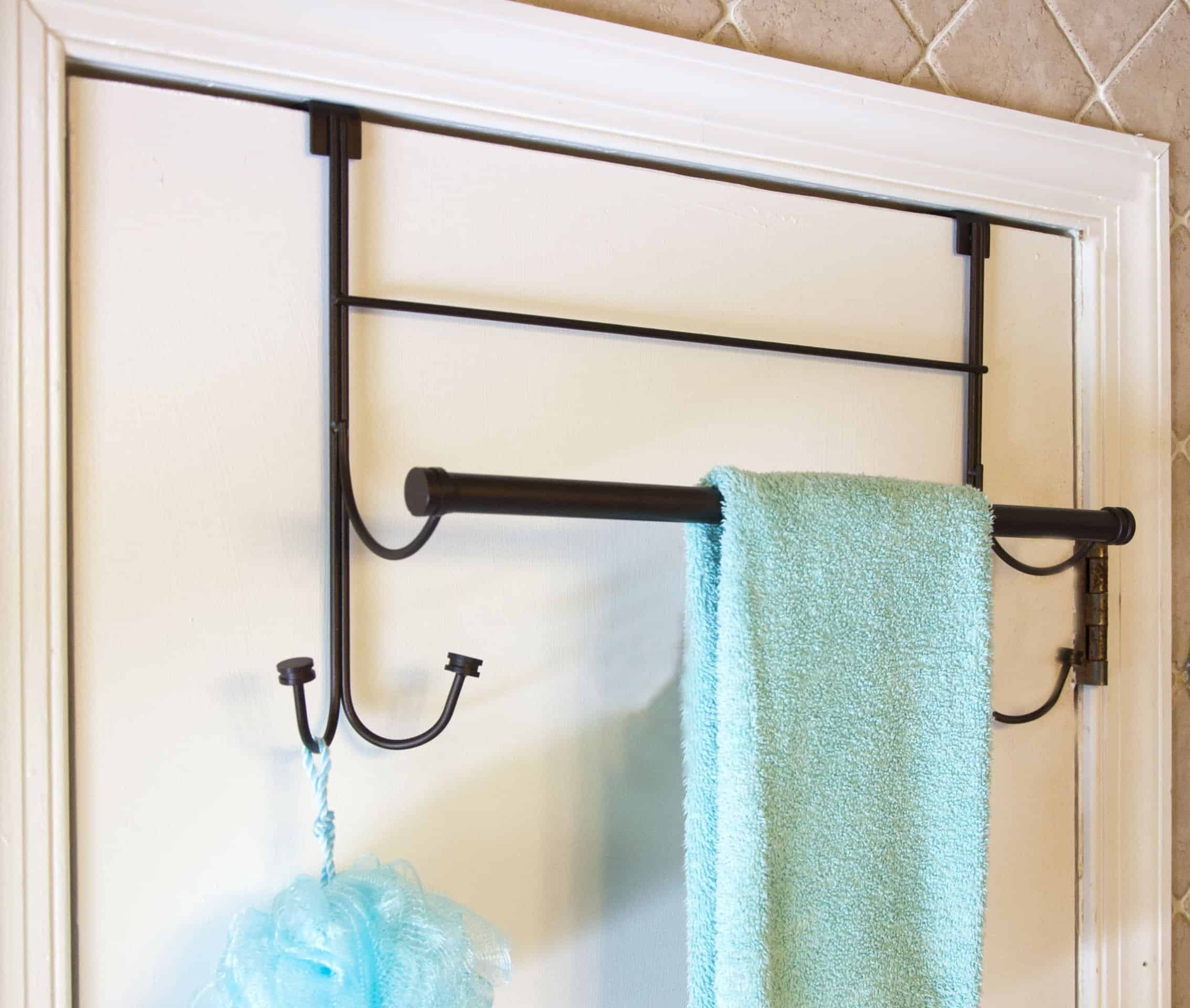 This super simple project is perfect if you are not familiar with the woodworking tools. You only need to attach the towel rack on the door.
Also, the black towel rack will be such an attractive point, which looks contrasts beautifully with the white door.
16. Bathroom Storage Bench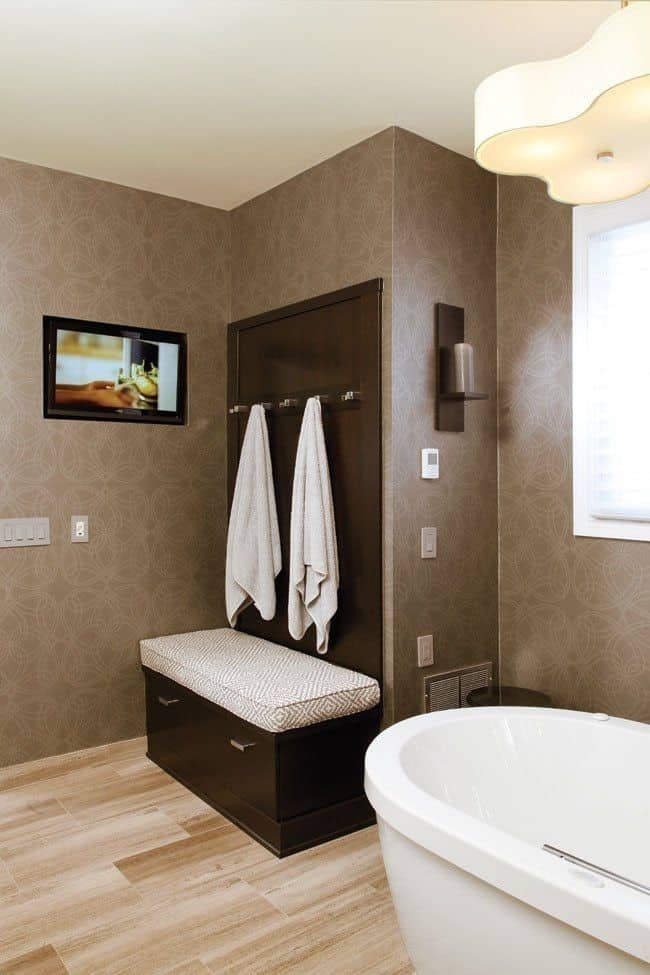 This type of bench can serve as the focal point of your bathroom, providing a place to store towels, toiletries, and other items. Plus, it can also provide a convenient place to sit while getting ready in the morning or taking a break from your busy day.
When planning your bench, be sure to choose a design that compliments the existing decor of your bathroom. If you are handy with tools, you can build your own shelves out of wood or other materials. Just be sure to measure the space carefully before you start building so that your shelves will fit properly.
17. Hang a Basket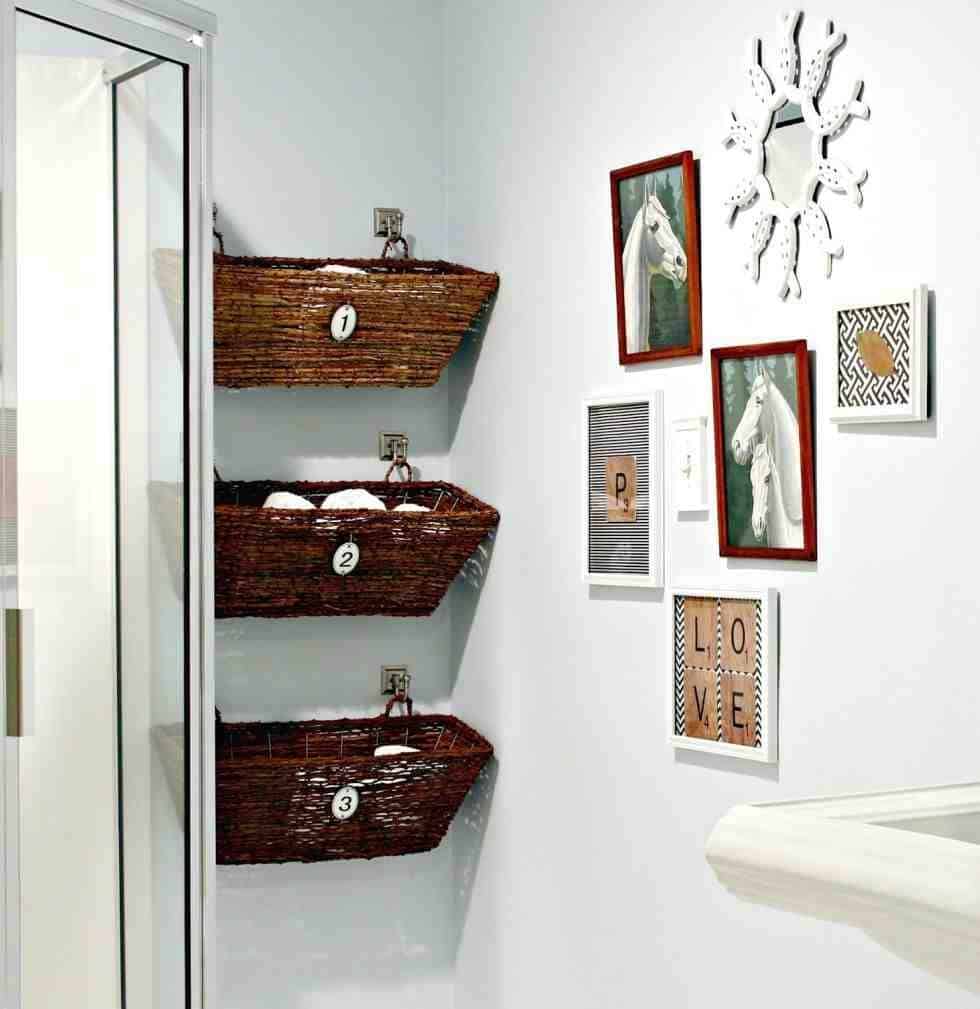 Towels, toiletries, and cleaning supplies can quickly take over an entire countertop or shower caddy. One way to keep your bathroom organized and tidy is to install some simple shelves.
But instead of reaching for a drill and a level, try this easy hack: Hang a basket from a hook on the wall! Not only will it give you some extra storage space, but it will also help keep your toiletries in place. Plus, it's a great way to add some personality to your bathroom decor. If your bathroom needs a little organization, give this simple hack a try.
18. Store The Bathroom Supplies On The Wicker Baskets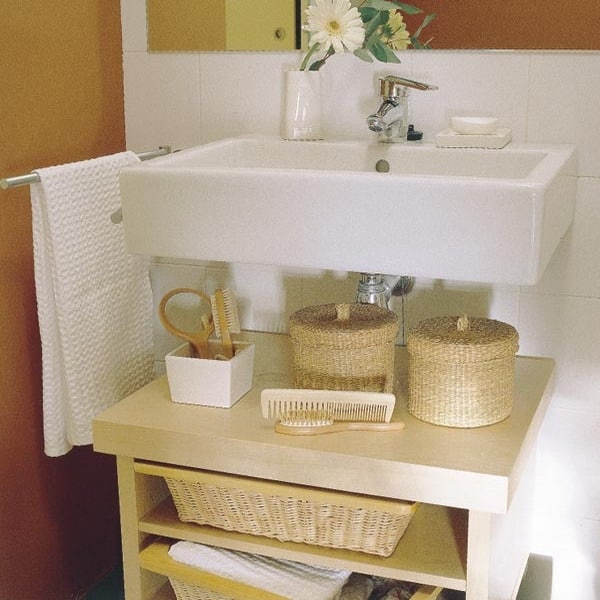 Wicker baskets come in a variety of sizes and shapes, making them perfect for a variety of different uses. You can use them to store towels, toiletries, or even plants. And best of all, they're relatively inexpensive, so you can easily find one that fits your budget.
To get started, simply choose a spot in your bathroom where you would like to add some shelves. Then, measure the area and cut some shelf out of wood. Next, paint or stain the wood to match your decor. Once the paint is dry, put the shelves under the sink. Finally, add your wicker baskets and fill them with whatever you like.
19. Stackable Storage Wooden Crates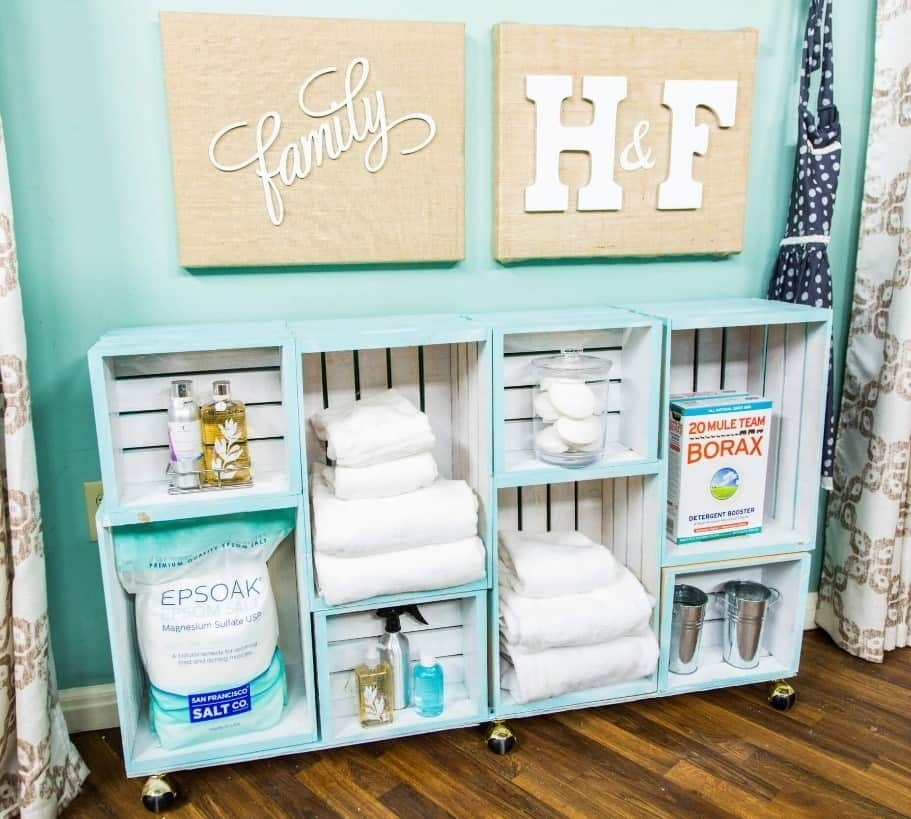 Trying to find extra bathroom storage can be tricky. Towels, toiletries, and cleaning supplies can quickly clutter up the space. One easy way to create additional storage is to repurpose some old cool crate into stackable shelves. You can either use wooden crate of the same size or create a tiered effect by using different sizes.
Simply stack the crates on top of each other and secure them with screws or nails. Once the crates are secured, you can start painting. Choose a color that compliments your bathroom decor or go for a rustic look with natural wood stain. For added stability, you can line the bottom of the shelves with non-slip pads.
20. Industrial Design At Its Best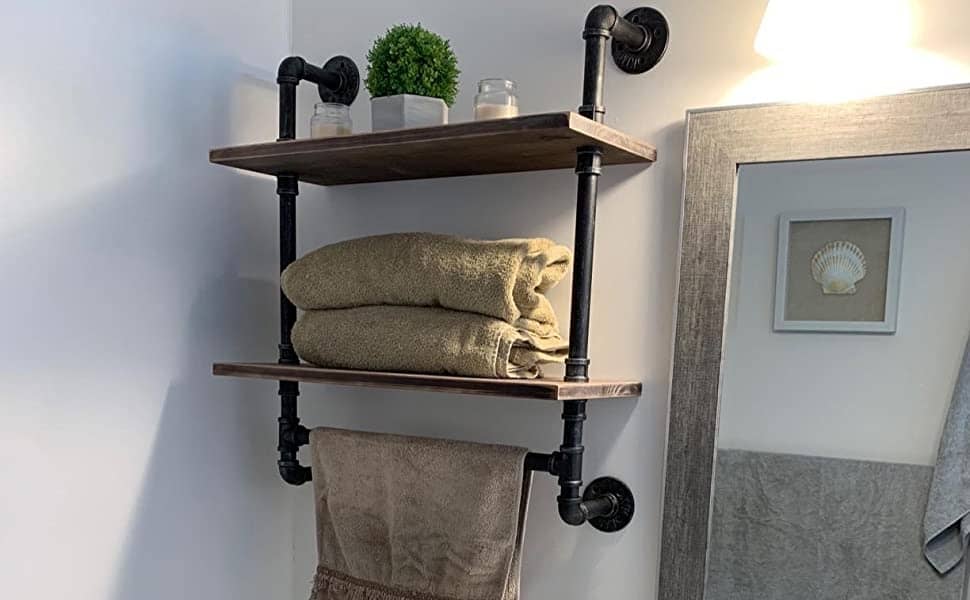 Exposed industrial bathroom shelves are a great way to add some serious style to your bathroom. It can be the best way to make a statement and add an esthetical touch to your bathroom, which is functional at the same time.
Install the brackets on the wall and then slide in the reclaimed wood shelves. Make sure that the brackets are level before you screw them into place. You can also use the pipe to highlight the industrial style.
21. Geometric Wooden Shelves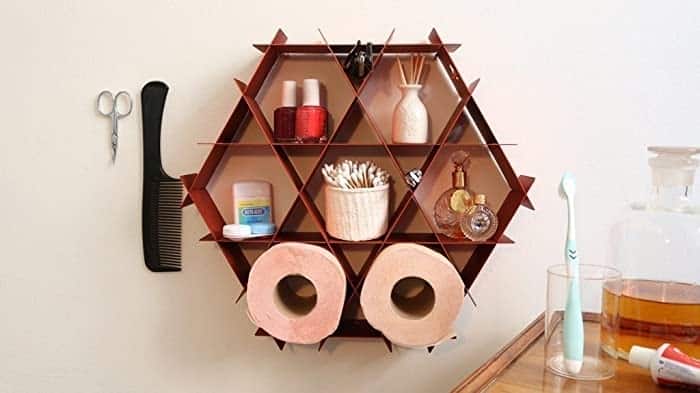 Geometric shelves are all the rage right now, and they're actually pretty easy to DIY. All you need is some wood, a few tools, and some paint or stain. To get started, cut your wood into the desired shapes. You can use a jigsaw, miter saw, or even a hand saw.
Once you have your pieces cut out, sand them down until they're smooth. Then, assemble your shelves using screws or nails. Once your shelves are assembled, you can paint or stain them whatever color you like. There's no need to worry about perfection – imperfections will only add to the charm. Display your new shelves with pride and enjoy the compliments of your guests.
22. Minimalist bathroom shelves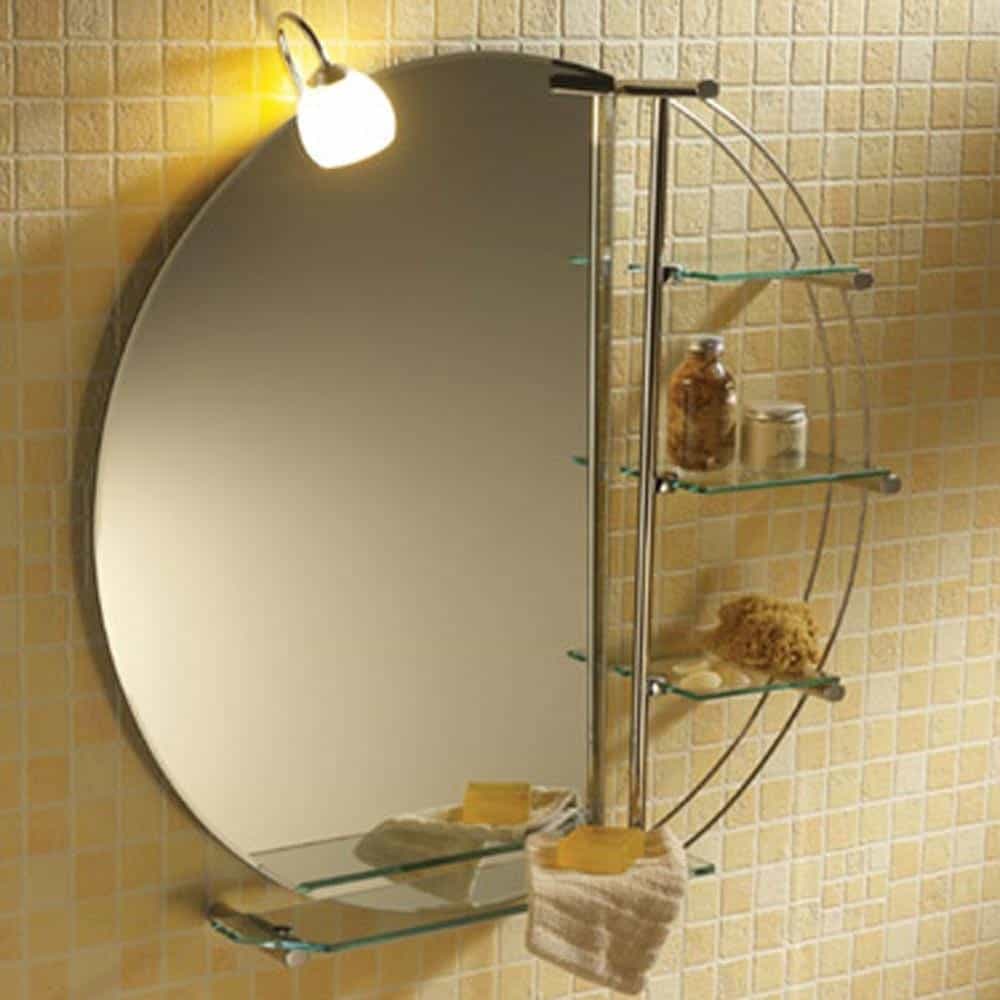 It's a simple DIY project that can really make a space look more polished and put together. Plus, it's a great way to take advantage of all that empty wall space. And if you want to go for a more minimalist look, try using clear glass shelves.
They'll keep the focus on your beautiful bathroom tiles and accessories. Just make sure to use strong brackets to support the shelves, so they can handle all your toiletries. With a few simple tools and some easy-to-follow instructions, you can create minimalist bathroom shelves that will add both style and storage to your space.
23. Bring In The Beauty Of Nature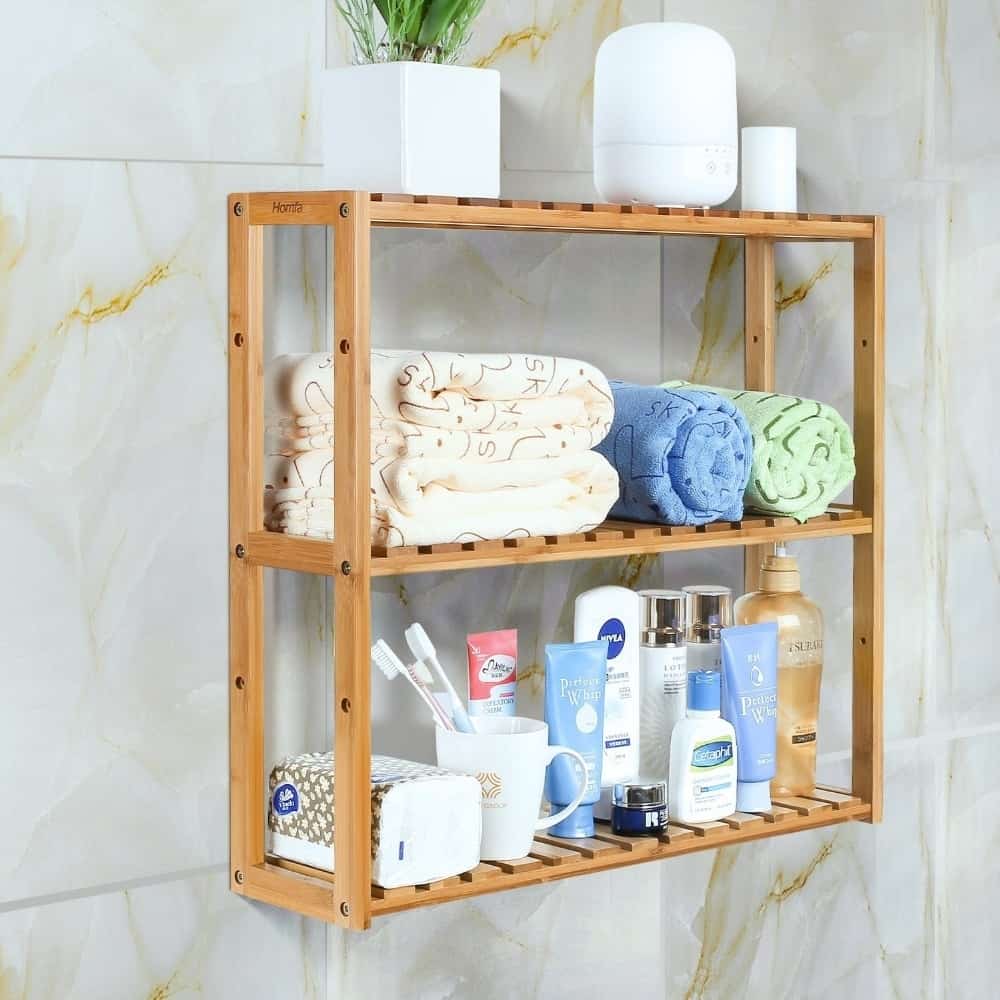 Bamboo is a beautiful material that looks great in any space, and it's also very sturdy, so you can be confident that your things will be safe on these shelves. Plus, bamboo is a sustainable material, so you can feel good about using it in your home. Installing bamboo shelves in your bathroom is a quick and easy project that anyone can do.
Just measure the space where you want to put the shelves, cut the bamboo to size, and then attach it to the wall with screws or nails. In no time at all, you'll have some beautiful new shelves that are perfect for storing extra towels, toiletries, toilet paper, or anything else you need to keep out of the way.
24. Colorful Bathroom Shelves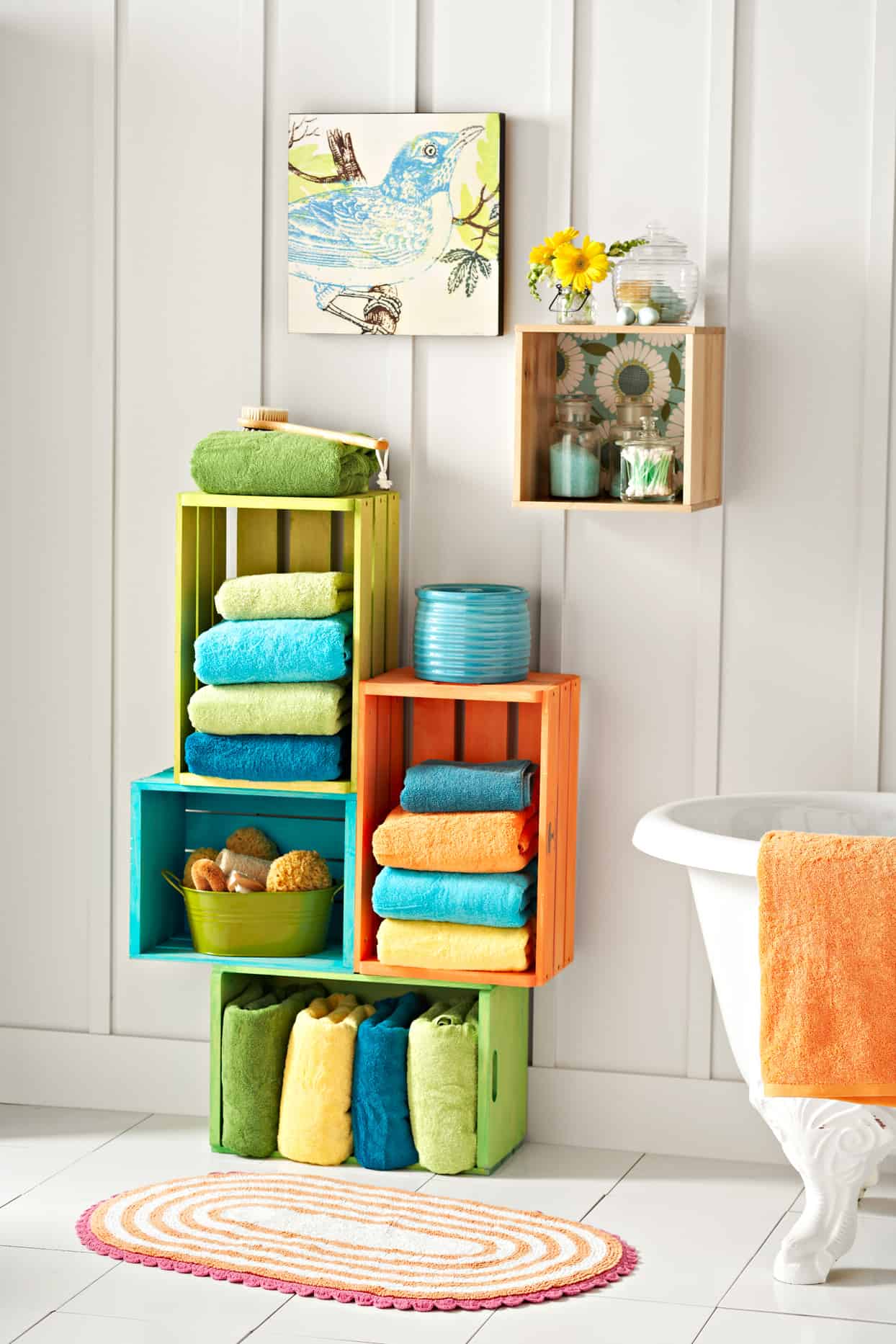 All you need are some basic supplies and a bit of creativity. To get started, choose a shelf style that you like and then select the colors that you want to use. You can either paint the crates or wrap them in colored duct tape.
Opt for the bright color to make it works as a focal point in the bathroom. The colorful towels and the basket that store the toiletries look contrasts beautifully with the crates. On the other side, the decorative pieces make it looks perfect together.
So what are you waiting for? Get started on one of these DIY bathroom shelves and start organizing your stuff! Not only will it make your space look great, but you'll be able to find everything you need in a snap.