Working from home has many benefits, but creating a productive and organized workspace can also be challenging. This happens when your surroundings are not inspiring.
That's why we've put together this list of 30 creative home office ideas to help you get inspired. These creative interior design ideas will make sitting down at work seem like an enjoyable process.
So get ready to start working from home in style.
1. Make Use Of The Limited Area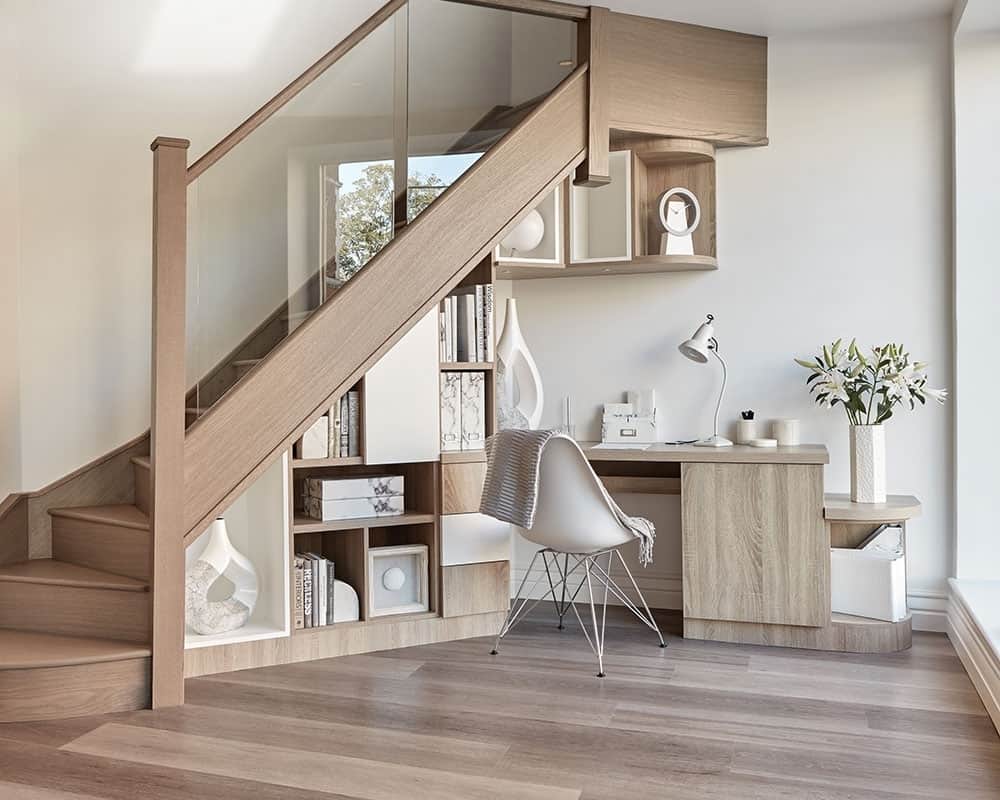 If you have a small space for your home office, there are still many ways to make it work for you. One way is to create it under the stair.
All you need is a small desk and some creative shelving to make it work. Then, opt for using the light tone of the wood material to make it feel bigger, which also blends with the feature surrounding it. This small home office will make you more productive.
2. Rustic Home Office Design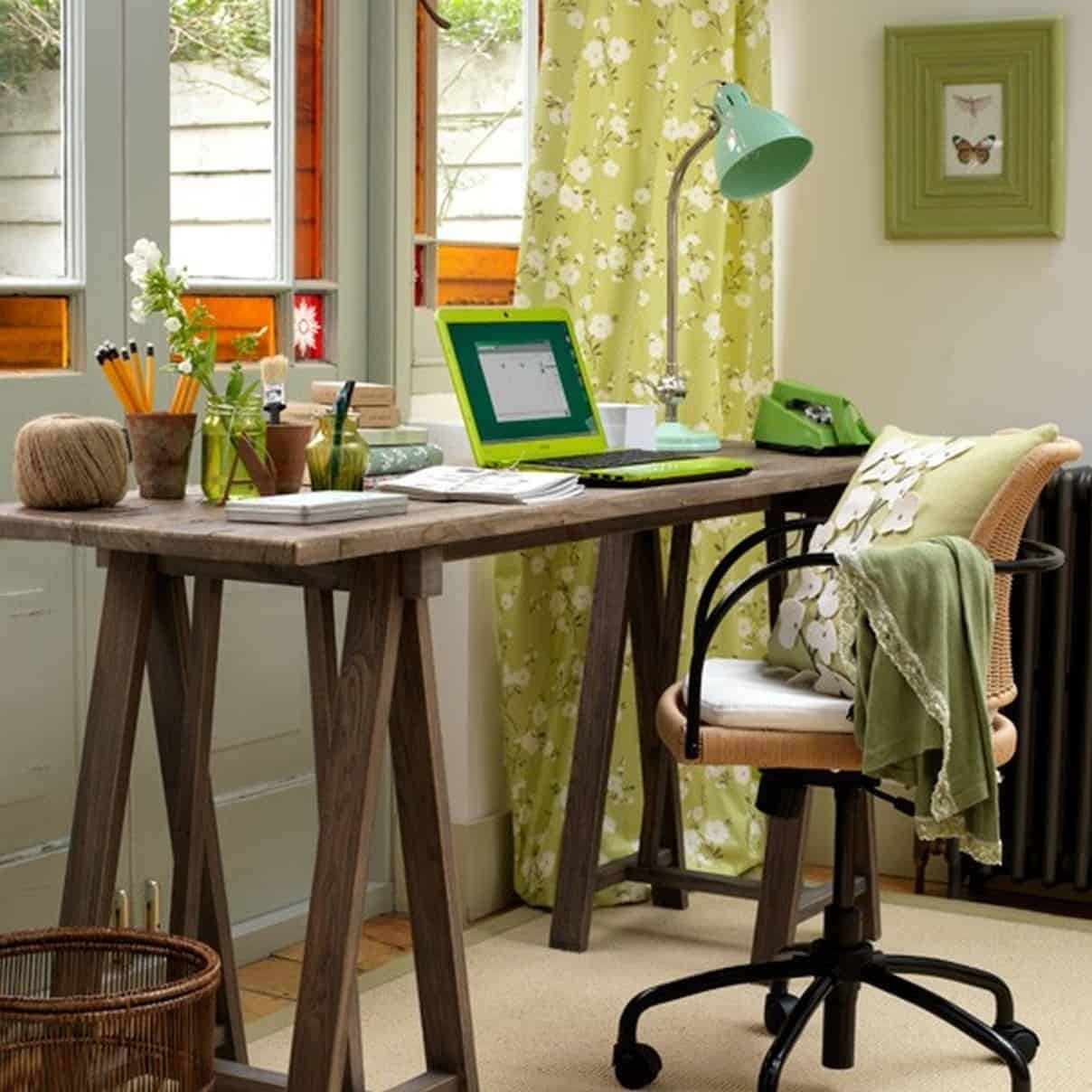 If you're looking for something a bit more rustic, consider adding some earthy tones and textures to your space.
Add a warm wood desk or table, cozy blankets, and plants to give your office a natural feel. Whatever you do, make sure your space feels like a comfortable and productive place to work.
Tip: Consider adding some floor or table lamps to brighten things up.
3. Bring The Cozy Vibe Of Countryside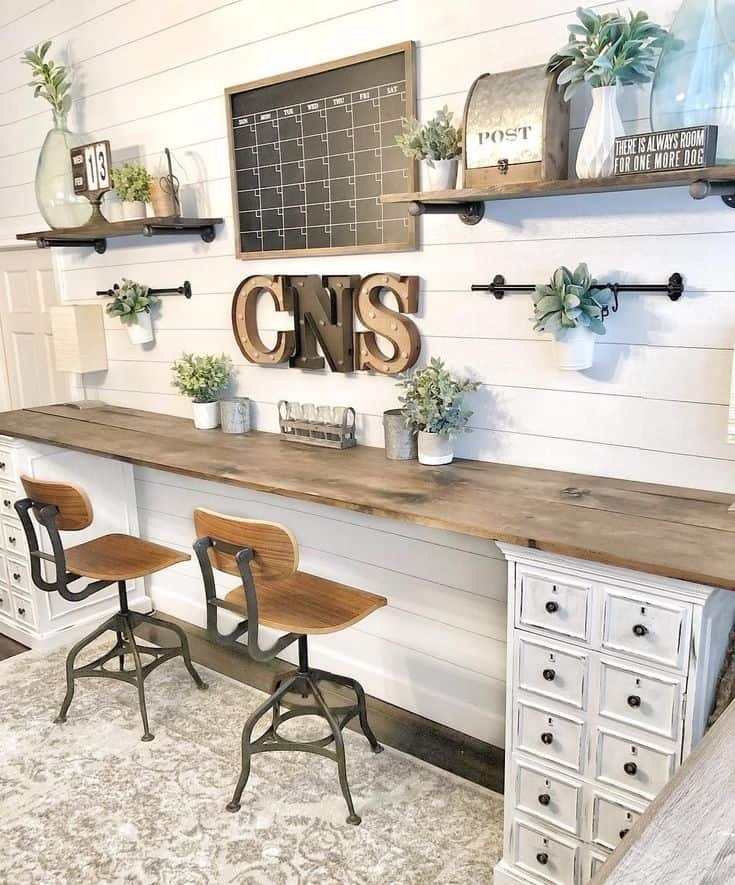 This look typically features many wood accents, natural light, and cozy textures. The white shiplap wall is such the key element of the farmhouse style. It is complemented by the black rods that hold the faux potted plant.
4. Minimalist Home Office Ideas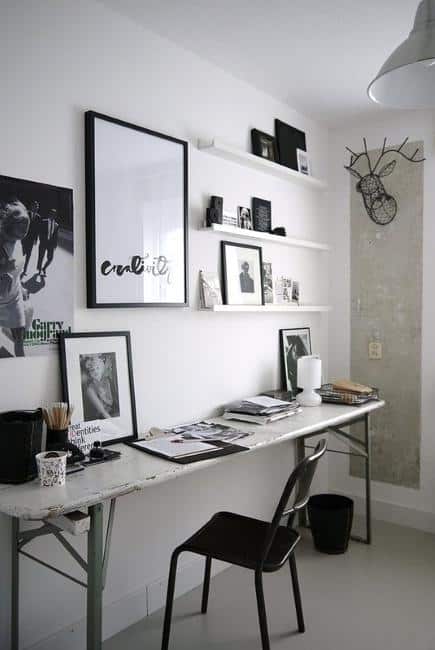 A minimalist home office is all about function over form. This type of office typically has clean lines from the frames and the other decorative pieces.
If you're looking for a sleek and modern look, a minimalist home office is a way to go!
5. Industrial Home Office Ideas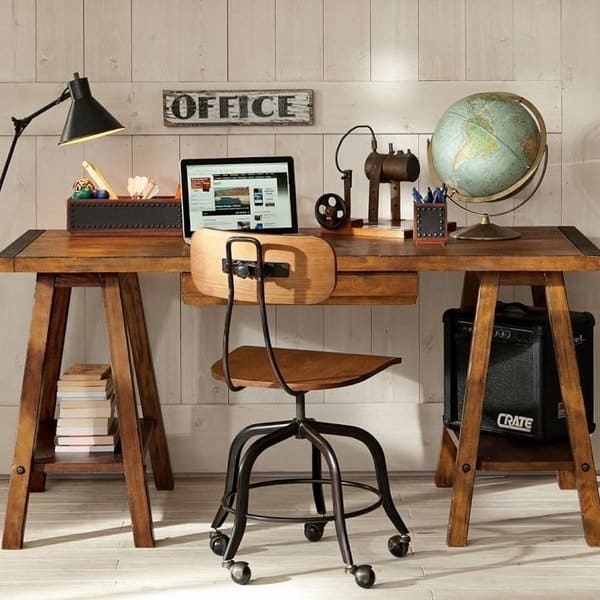 Consider using metal or wood furniture instead of traditional office furniture if you're looking for a more modern and industrial home office look.
Add in some vintage pieces to give the space character. The office sign will be a focal point that gives your work space look fabulous.
6. Shabby Chic Home Office Ideas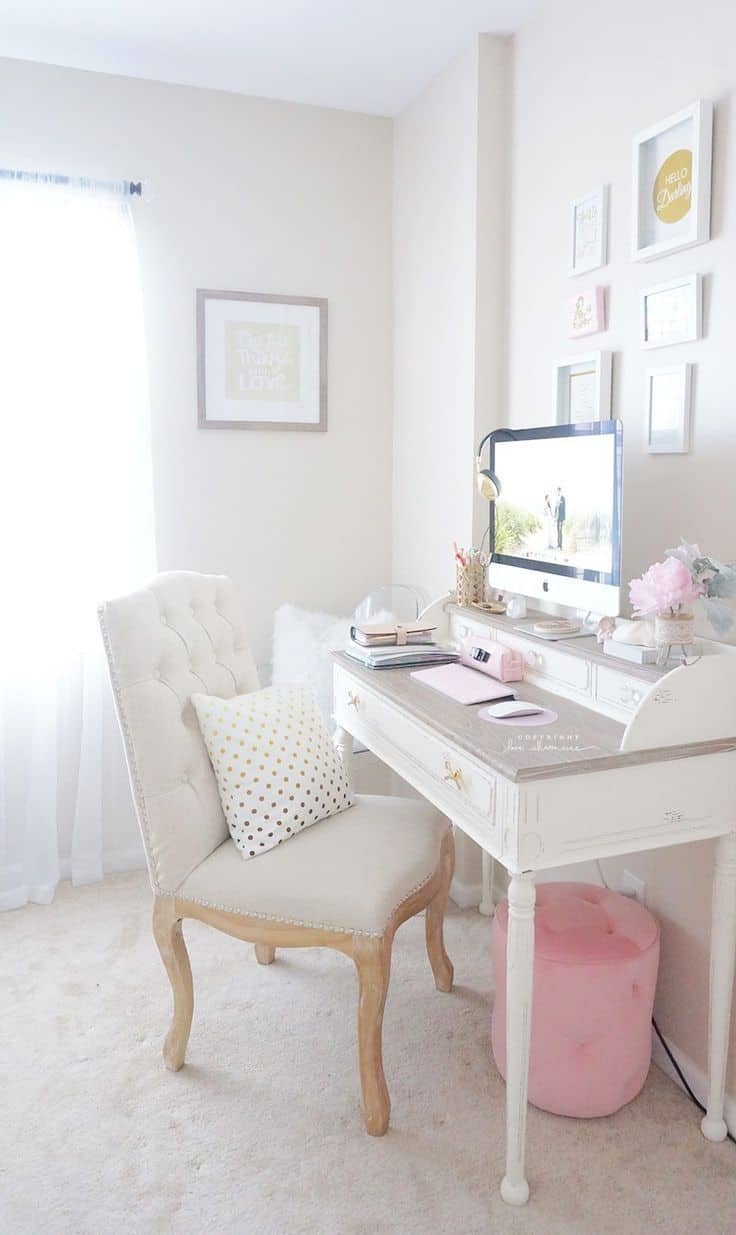 If shabby chic is your style, you will love these ideas for your home office. These ideas will give your workspace a charming and feminine touch, from distressed wood to vintage accessories.
The right setup of home decor, furniture, and storage can make all the difference in your productivity and creativity.
7. Classic Home Office Idea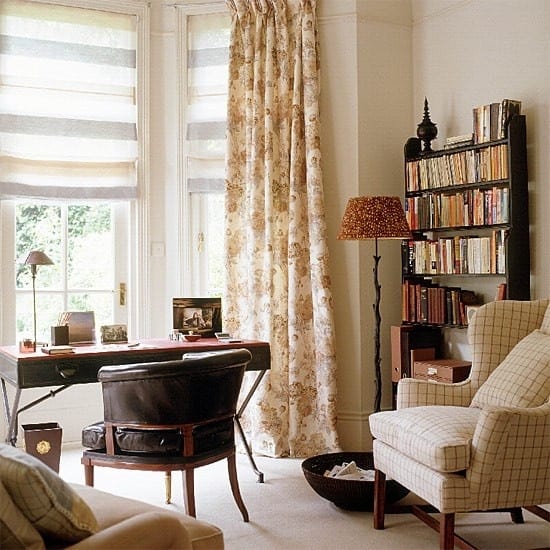 The classic ambiance will always be such a timeless style. Consider using dark wood furniture with intricate details if you want to achieve this look. For your window treatment, choose a heavy fabric like velvet or brocade.
8. Boho Home Office Ideas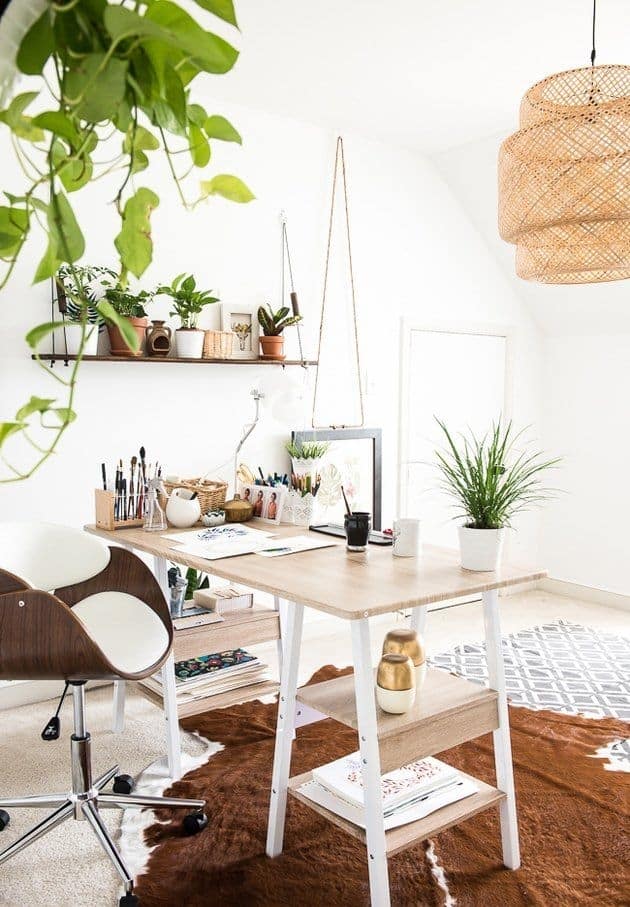 If you're looking for home office ideas with a more relaxed and bohemian vibe, consider these eight boho-chic suggestions.
From macrame wall hangings to a woven lampshade, there are plenty of ways to add some texture and personality to your space. And don't forget plants. They not only add visual interest but can also help improve air quality.
The floating shelf will be such an interesting point that displays the potted plants and some decorative pieces in your interior design. It can be a lovely addition to any room in your house.
9. Add The Golden Hint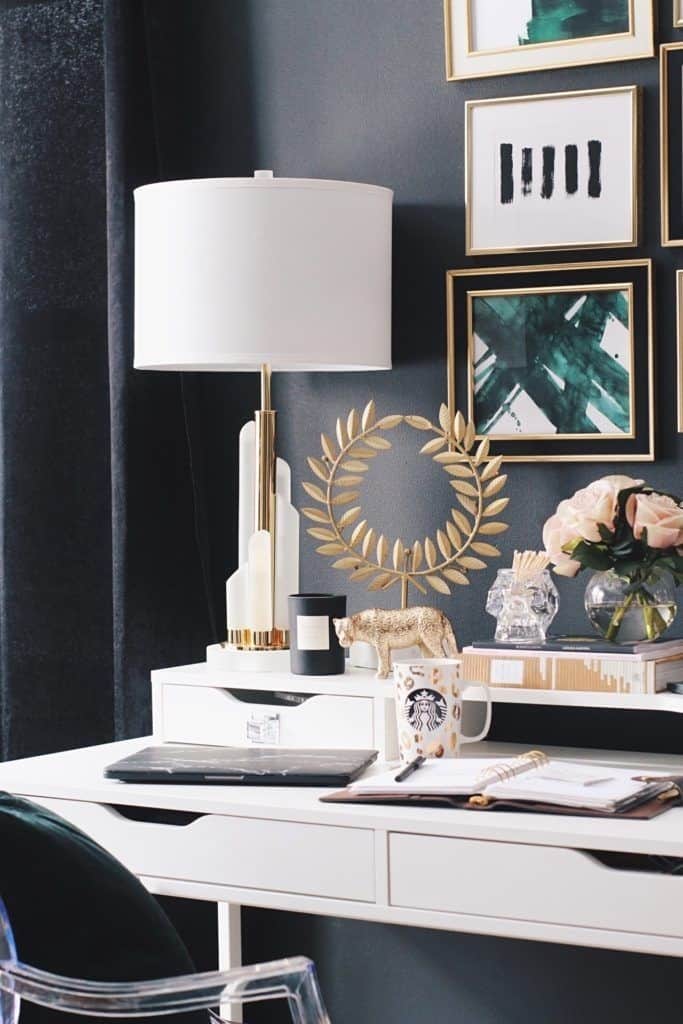 Go for a monochromatic scheme with pops of gold. This will create a chic and modern look that's still warm and inviting.
Incorporate the soft shade decorative piece into your design for a refreshing and calming effect. Add a touch of luxury with velvet furniture or accessories.
10. Casual Home Office Ideas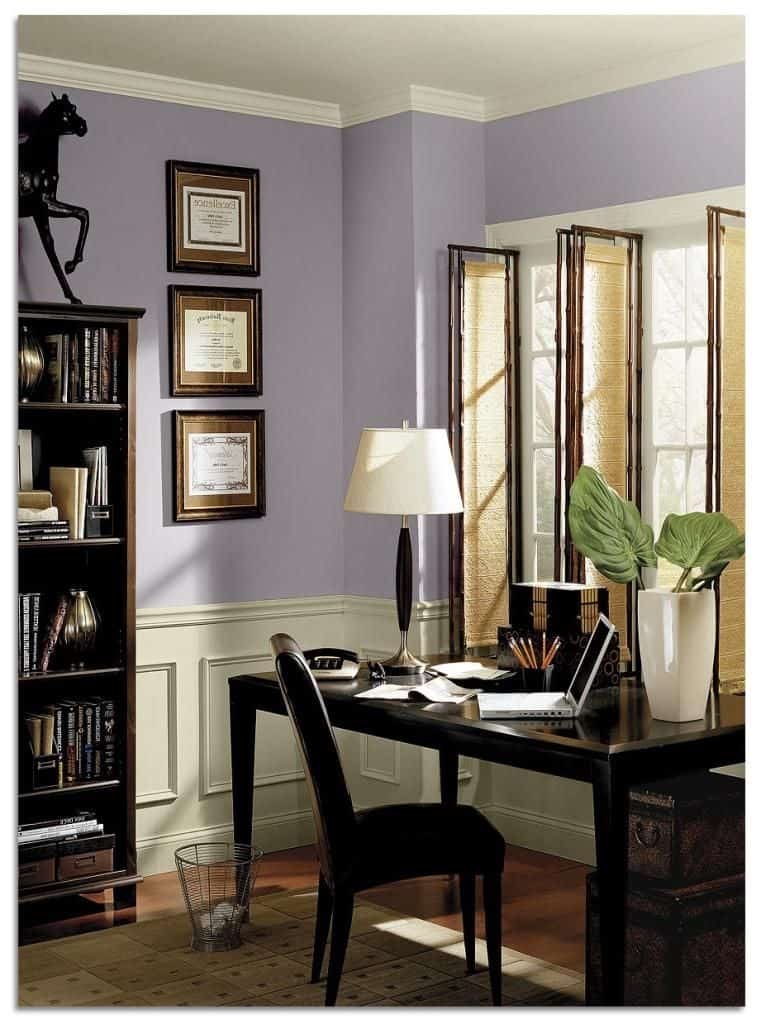 If you're someone who prefers a more relaxed and comfortable workspace, then these following few ideas are perfect for you. To start, consider adding some greenery to your office space.
Plants can help purify the air and improve your focus. You could also try hanging some artwork or photos that inspire you. And if you have the space, consider adding a comfortable chair or couch to your office.
11. Create The Soothing Touch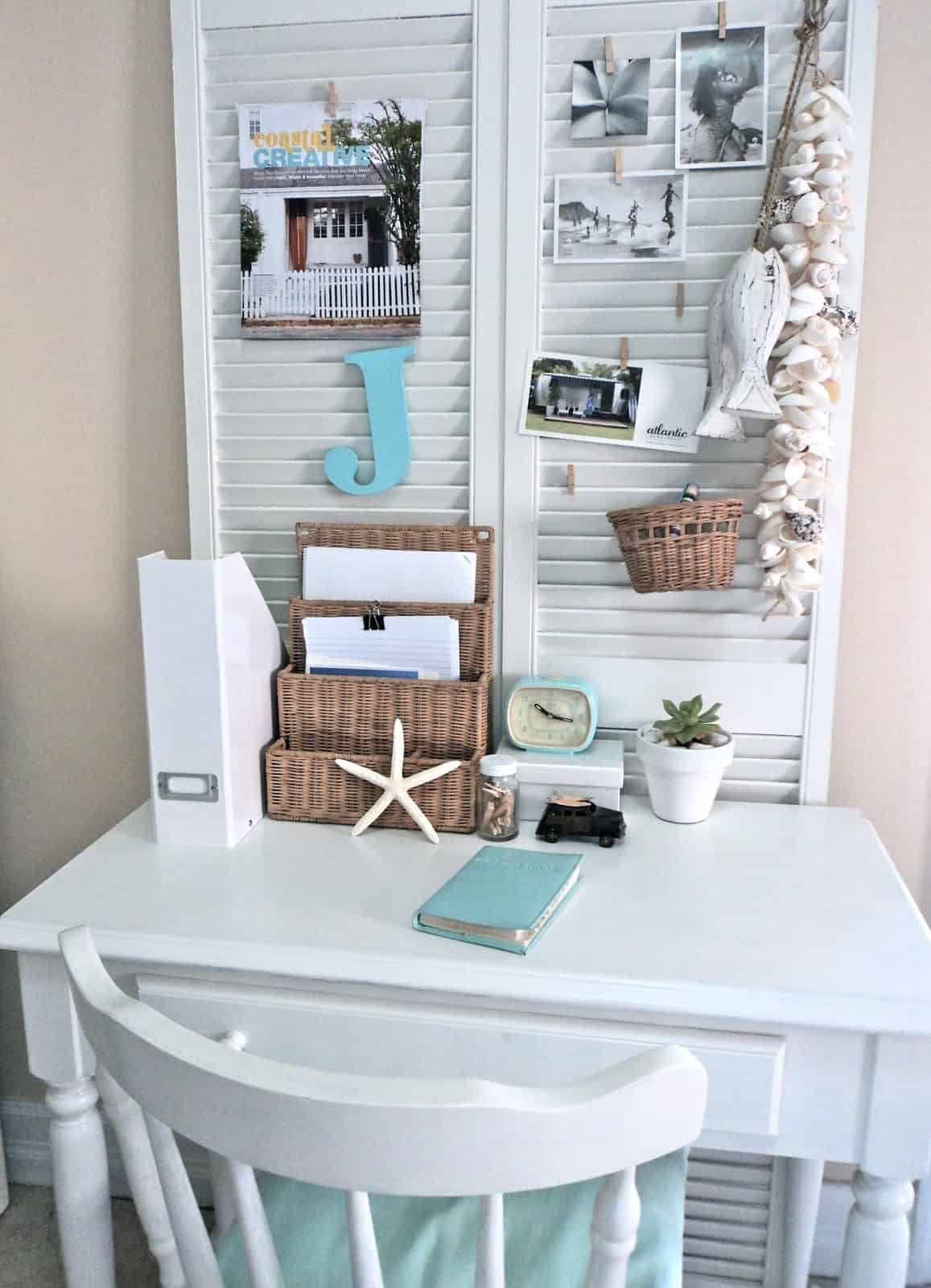 Combine the white and the mint or blue color to highlight the soothing and relaxing atmosphere. For the coastal vibe, add the dried starfish and shell that will be the space's focal point.
You can also bring in natural elements like rattan baskets to organize your office supplies as well.
12. Urban Home Office Ideas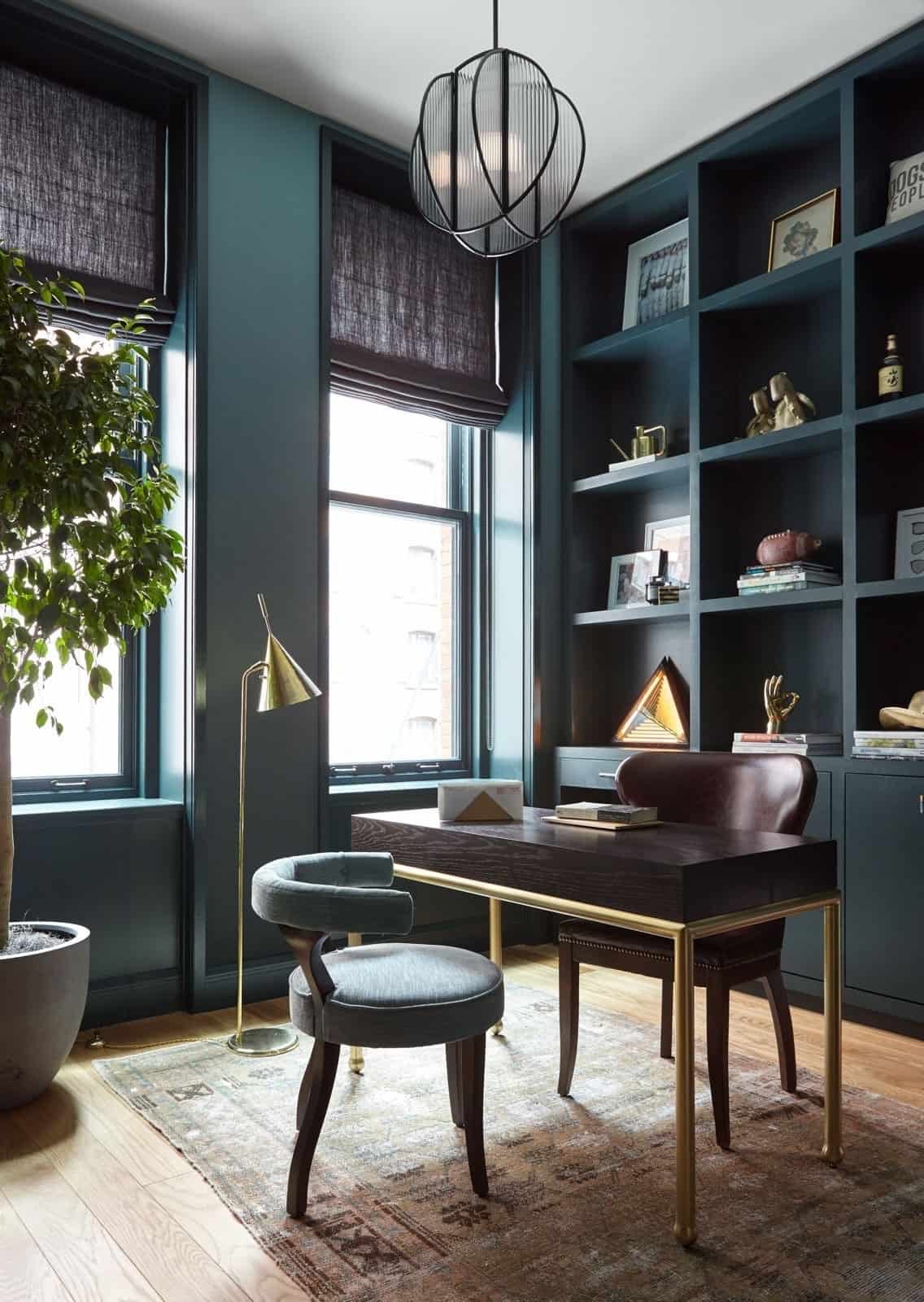 Use sleek and simple furniture pieces to take up minimal space and create a streamlined look. For example, install some built-in storage shelves or cabinets to keep your work area tidy.
And don't forget to add some personal touches, like a framed photo or a vase of fresh flowers, to make it feel like your own.
13. The Sleek Appearance At Its Best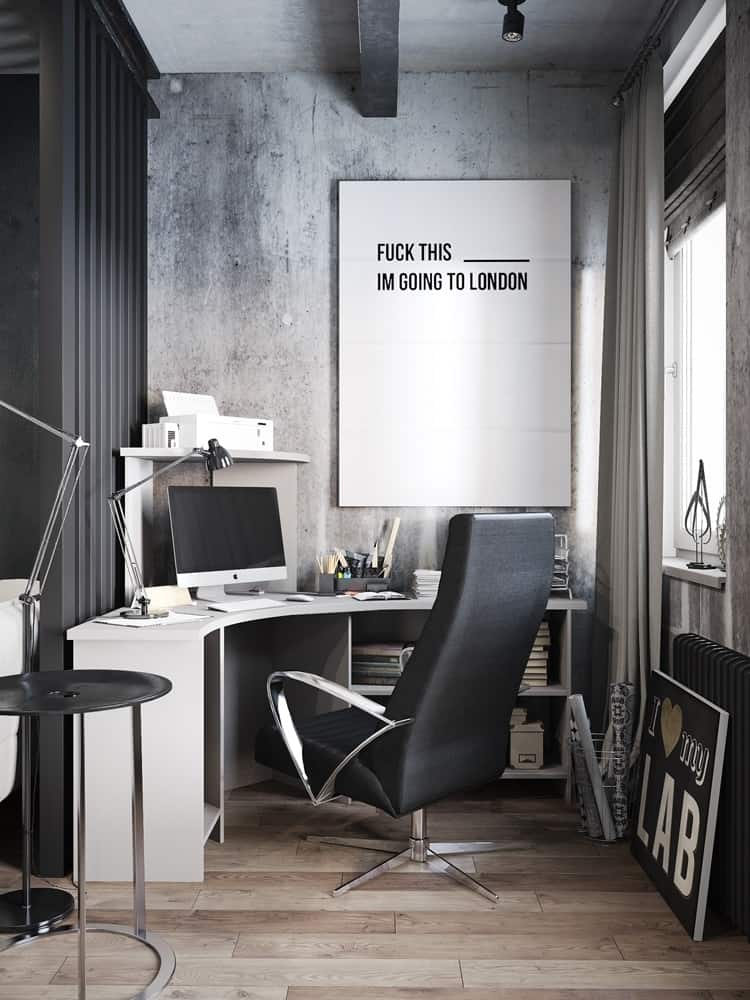 A sleek and stylish home office is key to maintaining productivity for the modern professional.
The exposed concrete accent wall brings a natural hint of sleekness to the design, while the oversized wall art is perfect for adding the beauty of the room.
A well-designed home office should be both functional and chic, with plenty of storage for files and paperwork as well as space to focus on work.
Tips: Keep things simple. When it comes to a modern home office, less is definitely more. Try to avoid clutter and keep the space streamlined and organized.
14. Simple Home Office Ideas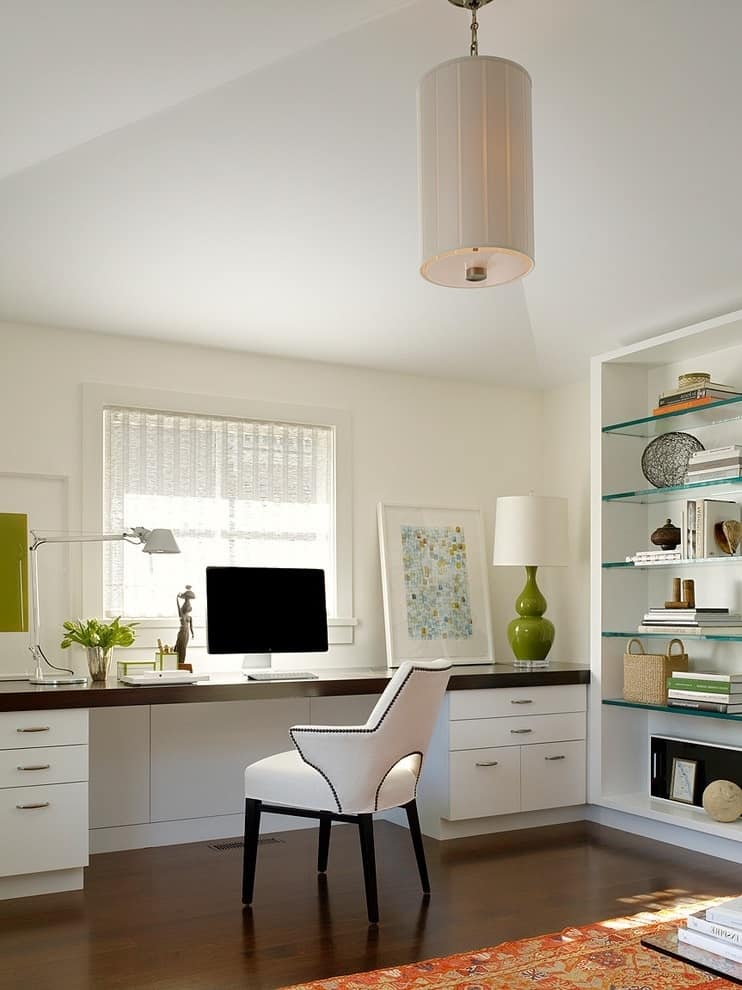 Simplicity is key when it comes to home offices. Keeping the space clutter-free and organized will help you stay focused on your work.
The combination of the small desk in a quiet corner of the house, a comfortable desk chair with good back support, and plenty of storage space, either in the form of cabinets or shelves, can make for a productive and organized home office.
15. Home Office with a View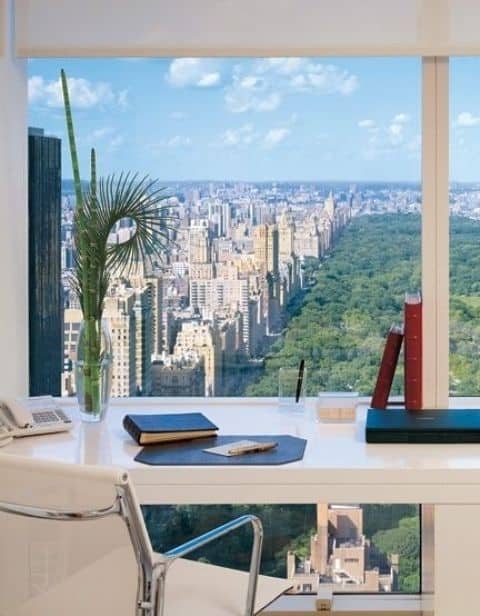 If you're lucky enough to have a room in your house that has a fantastic view, why not turn it into your home office?
The natural light and outdoor scenery can be a great source of inspiration and motivation. Plus, who wouldn't want to work from a room with a view?
16. Home Office in a Bedroom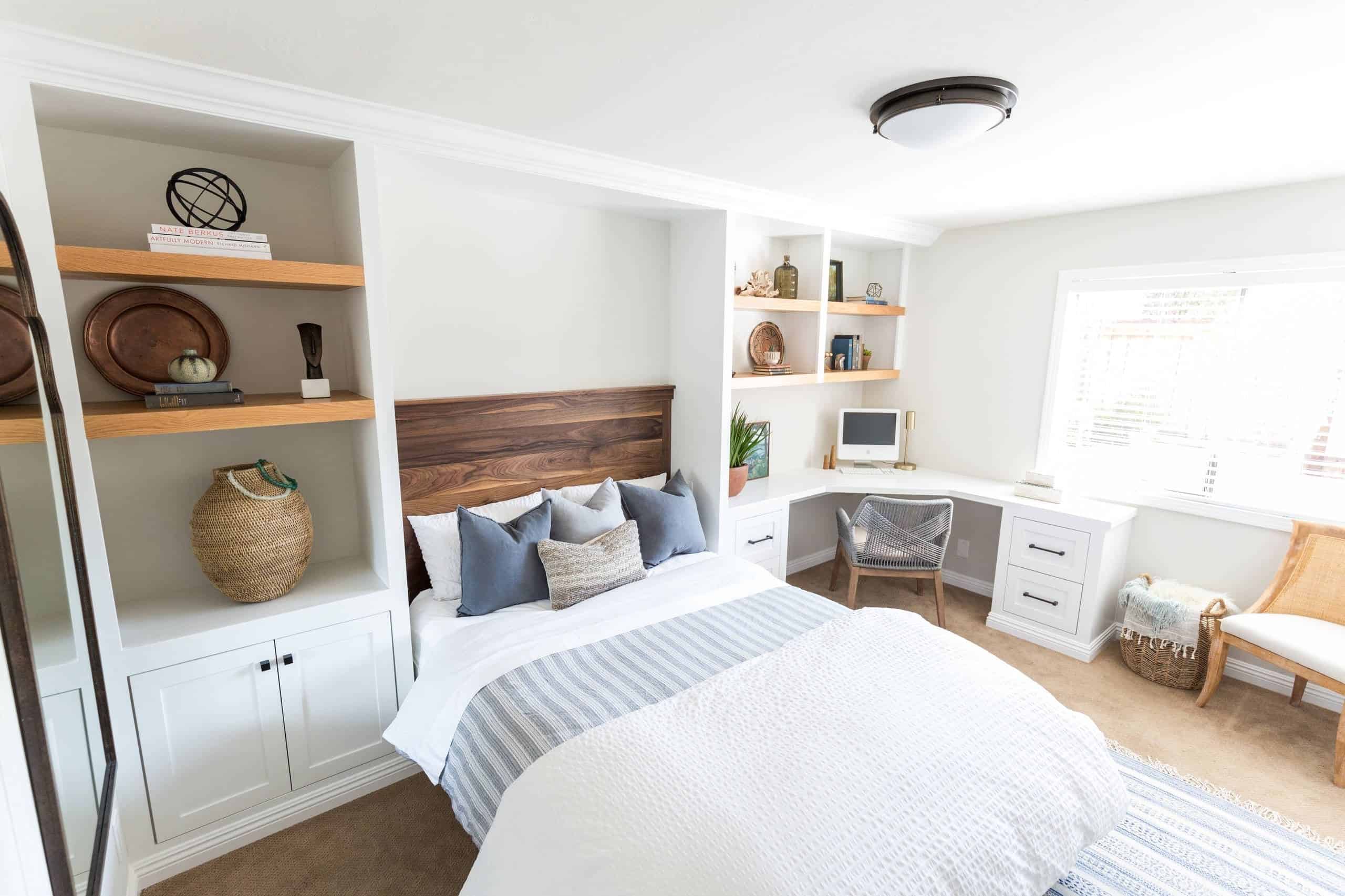 If you're short on space or don't want to dedicate an entire room to your home office, why not try using a bedroom instead?
You can use the bed for storage or as a place to put your printer and other office equipment. Just make sure to keep the rest of the room clean and organized so you can focus on your work.
17. DIY Pinboard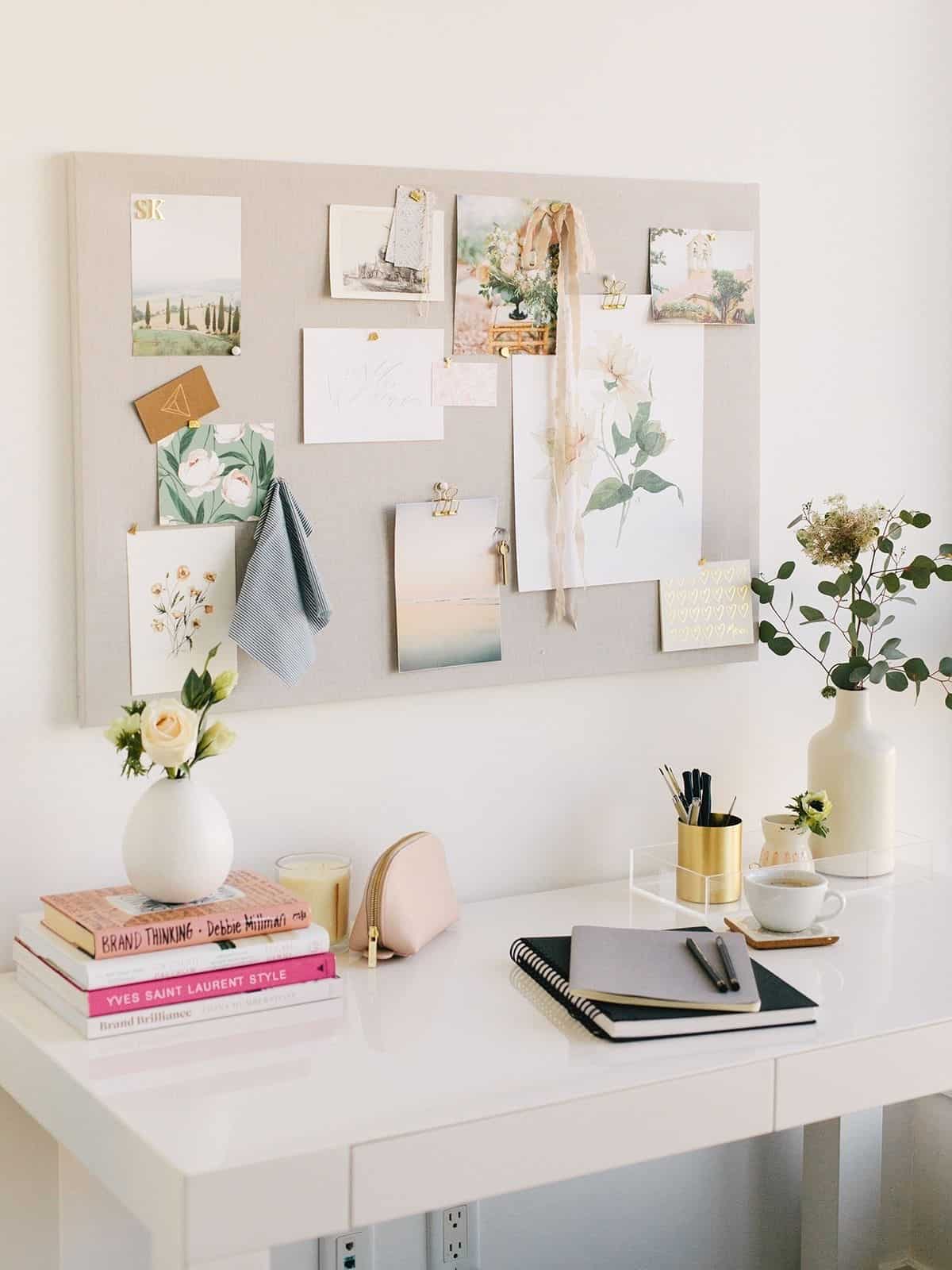 If you're the handy type and enjoy a good DIY project, then this project is perfect for you.
With a bit of creativity and some elbow grease, you can easily transform a dull room into a stylish and functional workspace, where the notes and your favorite pictures are pinned on the pinboard.
18. The Soft Tonal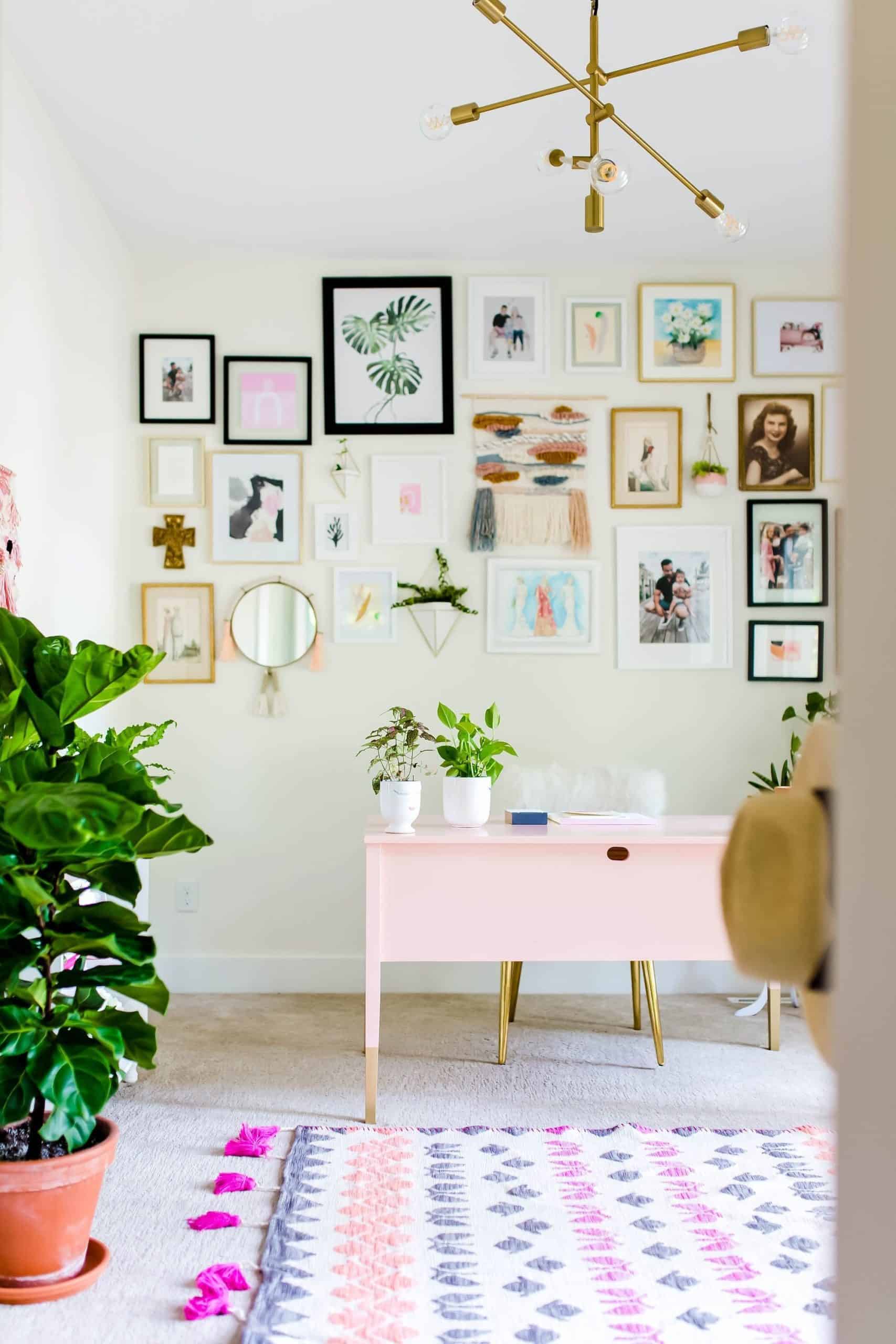 A feminine home office is perfect for the woman who wants to be surrounded by pretty things while she works. Create a space that feels like your own personal escape with soft textures, muted colors, and plenty of plants.
Incorporate a few key pieces of furniture, like a comfortable chair and a pretty desk, to make your space both functional and stylish. Then, accessorize with feminine details like floral accents, delicate lamps, and pretty storage boxes. By creating a space that you love spending time in, you'll be more motivated to get your work done.
19. Arrange It Into A Cool One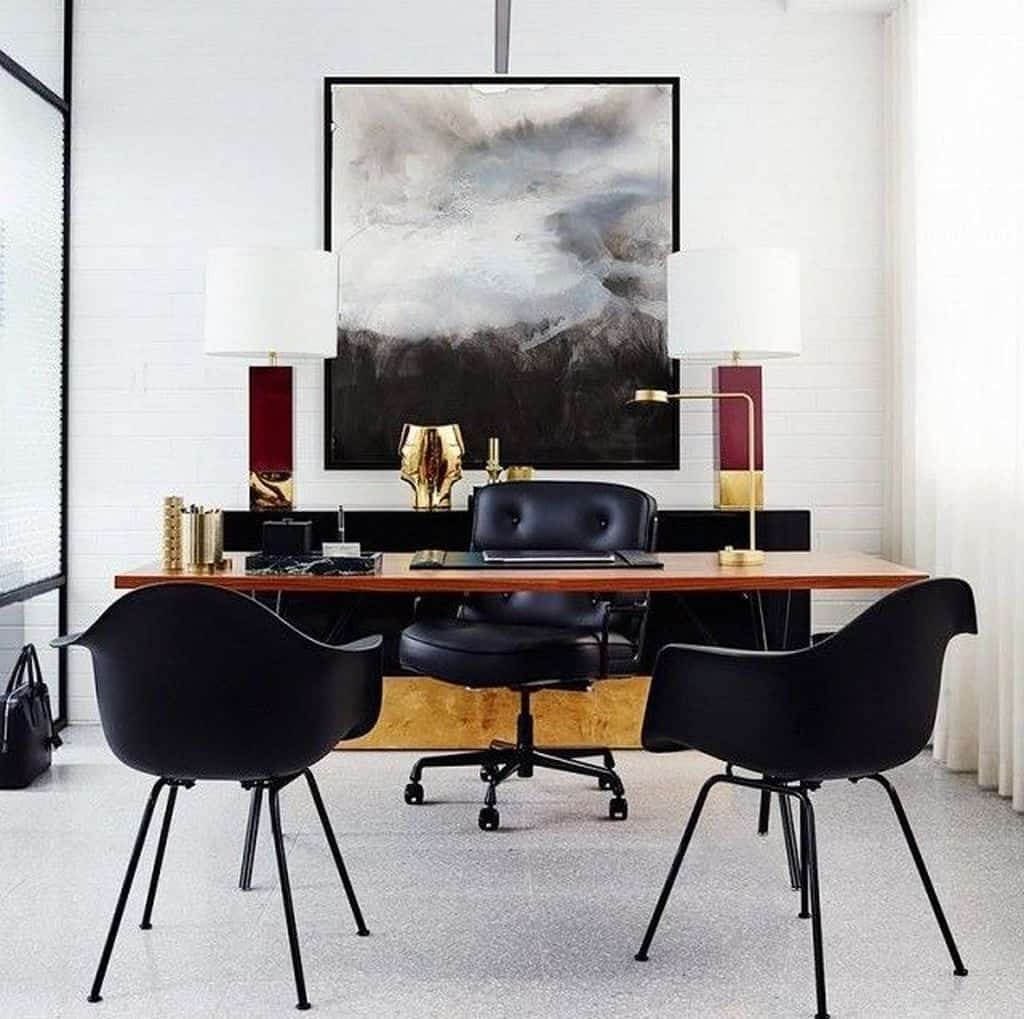 A man's home office should reflect his style and interests. The black movable comfy chair allows you to move easily. A stylish home office for a man should also be comfortable and functional. The right furniture and accessories can make all the difference in how enjoyable and productive your space is.
The gold accents in this office add a touch of luxury, while the dark woods keep it feeling masculine. The desk is the focal point of any home office, so make sure you choose one that fits your needs and taste. A simple, clean-lined desk like this one is perfect for a man's space. It provides plenty of surface area for working, and its sleek design keeps the space looking sharp. This can be one of the modern home office ideas, which is worth having.
20. Natural Home Office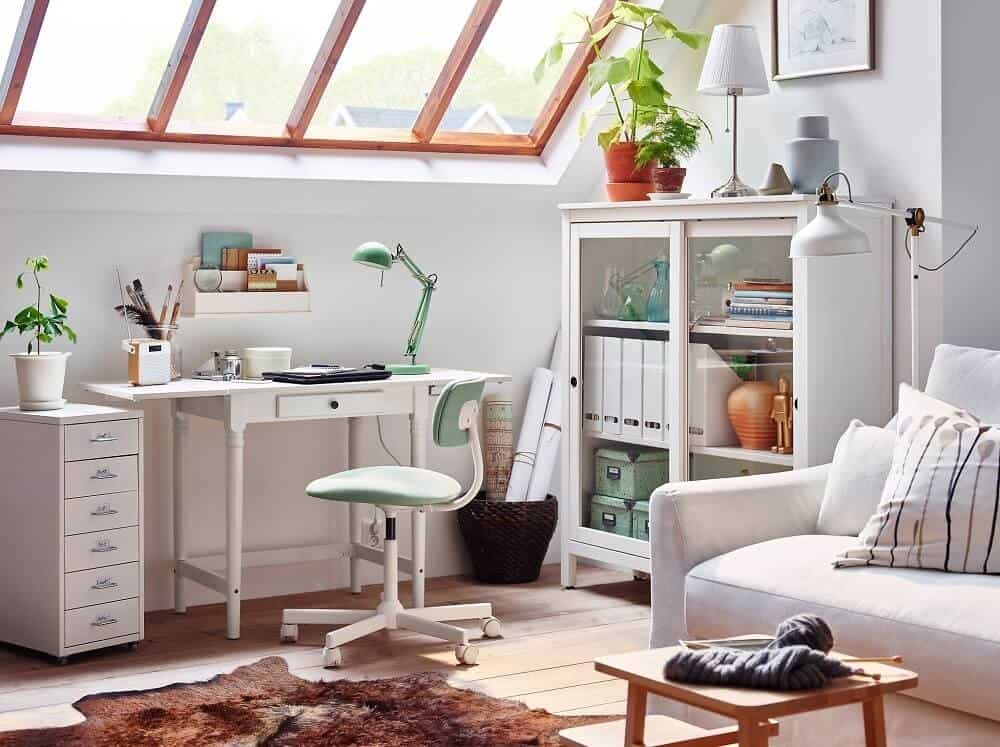 If you're looking for some home office ideas to help you create a productive and organized workspace, consider using natural elements to inspire your design.
The glass slopped roof offers you sufficient natural light for a brighter and bigger space.
Incorporating nature into your office can help you feel more connected to the outside world and promote a sense of calm.
21. Make It Versatile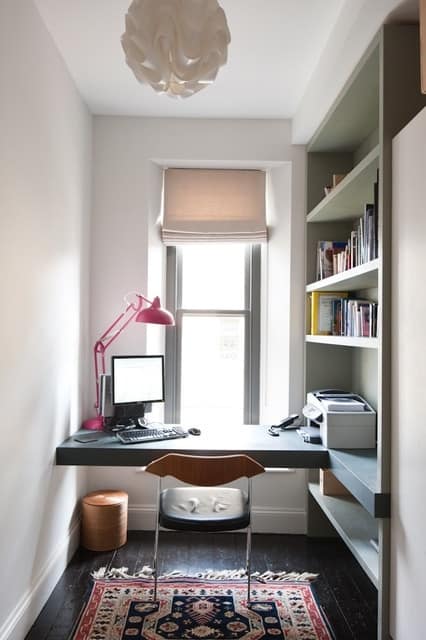 If you're looking for functional home office ideas, you've come to the right place. This office is designed to help you be productive and organized at the same time while also exposing its beauty.
Installing the floating desk is such the best answer if you have to deal with the small office space. This will free up floor space and make the room feel more spacious. You can also complement the white walls to make the space look even bigger. With these simple tips, you'll be able to make the most out of your small office.
You can make use of the limited space in your living space, which will make you more productive and focused.
22. Don't Be Outdated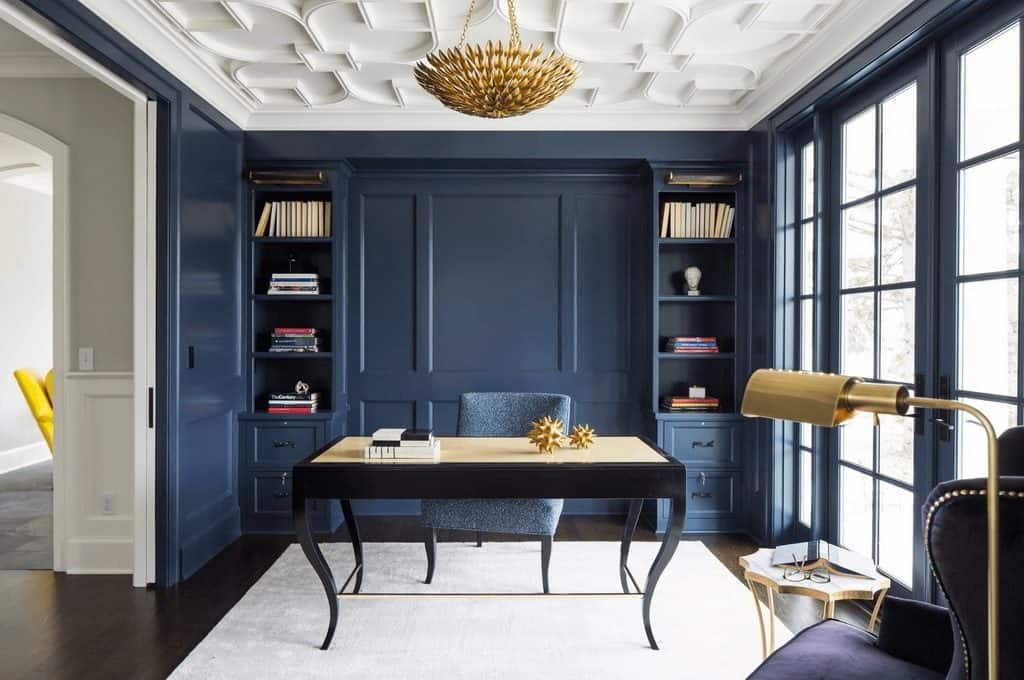 When it comes to the design of your home office, there are no set rules. As a result, you can create a stylish and functional space in one.
Create a comfortable work area by using an office desk and chair that fit your body size and style. You also need to maximize storage by using cabinets.
23. Attach More Artistic Decoration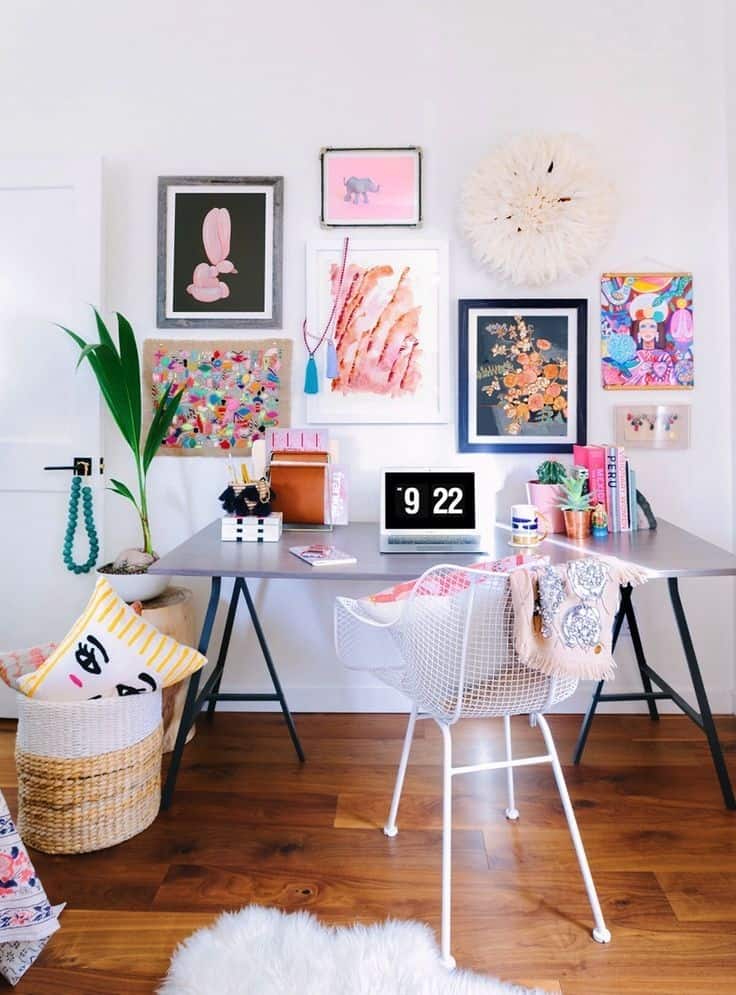 If you work from home, you know how important it is to have a functional and comfortable workspace.
After all, your home office is where you'll spend most of your time working. If it's not organized and efficient, it can be tough to get anything done.
Accentuate the creative flair in this home office through some wall art.
24. Beautiful Home Office Ideas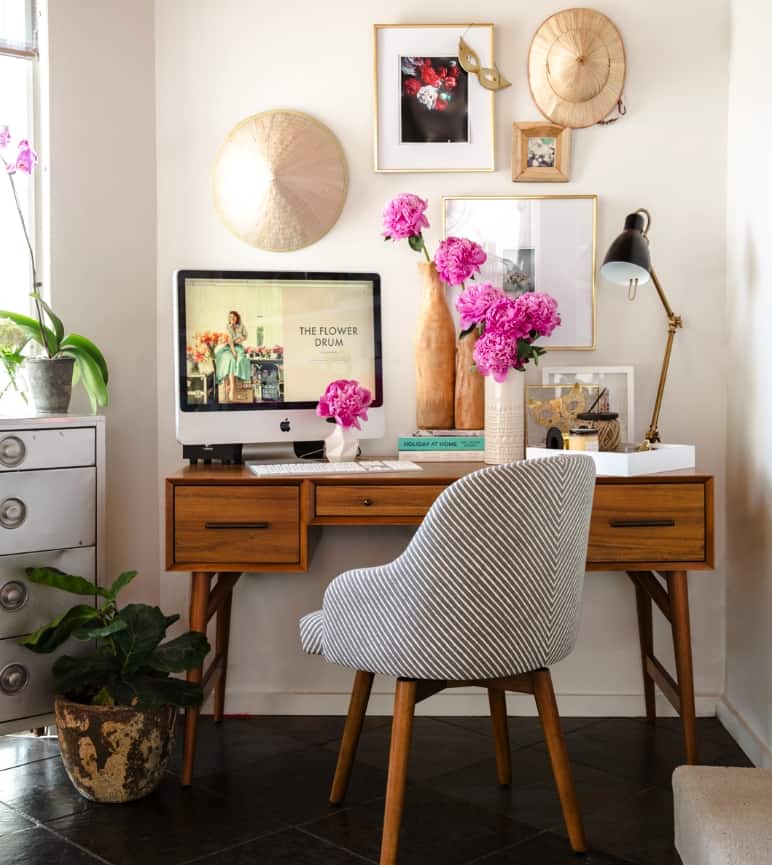 A well-decorated and organized home office can help you be more productive while working from home. Put some decorative pieces that inspire you every time you look at them and make them look way more beautiful. On the other side, a minimalist desk lamp will light up your desk space beautifully.
The purple flowers will be an attractive point, which is worth having.
25. A Comfy Office Chair Is The Best
If you spend most of your day sitting at a desk, it's crucial to have a comfortable chair. Opt for an ergonomic chair, but make sure the one you choose offers support for your back and adjustable settings. It would be great if the chair has the same tone as the desk, making the home office look professional. Consider a leather chair to make it look even more chic.
Also, the floating shelf installation will add the beauty to the home office through the decorative pieces on it.
26. Elegant Home Office Ideas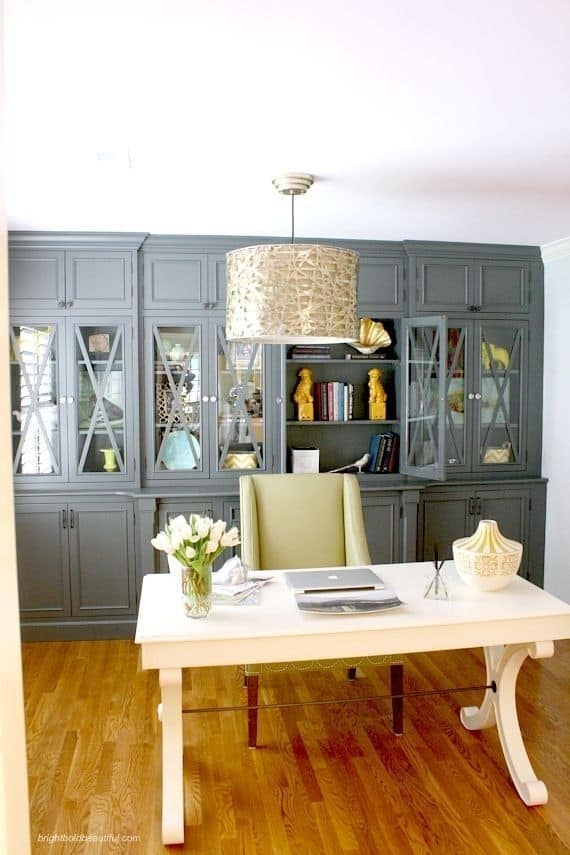 There is nothing much you need to do to create an elegant home office. Just keep the space simple and uncluttered, with a few well-chosen pieces of furniture. You can also add some plants or flowers to make it look more inviting.
The right home office setup will be the key element of an elegant and comfortable home office design. You need to decide what type of work you will be doing in your office. This will help determine the type of furniture and equipment you need.
If you plan on working from home frequently, then you will need a comfortable chair and desk. If you only plan on working in your office occasionally, then you can get by with a smaller desk and chair.
27. Bring Back The Aged Stuff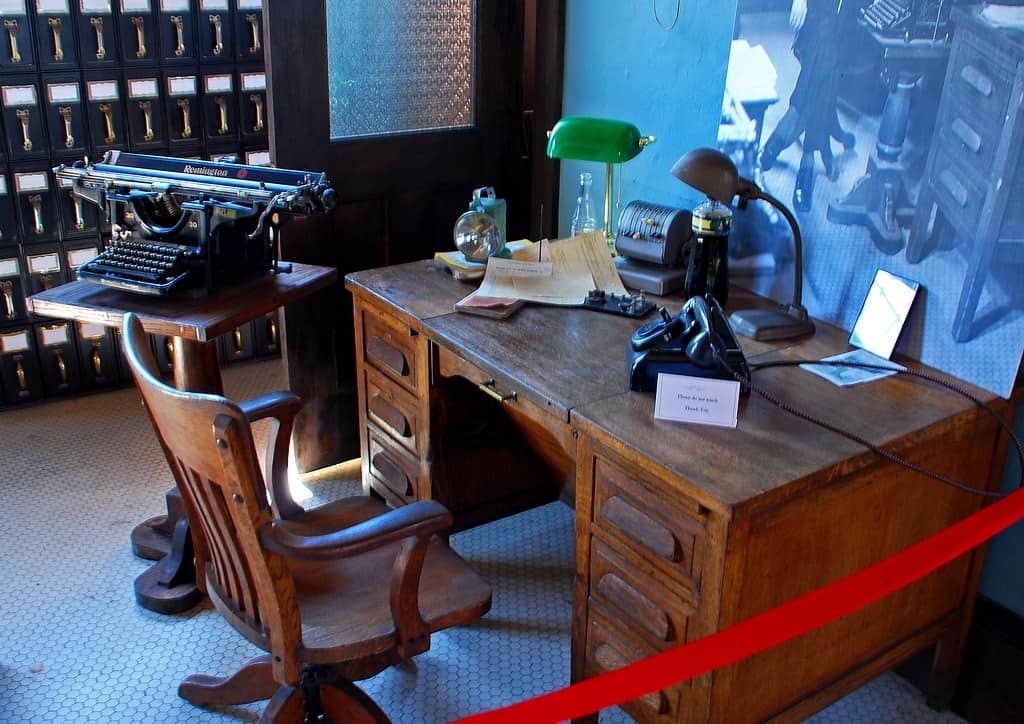 Bring the character of old-fashioned offices into your home office with vintage decor. A typewriter, antique desk, or charming shelving can give your space a personal touch and make you feel inspired to work.
Let the desk and the chair expose the natural color of the wood, along with the pattern. Also, don't forget the desk lamp to light up the desk space while you are working.
28. Chic Home Office Ideas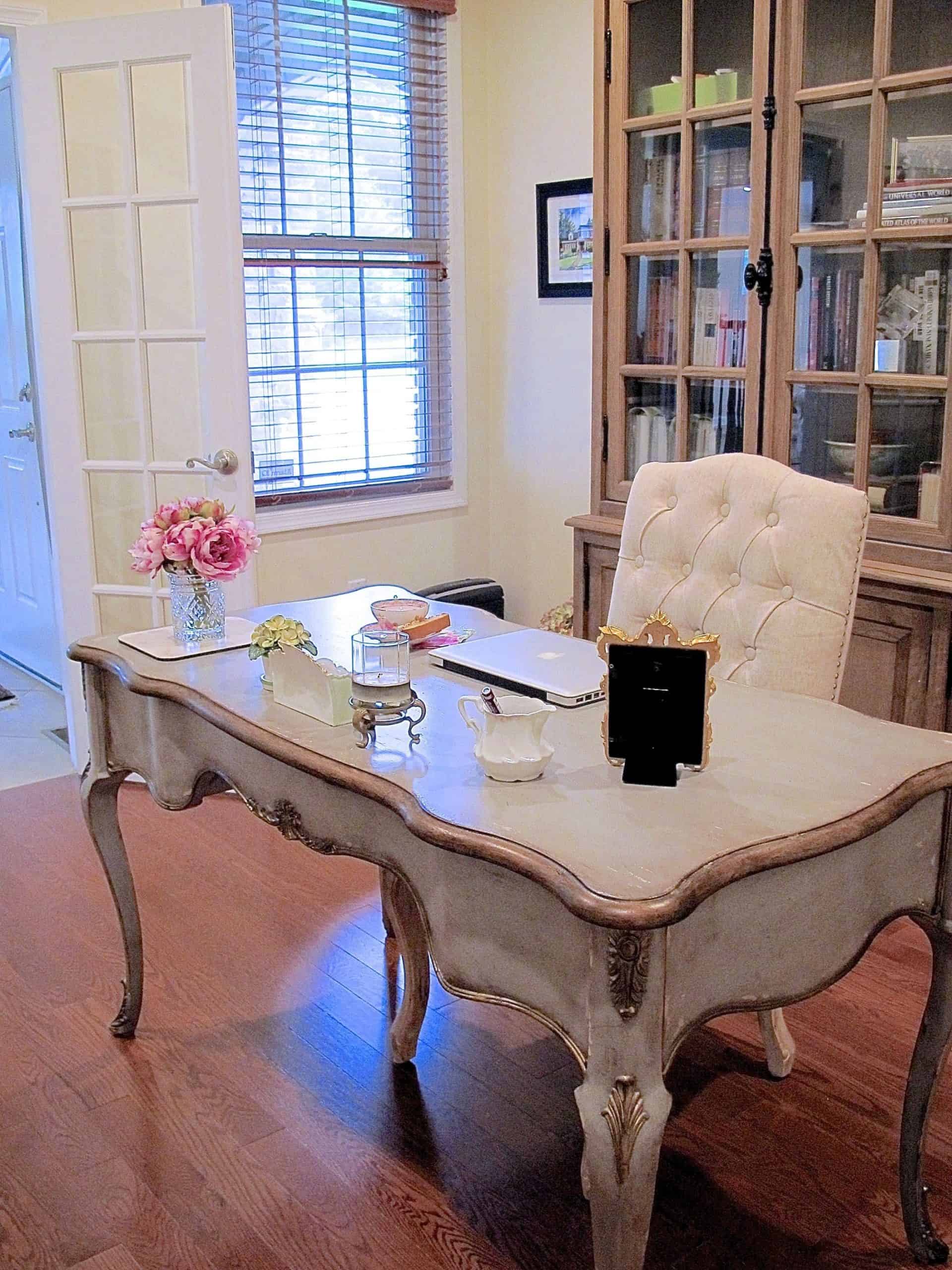 The chic style would be great for the home office ideas. This style will give you the feel of working in a luxurious and stylish office.
When creating this style, the important thing to remember is to focus on having sleek lines and a minimalistic approach.
29. Luxurious Home Office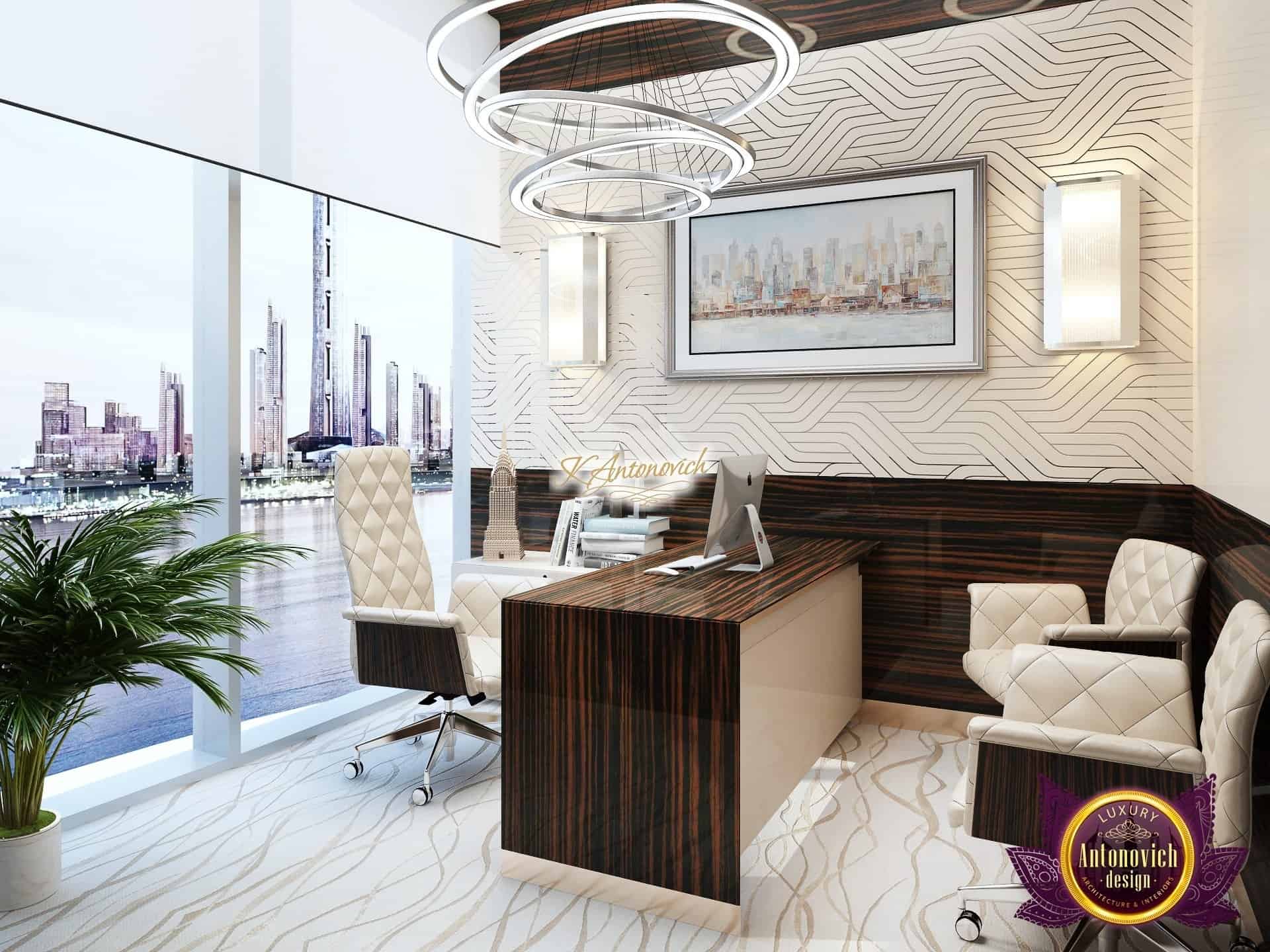 If you have the space in your home for a luxurious home office, then consider adding in some elegant touches. A chandelier and hardwood floors can make all the difference in making your office feel like a million bucks.
Add in some greenery and natural light, and you'll be able to power through anything. The accent wall seamlessly melts with the chairs and the flooring. The mixture of white, off-white and wood gives the room a bright and airy feeling. Consider using a desk with plenty of storage to help keep your space organized.
30. Decorate It Inexpensively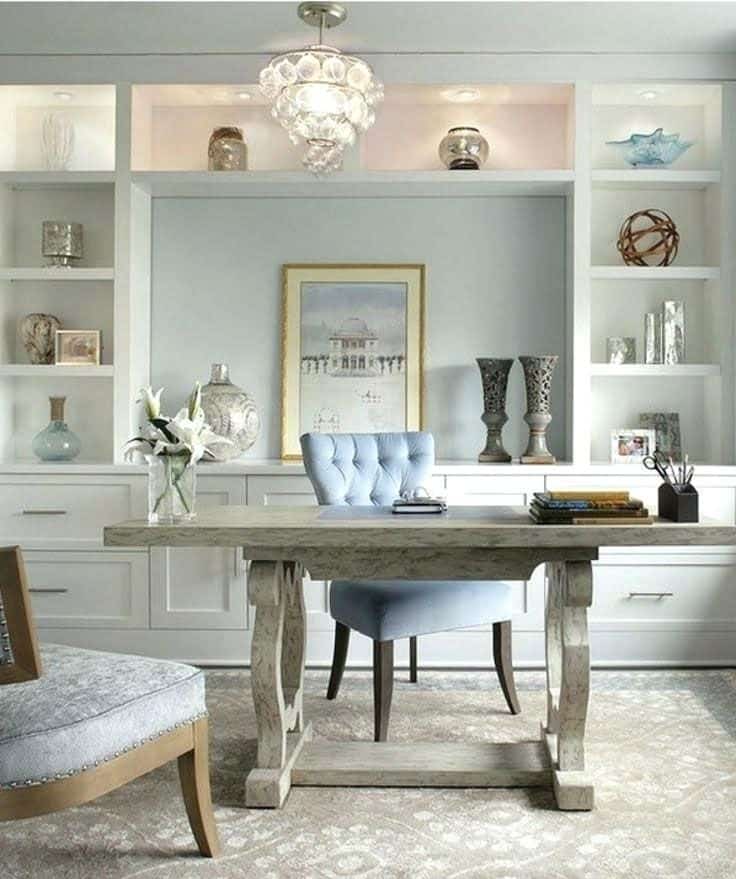 You don't have to spend a lot of money to create a great home office. There are plenty of cheap and easy ways to make your space more functional and stylish. Consider bringing in the open shelving to the home office that will display your favorite decorative pieces.
Opt for the gray tonal for a neutral atmosphere. Add a comfortable chair for reading and relaxing. Hang a large mirror on the wall to make the room feel larger. Make sure to include plenty of storage in your home office to keep everything organized. You don't need a lot of furniture to create a functional and stylish home office.
So, there you have it. Our list of home office ideas to help make your home office more productive and aesthetically pleasing.
We hope you find these tips helpful in creating a space that inspires you to be your most creative and productive self!