Picking the best kitchen paint colors can be a challenging task. You want to choose a color that is not only beautiful, but will also stand the test of time. In this blog post, we will explore some popular kitchen paint colors and provide tips for how to choose the right one for your home.
Kitchen paint colors can be difficult to choose, but we've got you covered! In this blog post I'll provide some tips for how to make the right choice.
Whether you are looking for a neutral color or something more bold, we have a variety of options for you to choose from. Our selection includes a wide range of colors, so you're sure to find something you love.
1. Off White for Airy Cooking Space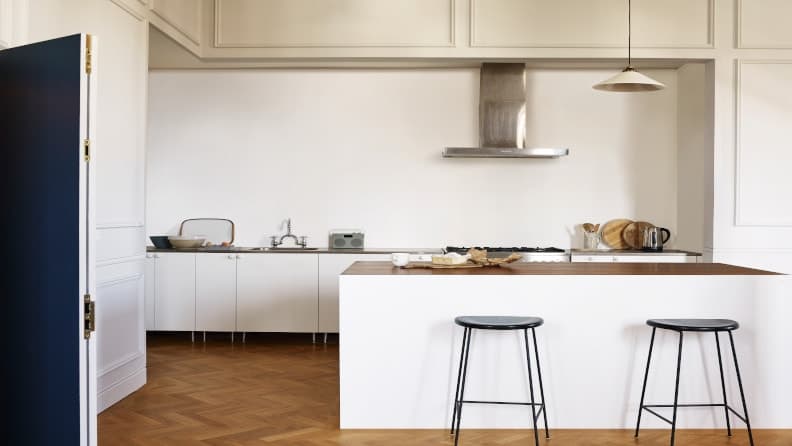 White paint can help to make a space feel more airy and open. This is especially true in small kitchens where a bright, light color can help to create the illusion of more space. Additionally, white paint is easy to clean and maintain, making it a low-maintenance option for busy families.
After all, white paint is versatile and can be paired with nearly any other color or style, making it a great choice for those who like to change up their kitchen decor on a regular basis.
2. Black and White as the Perfect Color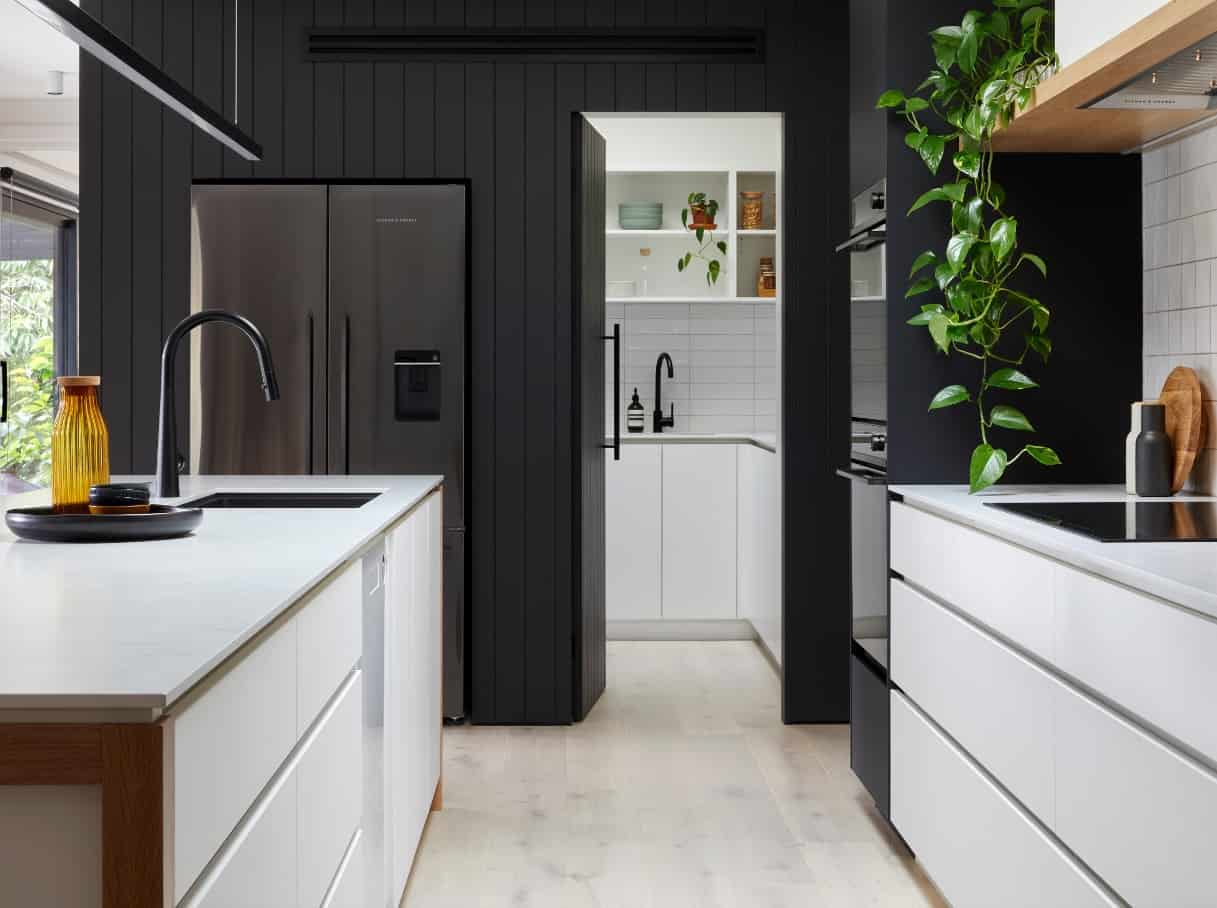 The black and white is the classic combination, which can give your kitchen a chic, timeless look. It can also be used in a variety of ways.
You can use black on the walls and white on the cabinets or vice versa. On the other side, you can also use both colors equally throughout the kitchen. And if you want more of a contrast, then consider using a white backsplash with black countertops or black appliances.
3. An Elegant Green and White Kitchen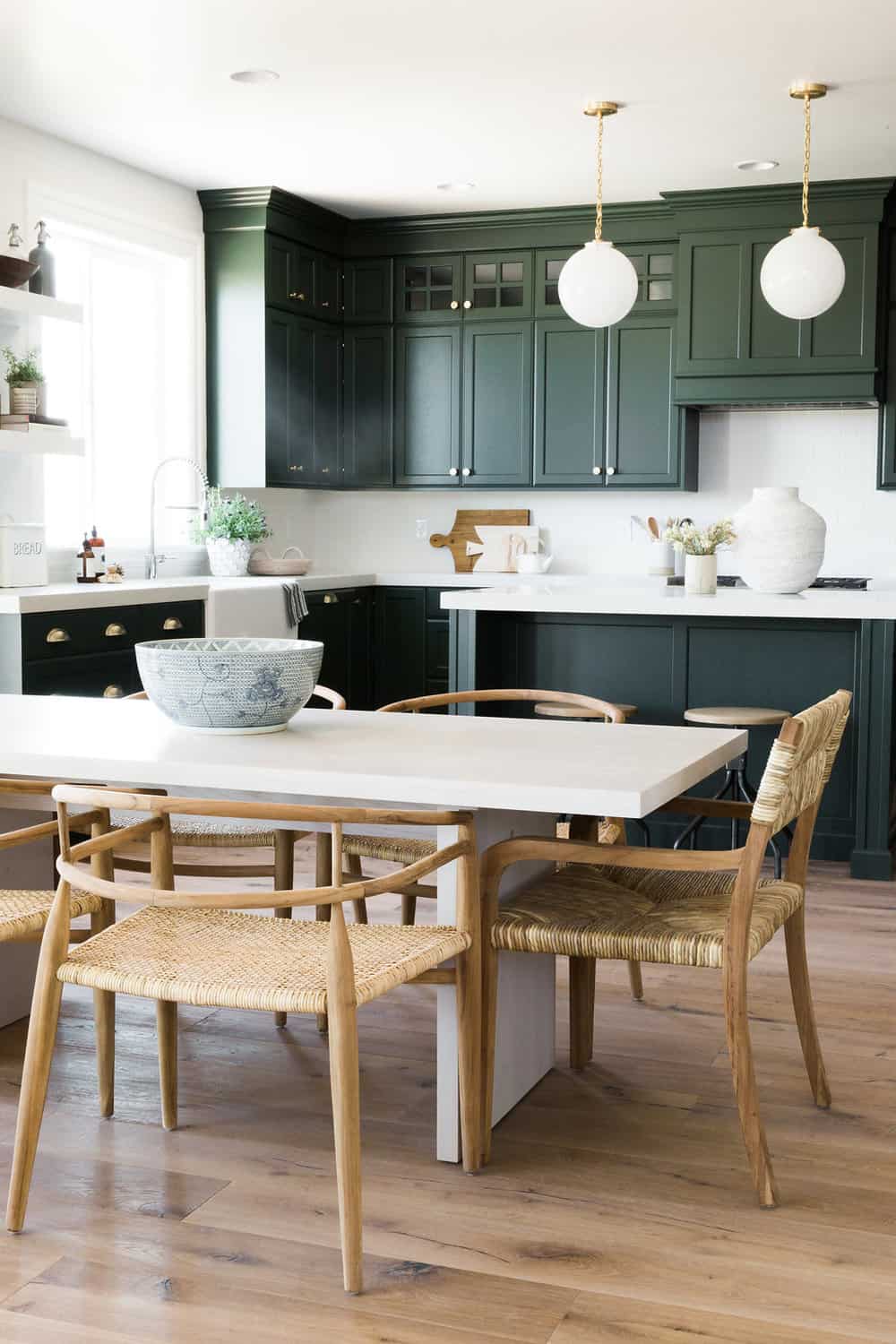 When it comes to choosing paint colors for the kitchen, green and white are always a fresh and soothing option. Green is associated with nature and freshness, while white represents purity and cleanliness. These colors can help to create a calm and inviting atmosphere in the kitchen.
While there are many different shades of green and white to choose from, some of the most popular options include mint green, apple green, and lime green. For the walls, a light green or white color would work well. For the cabinets, a darker shade of green or white would be ideal.
4. Blue and White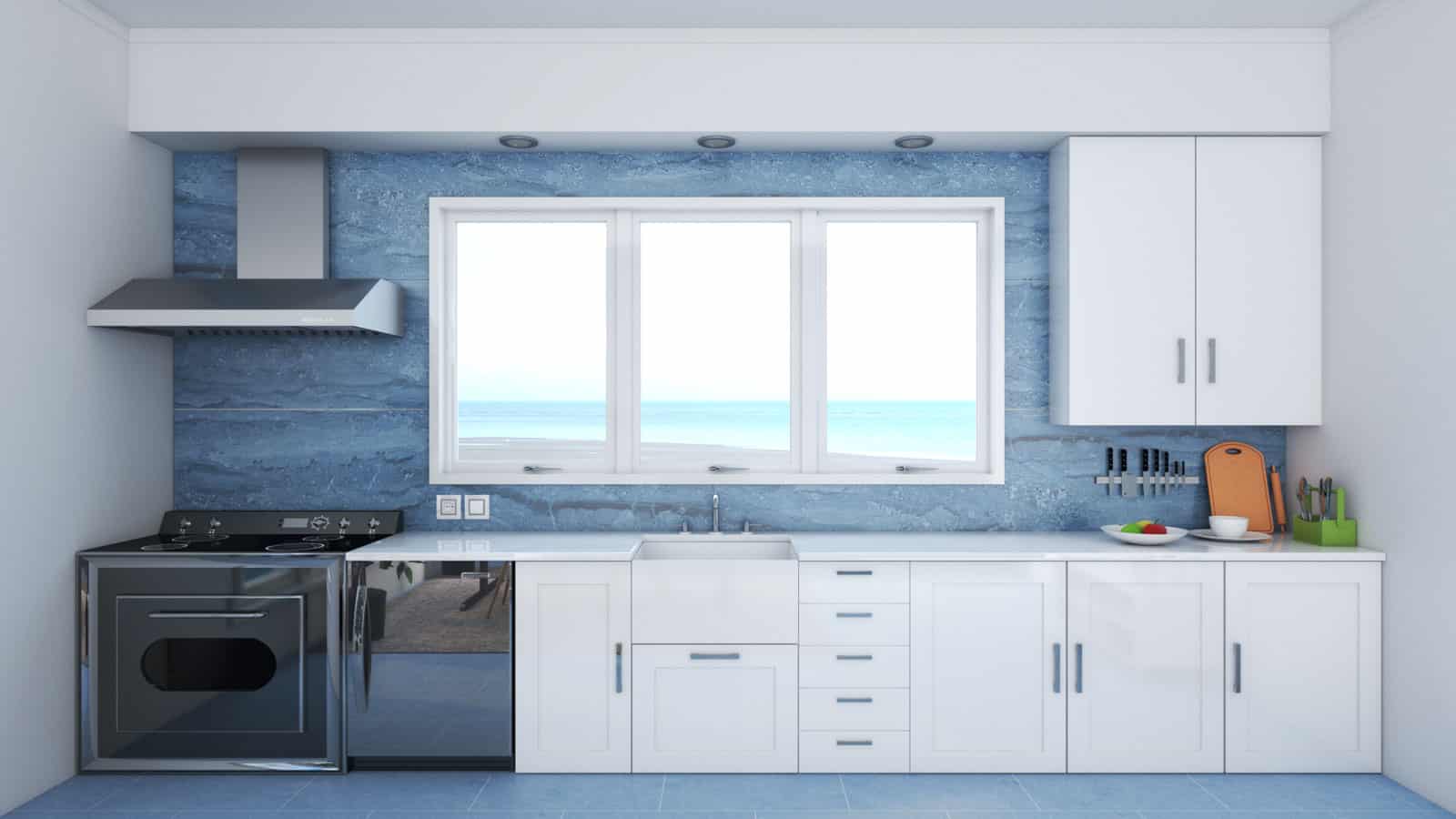 Blue is a calming color that can help to create a serene environment in your kitchen. For a fresh look, pair blue walls with white kitchen cabinets and countertops. Add pops of color with accessories, like a bright red coffee pot or colorful dish towels.
If you want a more relaxed vibe in your kitchen, paint the walls a light blue and choose cabinets and appliances in natural wood tones. You can also add interest by painting one wall blue and the other white.
5. Cream and Warm Tone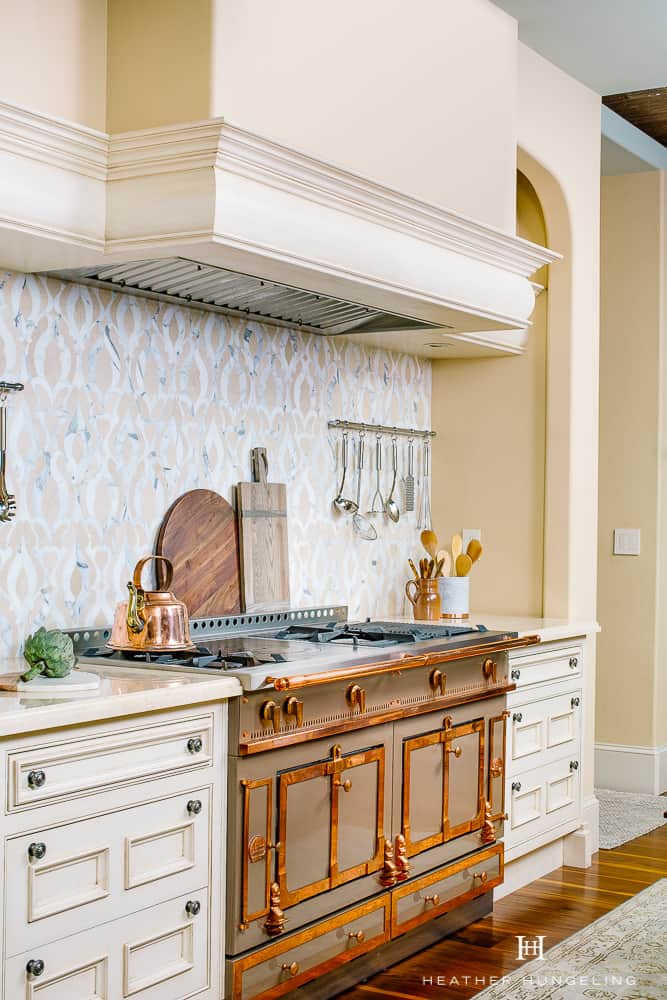 Cream is a classic color that can go with almost any style of kitchen. It also has a tendency to make the room feel brighter and more inviting. Warm tones, on the other hand, can add a touch of coziness to the space. They are also great for creating an intimate atmosphere.
And if you want to add a bit of drama, opt for a warm tone like rich caramel or deep chocolate. These colors will add instant depth and richness to your kitchen, making it the perfect place to gather with family and friends.
6. White Brick and Gray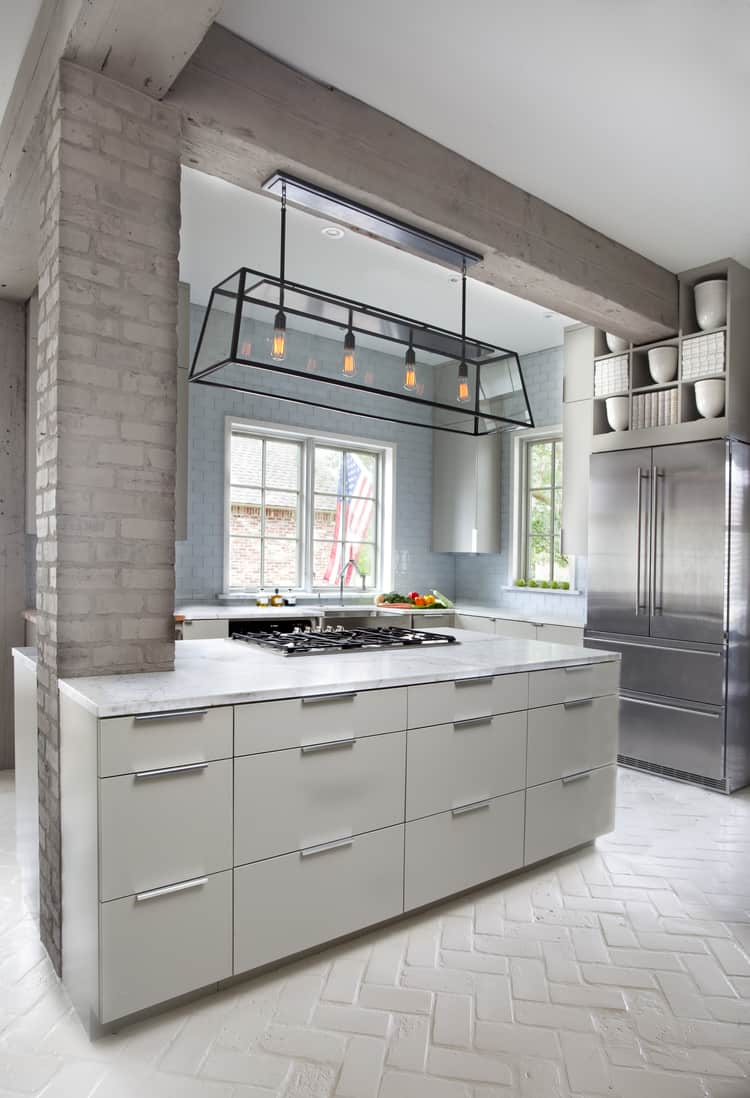 The white and gray color pairing is one of the popular options for kitchen paint colors. White brick is a classic choice that will never go out of style. It has a clean, fresh look that works well with both traditional and contemporary styles.
Plus, it's easy to keep clean and perfect for busy families, while gray tones can help to create a more cohesive look. The gray paint will make the kitchen look unique and stylish at the same time.
7. White and Yellow Wall Paint Color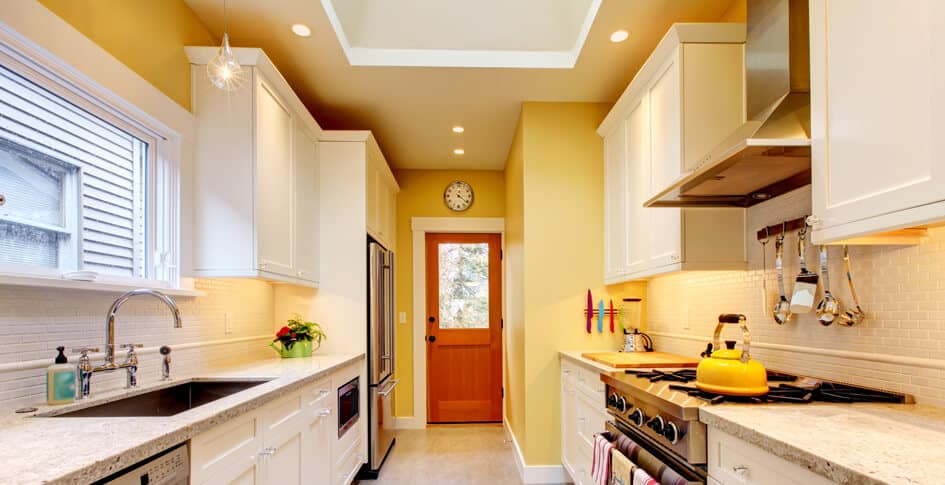 Yellow is known for its ability to brighten up a space, and it's the perfect color to offset white cabinets or walls. If you have a small kitchen, yellow can help to make it feel larger and more airy. And if you have a lot of natural light, white and yellow will reflect that light and make an ideal cooking space, which is going to feel even brighter.
To complement the look of the kitchen, you can add a touch of a refreshing hint of the fresh flowers or plant.
8. Soft Green and Emerald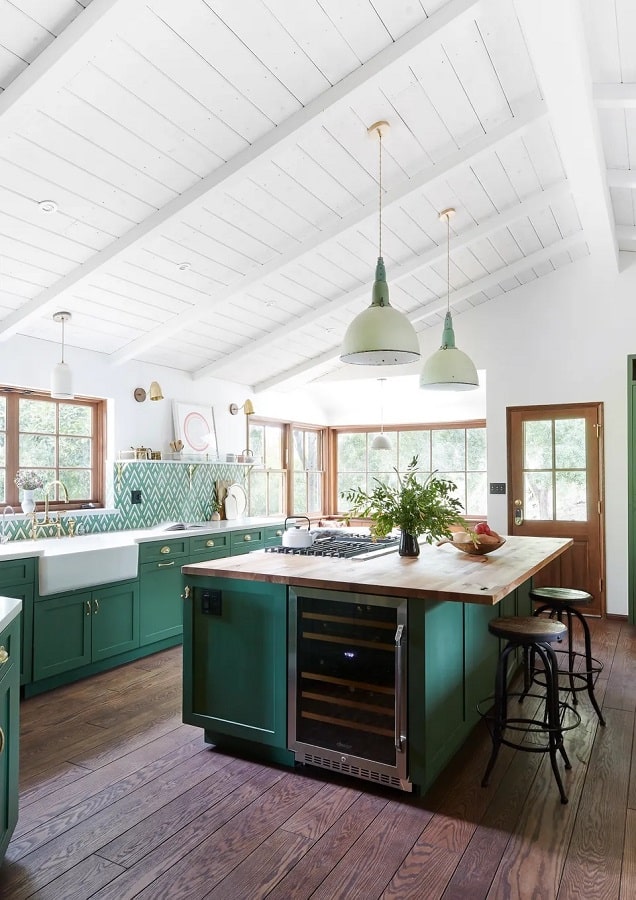 Emerald and soft green are both excellent choices for luxury kitchens. Emerald is a deep, rich green that evokes the feeling of opulence, while soft green is a more muted shade that exudes elegance. If you want to create a luxurious kitchen that feels warm and inviting, consider using these two colors together.
You can paint the walls white as the neutral tone, then install the patterned soft green backsplash. After all, opt for the emerald green island as the focal point of the kitchen. Either way, you'll end up with a kitchen that's both beautiful and inviting.
9. Deep Green Color and White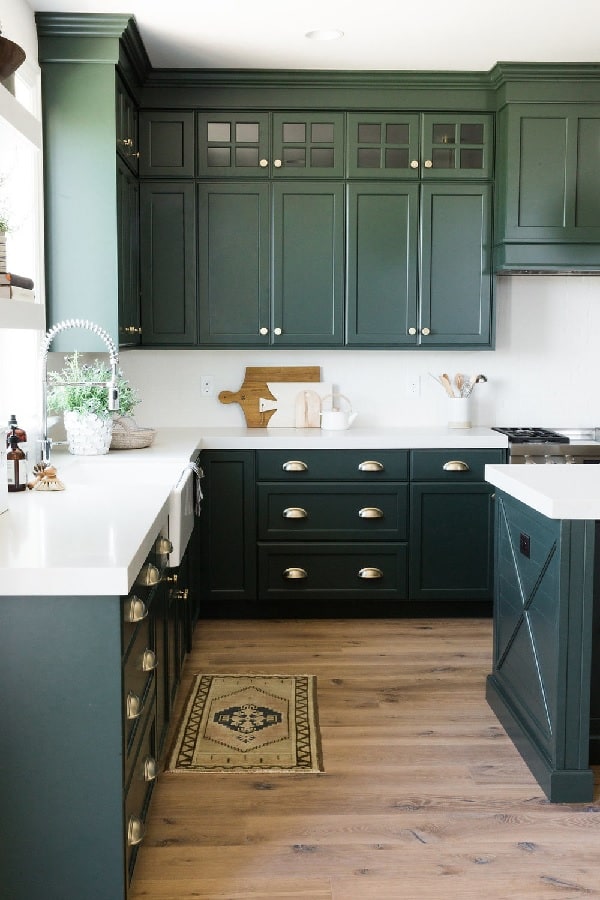 For a strong and elegant look in your kitchen, pair deep green paint with white. The green will add a pop of color and interest, while the white provides a clean and classic backdrop. You can also incorporate other earth tones into the space, such as brown or tan, to create a warm and inviting atmosphere.
Tips: If you have wood cabinets or floors, green is the perfect color to complement them. And if you want to add a bit of contrast, try painting the trim white shade or cream.
10. Light Pink Kitchen Color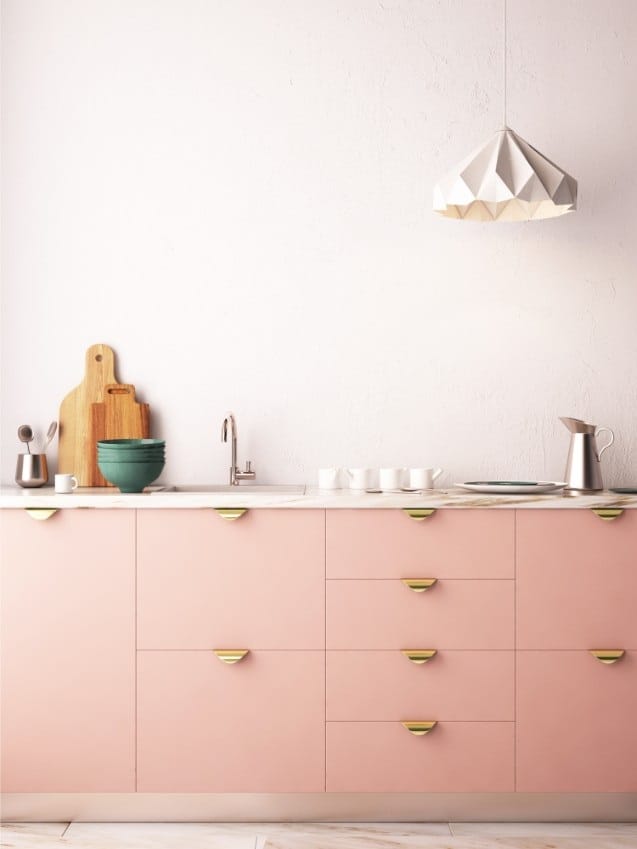 Painting your kitchen walls light pink is one way to create a serene space. Unlike brighter colors, pink has a calming effect that can help to lower your stress levels. Plus, light pink is also a refreshing color that can make your kitchen feel more spacious and airy.
Pink is often associated with femininity and romance, making it perfect for a cozy kitchen. It's also a versatile color that can be used in a variety of design styles, from traditional to contemporary.
11. Soft Purple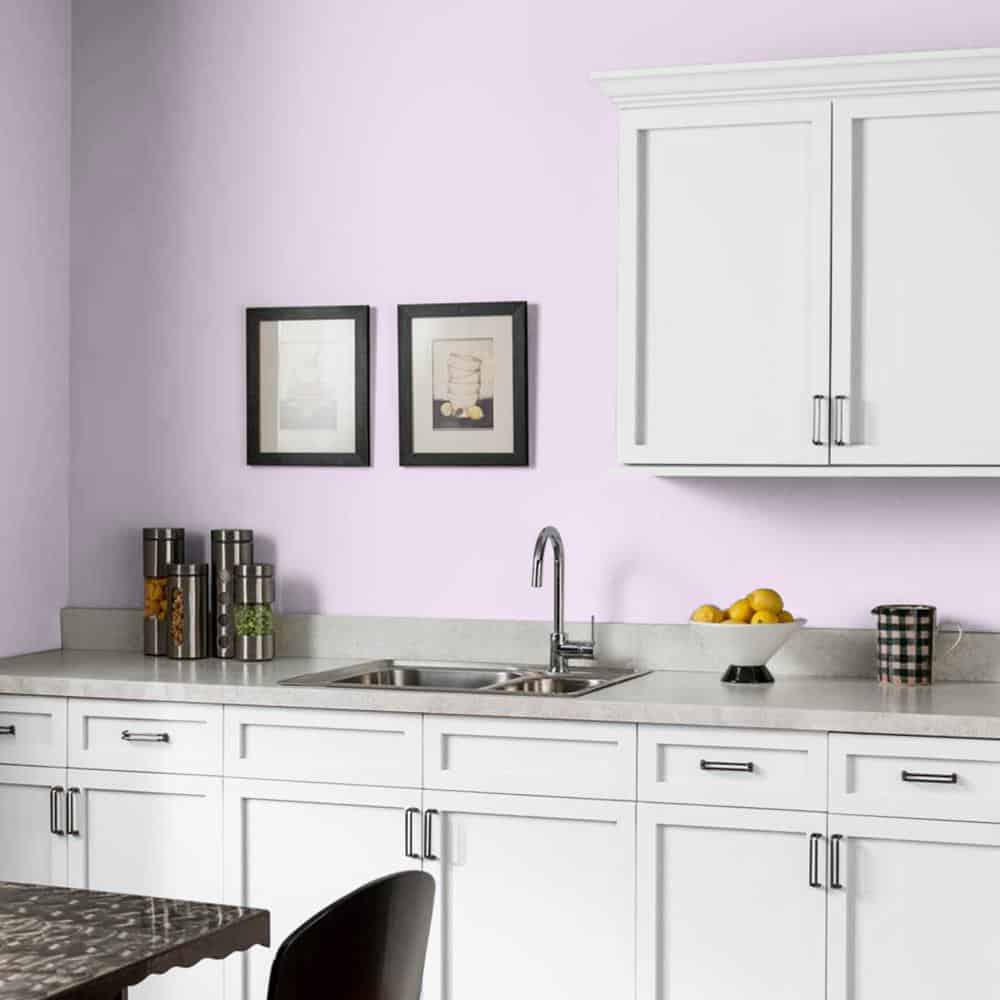 As it evokes feelings of luxury and sophistication, purple is a popular choice. A soft purple like lavender or lilac can help to create a calming atmosphere, while a brighter shade like violet can add some drama to the space.
When choosing a paint color for your kitchen, consider how you want the space to feel. If you want a tranquil oasis where you can relax after a long day, go for a softer shade. If you want a vibrant space that reflects your personality, opt for a brighter hue.
12. Black and Gold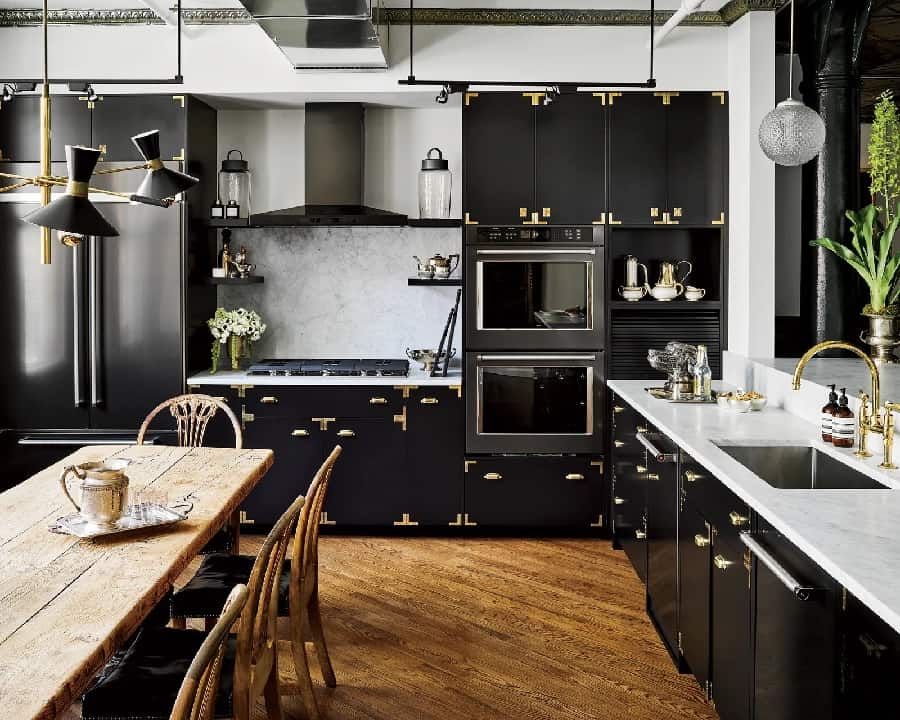 Black paint, as the bold color can give your kitchen a sleek and modern look, while gold accents can add a touch of glamour. You can use gold paint to highlight architectural features or to create a focal point in the room. You could paint all the walls black and use gold trim to create an elegant border around the room.
13. Navy and White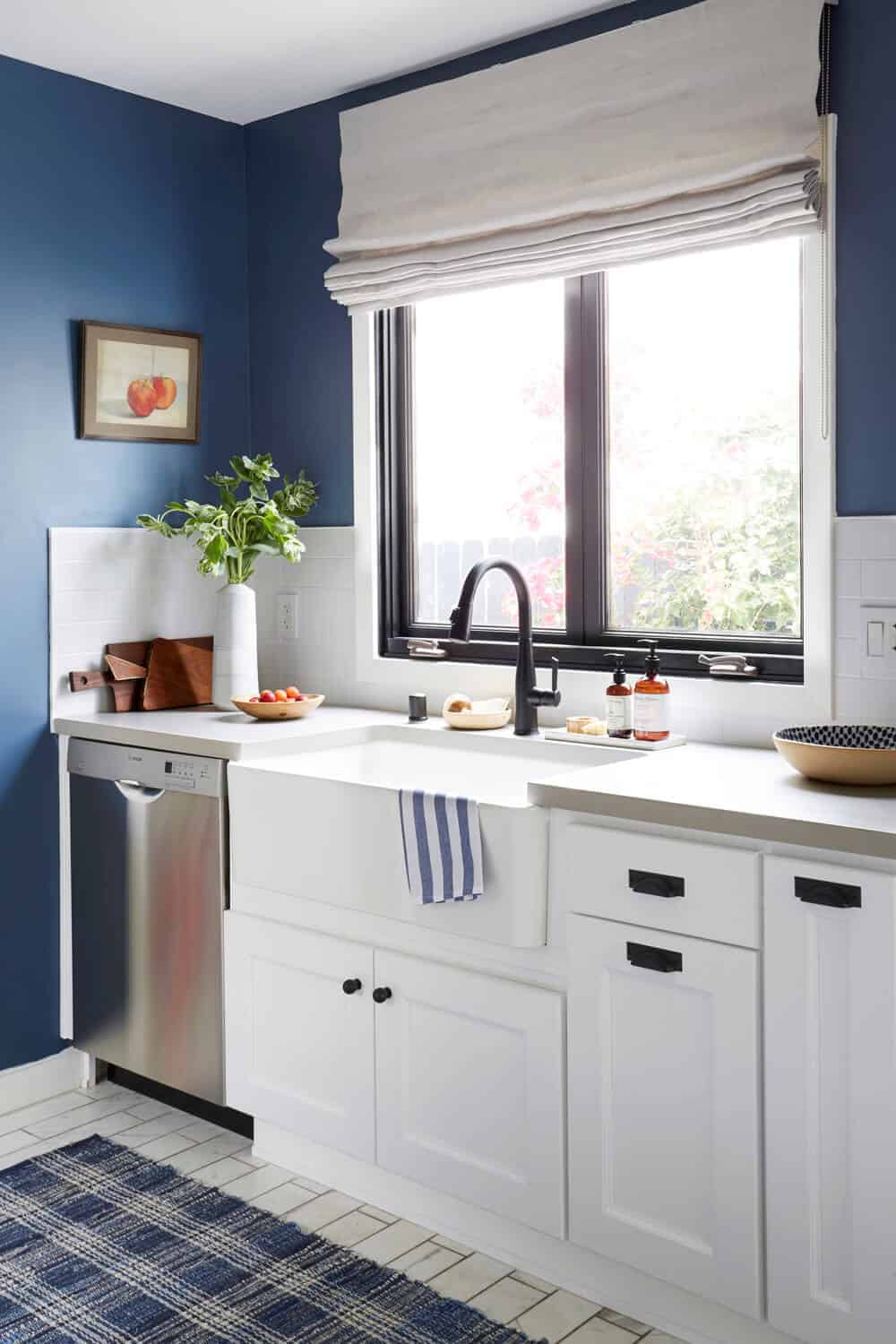 Whether you're looking to create a coastal atmosphere or simply want to add a pop of color to your kitchen, consider navy and white. Navy is deep and rich, creating a feeling of sophistication, while white is fresh and clean. Together, they make a stunning combination that can transform your kitchen from bland to beautiful.
One way to use navy and white in your kitchen is to paint the walls navy and use white for the cabinets and countertops. This creates a stark contrast that is sure to turn heads. Or, if you want something a little softer, try painting the walls white and using navy for the kitchen backsplash or as an accent color.
14. Muted Color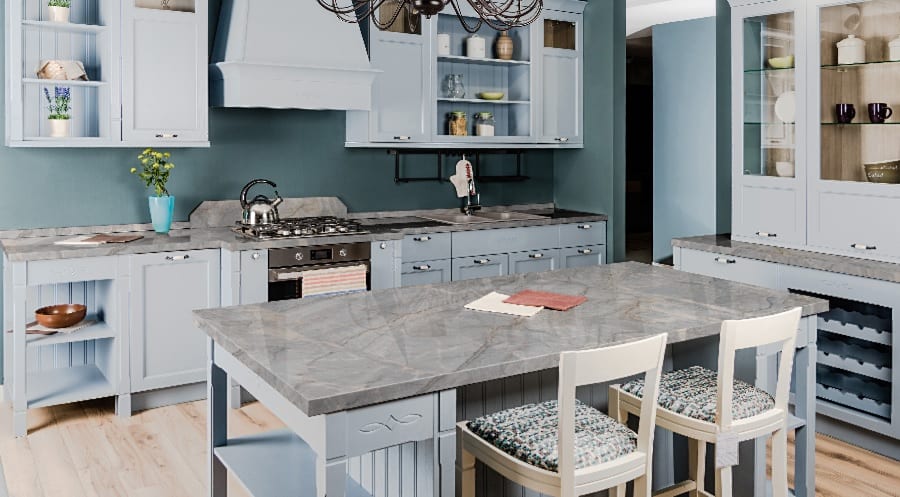 Consider using a muted color palette to create a relaxing and inviting space. Muted colors are those that are subdued and not highly saturated. They can range from pale hues to rich, deep shades. When selecting colors for your kitchen, consider using a mix of both light and dark paint color.
For example, you might paint the walls a pale blue or green and use richer, darker shades for the cabinets or island. Adding a pop of color with accessories, such as towels or dishes, can also help to create a welcoming and relaxing space.
15. Red Brick and Concrete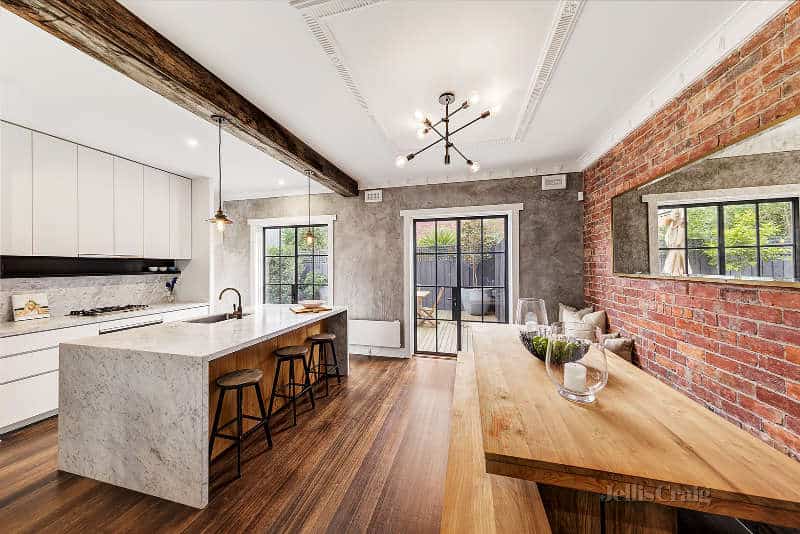 The combination of the red brick and concrete evoke a feeling of strength and durability, which is perfect for an industrial kitchen. Red brick is also a warm color, which can help to offset the harshness of industrial materials like concrete.
If you want a softer look, you can try pairing red brick with white paint or cabinets. Concrete, on the other hand, is a cool color that can help to create a more modern feel in an industrial kitchen. It can also be paired with other industrial materials, like metal and glass, to create a truly unique space.
16. Soft Gray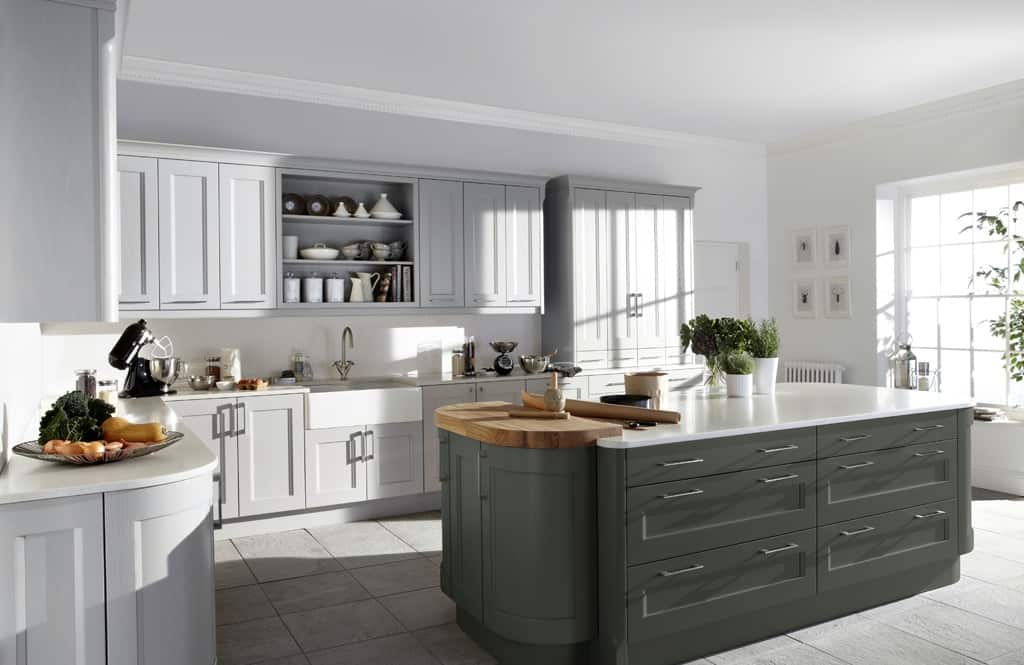 Gray is a neutral color that can create a calming effect in any room. For the kitchen, a soft gray paint color can help to create a serene and inviting space. This color also works well with other neutral tones, such as white or cream.
If you want to add a pop of color to your kitchen, consider using gray as an accent color. Accent colors can be used on walls, cabinets, or backsplashes. Another great thing about gray is that it is a versatile color that can be used in many different styles of kitchens.
17. Aqua Blue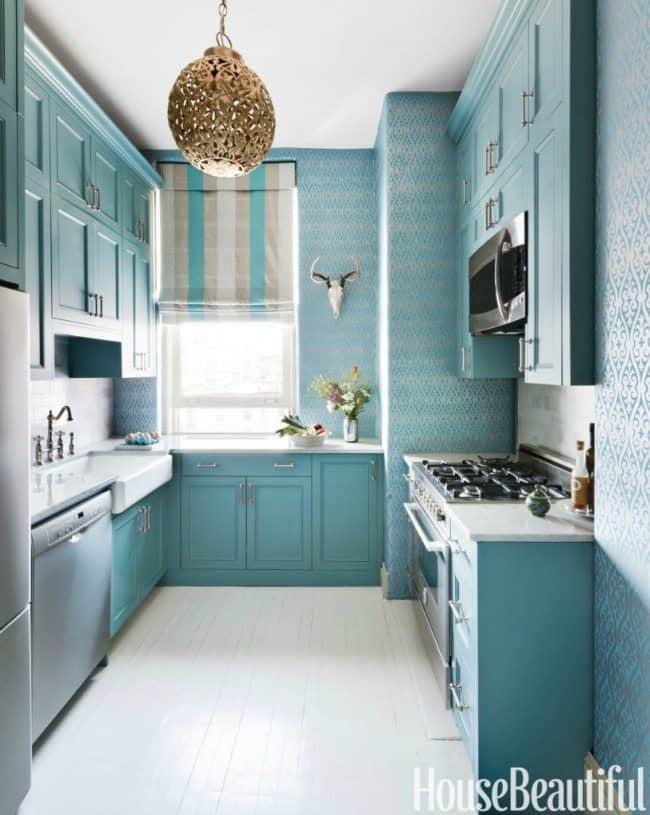 Conjure up the ocean's vast horizon to the kitchen by applying the aqua blue paint. The aqua blue is both relaxing and energizing at the same time. The best aqua blues have a greenish-blue tint to them, and this shade is no exception.
It is a perfect choice if you need a little refreshment but don't want to go too bold. You might be surprised at how much this color can change the entire look and feel of the space.
18. Shades of Blue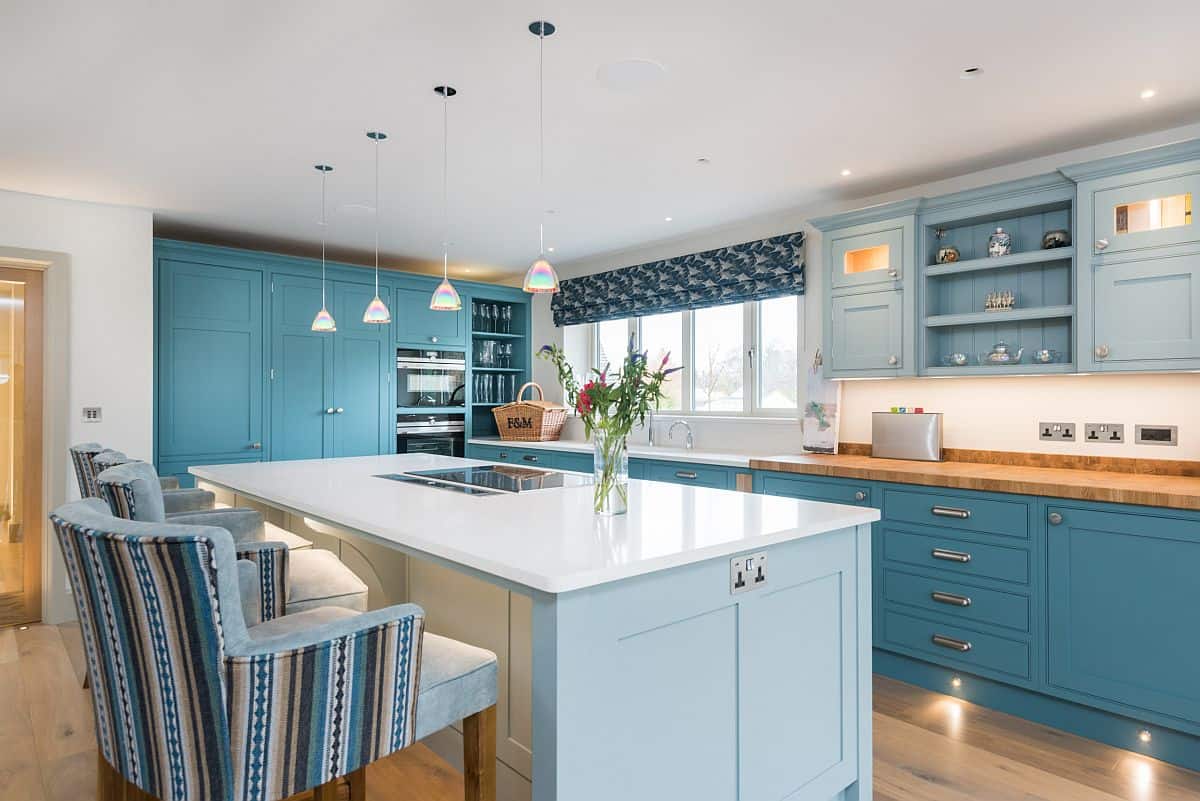 With the blue accent in the kitchen, you will get a calming atmosphere that can help to reduce stress levels. Blue is known for its calming effect, and it can help to create a serene environment.
If the kitchen gets a lot of natural light, a light blue or pale blue color would be a good option. And if the kitchen is more on the dark side, a deeper shade of blue would be better.
19. Sage Green Kitchen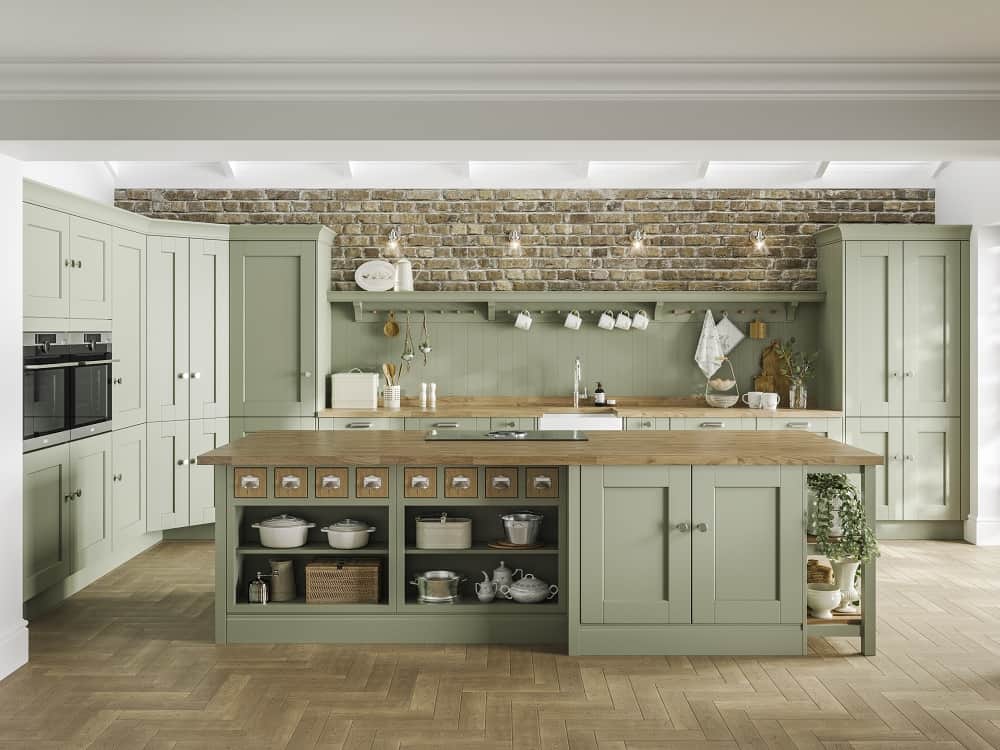 Applying the sage green to the kitchen will increase the calming effect, which can be perfect for busy families who often use the kitchen as a gathering place. On the other side, sage green is also known to be a very versatile color. It can complement a wide range of other colors, making it easy to find matching dishes, appliances, and even paint colors for the rest of the house.
When you are looking for an updated take on the classic farmhouse kitchen, consider painting your cabinets and trim in sage green. The muted color will add just enough contrast to make your kitchen feel fresh and new.
20. Shades of Greens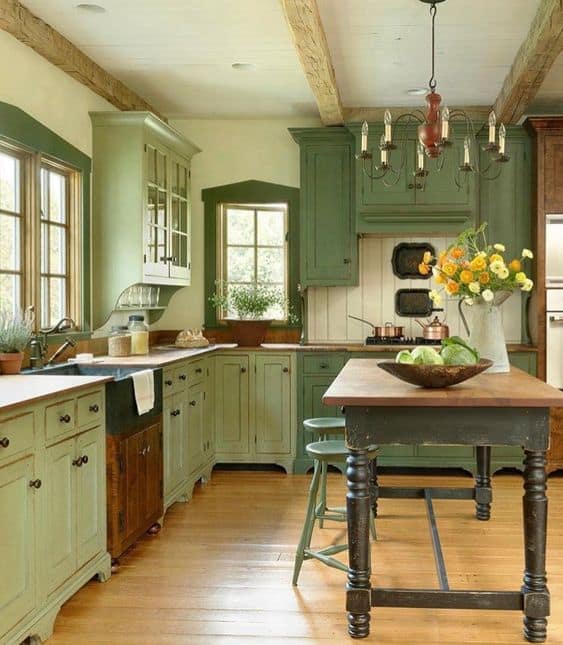 The shades of green should be on your list of consideration. You can try the minty greens and soft pastels to create a refreshing and airy feel. If you want something more bold, then go for the jewel tones. You can even combine different shades of green to create an elegant kitchen.
This kind of perfect combination will also work well if you have a small kitchen since it can make the space appear larger.
21. Dark Gray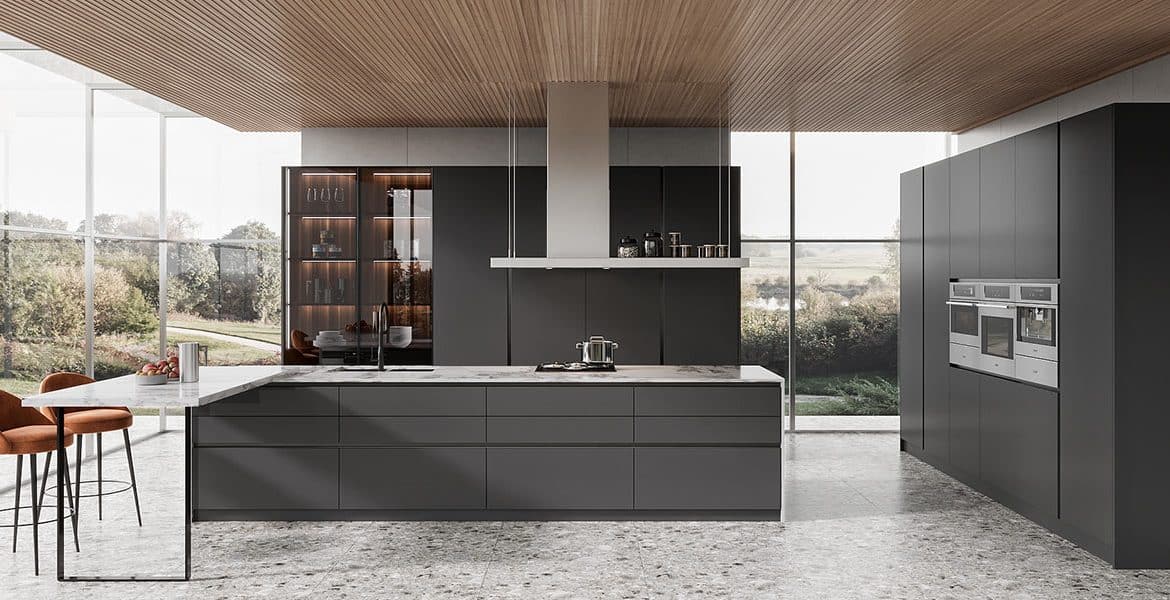 This color can give the room an air of sophistication, while also providing a neutral backdrop for other design elements. Dark gray also pairs well with stainless steel appliances, making it a popular choice for modern kitchens.
When choosing a dark paint color, be sure to test it out in the space first to see how the light affects the look of the color. Also, keep in mind that darker colors can make a room feel smaller, so consider using light-colored accents to brighten up the space.
22. Sunflower Yellow Paint Color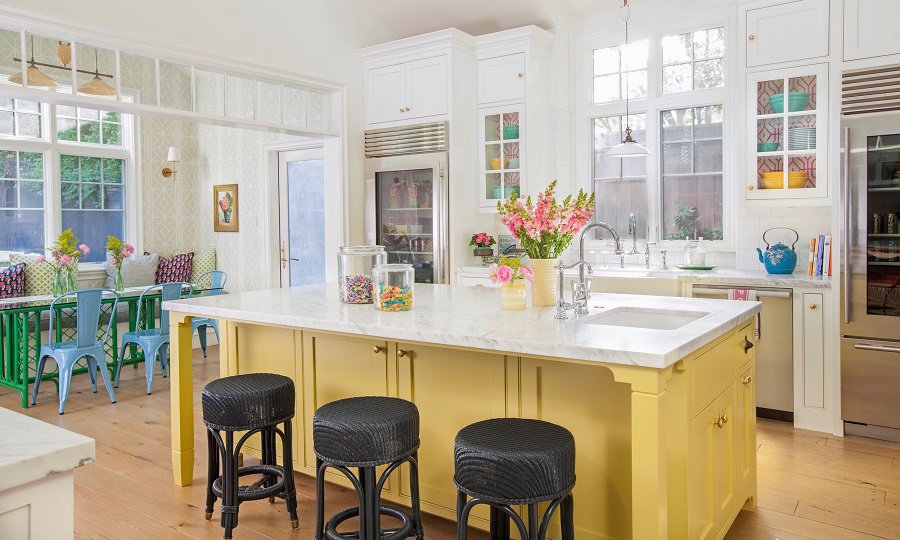 If you are trying to find the cheerful and sunny atmosphere in your kitchen, you can't go wrong with sunflower yellow paint. This vibrant hue is sure to bring a smile to your face every time you step into the kitchen. And it's not just about looks. Sunflower yellow is also known to boost energy levels and promote concentration.
So if you're looking for a paint color that will help you enjoy cooking even more, sunflower yellow is a great choice. Plus, it's versatile enough to work well with a variety of other colors, so you can easily create a pretty look in your kitchen.
23. Yellow and Blue Kitchen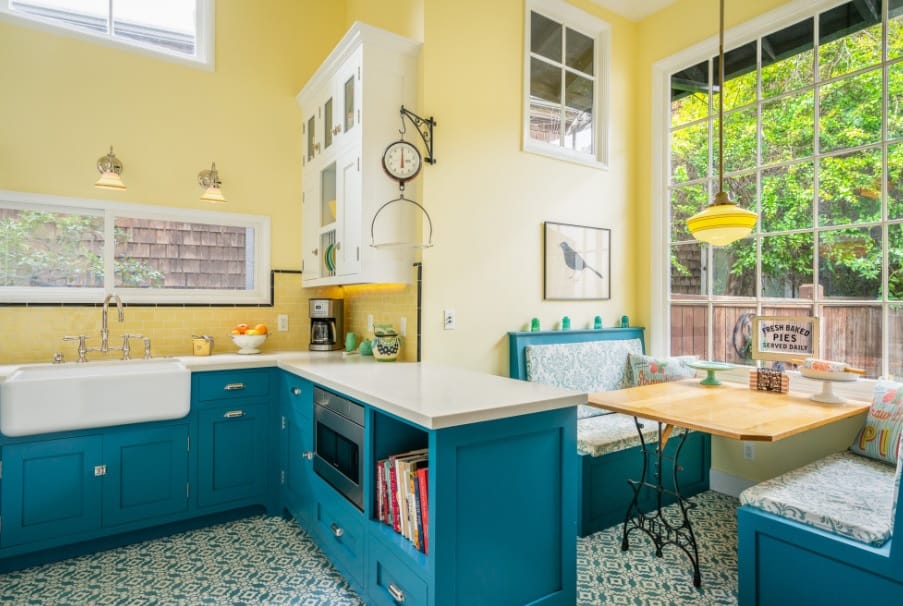 Yellow is a cheerful color that can help to brighten up a small space, while blue has a calming effect that can make the kitchen feel more spacious. To create a cohesive look, pair yellow walls with blue accents. For example, painting the walls yellow and adding green accent and blue or countertop accessories can give the kitchen a sunny and cheerful feeling.
Alternatively, painting the walls yellow and adding blue accents can create a calming and refreshing vibe.
24. Green and Pink Accent Wall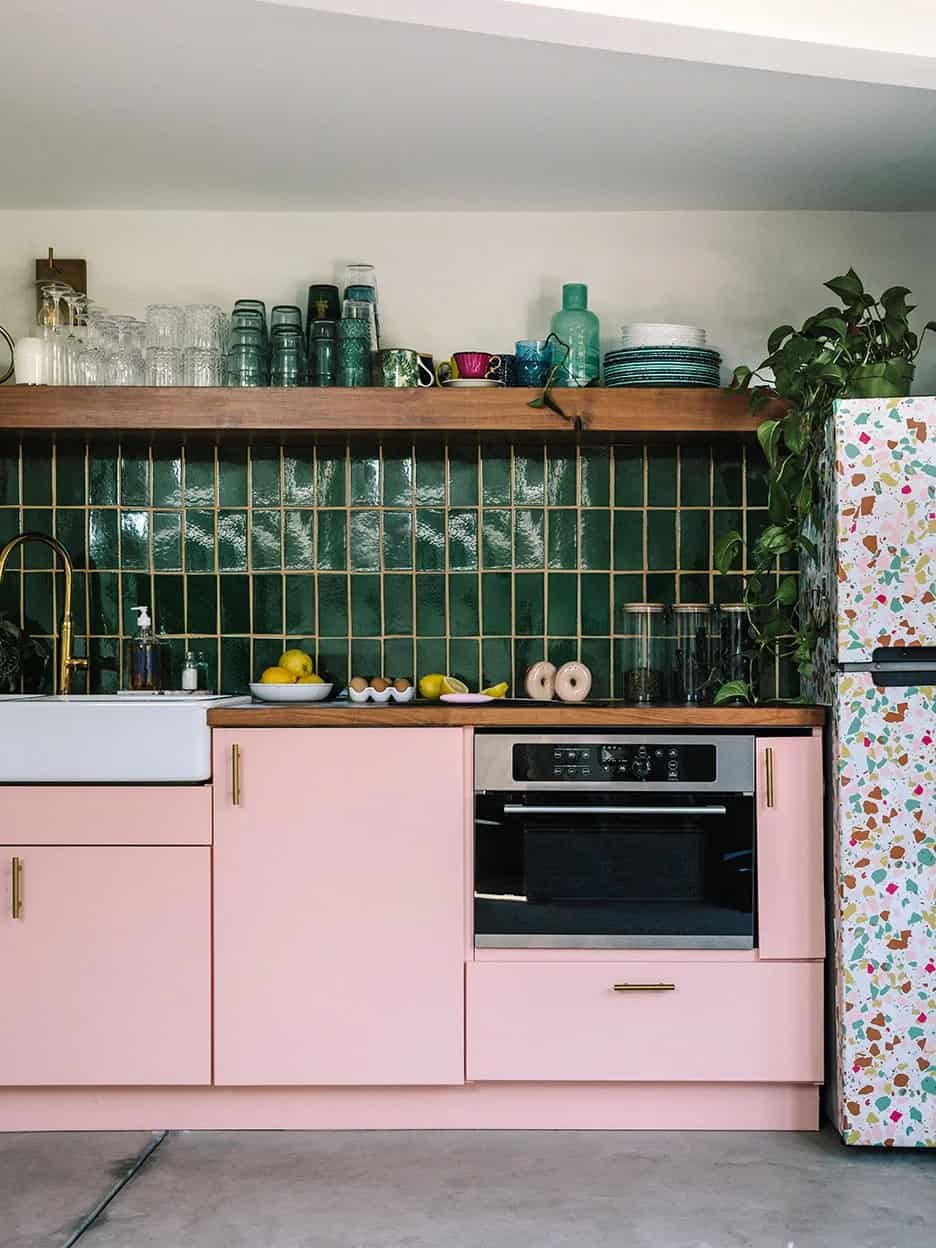 These two colors can work well together, creating a lively and fun atmosphere. Green is also a great choice if you want to add a touch of nature to your kitchen. And if you are looking for something a little different, then pink is definitely worth considering.
Try painting the walls green or simply install the green tiles and using pink as an accent color on cabinetry or appliances. Or, for a more subtle take on the trend, consider painting your island pink and using green as a wall color.
25. Retro Style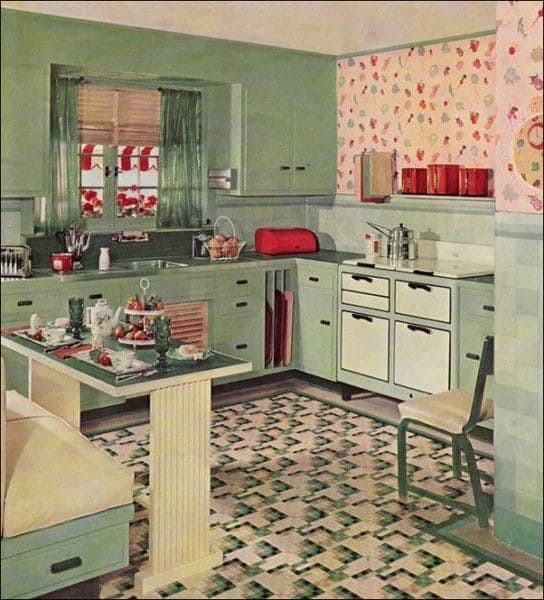 A pop of color can really brighten up the room and make it feel more cheerful. A bright green or pink can add a fun and funky touch to your kitchen, while still keeping things classic. You can also experiment with different shades of the same color to create a more subtle effect. And if you really want to make a statement, try painting one wall in a contrasting color.
26. Orange and Cream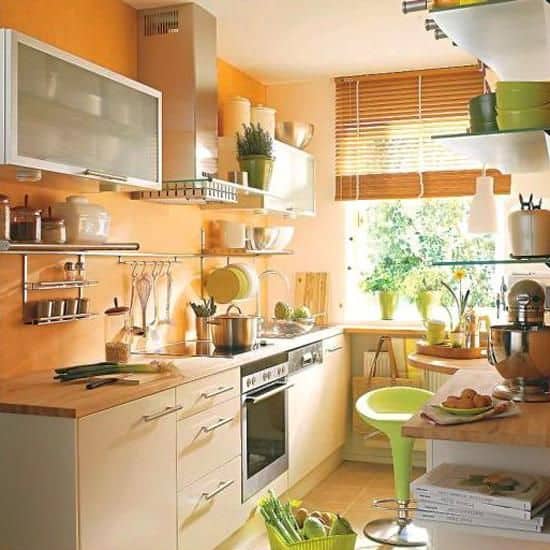 This color scheme is perfect for creating a warm and inviting space. And while orange is the star of the show, cream provides a beautiful backdrop that helps to keep the room feeling bright and airy. If you're not sure how to incorporate this color scheme into your kitchen, here are some ideas to get you started.
Paint your walls in a light orange hue, then add cream accents throughout the room. For example, you could paint your cabinets in cream and your island in orange. Or, try painting your walls orange and using cream tile for your backsplash. You could also use these colors in reverse, cream walls with orange accents to create a slightly different look.
27. Copper Backsplash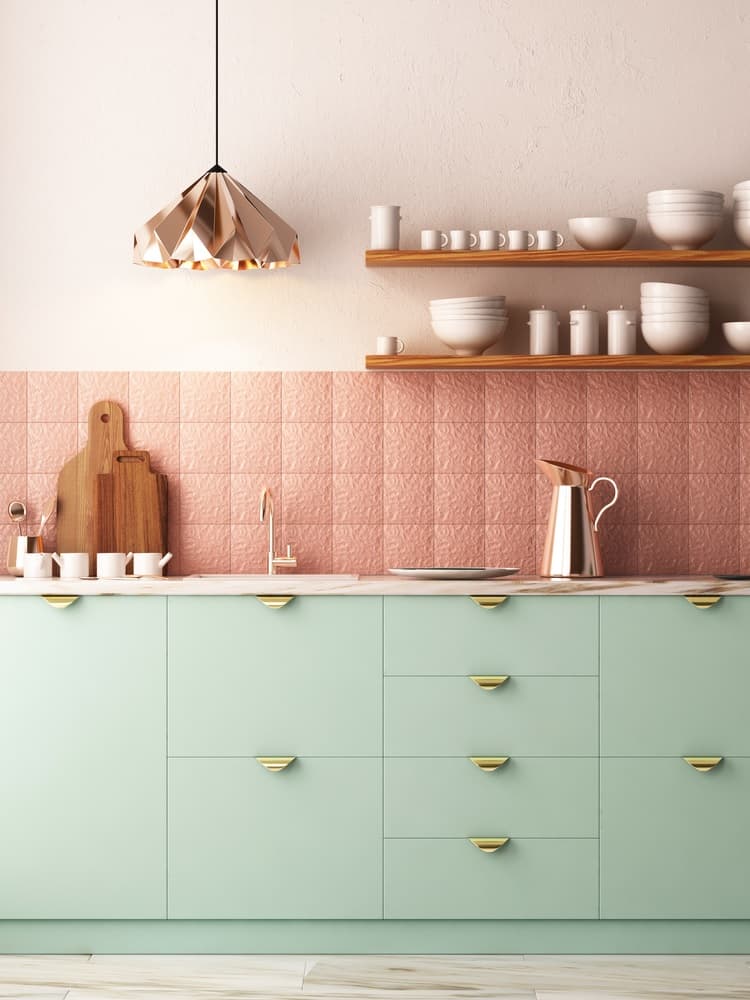 This rich metal has been used in kitchens for centuries, and its warm tone is especially well-suited to traditional spaces. For a more modern take on copper, try using it as an accent color. Pairing it with black or white cabinets will create a sleek, contemporary look.
If you want to add a touch of luxury to your kitchen, consider using copper as an accent metal. Adding a few well-placed copper pots or a copper backsplash can really elevate the look of your space. And because copper is such a versatile metal, it's easy to find fixtures and accessories in this finish.
28. White Farmhouse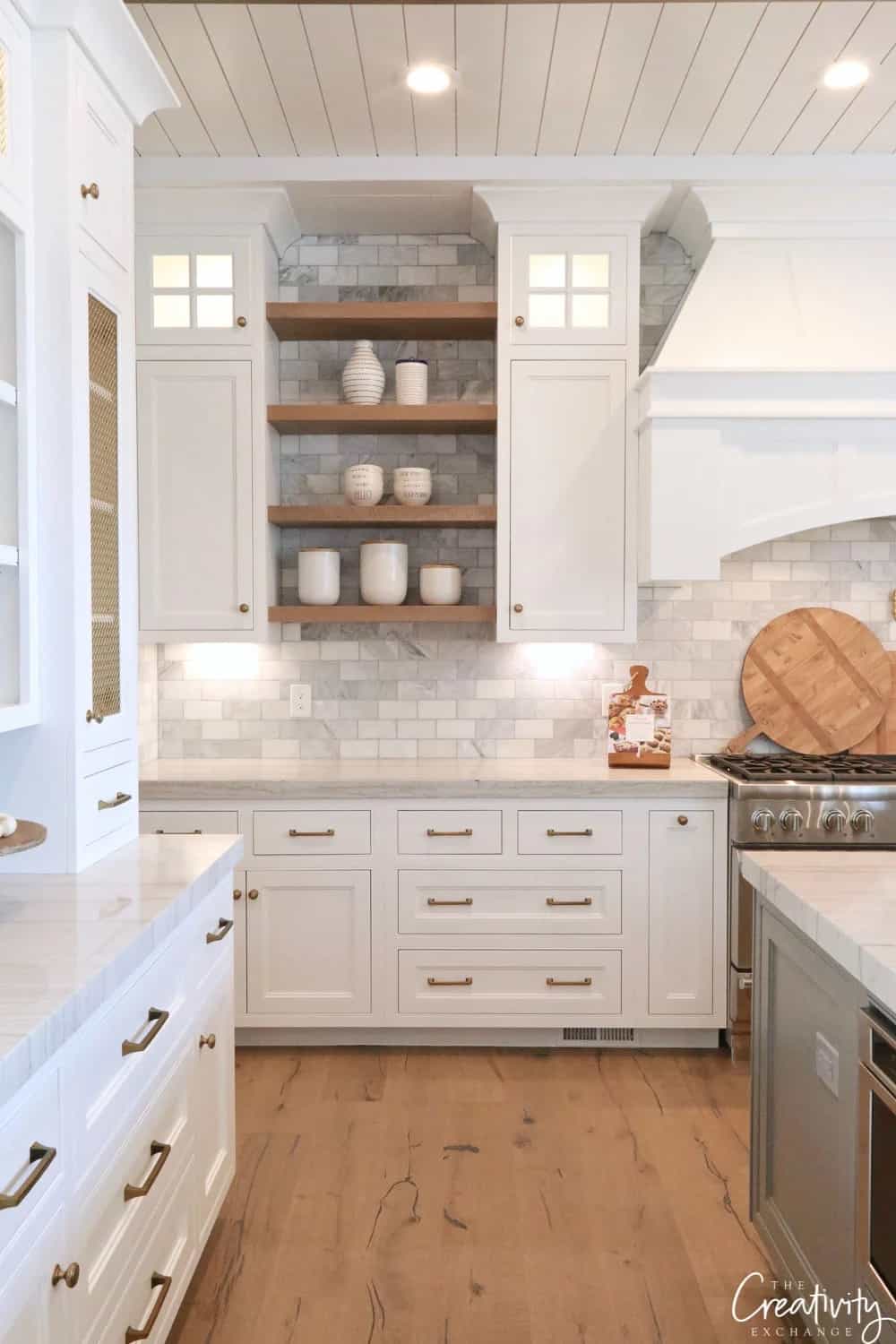 If you want to bring in the cozy atmosphere to the kitchen while also creating a countryside feel, then create a white farmhouse style to the kitchen. You can combine the white wall paint as the neutral color with the natural color of the wood. To highlight the farmhouse style, consider the distressed finishing.
Farmhouse whites tend to be softer and more subdued than traditional whites. They have a touch of creaminess or antique ivory that adds depth and dimension. This subtlety creates a cozy feel that is perfect for a farmhouse kitchen.
29. Colorful Paint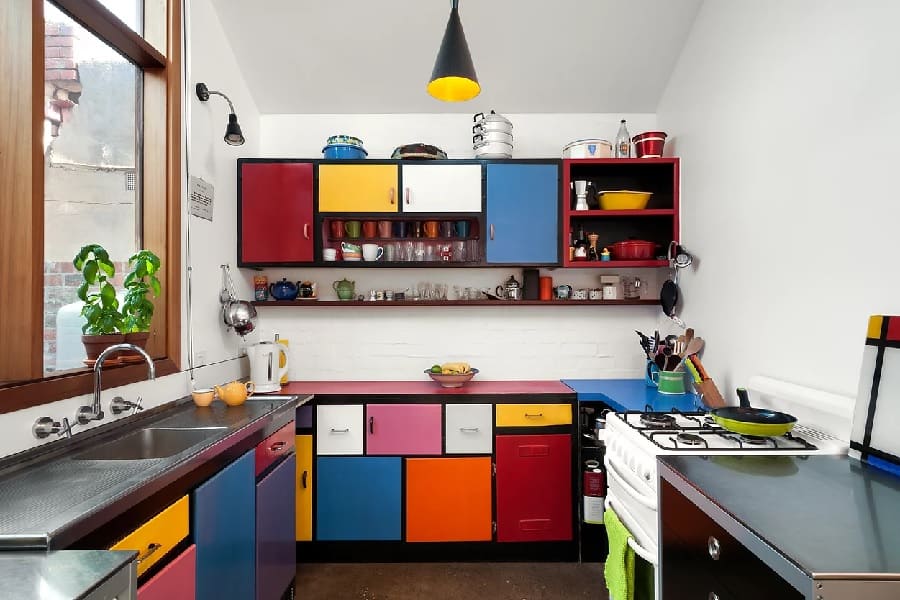 A cheerful kitchen is the perfect place to start your day. A coat of colorful paint can transform your kitchen into a cheerful space that reflects your personality. Yellow is a popular choice for a cheerful kitchen, as it evokes the feeling of sunshine and happiness.
For a more subdued look, try a light green or pale blue. These colors create a calming atmosphere that is perfect for preparing meals. If you want to add a bit of drama to your kitchen, consider a deep red or purple. You can also keep the white wall paint, then paint the cabinets instead.
30. All White Kitchen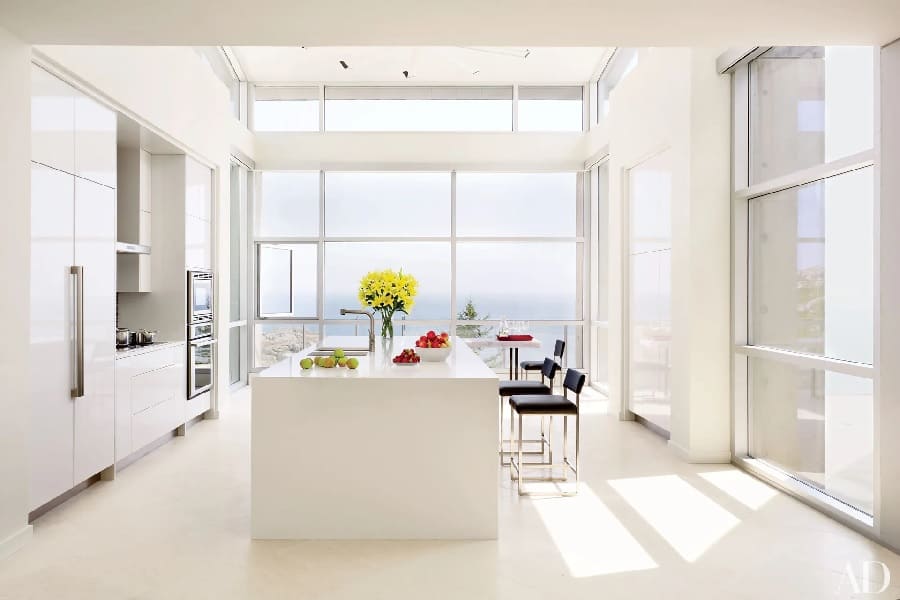 White is often thought of as the ideal color for kitchens. It creates an elegant and airy feel, making even small kitchens appear larger and more spacious. When choosing a white paint for your kitchen, it's important to consider the style of your home as well as the overall aesthetic you're looking for.
For instance, a modern kitchen might benefit from a sleek, glossy white paint, while a more traditional kitchen might look better with a softer, creamy white.
31. White and Natural Wood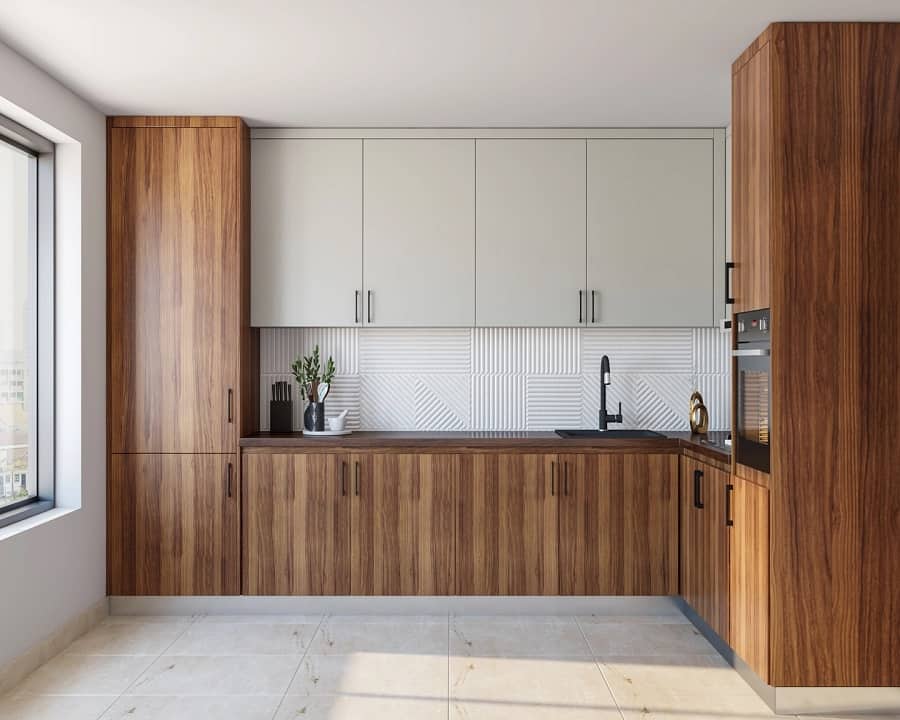 As the versatile color, white color can be used in any kitchen. On the other side, it can be created into any styles as you desire easily. You can use it to kitchen paint colors ideas and make your kitchen look warm and inviting by using a woodsy finish.
To add contrast, paint the cabinets a rich, dark color such as chocolate brown or black. For an even bolder look, use wallpaper on one wall or paint a fun pattern on the walls using stencils.
32. Soft Pink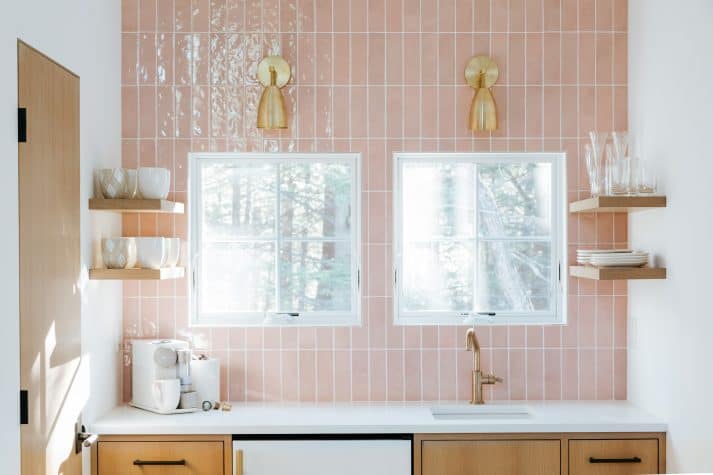 A soft pink hue is a beautiful and delicate color that can add warmth and freshness to any kitchen space. Whether you're looking for a subtle pop of color or an overall pink-hued aesthetic, this perfect shade will create a lovely and inviting kitchen.
To achieve this look, consider painting the walls a soft pink shade or you can simply install the pink tiles and using white cabinets and countertops. For an added touch of elegance, consider adding in some gold hardware or accents. This color combination is perfect for creating a youthful and girly space that is still chic and sophisticated.
33. Sky Blue Kitchen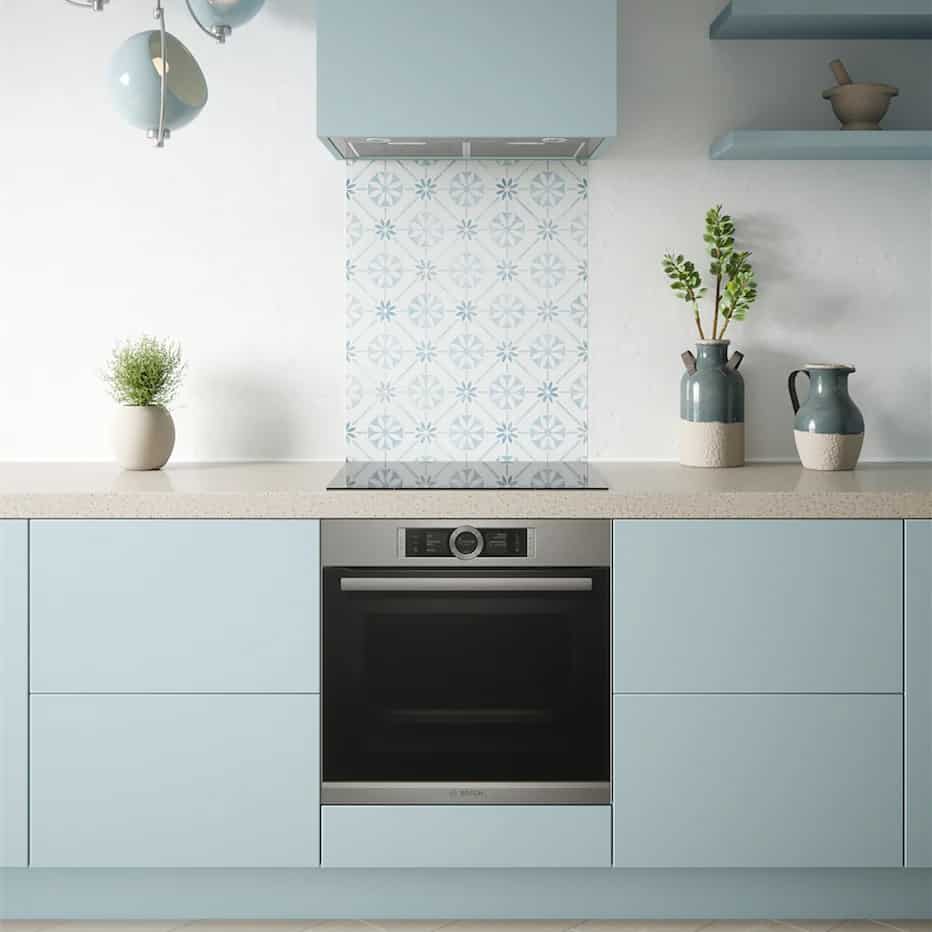 This type of color scheme can help to create a sense of space and airiness in your kitchen. Blue is also known for its ability to promoting feelings of calm and relaxation, making it an ideal choice for a space where you do a lot of cooking and entertaining.
To create a blue sky kitchen, start by painting the walls a light blue color. Then, add accents in shades of white and pale blue. For the floors, consider using a white tile or linoleum. Finally, add some finishing touches with blue glassware and accessories.
34. Rustic Kitchen Design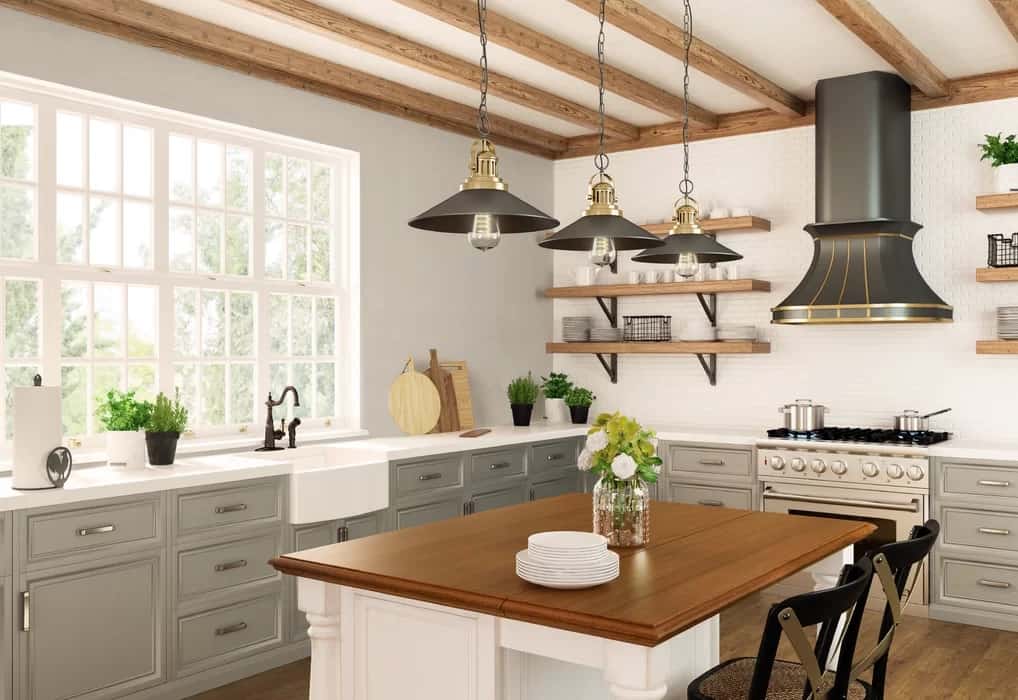 Rustic colors are typically earthy tones, like deep browns and rich reds. You can also find muted versions of these colors, which can give your kitchen a more calming feeling. When paired with the right fixtures and décor, these colors can create a truly inviting space.
If you're not sure where to start, consider painting one wall in a rustic color and leaving the rest neutral. This will help to ground the space and create a focal point. From there, you can add rustic accents like hanging pots and pans or displaying vintage plates on the wall.
Neutral kitchen paint colors are always a safe choice, but they can also be a little bit boring. If you want to add some personality to your kitchen without going too crazy, consider using one of the bolder paint colors from our list above.