Black and white kitchens have been popular for years, and they show no signs of going out of style.
Discover how to keep your kitchen looking stylish with these timeless decor ideas that never fall out of fashion, regardless of the latest trends. To achieve a sleek and elegant kitchen design that stands the test of time, consider opting for the classic black and white color scheme.
Staggering the best black and white kitchen decor ideas from around the world are showcased in this blog post. Inspiration awaits you when exploring these gorgeous spaces.
1. White Wall with Black Appliance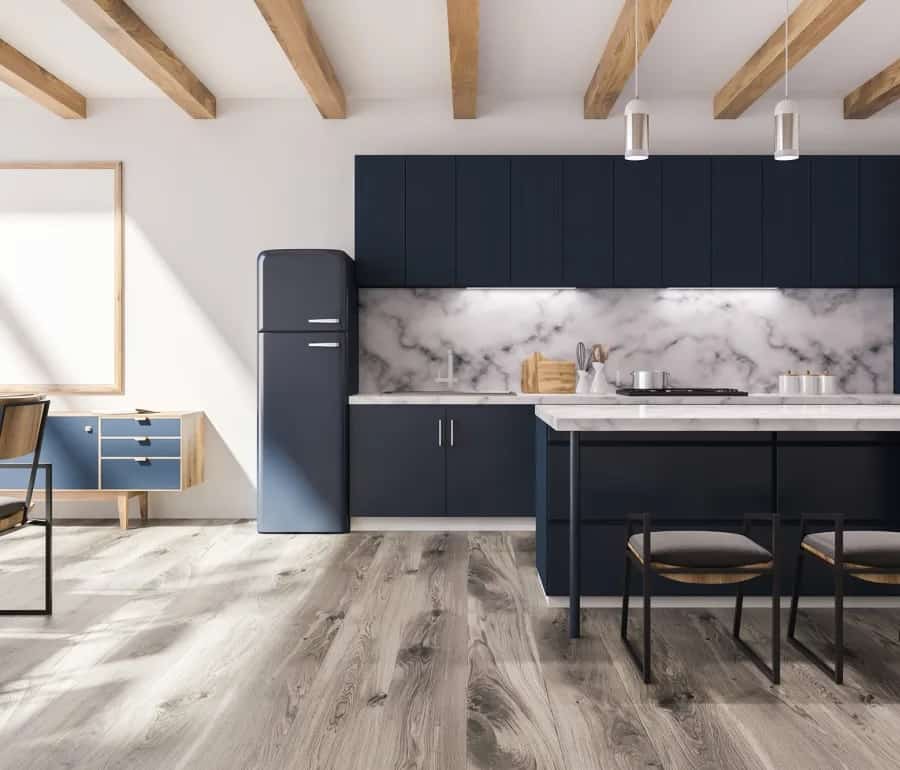 For a black and white kitchen that really pops, try a white wall with black appliances. The contrast will be stark and the overall look will be chic and modern. You can play with different accent colors to add a bit of personality to the space, but keep the overall palette simple so that it doesn't feel too busy.
You might even consider using stainless steel appliances for an extra touch of sophistication. Just be sure to balance the space so that it doesn't feel too cold or sterile.
2. Elegant Black and White Kitchen Design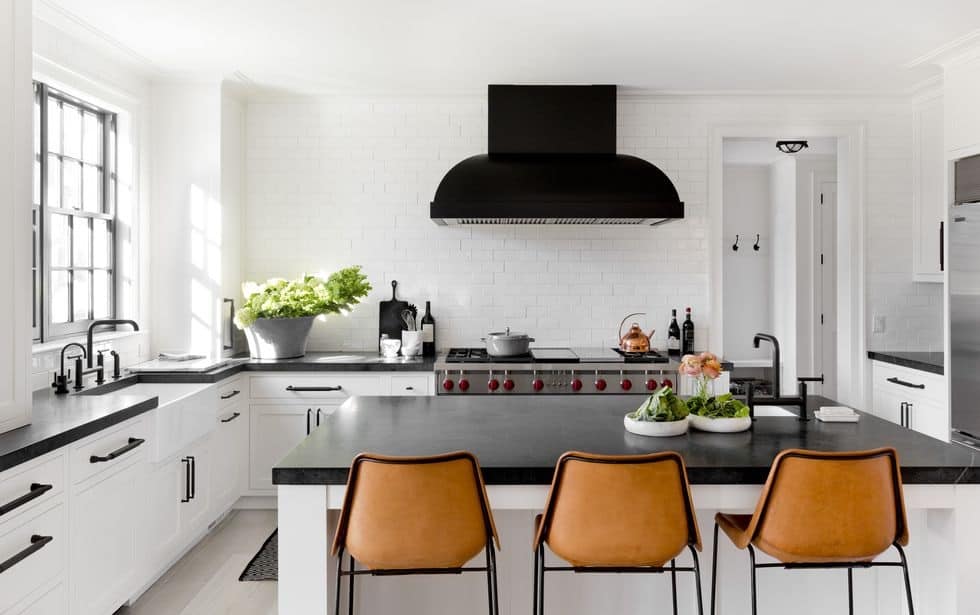 Infusing an elegant look to the kitchen is not a big matter. You can spotlight the appliance and the furniture with the glossy finishing with the light installation. The main focus should be to keep the black and white contrast in the kitchen.
The marble countertop with the white cabinets, and black handles for the drawers makes a good combo. The dark flooring combined with white walls can create an elegant look. You can add up black colored rugs for that extra effect.
3. Contemporary Black and White Kitchen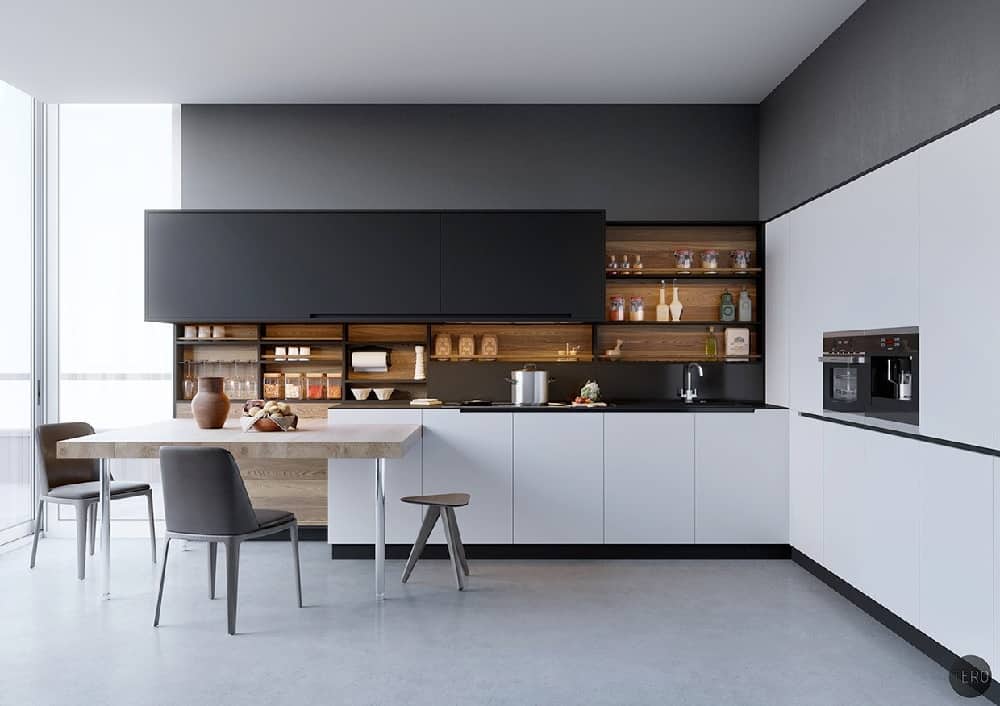 Create a two-tone effect with your cabinet to make your kitchen look fabulous while also keeping some of the stuff well-stored in the kitchen. Opt for white cabinets and black countertops for the best look.
To complete the modern look, use sleek handles and opt for a matte finish on all of your appliances. You can also choose to have an island with a contrasting color such as grey or beige to add elongate the layout of your kitchen.
4. Monochrome Color Scheme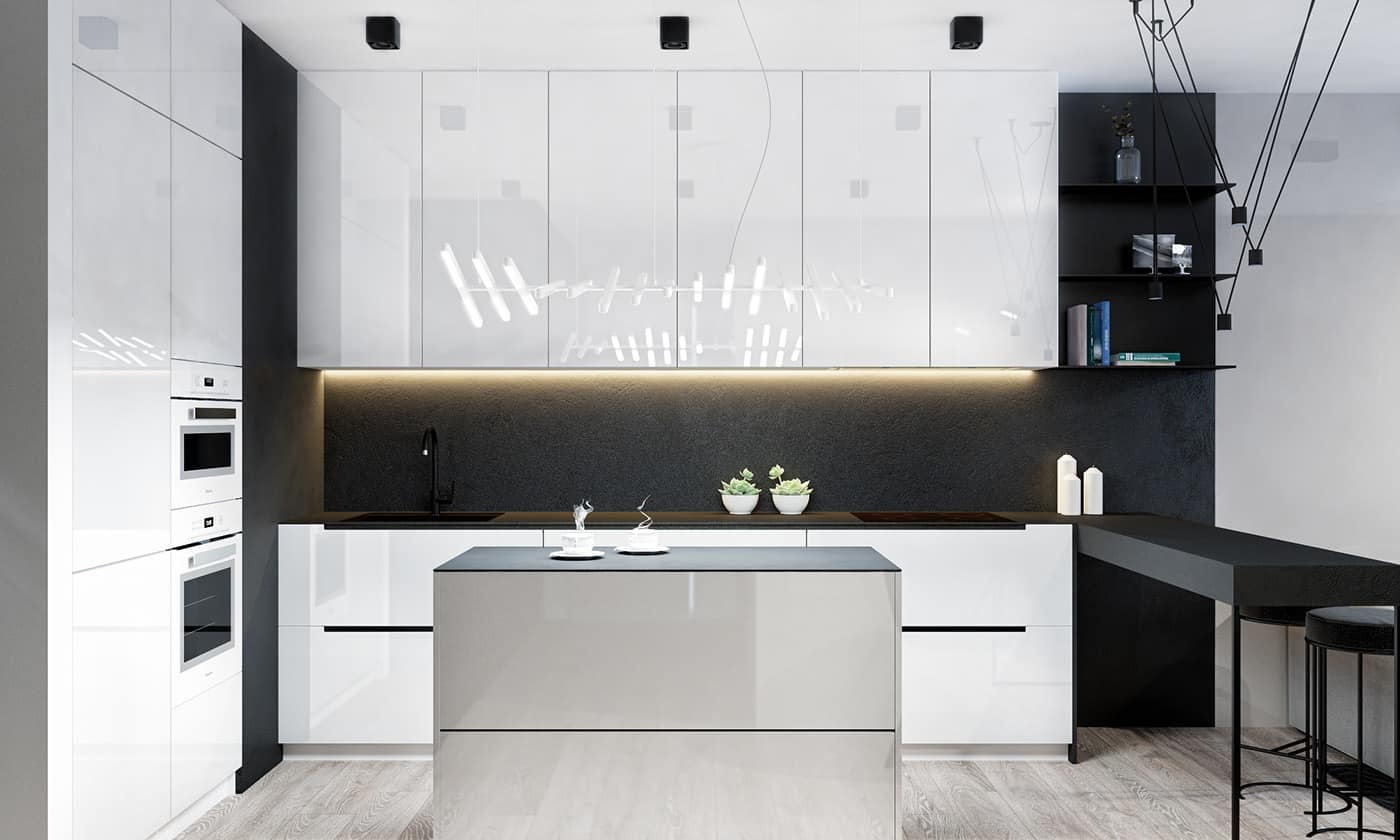 This classic combo works well with virtually any style, from traditional to contemporary. And because it's so versatile, it's easy to change up your look down the road if you get tired of it. To keep things feeling fresh and modern, try using different textures and patterns.
One way to add visual interest to your space is by pairing a glossy white cabinet with a matte black backsplash or vice versa. To bring in a pop of color, consider incorporating accents such as a yellow light placed underneath the cabinet.
5. Bold Contrasts with Black and White Subway Tiles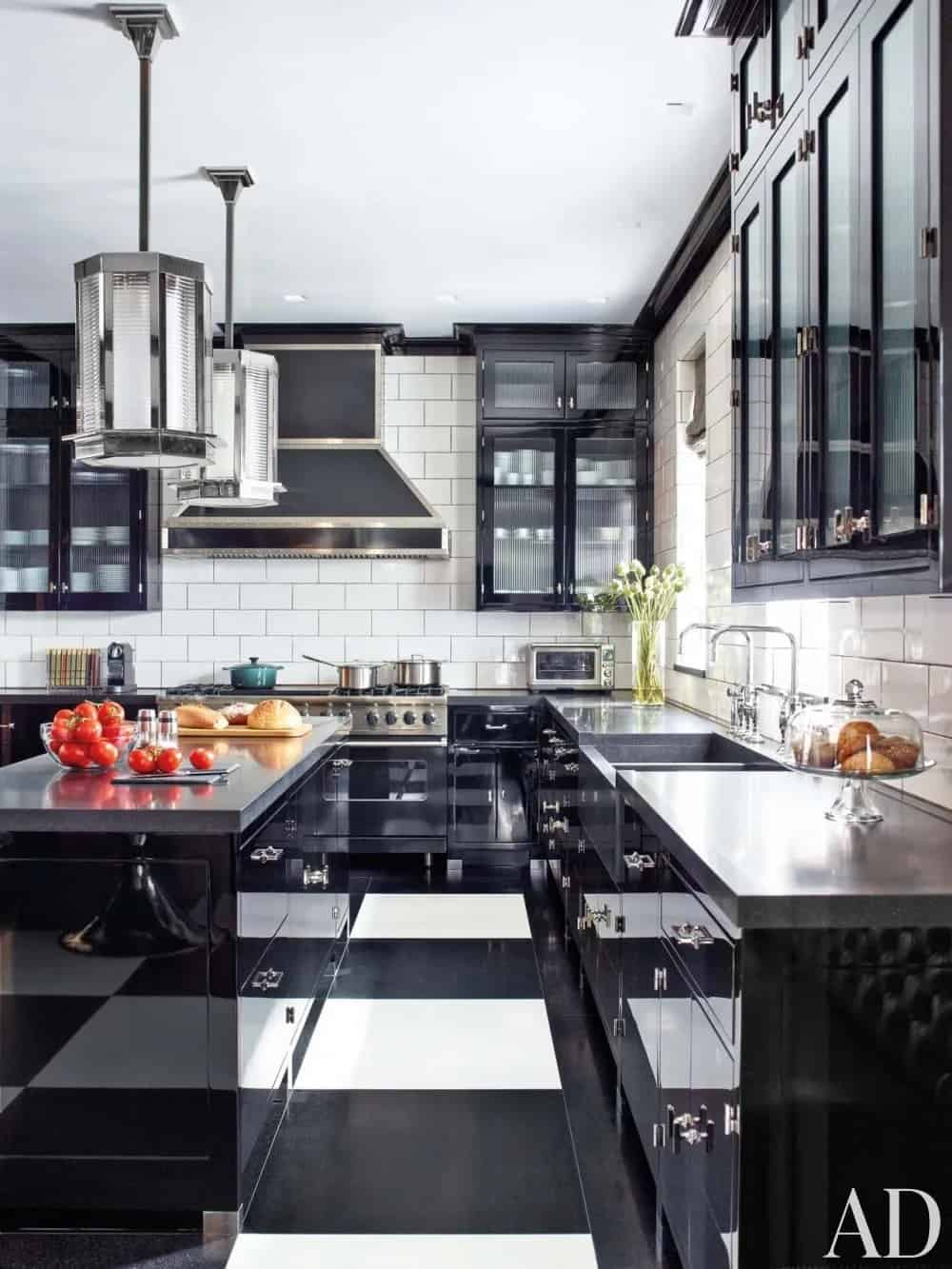 By contrast, black and white tiles create an eye-catching backsplash or floor design. In this kitchen, the black and white theme is carried throughout the space, from the appliances to the light fixtures.
The impact of black and white is powerful and classic, making a statement that endures over time. To incorporate this striking color scheme without fully embracing it, consider incorporating accent pieces in these hues to add intrigue to your space.
6. Add a Pop of Color With A Rug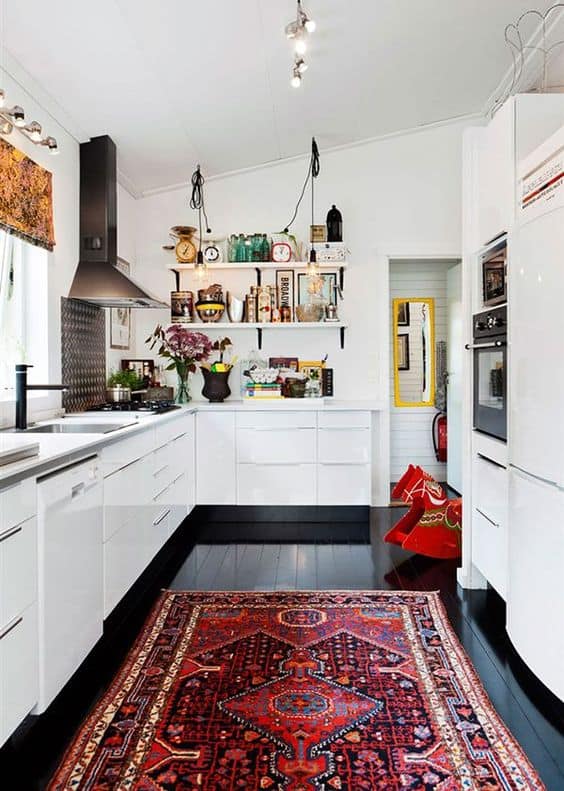 Add a little bit of extra interest to your space with the colored rug. Choose one in a bold color that complements the black and white decor, such as red or yellow. Place it in the middle of the room to break up all the monochrome colors and bring some dimension to the space.
You can also coordinate the rug with other colorful accents around your kitchen for an even bigger impact.
7. All-White Kitchen Cabinets With Dark Countertops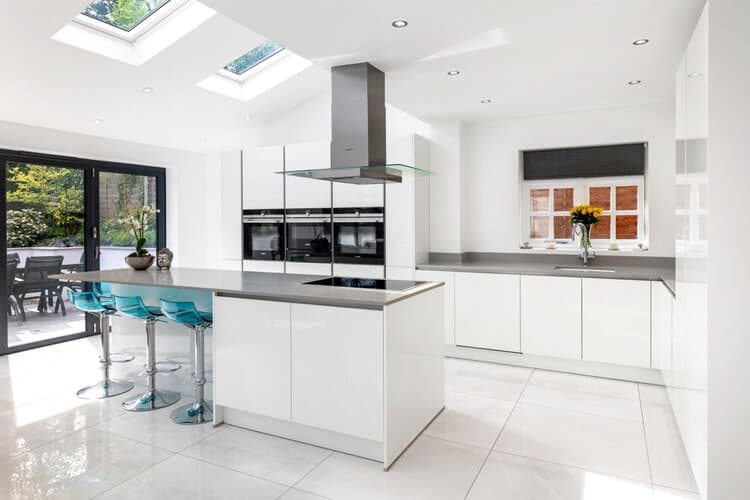 All-white cabinets are a clean and classic look for any kitchen. They're also versatile, since they can be paired with almost any color countertop.
For a more daring aesthetic, consider combining white cabinets with darker countertops. This color scheme provides your kitchen with a trendy flair due to the striking contrast. Additionally, the darker countertops offer better concealment of blemishes compared to their lighter counterparts.
8. Marble Island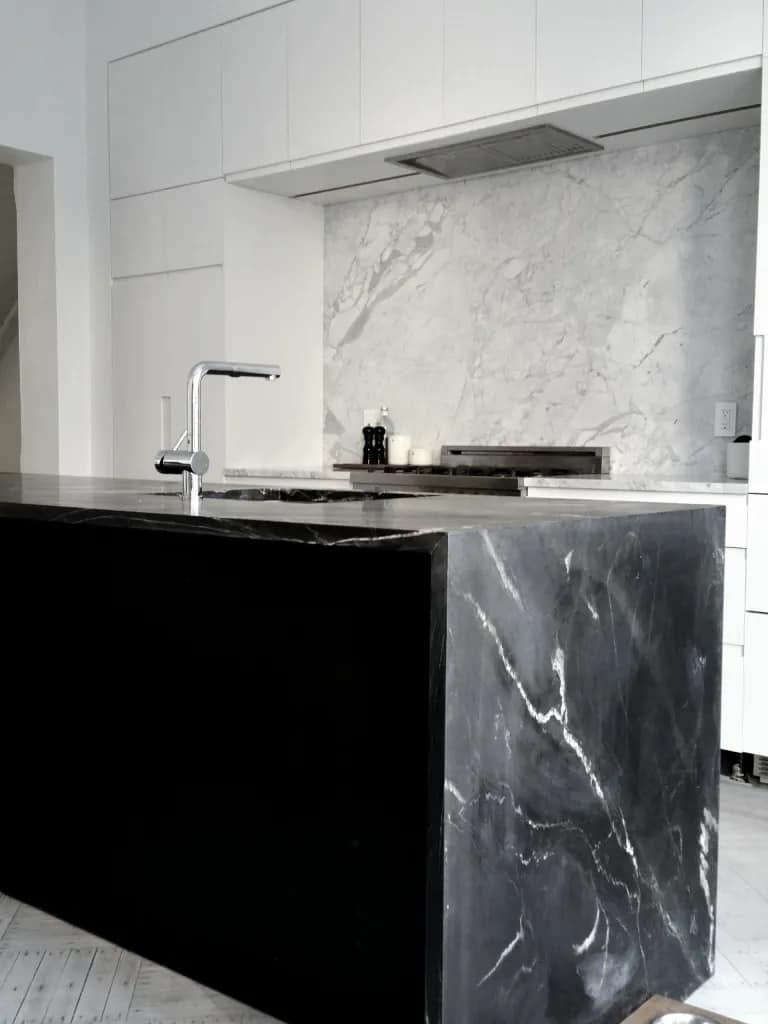 A marble island gives the kitchen an elegant feel, while the black and white color scheme keeps it looking sharp and modern. The key to making a black and white kitchen work is to use contrasting materials.
Black granite countertops look great with white cabinets, while white marble floors can help to brighten up a dark kitchen. By careful selection of materials, a black and white kitchen can be both stylish and functional.
9. Wooden Accents In the Kitchen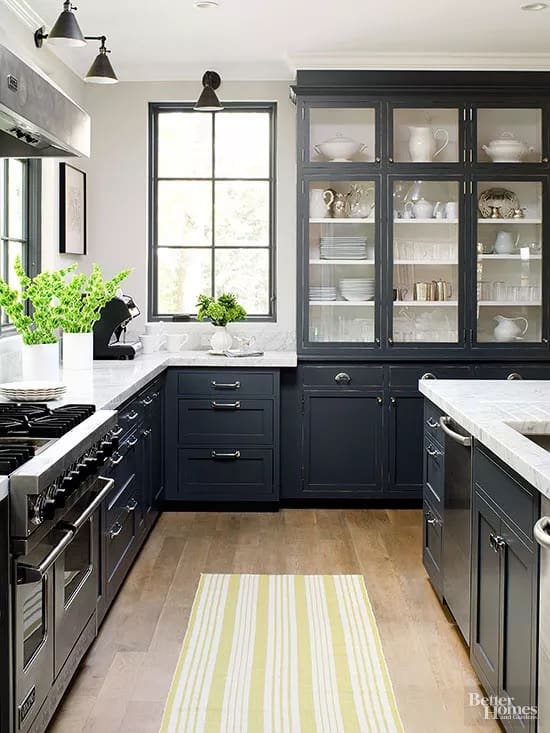 A warm and inviting atmosphere can easily be created by adding the wooden accent to your kitchen. Warm and inviting, wood can help to soften the stark contrast of black and white.
Exposed beams, hardwood floors, or even just a few well-placed wooden shelves can add personality and character to an otherwise stark space.
10. Use Antique Furniture to Add Character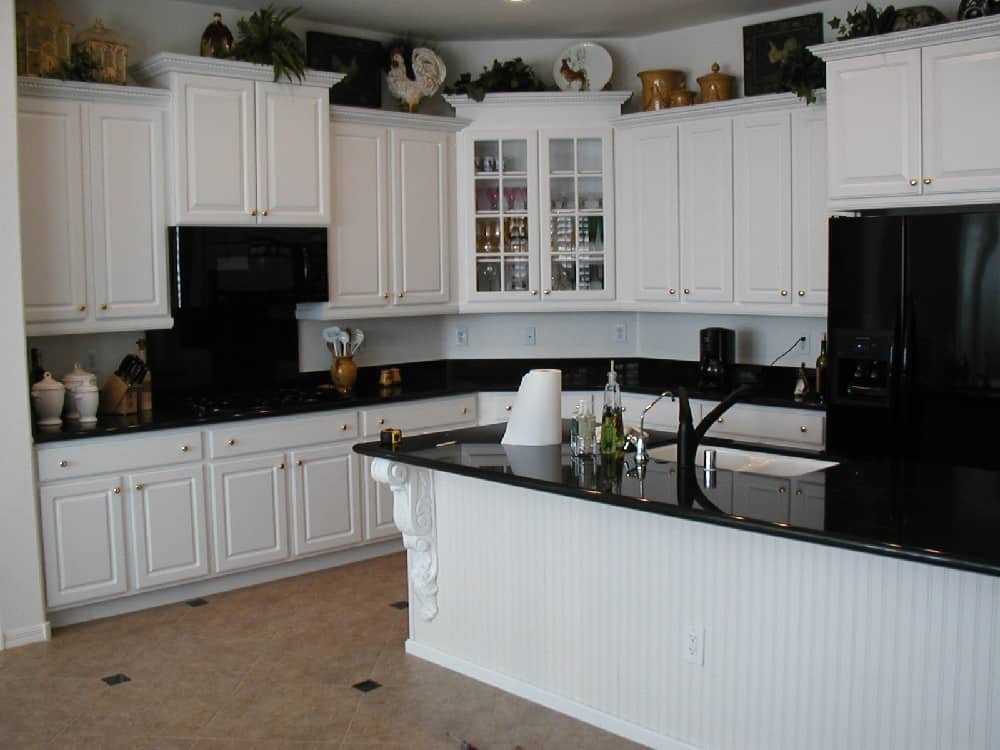 Antique furniture can add texture and interest to any room, and it can also help to create a certain ambiance. If you're going for a warm and inviting kitchen, consider adding some black and white antique furniture.
A black and white distressed table would be perfect for a country-chic kitchen, while a more modern black and white kitchen might benefit from a sleek, antique sideboard.
11. Hanging Decorations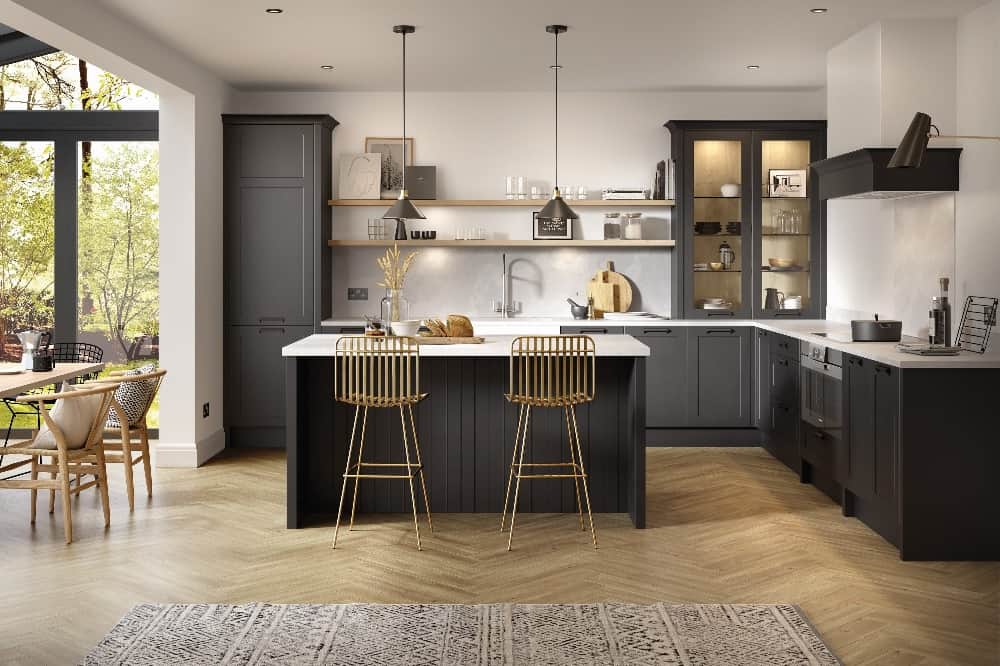 With the hanging decoration a touch of style and personality will easily be created in no time. Black and white kitchen towels, pot holders, and oven mitts are a simple and elegant way to inject some color into the space.
Kitchen wall art is another easy way to add style. Look for black and white prints or photographs that complement the overall aesthetic of the space.
12. Go for a Minimalist Vibe With Black and White Photos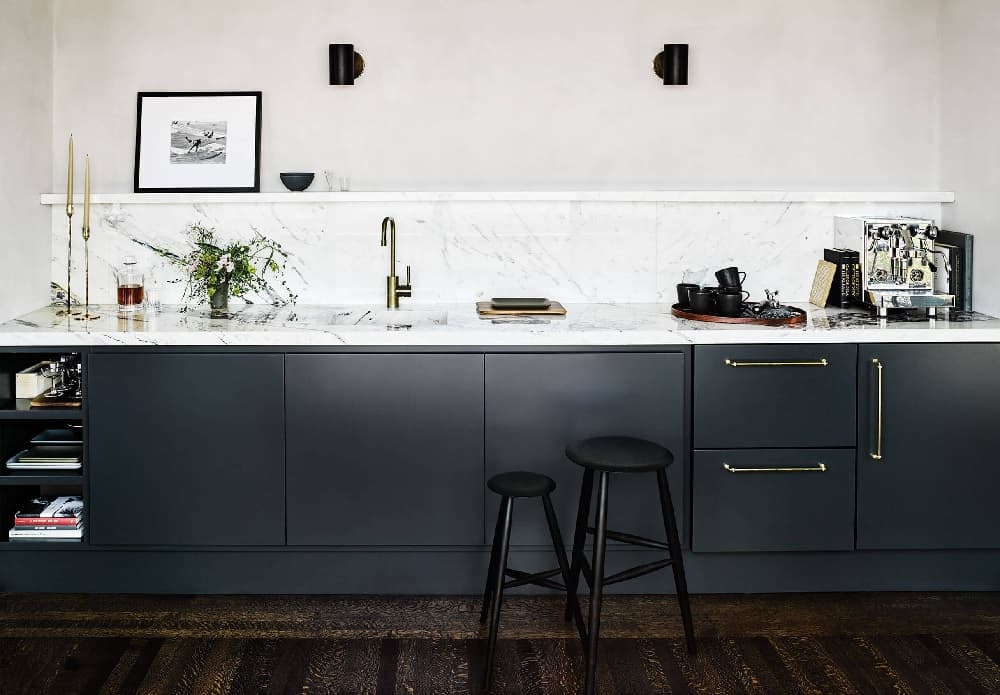 You can find black and white photos of all kinds of subjects, from landscapes to cityscapes to portraits. To add a personal touch, look for photos that have meaning to you or that capture a special moment in your life.
Black and white photos can be hung on their own or grouped together to create a collage-style effect. And because they're so versatile, they can be hung in nearly any style of kitchen, from traditional to contemporary.
13. Neutral Color Palette Kitchen Decor Ideas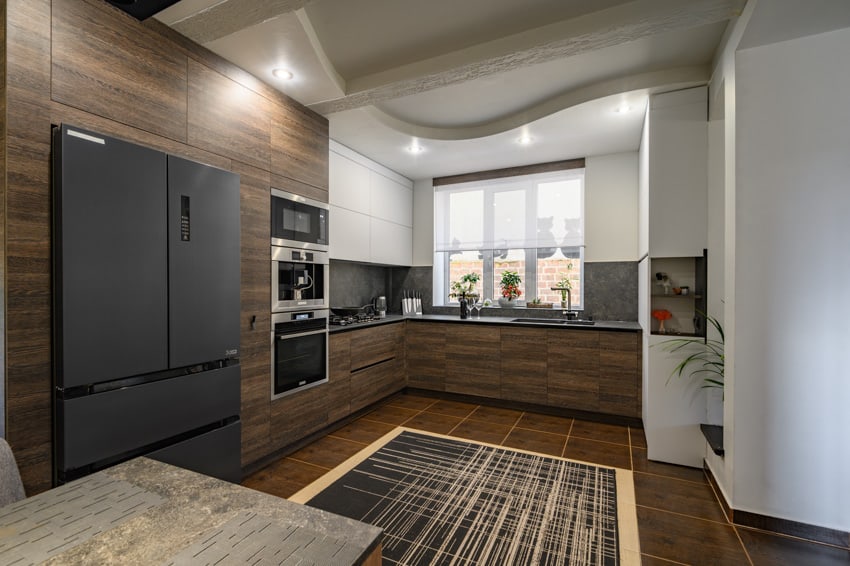 Black and white kitchen decor is a classic look that can be achieved with a few simple design elements. For a truly timeless appearance, start with a neutral color palette.
Choose white or cream-colored cabinets, black granite countertops, and stainless steel appliances. Then add some personal touches with black and white patterned wallpaper or backsplash tile. Finally, accessorize the space with coordinating dish towels, canisters, and other kitchen essentials.
14. Textured Paintings on the Wall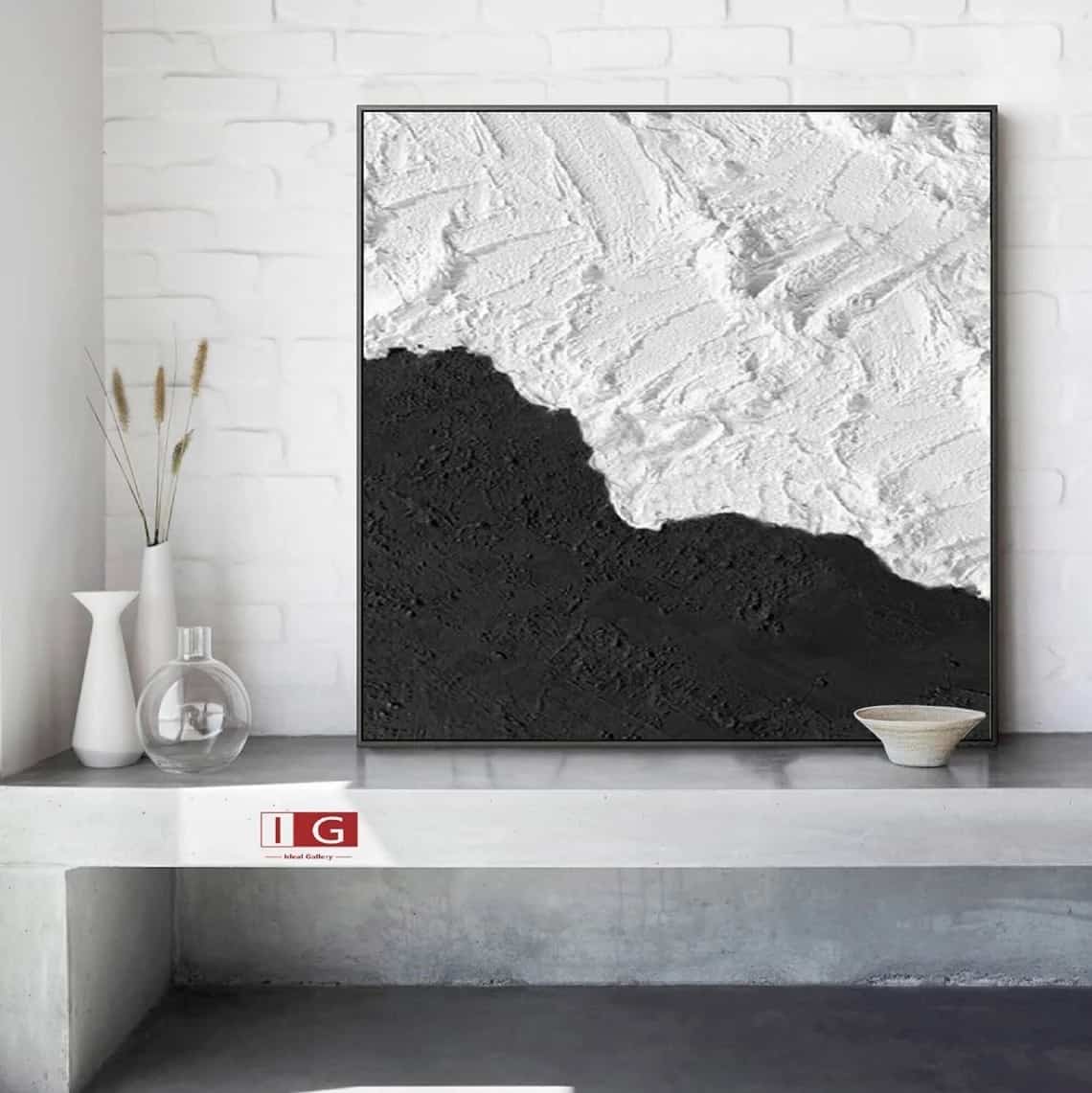 Textured paintings are a popular option, as they add visual interest and can be customized to match any style. It has gained immense popularity among art enthusiasts and interior designers alike. They serve as a fantastic way to add depth, dimension, and visual interest to any space.
The unique textures and patterns on the canvas can create a multi-dimensional effect that catches the eye and creates a sense of depth within the artwork.
15. Light Fixtures in Black and White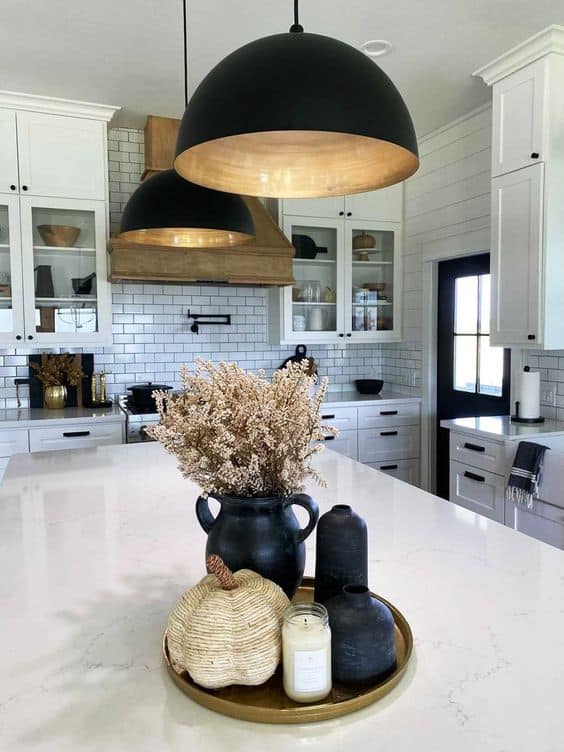 One way to add a touch of drama to the kitchen is to incorporate black and white light fixtures. Pendant lights are a particularly good option, as they can be hung at different heights to create an interesting visual effect.
Chandeliers are another dramatic option, and they can also help to make a small kitchen feel more spacious. For a more understated look, consider flush-mounted ceiling lights in black or white. These fixtures are ideal for illuminating countertops and work areas.
16. Metallic Accents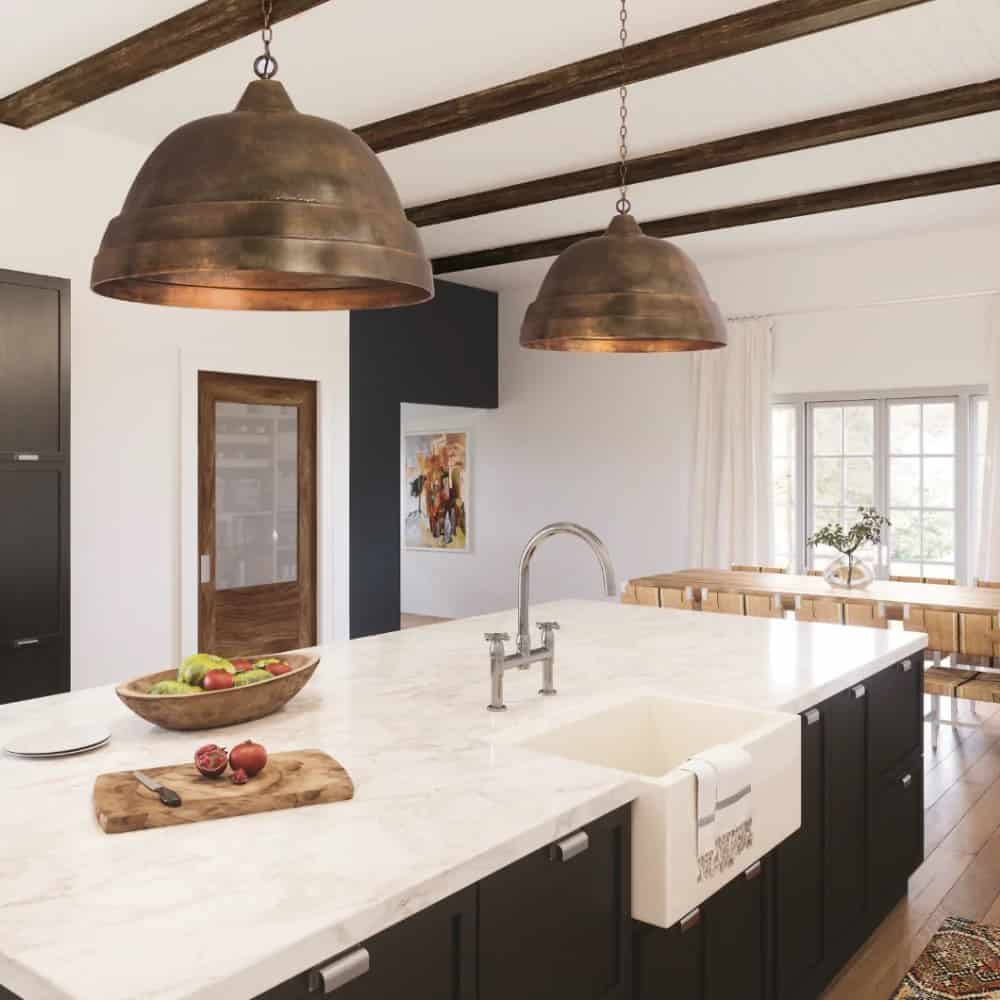 Consider adding a sophisticated touch to the black and white kitchen with some metallic accents. Gold and silver look particularly elegant against a black and white color scheme while copper and bronze can give your kitchen a more rustic feel.
Choose metals that complement your existing decor, and use them sparingly for the best effect. Silver utensils and dishware can also help to tie the look together.
17. Glass and Mirror Features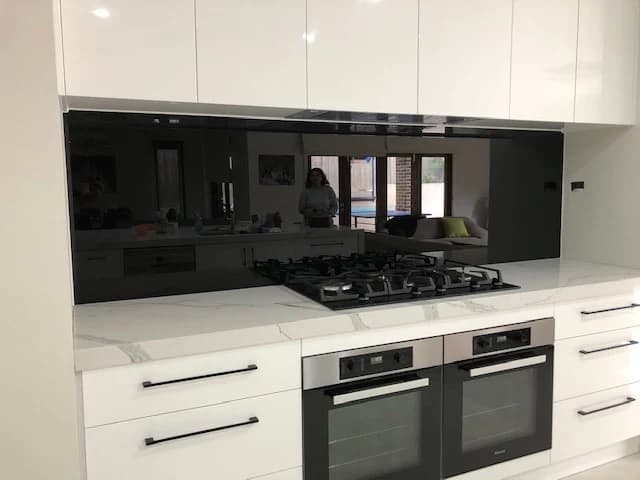 To add visual interest and texture to a black and white kitchen, consider incorporating glass and mirror features. Mirrored splashbacks can reflect light and make the space seem larger. Glass shelves can provide additional storage without interrupting the clean lines of the decor.
And a glass-fronted cabinet can showcase beautiful dishware. By incorporating these materials into the design, it's easy to create a sophisticated black and white kitchen that is both stylish and functional.
18. Playful Polka Dot Wallpaper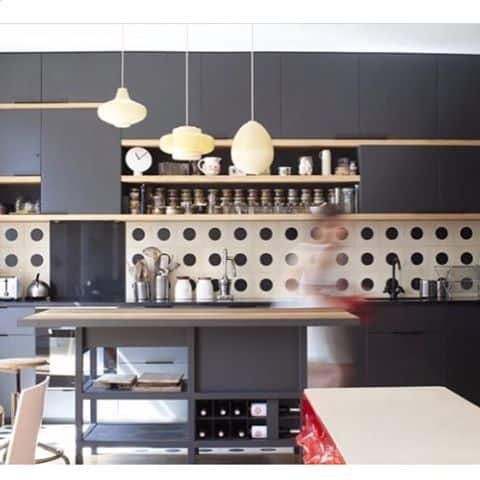 A great way to add some personality to your kitchen is with polka dot wallpaper. You can find this wallpaper in a variety of styles, from traditional black and white to more colorful options. If you want something a little more playful, try using black and white polka dot wallpaper as a backsplash.
This will create a fun and unique look that is sure to stand out. You can even use this wallpaper to create an accent wall by covering one whole wall in it.
19. Geometric Tiles on the Floor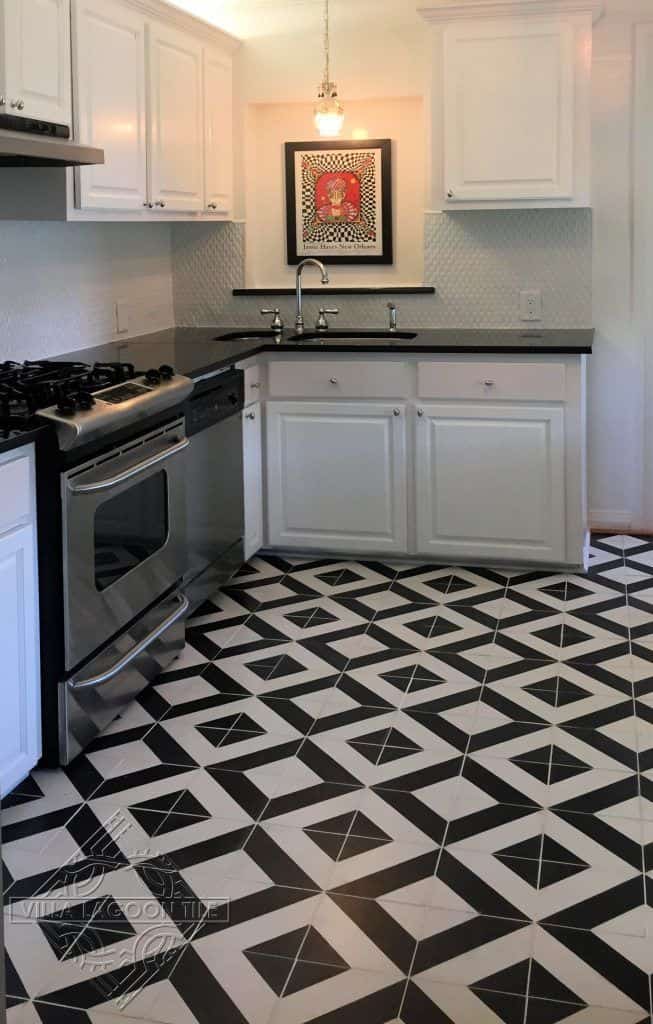 For a truly striking kitchen, go for black and white geometric patterns on the floor. This is a cool way to add some visual interest to the space, and it can also help to create a more spacious feel. If you have a small kitchen, opt for large-scale patterns that will make the room appear larger.
For a more subtle look, choose smaller-scale patterns or use black and white tiles in different sizes. You can also add other accent colors to the mix, such as red or yellow, to create a truly unique space.
20. Modern Black and White Kitchen Decor Ideas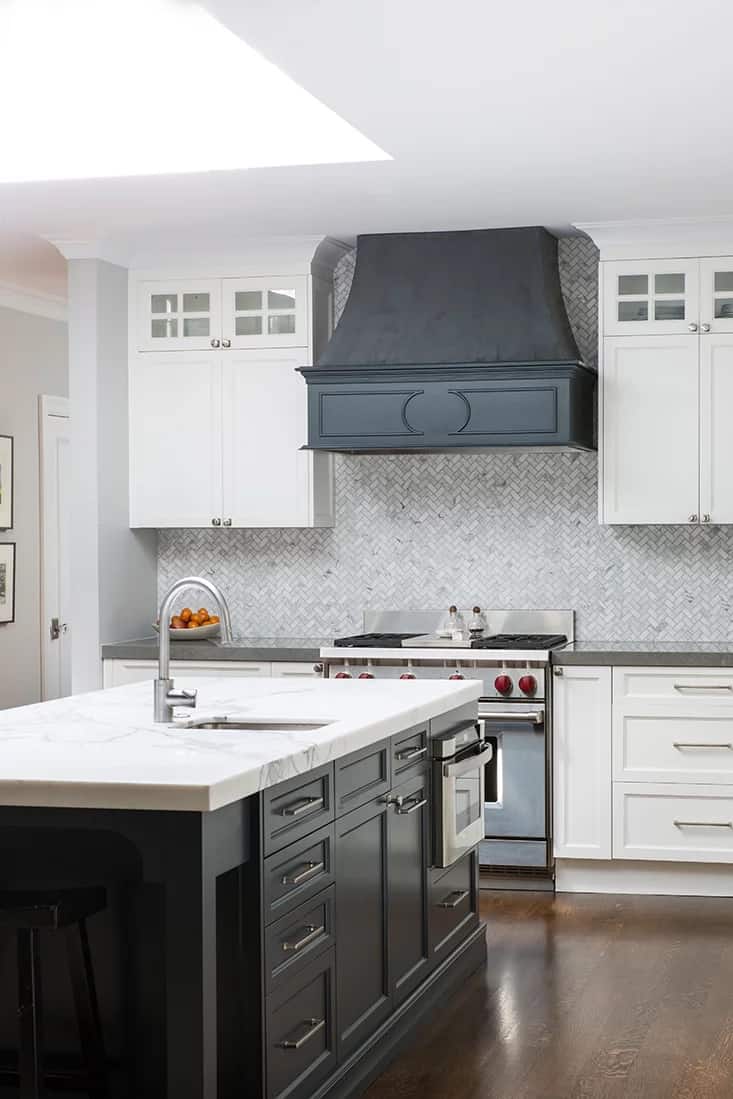 When the black and white feels a little bit boring, say no more. A modern black and white kitchen can turn a boring interior into something bold and exciting. By adding sleek black furniture, metal accents, and geometric shapes, you'll get an eye-catching yet timeless look. On the other side, an all-white kitchen with a few black accents is enough to give your space a modern twist.
21. Utilize Open Shelving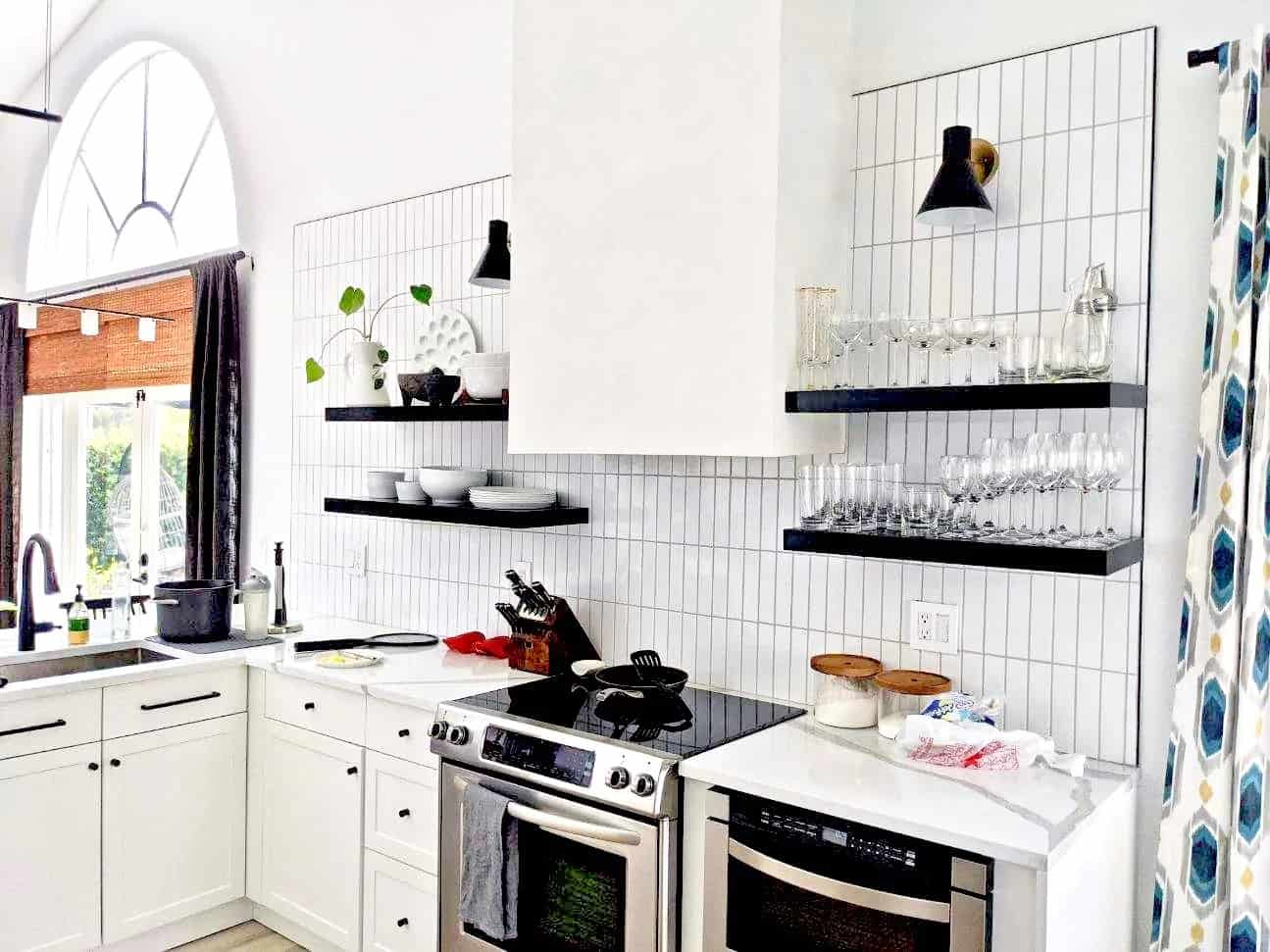 Utilizing open shelving in a kitchen with a black and white color scheme is a great way to add some visual interest to the space. By mixing and matching different shades of black and white, you can create a unique look that is both stylish and functional.
For example, using black shelves against a white backsplash can help to make the space appear more open and airy. Alternatively, using white shelves against a black backsplash can give the kitchen a more dramatic look.
22. Hang a Light Fixture From the Ceiling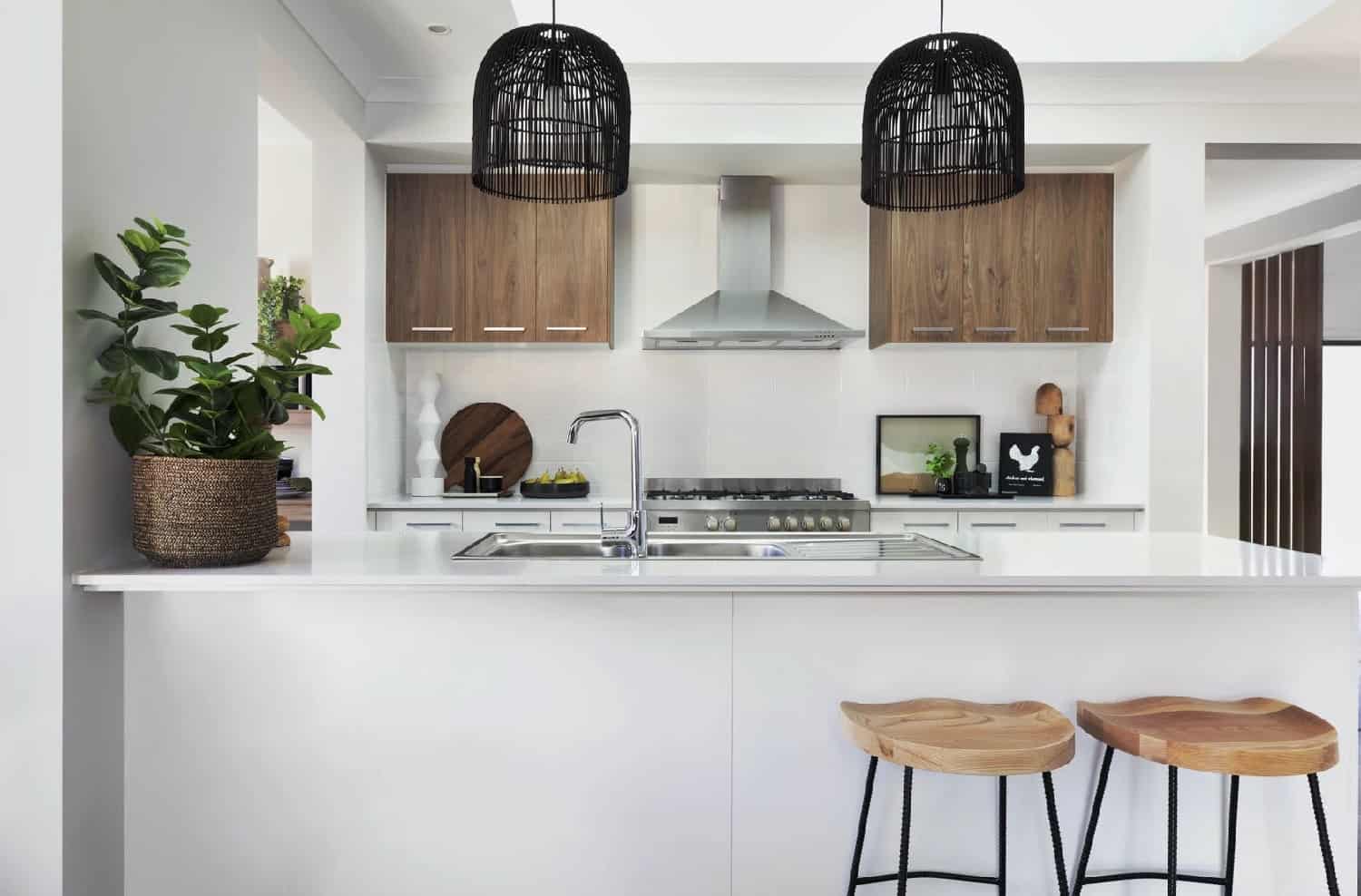 A cool way to mix up black and white kitchen decor is to hang a light fixture from the ceiling. This can be anything from a simple pendant light to a more elaborate chandelier. Whatever you choose, make sure it contrasts nicely with the rest of your kitchen.
If your kitchen is mostly white, then a black light fixture would look really striking. And if your kitchen is mostly black, then a white light fixture would really stand out.
23. Use Industrial Elements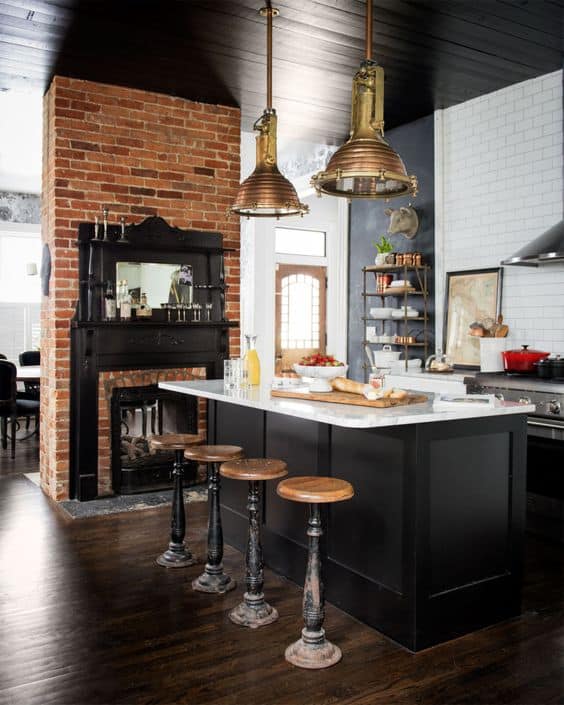 For a black and white kitchen with an industrial feel, consider using metal elements in your design. Exposed brick walls, metal kitchen stools, and stainless steel appliances all add to the factory-chic aesthetic.
To soften the look, add warm wood tones and plenty of greenery. Black and white tiles are another way to add an industrial touch to your kitchen. Hexagonal or subway tiles in a monochrome palette make for a stylish backsplash, while chevron floor tiles add visual interest.
24. Add Greenery to the Kitchen Decor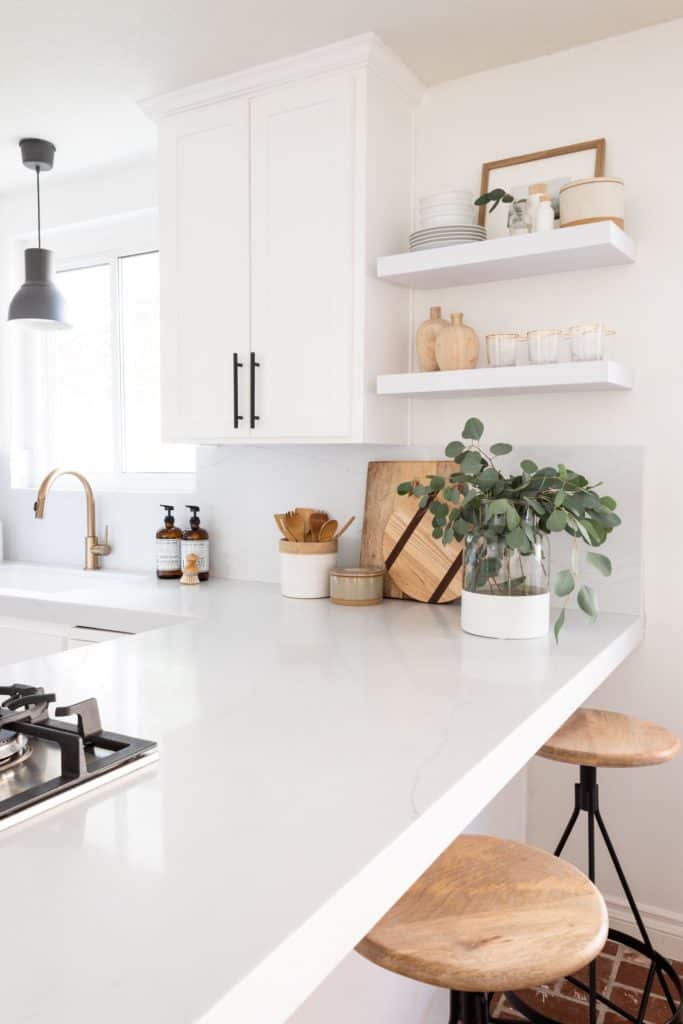 Bring in the fresh atmosphere to the kitchen with some greeneries to the kitchen. Add a few potted plants or herbs to the kitchen island, countertops, windowsills or whatever available space is available. Not only this will bring in some freshness but also add life and interest to the black and white kitchen decor.
Greenery can give your kitchen a truly unique look that's sure to be envied by visitors.
25. Best Black and White kitchen Decor Ideas: Add Bold Accessories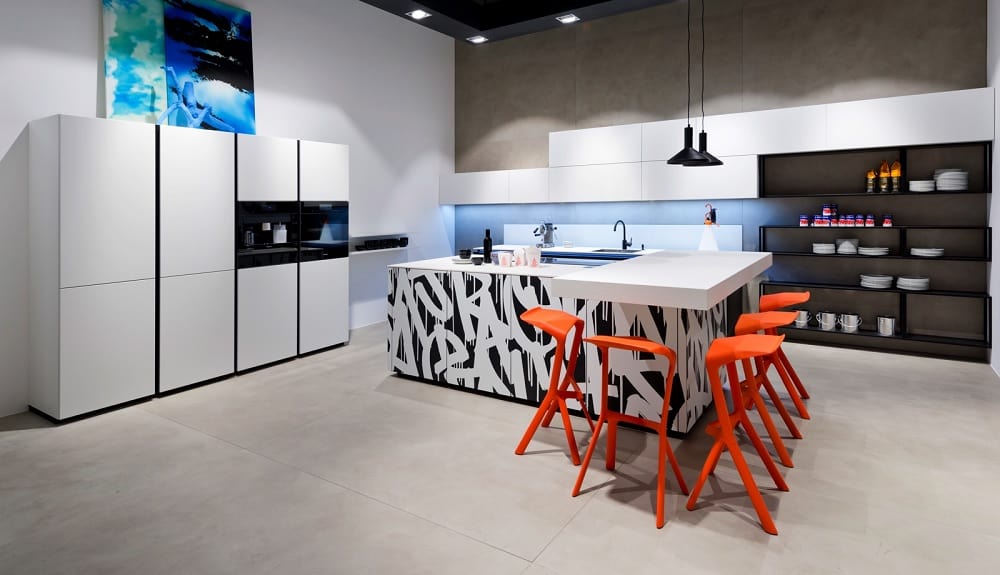 Make your kitchen look cool adorable with the touch of the bold accessories, like statement chairs and a beautiful counter spacious. A black and white kitchen decor can be elevated with the right combination of black metal shelves and white cupboards, or other bold elements like colorful artwork and textured wallpaper.
These accessories can create a definite sense of style in your kitchen, and also make it look more spacious. Adding beautiful pendant lights will further add charm to the modern-themed kitchen.
26. Open Kitchen Concept With Black and White Details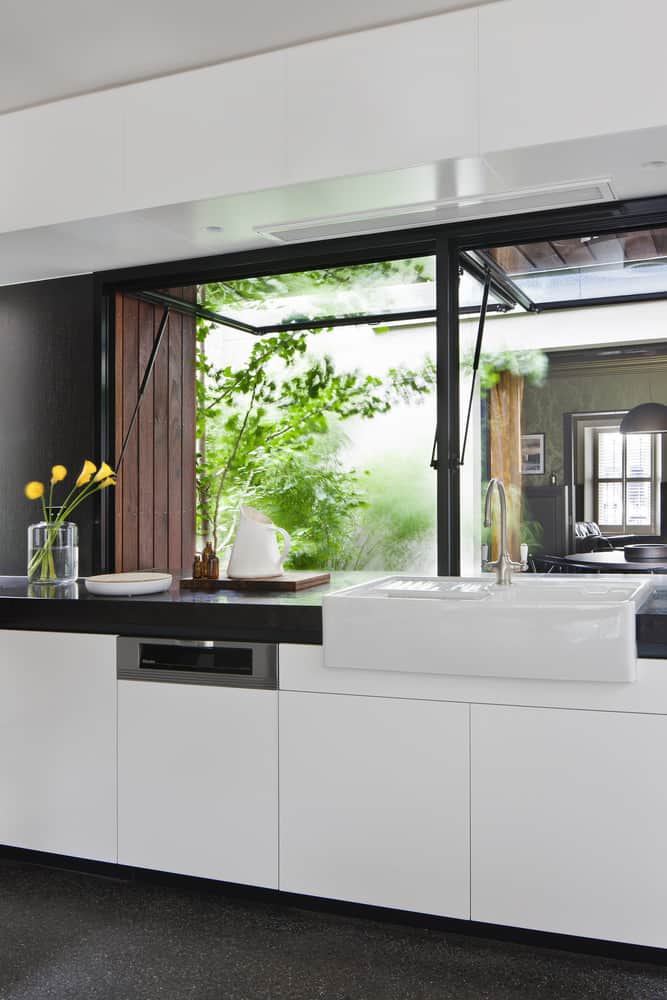 This type of kitchen decor can give the room a feeling of sophistication, while also making it feel fresher and airier. If you're considering a black and white kitchen, there are a few things you should keep in mind. First, you'll want to make sure that the two colors are evenly balanced.
Too much black can make the room feel dark and cluttered, while too much white can make it feel sterile. Second, you'll want to consider the different finishes available for each color. Black granite countertops can add a touch of luxury to the room, while white marble might be more appropriate for a more casual space.
27. Minimalist Look At Its Finest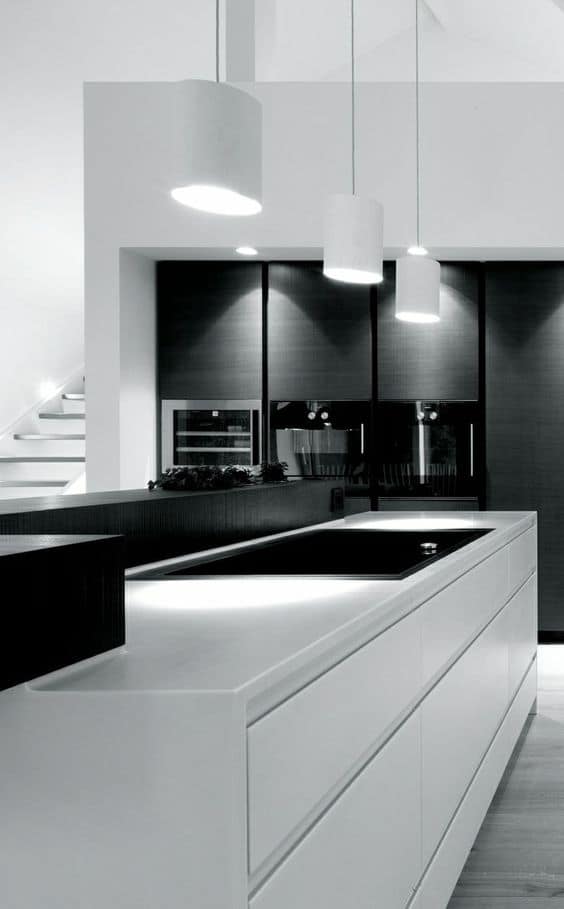 By keeping the colors simple, the overall look of the room is clean and sleek. Plus, black and white kitchen decor is easy to change up if you ever get bored with the look. Use clean lines and simple silhouettes to create a sleek and modern aesthetic.
Start by painting your walls white or opt for an all-white backsplash. Then, add in black accents such as countertops, appliances, and hardware. To really make your black and white kitchen pop, incorporate some bold statement pieces like a dramatic chandelier or artwork.
28. Checkered Kitchen Decor For Retro Feel
With the checkered flooring, it will be the key element of the retro feel and can be dressed up or down depending on the overall style of the kitchen.
To keep the look consistent, use black and white tile or vinyl for the flooring. Then, carry one of the colors through to the walls with paint or wallpaper. The other color can be used for accents, such as in window treatments, towels, and dishware.
29. Rustic Style with Black Metal Stools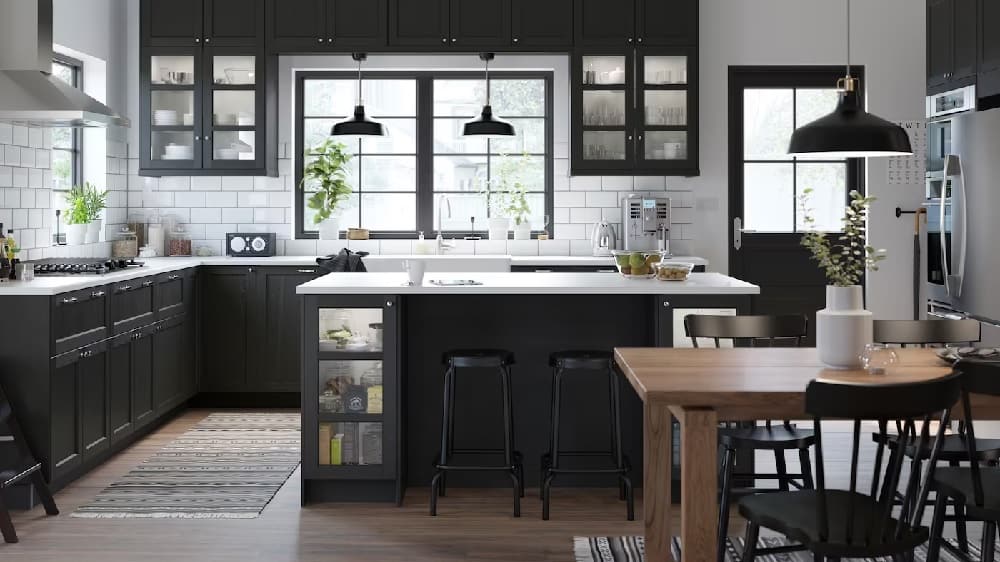 For a rustic style kitchen, opt for black metal stools and lanterns, white tiled splashbacks and stone floors. Black cabinets with white marble countertops also create a beautiful contrast.
Elevate the opulence of your space by incorporating sleek glass and chrome accents. Infuse life into the ambiance by adorning selective areas with vibrant vases or ornamental bowls brimming with fragrant blooms. Bring the design full circle by selecting countryside-inspired wall art that unifies the overall decor.
30. Traditional Black & White Kitchen Decor Ideas With Vintage Details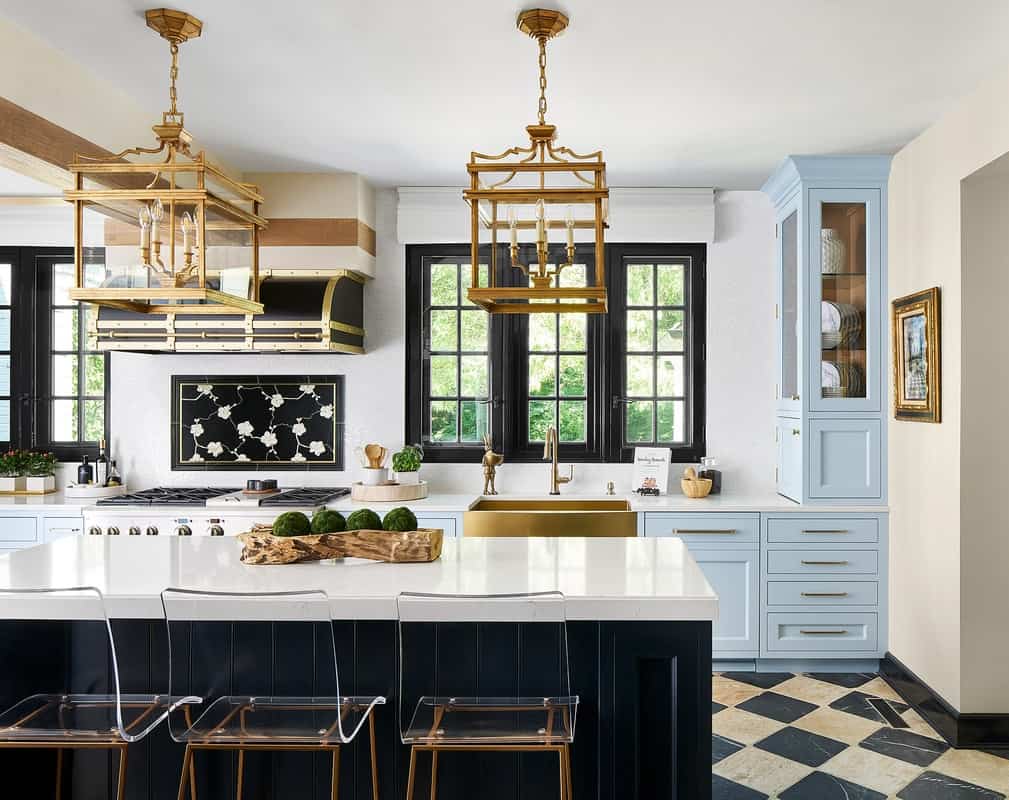 Black and white kitchen decor is a classic look that can be easily achieved with the right mix of vintage and modern details. Start with a black and white color scheme for the walls, floors, and cabinets.
Add in some vintage-inspired touches like black and white checkered floors or wallpaper with a black and white design. For the appliances, stick with classic black or white stoves and refrigerators. Finally, accessorize the space with some vintage finds like an antique tablecloth or some silver serving pieces.
31. Reclaimed Wood Elements in the Kitchen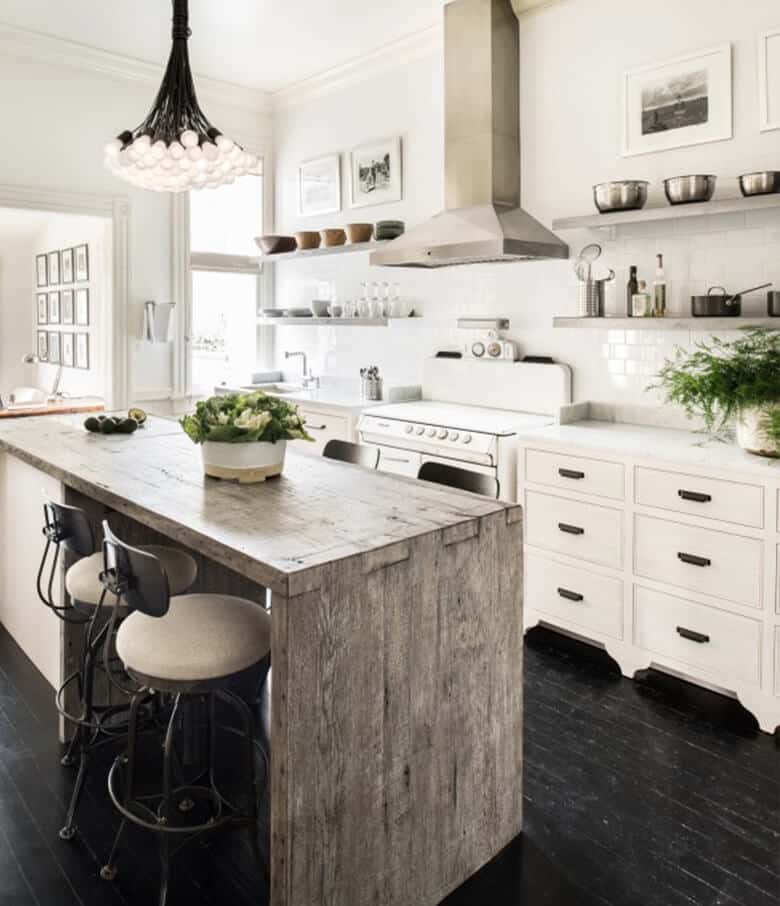 One of the best way to incorporate black and white into your kitchen is by using reclaimed wood elements. Reclaimed wood is full of character and history, and it can add a unique rustic touch to any space.
To achieve a striking contrast, consider combining black reclaimed wood with either white countertops or cabinets. Or, for a different approach, opt for white reclaimed wood and pair it with a black accent wall or backsplash.
On the other side, adding a reclaimed wood kitchen island highlight the rustic style to your kitchen as well.
All in all, if you need an up-to date, modern look for your kitchen then consider using the alluring combo of black and white. This timeless color scheme is chic yet engaging, which worth applying to your house.