A kitchen island is a great addition to any home, providing extra counter space, storage, and a versatile gathering spot for family and friends. Hence, it is such a crucial thing to choose the best rustic kitchen island ideas. One of the best things about a rustic kitchen island is that it can be made from a variety of different materials. Wood is a popular choice, but you could also opt for stone or even metal. The important thing is to make sure that the material you choose is durable and will stand up to heavy use.
You should also consider the overall style of your kitchen when choosing an island. Rustic kitchen islands are typically made from reclaimed wood or natural stone, giving them a rugged, sturdy look. Reclaimed wood is often cheaper and more sustainable than new wood, and it also has a unique character that can really give your kitchen island a one-of-a-kind look.
Another option is to use distressed wood, which will give it a beautiful aged appearance. Of course, you don't have to limit yourself to wood when creating a rustic kitchen island. In this blog post, we will share 30 best rustic kitchen island ideas that you can do yourself.
1. Add Plenty Of Storage To Keep Your Kitchen Organized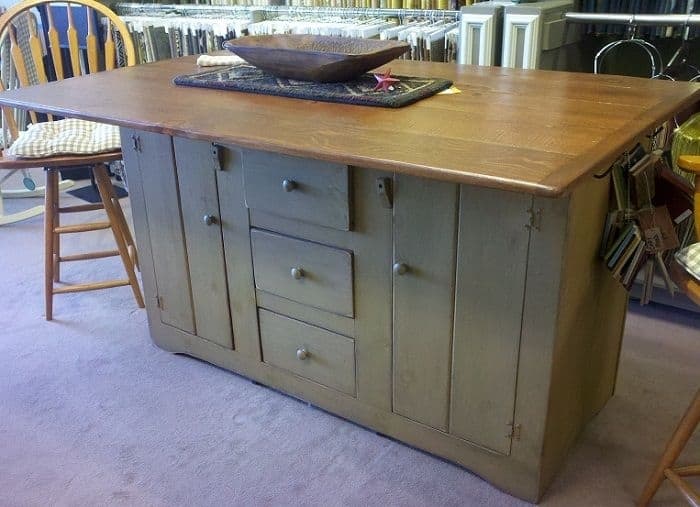 With this rustic kitchen island as your central location in the home, you will be able to keep everything neat and tidy. With ample storage for all of those gadgets needed while cooking or preparing food items on this pretty design, there is no need to go running around looking everywhere when something needs attention.
The natural wood makes it easy to blend in with other furnishings, while also helping you avoid clutter on countertops.
Alternative to sideboard table.
2. Reclaimed Wood Top For A Rustic Look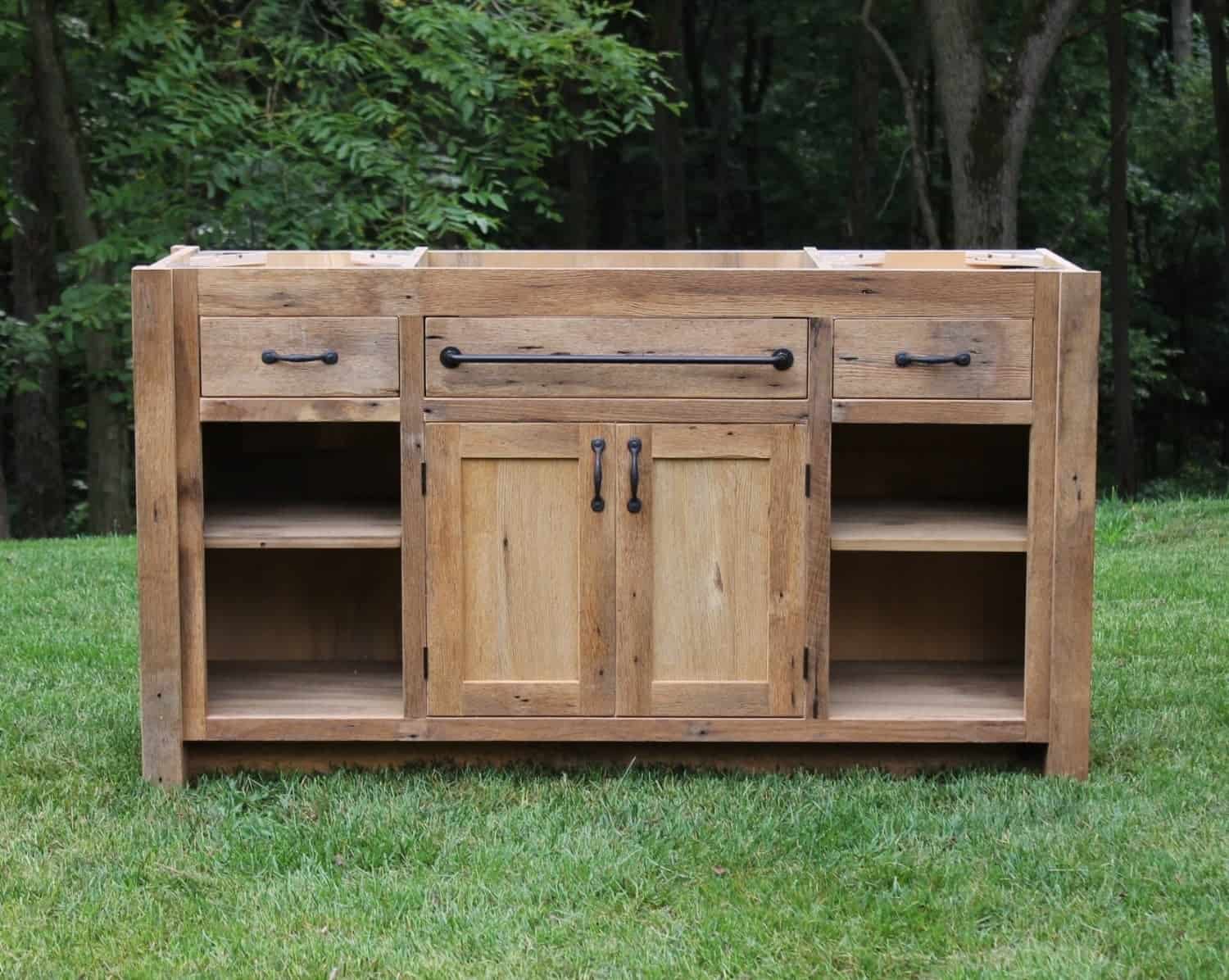 Using reclaimed wood will give the kitchen island a rustic accents. Reclaimed wood is often from old barns or other buildings that are being demolished, so it has a lot of character and charm. It also adds a unique texture to the island that you won't find with other materials.
Reclaimed wood is available in a variety of woods, including barn wood, oak, and maple. It's also the sustainable materials and can give your kitchen an earthy, natural look. You can also stain or paint the reclaimed wood to match the rest of your kitchen.
3. Show Off Your Dishes and Glassware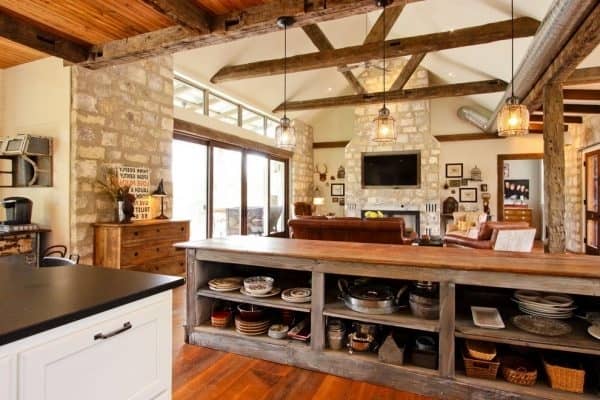 One of the best ways to achieve a rustic look in your kitchen is to install open shelving. This will allow you to showcase your beautiful dishes and glassware, while also making it easy to grab whatever you need while cooking.
If you're not sure where to start, follow the instruction down below:
Install shelves made from repurposed barn wood or pallets.
Paint the shelves in a distressed finish for a shabby chic look.
Use mason jars or antique mason cash bowls and natural baskets as storage containers.
4. Add Wine Rack To Store Your Favorite Bottles Of Wine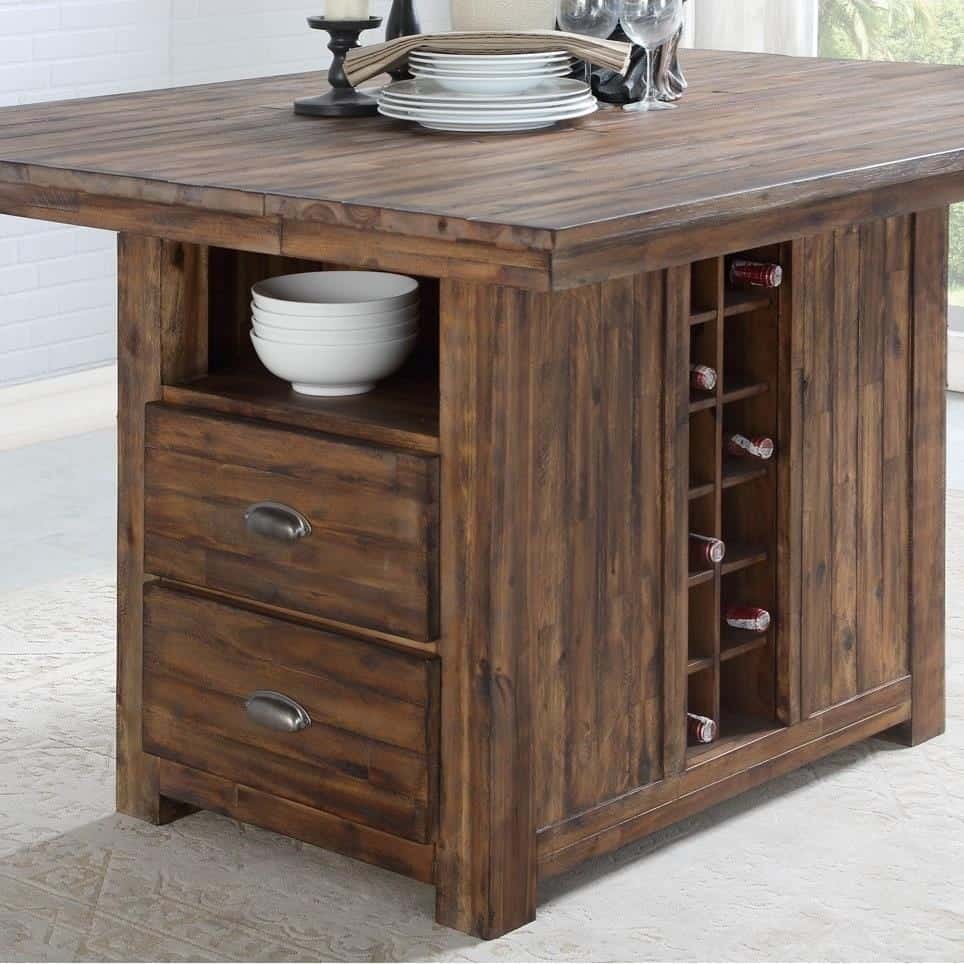 This can be a great way to store your favorite bottles of wine, and it can also be a stylish addition to your kitchen. There are a few things to keep in mind when adding a wine rack to your kitchen island.
First, make sure that the rack is made of sturdy materials that can withstand the weight of the bottles. Second, consider the size of the rack in relation to the size of the island. You don't want the rack to overwhelm the space, but you also want it to be large enough to hold all of your bottles.
5. Hang Pendant Lights Above The Island For Mood Lighting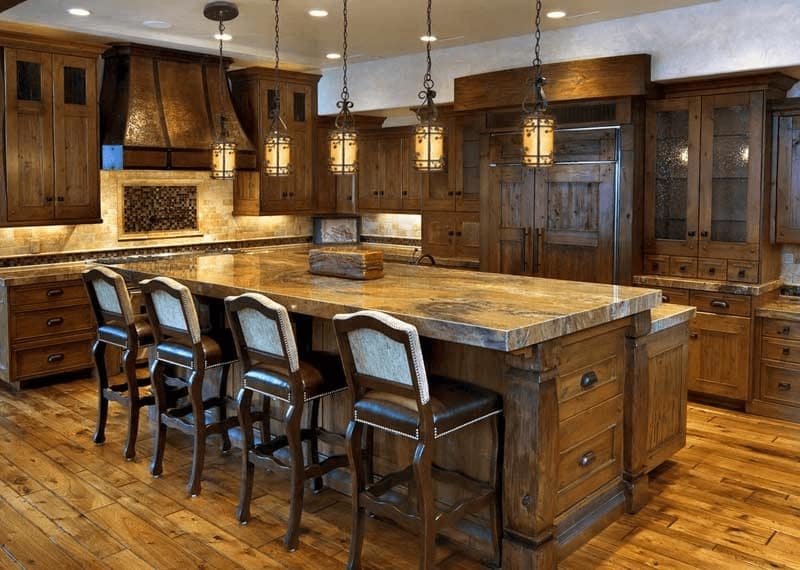 Hanging pendant lights and glass are two great ways to create an inviting mood in your kitchen. If you're looking for rustic island ideas, this is a perfect spot.
You can find hanging fixtures from industrial-style all the way down through rustic there's something here just right no matter what type of décor style suits you best. And don't forget about how easy it was put together: simply install some new lighting above said countertop area, then adjust them according to preference.
6. Write Down Grocery Lists Or Recipes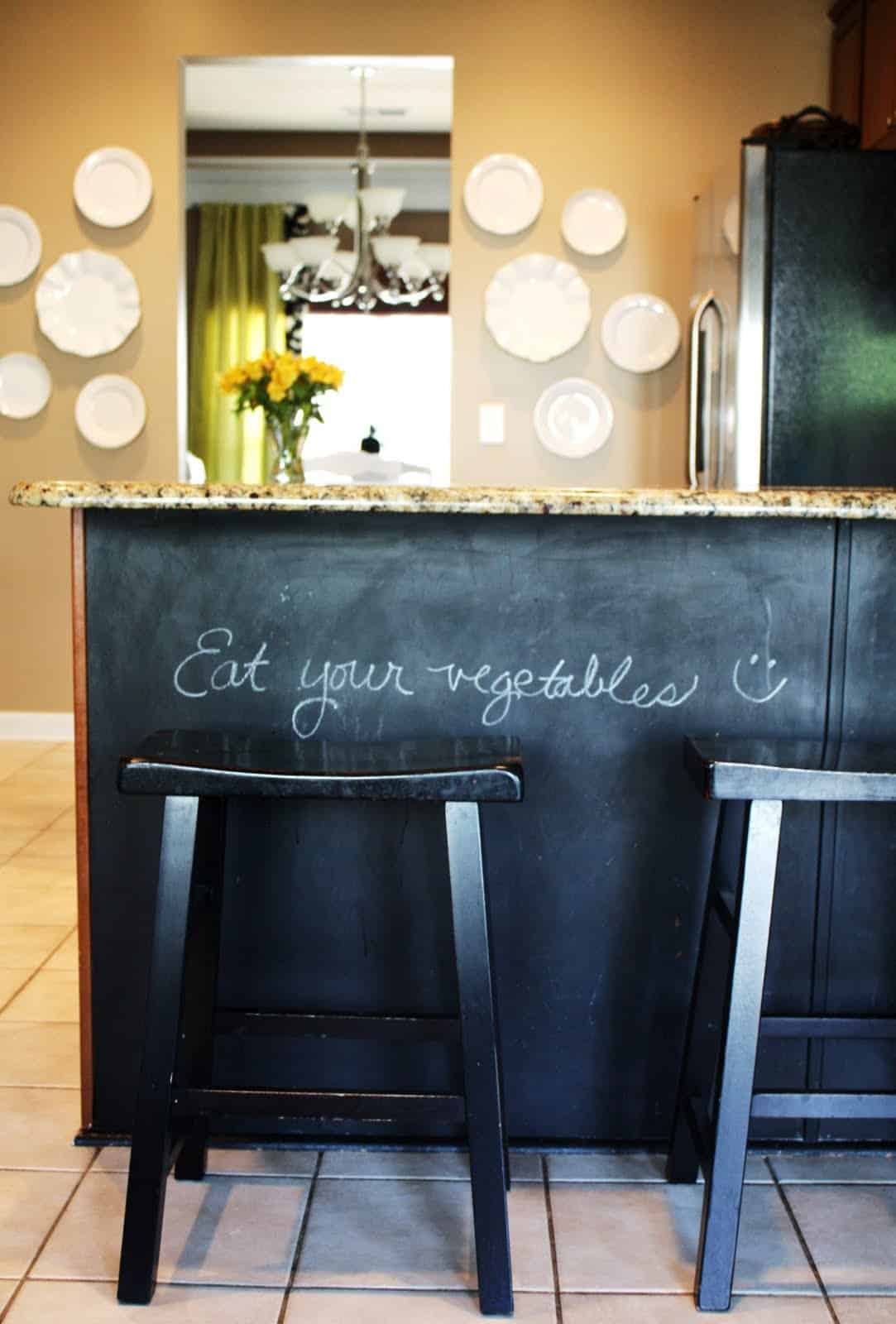 Opt for applying the chalkboard paint on the island. It is a great way to add a touch of rustic charm to your kitchen island. On the other side, this gives you a convenient place to write down grocery lists or recipes. It's also a fun way to add a bit of personality to the space. You can even use different shades of chalkboard paint to create a unique look.
7. Upcycled Drawer Rustic Kitchen Island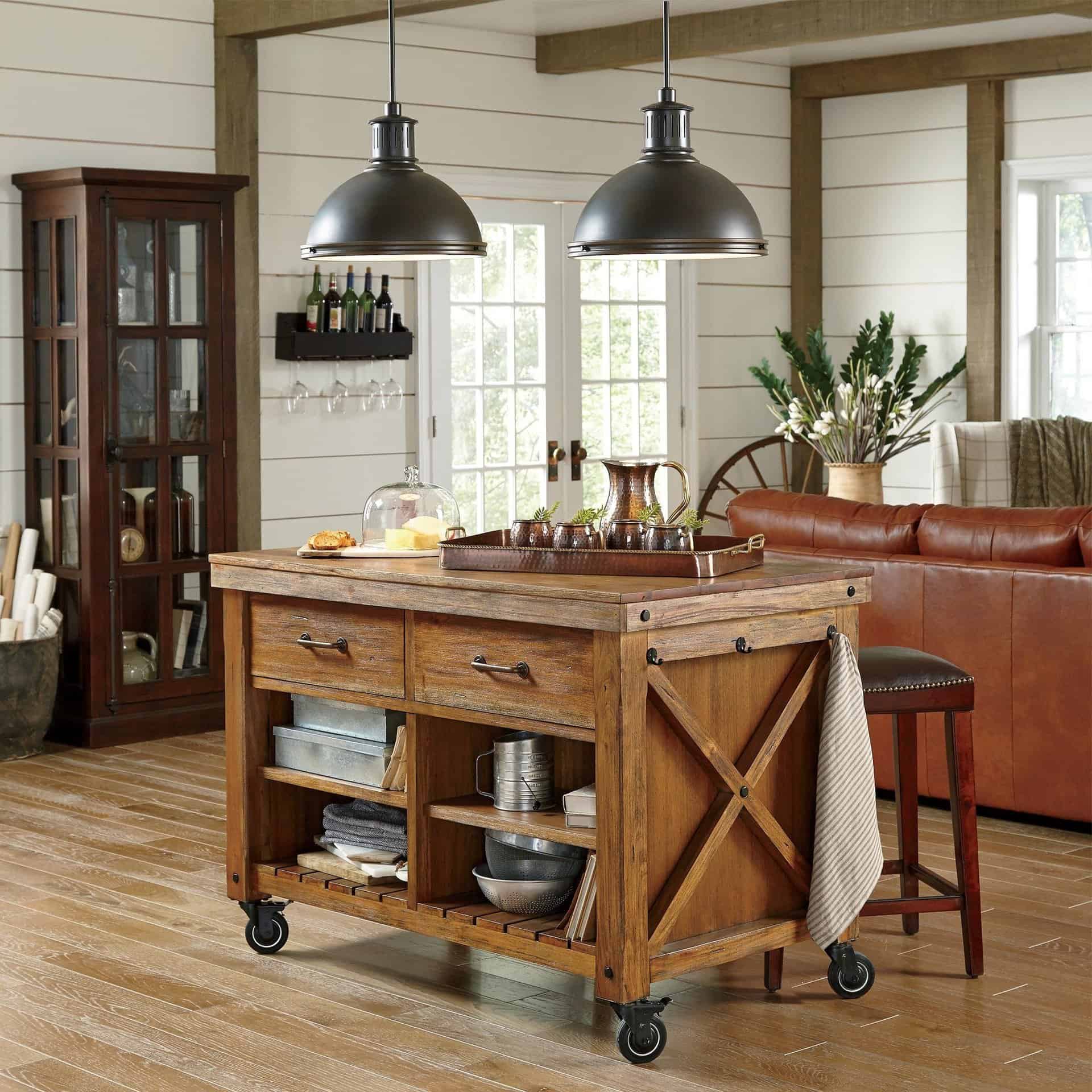 Upcycling the old drawer and turn it into a rustic island is such a smart decision if you are planning both improving your wood-working skills and on a budget.
If you have an old dresser or chest of drawers that you're no longer using, you can easily turn it into a rustic kitchen island. Simply remove the drawers and sand down the surface of the piece to give it a distressed look. Then, add some casters to the bottom so that it's easy to move around. To finish it off, add some handles or pulls in a rustic style.
8. Rolling Rustic Kitchen Island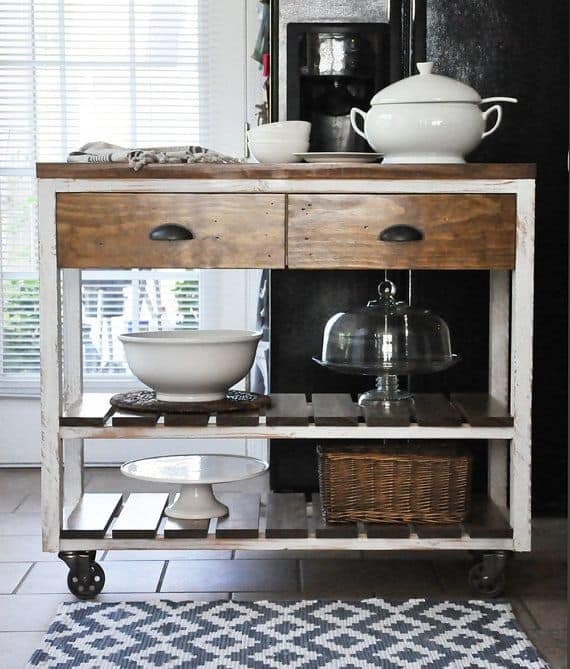 The island on wheels that you can move around as you please. Whether you need extra counter space for prep work or just want to be able to rearrange your kitchen from time to time, a rolling rustic kitchen island is a great option. And, bonus, they tend to be super affordable too.
You can simply add some wheels to the bottom of the old dresser or cabinet to make the adorable kitchen island if you are short on time or money.
9. Add The Farmhouse Style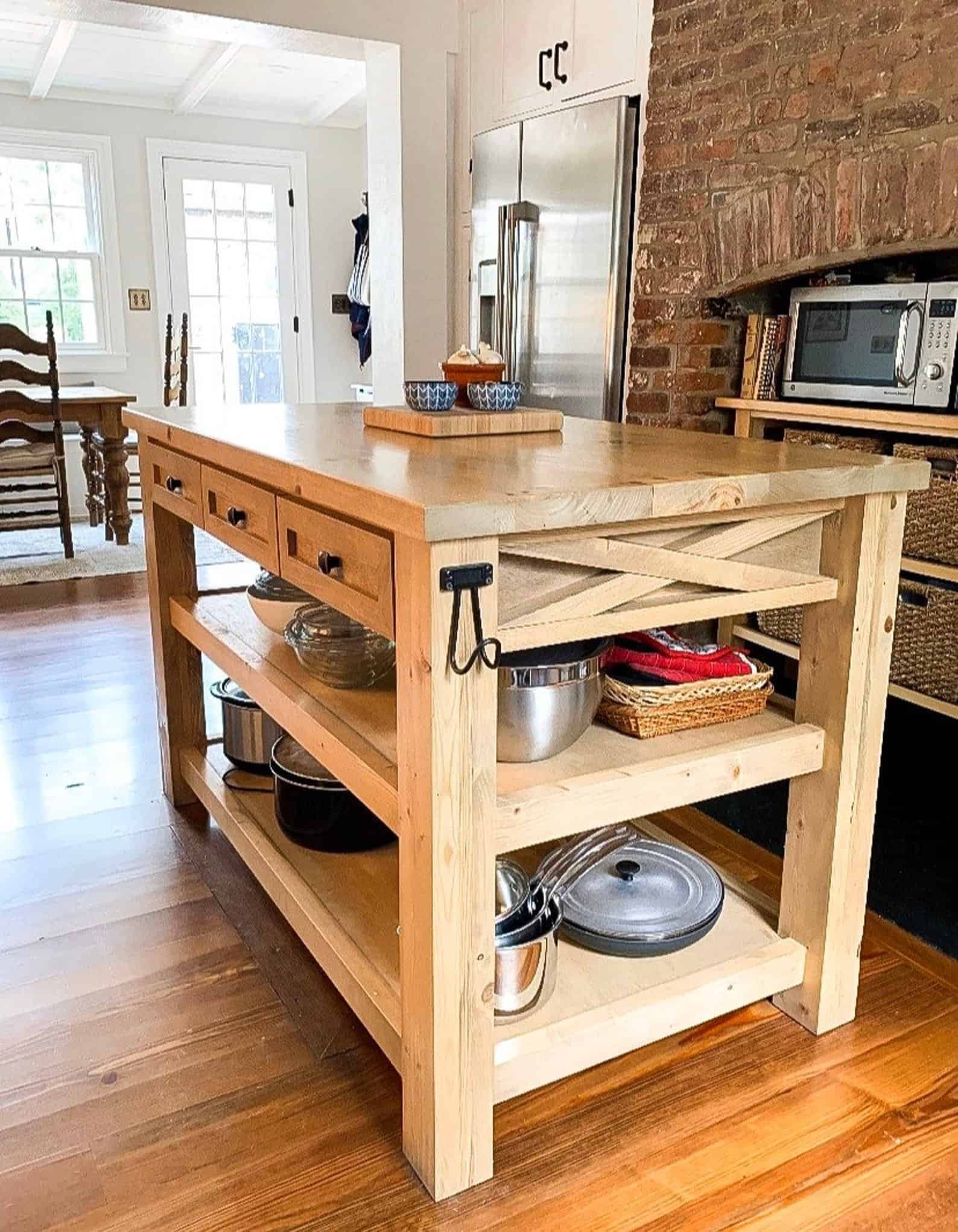 When considering the farmhouse kitchen island as a design element, one major factor to consider is its functionality. This type of furniture can either serve as both prep space and dining table or act solely in these capacities, depending on your specific needs for it.
The natural look that this style often delivers will match well with other elements already present within a rustic-style home's decorating scheme while still delivering something unique enough so you don't find any stagnant spots throughout your entire abode.
10. Add Extra Seating With a Built-in Bench or Barstools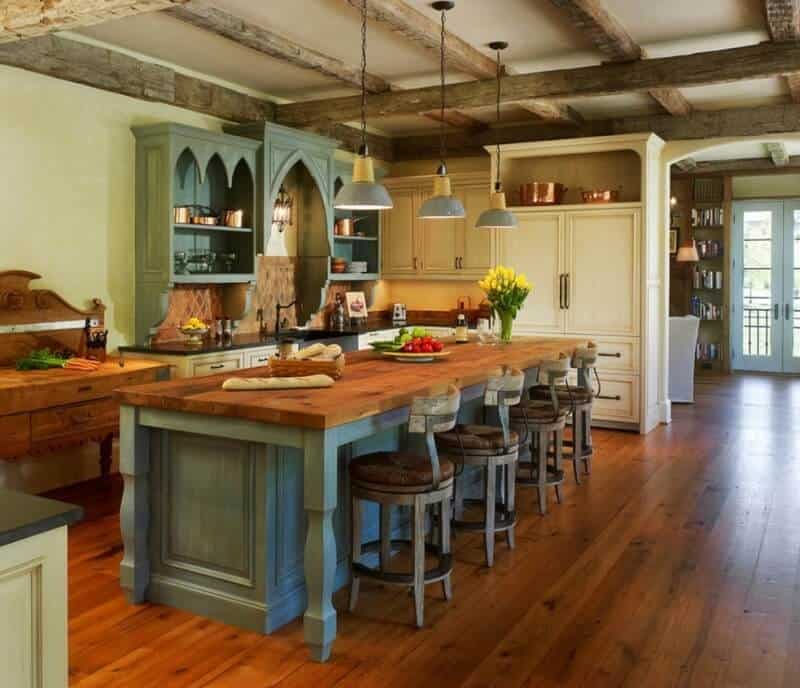 If you have a small kitchen, you may want to consider adding a built-in bench or barstools to one side of your kitchen island, which is such a simple but effective way. This will give you extra seating without taking up too much space. You can also use your island as extra counter space when you are cooking or entertaining.
This will create a natural gathering spot for friends and family and can be easily incorporated into any style of decor. For a truly unique look, try incorporating both a bench and barstools into your island design. This will give you the best of both worlds plenty of seating and a stylish, rustic look.
11. White Rustic Kitchen Island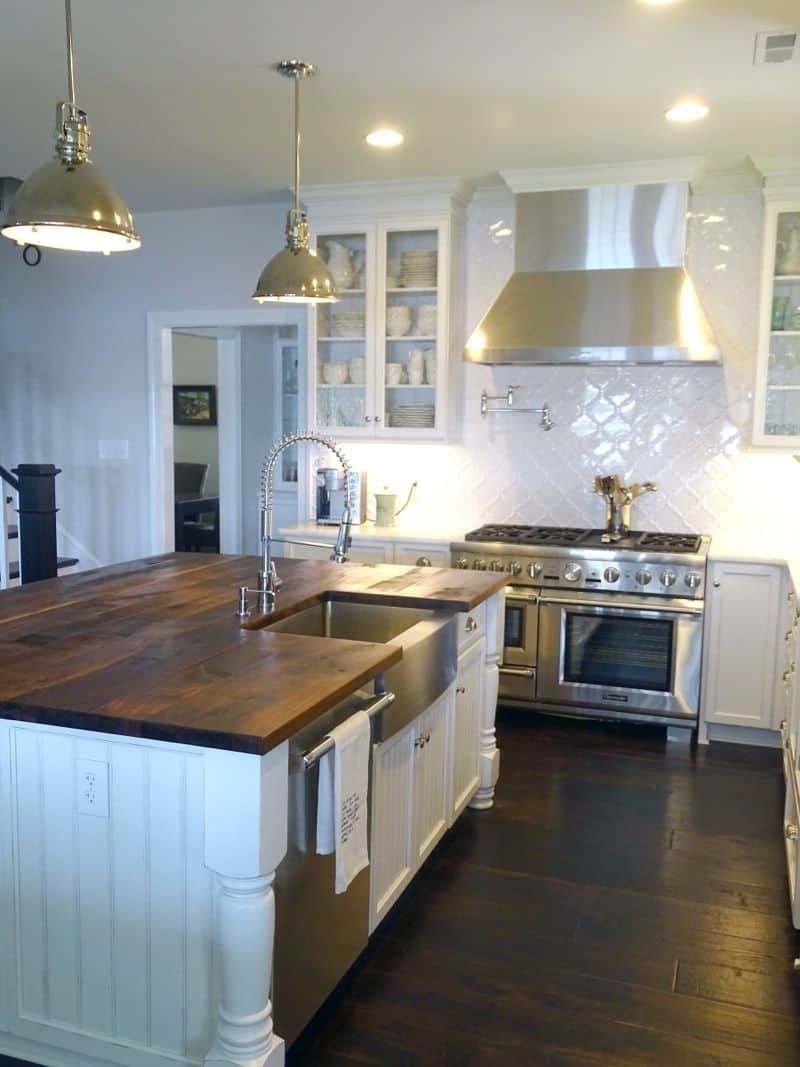 This kind of island brings a touch of country charm to any kitchen and can be easily incorporated into any design scheme. Plus, they're easy to clean and maintain. For a unique look, pair your white island with reclaimed wood countertops.
Reclaimed wood has a natural patina that adds character and warmth to any space, and it's the perfect complement to a white rustic kitchen island. If you're short on space, consider a smaller version of a white rustic kitchen island. A distressed white finish will give your island a farmhouse feel, while still providing plenty of prep space.
12. Unique Rustic Kitchen Island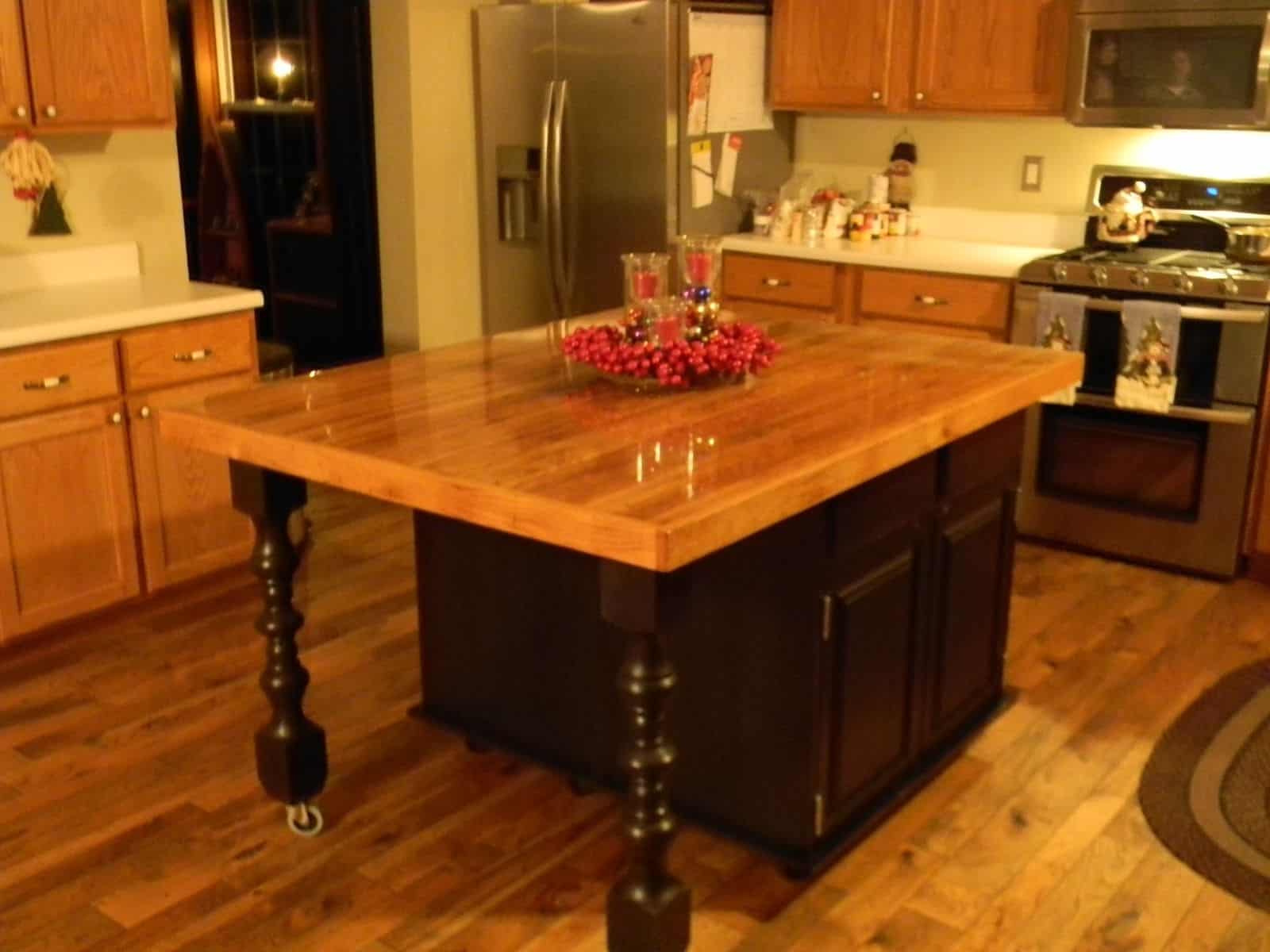 This unique kitchen island will be such a focal point in the kitchen and still be functional at the same time. Try repurposing an old piece of furniture, such as an antique dresser or buffet.
Give it a new coat of paint or stain and add some rustic hardware, and you'll have a stylish and unique island that's full of character. You could also use reclaimed wood to create an island top that has a rustic patina. The rustic hardware installation will accentuate the beauty of the rustic style in your feature.
13. Traditional Rustic Kitchen Island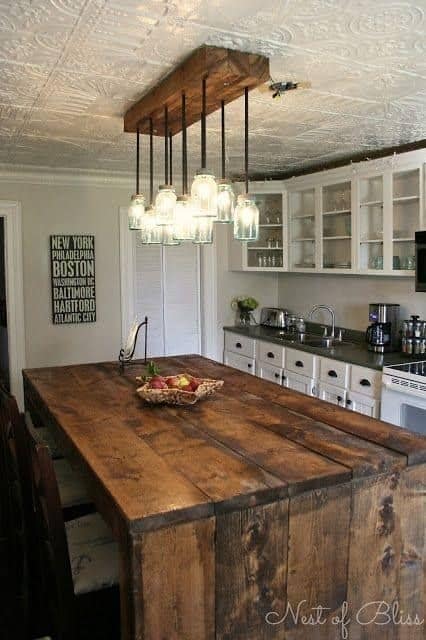 To create a more authentic and genuine kitchen, you can consider highlighting the traditional rustic look on your island by exposing natural texture by using different color or material.
You can use lumber from an old barn or even pallets that you've sanded down and refinished. The key is to make sure the wood is in good condition so it doesn't detract from the overall look of your kitchen.
Another great idea is to use antique pieces as part of your island design. For example, an old dresser or chest of drawers can be repurposed into a base for your countertop.
14. Use Metal Pipe For Industrial Kitchen Island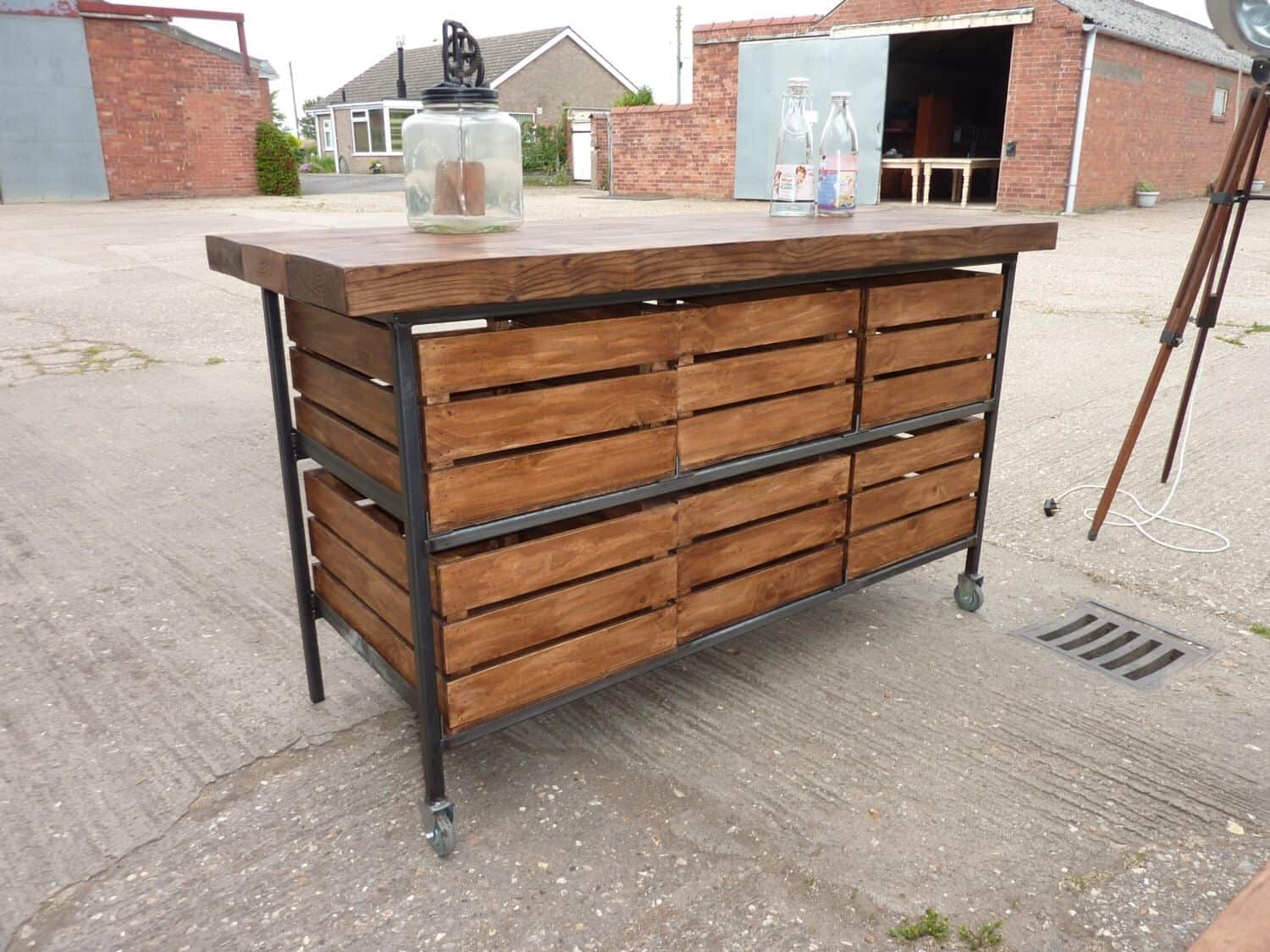 This can be a great DIY project, and you'll be able to customize the size and shape of your island to fit your space. You can also add shelves or cabinetry to your island for extra storage.
If money isn't really something issue in this area, then consider installing one of those farmhouse sinks instead; or hung metal pendant lights above your new kitchen island. It is so cute hanging above top quality hardware makes all things look gorgeous. Other than that, the metal pipe is also sturdy enough.
15. Simple Rustic Kitchen Designs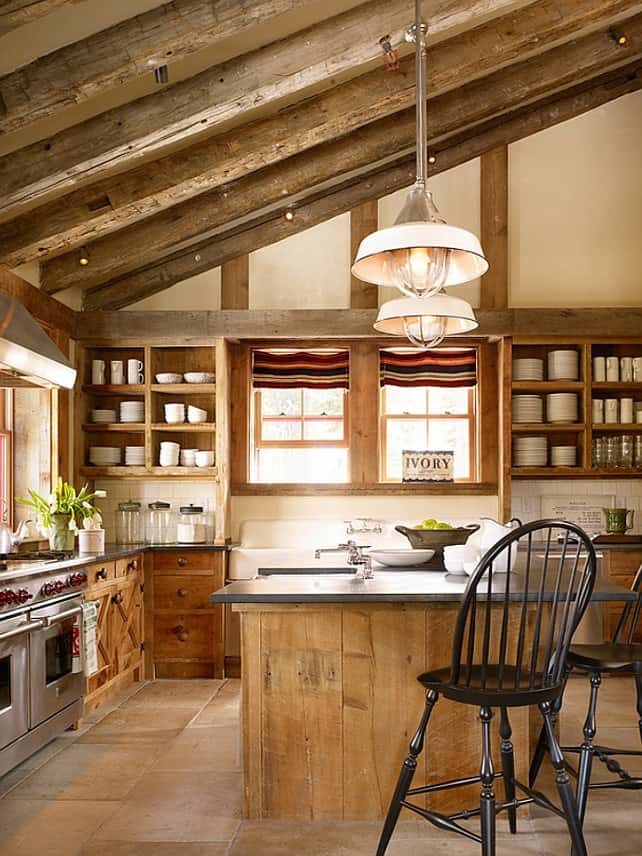 A simple project will be perfect if you are a beginner and planning to improve your woodworking skills. This type of island can be easily customized to fit your specific needs, and it adds a warm, rustic touch to any kitchen. Another popular option is a rustic kitchen island made from antique barn wood. It has a unique charm and it can be stained or painted to match your existing kitchen decor.
Supplies you will need:
Wood
Stain or paint
Woodworking tools
16. Minimalist Rustic Kitchen Island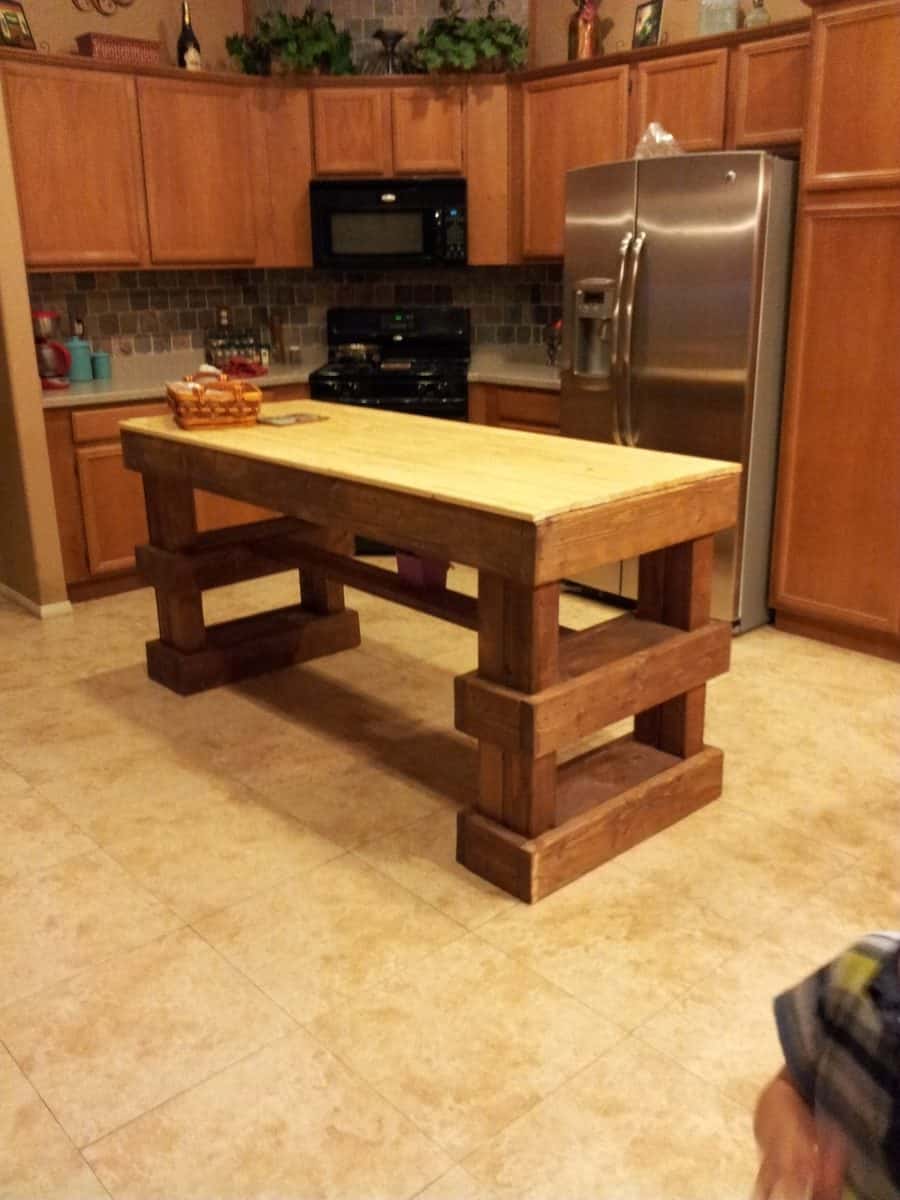 For a minimalist rustic look, opt for an island with a simple design and unfinished wood surfaces. Add some rustic flair to your kitchen with an island that features antique appliances and distressed finishes. If you want a more substantial island, look for one that has plenty of storage space and a large work surface. Try using unpainted wood or concrete for your island surface.
You can also bring in rustic elements with hardware and accessories. Antique copper or wrought iron fixtures will give your kitchen island a rustic feel, while vintage glass jars can be used to store utensils, spices, or other small items.
17. Small Rustic kitchen Island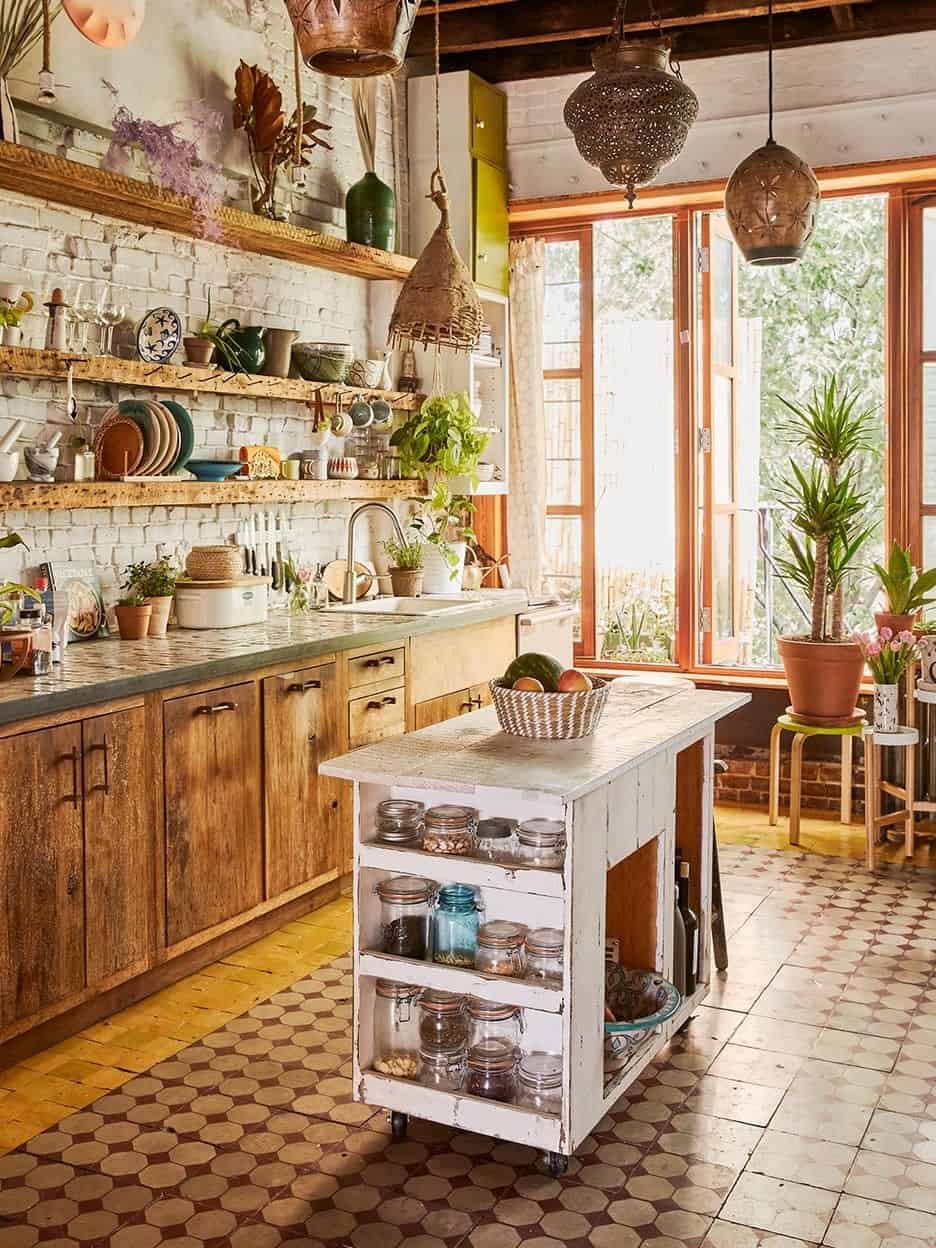 When you have to deal with the limited space in your house, then this small kitchen island is a perfect answer. Consider bringing in the small rolling island where you can move it as you wish. Also, they don't take up a lot of space.
No worries, with plenty of storage, this small island still working properly. You can use the countertop to prep your meals and store the other kitchen items underneath. Make it look better with a distressed finishing or simply let it be unpainted to expose its natural look.
18. Easy DIY Rustic Kitchen Island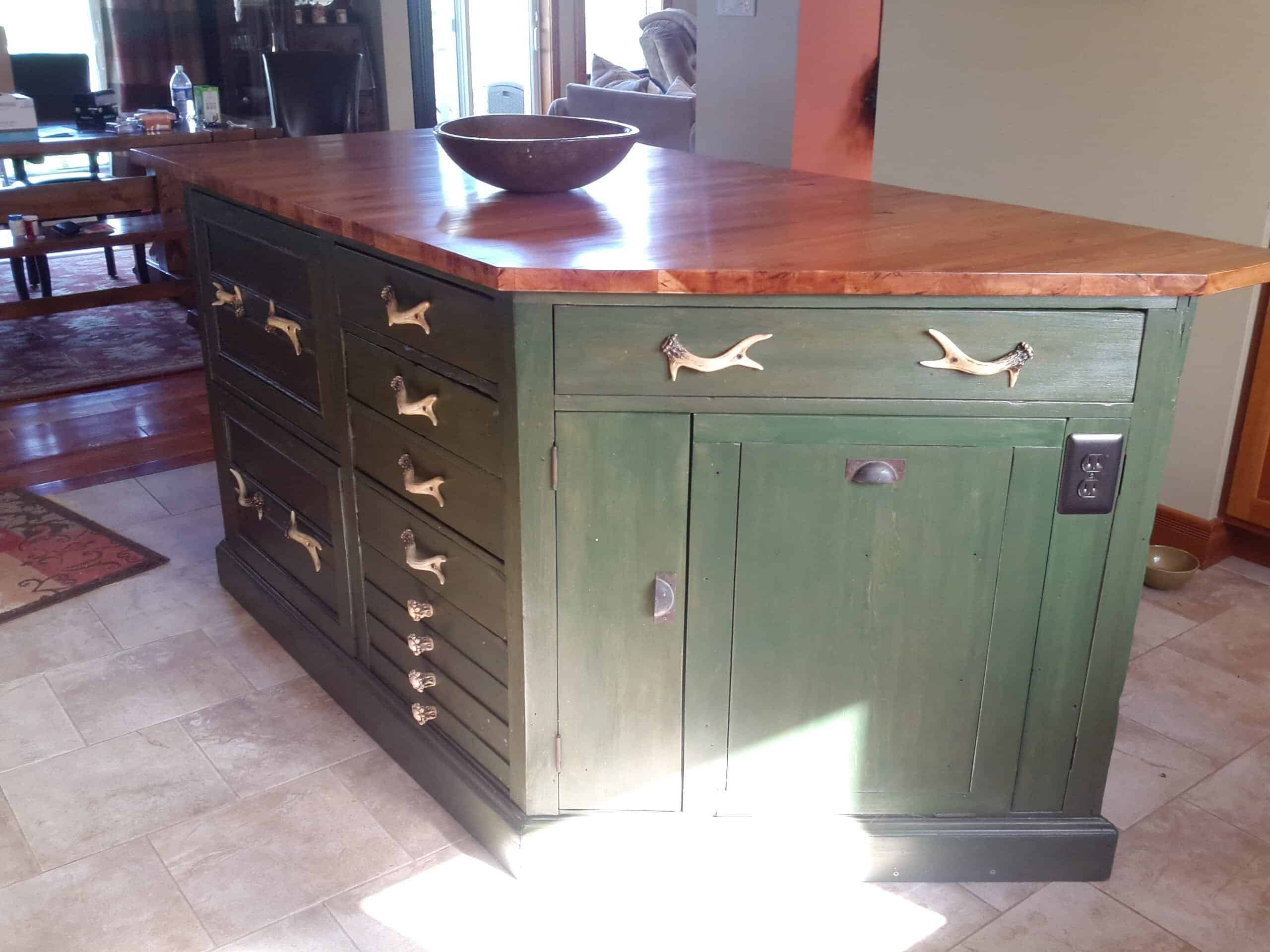 Without being an expert, you can make your own kitchen island. One of the easiest ways to create a rustic kitchen island is to start with an existing piece of furniture. An old dresser or cabinet makes an ideal base, and you can add whatever features you like. Plus, you could add some open shelves for displaying dishes or cookbooks, or include a wine rack or liquor cabinet.
Materials needed:
An old dresser or cabinet
Wood screws
L brackets
Drill
Saw (if necessary)
Paint or stain (optional)
19. Butcher Block Rustic Kitchen Island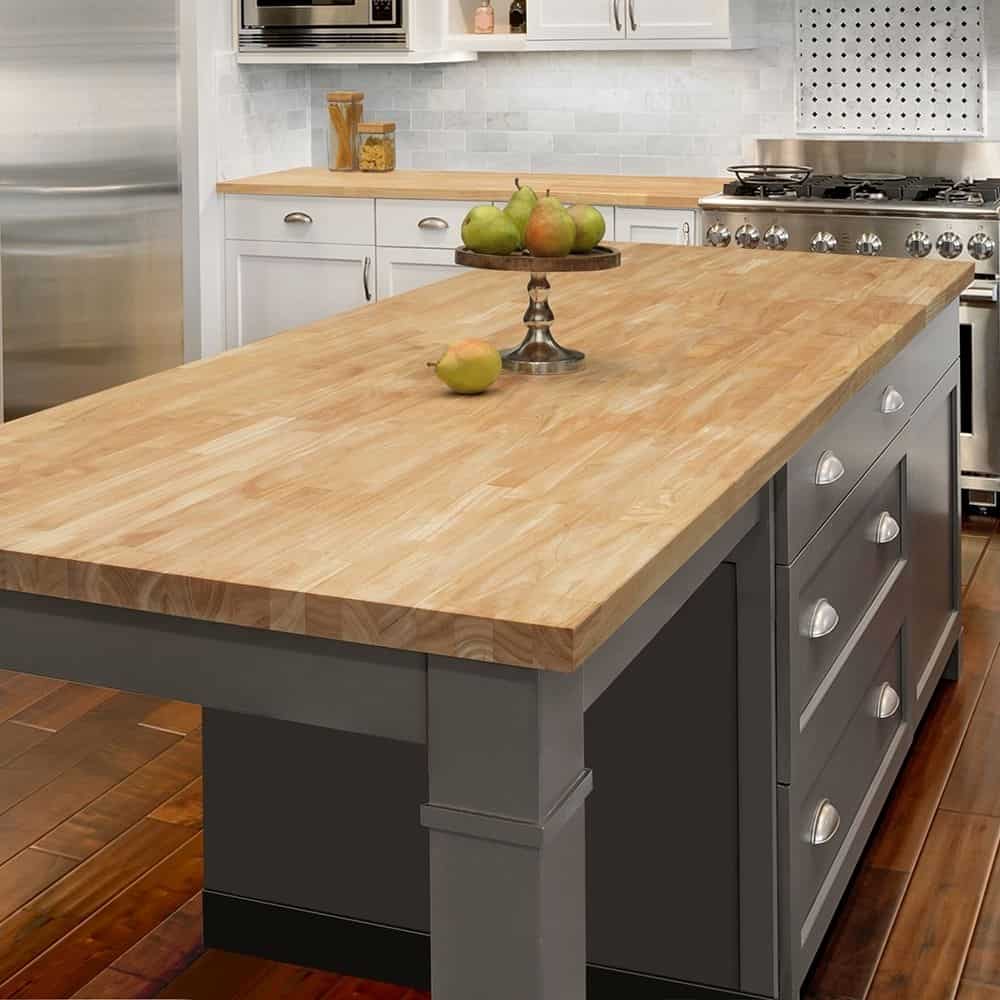 Butcher block is durable and easy to clean. It gives your kitchen island an old-fashioned look, which is perfect to complement the rustic feel. Butcher block islands are made from solid wood, typically with a distressed finish.
This gives them a rustic look that's perfect for a country-style kitchen. Butcher block islands are also incredibly functional. The smooth surface is ideal for prep work, and the extra storage space is perfect for storing pots and pans.
20. DIY Rustic Kitchen Island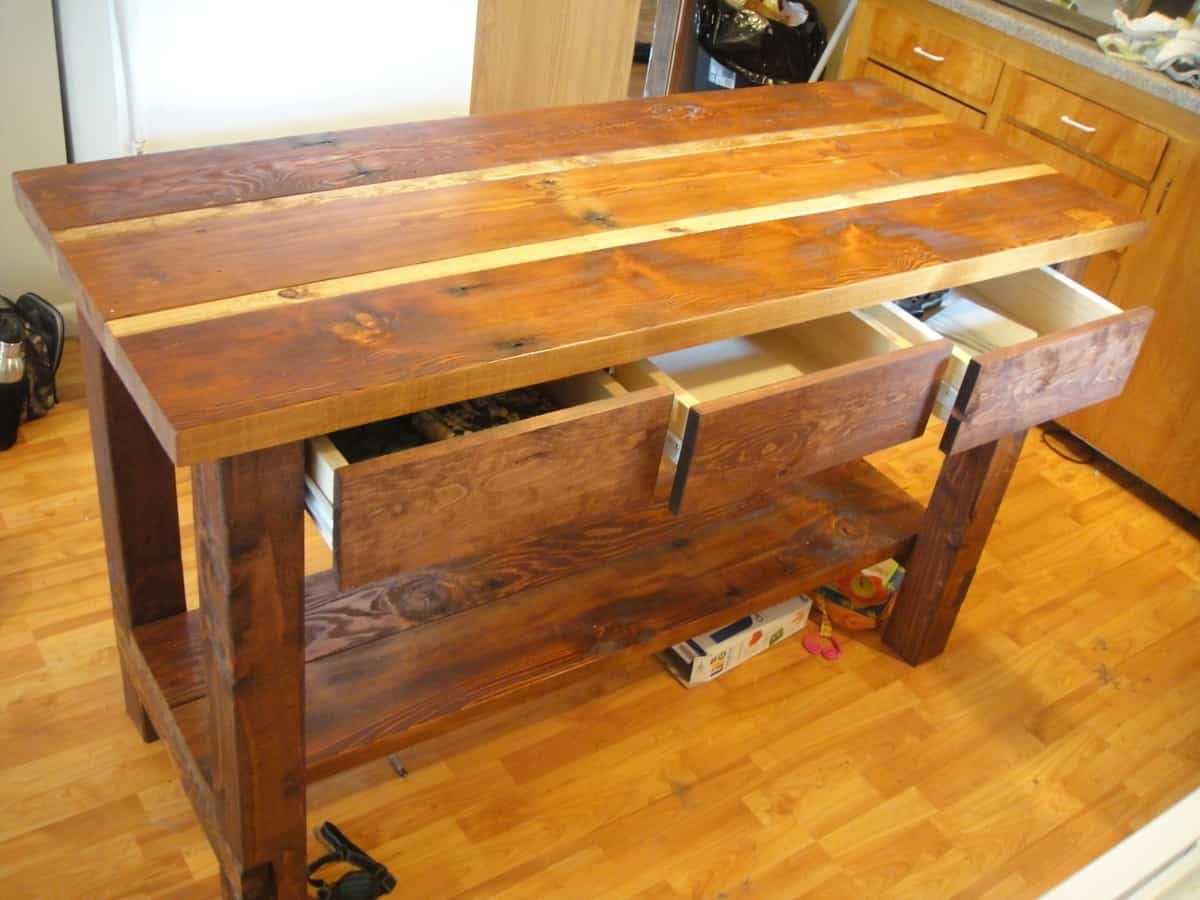 A DIY kitchen island might be the perfect solution if you are short on time and money. From beginner to expert, anyone can build a kitchen island with the right tools and instructions.
If you have some basic carpentry skills, this project should be a breeze. The first step is to gather your materials.
You will need:
Sheet of plywood
Saw
Nails or screws
Paint or stain
Sandpaper
Drill
Legs for the island
Next, cut your plywood to the desired size and shape. If you want a square or rectangle island, simply use a straightedge and saw. For a more rustic look, consider cutting the plywood into an irregular shape. Once you have your pieces cut, sand them down to create a smooth surface.
If you are adding legs to your island, now is the time to attach them. Once the legs are in place, flip the island over and drill holes for your nails or screws. Be sure to pre-drill the holes to avoid splitting the wood. Finally, paint or stain your island and add any final touches.
21. X Legs Rustic Kitchen Island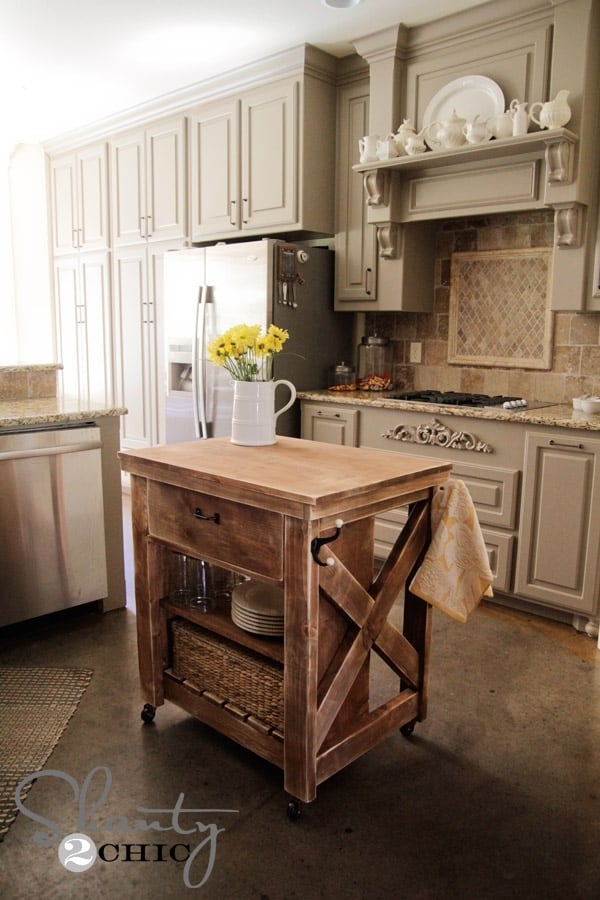 The X-shaped legs installation will provide you an extra stability. This type of island can add a unique touch to your kitchen while still being highly functional.
Without spending much money, this kind of island will be yours with the following materials:
Two by fours
Plywood
Stain or paint
Screws
L brackets
Wood glue
22. Elegant Style Rustic Kitchen Island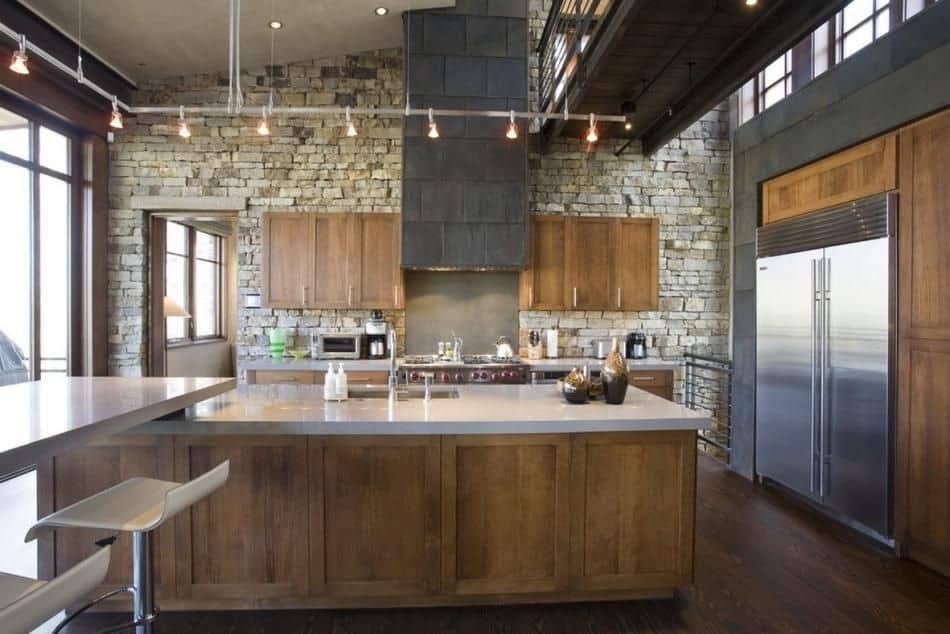 When the kitchen is an elegant rustic design, it's important to use rich and beautiful materials in order for them not only to look classy but also to feel like your home. One great way of doing this without breaking any bank account would be with reclaimed wood.
All you'll need from Ikea (or somewhere similar) are boards that measure around 60cm x 120 cm. These will make one side each a counter top/top surface alongside marble tile. You can distress the wood a bit if you'd like for that extra rustic touch that blends perfectly with an elegant flair.
23. Modern Rustic Kitchen Table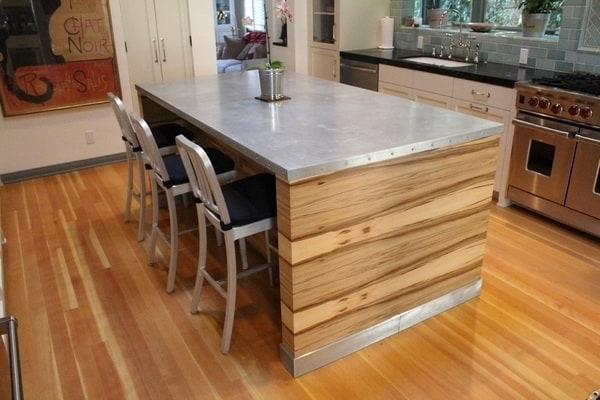 Infuse a modern flair to the rustic kitchen style by installing the stainless steel appliances and granite countertops. The combination of the sleek and natural material of the wood, which is exposing its beauty, creates an adorable look in the kitchen. This simple project will take less than a day to complete and will give your kitchen an updated look.
With a basic woodworking skill you have and the following materials, get ready to get yours.
Stainless steel appliances
Granite countertops
Simple woodworking skill
Basic materials like saw, screws, drill, etc.
24. Add The Stovetop To Cook Meals On The Spot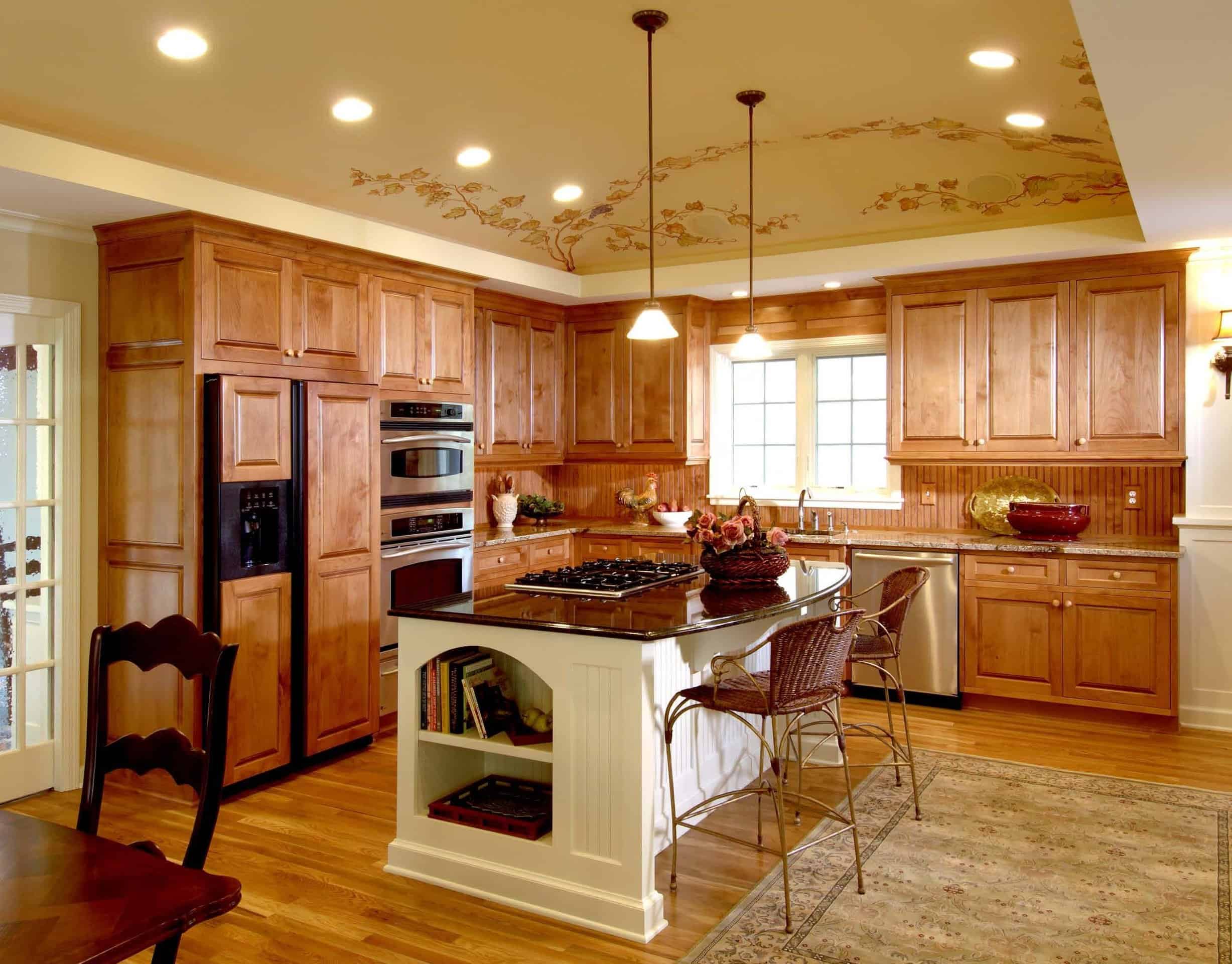 This will create a functional cooking space that can be used for everyday meals or entertaining guests. A stovetop island also provides a focal point for the room and can be decorated with unique accents, like a vintage pot rack or hanging utensils. Rustic kitchen islands are a great way to inject personality into your kitchen and make it a truly special space.
For a more functional feature, the wheels installation will let you cook wherever you wish easily. This will also come in handy if you want to change up the kitchen's layout or move the island to another room entirely.
25. Outdoor Rustic Kitchen Island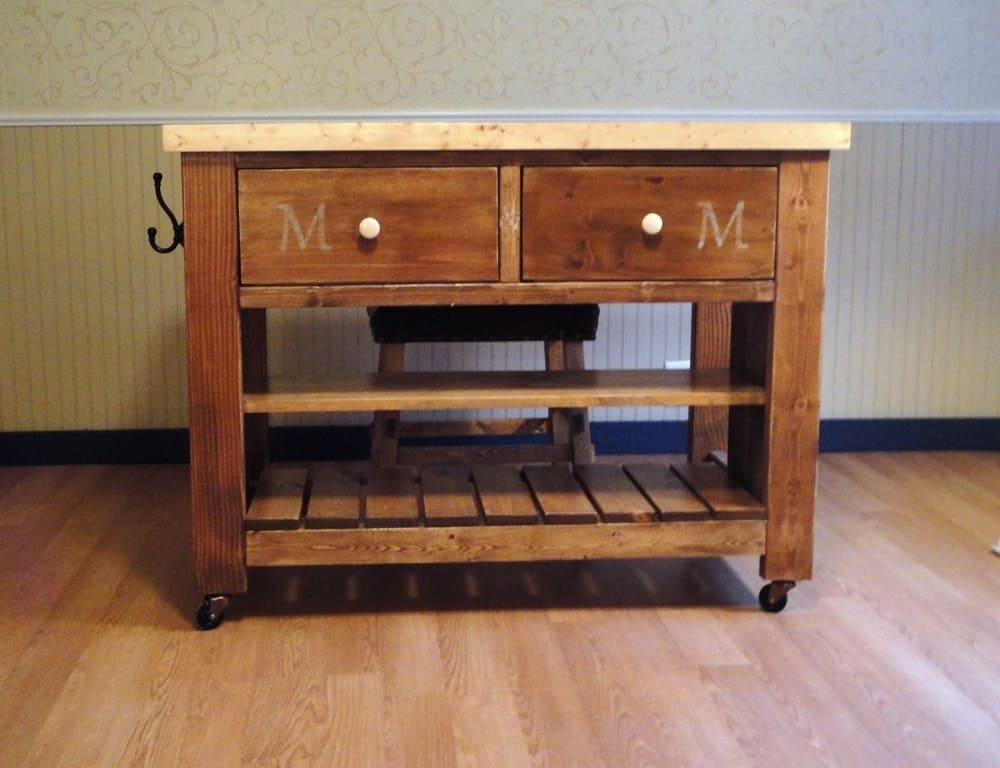 The outdoor rustic kitchen island offers you another possibility of cooking outside where you can enjoy the summer vibe. This project uses an old dresser that has been turned into a rustic kitchen island. You will need to sand and paint the dresser before you begin. Then, add some hooks to the sides for hanging utensils. Add wheels to the bottom of the dresser so that you can move it around easily.
26. Old Desk Rustic Kitchen Island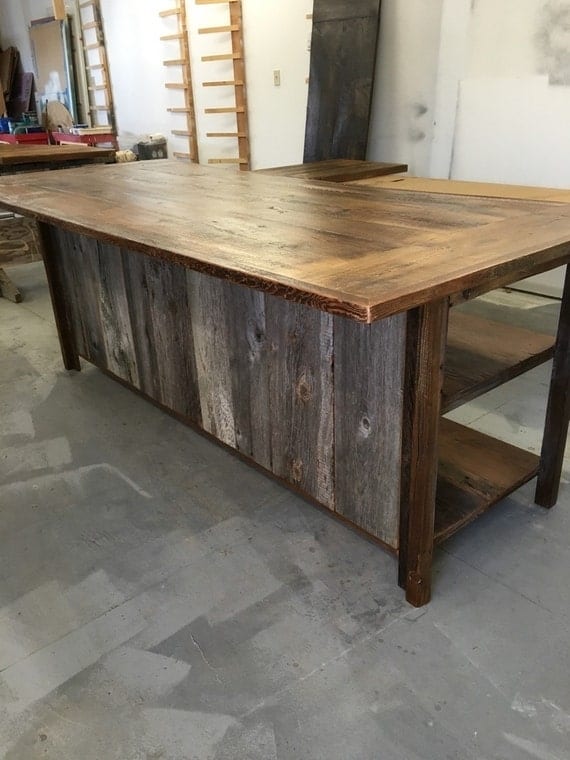 Upgrade your old desk kitchen island and transform it into the rustic style. To give your desk a rustic look, sand down the edges and paint or stain it in a distressed finish. Then, add some caster wheels to the legs so you can easily move it around your kitchen. Add some hooks to the sides for hanging towels or utensils, and you've got yourself a functional and stylish rustic kitchen island. Besides way more inexpensive than buying the brand new one, this project also accentuating the antique look in one.
27. Colorful Rustic Kitchen Island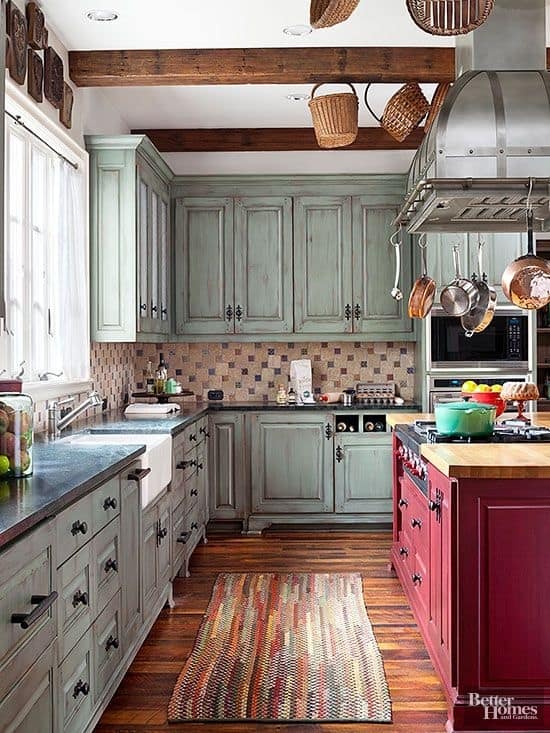 Bring in the cheerful vibe to the kitchen through the kitchen island, which is also functional to help you prep the meals and also keeping the kitchen utensils stay in place properly. This kitchen island is also a great space to have more storage in the form of cabinet kitchen and drawers.
The best thing about this design is that it can be easily made by repurposing an old dresser or even a set of drawers. And don't be afraid to mix and match styles. A few well-chosen antique pieces can give your kitchen an instant makeover.
28. Brick Rustic Kitchen Island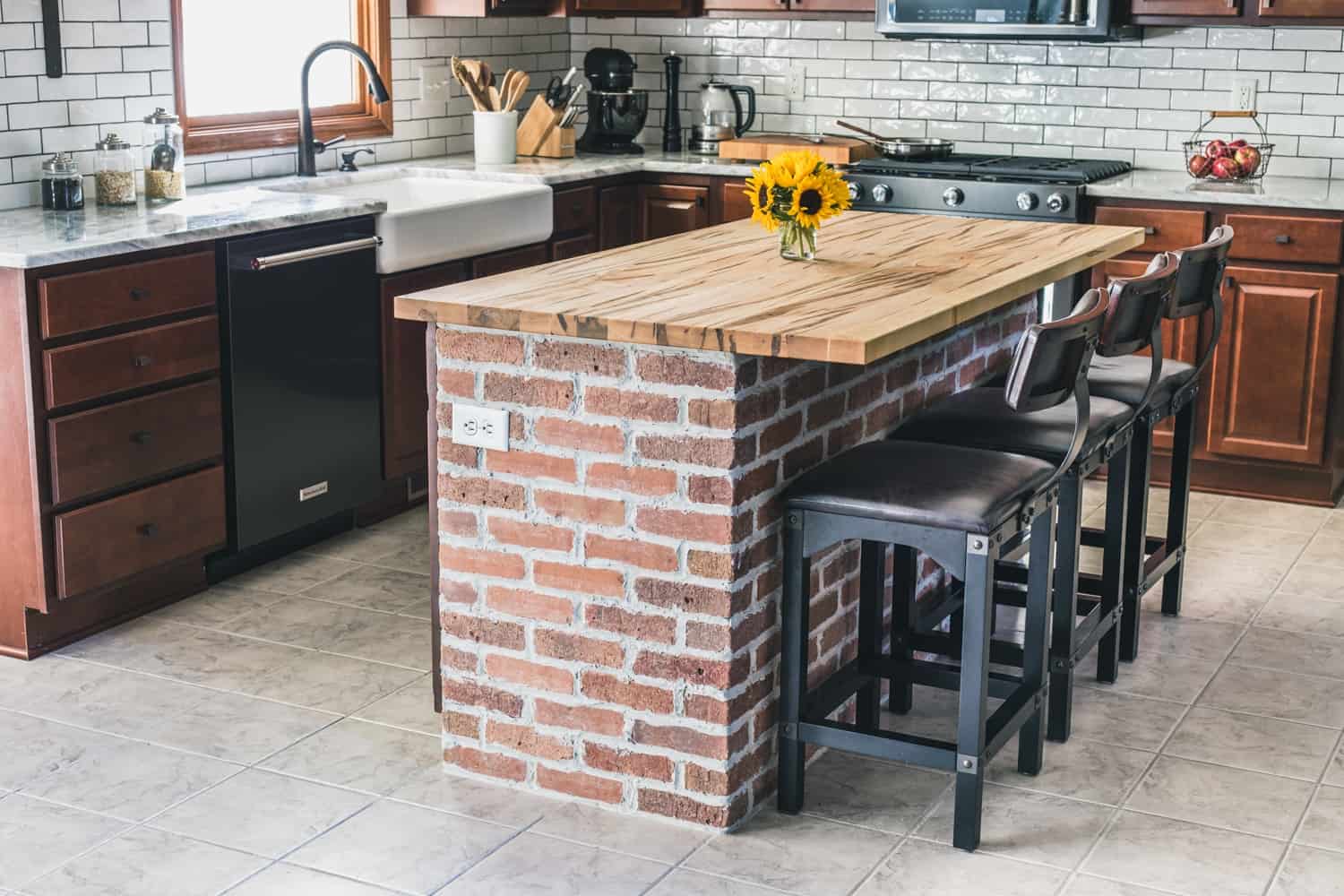 Brick rustic kitchen islands have a rough-hewn, old-world charm that you just can't find with any other material. If you're looking for a kitchen island that will give your kitchen a one-of-a-kind look, then a brick rustic kitchen island is definitely the way to go.
In addition to their distinctive look, brick rustic kitchen islands are also incredibly durable. They're practically impervious to heat, so you don't have to worry about them being damaged by hot pans or appliances. And if you do happen to damage one of the bricks, it's easy enough to replace.
29. Multifunction Rustic Kitchen Island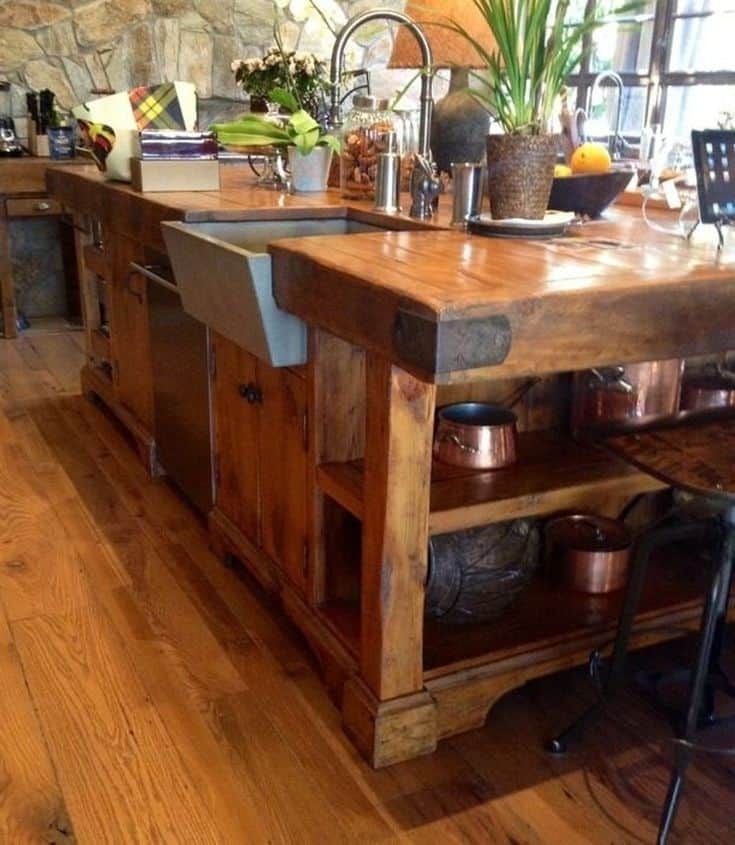 This island is designed to be both practical and stylish, with features like plenty of storage, a spacious countertop, and a built-in sink. It is also usually made from rustic materials like wood or stone, which helps to create an authentic country feel. With this kind of island, you will get an eye-catching feature in the heart of your house. Besides, it will come in handy when you have guests over or need extra prep space while cooking.
30. Portable Rustic Kitchen Island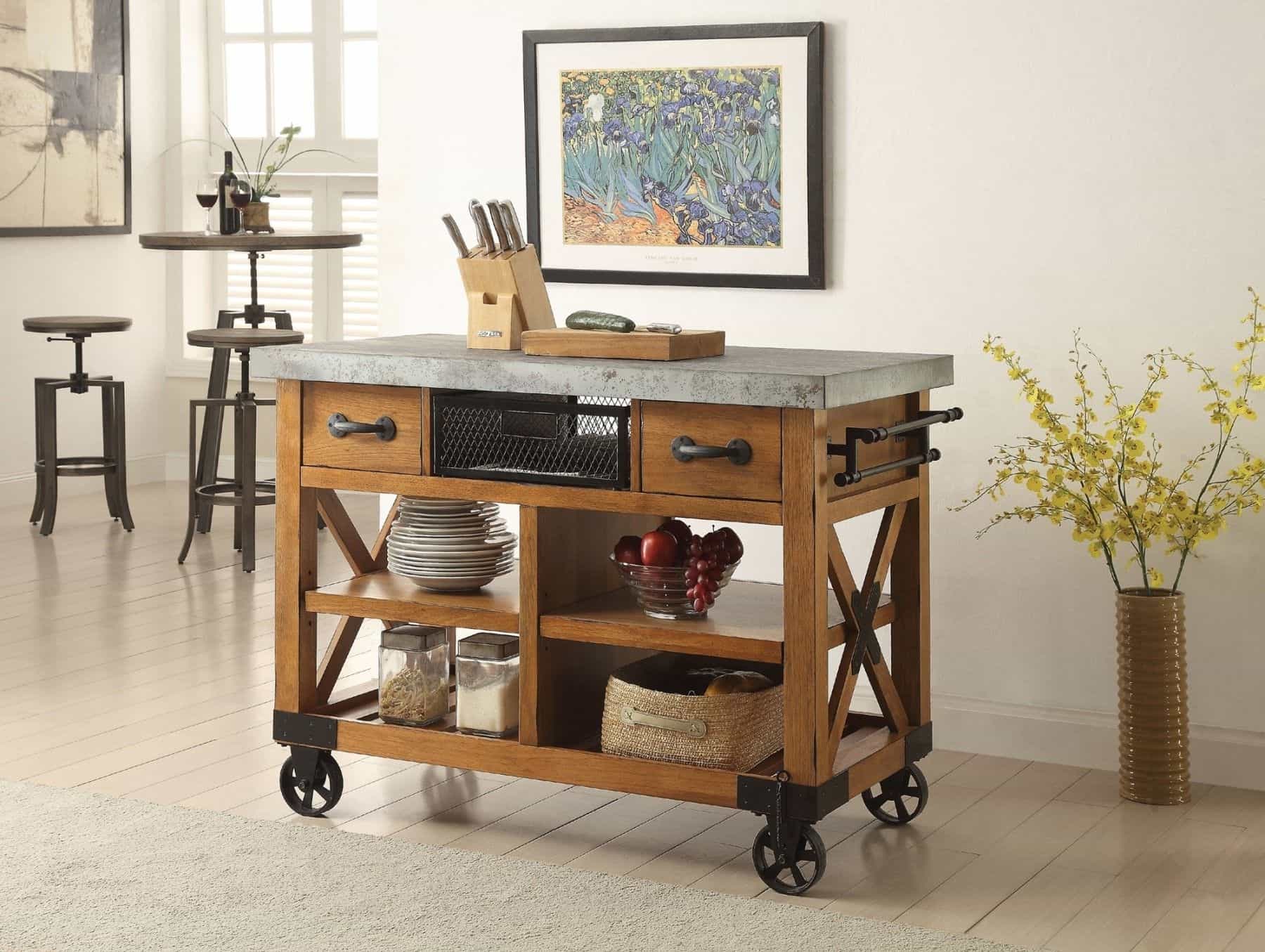 This kitchen cart is a great addition to any kitchen. It has a spice rack and towel holder for added convenience. The drawer is perfect for storing utensils and dinnerware. The cabinet space is great for storing small appliances, pots and pans.
The wheels make it easy to move around your kitchen, and the locking casters make it easy to keep it in place. The silver finish ring pulls on the drawer and doors add a touch of class. The hardware and instruction manual are included, making set up fast and easy. This kitchen cart is a great way to make your kitchen more organized and efficient.
Kitchen islands are a popular home renovation project because they offer so many benefits: extra counter space, storage, and seating. But if you're looking to add some rustic charm to your kitchen, why not try building your own island? It's easy and fun.