It is not a big deal to add a little bit of extra life to your room without completely emptying your bank. Only with some simple materials, you can make your own hanging planters you can make yourself.
Not only are they beautiful, but incorporating them into your existing décor allows you to express your style and increase the vibrancy of any room.
We'll show you step by step how to make indoor and outdoor hanging planters using a broader range of materials than you might expect. You can choose to use metal for a sleek look, wood for a natural aesthetic, or even recycled materials for an environmentally friendly design.
1. Colorful Planters from Recycled Tin Can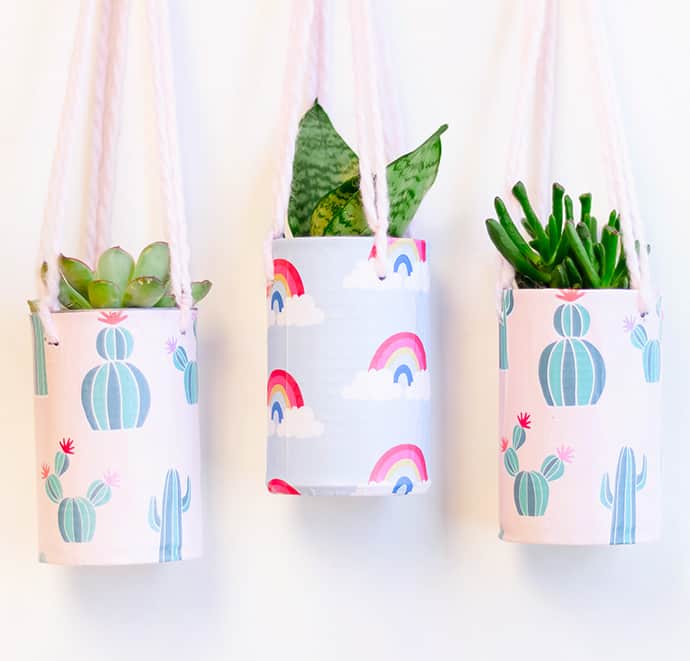 This hanging planter is made from a recycled tin can, making it a great eco-friendly option. All you need are a few items such as tin can, twine, potting soil, and of course a plant.
Simply empty the contents from the can and rinse it out. Cut four holes in the upper edge for making the twine handles. Arrange the twine through these holes and make sure it's wearing them securely before tying a knot on each one so that your plant remains firmly suspended in its new home.
2. Hanging Planter from an Old Light Bulb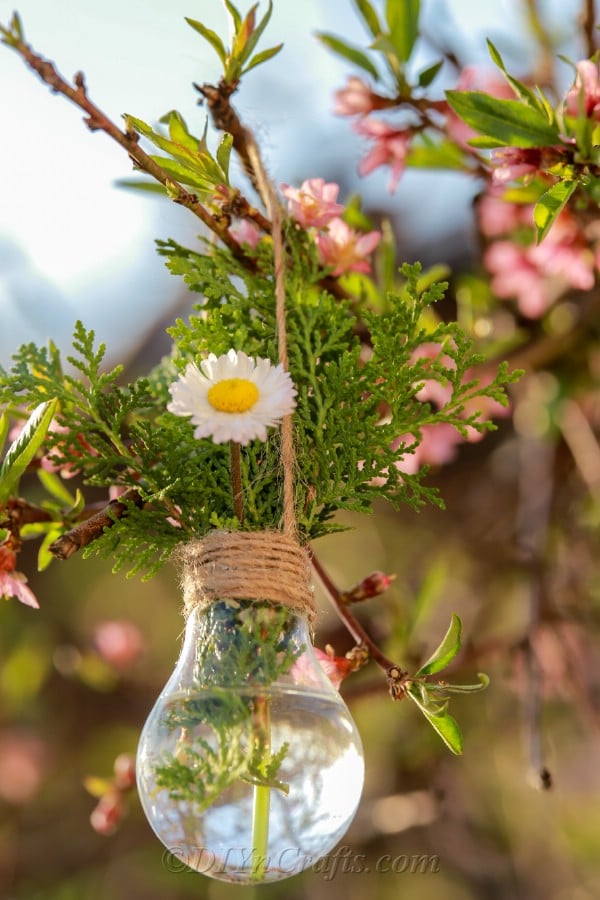 Create a beautiful hanging planter from an old lightbulb! It's easier than you might think and requires only a few simple items: an old light bulb, twine/string, a small screwdriver, scissors, soil/succulents, and an optional spray paint of your choice.
Begin by unscrewing the bottom of the old light bulb with the screwdriver. Then cut two pieces of string that is long enough to hang it at your desired height. Put enough dirt and succulents inside the body of the bulb until it is almost full, then tie the string around one of the edges so you can hang it up.
3. Hanging Planter from an Old Mug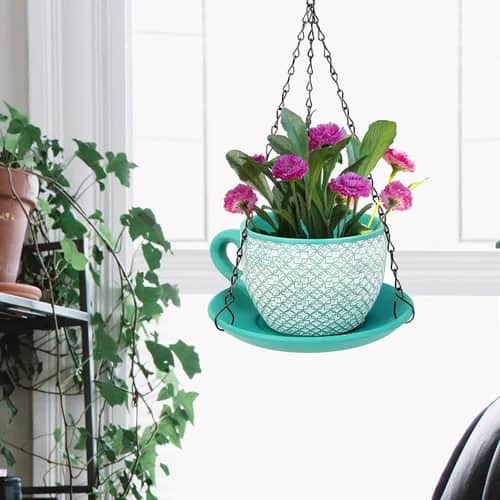 It's an easy way to add some natural beauty to your home while reducing your impact on the environment.
All you need is a mug with a handle, some chains, and whatever plant you'd like to put in it. Attach the chain at the plate and then use either a hook or a hanger in the ceiling. It takes just minutes and it can be done with most any kind of mug for an extra unique touch. Plus, plants will love it because this type of planter naturally has more drainage than other styles.
4. Hanging Planter from an Old Book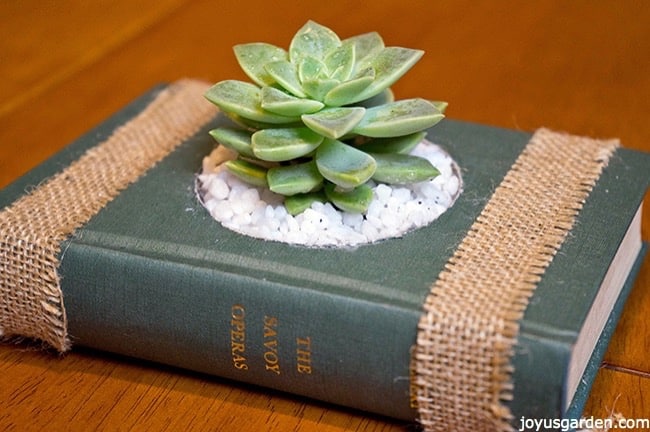 One idea is to make a statement by re-purposing old books into unique hanging planters. All you need is some sisal rope, a few pieces of wood, and your favorite plant.
Start by cutting the pages out of the book, making sure not to damage the spine. Attach the pieces of wood to each side of the cover with a binding knot. This will act as your support structure. Thread a piece of durable thread or twine through each end, making sure it's secure. Finally, insert your favorite leafy friend along with some potting soil and place it wherever you want.
5. Hanging Planter from an Old Tire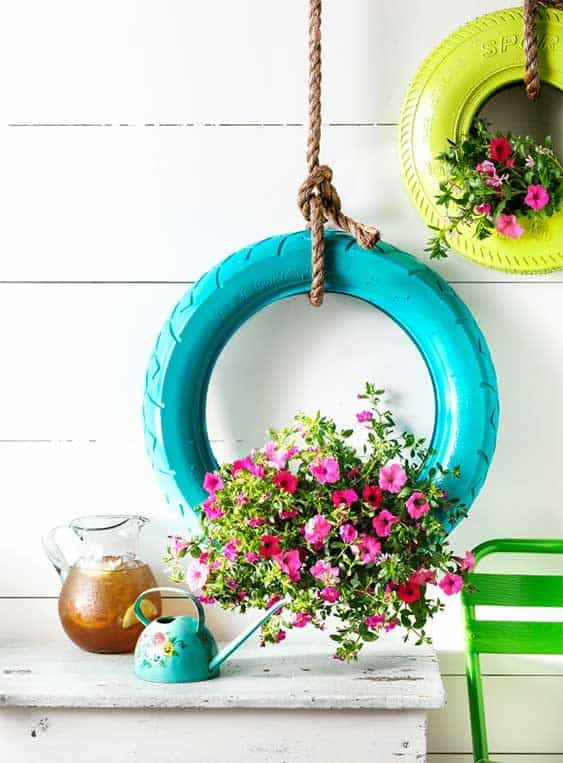 This planter project is easy to complete with the right supplies and even if you are a beginner in DIYing. You only need to get the old tire and clean it. Drill drainage holes before you start painting it with your favorite color to make it look eye-catching. When it's perfectly dry, plant the desired flowers, then you can hang it with strong ropes or strings.
6. Mason Jar Planter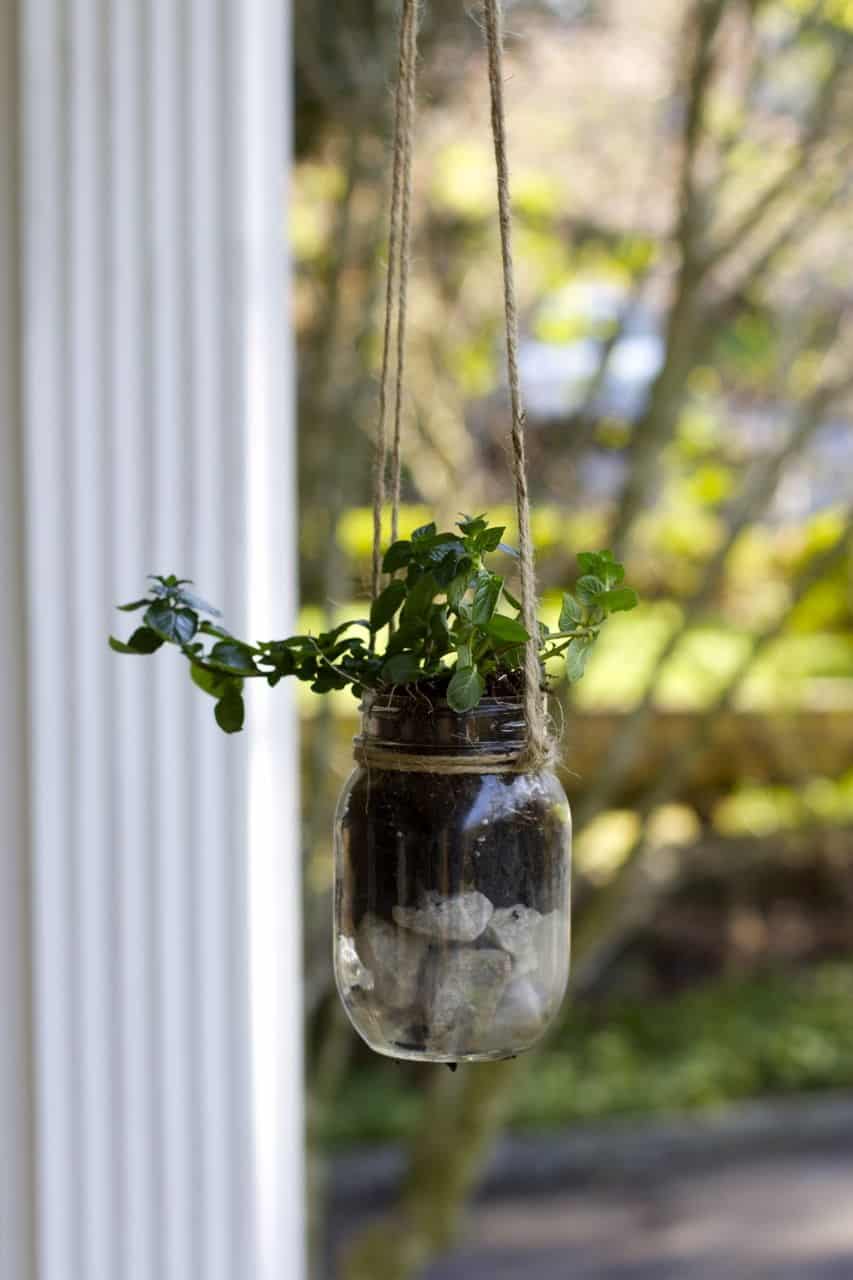 With the help of some basic crafting supplies plus a few mason jars, you can easily create an eye-catching décor piece you will adore. Just get creative and attach them to an elegant rope or twine and hang it up on your wall, window or ceiling.
All you need is a mason jar, some wire, and a hook. Simply attach the wire to the top of the mason jar and then hang it from the hook. You can use any type of plant that you like, but succulents work well in this type of planter.
7. Wooden Crate Rustic Planter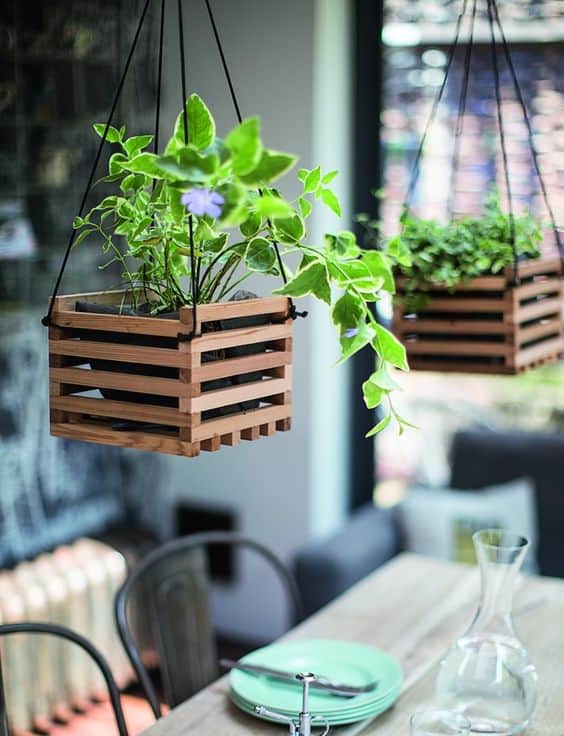 A wooden crate planter is the perfect way to bring some greenery indoors. To make this project as easy as possible, try using rope or string to hang it from the ceiling or wall.
You won't even have to worry about any tools since rope can easily be hung without needing to drill or hammer anything. Plus, rope can give an added artisanal detail that will really complete the look and feel of your room. With rope and a stunning wooden crate planter, you're sure to enjoy your new addition for years to come.
8. Hanging Basket Planter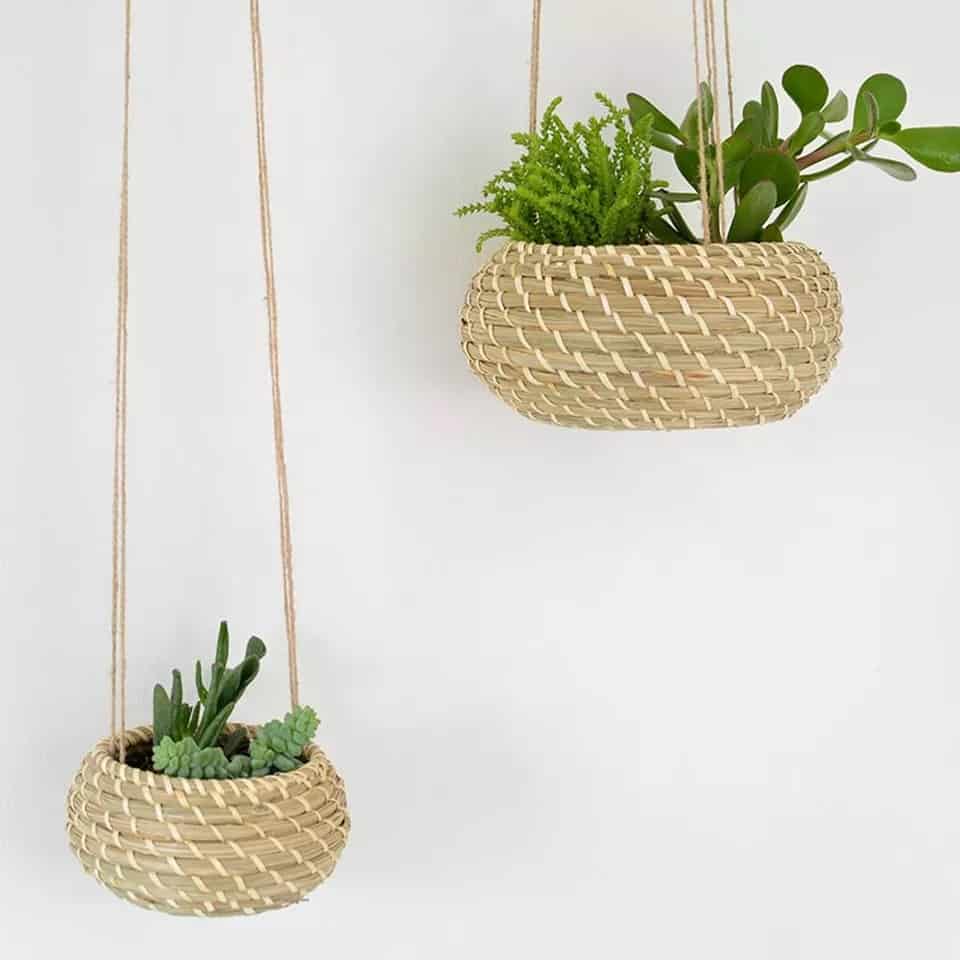 It's a fun and easy project that anyone can do with just some basic materials and tools. You simply attach the wire basket holding your plants to the ceiling or a beam, add in soil and some beautiful blooms. Now you have an eye-catching addition to your garden.
Whether you hang it on your deck, patio or inside your home, the infinite varieties of plants available will not only make your space look beautiful but also turn it into a lush oasis.
9. Copper Rod Planter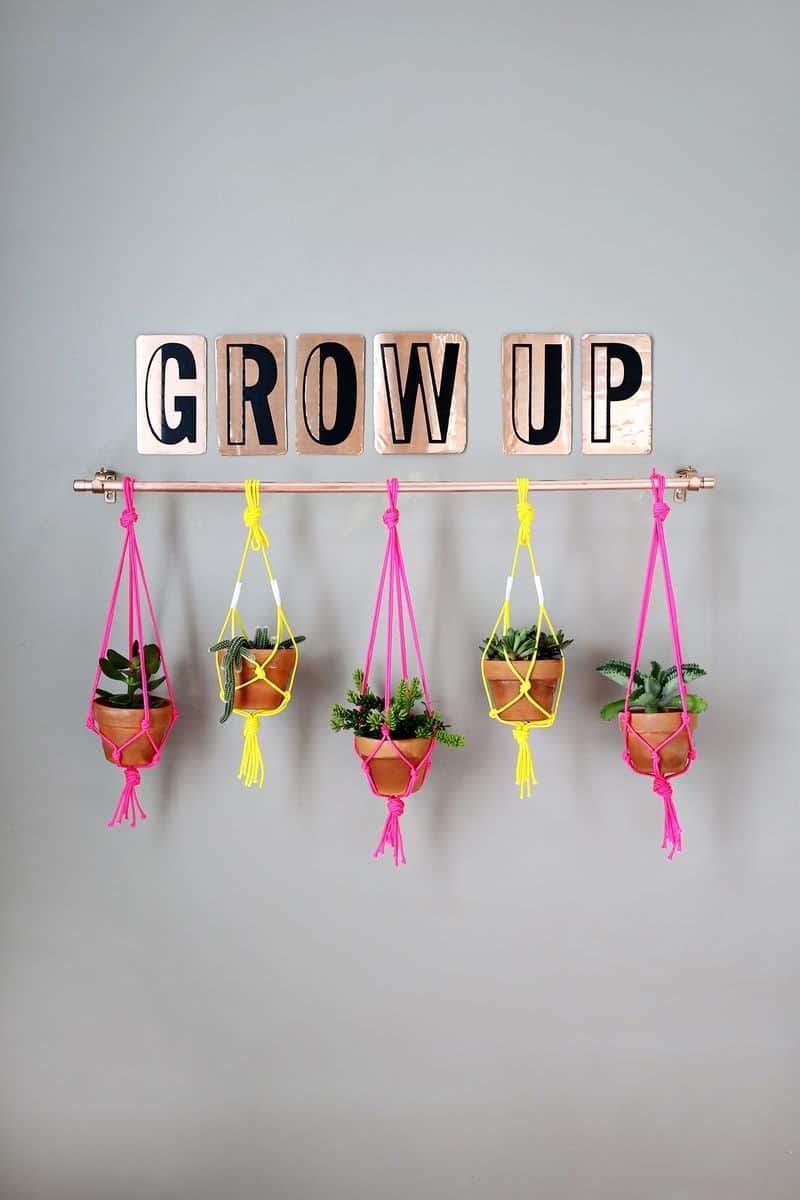 You can easily make these copper pipe planters with basic tools, copper pipes, and air plants. Simply cut the copper pipes into the desired length then solder them together to create your own custom-made hanging planter.
The one caveat is that you need patience when soldering since it requires precision. Once it's done, your new planter will be totally unique and the perfect addition to any living or outdoor space.
10. Macrame Plant Hanger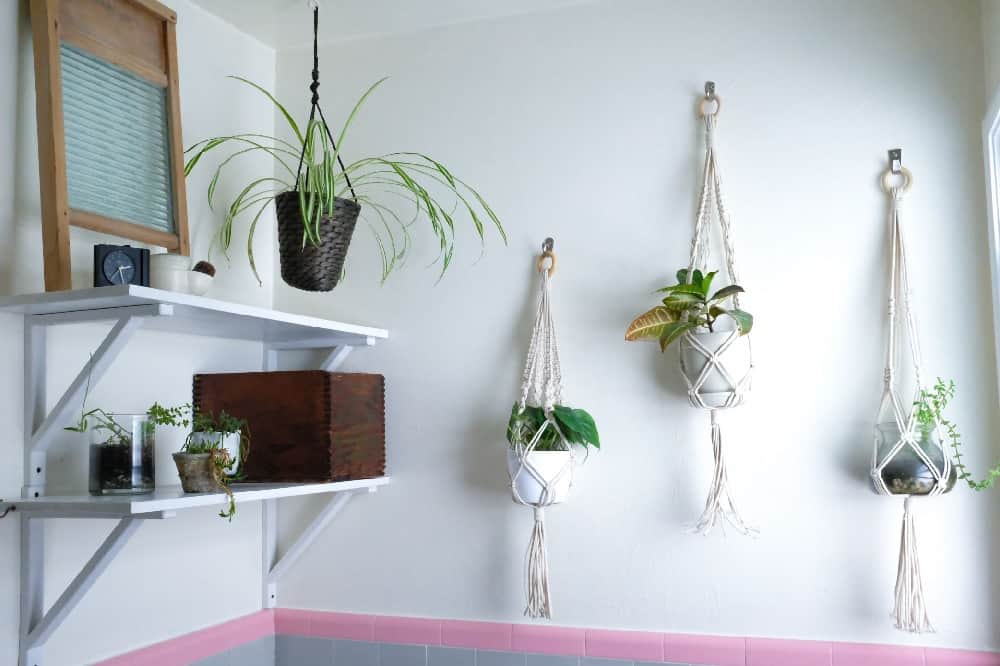 This DIY project is something that anyone can do with only a few basic materials. All you need is some macrame cord, a wooden ring, and of course, a pretty plant. Once you've gathered all the essentials for your plant hanger, grab a comfy chair and get lost in the petite knots and clever patterns of this modern boho trend.
11. DIY Hanging Planter Ideas: Industrial Style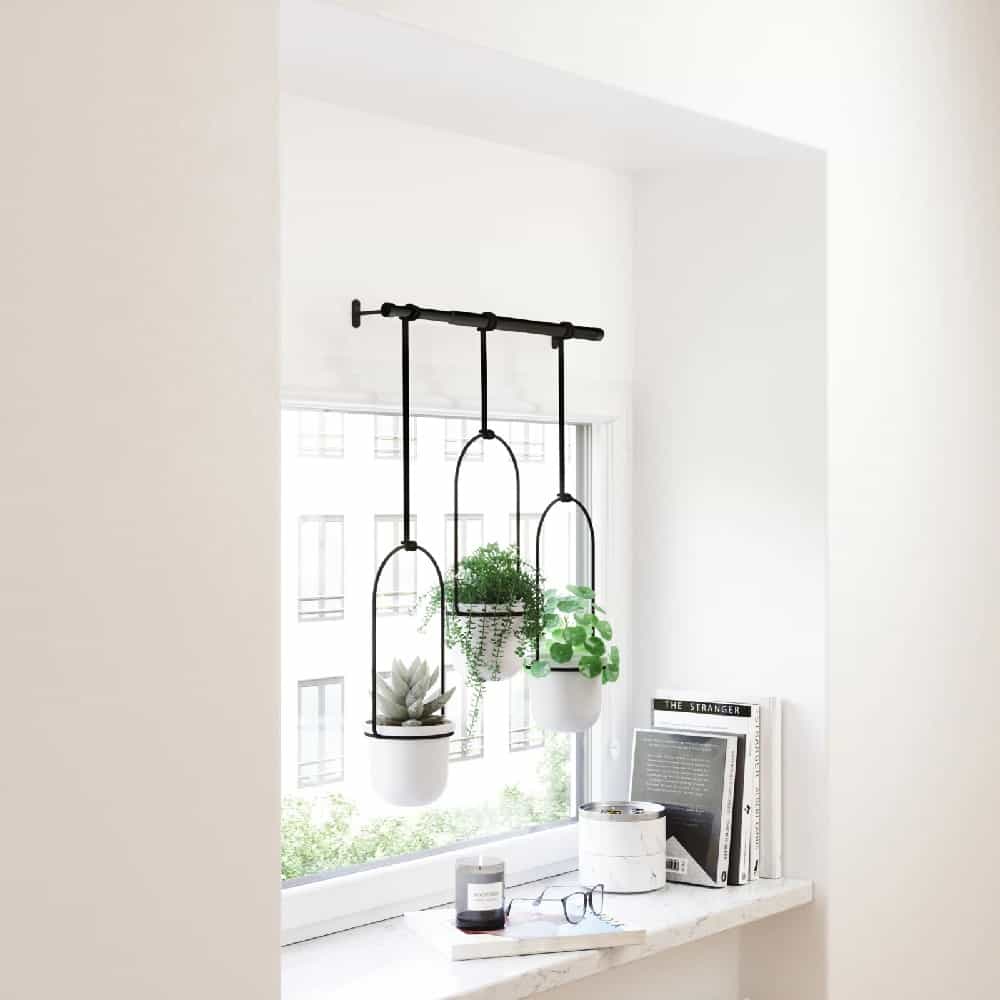 Create an eye-catching piece using pipe and other pipe fittings from your local hardware store. Connect the pipe at angles and shapes of your desire to make a custom geometric design.
Choose from a wide variety of pipe colors or paint it in any hue you wish for a personal touch. You can choose to hang several at once for a delightful display or simply one for a dramatic effect. Add plants, succulents, or flowers to your planter for an energizing addition of nature in your industrial themed space.
12. Wooden Drift Hanging Planter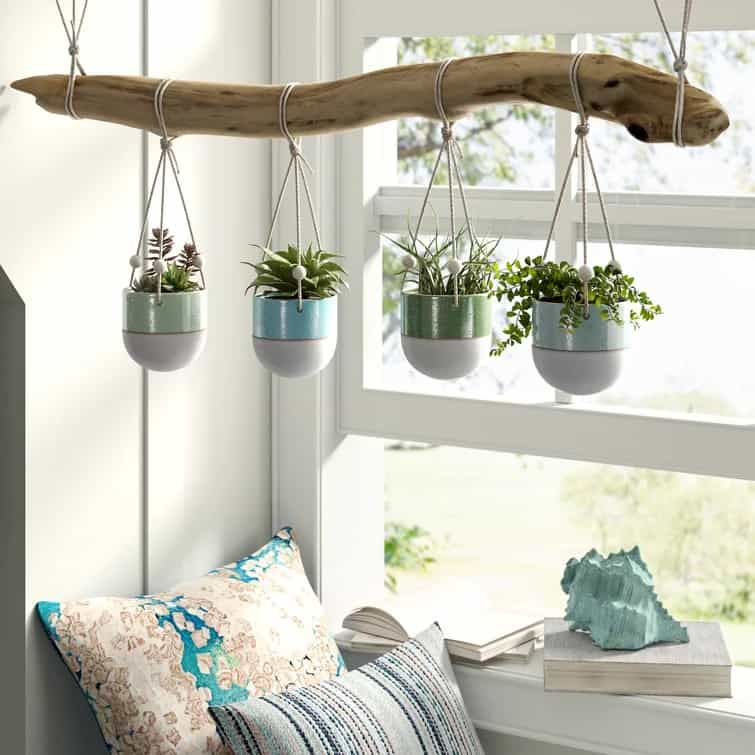 Designed to look like a nautical buoy, this hanging planter is easy to put together and adds a unique distinction to your living space with its nautical style.
All you'll need is some wood, rope, and some nautical-style décor paint. Put it all together and you'll have a unique piece of art that will complement any space. Just fill it with your favorite plants and admire your handiwork.
13. Hanging Bottle Succulent Planter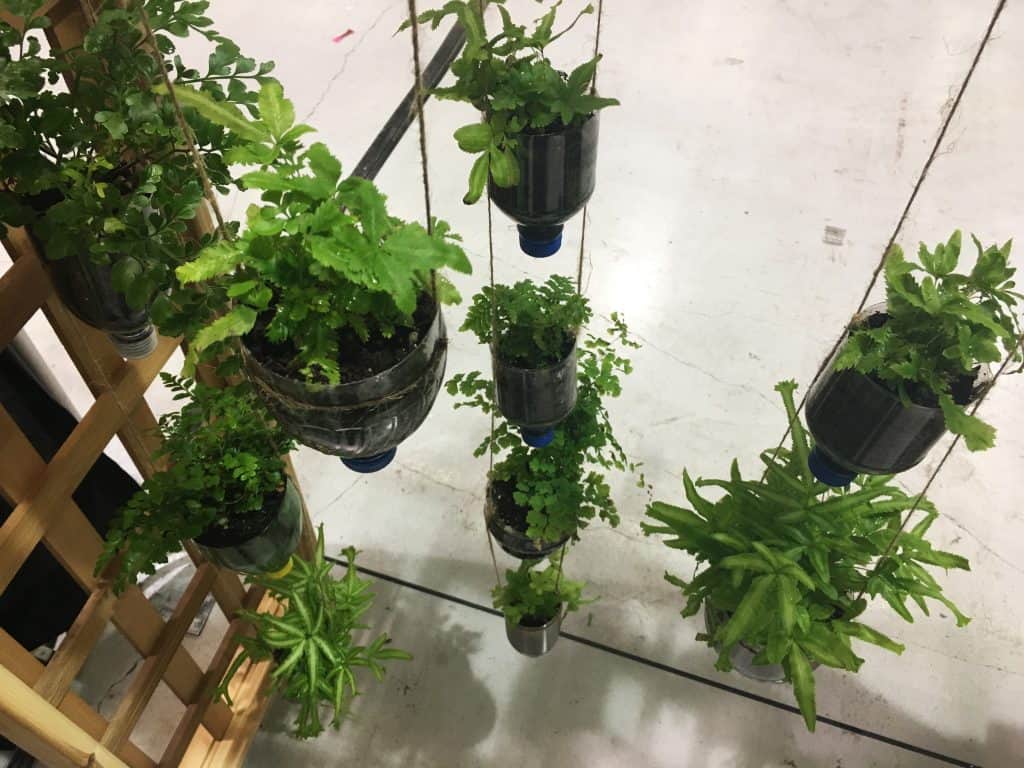 Upcycle the plastic bottle in your house and transform it into a mini hanging planter. All you need is some plastic bottle, rope, soil, succulents to grow, and paint if you want to make it look eye-catching. Drill four holes into the bottle and hang it up with strong twine or string.
Make sure to add drainage at the bottom so that your plants won't become waterlogged. Then, fill the bottle with soil, add your succulents, and give it some sunshine.
14. Hanging Coffee Cup Planter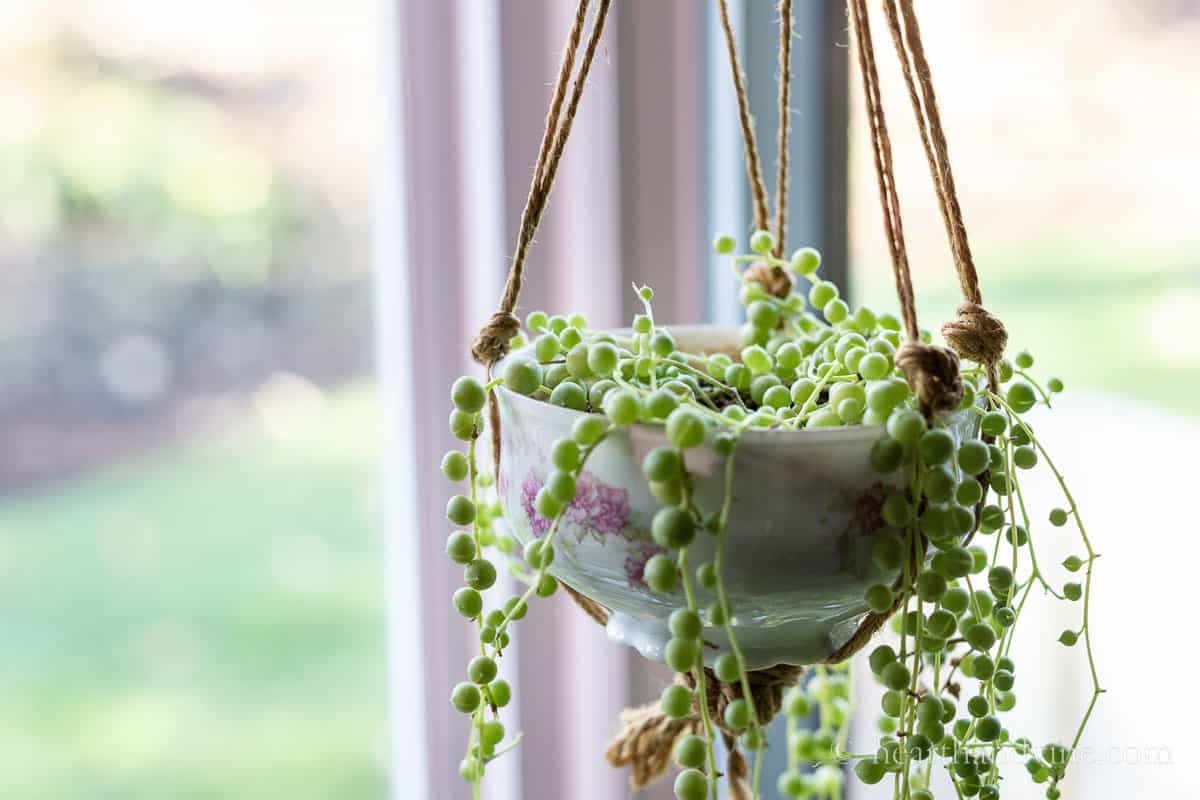 Make use of the old and unused coffee cup in your house that can be a cool hanging planter. It looks awesome and can add an extra touch to any room; plus, it's super easy to do. All it takes is a cup, some hooks or nails, and a potting mix or soilless mix for succulents.
First, you need to make drainage holes in the coffee cup, then you can fill it with potting mix and arrange your plants. Once done, just hang the cup with hooks or nails on the wall or ceiling of your room.
15. Colorful Hanging Planters with Yarns and Ropes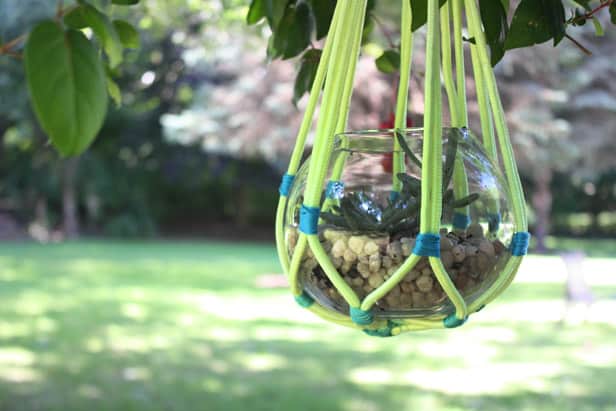 Creating beautiful hanging planters at home with yarns and ropes is an easy, fun, and inexpensive way to dress up any outdoor space. With just a few materials, some imagination, and a bit of elbow grease you can craft vibrant pots that are as unique as your garden.
Start by getting creative with the type of rope or yarn you use for your project. Then mix and match various textures, such as frayed rope, tassels and knotted cords, and get creative with shape and size for added flair.
16. Hanging Planter with Faux Leather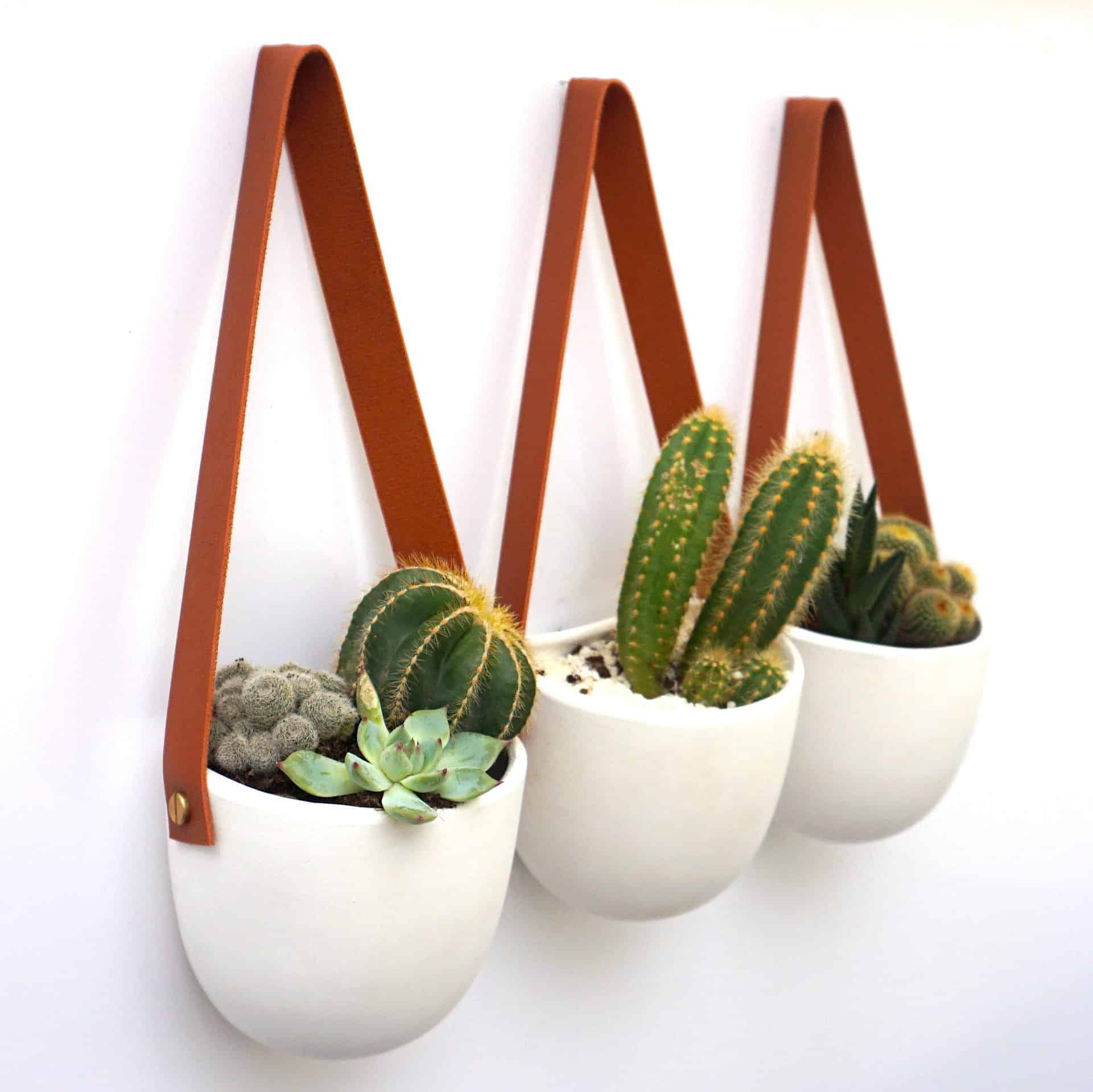 Add a touch of the beauty of a stylish and minimalistic look through the hanging planter made out of faux leather. The simple, classic shape will bring any room to life and the faux leather adds a touch of luxury.
This planter is perfect for those who want something that's both practical and aesthetically pleasing. You can hang this outside or in, depending on what type of look you're going for, and it's sure to bring a smile to your face.
17. Hanging Succulents Planters in an Embroidery Hoop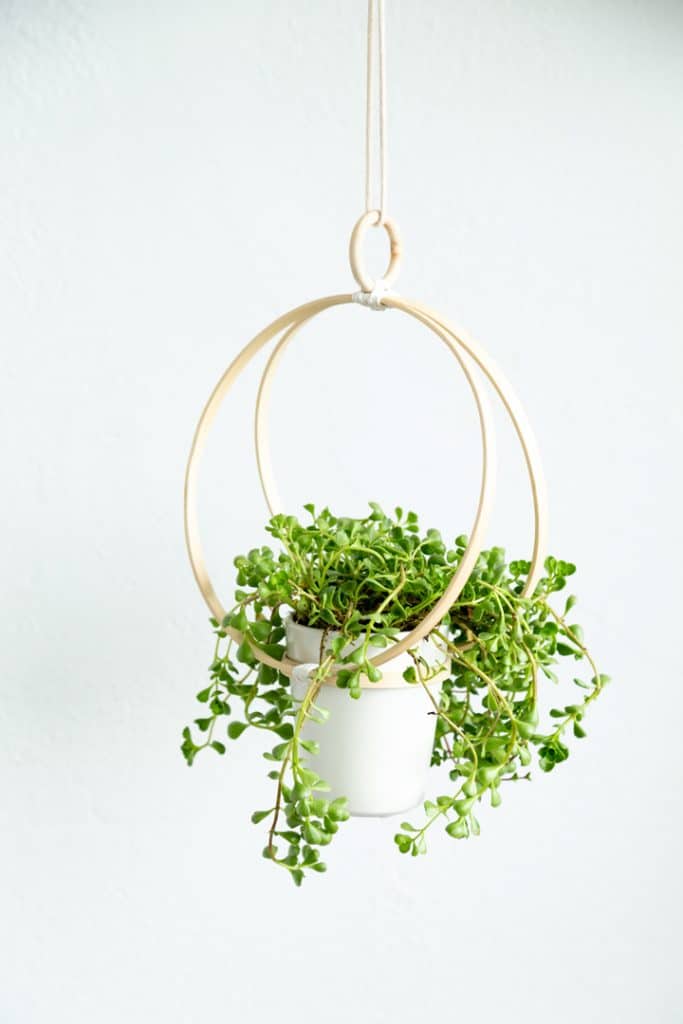 The embroidery hoop can be such an a great option to inject the beauty of minimalist touch to your living space without lots of things to do. You can use a simple wooden hoop for a rustic look, or paint one for color and fun. Use cloth liner to cover the inside of the hoop, securing it with hot glue.
Waterproof fabric adds extra protection so that you don't have to worry about water drips ruining your space. Fill the linen-lined hoop with potting soil and plant cactus cuttings or succulent plants of your choice. Hang in any area where they will get some light and watch them thrive as they continue to grow in this unique setting.
18. Wall-Mounted Pocket Planter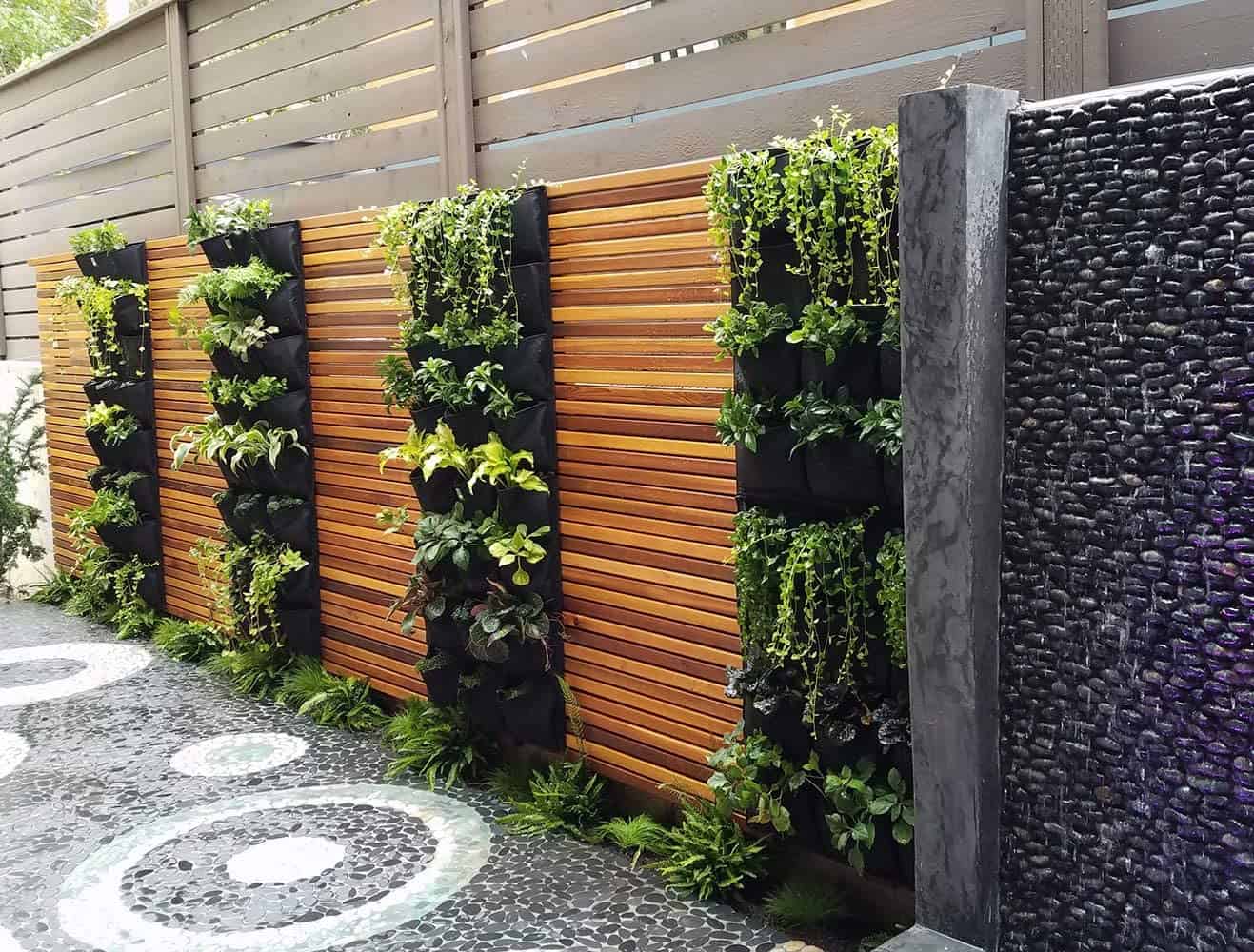 A hanging wall-mounted pocket planter is a great option for those on the hunt for easy yet stylish DIY planter ideas.
Perfect for entryways, windowsills, or nooks in the home and garden, this creative design combines convenience and elegance like no other. Simply hang sturdy planter pockets on any wall that has ample light exposure and fill them with dirt, decorative stones, and your favorite plants.
19. Rope and Wood Wall Mounted Planter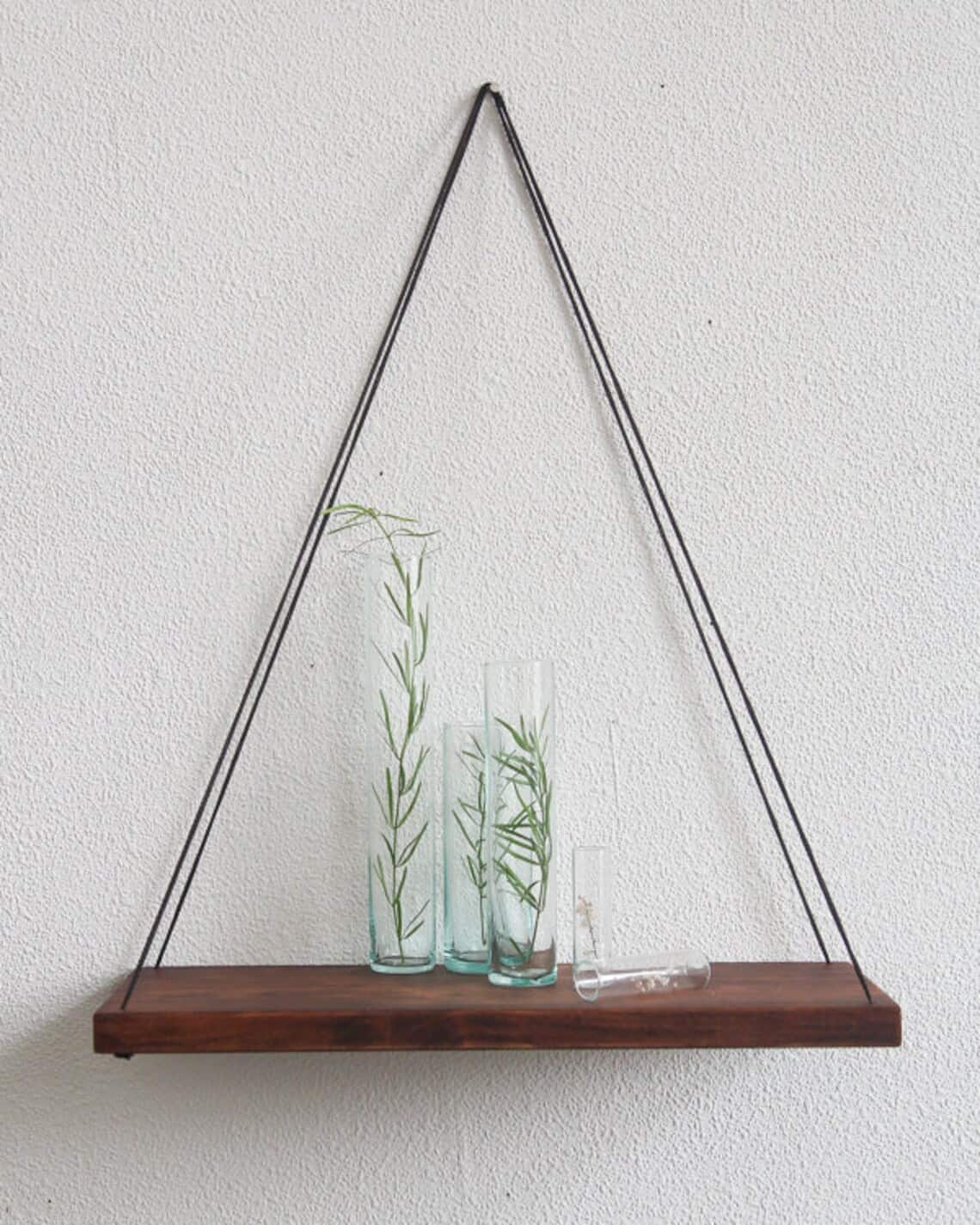 This creative DIY craft is a great way to bring some of the outdoors in while providing you a unique way to spice up your living space effortlessly. You only need some natural rope, a few pieces of wood, drill, and also potted plant.
You can start drilling holes in the wood slats and then threading the rope through it. Tie a few knots at the top and bottom of your planter to secure and hang it on any wall or fence. For extra style, you can even add some colorful paint or decals to the wood pieces.
20. Decorative Mason Jar Chandelier Planter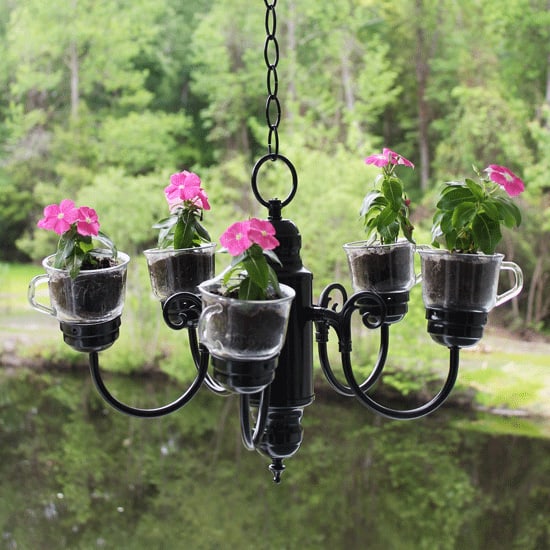 This DIY project is simple, fun and inexpensive; all you need is hemp rope and mason jars.
Start by tying the rope to whatever item you want the planter to hang from – an old coat hanger, an old tree branch or one of those crazy cool modern hooks that come in all shapes and sizes. Next, knot rope in the middle so you have two parallel strands for the mason jars to rest on. Then, just place small plants or Succulents in each mason jar, hang them from the rope with additional pieces of rope.
21. Hanging Basket Bottle Planters with Succulents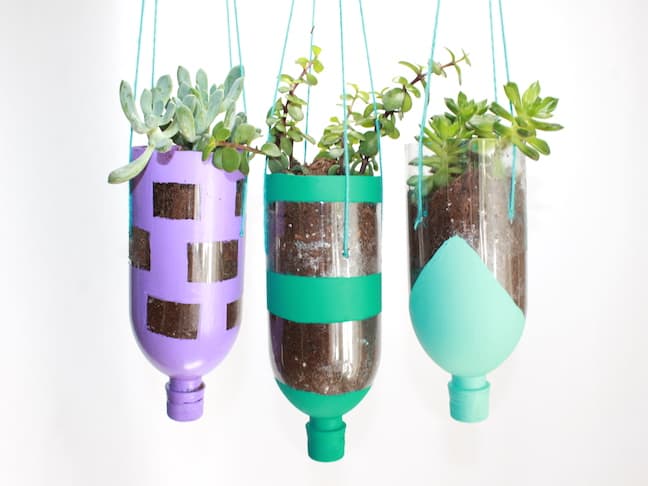 All you need is a recycled glass bottle with a hook on top or a wire hanger. Hang the basket from your ceiling or wall and fill with succulents of your choice – it's that easy!
The combination of the bright colors of the succulents against the glass bottles creates an undeniably beautiful effect. Plus, you don't have to worry about having too much dirt around your home since these planters take up minimal floor space.
22. Hanging Glass Globe Terrariums for Planters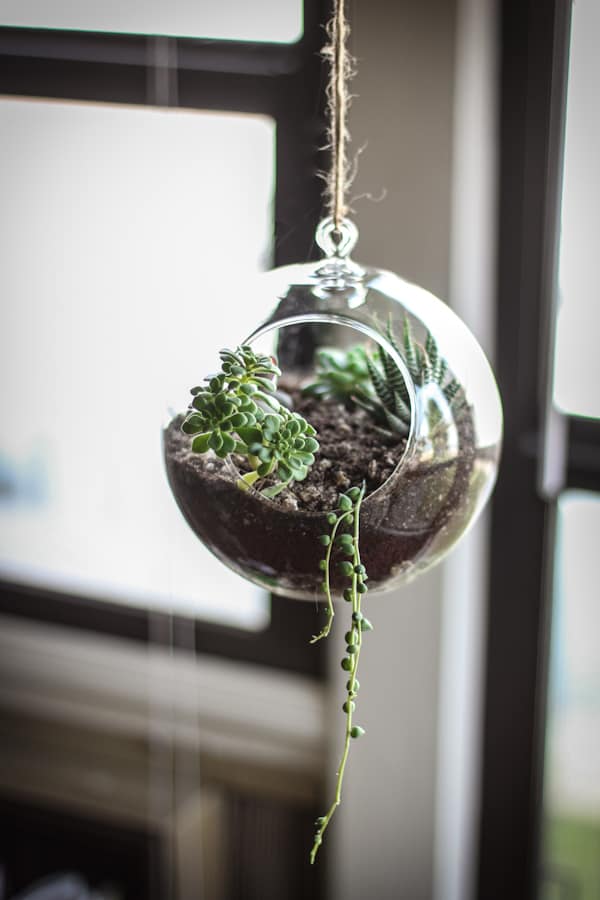 Hanging glass globe terrarium planters are a classy choice for anyone looking to add some unique greenery indoors or outdoors.
This DIY option can easily be crafted with supplies you may already have in your home, such as yarn, beads, and of course a glass globe with lid. Once finished, these hanging terrariums can make for a stunning range of miniature gardens that are bound to impress. At the same time, they help liven up even the smallest of spaces, perfect for an apartment balcony or patio living.
23. Metal Frame Hanging Wall Planter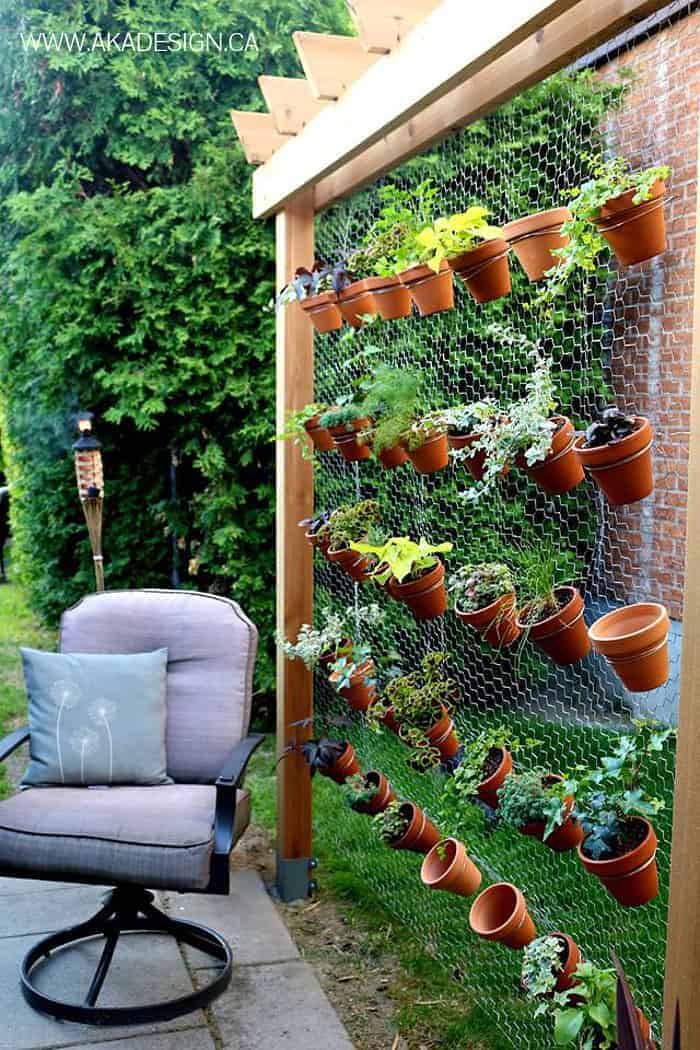 Metal frame hanging wall planters are an elegant and stylish way to spruce up any room. The sleek, modern look of metal makes these planters the perfect decoration for contemporary or minimalist sensibilities.
Constructing a metal frame hanging wall planter is surprisingly simple; all that's required is a small amount of space on your walls, some wire mesh and your favorite greenery. Mounting steel rods in the shape you desire will form a bright, eye-catching base for your plants.
24. Recycled Plastic Bottle and Yarn Wall Planter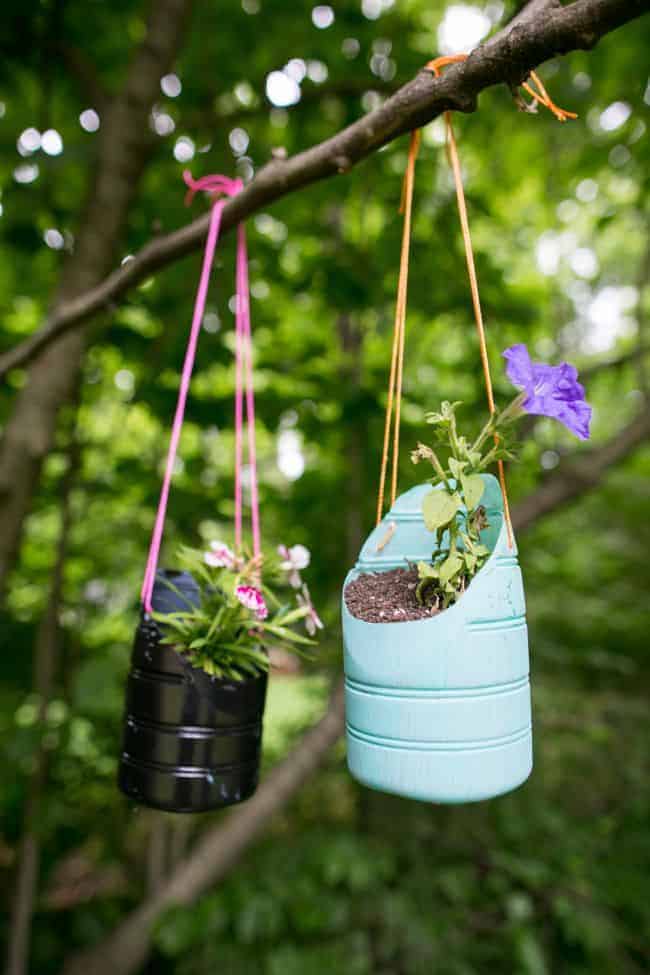 A great way to do this is with a recycled plastic bottle and some yarn. This is an easy and fun way to make a pretty wall planter without having to buy expensive supplies or tools. You just need the plastic bottle, yarn of your choice in whatever colors match your home decor, scissors, glue and optional embellishments like ribbon or buttons.
To start out, cut the bottom portion off of the plastic bottle. Then thread various pieces of yarn around the top portion until it's completely covered. Trim any excess yarn before hot-gluing it together at the back. Once that's done, add any extra decorations you'd like.
25. DIY Rope Hanging Grow Bag for Plants and Herbs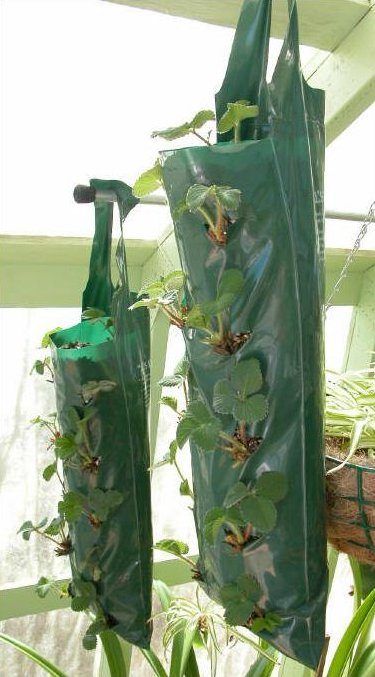 With just some twine and a few basic tools, you can hang your greens in style with DIY Rope Hanging Grow Bags! The best part is that the bags are portable and can move with you in season to season. You can easily create a dramatic wall of foliage loaded with lush greenery – perfect for decks, patios, balconies or any outdoor spot.
What you will need:
Twine
Needle and thread
Scissors
Grow bags or fabric
26. Colorful Tassels and Planters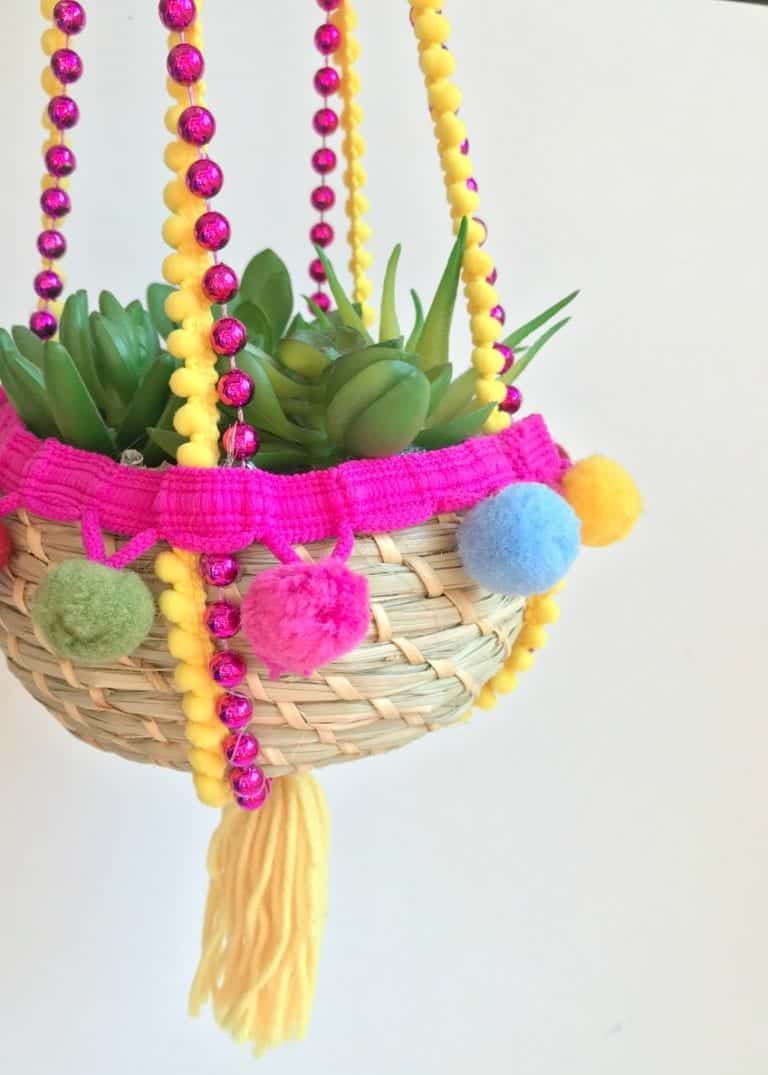 Add a splash of color and personality to any space with this adorable planter can be a great option. They're the perfect way to add a touch of greenery and color. An easy yet eye-catching display can be created with colorful tassels and planters hung from the wall or ceilings in clusters.
With so many vibrant varieties to choose from, you can easily switch out different colors to match the seasons or your mood. Plus, it's just plain fun! Hang your favorite flowers or succulents in decorative holders while also adding a playful element to an otherwise plain indoor space.
27. Hanging Gutter Planters from the Ceiling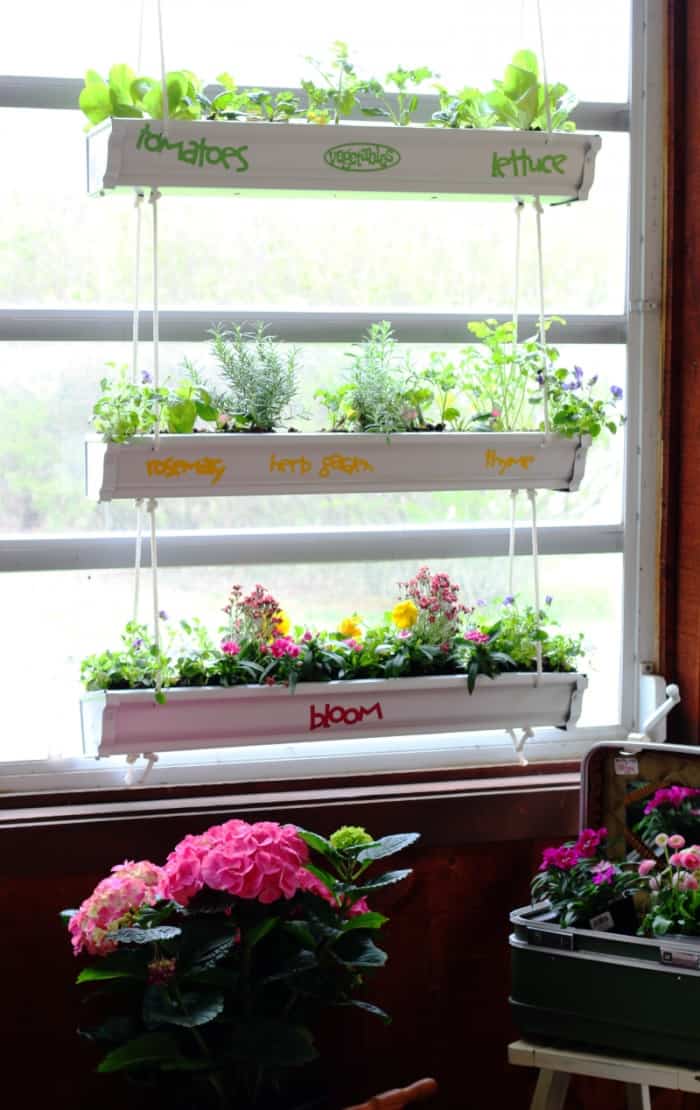 This fun craft project is great because it both looks stylish and allows you to play with light and shadow above head-height. All you need is an old gutter, some soil, and a few plants, as well as a rope or chain for suspending the gutter from the ceiling. You can use anything from herbs to succulents, so have fun experimenting with different sorts of greenery.
28. DIY Wire Basket Wall Planter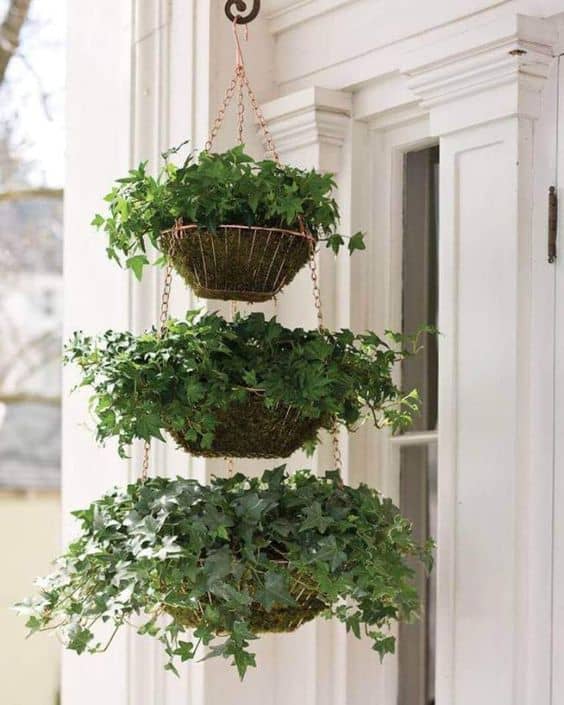 This simple, budget-conscious project requires minimal supplies and tools and can be easily transformed into individualized displays of plants to bring vibrancy to your home. With just a garden trellis panel cut into desired sizes, industrial wire baskets, hose clamps, and screws, this wall planter can quickly become your favorite hangout spot for your plants.
Make it unique by adding a few decorations or taking out certain elements.
29. Hanging Fresh Herb Garden Planter using Wooden Pallets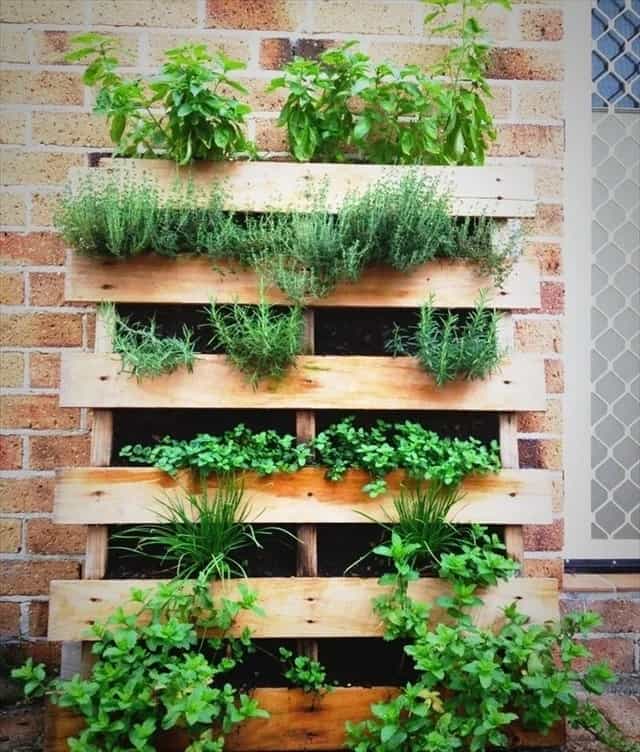 It is an affordable, stylish way to turn any outdoor or indoor space into a green oasis. Wooden pallet planters can be hung from balconies, in decks, or on fences for an added decorative touch.
Not only will this create the perfect place for a live herb garden, but it can also be used to grow some of your favorite flowers. These versatile and attractive planters are easy to make, just find some old wooden pallets, then paint them and add dirt and plants.
30. Creative Hanging Planter from a Vintage Colander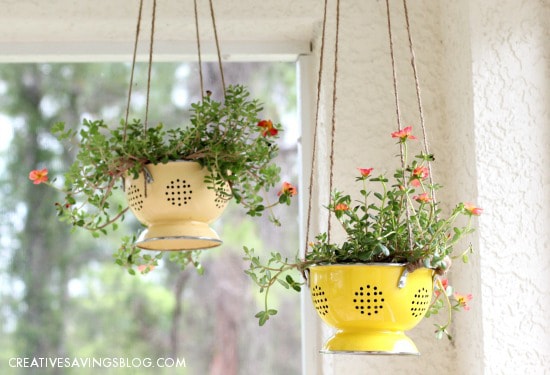 A vintage colander can be the perfect item for creating a unique hanging planter. With its distinct shape and rustic aesthetic, the vintage colander provides an eye-catching container for any plants or flowers. It's easy to add holes on its bottom for drainage, then hang it up for everyone to admire. Investing in some rustic yet vintage macrame plant holders or rope can easily transform your vintage colander into a beautiful hanging planter.
Get your green thumb with these creative 30 hanging planters that will add some life to any room in your living space. They're a fun weekend project that you can do with the family, or by yourself if you're looking for some me-time. So pick out your favorite(s), gather the supplies, and get ready to spruce up your home.