Discover the ultimate spot for your kitchen with these incredible basement kitchen ideas. Whether you're after a modern chic or traditional elegance style, we have an extensive selection of designs to choose from that will cater to your unique taste.
Imagine large eat-in areas where you can enjoy your meals in comfort, complete with cozy nook spaces at either end to relax in. Or perhaps you prefer open concept layouts that allow friends to visit anytime, without feeling like they're interrupting important moments nearby.
In this blog post, we will discuss 29 different kitchen designs that will help you make the most of your basement space. Start browsing through these amazing ideas and get inspired.
1. Best Basement Kitchen Ideas: Keep it Simple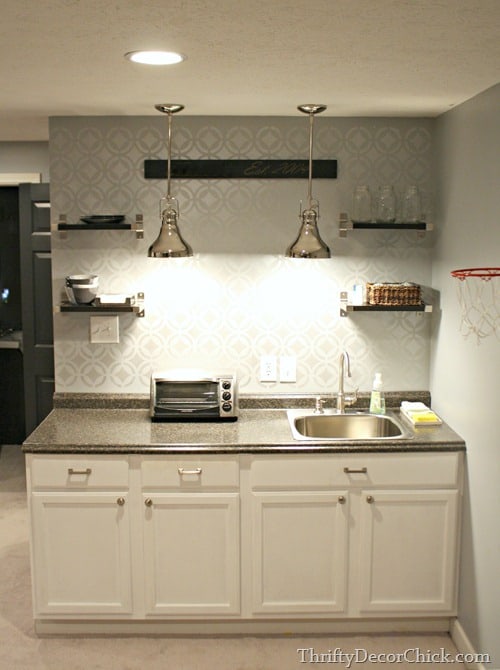 One of the best things you can do when planning your basement kitchen is to keep it simple. This means avoiding overly complicated designs and sticking to a basic layout.
A simple basement kitchen will be easier to use and more comfortable to cook in than a complex one. Additionally, a simple design will be less expensive to implement and easier to change if you decide you want to make changes in the future.
2. Consider Your Storage Needs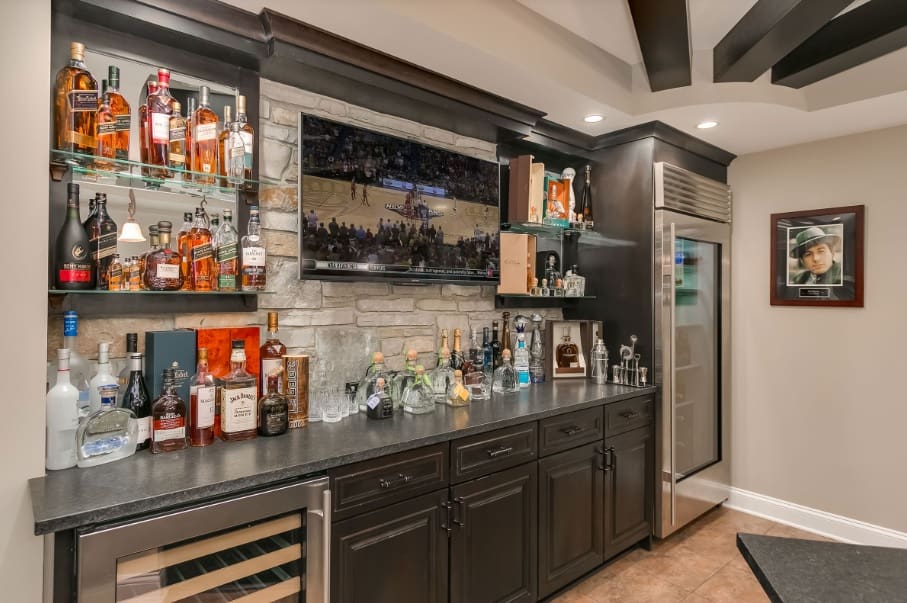 When planning your basement kitchen, it is important to consider your storage needs. This is especially true if you plan on using the space for canning or other food storage purposes.
You will need to have enough cabinets or shelves to store all of your food items, as well as any small appliances or cooking tools you may need.
3. Choose Durable Materials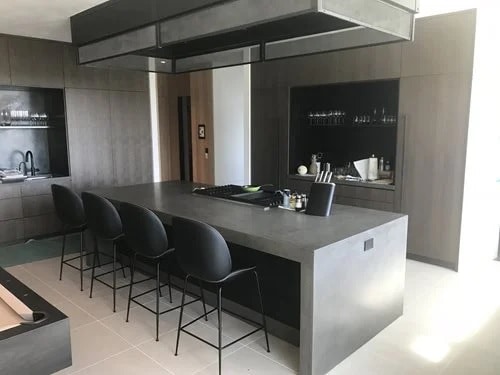 Since your basement is likely to be a damp and humid environment, it is important to choose materials that will stand up to these conditions. Avoid using wood or other porous materials for your countertops, floors, and cabinets, as they will absorb moisture and become damaged over time.
Instead, opt for stone, tile, or concrete surfaces that can withstand damp conditions.
4. Install Adequate Ventilation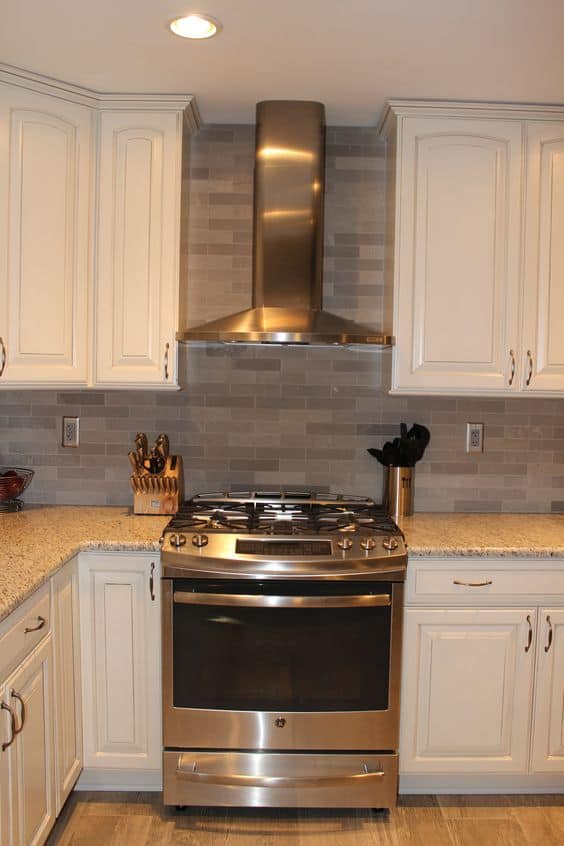 Another important consideration for your basement kitchen is ventilation. Since basements are typically poorly ventilated, it is important to install a range hood or other ventilation system that will remove smoke and odors from the cooking area.
Additionally, you may want to consider installing a dehumidifier in your basement to help keep the air dry and prevent mold and mildew growth.
5. Use Bright Colors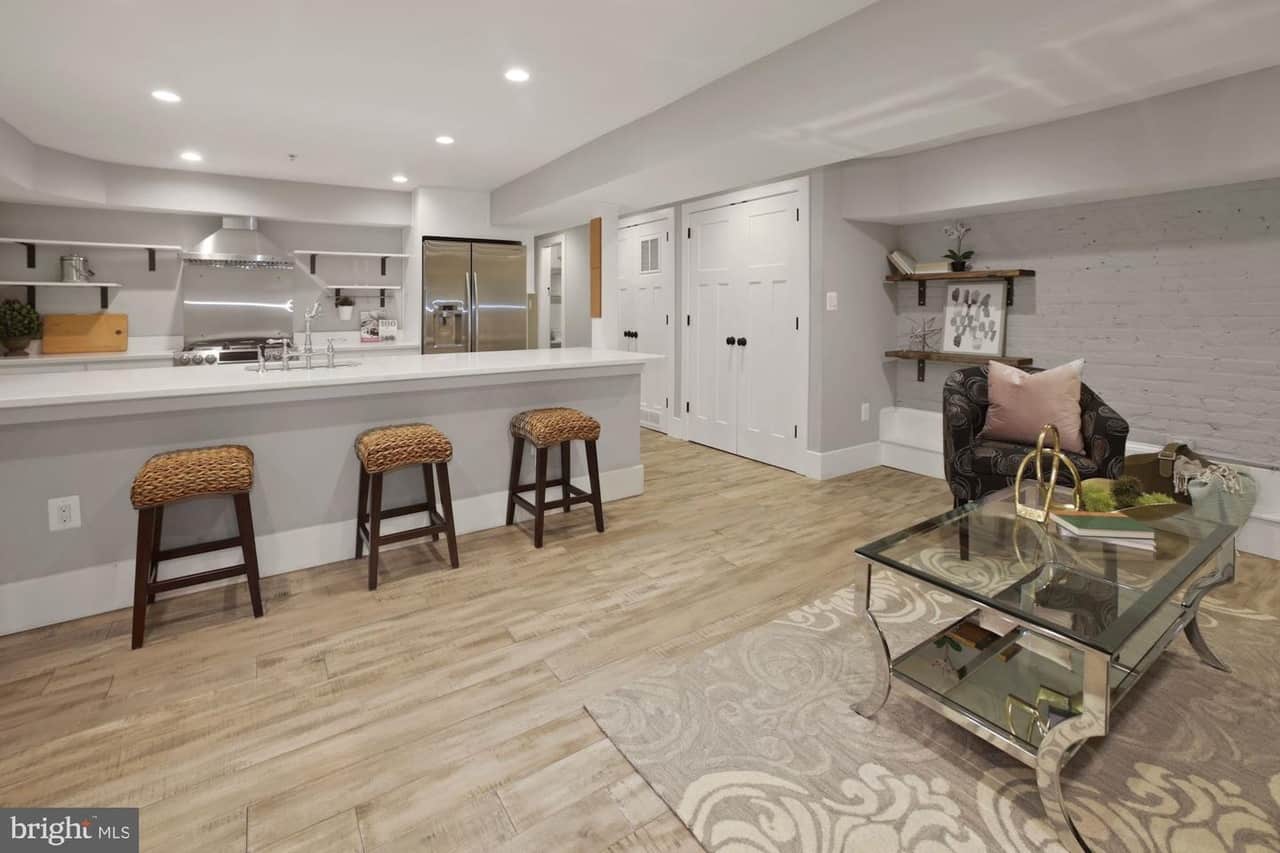 One way to make your basement kitchen feel more inviting and cheerful is to use bright colors in the space.
This could mean painting the walls a bright color or using colorful accessories and décor items throughout the room. By adding some brightness to the space, you can help offset the often dreary feeling that basements can have.
6. Get Rid of That Old, Musty Smell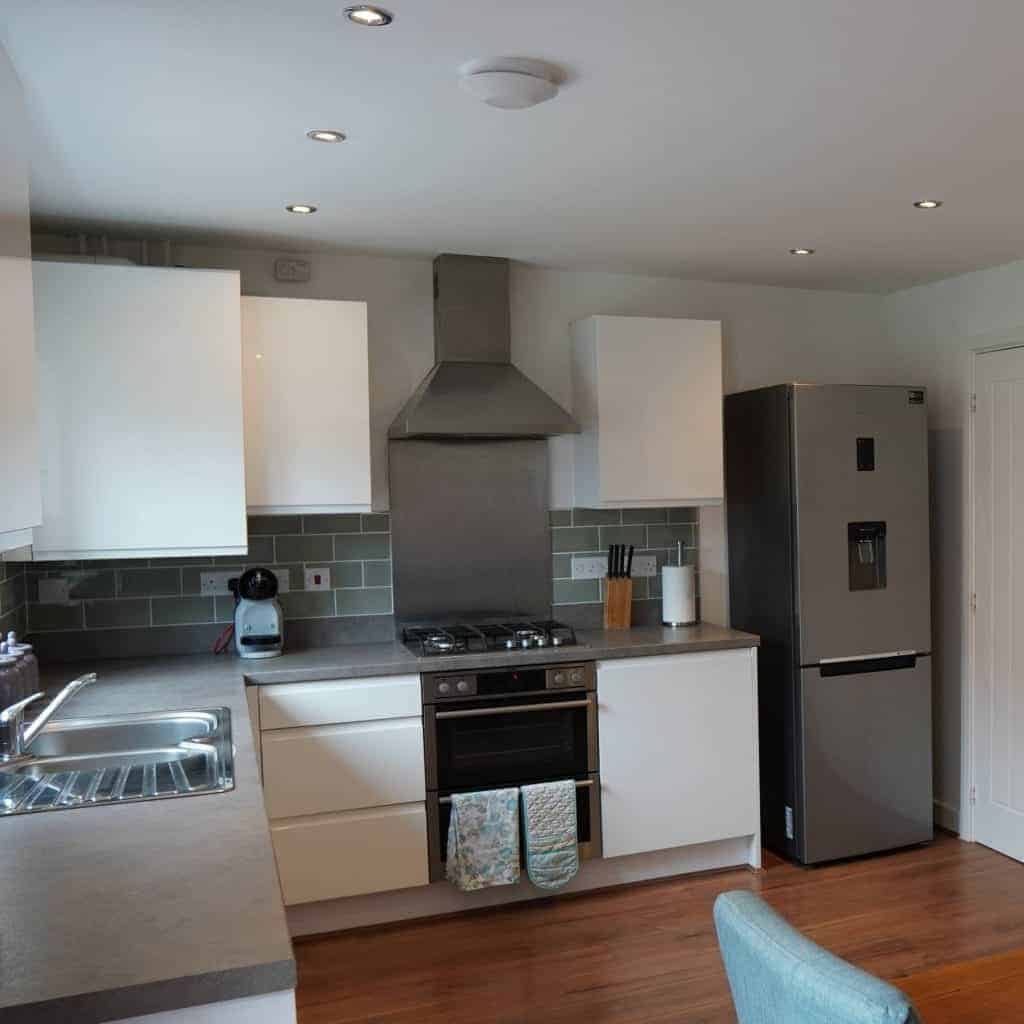 Basements can be notorious for being damp and musty. If your basement has this problem, there are a few things you can do to get rid of the smell. First, make sure that your basement is properly ventilated.
You can do this by opening windows or installing a fan. Additionally, you can try using a dehumidifier to help remove moisture from the air. Finally, be sure to clean your basement regularly to prevent mold and mildew from growing.
7. Choose the Right Flooring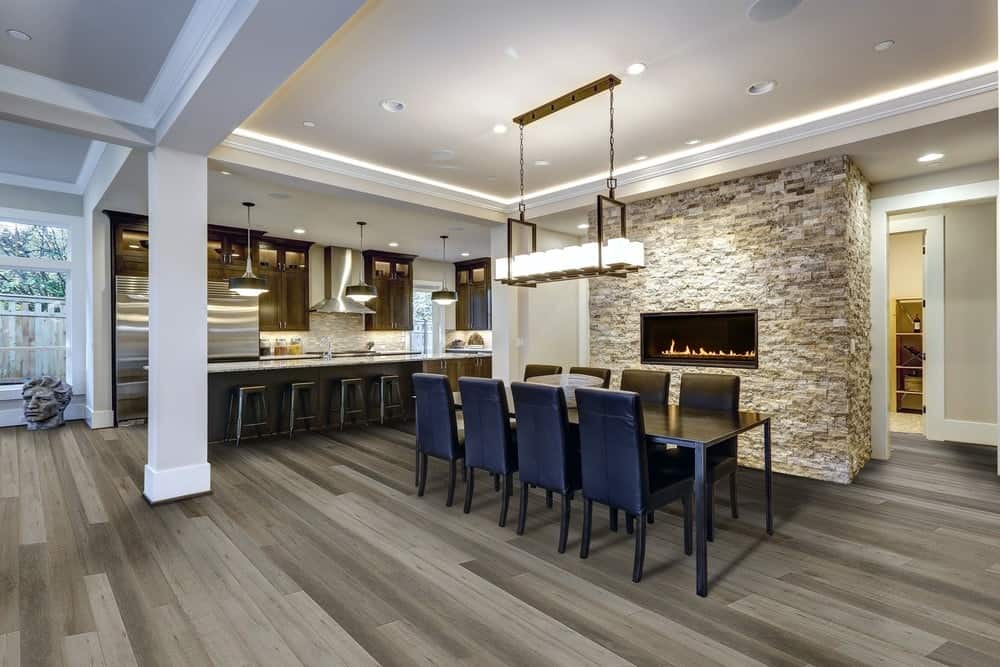 When it comes to choosing flooring for your basement kitchen, there are a few things you need to keep in mind.
First, you need to choose a material that can withstand moisture. Carpet is not a good choice for a basement kitchen as it can absorb moisture and become stained or mildewed. Instead, opt for tile, linoleum, or concrete. Second, you need to make sure that your flooring is slip-resistant. This is especially important if your basement is prone to flooding.
8. Install Plenty of Lighting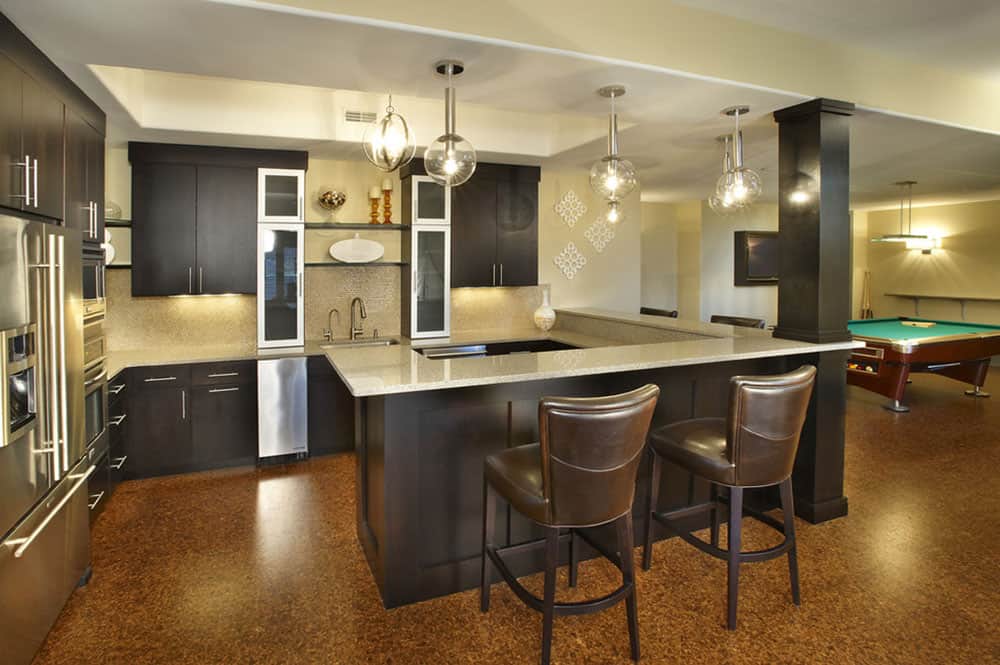 Basements can be dark and dreary places. To brighten up your basement kitchen, be sure to install plenty of lighting. You can use overhead lights, track lighting, or even under-cabinet lighting to brighten up the space.
Additionally, you may want to consider adding some windows to let natural light in.
9. Keep it Simple with Your Decor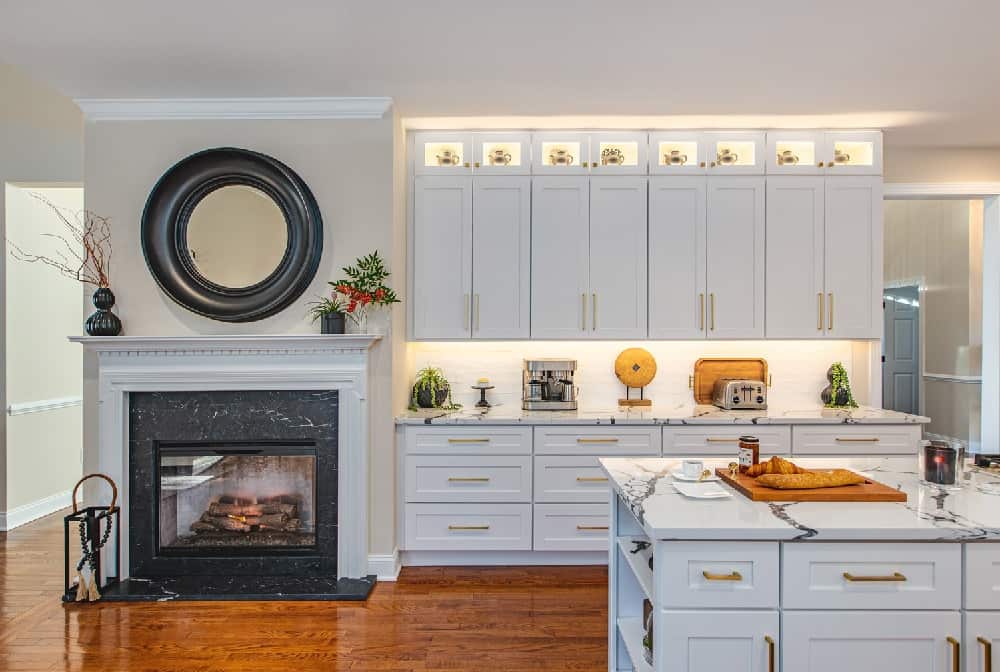 Revamp your basement kitchen with the mantra "less is more." Keep in mind that this area may have limited space compared to your main kitchen, thus avoid making it feel cramped or cluttered. Don't let your kitchen lose its charm by stuffing it with unnecessary items.
Stick with simple decorations such as framed pictures or art prints, and avoid using too much furniture or knick-knacks. Bring in the storage that will display your decorative pieces while also keeping your kitchen tools stay in place properly.
10. Make Sure Everything is Waterproofed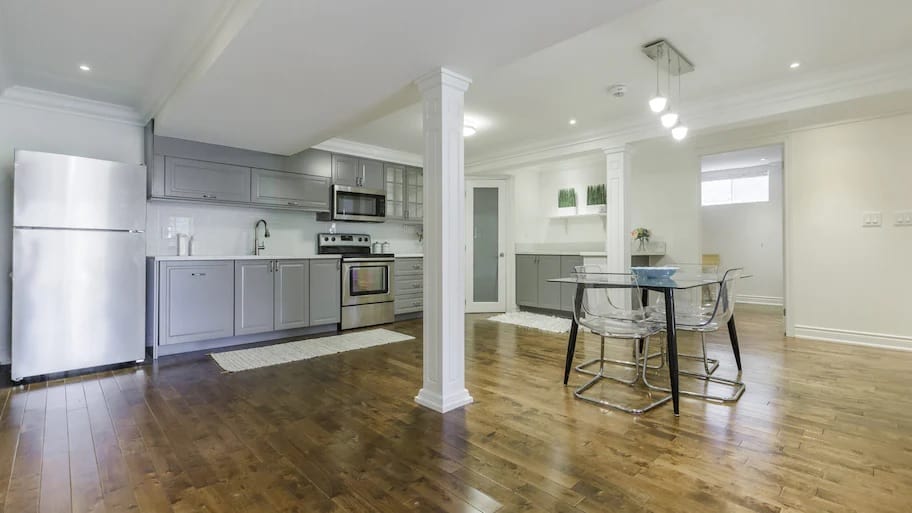 One of the most important things to remember when creating a basement kitchen is that everything needs to be waterproofed. This includes the walls, floors, ceilings, and any cabinets or appliances you plan on installing.
Waterproofing will help protect your belongings from water damage in case of flooding. To make it look fabulous, try painting the walls with a waterproof paint in a color that suits your style.
11. Expose the Red Brick for Industrial Feel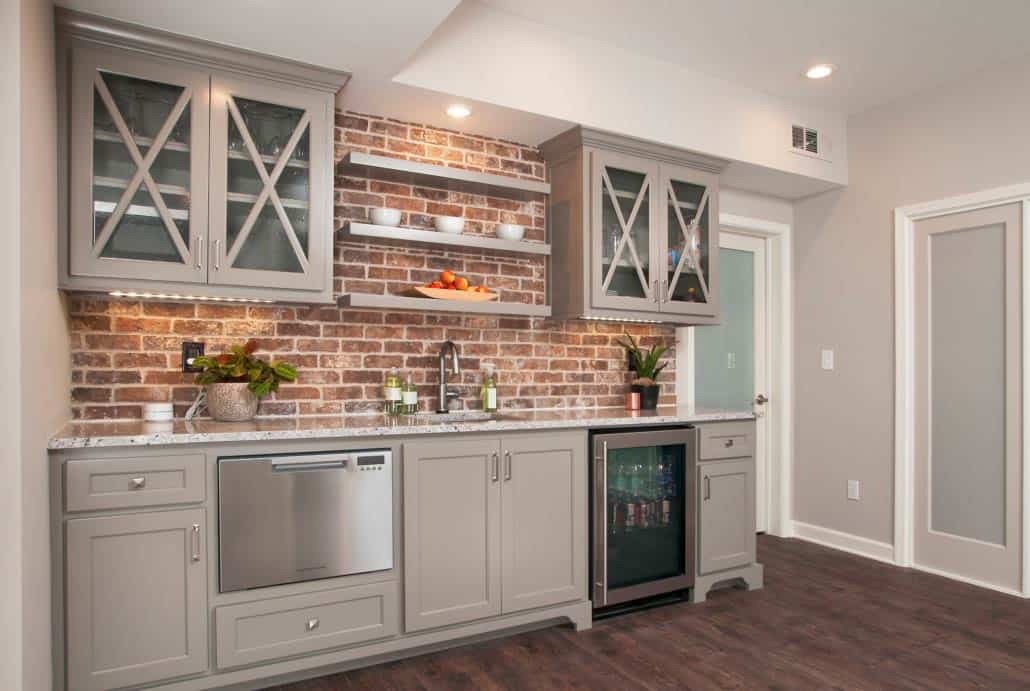 Exposed brick can give your basement kitchen an industrial feel. If you have an unfinished basement, this is a great way to add some character to the space.
You can either expose the brick yourself or hire a contractor to do it for you. Either way, it's a relatively easy and inexpensive project that can make a big impact on the overall look of your basement kitchen.
12. Choose a Bright Color Palette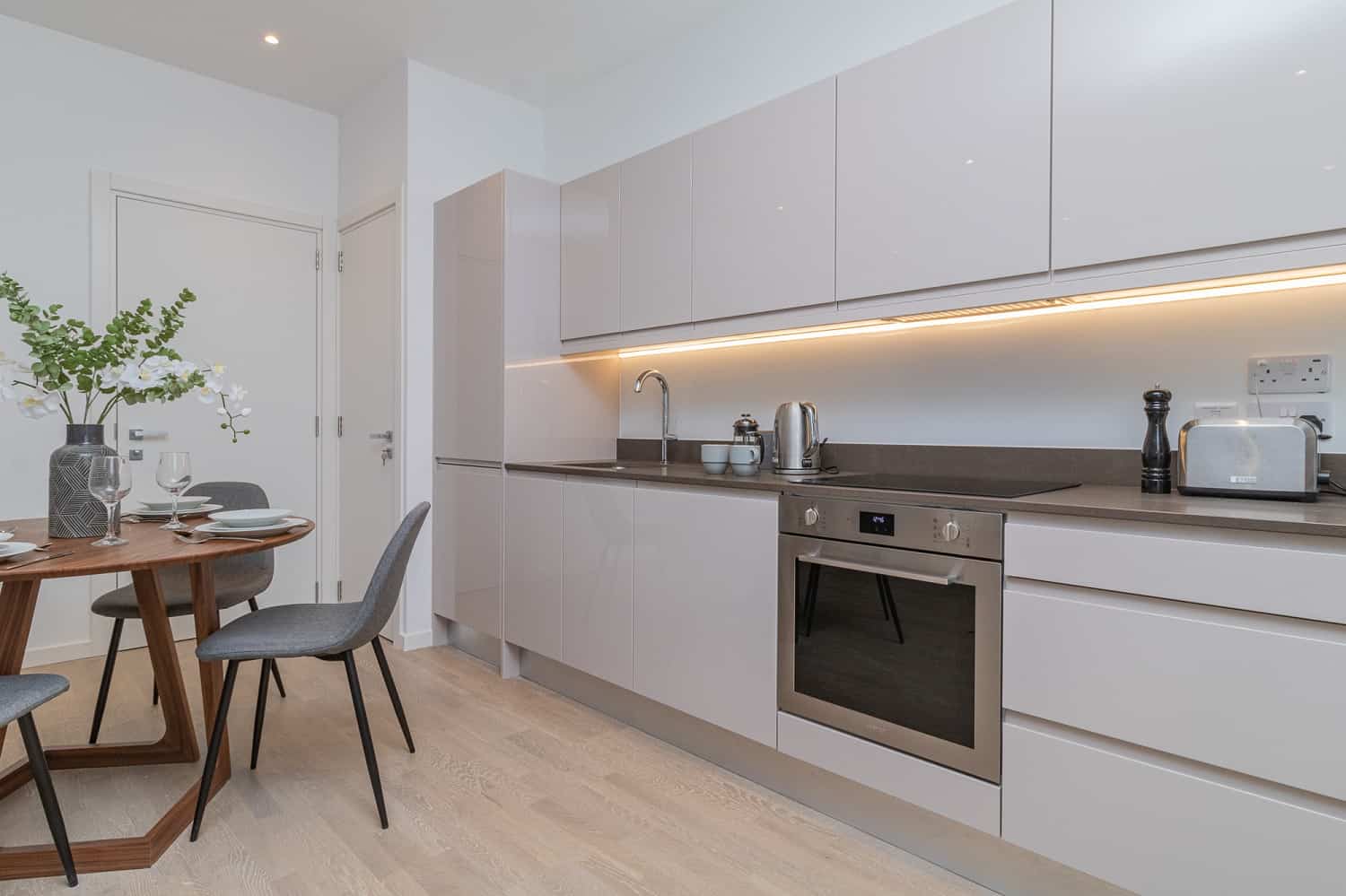 Make your basement kitchen feel airy and spacious through the bright color palette. White, light blue, and other light colors will help to reflect light and make the space feel larger. You can also use mirrors to create the illusion of more space.
In addition, avoid dark colors and heavy furniture that can make the space feel cramped. Instead, opt for lighter-weight materials and sleek, modern designs.
13. Go for Open Shelves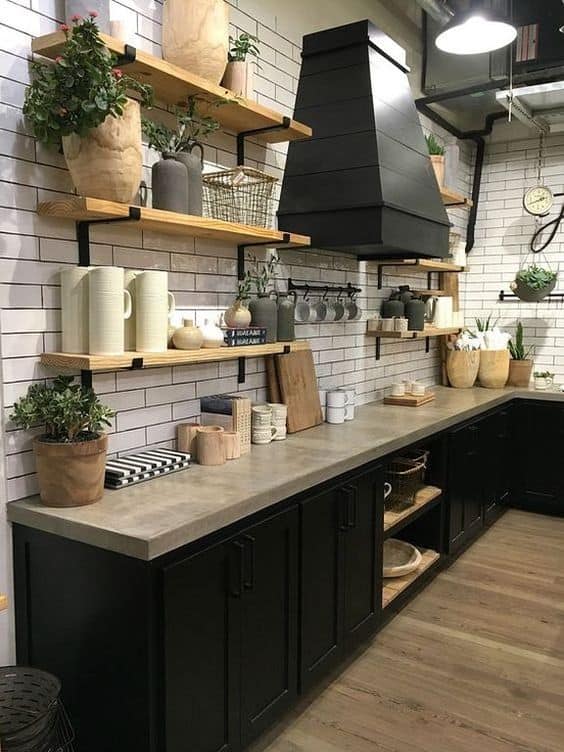 This look is not only stylish, but it also makes it easy to grab what you need without having to search through a bunch of cabinets. Plus, it's a great way to show off your favorite kitchen items and make the space feel more personal.
You can store everything from dishes to pantry items on the shelves, and if you're worried about dust, simply line the shelves with pretty tea towels. Another bonus of open shelving is that it's a great way to show off your personality and style.
14. Use Lightweight Furniture to Save Space
Creating an inviting and functional kitchen in a small basement can be a challenging task. However, with a few clever tricks, you can easily optimize the space and create a cozy and comfortable cooking area.
To start, ditch the heavy furniture and opt for lightweight options that will save you precious floor space. Additionally, consider using light and neutral tones when decorating to make the room appear more spacious and airy. Lastly, keep the clutter at bay by storing your items off the ground and out of sight, giving your kitchen a clean and organized feel.
By implementing these simple yet effective strategies, you can transform your small basement kitchen into a practical and stylish oasis that you'll love spending time in.
15. Hang Pendant Lights Over the Sink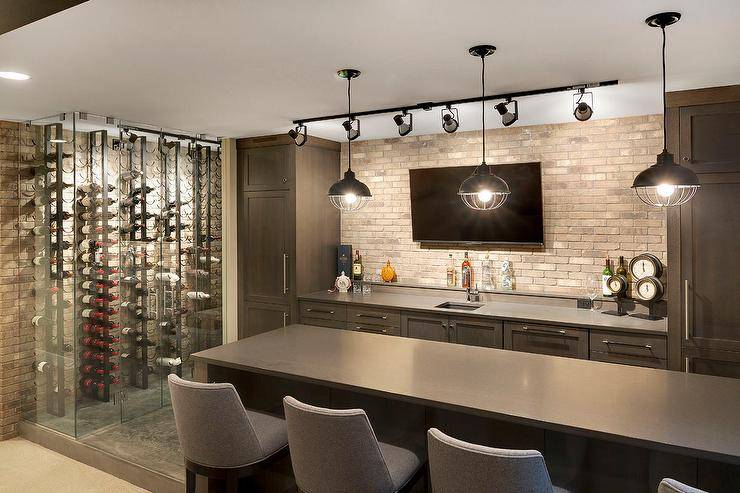 Pendant light installation can be a smart way to bring in an elegant look. Pendant lights provide focused task lighting, perfect for areas like the sink and countertop. They also add a touch of style to the space, making it feel more polished and put-together.
When selecting pendant lights for your basement kitchen, look for fixtures that are durable and easy to clean. You should also make sure that the cords are long enough to reach any outlet you plan to use.
16. Add Polyester Curtains for Privacy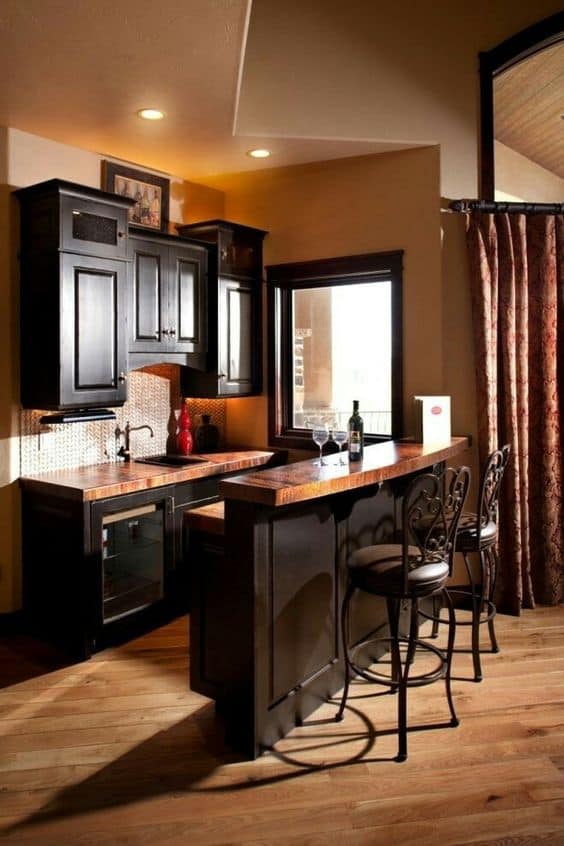 Adding polyester curtains is an easy and effective way to create privacy in your basement kitchen. These curtains can be hung from the ceiling to the floor, and they will help to block out light and noise from the outside world. In addition, polyester curtains are easy to clean and maintain, making them an ideal choice for busy families.
17. Don't Forget about Ventilation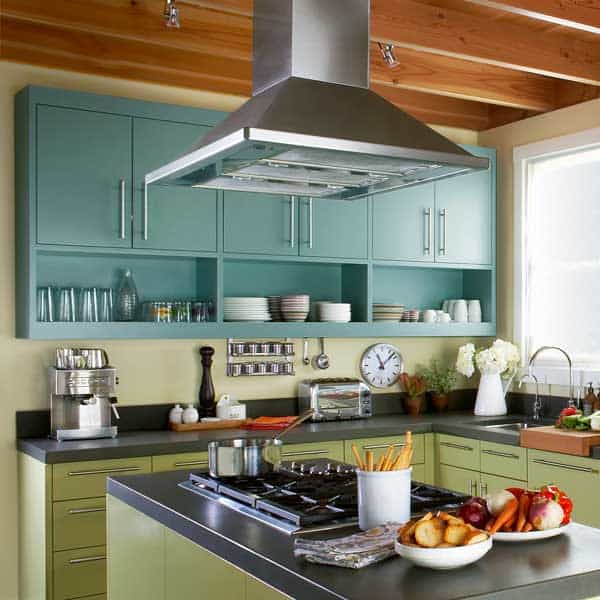 Proper ventilation is crucial for a functional basement kitchen. Without it, your cooking space can quickly become stuffy and humid. The last thing you want is to be cooking in a hot and stuffy space, especially when preparing meals for your loved ones. One way to achieve good ventilation is by installing a range hood or exhaust fan.
This equipment effectively removes smoke, steam, and odors from your cooking area, ensuring that the air circulates smoothly. This, in turn, reduces moisture levels and minimizes the risk of mold and mildew formation. Alternatively, if your basement kitchen has a window, opening it can provide natural ventilation and fresh air flow.
18. Install Cabinets and Countertops That Fit Your Style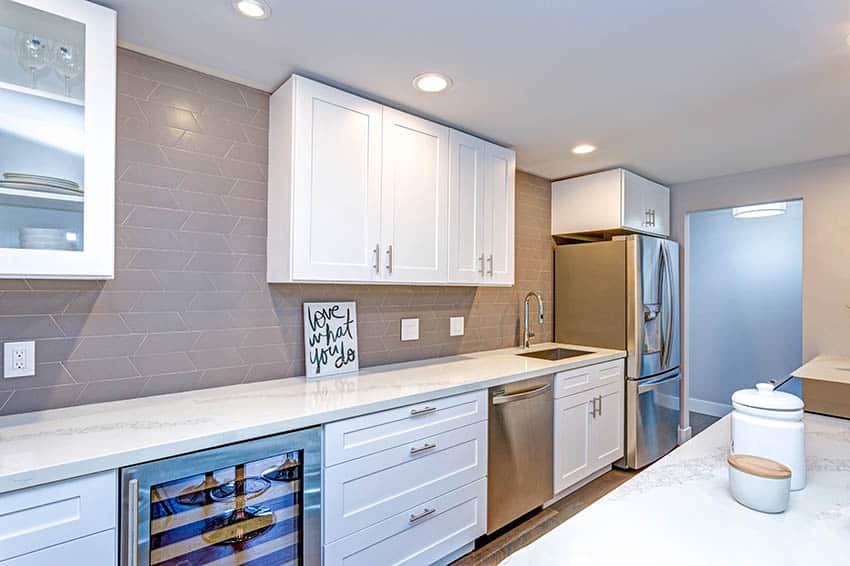 Ensure you store everything in place with the perfect cabinets and countertops that fit your style. You can challenge your skill by making your own cabinet and countertop. Plus, you can custom the design as you desire such as applying the marble countertop.
Don't forget to install shelves, drawers, and racks for extra storage. It will also help you design a unique kitchen. Add a touch of fresh atmosphere to your countertop with some potted plants will be good.
19. Incorporate a Breakfast Bar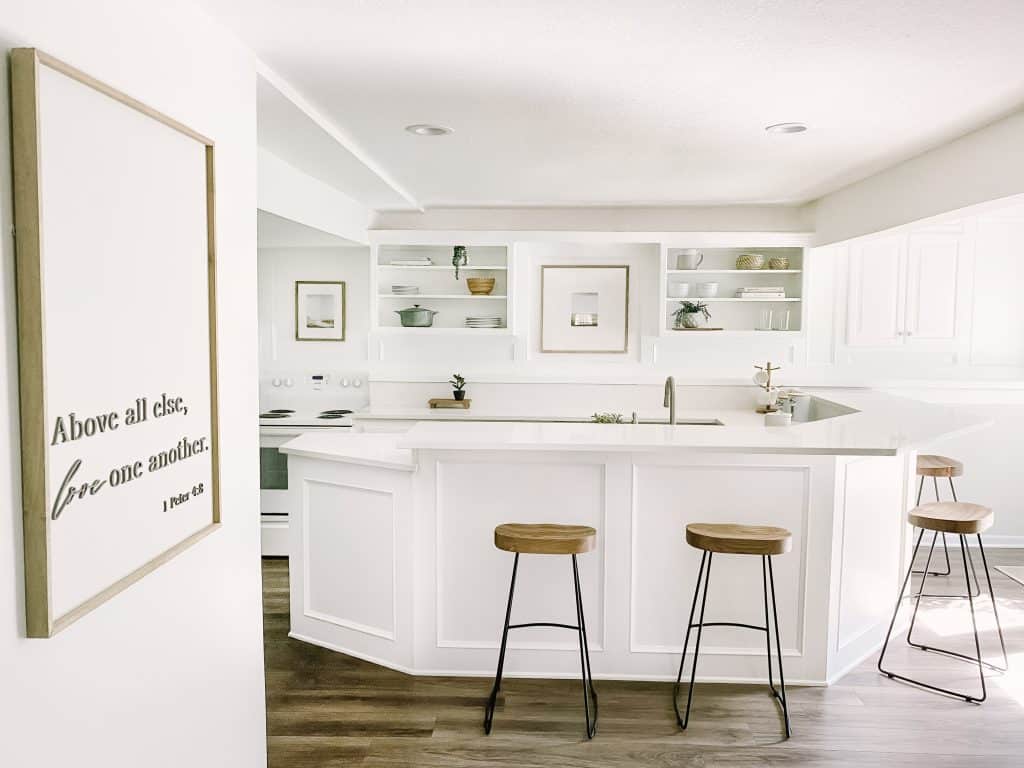 Breakfast bars are a great way to save space in a small kitchen and they can also be a great way to entertain guests. If you have a large basement, you may even want to consider incorporating a full-sized kitchen island into your basement kitchen.
Islands can provide additional counter space and storage, and they can also be used as a place to eat or entertain guests. First, you'll need to make sure that your bar is at a comfortable height for both standing and sitting. You'll also want to choose bar stools or chairs that are comfortable and easy to clean. Finally, don't forget to add some fun decor to your breakfast bar like colorful plates and napkins.
20. Accessorize with Plants, Artwork, and Textiles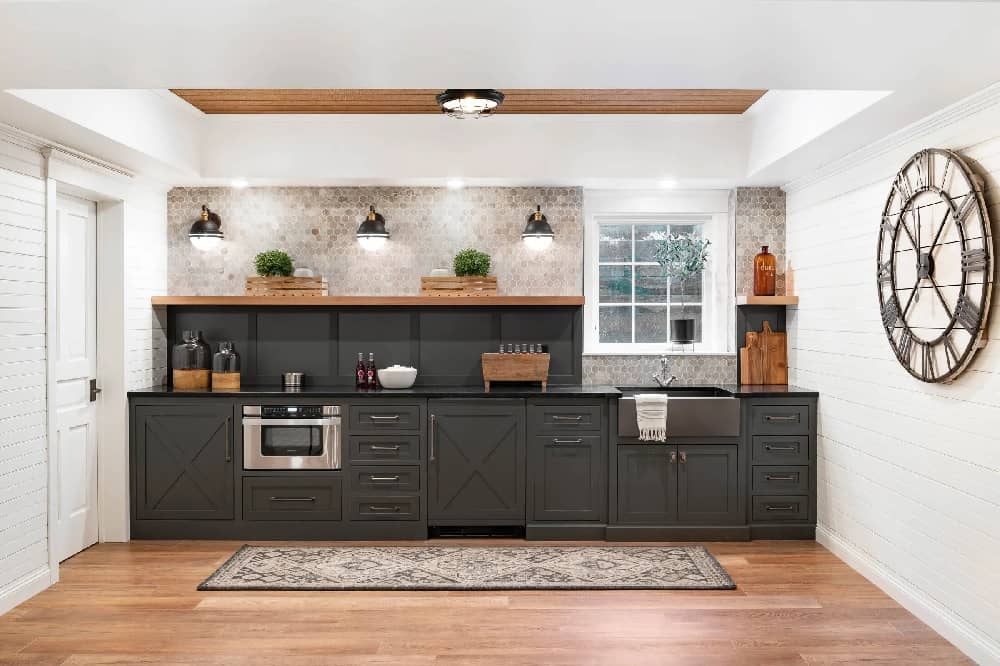 The best basement kitchens feel like any other room in the house-with thoughtful design, they can be stylish, cozy, and even fun. To achieve this goal, pay attention to the details. Start with the basics like cabinets, countertops, and appliances, but don't forget about the little things that make a big difference.
Accessorize with plants, artwork, and textiles to give your basement kitchen its own personality. And don't forget practical considerations like storage and lighting.
21. All-white Basement Kitchen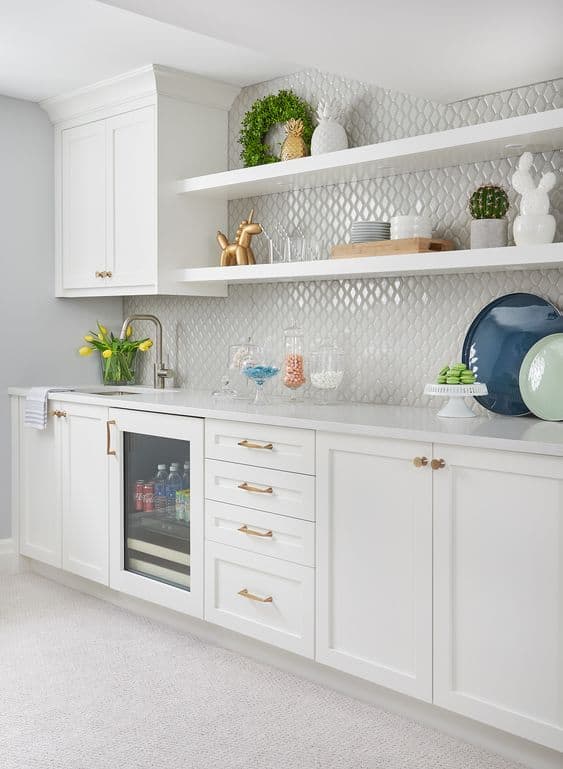 For a truly impactful look, go for an all-white color scheme. This will make your basement kitchen feel much bigger and brighter, no matter what its actual size is. Start with white walls and white flooring, then add in white cabinets, white countertops, and white appliances.
To avoid making the space feel too sterile, add in some colorful accents like paintings or vases. You could also hang some fun curtains or add a patterned rug.
22. Utilize Natural Light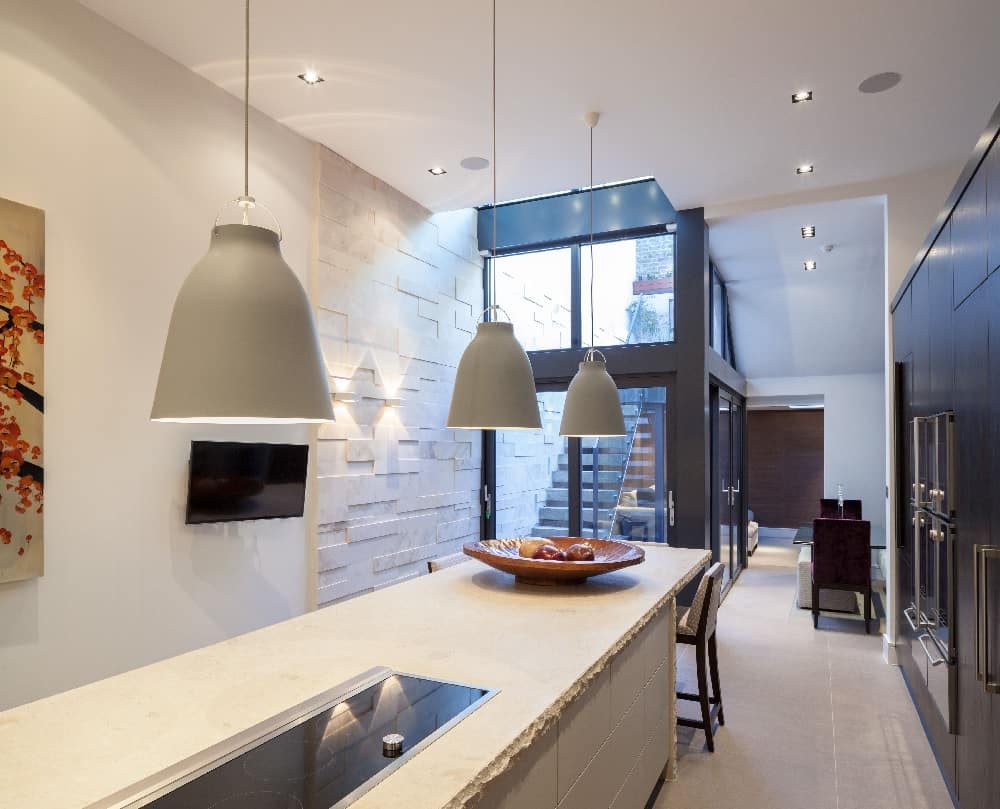 One of the best ways to utilize natural lighting in your basement kitchen is to keep the space as open and spacious as possible. This means avoiding dark, enclosed areas whenever possible.
Consider adding windows to any basement walls that don't already have them. If your budget allows, skylights are another great way to bring in natural light. Mirrors can also be used to reflect light and make a small space feel larger.
23. Choose Durable Tile Flooring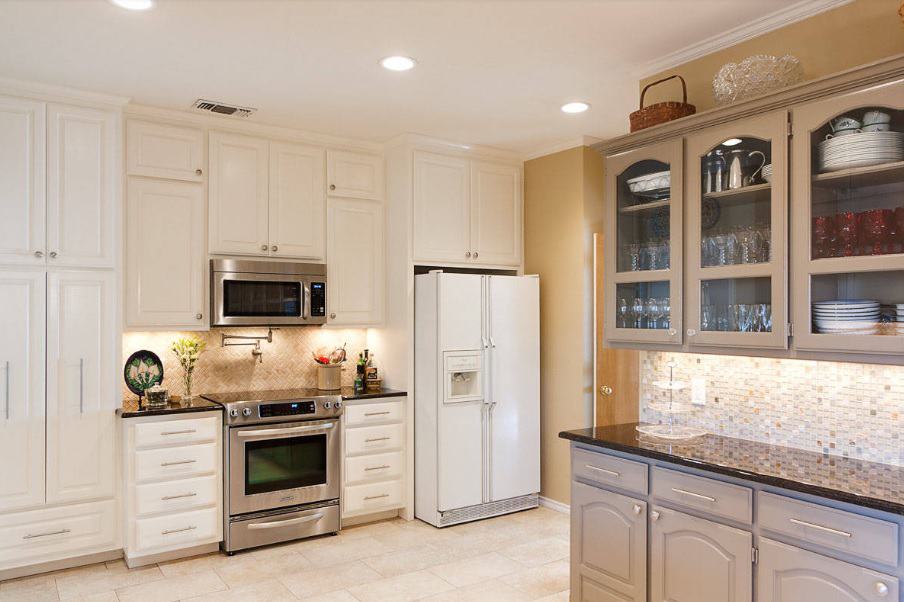 Since basement is prone to dampness, it is important to choose materials that won't be damaged by moisture. Tile is a great option as it is resistant to spills and staining, and can be easily cleaned with a damp mop.
Opt for the patterned tile to add style to the space. Install a waterproof membrane under the tile for added protection from moisture. Laminate flooring is also an excellent option, as it can mimic the look of wood or stone and can handle plenty of foot traffic without showing wear and tear.
24. Create a Cozy Seating Area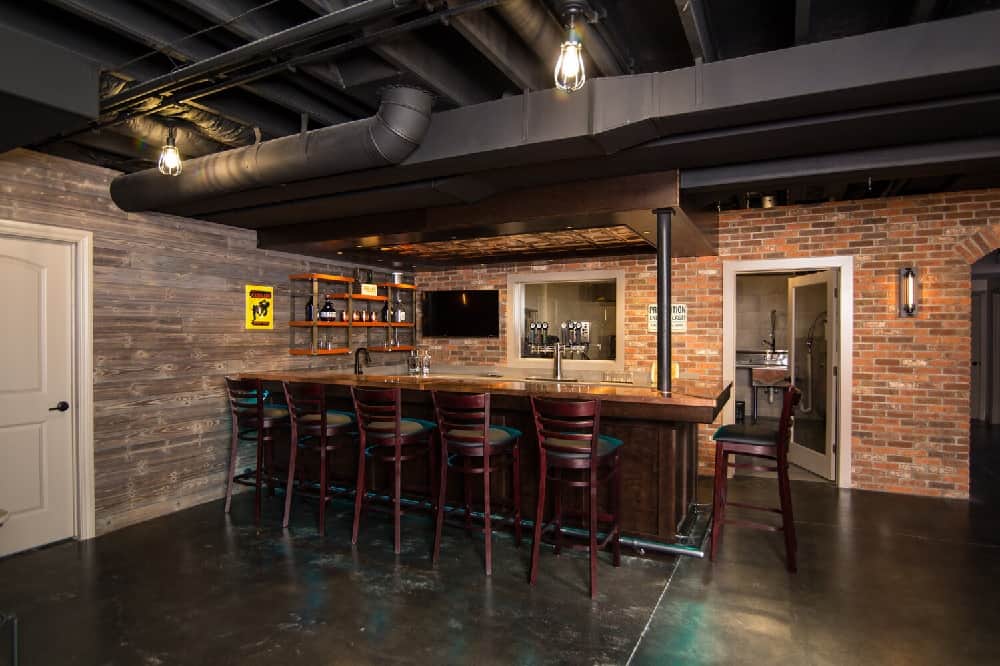 This can be done by adding a few comfy chairs and a small table. If you have a fireplace, you can also use it as a focal point for your seating area. Another great way to add character to your basement kitchen is to use exposed brick.
Exposed brick can give your space an industrial feel that is perfect for entertaining. If you want to keep your basement kitchen looking bright and airy, you can also add some plants. Houseplants can help to purify the air and they can also add a splash of color to your space.
25. Utilize Unique Storage Solutions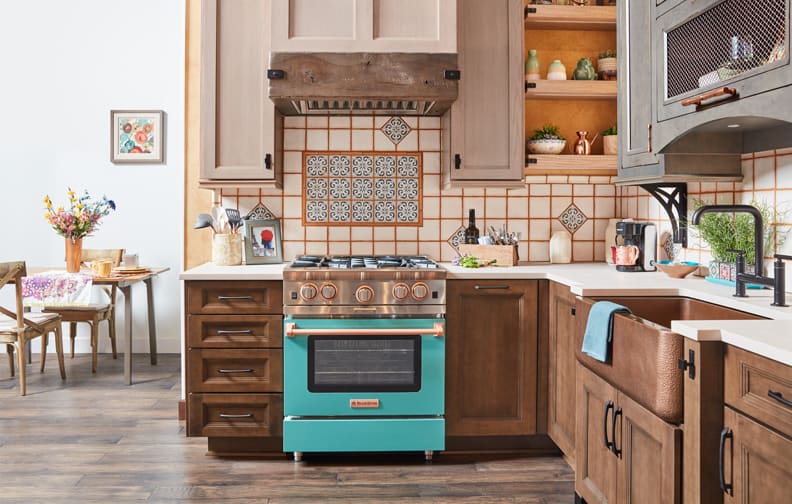 No matter how big or small your basement kitchen is, unique storage solutions are a must. You can free up a lot of space by utilizing vertical storage. Wall-mounted shelves are perfect for storing pots and pans, while a hanging rack can be used for espresso cups or mugs.
If you have an empty corner, consider installing a lazy Susan to increase your storage options. Another great way to maximize space is to use magnetic strips to store knives and other metal utensils.
26. Install High-end Appliances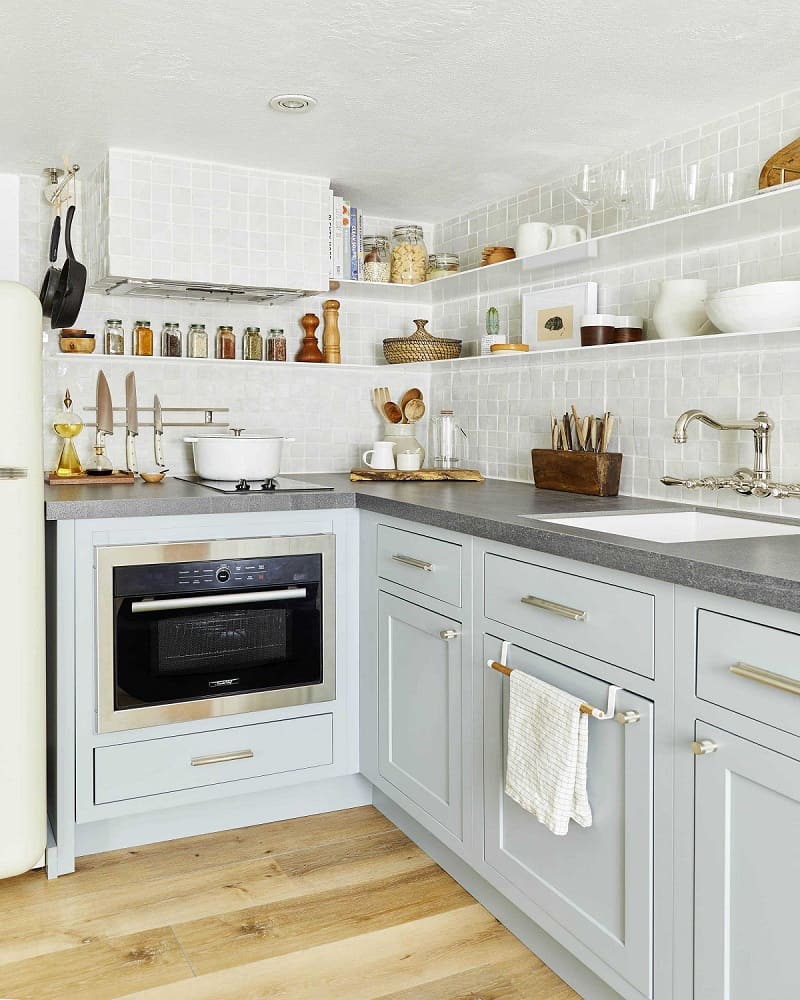 Just because the space is below ground level doesn't mean it can't be a well-appointed room where you can cook and entertain in style. So if you're planning a basement kitchen renovation, be sure to install high-end appliances that will make the space both functional and stylish.
High-end appliances like stainless steel ovens and refrigerators will not only look great in your basement kitchen, but they'll also stand up to the heavy use that any kitchen gets. And if you entertain often, consider installing a wine fridge or dishwasher to make hosting dinner parties a breeze.
27. Add a Touch of Color to the Walls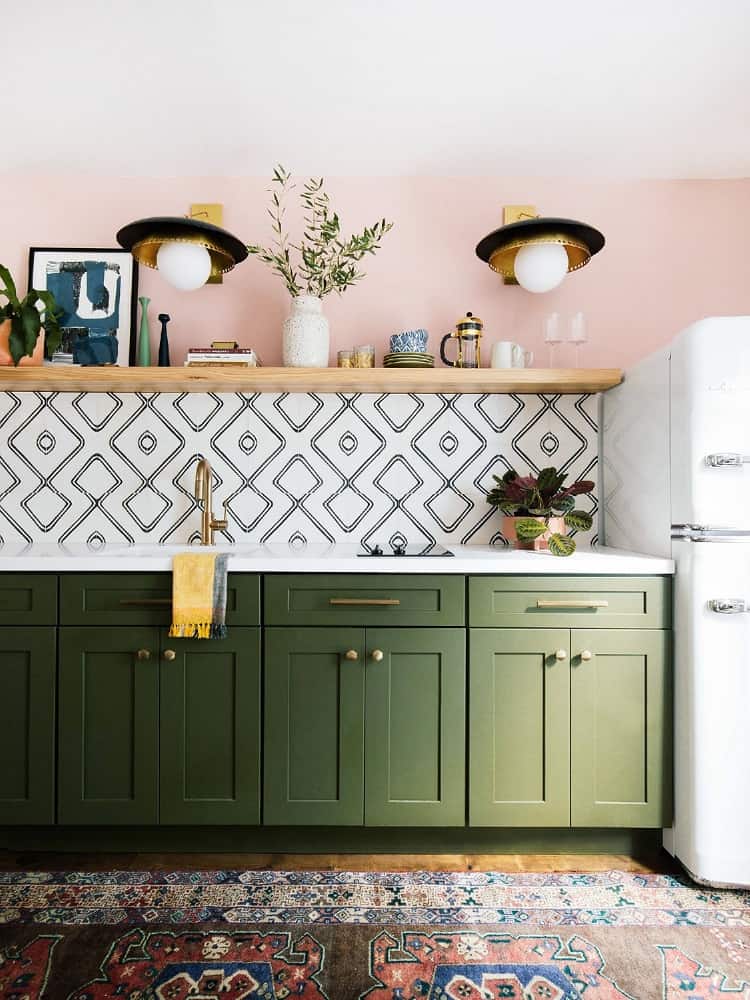 A cheerful yellow or orange can help create a sunny and inviting ambiance, while a cool blue or green can give the space a refreshing feel. If you're not sure what color to choose, consider painting one accent wall in a bold shade and leaving the rest of the walls white or neutral. You can also add color with your décor, such as by hanging brightly-colored curtains or placing a colorful rug on the floor.
Creating a basement kitchen requires careful consideration and attention to detail. With these ideas, you can create a beautiful and functional space that is sure to be the envy of your friends and family! Whether you're looking for an industrial feel or something cozy and inviting.