Summer is just around the corner, which means it's time to start thinking about outdoor projects!
A bench provides a comfortable place to sit and enjoy the outdoors, and it can also be used as a decorative element in your landscaping that will make it more inviting.
The great thing about garden benches is that they come in so many different styles and designs. You can find ones that match your garden's aesthetic perfectly. Or, you can mix and match to create a unique look.
Get ready to get inspired by the list of the DIY garden benches ideas down below.
1. Rustic DIY Garden Bench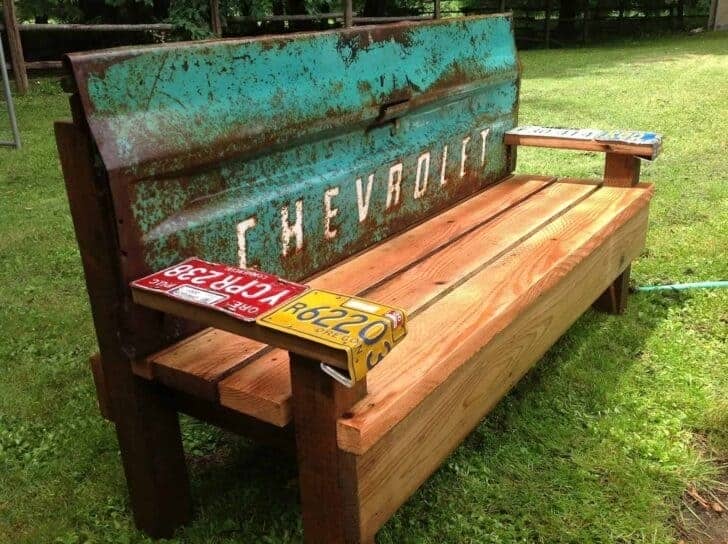 Their natural aesthetic is perfect for adding a touch of charm to any outdoor space. It makes the rustic style is popular. They have a warm, natural vibe that makes any garden feel more inviting.
They're also relatively easy to make yourself, which only needs some basic tools and basic woodworking skills. So it won't be a big deal if you are a beginner.
You will need:
Reclaimed wood
Saw (miter saw, hand saw, or circular saw)
Drill
Screw gun
Screws
Sandpaper
Paint or stain (optional)
2. Easy DIY Project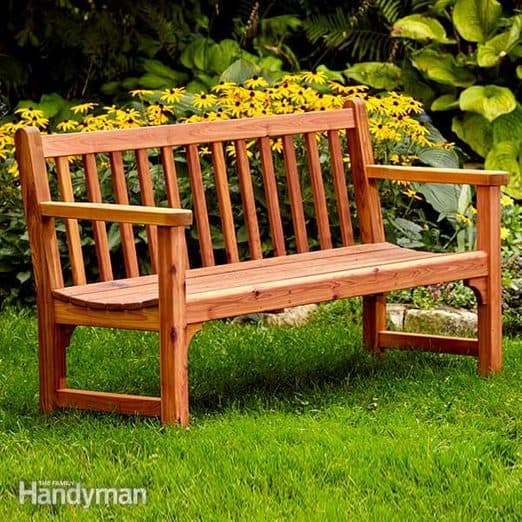 This particular project not only provides a comprehensive introduction to woodworking basics but also promises to be a fun and fulfilling way to occupy your time. By crafting a functional item from scratch, you'll be able to showcase your newly acquired skills while also enjoying the satisfaction of completing a unique and practical creation.
Supplies needed to make this bench:
Lumber
Drill
Dowel jigs
Clamps
Outdoor furniture paint or stain
First, cut the lumber to size and then use the dowel jigs to drill evenly spaced holes along the edges of the boards.
Next, insert dowels into the holes and secure them in place with clamps
After the glue has dried, remove the clamps and sand down the bench
Finally, apply paint or stain.
3. Metal Garden Benches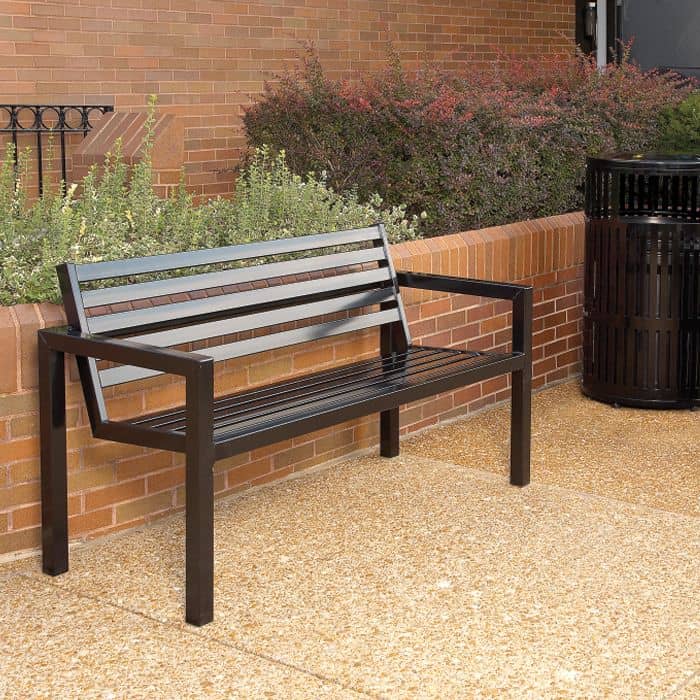 Metal benches are a great choice for those who want a less maintenance option for their garden furniture. Metal benches are made from weather-resistant materials that won't rot or mildew, and they're also very easy to keep clean.
Another advantage of metal benches is that they're often lighter and easier to move than their wooden counterparts, making them ideal for small gardens or patios.
4. Stone Natural Garden Bench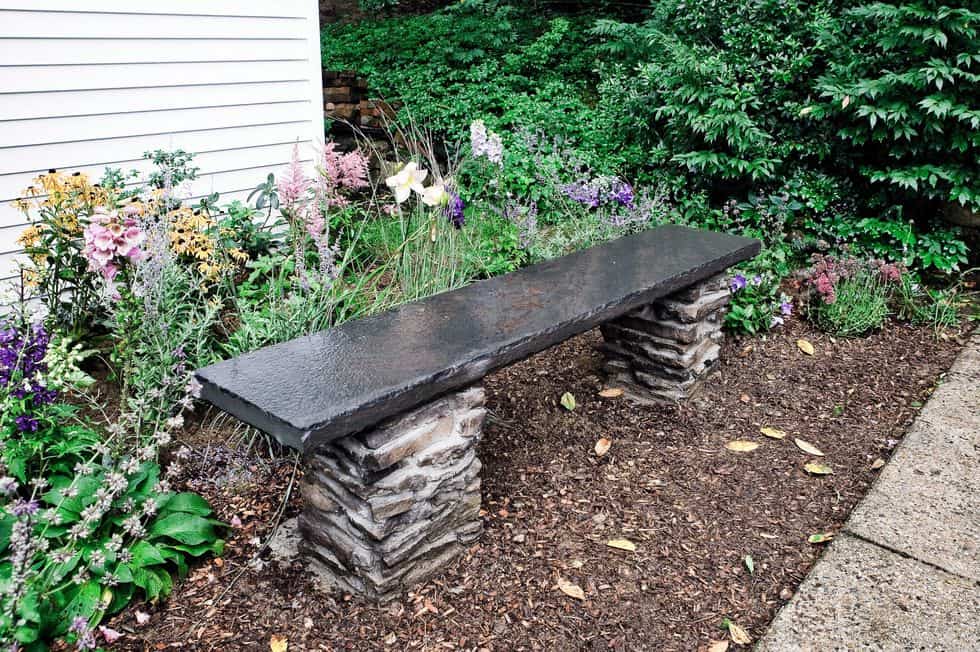 To accentuate the natural atmosphere of the garden, use stone benches. The benches provide a place to sit and enjoy the outdoors while also adding to the overall aesthetic of the space.
You can find stone benches at most home improvement stores. For a more personal touch, create a garden bench using stone pavers and mortar.
Follow these steps:
You will need stone pavers, mortar, sand, a trowel, and a level.
Lay out the pavers in the desired shape of the bench.
Mix the mortar according to the instructions on the package.
Use the trowel to spread a layer of mortar on one paver. Place another paver on top of the first, making sure that it is level with the first paver.
Spread mortar on the next paver and continue this process until all of the pavers are in place.
Allow the mortar to dry for 24 hours.
Fill any gaps between the pavers with sand. Sweep away any excess sand.
5. DIY Wooden Benches
Wooden garden benches are a classic choice, and they're well suited to most gardens. When choosing wood for your bench, opt for a durable species like cedar or teak. On the other side, it is an affordable material. You can build a simple bench in a day with only basic woodworking tools.
If you want to add a bit of extra flair to your bench, consider adding some decorative details like carved legs or an intricate backrest. You can also personalize your bench by adding cushions or pillows in fun colors and patterns.
6. Made Out of Pallet Wood Material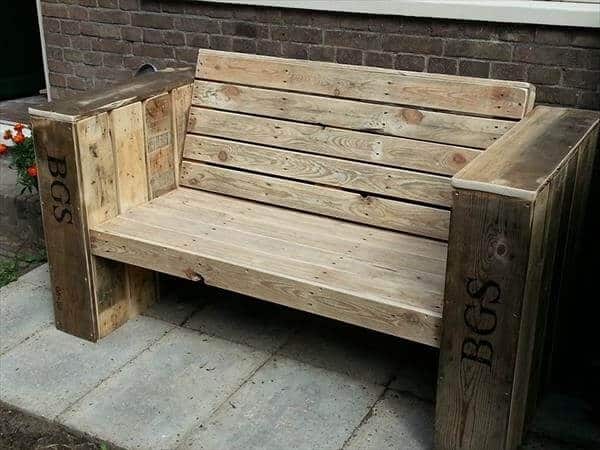 When you are on a tight budget while planning to create your garden bench, using wooden pallet material is a smart hack. DIYing your own bench is also a great way to add a personal touch to your garden. Here are some tips for making your own pallet garden bench:
Start by finding two pallets that are the same size and shape. You may need to trim them down to get them to be exactly the same size.
Place the pallets side by side and screw them together at the top and bottom. This will create the basic frame of your bench.
Next, measure and cut boards to create the seat and back of the bench. Make sure to leave enough space for people to sit comfortably. Attach the boards to the frame with screws or nails.
When the seat and back are attached, sand down the entire bench to smooth out any rough edges. You may also want to paint or stain the wood to protect it from weather damage.
7. Add the Modern Touch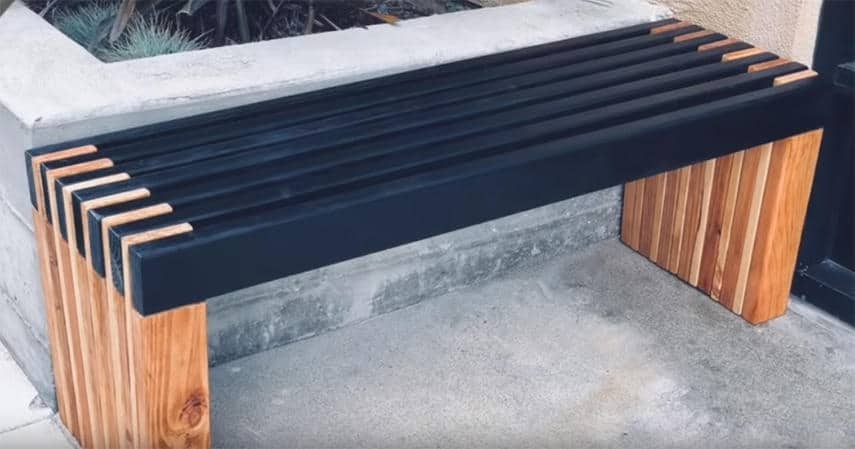 Anyone can simply make the modern garden benches and does not necessarily require the need of a professional. With some creativity, DIY-ing a garden bench can be done within a few hours and can easily become a fun weekend project.
Use clean lines and avoid too many curves for a more modern look, then choose natural materials such as wood or stone. Use bright colours or patterns to make a statement, and remember that less is often more when it comes to modern design.
8. Painted Garden Bench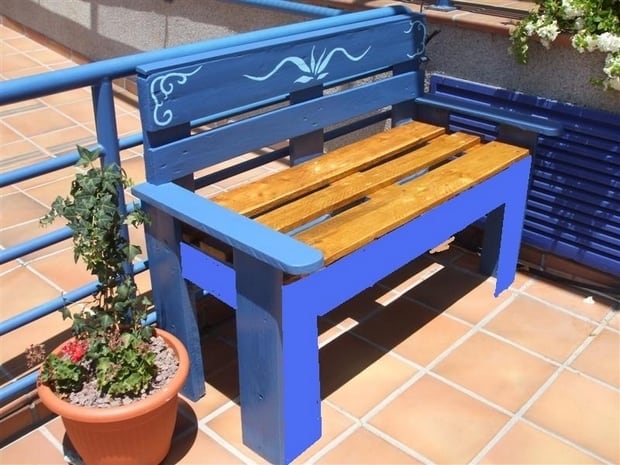 With a little paint and some basic carpentry skills, you can create a beautiful and unique bench that will be the perfect addition to your yard or patio. First, choose a bench that fits your style. Then, select a paint color that coordinates with your overall garden design.
After you have your materials, it's time to get to work! Start by sanding down the bench to create a smooth surface. Then, apply a coat of primer before painting the bench with your chosen color. Be sure to use paint that is designed for outdoor use so that it will withstand the elements. Allow the paint to dry completely before adding any embellishments, such as cushions or pillows.
9. Cinder Block Bench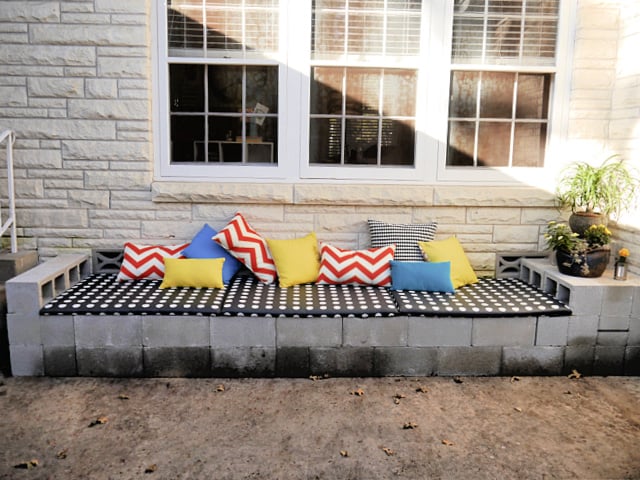 The cinder block is not only inexpensive. It is also easy to find and also easy to work with. To get started, simply stack cinder blocks to create the seat and backrest of the bench. Then, use mortar or concrete to attach the blocks together.
Once the bench is dry, add a layer of paint or sealant to protect it from the elements. For added comfort, you can also add cushions or throw pillows to the bench.
10. Curved DIY Garden Benches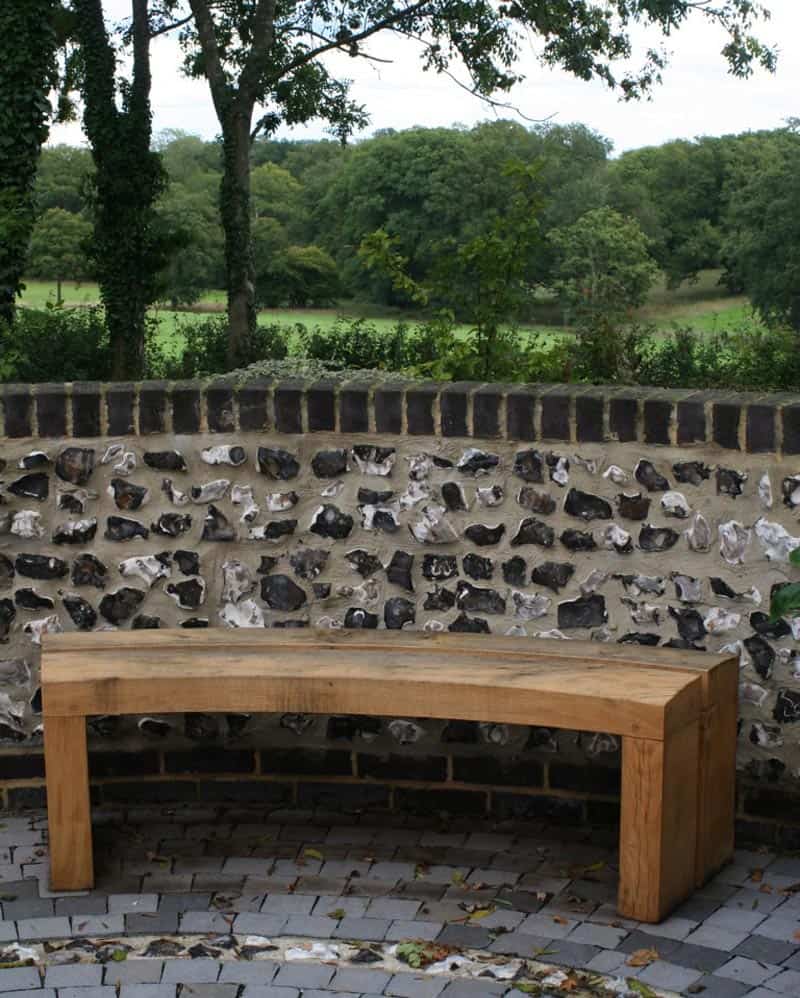 This curved bench will add interest and visual appeal to your garden. It's easy to build and is a great project for beginners.
You can make this bench from scrap wood or new lumber. If you use new lumber, you'll need to sand and finish it before assembly. This bench can be painted or stained to match your garden style.
11. Built-In Garden Benches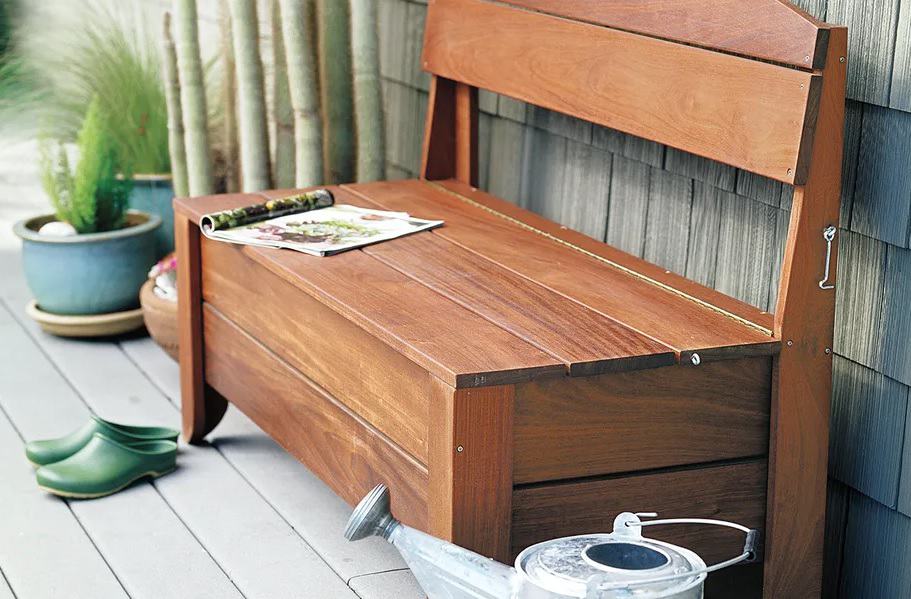 Built-in benches are perfect for storing all of your gardening essentials, so you can keep them close to hand when you need them. Ensure you choose the best durable material. Cedar and redwood are good options, as they are both naturally rot-resistant.
You can make a built-in bench yourself with a few tools and basic carpentry skills. Start by measuring the space where you want to install the bench. Then, cut the lumber to size and assemble the frame using screws or nails.
Next, add plywood or composite decking to the top of the frame to create a flat surface. Finally, attach the bench seat slats and any trim pieces.
12. DIY Corner Bench
Build the garden bench in the corner of your garden to help you optimize the layout of your garden. By tucking it into an unused corner, you can create an intimate nook that feels miles away from the hustle and bustle of everyday life.
For added visual interest, try using different materials or colors for the seat and backrest. You can even add cushions or pillows to make it extra cozy. But if you want to keep the natural look, then staining it is also can be a good option.
13. Wheelbarrow Bench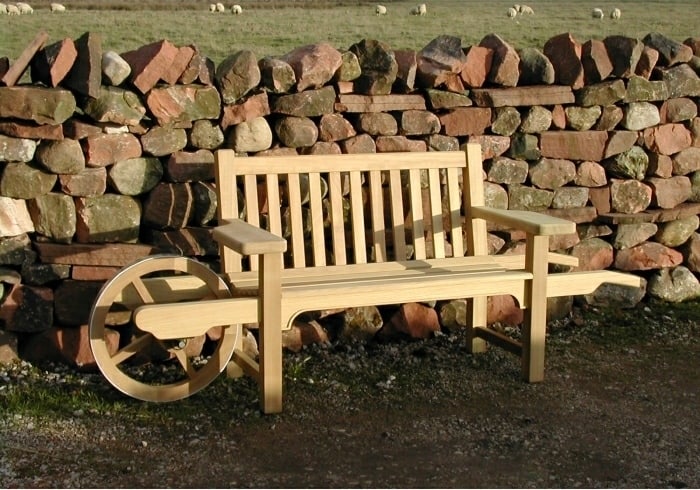 A wheelbarrow makes a great base for a garden bench. It can be transformed into a stylish and unique piece of outdoor furniture.
Start by finding an old wheelbarrow at a garage sale or flea market. If the wood is in good condition, you can simply sand it down and give it a fresh coat of paint.
If the wood is in poor condition, you may want to replace it with new lumber. Next, attach four legs to the underside of the wheelbarrow. You can use screws, nails, or bolts for this step.
14. Rustic Log Seating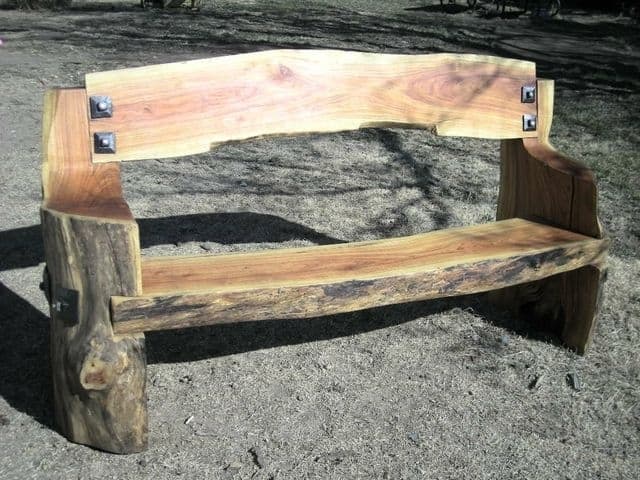 A rustic log bench is a stylish and sturdy option that can be easily built using logs and a few other materials.
To start, you'll need a couple of logs that are roughly the same size. You'll also need some saws and other tools to cut the logs into pieces. Once you have all of your materials, it's time to start building.
First, cut the logs into pieces that are about four feet long. Then, use two of the pieces to create the legs of the bench. Next, cut two more pieces of log for the seat and backrest. Finally, put everything together using screws or nails.
15. Tree Stump Bench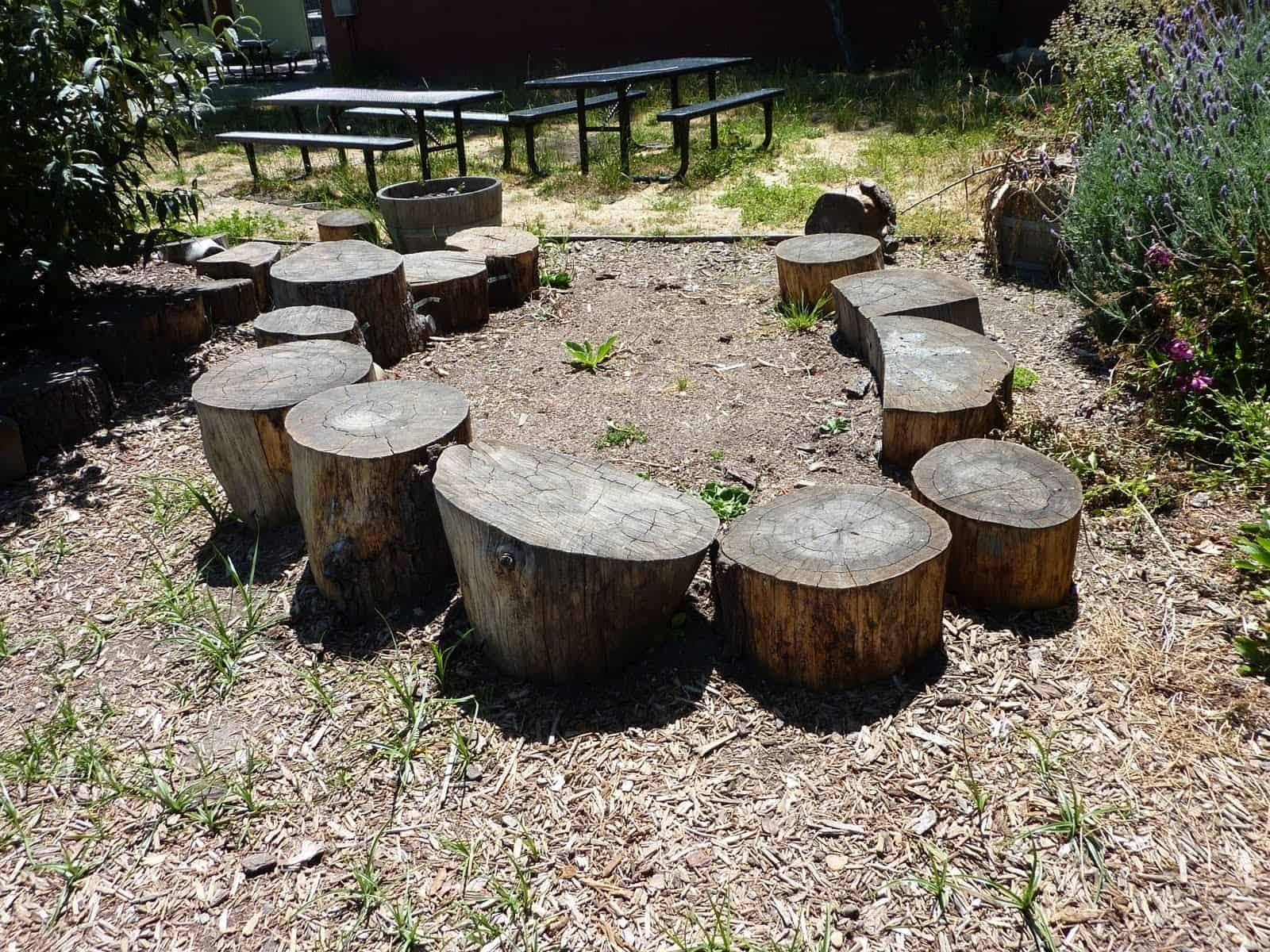 You can accentuate the natural atmosphere in your garden by adding the tree stump bench. This is one of the simplest benches to make, as it only requires you to find a tree stump that is the right size, and then cut it down to be level with the ground.
You can add a coat of varnish or paint to protect it from the elements and give it some extra personality. If you want something more rustic, you can leave it as is.
This type of bench is perfect for gardens with a lot of trees, as you can likely find a stump that is the right size without having to cut anything down.
16. Colorful Milk Crate Bench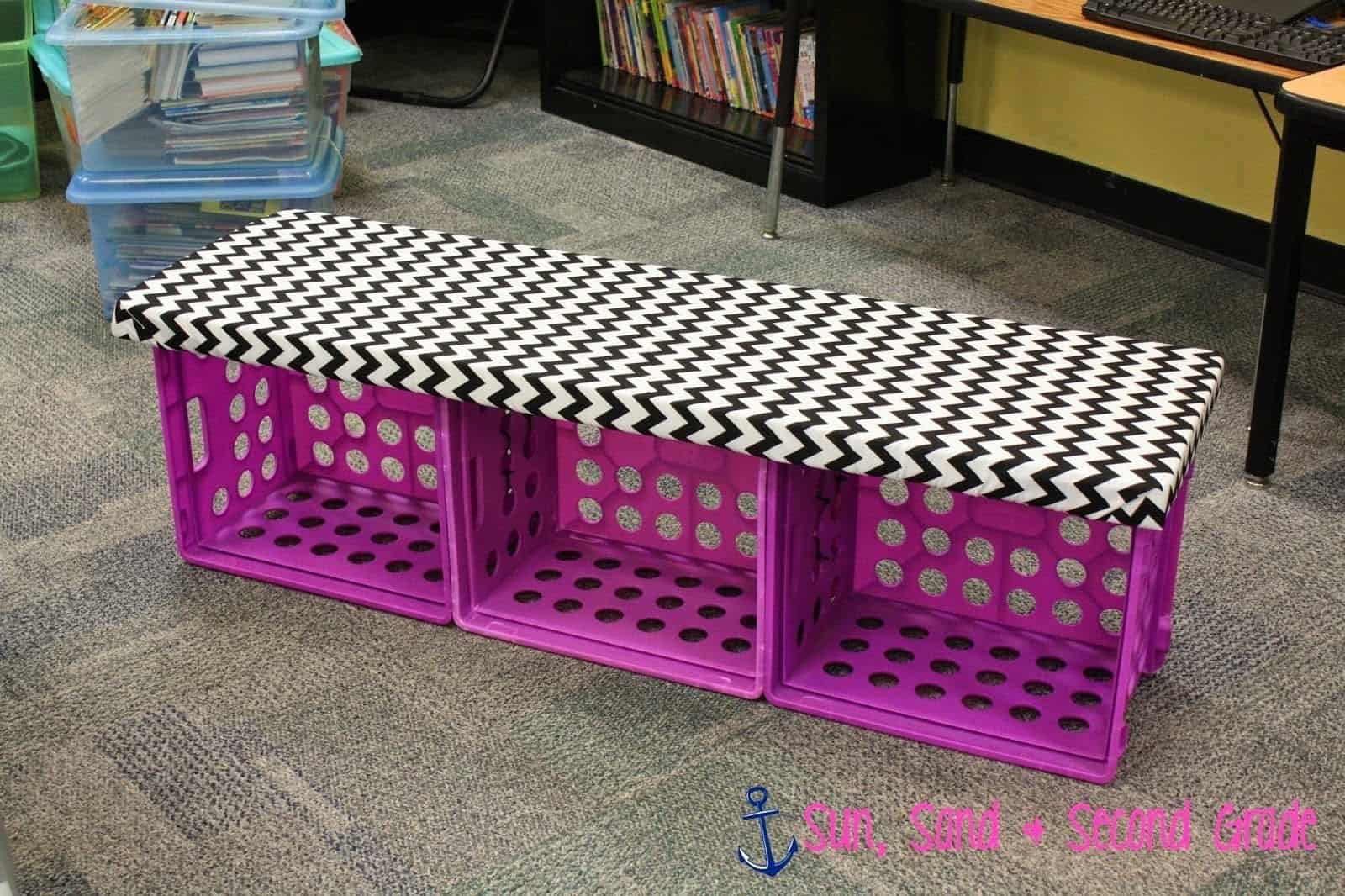 This bench is constructed from upcycled milk crates, which gives it a rustic charm.
To make the bench, simply stack the milk crates on top of each other and secure them together with screws or brackets. Then, attach a wooden plank to the top of the milk crates to create a seat.
For a finishing touch, add cushions or pillows to make the bench more comfortable.
17. Patio Cooler Bench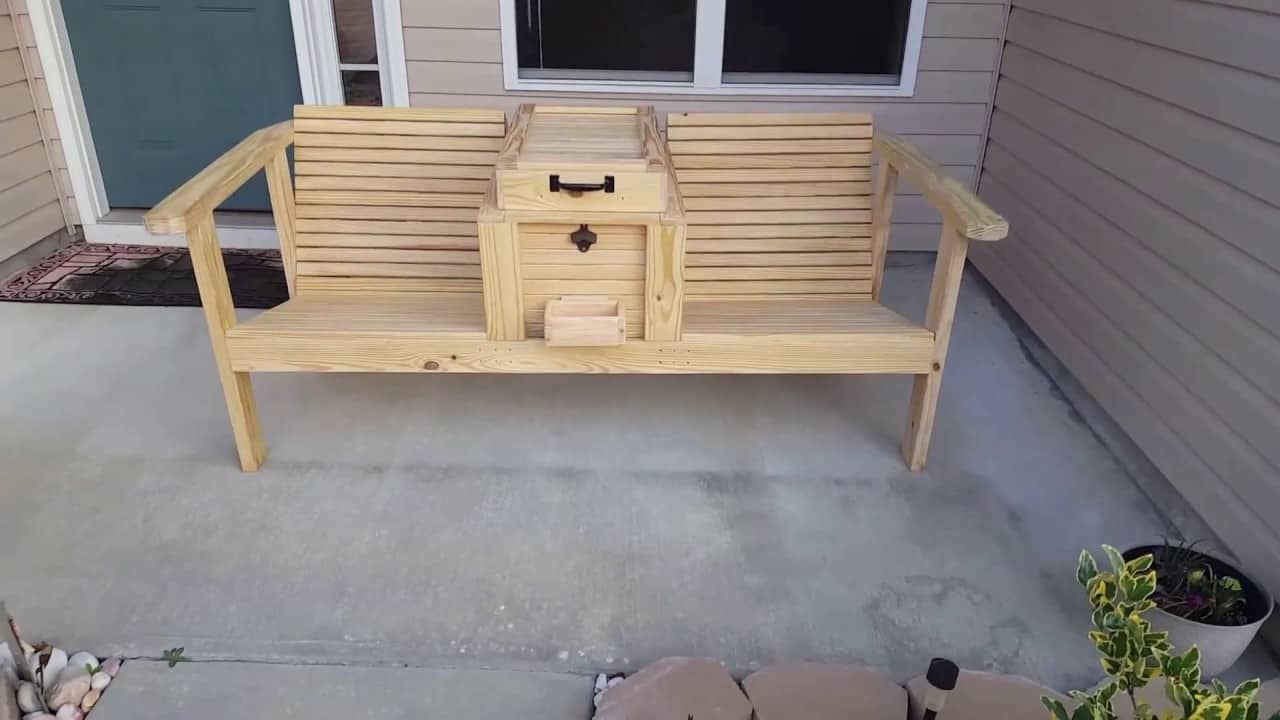 Patio cooler benches are typically made from either wood or wicker, and they can be easily customized to match your existing outdoor furniture. This type of bench features a built-in cooler, making it the perfect spot to enjoy a cold drink on a hot day.
To build your own patio cooler bench, you'll need a few supplies, including deck boards, screws, hinges, and handles. You'll also need an insulated cooler that fits snugly inside the bench.
Instructions:
Cut the deck boards to size and attach them together using screws and hinges. Make sure that the hinge side is facing up so that the cooler can be easily opened and closed.
Cut a hole in the top of the bench for the cooler. The hole should be slightly smaller than the cooler itself, so that it fits snugly.
Attach handles to the sides of the hole so that the cooler can be lifted in and out easily.
Place the cooler inside the hole and fill with ice and your favorite beverages.
18. Farmhouse Bench Plans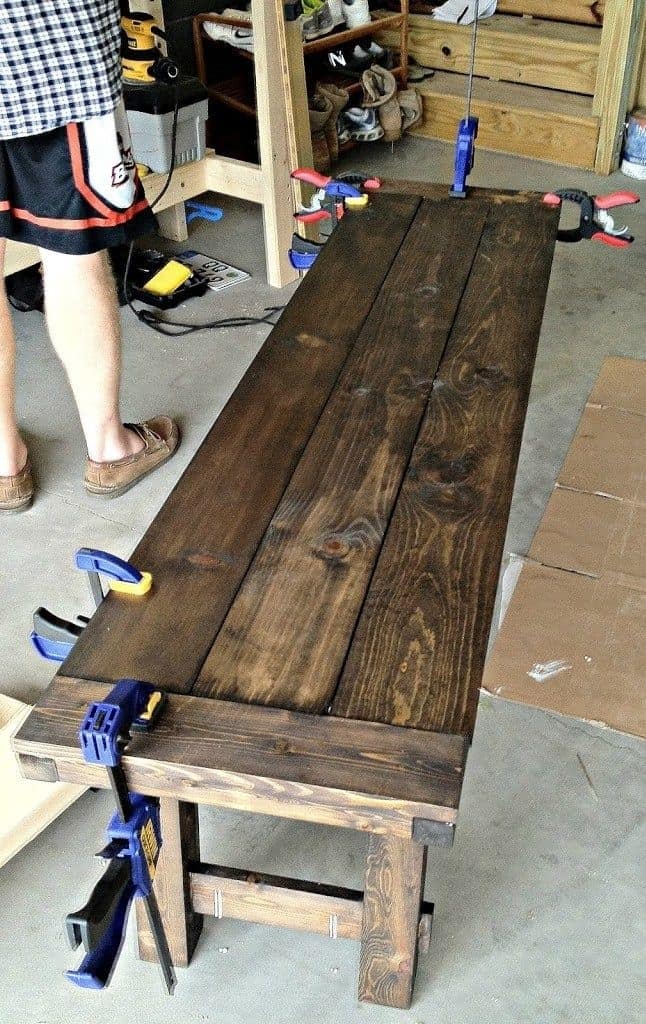 Highlight the farmhouse style with this DIY garden bench! It features a slatted back and seat, plus turned legs for a touch of elegance. This bench would look great on your front porch or in your garden with its distressed finishing.
To build this bench, you will need:
(12) ˝ x ˝ x 72" lumber boards
(12) ˝ x ˝ x 48" lumber boards
(12) ˝ dowel rods
Drill
Jigsaw
Sandpaper
Paint or stain of your choice
Polyurethane (optional)
19. Garden Swing Bench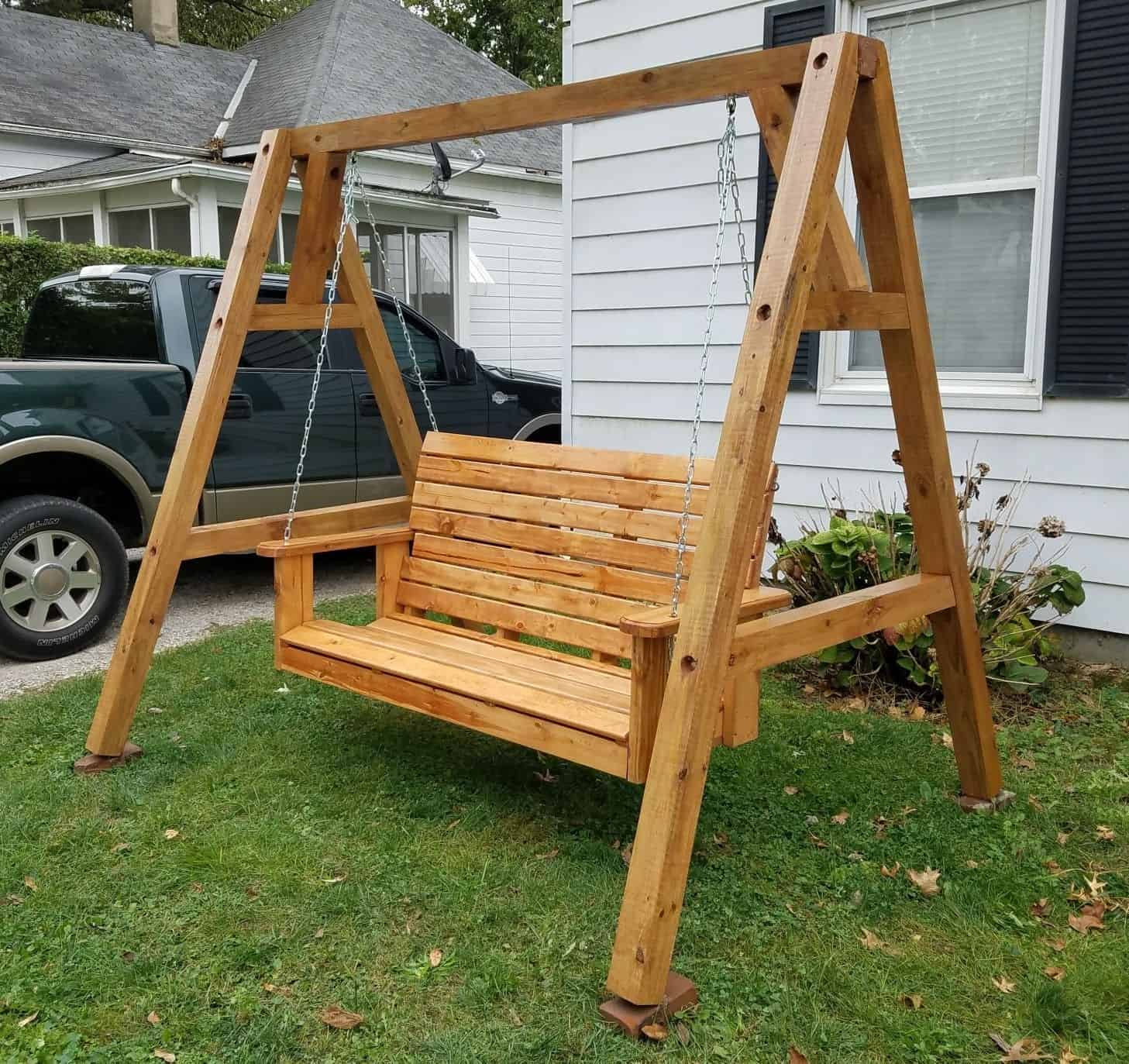 A cozy garden swing bench is the perfect spot to enjoy your garden. You can build one yourself in just a weekend with some basic carpentry skills and a few inexpensive materials.
First, choose a spot in your yard where you want the bench to go.
Then, cut six 2x4s to length and screw them together to form the frame of the bench.
Next, attach two more 2x4s across the frame for the seat and back supports.
Finally, add boards or slats to the seat and back for comfort and screw them in place.
20. Add Some Cushions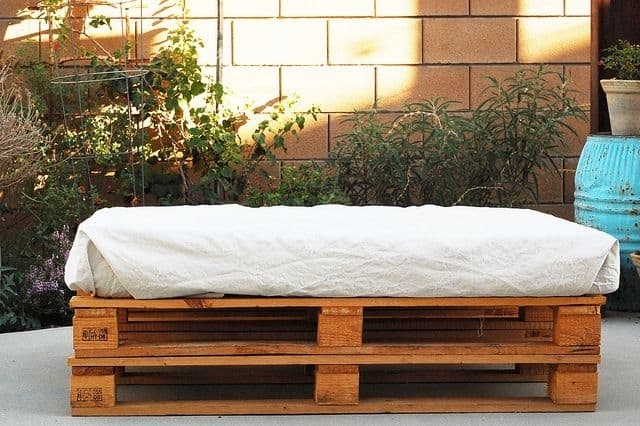 Try upcycling the wooden pallets that offer you an affordable material, but can be transformed into something beneficial.
Get some good quality of pallets, then clean and sand down any rough edges. Then, use the drill to attach the decking boards to the top of the pallets.
Create any finishing as you desire. Stain or paint the bench that will make a visual interest in your garden. Lastly, add an extra comfort by adding cushion.
21. The Versatile Deck Box Bench Seat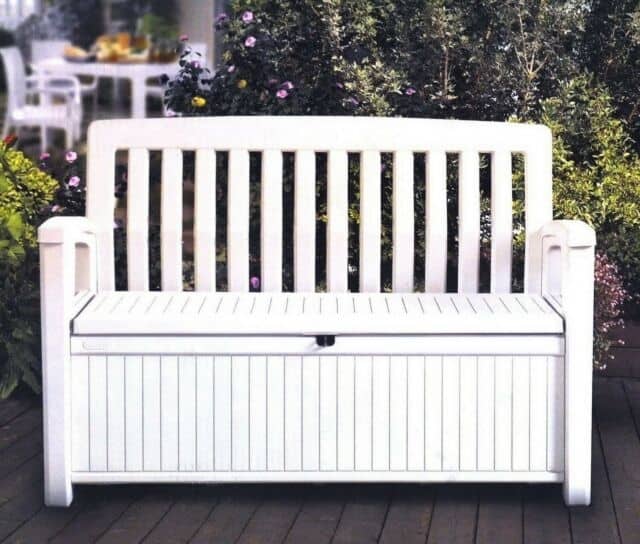 This DIY garden bench is the perfect solution for keeping all of your gardening supplies within reach. The bench seat doubles as a deck box, providing ample storage space for storing everything from potting soil to fertilizer.
The slatted sides and back also make this bench perfect for climbing plants, providing them with the support they need to grow.
22. Steel Bench with Cushions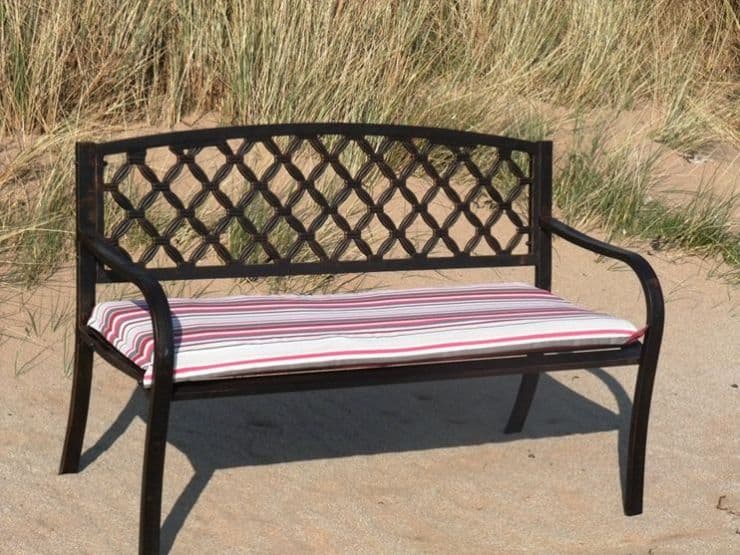 Steel benches are strong and durable, so they can withstand all kinds of weather conditions. Other than that, they're easy to maintain. You can simply wipe them down with a damp cloth when they get dirty. And, if you want to change up the look of your bench, switch out the cushions.
Choose cushions in a bold color or pattern to add a touch of personality to your garden space. Ensure the cushions are weather-friendly so you can leave them out all season long.
23. Add Cushion to the Wicker Bench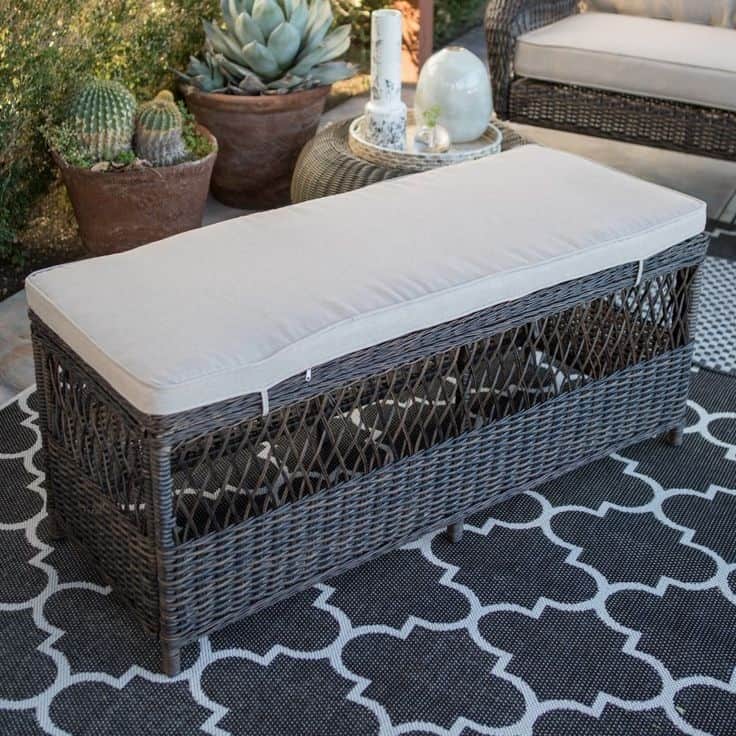 This wicker bench with cushions is a relatively easy project that will add a touch of elegance to your garden. To get started, you'll need to gather some supplies. For the frame of the bench, you'll need four wicker panels and two wooden boards.
The cushions can be made from any fabric of your choice, and you'll also need stuffing, batting, and piping.
24. Outdoor Bench with Planters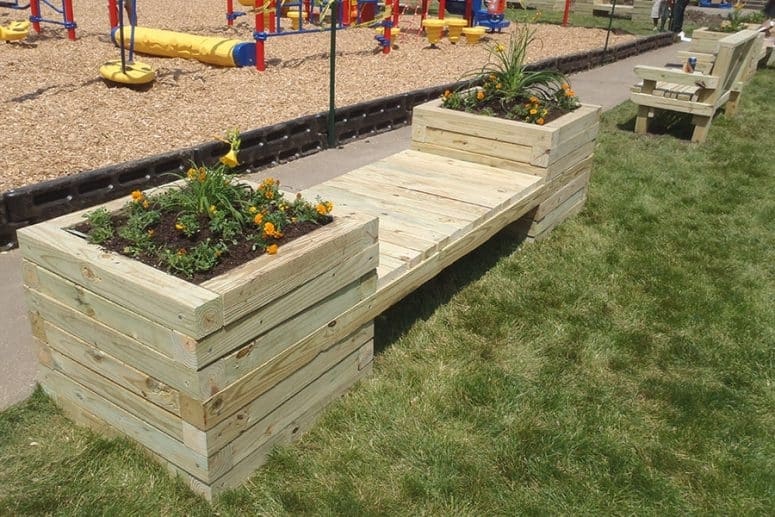 Create a versatile focal point in your garden with this easy-to-build potting bench.
The bench is functional to give you a cozy seating area, which is complemented by some greenery hints. The planters along the sides of the bench are great for herbs, annuals, and even vegetables.
This DIY garden bench is a simple yet stylish piece that you can add to your outdoor living space.
You will need:
Materials: lumber, screws, nails, potting soil, plants
Tools: saw, drill, screwdriver
25. Fire Pit Seating Spot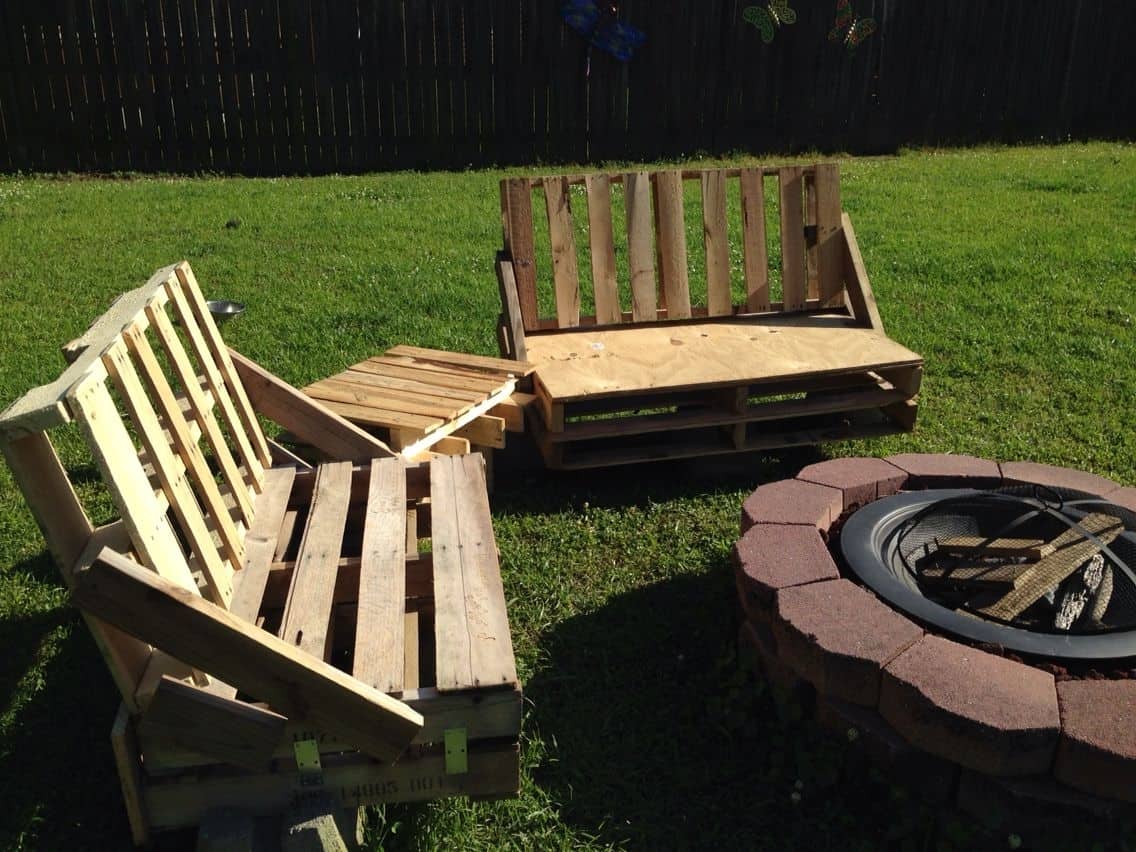 Enjoy the starry night sky on this bench, which facing the fire pit that offers you a warm ambiance. This bench is also a great place to relax and take in all your hard work in the garden. It is made out of reclaimed wood.
Supplies needed:
Reclaimed wood
Circular saw
Jigsaw
Power drill
Paint or sealer (optional)
This bench will take some time to make, but it will be worth it in the end.
With summer just around the corner, it's time to start thinking about how you can make your outdoor space more inviting.
A garden bench is a great way to add seating and style to any yard or patio. These 25 DIY garden benches are perfect for anyone who wants to spend time outdoors this summer.