DIY Storage Ottoman Ideas offer the perfect solution if you have an old storage ottoman that needs a facelift or if you looking for ways to add extra seating and storage to your home.
With some creativity and imagination, you can transform a boring ottoman into a visually appealing focal point of your room while providing more space for storage. No worries, you don't have to be a professional to make it works.
Here are some creative DIY storage ottoman ideas to get you started. Let's figure it out.
1. Simple DIY Storage Ottoman Ideas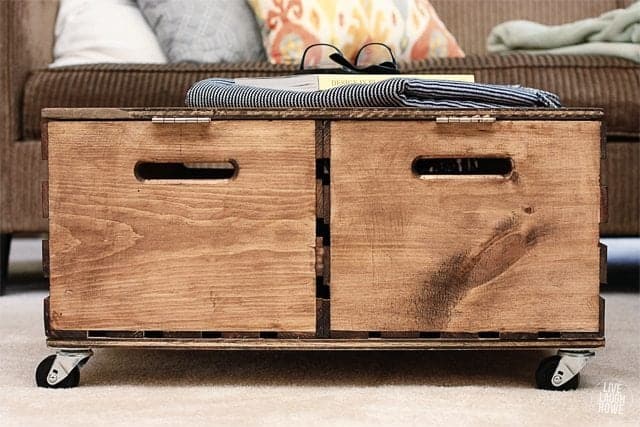 Elevate your living space with a functional and stylish addition – a DIY storage ottoman. Not only will it provide you with extra storage, but it also doubles as a comfortable seating option.
Say goodbye to cluttered spaces and hello to a chic and practical solution. Get started on your own ottoman project today
Materials:
(2) 18″ x 12½" x 9½" wood crates
(2)  25″ x 18″ pieces of plywood will be the base and the top, respectively.
(4)  2″ casters – locking or non-locking
½ Pint Varathane Wood Stain
Paint brush and/or Rags
Drill & Bits
(2-pack) 1½ inch Satin Brass Non-Removable Pin Narrow Utility Hinge
(2) 4-packs #6 ½ inch Screws Silver/Chrome Finish
12-pack #8 ¾ inch screws
2. Transform a Coffee Table into an Ottoman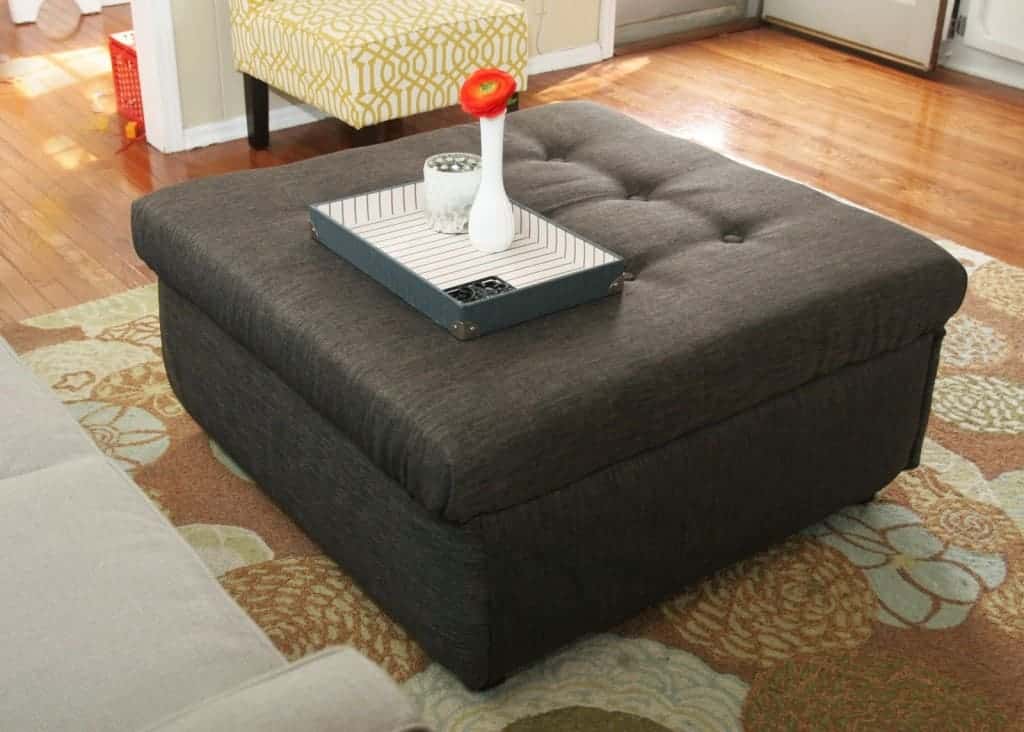 Don't throw away the old and unused coffee table in your house since it can be such a gem with a little touch. With a few simple steps, you can easily turn your outdated furniture into a stylish ottoman.
Here's what you need to do:
Gather the necessary supplies. You will need foam padding, upholstery fabric, a staple gun and staples, scissors, and a hammer.
Measure the size of your table so that you can purchase enough foam padding to cover it. Then cut the foam with the scissors to fit the exact measurements of the table.
Place the foam on top of the table and secure it by using the staple gun.
Cut the fabric to cover the top and sides of your table with enough extra fabric hanging so that it can be secured on the underside.
Secure the fabric with a hammer, stapling along all edges to ensure a tight fit. Make sure you pull the fabric taut as you work around the table.
Add legs to complete the look and you have a brand new ottoman.
3. Repurpose a Suitcase as a Storage Ottoman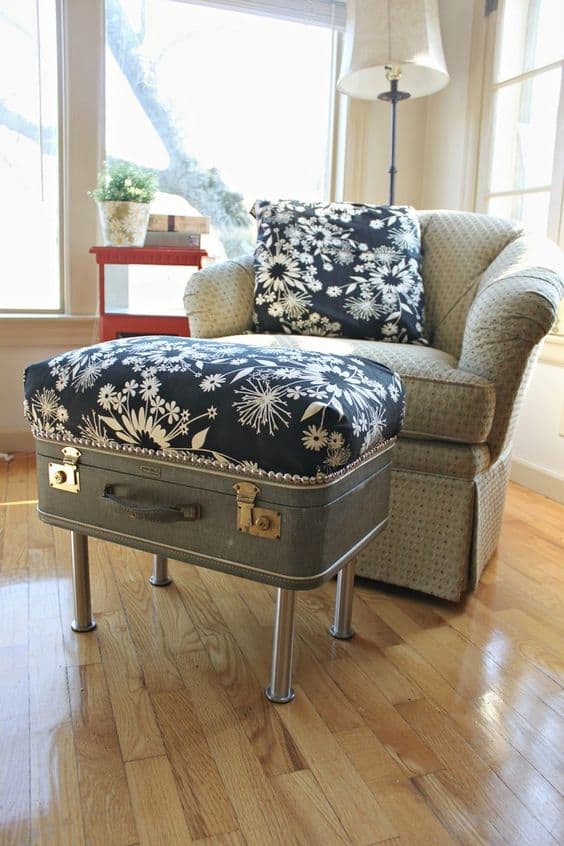 If you have an old suitcase lying around, don't throw it away. Instead, repurpose it into a storage ottoman! This is a quick and easy way to add some extra storage space to your home while also adding a unique piece of furniture to your living space.
All you need to do is take the inside out of the suitcase and add some foam, batting, fabric, or a combination of all three to the inside. Once that's done, simply put the top back on and you're good to go.
You can also decorate the outside of your ottoman with added details like paint or decals for a more personalized look.
4. Upholster an Old Drawer to Create an Ottoman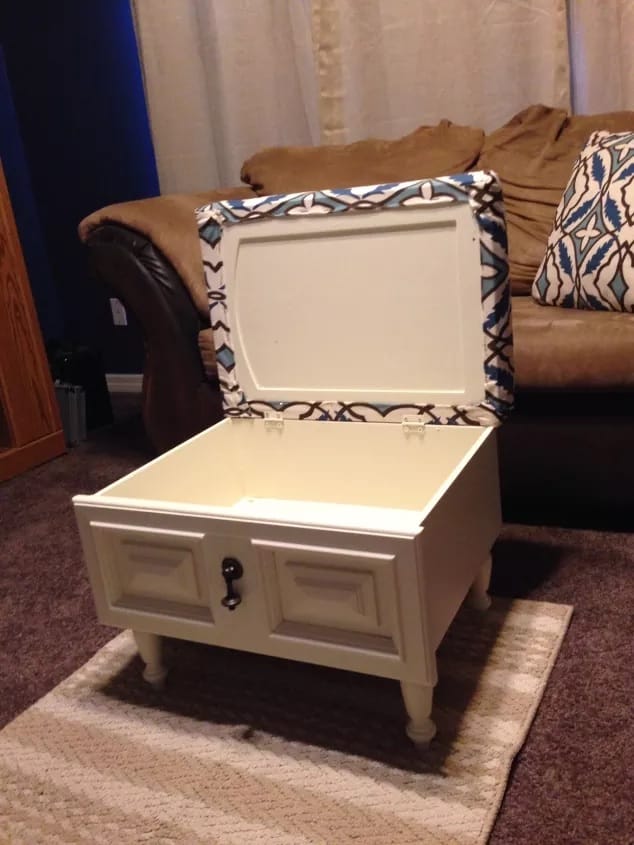 Give an old drawer a stylish new look by transforming it into an ottoman.
First, you'll need to attach some casters or other feet to the bottom of the drawer so that it can be easily moved around. Next, measure and cut foam cushions to fit inside the drawer, then wrap them in batting and fabric. Finally, tack the fabric in place, then use a staple gun to secure it.
Add decorative touches like trim or buttons for extra flair, and you'll have a unique piece of furniture that will look great in any room.
5. Convert an End Table into an Ottoman with Storage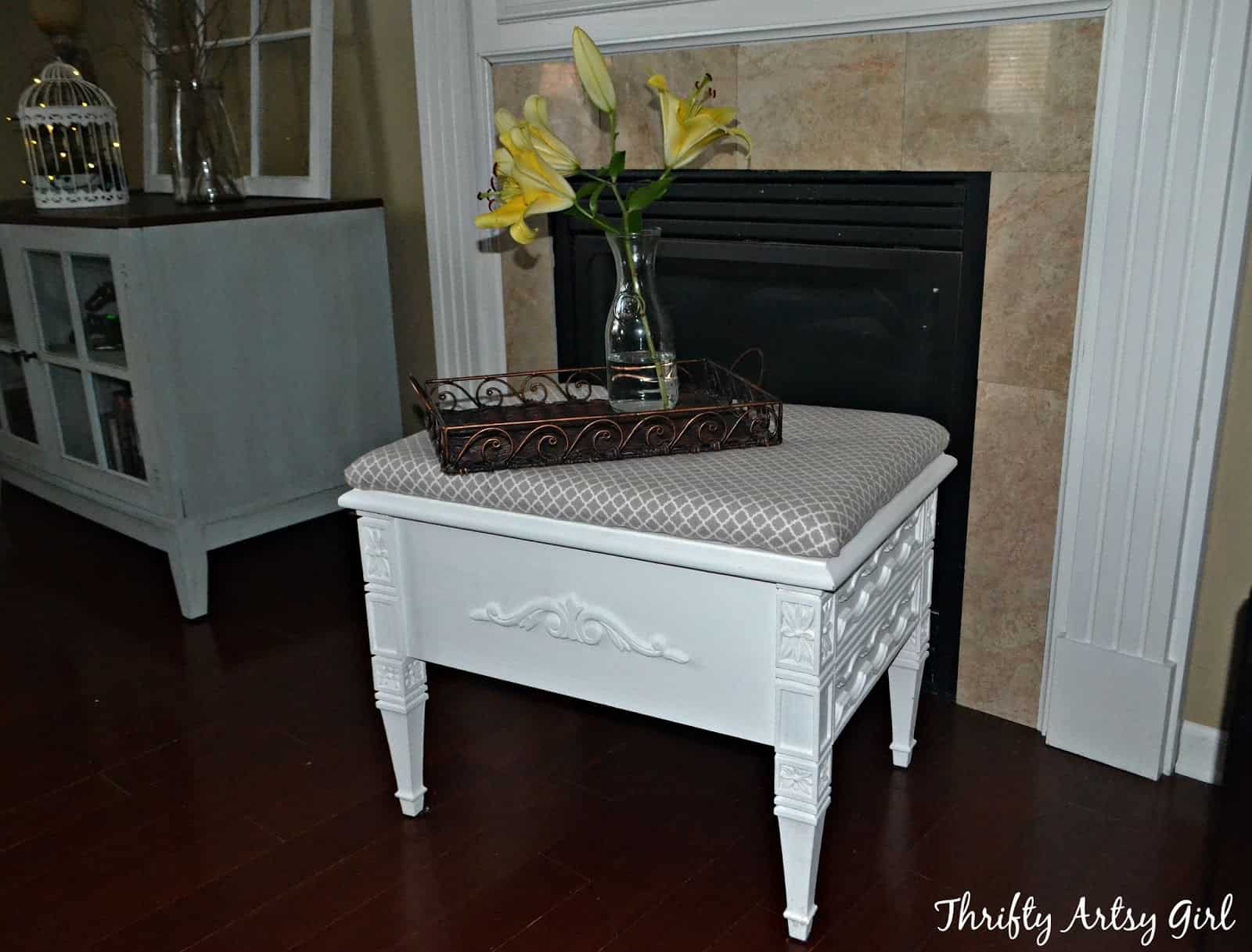 If you have an old end table that is no longer needed, you can easily turn it into a stylish and functional ottoman with storage.
All you need to do is remove the legs of the table and salvage any hardware or handles. You may also want to give the entire piece a fresh coat of paint in a color of your choice.
When the end table has been stripped down, you'll need to get some foam padding and fabric. Measure the top of the table so you can cut out a piece of foam that is slightly larger than the table's surface area. Wrap this in a piece of fabric and then staple it to the underside of the table.
6. Make the Most of Wooden Crates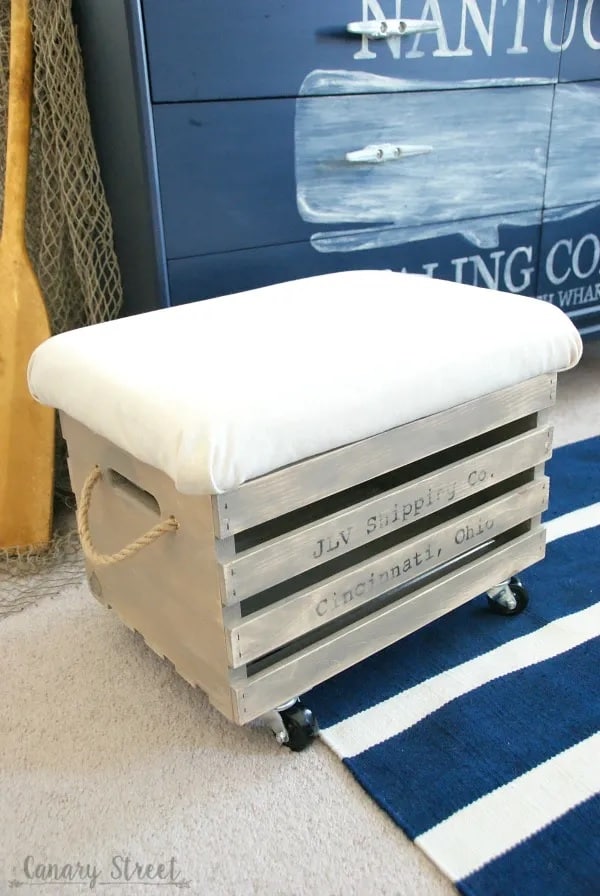 Wooden crates are a great way to add a rustic charm and style to any room. You can use them as side tables, coffee tables, bookshelves, wall shelves, ottomans and so much more. They come in all shapes and sizes so you can find one that fits your decor perfectly.
You can paint them or stain them for a unique look, or just leave them as is. When you're done using them, they can easily be taken apart and used for other things around the house. Wooden crates are an amazing way to save money and give your space a custom look without breaking the bank.
7. Recycle and Reuse Furniture Pieces
Revamp your home decor without breaking the bank! Don't let the hefty price tags of new furniture hold you back. Upcycling and repurposing existing pieces can save you a ton of cash while adding unique character to your living space.
Give thrift stores a chance and browse their aisles for hidden gems that just need a little love to shine. With a bit of creativity and resourcefulness, you can transform old chairs, tables, and couches into stunning statement pieces that will impress your guests.
You can refinish, repaint, and even reupholster the pieces to make them look like new. If you don't have access to thrift stores, check out yard sales and online classifieds for furniture bargains.
8. Upcycle an Old Chest of Drawers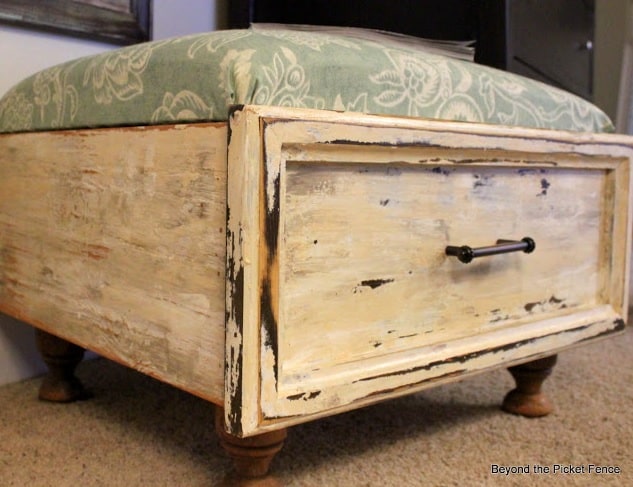 Upcycling an old chest of drawers is a great way to give your home a new look without spending much money. You can either repurpose it into something entirely new, like a mini bar or bookshelf, or simply spruce it up with some simple DIY tweaks. Start by giving the piece a good cleaning and sanding it down to its original wood finish.
If you'd like to paint it, use some eco-friendly paints and sealers to protect the wood from water and other elements. Add some new hardware for a pop of color or keep it neutral with minimalistic pulls. After all, place it in the desired room and fill it with your favorite items.
9. Reupholster a Footstool Into an Ottoman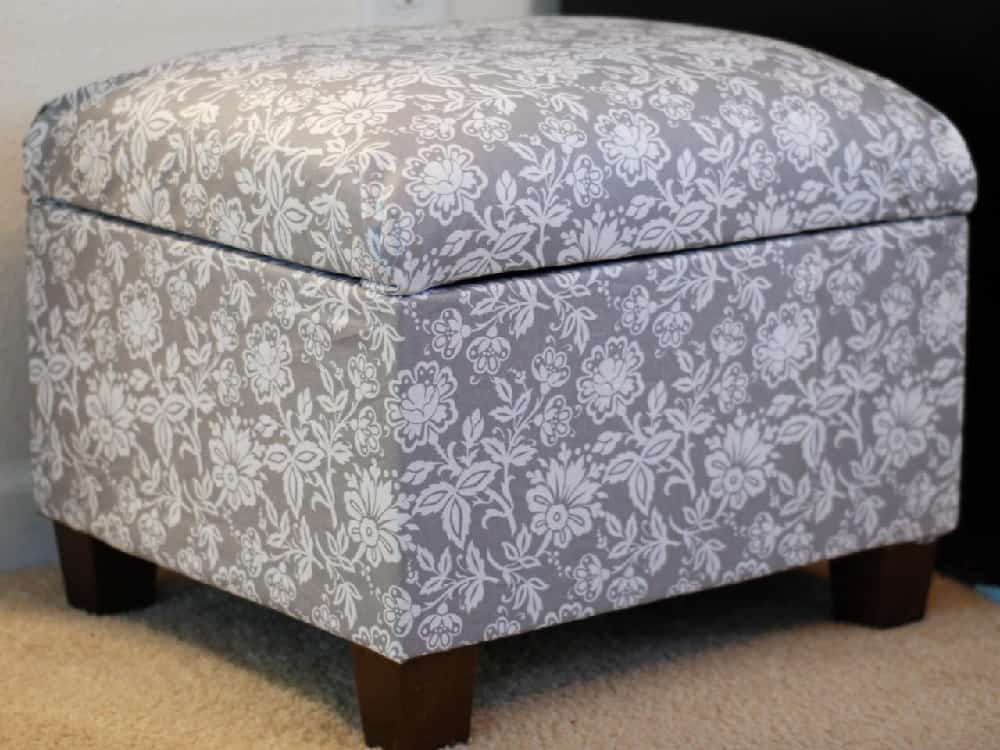 Footstools are a great way to provide additional seating in any living room. But, they can often be an eyesore. If you'd like to spruce up your interior design, try giving your footstool a makeover by reupholstering it into an ottoman.
To start, choose a fabric that will fit the style of your living room. Remove the old upholstery from the footstool and measure it out so you know how much fabric is needed for reupholstering it. Cut out two pieces of the same size for each side, plus a third piece to cover the lid top.
10. Utilize a Patterned Shoe Rack as a Storage Ottoman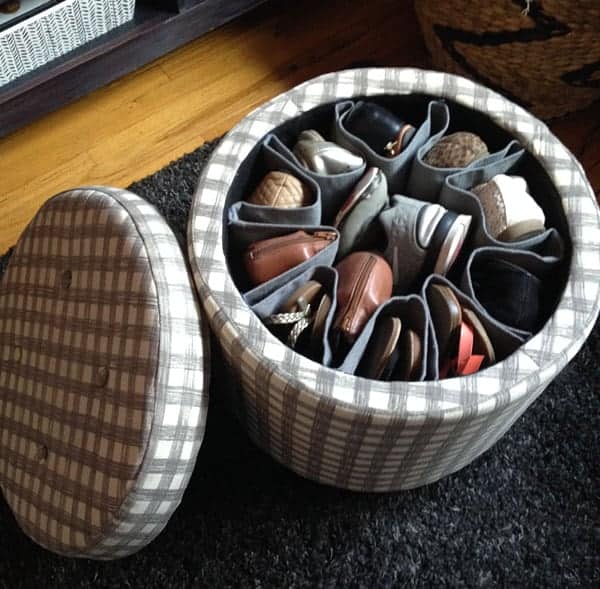 A shoe rack can be an excellent way to store shoes, but did you know it can also double as a storage ottoman?
By simply adding some fabric and batting over the top of the shoe rack, you can easily create a comfortable piece of furniture that doubles as a storage solution.
This patterned shoe rack can provide plenty of space for your shoes and any other items you want to store in it. Plus, it's an inexpensive way to add additional seating or storage without breaking the bank. Give it a try today.
11. Transform an Upholstered Bench into an Ottoman with Storage
If you have an upholstered bench that's seen better days, don't get rid of it just yet. Instead, turn it into a stylish ottoman with storage! All you need is some fabric, foam, and batting to give your bench a new look and create convenient storage space inside.
First, remove the seat cushion from the bench and measure its dimensions. Then, use these measurements to create a new fabric cover for the seat cushion using your chosen material.
Once you have your new cushion cover, stuff it with foam and batting to give it shape and structure. Finally, attach the new cushion cover back onto the bench frame, securing it in place with upholstery staples or adhesives.
12. Create Your Own Unique Ottoman with Fabric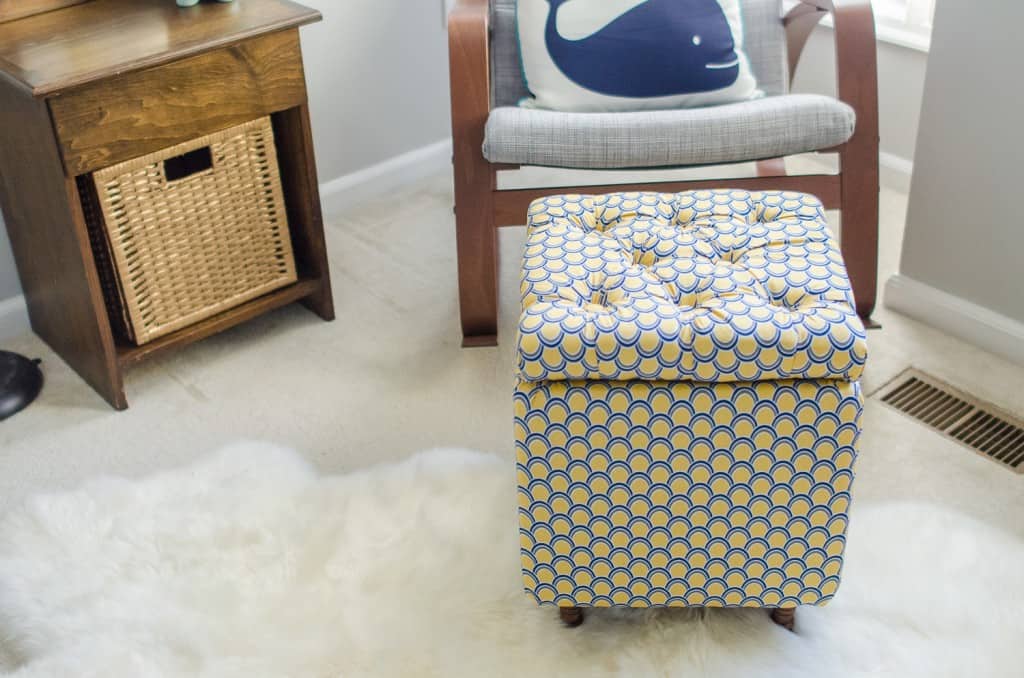 You don't have to settle for a mundane ottoman in your home. With the right fabric and supplies, you can create an eye-catching, unique ottoman that perfectly matches your décor. Start by finding the perfect fabric something with bold prints or colors that complements the rest of your home's style.
With the fabric in hand, use a piece of wood or foam to create the base of your ottoman and stuff it with batting or polyester fiberfill. Then cut your fabric into pieces that will cover the top, sides and bottom of your ottoman. Secure all the fabric pieces together using industrial strength glue, staples.
Finish your ottoman with decorative tacks or buttons, creating a unique and stylish piece of furniture that's sure to be the centerpiece of any room.
13. Make the Most of an Existing Ottoman by Adding More Storage Space to it.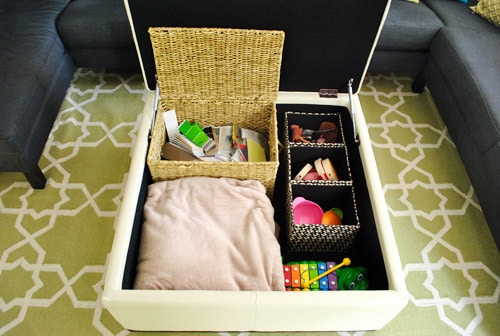 If you already have an ottoman in your home, you can turn it into a versatile storage piece. Ottomans are great for storing things like blankets, pillows, and games. To make use of the extra space around the edges of the ottoman, add small baskets or bins to store additional items.
You can line the baskets up along the edges of the ottoman for easy access, or you can stack them in a pyramid formation to create more storage space. This is a great way to make the most of existing furniture and keep clutter at bay.
14. Create a Simple Cube Ottoman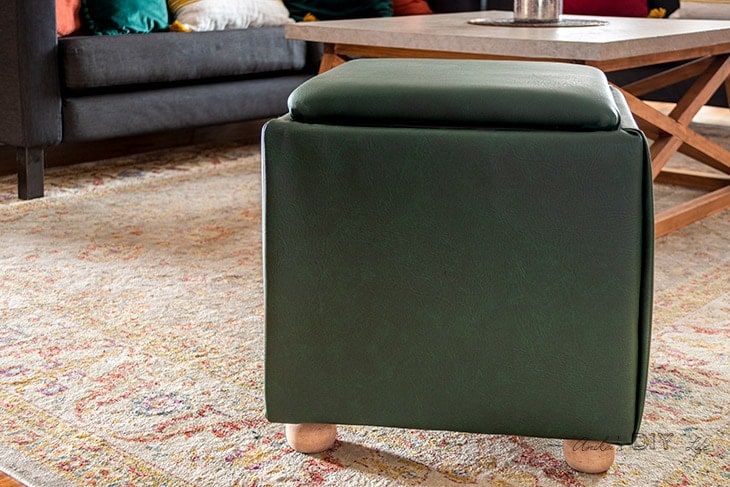 This DIY project is perfect for those who want to add a little extra storage space to their living room. With this cube ottoman, you can easily store blankets, pillows, books and other items in the built-in compartments.
To make this DIY piece of furniture, you'll need:
Lumber per the plans – ¾″ and ½″ Plywood and a 1 x 2 board
Arrow Fastener T50X TacMate Heavy Duty Staple Gun
Arrow Fastener T50 staples (5/16″)
Batting
Fabric of your choice. I used dark green vinyl
Foam – I used 1″ thick
Table leg plates
Bun feet
Spray adhesive
Power Drill
Table Saw or Circular Saw
Kreg Jig
1-¼″ pocket holes screws
Brad nailer and 1-¼″ finish nails.
Edge banding
You can customize the ottoman to your liking, so you have an extra storage solution that fits your décor. This project is perfect for those with minimal carpentry skills, as it doesn't require any complicated cuts or measurements.
15. Turn an Old Shelf into a Storage Ottoman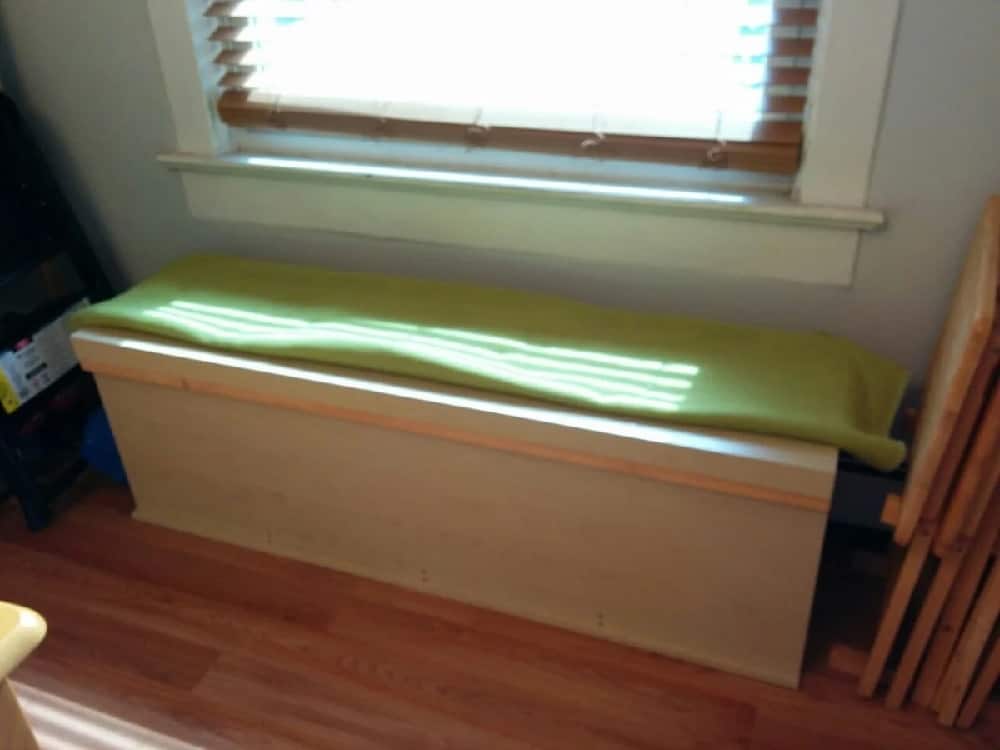 This easy project is perfect for anyone who needs a little extra storage in their home. All you need is an old shelf and some fabric to transform it into a stylish storage ottoman. First, remove the shelves from the frame of the shelf then attach batting or foam to the top and sides.
Cover with fabric and staple to secure. Lastly, you can attach legs or wheels to the bottom of the frame and you have a stylish storage ottoman that can be used in any room.
16. Build an Ottoman from Scratch with Wooden Pallets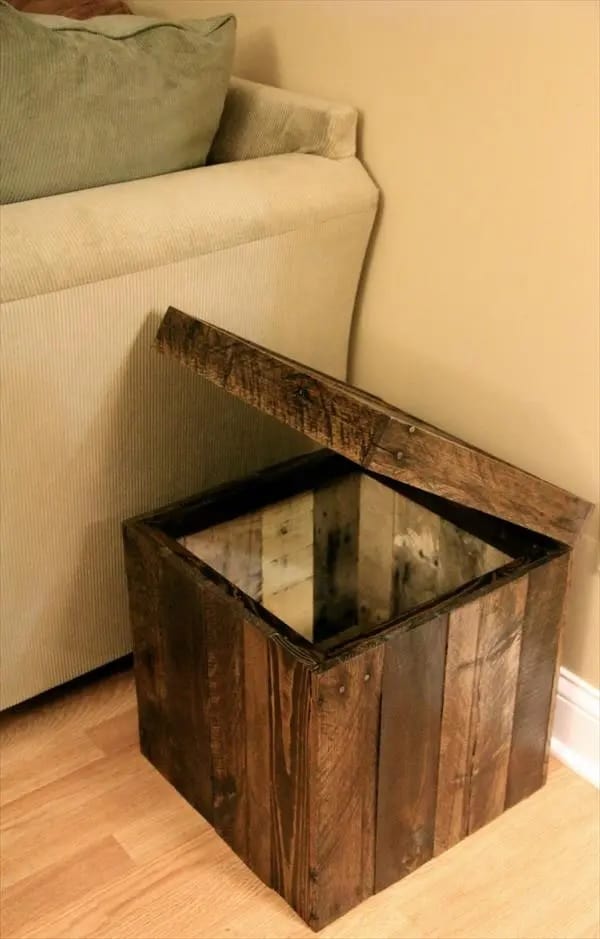 Besides affordable, these wooden pallets are also quite easy to work with, so you can make a cute and cozy Ottoman for your living room. To start, choose two pallets of the same size, then cut them in half lengthwise and sand down the edges.
Attach one of the halves to the other using four screws and a drill. Now fill in any gaps or holes with wood filler and sand it down to make the surface smooth. Lastly, cover the top of your Ottoman with foam padding or batting and fabric of your choice, making sure you wrap it around the edges for a neat finish.
17. Create a Colorful No Sew Ottoman for Your Living Room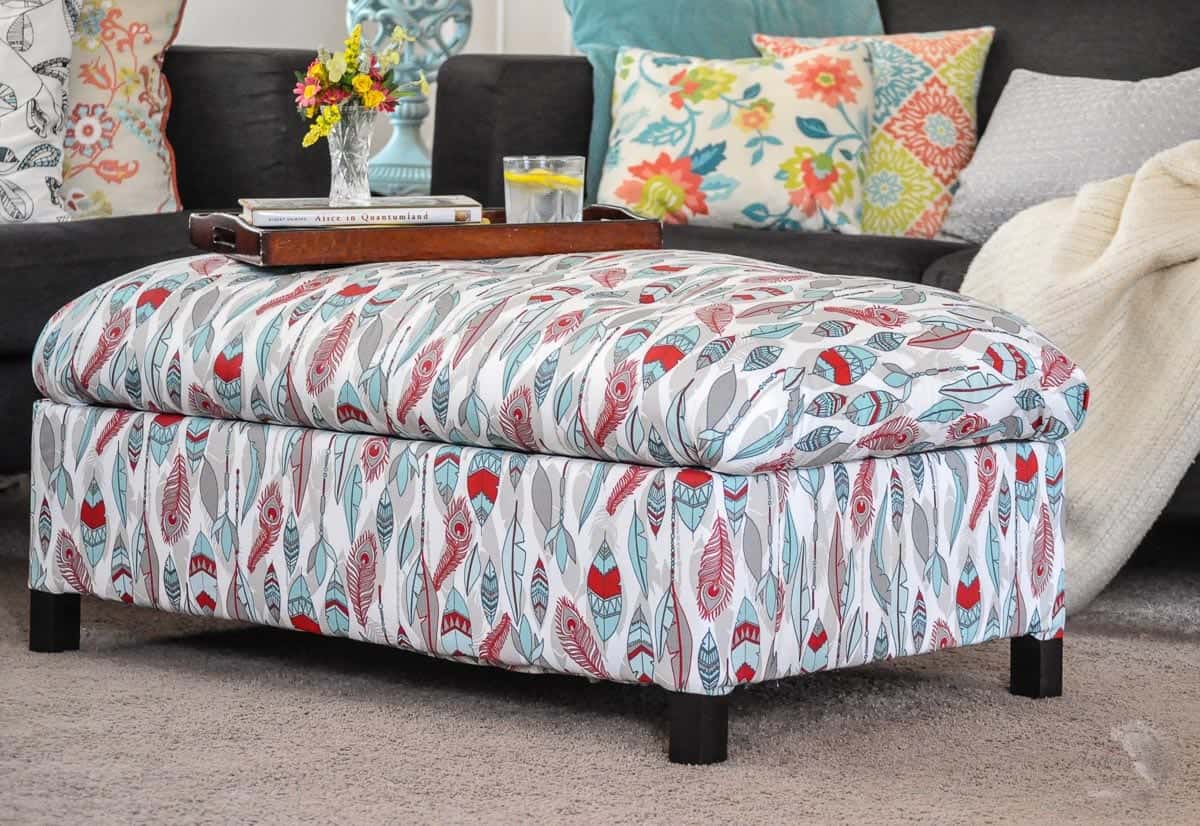 This no-sew ottoman will make a bright and cheerful addition to your living room. With a few simple supplies, you can create an eye-catching seat that is perfect for kicking your feet up or holding snacks. All you need are some fabric scraps, batting or foam stuffing, and spray adhesive.
Start by cutting the fabric into strips of equal size. You can mix-and-match patterns and colors to create a unique look. Arrange the fabric strips in concentric circles, overlapping them slightly as you go. Once your ottoman is the desired size, spray adhesive on one side and stick down each strip of fabric.
18. Create a Statement Piece with an Upholstered Ottoman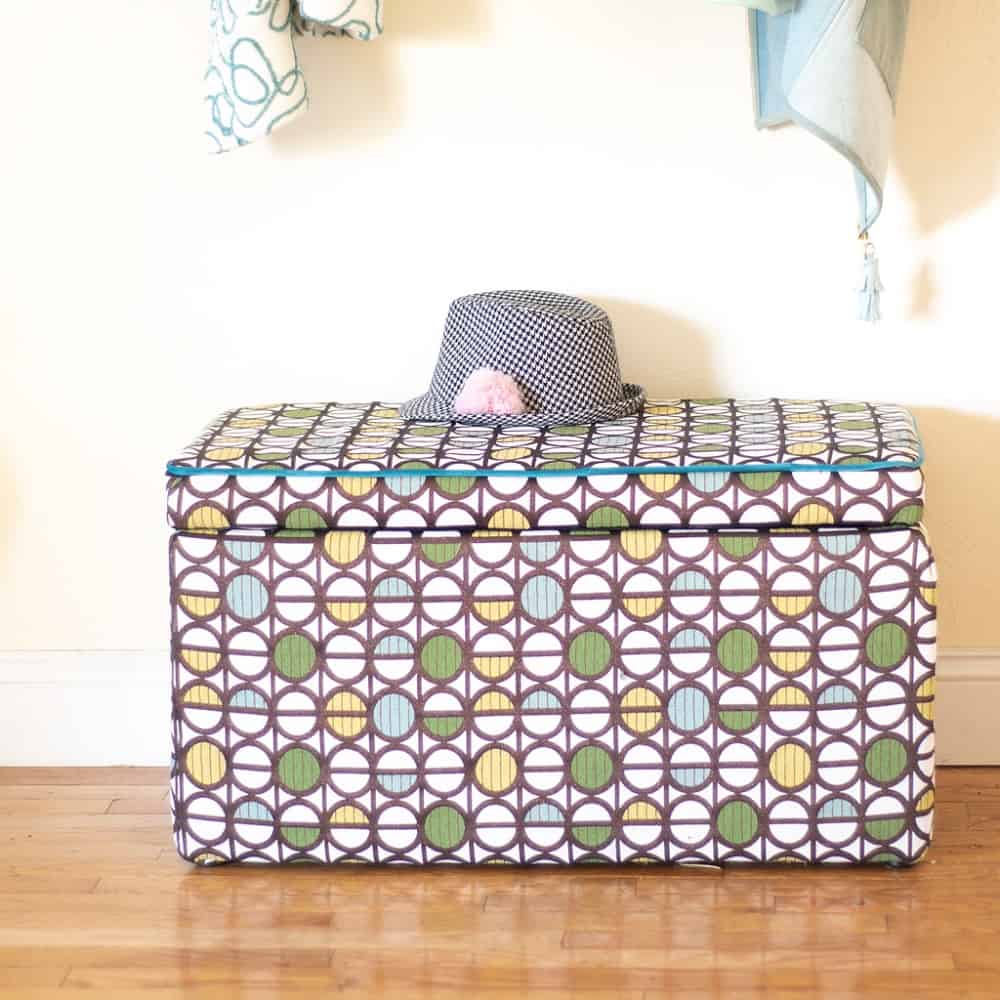 An upholstered ottoman can add texture, design, and extra seating to any room. Plus, it's the perfect statement piece for a bedroom or living area. Whether you go with a classic round shape or an eclectic square style, you'll have plenty of options to choose from when it comes to the fabric and style of your ottoman.
Choose a bright statement color or stick to neutrals for something subtle. You'll love how much character it adds to the space! Finish off the look with a few throw pillows and you've got yourself a chic, modern seating area that will be sure to impress.
19. Transform an Old Bookshelf into an Ottoman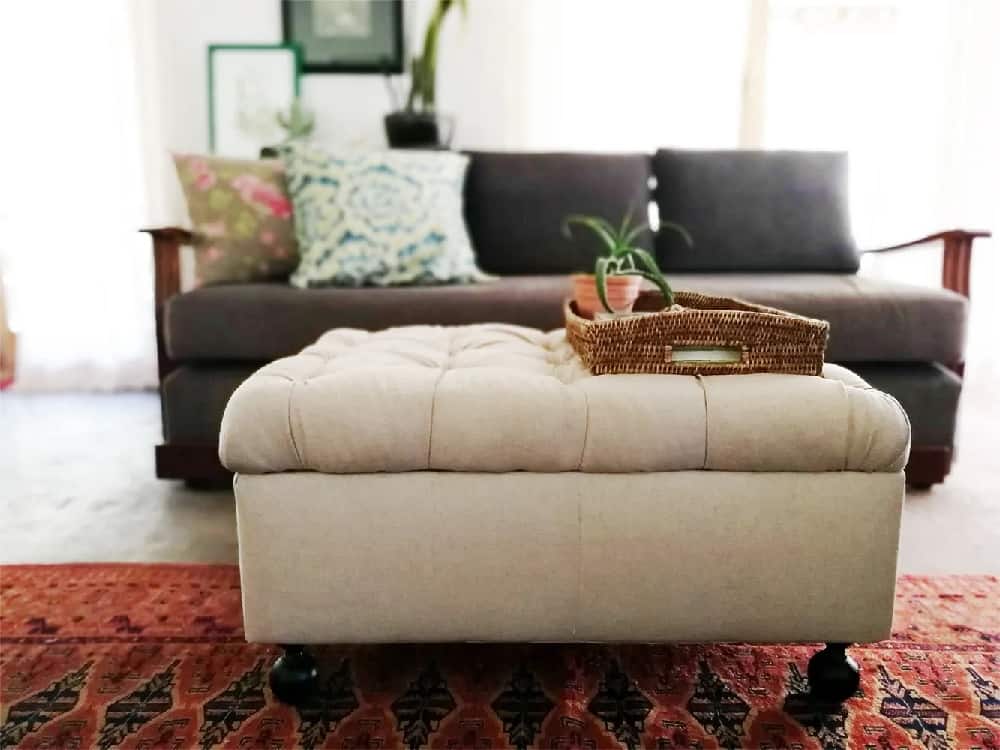 Repurposing an old bookshelf as a comfortable ottoman is a fun way to save money and bring a unique piece into your home.
Start by taking measurements of the shelf and then use upholstery foam, fabric and batting to create the cushion. Attach legs to the bottom to finish and you have a stylish ottoman for your home.
20. Utilize a Console Table to Create a Storage Ottoman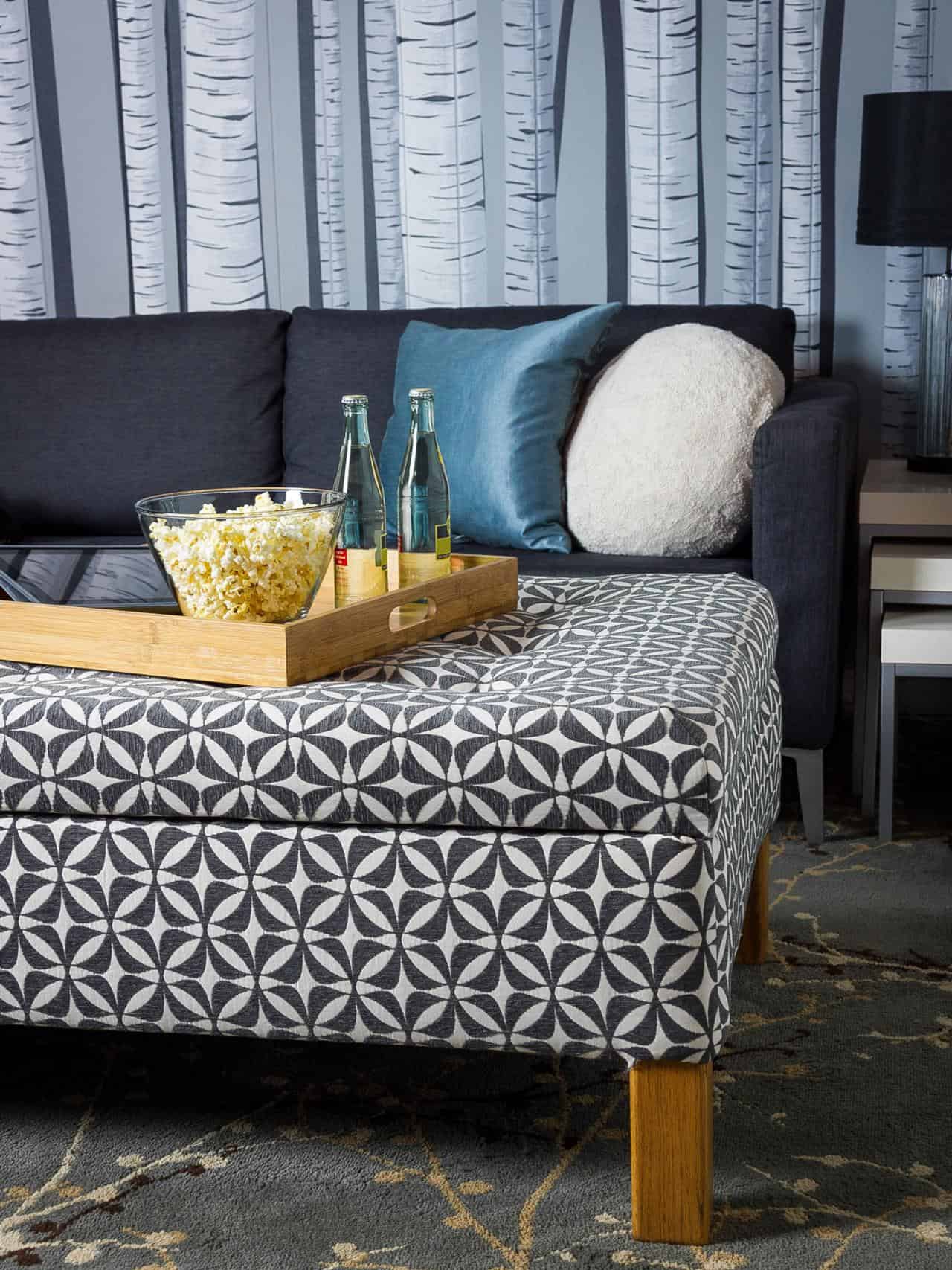 A console table is a great way to add storage and seating to any living space. Console tables provide flexibility when it comes to styling, as they can easily be customized with different colors, finishes, and materials. When paired with an ottoman, a console table can create a multifunctional piece of furniture that has both form and function.
First, measure the size of your console table and determine what size ottoman will fit perfectly on top. Then choose an ottoman that is either upholstered or has a removable lid so you can store items inside. Place the ottoman on top of the console table and use it as additional seating whenever needed.
21. Create an Upholstered Bench with Built-In Storage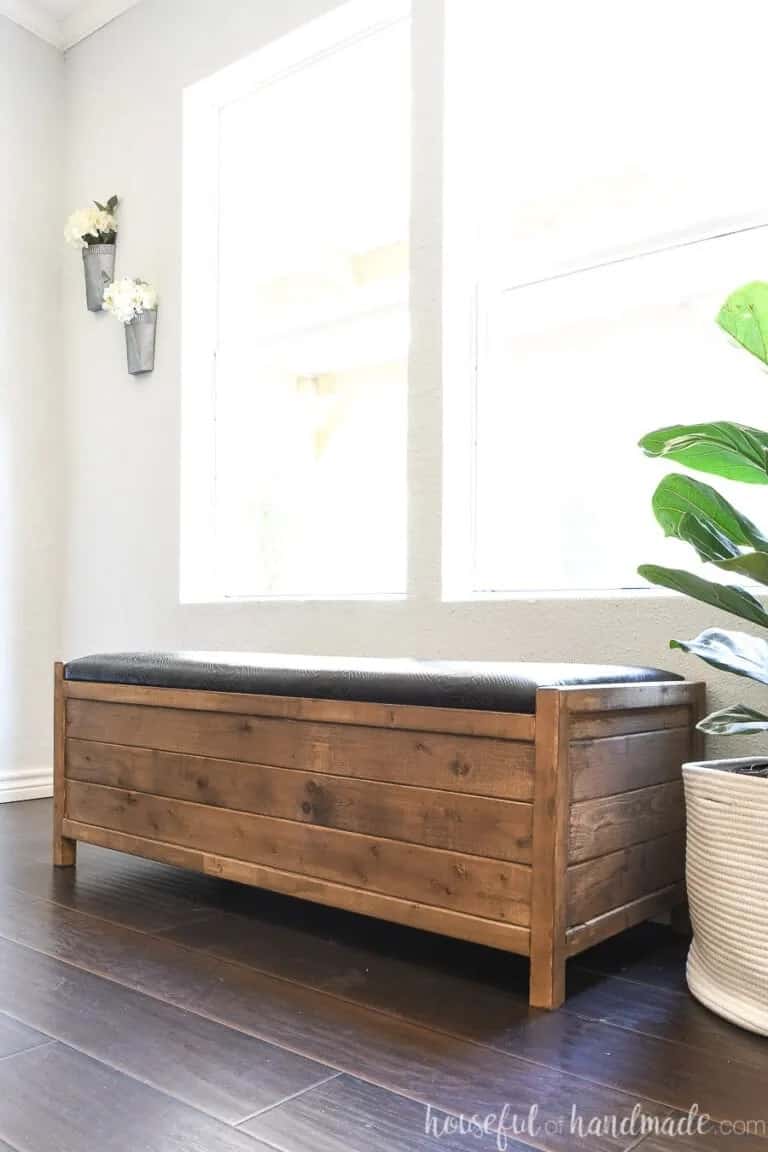 To build an upholstered bench with storage, begin by gathering the necessary materials.
You will need plywood, foam, fabric of your choice, batting or quilt stuffing, wood glue and wood screws. Cut the plywood for the base and sides of the bench according to your desired size and shape. Then attach all of the pieces together with wood glue and wood screws, making sure the screws are countersunk into the plywood.
Next, cut out pieces of foam and batting to fit the inside of the bench. Secure them with a layer of spray adhesive before upholstering with fabric.
22. Turn an Old Night Stand into an Ottoman with Storage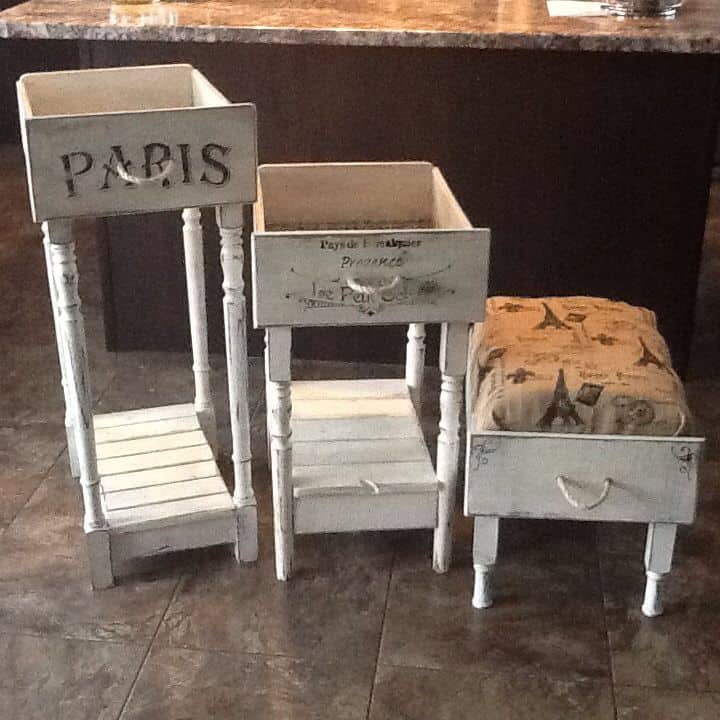 You can turn the old night stand into an ottoman with storage!
With some foam, fabric, and a few tools, you can transform this piece of furniture into something both practical and stylish.
Start by measuring the top of the night stand and cutting a piece of foam to size. Cover it with fabric, using an upholstery staple gun to secure it in place. Cut four small wooden legs and attach them to the bottom of the night stand securely.
23. Transform a Vintage Trunk Into an Ottoman with Storage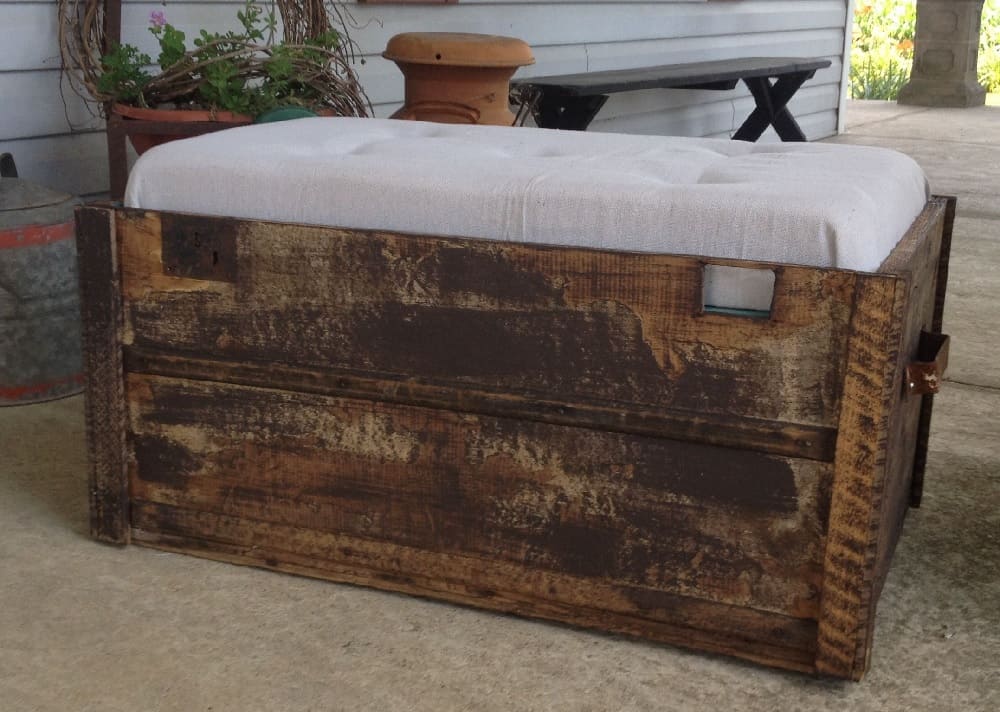 You'll be amazed at how easy it is with just a few supplies. All you need are a few basic tools, fabric of your choice, foam padding, nailhead trim, and a vintage trunk.
Measure the trunk for your fabric and foam padding. Cut the pieces to fit, making sure to allow enough extra fabric around each side of the lid so that it will wrap around nicely when upholstered. Next, attach your nail head trim along the seams of your fabric.
Secure the foam padding to the top, sides and bottom of the trunk with spray adhesive or double-sided tape. Start attaching your fabric to the lid and sides of the trunk, beginning at one corner and working in small sections.
24. Build Your Own Upholstered Ottoman from Scratch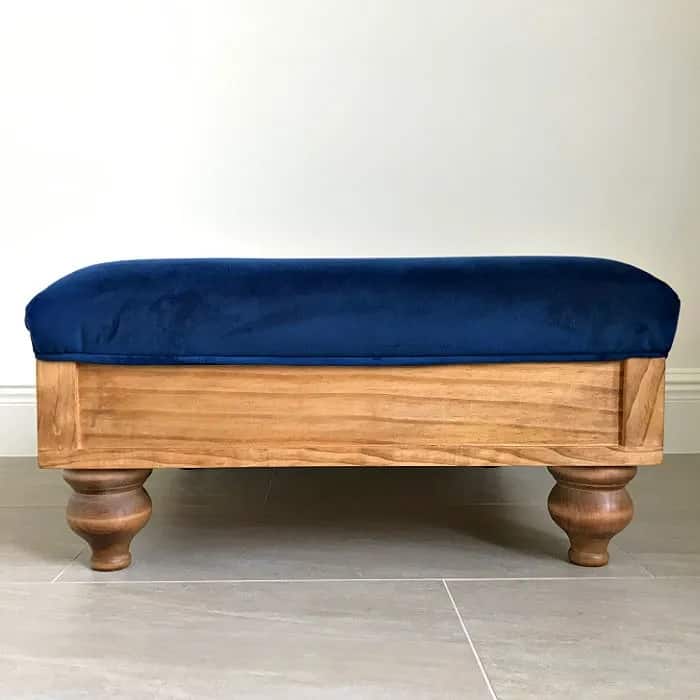 A stylish and comfortable ottoman can be a great addition to any living space. Whether it's for extra seating or just as an accent piece, this is sure to liven up any room.
You'll need a variety of tools, materials, and supplies to make this happen. To begin with, you'll want to measure the desired size of your ottoman and then purchase foam that fits within the dimensions. Cut out two pieces of plywood in the same shape as your foam, which will form the base.
Start by attaching the foam pieces together using a high-quality spray adhesive. Wrap it in batting and then cover with whatever fabric you choose; make sure to stretch it tight as you staple it into place on the underside of the plywood. Finally, attach the two pieces of plywood together using screws and then cover with more batting to finish it off.
25. Revamp a Bench with Added Storage Space in the Seat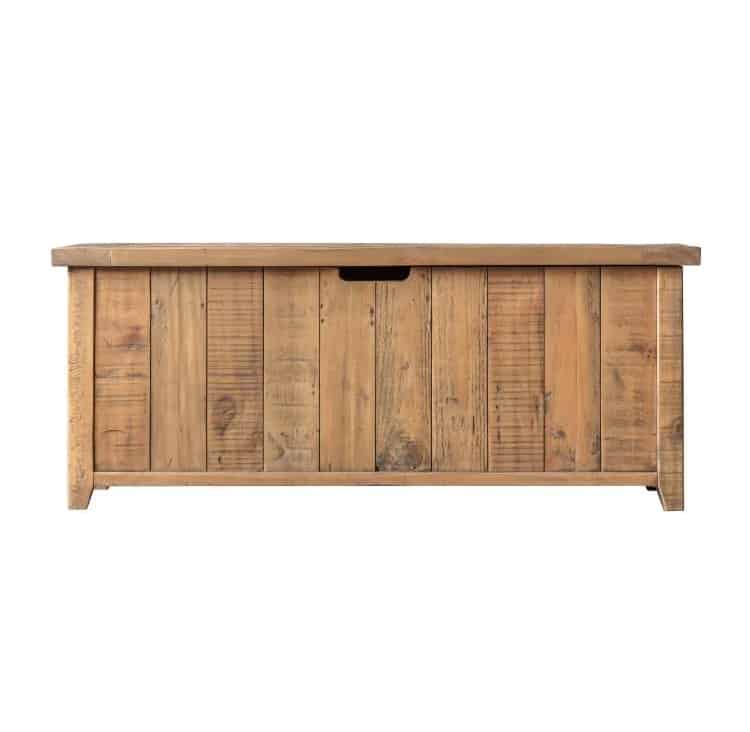 If you have an old, tired-looking bench in your outdoor space, give it a new lease on life with this clever storage hack.
Simply remove the seat cushion and fill the cavity with wicker baskets or other storage containers to create a secret stash for all your outdoor essentials!
You can also paint or stain the wood to give it a fresh look. Finally, cover the seat with a new cushion or throw pillows to complete the transformation.
26. Get Creative With Paint and Hardware for Your New DIY Storage Ottoman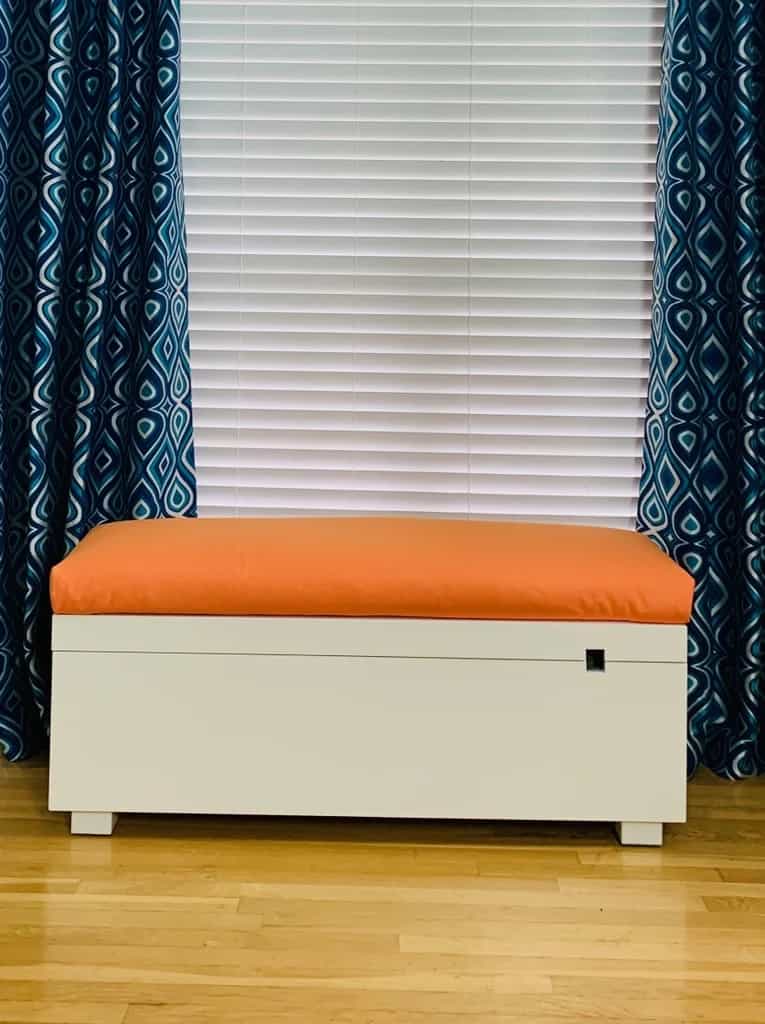 With just some paint, hardware and a little bit of creativity, you can transform your piece of furniture into a conversation starter.
Begin by choosing the right hardware; consider using brass or copper for a chic look. Then, paint your ottoman in the color of your choice to match the rest of your décor.
Next, determine what kind of storage you'd like your ottoman to have. You might choose to include shelves on one side with drawers underneath, or perhaps include a hidden compartment.
27. Utilize a Storage Cube in the Creation of Your Ottoman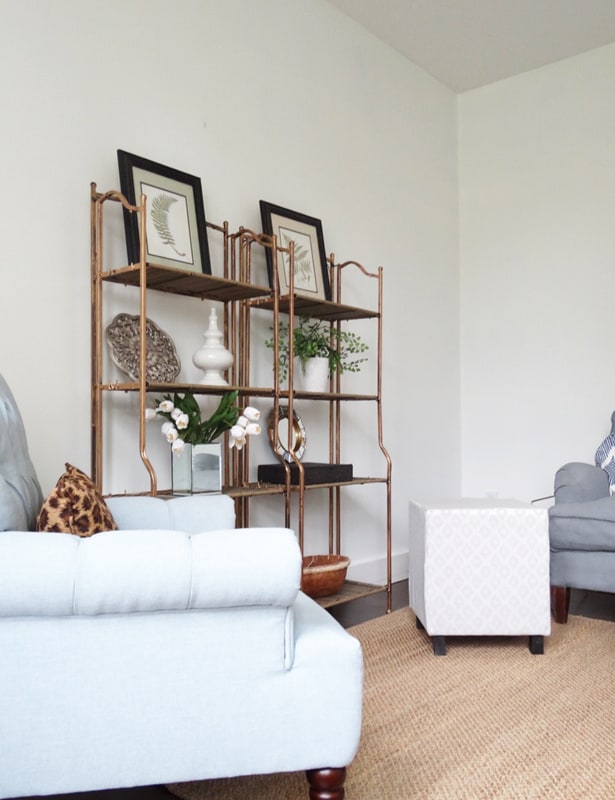 Adding storage to an ottoman is a great way to make it more functional and stylish. You can use a storage cube to create the perfect piece of furniture that fits your living space and allows you to store items out of sight when not needed.
This can help keep your living room looking neat and organized, while giving you extra seating or table space when needed. To create your ottoman storage cube, start by measuring the area you'd like to use and then purchase a cube that fits in the space.
Once you have the cube, line the top with batting or foam and cover it with fabric of your choice.
28. Reuse an Old Card Catalog as a Storage Ottoman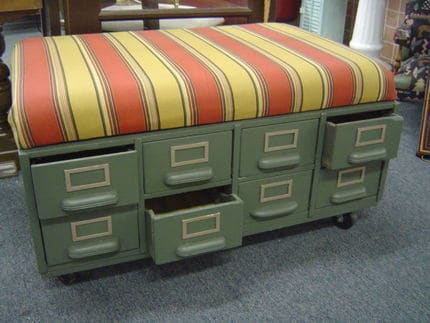 A creative and thrifty idea is to repurpose an old card catalog into a storage ottoman. This piece of furniture can be used in the living room, bedroom or office for extra seating and storage.
The drawers are perfect for storing books, magazines, remote controls, DVDs and other small items. An upholstered top can be added to provide extra seating and comfort. This is an easy DIY project that can add charm and character to any room while providing useful storage solutions.
Overall, an ottoman is a fantastic piece of furniture to add to any home. It can be used as a place to sit and relax or as storage for items such as blankets, pillows, games, and more. With the right design choices and additional storage pieces, you can make the most of an existing ottoman and turn it into a stylish, functional piece of furniture.