From cozy and rustic, to a beautiful modern oasis, you can transform your old cabin kitchen into the dream kitchen of your choice!
With some the best cabin kitchen ideas and a few redesign tips, you'll have the kitchen of your dreams in no time. Get cooking and start reimagining the space of your dreams. Instantly update and refresh the look of your space.
So if you're ready for a complete overhaul or just want to spruce up one area, read on to learn how to freshen up your tired cabin-style home with simple tips and tricks.
1. Best Cabin Kitchen Ideas: Combine with Stone Wall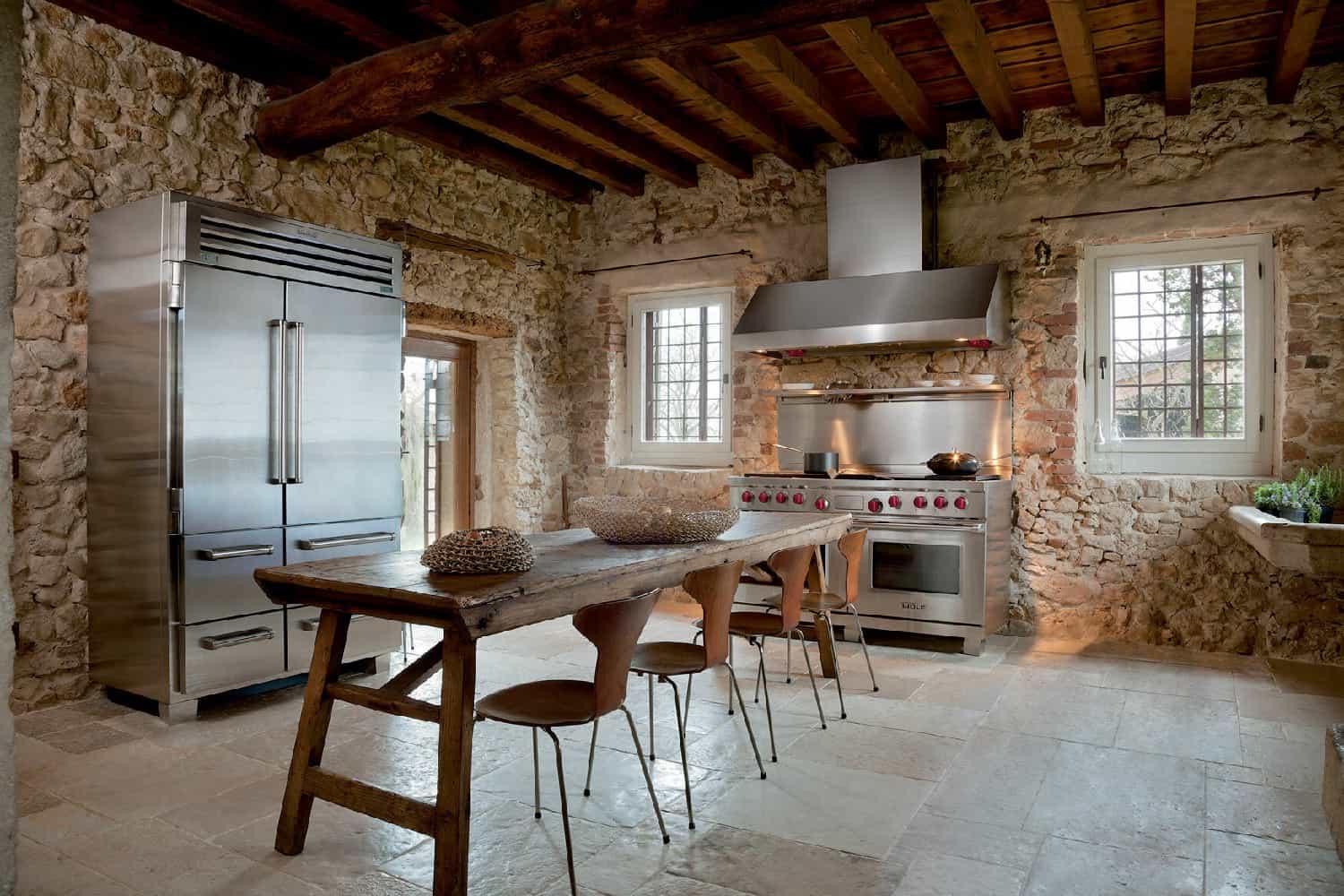 A cozy cabin kitchen is all about bringing straight-from-nature elements indoors to create a warm and inviting atmosphere. One of the best ways to do this is by combining stone walls with your kitchen design.
A full stone wall can add mesmerizing depth and texture, but if you're after an even cozier feel, consider rock islands or backsplashes made from real stone slabs. Such features offer more than just a beautiful aesthetic, they're also incredibly durable and very easy to clean.
2. Modern Style with Granite Countertop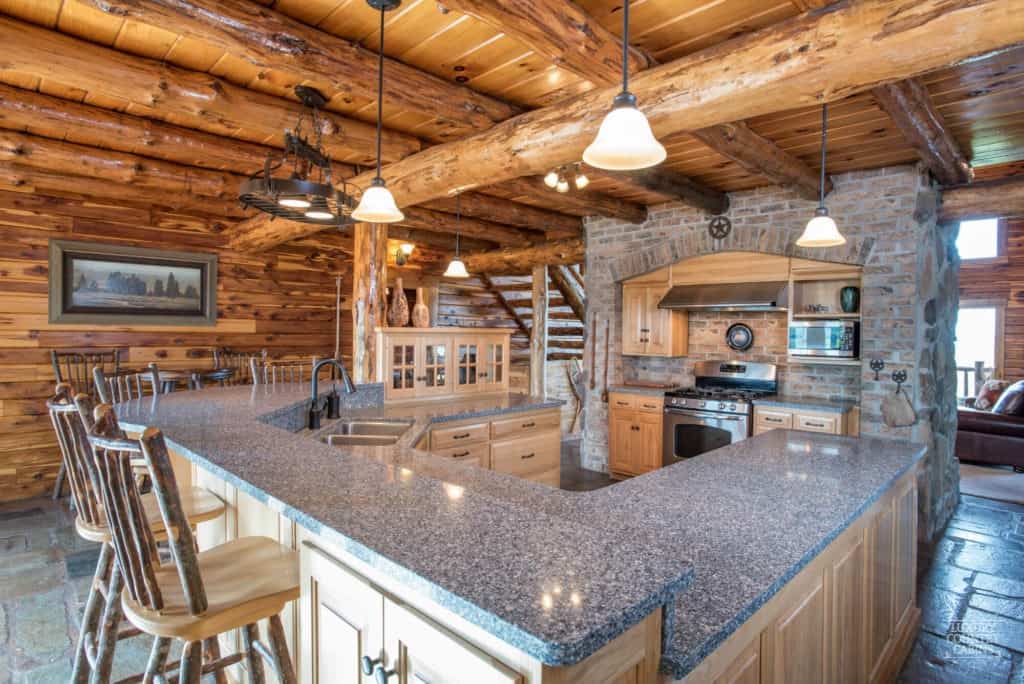 With a sleek granite countertop, your kitchen will no longer be an afterthought. It will become your favorite spot in the cabin. Whether you opt for bright colors to contrast with the neutral granite or pick more muted tones like navy blue or sage green to create an inviting atmosphere, you can't go wrong.
From classic white subway tiles covering the wall to more unique tile pattern choices that draw attention, it doesn't have to be all about the countertop; take a look around and play up other areas of your kitchen with individual touches.
3. Red Brick Cabin Kitchen Ideas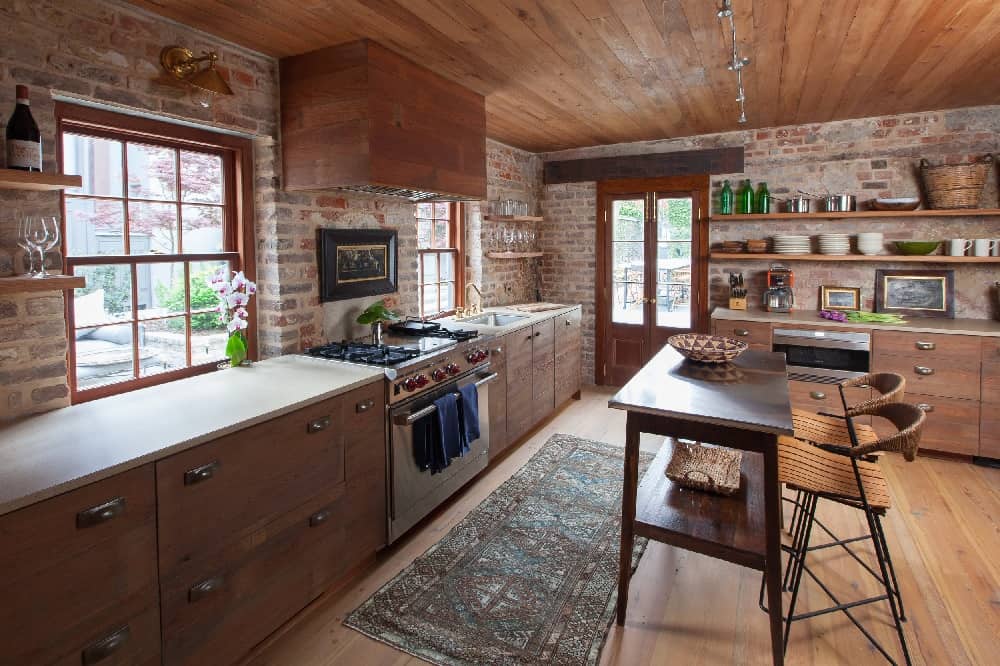 This aged-looking material has a certain organic beauty that cannot be beat.
By using old bricks as an accent wall, you can bring rustic charm and warm tones to your kitchen space. You can break up the brickwork by alternating between different shades of brick, or even adding other materials, such as wood and metal, to create a unique and eye-catching kitchen style.
Red brick works wonderfully with warm wooden cabinets and accents of copper and chrome fixtures, creating an unforgettable aesthetic experience in the heart of your cabin home.
4. Modernize with Open Shelving
Adding open shelving is an excellent way to modernize the space while also displaying all of your beautiful dishes, cookware, and culinary delights. This unique style can easily be implemented in any cabin kitchen, whether it's small or large.
Open shelving tends to open up a room and make it feel more spacious while still allowing you the freedom to organize your items however you'd like. Not only is this an aesthetically pleasing choice for the visualizer, but it can also become another creative avenue for showcasing potted plants or things that have sentimental value.
5. Utilize Industrial Light Fixtures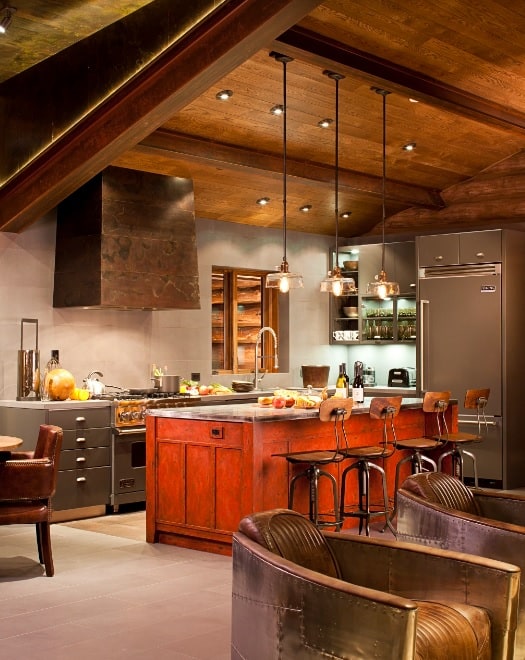 With industrial light fixtures, you can create a warm and cozy atmosphere in your cabin kitchen. These fixtures come in all shapes and sizes, so it's easy to find something that will fit your unique interior design scheme.
Whether you want a modern look or something more traditional, there's an industrial light fixture for you. From chandeliers to pendant lights, these industrial lighting pieces will help bring your kitchen dreams to life.
6. Add Warmth with Reclaimed Wood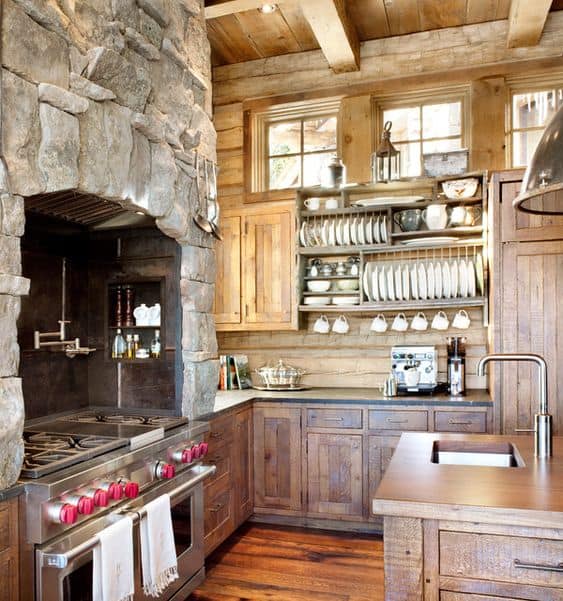 Bringing in the pieces of reclaimed wood to your kitchen can give it a rustic, homey feel by adding texture and charm wherever you use it. For instance, selecting an interesting piece of reclaimed wood as countertop material will instantly transform your kitchen space into one of enviable style.
Reclaimed wood can also be used in other inventive ways, like as backsplash accents or shelving support beams that anchor the design.
7. Create a Rustic Farmhouse Look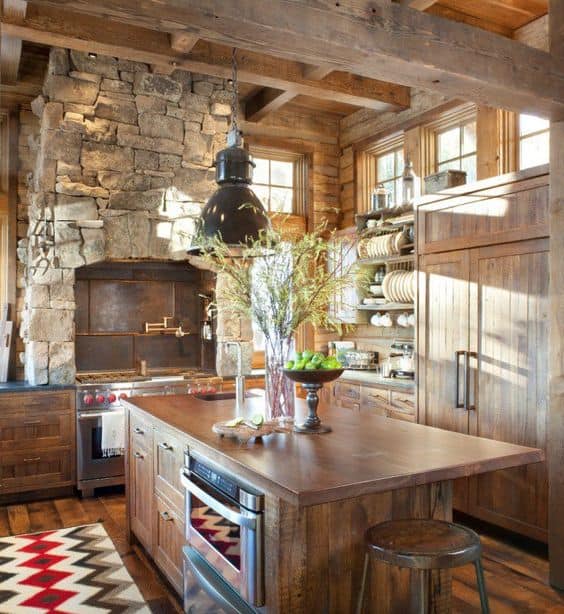 To achieve this style, think about combining natural materials like wood and stone.
Consider adding distressed cabinetry or a brick wall tile backsplash. For a touch of coziness, hang a pot rack filled with copper utensils or use furniture-style cabinets throughout your kitchen.
Finish it off with a blend of accessories and accent pieces that have an old-fashioned feel.
8. Add an Island or Peninsula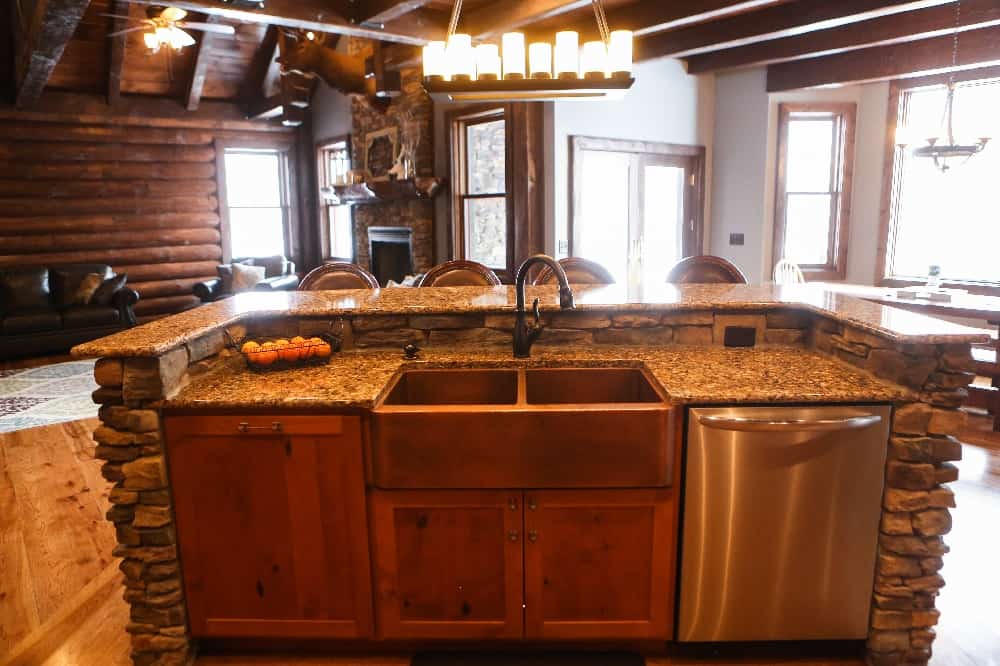 An island allows you to prepare meals and store items in one place, while a peninsula acts as an extra counter with seating all around it.
Depending on your needs, you can get creative and split the two islands, build them at different heights, fit them with extra storage underneath, or even have a sink put in.
9. Go Contemporary with Stainless Steel Appliances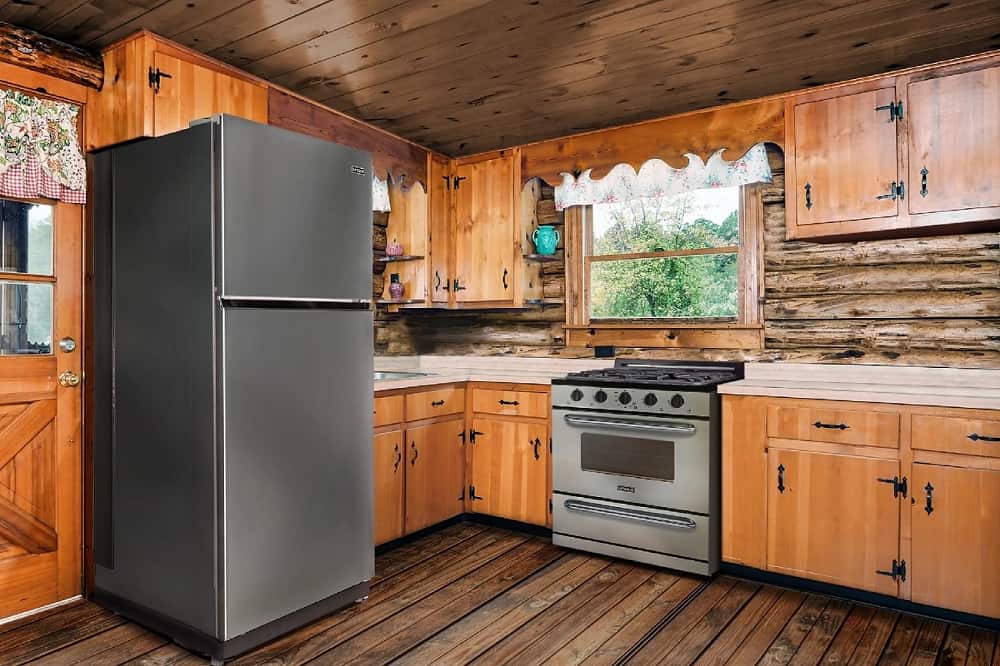 Go modern in your cabin kitchen with stainless steel appliances! Trade wood and rustic cabin décor for sleek, contemporary designs.
Getting this trendy look is easy with a few simple steps: start by selecting shiny stainless steel major appliances like your oven and fridge.
To complete the look, pair these items with chrome hardware and accessories. Don't just stop there. Add patterned backsplashes or floating shelves to give your kitchen the ultimate stylish touch.
10. Bring Life with Colorful Artwork and Accessories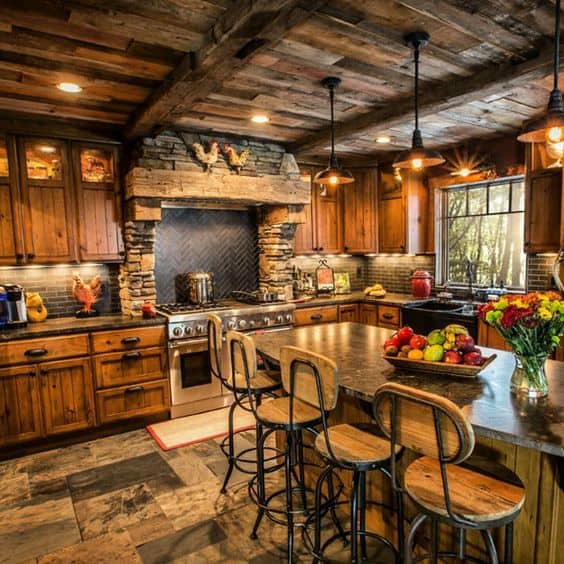 Inject the beauty of the artwork to the kitchen that will turn it into a lively and vibrant space that encourages creativity and activity.
Consider adding artwork in rustic frames or splashes of color in baskets and rug placements. You can also introduce different patterns for a unique spin!
Accessories like floral arrangements on kitchen counters add life and interest to the room, while items like pendant lights over an island can do wonders towards opening up the area.
11. Rejuvenate with Unique Lighting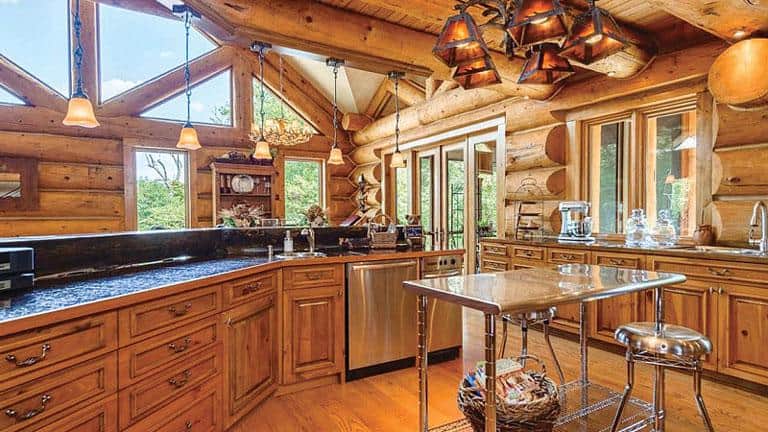 One of the most impactful, yet inexpensive ways to add a touch of personalized style is through lighting. Unique lighting can do wonders in making your kitchen stand out without tearing down walls or breaking the bank.
You could bring in a couple of large lanterns, a few string lights hung from the ceiling, or even some floor lamps. Adding different types and levels of lighting can completely change the atmosphere to make it feel brighter and cozier.
12. Add Glamour with a Chandelier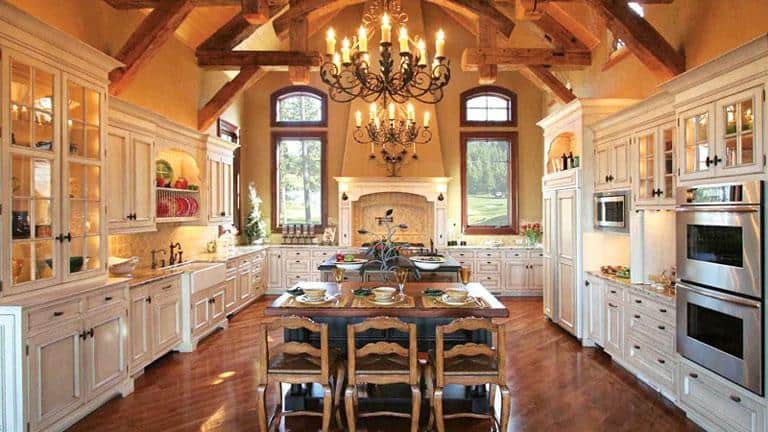 For extra glamour in the cabin kitchen, nothing beats a chandelier. Whether it's traditional or a more modern style, the inclusion of an eye-catching fixture can instantly add visual interest and sophistication to an otherwise rustic space.
The trick is to find one that compliments the rest of your design while still making a statement.
13. Farmhouse Cabin Kitchen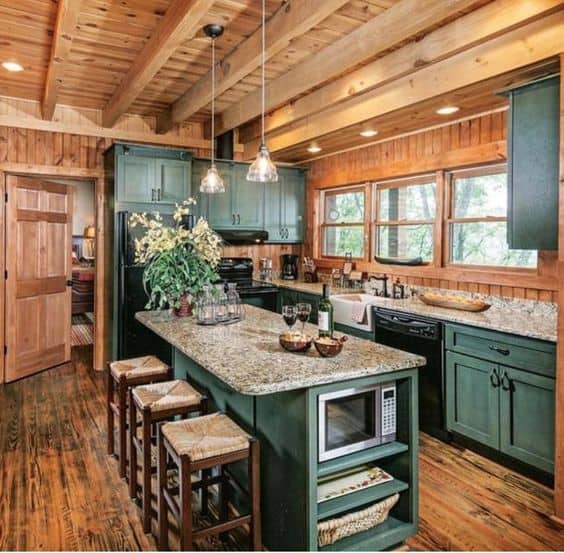 With this style of kitchen, you can incorporate warm, natural elements like wood, stone, and ceramic to make your space feel cozy and inviting.
The combination of these materials with modern accents creates a balanced look that really brings out the rustic charm of the cabin.
For an extra level of rural flair, try adding a farm sieve as a back splash above your sink and be sure to hang some Americana-style prints to add a touch of vintage appeal.
14. Easy-to-Clean Cabin Kitchen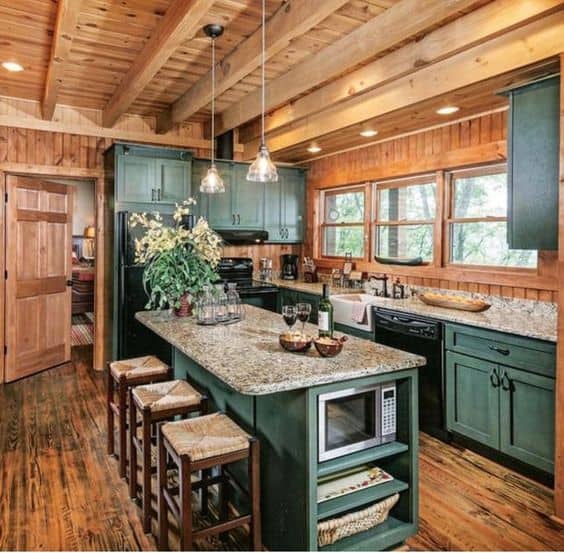 This way, you won't have to be concerned about how much time and effort it will take to keep it looking sleek and beautiful. For example, utilizing granite countertops and stainless steel appliances helps minimize the amount of cleaning required just a few swipes with a damp cloth does the trick.
Not only that, but their classic look ensures that your cabin kitchen maintains its timeless beauty for years to come. And if you're looking for a more traditional feel, wood is always a great option too, just make sure it has been treated for durability.
15. Add Interest with Patterned Backsplash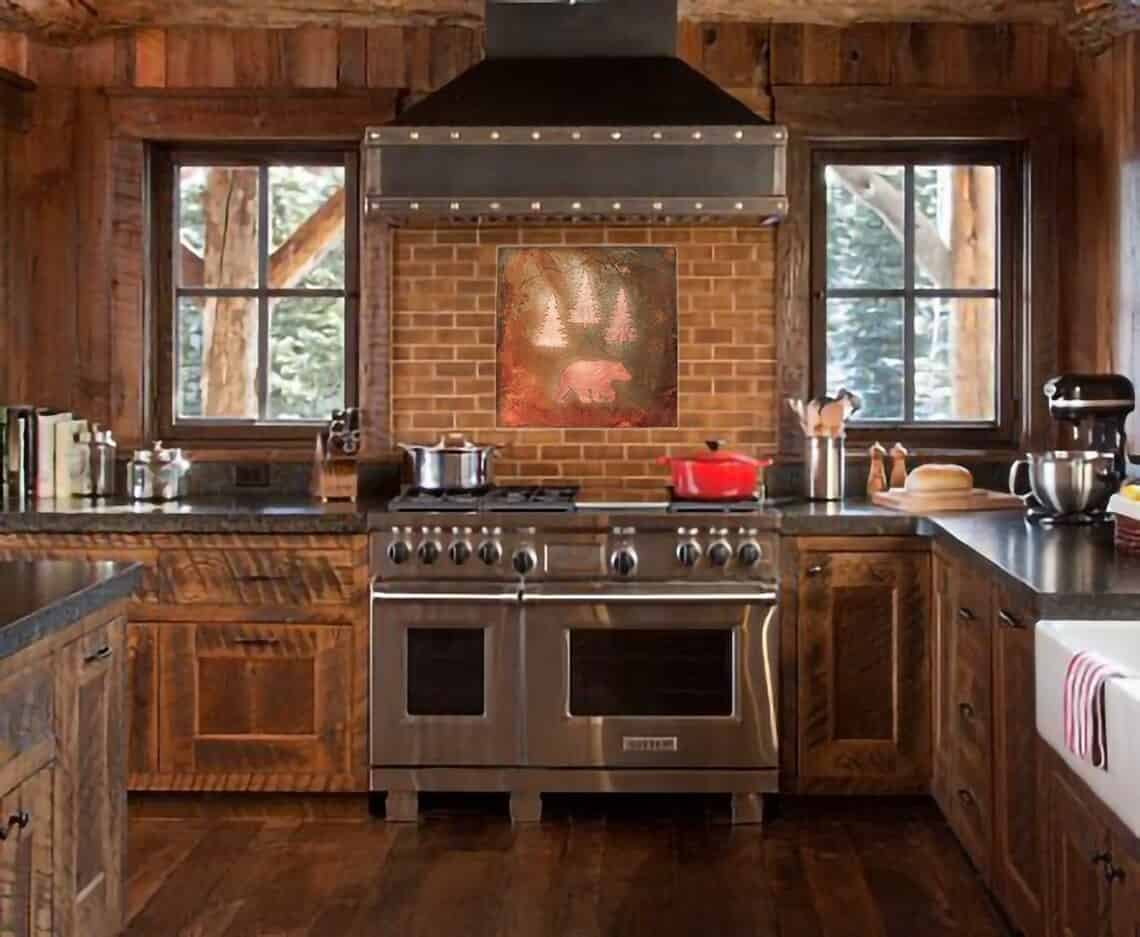 Backsplashes are an essential part of creating any kitchen atmosphere, but in a cabin space, the right choices can really bring out the rustic charm. Copper backsplash with bear tile is a great way to inject a bit of personality into your space.
Whether you opt for intricate patterns or something more subtle, this addition will surely breathe life into your kitchen and make it the warm and inviting center of hospitality that it should be.
16. Focus on the Floor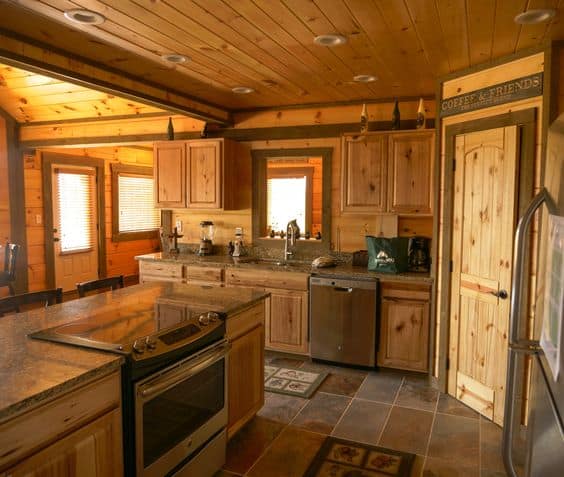 A great place to start is the flooring since it is a large surface area that covers most of the room.
Think wooden planks, natural stone tiles, or vibrant rugs to add personality and depth. You could even mix in different materials such as wood and stone, or use color accents in the grout of your tiles if you want something a bit more eclectic.
Also consider looking into slip-tolerant flooring options if you have young children who will be playing in the kitchen too.
17. Incorporate a Breakfast Nook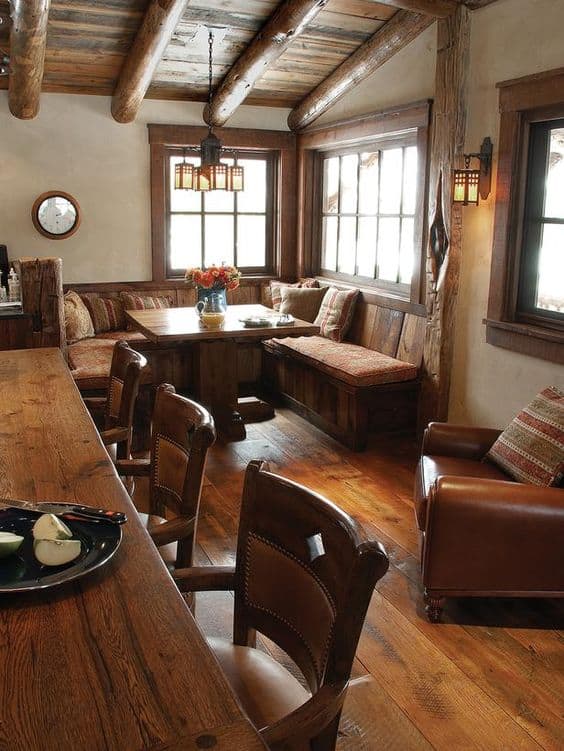 A cozy breakfast nook is an excellent addition to any cabin kitchen. For rustic vibes, opt for a wooden table and chairs with distressed finishes or natural wood tones. A window seat with lots of comfy pillows and cushions can also give the kitchen a homier feel.
Painting the walls in earthy colors will create a warm atmosphere and custom cabinetry or shelving made out of salvaged wood can give it an extra special touch.
18. Use Glass Doors for Open Storage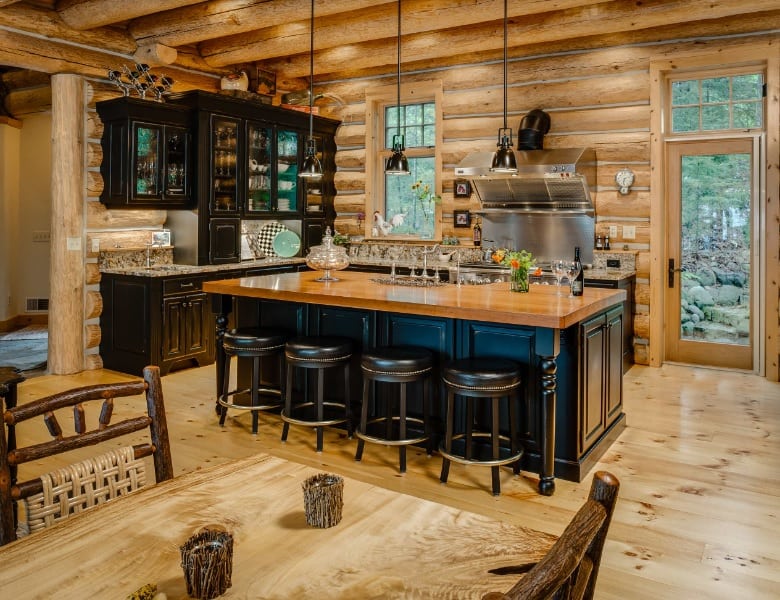 Glass doors will give the illusion of a larger kitchen and make it easier to see where your items are.
In addition, you can choose from clear, stained or etched glass to find the style that best fits in with the rest of the décor. With these doors installed, your favorite dishes and cookware will be accessible and beautiful at the same time.
An open kitchen setup with a few glass doors is an easy upgrade that will help you get cooking with some creative flair.
19. Design an Outdoor Kitchen Area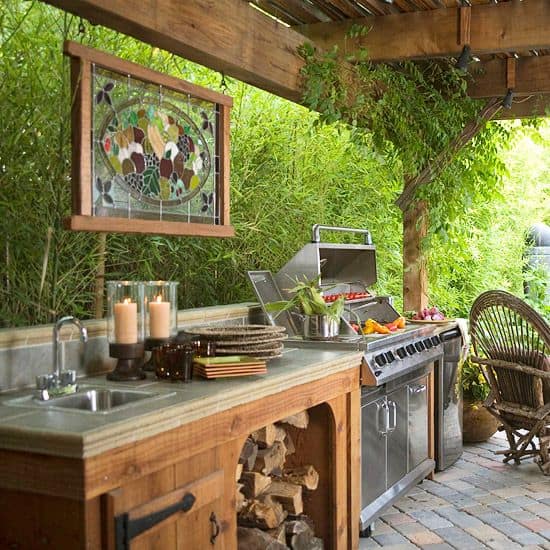 Having this extra space can bring an abundance of options including grilling and baking. In addition to providing more room for cooking, these custom-designed kitchens will also give your cabin property a distinct look from its surrounding area.
Investing in an outdoor kitchen may also increase the value of your cabin if you ever plan to sell it! You can choose from various styles and materials that best suit your home and lifestyle.
You can also make use of natural elements like bricks, stones and plants to truly customize your unique cooking area.
20. Use Natural Materials for Accents and Finishes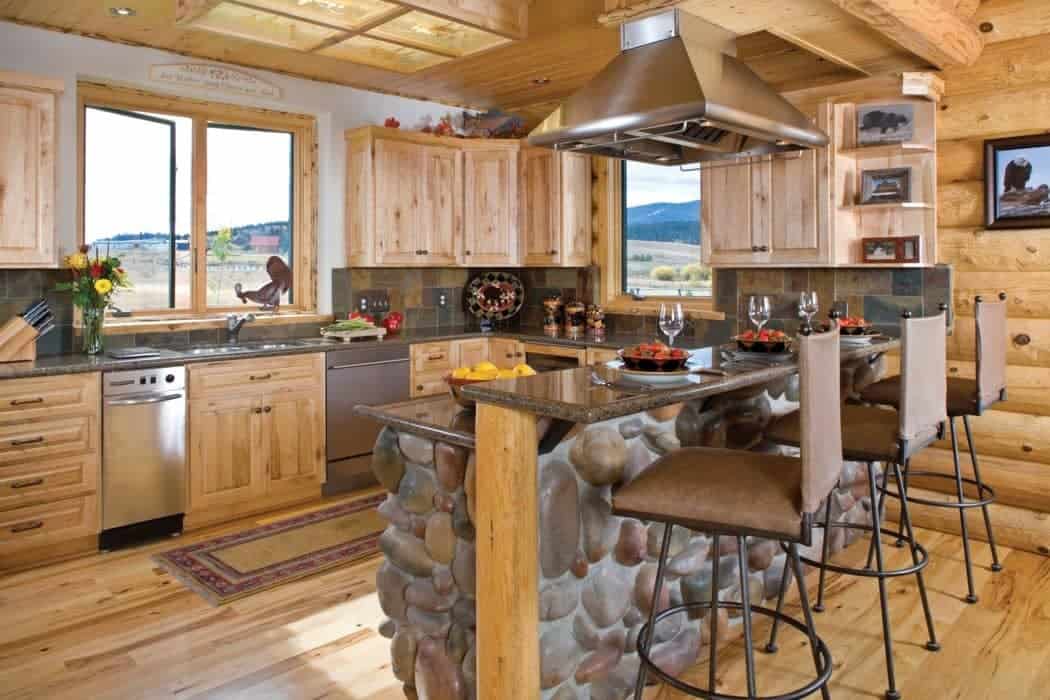 Natural materials add an element of warmth, quality and style to any room, and a cabin kitchen is the perfect place to show them off. From stone island to wood flooring and decorative knobs, natural materials can make all the difference in a rustic kitchen environment.
They will also help you create a cozy atmosphere, inviting friends over for a gathering or romantic dinner easily.
21. Maximize Space with Corner Cabinetry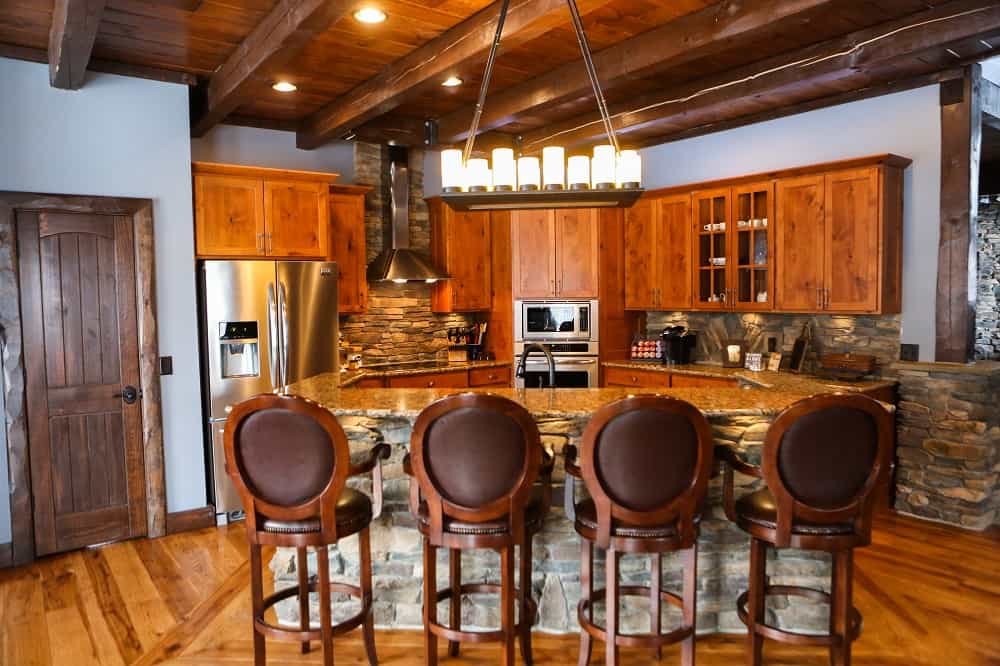 This will give you additional storage opportunities by making use of the hidden corners that remain left empty in many kitchens. Not only can you store items in the cabinets, but you can also opt for rotating shelves or pullouts which are ideal when saving space is key.
You can customize colors, materials and finishes based on your lighting and color scheme to perfectly blend in with the rest of your cabin interior.
22. Utilize Natural Lighting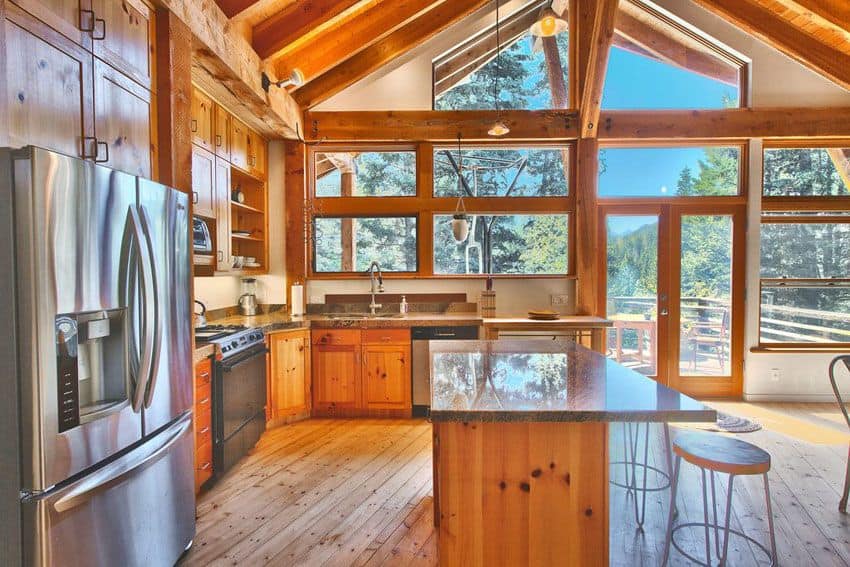 Opening up your kitchen to maximize fresh sunlight makes a big difference in how inviting and fresh your cabin space will be. The natural light provide more brightness and it also helps make the room appear larger and more welcoming.
Sunlight is able to reflect off of surfaces and add texture, making the atmosphere feel brand new when culinary creations bring the freshness of home straight to your plate.
23. Install a Breakfast Bar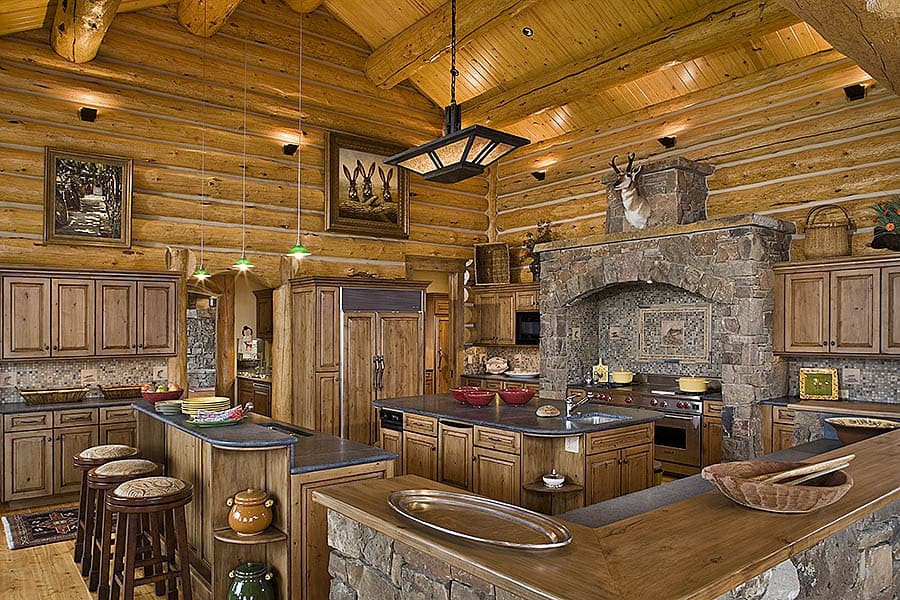 Installing a breakfast bar in the kitchen of your cabin can transform the room into the perfect spot for gathering and talking over coffee or omelets. You can find breakfast bars made out of sleek stone, or rustic reclaimed wood. Either way, it's a great way to inject a touch of style into your kitchen decor.
The beauty of a breakfast bar is that it provides an extra bit of countertop space that allows you to spread out and multitask with ease.
24. Replace Cabinets with Drawers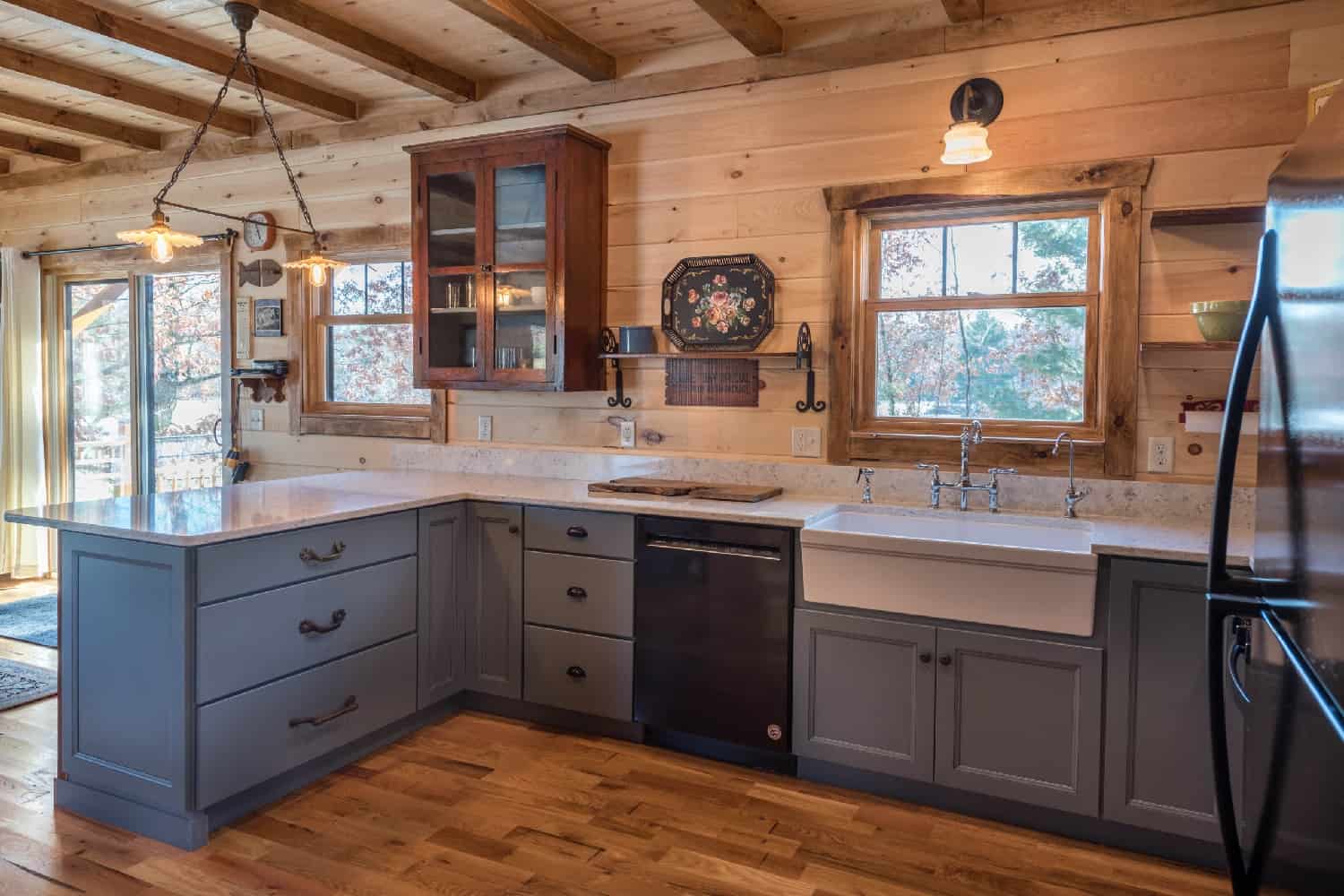 Drawers give you more space, flexibility, and accessibility when it comes to storing items in your kitchen. You can organize everything better and have all your cookware, utensils, dishes, and other ingredients right at hand.
Plus, drawers are super easy to keep clean as there are no crevices for food or dust to get caught in. The combination will enhance character and make any room look timeless and cozy.
25. Install a Butcher Block Island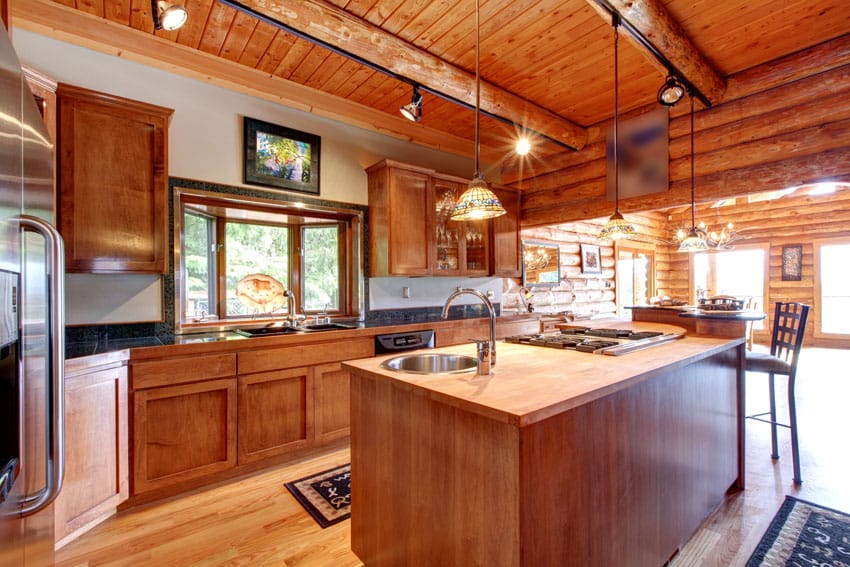 The butcher block island offers you a rustic hint with homey appeal to the room while also extremely versatile at the same time.
The best thing about a butcher block island is that it can be used as food prep area or an additional dining table. Plus, if you opt for a moveable butcher block island, you can always rearrange the space as needed. Whether you're hosting meal preps or just making breakfast in pajamas, this functional addition can really work wonders for any cabin kitchen.
26. Go for a Shabby Chic Look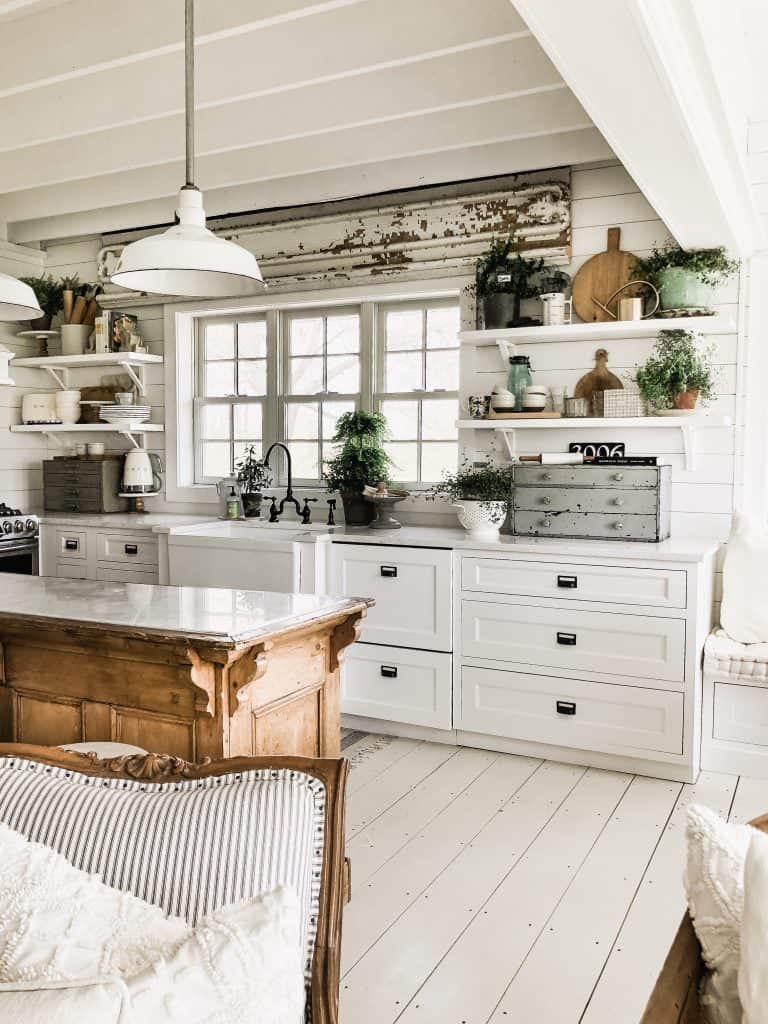 The timeless and airy feel of the design ensures it will never go out of style, while its neutral colors will fit in with almost any decor. Plus, all it takes is incorporating some vintage-inspired accessories, cozy textiles and rustic elements like farmhouse-style tiles and cabinets to give your cabin kitchen the shabby chic look.
By adding just a few items, you can transform the entire vibe of your kitchen and make for an inviting atmosphere for all your cooking endeavors.
27. Keep it Simple with White and Gray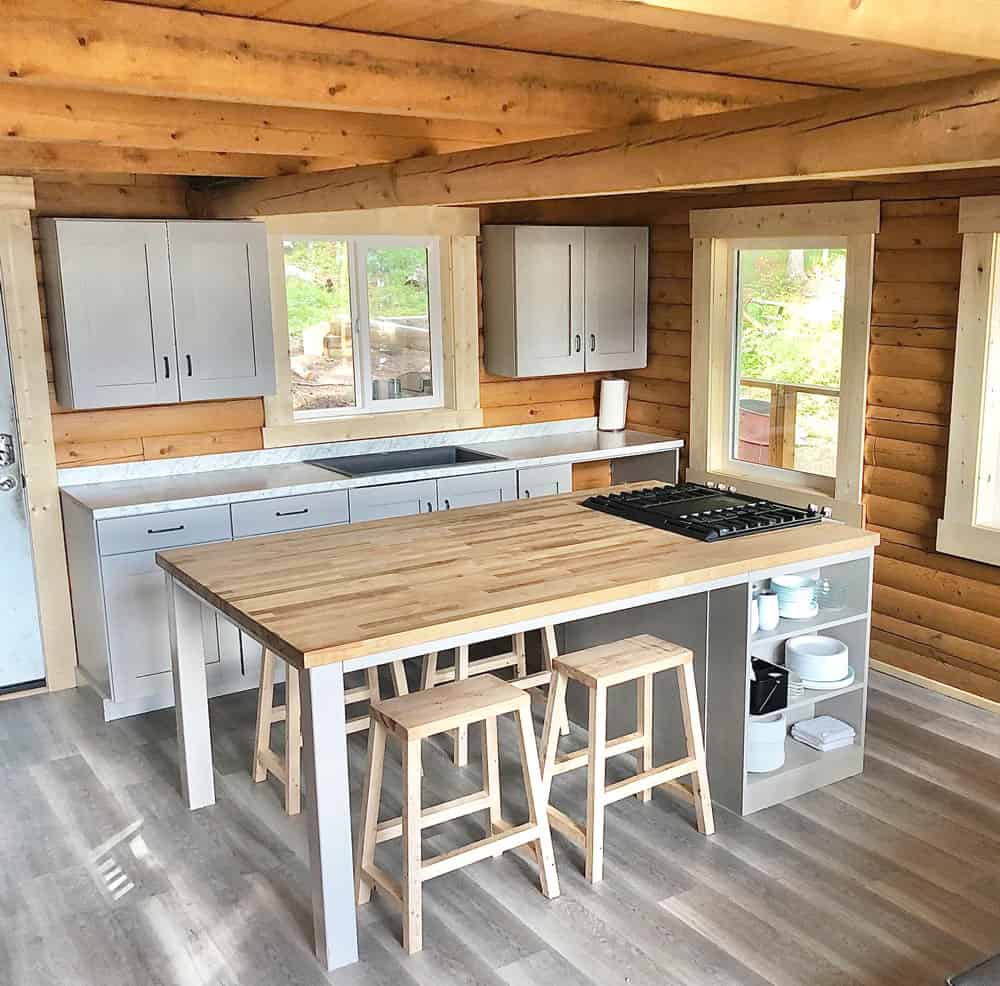 Crafting the perfect cabin kitchen is all about finding that delicate balance between functionality and aesthetic appeal. The key to achieving this balance lies in the art of simplicity – an approach that allows you to create a space that is both efficient and visually stunning.
Opt for a soft gray and white color palette to create a calming atmosphere that will evoke relaxation and peace. Keep countertops free of clutter and choose dual tones of white, such as cream and off-white, which add richness and texture to the room.
28. Incorporate Open Shelving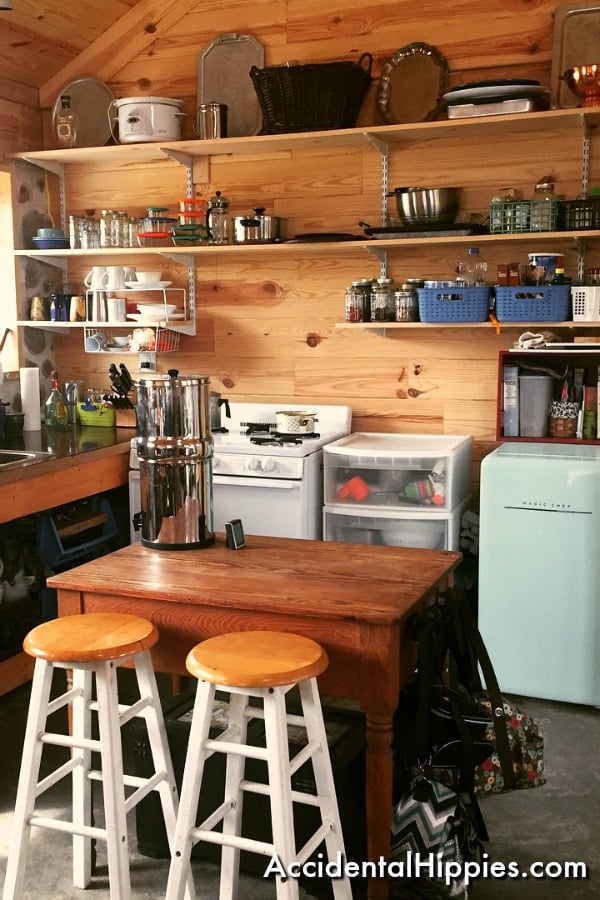 Open shelves and cabinets are perfect for displaying rustic essentials like cookware, and other stylish items like pottery and baskets. They provide an excellent opportunity to combine function and flair.
Open shelving also allows for more creative storage solutions like vintage canisters, decorative jars and recycling bins.
29. Contrasting Cabinetry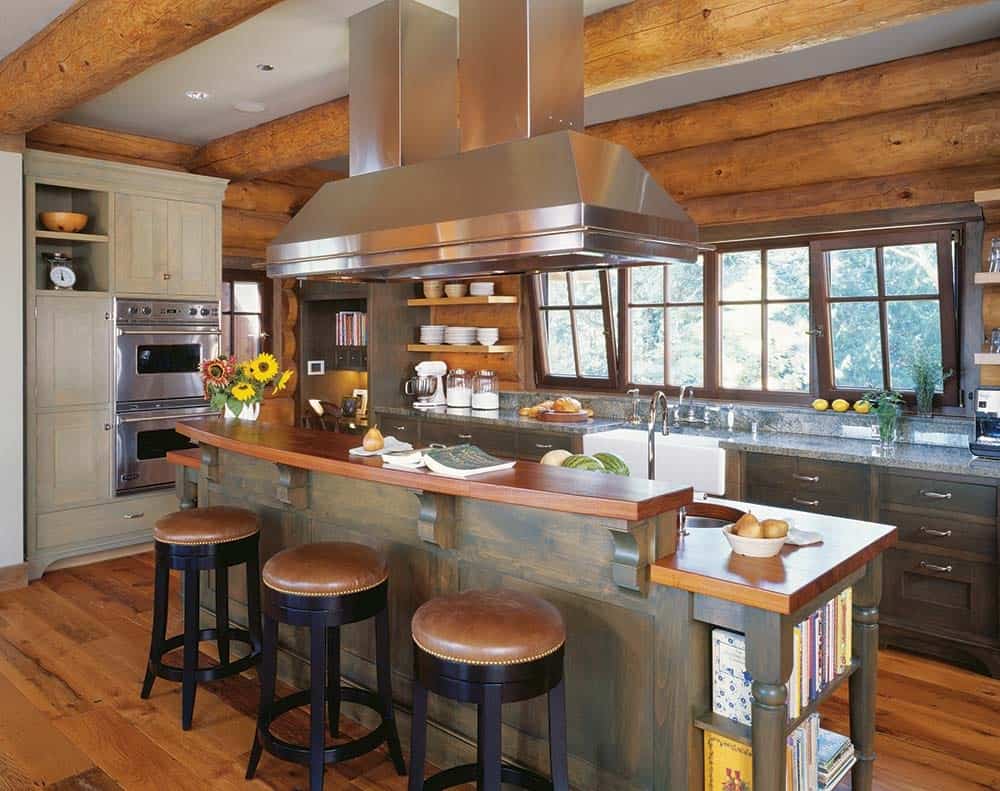 Contrasting cabinetry can be a great way to create an interesting kitchen in the cabin and show off your unique style. By pairing two types of cabinetry together, you can create a modern yet rustic look that reflects the environment you're trying to recreate.
Try using light wood cabinets as your base with dark wood or painted cabinets on top. Either way, having a mix of woods creates depth and texture. You can also choose different styles and shapes for each cabinet type so that your cabin kitchen has texture without being overly busy.
30. Utilize the Ceiling with Beams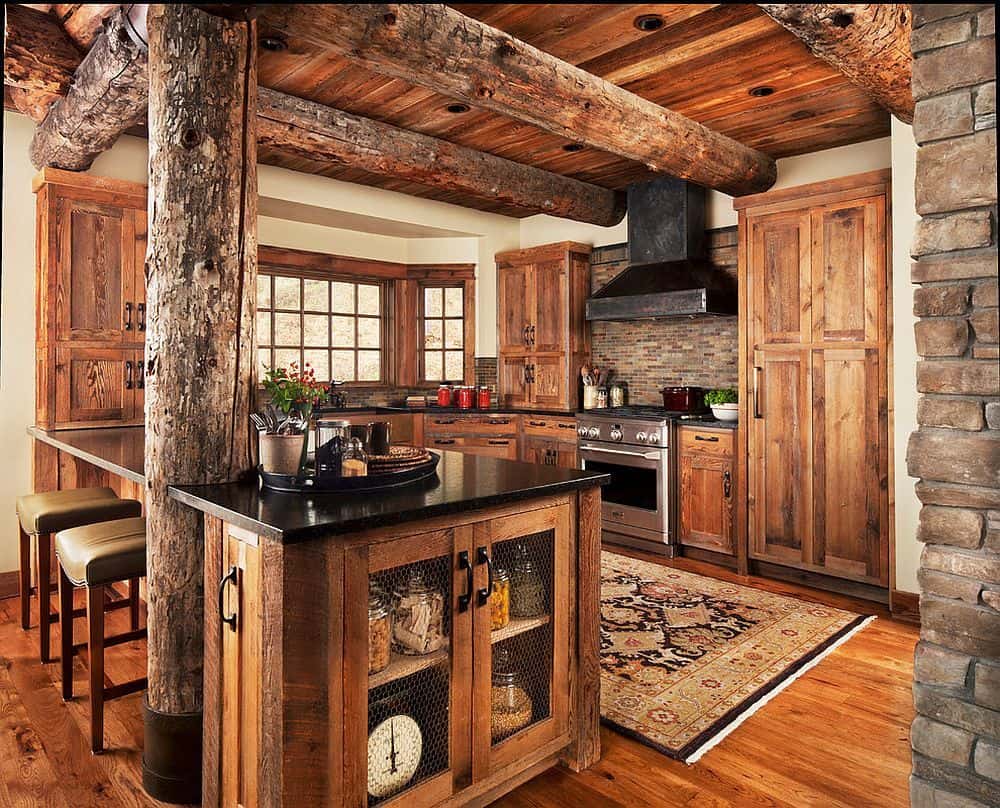 You can really amp up the charm of a cabin kitchen by incorporating ceiling beams. Whether you paint them white or stain them rich, dark wood, adding in ceiling beams will give your kitchen a rustic but homey vibe that helps transport you to another time and place.
Plus, they'll provide something interesting to look at while you cook or whip up something delicious in the middle of nature. Investing in architecture details like some wooden beams in the cabin kitchen can really take your vacation rental experience over the top for any visiting guests.
31. Install New Hardware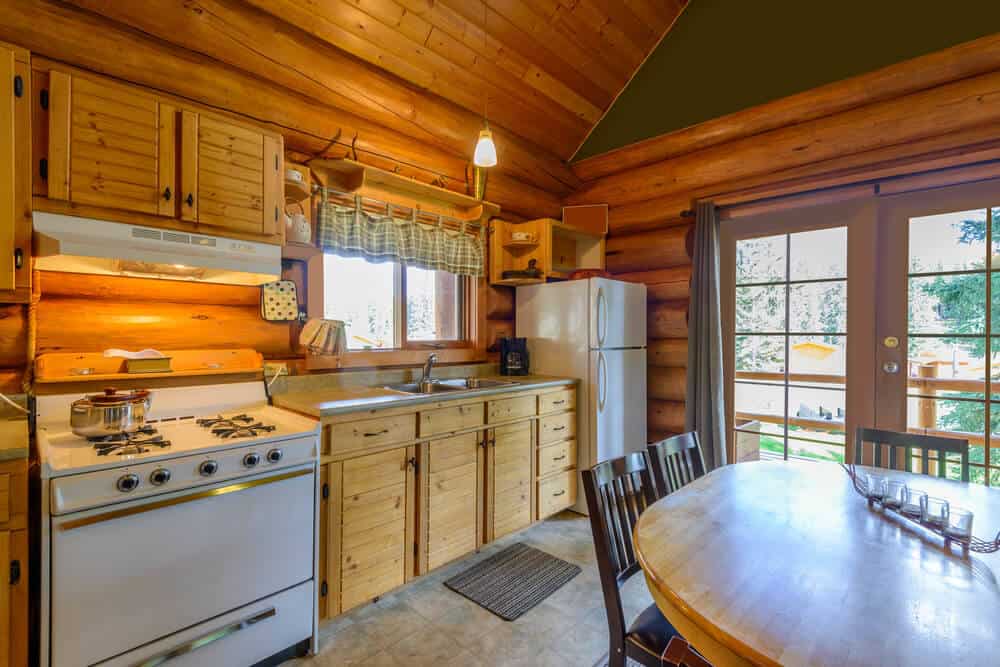 New hardware can give any space a modern and luxurious look, but when it comes to a cabin, this added touch of style really gives the living space personality.
From drawer knobs and pulls to hinges, installing new hardware will have a tremendous effect on the overall appearance of your kitchen. This can also be done with minimal effort and cost: simply dive into the market for suitable replacements, compare prices and quality, and get ready for a quick installation session.
32. Create an Accent Wall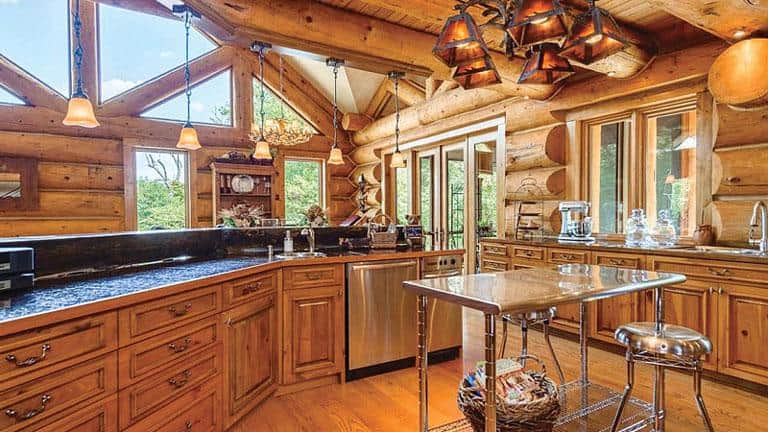 Creating an accent wall in your cabin kitchen can be a great way to elevate the entire room.
Pick one wall and use a material that has texture or a unique pattern. For example, logs, stone, or even tiles with mosaic designs can lend depth and add visual interest. To highlight it even more you could always play around with lighting by adding sconces or side-wall fixtures for the ideal ambiance.
33. Inject Color with Accents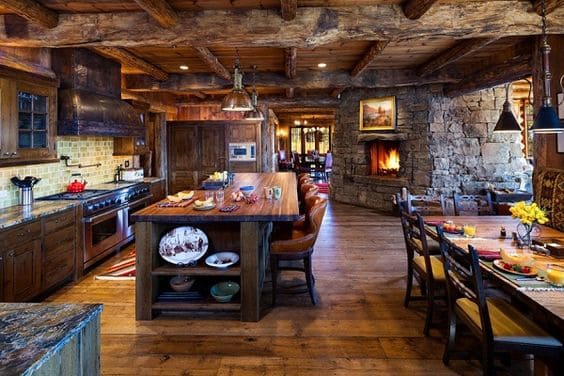 To inject color into your cabin kitchen, look for interesting accents such as hand towels, wall clocks, art prints and more that you can hang to make a statement.
Colorful dishes, coasters, placemats and teapots bring energy to any cabin kitchen while still allowing other elements within the room to shine.
Adding pops of colors such as red, green or blue with these distinctive accents gives the dreamy ambiance of a cabin kitchen without overloading on too much decoration.
Give your old kitchen a makeover with one of these cabin kitchen ideas. With a little planning and elbow grease, you can have the kitchen of your dreams. These 33 ideas are sure to give you all the motivation you need to get started on a kitchen makeover that will have everyone talking.