Growing the plants to your house can be such a smart option to bring in the touch of freshness. It will also keep you away from all the health problems that are caused by high pollution.
Make your plants look way more attractive by placing them on the plant stand you can make yourself. With the best DIY plant stand ideas, you can display your plants while also challenging your creativity. With this low-cost project, you'll have more room to showcase your green thumb in no time.
No worries, the following list of ideas will provide you from simple designs, which are easy for anyone to make to more complex builds.
1. A Simple Plant Stand Made Out of a Few Wooden Material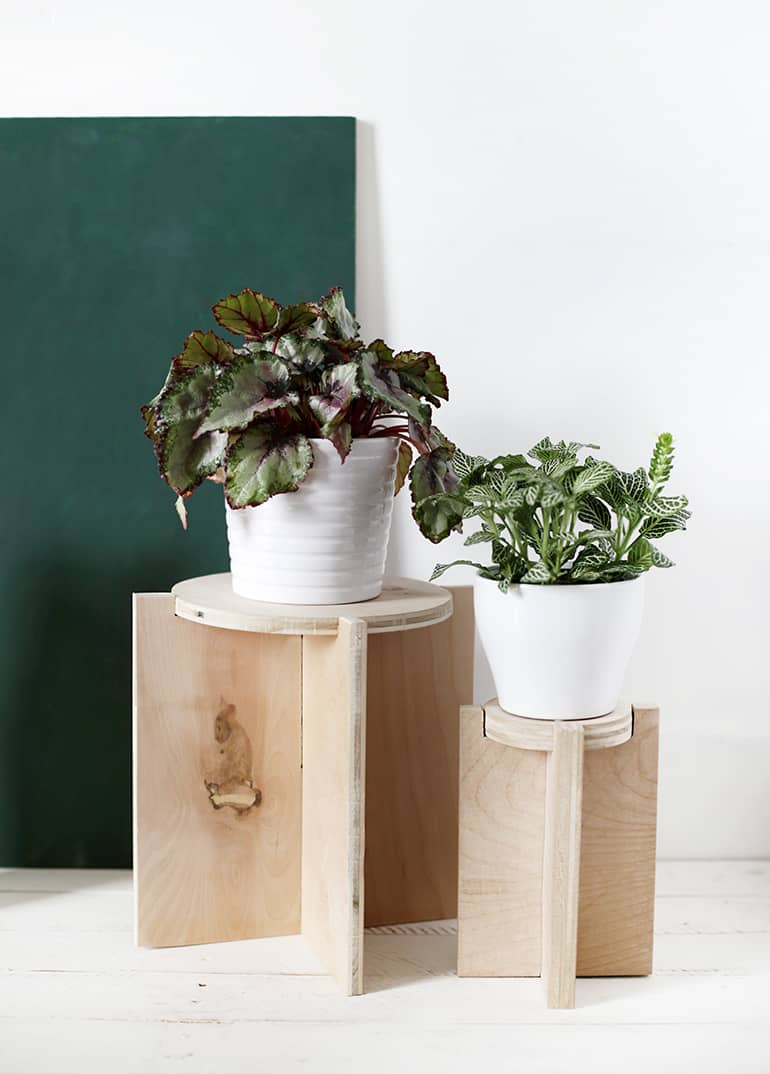 This easy project only requires a few materials and can be customized to fit any space or style. Plus, the wood adds a touch of warmth and natural beauty to your indoor garden.
To make your own plant stand, start by cutting the plywood to the desired size and shape. Next, assemble them using nails or screws and add embellishments like paint or stain. Finally, place your plants on top and enjoy their new elevated home.
2. A Plant Stand Using an Old Ladder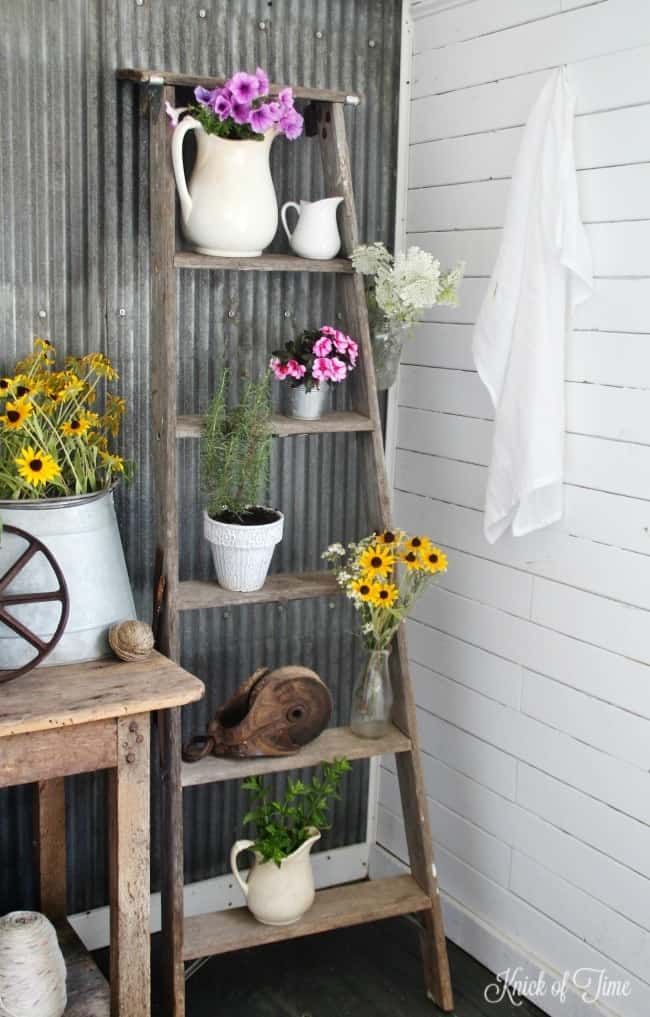 By repurposing a ladder into a plant stand, you can add some rustic charm to your space while showing off your green thumbs. To start, decide on the height and placement of the plant stand. Then, using screws or nails, attach shelves (or even just boards) onto the rungs of the ladder. Finally, make sure to stabilize the ladder with support legs if necessary.
You have a one-of-a-kind plant display that is sure to impress guests and give your plants some extra sunlight. Plus, you're giving new life to an old item. So why not give it a try and add some character to your home with an upcycled ladder plant stand.
3. A Plant Stand with a Built-in Water Reservoir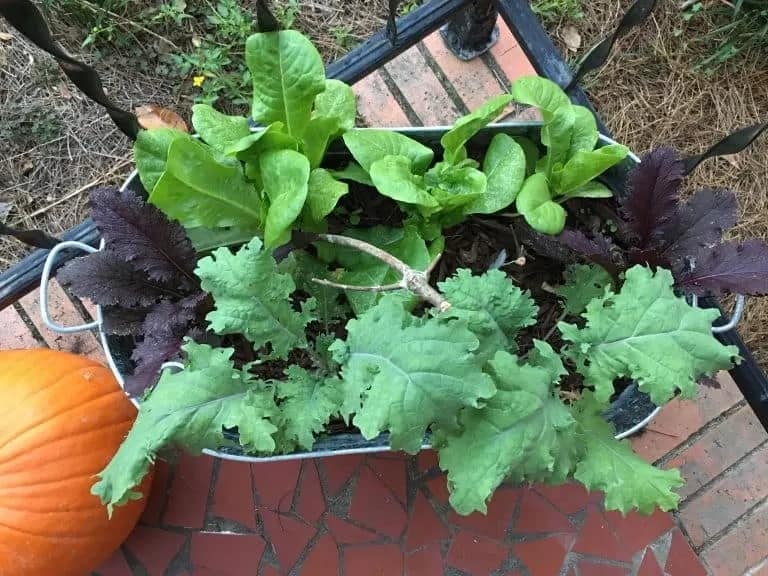 A plant stand with a built-in water reservoir might just be the solution for you. These versatile stands come in a variety of sizes and styles to fit any decor, but they all have one thing in common: a reservoir that slowly wicks water up to the plant's roots, providing them with the hydration they need without any effort on your part. Plus, some models even have a built-in drainage system to prevent overwatering.
No more dead plants or worrying about finding time in your busy schedule to water them. It's truly an investment that is sure to pay off in the long run.
4. A Plant Stand Made Out of Concrete or Cement Blocks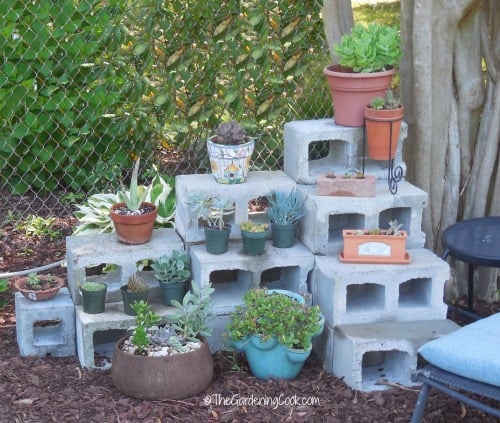 Looking for a unique and durable way to display your plants? Look no further than a plant stand made out of concrete or cement blocks! With a little creativity, these materials can create a sturdy and distinctive stand for your indoor or outdoor plants.
Start by stacking the blocks in a pyramid shape, making sure they are securely balanced. Then, use heavy duty wire or rope to attach each block to the next.
If you want added stability, try mixing concrete and pouring it between the blocks before they dry. Finally, add shelves made out of wood or metal to create levels for arranging your plants. Not only will this DIY project add interest to your garden or home decor, but it will also provide reliable support for all of your potted plant friends.
5. A Plant Stand with Wheels For Easy Transport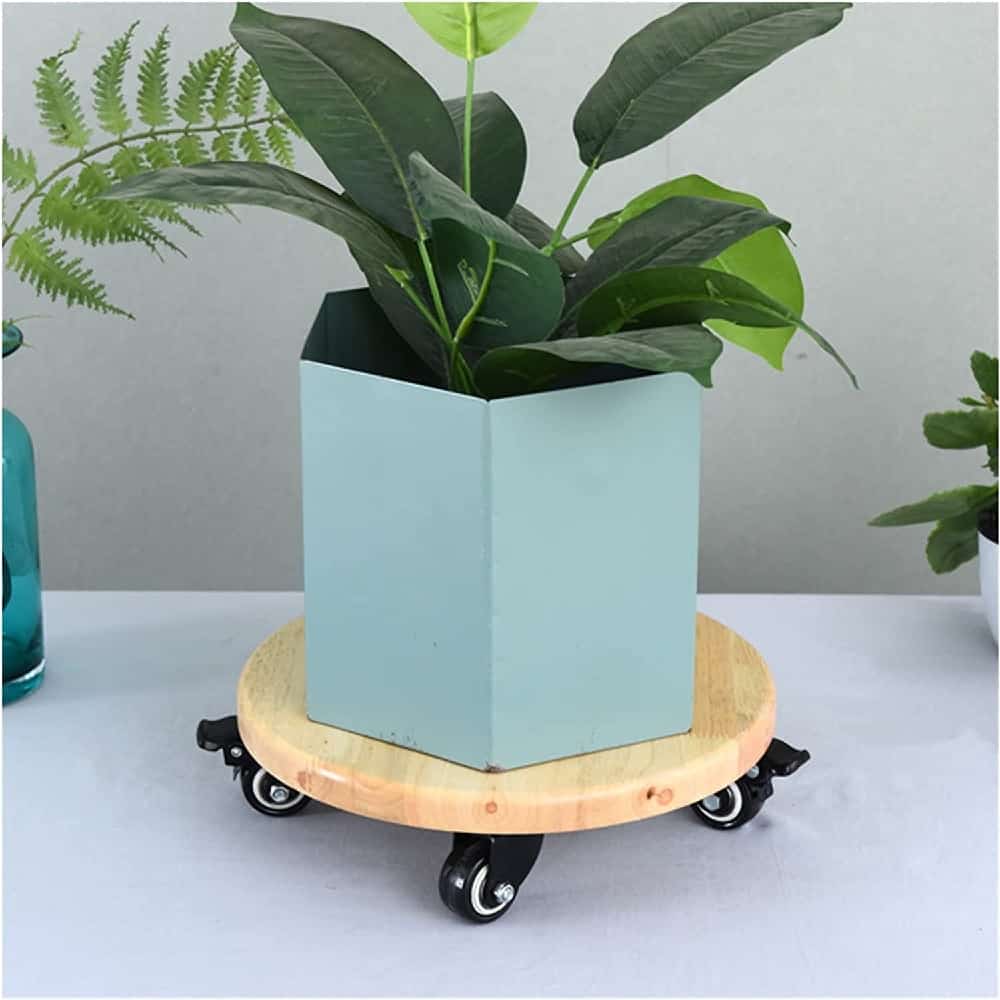 This versatile piece of decor allows you to move your plants wherever you need them, whether it's rolling them out into the sunlight or tucking them away in a corner. And with the range of materials and styles available, there's sure to be a rolling plant stand that fits your aesthetic.
It's a simple solution for those inevitable plant-related headaches and an easy way to spruce up any room. So don't struggle with heavy planters any longer invest in a rolling plant stand and give your green thumb the flexibility it deserves.
6. Place Your Plants on the Shelves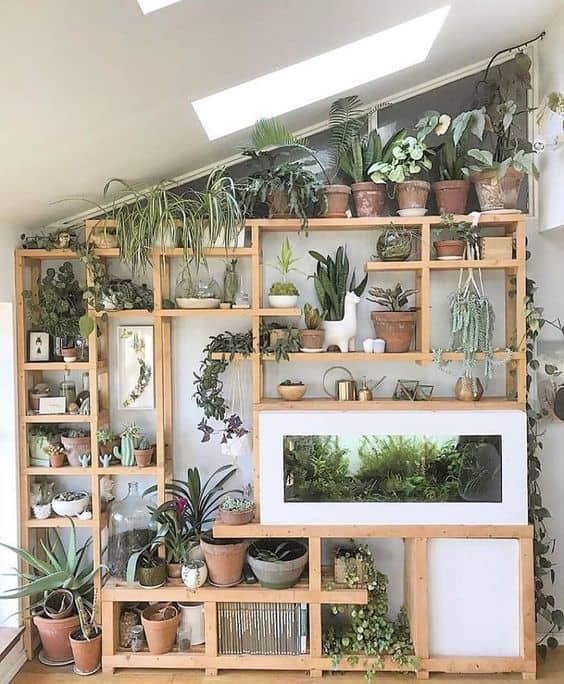 When it comes to indoor gardening, there's no need to limit yourself to traditional pots and planters. Elevating your plants not only adds an interesting visual flair, but it can also provide additional drainage and protection from pests.
If using shelves, you can even arrange them in tiers for maximum space efficiency. Plus, playing around with different heights can create depth and dimension in your indoor garden setup. So don't be afraid to get creative and explore different ways of displaying your plant babies.
7. Put it on an Old Stool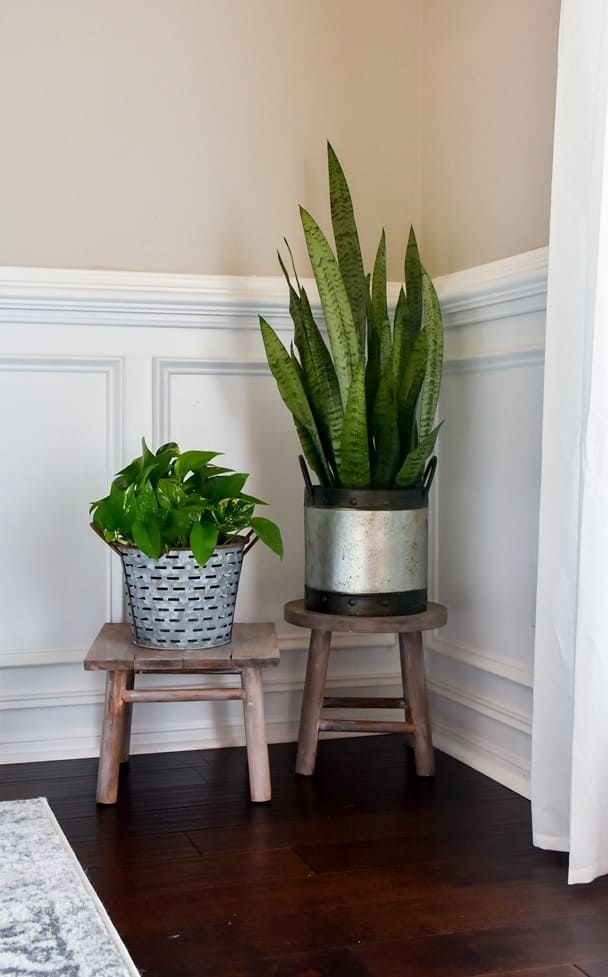 Try repurposing an old stool into a cute and practical plant stand. All you need is a solid, stable stool with three or four legs. Next, paint the stool in your favorite color, or keep it natural wood for a rustic look. Then, choose a plant that fits within the seat's diameter and add some potting soil. You now have an adorable and functional DIY plant stand.
8. Use PVC Pipes Material for Durable Plant Stand
Using PVC to display your plants can be the best option for your plants. While it may seem unusual to some, PVC is a solid choice for the durability of the stand and how versatile it can be in design.
Start by cutting PVC pipes into various sizes, depending on what kind of foliage you want to display. To make sure that they fit together in a stable way, you should use glue or tape to secure the pieces together. After you have it all set up, add a little moss on the top to give your stand a more natural look.
9. Indoor Plant Stand Minimalistic Style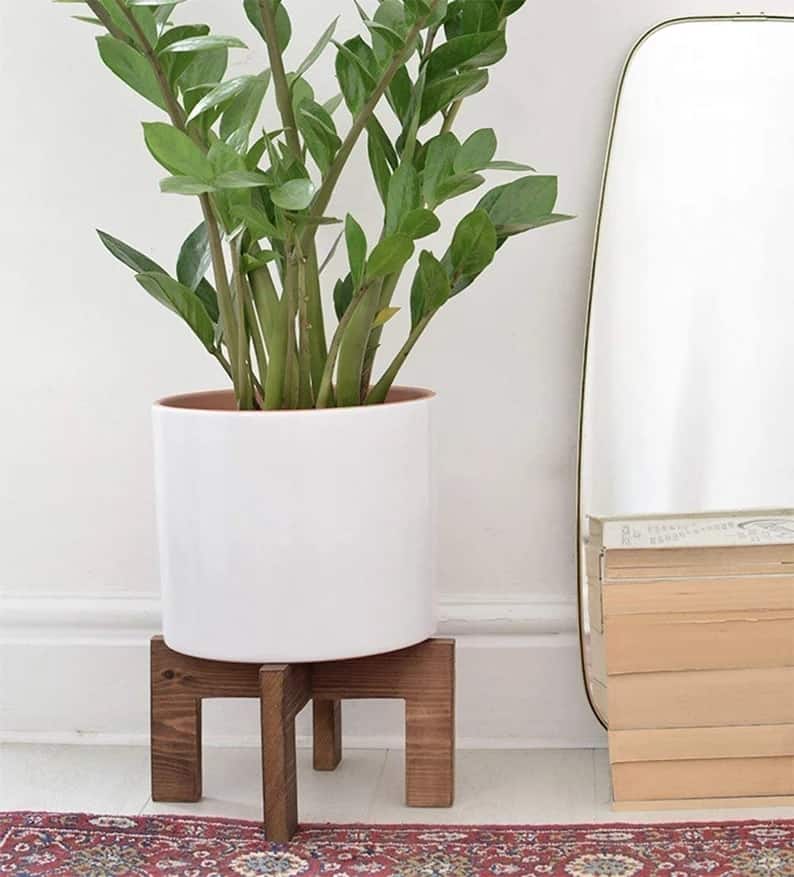 For indoor plants, consider using the wooden material. Try repurposing an old stool or end table can be the best option. You can simply remove the top surface and add small shelves or hooks to hold your plants.
And if you want to make it looks prettier, which can be the best option, then you can also add a few decorative items such as candles. Using wood material will make the stand sturdy and durable in indoor conditions.
10. Tiered Plant Stand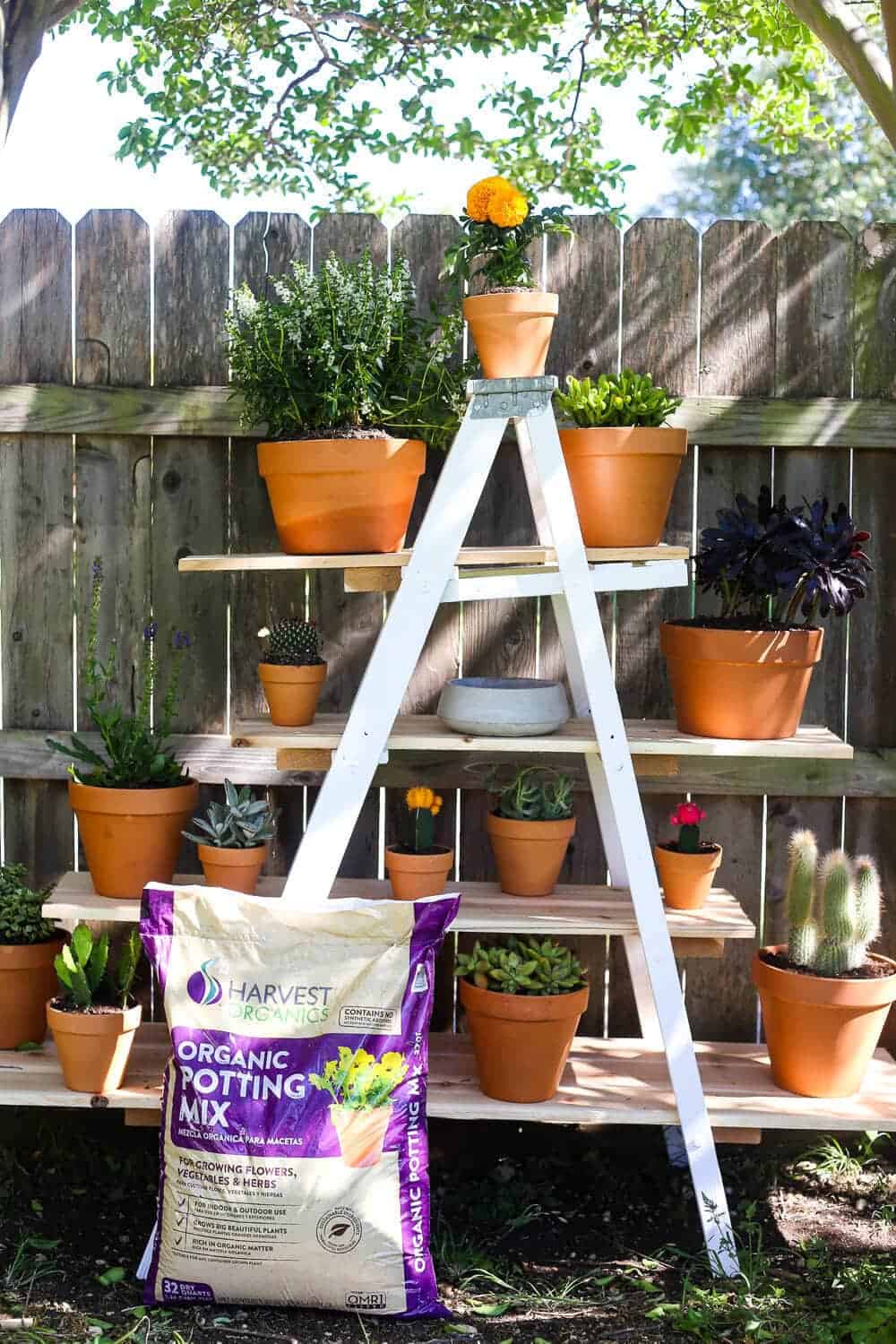 If you have lots of plant collections, then organize them on the tiered plant stand should be on the list of consideration. It has the good size such as 14in. X14in. and it can be put on a small corner, patio or backyard with ease.
The structure of this plant stand is very simple, yet durable at the same time. Its two sections have 2 square foot each of which is connected to each other by one long and narrow piece that sits in the center of each square. You can use it to place your favorite plants or flowers.
11. Hanging Plant Stand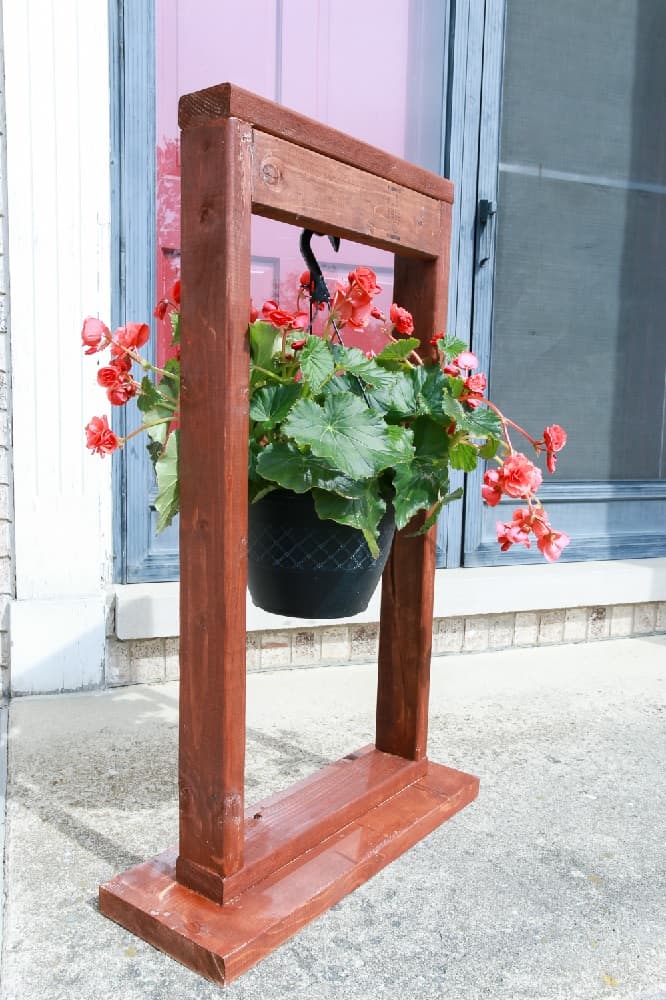 This project is the best answer if you have to deal with the limited space in your house. This stand allows you to grow your plants in a vertical way. For this, you need four 3-inch wood screws and some 4×4 posts. It will be better if you use the pressure-treated wood for more durability.
First, assemble the base by connecting two of the 4×4 posts with the help of screws in a rectangular shape. Next, you will need to add a vertical support for your plants. Use the remaining two posts and attach them to the base with the screws in a straight line. To hang the stand from your ceiling, you can use eye-hooks that are screwed into the top of the post.
12. Wheelbarrow Plant Stand for the Green Thumb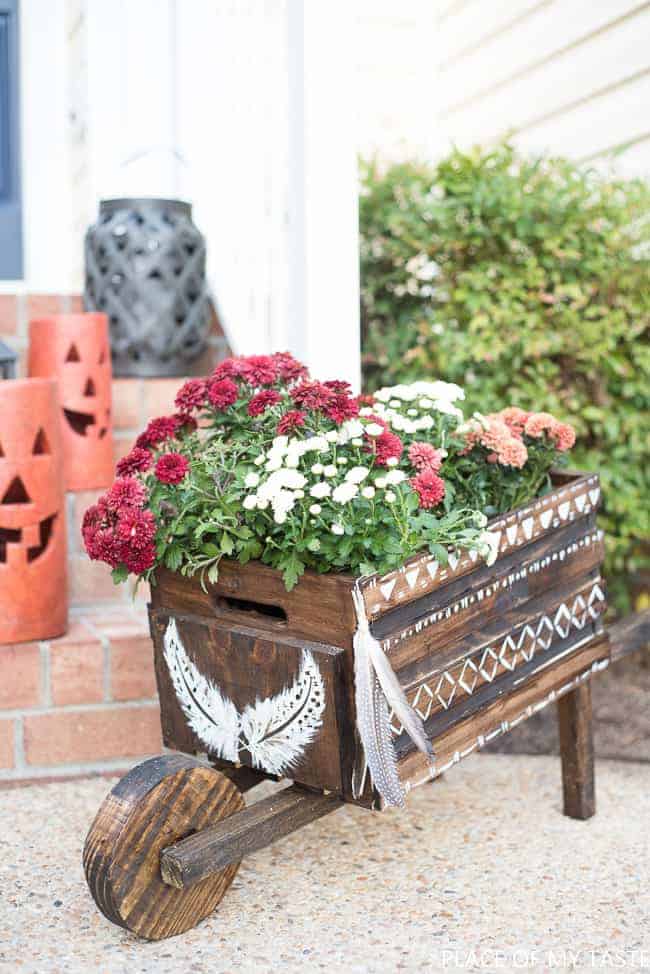 This DIY plant stand idea is not only unique and eye-catching, but also functional. Simply find an old wheelbarrow and clean it out, then fill it with soil and arrange your plants.
The rustic charm of the wheelbarrow adds character to any outdoor space, and the structural stability means you can plant larger, heavier varieties without worrying about the stand collapsing under their weight.
Plus, the wheelbarrows handle allows for easy movement, so you can rearrange or move your plants as needed. Get creative with paint or decorate with trailing vines for even more visual interest.
13. Wooden Crate Material for a Rustic Touch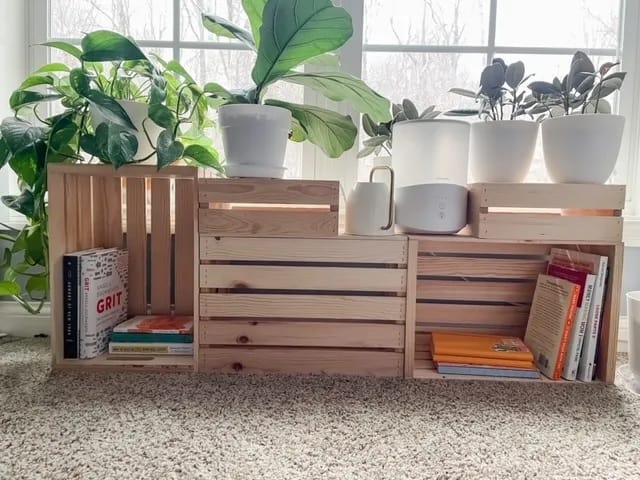 One affordable and accessible material to work with is wooden crates. They provide a rustic touch that pairs perfectly with earthy succulents and small cacti.
To make one, simply stack crates of varying sizes on top of each other, secure with nails or screws, and add an optional coat of paint for extra flair. Or, for a more polished look, use sandpaper to smooth out the crates before stacking them and painting them in a solid color or fun pattern.
14. Use a Hole in the Wall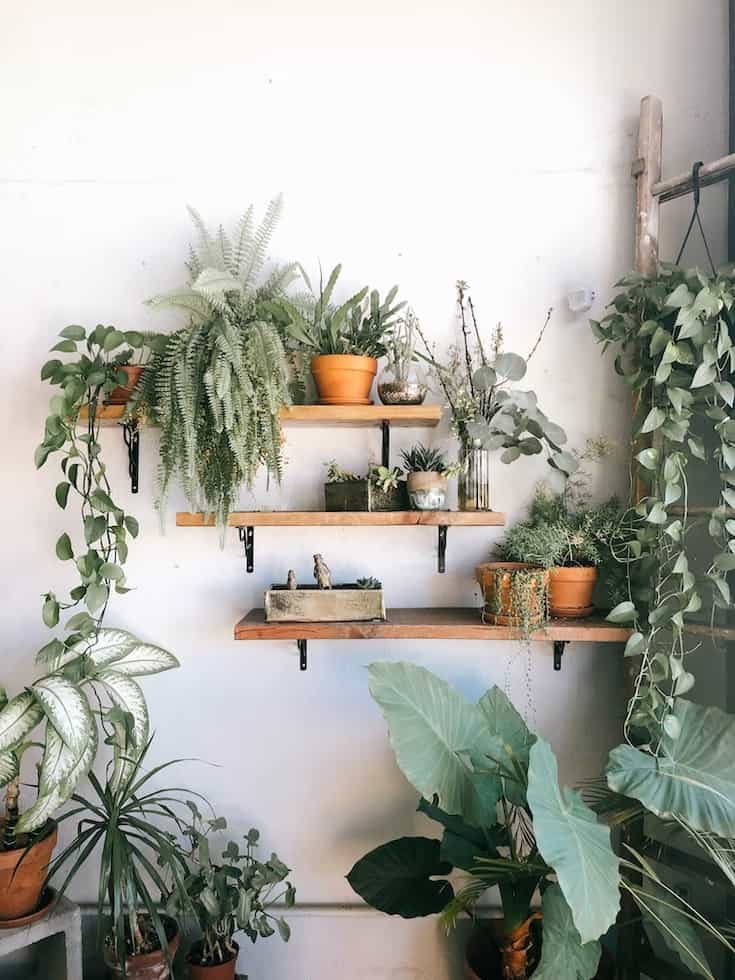 This idea is great for both small spaces and larger rooms, adding an interesting design element while freeing up more floor space. It can add a touch of modern style to any room while also creating extra space on your shelves and tables. Plus, it's easy to make with just a few basic materials. All you need is some wood or metal planks, brackets, screws or nails, and hanging hooks.
Measure the desired length and height of your stand, then use the brackets to attach the planks and create shelf-like layers. Finally, screw in the hanging hooks and you're ready to start showing off your green thumb in style.
15. DIY Plant Stand Ideas: Short Plant Stand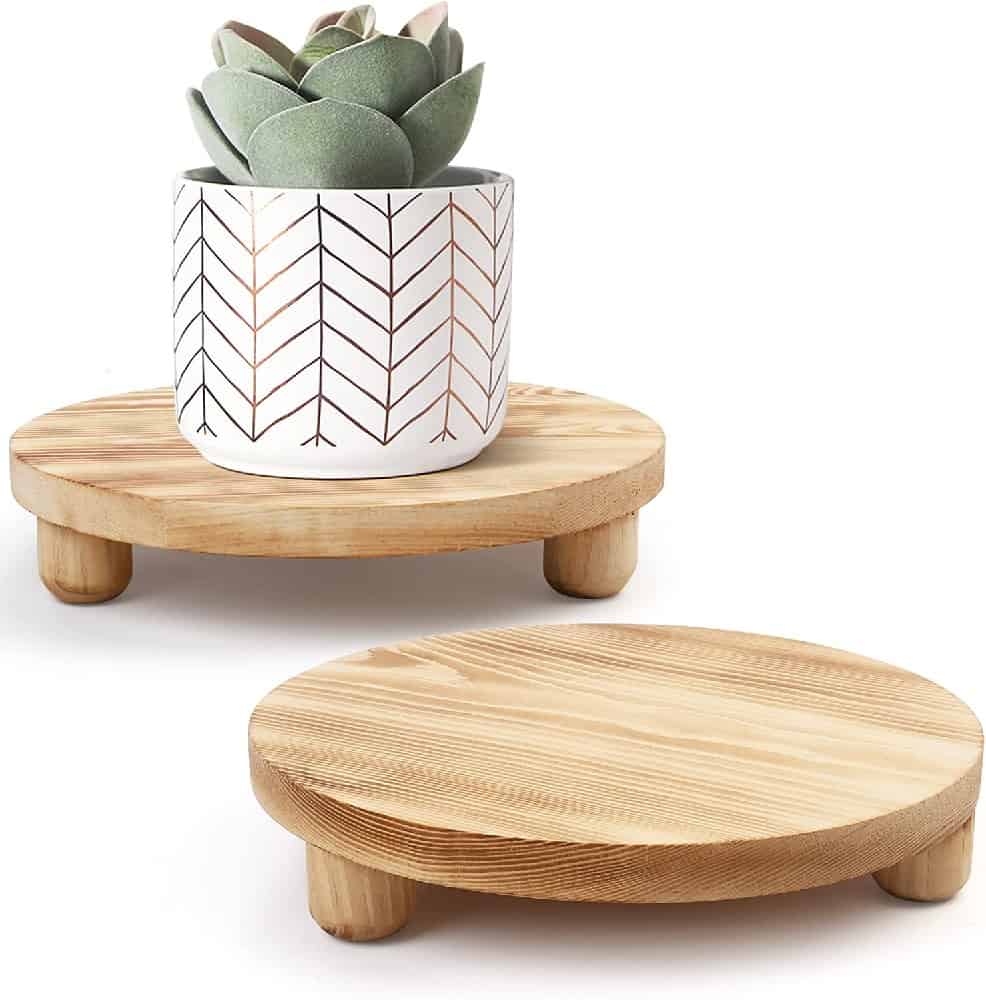 One simple way is to stack a few pieces of wood in an alternating pattern to create varying heights. Paint or stain the wood to match your decor, and add small supports or legs if necessary. Another idea is to use old crates or boxes, stacking them on top of each other and adding a wooden plank on top for added stability.
16. Use an Old Wine Barrel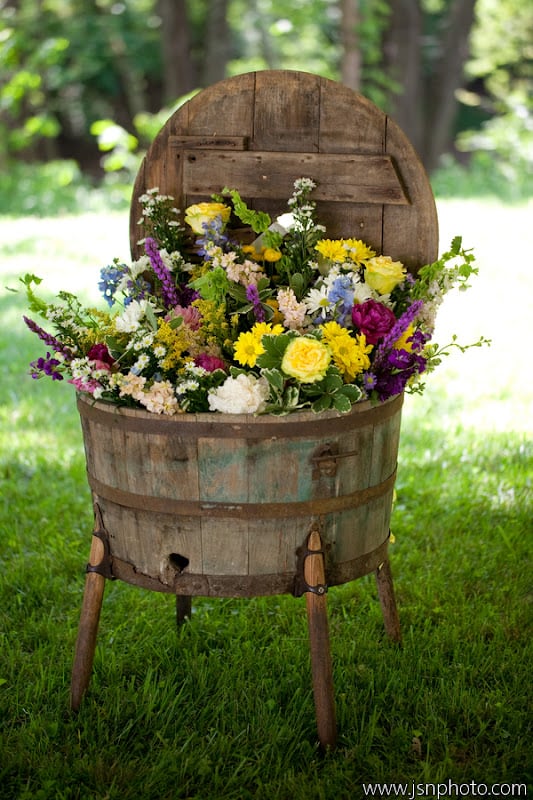 Transform the wine barrel in your house into a plant stand that offers you a unique look while also being functional to keep the plant stylishly displayed. To make your own plant stand, simply cut the barrel in half and place it on its side.
You can then fill the bottom with gravel or rocks to ensure proper drainage and add a layer of potting soil before placing your plants inside. And if you want to up the embellishment factor, try giving the barrel a fresh coat of paint or stenciling on some designs.
17. Create a Vertical Garden System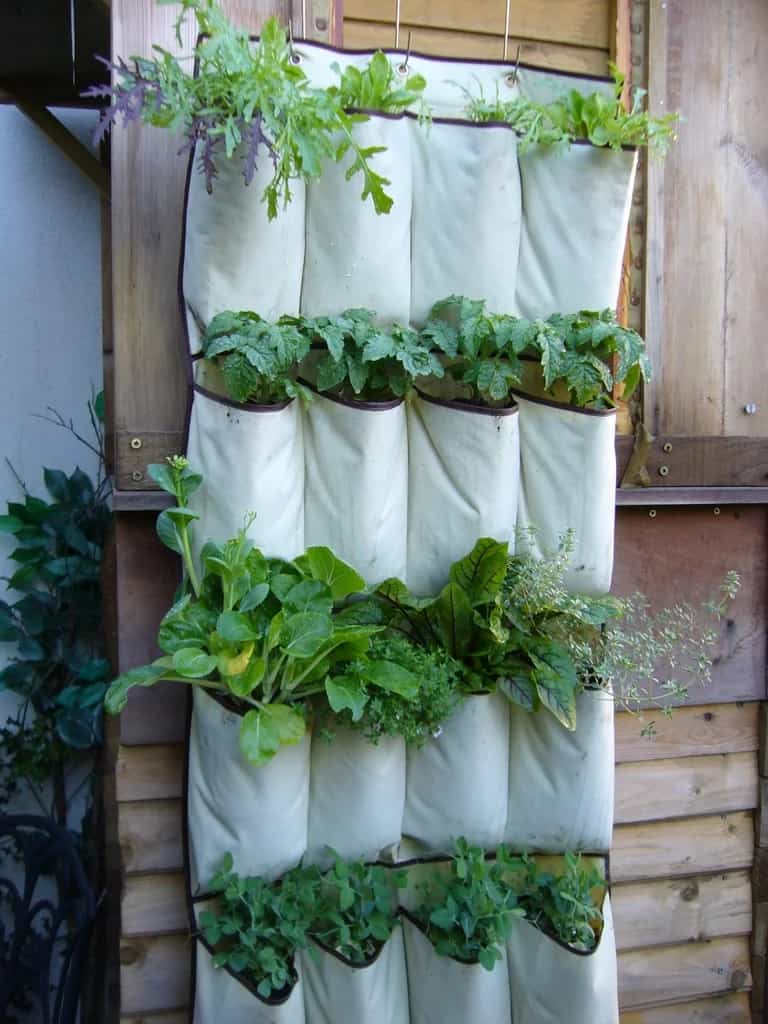 A DIY vertical garden system can be as simple or as elaborate as you want it to be. One easy option is to mount plastic planter boxes on your wall with screws or brackets. You could also use hanging baskets or pots suspended from a decorative ladder or repurposed shelves.
Another idea is to use wire mesh grids mounted on the wall and clip small planters onto the grid. And don't forget about hanging plants like pothos, spider plants, and string of pearls – they add amazing texture and provide tons of visual interest.
18. Build a Plant Stand Using Pallet Wood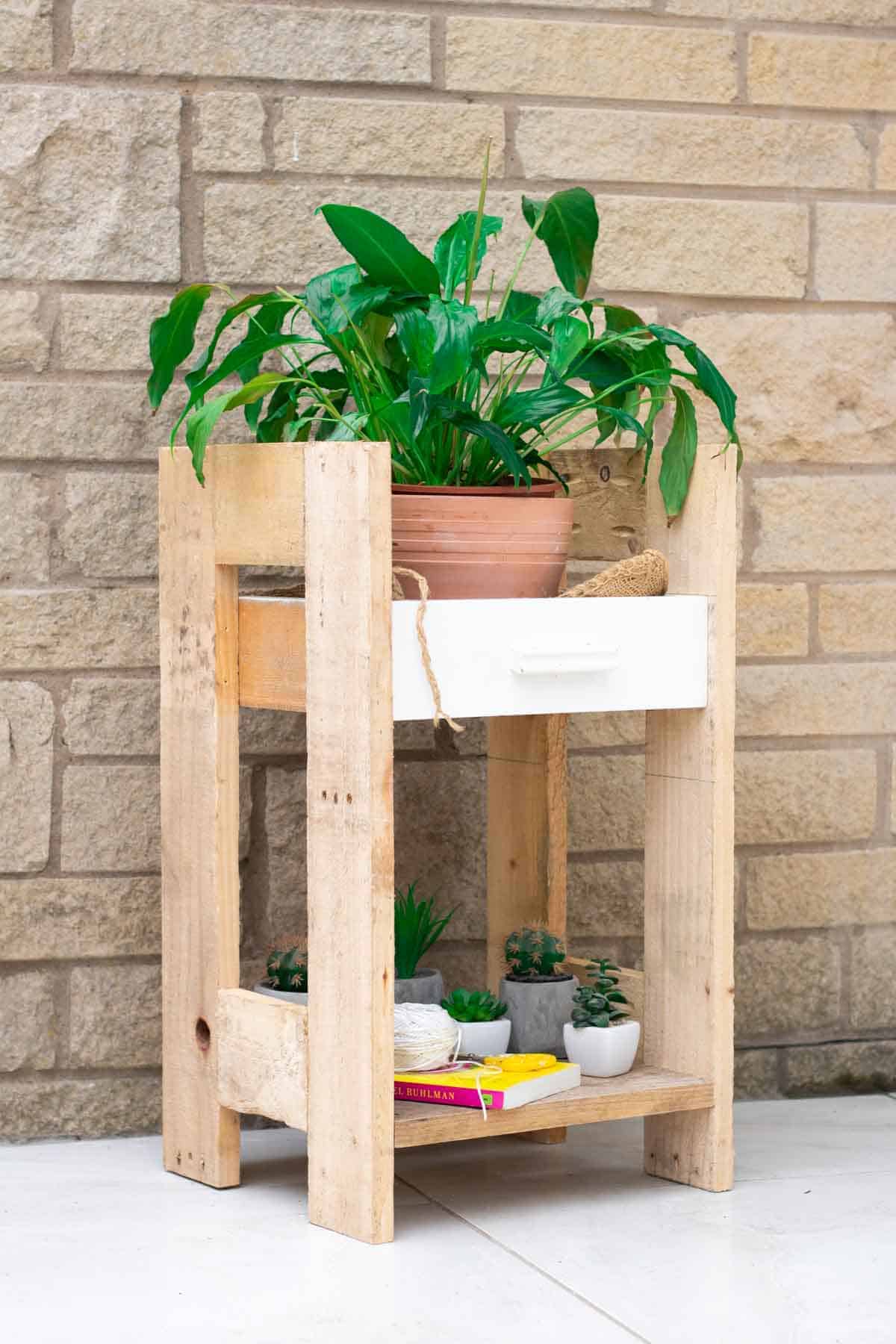 Not only is it a fun DIY project, but it also adds some rustic charm to your decor. To start, gather three or four small wooden pallets and lay them flat on the ground. Stack them on top of each other in a pyramid shape, securing with nails or screws if necessary.
For added stability, attach wooden panels on the sides to form a base and top shelf. Finally, use sandpaper to smooth out any rough edges and add a coat of paint or stain in whatever color suits your taste.
19. Organize Your Plants with Pegboard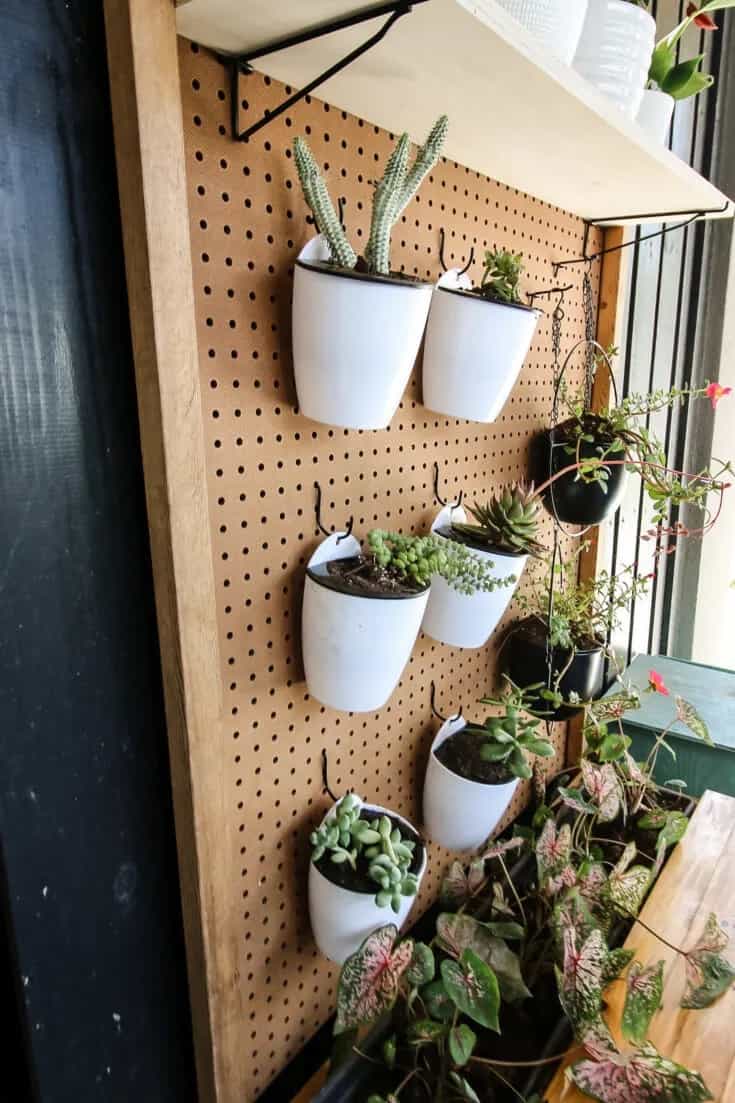 Maximize your small space and display all of your small potted plants with a DIY pegboard plant stand. The best part about this idea is that it can be customized to fit any size or shape available wall space you have.
Simply purchase a pegboard from your local hardware store and some small hooks meant for hanging small pots or planters. Then, arrange your plants on the board however you like.
20. Plant Stand with a Plant Hanger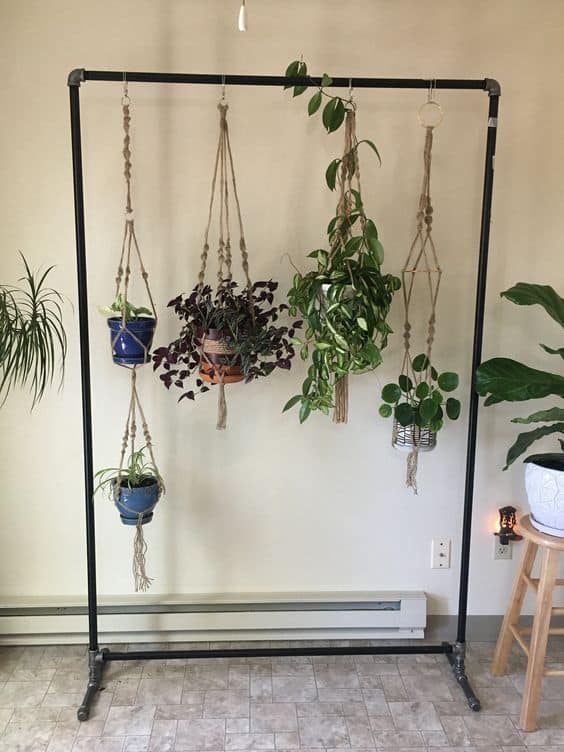 To make this, you will need a sturdy branch or dowel and some rope or cord to hang it from the ceiling. First, measure and cut the wooden dowels to create four legs for the plant stand. Then, use hooks or screws to attach them to a solid base such as a wooden plank or block.
Next, wrap the rope around each leg in a spiral pattern, either using hot glue or tie knots to secure it in place. Finally, attach plant hangers onto the rope at various heights and fill with your favorite potted plants.
21. Create a Plant Wall Out of Succulent Plants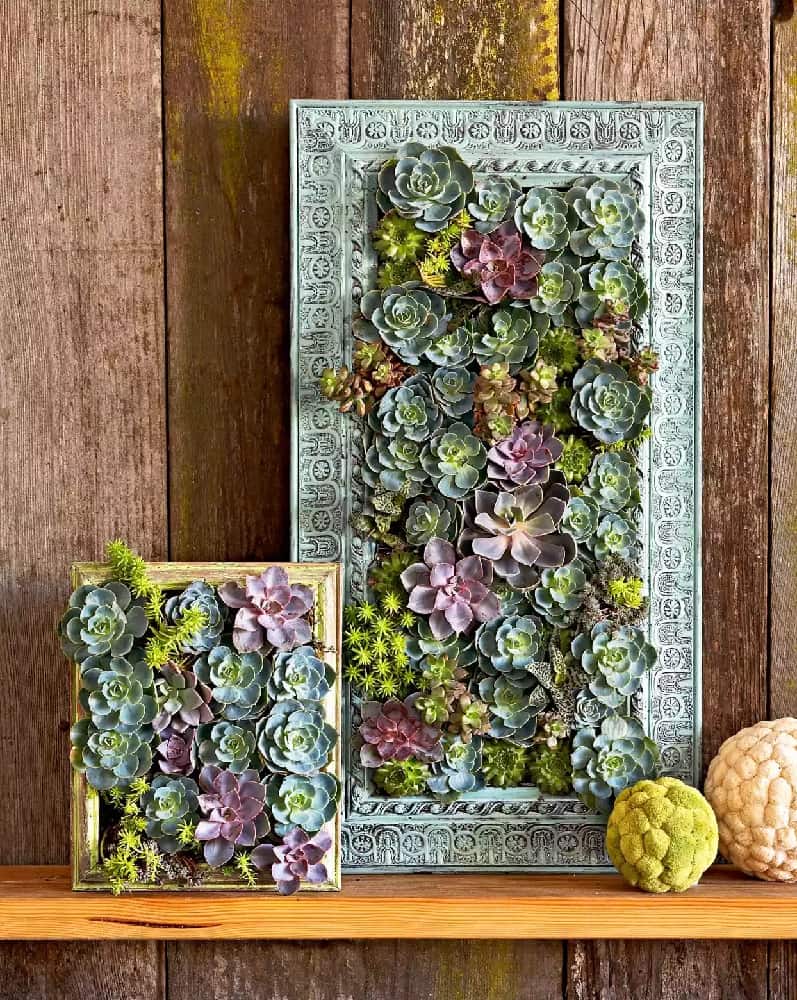 These low-maintenance greens look amazing when grouped together, and they can easily be attached to an existing wall or fence using hooks or wire. You can even construct a freestanding frame using wooden planks or metal bars.
Mix and match different succulent varieties for an eclectic look, or stick to one type for a more streamlined aesthetic. It's easy to do with some wire mesh and wooden frames. Just cut the mesh to fit within the frame and attach it using small nails or staples. Then use hot glue to secure your succulents onto the mesh. Be sure to leave enough space for them to continue growing.
22. Hang Potted Plants from the Ceiling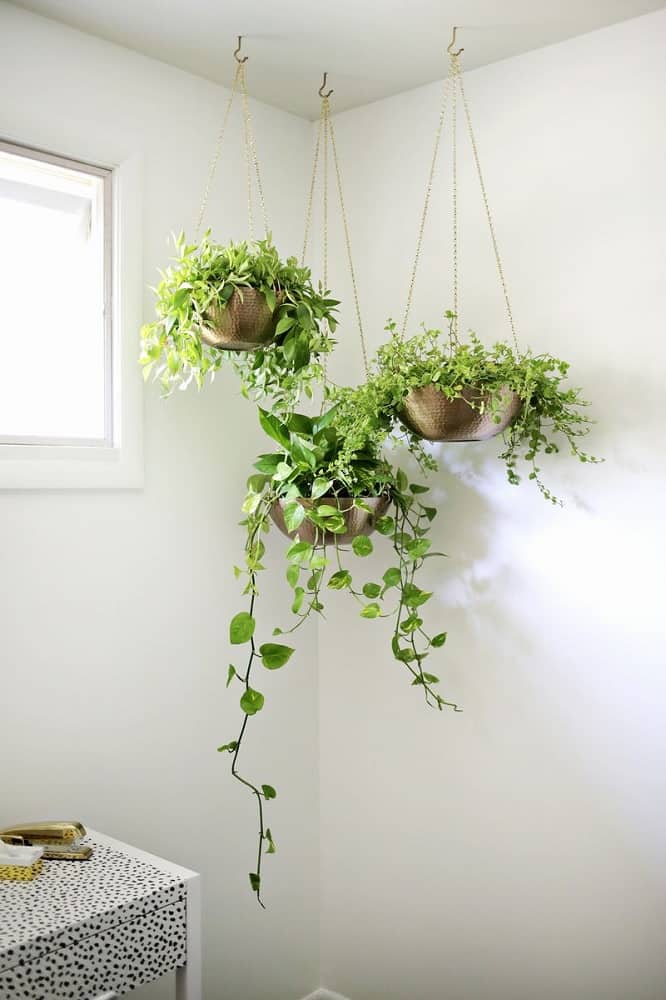 This DIY plant stand idea is easy to implement and adds a unique touch to any room. Just gather some strong hooks, pot hangers, and suspender clips. You can hang the plants individually or group them together for a dramatic display. If you want extra support, try suspending from a wood plank that can be attached securely to the ceiling.
23. Build an Indoor Herb Garden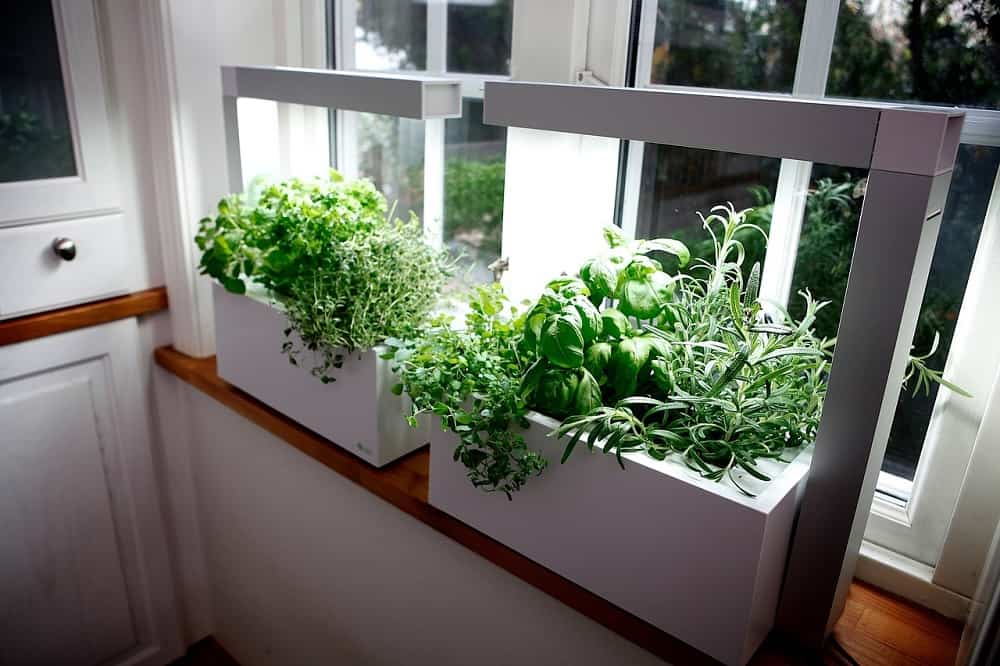 With the herb garden in your house, you don't need to worry about the supply herb because you'll always have them. Aside from being easy to grow, a bunch of herbs can add fragrance and color to your house.
To create an indoor herb garden, start by choosing a sunny spot in your home that gets plenty of natural light. You can use any container for the herbs, whether it's a small pot or an old mason jar.
24. Use a Potting Bench to Keep Your Garden Organized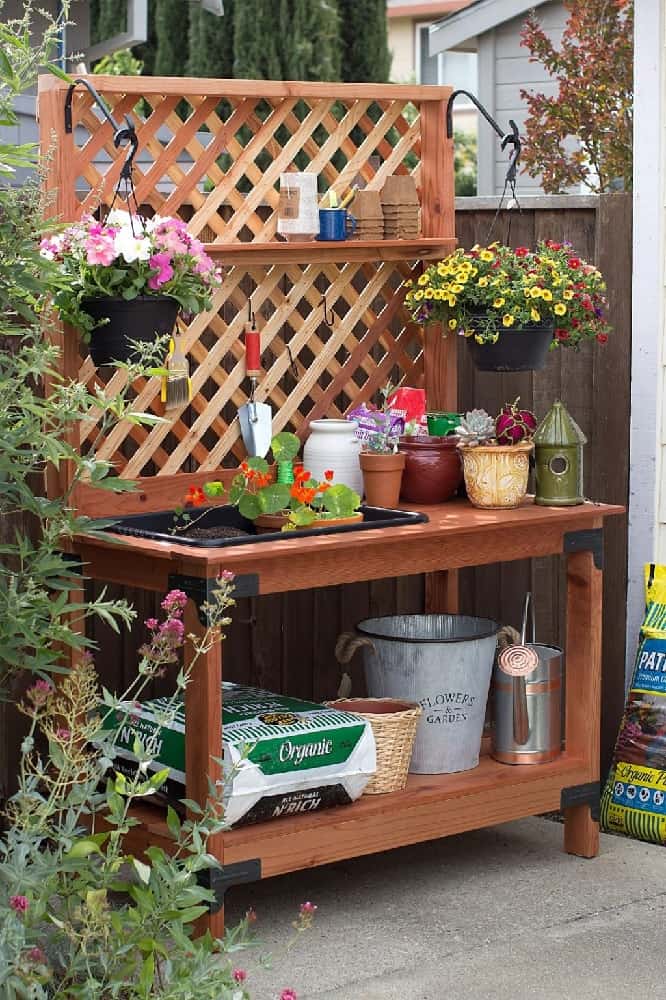 Consider repurposing an old potting bench into a plant stand! Not only will it keep everything organized and off the ground, but it also adds some cute farmhouse charm. You can sand down the surface and add a fresh coat of paint for a sleek look, or leave it rustic with some distressed wood detailing.
The built-in shelves provide extra storage space for all your gardening essentials.
25. Use Hanging Plant Holders for Multiple Plants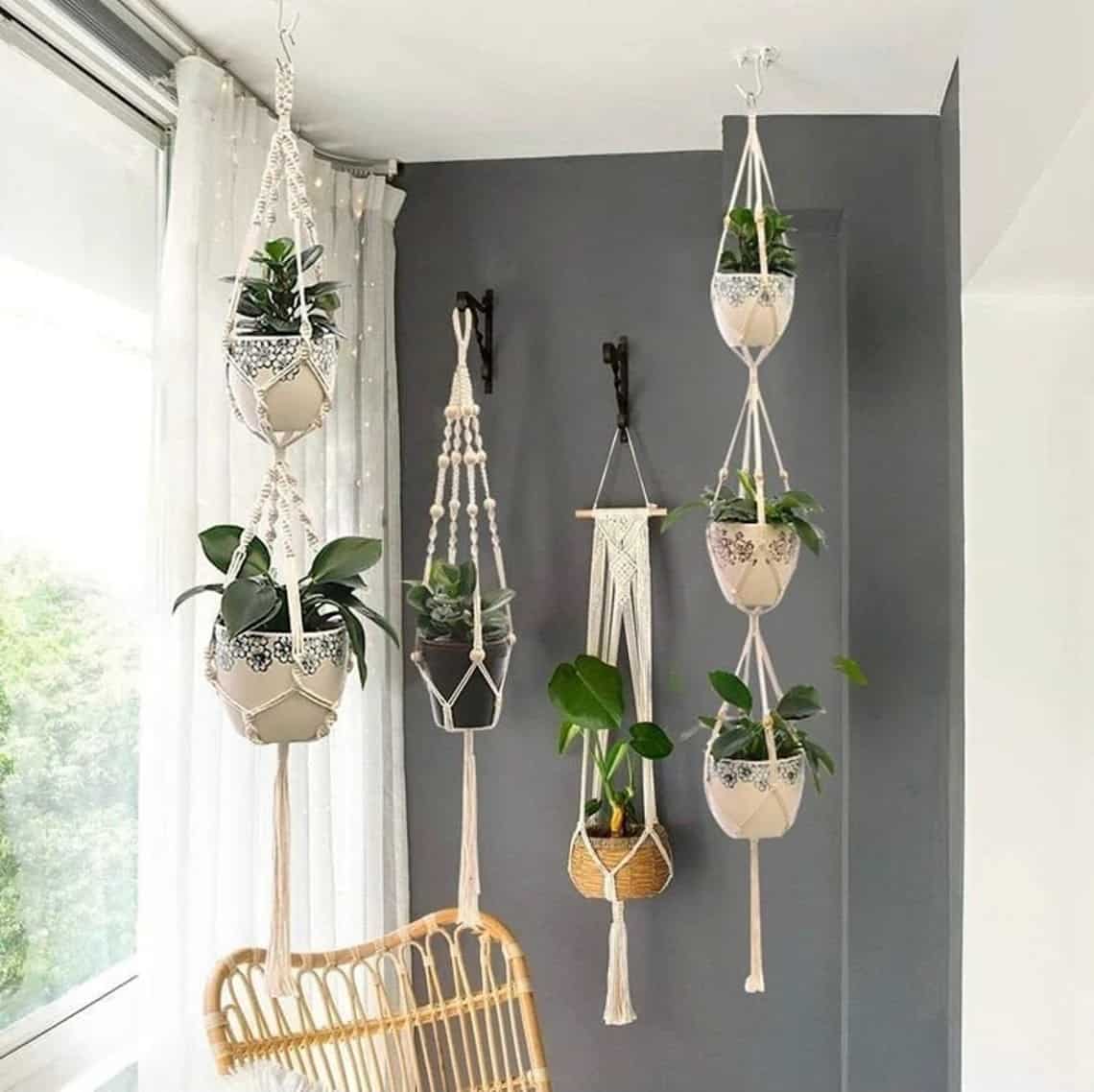 By suspending multiple plants from the ceiling, you not only save valuable surface space but also add some height and visual interest to your room. Utilize macrame hangers for a boho vibe, or repurpose old baskets for a rustic feel. You can even use everyday objects like wine bottles or mason jars with sturdy ropes or chains.
26. Put Plants in Tension Rods on the Ceiling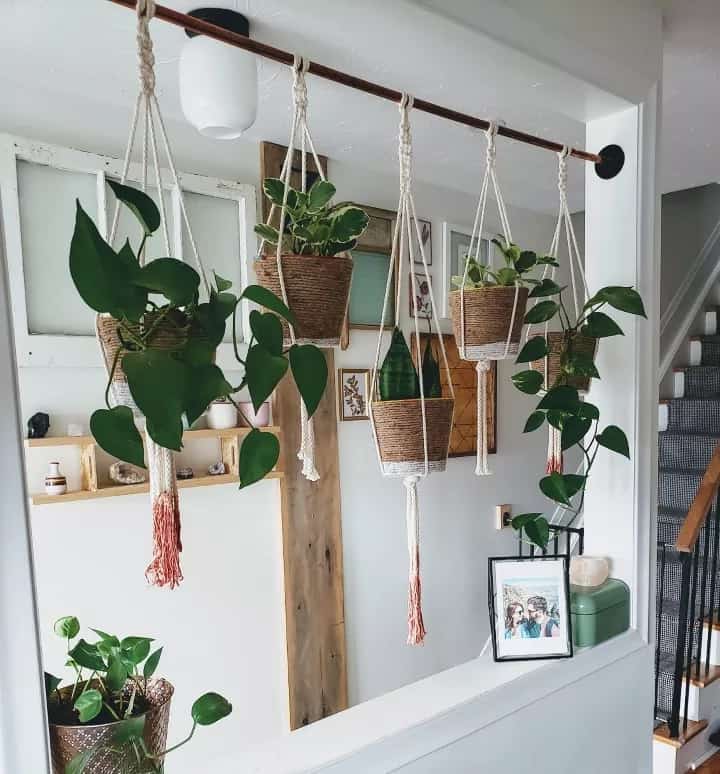 Try hanging them from the ceiling with tension rods. It's a simple DIY project that adds a cool, modern touch to any room. Simply screw in the tension rods at different heights and perch your plants on top.
Add some macrame hangers for an extra boho style. Not only does this free up space on your floors and shelves, but it also allows for more light and air circulation for your plants.
27. Use an Outdoor Plant Stand and Plant Containers Indoors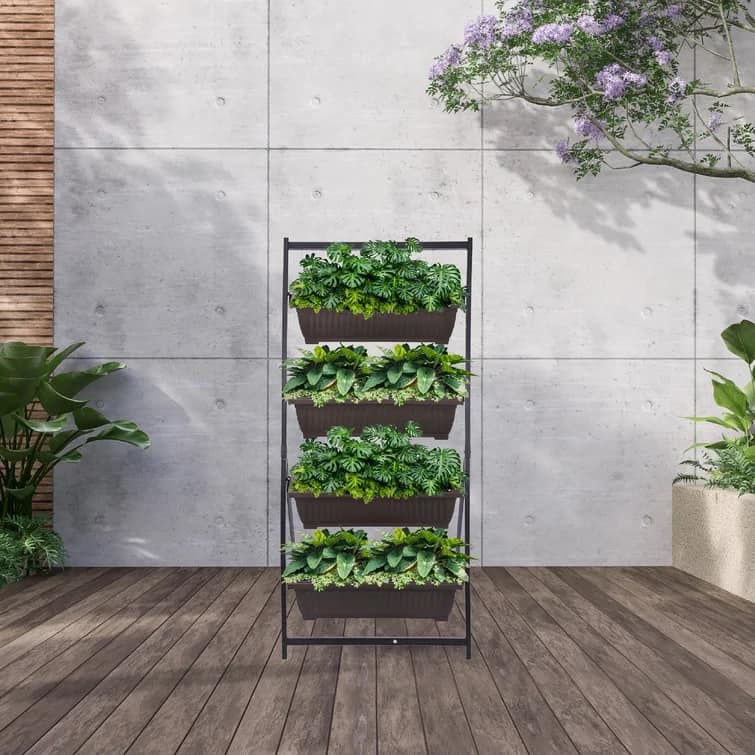 An outdoor plant stand can easily be converted into a piece of indoor decor with some creativity and BPA-free plastic containers. Simply remove any existing pots from the stand and replace them with your plastic containers. You can even spray paint the containers to match your aesthetic or add little embellishments for an extra personal touch.
28. Make a DIY Planter with Cinder Blocks and Sheets of Wood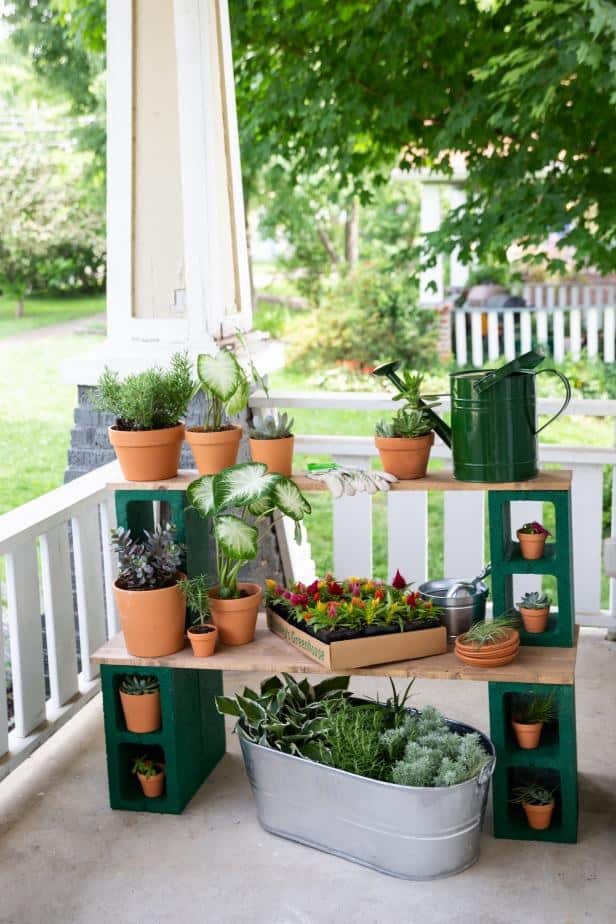 The combination of the cinder block and the sheets of wood offers you an industrial flair, infusing a cool ambiance to your space.
All you need is some cinder blocks and a few sheets of wood. Stack the cinder blocks as high as you need, and use the wood to create shelves. Choose different heights for added visual interest, or keep it uniform for a more minimalist look. Paint or stain the wood to match your decor.
29. Small Plant Stand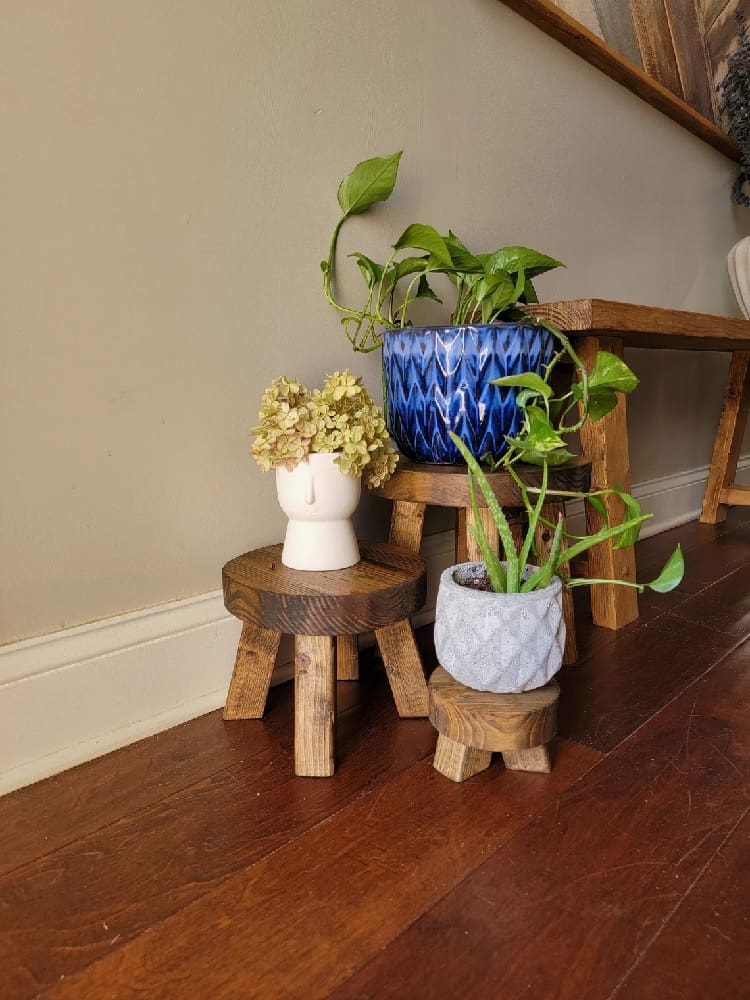 A simple wooden step stool can easily be transformed into a trendy mini plant stand with a coat of paint and some succulents. Or try stacking a series of wooden crates to create multiple levels for displaying different types of plants.
For an industrial touch, repurpose old pipes into a standing planter – just add legs and shelf supports, then fill with soil and your favorite plants.
30. Use a Wrought Iron Plant Stand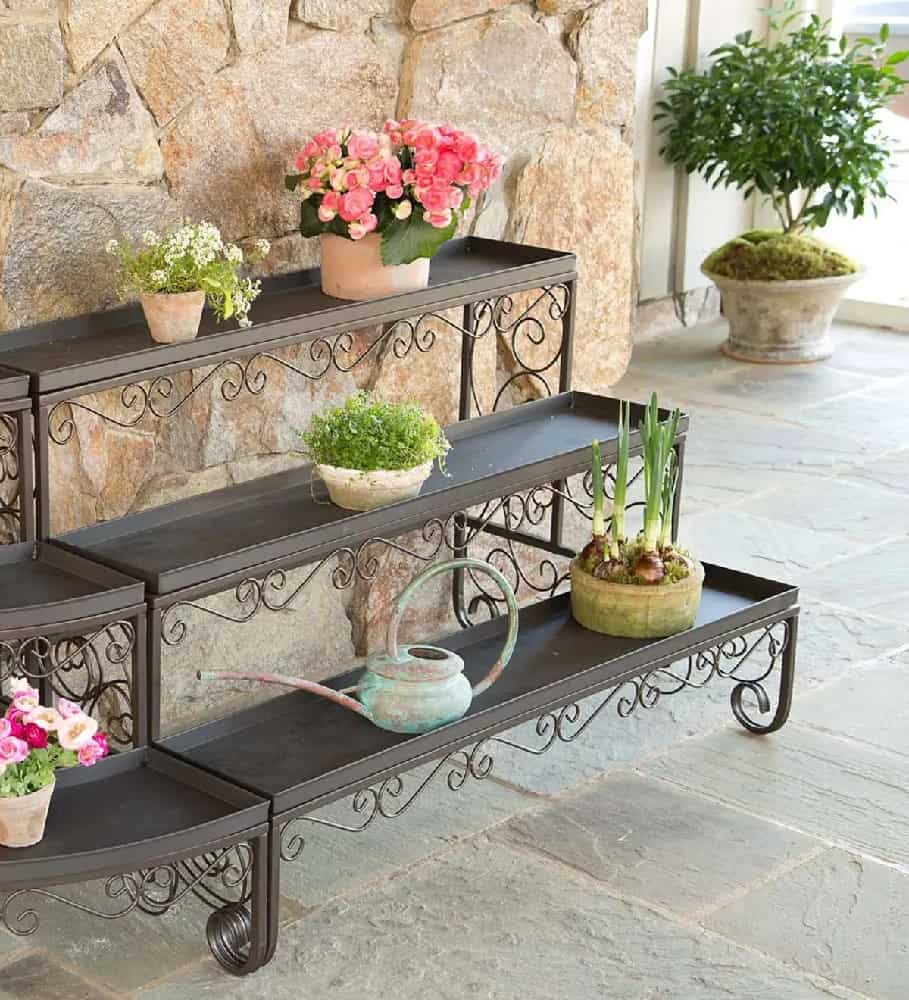 These durable stands can withstand heat, cold, rain, and wind without compromising their structural integrity. Another bonus is that wrought iron stands typically require little maintenance, just the occasional wipe down or touch-up to prevent rusting. And if you want to add some personal flair, try spray painting the stand with a fun color or design.
As you can see, there are many different ways that you can create a plant stand for your home. You can use recycled materials, such as an old ladder or some concrete blocks. Or you can buy something new, like a plant stand with wheels. Whichever option you choose, make sure that it is the right size and height for your plants. Also, keep in mind that you don't necessarily need a plant stand – sometimes placing your plants on shelves or cabinets works just as well.