When you have tons of make up brush and no adequate way to store them, then the list of the simple DIY makeup brush holder ideas is the perfect solution for you.
Maybe you've seen those Instagram pictures of people with their immaculately organized brushes, and it seems unattainable. But it's not! There are plenty of ways to store your brushes so that they're both accessible and look good at the same time.
In just a few minutes, you can have a beautiful and functional storage solution for your brushes. We will show you how to make it using materials that you probably already have around the house.
1. DIY Makeup Brush Holder Ideas: Upcycle the Glass Jar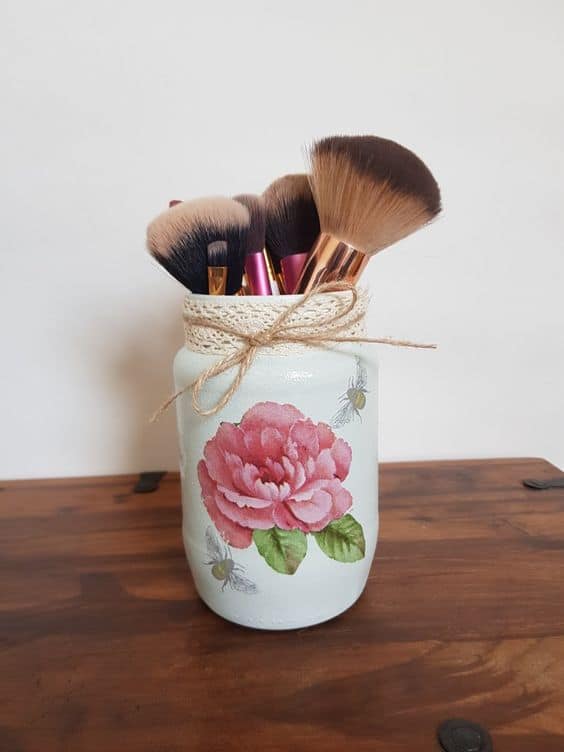 One of the easiest DIY makeup brush holders is a glass jar. Simply wash out an old jam or jelly jar and let it dry. Then, place your favorite makeup brushes in the jar and screw on the lid.
You can also decorate the jar with paint, ribbon, or other materials to give it a more personal touch.
Supplies you will need:
A glass jar
Paint, ribbon, or other decorations
Scissors or a utility knife (for cutting the ribbon)
Hot glue gun and glue sticks (if using ribbon)
Makeup brushes of your choice
Water-based paint or permanent marker for labeling
2. Mason Jar Makeup Organizer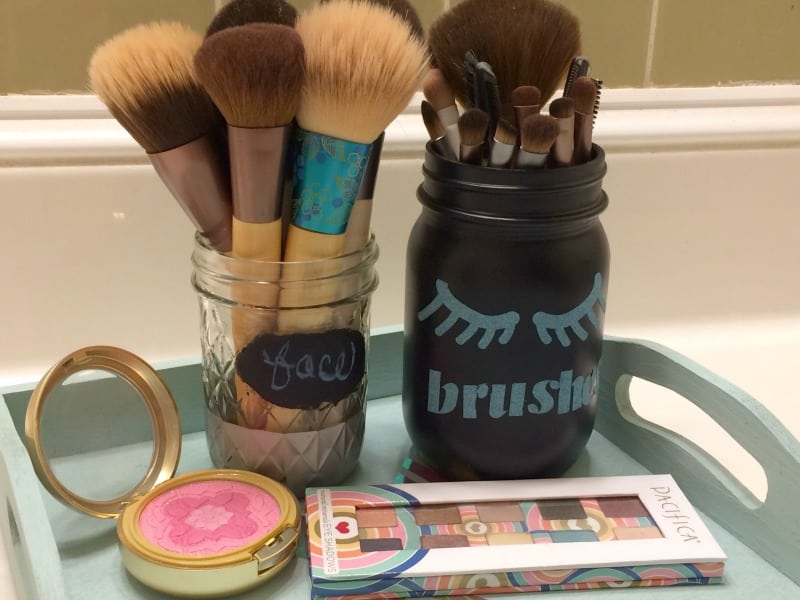 Another easy option for a DIY makeup brush holder is a mason jar. You can either use a regular mason jar or a mini mason jar, depending on the size of your brushes. To decorate the holder, you can glue on beads, sequins, or other small decorations.
You can also paint the outside of the jar or wrap it in ribbon as you desire. This super simple DIY project can be such a great option if you don't have much leisure time to make this work.
3. Tin Can Classy Makeup Brush Holder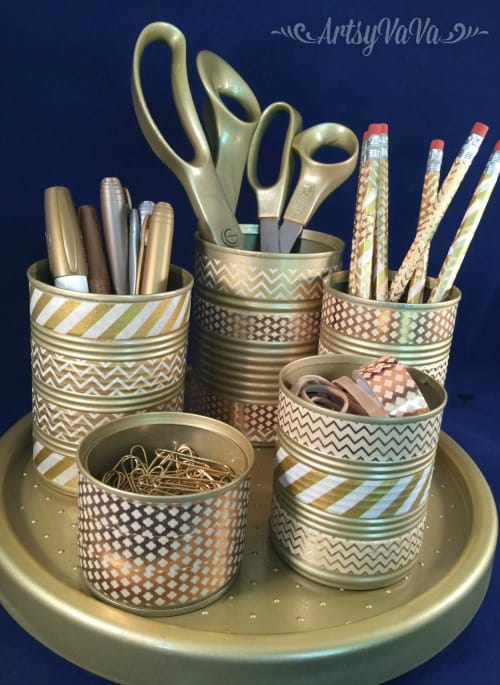 An old tin can makes a great DIY makeup brush holder. Simply clean out the can and remove any labels. Upcycle an old tin can into a fun and functional makeup brush holder.
This quick and easy DIY project is a great way to add a touch of style to your vanity. Then, decorate the outside of the can with paint, ribbon, or other materials.
Once you've decorated the holder, place your makeup brushes inside and screw on the lid. The tin can will keep your brushes protected and in one place.
4. Brush Roll from Leather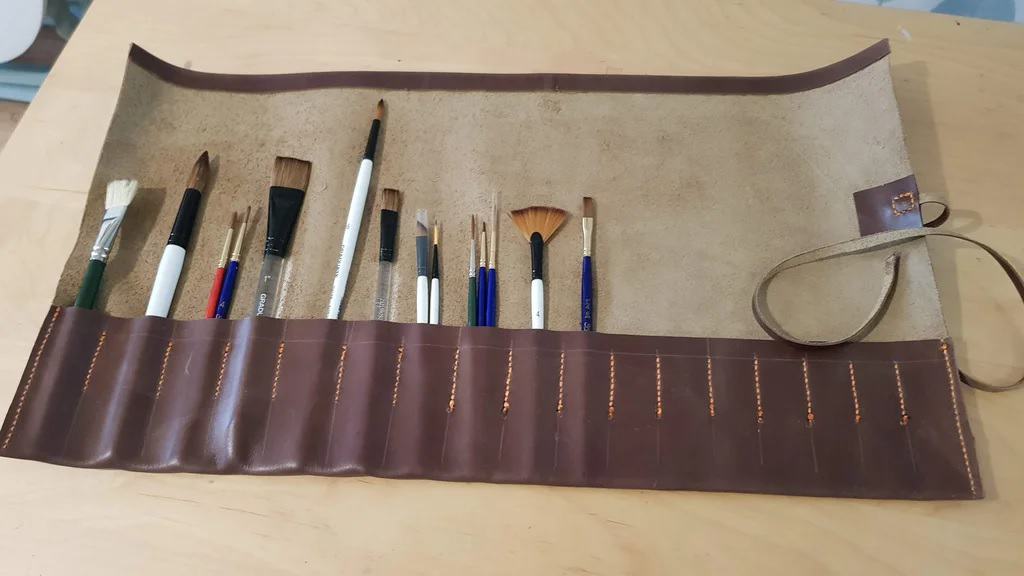 Say goodbye to the makeup brush chaos with a DIY leather holder. All you need is a piece of leather, some adhesive (such as hot glue), and any embellishments you want to add.
Simply glue the leather onto a surface, give it some time to dry. You can even customize the holder by adding initials or shapes with punch tools.
Not only does this project take just minutes to put together, but it also adds some stylish decor to your morning routine.
5. Upgrade the Pencil Cup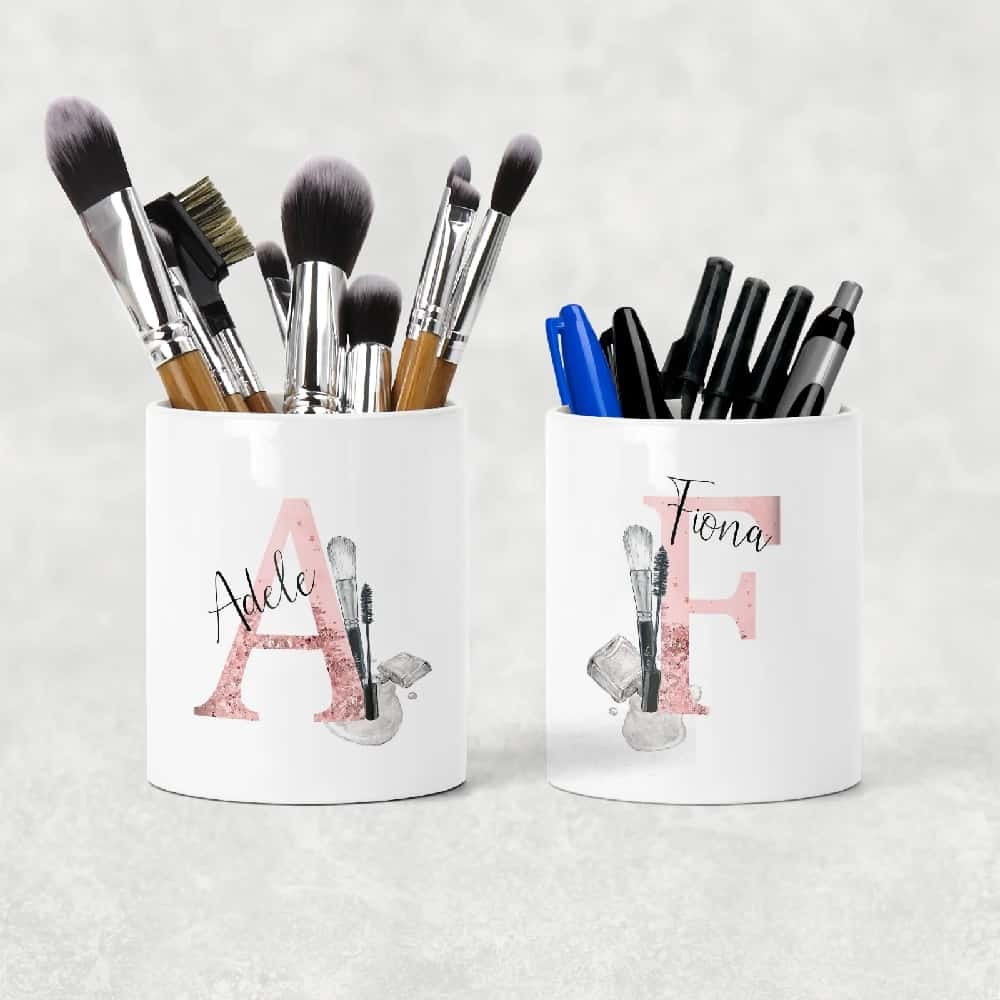 A pencil cup is another great option for a DIY makeup brush holder.
This holder is perfect gift for any special occasion like birthday or Mother's day. It features a beautiful pink initial and name of choice with an eye catching graphic on white.
With this holder, the brushes will stay in place stylishly. So it would be easier to find the brush you will need in no time.
6. DIY Makeup Brush Holder from Sushi Mat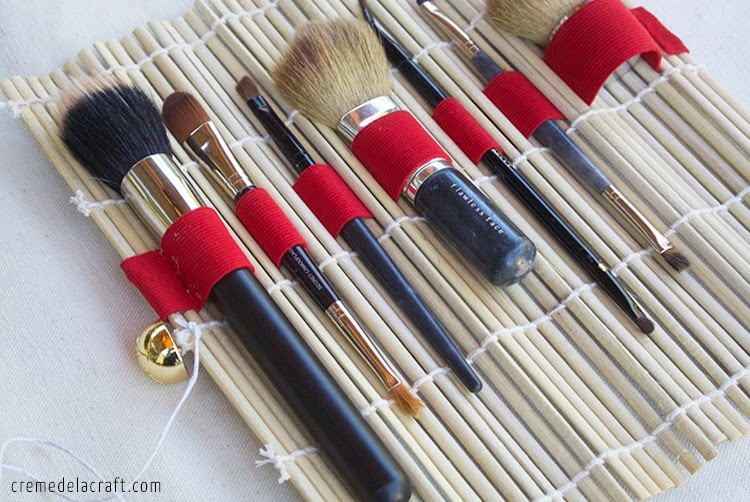 Challenge your creativity and fold a sushi mat into cute and functional DIY makeup brush holder. These DIY makeup brush holders are not only easy to make but they also look good on your vanity table. Not only it will be great for keeping all brushes in one place, you'll love the way it looks.
Materials list:
Sushi mat or bamboo placemat
Elastic fabric band (less than 1 yard)
Glue gun
Yarn (1 yard)
Button
Scissors
7. DIY Makeup Brush Holder from Stemless Wine Glass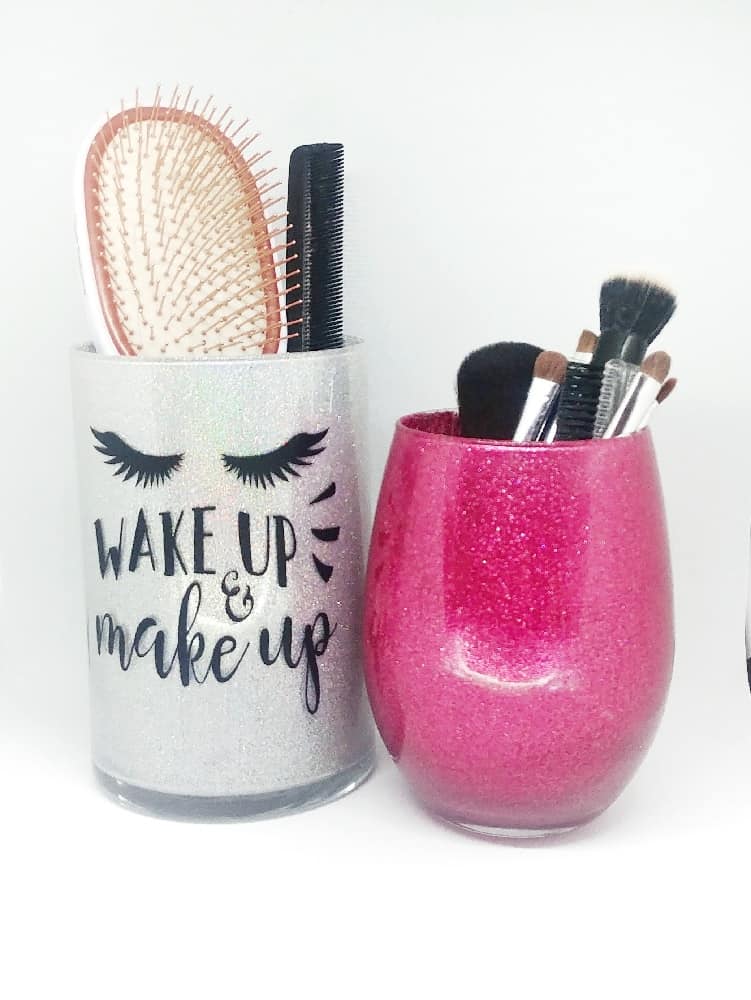 Make your own custom brush holder using a stemless wine glass. Simply glue the base of your makeup brushes onto the glass, wrap a ribbon around it and you have an adorable brush holder. Take one stemless wine glass.
Apply a generous amount of hot glue to the bottom of your brushes. Make sure to apply some on the side so that they'll stick better to the glass once dried. Carefully place your brushes on the inside edge of the glass. Let dry completely. Wrap a beautiful ribbon or string around the base to match your decor.
8. Upcycle the Old Coffee Can
Without spending much money, you can keep the make up brushes collections stay in place by doing a simple, cheap and easy DIY makeup brush holder
The steps is not too hard to do and all you need are only some minutes of your time and then you can use the old coffee can as a great makeup brush holder.
Let's do it together.
Clean the old coffee can with soap and water and dry it completely.
Divide the can into 3 parts with a marker. You need to have 2 large areas for brushes and one smaller area for pens or lipsticks.
Use paint in color of your choice to cover the outside of the old coffee can with brush strokes that are thick, angled, and uneven for a rustic look.
Once the paint is completely dry, you can add a cute ribbon or lace bow to decorate your makeup brush holder
9. DIY Makeup Brush Holder From a Recycled Tin Can or Box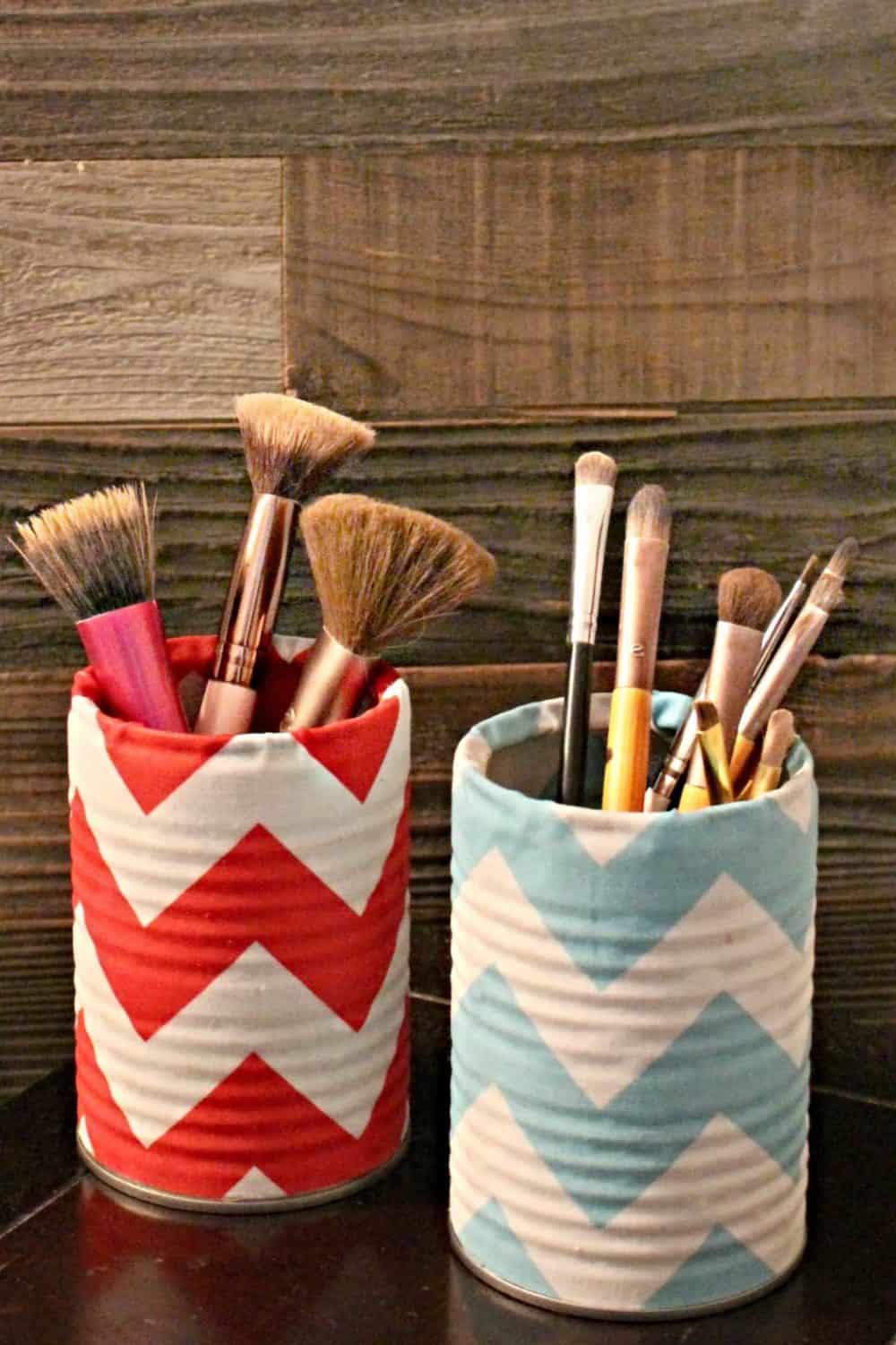 With a bit of creativity, a simple tin can or cardboard box can be transformed into a stylish and functional makeup brush holder.
All you need is some adhesive paper or fabric to cover the outside, and some foam or foam board to cut and fit inside the brushes in place, but it is also customizable to match any aesthetic. Plus, you will have the satisfaction of knowing that you made it yourself and are putting materials normally destined for the trash to good use.
10. DIY Fabric Brush holder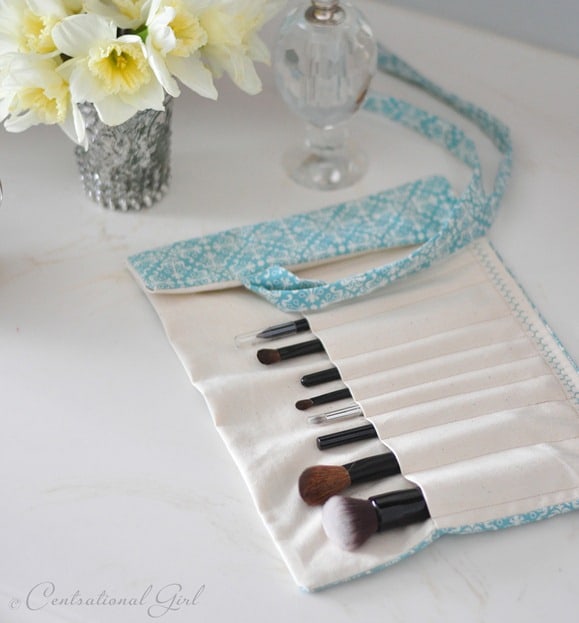 It's easy to make and super cute. Just grab some colorful fabric, a sewing machine. You have to cut the fabric into three large parts for the liner pouch, liner fabric and the exterior fabric. Then, make the smaller ones for the brush holders.
First, sew your inside pouch. Then, stitch the individual brush pouches one by one and varying by size. You can use your brushes as the guide of the measurement. To make this brush holder, you will need a basic sewing skills. This holder is perfect if you love traveling since it doesn't take up much space.
11. DIY Makeup Brush Holders Made from Plastic Cups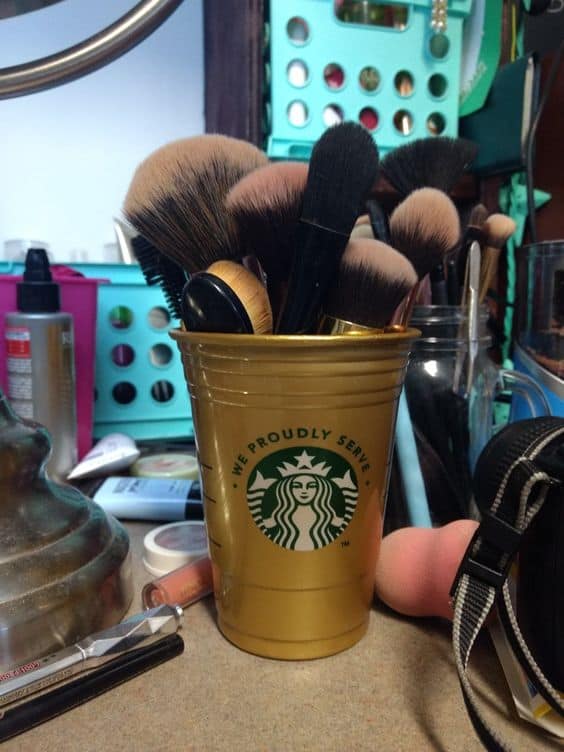 Transforming your scattered makeup brush collection into a stunning and organized display can be a piece of cake with a little DIY creativity. There are many ways in which you can do this and one of the most common is by using plastic cups.
First, clean out a few cups and let them dry. Then, cover them with spray paint or decals to add some personality. Once it perfectly dry, put your makeup brushes and put it on the desk.
12. Customized Ice Cube Tray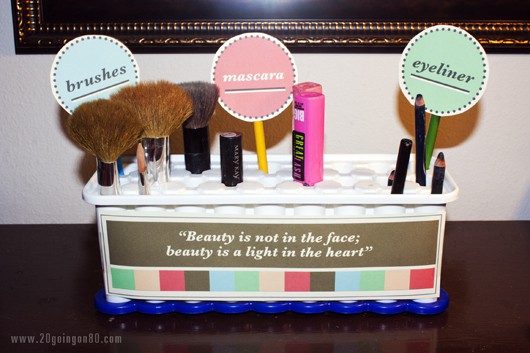 This simple hack only requires a little bit of creativity and some basic materials, like paint or washi tape. For each cube, use glue or double-sided tape to stick down either small pieces of patterned paper or colorful strips of washi tape. Then, place your brushes upright inside the cubes for easy storage.
Not only is this method customizable and budget-friendly, but it also helps to keep your brushes separated and prevents them from getting damaged while lying on their side.
13. DIY Makeup Brush Holder by Using a Shoe Box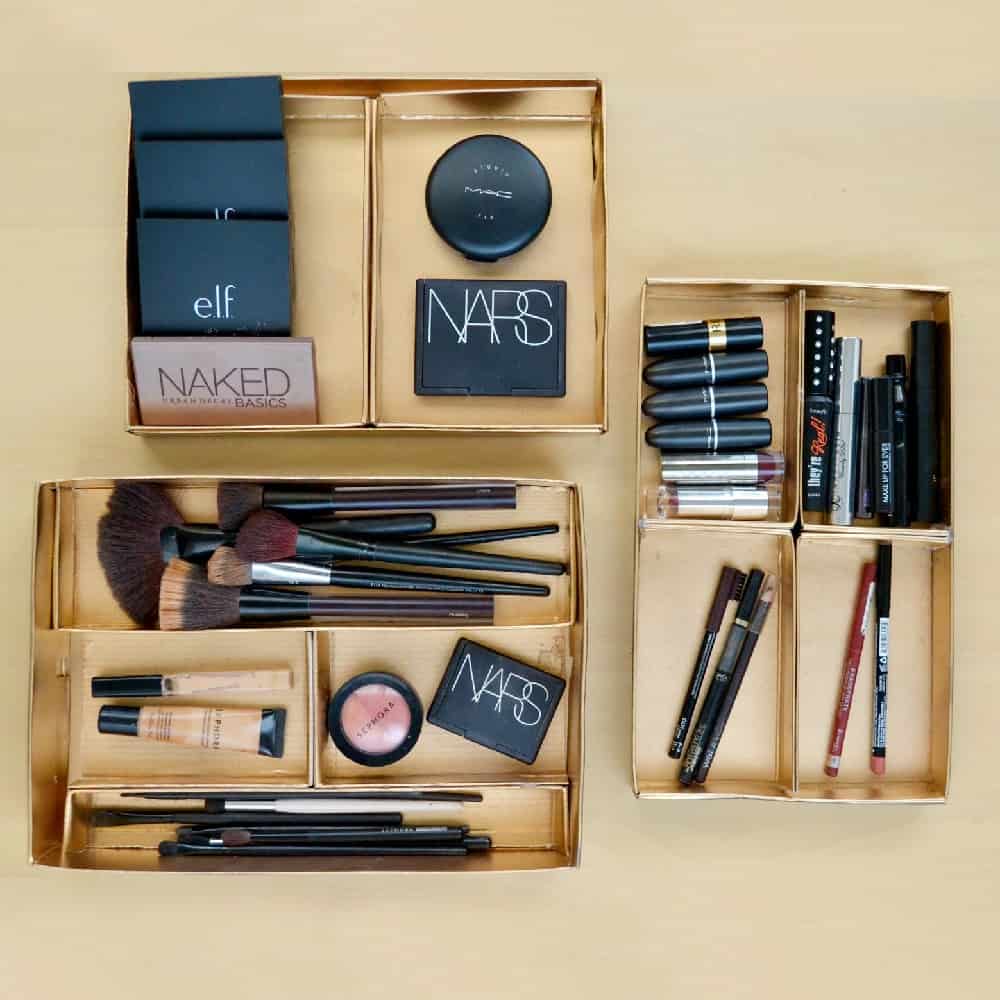 It is the time to upgrade your creativity with the materials you can easily find at home. Besides, it would be useful for your stuff, which will be stylishly stored with the gold hint that bringing in an elegant flair to your space without lots of things to do.
All you need is:
Shoeboxes and tops
Spray paint
Scissors
Craft knife
Hot glue gun with glue
14. DIY Origami Makeup Brush Holder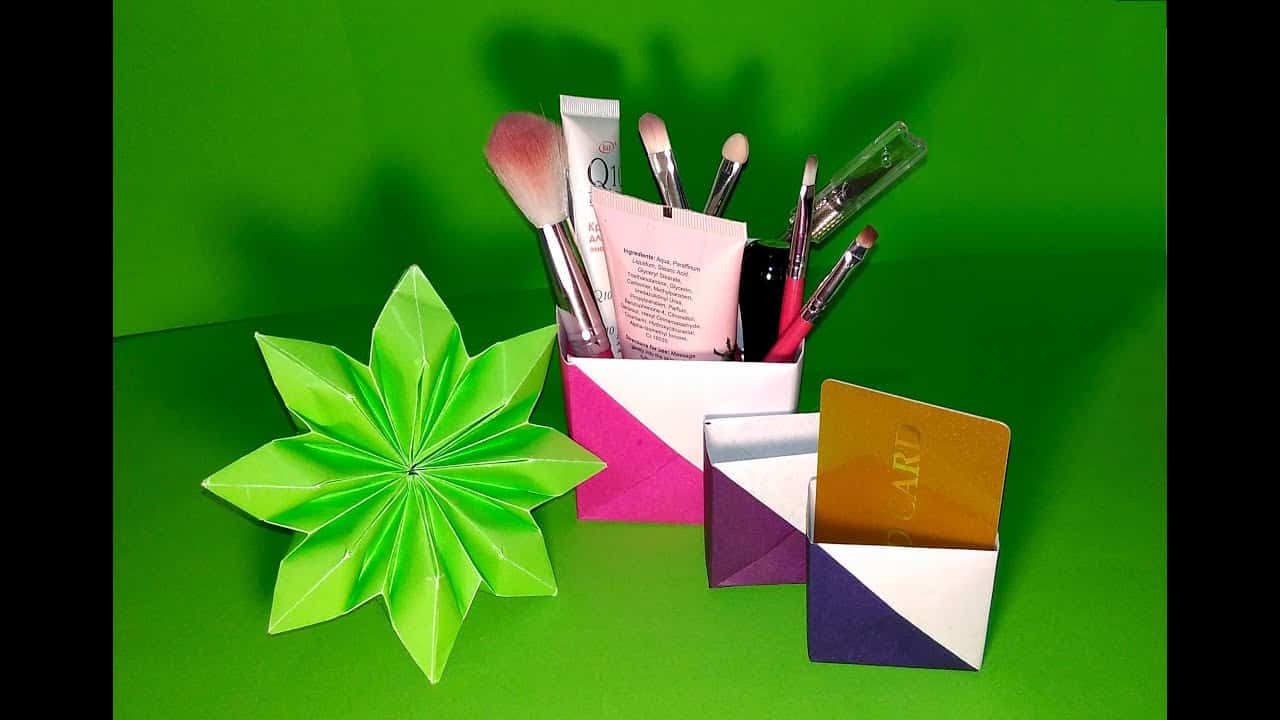 For an added creative touch to your beauty routine, why not try DIYing your own origami brush holder? Best of all, it requires little more than some paper and a few simple folding techniques. Not only is this project budget-friendly, but it also allows for limitless customization.
Want a minimalist design? Stick to solid colors or patterns. Feeling bold? Fold in some glittery or metallic papers for a glam look.
15. DIY Makeup Brush Holder From a Toilet Paper Tube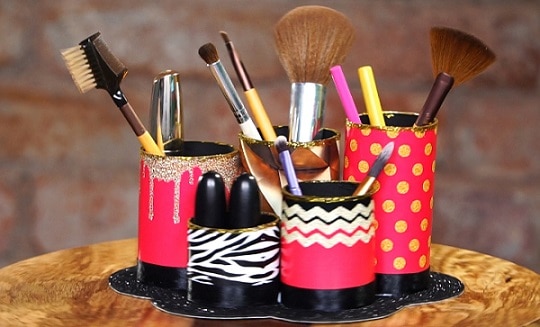 Time to get organized with this simple DIY solution: a toilet paper tube brush holder! Start by cutting the tube horizontally into 1-inch sections. Then, decorate each section with stickers or washi tape for a cute touch. Finally, insert your makeup brushes and voila. Instant organization.
Not only does this makeshift brush holder save space on your counter, but it's also easy to store and transport to your next beauty adventure.
16. Recycled Tin Can and Ribbon DIY Makeup Brush Holder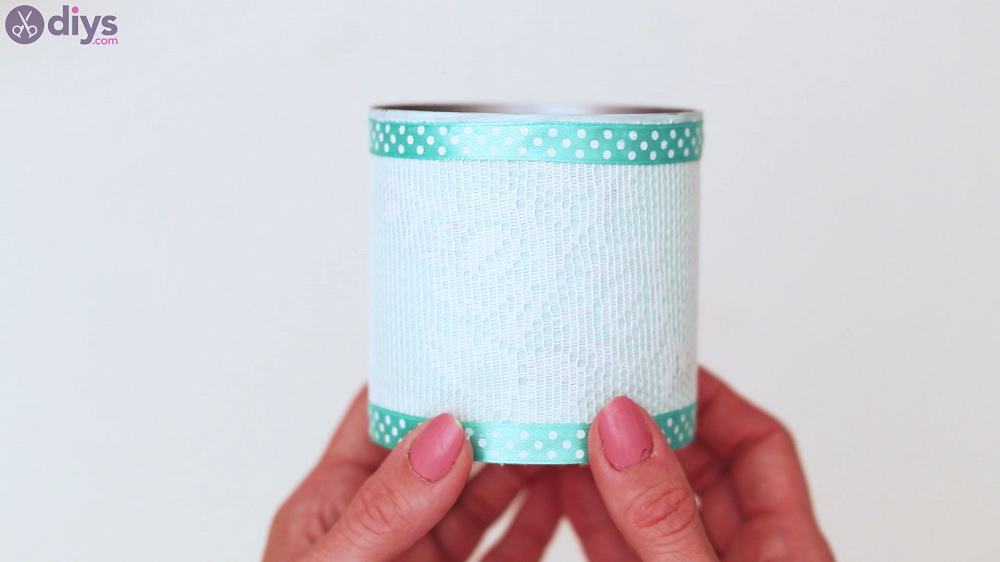 This craft is simple, affordable, and eco-friendly. All you need is an empty tin can, some colorful ribbon, and scissors. First, give the can a good wash and dry. Then, measure and cut the ribbon to fit around the circumference of the can, leaving enough excess to tie into a bow at the top.
Once secured with glue or tape, your brushes have a new home that adds character to your vanity or bathroom countertop.
17. DIY Glitter Makeup Brush Holder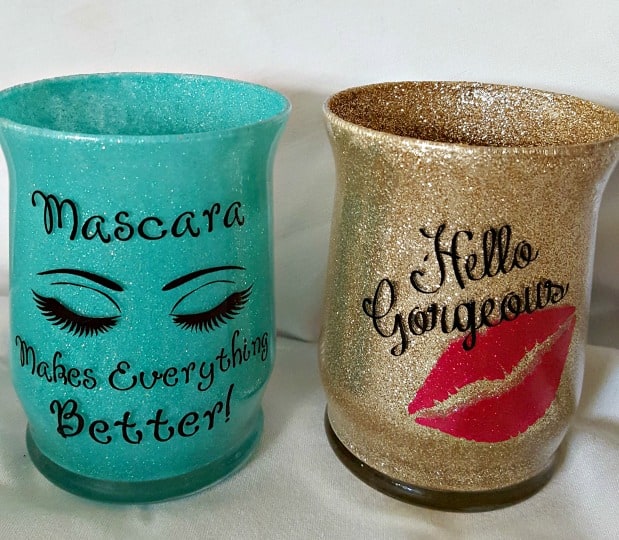 With some colorful paper and a glue stick, you can create unique designs on your skin in minutes. Cut out shapes from the paper and use the glue stick to adhere them onto your face, arms, or any other area you want to decorate. You can even add glitter for extra glam.
Unleash your imagination and explore a world of endless possibilities! You can bloom with a floral design, shape up with a geometric pattern, or get cheeky with tiny envelopes for a mail-themed look.
Plus, since the paper is so thin, it won't feel heavy or uncomfortable while you wear it.
18. DIY Makeup Brush Holder With Wallpaper Strips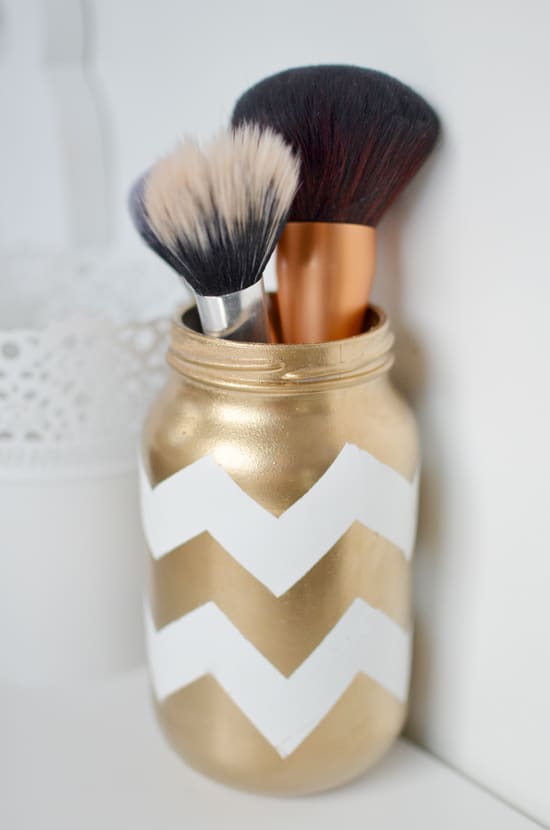 By spraying the gold spray paint onto a bottle or jar, you can create your own DIY makeup brush holder. Not only does it add some fun color and pattern to your vanity, but it also saves space by keeping all of your brushes upright in one place.
This hack is especially helpful for travel, as you can easily slip the brush holder into a suitcase or beauty bag. Best of all, if you get tired of the wallpaper design, just peel it off and start again with a new look.
19. DIY Makeup Brush Holder From an Old CD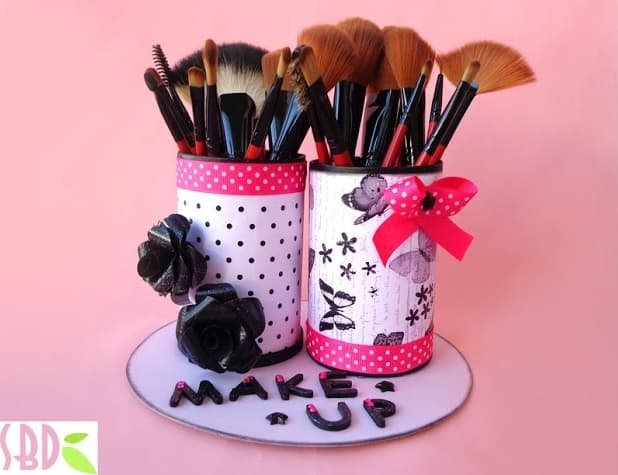 Using wallpaper strips, a hot glue gun, and some creativity, you can easily create a unique and functional brush holder from the old CD. First, determine how many brushes you have (you can even count makeup sponge wedges as brushes). Then, arrange the wallpaper strips on a flat surface in a pattern that will fit them all.
Once you're happy with the design, use hot glue to secure each strip in place. Glue the cups to the CD. Finally, add any additional decorative elements you desire ribbons, beads, paint designs.
20. DIY Makeup Brush Holder From Clear Vase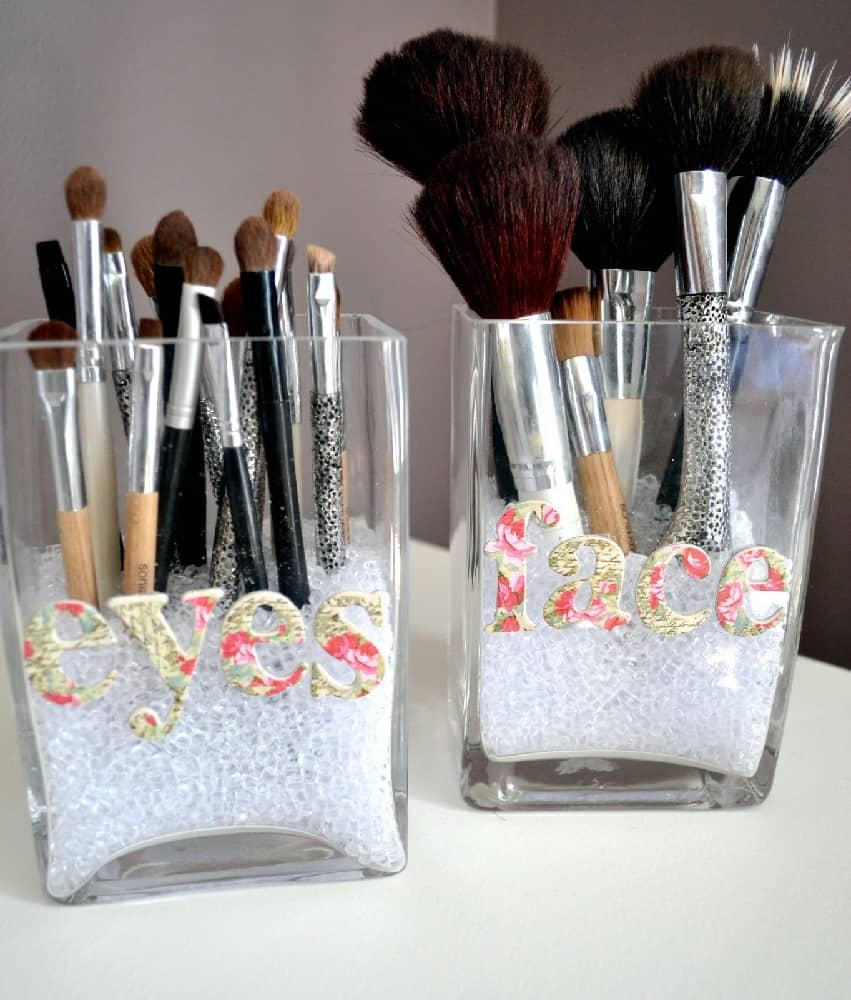 By repurposing a vase or jars, you can create a cute and functional makeup brush holder in just a few simple steps.
First, wash and dry them thoroughly to remove any residue. Next, decorate with craft paint, stickers, or even gems for some added bling. Finally, insert some tiny clear beads into the bottom of the container for extra support. You have an easy DIY brush holder that cost barely anything.
21. Clever DIY Paint Stick Makeup Brush Holder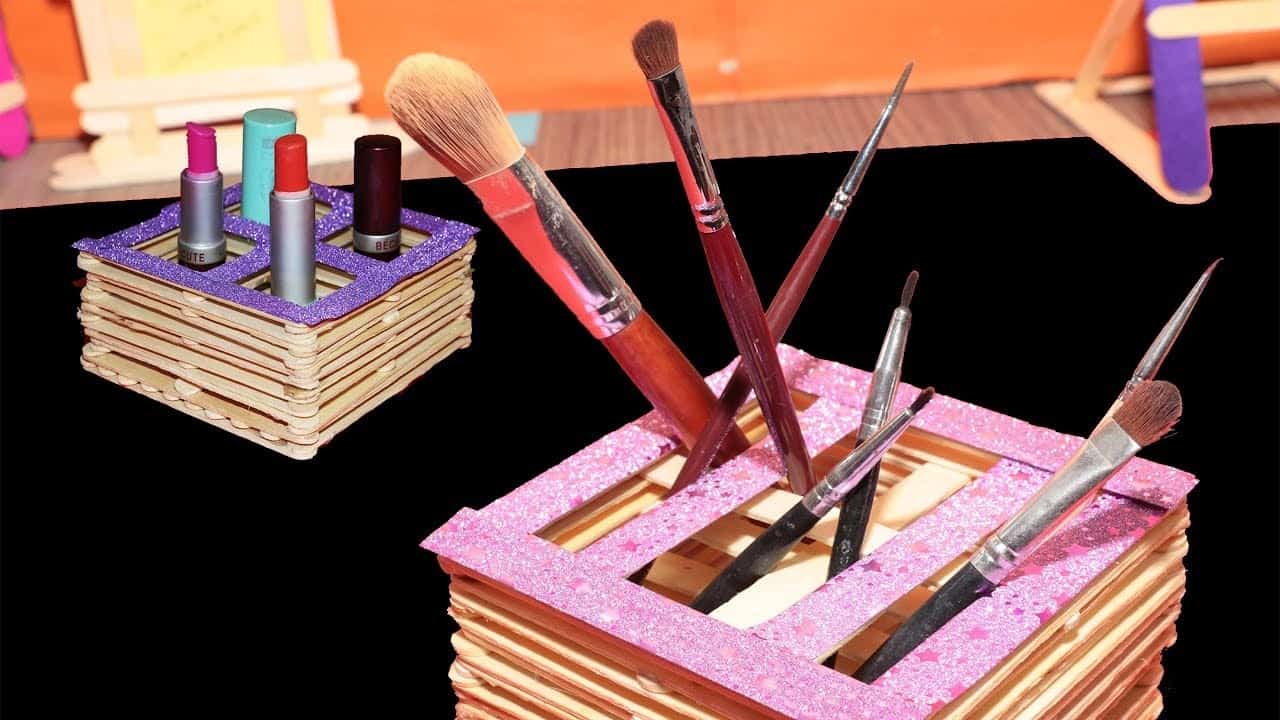 Say goodbye to the chaos and hello to a super clever DIY solution: a paint stick makeup brush holder. All you need is a few paint stir sticks, some hot glue, and an hour or so of free time. You can simply stack the sticks together in a vertical column with hot glue holding them in place, or get creative and use multiple columns to form unique shapes.
These holders are not only functional, but also inexpensive and cute enough to display on your vanity. No more wasted time hunting for brushes – now all your makeup tools will be within easy reach.
22. Cute and Easy DIY Pencil Box Pop-Up Makeup Brush Holder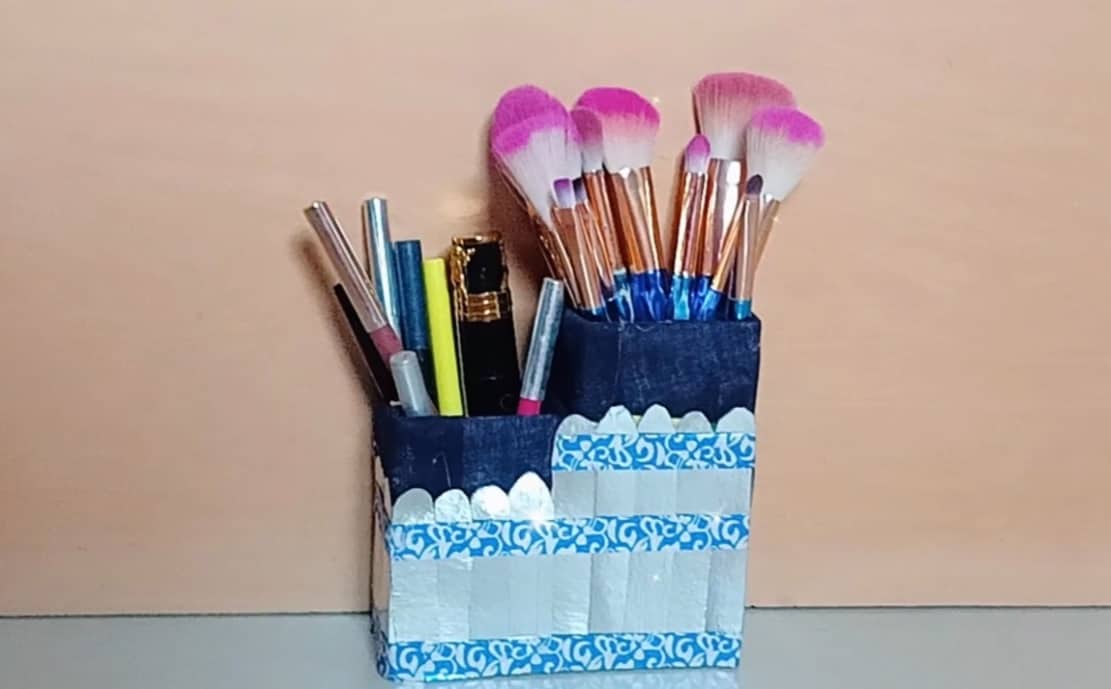 This DIY project is not only super cute, but also surprisingly simple. All you need is a pencil box, some adhesive foam squares, and scissors. Stick the adhesive foam squares on the bottom of the box to give your brushes some cushioning. Then, simply cut out a rectangle shape on the top lid to create a pop-up opening for easy access to your brushes.
Whether you want a glamorous and sleek brush holder or somethi25ng rustic and homey, there's definitely a DIY makeup brush holder here that will suit your fancy. Pick up some supplies and get crafting it's easier than you think! And in no time at all, you'll have an Instagram-worthy makeup collection that everyone will be envious of.