A well-organized vanity table is a must for any woman who wants to feel put-together and beautiful.
Cramming all of your makeup essentials into one tiny space is not only chaotic, it makes getting ready in the morning a total nightmare. A well-organized vanity table gives you the opportunity to start your day feeling calm and confident.
Plus, there's nothing more satisfying than looking at a beautifully arranged vanity table after a long day. It's a little moment of luxury that you can enjoy every single day.
We've got you covered if you're looking for some inspiration. With a variety of resources at your disposal, you're sure to find the motivation you need.
In this blog post, we will share 20 DIY makeup vanity table ideas that are perfect for any budget and style. Whether you're looking for a simple solution or something more elaborate, we have something for everyone. So get ready to be inspired!
1. A Simple, Elegant V T with a M and Plenty of Storage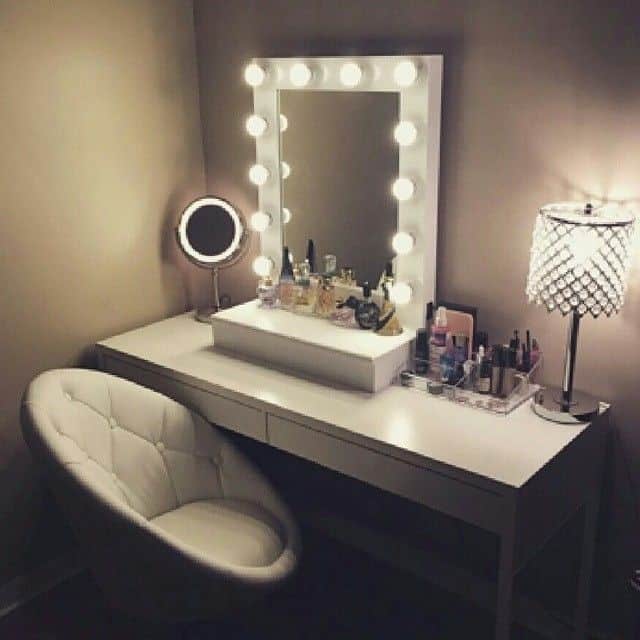 A simple, elegant vanity table is the perfect place to start. A mirror is essential, of course, but make sure to choose one that provides adequate lighting. You'll also want plenty of storage space for all of your products.
A few well-placed drawers or shelves will do the trick. If you want something a little more unique, consider adding a piece of artwork or a statement mirror to your tabletop. And don't forget the chair! Choose something comfortable that you'll enjoy sitting in while you get ready for your day. With these elements in place, you'll have the perfect spot for all your morning rituals.
2. A V T with a Unique, Eye-Catching Design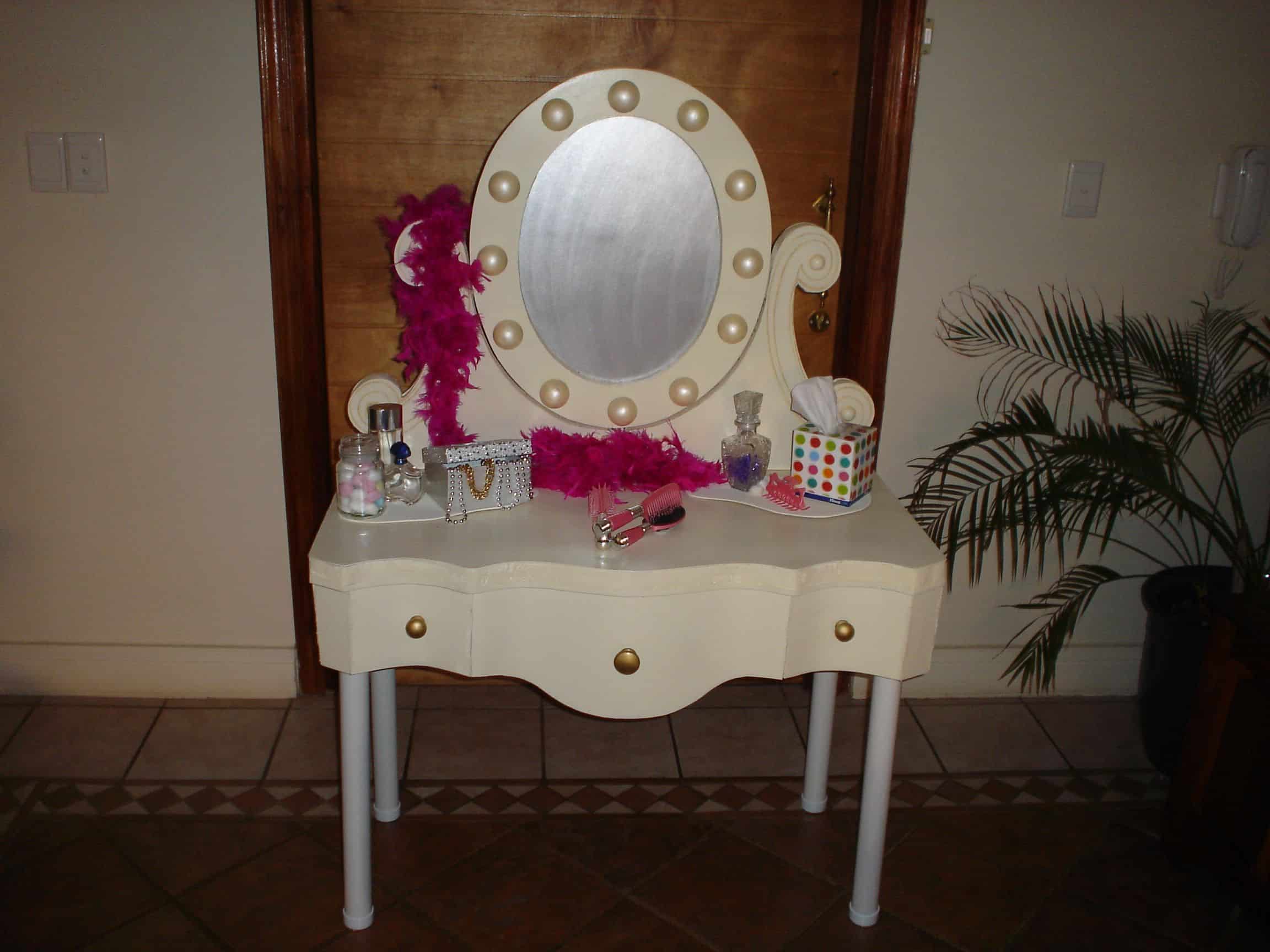 Featuring a sleek, eye-catching frame, this DIY vanity table will turn heads. The frame is made from PVC pipe, which can be easily sourced from any hardware store. The table top is made from wood, which gives it a clean and traditional look. For added convenience, add a mirror. This unique DIY project is sure to become the centerpiece of your bedroom.
3. A V T for a S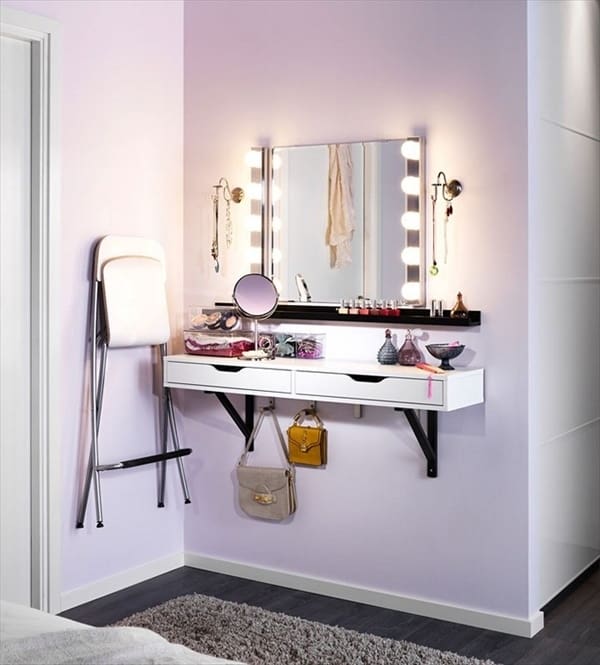 If you're tight on space in your bedroom or bathroom, you might think that a vanity table is out of the question. But there are actually quite a few space-saving options out there for those who want to DIY their own makeup vanity. One option is to use a floating shelf as your vanity table. This type of table takes up very little space, and you can even add some drawers underneath for extra storage. Or, if you're really short on space, you can even just use a wall-mounted vanity mirror with a shelf below it for your makeup and other items.
4. A V T from an Existing Piece of F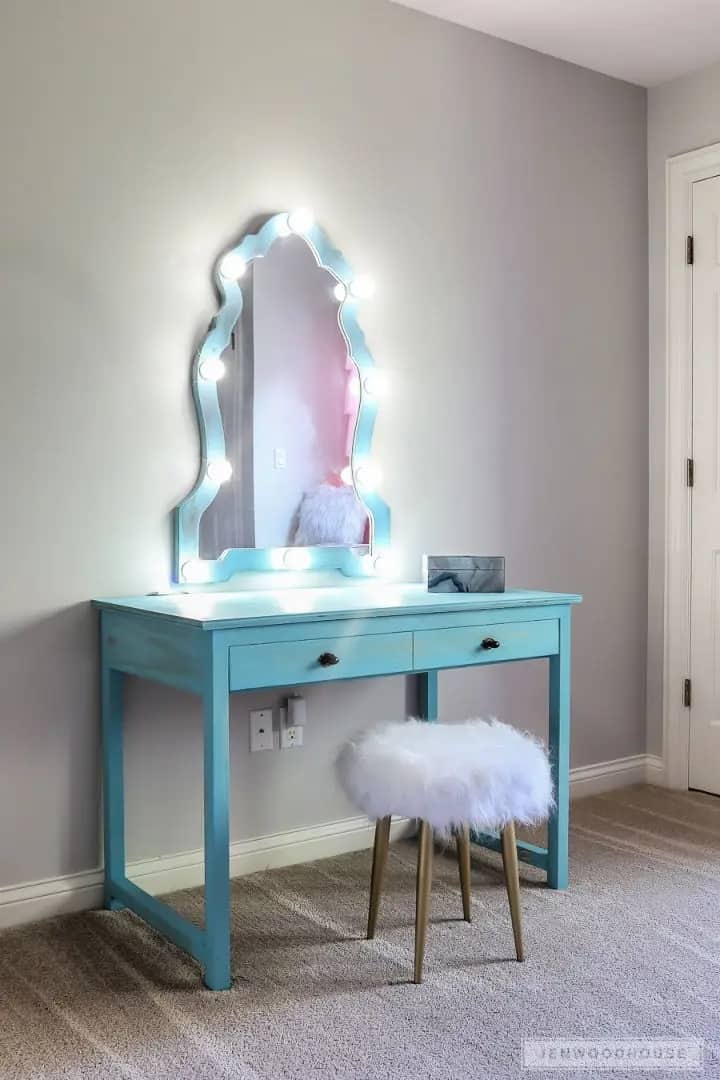 One great option for a DIY makeup vanity table is to repurpose an existing piece of furniture. For example, an old desk or dresser can easily be transformed into a beautiful vanity table. Simply remove any drawers that aren't needed, sand down the surface, and paint or stain it to your desired look. Then, add some mirror tiles to the top surface and insert some pretty drawer pulls to finish it off. Add a comfortable chair and you've got the perfect spot to get ready for your day.
5. How to Make Your Own M V T from Scratch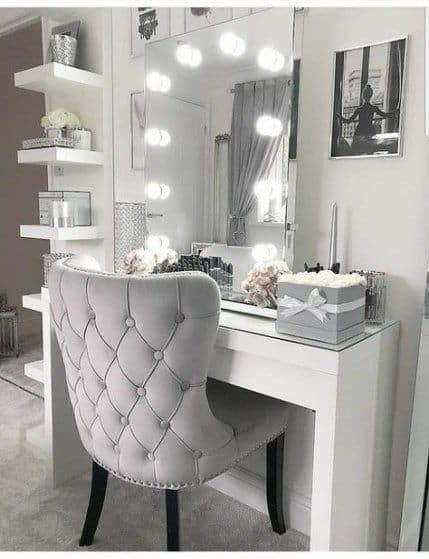 If you're handy with tools, you can easily build your own makeup vanity table from scratch. Start by measuring the space where you want to put your vanity table. Then, cut a piece of plywood to size and attach it to four legs.
You can paint or stain the wood to match the rest of your furniture. Next, add a mirror to the top of the vanity table. Make sure it's securely attached so that it doesn't fall and break. Finally, add any shelving or drawers that you need to store your makeup collection.
6. Tables with Added Lights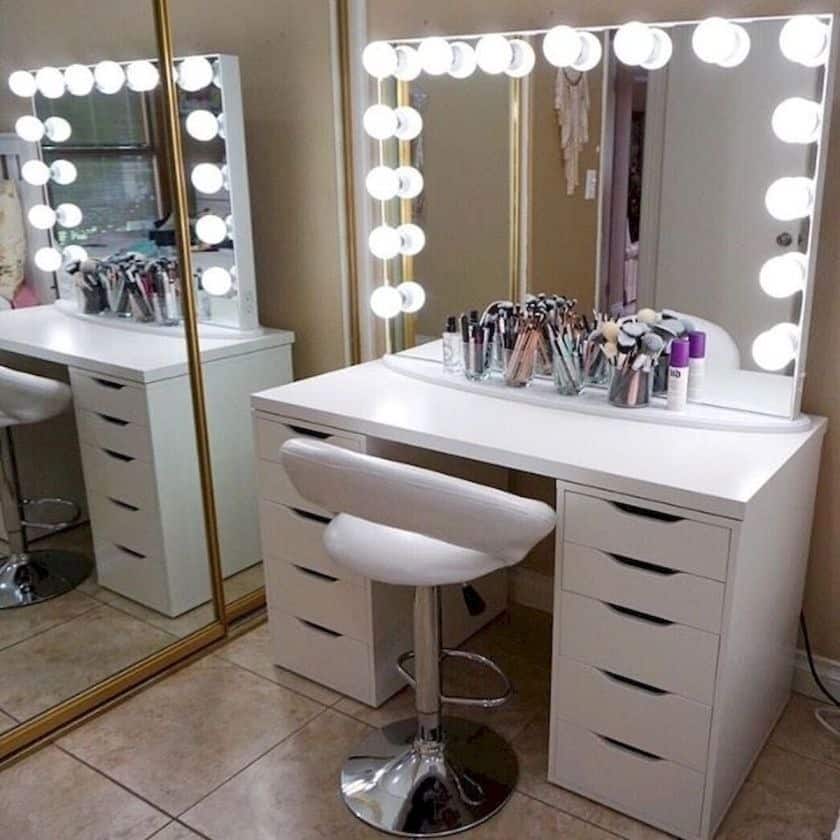 Adding light to your vanity table is a brilliant way to achieve an elegant look in your space. It can also be a practical addition, as it can help you to see better while you're doing your makeup.
A bulb or two placed strategically around your mirror will give you an elegant glow, making it easy to see what you're doing as you apply your makeup. Plus, the extra light will help you to avoid any mistakes that might otherwise go unnoticed. When shopping for a lighted vanity table, be sure to look for one with adjustable lighting so that you can customize the amount of light to suit your needs.
7. Tables with Drawers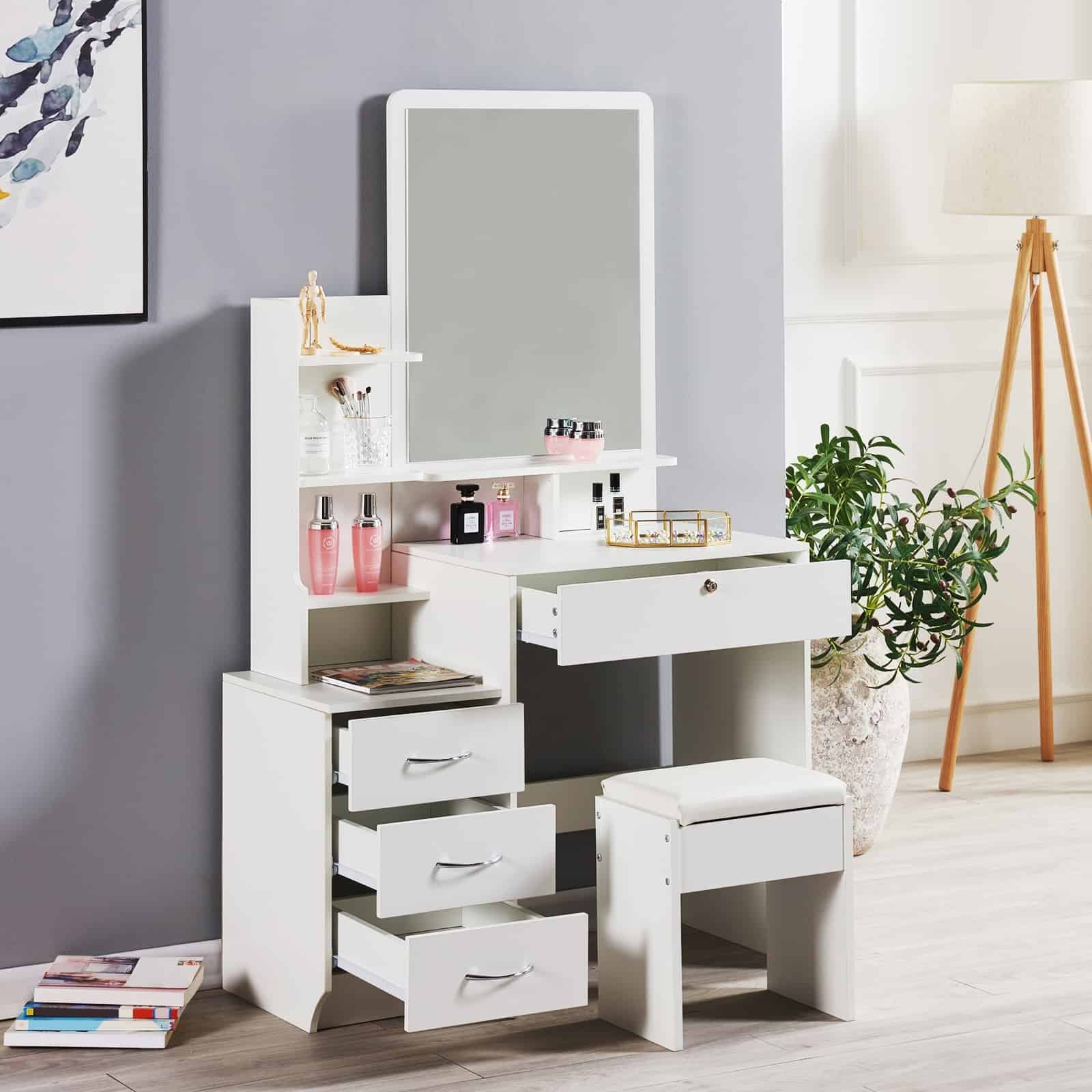 Vanity tables with drawers are perfect for storing all of your cosmetics and keeping them within easy reach. Plus, they offer a convenient place to do your makeup, so you can achieve a flawless look every time. To get started, simply choose a style that suits your taste and decorate it with mirrors, lighting, and other accents. Then fill the drawers with all of your favorite beauty products.
8. Add More Shelves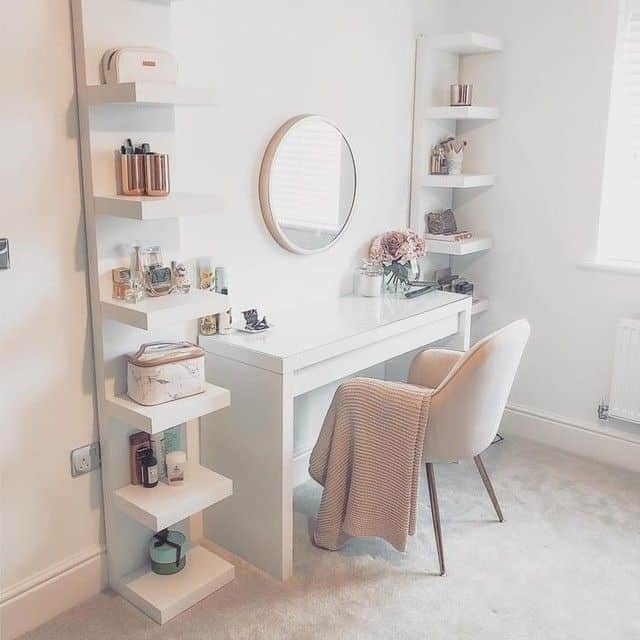 Install more shelves to add an extra storage to your makeup vanity table that will keep all your makeup and beauty product organized in one place.
One of the most important things to consider when DIY-ing your own makeup vanity table is the lighting. Make sure that you have a good lighting system installed so you can see clearly when applying makeup or doing your hair.
9. Tables with a Hidden D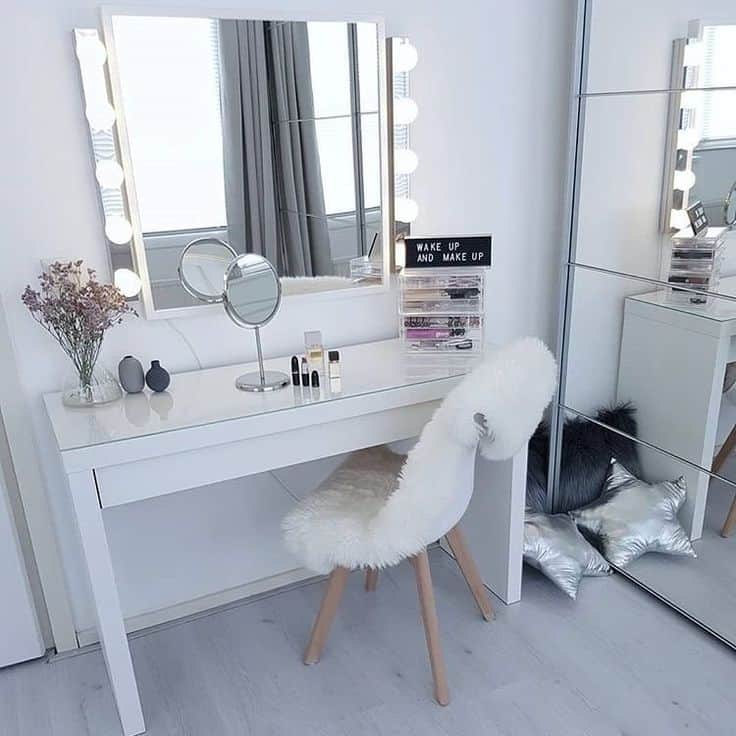 This simple addition will provide extra storage for all of your makeup essentials, and it can be easily concealed with a cloth or piece of fabric. It's a great way to add a touch of luxury to your space without breaking the bank. Plus, the hidden drawer adds a touch of mystery and intrigue to your space.
10. 
A Nautical Themed M V Perfect for any Beach Bum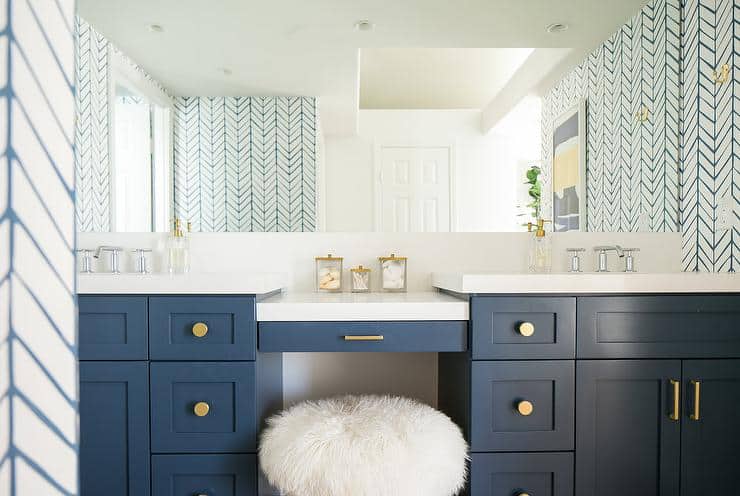 This is the perfect option for any beach bum, as it incorporates fresh and fun elements from the sea. The blue and white colors are fresh and calming, and the plant add a touch of fresh. Plus, the stool doubles as a place to store your towels or beach gear. All you need is a few simple supplies and some DIY know-how. Here's what you'll need:
A blue and white striped fabric (or any other nautical-themed fabric)

A stool or small
Gold hardware
11. A Corner M V T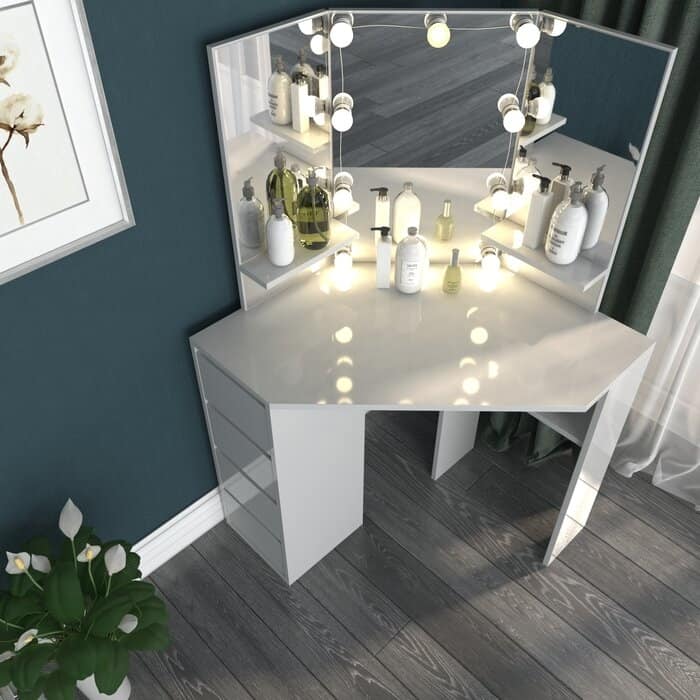 A corner makeup vanity table is the perfect way to make use of unused space in your bedroom or bathroom. It is a great solution if you are tight on space. To get the most out of your corner makeup vanity, place a tall mirror on one side and use the other side for storage. Add a few shelves for all of your products, or opt for a sleek and simple dresser. And don't forget about accessories- a luxurious stool or cozy rug can make all the difference.
12. A F T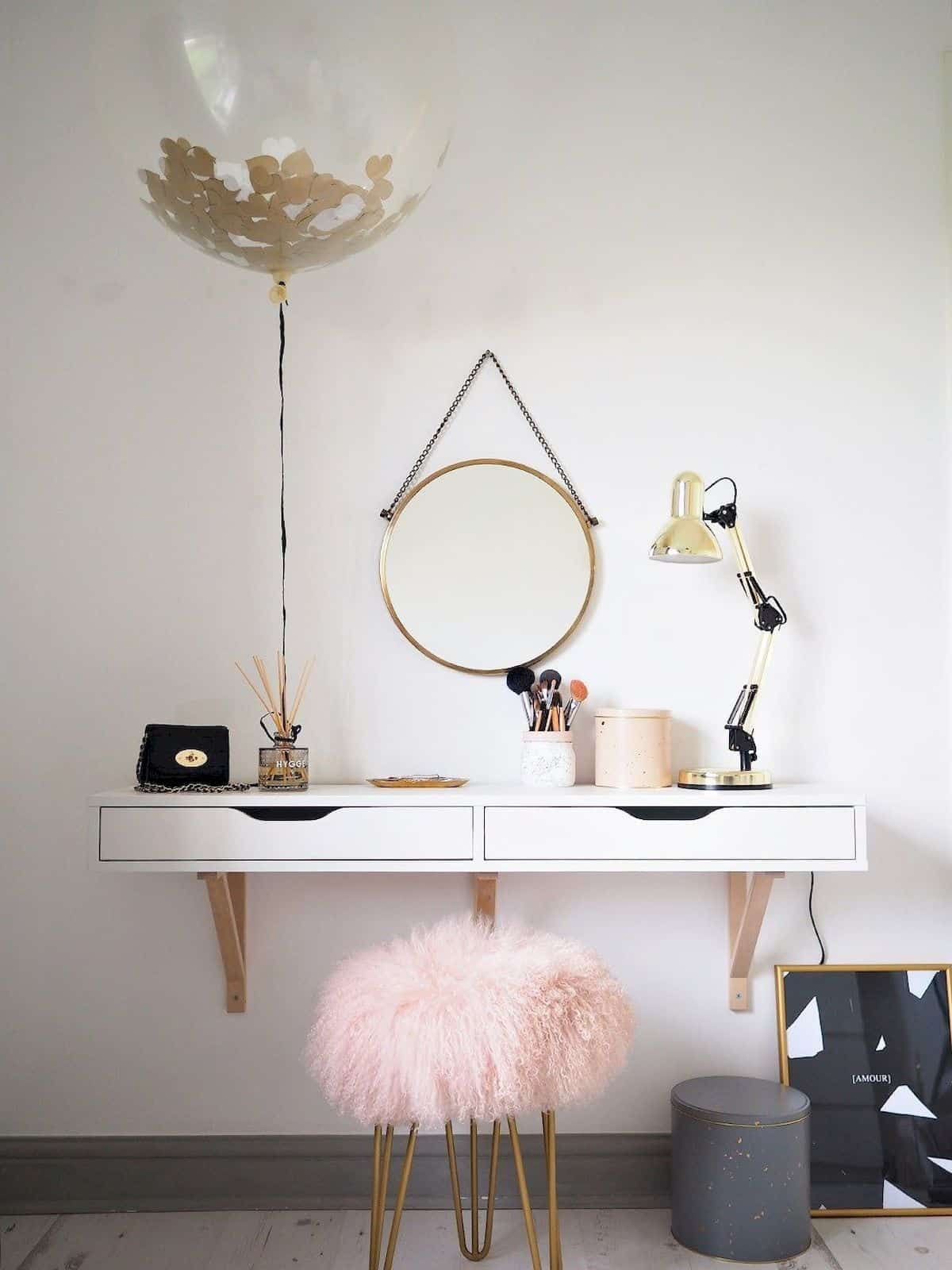 This type of table offers both form and function, as it provides ample storage space while also freeing up floor space in your bathroom or bedroom. You can easily create one using a few simple materials.
First, select a suitable location for your vanity. Then, measure and cut a piece of plywood to fit the width of the chosen spot. Next, attach L-brackets to the back of the plywood and use screws to secure them in place. Finally, paint or finish the wood as desired and Hang a mirror on the wall above your new makeup table. Add some wall hooks to keep your necklaces and other jewelry within reach, and you're all set.
13. A Rustic M V T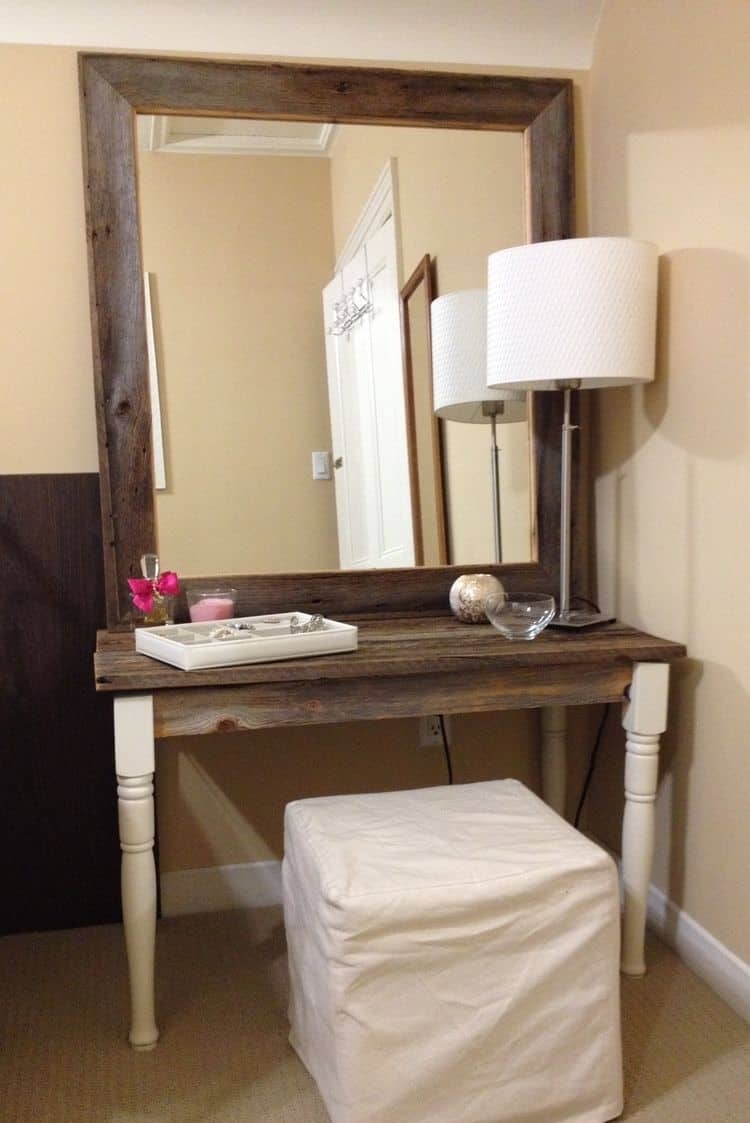 A rustic makeup vanity table can be the perfect addition to your bedroom. For a budget-friendly option, try repurposing an old dresser or desk. Start by sanding down the surface to create a smooth base for painting.
Once you've chosen your desired color, apply a few coats of paint, allowing each one to dry completely before moving on to the next. To add a touch of whimsy, consider distress the edges or painting on a floral design. Then, simply add a mirror and your favorite makeup products, and you're all set.
14. An Antique M V T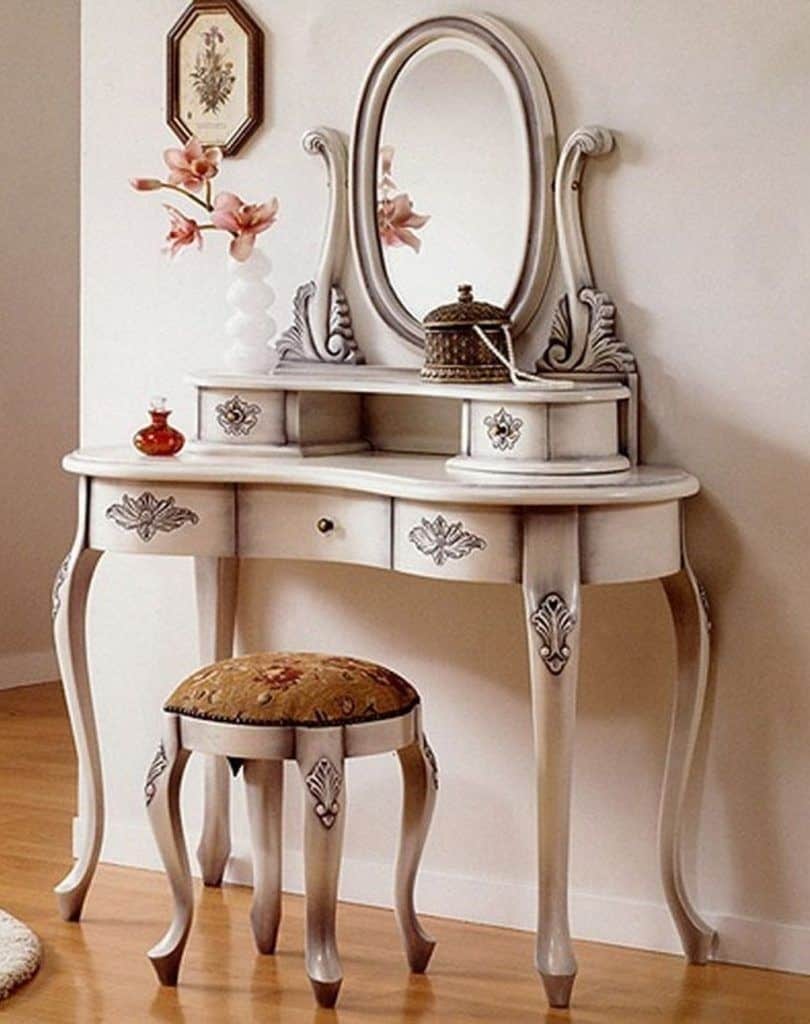 An antique makeup vanity table can make a great addition to any bedroom. Not only will it provide a convenient place to store makeup and other beauty products, but it can also add a touch of style to the room. There are a few things to keep in mind when choosing an antique makeup vanity table. First, consider the size of the table. It should be large enough to accommodate all of your makeup and other products, but not so large that it overpowers the room. Second, take into account the shape of the table. Round, oval or rectangular? Third, think about the finish.
15. A Modern M V T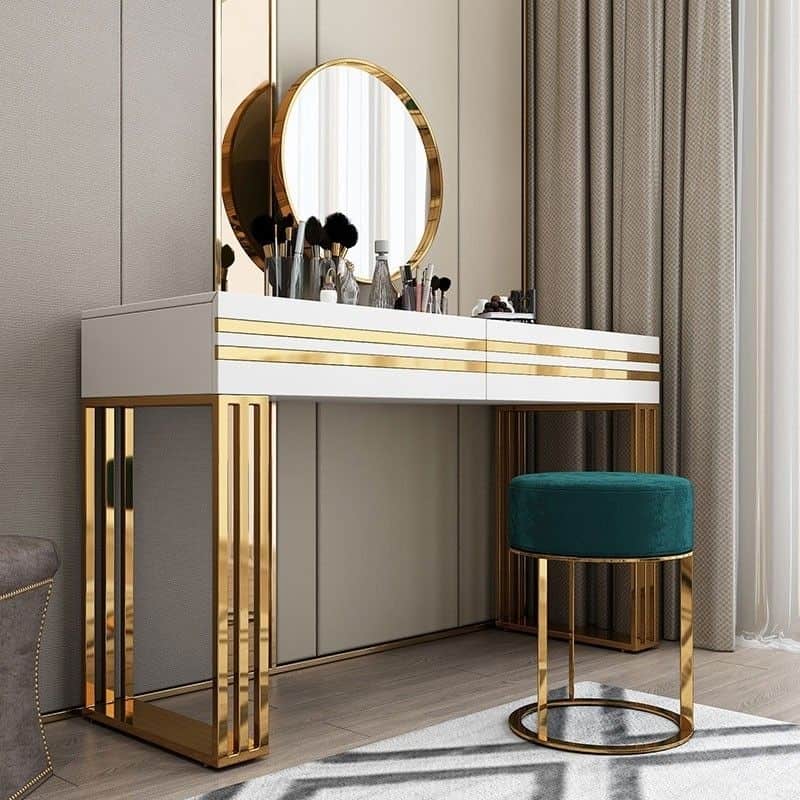 A makeup vanity table is a great way for any woman to have her own space and organize all of those beauty products. It can be placed in the bedroom, bathroom or even at home office. Add the golden lining that will accentuate the modern hint on the desk, stool leg, and the mirror. It looks even way fancier and more sophisticated once you turn the light on.  
16. A Farmhouse Style M V T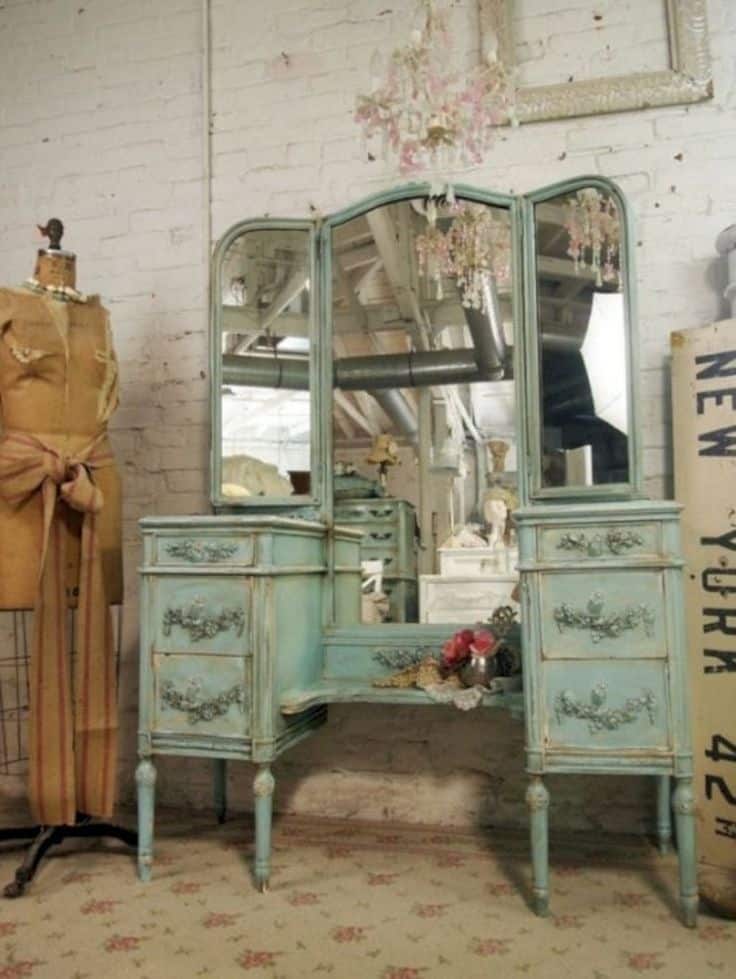 Apply the farmhouse by repurposing an old dresser or sideboard, by painting it white and adding some new hardware. You can also build your own farmhouse style table using basic woodworking skills. For the top, choose a material that will withstand hot curling irons and makeup products, like marble or quartz. Add some open shelves below the countertop for storing makeup, brushes, and other supplies. Finally, bring in a mirror and stool or chair to complete the look.
17. A Glamourous M V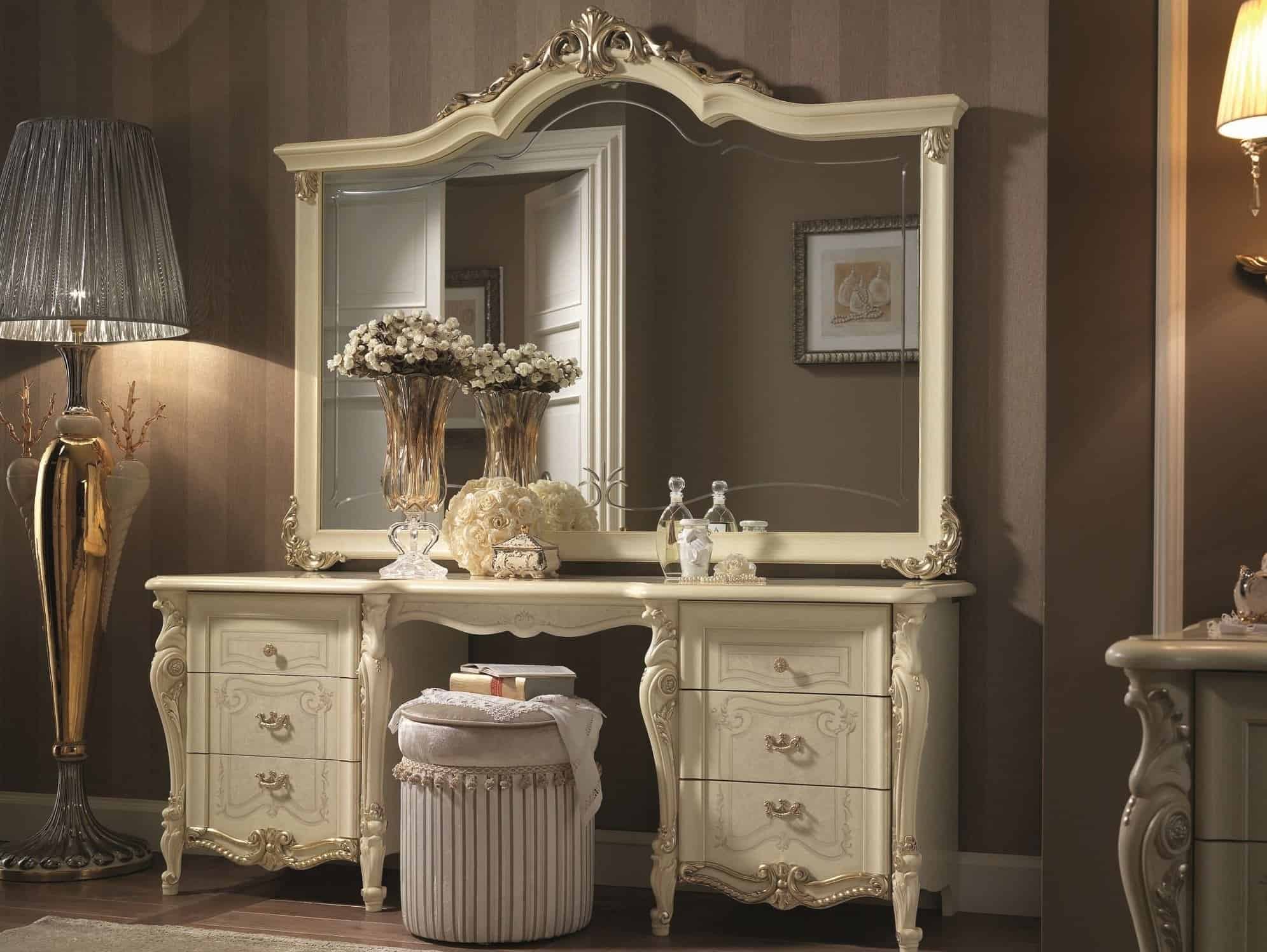 Every woman deserves a little glamour in her life, and what better way to add some glamour than with a makeup vanity table? A makeup vanity table is the perfect place to pamper yourself, and with the right accessories, it can be a true glamourous retreat. The first step is to find the perfect table. A glamourous makeup vanity should have a large mirror, plenty of vanity area for makeup and other products, and plenty of drawers for storage. Once you have the perfect table, it's time to accessorize. Add a comfortable chair or stool, a beautiful rug, and some glamourous lighting. Then fill your drawers with all of your favorite makeup products.
18. A Vintage M V T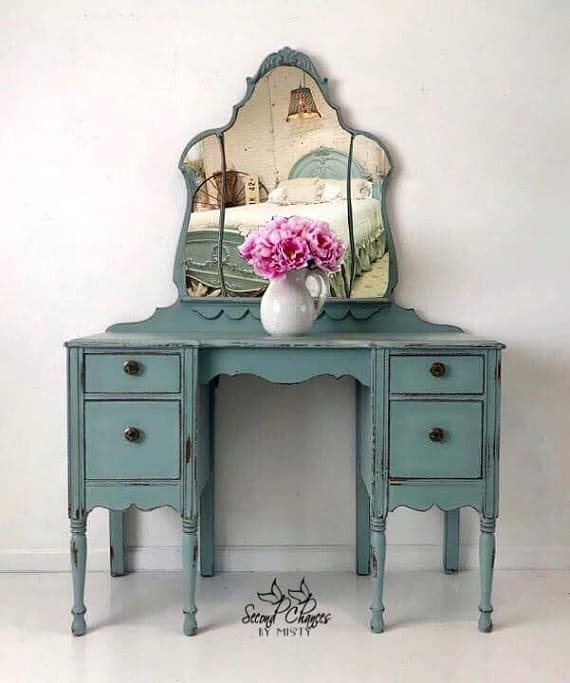 To add a touch of vintage glamour to your home, start by searching for a used vanity table at your local antique store or flea market. For example, an old dresser can be repurposed into a gorgeous makeup vanity. Simply add a few coats of paint, some new hardware, and a mirror, and you'll have a stunning piece that will make getting ready in the morning a breeze. If you want something a bit more unique, consider using an antique trunk as your base. Just add a mirror on top, and you'll have a one-of-a-kind makeup vanity that is sure to turn heads.
19. A Shabby Chic M V T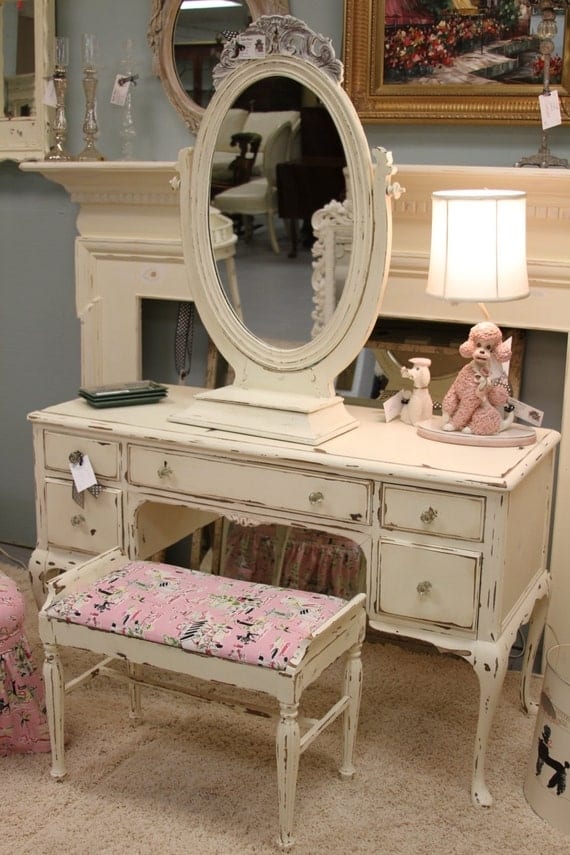 For a shabby chic look, try repurposing an old dresser or side table. Paint it white or distressed for an antique feel, then add a mirror and some pretty knobs or pulls. To make things more organized, consider adding drawer dividers or lining the drawers with pretty paper.
If you're short on space, try mounting a floating shelf above your vanity desk or dresser. Add a mirror and some sconces for task lighting, then arrange your products on the shelf. Use clear containers to keep things organized and dust-free.
20. An Eclectic M V T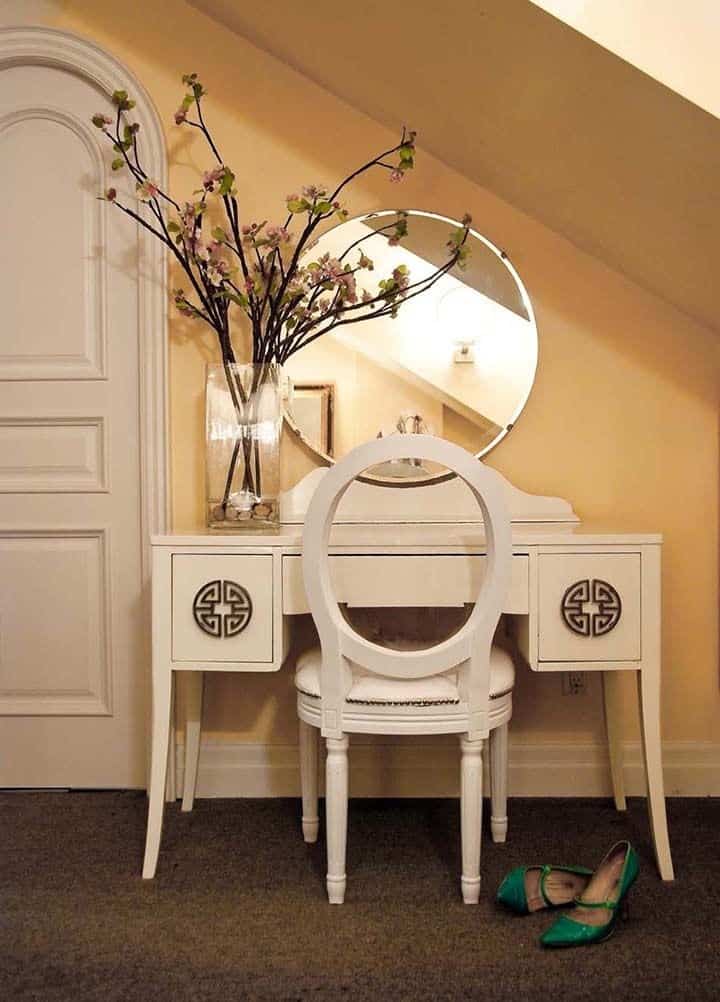 The eclectic makeup vanity table will give you a great opportunity to express your personality and style. To create this look, start with a thrifted or antique table, then add a few personal touches. For instance, you could paint the table in a bright color, then add funky accessories like vintage light fixtures or mirrors. This is a great way to show off your personality and create a one-of-a-kind piece that's sure to start conversations.
21. A Minimalist M V T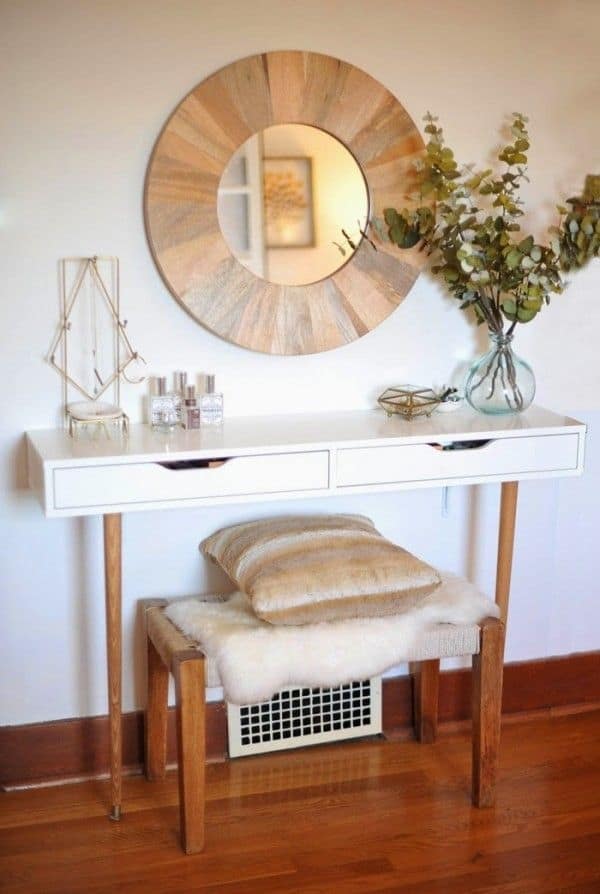 A minimalist makeup vanity table is the way to go if you are short on space. To start, choose a small desk or table that fits the area you have available. For extra storage, look for a desk with drawers or shelves. Then, add a few key furniture pieces and decor items to complete the look.
A comfortable chair will make spending time at your vanity more enjoyable, while a mirror with good lighting will help you achieve a flawless makeup application. Keep your makeup organized and within reach by storing it in containers on top of your desk. Finally, add some personal touches, such as scented candles or fresh flowers, to give your space a unique flair.
22. A Maxed Out M V T with All the Bells and Whistles!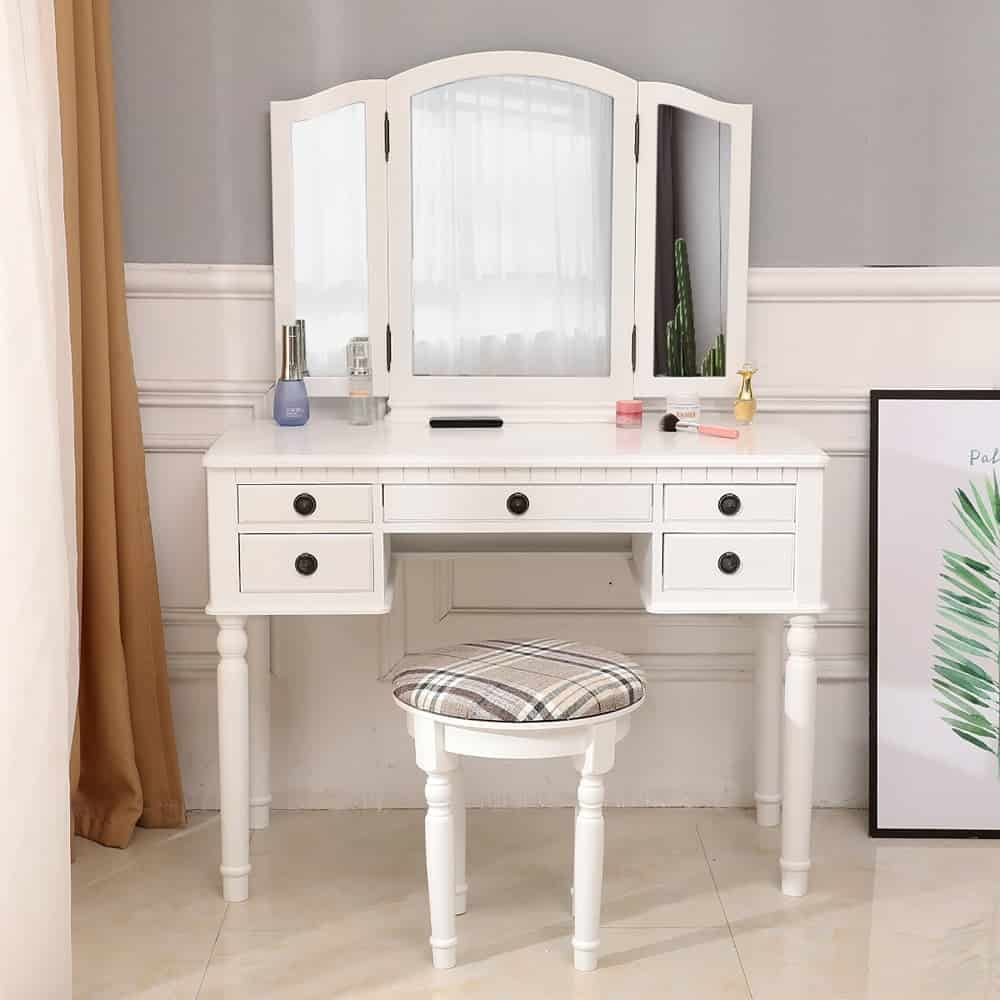 This roundup includes everything from simple tables to more complex builds with plenty of storage. And the best part is that these can all be easily customized to fit your space and needs. Start by measuring the space where you want your vanity to go. Then, use lumber to build a basic table top and shelf. Add legs of your choice (hairpin legs are always chic, and then finish off the look with a mirror mounted to the wall.
23. A Travel-Themed M V T for Globetrotters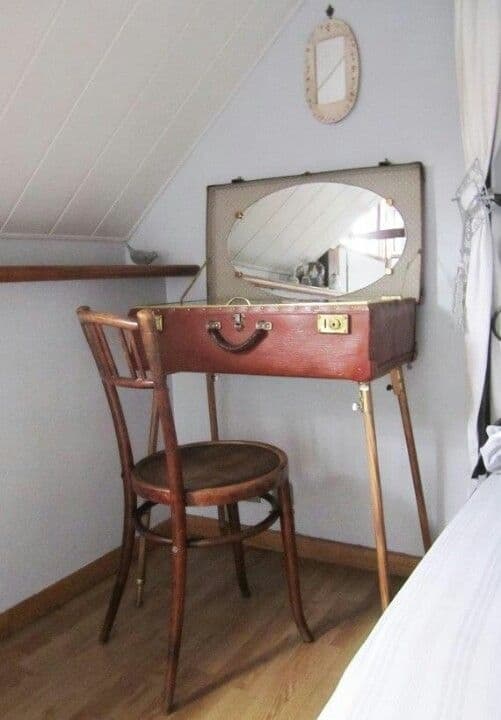 For the makeup lover who loves to travel, there's no better way to show off your collections from all over than with a vanity table that features different hometowns.
To start this project and make sure you have room for everything in it; choose an old suitcase big enough so as not to cramp when storing items like brushes or lipsticks while still being lightweight enough not cast any shadows on nearby furniture. Attach wooden dowel legs at each end of said trunk.
24. An Eco-Friendly M V T Made from Sustainable Materials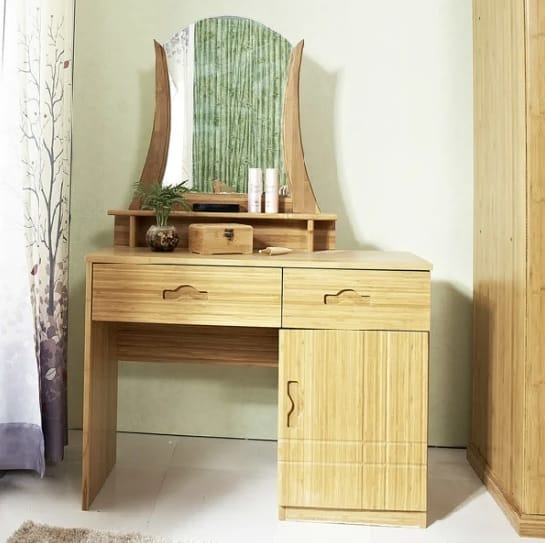 You can use bamboo or recycled wood to create the frame of your vanity table. Not only is it a great way to save space in your bathroom, but you can also use eco-friendly materials to create a sustainable piece of furniture. Plus, it gives you the beauty of natural hint, which also bringing in the warm ambiance.
25. A Ultra-Feminine M V T for the Girly-Girl in All of Us!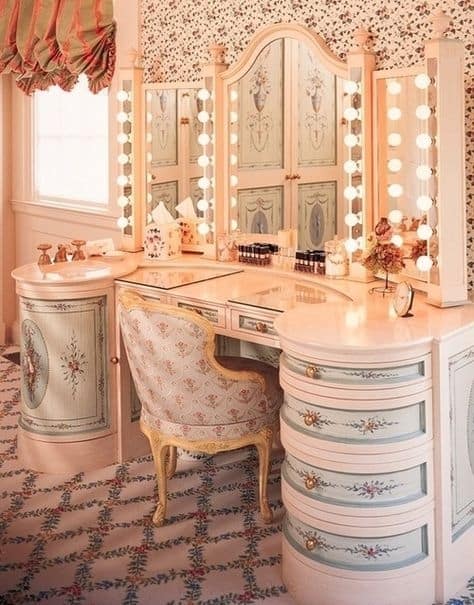 If you're the girly-girl type who loves all things pink and frilly, then this ultra-feminine makeup vanity table is perfect for you. It has plenty of mirrors with a unique curvy shapes. The mirror will ensure you won't miss anything while doing makeup. Plus, it works to make your room look bigger. To complete the look, make sure to add some bulbs and some pretty storage containers for your makeup and other accessories.
26. A Sleek and Modern M V T for the Minimalist in You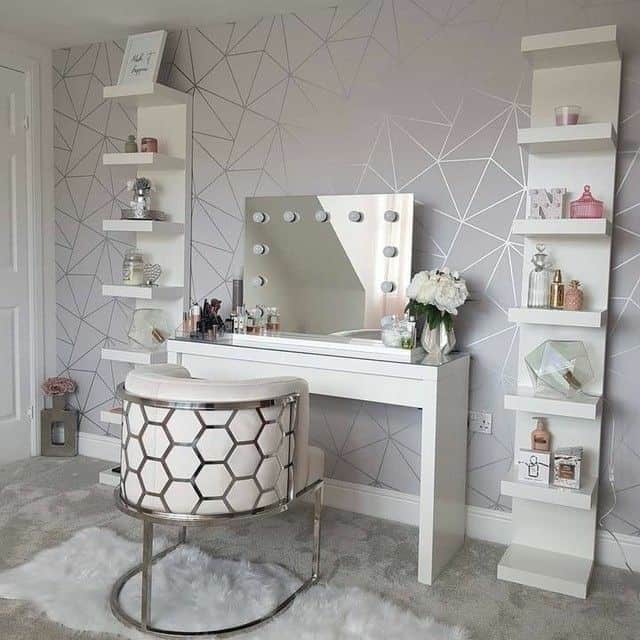 Sleek and simple, this design won't take up too much space in your bedroom or bathroom. The table is made of a white high-gloss finish with clean lines. The top of the table is flat, so you can easily put your makeup products on it.
There are two shelving units on either side of the table for storing your makeup brushes, lipstick, and other small items. The table also comes with a matching stool that has a cushioned seat for comfort. This is a great option if you're looking for a modern and minimalist makeup station.
27. A Rustic Chic M V T Perfect for any Boho Babe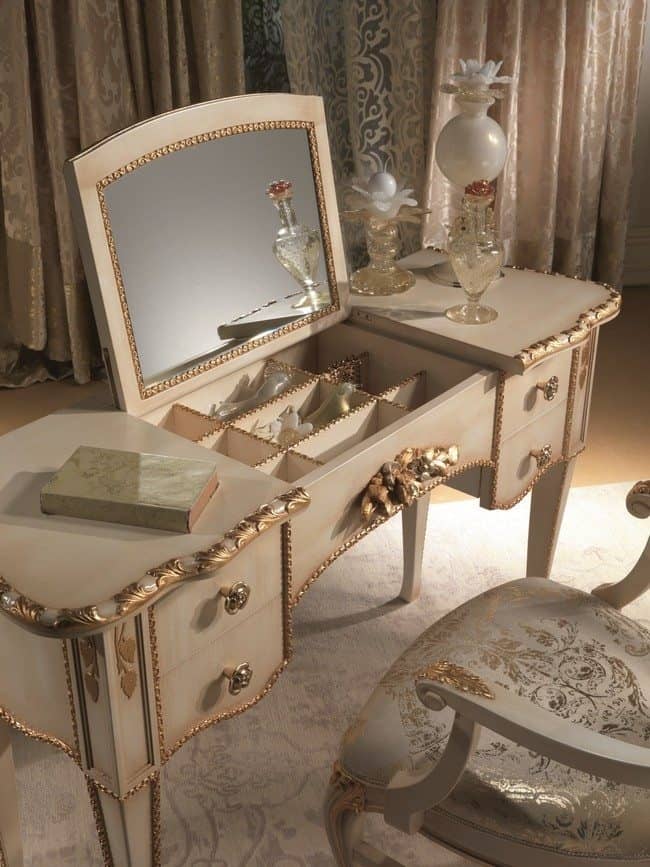 This one is perfect for any boho babe who wants to add a little bit of extra storage to their bedroom. The best part about this table is that it's easily customizable to fit your space and style.
You can reuse the old dresser, which has plenty of storage that will make sure all of the brush, makeup, and also skincare are perfectly organized. Add a glam hint through the gold touch to the hardware and the details of the table.
28. An Industrial Style M V Made from Upcycled Materials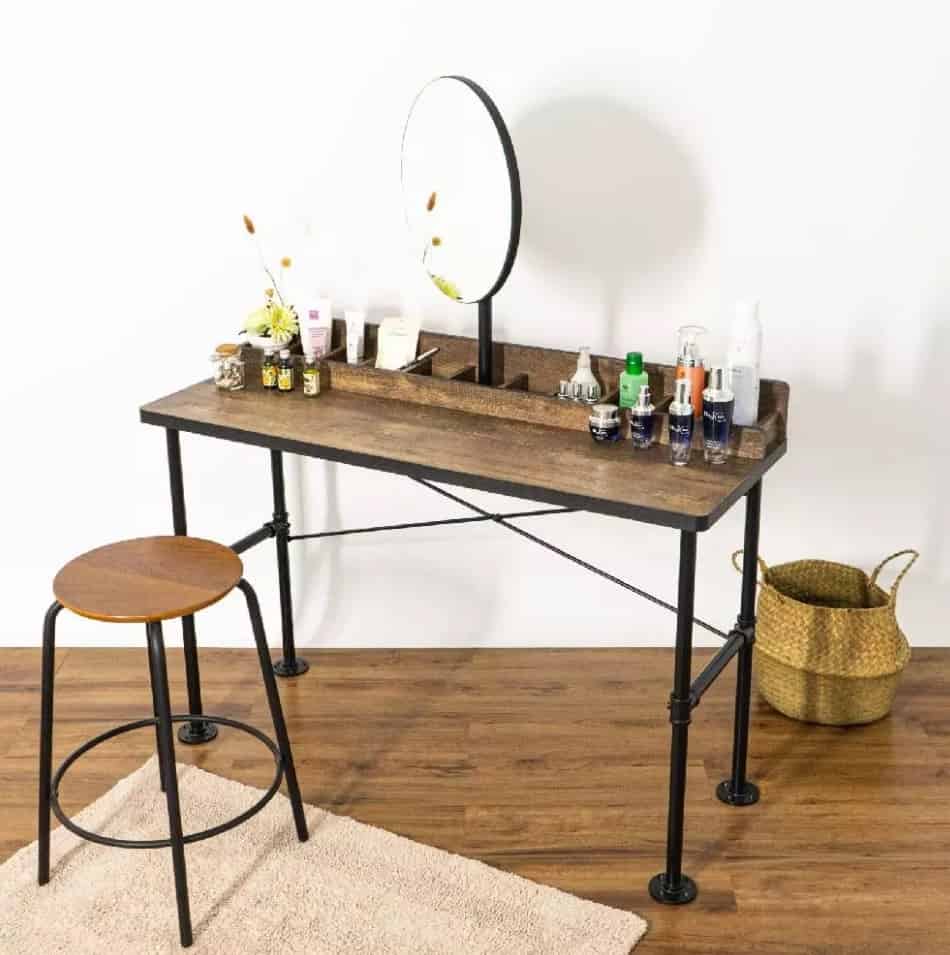 An industrial style makeup vanity is a cool way to upcycle materials and create a functional piece of furniture. One approach is to use pipe fittings to create a simple frame. To add some interest, use different sizes and shapes of pipe to create a more complex design. Once the frame is complete, simply add a tabletop and attach it to the frame.
For a truly unique look, use reclaimed wood or another upcycled material for the tabletop. Add some mason jars or other containers for storing makeup and brushes, and you're all set.
29. A Glamorous Hollywood Style M V for Your Inner Movie Star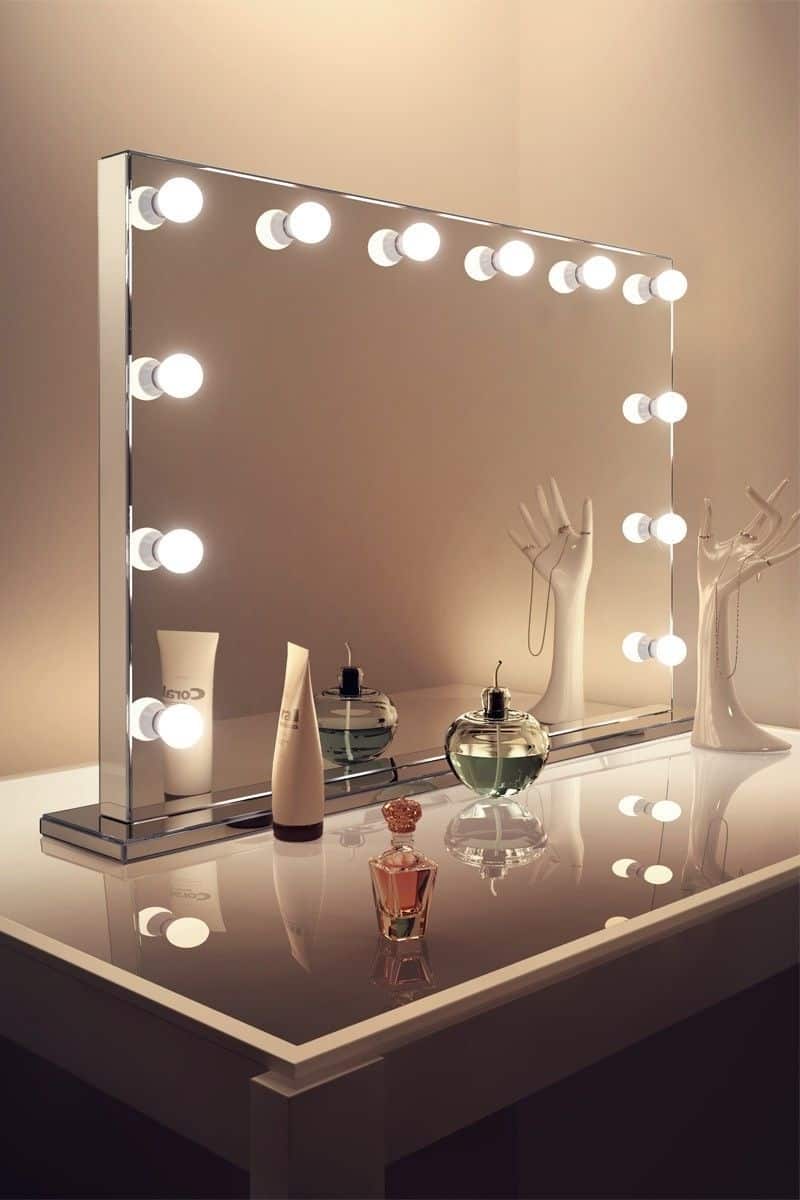 One of the coolest DIY makeup vanity table ideas is to create a Hollywood-style setup. The frameless mirror will be perfect to complement the fancy look. Finally, add some fun accessories like a Hollywood-style light bulb fixture and a jewelry holder.
30. A Fairy Tale Inspired M V T for The Princess in You!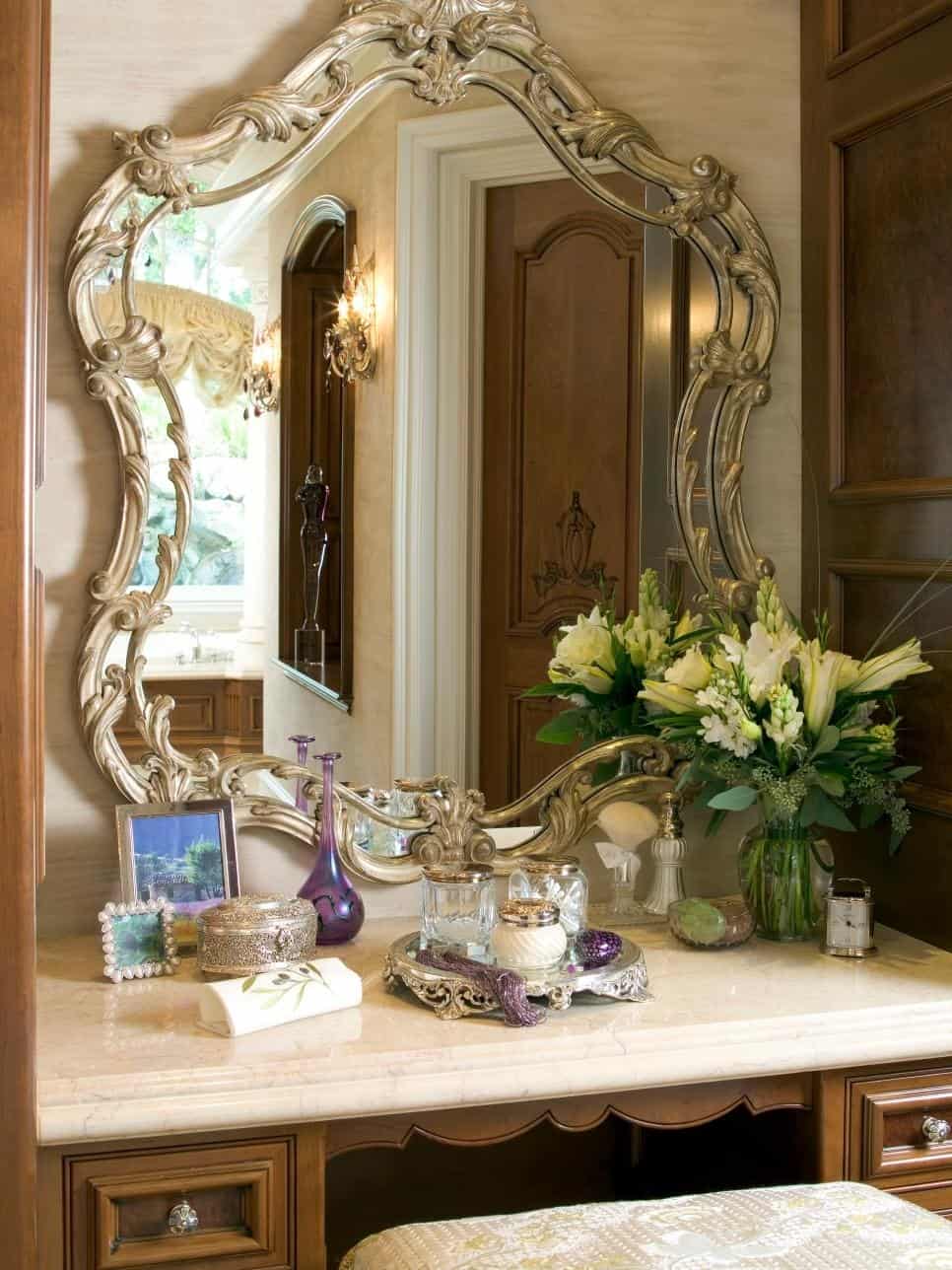 A simple white vanity can be transformed into a luxurious dressing table with some added glitter and glam. Add some delicate glass bottles for your perfumes and lotions. You can even add a fresh flowers in the clear vase. The unique bronze tray will be perfect to complement the luxury hint on your vanity table.
Getting ready in a designated space is the key to an efficient beauty routine. This will allow you time for self-care, while also streamlining how much work needs done at home before leaving.
Whether you're just starting out your beauty routine or are a seasoned pro, having a designated space for all of your makeup and tools is key to streamlining the process. A vanity table can also add some extra personality and style to your bedroom or bathroom. If you're looking for some ideas on how to create the perfect DIY makeup vanity table, look no further! We've gathered 30 of the best DIY vanity table ideas to get you inspired.