When you are tired of the same old bedroom, it is the time to make a brand new look of your bedroom effortlessly, even without spending lots of money. With some basic tools and supplies, the basic skills of yours will fit these DIY rustic headboard ideas as well.
There is nothing to worry about. These headboards will add personality and style to any bedroom. From handmade wooden boards to creative upcycled materials, we have compiled the best ideas you can steal. Get creative and start transforming your bedroom today!
1. A Rustic Headboard Made from Reclaimed Barn Door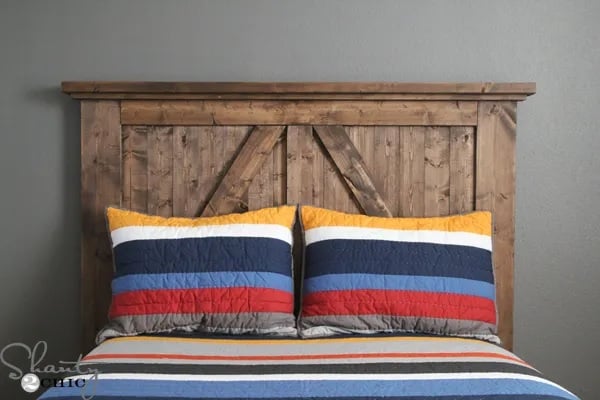 This is an easy and budget-friendly option, as you can often find free or inexpensive wood at local salvage yards or online marketplaces. Plus, using recycled materials is a great way to add an eco-friendly touch to your decor.
To begin, measure and cut the wood to fit the size of your bed frame. Then, using screws or nails, attach the wood to the wall behind your bed or directly onto the frame itself. If desired, you can also add decorative accents like farmhouse-style metal numbers or wooden beads.
2. A Rustic Headboard Design Made of Pallet Wood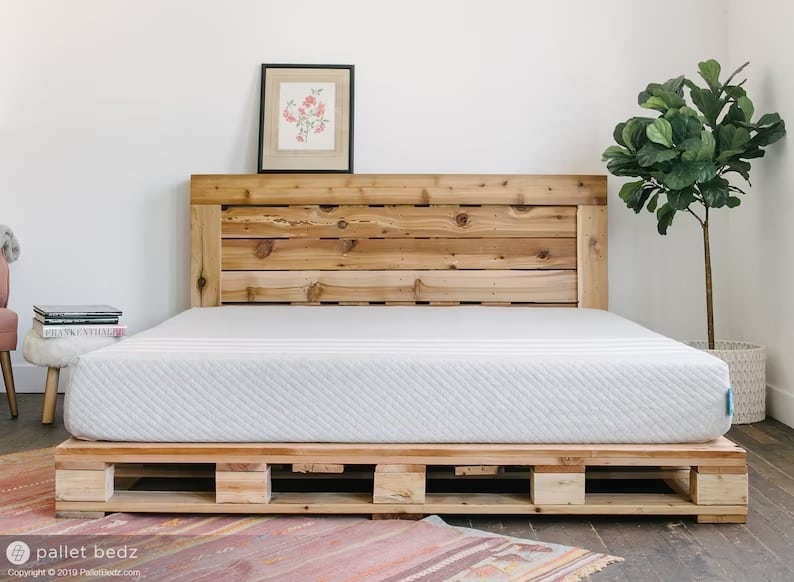 Upcycling the pallets can be a fund and budget-friendly DIY project that can add charm and character to any room. To start, gather some wooden pallets and arrange them in the desired size and shape for your headboard.
Give them a good sanding to smooth out any rough edges and splinters, then paint or stain in the color of your choice. Finally, mount the pallet headboard on the wall behind your bed or attach it directly to the bed frame for added stability.
3. DIY Rustic Headboard Ideas: Upcycle Sliced Log Materials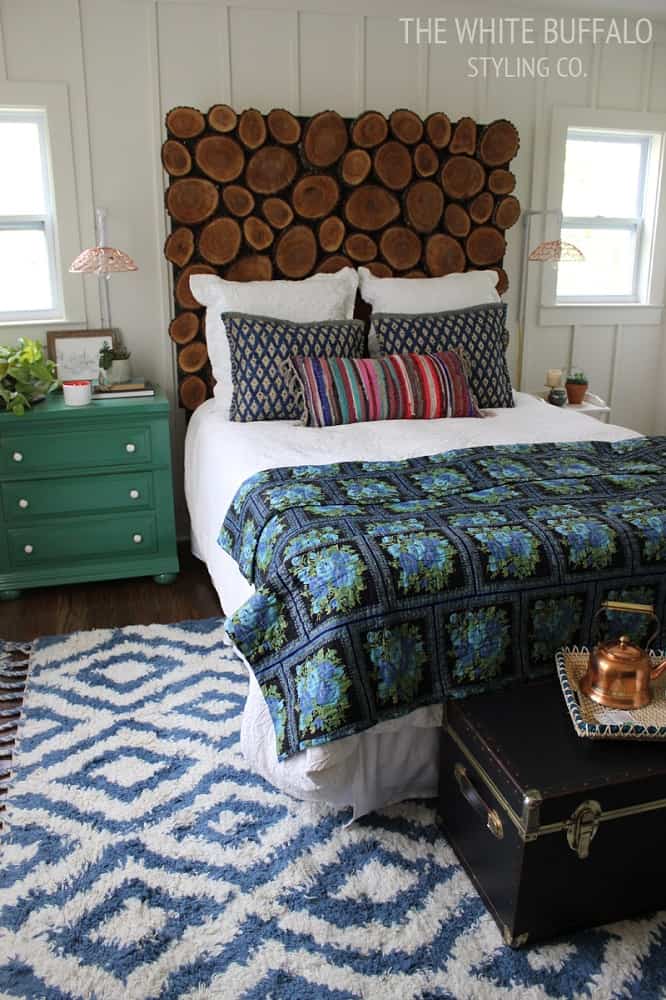 This natural wood look adds warmth and character to any room. To start, choose the sliced logs for the desired size of your headboard. Use a saw to cut them into equal lengths and sand down any rough edges before arranging them together in the shape of a headboard.
Drill in screws or use wood glue to secure them in place and voila! You have a one-of-a-kind, homemade rustic headboard that adds the perfect touch of nature to your space.
4. A Rustic Headboard Made from Branches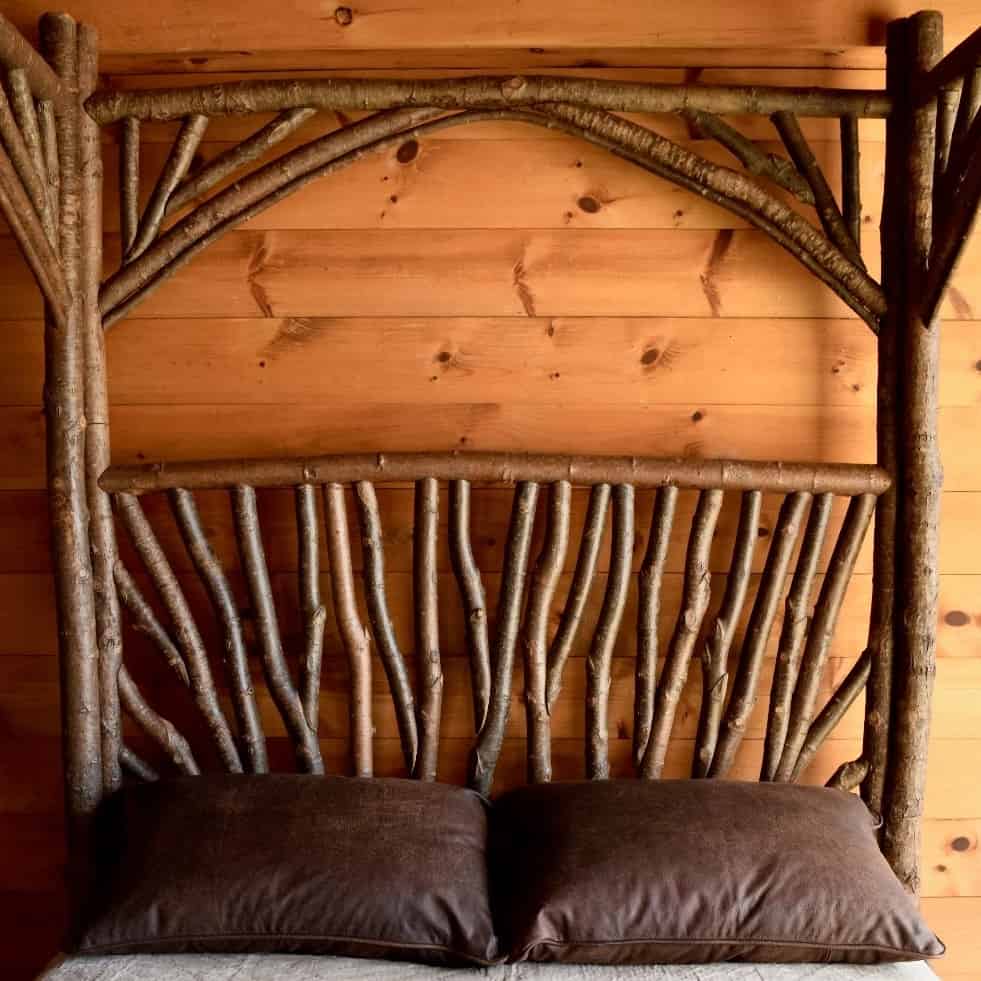 This DIY project can be your consideration if you are planning to bring in the coastal feel to your bedroom without lots of things to do. Gather up some fallen branches (or grab them from a craft store) and arrange them in the shape of a headboard.
For added detail, you can paint them white or even add shells or driftwood to make it truly coastal. Or, you can let the branches exposes their natural color of the wood. This DIY project is not only budget friendly, but it also adds a rustic charm to any bedroom. Plus, you can customize the size and shape to fit your bed exactly.
5. Stunning Modern Headboards with Geometric Patterns and Pops of Color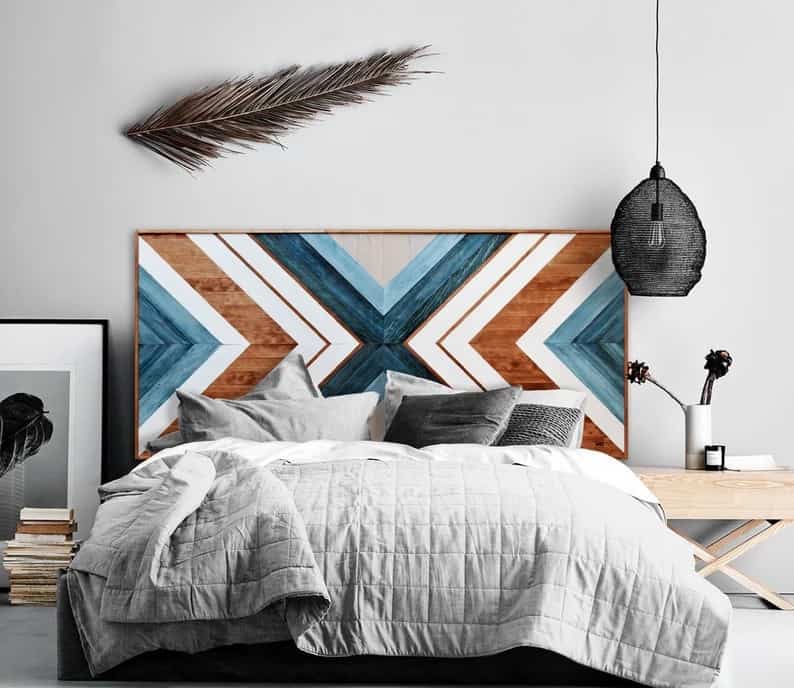 Add a stunning approach to the bedroom with this adorable headboard you can create yourself to upgrade your creativity. Consider bringing in the modern flair through this headboard.
Use the reclaimed wood as the base, and then add a geometric pattern using paint or stain. You can play with different colors for added interest, or keep it all one shade for a more minimalist look.
6. A Rustic Headboard Made from Metal Pipes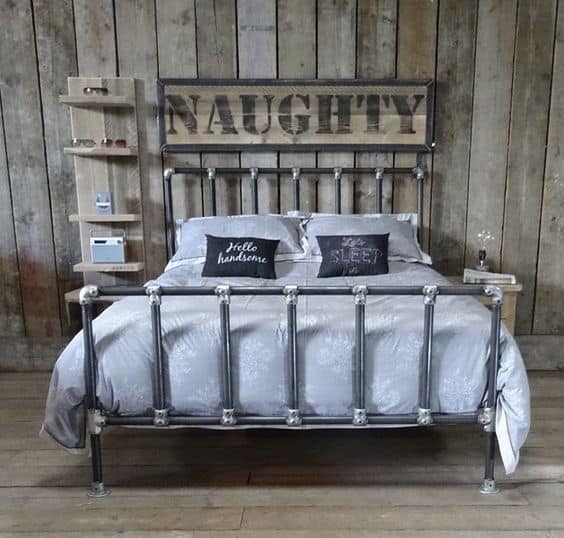 It's a surprisingly easy DIY project that can add instant character to your space. Simply arrange lengths of metal pipes in the shape and size you want for your headboard, secure them together with flanges and screws.
You could even paint the pipes for an added pop of color. From minimalist to eclectic, this rustic headboard is sure to bring some unique flair to your bedroom design. Plus, it's a budget-friendly option that'll have friends asking where you got such a cool piece.
7. A Rustic Headboard Made From an Old Door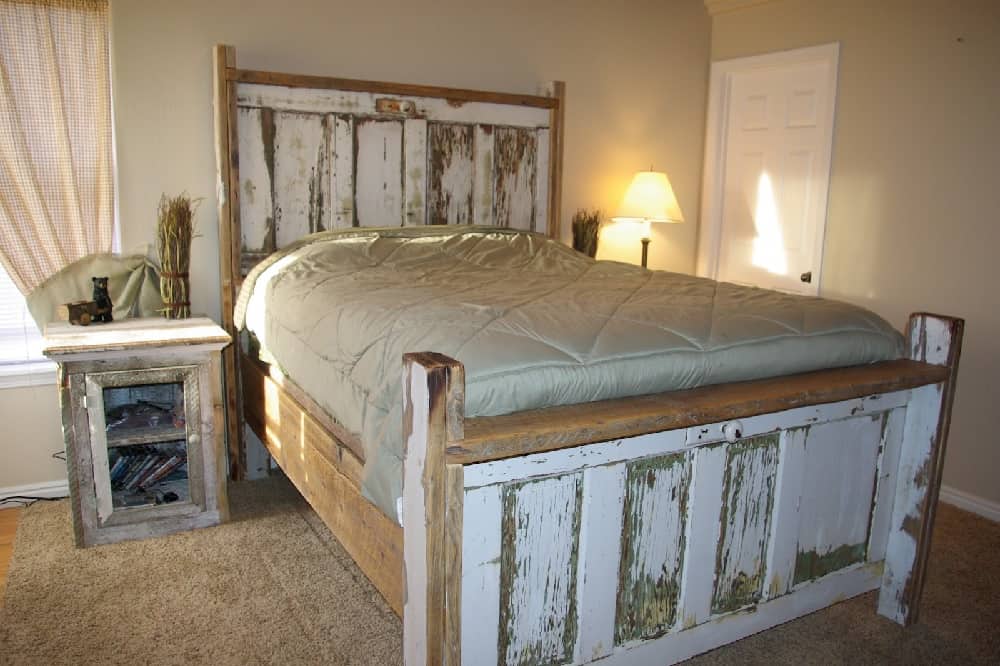 This DIY headboard idea offers the perfect blend of rustic charm and functionality. Sand down the door and stain or paint it to match your room's aesthetic. Next, add brackets to the back so it can be mounted on the wall, or attach legs for a freestanding option.
For extra flair, embellish the headboard with decorative hardware or hanging plants. The end result is a one-of-a-kind statement piece that adds character to your bedroom without breaking the bank. Plus, using an old door means giving new life to something that would otherwise just take up space in a landfill.
8. Upcycled Old Window Frame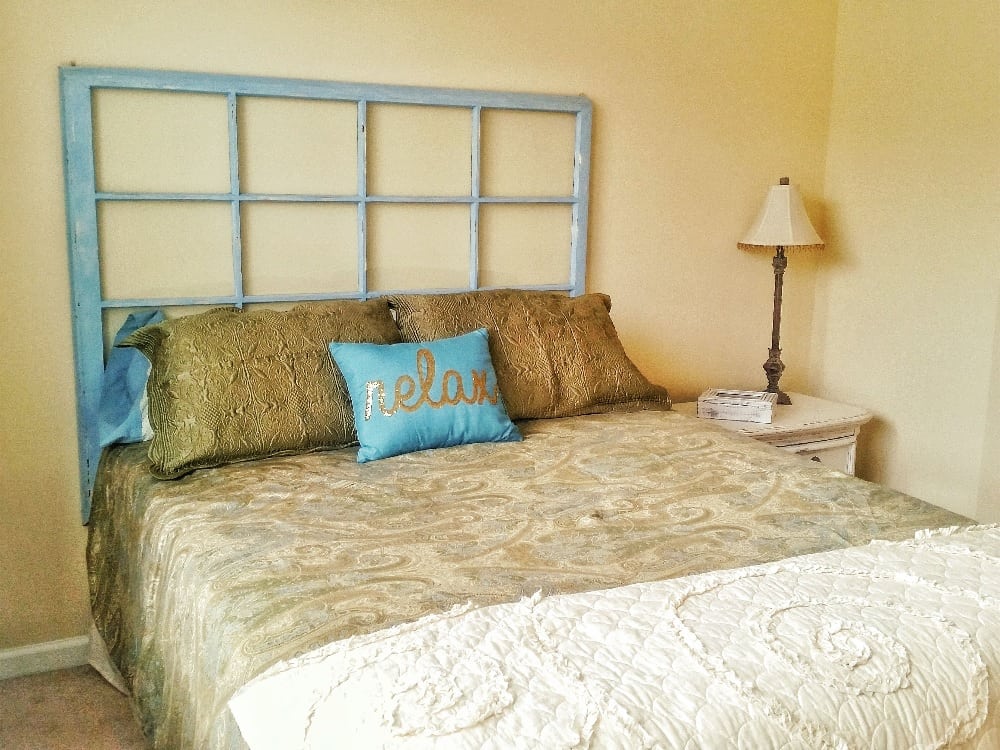 It is not a big deal to create an antique look to your bedroom by using the old window frame. Depending on the type of frame you use, this DIY project can add a touch of cottage charm or industrial edge to your space.
To start, choose a window frame that fits the size and style you want for your headboard. If necessary, sand and paint the frame before hanging it on the wall behind your bed.
9. Elegant Rustic Headboard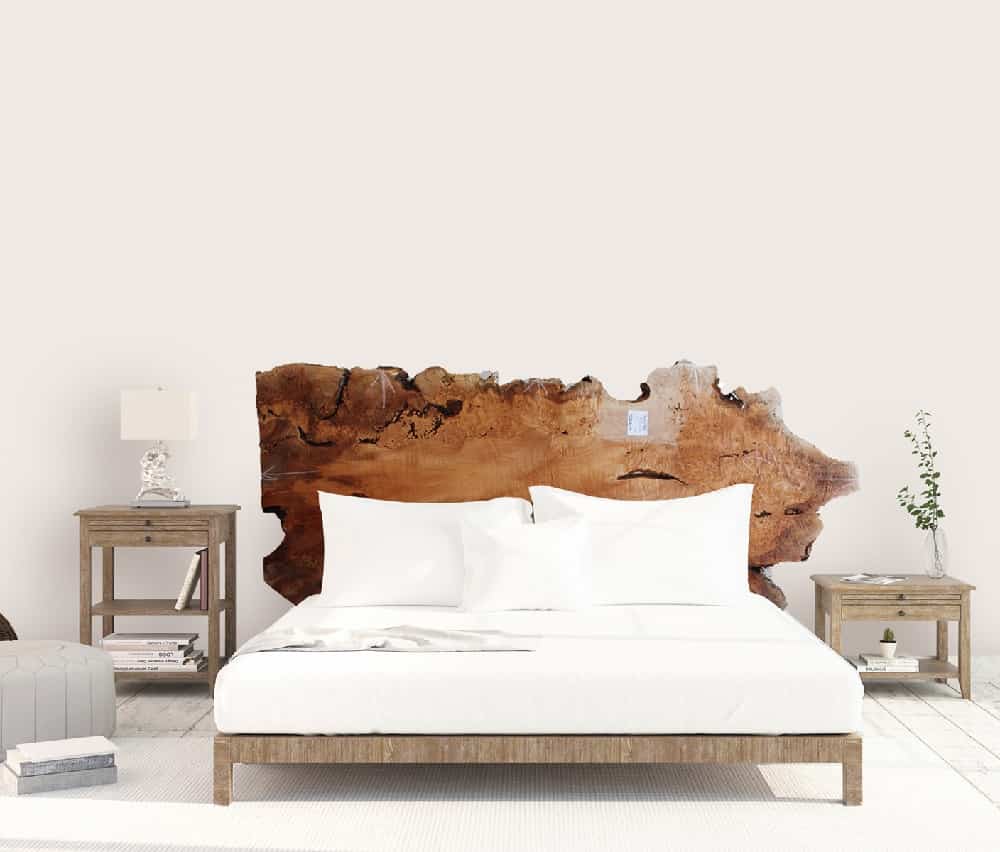 An elegant hint can easily be created by attaching the wooden slab to the bedroom, which work functionally as the headboard. You can find wooden slabs at your local hardware store or lumber yard, or even search online for reclaimed wood.
Simply attach the wooden slab to your wall with some brackets and screws. Another option is to use wooden pallets as your headboard. Lay them flat against the wall and secure with brackets, or stand them upright for added height.
10. Creative Rustic Headboard with Lighting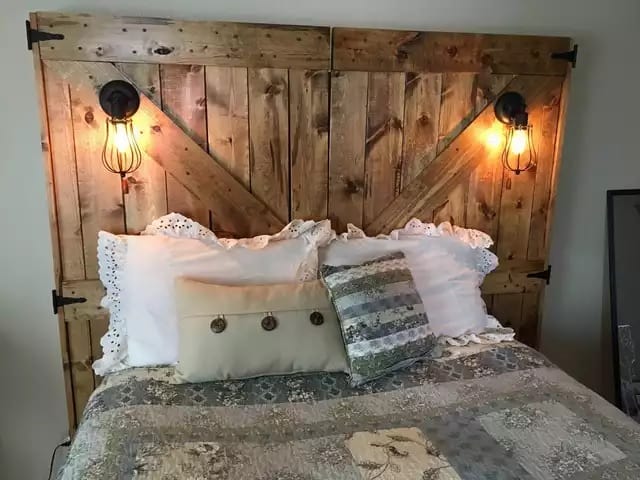 Challenge your creativity by incorporating twinkly lights into your design. Try using driftwood, old barn wood, or even leftover fence panels as the base, and string fairy lights across for an added touch of charm and coziness.
Or, if you have an old pallet lying around, simply lean it against the wall for an effortless yet rustic statement piece. For those who want to add even more personality, attach mason jars with tea lights or flowers for a truly one-of-a-kind headboard.
11. Rustic Shiplap Headboard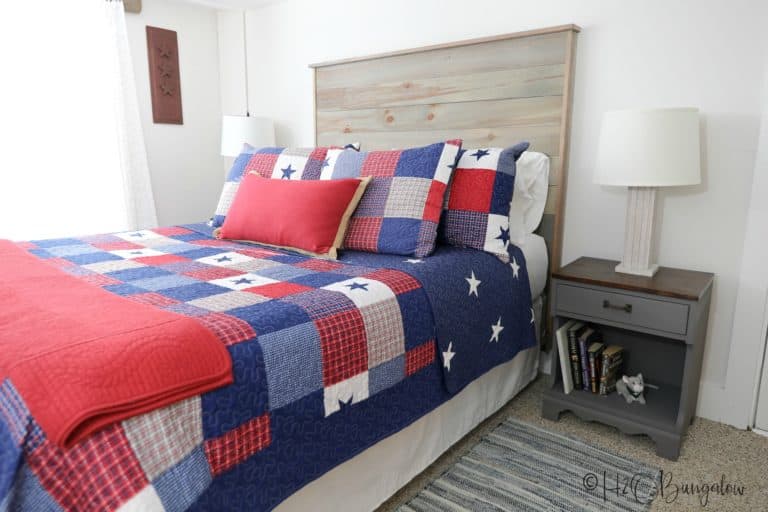 Infuse the soothing atmosphere of the coastal flair to the bedroom with the shiplap headboard can be the best option. Besides bringing in the coastal charm, it is also easy to DIY.
All you need is some shiplap boards to fit the width of your bed frame, then use wood screws to attach them to the frame or wall behind your bed. For added dimension, try using different widths of shiplap for each board or paint them in coastal shades like teal or coastal blue.
12. Unique and Quirky Rustic Headboards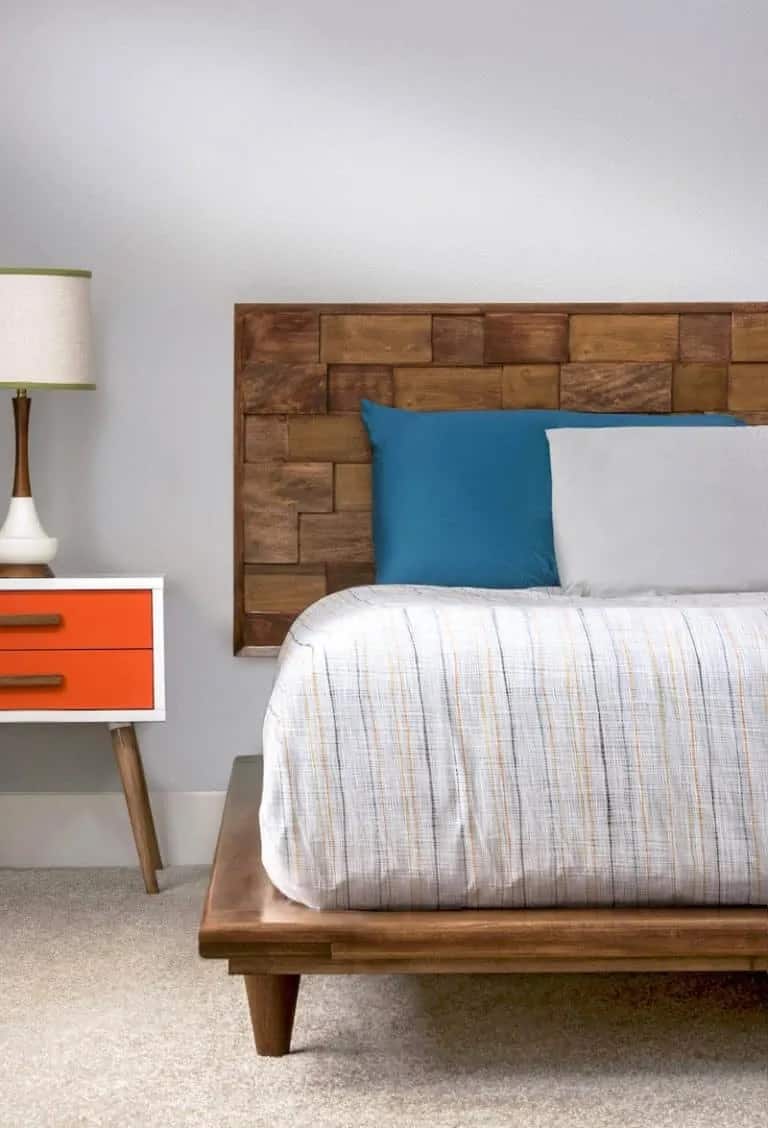 To make this unique wooden headboard, you need some reclaimed wood. If you are handy with tools and have a creative mind, then this is a great project for you.
The materials list you need for this project include: wood planks, plywood board, screws, a screwdriver and an electric drill. With some basic tools and skills, build your own headboard during your leisure time.
13. Vintage Vibe From an Old Suitcase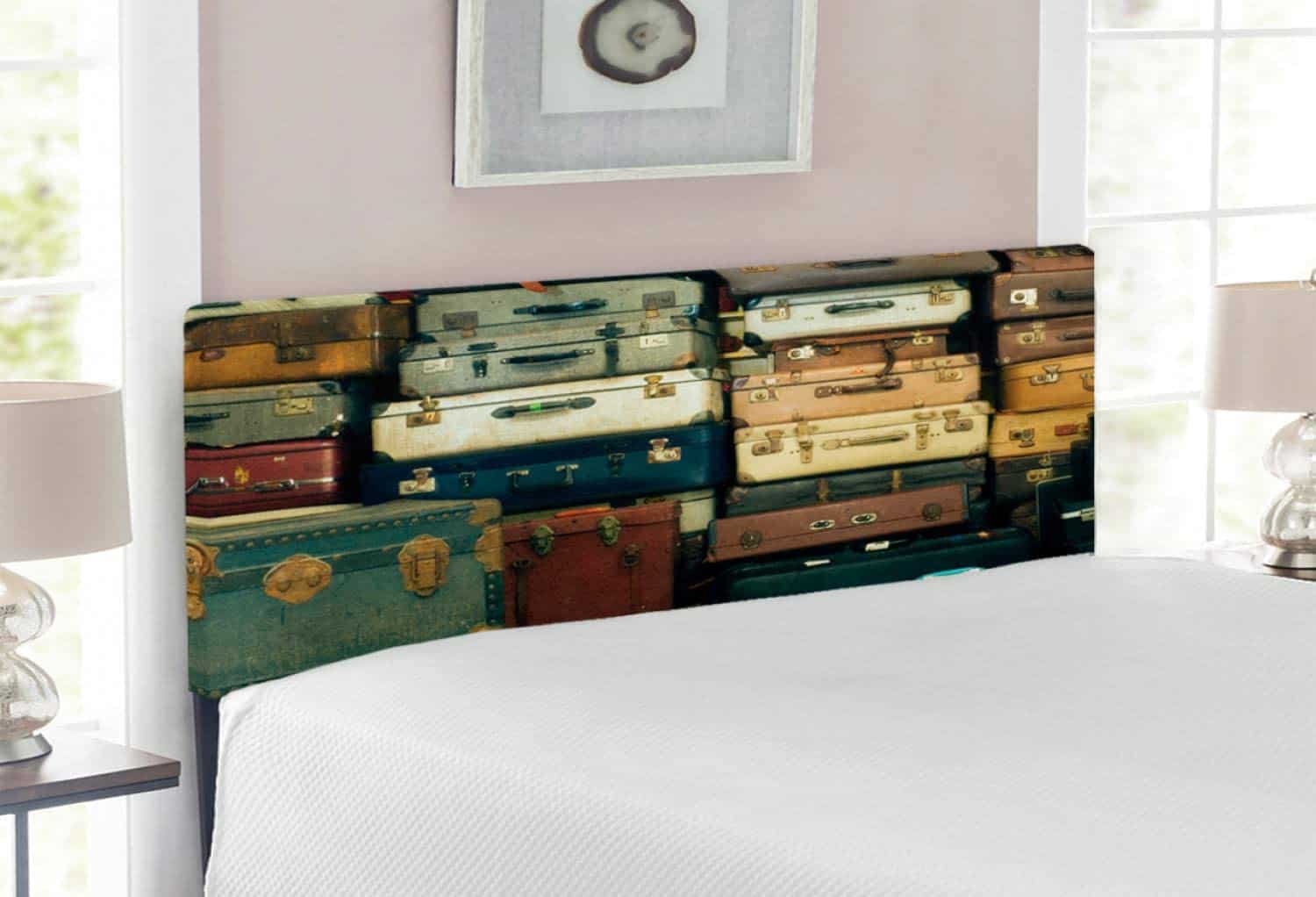 This headboard project is easy and affordable, plus it adds another touch of uniqueness to your room. With some paint, sandpaper, and elastics or straps, you can easily turn the vintage luggage into a rustic and eye-catching headboard.
Start by lightly sanding the suitcase to make sure the paint will adhere properly. Next, choose your desired color and give it a few coats of paint, making sure to let each coat dry before adding the next. Finally, use elastics or straps to attach the suitcase to your bed frame.
14. Modern Rustic Headboard in Neutral Tones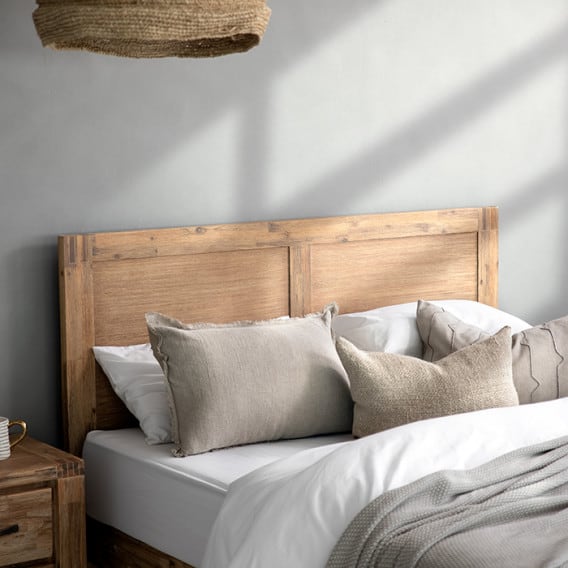 Using the neutral tone can be the best option to inject the modern style. It can be done by using the cream, beige, or taupe shades. And if you want to make it looks way more gorgeous, add a touch of darker shade.
You only need to get some old wooden pallets or boards, then paint them in neutral shade. Then, arrange the boards in a horizontal pattern and secure them together with screws or nails. For an added touch, try hanging fairy lights behind the headboard for a cozy ambiance in your bedroom.
15. Stunning Modern Rustic Headboards for a Luxurious Look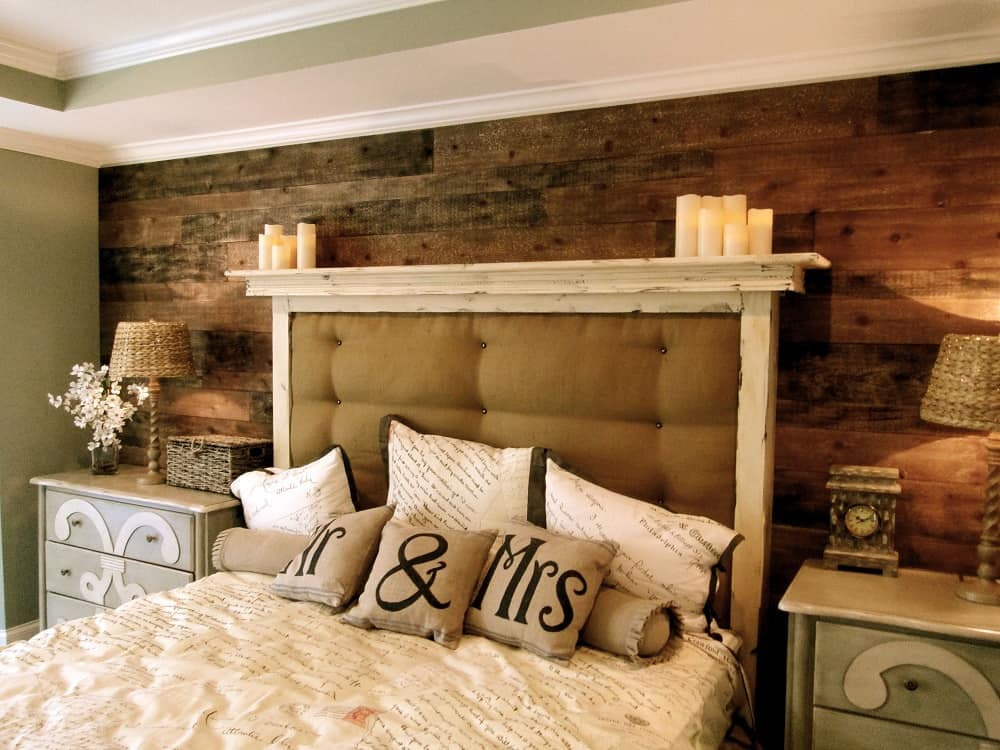 DIY padded headboards are a great way to add some luxury to your space without breaking the bank. Start by covering wooden boards with padded foam and fabric. You can even use an old comforter or quilt for a unique, rustic look.
Attach the padded boards to your bed frame using screws or nails, and voilà! An instant upgrade to any bedroom.
16. Fun and Quirky Rustic Headboard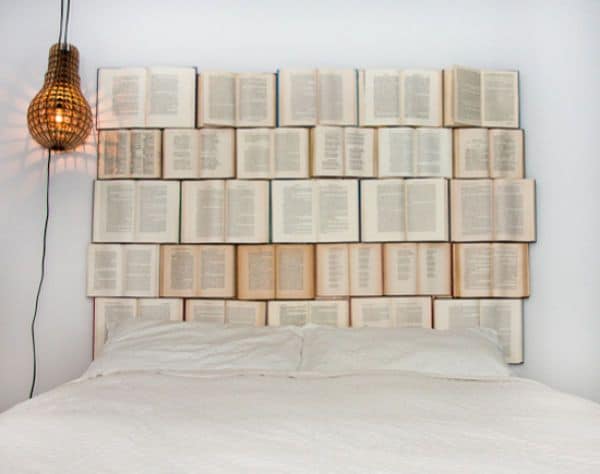 One fun and quirky way to add a rustic touch to your bedroom is by creating a headboard out of old books with hardcover. Open the books to expose their pages, and then use glue to attach them together.
This will be such a gorgeous focal point in your bedroom with its unique look. The thing is that it can be done even if you are a beginner on a woodworking.
17. Whimsical Rustic Headboards For a Fun Bedroom Vibe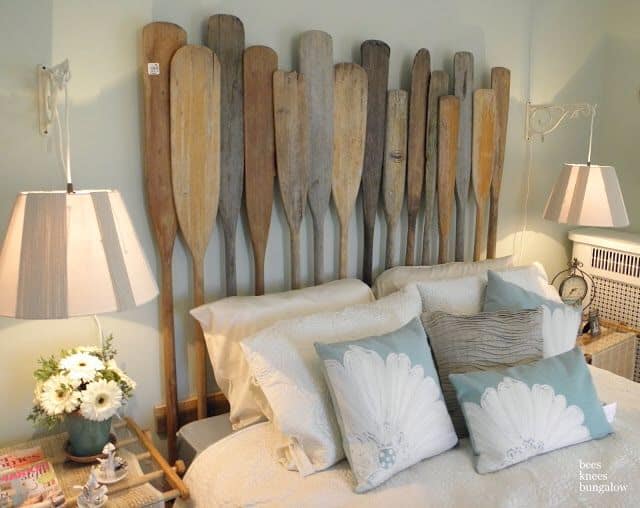 Recycling some old materials is a smart option if you want to save money and have a truly unique DIY rustic headboard. Transform the wooden paddles into an adorable headboard for the kids' bedroom. Let it exposes its natural color and texture of the wood to highlight the rustic style.
And if you want to highlight the natural color of the wood, you can stain it with natural finishes as well.
18. Industrial-Style Rustic Headboards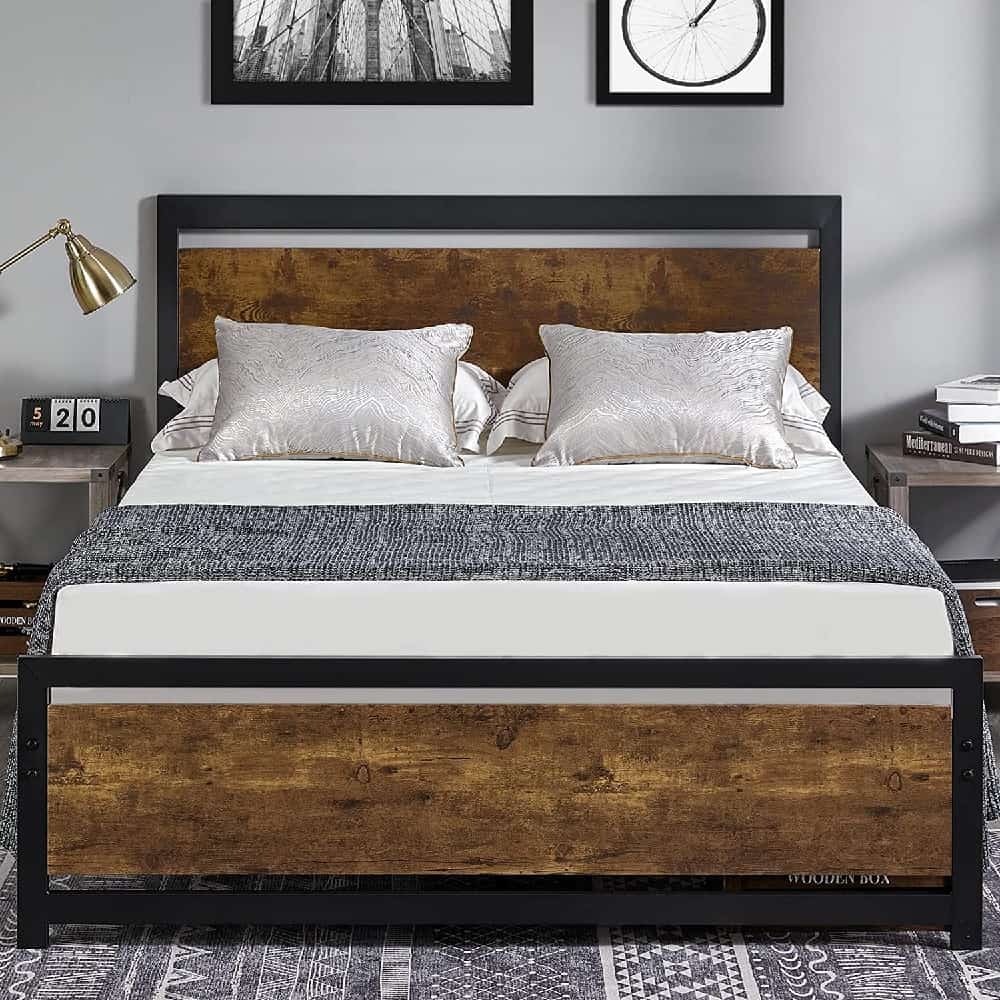 The rustic-industrial headboard style can created by combining the wood and metal material. This style uses metal and wood together to create a bold statement in any bedroom.
It features clean lines, simple shapes, and minimal detailing, which makes it an ideal choice if you prefer a more modern decor. To complete the look, just add a simple piece of artwork or a nightstand with additional storage for your bedroom.
19. Sophisticated Industrial-style Rustic Headboard in Black and White Tones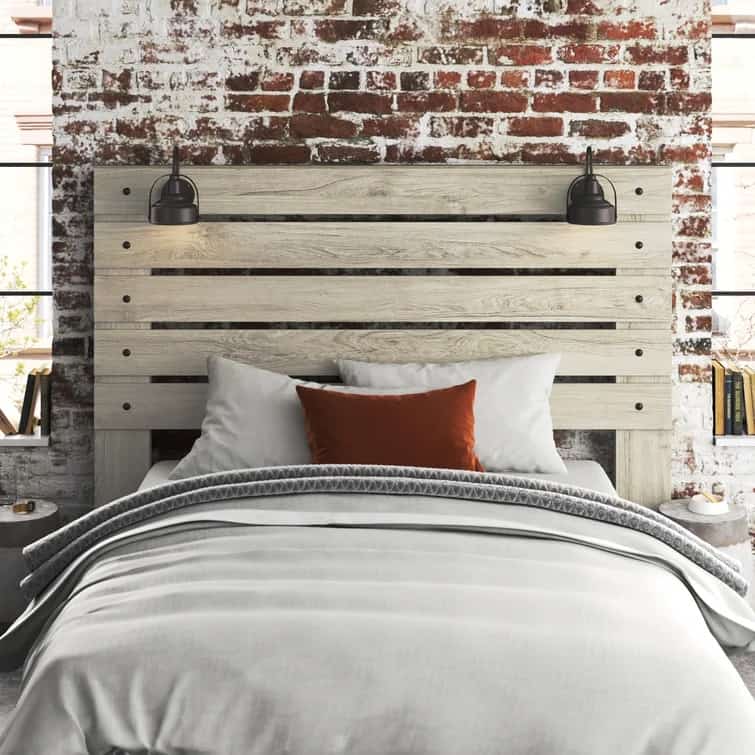 Using white wood and black lights, you can create a sophisticated, modern look that's still rugged and rustic. In fact, the contrast between white and black will add even more visual interest to your space.
To complete the look, consider using zinc hardware or raw steel accents for added texture. With some creativity and DIY spirit, you can have a custom headboard that brings an edgy, industrial touch to your bedroom decor.
20. The Versatile Headboard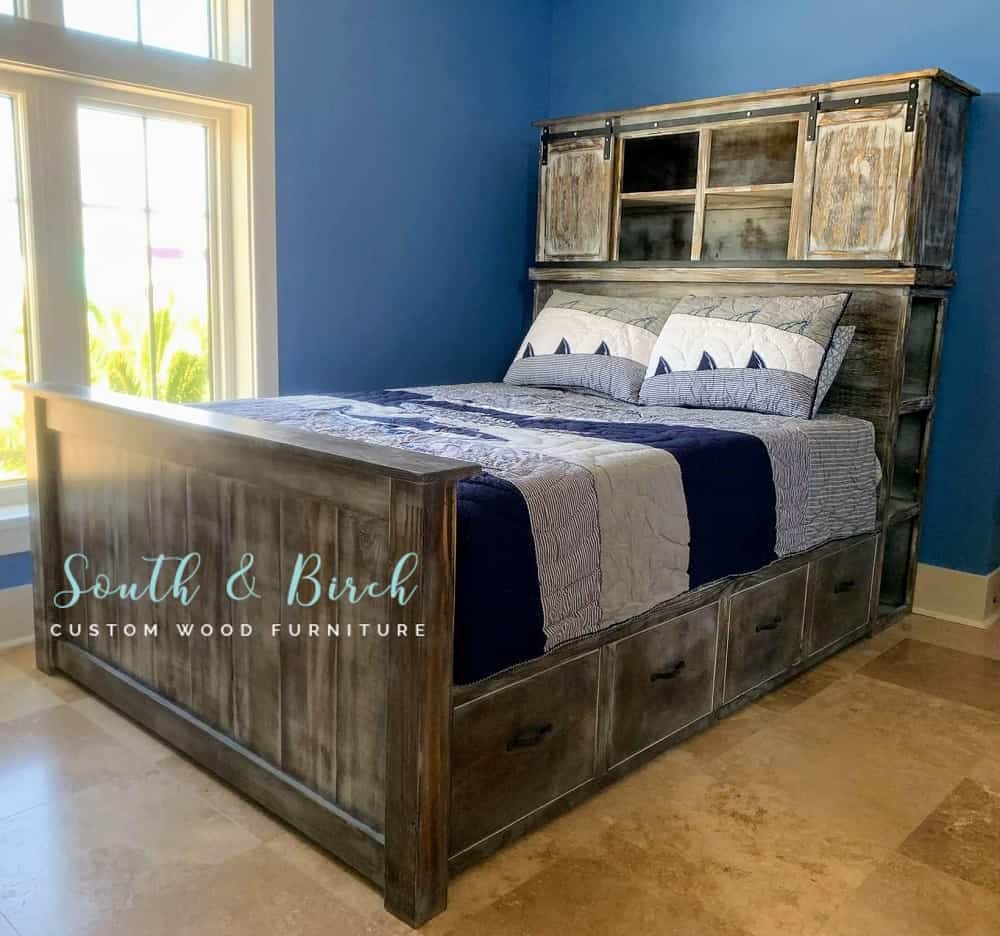 A wooden pallet or barn door can easily be transformed into a stunning focal point with some paint and decorative touches. Bright pops of color create a fun, modern vibe, and adding rustic accents like aged metal hardware or distressed wood adds an extra dose of charm.
For added functionality, consider attaching shelves or hooks for storage. With just a bit of creativity and effort, you can have a gorgeous rustic headboard that's truly one-of-a-kind.
21. Elegant Shiplap Headboard for a Luxe and Cozy Bedroom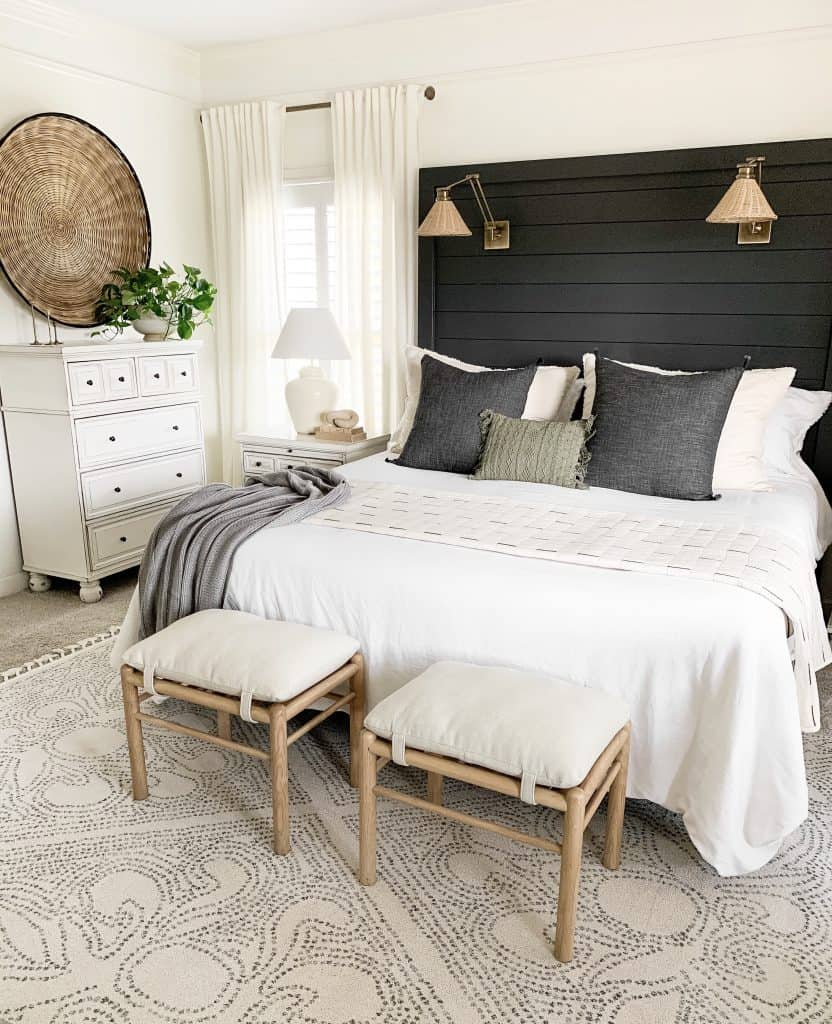 This rustic yet elegant headboard adds character to any room and can easily be customized to match your personal style. To begin, gather some wooden boards, black spray paint, and the gold lights.
Finish it off with some gold lights attached perfectly on the headboard for added glamour. In just a few simple steps, you'll have a luxe and cozy bedroom look.
22. Simple Design with Lights to Add Warmth and Style to Any Room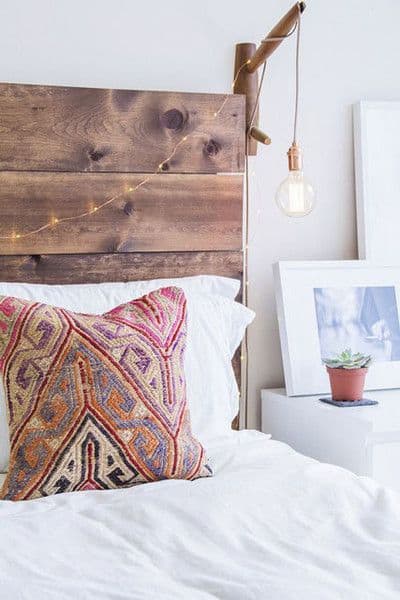 A simple project of wooden headboard can instantly transform the look of your space, and adding in some string lights takes it to the next level.
Just grab some wooden boards or pallets, distress them for that perfect rustic look, and attach some fairy lights for added warmth and style. You can even incorporate rustic elements like barn wood or burlap for added texture.
23. Adorable Rustic Door Headboard for a Unique Twist on the Classic Farmhouse Look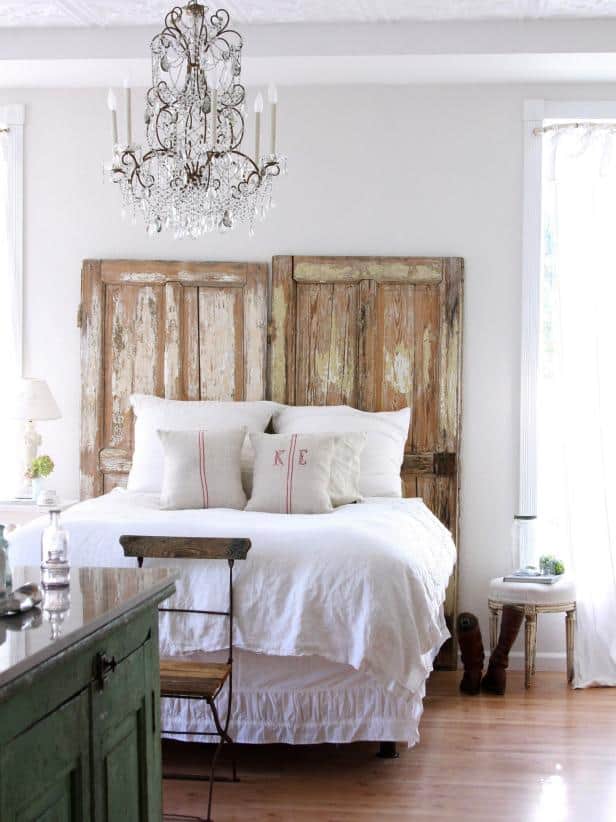 An old wooden door can be transformed into a charming headboard that adds character and charm to any bedroom. Not only is it unique and adds some charming character to your space, but it's also budget-friendly and easy to make.
All you need is a door (which can often be found for cheap at secondhand stores or online marketplace groups), some sandpaper, wood stain, and finishing sealant. Once the door is prepped and stained to your liking, simply lean it against the wall behind your bed or mount it with brackets for a more secure option.
These designs range from the simple and chic to the downright indulgent, perfect for any taste or budget. With a little bit of creative vision and elbow grease, you can fashion a stunning focal point for your bedroom that reflects your personal style.