Finding the perfect kitchen table to complement your home decor can be an exciting but overwhelming task.
Before you start your search, it's important to keep a few factors in mind that will help you narrow down your options.
From the size and shape of the table to the materials used and the overall style, there are many elements to consider to ensure that you choose the best kitchen table ideas that fit both your personal taste and functional needs.
In this blog post, we will discuss some of the best kitchen table ideas on the market today.
1. Bar-Height Dining Table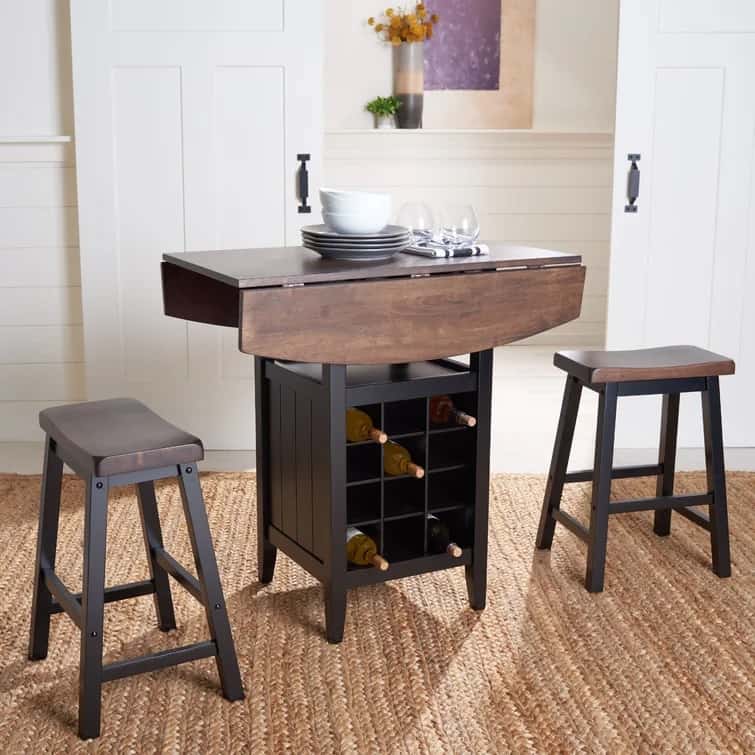 When you have to deal with the limited space in your kitchen, this small kitchen table must be the best option to consider. This kitchen table will not consume a lot of space in your kitchen since it is designed in simple and sleek shape.
The materials which are used to build this table are also the best quality materials, so that you do not need to be worried about its durability.
You can find counter-height tables that have drop leaves, so you can easily fold them up when you're not using them.
You can also find bar-height tables that have stools that tuck underneath them, so you don't have to worry about taking up too much space when you're not using them.
2. Cheap Kitchen Table Ideas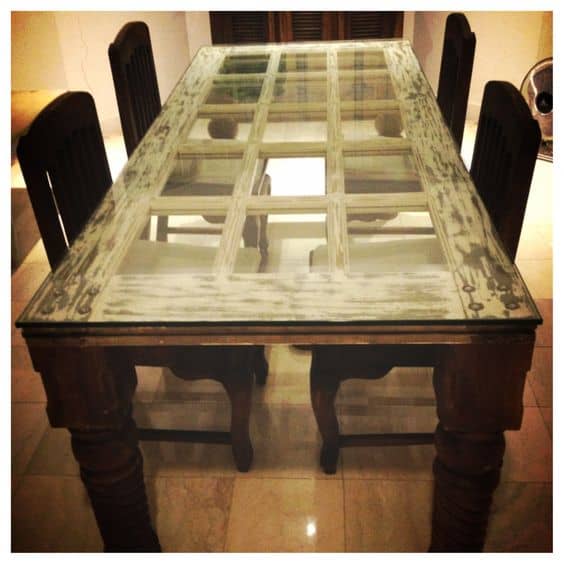 Consider repurposing the old door, which can be used as a tabletop. It would be best to use a door with an interesting texture or design.
You can also make it looks more artistic by adding some distressed finishing that will bring in the rustic atmosphere to the kitchen.
Add a glass top to an existing table for a more sophisticated look. You can even use an old window as a tabletop, which will give your kitchen a unique and vintage feel.
3. Industrial Kitchen Table Ideas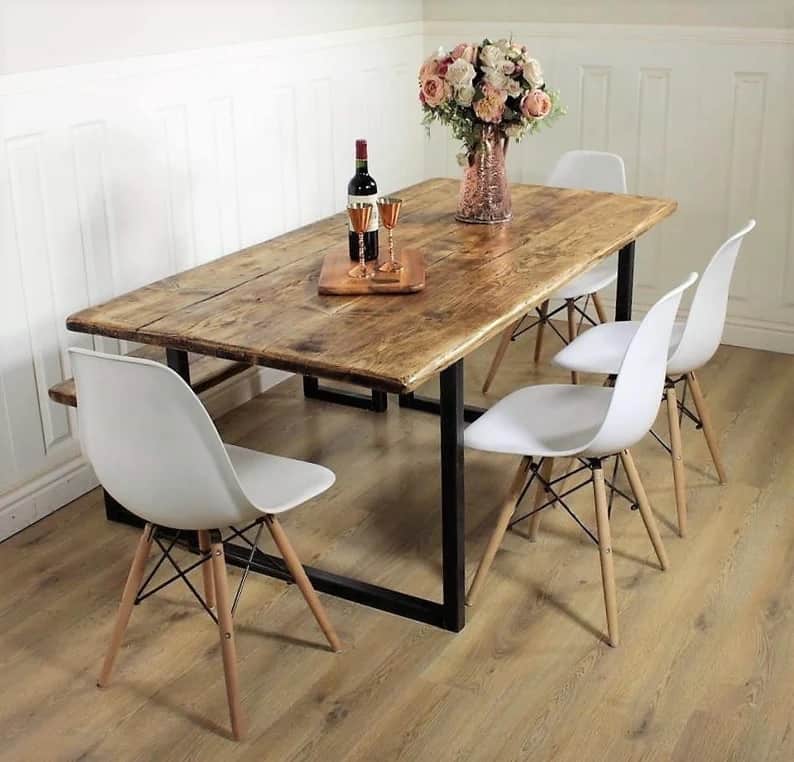 An industrial kitchen table is typically made of wood or metal, and it often features a distressed finish.
This type of furniture often features finishes that have been scratched or dented for an aged look, giving it the perfect touch no matter what style you are going for in decor.
The metal frame and the wooden countertop is the best combination that will both functionally and aesthetically at the same time.
4. DIY Best Kitchen Table Ideas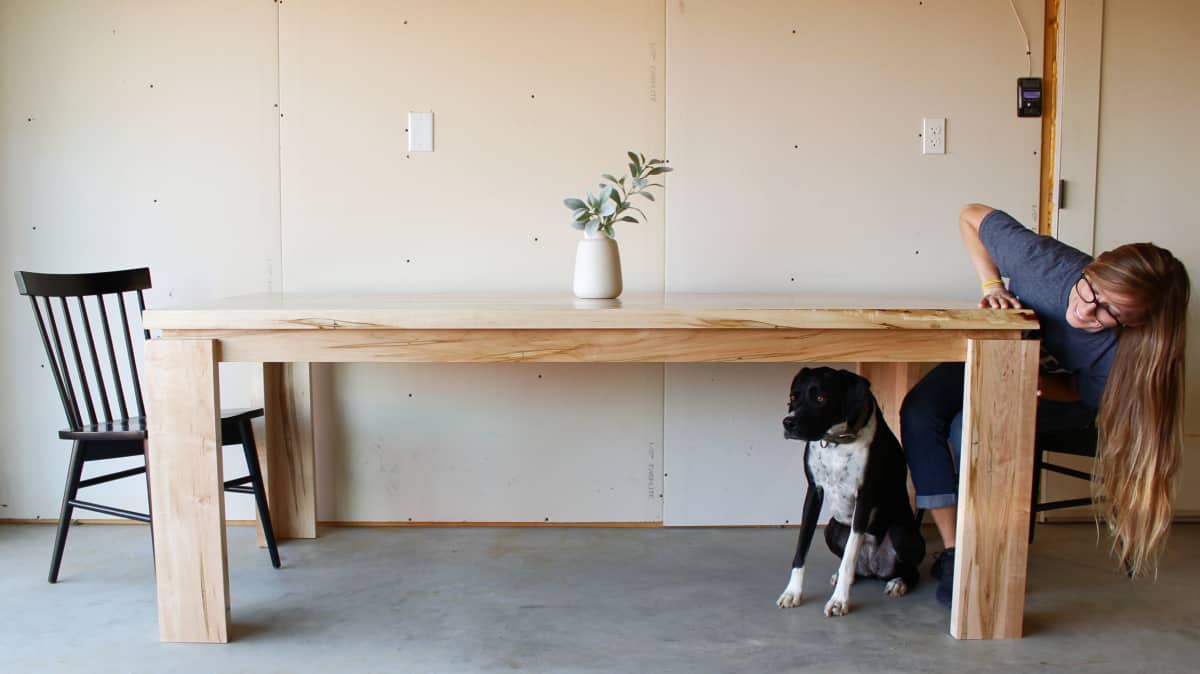 This simple DIY project is worth trying if you are a beginner. You will only need some basic woodworking skills and also some materials you can easily get. The best part is that you can make this table according to your own taste and style.
Supplies you will need:
Wooden boards
Wood glue
Wood dowels
Figure 8 tabs
Wood screws
washer head screws
Washer
5. Apply the Farmhouse Style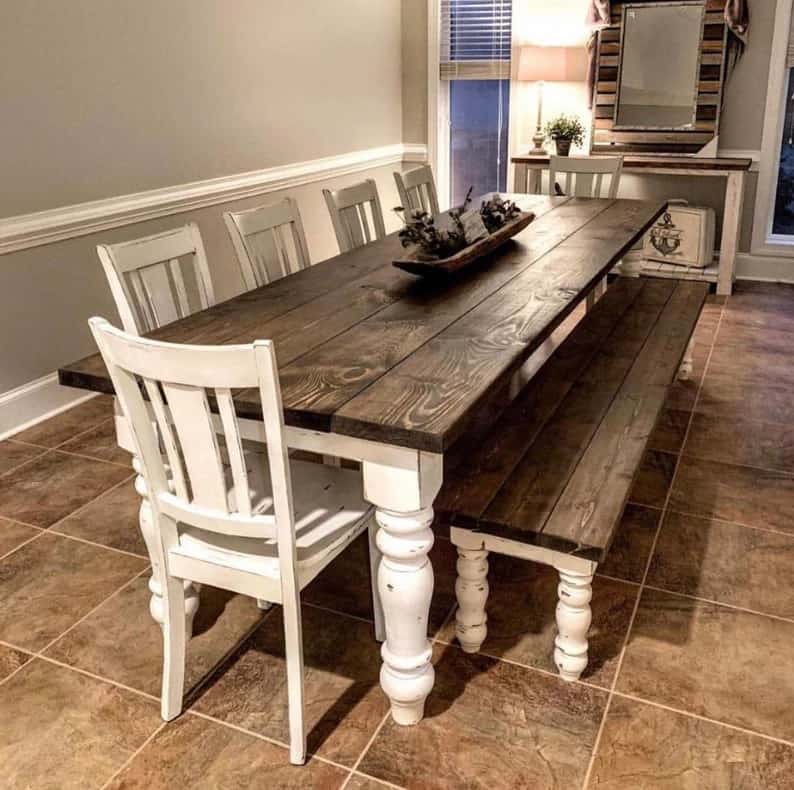 Farmhouse tables are typically made from wood, which gives them a warm and rustic appearance. They're also built to withstand heavy use, so they're perfect for families with young children. If you're looking for a farmhouse table to add to your kitchen, here are some of the best options.
The distressed finishing, chunky legs, and large surface make this table perfect for a family gathering space. The dark wood stain gives it a more sophisticated look that would be ideal for entertaining guests.
This light and airy farmhouse table would be perfect for a smaller kitchen or dining area. The white finish and simple design make it easy to integrate into any decor.
6. Modern Dining Table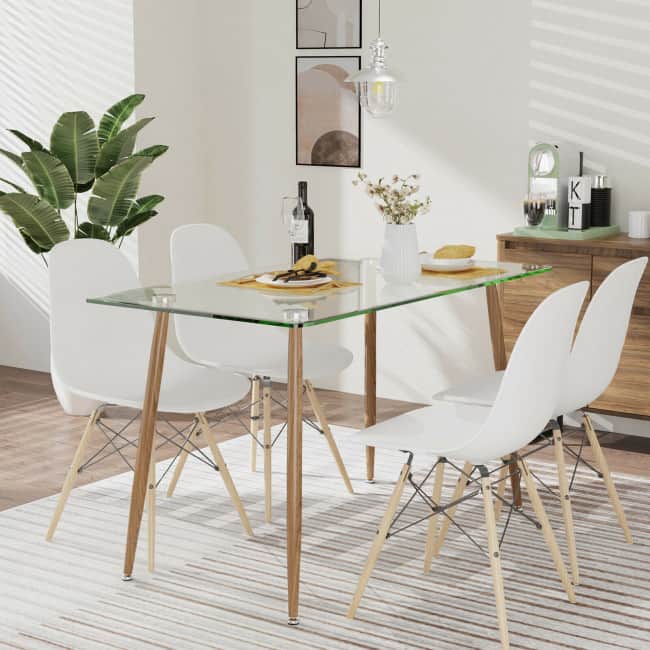 One of the most popular trends in modern kitchen tables is the use of metals. Silver, chrome, and stainless steel are all popular choices, and they can add a touch of sophistication to any kitchen.
If you're looking for something a little bit more unique, consider a table made out of glass. Glass tables are cool and modern, but they can also be surprisingly warm and inviting.
7. Rustic Style with Rust Finishing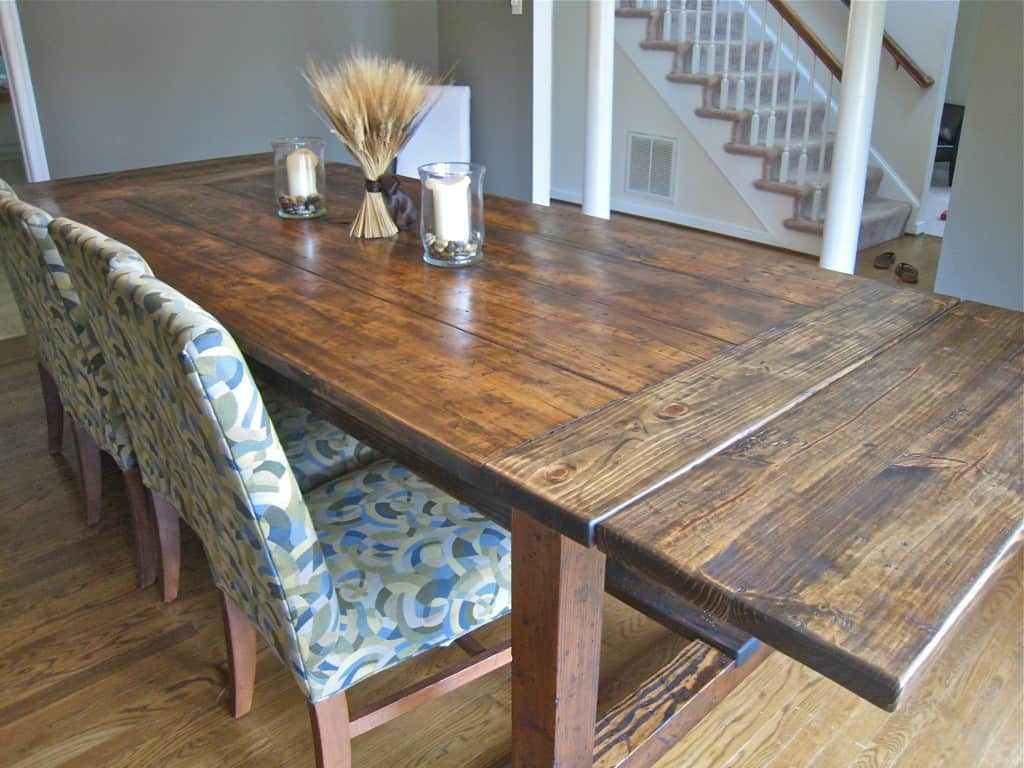 This kitchen table adds a hint of rustic style to the heart of the house in your living space. A rustic kitchen table can be a great addition to your home if you want to add a bit of country charm. It is also a great way to get the family together for morning coffee and conversation.
Accentuate the rustic style by applying the rust finishing touches to the table. This will give it a more antique look that will make it stand out in your kitchen.
8. Glass Kitchen Table
Source: icanhasgif.comThis type of table is perfect for modern homes as it provides a clean and simple look. Another great option is a glass kitchen table with a wood base. This style of table adds warmth to any room and can be dressed up or down depending on your needs.
If you have a tight space, then a round glass kitchen table is a great option. This type of table takes up less space and can easily be moved around if needed. If you want a more permanent solution, then consider an oval or rectangular glass table.
These tables are perfect for larger families or those who entertain often.
9. Round Kitchen Table Ideas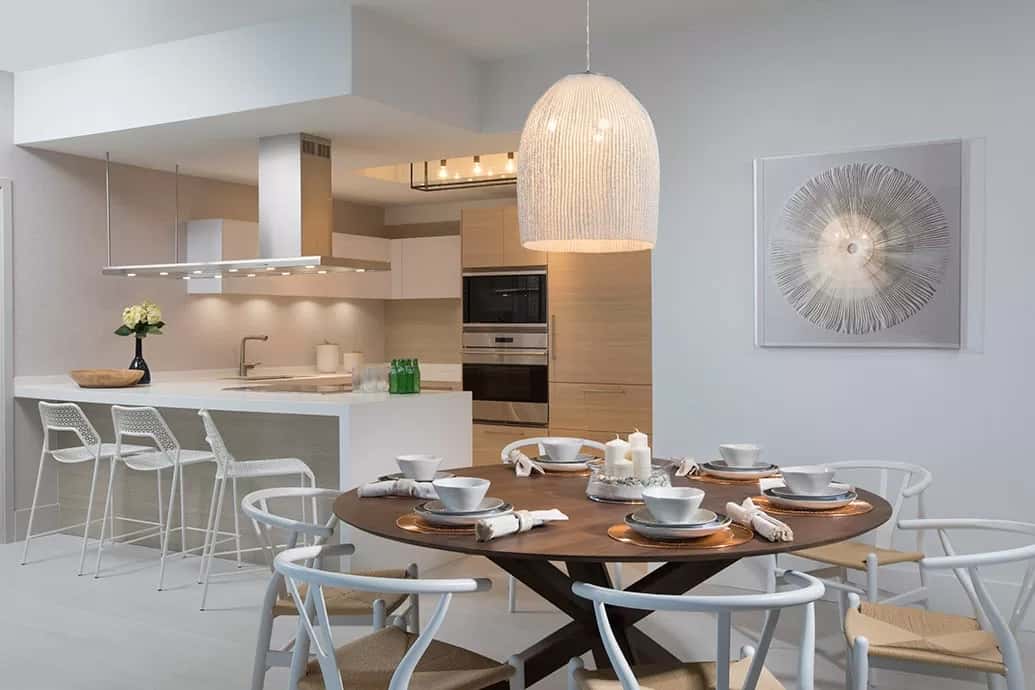 A modern kitchen is not complete without a round kitchen table. A round table is the perfect way to create a sophisticated and modern look in your kitchen. A round table can also be very versatile, as it can be used for both formal and informal occasions.
For a modern look, choose a table with a clean, simple design. If you want a more traditional look, choose a table with an ornate base or carved details.
10. Add Some Extra Storage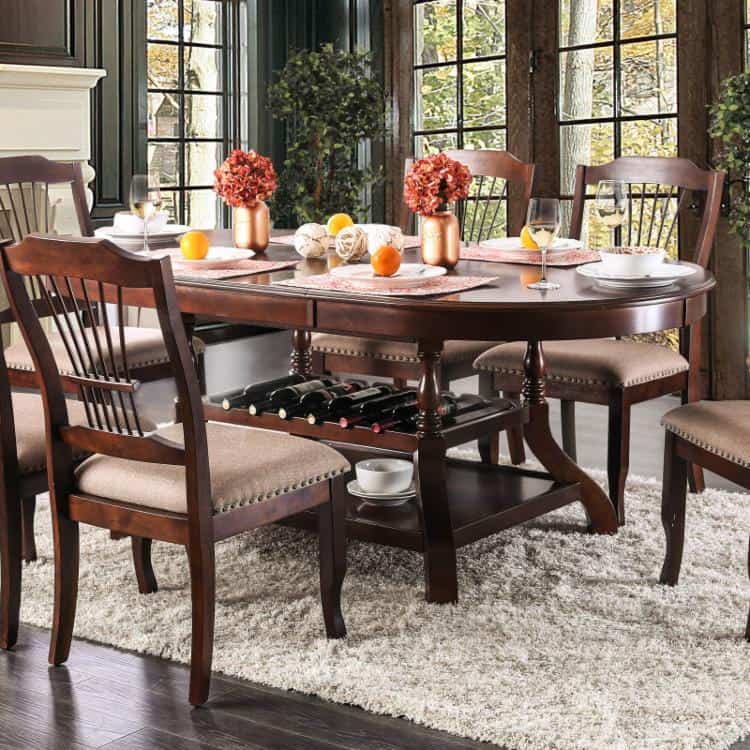 This can be especially helpful if your kitchen is small or if you have a lot of kitchen gadgets and appliances that you need to store.
A kitchen table with storage can help you keep your counters clear and your floors clean. If you entertain often, you may want to choose a larger table that can accommodate extra guests.
If you have a small family, however, you may prefer a smaller table that will be more intimate for everyday meals.
11. Kitchen Table for Small Spaces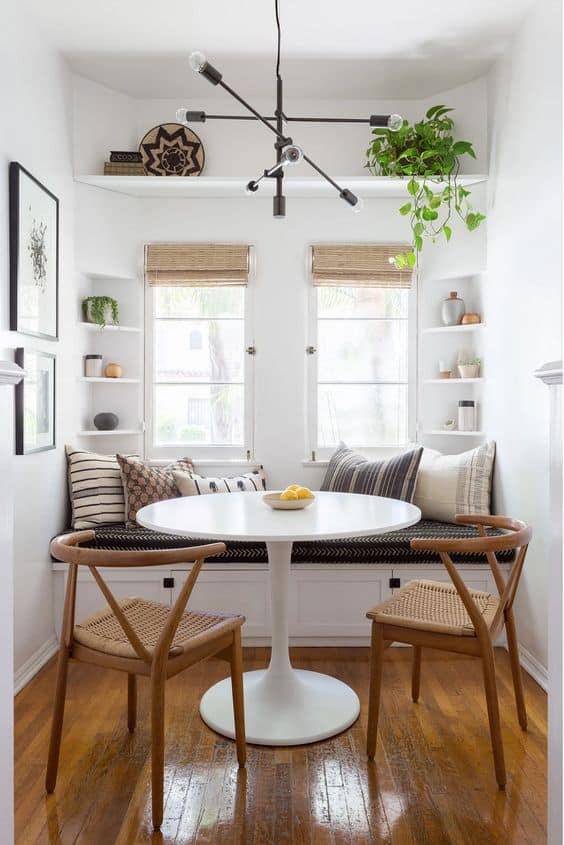 It is not a big matter if you have a small kitchen area. To complement the small space of your kitchen, you can use a breakfast nook in your kitchen. This will give you more space for a table and chairs without making your kitchen look too cluttered.
Whatever best kitchen table ideas for small spaces you choose, make sure it complements the overall design of your kitchen.
12. Make It Look Unique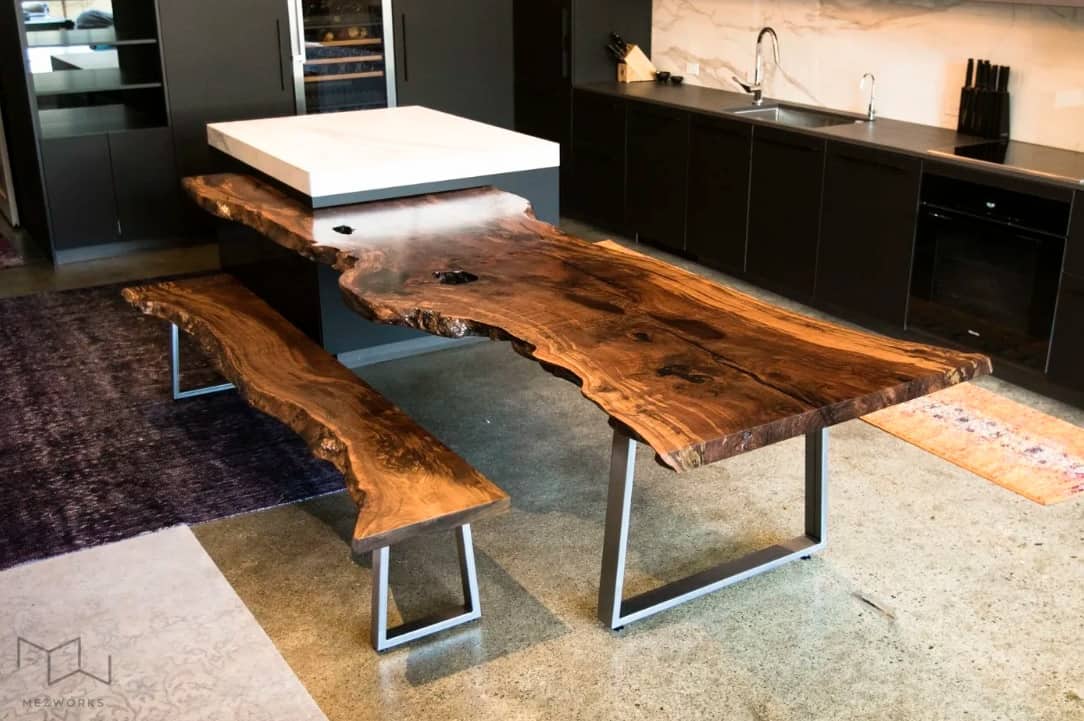 One unique option is a live edge table. These tables are made from wood that has been cut so that the natural edge of the wood is left exposed.
This gives the table a unique look that is both rustic and modern. Also, it will update the overall look of the kitchen and make a statement effortlessly.
13. Cool Dining Tables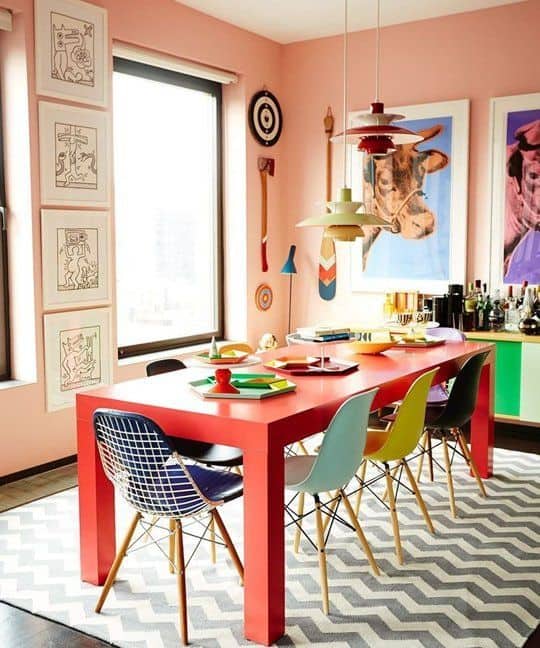 With a little creativity, your kitchen table can be much more than just a place to eat. This will be a cool focal point in your kitchen that everyone will love. Opt for the bright and bold schemer by painting the table and chairs in contrasting colors or by choosing a brightly colored tablecloth or runner.
Add some fun and personality to your kitchen with these cool kitchen table ideas.
14. Paint Kitchen Table Ideas
Add an eye-catching feature to your kitchen with a brightly colored table. A fun way to add personality to your space, painting your kitchen table is a project you can easily do yourself. For a fresh look, try painting the base of your table white and the top in a bright, cheery color.
This also will make the space feels bigger. If you want a more dramatic look, paint the entire table in a deep hue, like teal or navy. Add some patterned place mats and colorful napkins for an extra pop of personality.
15. Paint Black for a Bold Look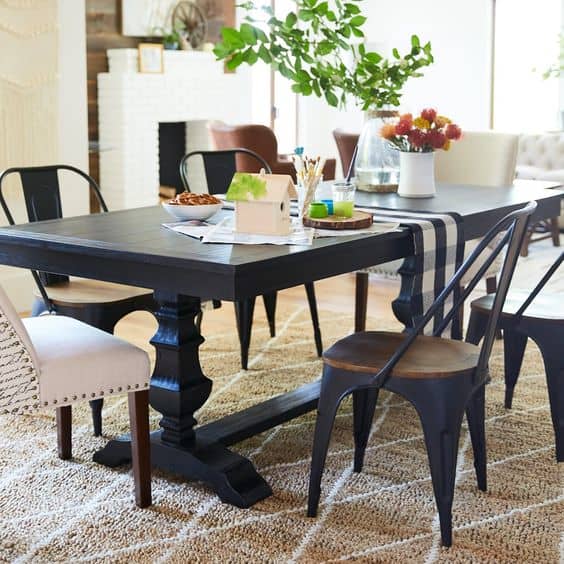 A cool and bold black kitchen table can really make a statement in your kitchen. Whether you're looking for a sleek and modern look, or something a bit more rustic, there's a black kitchen table out there to suit your style.
Plus, black is a classic color that will never go out of style. Black is also a very versatile color, so you can easily find accessories and decoration that will complement your black kitchen table.
16. Put It in the Corner of the Kitchen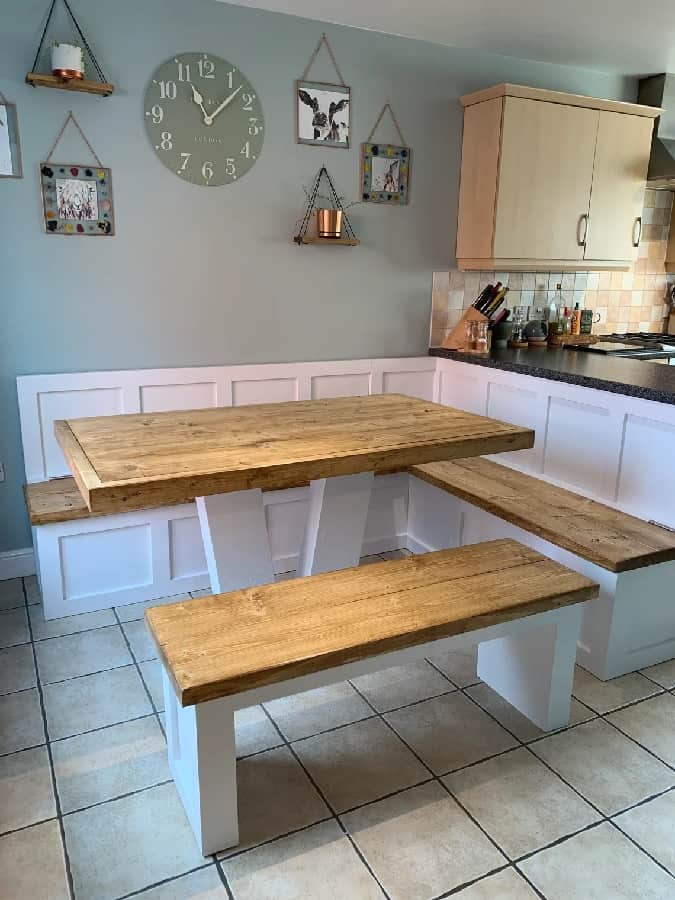 If you're short on space, a corner kitchen table is a great option. Not only will it fit neatly into the corner of your kitchen, but it will also provide an extra spot for dining or working.
To make the most of your corner kitchen table, consider adding a few stylish and functional accessories. A tablecloth or runner can help to dress up the space, while a set of coasters or placemats can help to protect your table from spills.
For extra storage, look for a table with built-in shelves or drawers. And for a touch of whimsy, consider adding a vase of fresh flowers or a scented candle.
17. Whitewash Kitchen Table Ideas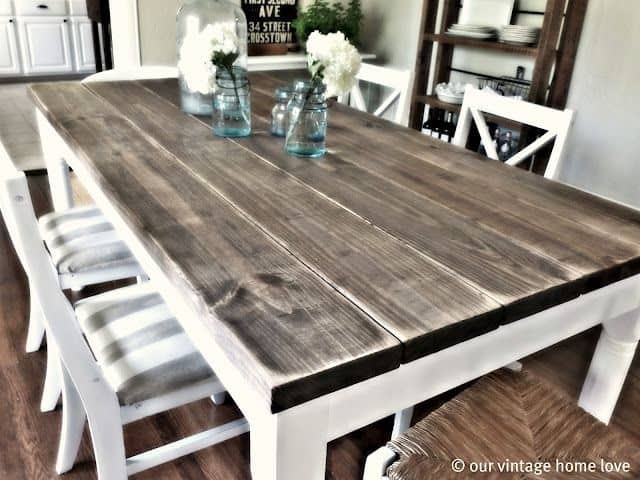 Whitewashing can brighten up a dark table or give a worn table a new lease on life. Plus, it's an easy project that even beginner DIYers can handle.
To whitewash a kitchen table, start by sanding down the surface to rough it up and help the paint adhere better. Then, apply a coat of white paint, using a bristle brush for best coverage. For a distressed look, you can stop here. But if you want a more finished look, apply a second coat of paint after the first one has dried. Once the table is dry, seal it with a layer of clear polyurethane to protect the finish. With these basic steps, you can easily transform your kitchen table into something new and fresh.
18. Big Kitchen Table Ideas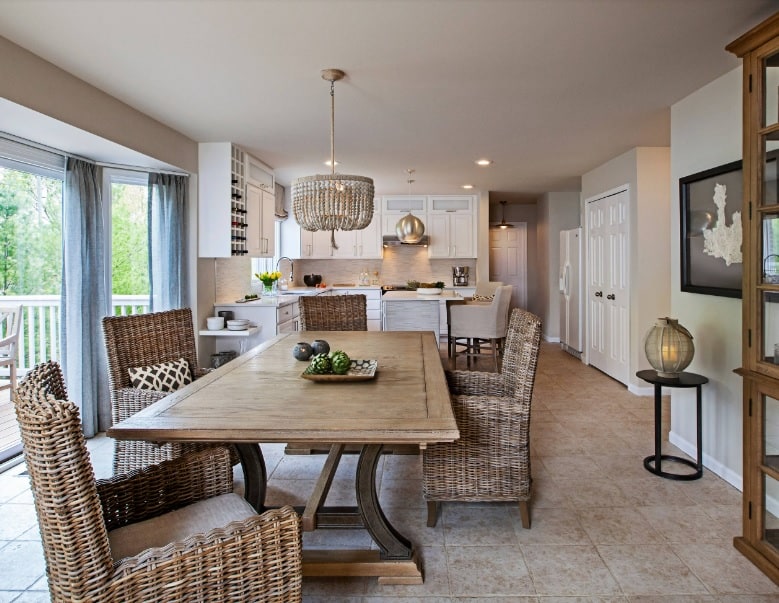 It is such a blessing to have a spacious kitchen table. You can cook dinner and do homework at the same time.
It can also accommodate all of your family and friends. This wooden material is also easy to clean. You can add a vase of flowers or a fruit basket in the middle of the table to make it more inviting.
19. Long Kitchen Table with Table Runners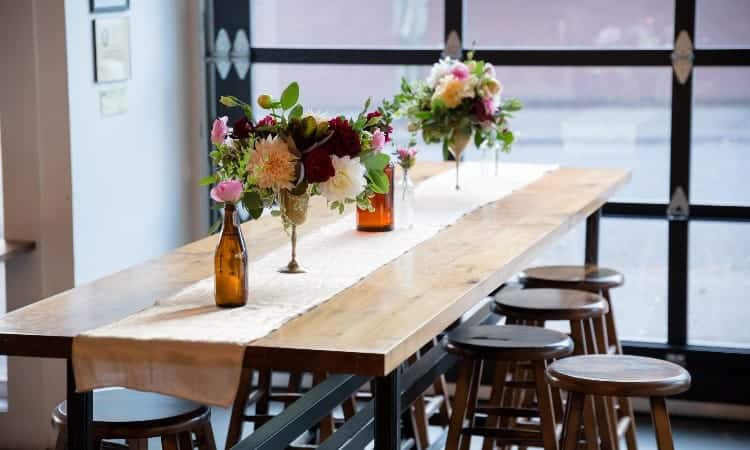 Long kitchen tables are great for families or anyone who likes to entertain, as they provide plenty of space for food and conversation. There are many different ways to style a long kitchen table, so it's easy to find one that fits your personal aesthetic.
One way to style a long kitchen table is with a runner down the center. This can add a pop of color or pattern to your space and is a great way to personalize your decor. You can also use runners as an opportunity to incorporate seasonal elements into your kitchen table design.
20. The Wooden Materials at its Best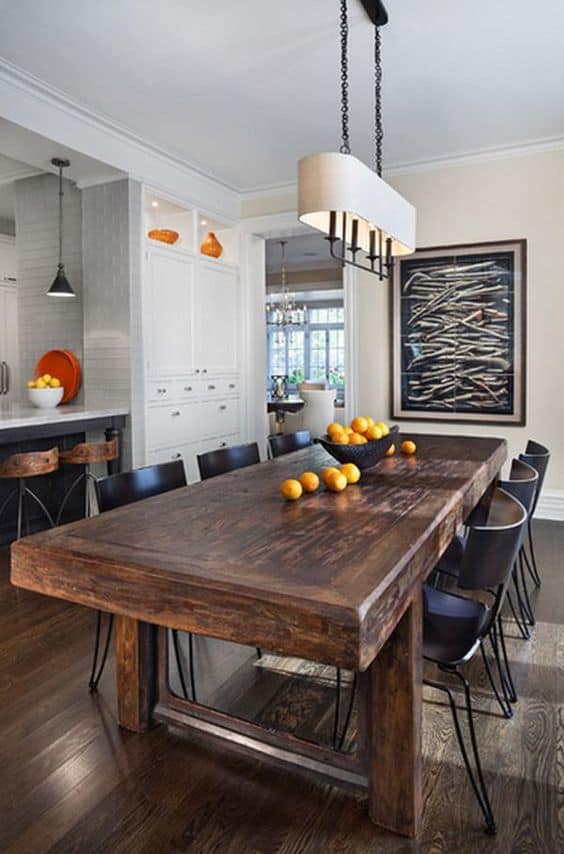 This type of table looks good in both traditional and contemporary settings, which will bring the warm and natural ambiance to your living space. The grain and texture of wood make the space look more inviting.
And you can always change up the look of a wooden table by refinishing it or painting it. If you want a more unique look, try using a live edge slab of wood for your tabletop.
21. Antique Style Dining Table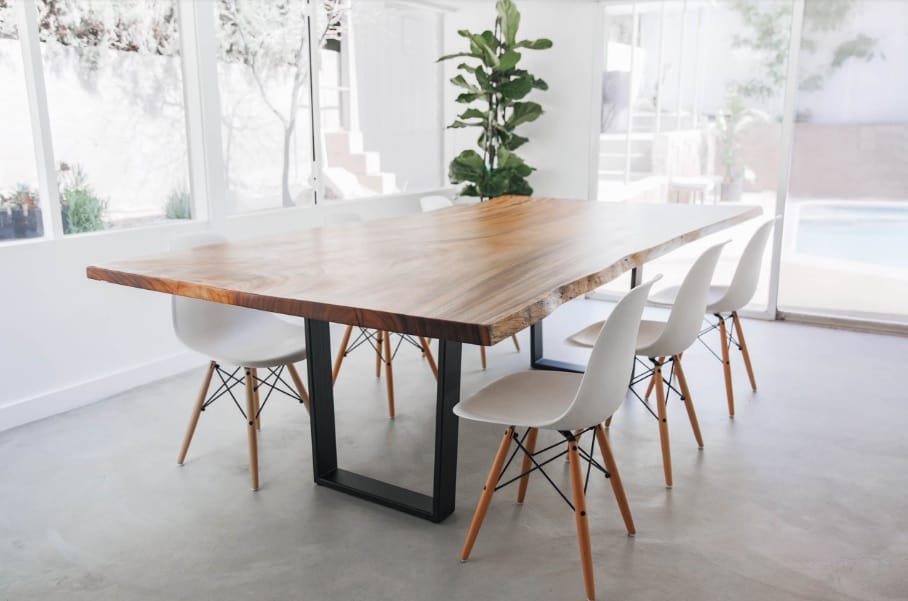 Bring in the antique hint to the kitchen with this wooden slab table with metal legs for an industrial touch. The best part about this design is that it can be done completely DIY. The metal frame makes the table look sturdy and durable in one. It is also easy to clean with the damp cloth.
You can use this table for both indoor and outdoor purposes. Also, this can be a perfect choice to infuse traditional, modern, or even industrial flair to your kitchen.
22. Minimalist Design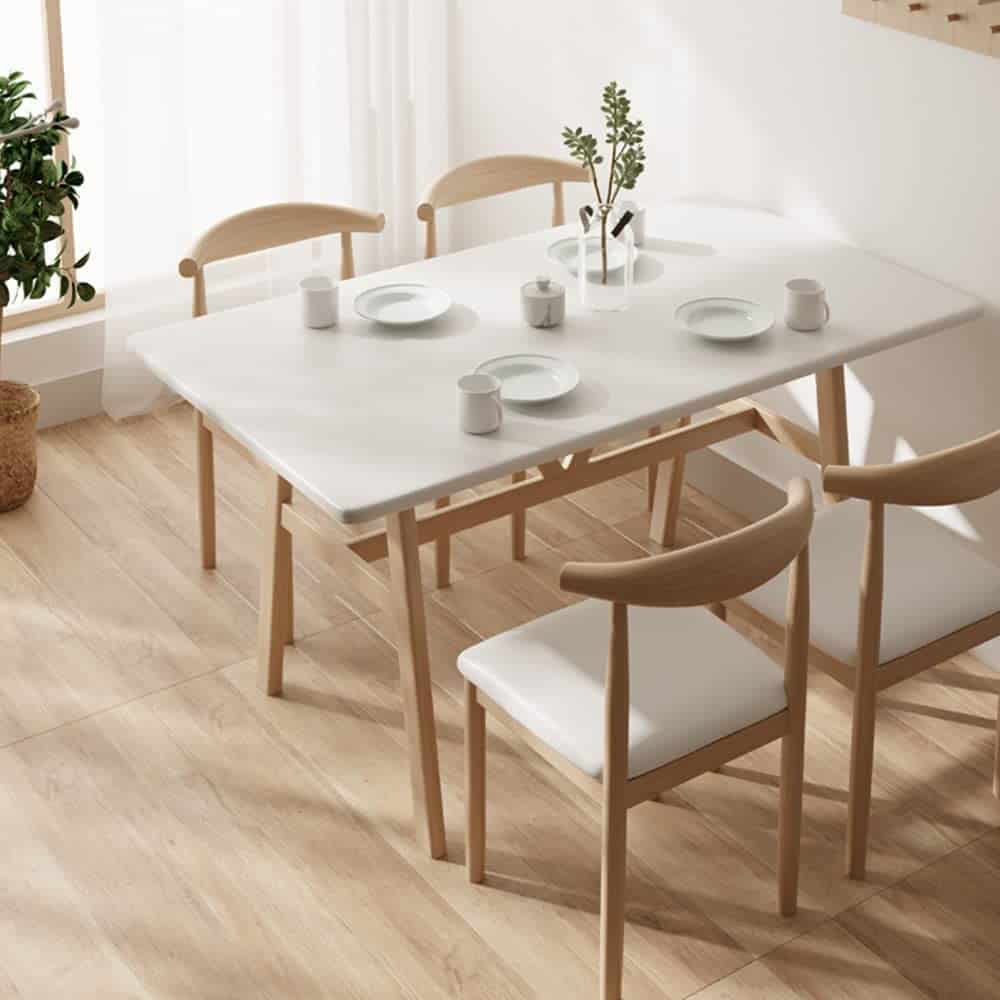 A minimalist table can help to create a sense of space and calm in your kitchen, as well as being incredibly stylish. The key to achieving the perfect minimalist look is to choose a few simple, elegant pieces that will work together harmoniously.
A glass or ceramic table top is a great choice for a minimalist kitchen table, as it will help to reflect light and make the space feel bigger. A minimalist kitchen table typically has a simple, rectangular shape with clean lines and a minimalist design. A minimalist kitchen table can also be used as a breakfast table or as a work surface in the kitchen.
23. Kitchen Table for Apartments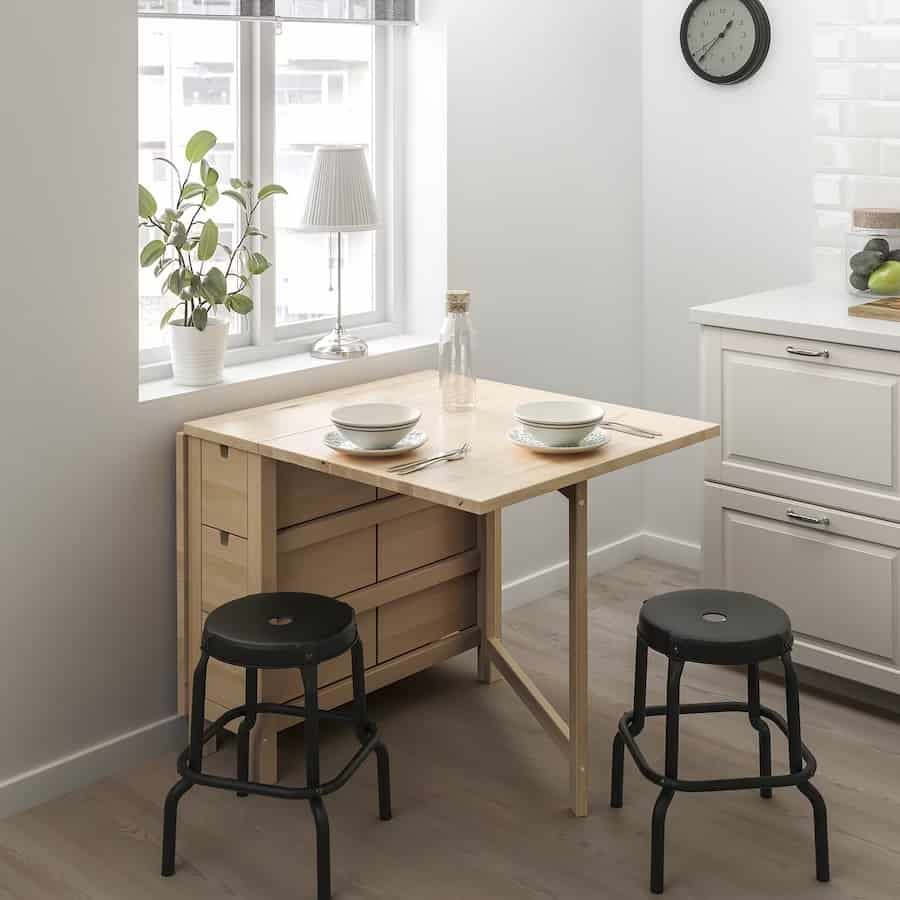 For small apartments, the best kitchen table ideas are ones that can serve multiple purposes. A drop-leaf table is a great option, as it can be easily stored against a wall when not in use. It will be the best option to deal with the limited area.
And if you need more table space, you can simply raise them up. Opt for the light color to complement the kitchen that will make the space feels way bigger than the actual size.
24. White Colors for Airy Vibe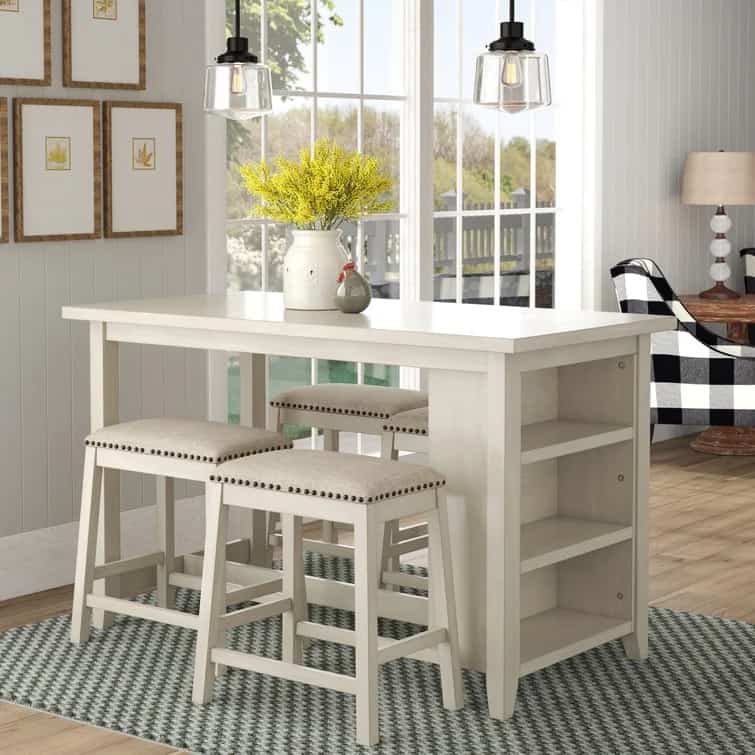 White tables are clean and fresh, and they make a big impact in a small dining space. Another great thing about white tables is that they go with just about any color scheme. So, if you ever decide to change up your kitchen's look, you won't have to get rid of your table.
You can also find white tables in a variety of styles. Whether you're looking for a sleek and modern look or something more cozy and farmhouse-inspired, there's a white kitchen table idea out there for you.
25. Make It Simple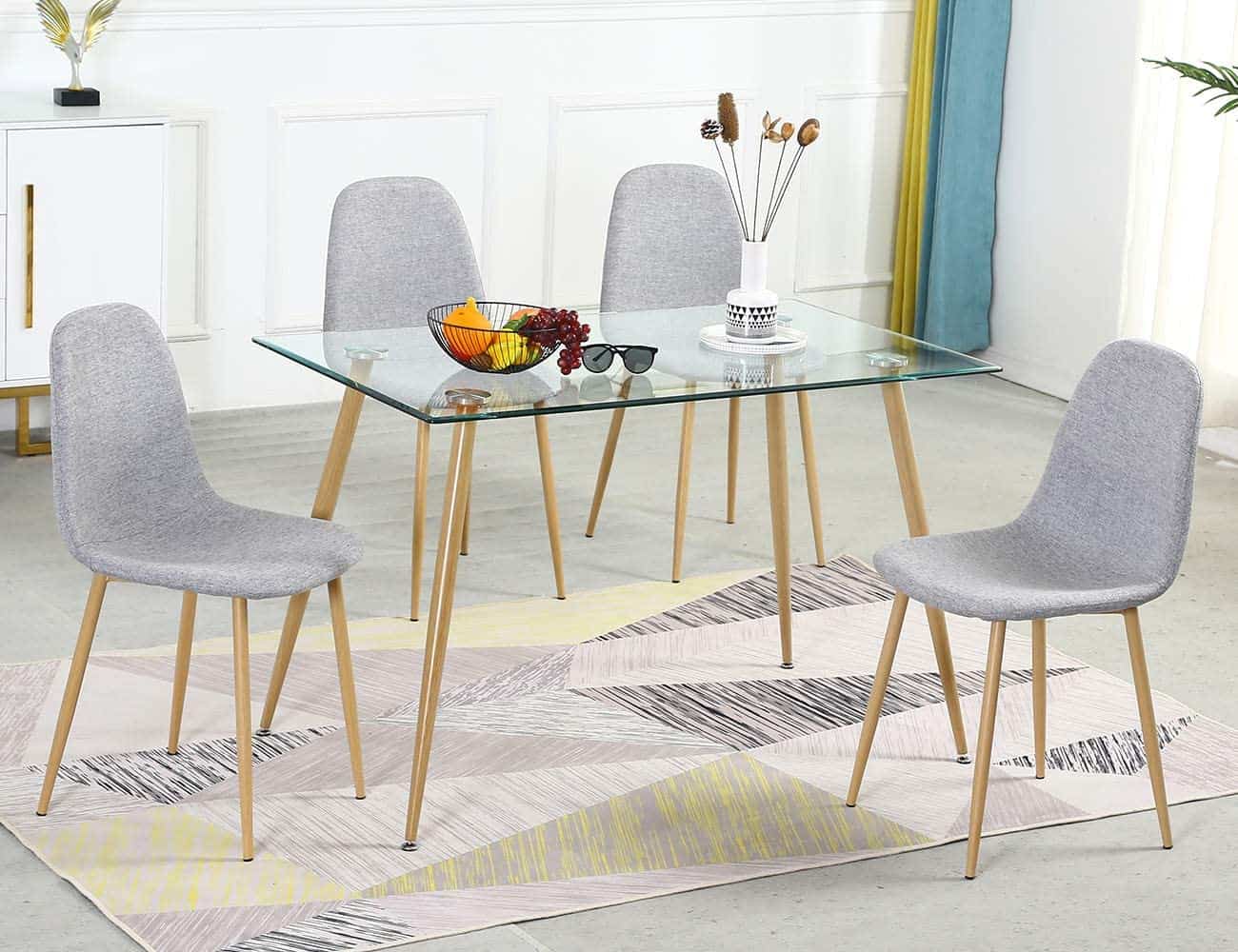 This simple design can be the best option that can be chosen for your kitchen table. It has a classic and timeless look that will surely never go out of style. This design can be easily matched with any type of kitchen decoration.
Moreover, it is also very easy to clean and maintain. The wood material used for this table is also very strong and durable.
It would be perfect with the glass top. This design can give a very modern and sleek look to your kitchen. It is also very easy to clean and maintain. The only downside of this design is that it can be easily scratched or chipped.
26. The Elegant of Scandinavian Look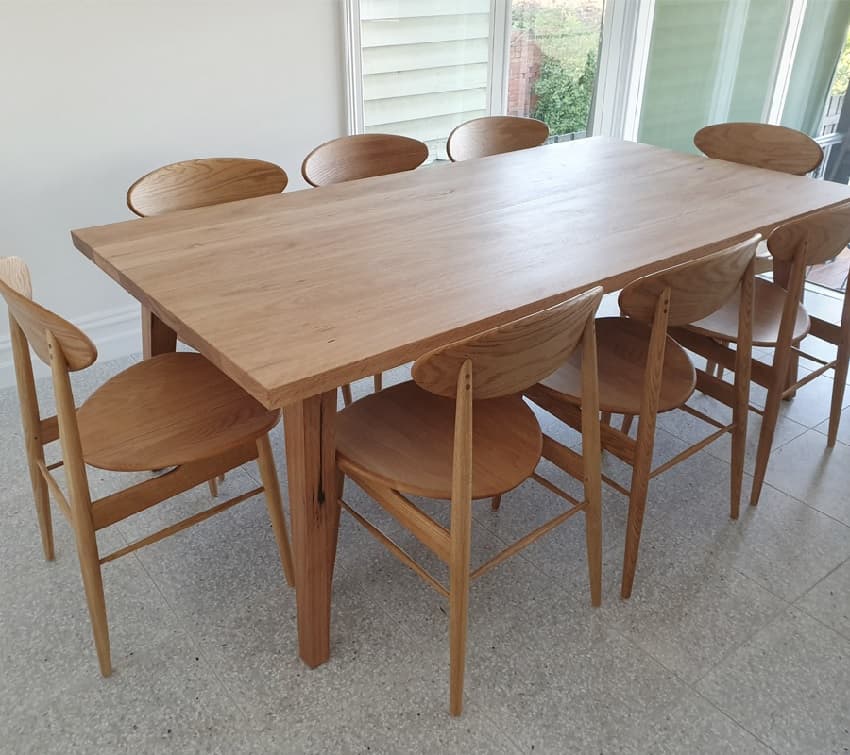 Scandinavian kitchen tables are typically made of wood or laminate, with clean lines and a simple aesthetic. This minimalist approach results in beautiful, elegant pieces that are both functional and stylish.
They're perfect for small spaces, as they don't take up a lot of visual space. And, because they're so versatile, they can easily be dressed up or down to suit your needs. You can choose the rectangular design or round table as you desire.
27. Vintage Kitchen Table Ideas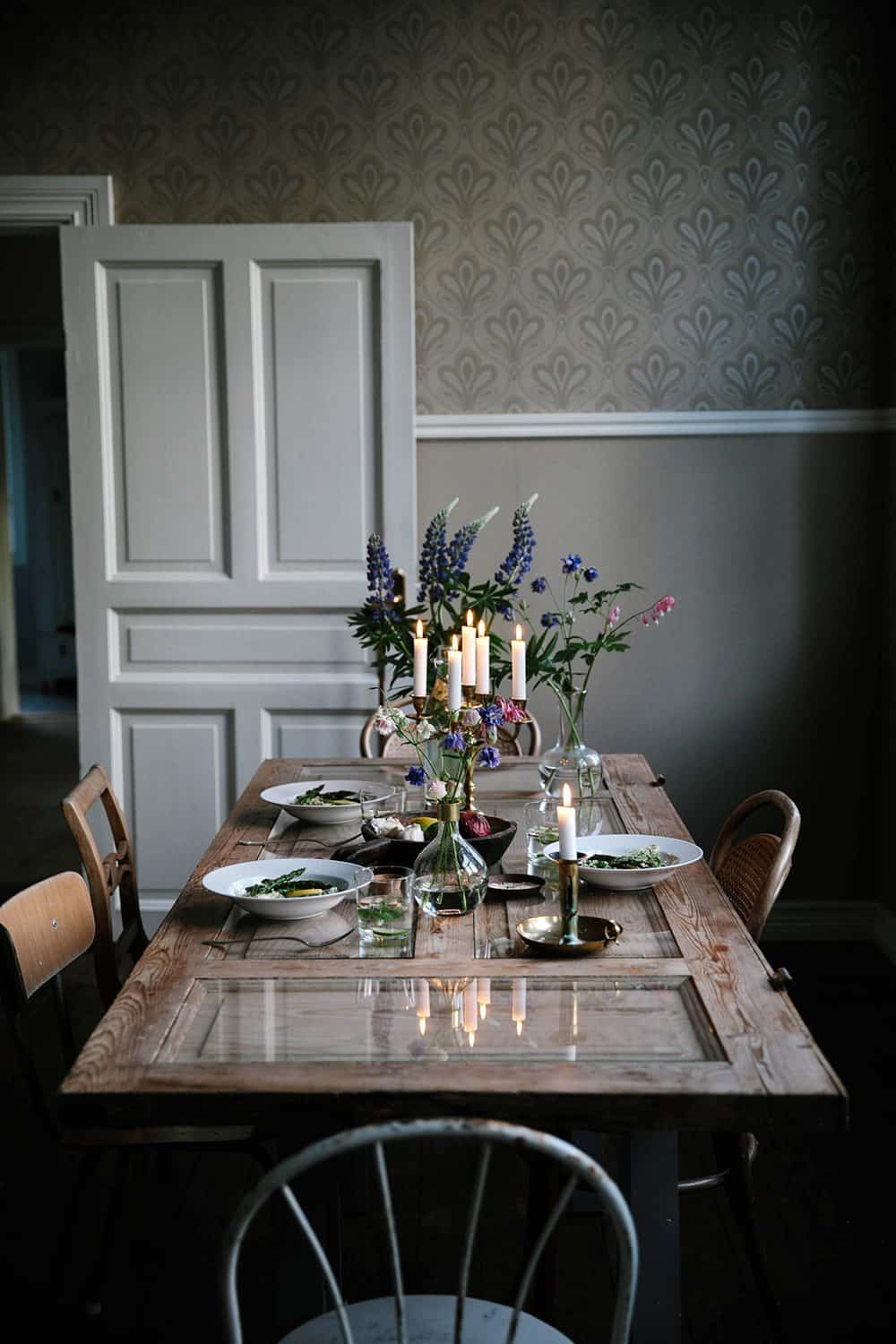 Transform the old door in your house into a pretty vintage kitchen table, which will be a functional focal point in your kitchen.
And if you are handy with a saw, you can easily create this vintage-inspired look yourself with the following materials:
An old door
Table saw
Chalkboard paint
Sandpaper
Stain or paint of your choice
Polyurethane
28. Contemporary Design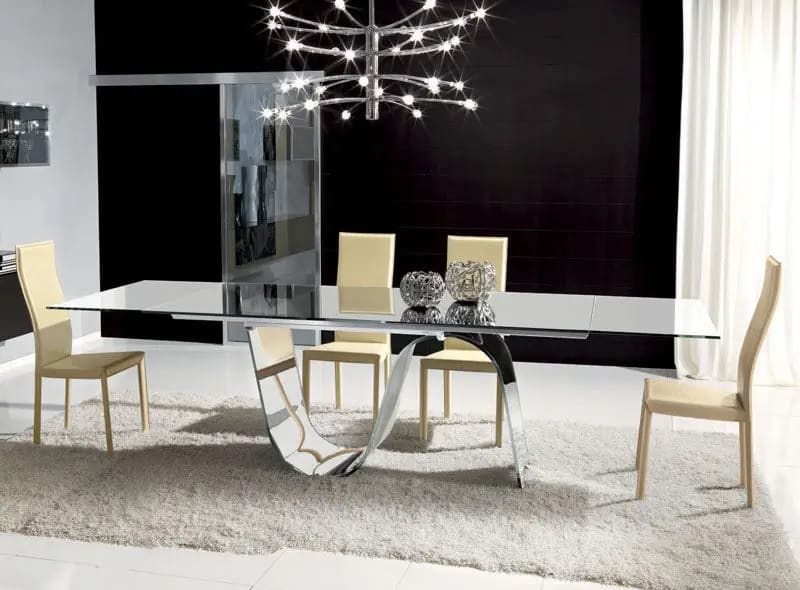 For a sleek and stylish look, try a glass kitchen table. Glass tables have a minimalistic feel that can help to make a small kitchen look bigger. They're also easy to clean and maintain, which is ideal for busy families.
If you're worried about durability, choose a tempered glass table top, which is less likely to shatter if dropped. This can be the best option to bring in the contemporary hint to your kitchen as well.
29. Add Some Chairs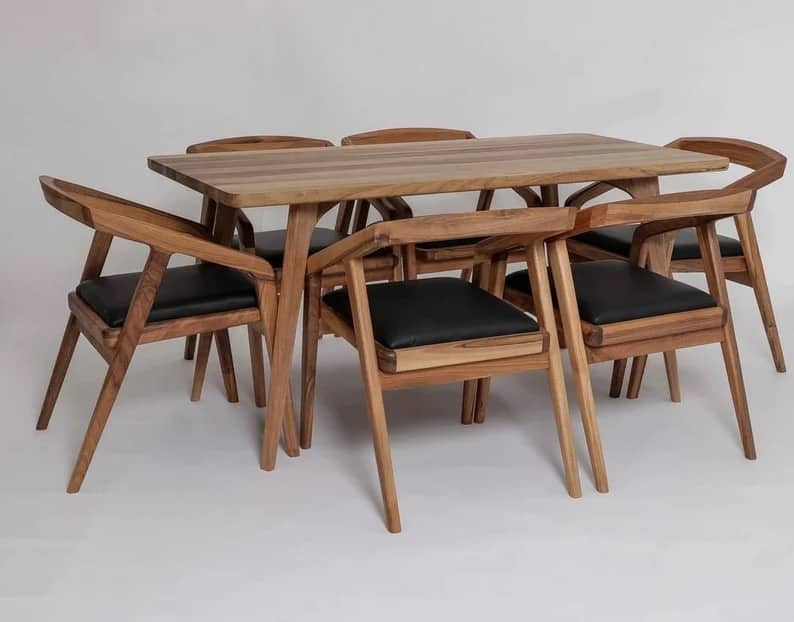 The clean lines and simple design of mid century furniture is perfect for creating a stylish, minimalist kitchen. A mid century modern kitchen table can be paired with matching chairs to create a cohesive look, or can be used as a standalone piece to add a touch of mid century style to your kitchen.
If you're looking for something a little different, consider a mid century modern kitchen table with an eclectic twist. Pairing a mid century table with dining chairs in bright colors or patterns can add a fun and funky element to your kitchen.
30. Pedestal Table For Spacious Area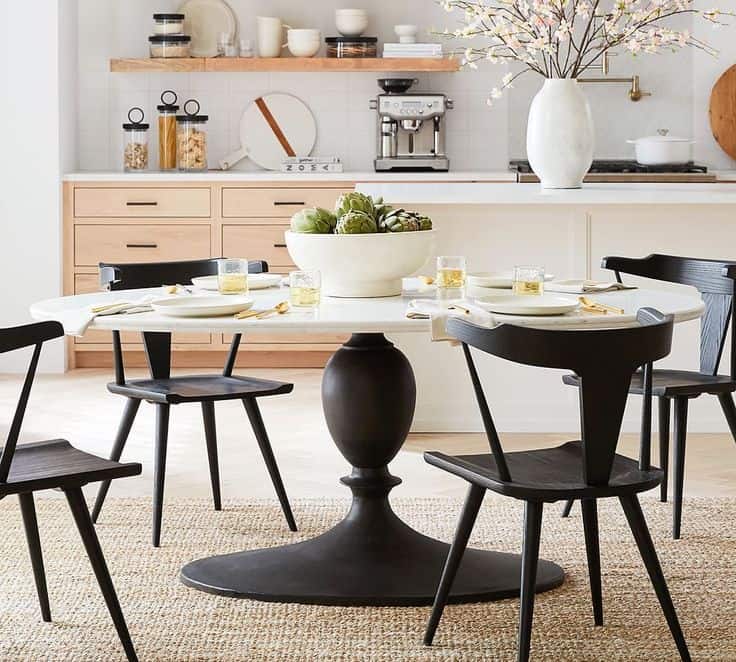 When you need a spacious look in your kitchen, this kind table must be on your list of consideration. The pedestal kitchen table is both elegant and practical choice for any home.
With its simple yet elegant design, it can easily fit into any kitchen style. Plus, the round shape makes it perfect for small spaces or for creating an intimate dining experience to share meals, where friends laugh and catch up over coffee, and where kids do their homework.
So, what are you waiting for? Pick your favorite kitchen table idea and start planning your perfect dining experience today. Whether you're looking for a traditional design or something more unique, we have plenty of ideas to get you started.