The guest bathroom is one of the most important spaces in the house. It's the room that your guests will use to get ready for a night out on the town or to take a relaxing bath after a long day. When you have guests over, you want them to feel comfortable and at ease. A well-stocked guest bathroom can help make your guests feel right at home.
It's important to create a welcoming and relaxing space in your guest room. A warm and inviting guest room will make your guests feel right at home. By taking some time to create a comfortable space for your guests, you're sure to make their stay a pleasant one. In this blog post, we will share some guest bathroom ideas that will help you do just that.
1. Use Light Colors to Make it Feel Larger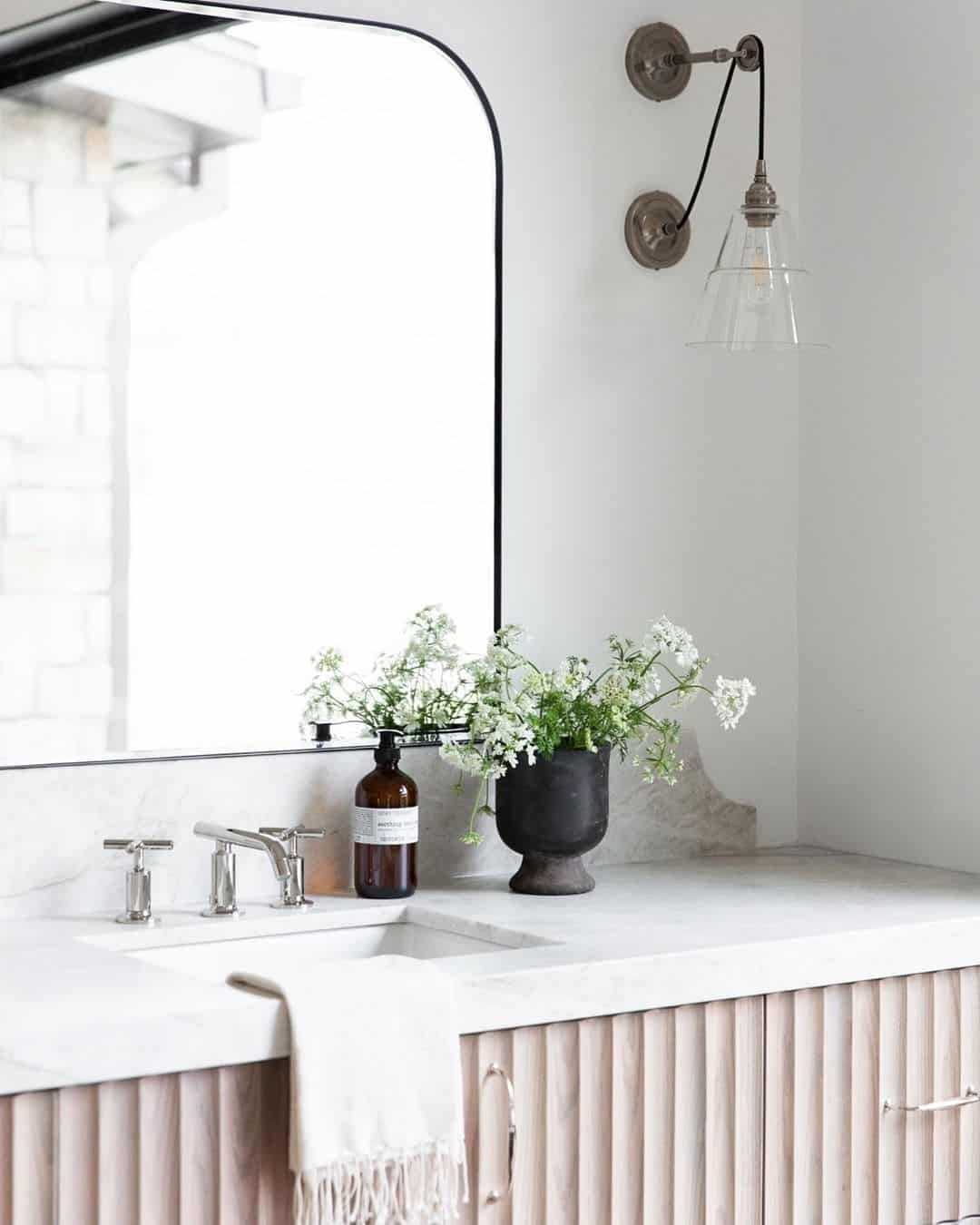 When it comes to small bathrooms, light colors are your best friend. By painting the walls a pale color and using light-colored towels and linens, you can help make the space feel larger and more open. Another tip is to keep the counters clear of clutter.
This will help create the illusion of more space and make it easier for your guests to use the bathroom without feeling cramped. Finally, be sure to have plenty of lighting. A well-lit room always feels larger than a dark one, so consider adding a skylight or extra fixtures to really brighten things up.
2. Install a Pedestal Sink to Save Space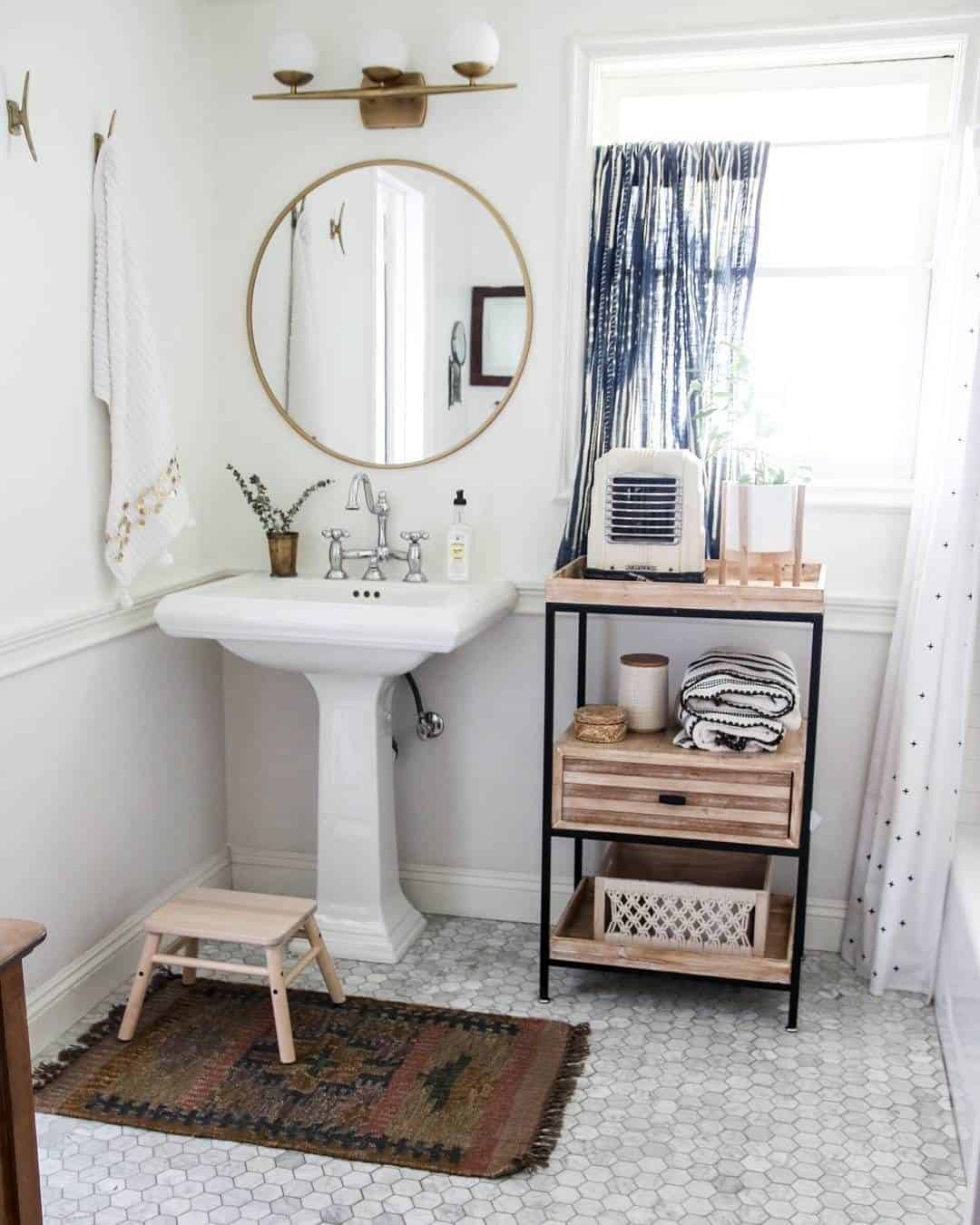 This can help to save space in a small bathroom, as there is no need for a cabinet or shelf to support the sink. Pedestal sinks also have a classic look that can complement any bathroom decor.
Another benefit of pedestal sinks is that they're easy to clean; since there's no area around the sink where dirt and dust can collect, you won't have to spend as much time scrubbing.
3. Choose a sleek and simple vanity for a modern look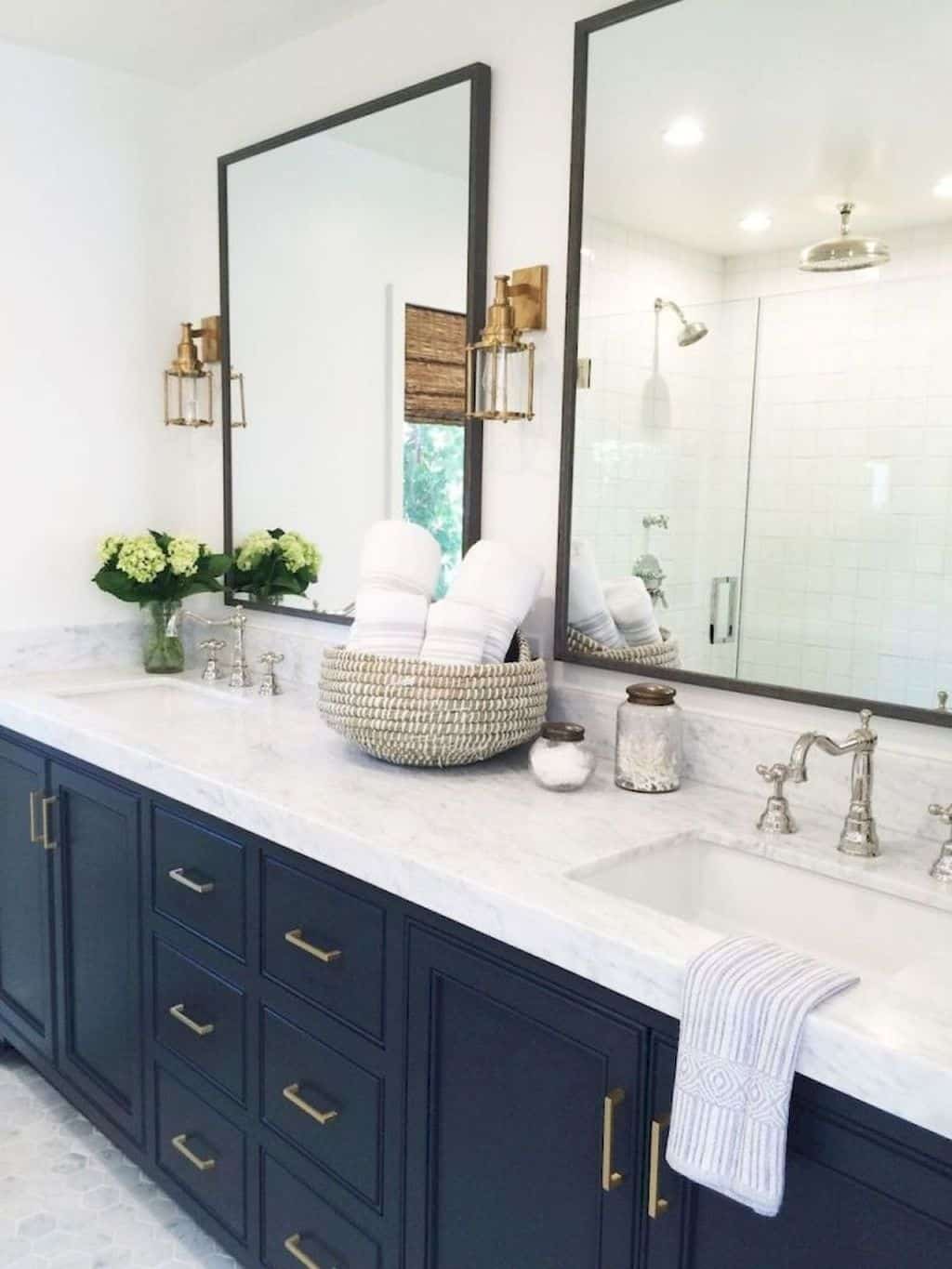 One of the most important elements in any bathroom is the vanity. Pick a sleek and simple design for a modern look. If you want something a little more traditional, go for a piece with intricate details and hardware. You can also add a bit of extra storage, like drawers or shelves. Don't forget to add some personal touches, like a vase of fresh flowers or a pretty soap dispenser.
4. Opt for a Glass Doors Instead of a Shower Curtain for More Space
This can be a good option if you want to bring in the modern and cool hint to the bathroom. Glass shower doors give the illusion of more space, which is always a plus in small bathrooms. They also look much more classy and elegant than shower curtain. They're easier to keep clean since there's no fabric that can mildew or mold. If you're worried about privacy, then frosted glass or even patterned glass are good options that still allow natural light into the bathroom.
5. Hang a Large Mirror on the Wall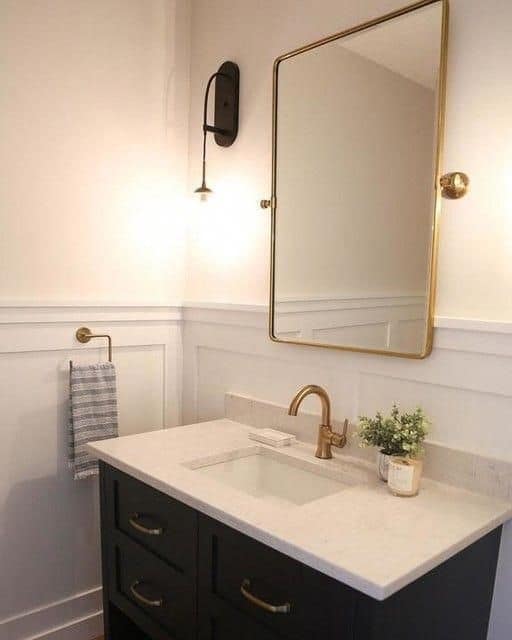 One simple but effective way to spruce up your guest bathroom is to hang a large mirror on the wall. Mirrors reflect light, making the room seem brighter and more spacious than it actually is, which can give it a modern and classy feel. Other than that, they add a touch of class and sophistication effortlessly and affordably at the same time. If you want to give your guest bathroom a modern twist, try hanging a cool, funky mirror.
6. Add Some Plush Towels and a Soft Rug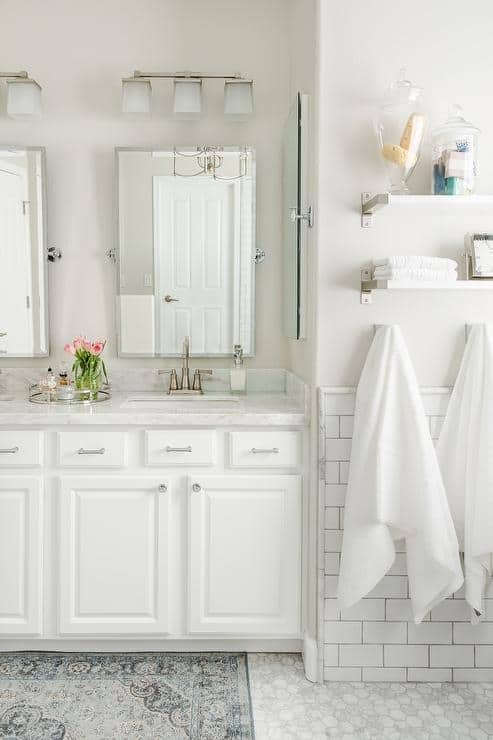 Plush towels are much more absorbent than regular towels, so your guests will be able to dry off quickly and easily. A soft rug will provide a comfortable place for them to put their feet while they're getting ready. Plus, it will help to keep the floor clean and dry. This can be a smart option to take your guest bathroom to the next level. Consider adding a few extra touches like scented candles or a basket of travel-sized toiletries.
7. Use Scented Candles to Create a Relaxing Atmosphere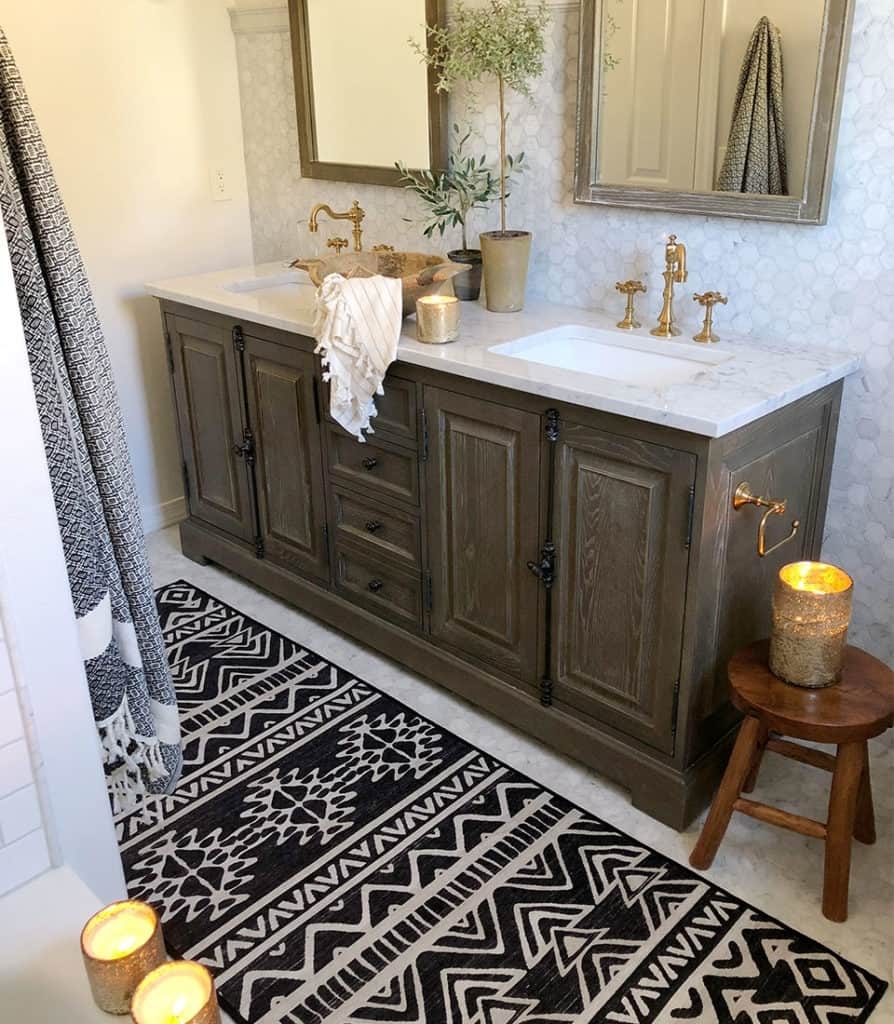 Creating a sense of calm in your guest bathroom can be simple and inexpensive. One of the best options to do this is to use scented candles or diffusers. Lavender is a classic choice for relaxation, but you can also experiment with other calming scents, like chamomile or eucalyptus.
You can even take advantage of seasonal scents like peppermint or pumpkin spice. In addition to smelling great, candles and diffusers can also help to create a warm and inviting ambiance. Be sure to place them out of the way of any potential hazards, such as near the tub or sink, and never leave them unattended.
8. Industrial Guests Bathroom Design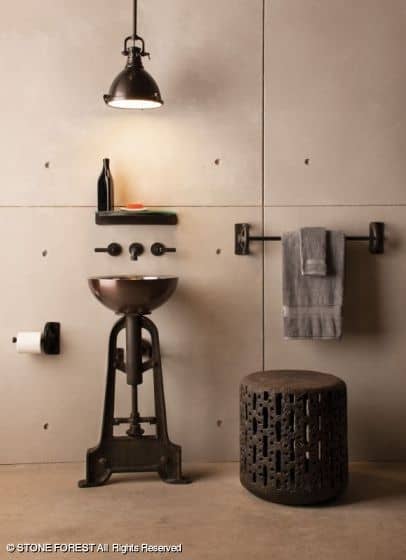 The key element of industrial design is raw materials and metal. This gives the room a feeling of being unfinished and incomplete. The space feels like it is constantly evolving, which is what makes industrial design so unique.
One way to add an industrial touch to your guest bathroom is by incorporating exposed pipes into the design. This can be done by installing exposed pipe shelving or by displaying pipes on the walls as artwork. Another way to add an industrial flair is by using metals such as brass or copper for fixtures and hardware.
9. Rustic Style for a Warm and Natural Atmosphere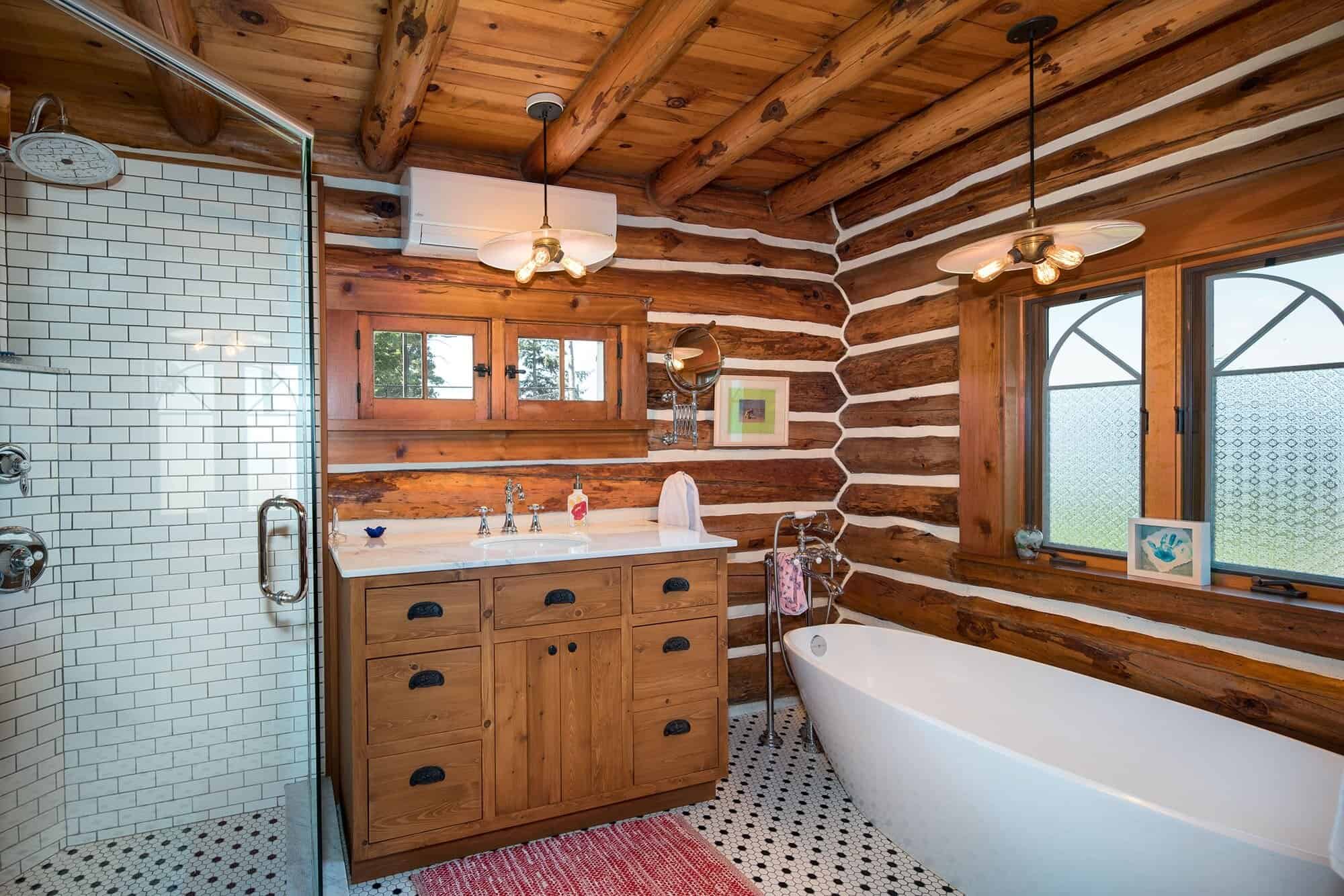 This can help you create a warm and inviting space for your guests. It should have a relaxed and comfortable feeling, while still being stylish and functional. To achieve this look is to use natural materials like stone and wood. Exposed beams, natural stone floors, and reclaimed wood vanities all add to the rustic feel. Another key element of rustic guest bathroom design is lighting.
Use soft, diffused lighting to create a relaxing ambiance. Candles, string lights, or wall sconces are all great options. Finally, don't forget the details! Add some finishing touches like fresh flowers, cozy towels, and scented soaps to make your guests feel right at home.
10. Guest Bathroom Ideas on a Budget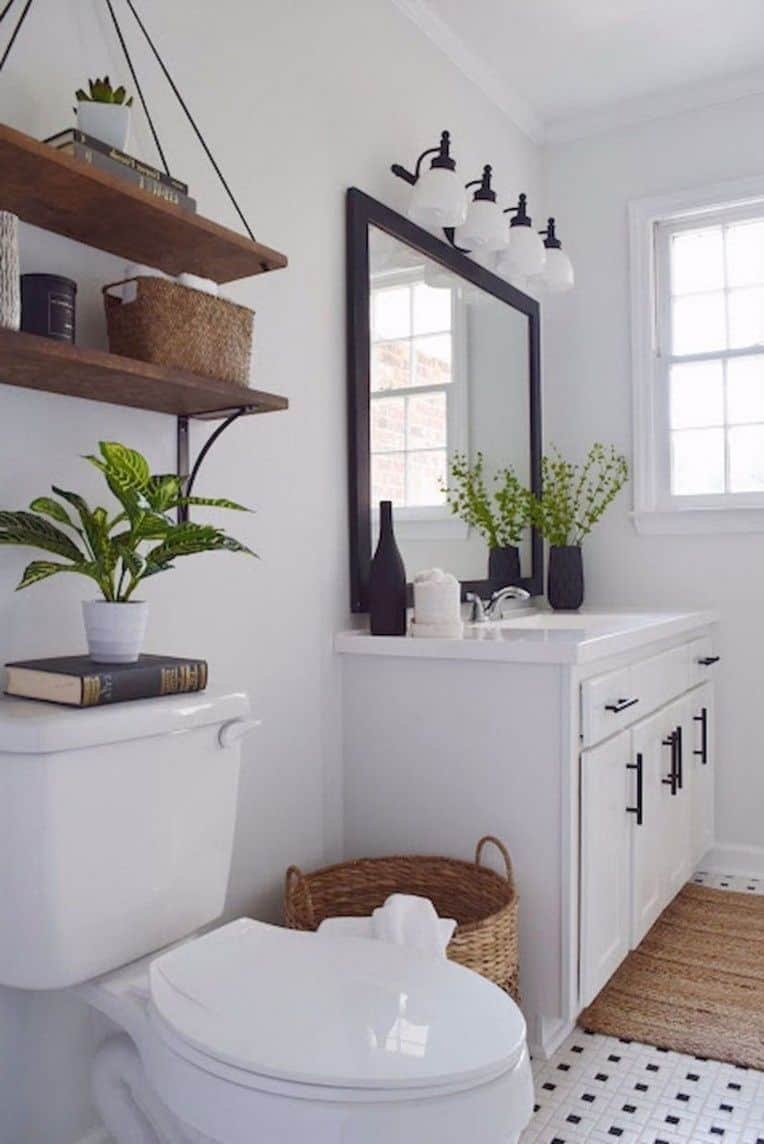 A simple way to renovate the guest bathroom when you are on a budget, you can add some greenery. A small potted plant or even a bouquet can really brighten up a space. On the other side, you can also add some decorative pieces. And don't forget the basics: be sure to provide plenty of clean, fluffy towels and make sure the room is well-lit so your guests can get ready without feeling cramped.
11. Maximize the Large Space
If you have a large family, you'll need to make sure there's enough space for everyone to comfortably move around. You can simply choose a layout that maximizes space. Consider a floor plan that includes a separate area for the toilet and sink.
This way, multiple people can use the bathroom at the same time without getting in each other's way. Another thing to keep in mind is storage. After all, your guests will need somewhere to put their toiletries and towels. Including plenty of storage options, such as shelves and cabinets, will help to keep the bathroom organized and clutter-free.
12. Keep Everything Stay in Place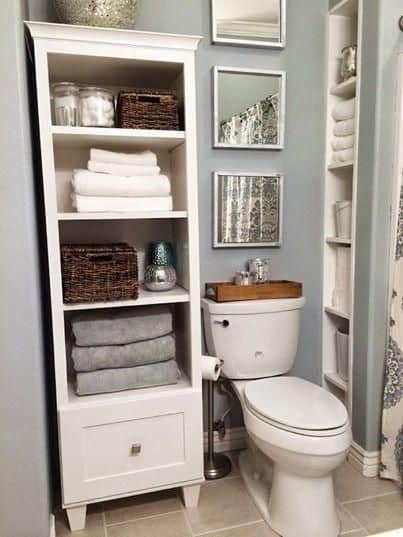 Consider investing in a few key storage solutions. A small cabinet or shelf can help to clear away clutter, while still providing guests with access to the essentials like toiletries and extra towels. Another simple way to keep the guest bathroom organized is to designate a specific spot for used towels and linens. A hamper or basket placed discreetly in the corner can help to whisk away any dirty laundry without creating an eyesore.
13. Please Your Guests with a View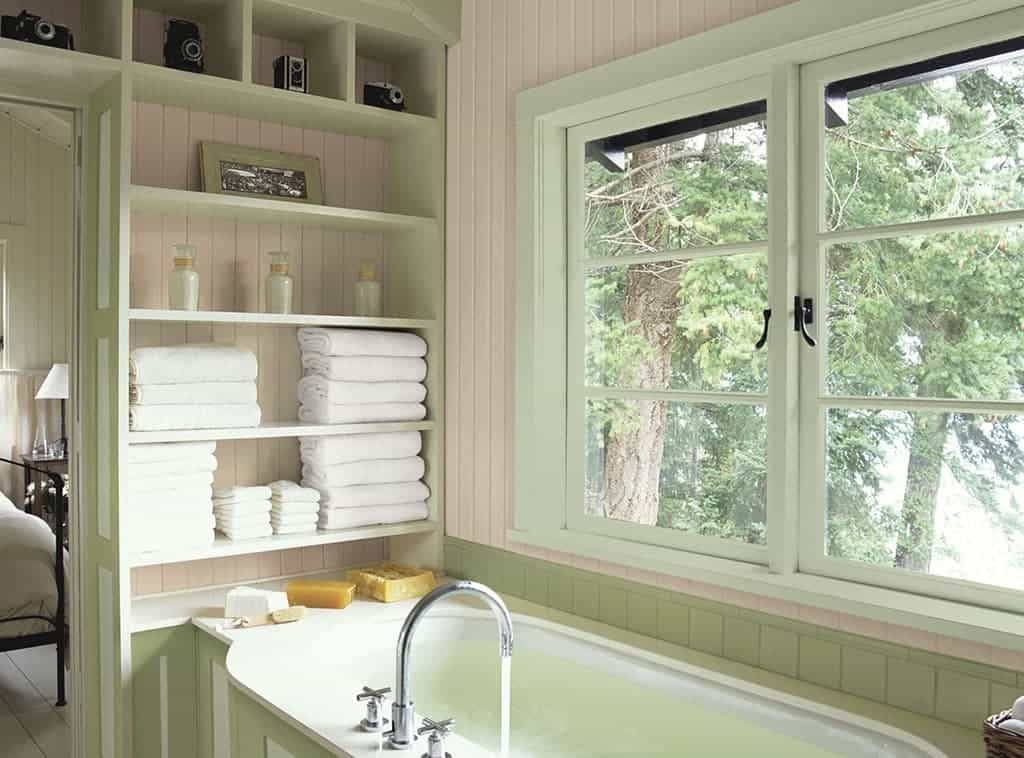 If you're lucky enough to have a guest bathroom with a view, make the most of it! Here are some ideas for how to turn your guest bathroom into a luxurious retreat:
Install a large window in the bathroom, or open up an existing window to let in natural light and fresh air. Add a beautiful piece of art or a stunning piece of wallpaper to one wall. Choose plush towels and bath mats in soothing colors, and set out quaint little soap and lotions for your guests to use. Place a vase of fresh flowers on the countertop or windowsill.
14. Guest Bathroom Ideas with Shower Only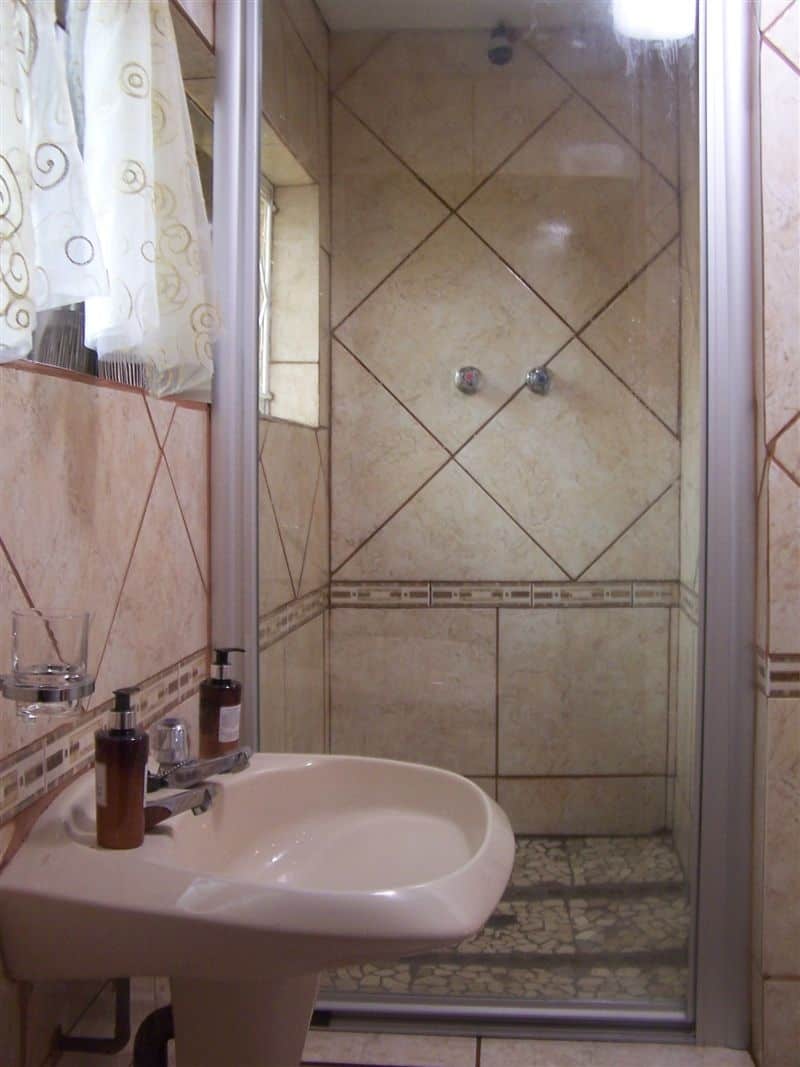 A shower-only guest bathroom is a great option for those who want to keep things simple. Besides, it is easy to clean and maintain, but it also allows your guests to have their own space when they need it. Plus, there are plenty of stylish shower-only guest bathroom ideas out there to choose from.
15. Guest Bathroom Ideas with Tub Only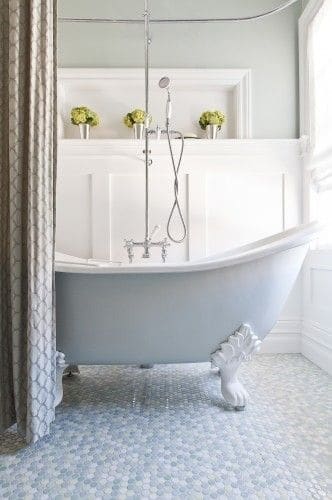 One way to achieve this is by incorporating a clawfoot tub. Clawfoot tubs have a timeless elegance that is sure to impress your guests, and they can also be surprisingly affordable. Plus, they don't require any extra plumbing, making them perfect for small bathrooms. You can consider painting the bathroom with the soothing color scheme and aesthetically pleasing at the same time.
16. Decorate it as You Wish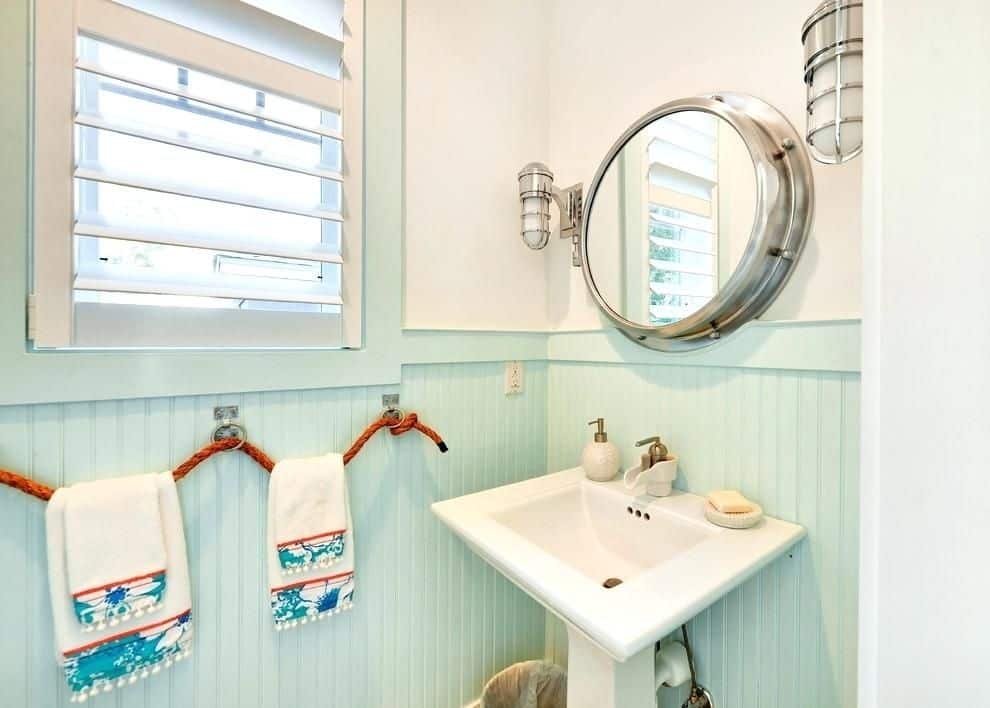 Guest bathrooms are also a great opportunity to incorporate personal touches. For instance, you might choose a color scheme that reflects your favorite season or add a special touch with a family photo. No one wants to use a bathroom that feels dirty or cluttered. In addition, include plenty of fresh towels and toiletries.
17. Keep it Simple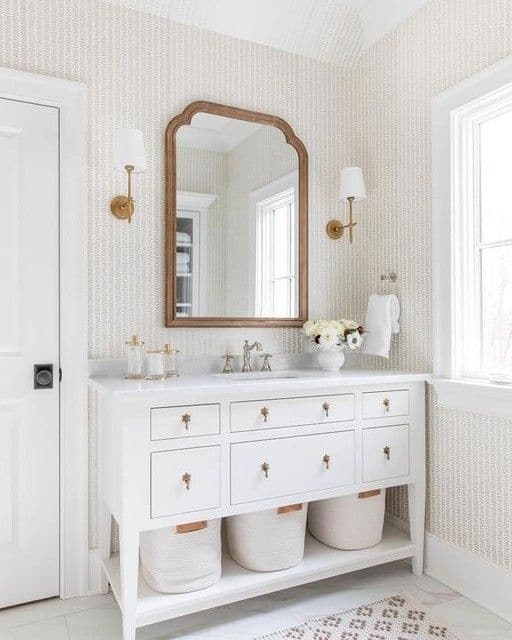 There is nothing much you need to do to make the guest bathroom look adorable effortlessly. The simple style can be done by adding some guest bathroom ideas that will make your guest feel at home. You can start with the basic guest bathroom needs such as a toilet, a sink, and some towel racks. Then you can add some personal touches to make it more inviting, such as adding some scented candles or a vase of fresh flowers. You can also add some artsy things like a basket of toiletries for your guests.
18. The Two in One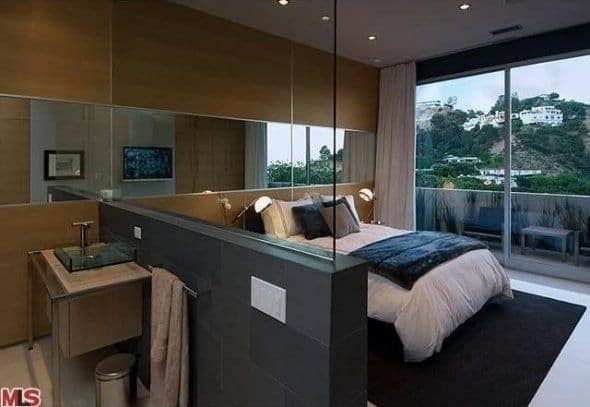 Not only does it provide privacy for your guests, but it also allows them to have their own space to relax in. When planning a guest bedroom and bathroom combo, there are a few things to keep in mind.
First, you'll want to make sure that the space is large enough to comfortably accommodate both a bed and a bathroom. You'll also want to choose furniture and decor that complement each other. Finally, consider adding some personal touches, such as photos or mementos, to make the space truly feel like home.
19. Guest Bathroom Storage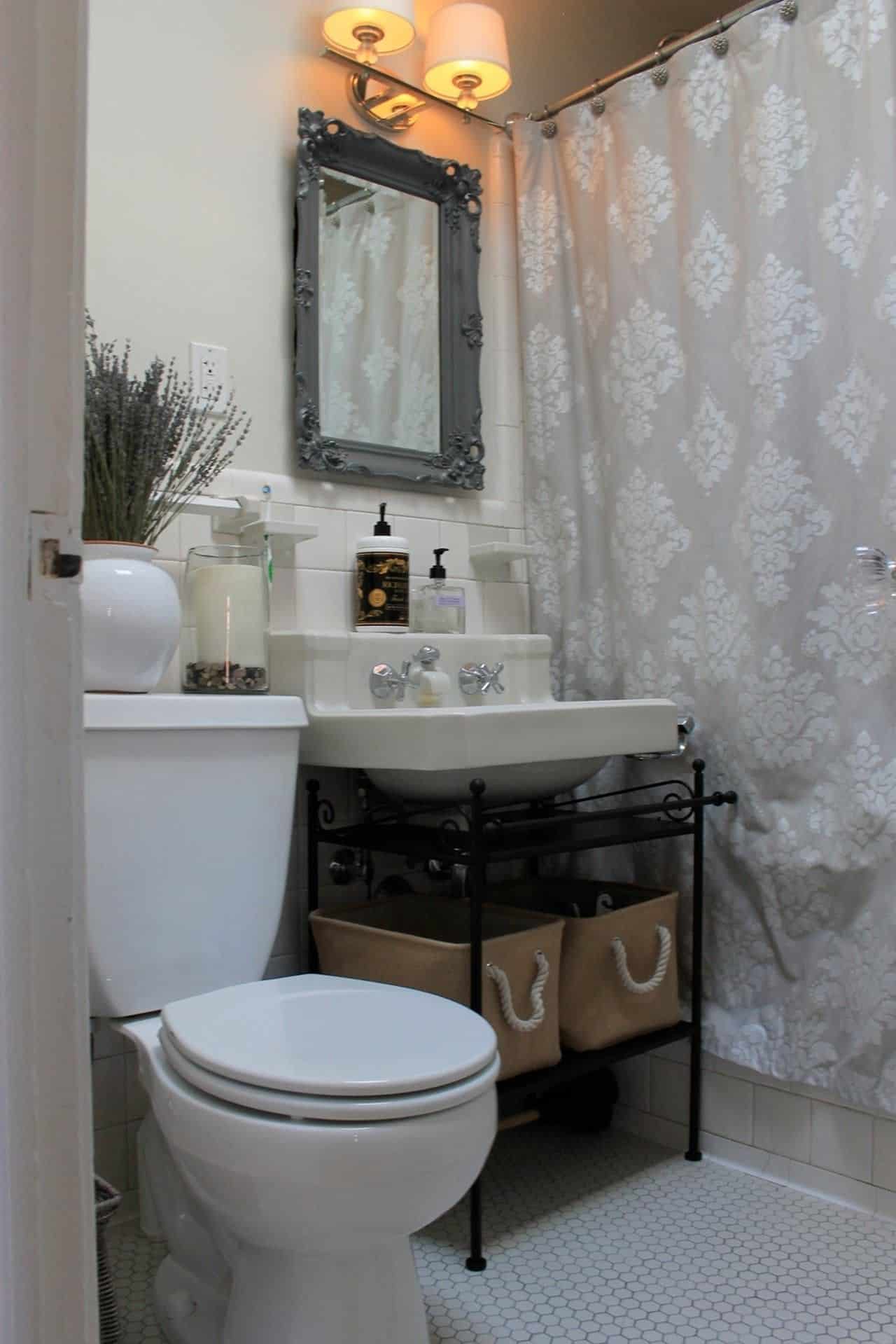 When it comes to guest bathroom storage, there are a few key things to keep in mind. First, you'll want to make sure that your guests have access to all of the essentials, like towels, body wash, and toilet paper. A small rack or cabinet placed under the sink is a great way to achieve this. Second, you'll want to create a relaxed and welcoming atmosphere.
Placing a few potted plants in the room can help with this, as can hang some art on the walls. Finally, you'll want to make sure that your guests have plenty of space to store their belongings. A basket or bin placed under the sink is a great way to achieve this.
20. Choose the Best Bathroom Tile Flooring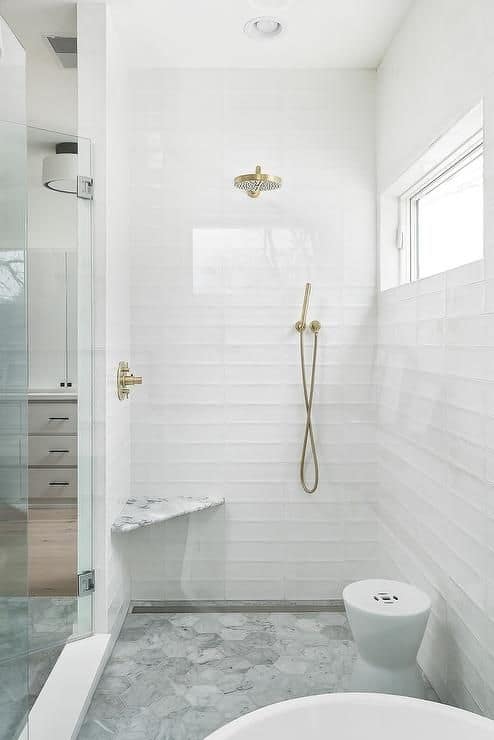 When choosing tile for a guest bathroom, there are many things to consider. First, you'll want to choose a tile that is durable and easy to clean. Glass or glazed ceramic tiles are a good option, as they won't stain easily and can be easily wiped down.
You'll also want to consider the size of the tiles. Large tiles can make a limited space feel more open, while smaller tiles can help to create a more intimate feel. Finally, you'll want to select a tile that compliments the overall style of your home. If you have a modern home, you might opt for sleek, white subway tiles.
21. Guest Bathroom Paint Color Ideas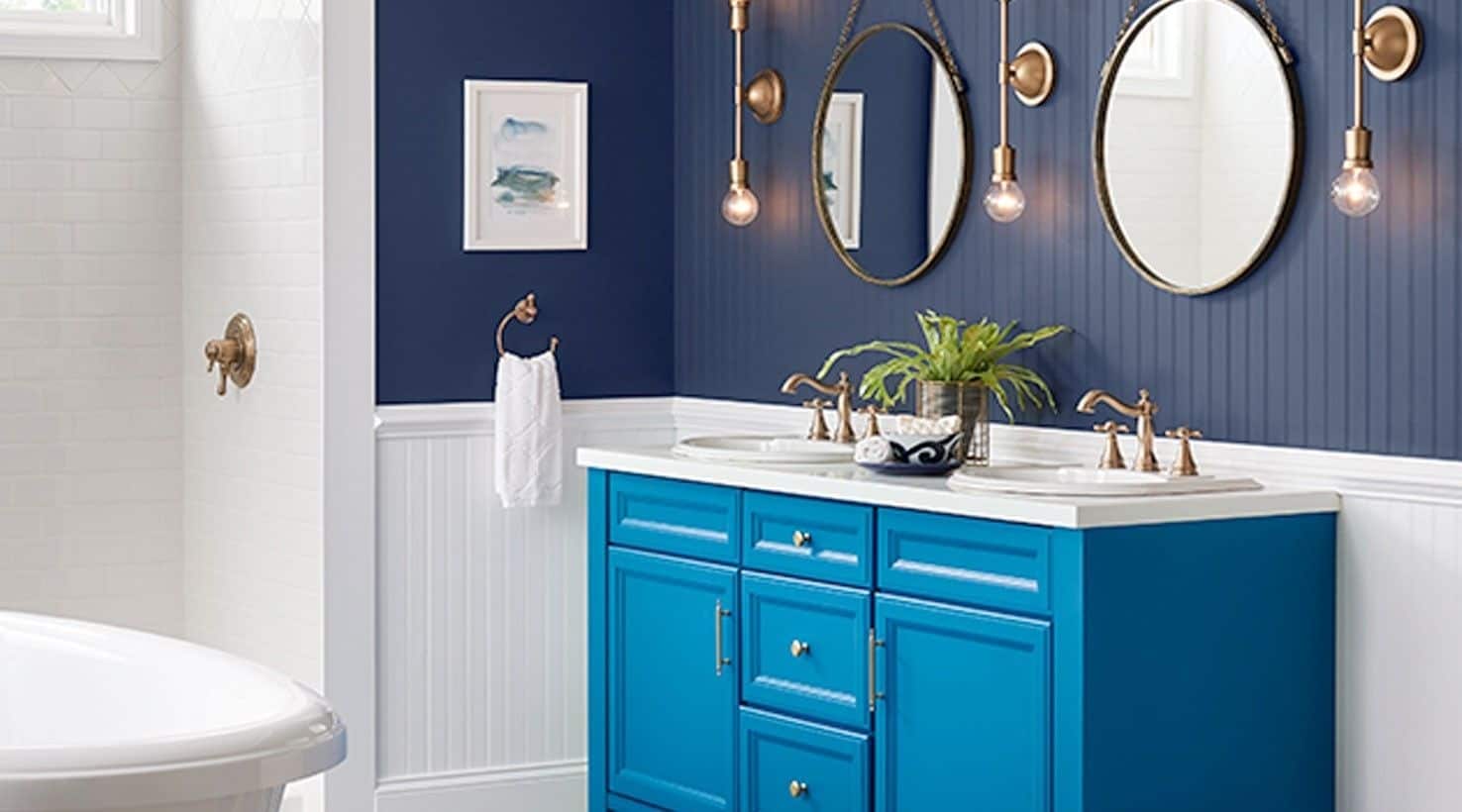 Consider painting the bathroom in blue color. It's clean, calming, and serene-exactly the type of atmosphere you want to create in a space where your guests will be spending time. Plus, blue is such a versatile color that it can be used in a variety of different ways. For example, if you want to create a beach-inspired guest bathroom, you could paint the walls light blue and use white accents to bring out the blue hue.
22. Guest Bathroom Countertop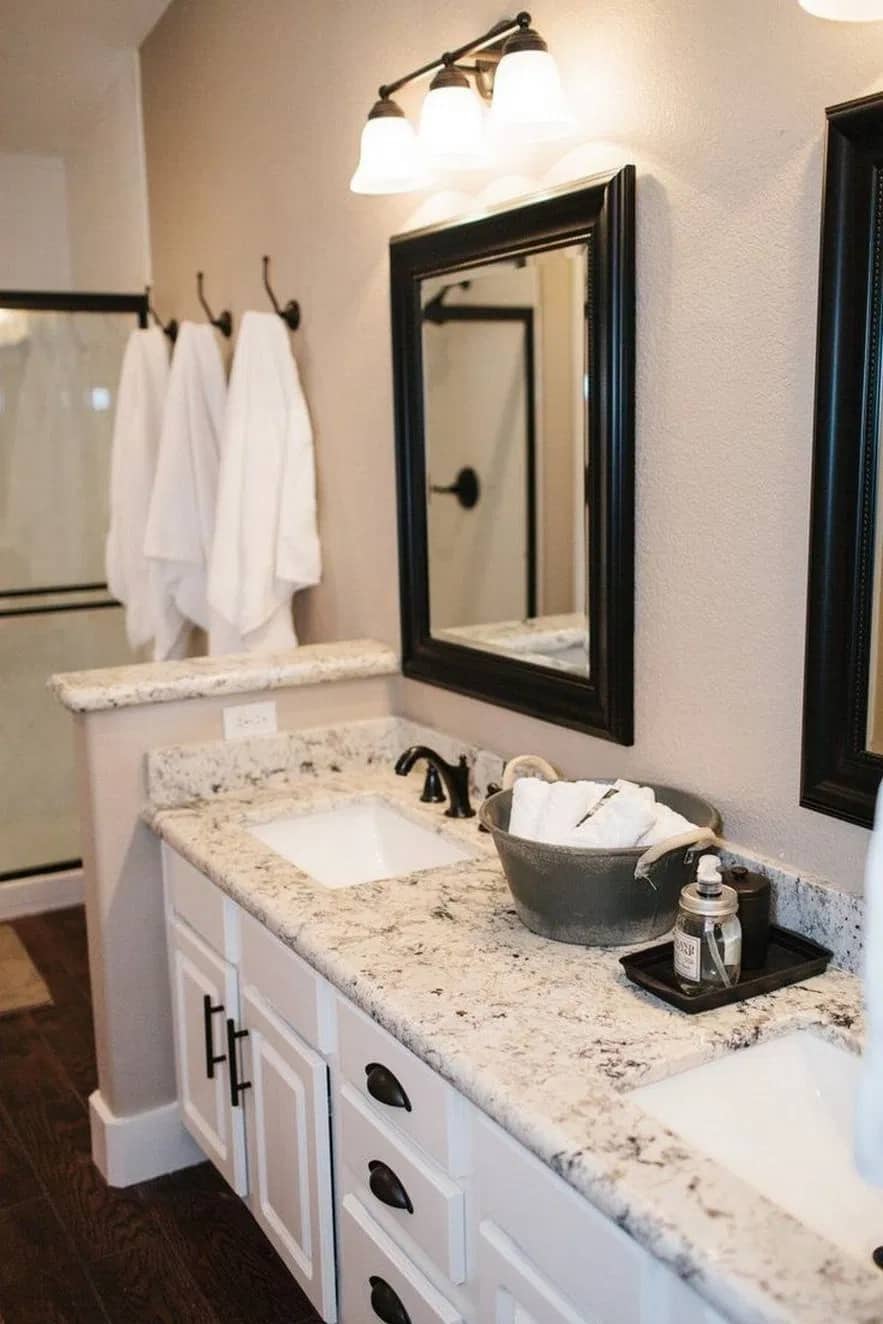 For a stylish yet functional guest bathroom, opt for durable materials like marble or quartz. If you're on a budget, laminate countertops are also a great option. In terms of style, clean lines and neutral colors are always a good bet in a guest bathroom. However, if you want to add a bit of personality to the space, consider using accent colors or patterns. Finally, don't forget about storage. Towels, toiletries, and extra toilet paper should all be within easy reach.
23. Marble Mosaic Tile Flooring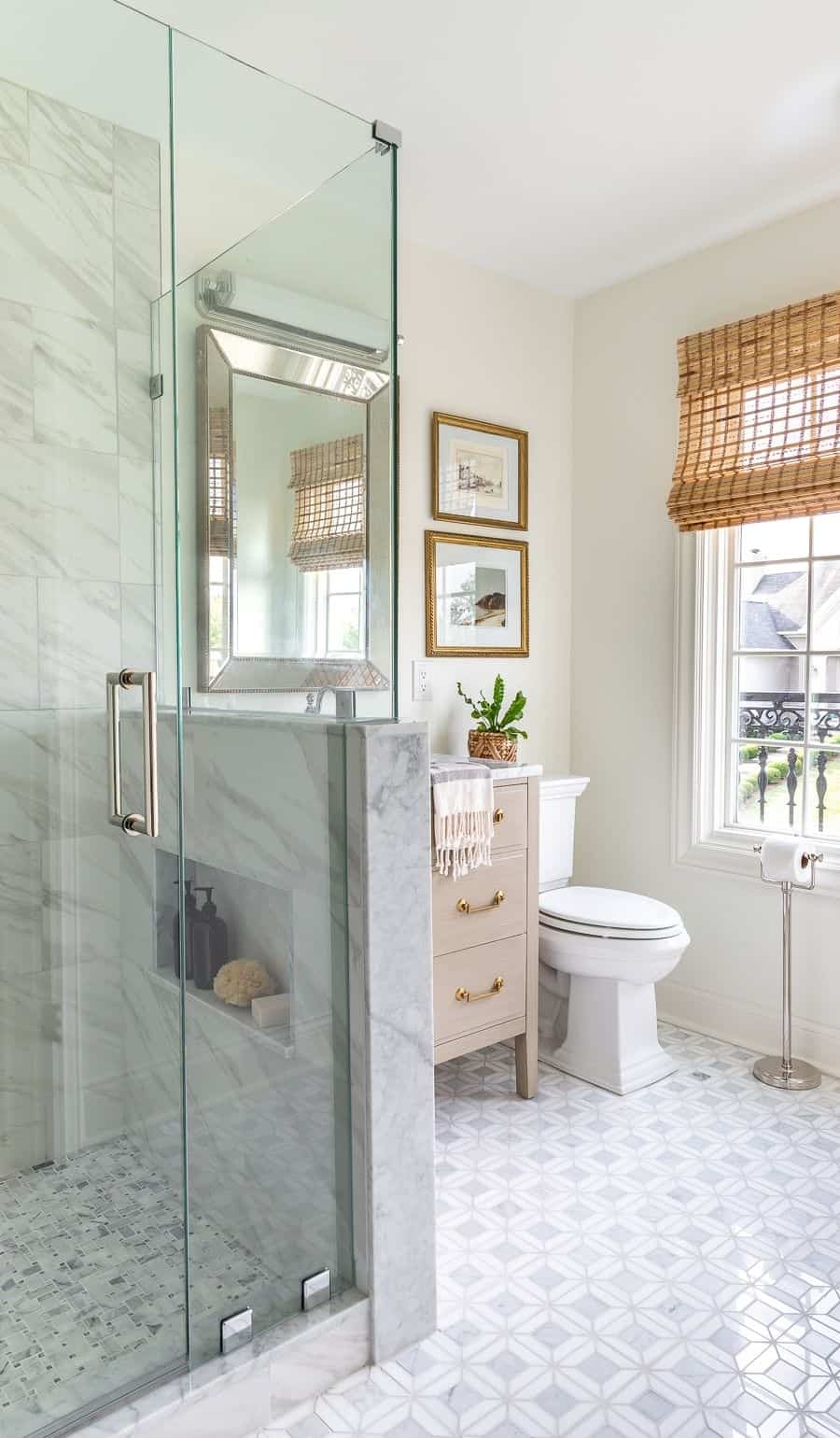 Tile is a great option because it resists staining and is easy to wipe down. It is durable and easy to clean. It is also comfortable to walk on barefoot. Tile is a great option because it resists staining and is easy to wipe down. However, if you have a smaller bathroom, you may want to opt for laminate or vinyl flooring, which has a similar look to tile but is more budget-friendly. Another thing to consider is the style of your guest bathroom. If it is a more formal space, stone or marble floors might be a good choice.
24. Hang the Light for a Warm Ambiance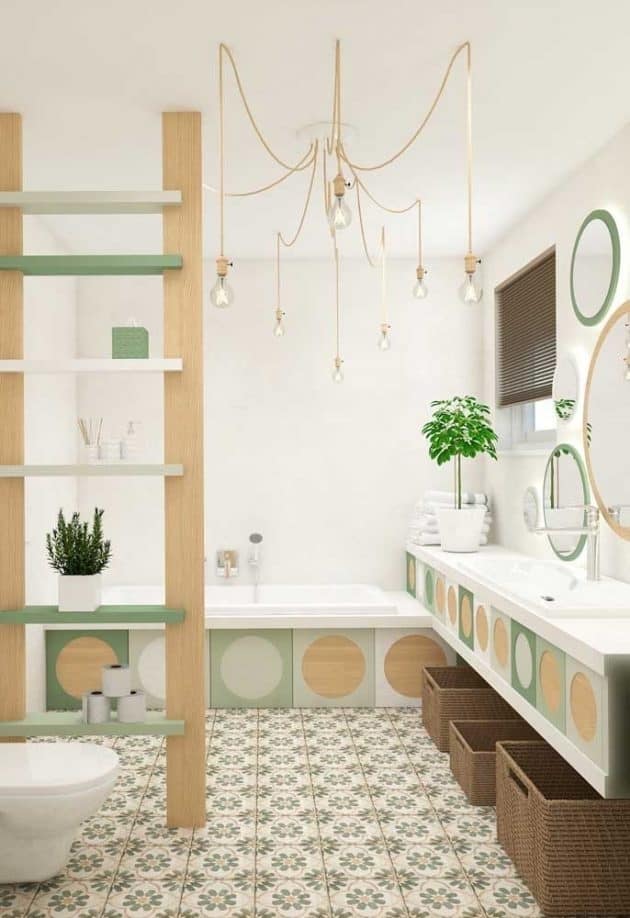 It will provide even lighting for your guests while they're getting ready. Another option is to use pendant lights. These can be hung at different heights to create interest and variety. And finally, recessed lighting is always an option.
This type of lighting can be used to highlight certain features in the guest bathroom, such as artwork or a beautiful sink. If you're looking for guest bathroom lighting ideas that will provide task-oriented lighting, try placing a light fixture over the vanity mirror. This will provide ample light for tasks such as shaving or applying makeup.
25. Guest Bathroom Towel Rack
For a classic look, opt for a towel rack with simple lines and a clean finish. This type of rack is easy to find and is usually very affordable. If you're looking for something with a bit more personality, try a metal rack with an ornate design. These racks often add a touch of elegance to any bathroom, which will create a cool impression for the guests.
26. The Shelves Installation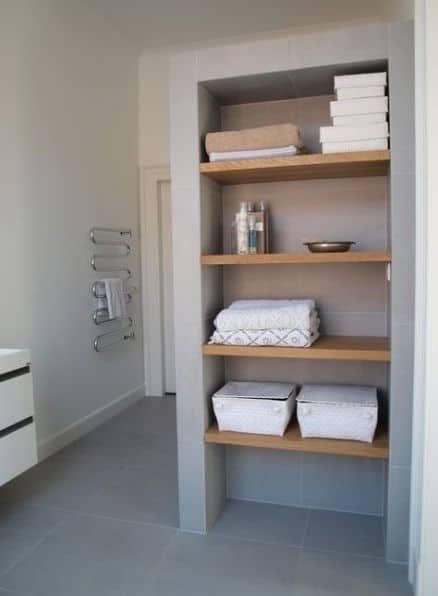 You can use open shelves to store towels, toiletries, and other bathroom items that guests might need. If you're short on space, consider installing open shelves above the toilet or above the bathroom sink. Guests will appreciate being able to find everything they need without having to rummage through cabinets or drawers. And open shelving can also be a great way to show off your style. Use it to display guest-friendly items like daisy-shaped soaps or scented candles. Or go for a more eclectic look by filling the shelves with vintage finds or travel-themed décor.
27. Guest Bathroom Toiletry Storage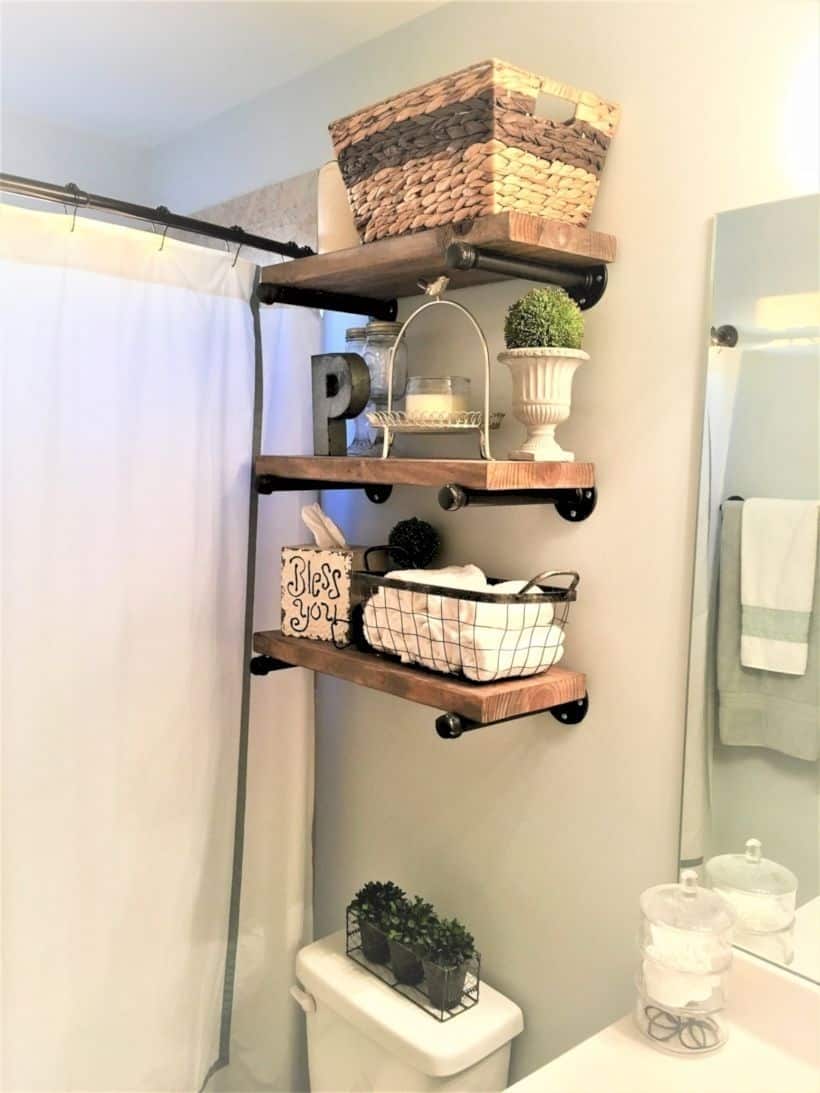 A simple way to achieve this is to install a small cabinet or shelving unit near the sink. This will give guests a place to store their toothbrush, toothpaste, and other personal items. In addition, it is also a good idea to provide guests with easy access to towels and washcloths. A towel bar mounted on the wall near the sink is a convenient solution. Finally, it is always nice to provide guests with a few extra amenities, such as a basket of travel-size toiletries or a scented candle. If your guest bathroom is on the small side, consider creating a "toiletry caddy" to hold all of the essential items. This can be as simple as repurposing an old shoe box or jewelry box. Line the bottom with a towel or piece of fabric and fill it with toiletries.
Guest bathrooms can be some of the most welcoming spaces in your home. By using some of the ideas we've shared in this post, you can create a space that will put your guests at ease and make them feel right at home.