Do you want to add some rustic style to your bedroom? A DIY wood headboard is the perfect way to do it.
You can take your room from drab and boring to stylish in just one change with this simple DIY project. Not only is it a great way add personality, but you'll find that adding some character on top of everything else will make for an affordable bedroom decorating solution as well.
So whether you're looking for something simple and rustic or something more elaborate and stylish, we've got you covered.
1. Cheap DIY Wood Headboard Plans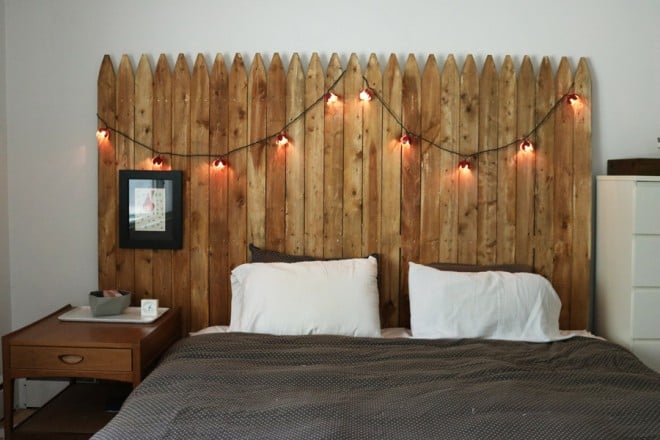 To make your bed stand-out, you don't need to spend a fortune. This cheap wood headboard plan uses old fences, which offers you a rustic touch to your bedroom. You can also paint or stain the wood for added customization. Plus, this DIY project only takes about an hour to complete.
What you will need to make it works:
Old fence panels
Saw
Screws
Drill
2. DIY Pallet Wood Headboard Plan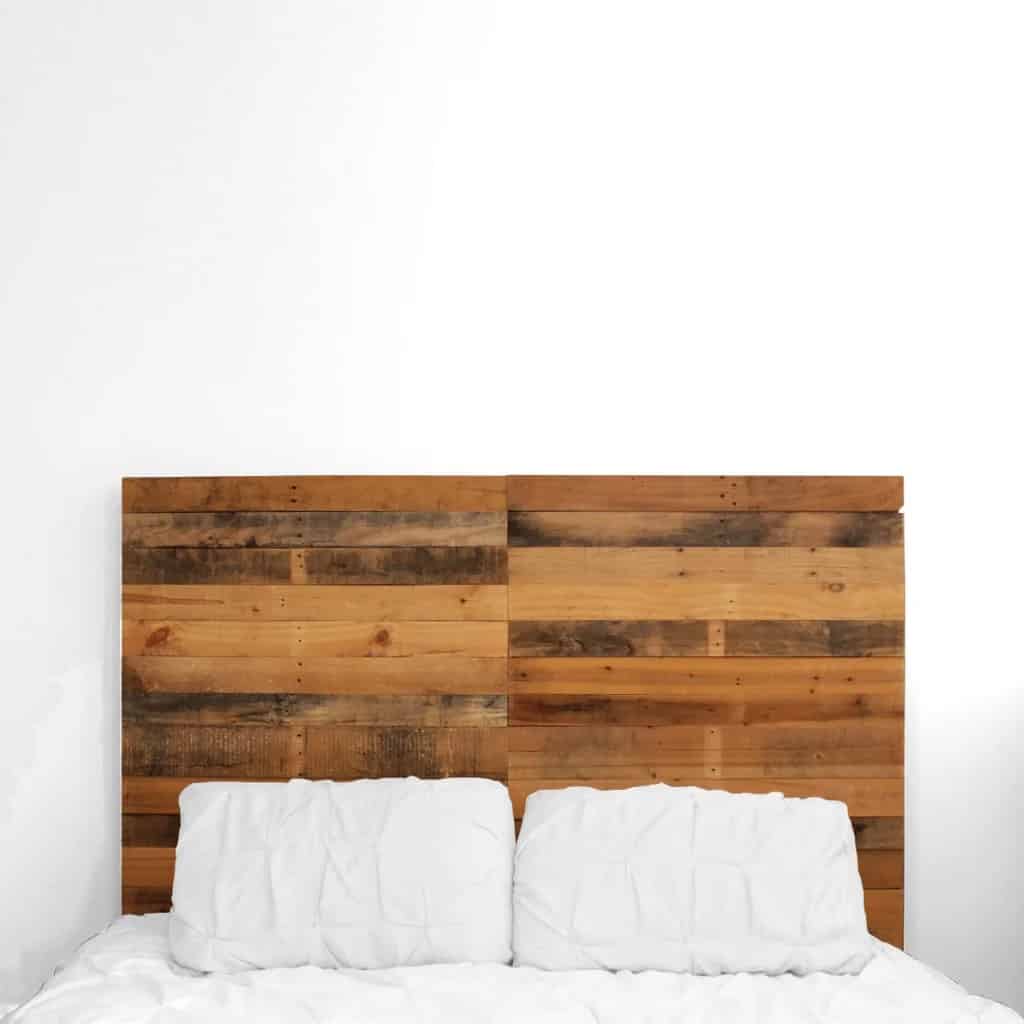 You can make a stunning and unique headboard using old pallets. This DIY plan allows you to customize the size of your headboard and add embellishments, such as lights or shelves, for added functionality. All you need is a few hours and some sanding tools to make this project come to life.
Materials needed:
Pallet wood
Wood glue
Brad nails
pocket hole screw
Bed frame assembly hooks
Sandpaper
Paint or stain
3. Old Door Wood Headboard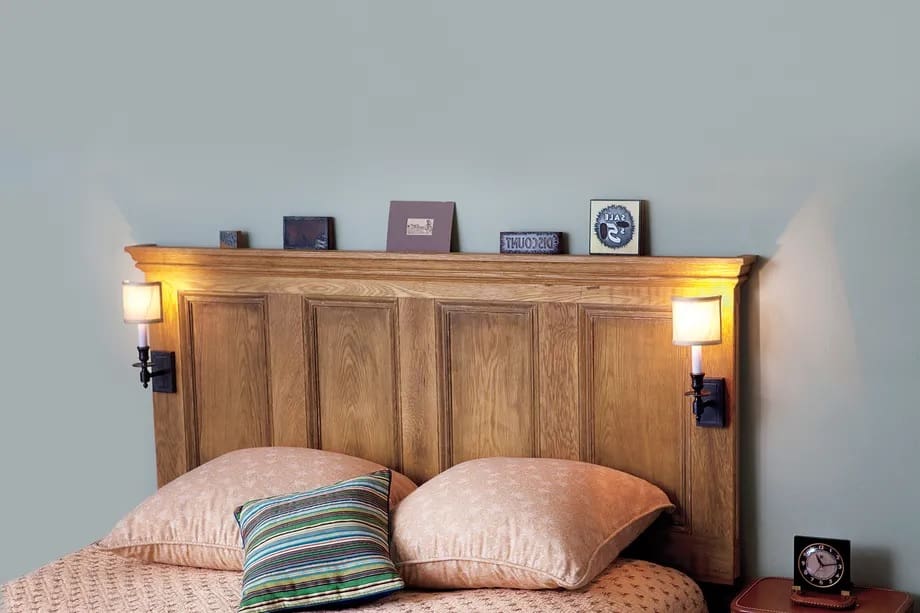 This DIY project is not only easy to complete, but it also allows you to repurpose an old door and add some character to your room.
For this project, all you need is an old door, sandpaper, wood stain or paint (optional), screws or nails, and a drill.
First, give the door a good sanding to smooth out any rough areas and prep it for staining or painting. Next, use a drill and screws or nails to attach the door directly to the wall above your bed. Alternatively, you can attach it to a wooden frame before hanging on the wall.
4. DIY Wood Slab Headboard Plan
This easy project can be completed with just a few pieces of wood and some basic tools.
First, gather the materials needed – choose the type and size of wood slab that fits the desired aesthetic and measurements for your bed frame. Next, cut any necessary pieces to fit the frame, sand down rough edges, and stain or paint as desired. Finally, attach to the bed frame using screws or hooks.
5. DIY Barn Door Headboard Plan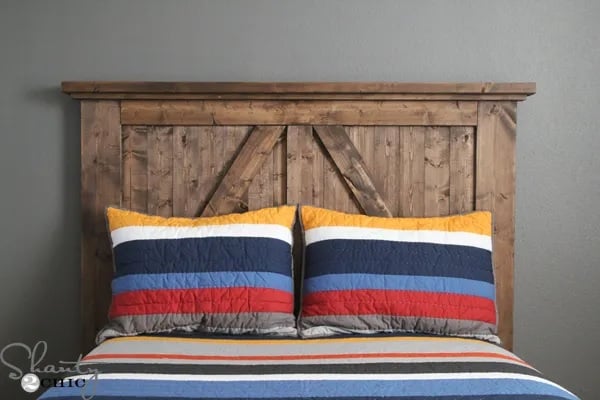 Why not build your own headboard using one of these DIY plans? The barn door headboard is a beautiful choice, giving your room a rustic yet elegant feel. Plus, it's surprisingly easy to construct using wood and some hardware.
Just follow the step-by-step instructions and add your own personal touch by choosing a stain or paint color that complements the rest of your decor. With this DIY plan, you'll be able to give your bedroom a striking new focal point that also adds functionality with built-in shelves for storage or display space.
6. Reclaimed Wood Headboard Plan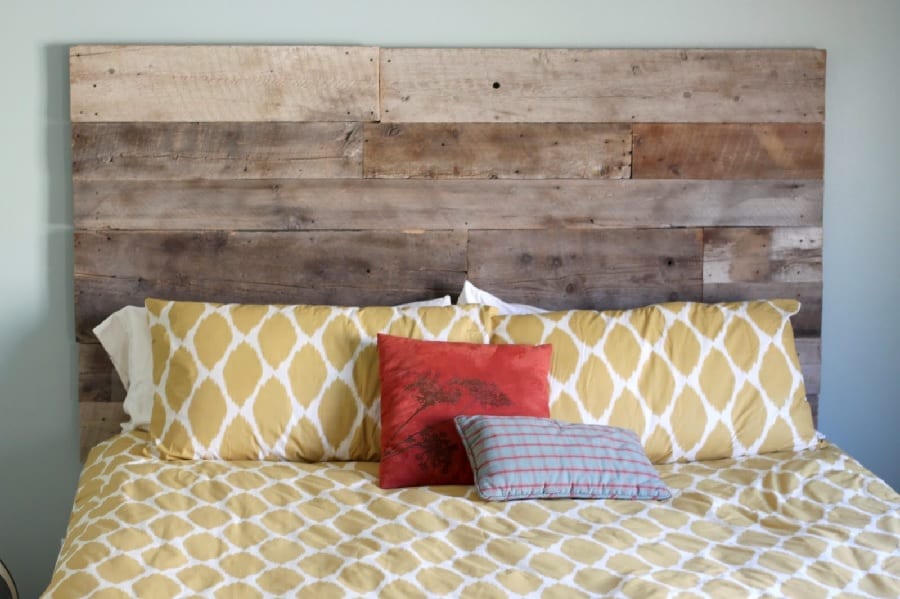 Not only is it eco-friendly, but it adds instant character to any room. And with the right plans, it's surprisingly easy to make your own headboard at home. By piecing together various pieces of reclaimed wood, you can create a one-of-a-kind design that fits perfectly with your bedroom decor.
As an added bonus, using salvaged materials means you don't have to spend a fortune on expensive new lumber.
7. DIY Wood Plank Headboard Plan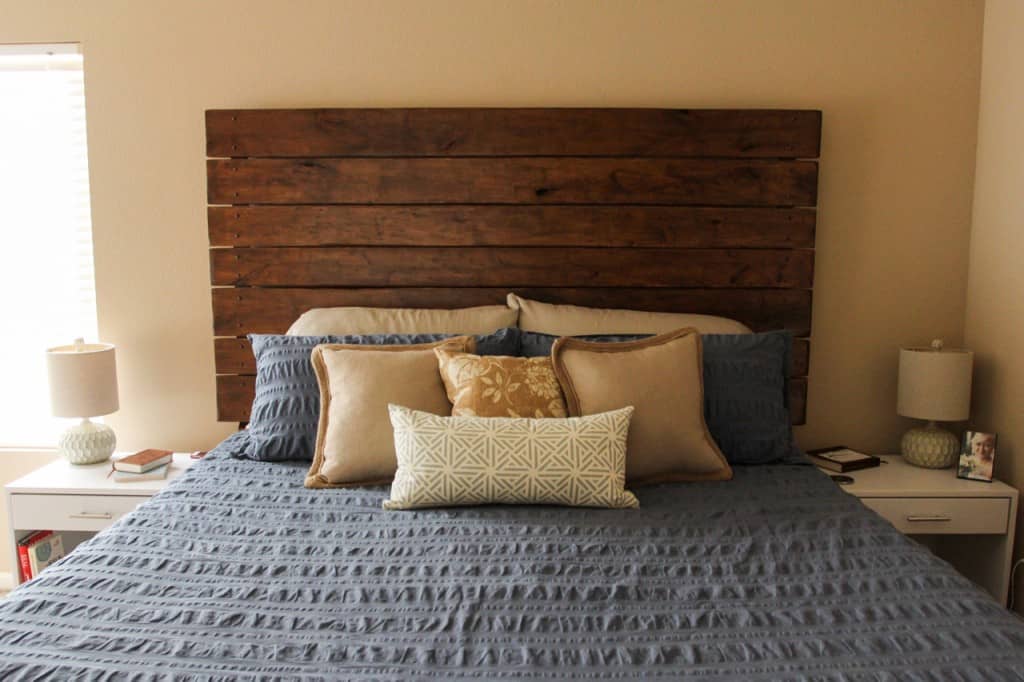 With the wood planks of your choice, create a rustic and unique headboard by simply nailing them together in the desired shape. Add extra character by distressing or staining the wood.
First, determine the size of your headboard and cut the wood planks accordingly. Next, arrange them on a flat surface to create the shape you want for your headboard. Finally, use nails to secure everything in place.
8. DIY Rustic Wood Headboard Plan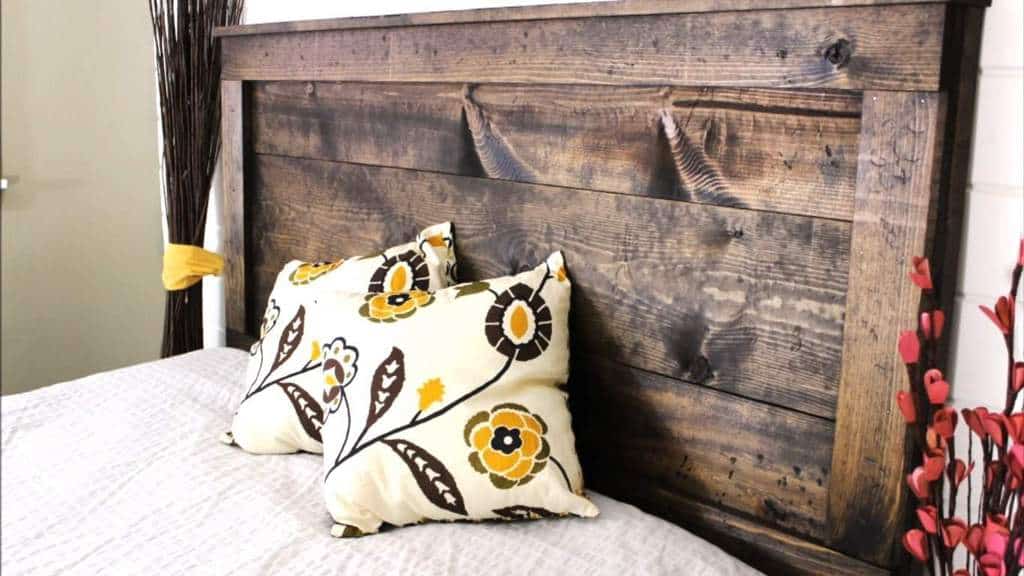 The rustic headboard will be the focal point of the bedroom, which also being functional at the same time, adding an extra comfy to the bed. Opt for the distressed finishing to highlight the rustic flair. On the other side, you can also play with the color that will give your bed a whimsical appeal.
There is nothing to worry about to make this headboard work because this project is beginner-friendly, so if you are a newbie in woodworking skill, this project is coming for you.
9. DIY Tufted Wood Headboard Plan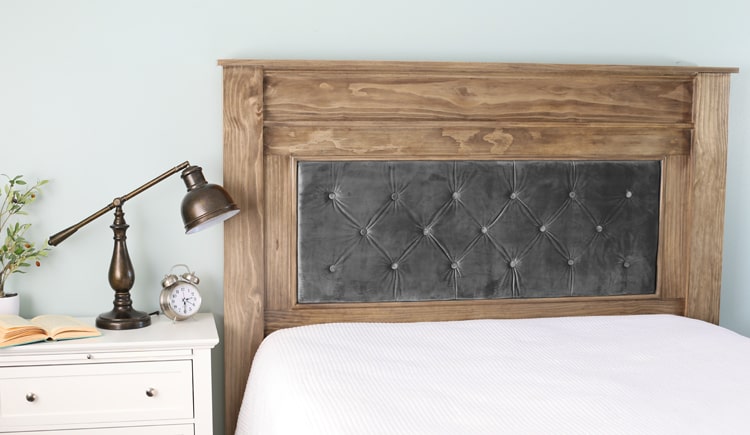 The tufted headboard can add even more character if you consider the reclaimed wood or experimenting with different stain colors. It adds a touch of luxury with its padded cushion and button accents, but it won't break the bank like buying an expensive pre-made one. Plus, there's something satisfying about knowing you made it yourself.
10. DIY Beadboard Wood Headboard Plan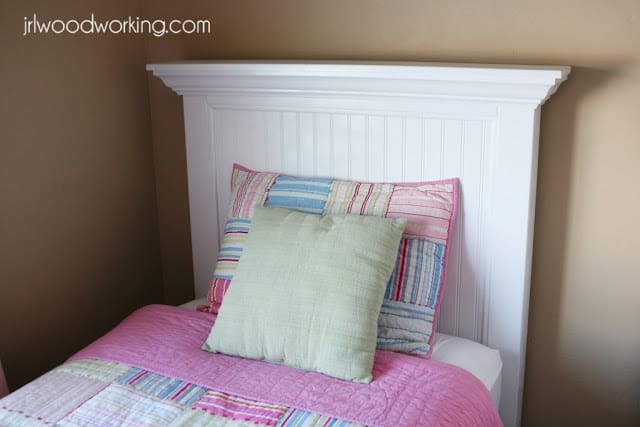 This easy and customizable project can add charm and uniqueness to any bedroom. One option is a beadboard wood headboard, which gives off cozy cottage vibes. The best part is that these plans can be adjusted to fit any size bed.
All you need are some wood boards, drill, screws, and a little bit of creativity. Whether you stain or paint the wood, this type of headboard will bring added warmth and charm to your sleeping sanctuary.
11. DIY Upholstered Wood Headboard Plan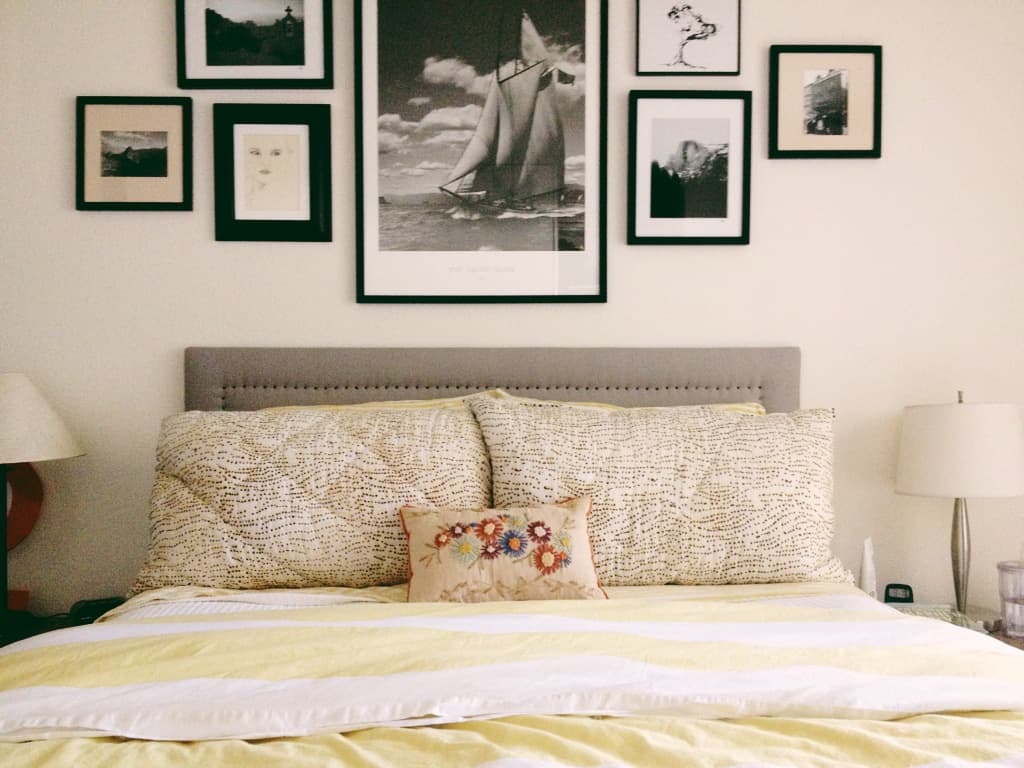 Building your own custom headboard is a fun and easy project that can be completed in just a few hours. The upholstered wood headboard plan, in particular, adds a unique touch with its cozy fabric and tufted design. All you need are some basic tools and materials, such as a saw, measuring tape, fabric, plywood, batting, and button covers.
Simply sketch out your design on the plywood, cut out the shape, add batting and fabric for cushioning, and secure it all together using staples or nails. Top it off with some button covers for added texture and style
12. Wooden Blocks Headboard Plan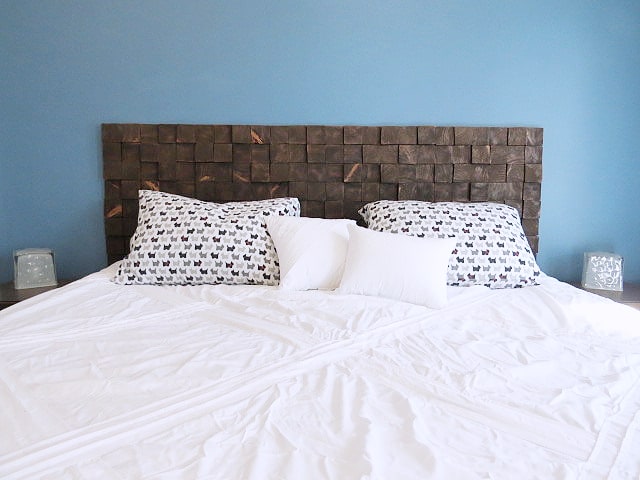 By attaching wood blocks in various sizes and shapes to a board, you can create a stunning and one-of-a-kind design. Not only is it visually interesting, but the varying heights of the blocks also provide added comfort for leaners and loungers alike.
Personalize your home with these customizable blocks. The stains and shapes can be customized to create a unique look for any room in the house.
13. DIY Wood Headboard with Lights Plan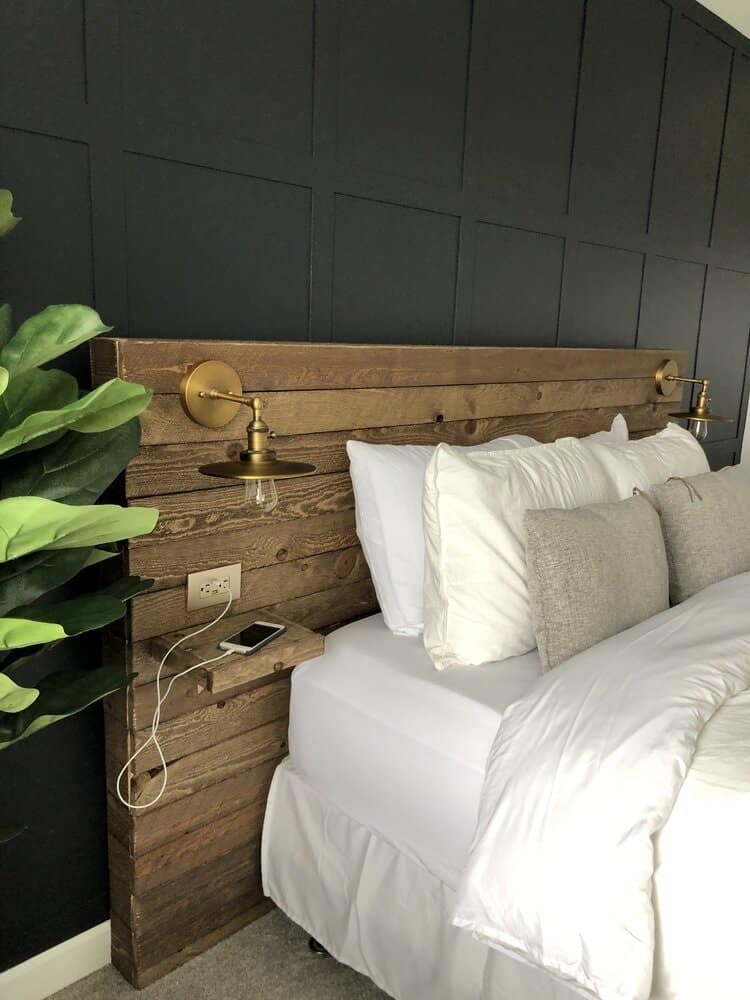 A wood headboard with lights is a unique and eye-catching option. Plus, you can customize it to match the rest of your room's design. To start, gather your materials and plan out the design. Then, assemble the frame and attach any necessary hardware for hanging or adding lights.
Finally, add finishing touches like staining or painting to complete your one-of-a-kind wood headboard with lights. It is also complemented by the shelf, which is work as a charging station as well.
14. DIY Wood Headboard with Shelves Plan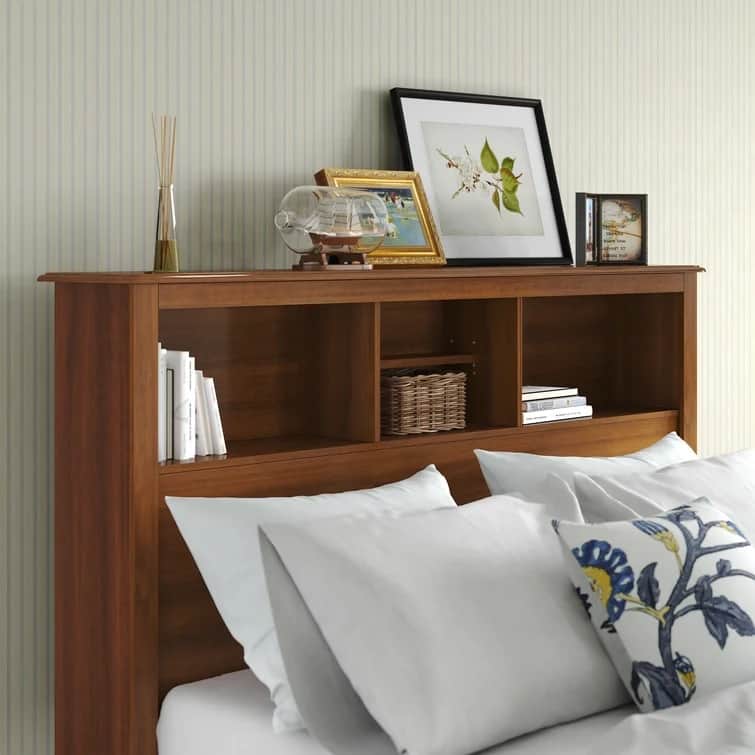 The shelves installation provide functional storage for books, plants, decor, or even charging stations for your electronics. This design can easily be adjusted to fit any size bed and the unfinished wood allows you to customize the stain or paint to match your room's aesthetic. Plus, the shelves add a unique touch to your bedroom.
15. DIY Wood Headboard with Mirror Plan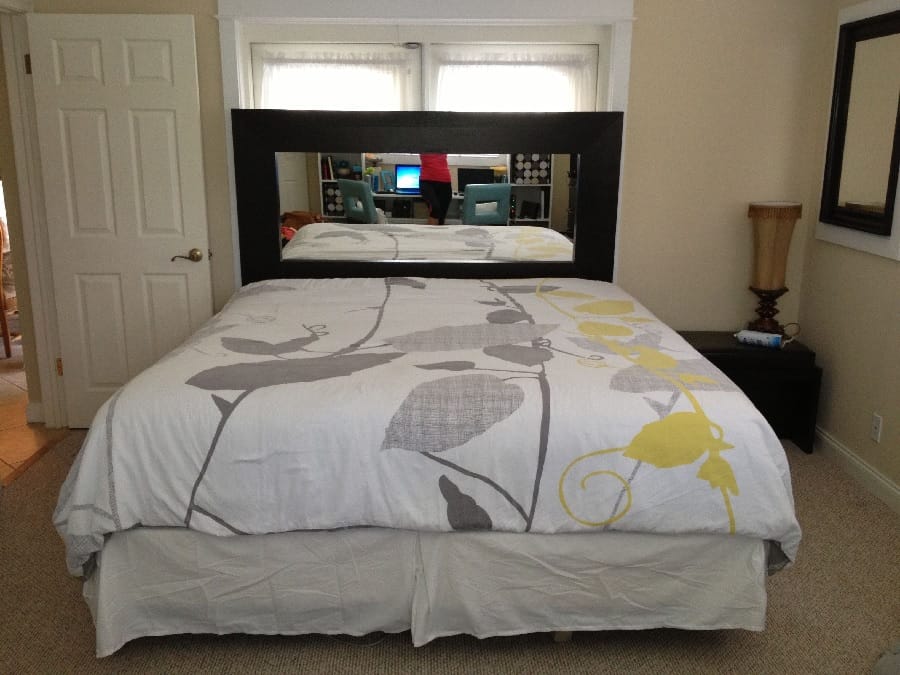 Adding a DIY wood headboard with a mirror can give the illusion of a bigger space and make your bedroom feel more luxurious. This plan includes cutting and sanding the wood, adding some stain, and then attaching the mirror to the wooden frame.
It's a simple project that only requires basic tools and materials, but the end result will give your room a whole new look.
16. DIY Wood Headboard with Built-in Storage Plan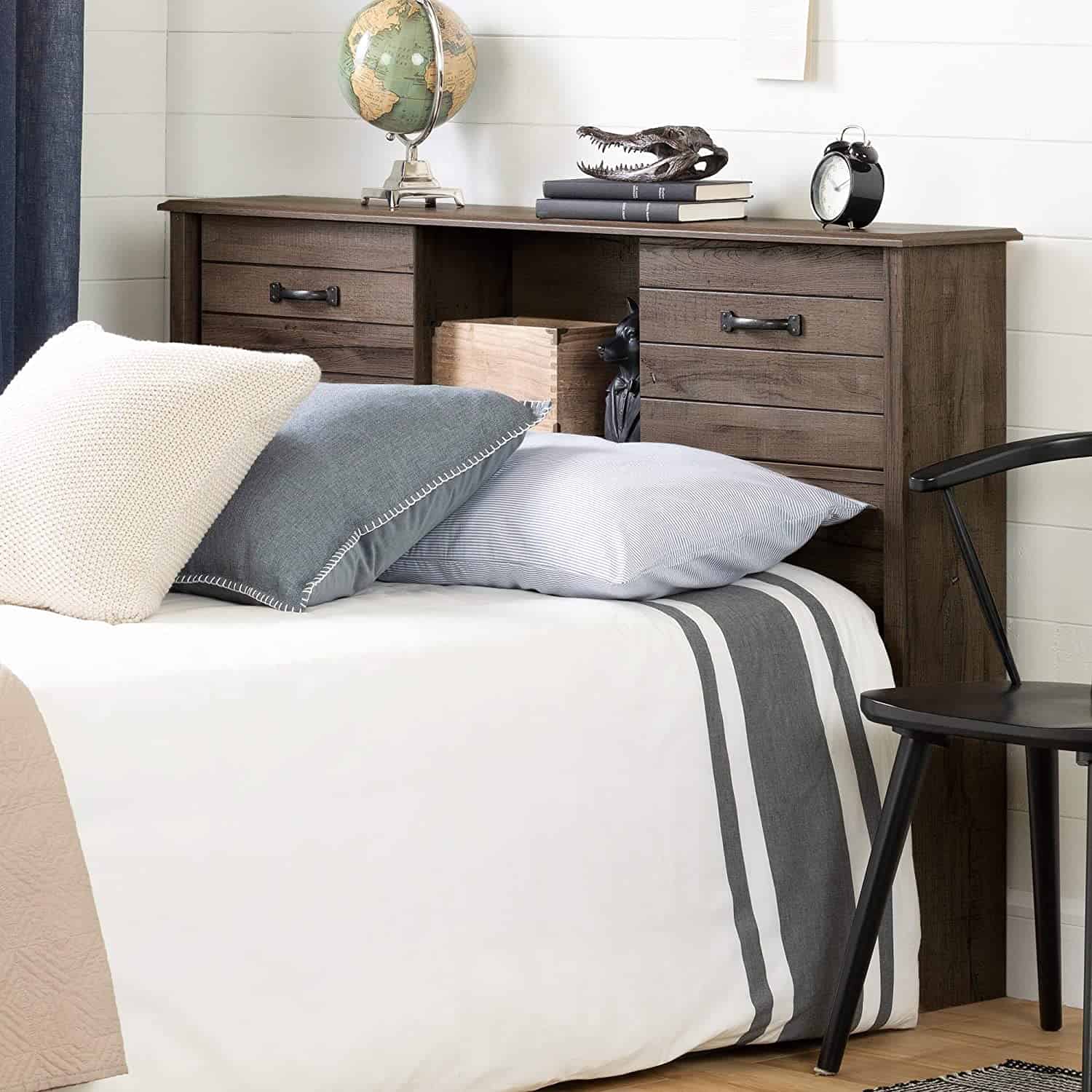 This DIY wood headboard plan combines form and function by creating hidden cubbies on either side, perfect for holding books, alarm clocks, phones, or other bedside essentials. It's also customizable to fit any size bedframe, making it a great option for any bedroom.
Building this headboard requires some basic woodworking skills and tools, but with the right materials and a bit of patience, you'll have an stylish and practical addition to your bedroom in no time.
17. DIY Wood Headboard with Storage Cubbies Plan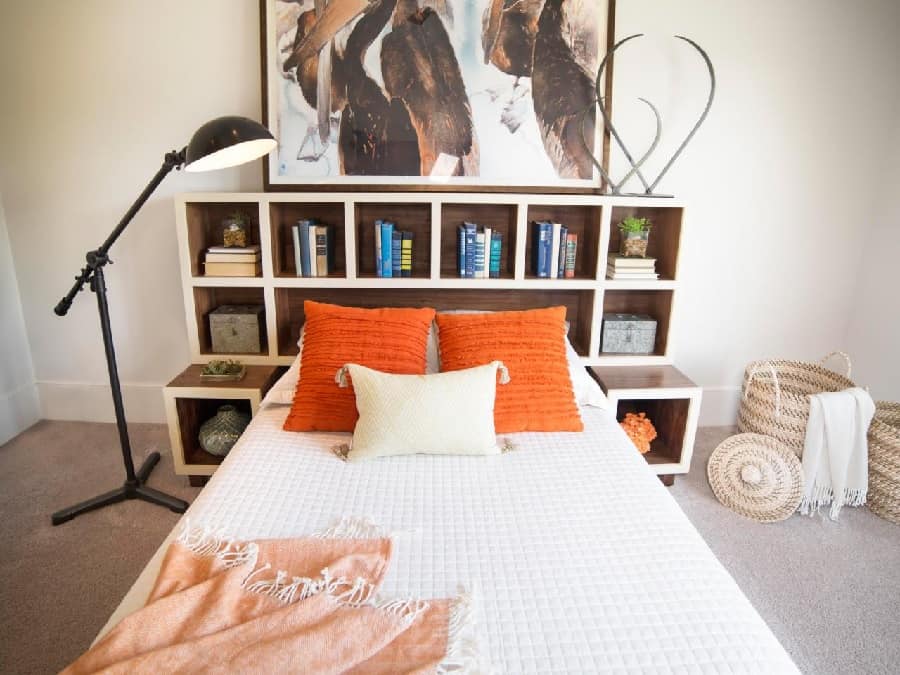 A wood headboard with storage cubbies is perfect for keeping books and decorations neatly tucked away, giving your room a minimalist look. And the best part is, it's easy to personalize depending on your own taste and needs.
Just find the right materials and follow our DIY wood headboard plan, and you'll have a unique and practical addition to your bedroom in no time.
18. DIY Wood Headboard with Built-in Reading Lights Plan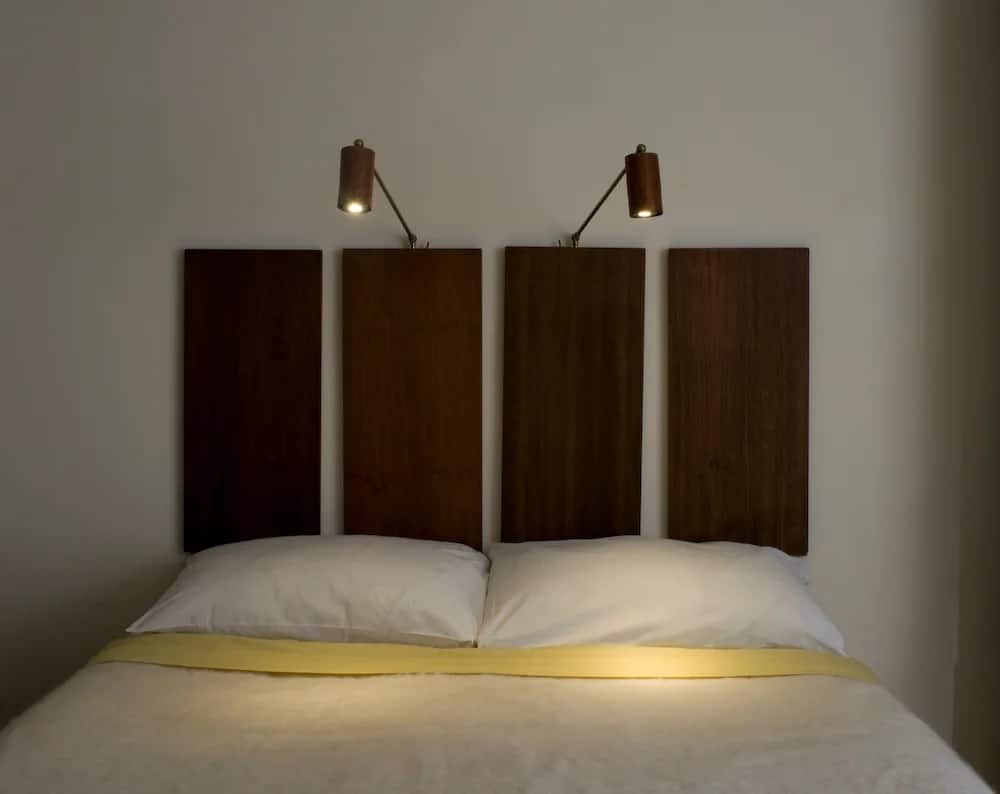 The reading light will add an extra element of functionality to your headboard, and the wood planks give it a rustic touch. This will be such a great combination, which will make your bedroom look gorgeous. Consider the yellow light for a warm and intimate ambiance to the bedroom while also still light up your reading time before you sleep.
19. DIY Wood Headboard with Hidden Gun Storage Plan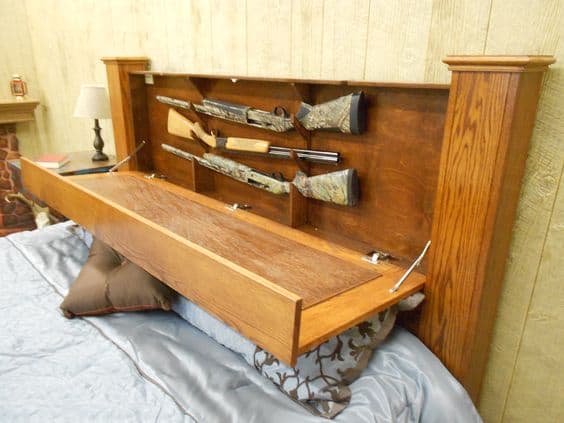 With built-in hidden gun storage, this headboard not only looks stylish but also provides an extra layer of security for your firearms. The design includes compartments for storing firearms, ammunition, or any other valuables that you want to hide away.
Plus, the easy-to-follow instructions allow you to customize the headboard to fit your specific needs and style preferences.
20. DIY Wood Headboard with Floral Accent Plan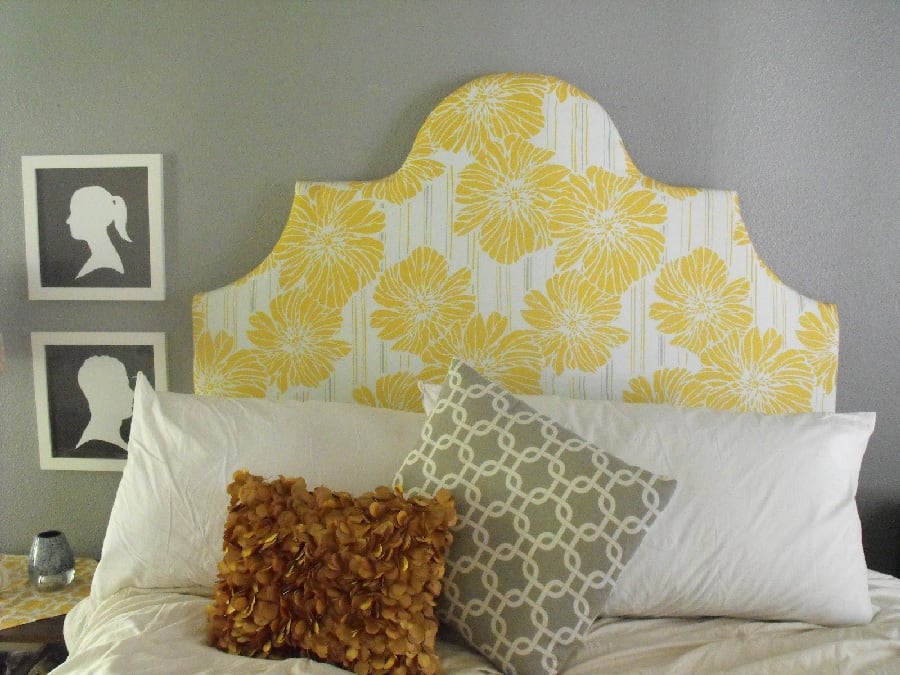 Spice things up with a DIY wood headboard with a floral accent! Not only will it add some visual interest to the room, but it'll also create a cheerful atmosphere. Plus, it's easier than you might think.
All you need is a wooden board, some flower stencils, paint, and sealant. Begin by sanding down the wooden board and then using your stencils to paint on your preferred flower design. Once dry, seal with a clear coat for added durability. Attach the finished headboard to your bed frame using screws or nails and enjoy the new pop of color in your bedroom.
21. DIY Wood Headboard with Built-in Nightstands Plan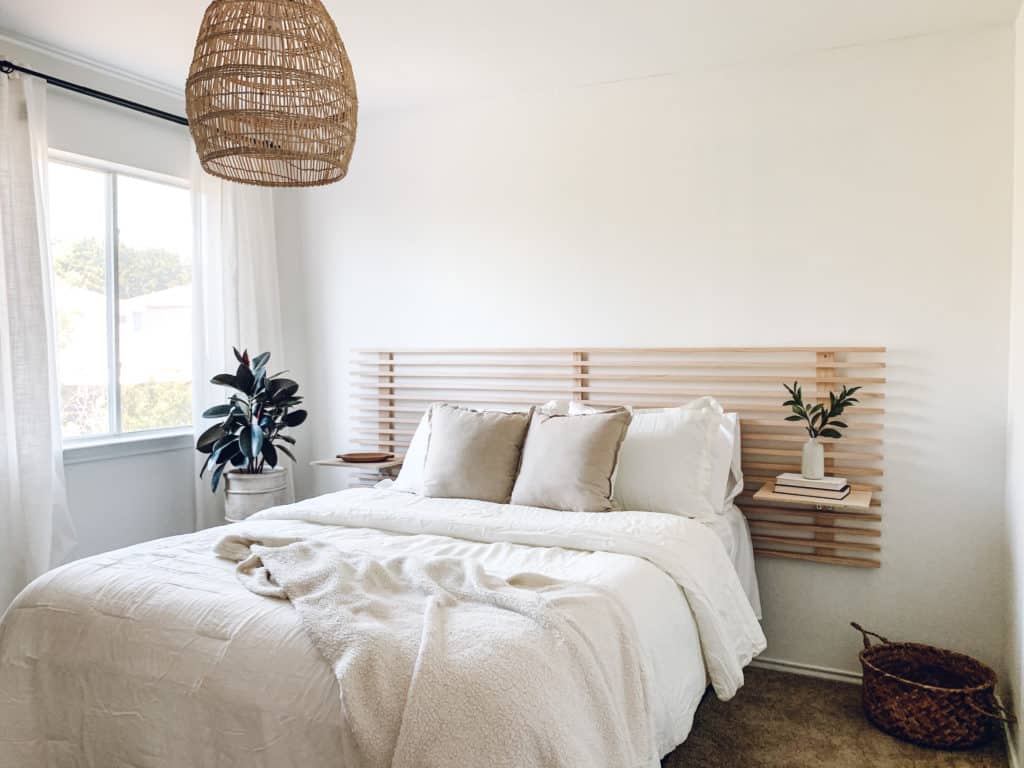 Add an extra feature to the headboard in your bedroom with the nightstand installation. You can maximize your space and add a unique touch to your room with this DIY wood headboard. This can be the best place to store some of your stuff such as books, lamp, and alarm clock.
Other than that, you can also make use of this space to display your favorite decorative pieces, which will make a huge update to the overall look of the bedroom effortlessly.
22. DIY Wood Headboard with Built-in Lighting Plan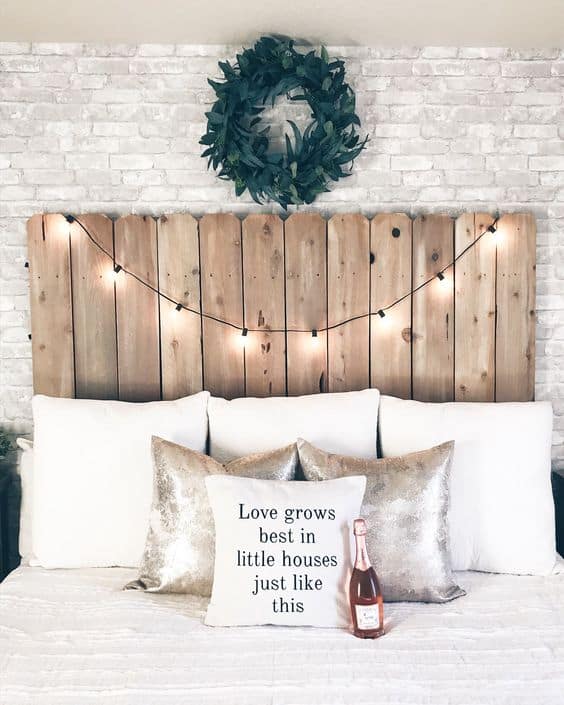 Adding the light installation to this DIY wood headboard will add a cozy ambiance to your bedroom. With the basic woodworking skills and some material lists, you can upgrade the function of the common headboard into something more special.
What you will need:
Wood planks, preferably pine or cedar
Power drill
Screws/nails
LED strip lights
Light dimmer switch
First, measure and cut the wood planks according to your bed size. Assemble them using power drill and screws/nails. The next step is to install the LED strip lights on the headboard, then connect it to a dimmer switch for easy control. Finish off by staining or painting the wood.
23. Geometric Pattern Wood Headboard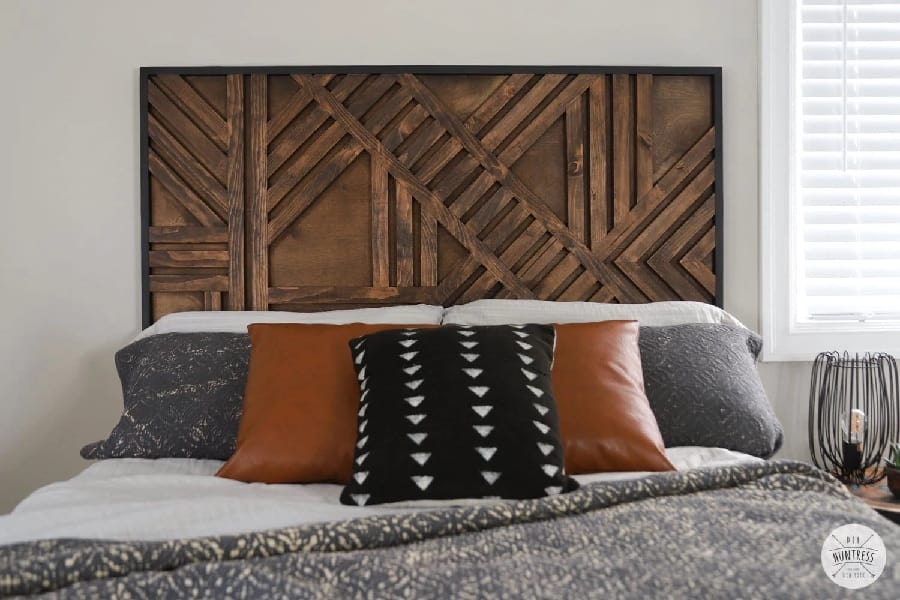 Infusing a unique atmosphere to your bedroom is not a big matter, especially with this diy wood headboard. The geometric pattern will give a modern touch to the room without losing its warm and cozy ambiance.
To make it, you will need:
Wood planks
Pencil
Ruler
Jigsaw
Sandpaper
Paint or stain
First, measure and mark the wood according to your desired geometric pattern. Cut it using a jigsaw, then sand down the edges for a smooth finish. Finally, stain or paint the headboard and attach it to your bed frame.
24. DIY Leather and Wood Headboard Plan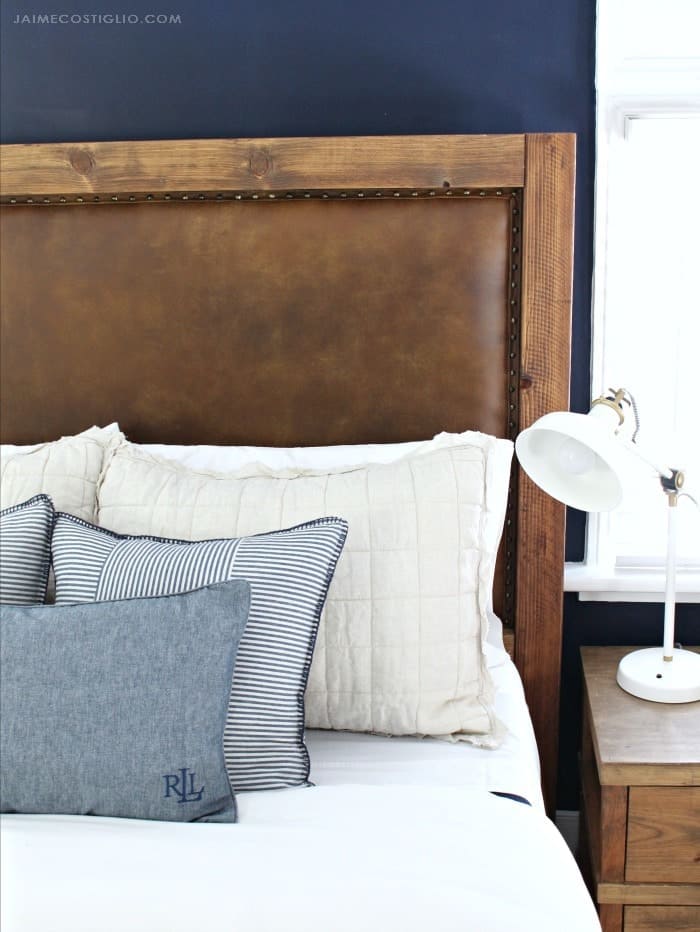 This DIY leather and wood headboard plan is the perfect combination of sophistication and rustic charm. Plus, there's no better way to add personal style to your space than by creating it yourself. By following the step-by-step instructions below, you can create this beautiful piece for a fraction of the cost of buying one.
Material lists:
Wood planks
Leather fabric
Staple gun
Screws/nails
Begin by measuring and cutting the wood planks to fit your bed frame. Next, cut the leather fabric to size and use a staple gun to attach it securely onto the wooden boards. Finally, attach the finished headboard to your bed frame using screws or nails. Voila! You now have a stylish and unique addition to your bedroom.
25. DIY Simple Wood Headboard Plan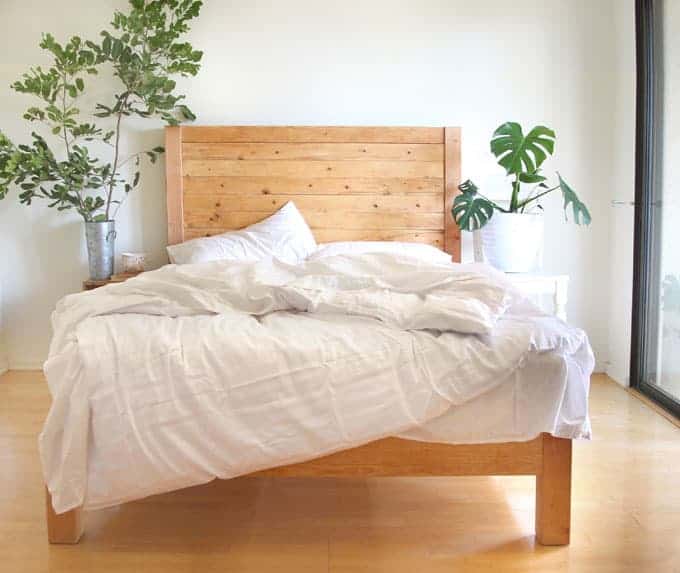 Give your space a fresh new look by building your own wood headboard. With a little bit of wood, some tools, and a bit of creativity, you can create a custom headboard that's perfect for your space and style. Without lots of things to do, this project can be completed in a weekend. Plus, by building it yourself, you have the ability to customize the size and stain to fit your exact needs.
First, measure the width of your bed and add at least six inches on each side for overhang. Then, gather your supplies including wood boards, screws, sandpaper, and stain or paint. Next, cut the wood to size and assemble with screws. Finally, sand down any rough edges and apply your desired finish. As a final touch, consider adding accents like tufting or upholstery for added texture and design.
26. Industrial Wood Headboard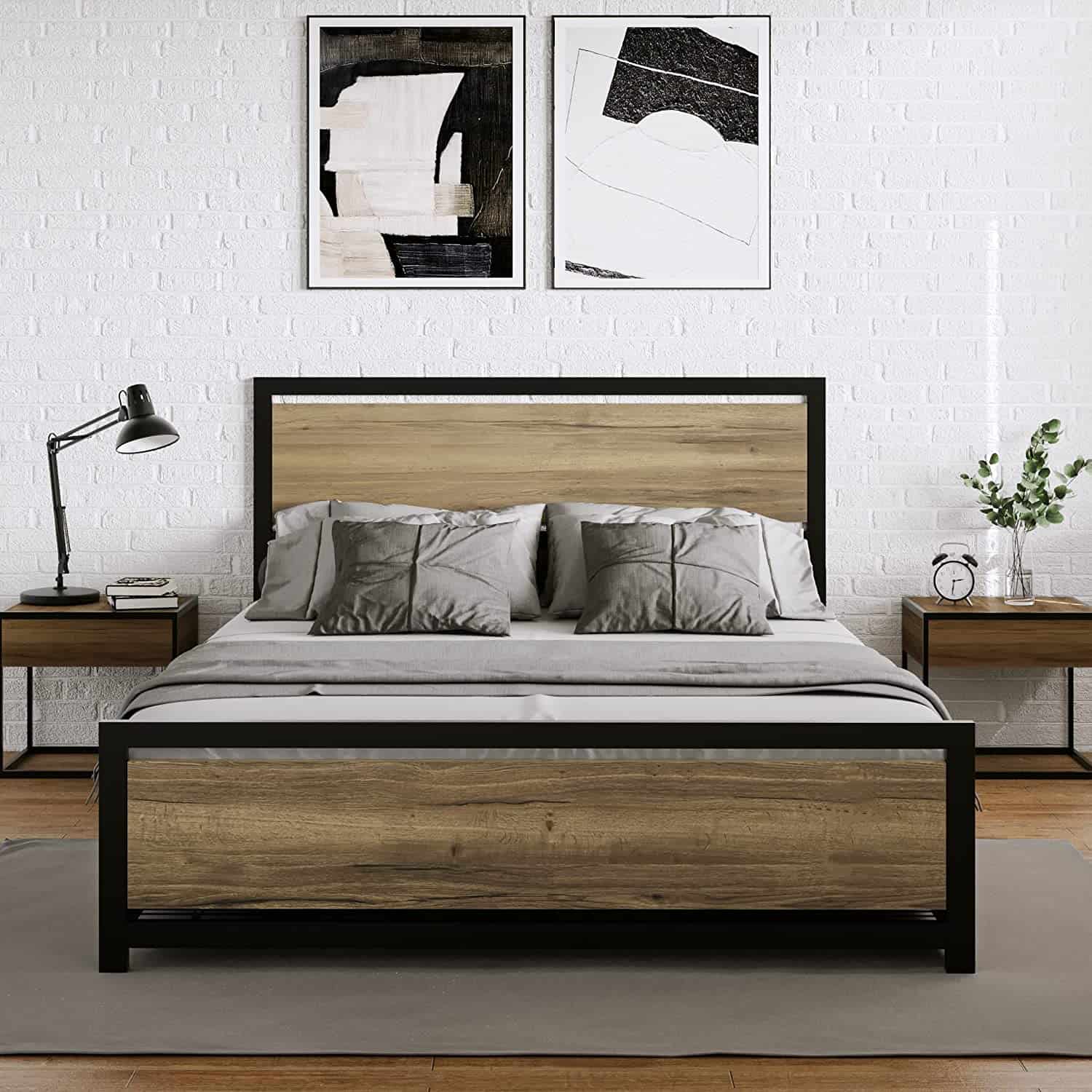 The combination of the wood and metal material offers you a unique and stylish look to your bedroom. The thing is that you can easily DIY this kind of headboard.
All you need are some wood planks, metal pipes, and basic tools to assemble them together. You can even customize the size to fit your bed frame perfectly. First, cut the wood planks to your desired length and drill holes for the metal pipes. Then, assemble them together and add some finishing touches like sanding or staining the wood.
27. Farmhouse Wood Headboard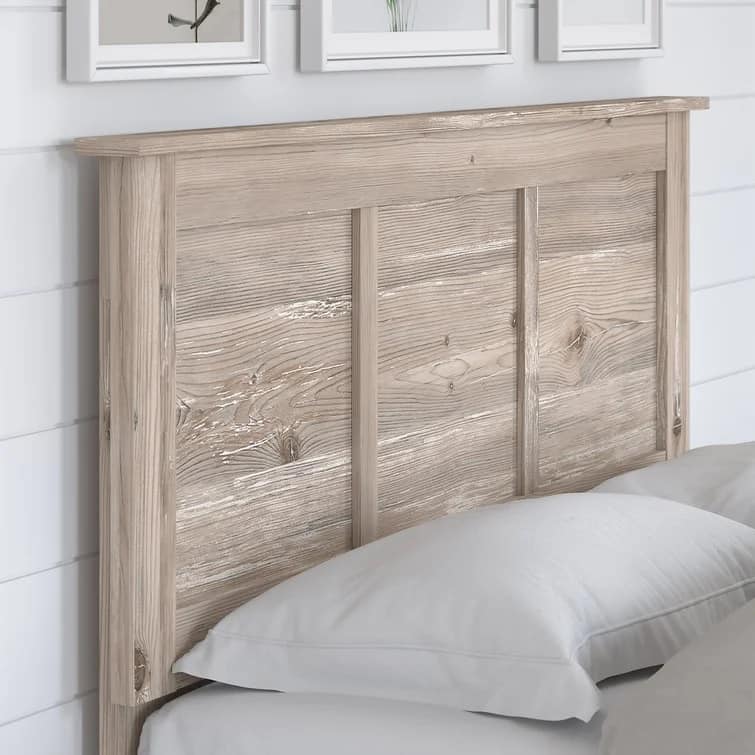 Bring in the cozy atmosphere to your bedroom with the touch of farmhouse style. This diy wood headboard plan uses simple materials and is easy to assemble. The end result will be a rustic yet chic addition to your bedding area. To highlight the farmhouse ambiance, opt for the natural wood grain, try a dark stain or whitewash finish.
Get the rustic look you want for your bedroom without spending a lot of money by making your own wood headboard. With these 27 easy plans, you can create a unique headboard that expresses your personal style. Whether you want something modern or traditional, there's a plan on this list that will help you achieve the look you desire.
So gather some supplies, put on your DIY hat, and get ready to build a beautiful new headboard for your bed.