Crafting and personalizing your daily apparel is a great way to express yourself and add something unique and special to your style. And this doesn't just include clothes.
Looking to add a special touch to your getup, while not too demanding in time or materials? Treat yourself to some easy DIY Tote Bag fun!
Collect some supplies, flex those unique creative muscles and off you go, making custom hand-crafted bags worth taking a second look.
Get ready to explore your crafty side and show off the unique bag of your dreams.
1. DIY Tote Bag Ideas: Use a Colorful Fabric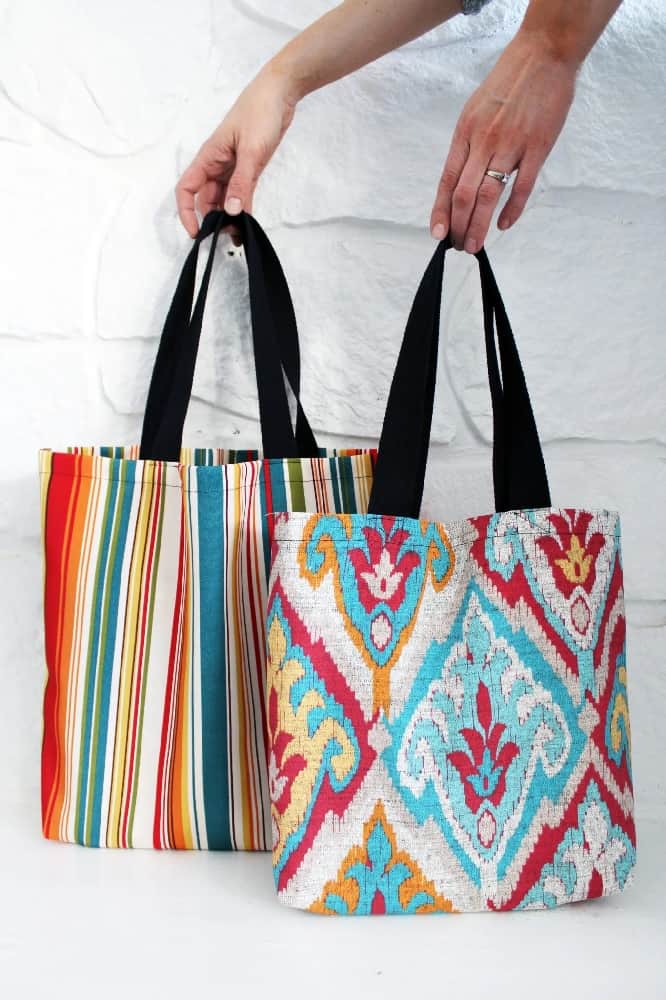 Adding a splash of color to your tote bags can really make them stand out from the crowd – and the best part about it is that it doesn't have to cost you much money. All you need is some colorful fabric and perhaps an extra bit of trim.
Use your creativity and let the fabric pattern be your guide in choosing how you want the bag to look. Cut, sew, and put together a few pieces of fabric, add straps or handle details if desired.
2. Make a Tote Bag Out of an Old Shirt or Dress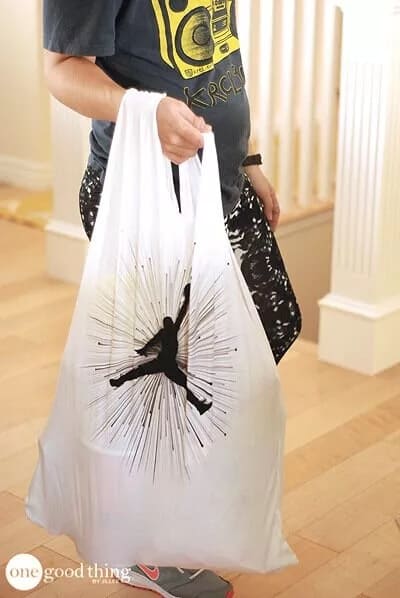 Transforming an old shirt or dress into a stylish tote bag is easy and it's also environmentally friendly. All you need is fabric scissors, needle, thread and your choice of colorful fabrics.
To get started, cut off the sleeves, top and bottom of your dress or shirt and sew the two ends together. Then it's all about decorating: add flowers, bows, patterns or text to express yourself.
3. Use a Denim Fabric to Make a Sturdy and Stylish Tote Bag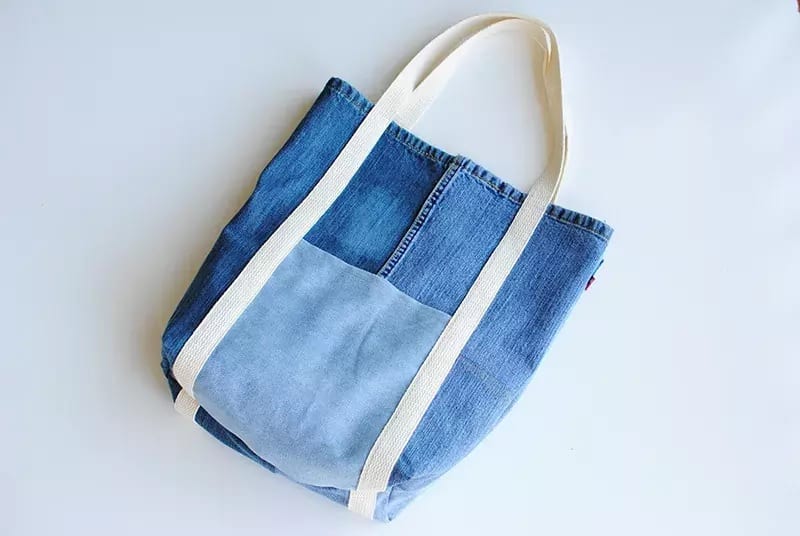 Denim has strong fibers that make it extremely durable, so you know your bag won't tear or fray easily. Plus, its classic look and style mean it'll never go out of fashion.
What you will need:
Old pair of jeans
Jeans Needle
Gold Jeans Thread
3 Yards Cotton Webbing
bias tape (optional)
General sewing supplies
Grid ruler
Instructions:
Measure and cut the denim fabric into two rectangles, each one slightly larger than the size you want for your finished tote bag.
Place the two pieces together, with the wrong sides of the fabric facing each other.
Pin and sew around the edges, leaving a few inches of space at the top of one side for turning the bag right-side out.
Turn the bag right-side out and topstitch it to finish off your project
4. Make a Tote Bag with an Interesting Print or Pattern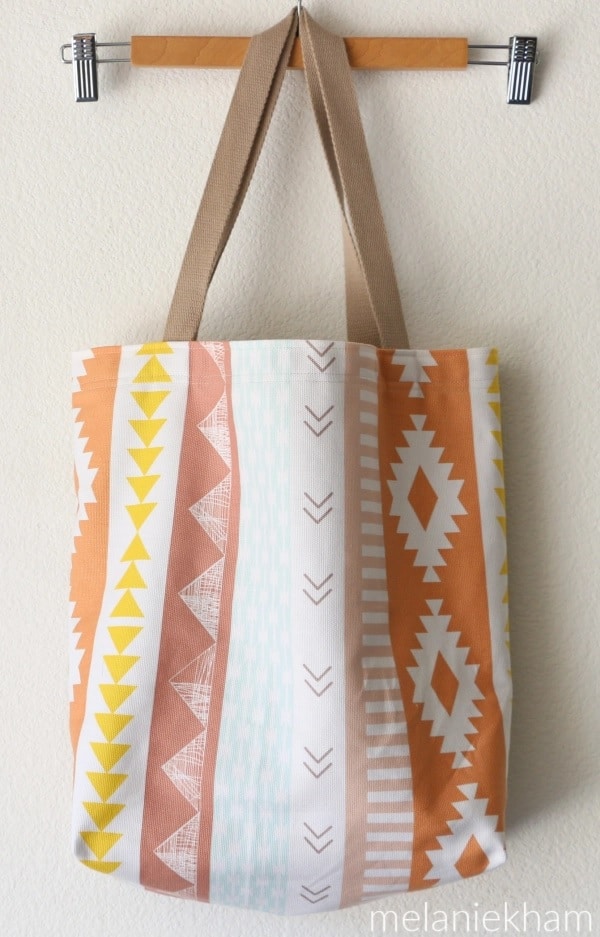 Pick colorful fabrics for a bold look, combine two different prints for a cohesive result, or use a single solid color fabric for a minimalist design.
No matter what style you prefer, get creative and make a one of a kind accessory that is sure to draw admiring glances no matter where you go.
It's amazing how quickly this simple step can transform an everyday bag into something truly unique and make it a real statement piece of fashion.
5. Use a Canvas Fabric to Make a Durable and Practical Tote Bag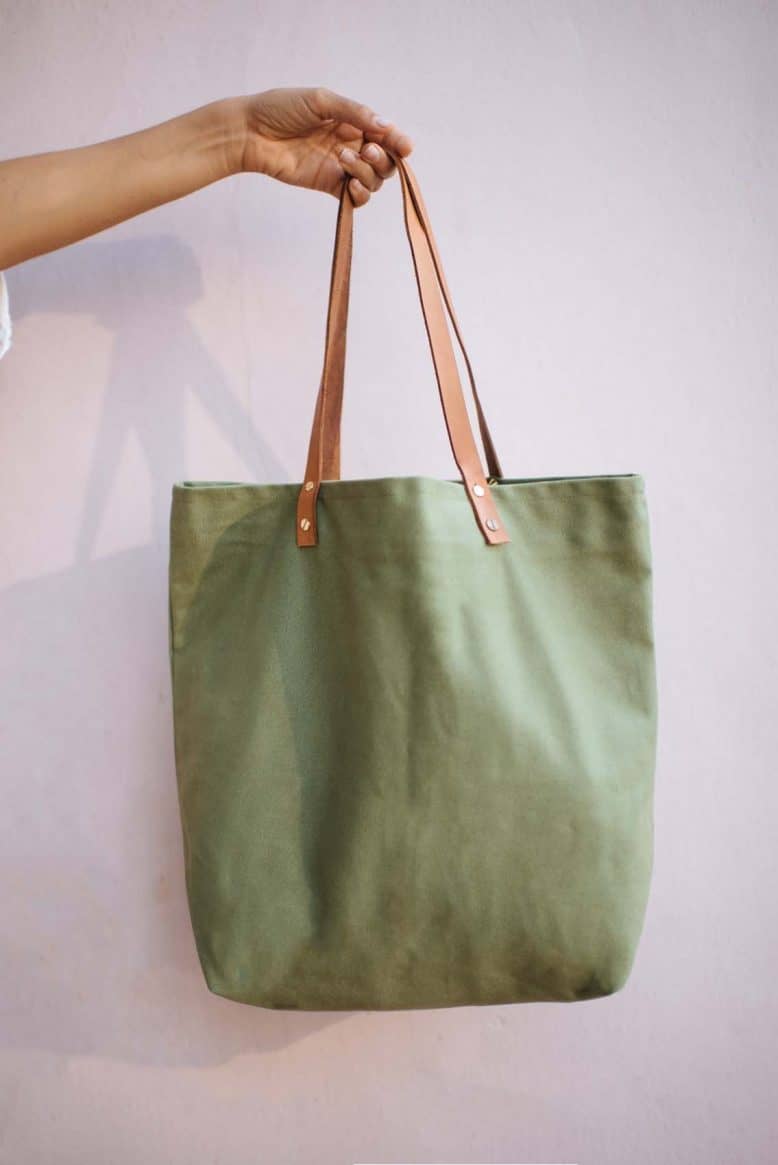 Crafting your own tote bag is a creative and practical way to carry whatever items you need in style. The key to making a long-lasting bag is to pick a quality fabric like canvas; aside from it being durable and resilient, it comes in many different varieties.
You can customize each bag with whatever design or decoration preferred and create something completely unique while also having a container that will be sure to last.
6. Make a Tote Bag with Multiple Pockets for Extra Storage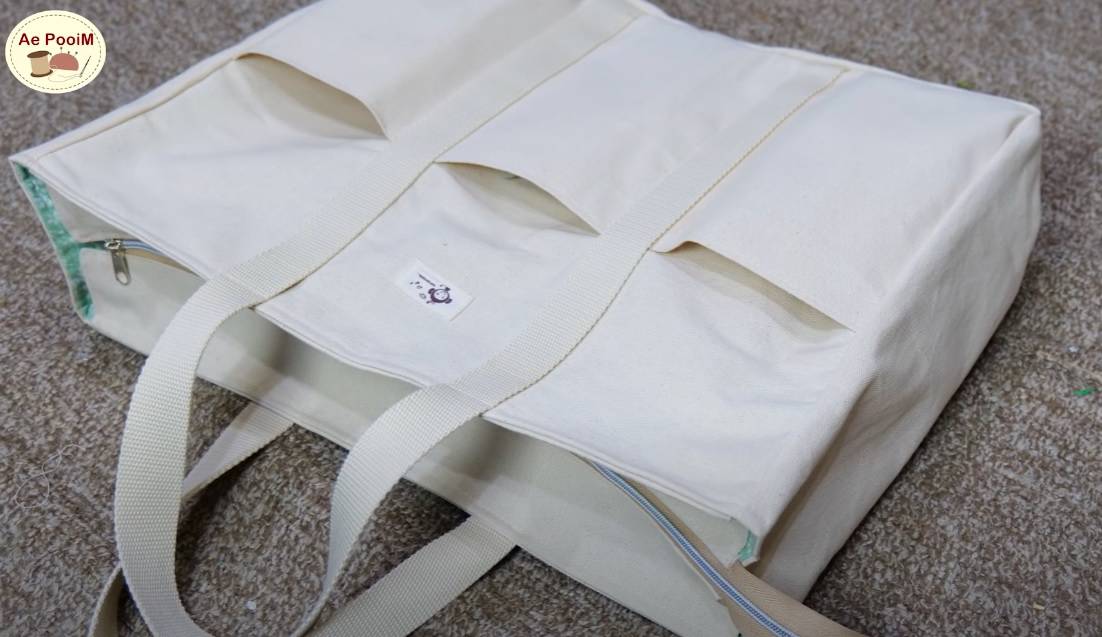 Making a tote bag with extra storage pockets is a great way to add extra utility and organization to any outfit.
Assembling this extra storage can be quite simple, regardless of your sewing skills. All you need are scrap fabrics, scissors, line pins, cotton thread, and your favorite machine seam allowance tool.
Start by Cutting two pieces of fabric in a rectangular shape that corresponds to the desired size of the bag. Then proceed to sew the curved bottom layers for extra reinforcement; this will make extra room for whatever possessions you're carrying, like makeup holder, phone, books, stationaries, etc. perfect for organizing all those extra items.
7. Use a Leather or Faux Leather Fabric to Make a Chic and Stylish Tote Bag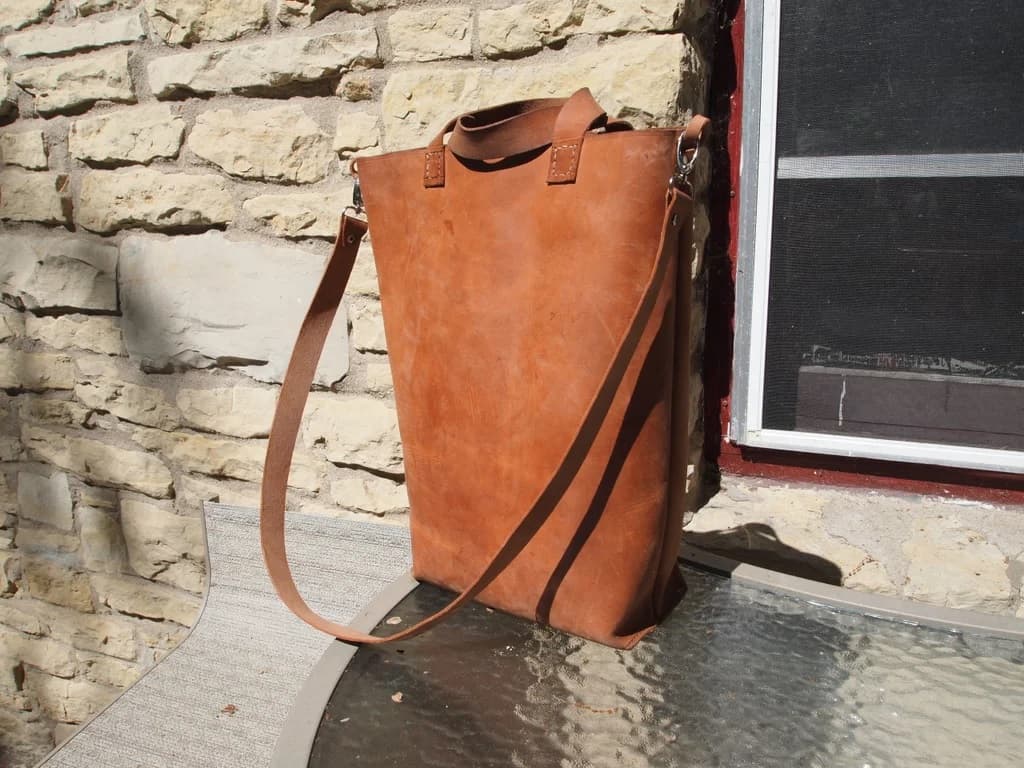 Making a chic and stylish tote bag out of leather or faux leather fabric is simple and easy for the beginner sewer. Leather is great for upcycling; it's an economical and versatile material that can be used in many creative projects.
You can find unique pieces at thrift stores which will allow you to customize your bag with whimisical patches, buttons, ribbons or fabrics while also creating a one-of-a-kind look. Leather is strong; it makes the perfect tote bag that can hold heavier items such as books or groceries.
8. Make a Tote Bag that is Reversible for Two Different Looks in One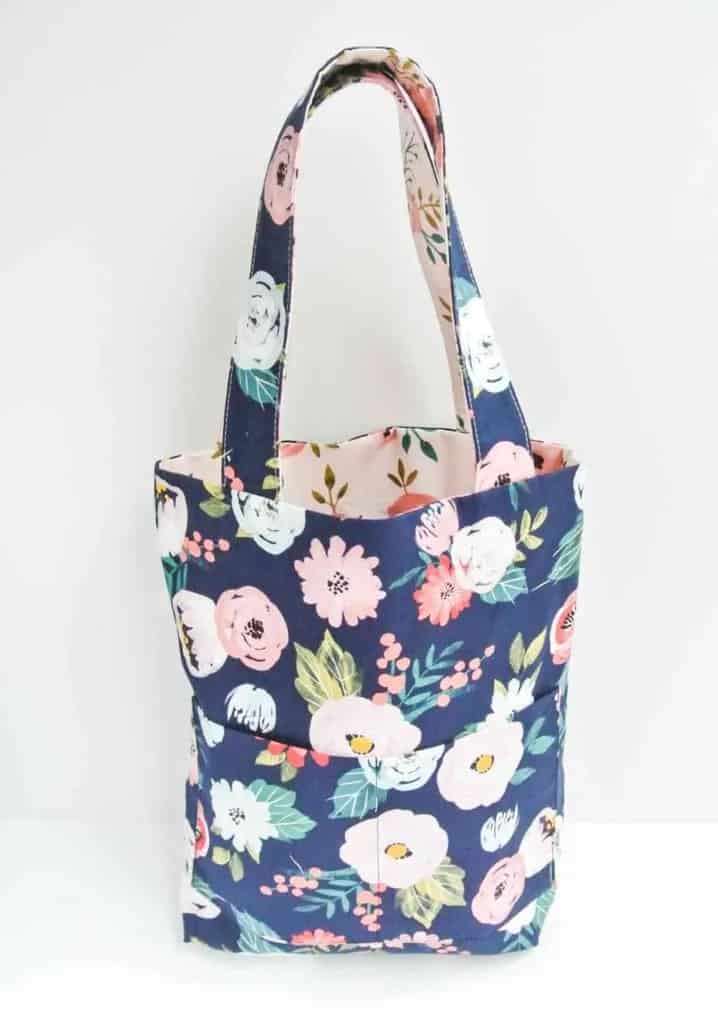 With two different looks in one, your reversible tote is like having two totes that don't take up anymore room than the single tote. Jazz up the look with different colors, patterns and fabrics and get creative!
Have fun mixing and matching textures or prints, while keeping comfort in mind; this bag will become a staple in your wardrobe. Showcase your personal style by customizing buttons and pockets and deciding where best to place them so you're getting maximum use out of your versatile reversed tote bag.
9. Use Embroidery or Applique to Personalize Your Tote Bag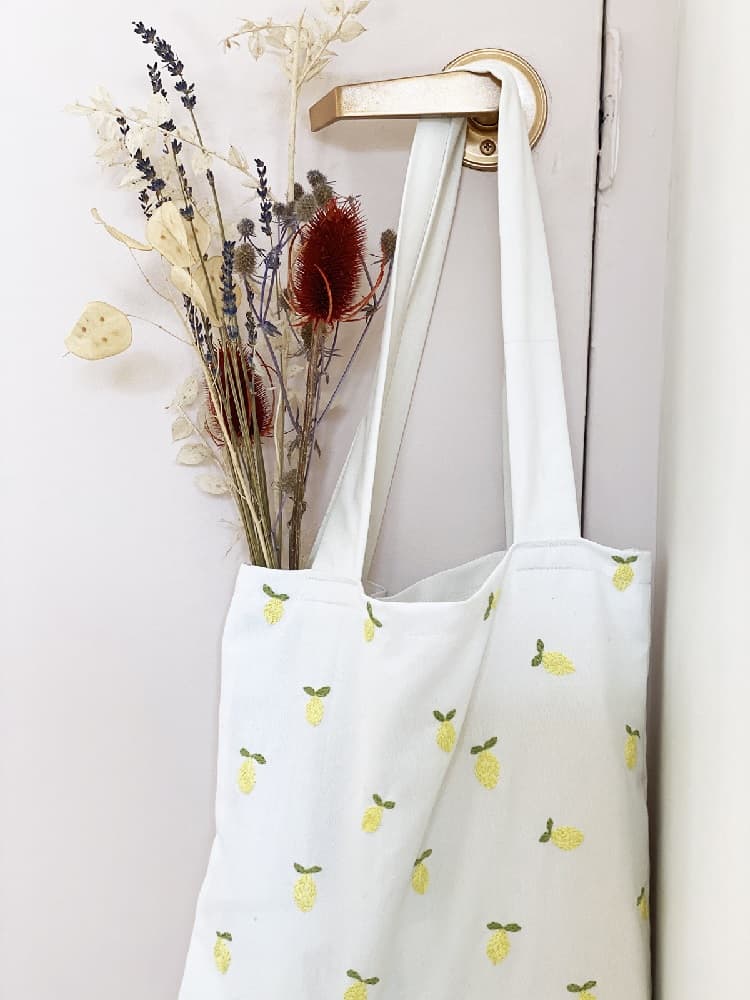 Embroidery is a great way to add interesting patterns and texture, and appliqué can be used to embellish the bag with original designs or your favorite symbols. It can take some time, but it's an easy and fun craft that can give your plain canvas bag an eye-catching upgrade.
Supplies needed:
Needle, thread, and embroidery hoop
Fabric scraps, iron-on adhesive, or fabric glue
Embroidery floss in a variety of colors
10. Make a No-sew Tote Bag with Iron-on Adhesive or Fusible Webbing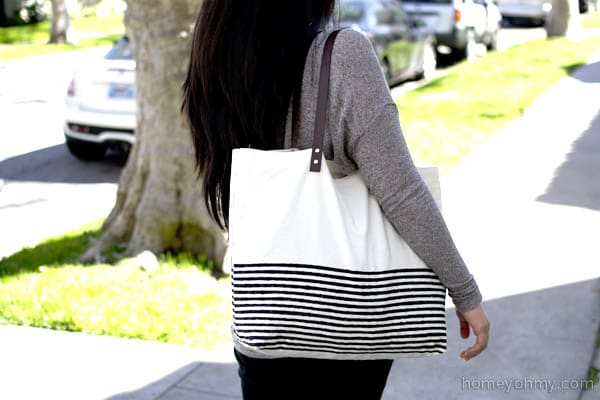 By using iron-on adhesive or fusible webbing, you can create something that is both stylish and functional. The look of the bag that you make will depend on your own creativity: from choosing patterns and colors to adding little details like monograms and different accessories.
It's super easy to get creative when making a no-sew tote, simply pick out your favorite combination of fabrics, weave them together using the adhesive or webbing, and get ready to show off your one-of-a-kind bag. Plus, free handing the design is totally acceptable; it simply adds more charm and personality to your bag.
11. Use Fabric Paint to Create a One-of-a-kind Design on Your Tote Bag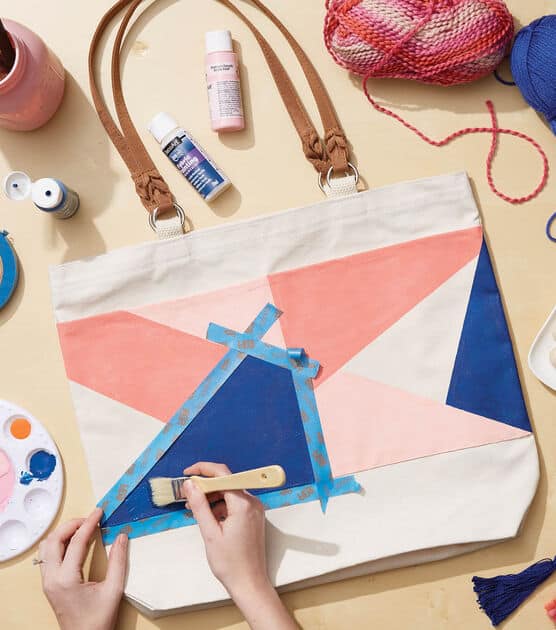 Unleash creativity and get artsy with your custom design; mix colors, patterns and designs together to create something truly unique!
Paint each side of the bag with a different pattern or color, draw intricate details on a single color canvas; whatever design you can dream of, you can make it with fabric paint.
12. Create a Tote Bag with Embellishments Like Buttons, Beads and Sequins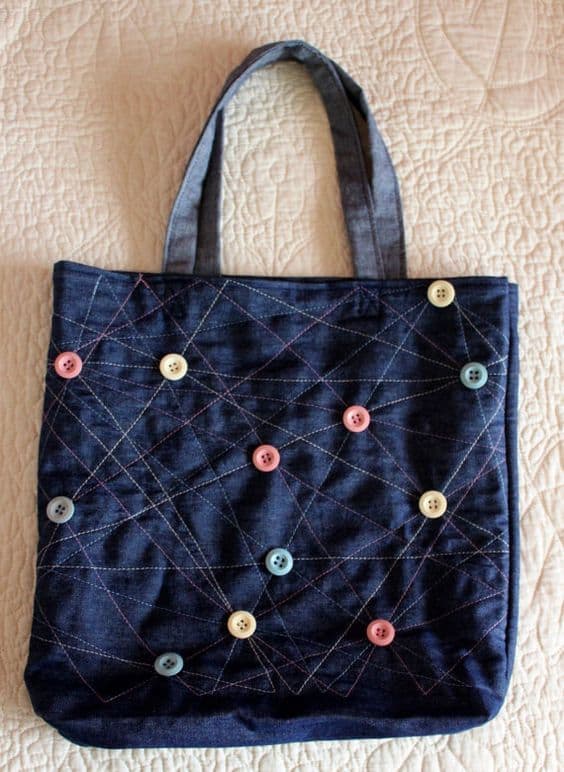 Incorporating details like buttons, beads and sequins will set apart your bag from the plain, canvas dullness of store-bought styles.
Crafting your own tote bag can be as simple or as intricate as you would like; choose patterned fabrics, put a layered bow on the front pocket, add details like crochet details or go all out with plenty of sparkly details like sequins and glittery beads.
13. Recycle Old Jeans into an Upcycled Tote Bag with Denim Pockets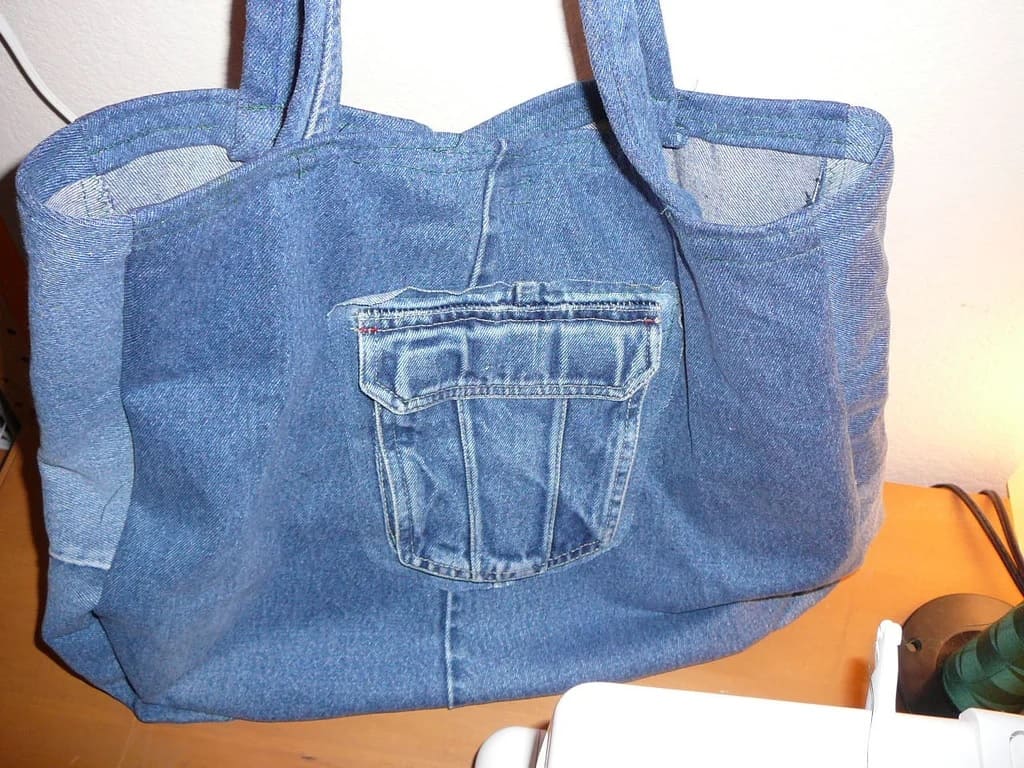 Making your own tote bag from repurposed jeans is an easy way to customize the look of the bag to fit any occasion. Plus having pockets already built in gives it instant functionality! Denim can be stiff before you start, so it's ideal if you wash and dry it first.
To make your upcycled denim pockets tote bag, measure and cut some strips of fabric from the legs of your jeans. Stitch them together using one long piece so that when you turn it inside out, you'll have an open "tube" with four individual pockets. Turn it right side out again and insert a clean sheet of wrapping paper as a liner. Add some straps and tassels
14. Make a Sturdy and Stylish Tote Bag Out of Burlap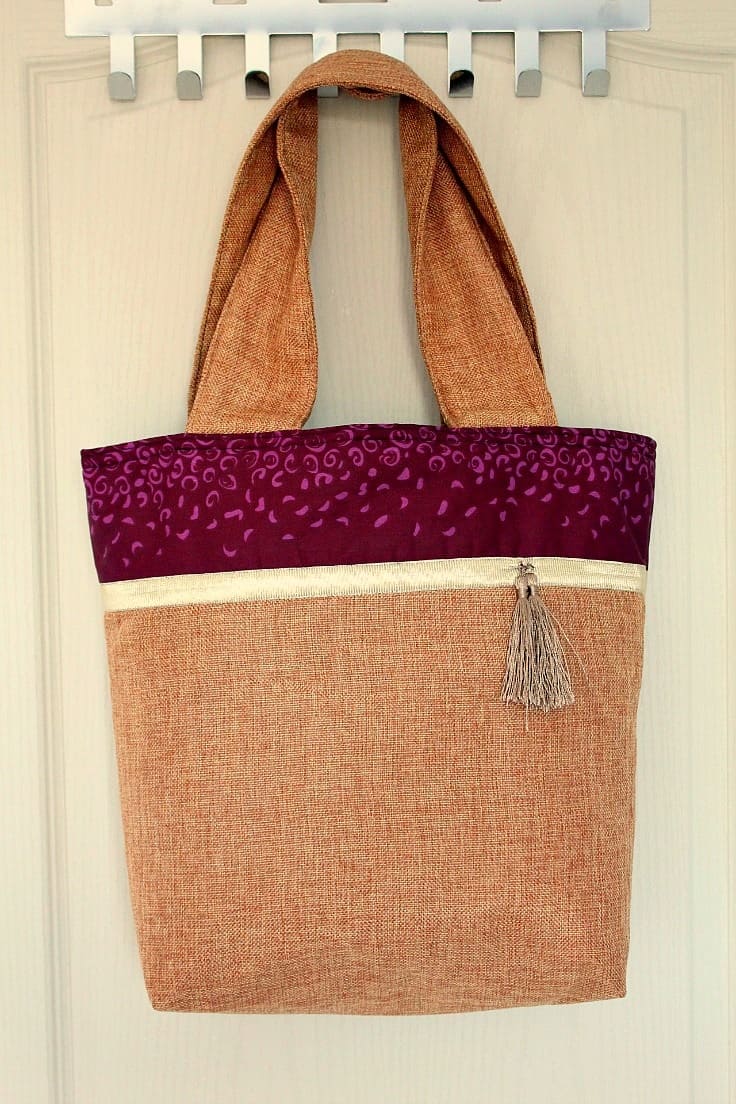 With some basic sewing skills, you can craft a unique and rustic tote bag from burlap.
Start by measuring out enough fabric to fit over your shoulders, and add some buckles of any color you choose for the straps. Next, sew the fabric into two large rectangles that wrap around each side of the bag. Finish it off by adding tassel for a little detail.
15. Create a Bold and Bright Tote Bag with Neon Fabric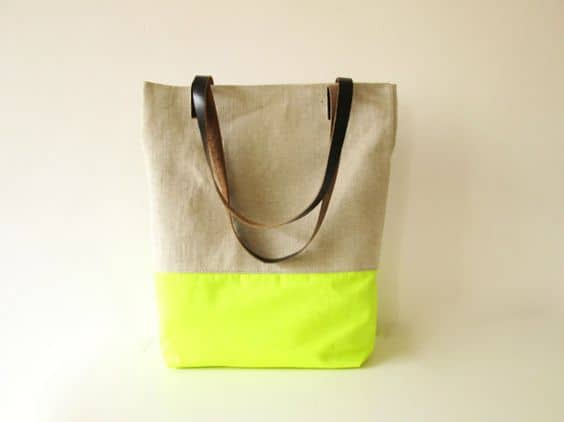 DIYing tote bags with neon fabrics is an easy project that can make a big statement on the streets. You can make one in almost any shape or size, as long as you have some basic sewing skills and minimal fabric crafting experience.
Start by selecting eye-catching neon fabrics and combine with neutral hint of burlap, then spend some time hand-stitching it together until you get a unique bag.
16. Embellish your Bag with Bow for an Extra Special Touch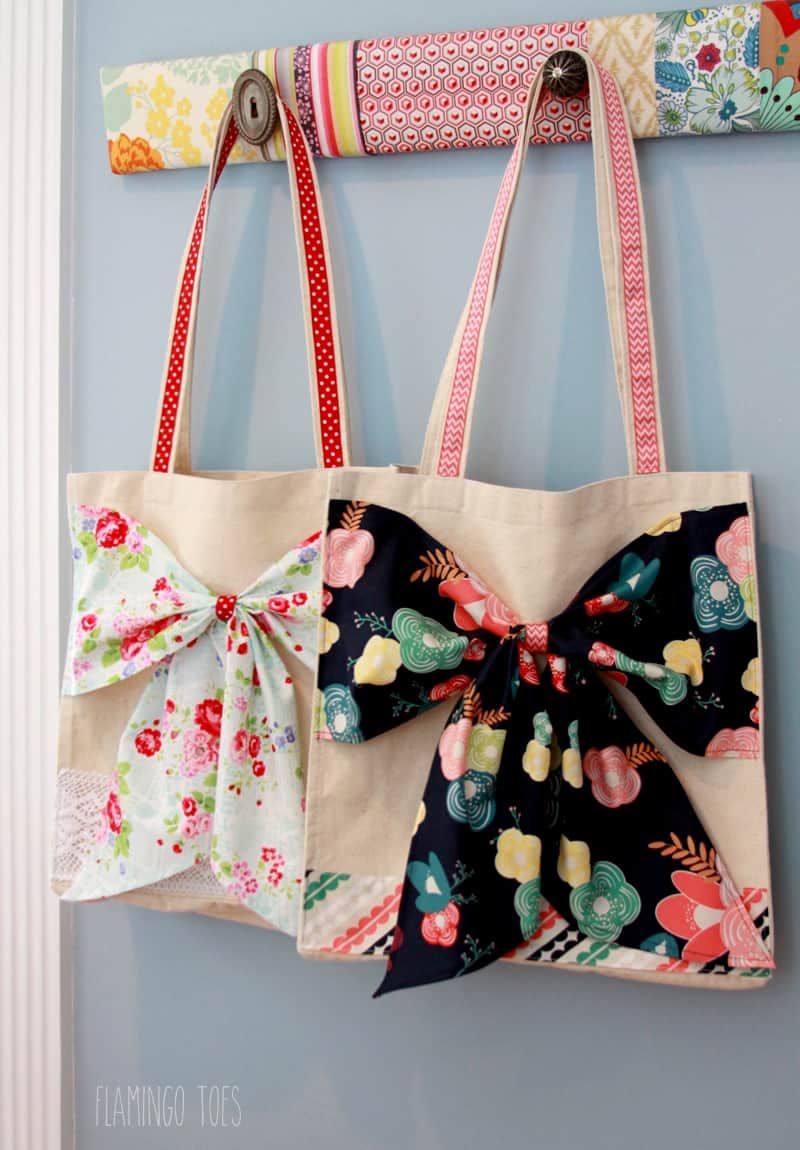 With intricate details such as ribbons, feathers, and bows, a plain tote bag becomes an eye-catching accessory. These accessories are the perfect way to add pretty details without compromising on comfort or practicality.
The wonderful thing about DIY tote bags is that you can pick colors and patterns that match your personality or occasion best.
17.  Make a Tote Bag Out of Recycled Plastic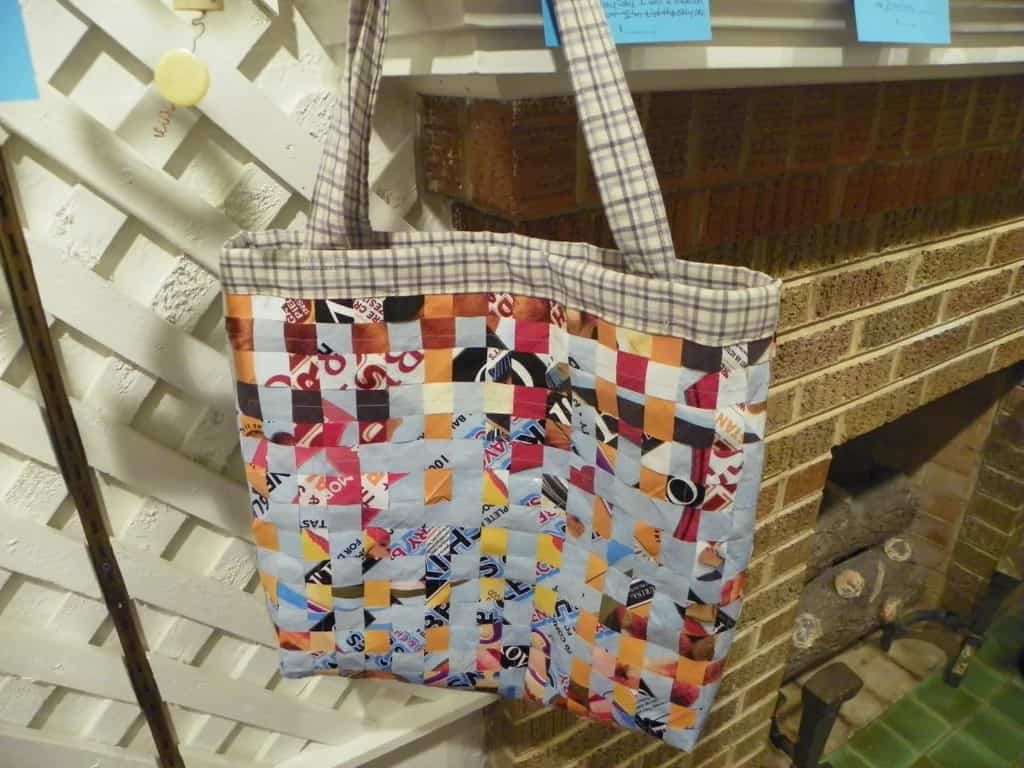 Gifting a tote bag made out of recycled materials is quickly becoming the most thoughtful way to show you care.
You can make your own unique statement piece both easily and affordably with just some basic supplies. Paper, cardboard and plastic are all great sources to repurpose into creative and stylish tote bags.
Supply needed:
Instructions:
Start by collecting as many plastic bags and paper/cardboard materials as possible.
Cut the plastic bags into thin strips and weave them together with the paper or cardboard to create a woven pattern.
Once the woven pattern is complete, glue it together to hold the shape.
You can then use a needle and thread to stitch the corners of your bag together for extra durability.
Finally add any decorative elements that you would like and enjoy your repurposed tote bag.
18. Add Patches for an Extra Personal Touch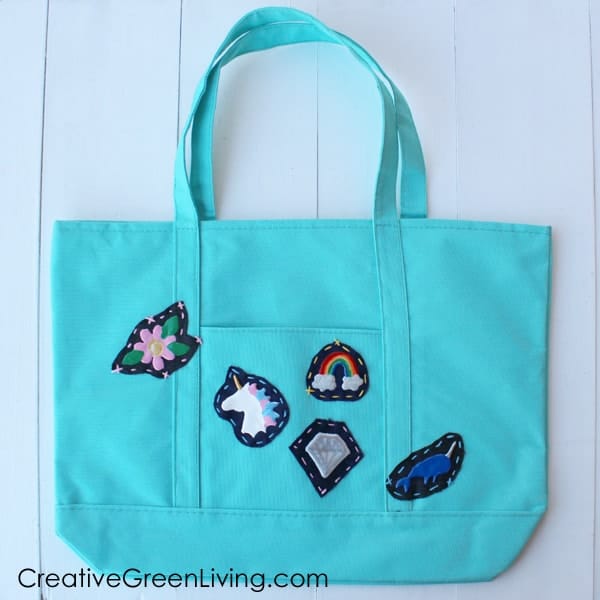 Give your bag an edgy vibe by adding enamel pins in various shapes. Or else, if you're feeling more creative, use colorful patches or iron-on transfers of your favorite quotes or characters for a fun twist. You can even switch out the patches and pins depending on your style and mood – perfect for setting unique trends wherever you go.
Sew them onto the bag for a permanent accent, or cinch them on with colorful strings for something that's easy to change up whenever you feel like it.
19. Create a Waterproof Tote Bag with Vinyl Fabric or Waxed Canvas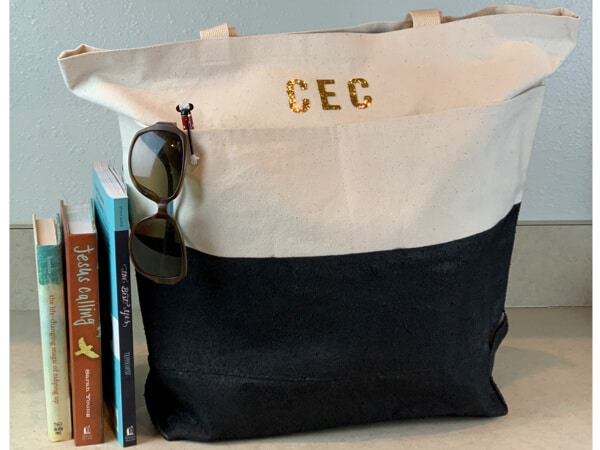 If you want something waterproof, you have the perfect combination: vinyl fabric or waxed canvas. With these materials, you can create the perfect bag that will keep whatever is inside nice and dry no matter what the elements throw at it.
Material lists:
Large Natural Canvas Tote Bag With Pockets
Plastic Dip Spray Paint
Iron-On Monogram Letters
Painters Tape
Trash Bag (or something to cover the part of the bag you are NOT painting)
Iron
Ruler
20. Turn an Old Pillowcase into an Easy Tote Bag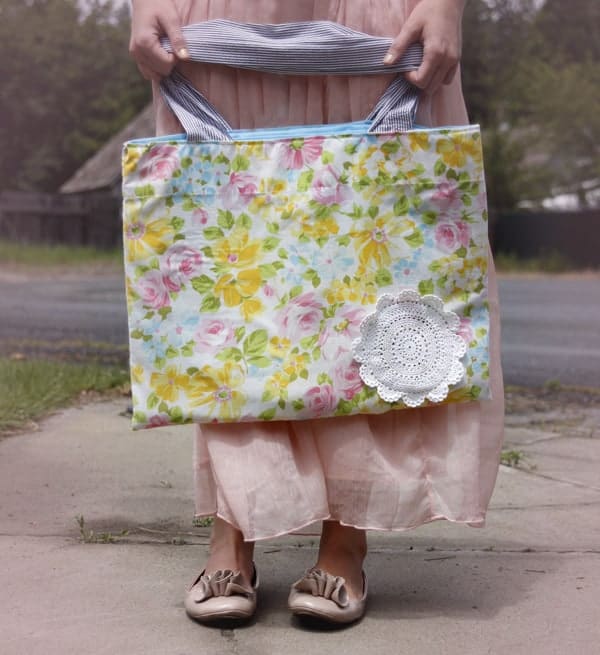 An easy way to do this is to turn an old pillowcase into a fun tote bag. Start by turning the pillowcase inside out and giving it a good press with an iron to get rid of any creases or wrinkles.
Cut a piece of ribbon to your desired length and attach it to both sides of the top edge of the pillowcase. Then, fold down the top edge and stitch down the ribbon using a simple running stitch. To finish things off you can add rivets or buttons to the side seams if you like.
21. Attach an Interesting Shape or Silhouette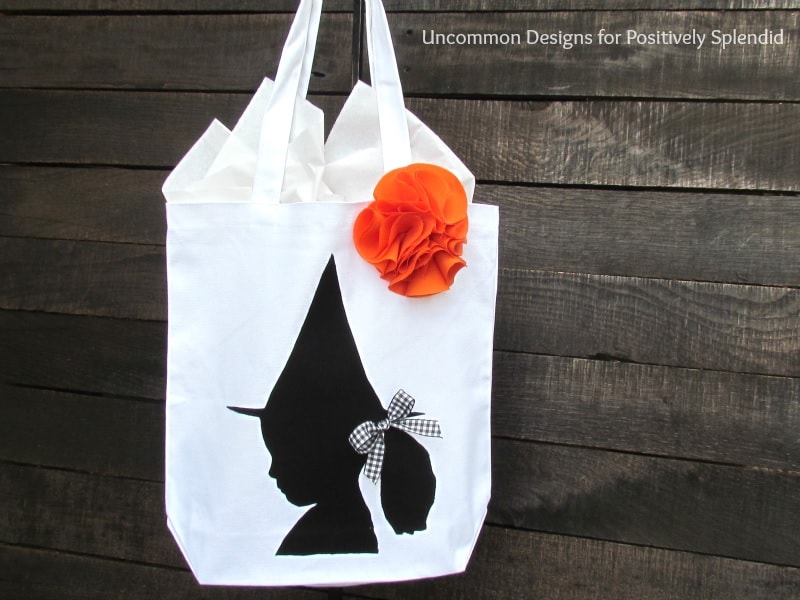 Adding an interesting shape or silhouette is an easy yet creative way to customize any bag. Consider making fanny packs, triangular totes, bubble shapes and more. You can also add decorative details such as pretty fabric accents, paint designs and even rhinestones for extra sparkle.
To start, measure and cut the fabric according to your chosen shape. Then, construct the bag by sewing the pieces together. Finally, reinforce the seams for a sturdy finish. With this idea, you can be sure that none of your friends will have anything like it.
22.  Use Button for Fun and Unique Closure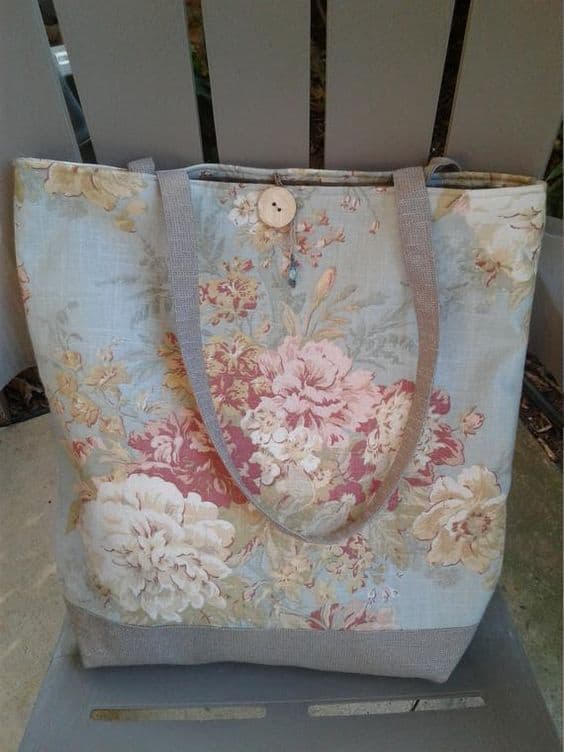 A fun and unique tote closure is an easy way to make sure your creation stands out from the crowd. Whether you're looking for something practical or just for fun, there are so many options when it comes to closures.
With buttons there's something suitable for every style and purpose. You could even combine different closures like a zipper with a snap or magnetic button.
23. Make Use of Upholstery Fabric for Extra Durability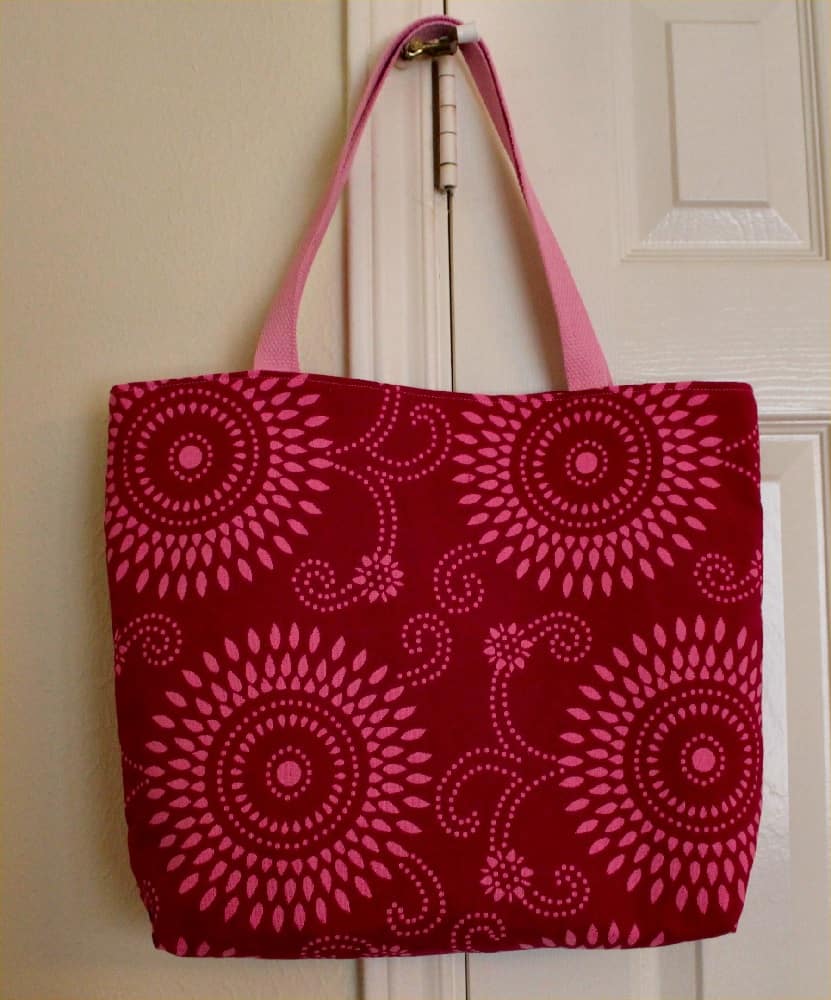 Try making your own durable, stylish tote bag with some upholstery fabric. Upholstery fabric is perfect for creating a personalized tote bag since it's thich and resistant, meaning your bag will be able to withstand everyday wear and tear.
Unleash your creativity by choosing fun patterns or colors and use the fabric to make fun accessories like tassels or pompoms. You can head to your local craft store or thrift shop for extra materials like thread, ribbon, or buttons.
24. Decorate Your Bag with Fabric Markers or Glitter Glue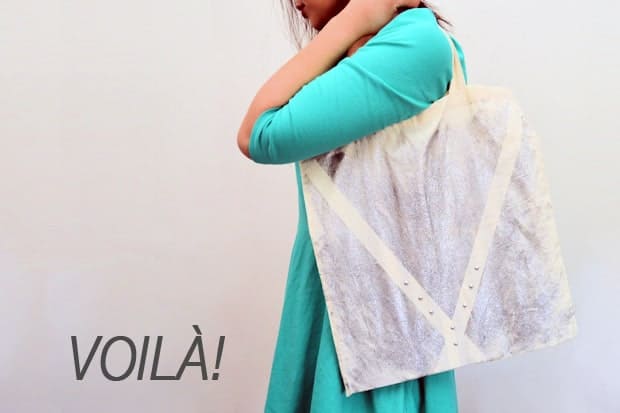 Fancy up your tote bags with simple and creative DIY ideas. Using fabric markers or glitter glue, you can create beautiful designs and patterns to suit any style.
From fancy floral patterns, animal prints, or geometric shapes, the possibilities are endless. Whether it's for a day at the beach or carrying groceries around town. Adding embellishments and ribbons can also add another layer of flair to your bag.
25. Add Pom-poms, Tassels to Your Bag for an Extra Special Touch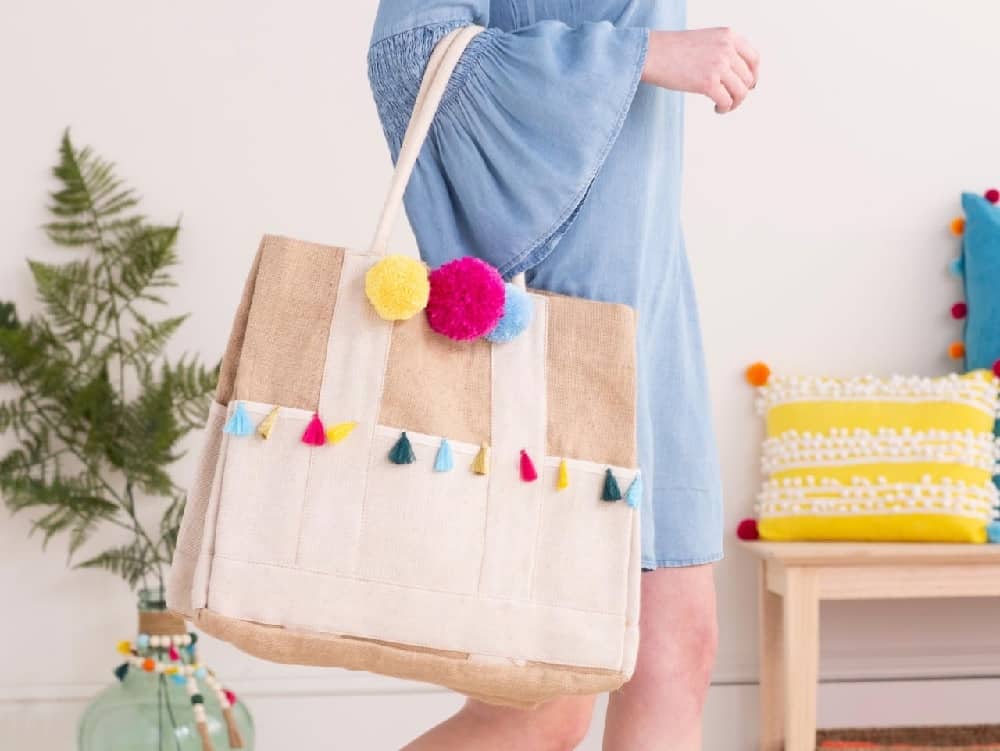 For artistic expression, adding pom-poms, tassels, or fringe to your bag injects an extra special touch. Whether you choose cotton or felt fabric for your bag, the artistic impact of trims is sure to be eye-catching.  Plus, making them yourself is surprisingly easy and allows you to truly let your creative skills shine.
26.  Personalize Your Tote Bag with Embroidered Monograms or Initials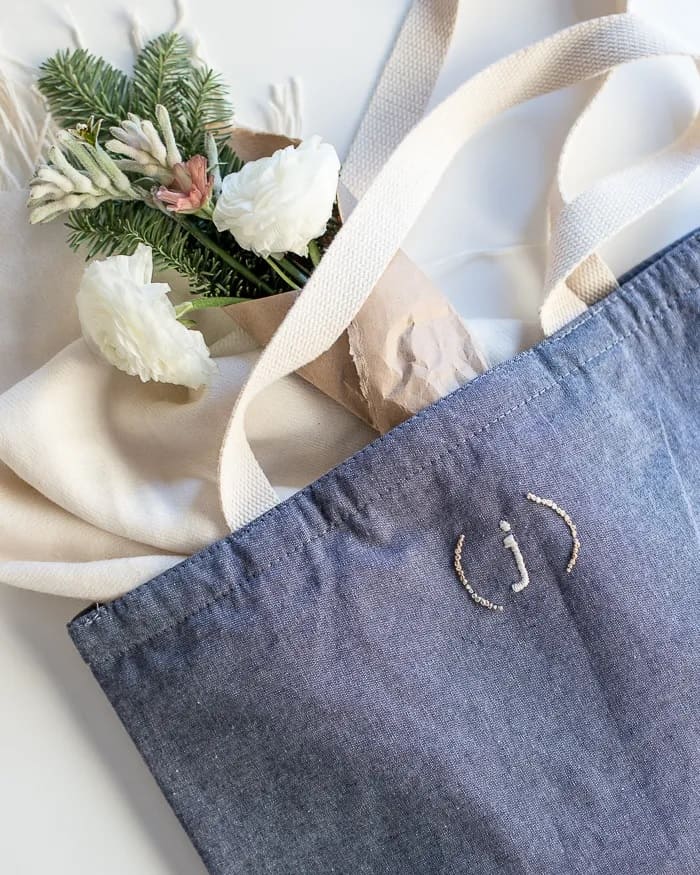 Creating an embroidered monogram is a great way to customize your DIY tote bag and make it truly one-of-a-kind.
You can choose from a wide range of thread colors and fonts to ensure that your personalized tote bag looks perfect. Start with a plain tote bag if you want the design to really pop, although fabrics with prints are fun too
27. Add Multiple Compartments for Better Organization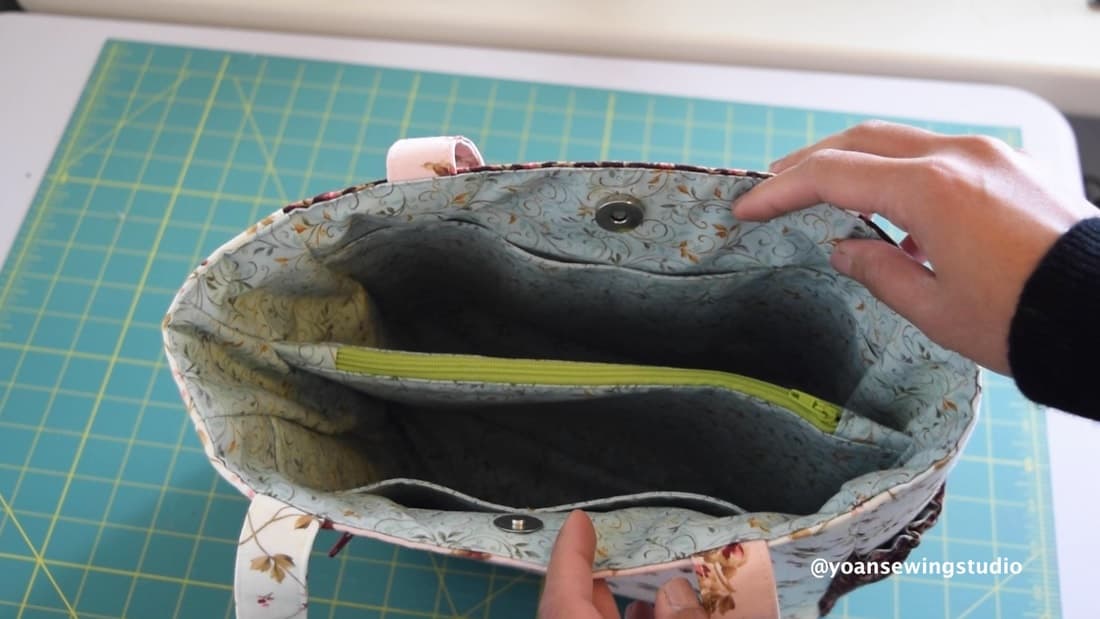 A bag with multiple compartments allows you to stay more organized and makes it easier to keep items separated and easily accessible.
You can mix and match fabrics – both fun patterns and solid colors can be used – for the outside pockets. Then use zippers, buttons, magnetic snaps or Velcro closures for inside dividers. And of course add straps for portability.
You can sew in diverse pockets and sections, go rustic with rope straps or peasant-style ties, dye the fabric if it's cotton, or use vintage buttons and zippers for added flair.
28. Create Pockets on the Outside and Inside for Even More Storage Space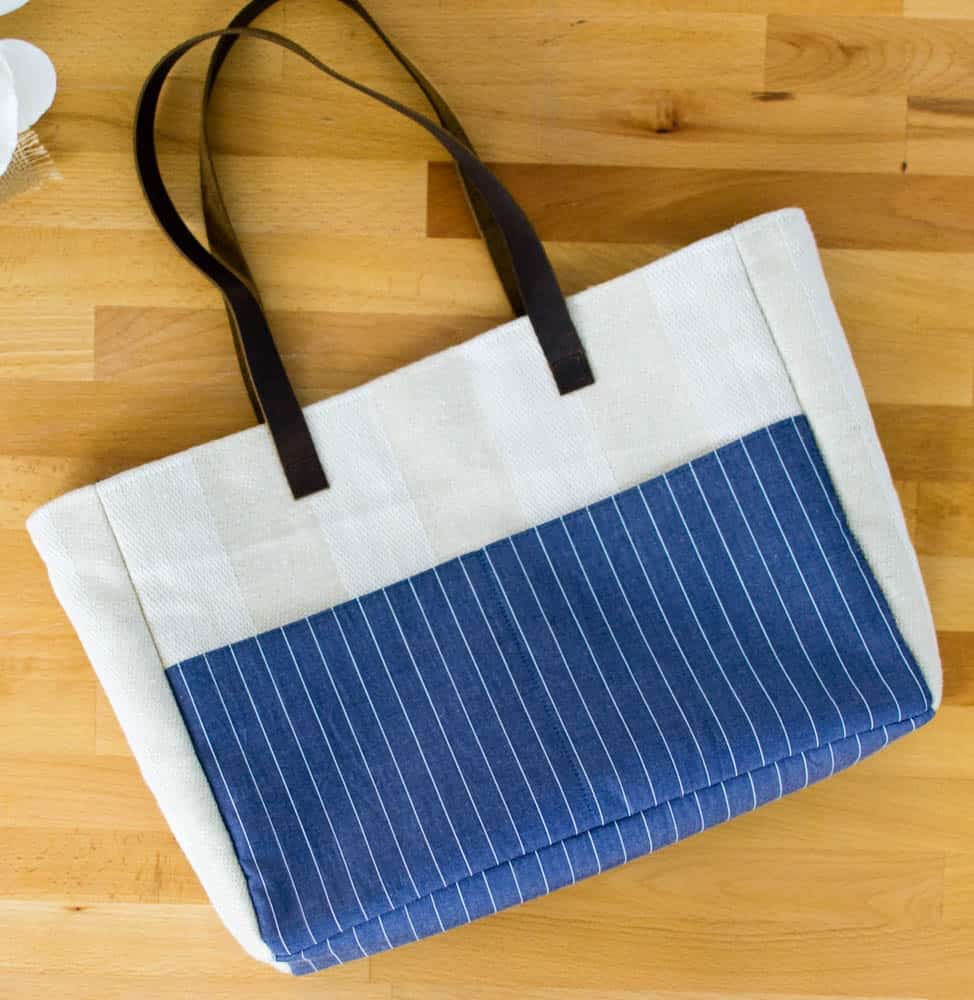 You can make a tote bag with pockets on the outside and inside for extra fun and function. Choose some unique fabrics that you love, or seek out some upcycled materials if you want to reduce your footprint.
You could create two bags in one, making the main exterior of one fabric and the pockets a different option entirely!
When designing your extra-roomy rustic looker of a bag, add extra secure straps for extra security; twisting leather cording around extra rivets on the handle straps is an eye-catching way to finish off your project.
29. Make a Tote bag with a colorful and unique lining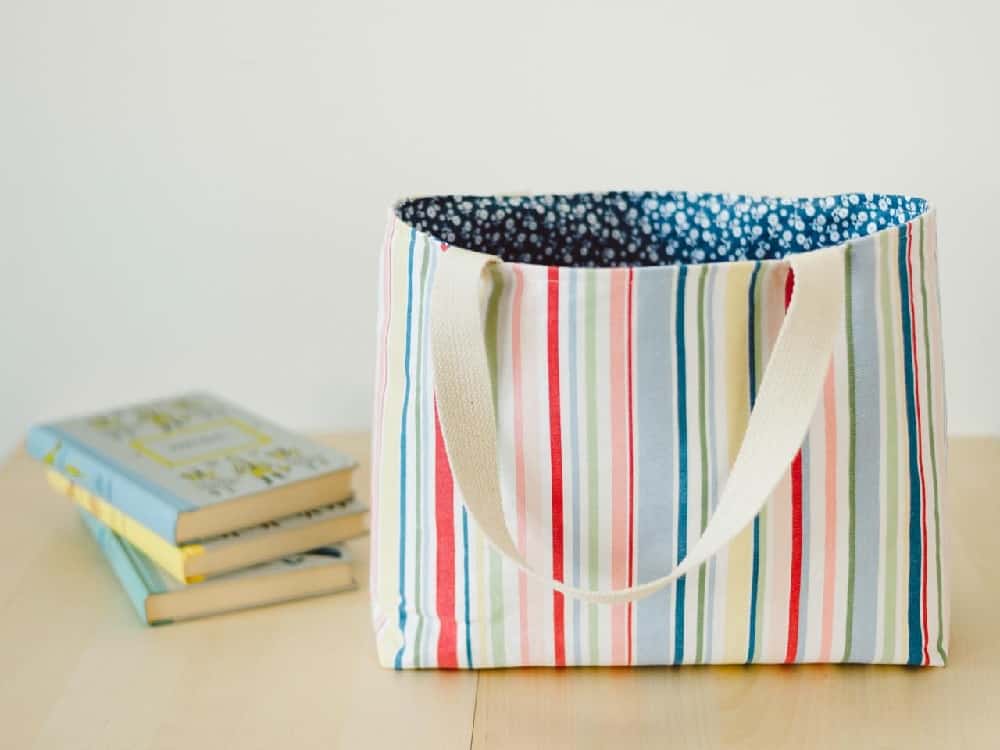 Tote bags are so versatile and can be used for groceries, book haulers, shopping bags, and so much more. Making one with a unique twist is easy.
All you need to do is get a basic solid colored tote bag and add a colorful lining of your own design. You can purchase fabric in any pattern or color imaginable and go crazy stitching it into the inside of the bag.
Material list:
1/2 yard cotton fabric

1/2 yard of complementary cotton fabric for inner lining
1/2 yard of heavy fusible interfacing
42″ of canvas strap
Fabric Scissors or Rotary Cutter
Sewing Machine
Thread
Iron
30. Add Fabric Studs or Lace to Your Tote bag for an Extra Special Touch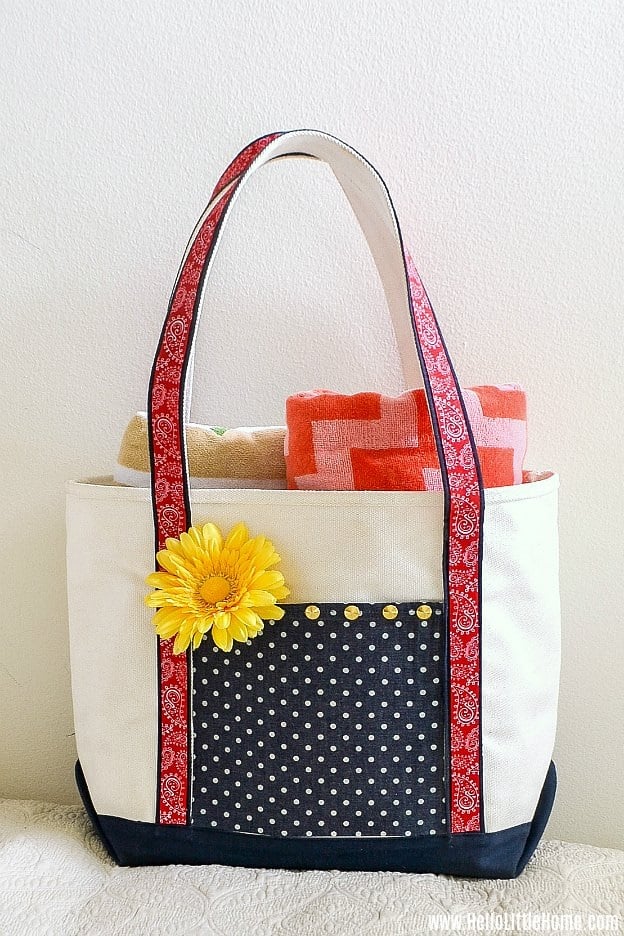 If you're feeling crafty, adding fabric studs or lace can take your tote bag to the next level. Beading is a great way to add interest and texture to your project.
Fabric studs are super quick and easy to apply, plus they make for an eye-catching statement piece.
Last but not least, lace trim can add a vintage feel and give your tote an elegant finish.
With these DIY tote bag ideas, you can easily and quickly create your own stylish and unique bags that will bring some extra flair to your daily look! Have fun crafting away and making the perfect tote bag for your needs.
Happy creating!