Shower wall panels are a great way to add style and character to your bathroom. They are also a very affordable option, and can be installed yourself without too much trouble. So, if you are a beginner, it is not a big deal to makeover your bathroom.
In this blog post, we will show you the best DIY shower wall panels plans that will make a statement to your bathroom and upgrade it into something adorable. We will provide you with all the information you need to get started, including materials lists and step-by-step instructions.
1. White Ceramic Tiles for White Bathroom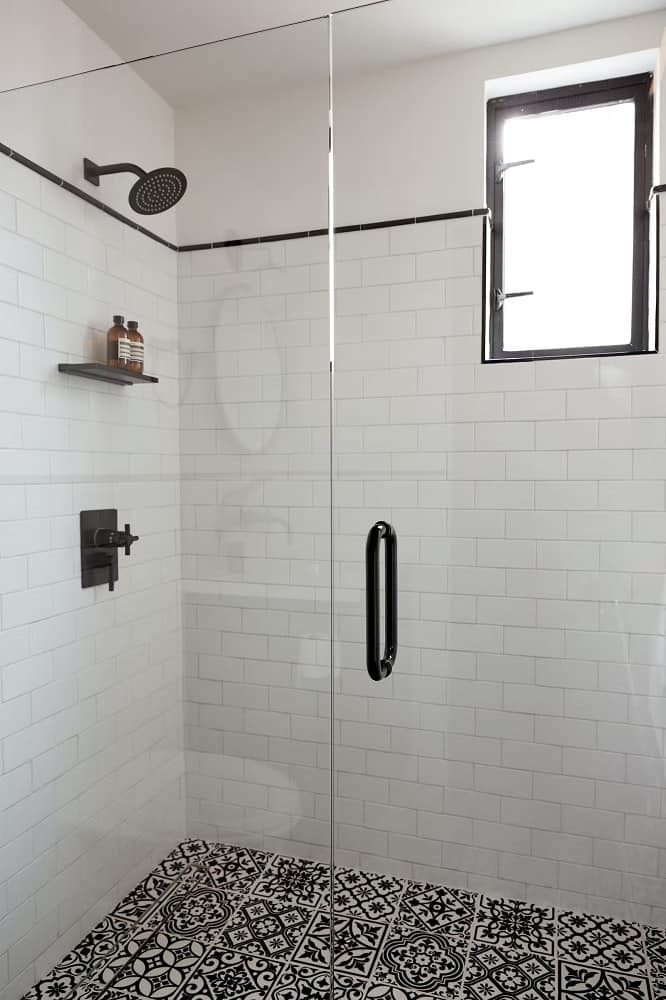 This white tiles will make your bathroom feels more spacious and airy. Perfect for the tight space, which need a little update affordably. The white tiles offers a sleek, modern look that can instantly transform a drab bathroom into a luxurious oasis.
To make it works, you will need the following supplies:
Bathroom tiles
Grout
Silicone sealant
Trowel
Tile cutter
Spirit level and pencil mark line on the wall to indicate where the tiles will be placed and dried.
2. Stone DIY Shower Wall Panels Plans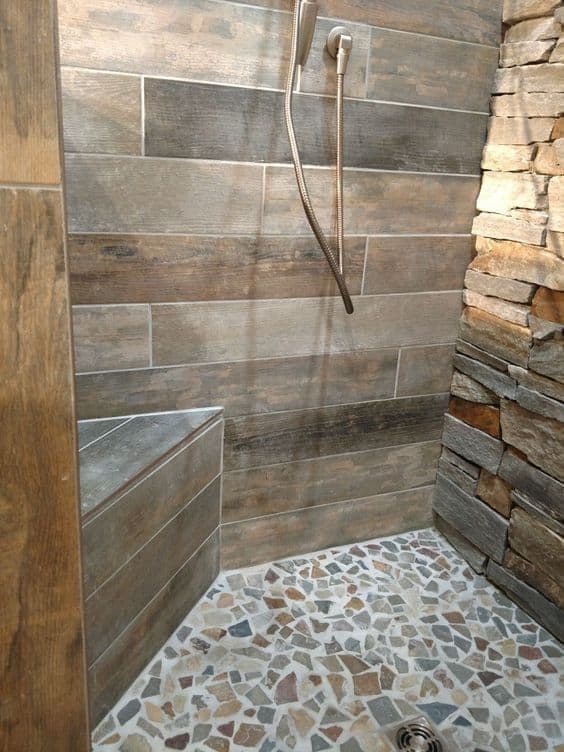 Applying the stone shower wall panels will bring you a natural atmosphere, bringing in the refreshing feel to the bathroom. The stone tiles are easily applied and easily maintained though the price is a bit high.
If you want to go for the stone tiles, choose the most durable one and make sure that you have enough budget for it because this is going to cost you around $20-$40 per square foot.
3. Modern Shower Remodel Project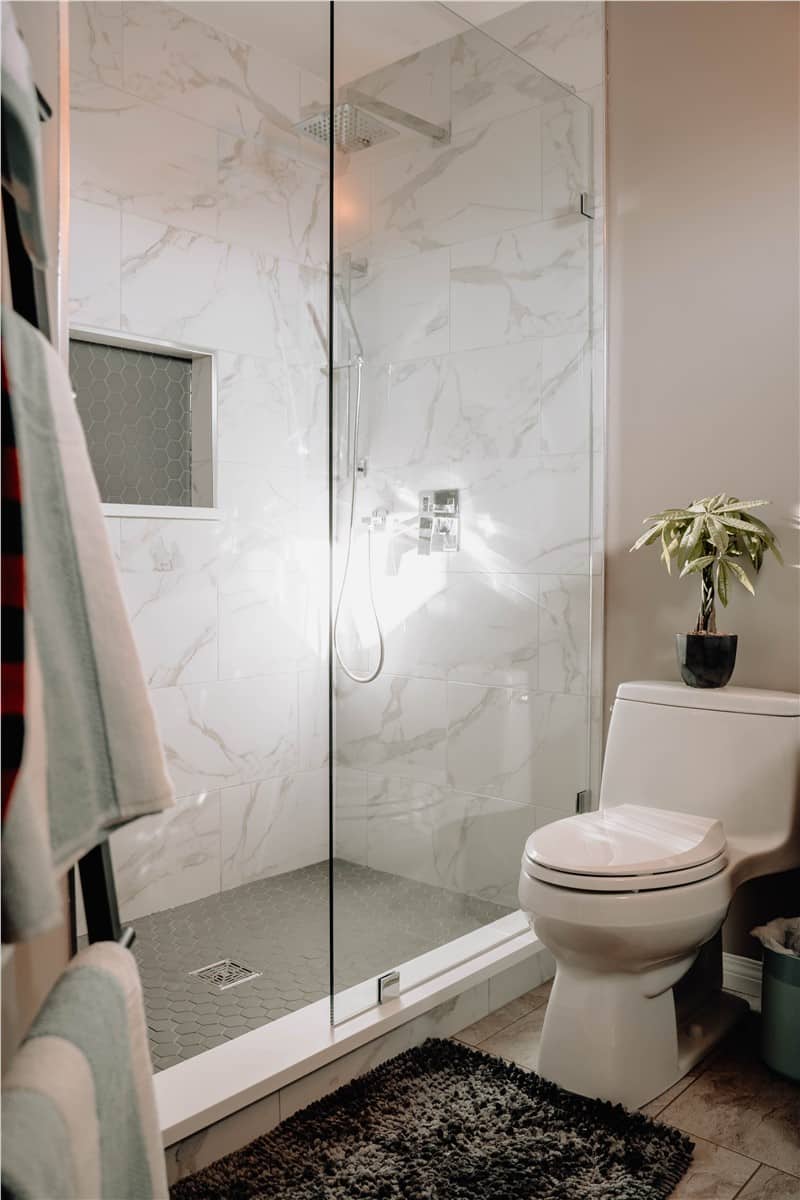 A simple touch of modern shower wall panel will surely make a huge impact to the bathroom. They are sturdy and easy to install. They come in different colors, textures and materials that you can use depending on your taste.
It is a practical way of getting the shower walls look great without spending too much for a custom-made tile wall. The shower area will be more enjoyable if you choose these panels as it is pleasing to the eyes plus it can lessen maintenance and cleaning time.
4. Industrial Shower Wall Panels Plans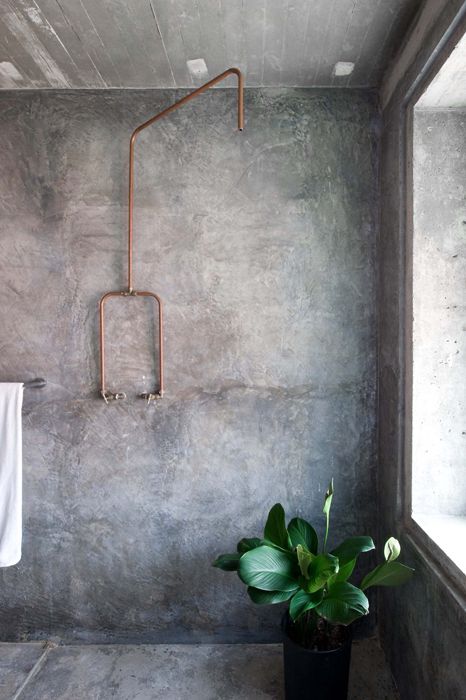 Give your bathroom an edgy and modern look by incorporating concrete shower wall panels into your design. Not only will it provide a unique and eye-catching touch, but it can also help you save money on your renovation project.
Even if you're a beginner with limited skills and materials, this is a perfect DIY project to tackle. With just a small touch of concrete, you can elevate the entire appearance of your bathroom and create an industrial vibe that is sure to impress.
There are many ways of achieving the industrial style with concrete wall panels. Left it unfinished or paint a different color to create contrast, add lighting and other elements that can give an industrial effect while still being practical and easy maintenance.
5. Rustic Bathroom Design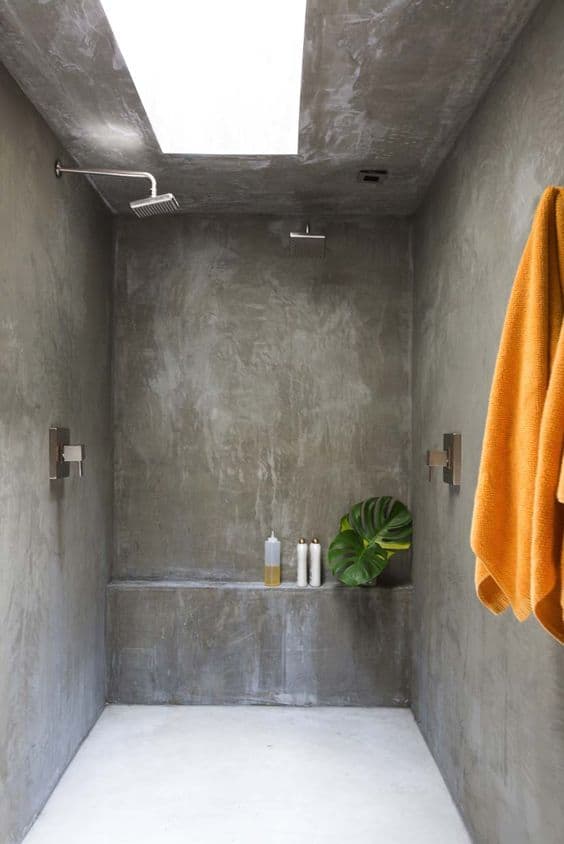 t's a DIY project that adds a cool, edgy aesthetic to any shower space. Plus, exposed concrete is low maintenance and easy to clean.
To start, gather the materials you'll need: cement mix, rebar mesh, plywood, clip board toggle bolts, and sealant. Next, create the pipeline framework using the rebar mesh and cement mix. Then, attach the plywood onto the framework using toggle bolts 24 hours after the cement has dried. Finally, seal the exposed concrete to protect it from water damage.
6. Traditional Shower Wall Panels Plans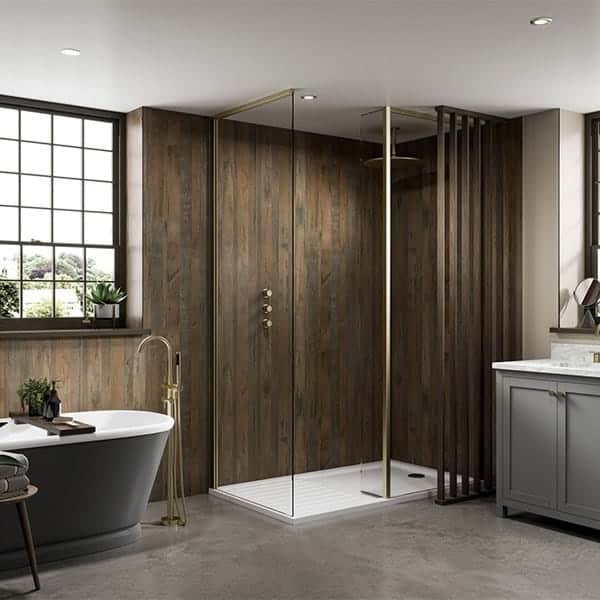 Wooden shower wall panels add a unique style and organic touch to any bathroom. Plus, wood is easy to work with and can be customized to fit the measurements of your shower.
Before starting your project, make sure you have all the necessary materials, such as wood planks, waterproof sealant, wood glue, and wood screws. When installing the wood panels, it's important to seal any joints or cracks to prevent water damage.
7. Minimalist Shower Wall Panels Plans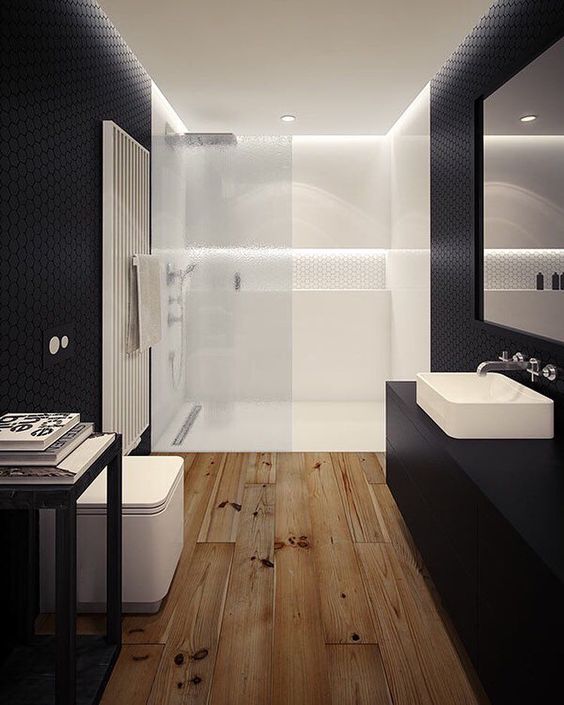 With a simple installation of the minimalist shower wall panel, you can protect the bathroom wall from the splash. This minimalist style is also can easily matched with any style of the bathroom.
Consider using the light color to keep the minimalist look. The wooden material will bring the warmness and calm atmosphere to your bathroom.
8. Classic Shower Wall Panels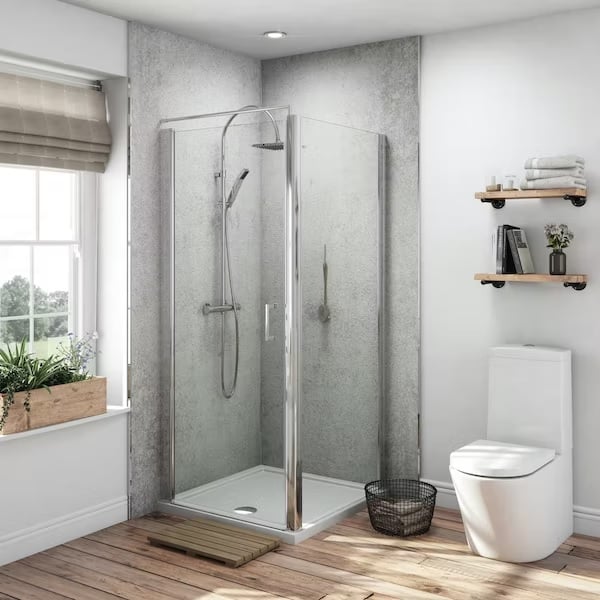 These panel plans give your shower a classic look, with elegant designs and classic colors. And the best part is, these panels are easy to install yourself. The panels also will give your bathroom a chic upgrade.
No more boring, bland showers. The simple installation of the panels will give you a classic style and elegance look in no time, effortlessly, and affordably at the same time, which worth trying.
9. Glass DIY Shower Wall Panels Plans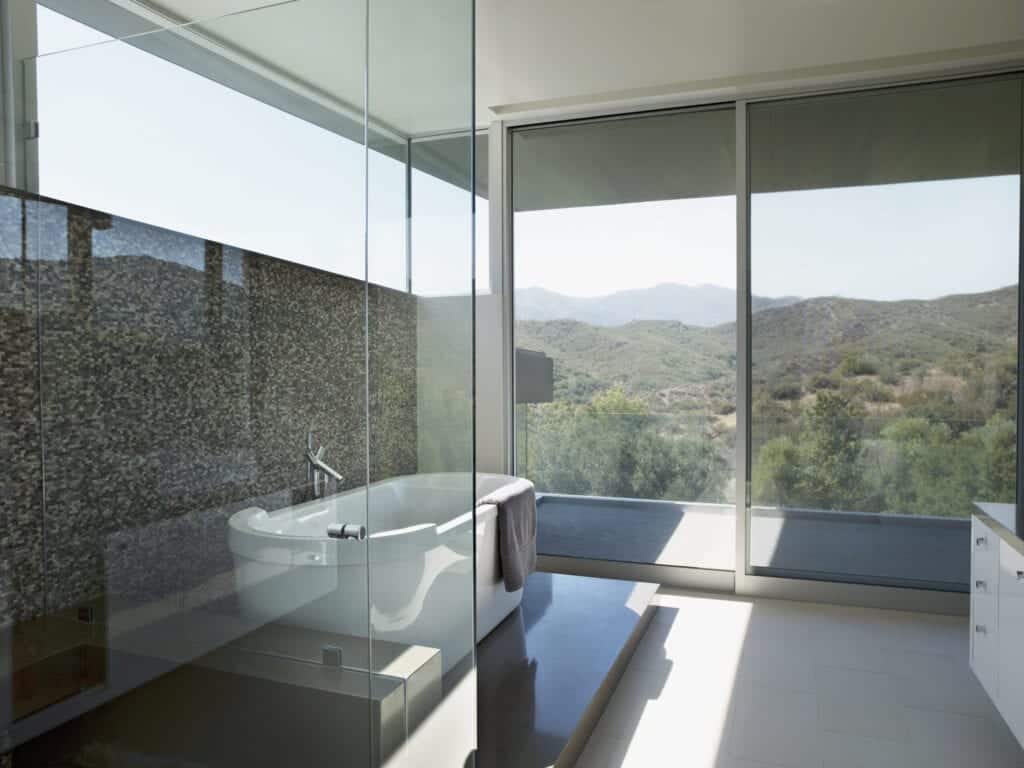 There is nothing to doubt about the glass wall panel installation in the bathroom. Not only are they visually stunning, but they also offer a smooth surface, which is easy to clean and maintain. Plus, it's a DIY project that you can do yourself with some basic tools and materials.
The key is to measure carefully and make sure the panels are securely attached to the wall. You can also get creative with design by using frosted or patterned glass or adding accents like tile or stone.
10. Marble DIY Shower Wall Panels Plans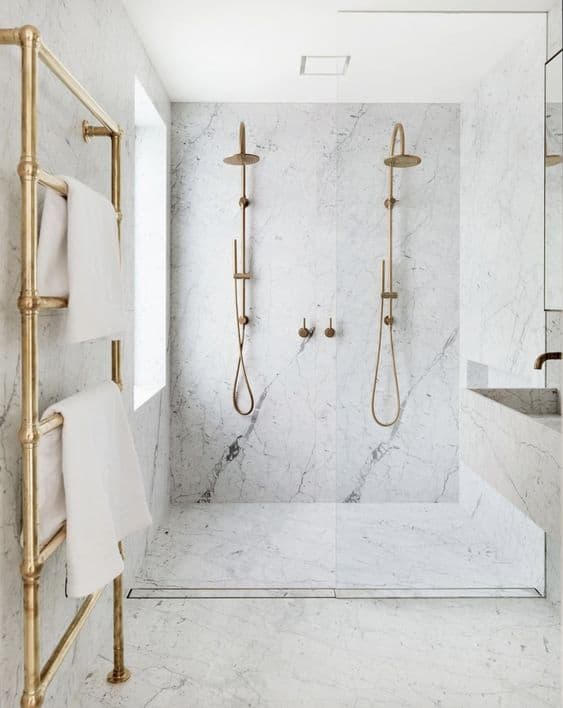 Jazz your shower up with the marble shower panels must be the best option. It offers you an elegant and fancy feel at the same time. All you need is some plywood, a jigsaw, and some marble contact paper.
Cut the plywood into panels and adhere the contact paper to one side. Then, just attach the panels to your existing shower walls with adhesive. Voila! Instant elegant upgrade without the hefty price tag.
Plus, if you tire of the marble look in the future, simply peel off the contact paper and switch it out for a new design.
11. Cork DIY Shower Wall Panels Plans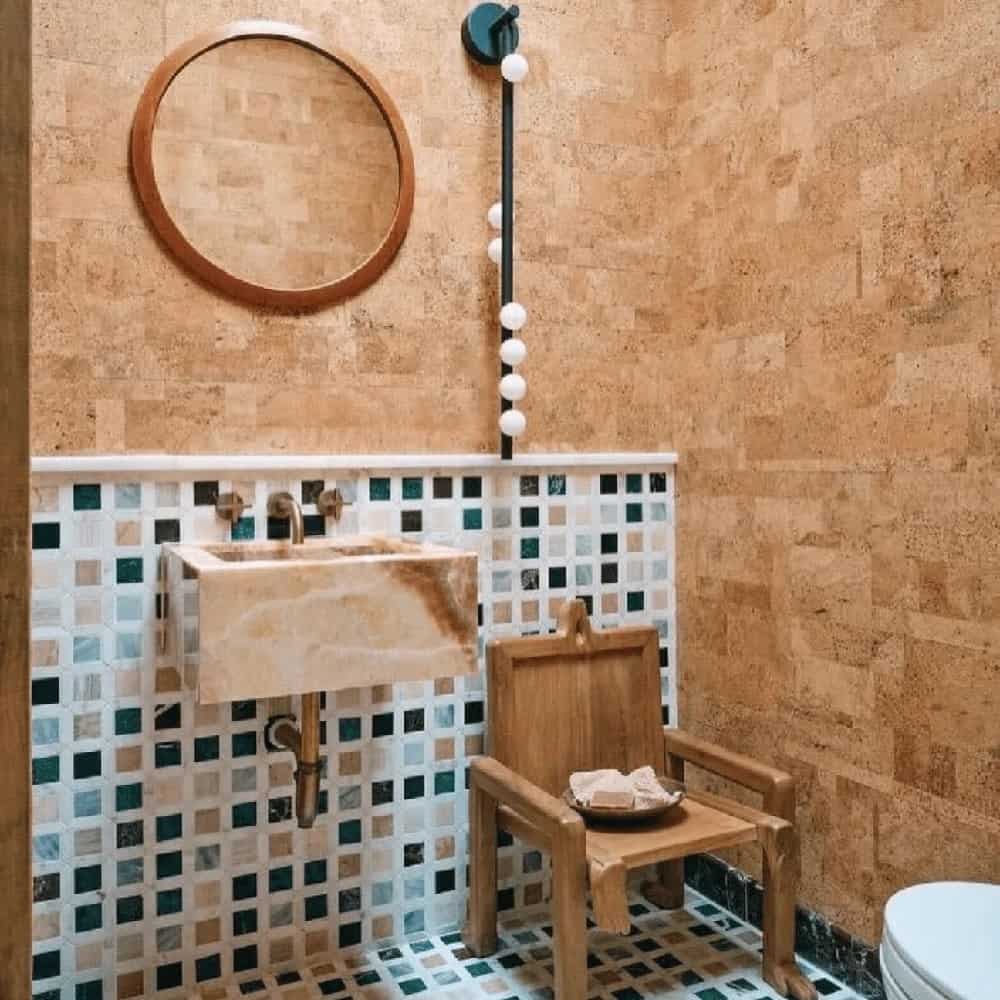 Cork is a great material to use for this project because it adds texture and interest to your bathroom, plus it's water resistant. Plus, using cork in your DIY shower wall panel plans means that you're also being eco-friendly and sustainable.
Installing cork panels is surprisingly simple, too. Just measure the space for your panels and cut the cork sheets to fit. Use waterproof adhesive to affix them onto your shower walls, giving them time to fully dry before use.
12. Faux Wood DIY Shower Wall Panels Plans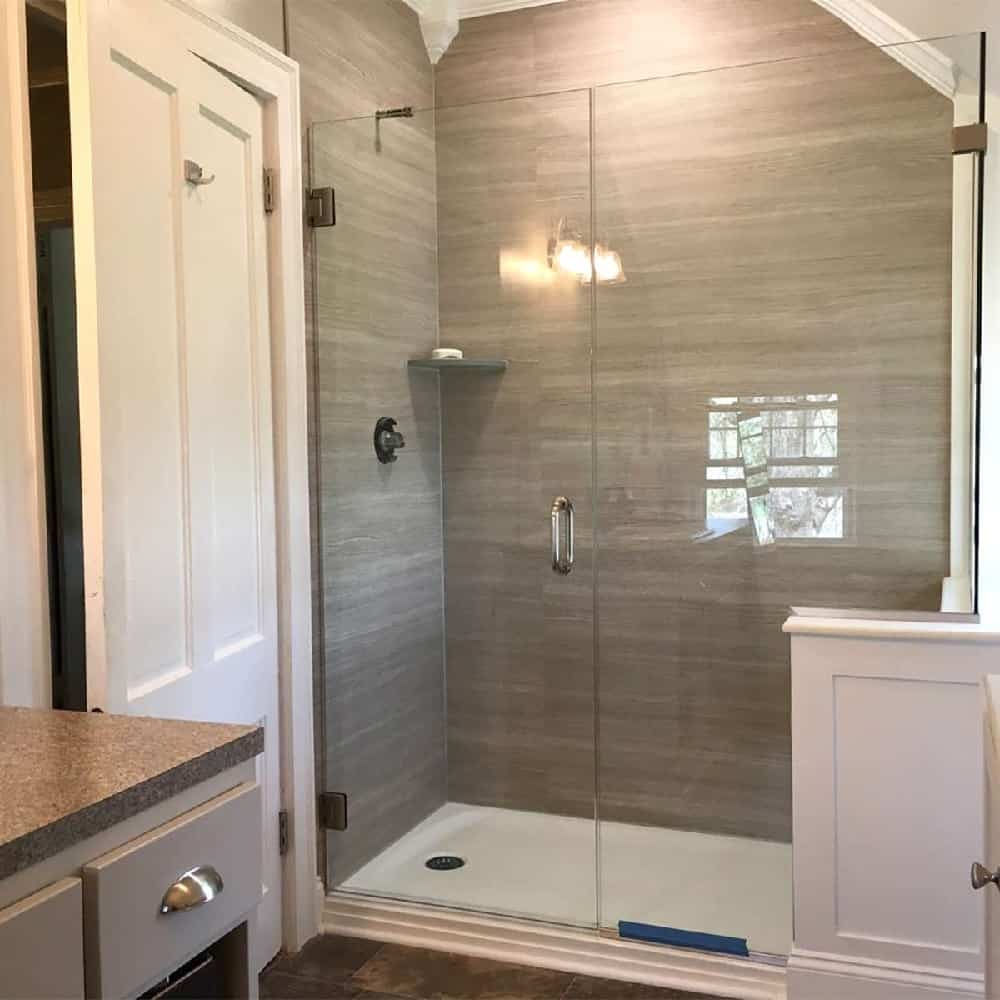 With faux wood DIY shower wall panels, you can add some character and style to your bathroom. These panels not only bring the beauty and warmth of wood, but they are also easy to install and maintain.
Plus, by taking on this project yourself, you save money on hiring a professional contractor. These faux wood panels give the appearance of a luxurious wood-paneled shower, but for a fraction of the cost. Plus, they're easy to install and maintain. Just clean with soap and water like any other surface in your bathroom.
13. Black DIY Shower Wall Panels Plans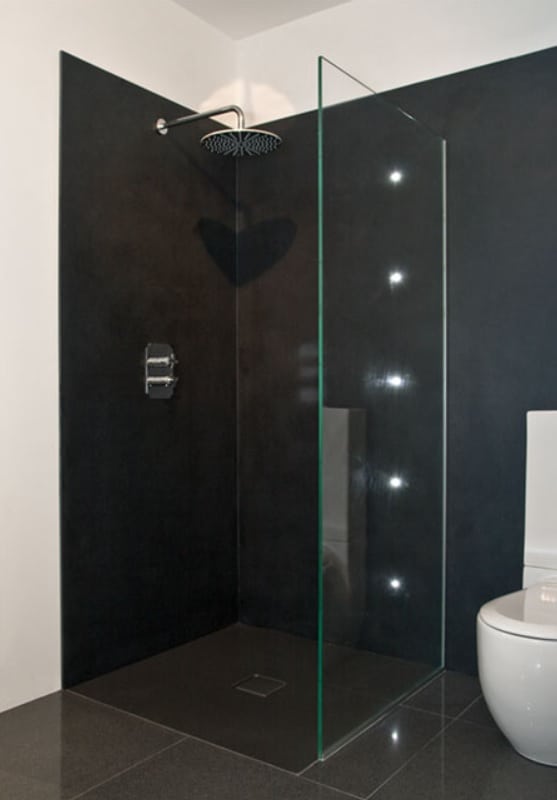 These elegant panels add a touch of class to any bathroom, and the best part is that they're easy to install yourself. All you have to do is measure and cut the panels to fit your shower wall, then attach them with adhesive.
It's a simple way to give your bathroom an upgrade without hiring a professional or spending a fortune on materials. Plus, there are endless options for colors and designs, meaning you can customize your shower to match your personal style.
14. Polished Concrete DIY Shower Wall Panels Plans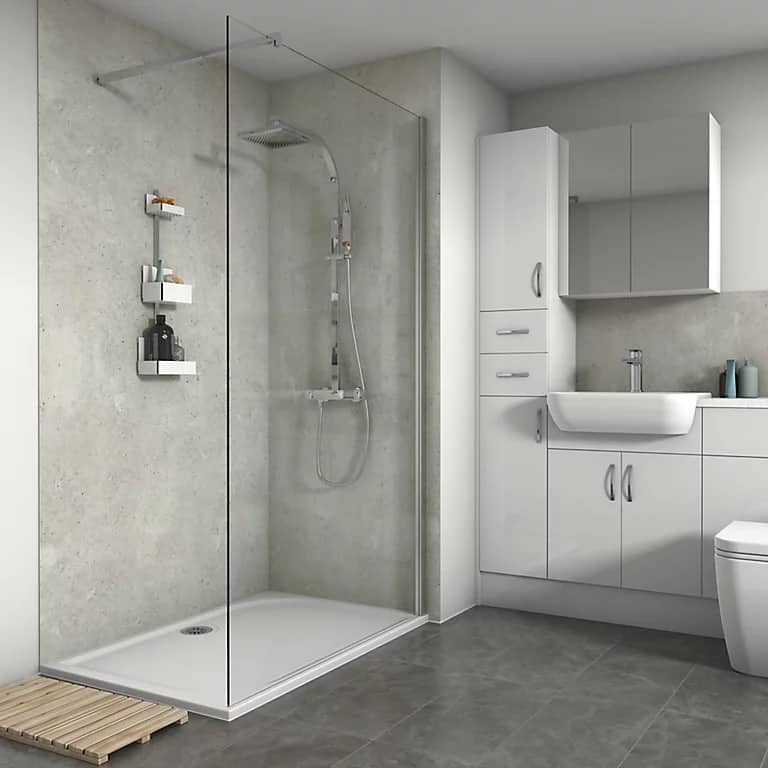 These panels are easy to install and provide a modern and minimalist look. Plus, they are low maintenance and durable enough to withstand daily showers. One option is to use pre-existing concrete panels, or you can create your own using thin-set mortar and concrete mix.
Just be sure to seal the panels after installation for added waterproofing. With some creativity and effort, you can have stylish shower wall panels that are one of a kind.
15. Brick DIY Shower Wall Panels Plans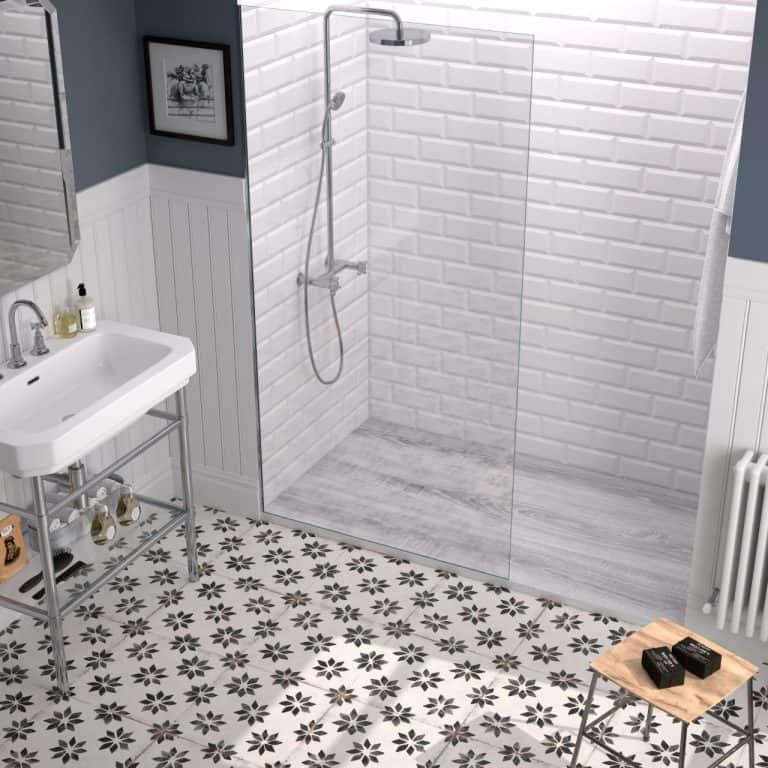 Give your bathroom a refresh with the brick shower wall panels. This upgrade is easy to take on, and costs less than you might think.
Just like a regular wall, you'll begin by creating the two outer studs. For brick shower wall panels, consider using 2×6 studs spaced at 24 inches apart. Then, run horizontal furring strips across them to create the "brick" look of your choosing. Finally, attach backer board or cement board to these furring strips.
Next, measure the height and width of your shower walls, and cut your brick shower wall panels to fit. You'll want to use mortar in between each panel as you go, so that they are secured properly.
To finish off the look, run finished trim along the top and bottom edges of the shower walls.
16. Granite DIY Shower Wall Panels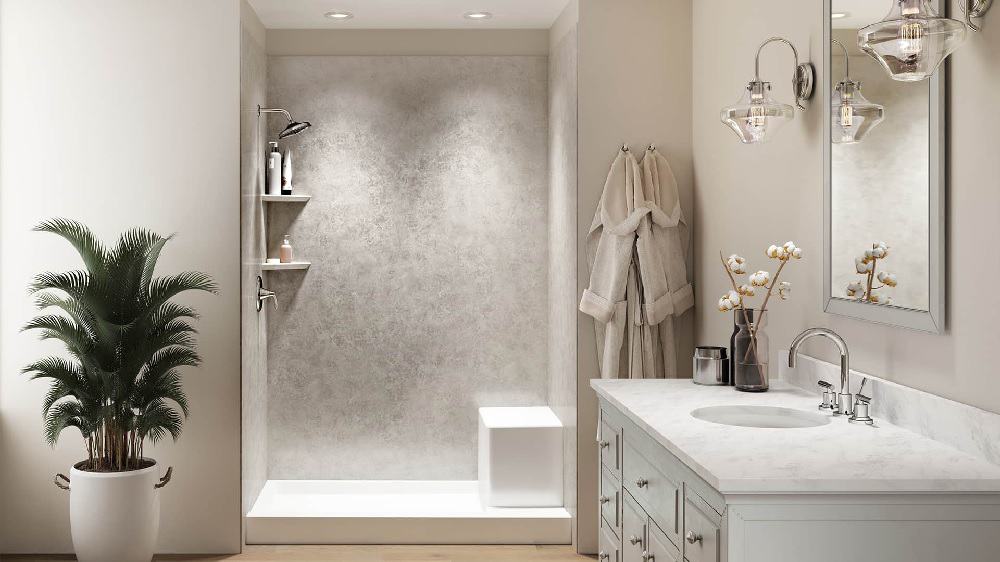 Installing the shower wall panels is a very exciting part of the building process. Making sure you get the right ones will make all the difference in terms of appearance and functionality, so take your time choosing which ones to use.
As mentioned earlier, pre-fabricated shower wall panels can be purchased at home improvement stores or custom pieces can be fabricated by professionals for a specific type of look, such as those made out of granite. Granite shower wall panels are a great choice for anyone looking to create a luxurious spa-like feel in their bathroom.
17. Copper DIY Shower Wall Panels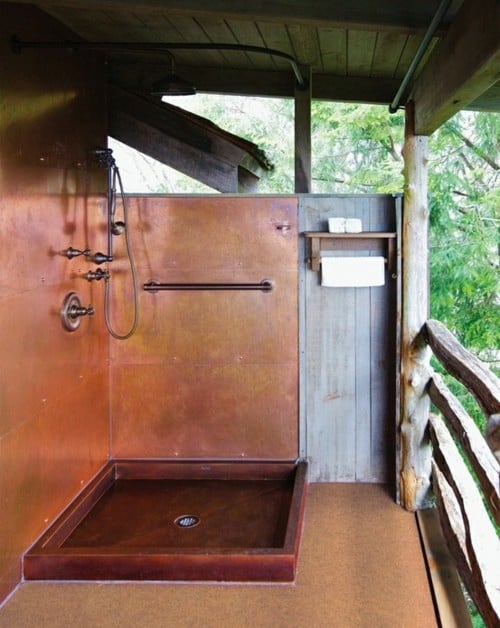 Copper shower wall panels might just be the solution you're looking for. Not only are they visually stunning, but copper is also naturally antibacterial, making it a more hygienic option for your shower. And the best part? You can easily install them yourself with these DIY plans.
Using panels made from real sheets of copper, this project will take some patience and effort, but the end result will truly transform your shower into something special. So grab your tools and materials and get ready for a stunning new addition to your bathroom.
18. Acrylic DIY Shower Wall Panels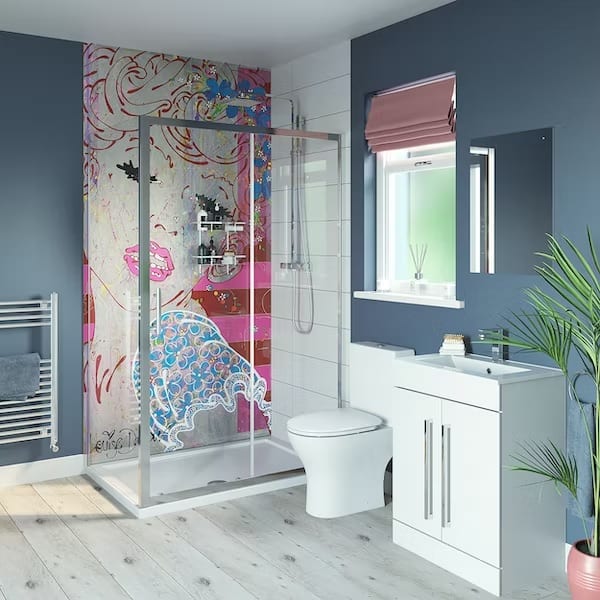 Made from sturdy acrylic, these panels are easy to clean and come in a variety of colors and finishes to match any design aesthetic.
Not only do they add a modern touch, but they also eliminate the need for grout, making cleaning a breeze. Plus, with easy-to-follow instructions and all necessary hardware included, these panels can be installed quickly by even novice DIYers.
19. Recycled Timber DIY Shower Wall Panels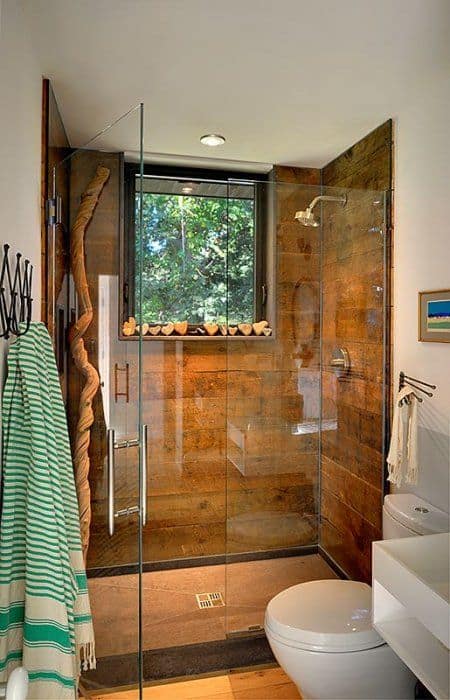 Upcycle the timber that can be transformed into a cool shower wall panels. It is a perfect solution if you are on a budget. It is also eco-friendly and adds rustic charm to any space.
Start by measuring the size of the shower wall and purchasing enough recycled timber panels to cover the space. Attach the panels to the wall with wood screws, making sure to check for any pipes or wires behind the wall before drilling.
Finish off by sealing the panels with a waterproof sealant for added protection against moisture.
20. Herringbone Tile DIY Shower Wall Panels Plans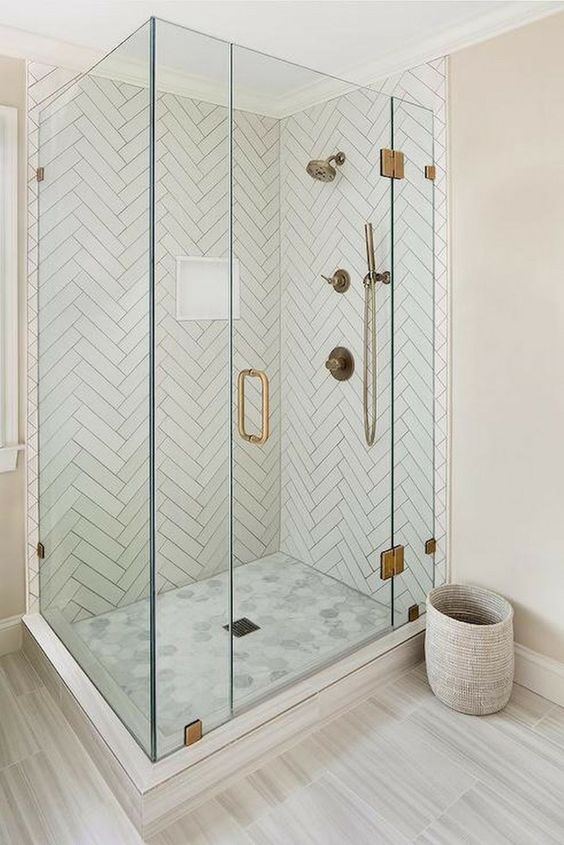 With this herringbone tile, now you can say goodbye to the old style bathroom. You will get the classic and elegant style in one effortlessly. Mosaic tiles have a long history going back thousands of years, and they have been used to decorate all sorts of different spaces.
Whether you're looking for something done in an intricate pattern or something more simple, mosaic tiles are the perfect choice.
21. Painted Glass DIY Shower Wall Panels Plans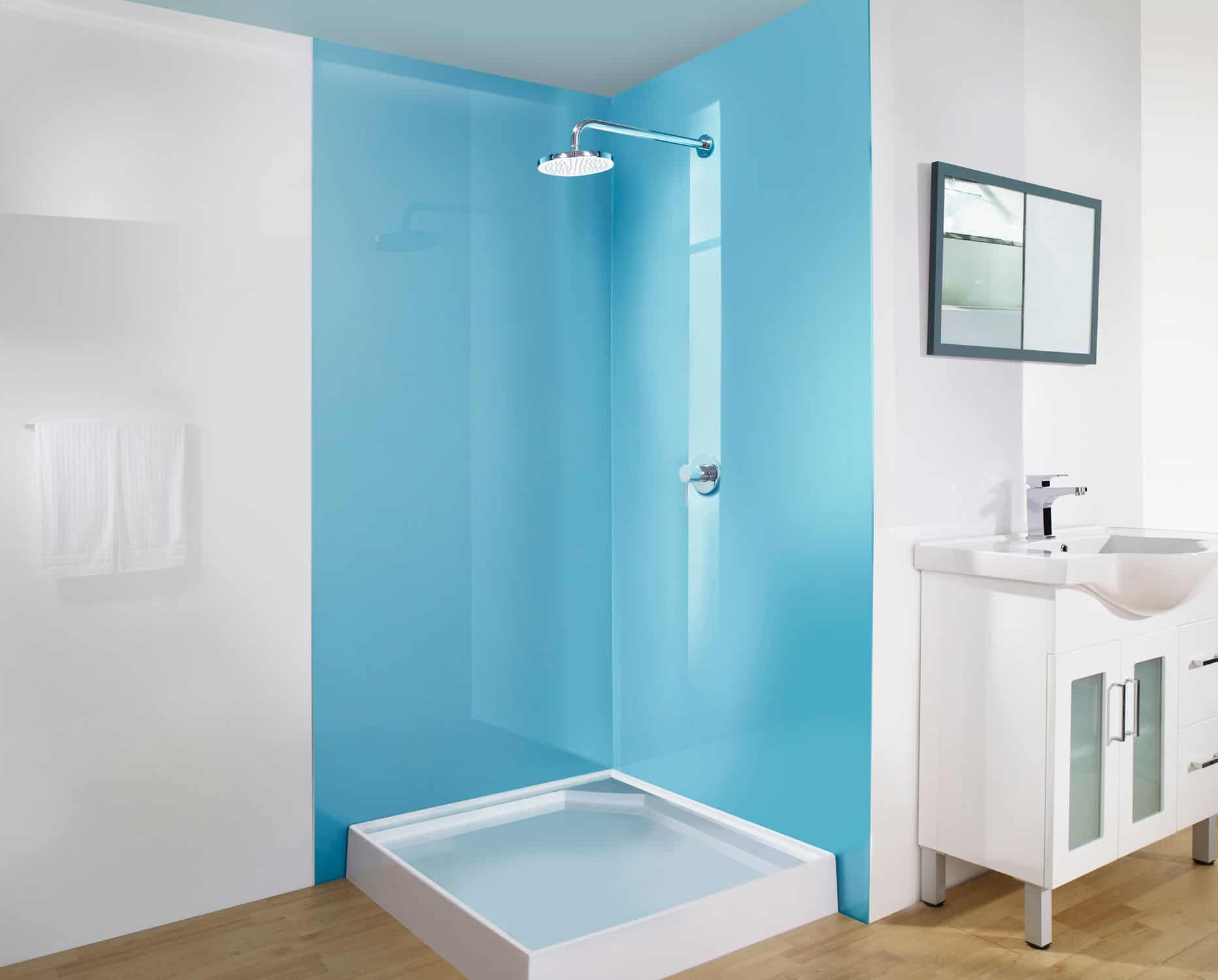 This simple and creative DIY project can give your bathroom a whole new look without breaking the bank. To start, make sure to clean and sand down the panels before painting with a high-quality glass paint. You can choose to go with a solid color or get creative with patterns and designs.
Just make sure to let the paint dry completely before using the shower. Add some coordinating accents, like a new shower curtain or towels.
22. Self-adhesive DIY Shower Wall Panels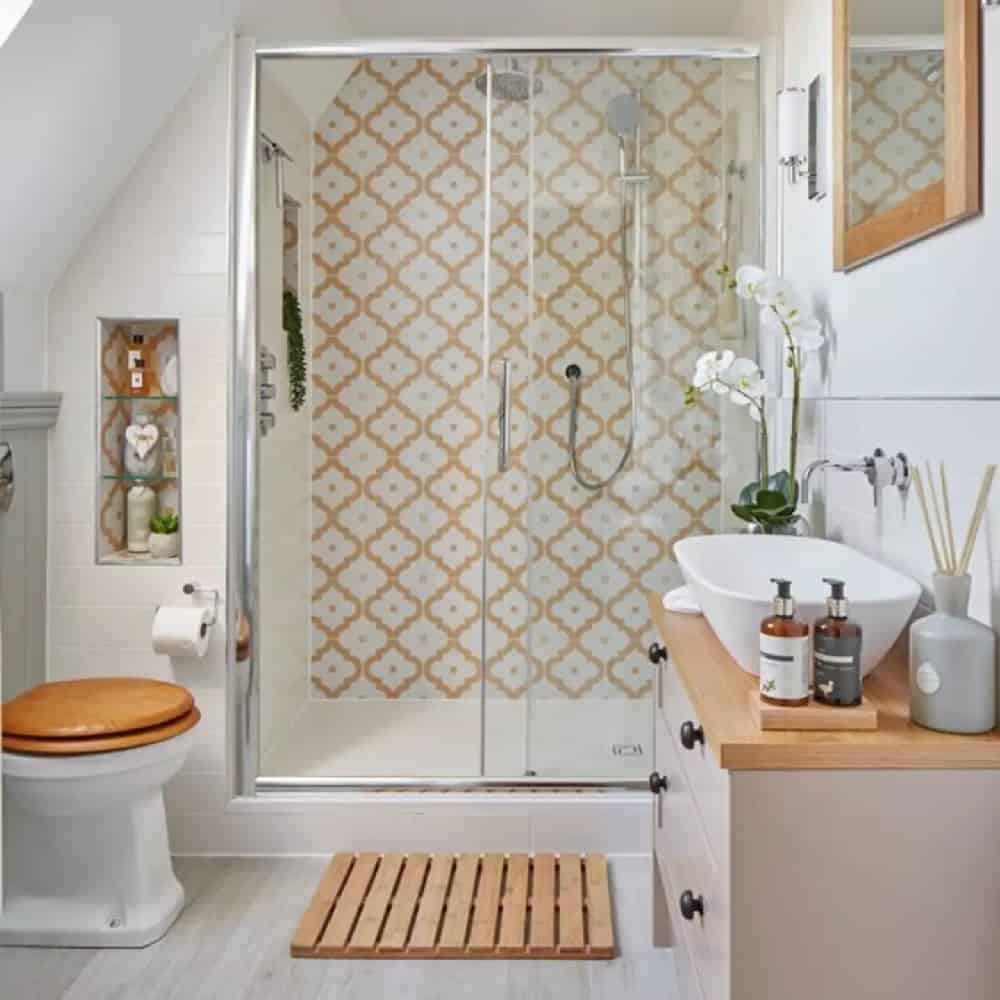 Self-adhesive DIY shower wall panels may be just the solution for you. These easy-to-install panels come in a variety of styles and patterns, allowing you to customize the look of your shower.
Plus, the adhesive backing makes them simple to apply. Just clean and dry the surface, peel off the protective film, and stick on your new panel. No need for expensive contractors or time-consuming construction. Give your bathroom a makeover with these DIY shower wall panels.
23. Vinyl DIY Shower Wall Panels Plans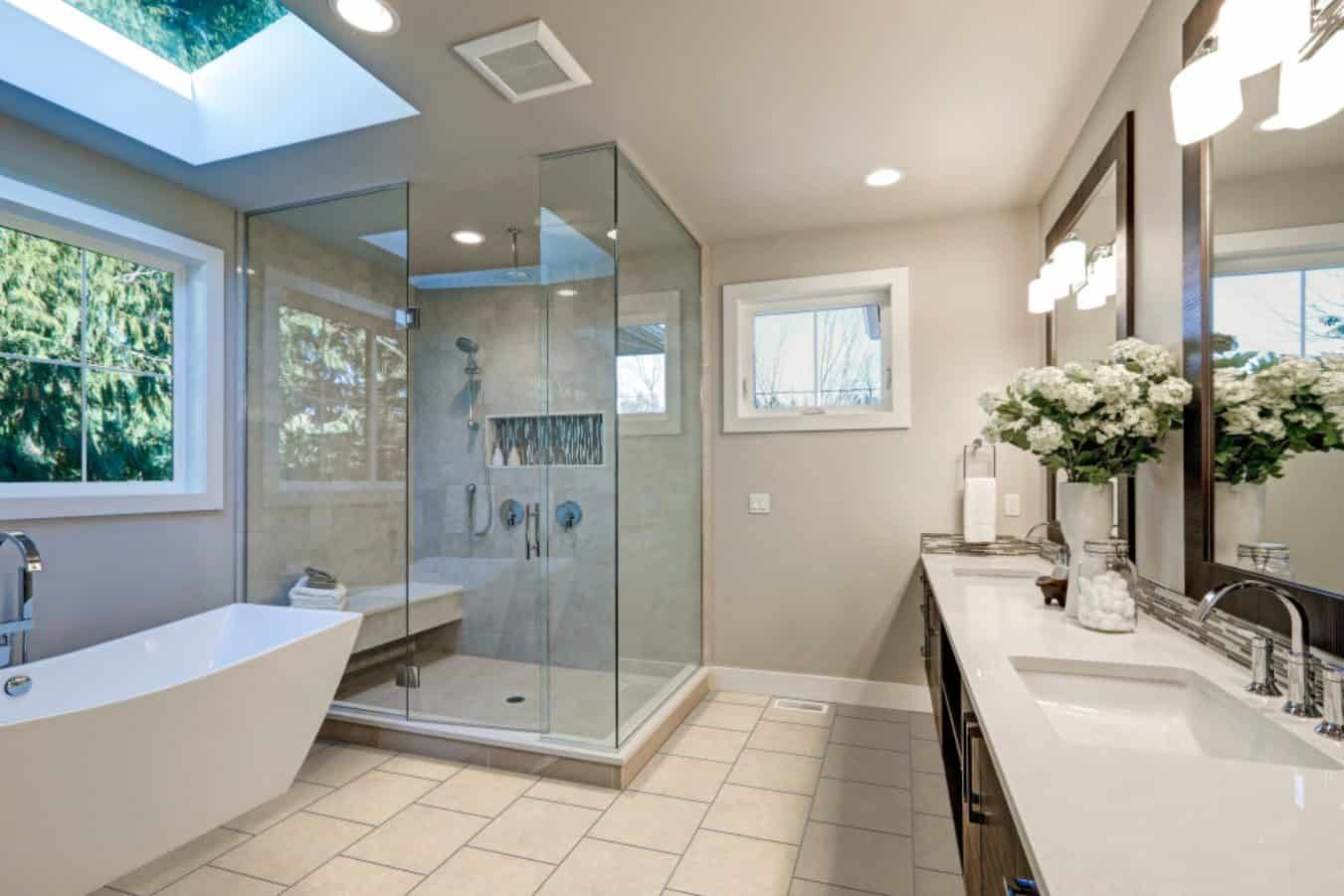 The vinyl material used for the shower wall panels is not only waterproof and easy to clean, but it also comes with antibacterial properties. Also, it is easy to install the panels. The good news is that you can install the panels without professional help.
These panels are made from durable and waterproof materials, so they are ideal for use in high-humidity areas like bathrooms. Plus, they are available in a variety of finishes, including marble and mosaic. Besides, you can choose from a wide range of designs and styles to suit your needs.
24. Slate Tile DIY Shower Wall Panels Plans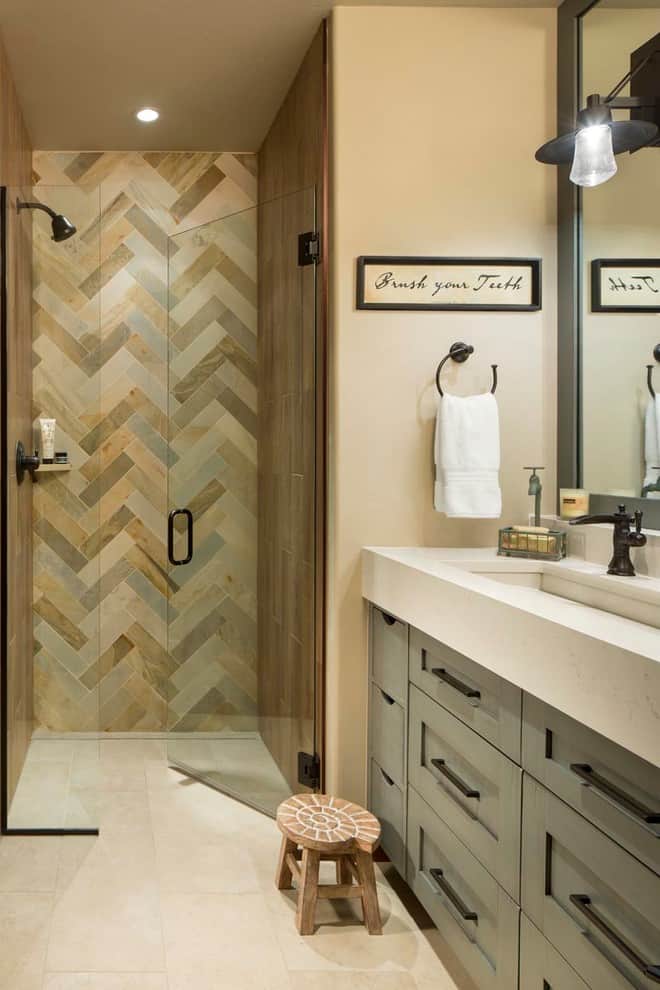 Try using sleek slate tiles for a modern and contemporary look. Not only does the smooth surface add visual interest, but it's also easier to clean and maintain than traditional grout lines.
Plus, installing the tiles yourself can save you money on labor costs. Just make sure you have all the necessary materials and have measured correctly before beginning your project. And don't forget to seal the tiles to ensure they last for years to come.
25. Corrugated Metal DIY Walk-in Shower Wall Panels Plans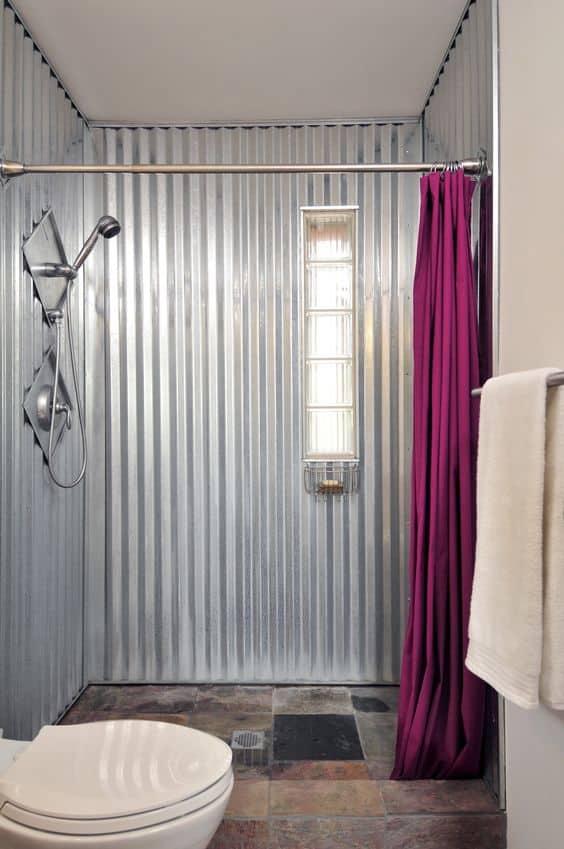 These panels give a modern, industrial vibe that is sure to impress any guest. Plus, installing them yourself is easy with this DIY plan. All you need are the panels, some studs for support, deck screws, and waterproof adhesive.
Simply measure and cut the panels to fit your space, attach them to the studs with screws, and seal the seams with adhesive. In just a few simple steps, you'll have a trendy new addition to your bathroom that's sure to turn heads.
26. Metallic Mosaic Tile DIY Shower Wall Panels Plans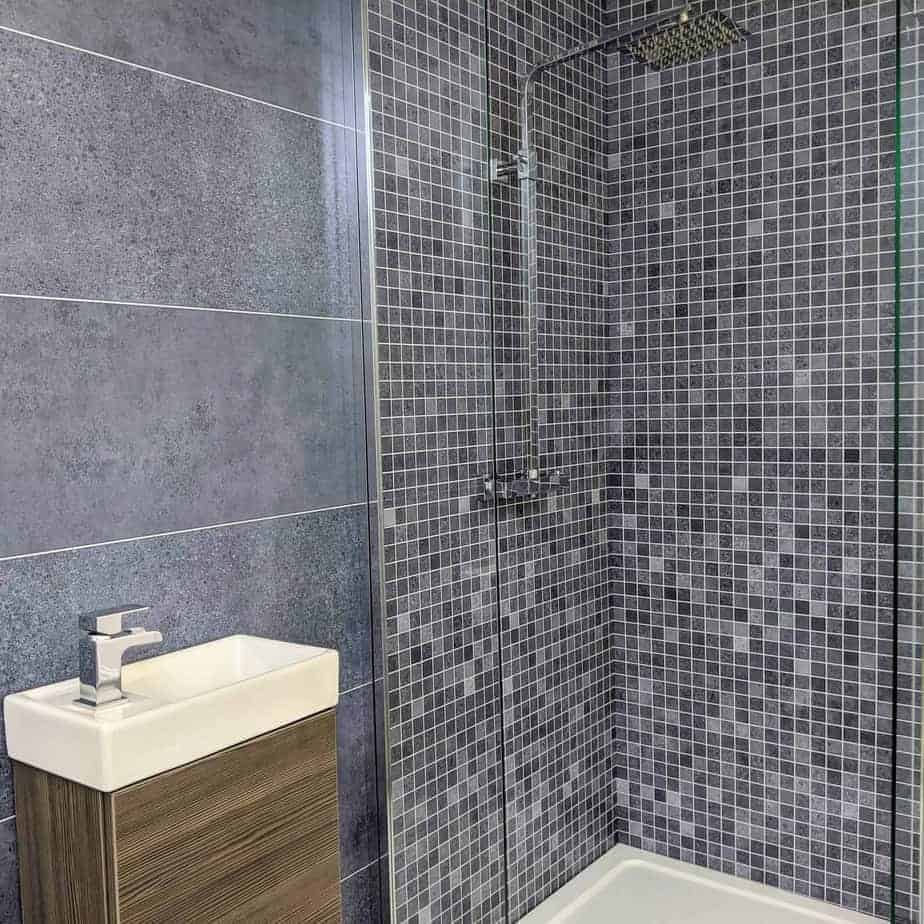 These fancy panels can add a touch of glitz and glam to any bathroom, and they're surprisingly simple to install.
Start by measuring the space for the panel and cutting a piece of plywood to fit. Next, attach thin set mortar to the plywood with a trowel and lay down your mosaic tiles in a pattern. Let dry overnight, then grout and seal the panel for added protection against moisture.
27. Travertine DIY Shower Wall Panels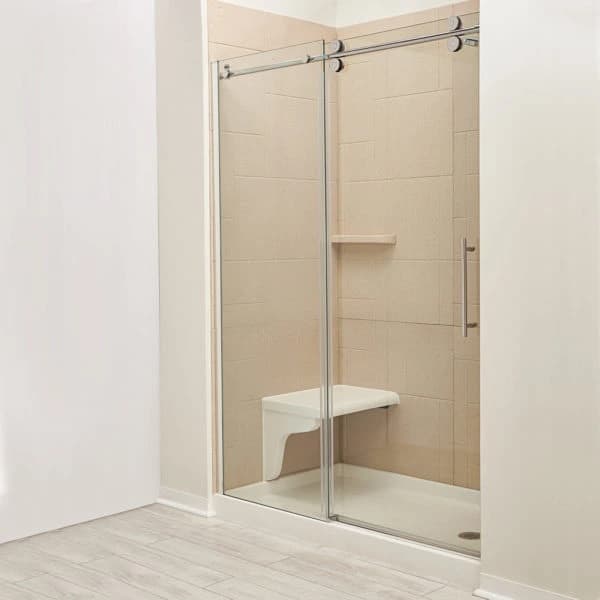 DIY shower wall panels are a great option for adding some style and luxury to your bathroom. Travertine, with its unique and elegant vein patterns, can make for a stunning accent in any shower.
And the best part is that these panels are easy to install yourself. No contractor necessary. Simply measure your space, cut the panels to fit, and adhere them to your existing shower walls using construction adhesive. It's as simple as that! The end result will leave you feeling like you're in a high-end spa every time you step into the shower.
So, there you go, 27 different ways that you can add style and character to your bathroom with some simple DIY shower wall panels. If you're not the handy type, or if you just don't have the time to take on a project like this, there are plenty of companies out there who offer ready-made shower wall panel kits. Whatever route you decide to go, we hope this list has given you some inspiration for how to make your bathroom into the stylish oasis it deserves to be