If you're looking for a fast, easy way to save space in your home, consider creating a small eat-in kitchen. Not only do they provide a convenient place to prepare and eat food, but they also offer a variety of storage options for small appliances, cookware, and food items. By choosing the right smalls eat in kitchen ideas for your home, you can create a functional and attractive space that will make mealtime a breeze.
You don't have to pick just one idea from this list. You can combine all the ideas and still upgrade the look of your kitchen and improve its function at the same time.
1. A Multifunction Kitchen Table That Avoid The Awkward Corners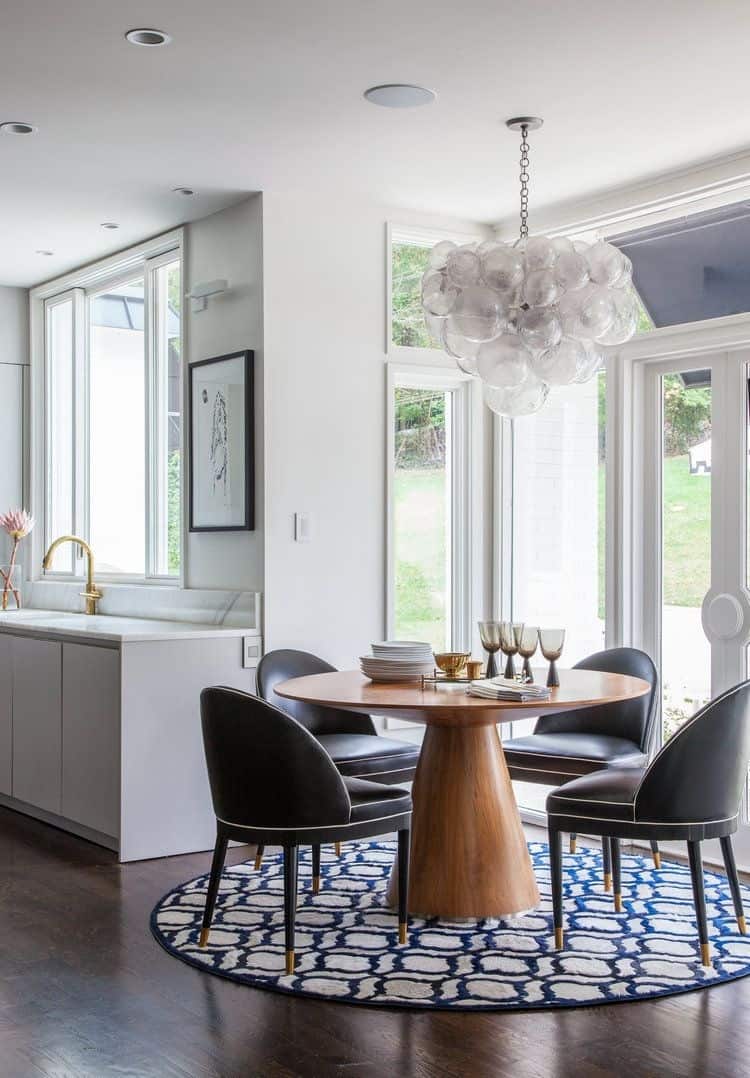 One of the best ways to make a small eat-in kitchen is to choose a table that can do double duty as a workspace. A small, round wooden table is perfect for this purpose. It can easily be tucked into a corner when not in use and pulled out when you need it. Plus, a round table is perfect for casual meals and intimate dinner parties.
If you don't have a lot of storage space, look for a table with built-in shelves or drawers. This way, you can keep your cookbooks and other cooking supplies close at hand. And if you often find yourself eating on the go, consider getting a portable kitchen island. These handy units can be rolled into place when you need extra counter space and then stored away when you're done. With a little creativity, you can turn even the smallest eat-in kitchen into a functional and stylish space.
2. Install Open Shelving To Provide More Storage And Display Space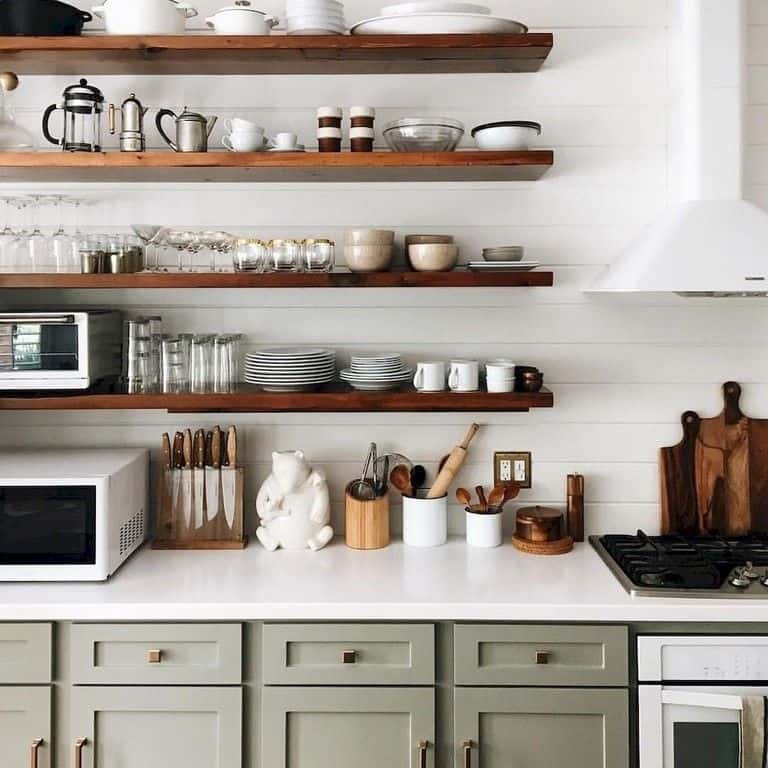 By installing shelves above your countertops, you can create additional storage for dishes, pots and pans, and small appliances. Plus, open shelving can also be used as a way to showcase your favorite glassware or cookbooks. For a budget-friendly option, try installing shelves made from recycled materials like pallets or reclaimed wood. This would be a great dishware storage in your kitchen.
3. Use A Bright Color Palette To Make The Room Feel More Spacious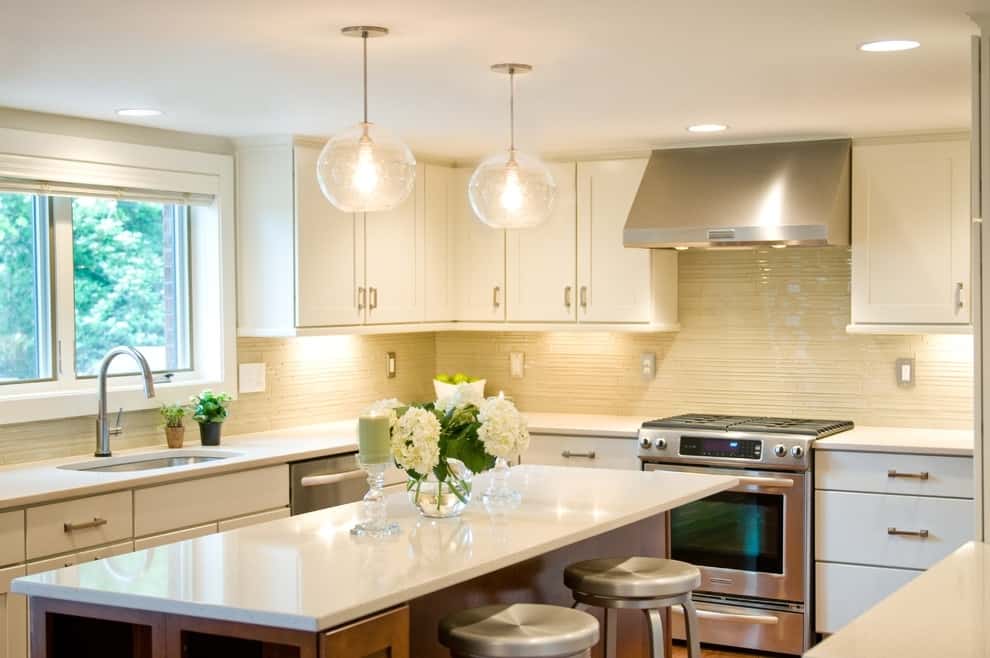 Make over your cramped cooking space into a cheerful and functional room by using a bright and light colors. Light colors reflect light, making the room feel more open and airy. In addition, a light color scheme can make the room appear larger than it actually is.
Try painting the walls in a light, neutral color and using colorful accents throughout the room. Adding some greenery can also help to breathe new life into a small space. If you don't have a lot of countertops space, hang some pot racks or shelves to store your dishes and cookware.
4. Hang A Pendant Light To Add Personality And Style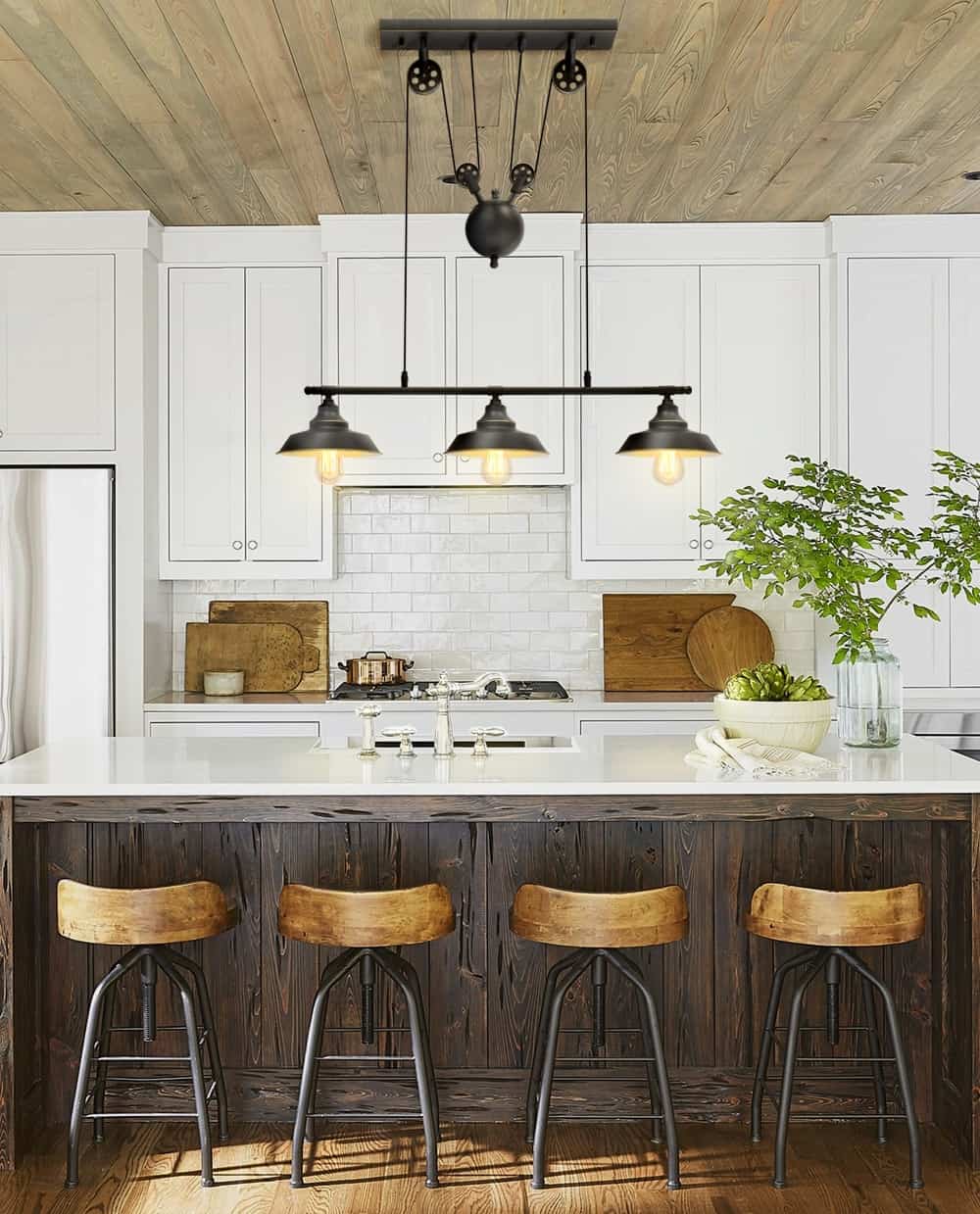 Chandeliers and pendant lights are great options for eating in the kitchen because they add personality and style. They also provide focused light so you can see what you're eating. Just make sure to hang them at the right height-you don't want your guests bumping their heads.
Chandeliers are another option, and while they may be more formal, there are plenty of casual designs available as well. Plus, if you have a high ceiling, a chandelier can help fill up the extra space.
5. Add colorful artwork or decorative items to personalize the space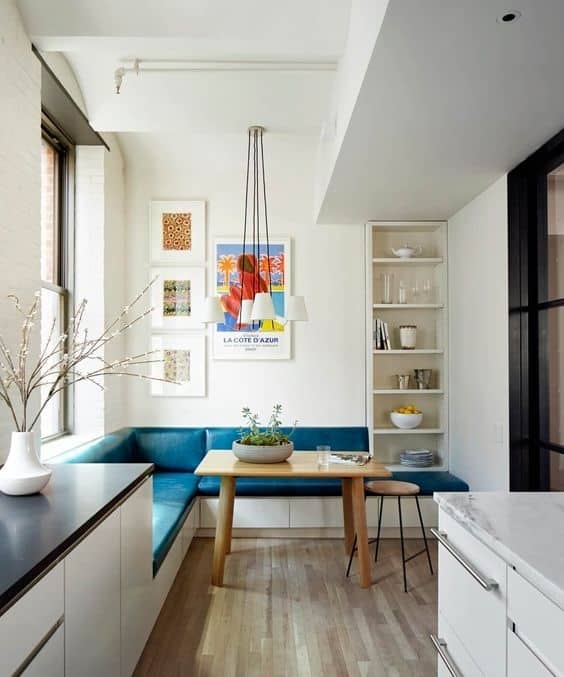 Consider adding a few personal touches can make the space feel more like your own and less like a generic room in a house. Plus, it can add visual interest and make the space more inviting. Whether it's a few paintings on the walls or some fun knick-knacks on the shelves, these items will help to give the space its own unique character. And since the kitchen is one of the most used rooms in the house, it's important to make sure it reflects your own personal style.
6. Build A Compact Kitchen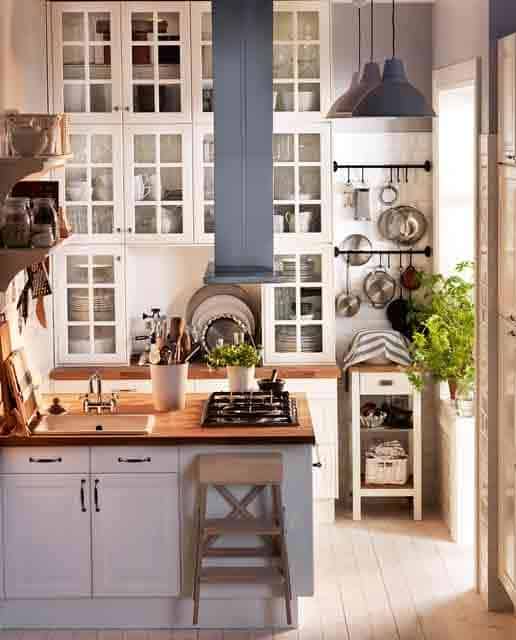 Choose appliances that are compact and efficient, so you can make the most of your limited space. For example, a mini fridge is perfect for storing basics like milk and eggs, while a countertop oven saves valuable space on the stovetop. And don't forget about extra storage. Consider using vertical space with wall-mounted shelves and spice racks.
7. Create The Illusion Of More Space Through The Large Mirror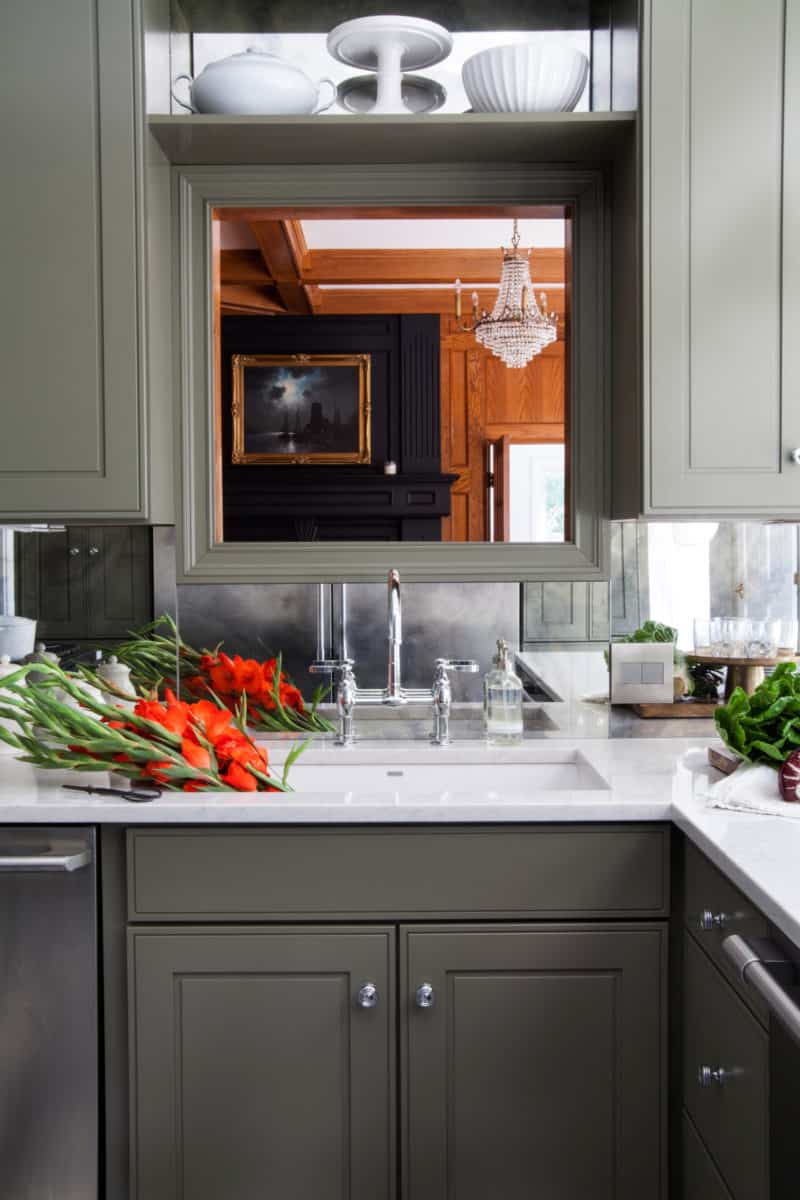 One simple trick to make your small eat in kitchen is to hang a large mirror on one of the walls. Mirrors reflect light and make a space seem bigger than it actually is. Also, it makes the kitchen feel more open. If you don't have room for a full-sized mirror, you can try hanging a series of smaller mirrors or even just one large one.
8. Add Some Personality And Style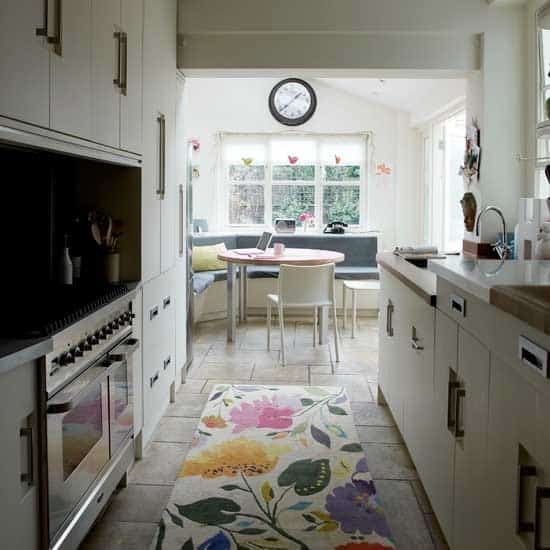 Adding a personality and style to your small kitchen is simply by adding a colorful rug or runner. This is an easy way to inject some color into the room without making a big commitment. Plus, it can be a great way to protect your floor space from scratches, spills, and stains.
On the other side, the rug or runner provide your feet extra comfort while staying in the kitchen.
9. Keep Your Items On The Baskets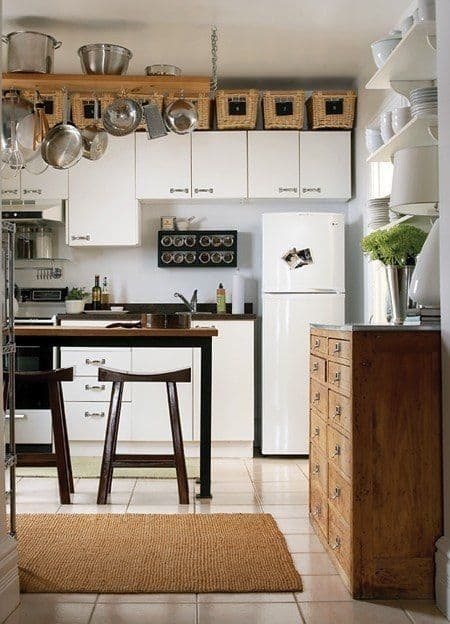 Utilize decorative baskets or crates to store your pots, pans, and other cooking supplies. This will keep your counters free of clutter and help you to take advantage of every inch of space. You can also use this technique to store spices, recipe books, and other cooking essentials. Not only will this keep your kitchen organized, but it'll also give it a rustic (or shabby chic) feel. So if you're looking for small eat in kitchen ideas that are both functional and stylish, this is one option you definitely don't want to overlook.
10. Install a small eat in kitchen island for additional prep space and storage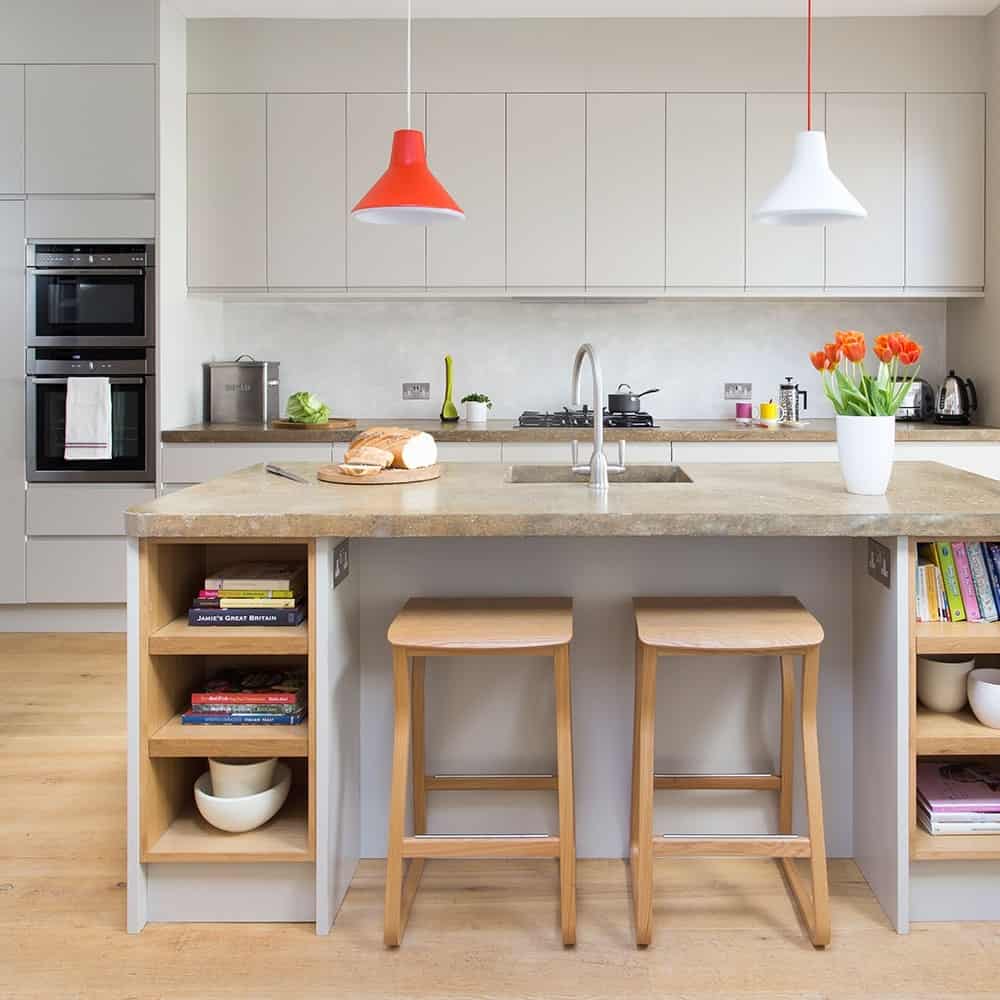 A kitchen island can provide additional prep space and storage, as well as create a focal point in the room. When choosing an island, be sure to select one that is the right size for the space and that has features that will be useful.
The eat-in kitchen island can also provide a place for family and friends to gather while you are preparing meals. This will make your small kitchen feel more spacious and inviting. If you don't have room for a permanent island, consider a rolling cart or table that can be stored when not in use.
11. Don't Forget To Accessorize with Place Mats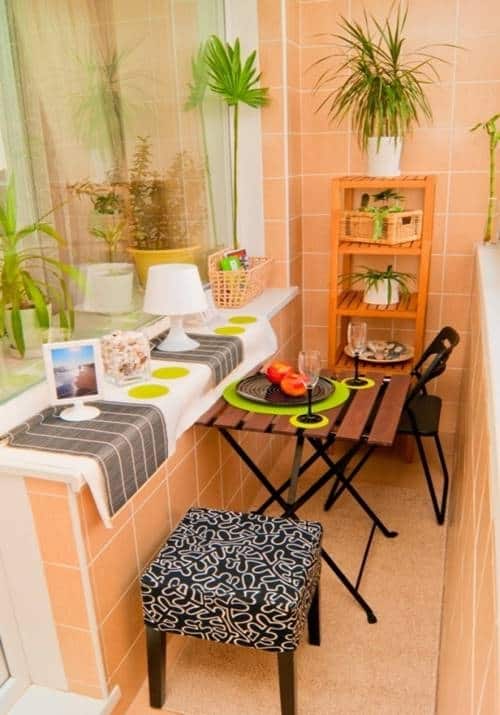 Opt for storage solutions that take advantage of vertical space, such as shelves and kitchen cabinets that extend to the ceiling. In addition, try to use light-colored and reflective surfaces wherever possible to create the illusion of more space. Another tip is to choose smaller-scale furniture pieces that won't overpower the room.
For instance, instead of a large dining table, opt for a smaller breakfast table or counter-height dining set. Finally, don't forget to accessorize with small eat in kitchen towels, place mats, and other items. By following these simple tips, you can turn your small eat in kitchen into a comfortable and stylish space that the whole family will enjoy.
12. Farmhouse Design For A Cozier Space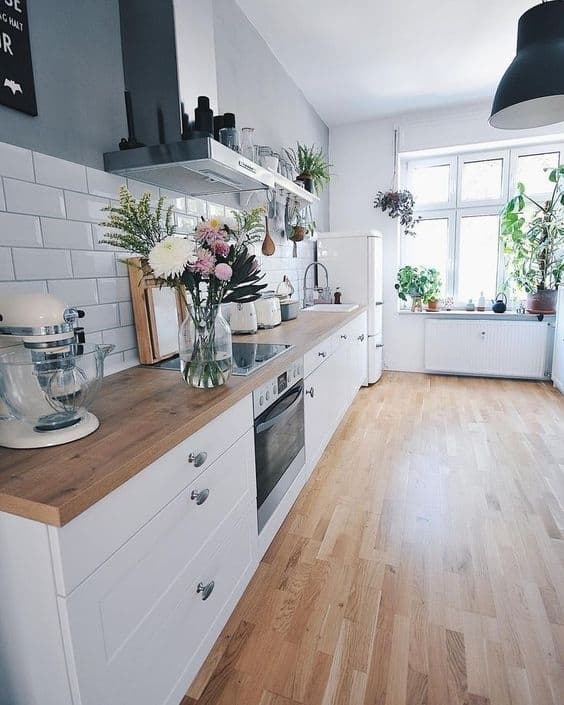 Make a small eat-in kitchen feel more cozy and inviting. For starters, consider a farmhouse style. This can be achieved with some simple decorating touches, like a wooden table and chairs, some vase filled with fresh flowers, and some gingham curtains.
You might also want to paint the walls in a light, neutral color to brighten up the space. Another way to make a small eat-in kitchen feel cozier is to add some greenery. Some potted plants or a hanging herb garden will add color and life to the room. And finally, don't forget the lighting! Soft, warm light will make the space feel more inviting and welcoming.
13. A Fold-Down Table To Maximize Space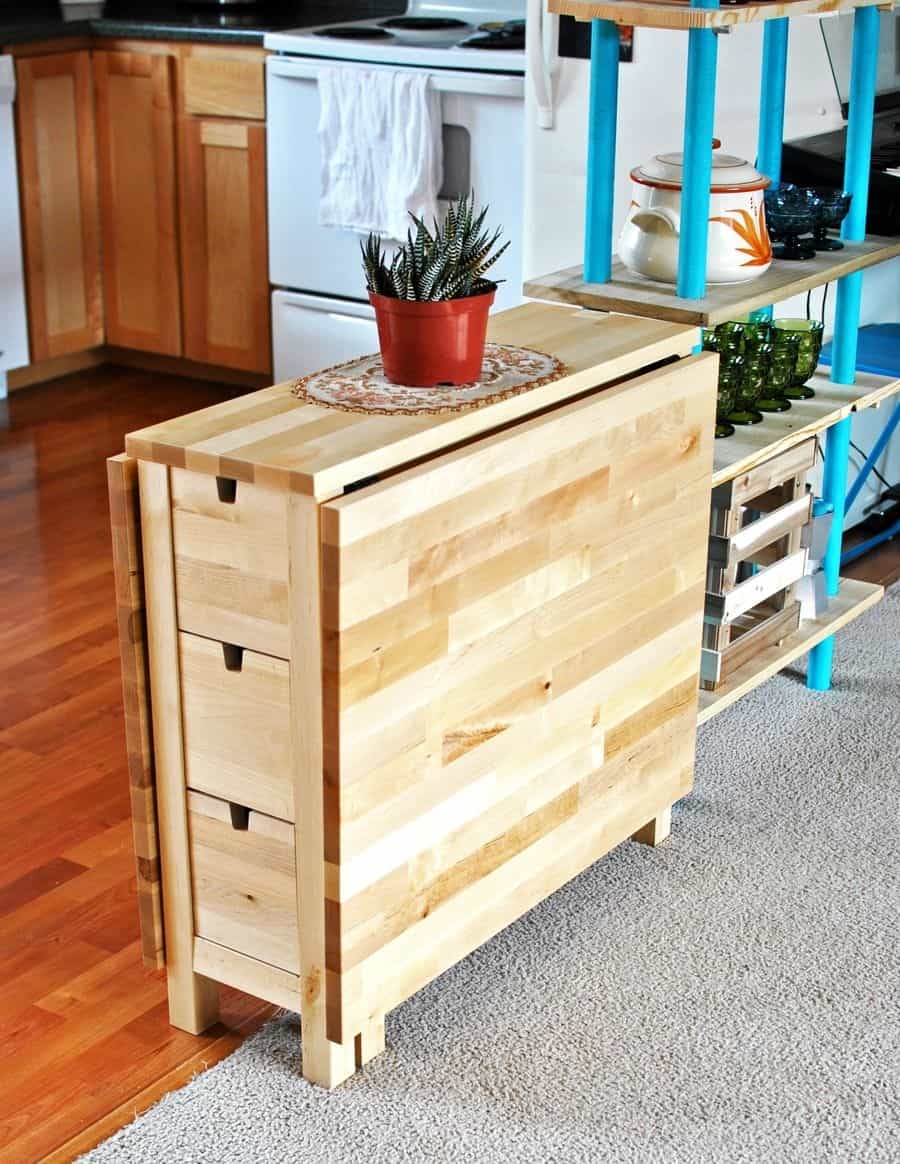 Make sure to keep the countertops clear. If possible, invest in a few storage containers that can be stored underneath the countertops. Second, keep your appliances organized. If you have a dishwasher, make sure to empty it on a regular basis. Third, declutter your cabinets and drawers. Get rid of any items that you no longer use or need. Another great way to maximize space in a small eat-in kitchen is to choose furniture and appliances that are compact and versatile. For example, consider using a fold-down table or a chest of drawers instead of a traditional dining table.
14. Industrial Design To Infuse A Cool And Masculine Atmosphere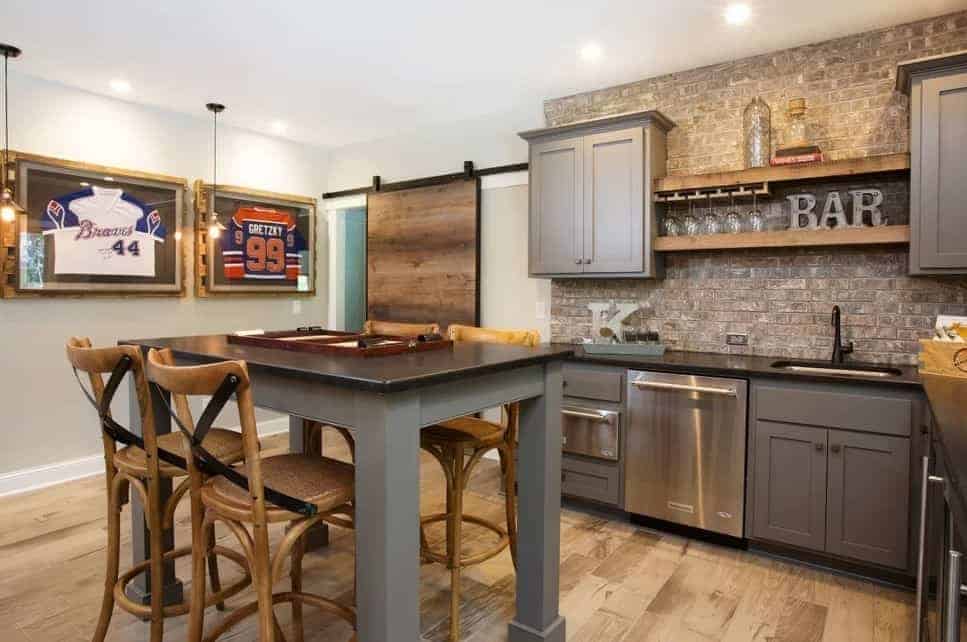 An industrial style kitchen is the perfect choice for a small space as it can be easily customized to suit your needs. For example, by using stainless steel appliances and fixtures, you can create a cool and masculine atmosphere.
Exposed brick walls, metal fixtures, and concrete countertops all add to the industrial look, and connecting your appliances with exposed ductwork gives the space an even more edgy feel. You can also add metal bar stools or pendant lights for an extra touch of industrial flair.
15. Scandinavian Design For A Sleek And Modern Look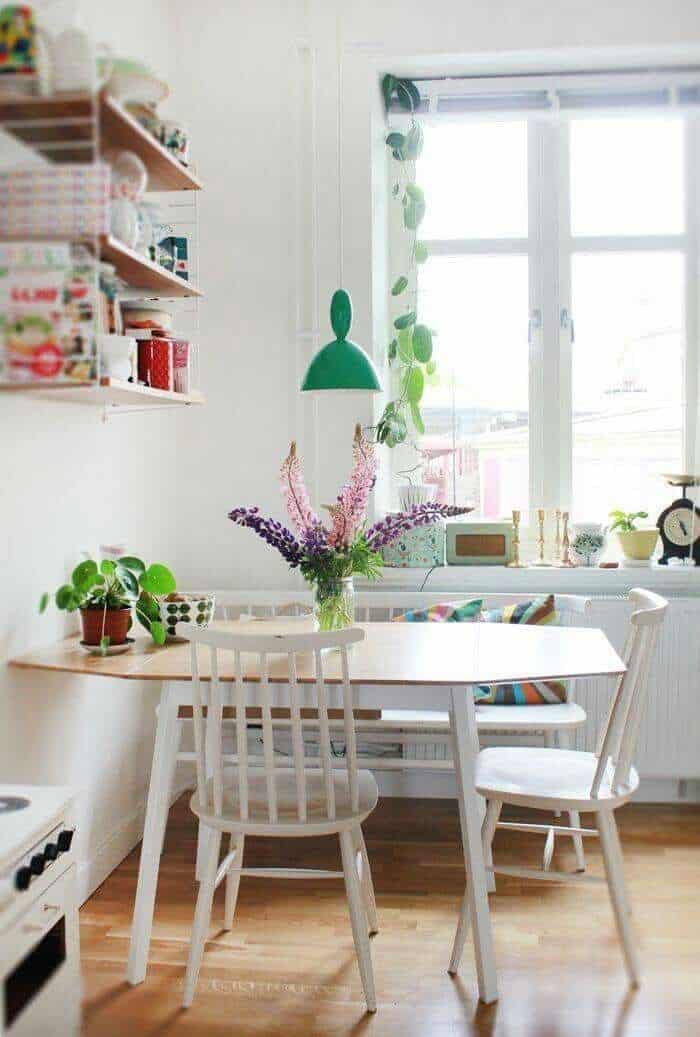 This style is all about minimalism, so keep your countertops clear and your color palette neutral. To get the look, start with white walls and cabinets, then add in a natural wood accent. Black metal stools and light-colored flooring complete the space. If you're short on space, don't worry, a small eat-in kitchen can still be stylish. Just focus on making the most of your vertical space. Hang pots and pans from a pot rack or install floating shelves to store dishware. A folding table or counter-height table and chairs are also great options for small kitchens.
16. French Design Is Perfect For Those Who Love To Cook And Entertain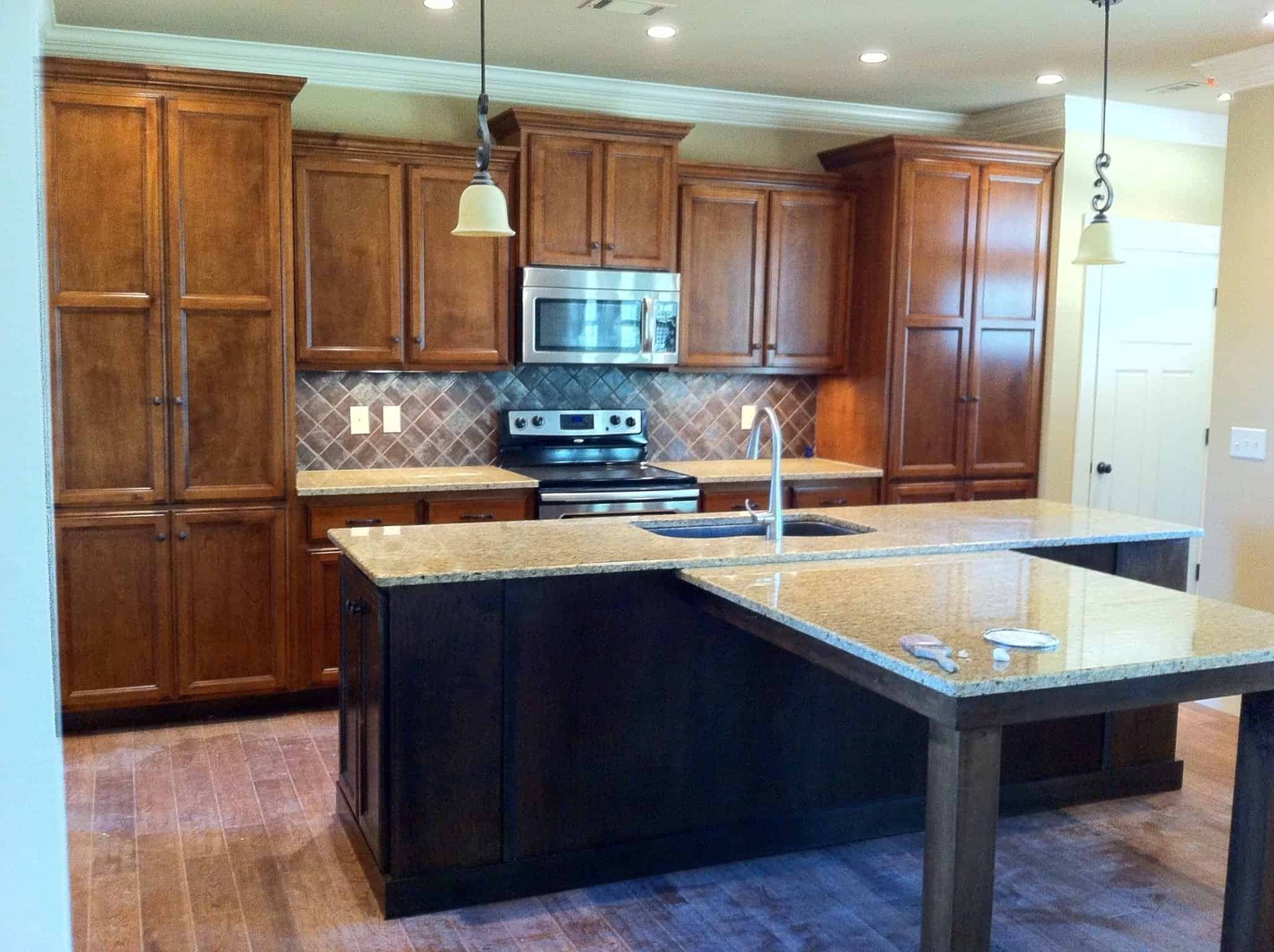 French small eat in kitchen allows you to enjoy all the amenities of your home while preparing meals for your family and guests. These kitchens feature a large work surface, plenty of storage space, and a layout that allows you to move around easily.
In addition, it often has a dining spot adjacent to the kitchen, making it easy to serve meals to your guests. Whether you are looking for a casual kitchen for two or a more formal space for entertaining, this kitchen is an excellent choice.
17. Add The Eat-in Kitchen Seating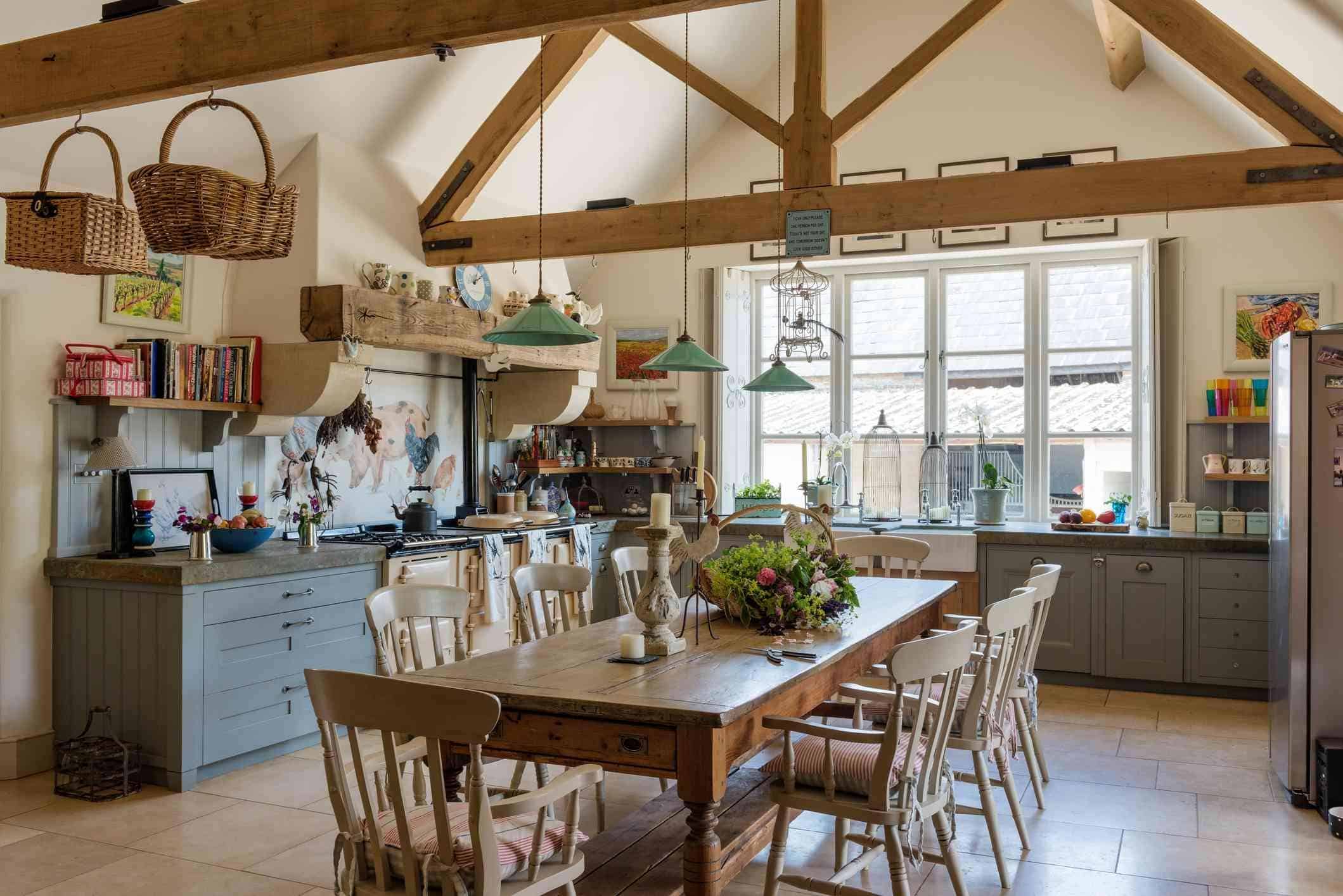 Rustic design gives your kitchen a warm and inviting feel, while also being highly functional. To pull off this look, start with exposed wood beams on the ceiling and use natural stone for the countertops and backsplash. Then, add some warmth with copper or brass accents and lighting fixtures. Think about adding dimmers to your overhead lights, and using lamps or candles to create a softer ambiance. Finally, top it all off with some comfortable seating and a few personal touches, like family photos or fresh flowers.
18. Complement It With A Cozy Breakfast Nook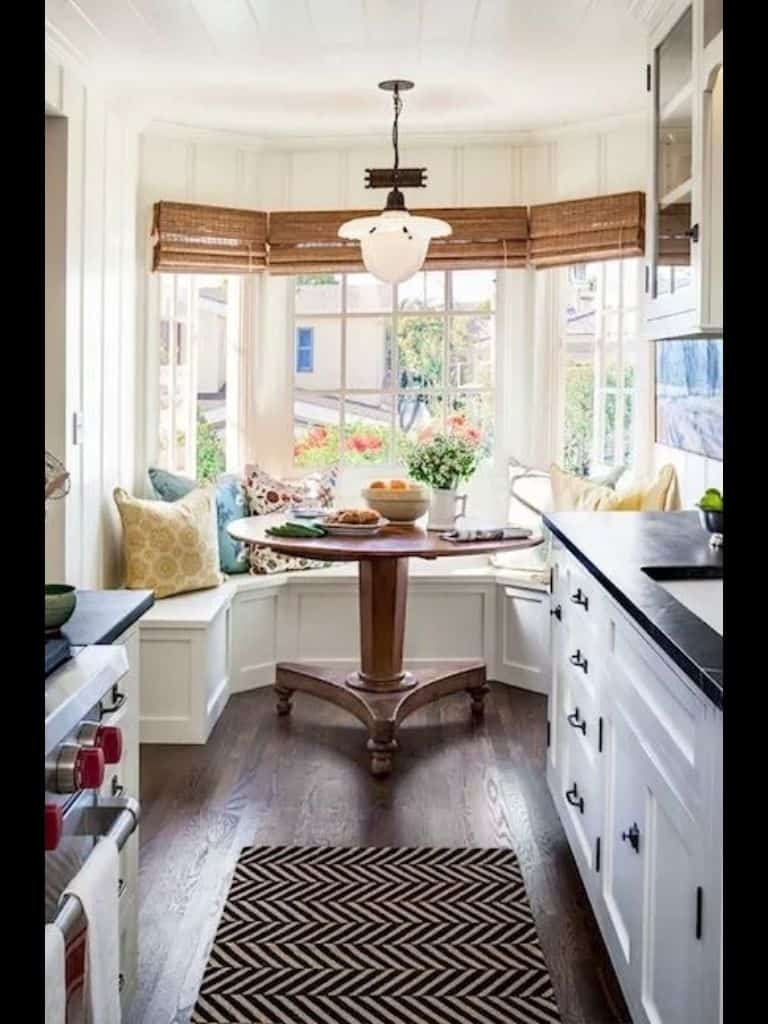 Traditional small eat-in kitchens usually have a classic design with plenty of storage and counter space. If you're lucky enough to have a large window, consider adding a table and chairs to create a cozy breakfast nook. For a more modern kitchen look, try using sleek, minimalist furniture and fixtures. Floating shelves are also a great way to save space in a small kitchen. And don't forget about lighting! Pendant lights or track lighting can brighten up even the smallest of spaces.
19. Contemporary Style With A Clean And Modern Look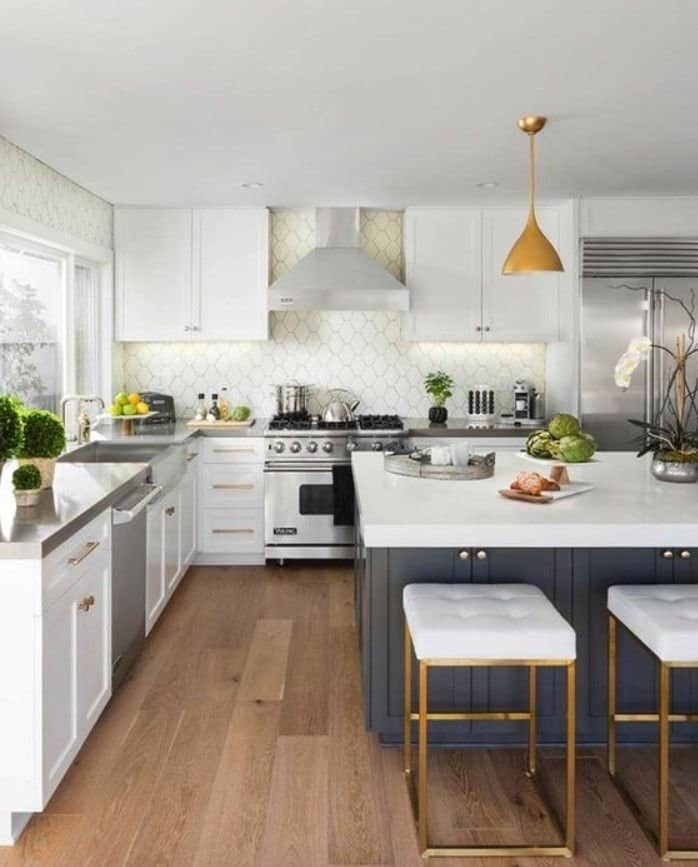 Opt for clean and simple lines in your cabinetry and countertops. Shaker style cabinets are a great option for this look. Second, choose sleek and modern appliances. Stainless steel is always a good choice. Third, consider adding an island or peninsula for extra prep space and storage. Fourth, don't forget about lighting! Under cabinet lighting is perfect for small eat in kitchens.
Finally, accessorize with kitchenware that completes the look. Modern serving ware and cookware can really help to tie the whole space together.
20. Eclectic Kitchen For A Fun And Unique Space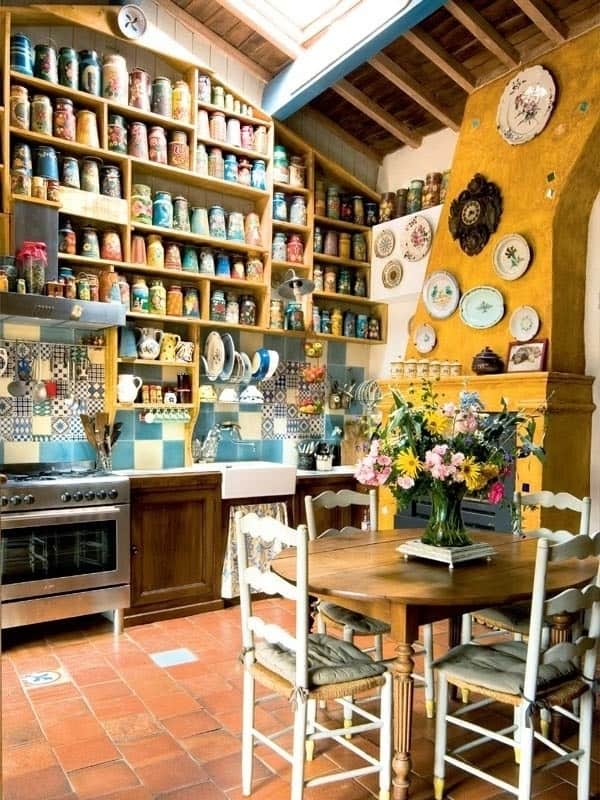 This type of kitchen can be decorated with all sorts of colorful and eclectic items to create a one-of-a-kind space. You can use vintage plates and cups as wall decor, or hang colorful curtains to add some personality. To keep the space from feeling too cluttered, choose simple, minimalist furniture. Then, add in some fun accents like a chair with a funky pattern or a table with a bright pop of color.
21. Hang the Brass Pendant Light For A Luxurious and Glamorous Space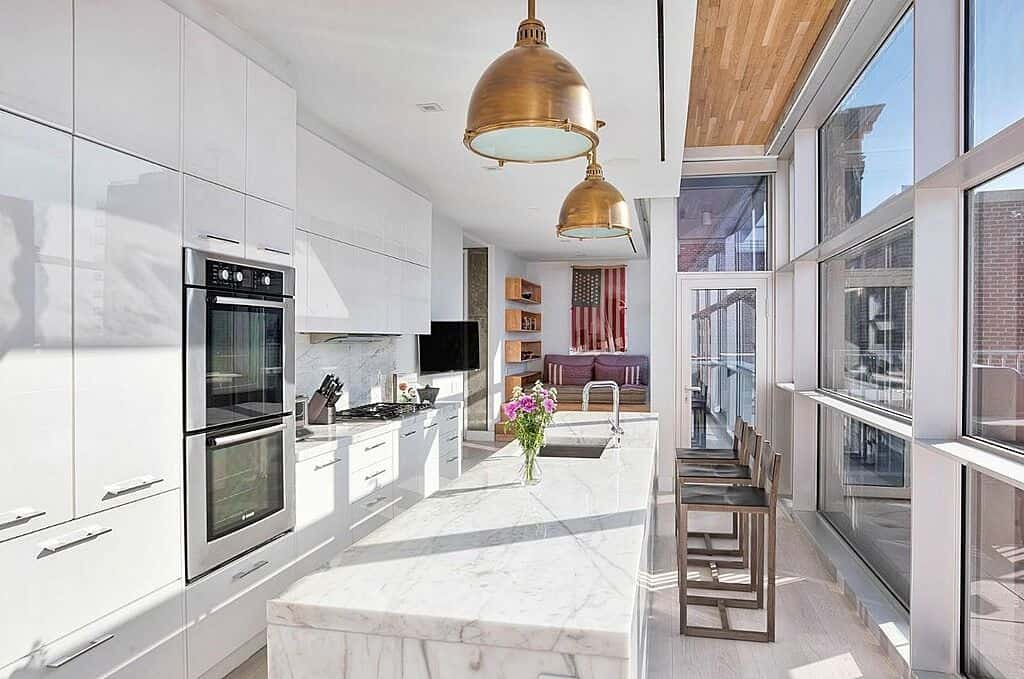 Bring in the glam flair to your small kitchen by adding a chandelier or pendant light above the table. This will instantly dress up the space and make it feel more luxurious. Another idea is to use rich, jewel-toned colors for the walls or backsplash. Or, you could go all out and add white marble accents throughout the space. Finally, don't forget about accessories. Adding some sparkling glassware or other decorative items will really help to give the space a glamorous feel.
22. Bohemian And Carefree Vibe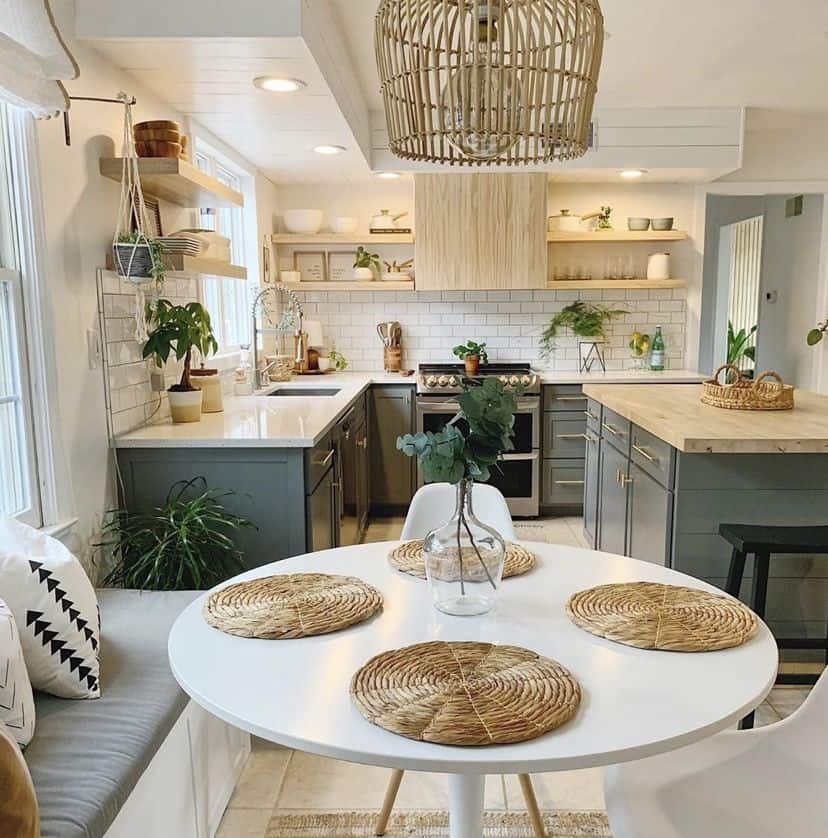 Adding a touch of bohemianism to your small eat-in kitchen is a great way to create a relaxed and carefree vibe. Incorporating natural materials, like wood and wicker, will give the space an organic feel. Using colors inspired innately, such as earthy tones and jewel tones, will also help to create a sense of harmony. And, of course, no Bohemian kitchen would be complete without some plants. Potted plants or trailing vines are a great way to add greenery to the space.
23. The Mid-Century Modern Design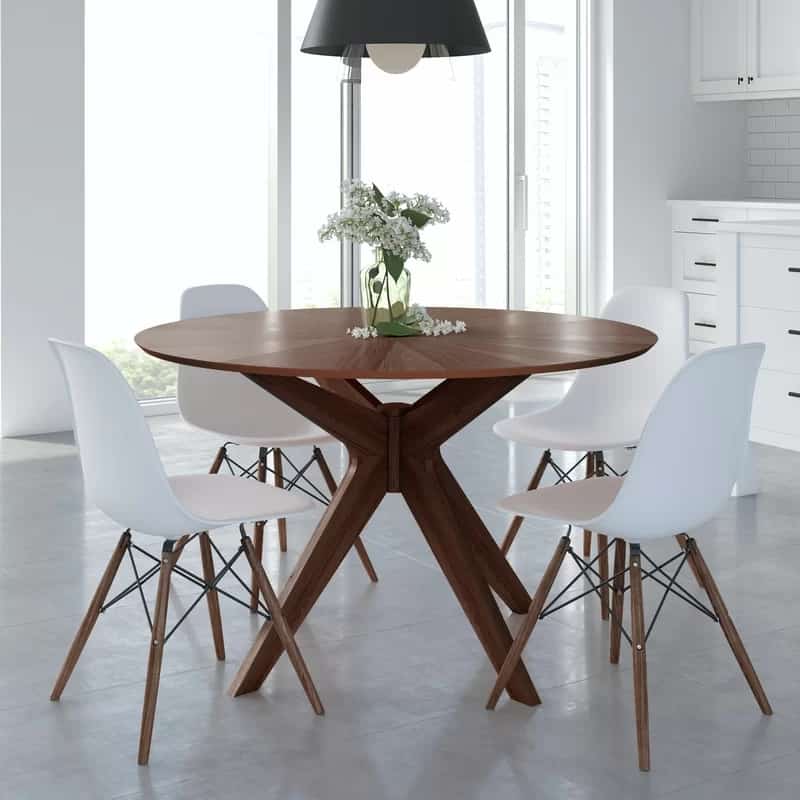 This style highlights a retro feel that is both unique and stylish. To get this look in your own eat in kitchen, start by choosing mid-century furniture pieces. A round table with tapered legs is a classic choice, or you could opt for a drop-leaf table that can be folded down when not in use. For chairs, look for pieces with simple lines and wood frames.
24. Build A Fun And Exotic Space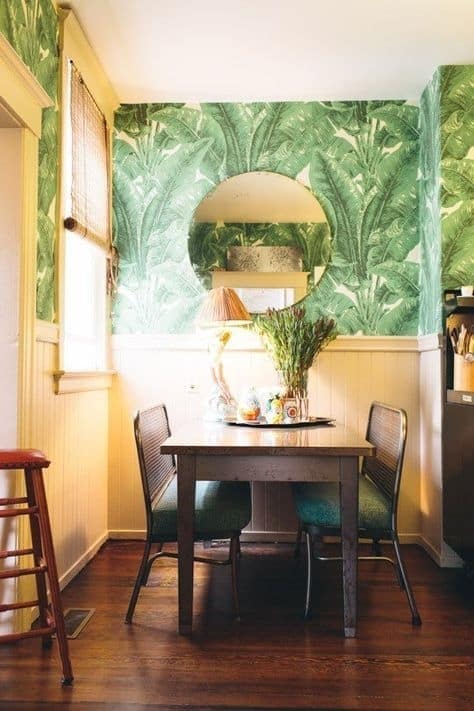 Create a touch of paradise to your home is to design a small eat-in kitchen with a tropical theme. This can be a fun and exotic space where you can enjoy preparing meals and entertaining guests. To create this type of atmosphere, start by painting the walls in bright, vibrant colors such as yellow, orange, or pink. Then, add some tropical-themed artwork or photos.
For the finishing touch, choose tableware and kitchen accessories that have a tropical flair. With just a few simple changes, you can turn your kitchen into a mini vacation destination.
25. Coastal Flair For A Relaxing And Serene Space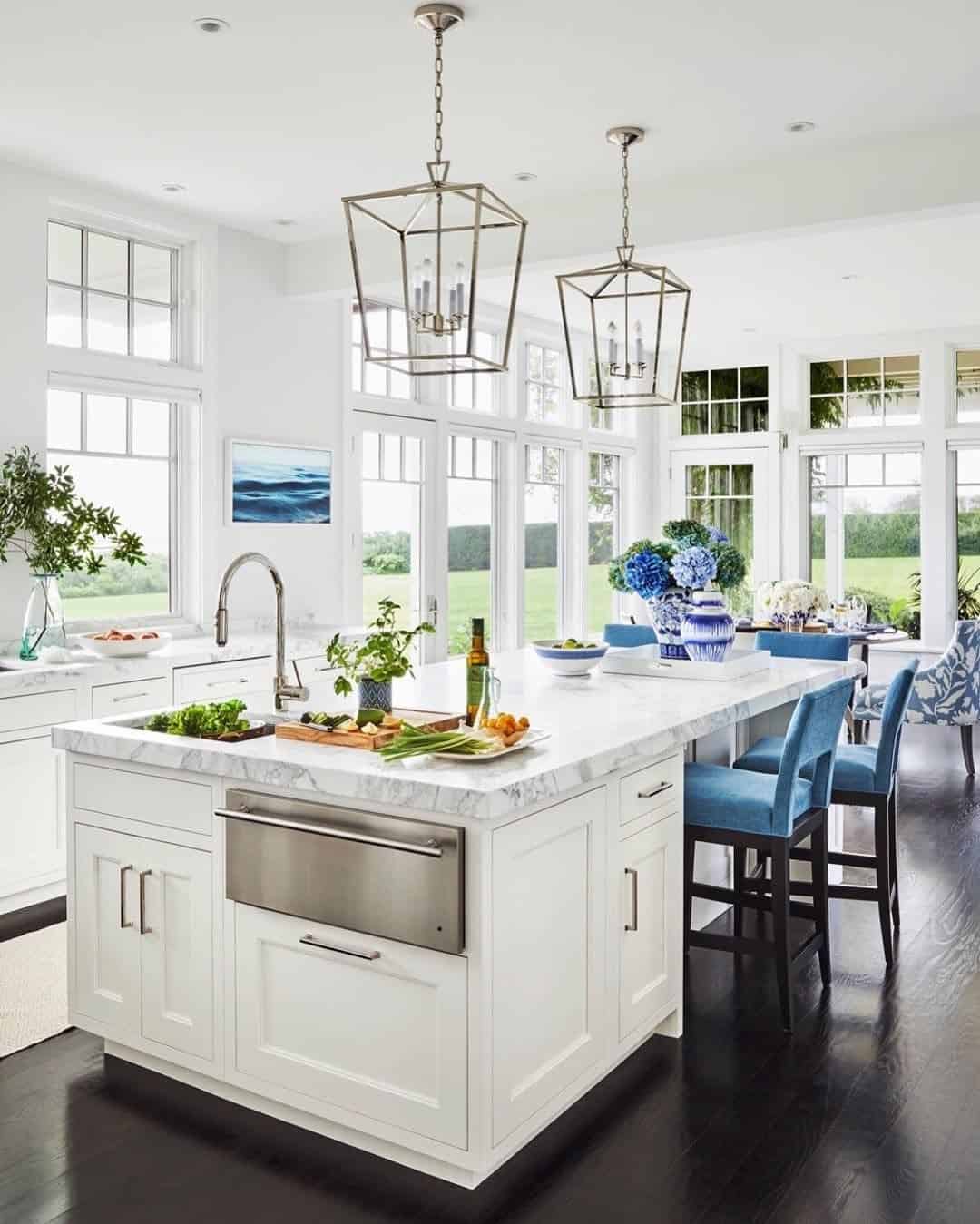 For a relaxing and serene space, go for a coastal theme. Keep the palette light and airy with white walls and pale blue or green accents. Introduce some natural materials like wood and wicker for an organic feel. Hang some billowy white curtains to soften the room and let in plenty of natural light. Add some sea foam green or blue accents throughout the room. Prints with seashells, starfish, and other nautical motifs are also perfect for this look.
26. Art Deco Style That Brings A Glamorous Sense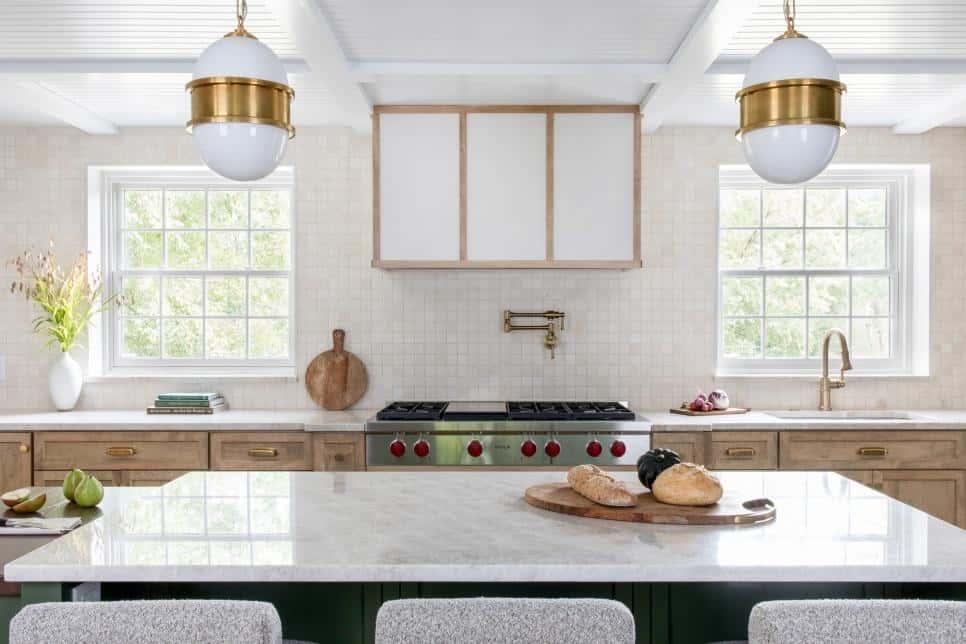 Art Deco style is perfect for creating a luxurious and inviting space. Gold accents, rich woods, and elegant lighting will all help to create an atmosphere that is both sophisticated and welcoming.
Start by opting for glossy surfaces and rich colors. Black and white marble countertops are classic Art Deco, as are deep emerald green or scarlet red cabinetry. Gold fixtures and hardware will add a touch of luxury. And don't forget the finishing touches: a sparkling chandelier and luxurious bar stools will complete the look.
27. Chic And Glam Space
Hollywood Regency style is all about creating a chic and glam space, and that extends to the kitchen. A small eat-in kitchen can be the perfect place to show off your sense of style. Start by opting for sleek, modern cabinets in a high-gloss finish. Then add some glamorous details like brass hardware and a marble backsplash. For the finishing touch, choose a statement lighting fixture that will help to create an inviting ambiance.
28. Modern Flair Of Minimalistic Design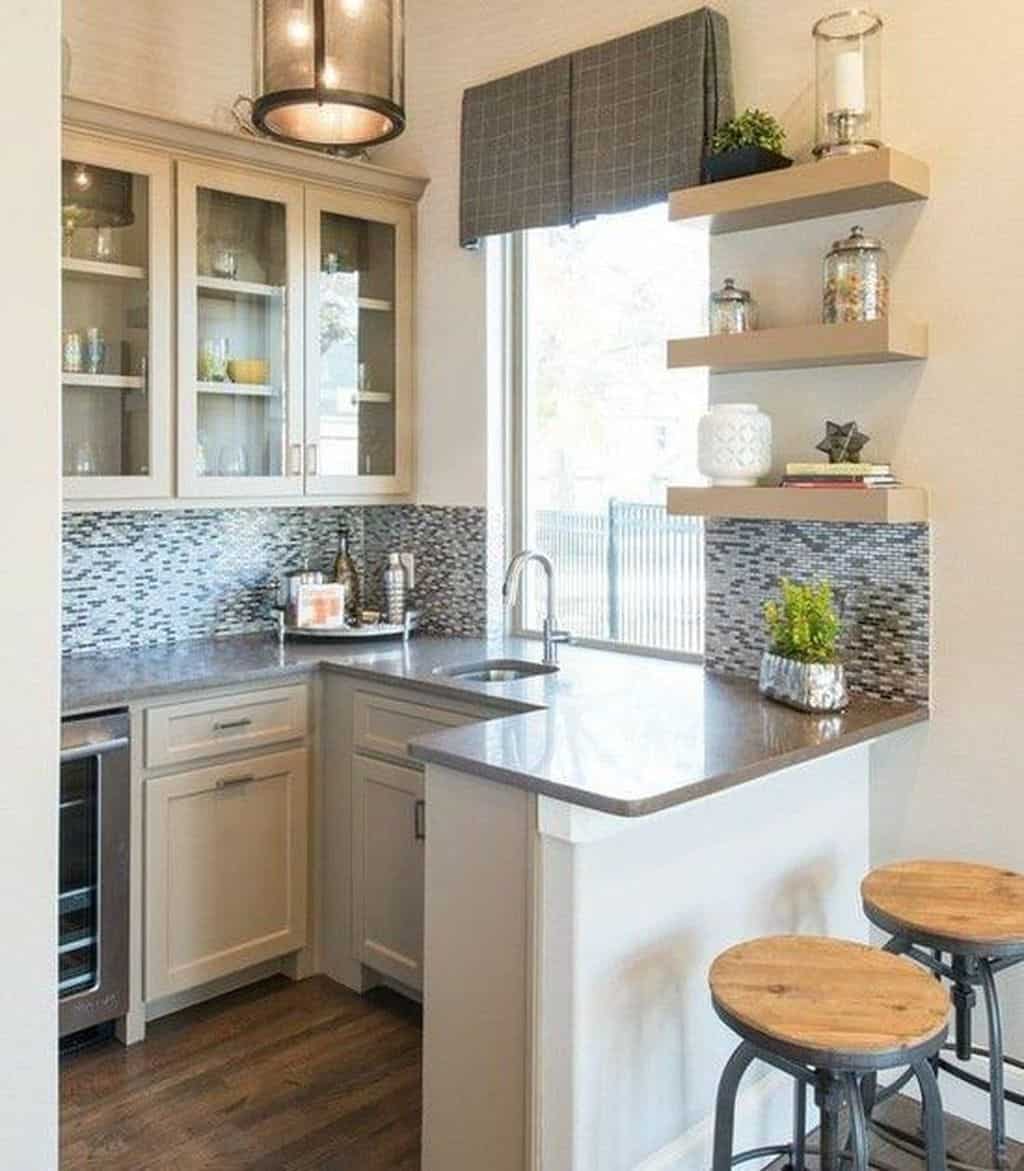 A minimalist approach can be a great way to open up the room and create a light, airy feel. Start by decluttering counters and surfaces. Get rid of any appliances or décor that you don't use regularly. Then, consider ways to maximize storage. Install shelves or cabinets that go all the way up to the ceiling. Use clear containers to store dry goods, so you can see what you have at a glance. Finally, add some personal touches that make the space feel like your own.
29. Transitional Small Eat In Kitchen With Wooden Material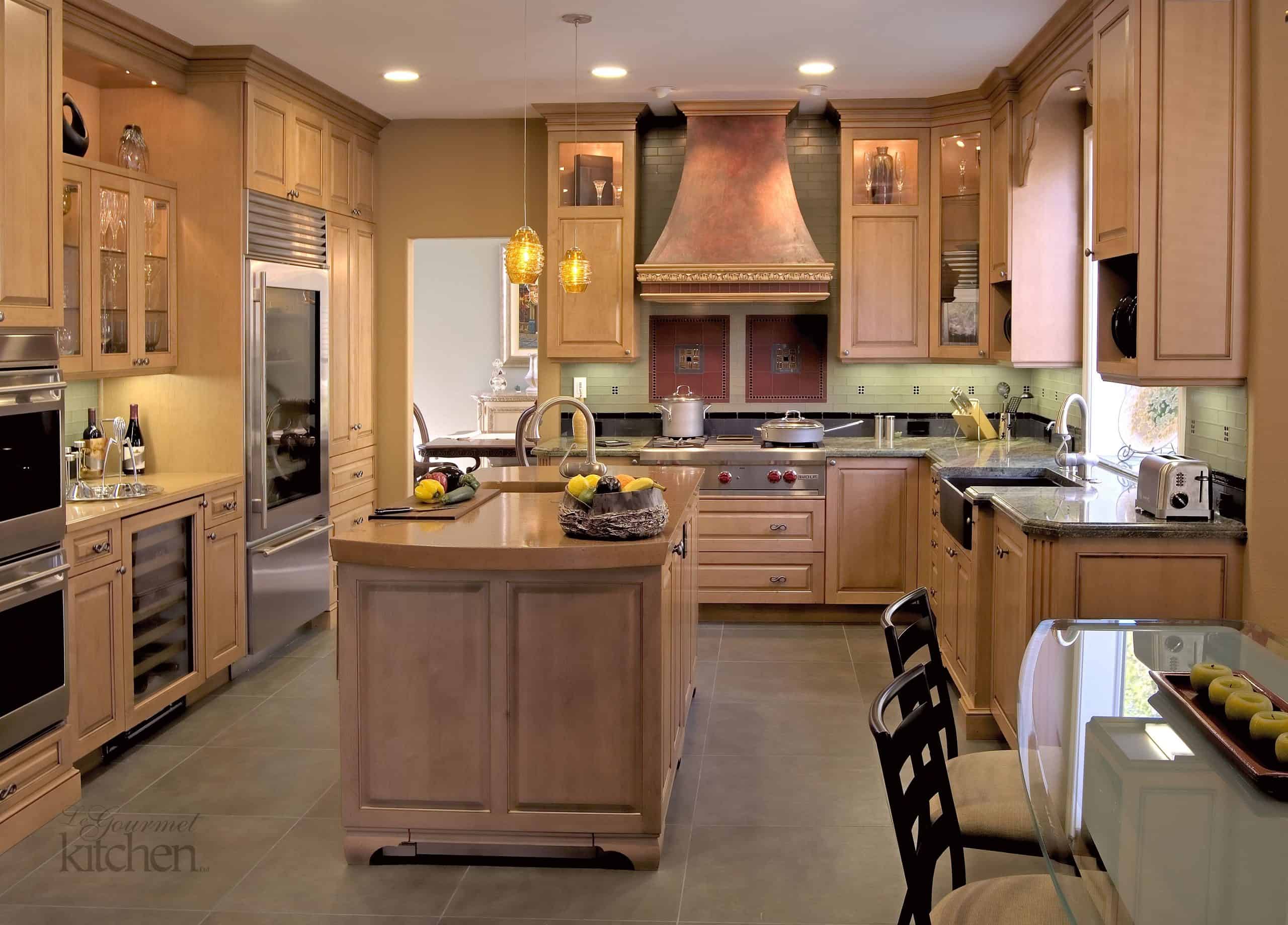 A transitional eat-in kitchen blends traditional and modern elements, creating a timeless look. For a more classic feel, consider using light-colored wood for your cabinets and countertops. You can also add a backsplash in a coordinating color.
If you want to add a bit of interest to the space, consider using two different types of wood for the cabinets and the island. This will give the space a more transitional feel. To complete the look, add some well-chosen accessories and lighting fixtures.
30. Mediterranean Style With Terracotta Floor Tiles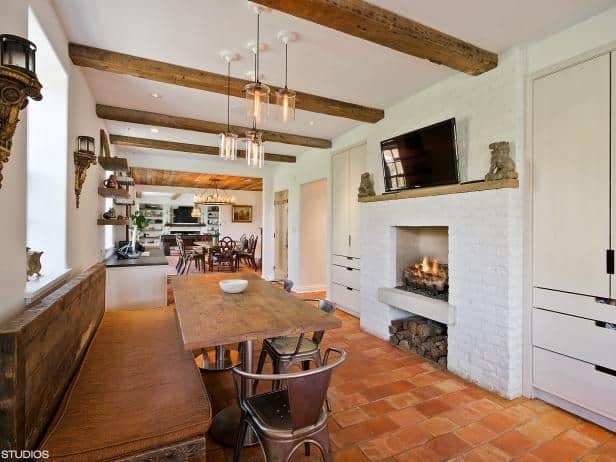 The Mediterranean style is known for its use of warm, earthy tones and rustic materials. This look is perfect for creating a cozy and inviting eat-in kitchen. To get the Mediterranean feel, start with a stone or brick backsplash behind the stove. Then, add some warmth with wood beams on the ceiling and terracotta floor tiles.
For the cabinets, choose a distressed white cabinetry. And of course, no Mediterranean kitchen would be complete without a few bottles of olive oil and a good supply of fresh herbs.
31. The Beauty Of Japanese Style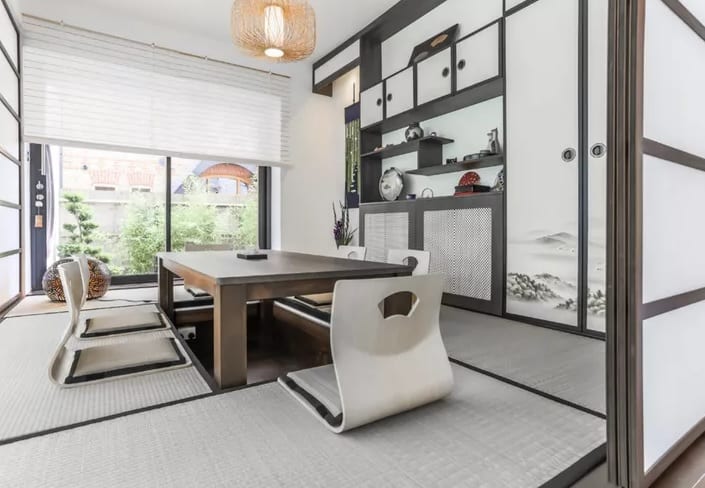 Typically, Japanese small eat-in kitchens are minimalistic in nature, with clean lines and simple decor. You might also find that they incorporate some oriental design elements, such as shoji screens and tatami mats.
One popular option is to use fold-away furniture. This way, you can have a dining table that can be stored away when not in use. Another great idea is to use wall-mounted shelves to store utensils and spices. This way, you can keep your countertops clear and make it easy to find what you need when you're ready to cook.
The kitchen space is the heart of the home, and it's important to make sure that your small eat in kitchen feels warm and welcoming. By using some of these ideas as inspiration, you can create a space that you love spending time in. Keep in mind that the most important thing when designing any space, especially one as intimate as a kitchen, is to make sure it feels like your own. So get creative and have fun with it.