Coastal kitchens are perfect for creating a relaxed and comfortable vibe in your home. It would be perfect if you are planning to create a delightful experience of cooking time. On the other side, if you love hosting a party, then this coastal-vibe will entertain your guests as well.
There are plenty of ways to bring the coastal kitchen ideas into your home. You can use seashells, starfish, coral, driftwood, and other nautical items as decorations. Also, you can repaint your cabinets with light and airy colors. The most important thing is to keep the space bright and breezy.
Luckily, we've got some tips on how to make your kitchen look great while still being functional.
In this blog post, we will discuss some of the best coastal kitchen ideas that will help you achieve the look you desire. So if you're ready to create a beautiful and inviting space in your home, keep reading!
1. Blue and White Coastal Kitchen Design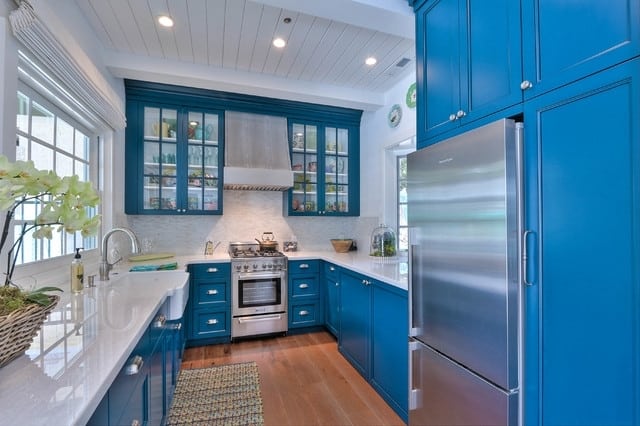 Blue and white are the perfect colors for a coastal kitchen, and there are plenty of ways to incorporate them into your design. One option is to use blue cabinetry with white countertops.
Another is to paint the walls blue and white striped. It is not only will your kitchen look great, but you'll also feel like you're on vacation every time you step inside.
2. Coastal Kitchen Decor Ideas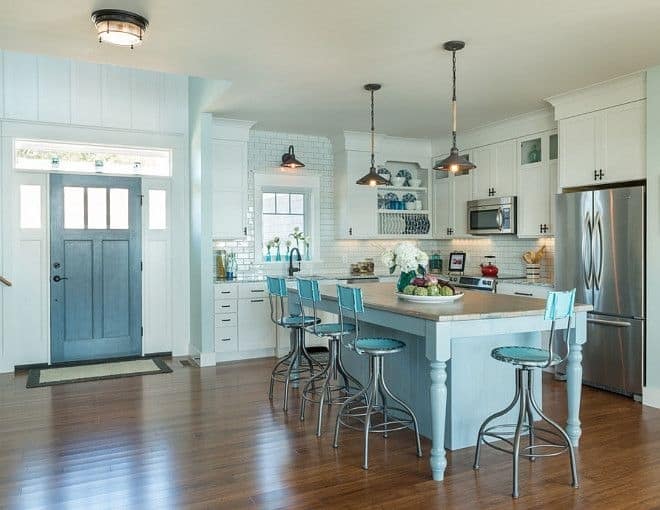 Whether you live near the beach or just love the look of coastal style, there are plenty of ways to incorporate maritime motifs into your cooking space.
For a subtle nod to the sea, try painting your cabinets in a light blue hue or adding seashell-inspired hardware. Hang a rope-wrapped chandelier or pendant light over your kitchen island and don't forget to anchor the look with a rug or floor mat printed with a nautical design. If you really want to bring the beach inside, fill a glass jar with sand and shells and use it as a utensil holder on your countertop.
3. Beach-Themed Kitchen Design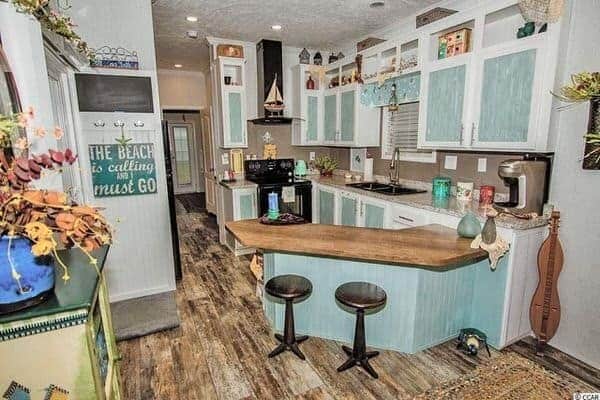 Upgrade the look of your kitchen into something more delightful. Start by painting your cabinets white or light blue for a fresh, airy kitchen. Then, add some seaside-inspired details like starfish cabinet hardware or shell-shaped drawer pulls.
You can also create a coastal feel by hanging netting or fishing floats on the walls, or displaying shells and beach glass in open shelves or glass-front cabinets. For the finishing touch, add a brightly colored tablecloth or runner to bring some sunny beach vibes into your kitchen. With these simple and affordable changes, you'll have a beautiful coastal kitchen in no time.
4. Coastal Design Kitchens On A Budget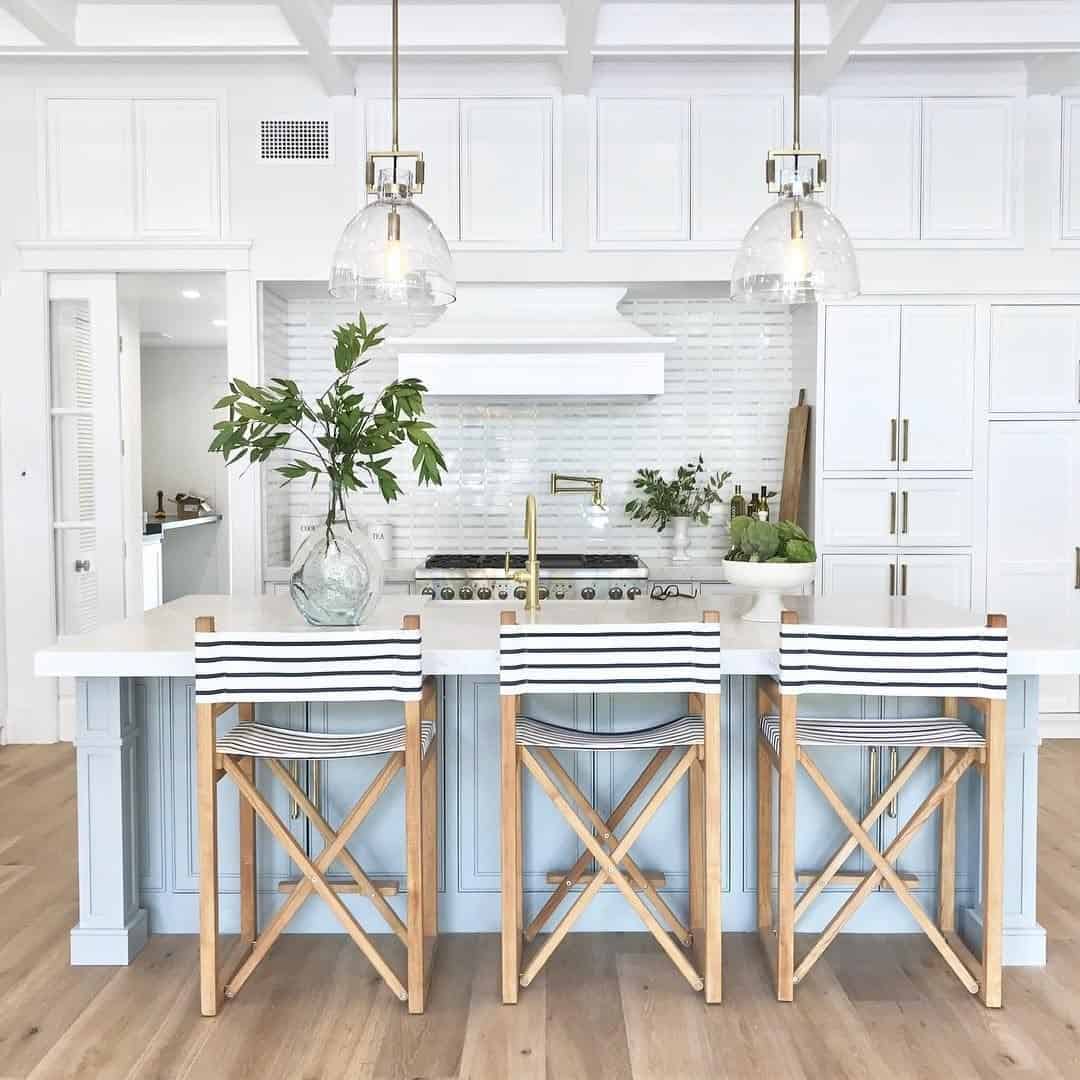 Paint is one of the most affordable ways to update a space, so don't be afraid to experiment with bold hues. For a more traditional look, white cabinets are always classic. But if you want something with a little more personality, try painting them in a light blue or green. You could also add accents of color with dish towels, rugs, or wall art.
Another way to get the coastal look is by incorporating natural materials. Medium tone wood floors are a great option, or you could use stone or tile if your budget allows. Stripped fabric or rattan furniture is also perfect for a casual beach feel. And don't forget about the accessories.
5. Kitchen Backsplash and Countertop Ideas for A Coastal Design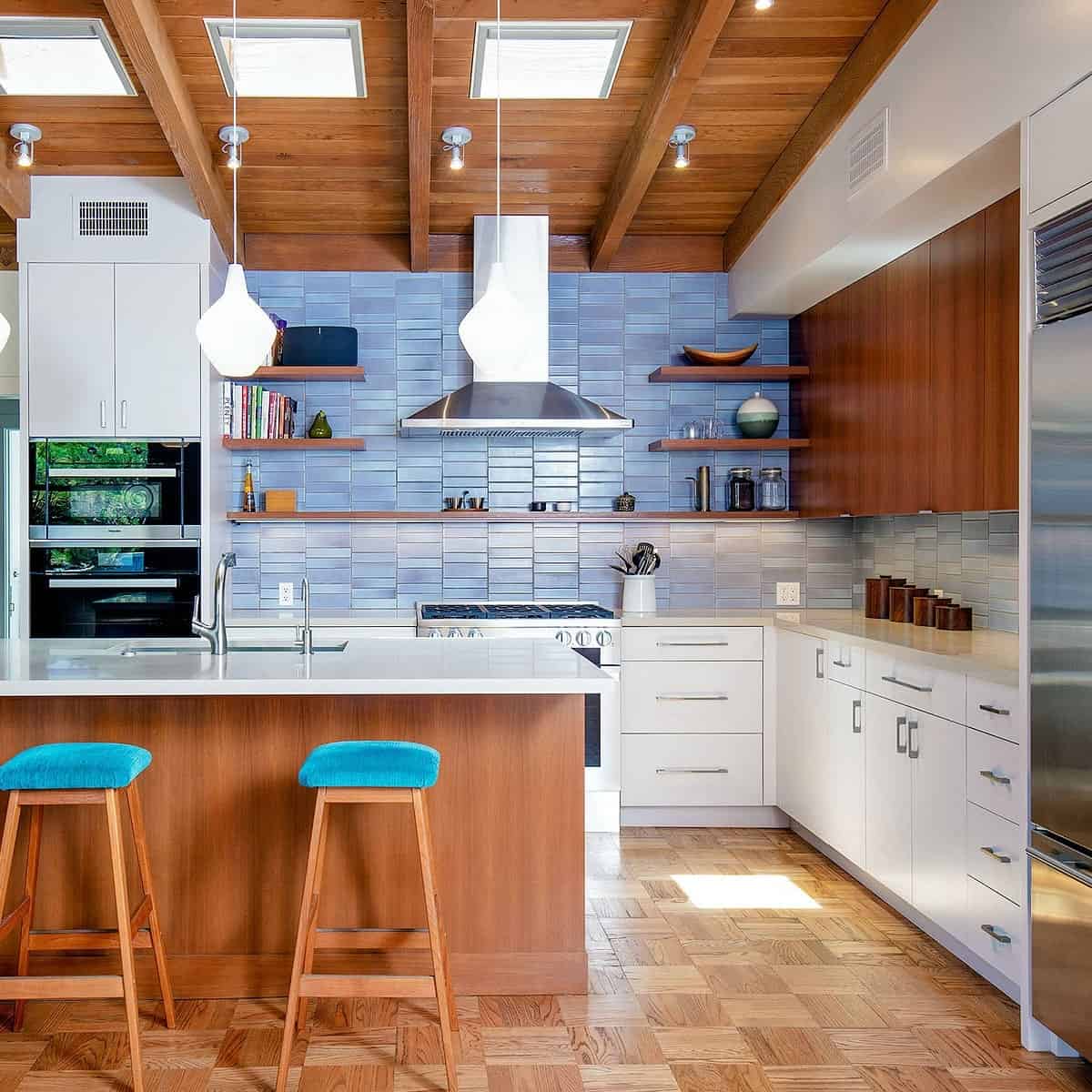 The backsplash and countertop are some of the key elements of the kitchen. You can play with these features to make a statement in the kitchen. A simple but effective way to start is by choosing a light blue or white backsplash tile. This will help to create a feeling of spaciousness and airiness in the room. Another great way to add a touch of the coast is by using light-colored countertops. Materials like quartz or marble work well, and they can also help to reflect light and make the space feel bright and open.
6. Accessories For A Coastal-Inspired Kitchen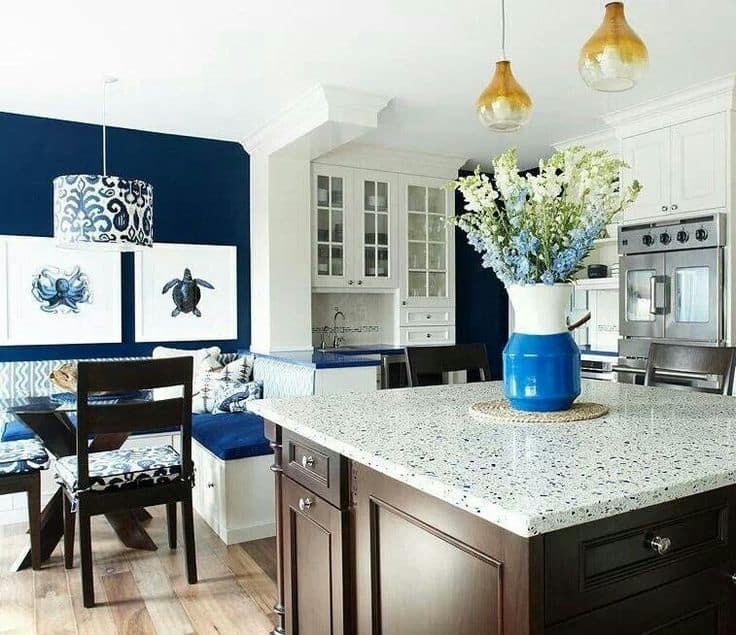 The best way to achieve this look is to incorporate natural materials and finishes. Start by using neutral colors for the walls and floors. Then, add in pops of blue or green to give the space a fresh and airy feel. Finally, finish off the look with some beach-themed accessories. Use seashells, starfish, or even driftwood as decorations.
You can also hang nautical flags or paintings of boats to really capture the essence of the coast. With these simple tips, you can easily transform your kitchen into a chic and relaxing space that evokes the best of summertime.
7. Open Shelving Made Of Natural Wood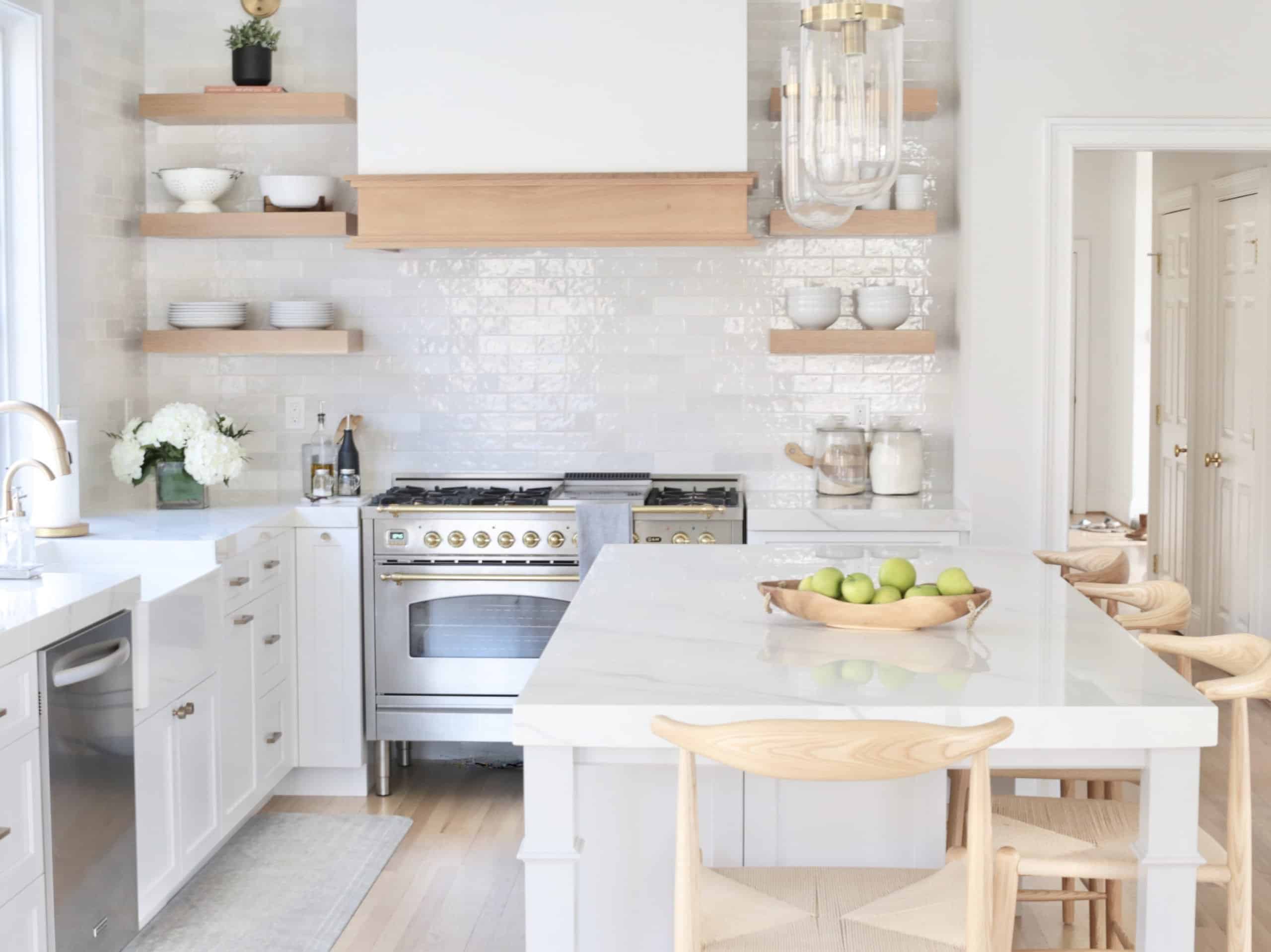 For a coastal kitchen that makes a splash, try incorporating open shelving made of wood. The material is sturdy and can stand up to the elements, making it a great choice for a beach house or seaside-inspired space. Plus, the natural grain of the wood adds a touch of warmth and character to the room. To really show off your glassware and create a focal point in the space, consider adding some decorative pieces to the shelves.
8. Install The Large Window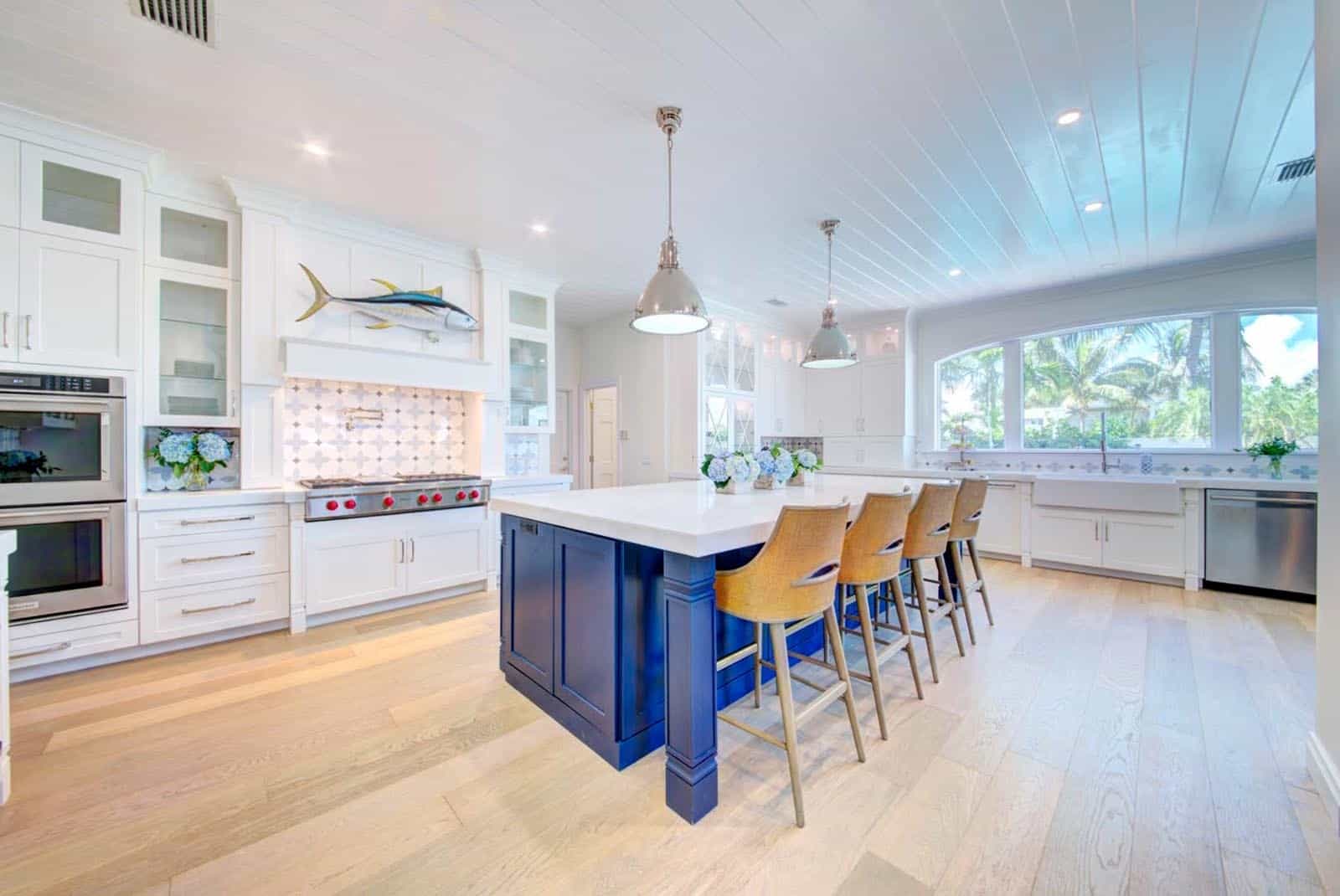 A large window is the perfect way to bring in natural light and make the most of your surroundings. Whether you're looking for a sleek and modern kitchen or something more traditional, there are plenty of ways to incorporate a window into your design. If you're short on space, consider a skylight or sunroom. Or, if you want to show off your view, opt for floor-to-ceiling windows.
9. Painted Kitchen Cabinets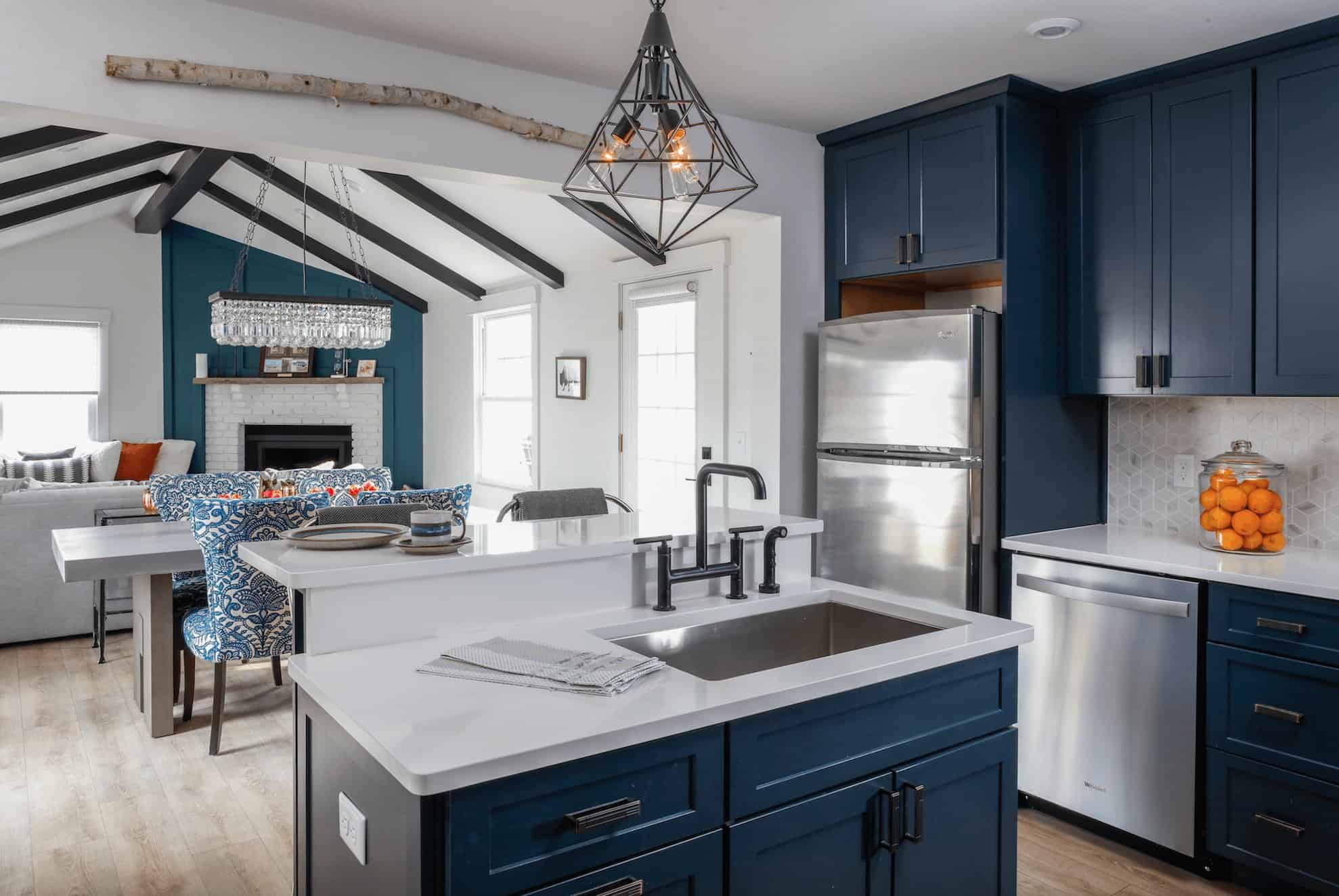 The cabinets are the focal point of any kitchen, so by painting them in a light blue or green, you can create a feeling of summer all year round. If you want to go for a more nautical look, paint your cabinets in a deep navy blue. This will create a dramatic contrast with the rest of your kitchen, and make it feel like you're on board a ship. For a more subtle look, try painting your cabinets in a light cream color.
This will give your kitchen a beachy vibe without being too over-the-top.
10. Use Stone Countertops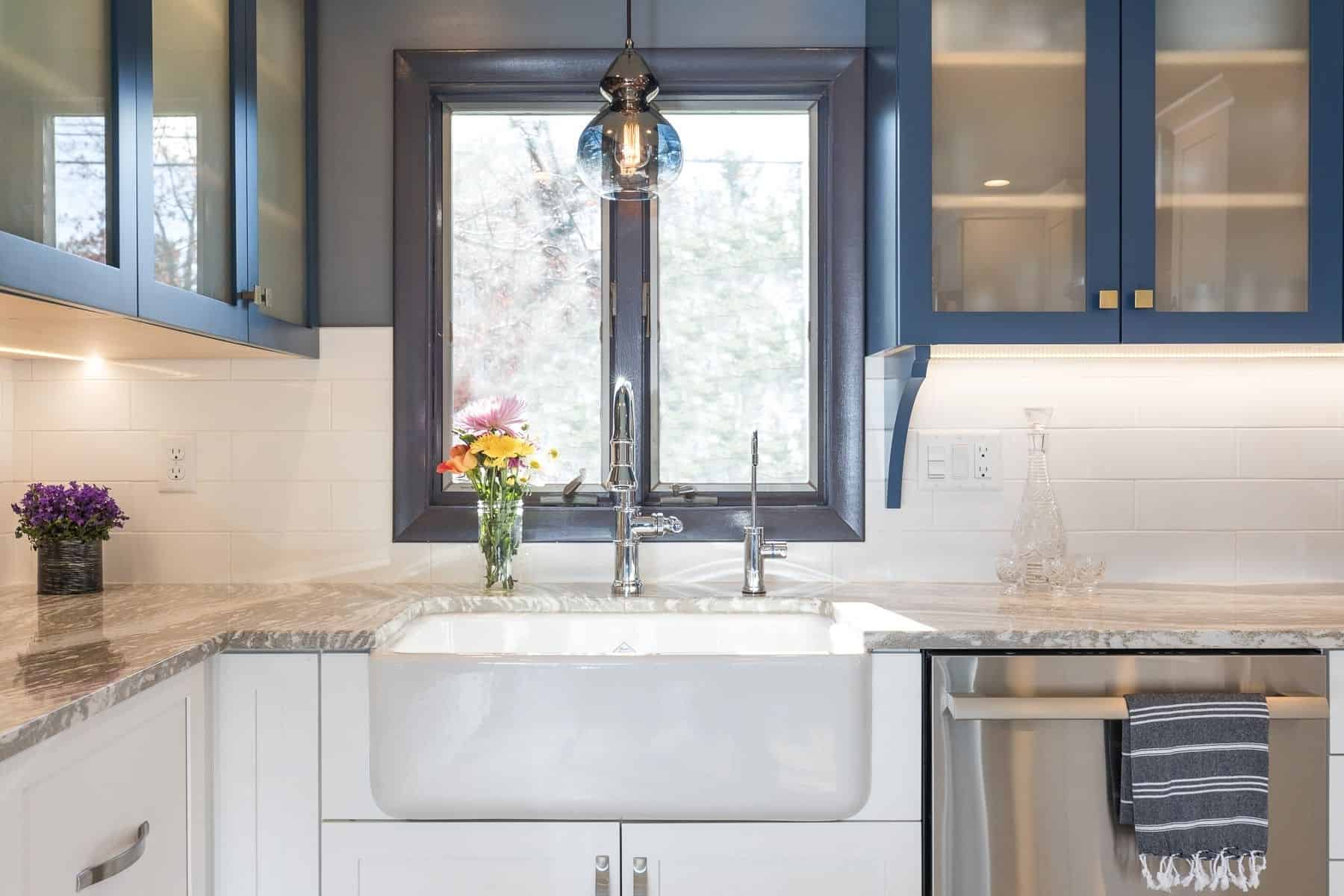 Natural stone has a classic coastal vibe that instantly makes any kitchen feel more laid-back and inviting. Plus, it's durable and easy to care for, making it a great choice for busy families. If you're looking for a unique twist on the classic coastal kitchen, consider using black granite countertops.
The dark color adds a touch of sophistication and drama, while still maintaining the casual, relaxed feel of the space. Whatever type of stone countertop you choose, make sure it fits with the overall style of your kitchen. Hi-gloss finishes are perfect for contemporary spaces, while honed or matte surfaces work well in traditional kitchens.
11. Cabinet Hardware with a Nautical Theme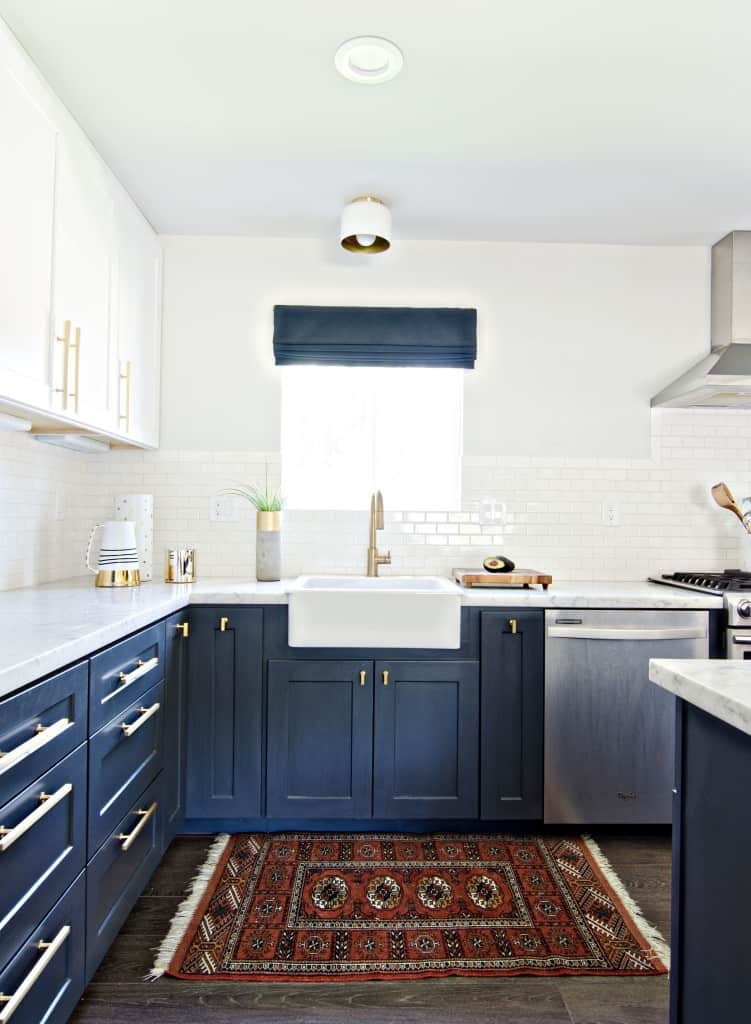 Even if your cabinets are not new, changing out the hardware is a quick and easy way to give them a fresh look. And, since most hardware is relatively inexpensive, it's an affordable way to redecorate as well. When choosing nautical cabinet hardware, there are a few things to keep in mind. First, consider the colors you want to use.
While blue and white are traditional nautical colors, there's no reason you can't get creative and use other colors as well. Second, think about the style of hardware you want. There are plenty of options available, from simple knobs and pulls to more ornate pieces. And finally, don't forget about functionality. Since cabinet hardware is used every day, it's important to choose something that is both attractive and durable.
12. Paint the Walls in Coastal Palette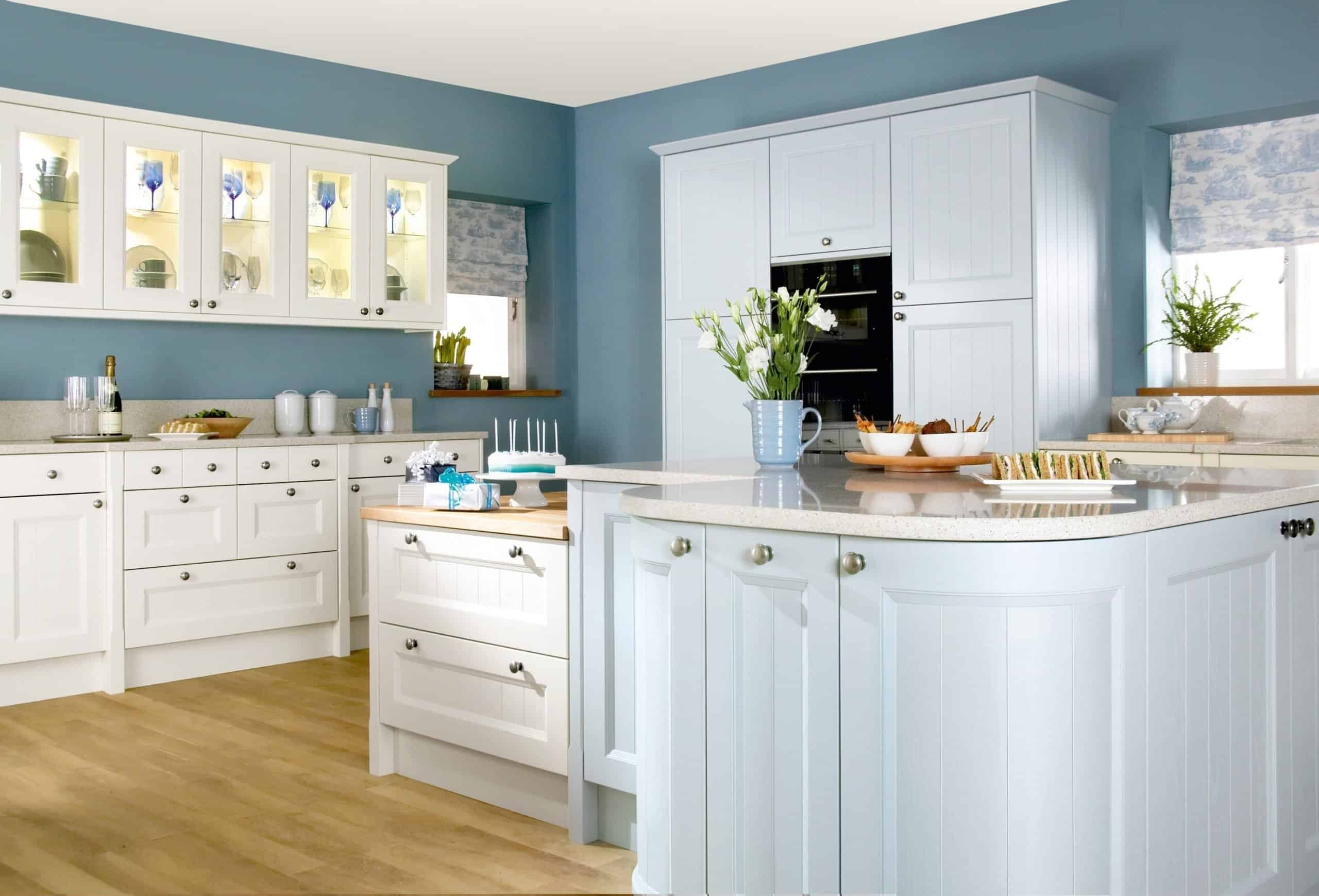 It is such a smart way to paint the wall in coastal colors to make a statement to the kitchen. Consider soft blues and greens that highlight the sea and sky. You could also go for a white or light neutral palette and add pops of color with art, accessories, flowers, and accent pieces.
Another way to achieve a coastal decor is to use natural materials such as wood, stone, and rattan. Expose brick or stone walls, or install wainscoting or beadboard paneling. And don't forget the lighting! Under-cabinet lighting will brighten up your work surfaces, while pendant lights or sconces will add a touch of style.
13. Bring In Natural Element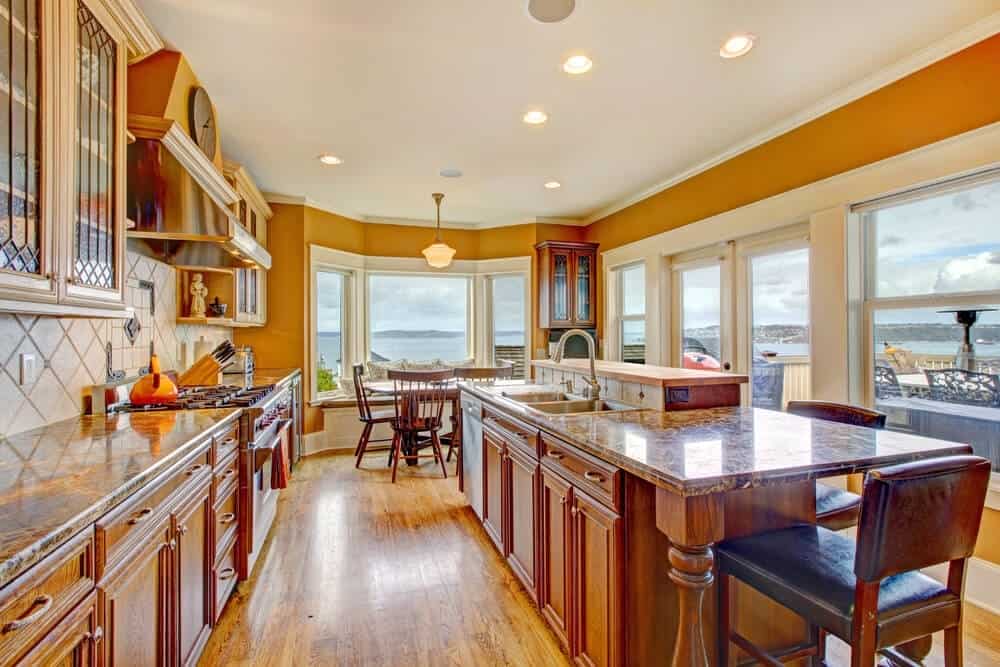 To achieve this look, start by incorporating natural elements into your design. Use light woods for your cabinets and flooring, and consider adding a stone or blue tile backsplash. Then, add in some greenery with herb gardens or vases of fresh flowers.
Finally, let in as much natural light as possible by installing large windows or skylights. By bringing the outdoors in, you'll create a kitchen that feels airy and refreshing.
14. Hang Artwork with a Coastal Theme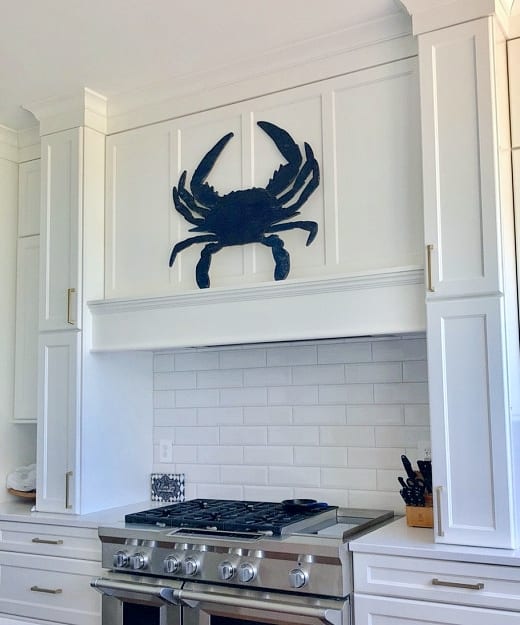 Artwork is a great way to bring a splash of color and personality to your kitchen, and it can also be a way to add an element of fun. Nautical-themed artwork is often whimsical and eye-catching, making it the perfect choice for a kitchen with a coastal theme. Plus, it's a great way to add a touch of the ocean to your home, even if you don't live near the coast.
15. Use Lighting to Create a Coastal Living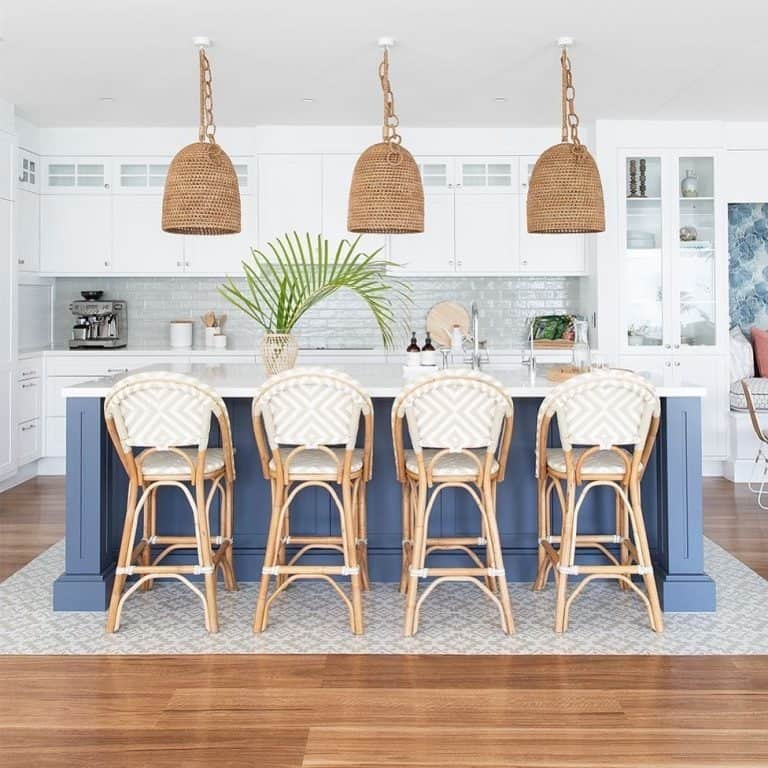 Natural light is key in any kitchen, but it's especially important in a coastal space where you want to capture that ever-changing play of light and shadow on the water. If your kitchen doesn't have large windows, consider installing skylights or glass doors to let in as much natural light as possible.
When it comes to artificial lighting, choose fixtures that evoke the simplicity of seaside living. Pendant lights are a popular choice for coastal kitchens, and you can find many nautical-inspired options made from rope, rattan, or driftwood.
16. Install a Wooden Floor or Bamboo Flooring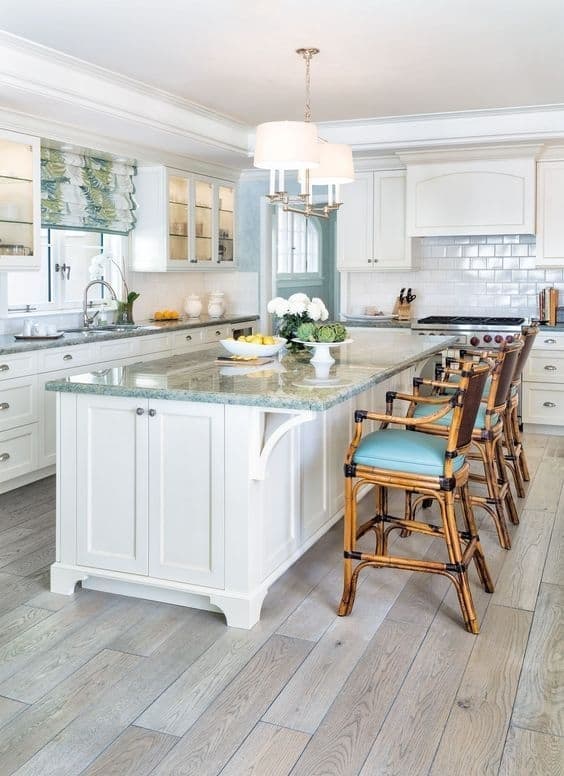 Wood floors installation is classic and timeless, adding warmth and character to any space. They're also durable and easy to care for, making them ideal for busy kitchens. Bamboo floors are a great alternative to wood, offering the same natural beauty but with added durability. Plus, they're eco-friendly and cost-effective, making them a great choice for those looking to go green.
17. Use Area Rugs to Define the Space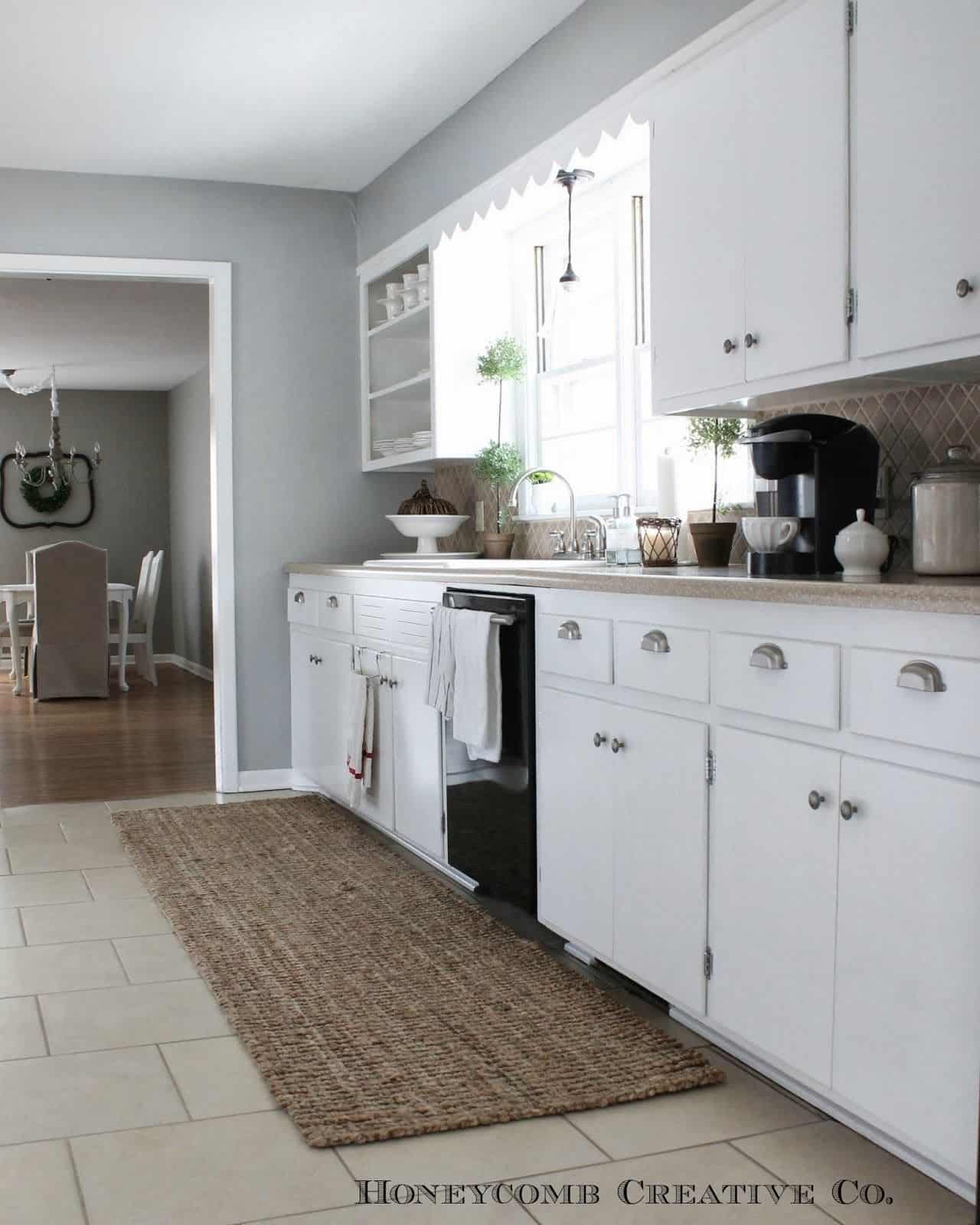 Area rugs can help to define the space and create a layered look that feels both stylish and inviting. When choosing an area rug for your kitchen, opt for a design with bold colors or interesting patterns. And if you're worried about sand and dirt being tracked in, choose a rug made from durable materials like jute or sisal.
18. Add Plants to Your Beachy Kitchen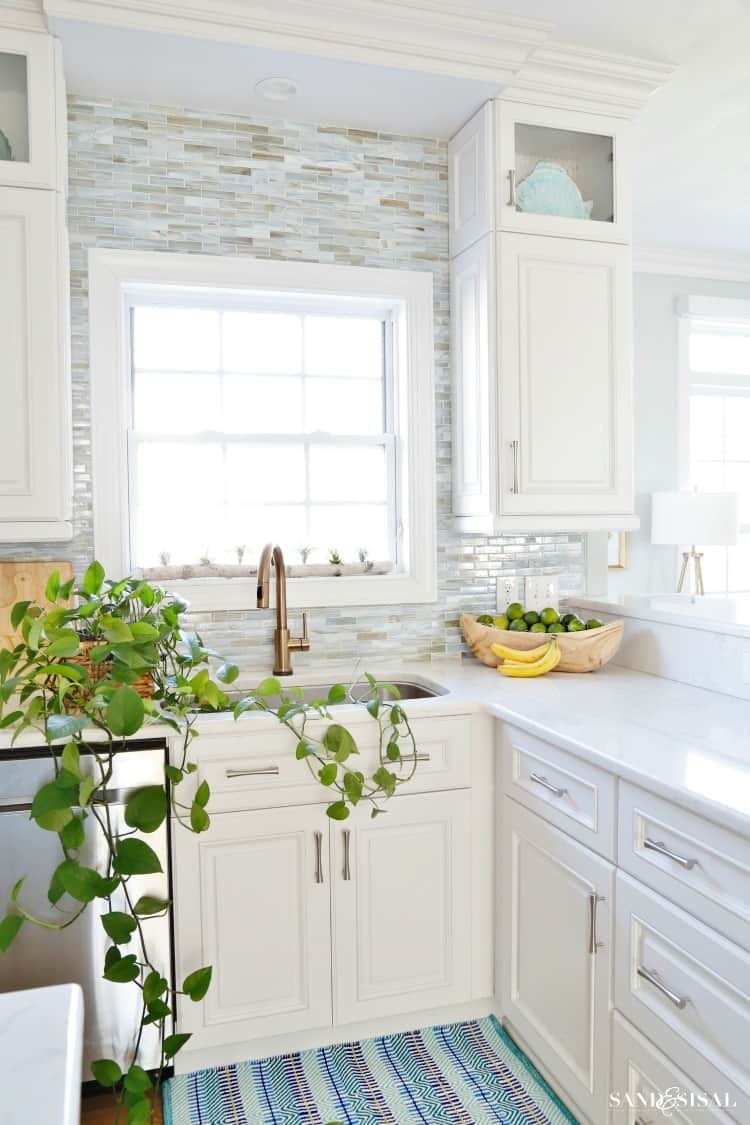 One of the best things about having a coastal kitchen is that you can easily add plants to your decor. Not only do plants add a touch of nature to your space, but they can also help purify the air and provide a bit of extra oxygen.
When it comes to choosing plants for your kitchen, there are a few things to keep in mind. First, consider whether you want an evergreen plant or one that will lose its leaves in the winter. Second, think about how much light your plant will need. If you have a south-facing window, for example, you'll be able to grow almost any type of plant. However, if you have a north-facing window, you'll need to choose plants that can tolerate lower levels of light.
19. Create a Focal Point with a Coastal-Inspired Table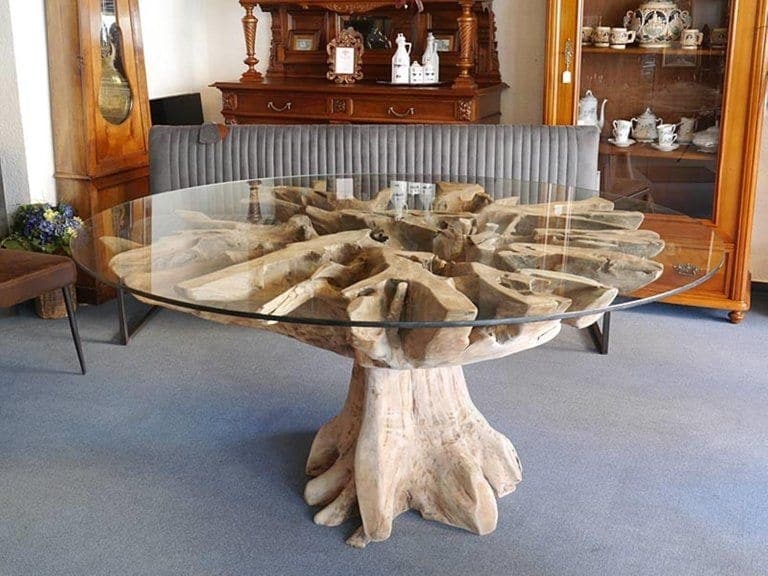 Source: Pinterest.com
Achieving the perfect coastal kitchen design isn't just about choosing the right appliances or finishes. It's also about creating a space that feels warm and inviting, like a true gathering place for family and friends. One way to do this is by creating a focal point with a coastal-inspired table.
A round table with a driftwood base and a glass top is the perfect way to bring the outdoors in, while still keeping the space feeling light and airy. Paired with coordinating chairs and an area rug, this type of table can become the perfect centerpiece for your coastal kitchen.
20. Use Cool Color Palette Serveware and Glassware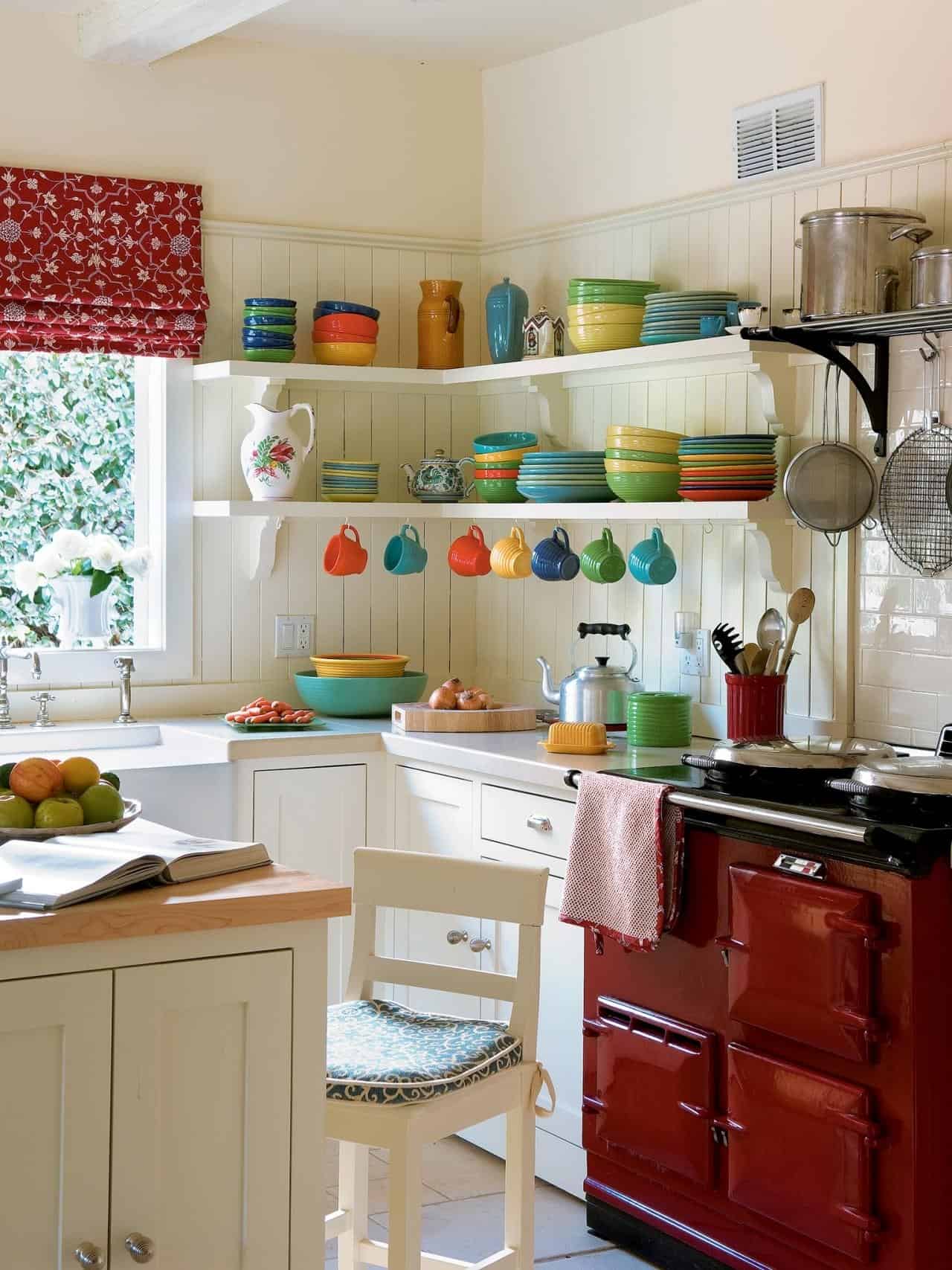 Serve up appetizers on a blue and white striped platter, or use seashell-shaped bowls for a beachy salad. Don't forget about glassware either – stock your cabinets with tumblers in aqua shades, or go for classic clear glasses with colorful straws. As for dinnerware, look for plates and bowls with scalloped edges or Coastal-inspired patterns. And don't forget about accent pieces like salt and pepper shakers, trivets, and tea towels. With a few simple changes, you can transform your kitchen into a beautiful space that reminds you of lazy days by the water.
21. Add Outdoor Furniture in Coastal Colors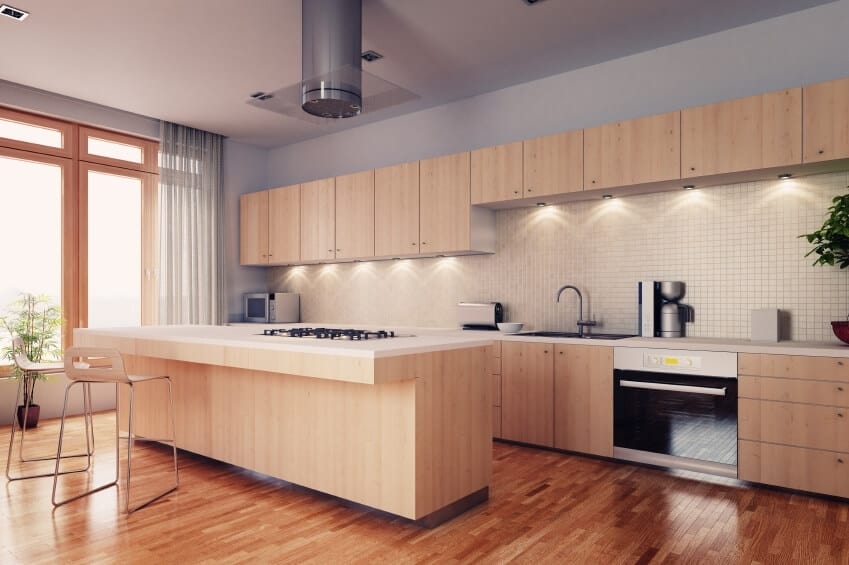 This furniture can help to create a natural flow between the indoors and outdoors, and it can also make your kitchen feel more spacious. Another great idea is to use light-colored wood for your cabinets and countertops. This will help to reflect the light and make your kitchen feel brighter and more open. Finally, don't be afraid to experiment with different textures and patterns. Coastal kitchens are all about relaxation, so go for a relaxed vibe with your decorating choices.
22. Add a Pop of Color with Flowers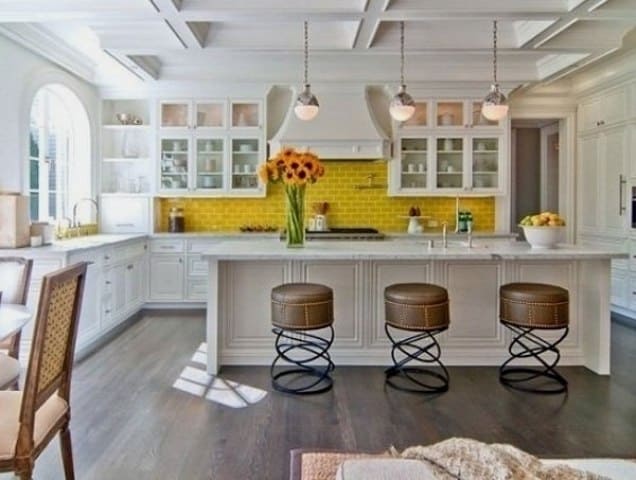 Create the beauty of natural color through the flowers that will brighten up your kitchen and also add a personal touch to your decor. Whether you choose fresh flowers or artificial ones, they'll brighten up the room and add a touch of nature. You can put them in a vase on the counter or in a Mason jar on the windowsill. For a more permanent fixture, potted plants are always a popular option. Vibrant flowers like impatiens or hibiscus can add a touch of the tropics to your kitchen, while herbs like rosemary or mint make a great addition to any cook's windowsill garden.
23. Hang Curtains or Blinds in Coastal Color Palettes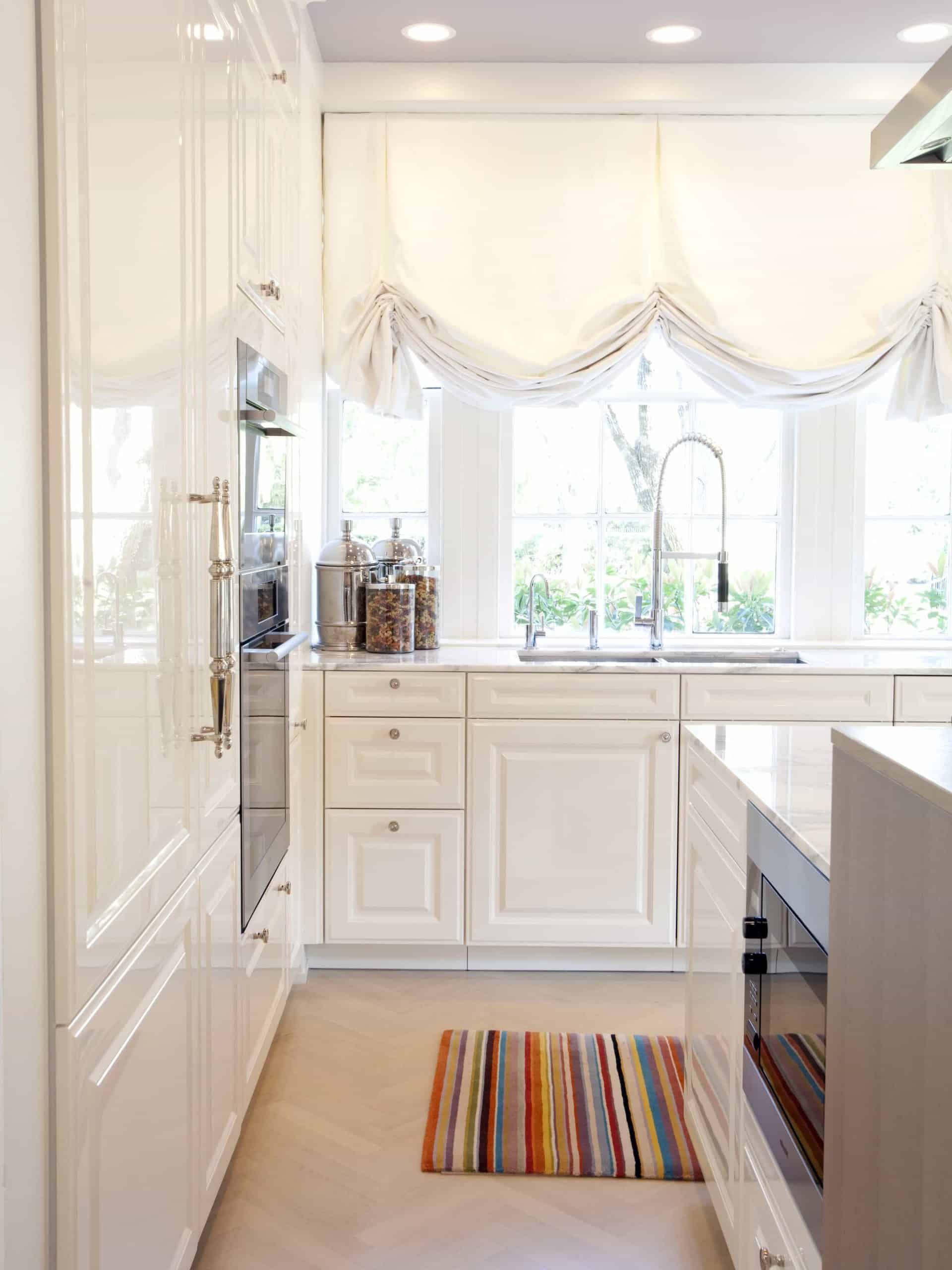 Curtains and blinds are a great way to add a splash of coastal color to your kitchen. Whether you choose a nautical blue or a white color, these window treatments can help to brighten up the space and create a beach-inspired look.
Functionally, curtains and blinds can help to keep out unwanted sun and heat, providing both privacy and protection from the elements. Aesthetically, they can add texture and interest to your kitchen, making it feel more like a relaxing retreat. If you want to achieve the perfect coastal look, hang curtains or blinds in colors that will work both functionally and aesthetically. Ensure you choose the washable fabric.
24. Install Outdoor Lighting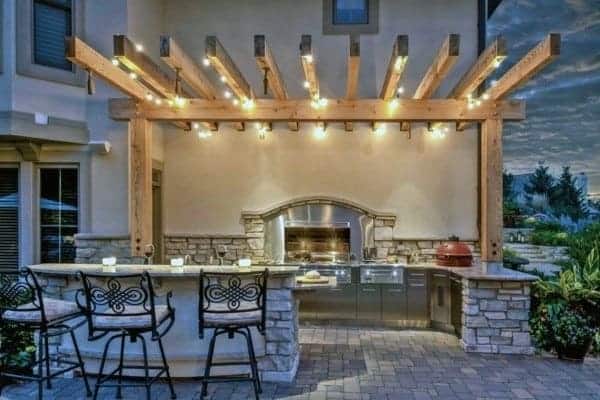 Outdoor lighting can help to create a warm and inviting ambiance, and it also has the added benefit of deterring burglars. There are a variety of outdoor lighting options available, so it's important to choose the ones that best suit your needs.
For example, if you want to create a romantic atmosphere, you might want to install string lights or lanterns. Or, if you're more interested in security, you might want to install motion-sensor lights.
25. Add Shutters or Window Boxes to the Exterior of Your Home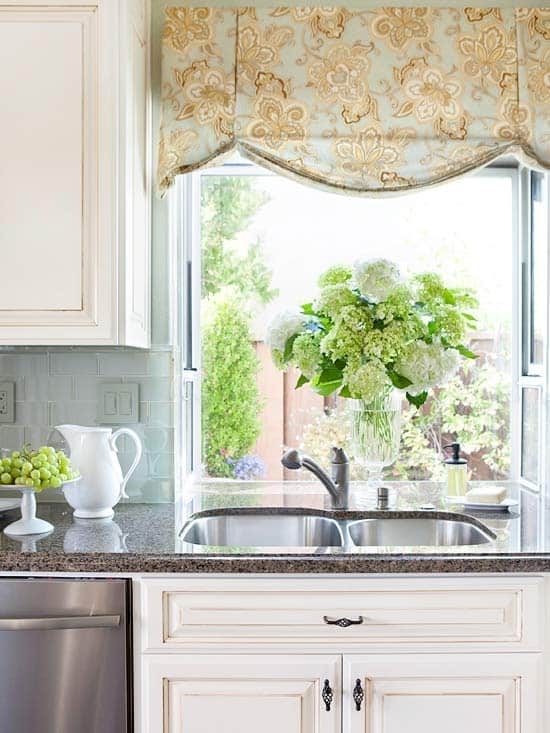 This will give your home an instant coastal look, and it will also help to protect your windows from the elements. If you live in an area that gets a lot of wind, then shutters are a must-have; they'll help to keep your windows from blowing in and breaking. And if you get a lot of rain, then window boxes are a great way to keep water from splashing up onto your windows and doors.
Either way, adding shutters or window boxes to the exterior of your home is a great way to give it a coastal kitchen makeover. On the other side, you can also fill them with herbs or succulents and enjoy the fresh air and natural light that they bring into your home.
26. Paint Your Kitchen Cabinet Door in a Coastal Color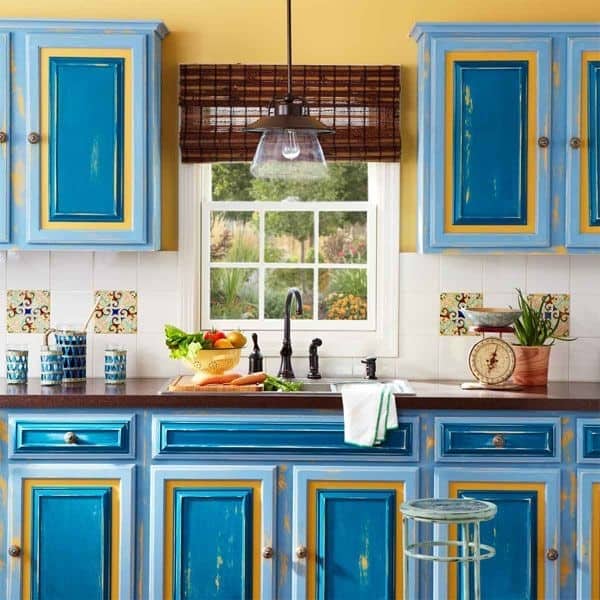 Blues and greens are always popular choices, but don't be afraid to experiment with other shades that reflect the sea and sky. You can also add some nautical flair with hardware or decorations.
For a truly unique look, try painting different sections of the door in coordinating colors. Stripes are also a classic choice for a coastal kitchen cabinet door. If it still doesn't enough, then consider attaching a wreath to accentuate the coastal vibe to your kitchen space.
27. Add a Welcome Mat with a Nautical Theme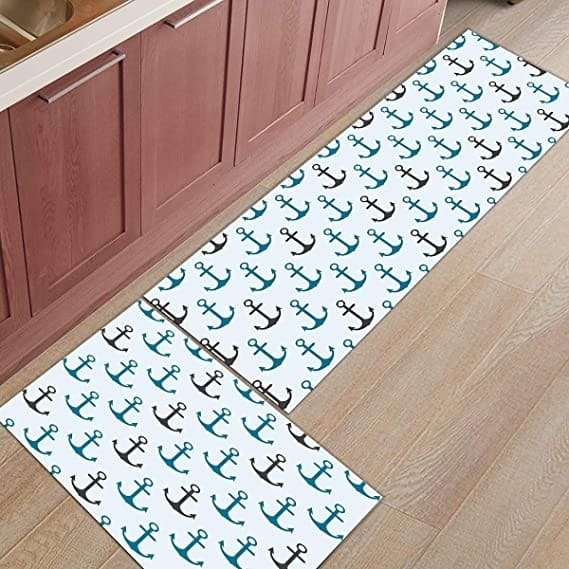 Coastal kitchens evoke a sense of peace and relaxation, which is undoubtedly what we all need after a long day. A welcome mat is a simple but important way to add a nautical theme to your coastal kitchen. Look for a mat with a blue and white striped design, or choose one that features seashells or other beach-themed motifs.
28. Display Seashells in Glass Jars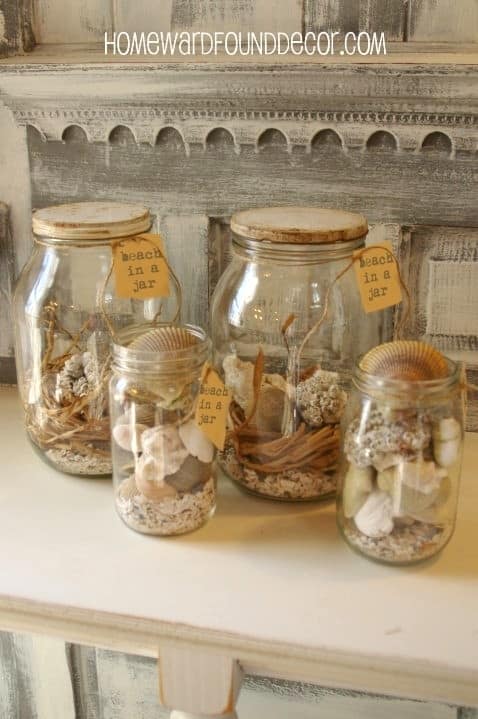 This is a simple and inexpensive project that can have a big impact on the look and feel of your space. Simply gather some shells from your local beach (or purchase them online) and place them in a variety of glass jars.
Arrange the jars on a windowsill, countertop, or shelf, and enjoy the coastal vibes. You can also add other beach-themed items to your display, such as starfish, sand dollars, or sea glass.
Coastal kitchens can be the perfect way to inject some refreshing vibes into your home. By using a bright color scheme and natural materials, you can create an airy and inviting space that will make you feel like you're on vacation every day. Take a look at some of our favorite coastal kitchen ideas to get inspired for your next renovation project!