If your bathroom is starting to look a little dated, it might be time for an update. A great way to freshen up the space is by installing new tile in the shower.
Besides, effortlessly, it is also budget-friendly. No matter what style you're going for, there is sure to be a shower tile design that will fit your needs.
If you want something classic and sophisticated, try marble tile or granite tiles. Or maybe you're looking for something more unique and trendy? In that case, check out some of the following ideas.
From classic and modern, to sleek or colorful, it is not a big deal to find the best bathroom shower tile ideas.
If you are planning to renovate your bathroom, then you can consider changing the bathroom tiles. A new and improved shower tile can enhance the appearance of your bathroom and also make it more comfortable to use.
In this blog post, we will share 26 of our favorite shower tile ideas to help get you started!
1.
Classic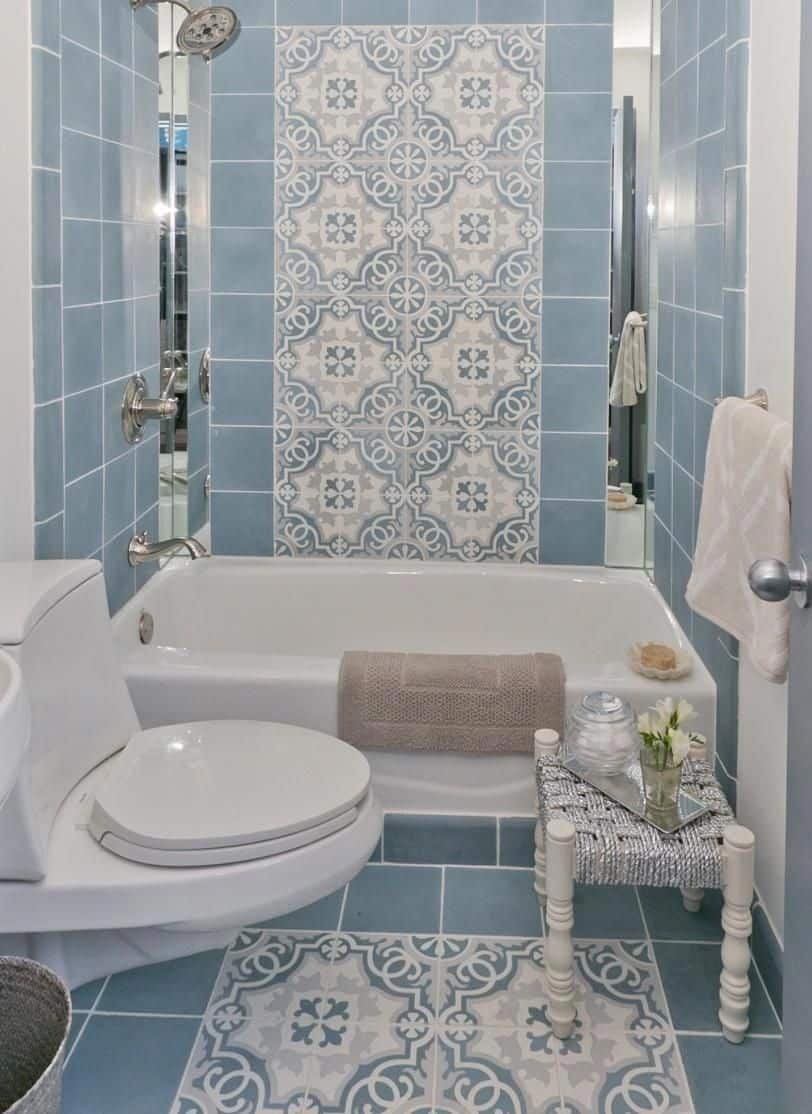 There is nothing to worry about applying the classic shower patterned tile to update the look of your shower.
You can use other colors of subway tiles such as light blue, green, or gray. Those colors will give freshness to your bathroom without making it too crowded.
2. Cool Shower Tile Wall
Subway tiles in shades of blue or green can create an interesting and refreshing look. You could also use mosaic tile in unique patterns or designs to achieve a similar effect. Be sure to choose a grout that will complement the tile you've selected.
3.
Luxurious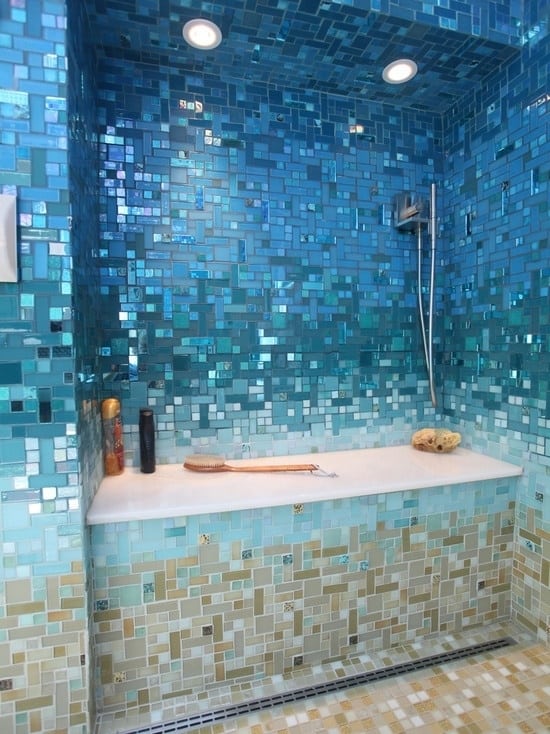 Glass tiles are becoming more and more popular due to their sleek look and ability to reflect light.
If you want a truly luxurious shower, consider using glass tile on the walls and floor. You can even use different colors and designs to create a unique look.
4. Bold Shower Tile Ideas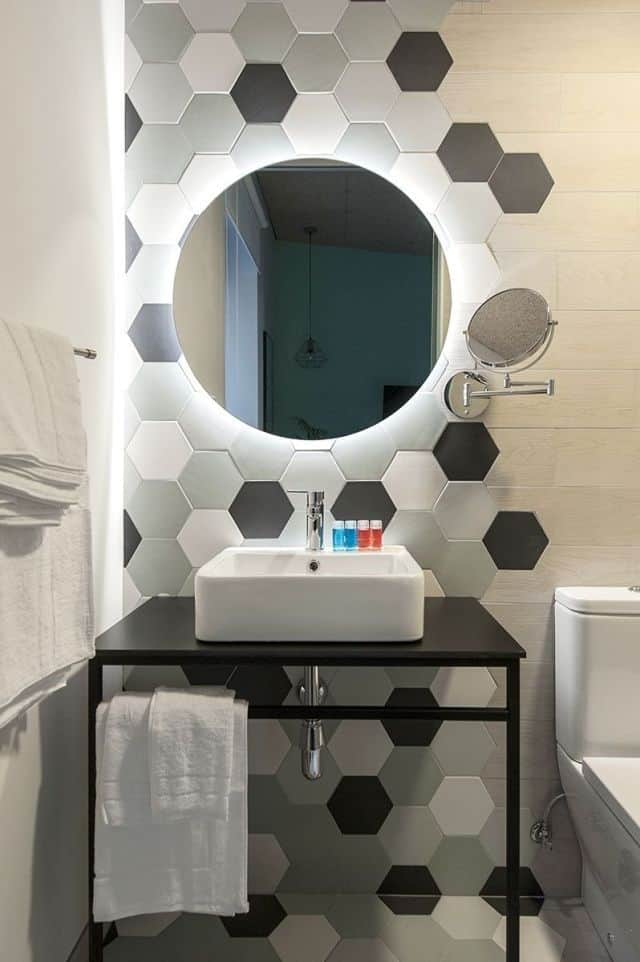 Consider using bold shower tile if you want to make a big statement in your bathroom. From bright colors to interesting tile pattern, there are many possibilities for making a splash with your tile.
Whether in simple lines or intricate designs, geometric shapes always make a bold statement. Create an accent wall or border with colorful hexagonal tiles.
5. Minimalist Shower Tile Ideas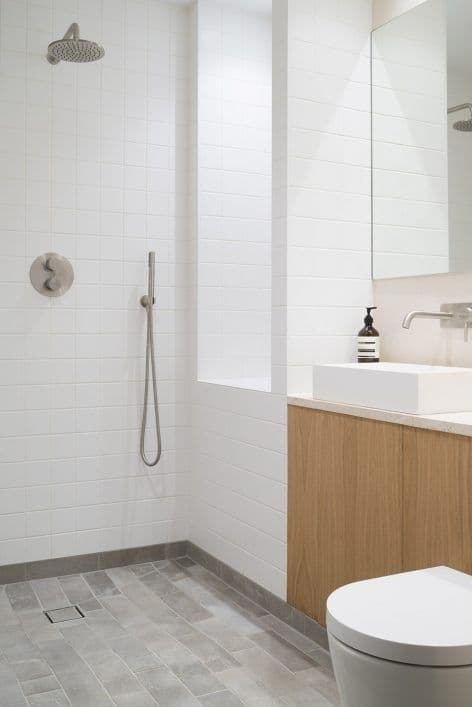 Minimalist shower tile is a great way to create an airy, modern feel in your bathroom. The simple patterns and shades of white or beige make it easy on the eyes while still being durable enough for daily use.
The light wooden accent creates a warm touch and the overall effect is one of spa-like relaxation. If you're looking for a way to update your bathroom without spending a lot of money, minimalist shower tile is the perfect option.
The minimalist style offers plenty without compromising functionality, so they work well both aesthetically, which matters most. Finally, if one side gets dirty just wipe down with soap & water instead replacing everything completely.
6. Install The White and Textured Tiles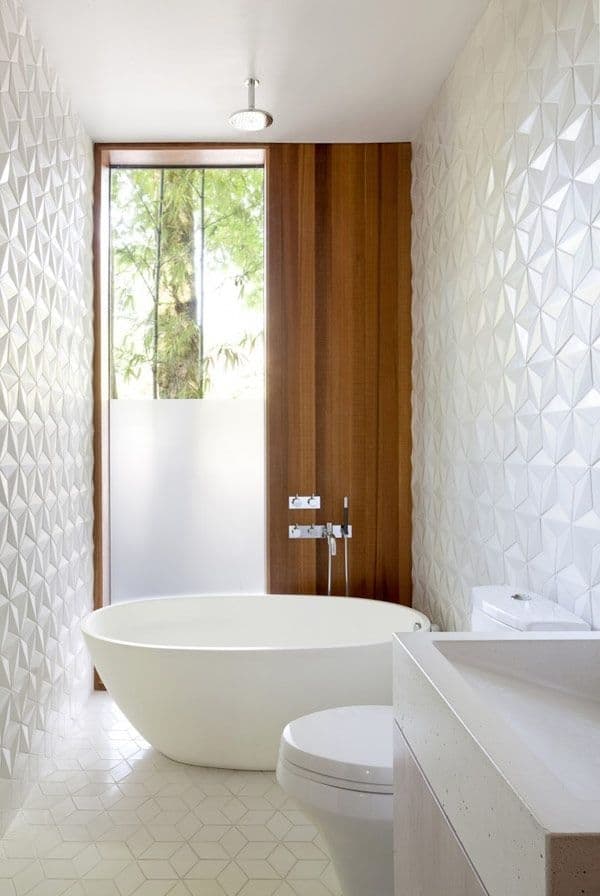 When the common wall tiles look too boring, then try the unique one. You can also use different colors and textures to create a look that's truly unique. Ensure you choose a tile that is easy to clean and won't require too much maintenance. Porcelain tile is a great option for this since they are durable and easy to clean.
This will be such a perfect installation for the small bathroom.
7. Make It Eye-Catching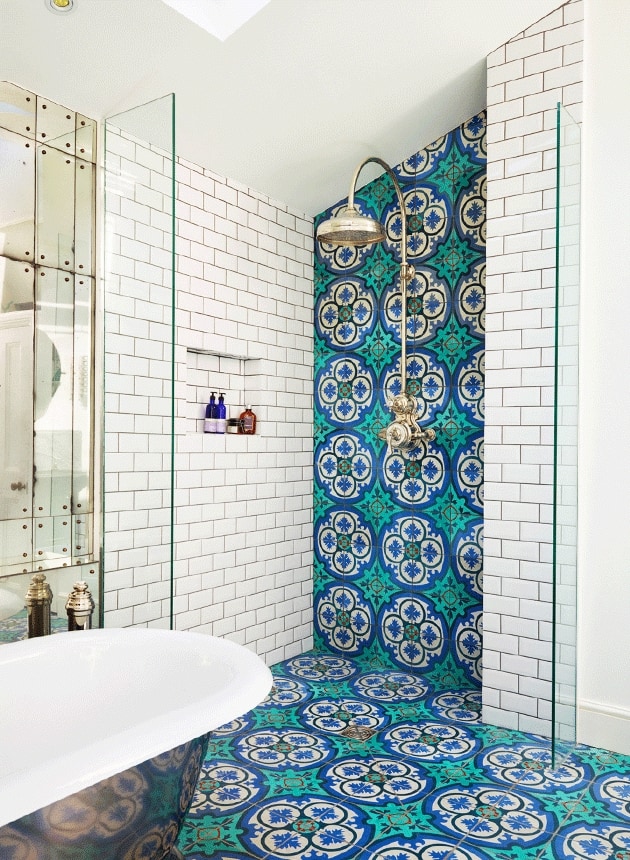 Moroccan shower tile ideas are a great way to add a touch of luxury and elegance to your bathroom.
These tiles feature intricate designs and beautiful colors, making them the perfect choice for anyone looking to create a luxurious and sophisticated space.
8. The Stone Tiles For Rustic Flair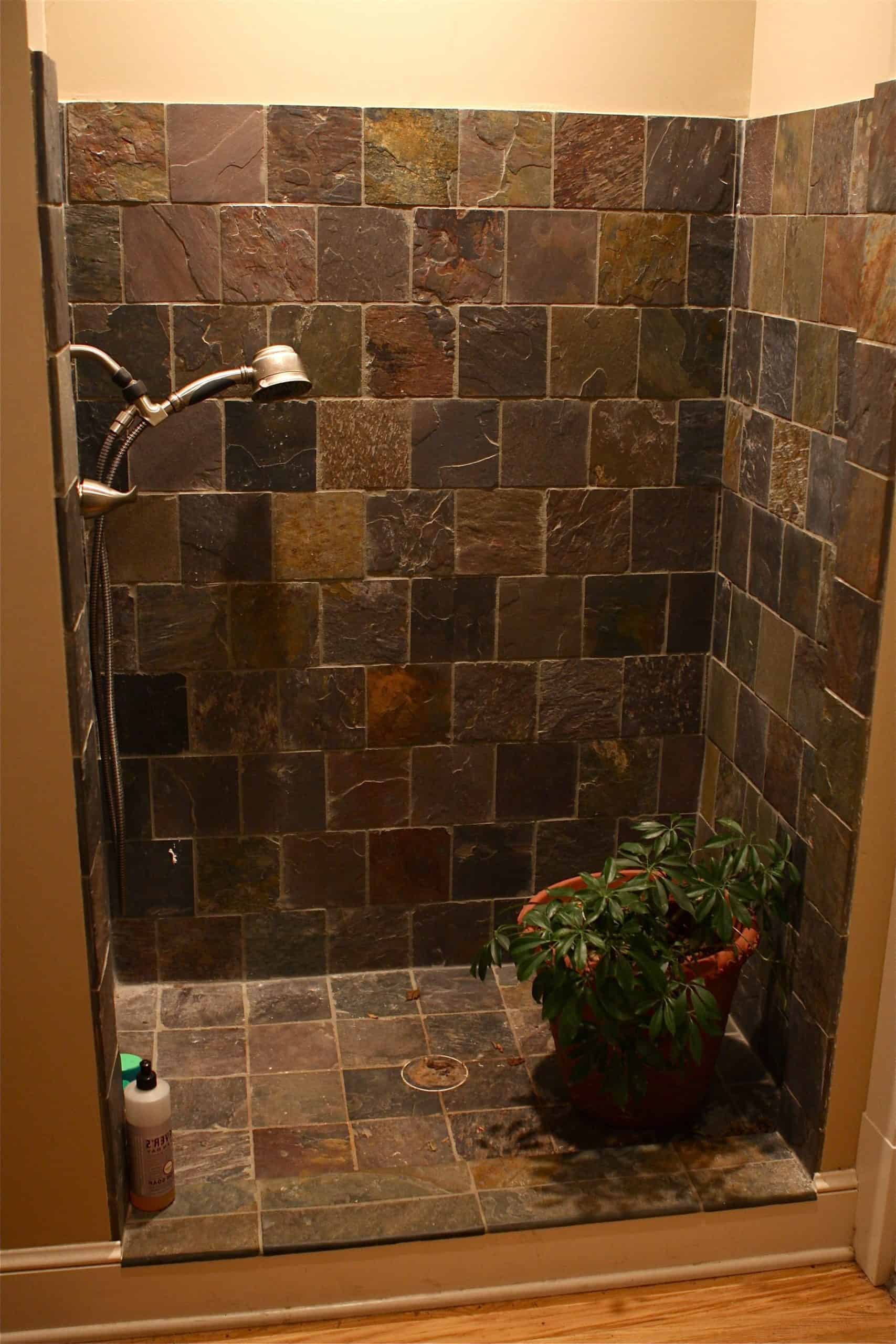 Opt for using natural stone or wood-look tile to create a combination of the soothing ambiance and the beauty of nature. Stone tiles can give the shower an earthy feeling, while still being easy to clean.
You will love how this stone wall tile beautifies your shower area. If you want to use wood-look tile, choose a tile that is easy to clean and has a smooth surface. You can also find many options for accent tiles that will add character to your shower.
9. Vintage Shower Tile Ideas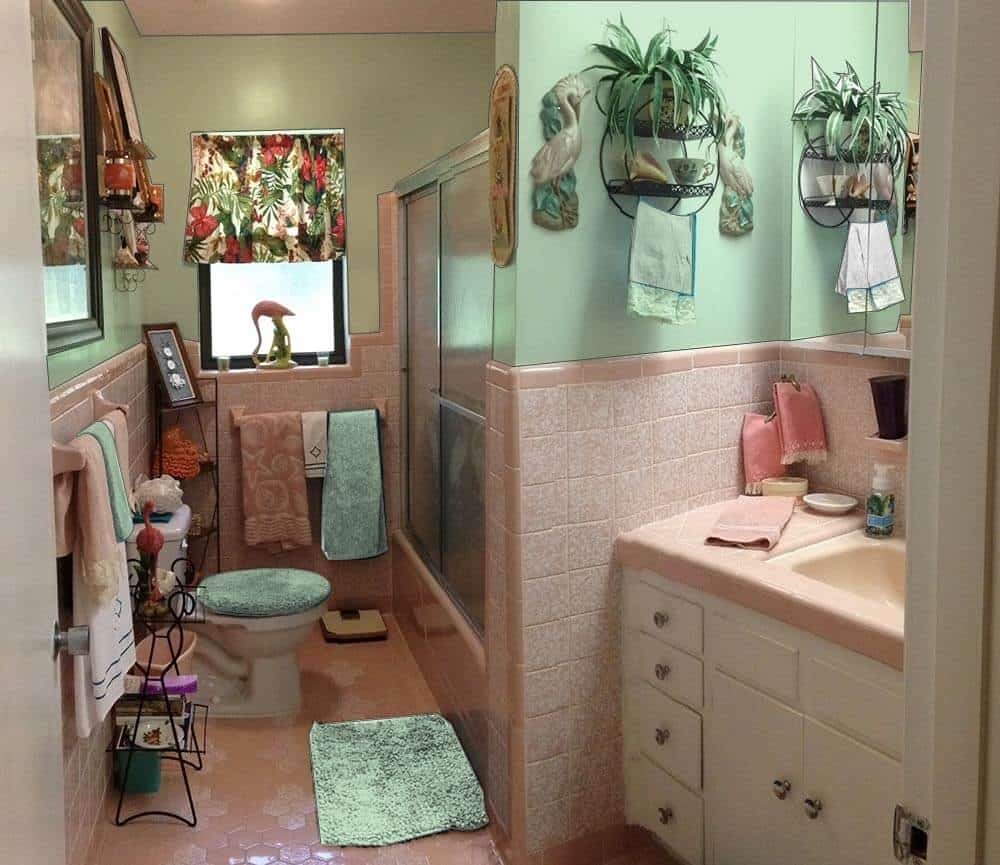 If you're a fan of vintage style, you'll love these shower tile ideas. With traditional patterns and muted colors, these tiles will give your bathroom an elegant and timeless look.
For a truly unique shower, consider using a mix of different vintage tile styles. This will create a one-of-a-kind look that's sure to impress your guests.
10. Modern Shower Tile Ideas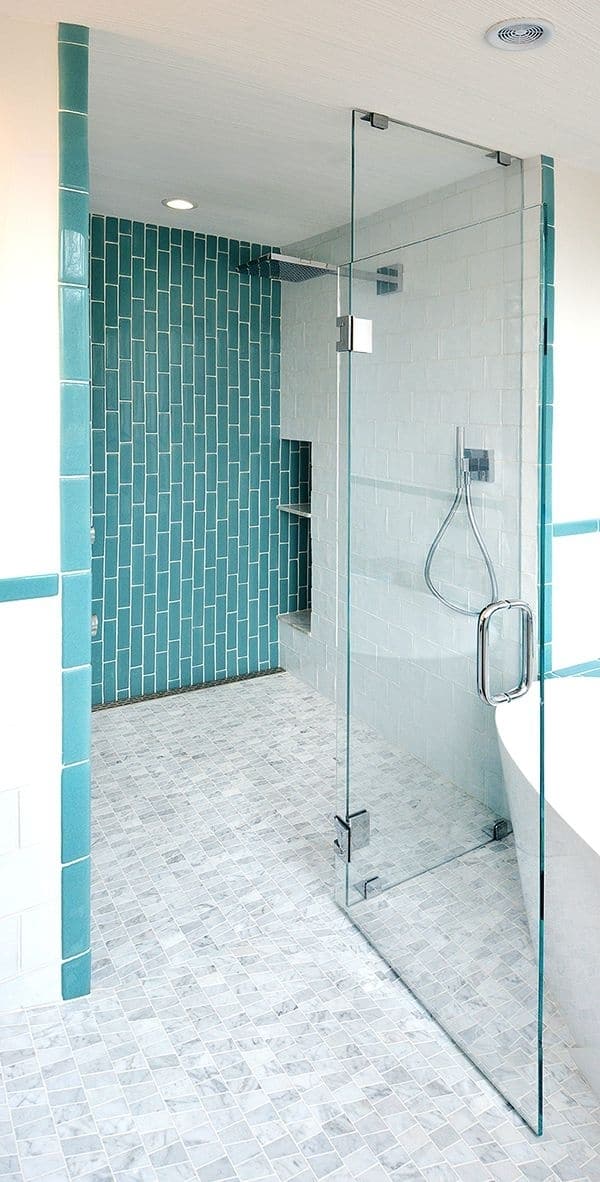 If you're looking for a modern twist on your shower tile, consider using large subway tiles in a unique pattern. You can also use different colors of tile to create a unique look.
For example, try using green tiles, and combine it with the geometric greys floor tile.
11. Vertical Tile Installation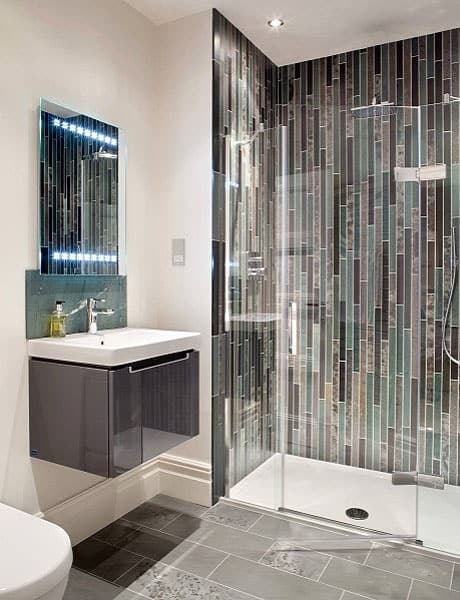 You can bring the contemporary to your space through the materials like glass or ceramic tile in your shower.
You can create a sleek and streamlined look by using large format tile in a solid color, or opt for a more eclectic look with patterned tiles. Either way, contemporary shower tile is sure to make a statement in your bathroom.
12. Art Deco Shower Tile Ideas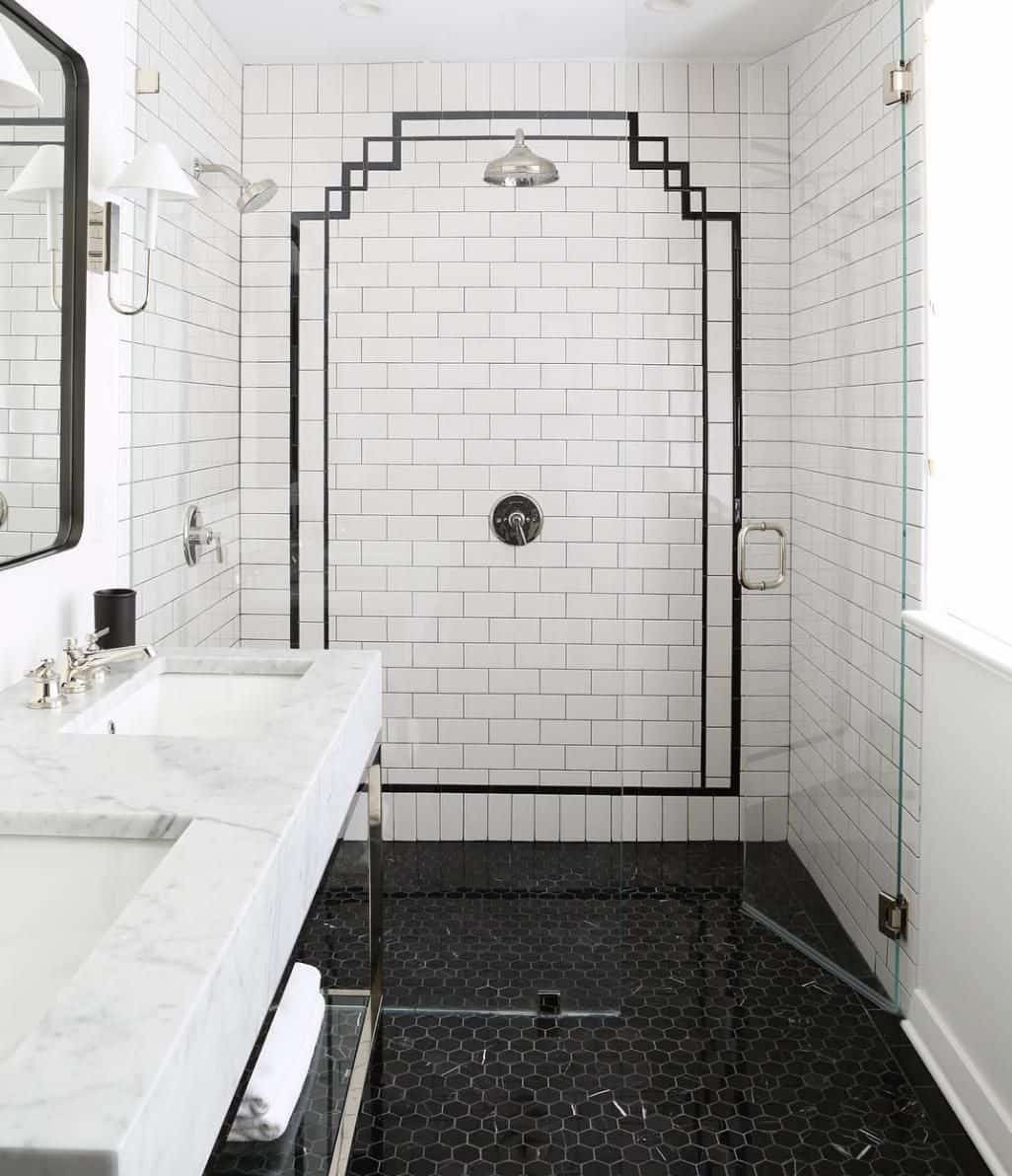 This art deco should be on your list that will make your showering time feel luxurious. You can find many art deco shower tile ideas from the internet with a very affordable price.
With the right installation, your bathroom will be a high-end shower design. The lining of the shower wall can be tiled with art deco style that will give your bathroom a modern and luxurious look.
It is accentuated by the hexagon black bathroom floor that makes it look gorgeous.
13. Industrial Shower Tile Ideas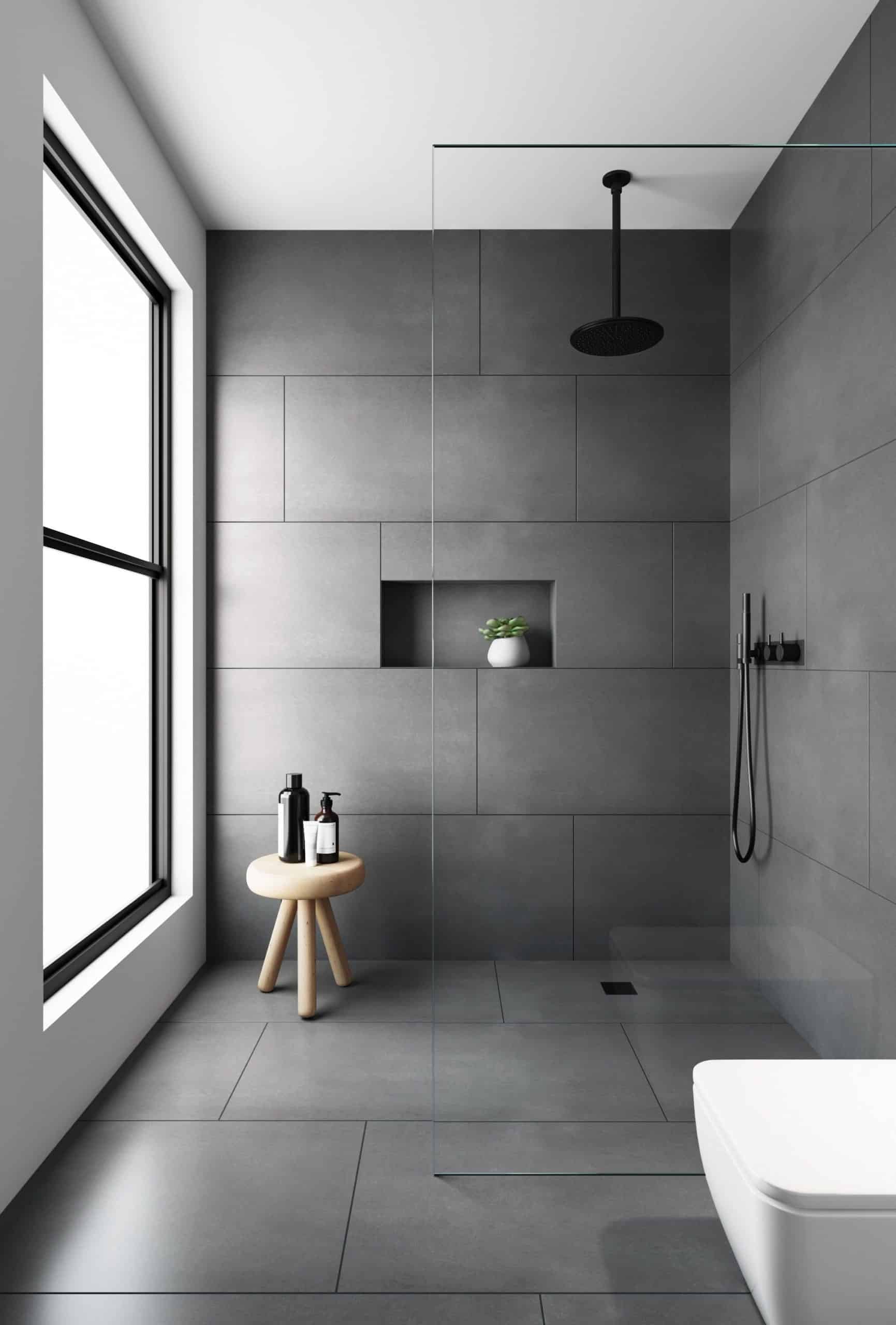 For an industrial look, try using cement tile in your master bathroom. Concrete is a durable material that can withstand a lot of wear and tear, making it ideal for showers.
You can find concrete tiles in a variety of colors and textures, so you can create the perfect industrial look for your bathroom.
14. Farmhouse Shower Tile Ideas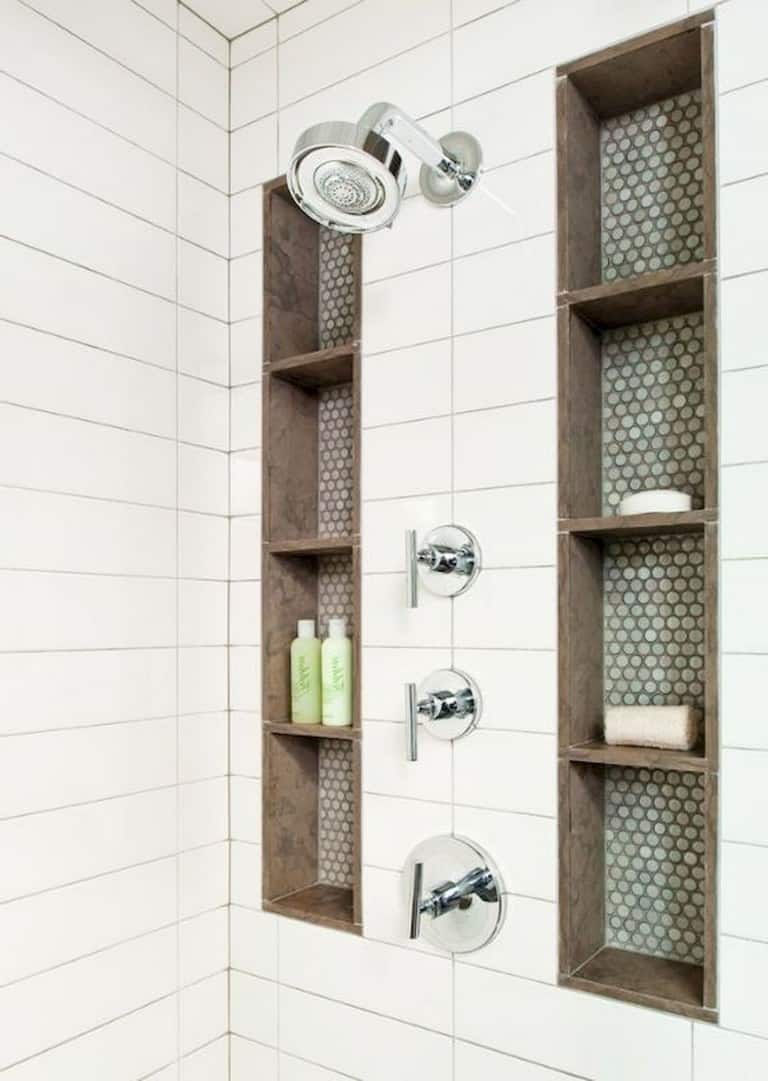 Farmhouse style continues to be a popular trend in home decor, and it's no surprise that this look has made its way into the shower. If you're looking for a rustic, yet elegant feel in your bathroom, farmhouse shower tile ideas are the perfect solution!
15. Glamorous Shower Tile Ideas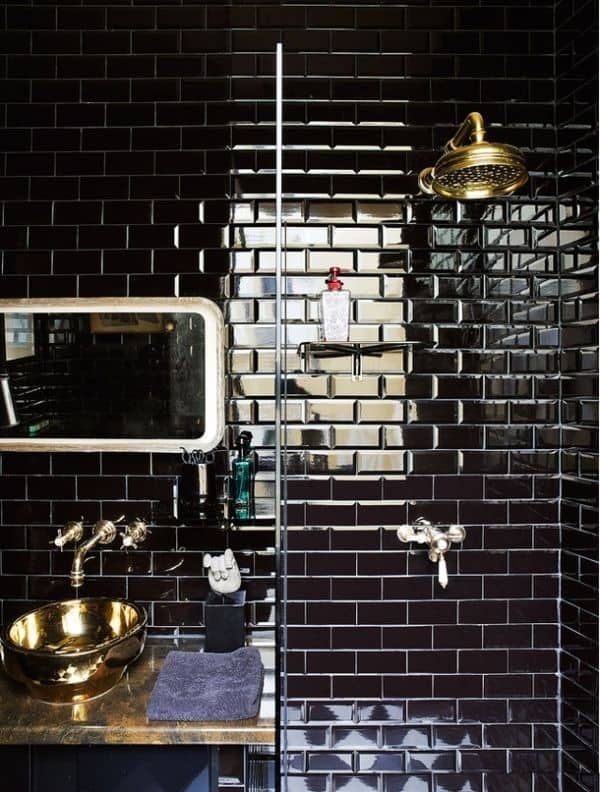 The way you use your tiles can completely change their appearance. You have the option of large, sleek and modern looking ones for a more minimalist decor or small/medium-sized pieces that give off an overflowing effect, with their shiny surfaces providing contrast against any background color underneath them perfectly suited to traditional looks.
16. Fancy Tunisian Master Bathroom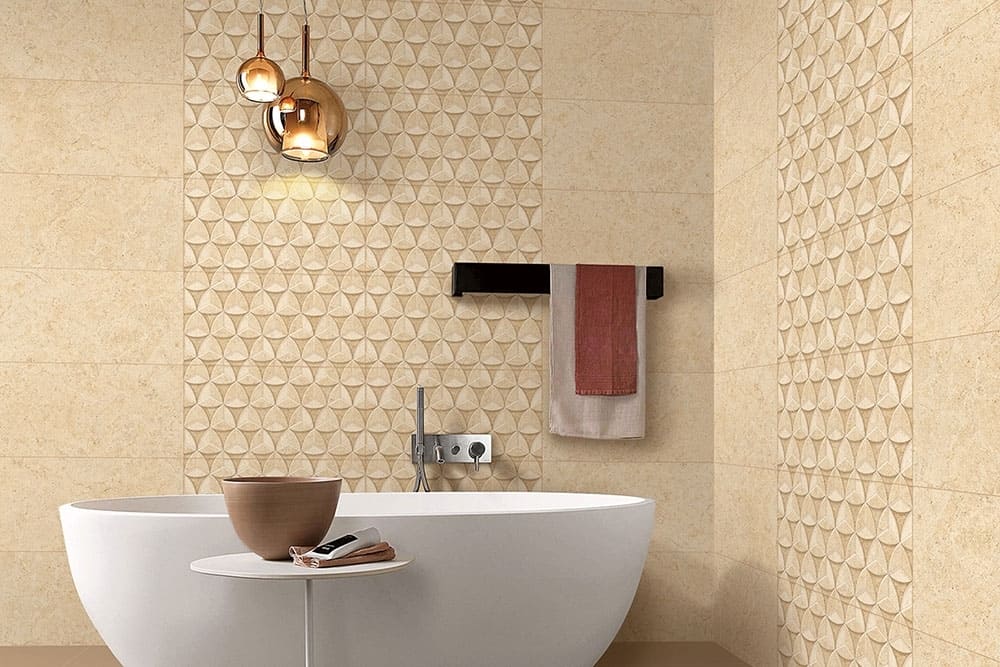 The Tunisian Kasbah is a beautiful, historic place. The ancient buildings and architecture are fascinating, and the tiles used in construction are no exception.
These shower tile ideas draw inspiration from the colors and patterns found in Tunisian Kasbah tiles. They would make a beautiful addition to any bathroom!
17. Colorful Shower Tile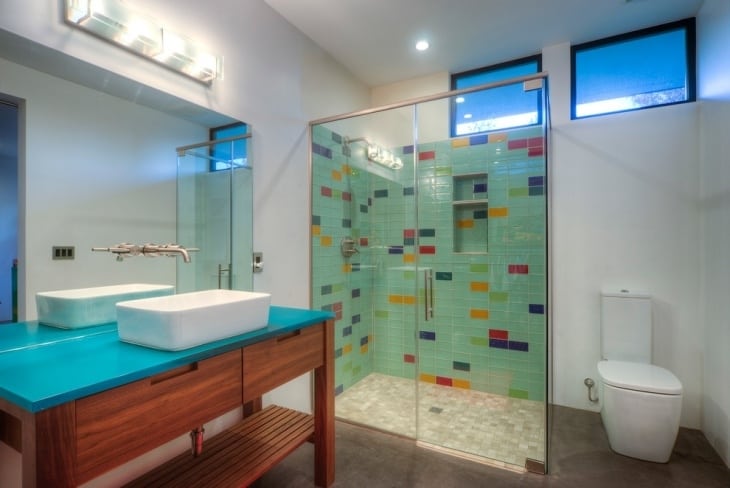 Accentuate the refreshing atmosphere to your bathroom through the colorful shower tile installation. You can have this either on your flooring or walls.
The hint of blue, yellow, red, and green between the mint tiles brings in an artistic touch while also soothing ambiance. It is balanced by the gray flooring as well.
18. Natural Tiles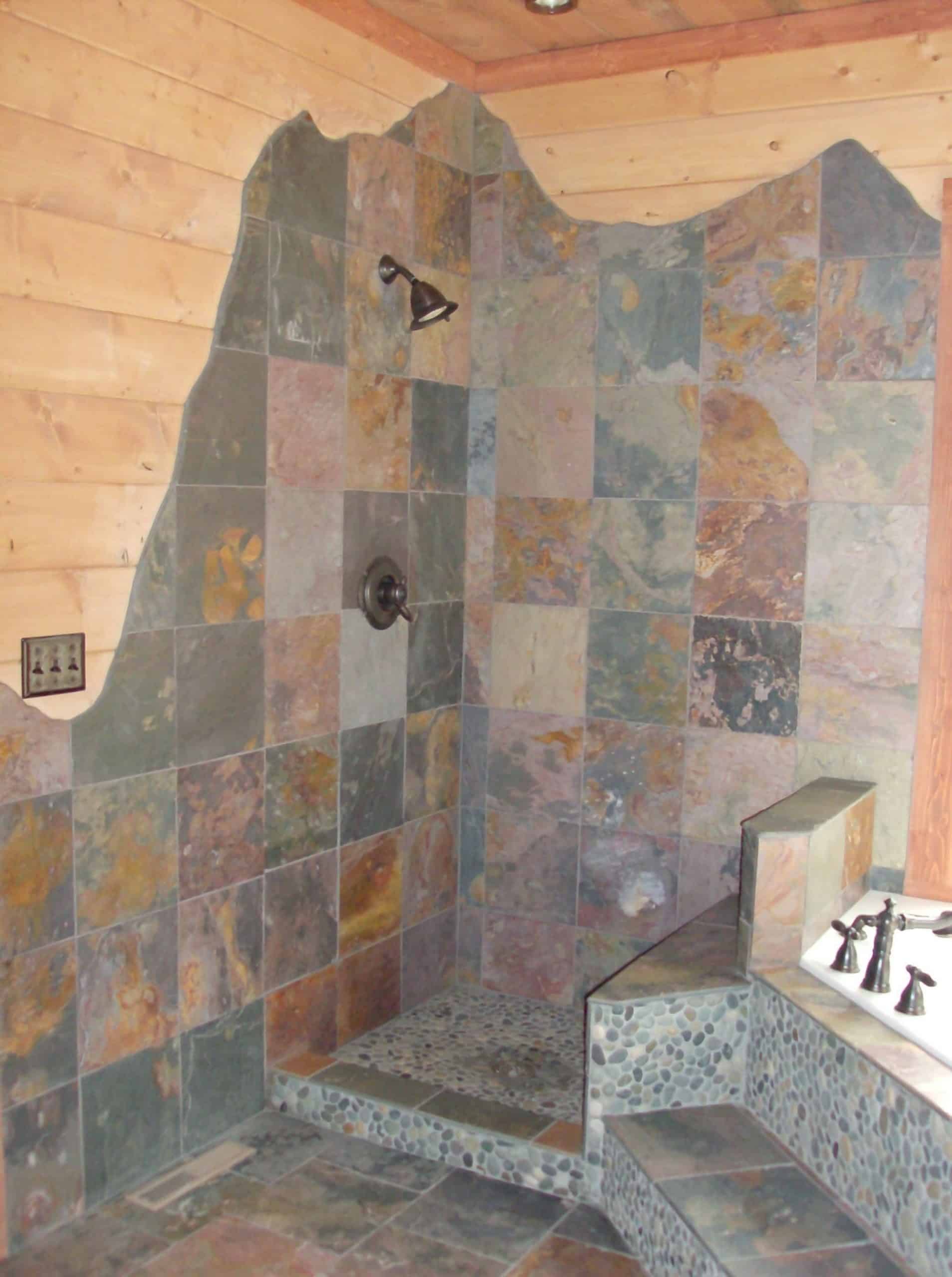 Shower tile ideas that mimic nature are perfect for those who want to bring the outdoors inside. Try using stone tiles in a neutral palette for a serene and natural look.
Complement it with the pebble tile that will make the bathroom look adorable.
19. Black And White Shower Tile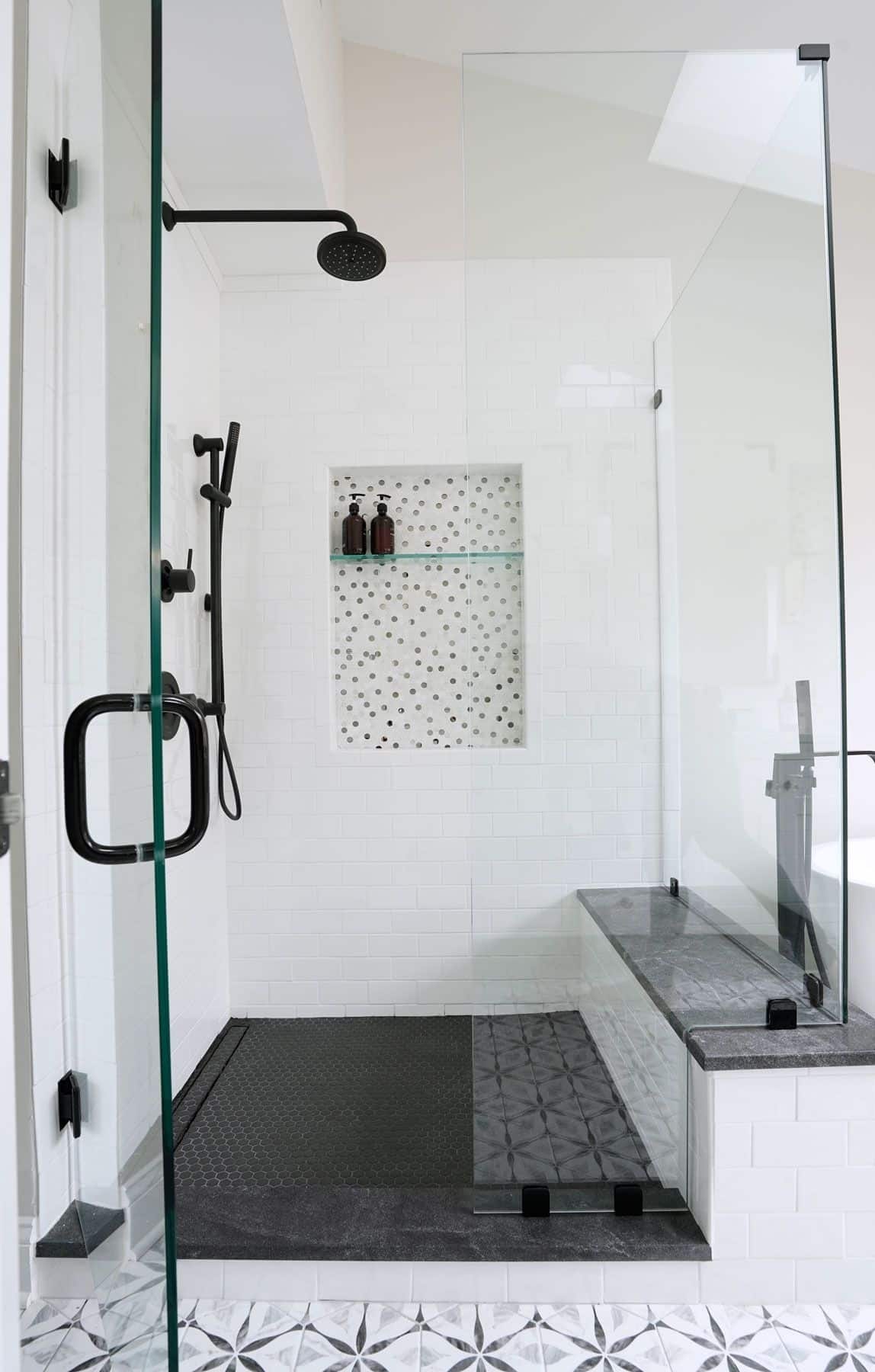 Black and white shower tiles can make a bold statement in your bathroom. They are also versatile, as they can be used to create either a modern or classic look.
The black textured tile will be such an essential point, which prevents the slippery floor. The white textured tile can be placed as an accent on the wall. If you want to showcase your shower tiles, go for a clear glass enclosure. This will also make the space feel larger.
20. Persian Shower Idea
If you're looking for a more exotic and luxurious shower tile idea, consider opting for Persian tiles. With their intricate designs and beautiful colors, they can really add some elegance to your modern bathroom.
Plus, they're more durable than most other tile materials, so you can enjoy them for years to come.
21. All White And Bronze Hint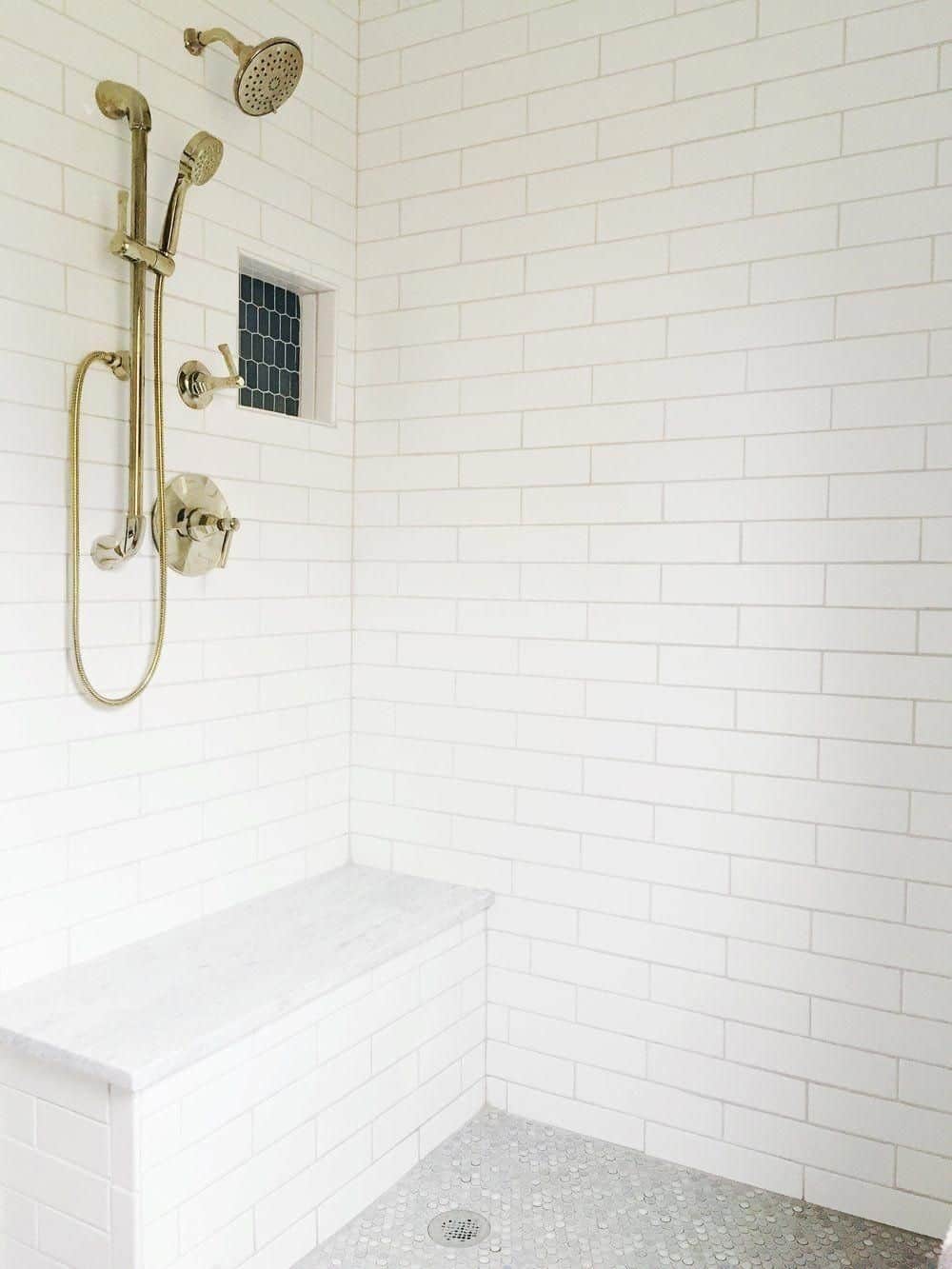 White tile walls and floors are a simple way to brighten any bathroom. It also makes the space feel larger because of its clean-shaven look, which is perfect if you want something clean-cut for your shower.
The best part? These white subway tile surfaces can be cleaned easily with soap or water and no scrubbing necessary. Also, the textured shower floor is perfect to prevent the slippery flooring.
22. The Shades of Grays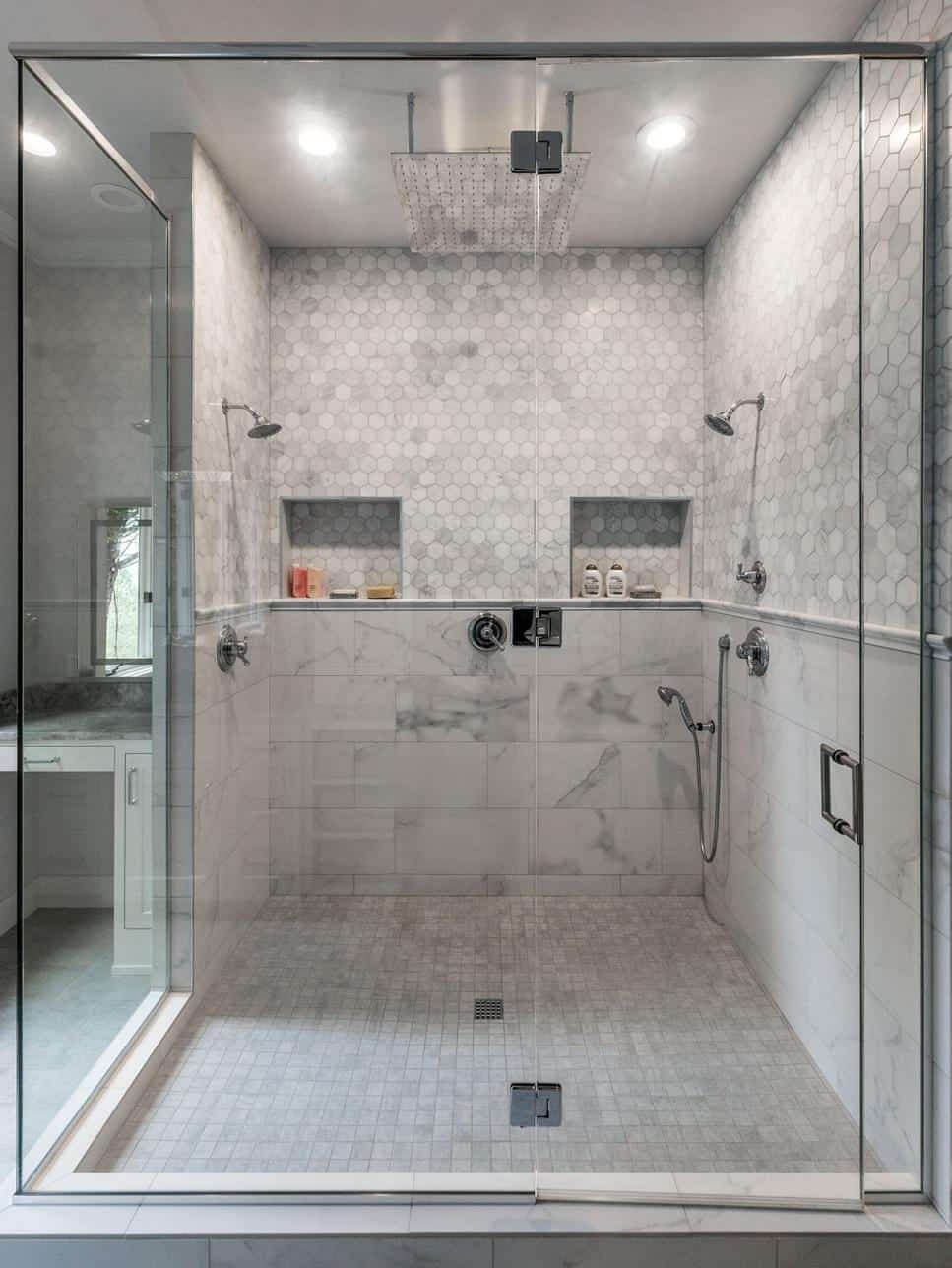 Gray is a versatile color that can be used in many different ways. It can be used to create a modern or traditional look, depending on the tile design.
There are many different shades of gray to choose from, so it's easy to find one that will complement the existing decor in your bathroom.
23. Blue Shower Wall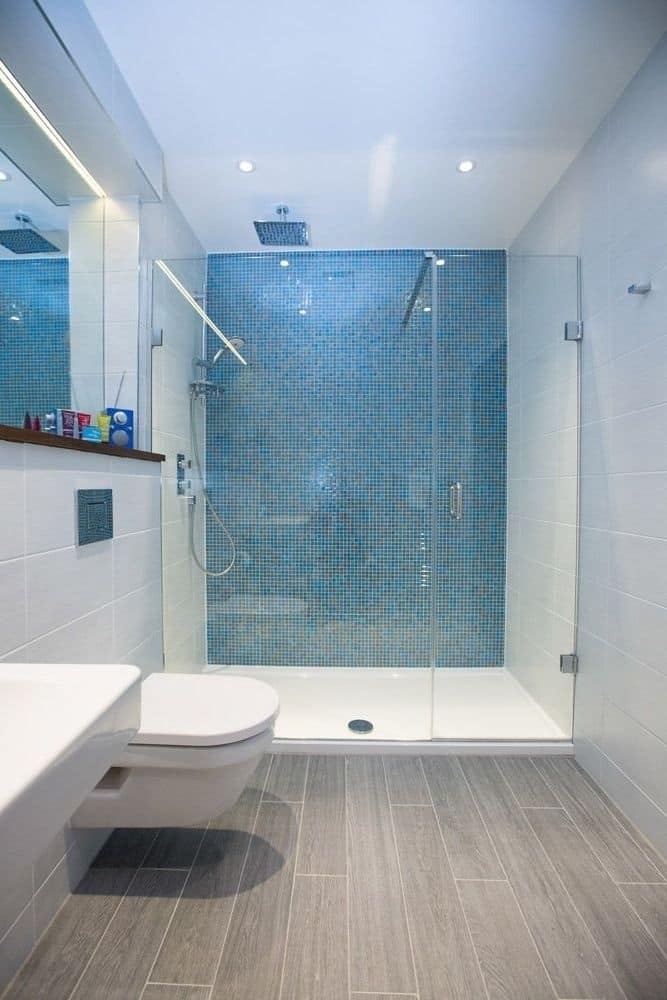 A bright and refreshing blue tile can really transform into a shower. It's perfect for a bathroom that needs a pop of color, and it can be as subtle or bold as you want. Plus, this type of tile is versatile and will match any style decor.
24. Pink Shower Tile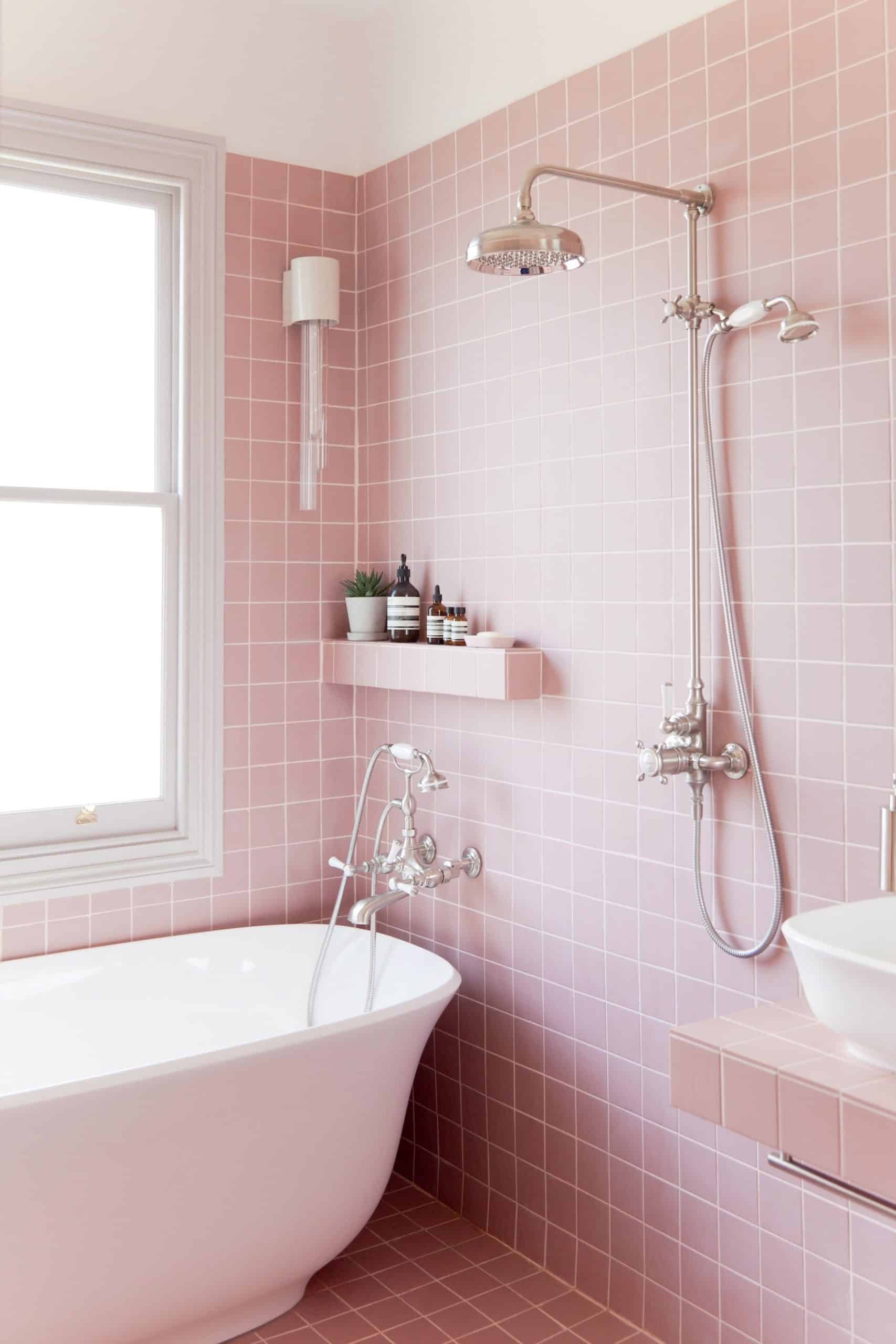 The pink bathroom tile will make your day brighter, especially if you're feeling stress. The cute design and easy maintenance means that this is one element in the house we can't live without!
Ceramic tiles give off an aura of calmness which helps to reduce anxiety during stressful times while also looking great on any surface, whether it is flooring or walls. So there's no worry about what condition they are being used in either.
25. Green Ceramic Tile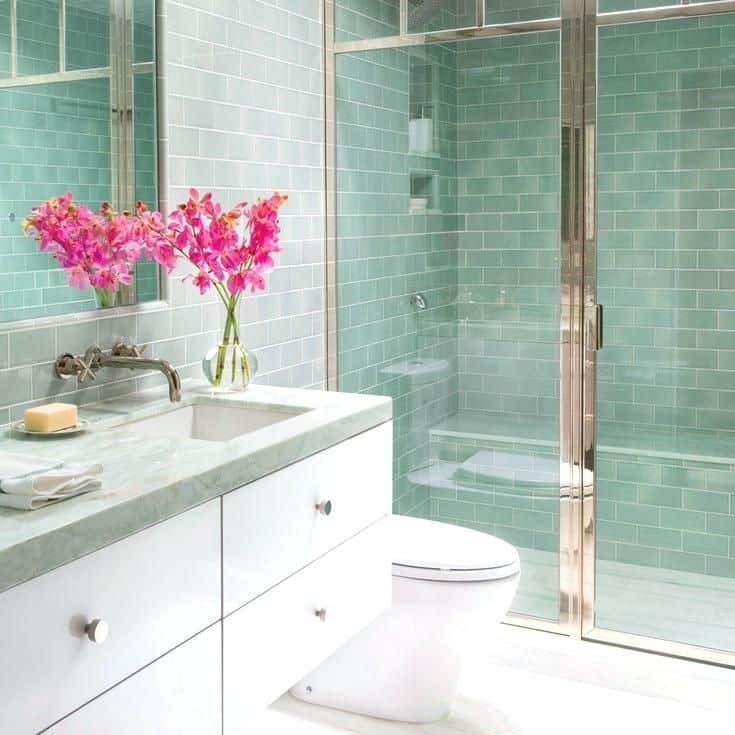 The green shower tile offer you a natural and calming ambiance in the bathroom, which is great for a relaxing bath. Combine it with the softer shade and a hint of purple flowers.
27. The Shiny Bathroom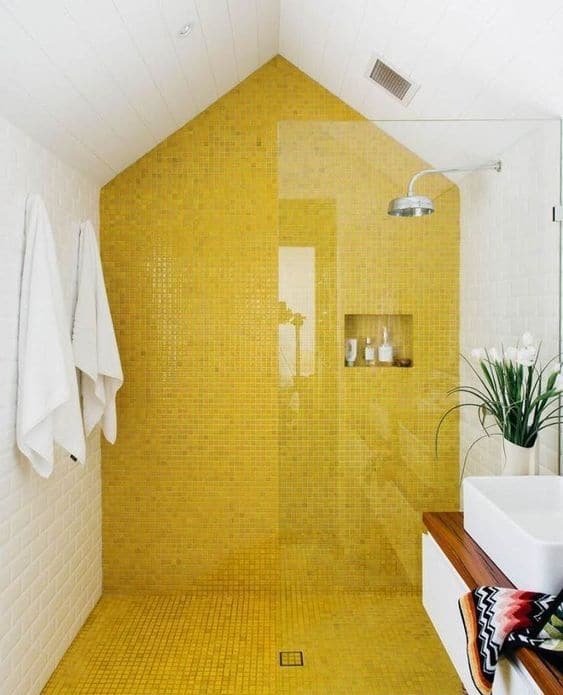 The yellow shower tile will bring a cheerful and sunny ambiance to the bathroom, making it the perfect place to start your day.
So, there you have it – a list of some great shower tile ideas to help get your creative juices flowing.
We hope that this article has inspired you to tackle your bathroom renovation project with enthusiasm and that the finished product exceeds your expectations!