Having a dedicated breakfast nook in your kitchen will free up space for other important tasks throughout the day. You'll be able to enjoy leisurely meals every morning without having them waiting on hold or interrupting whatever else you're doing at that moment.
In this guide, we will show you how to build a kitchen breakfast nook that is perfect for your needs. We'll cover everything from design ideas to construction tips. So whether you're looking to add some extra seating or create more storage space, you can count on us.
Let's get started.
1. Modern Breakfast Nook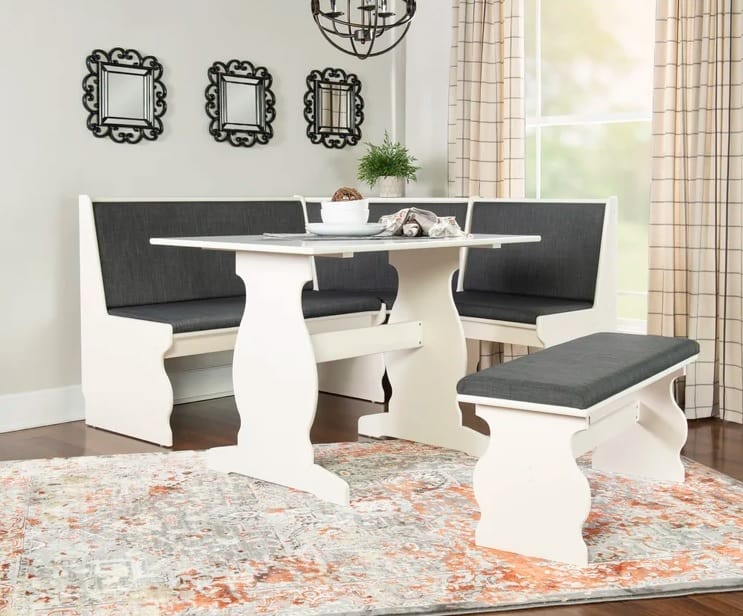 Complement your kitchen with this kind of breakfast nook. It would usually have a sleek and polished design.
The materials used for this type of breakfast nook are mostly man-made such as steel, plastic, and glass. You can achieve a modern look by having sharp lines and bold colors in your breakfast nook.
To begin with building your own modern breakfast nook, here are the materials you will need:
Table
Chairs
Bench or Sofa
Pillows and Throw blankets
Lighting Fixture
2. White Breakfast Nook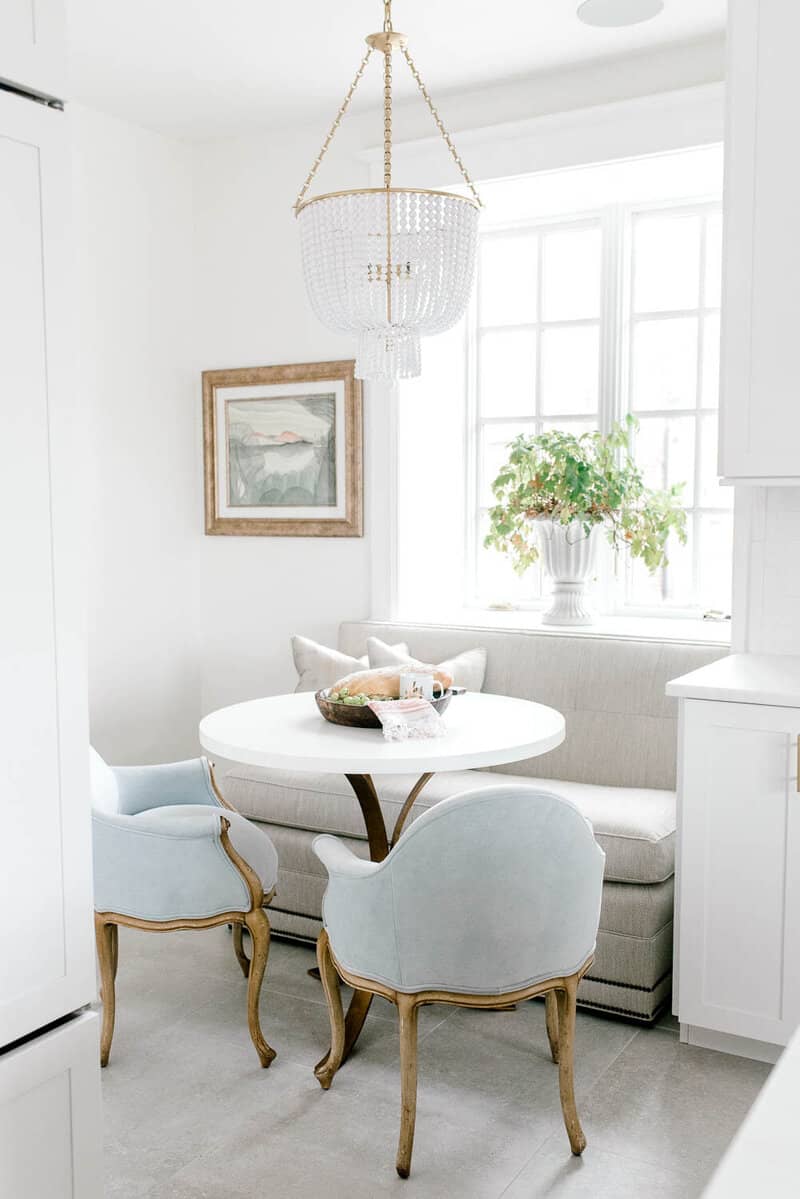 If you want to make the kitchen feel bigger than its actual size, consider applying the white breakfast nook. It will reflect the light and make the space feel more open.
You can use white for the walls, ceiling, and flooring. Then, add some colorful accents to create a contrast and make the breakfast nook more interesting.
For a fresher feel, the fresh flowers on the vase would be perfect.
3. Budget-Friendly Breakfast Nook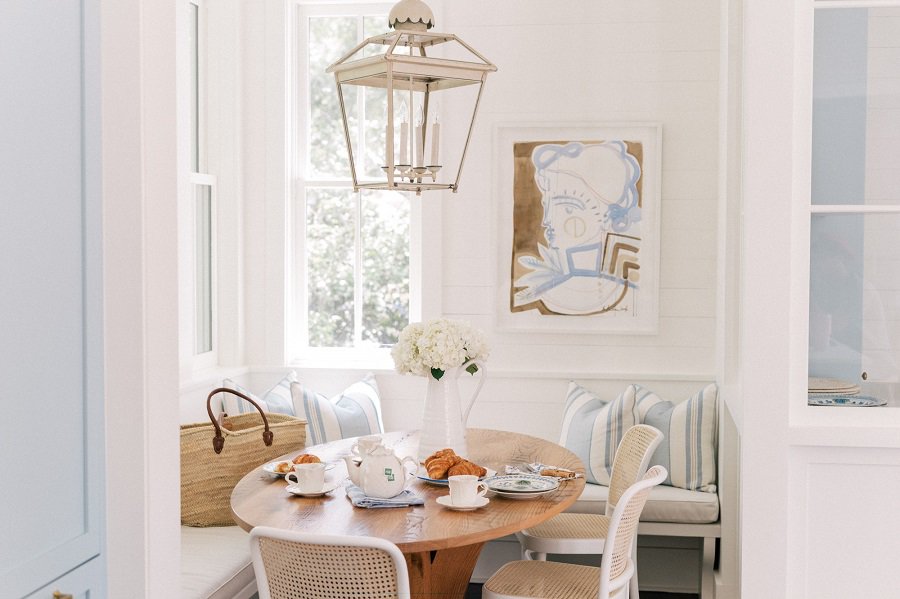 Even if you are on a budget, you can update the kitchen with affordably with a wonderful result. First, consider adding a bright and cheerful rug to define the space. This will help to create a cozier feel and also help to muffle any noise coming from the kitchen appliances. Next, add some cushions or pillows to the benches or chairs to make them more comfortable.
You can even add some throw blankets for chilly mornings. After all, don't forget the little details that will make the space feel complete, like a vase of fresh flowers or a few scented candles.
4. Breakfast Nook With Storage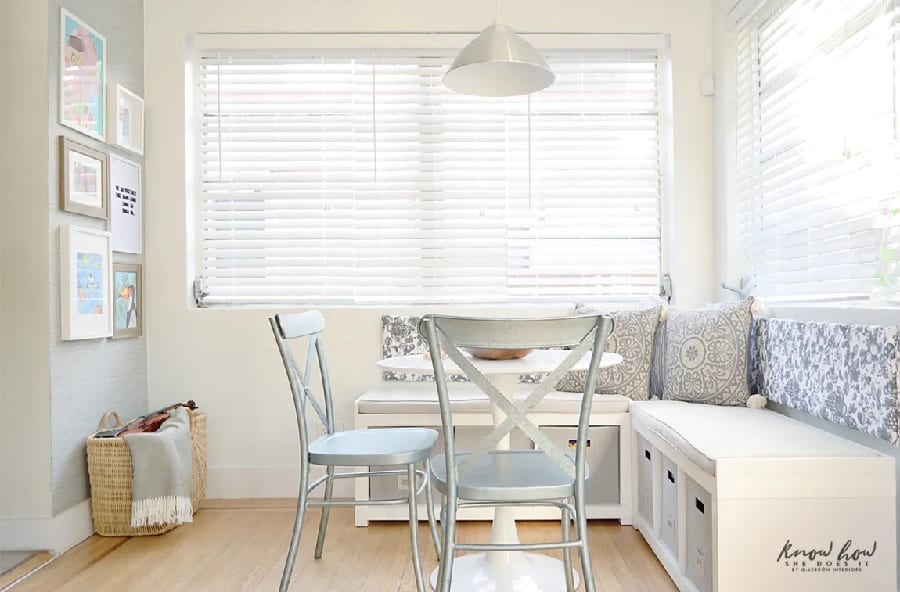 When you are short on space, make your breakfast nook work more functionally by adding some extra storage.
Create a bench with storage underneath, where you can tuck away extra linens, dishes, or even non-perishable food items. If you have the space, consider adding some upper cabinets as well to really make the most of your nook.
5. Industrial Breakfast Nook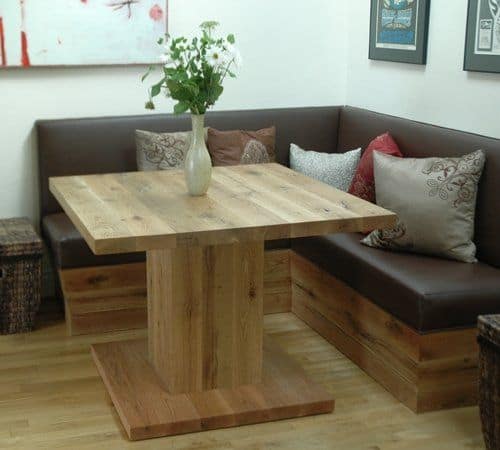 If you're looking for a unique, industrial style nook, this DIY project is for you! This design features a rustic wood table, and brown leather benches with metal backplates.
And the best part is that the entire project can be completed in just a few hours. Make it looks more adorable with some colorful chair cushions and fresh flowers on the vase.
Get the following material lists:
Rustic wood table
Brown leather benches
Metal backplates for benches
Casters for benches
6. Breakfast Nook With Banquette Seating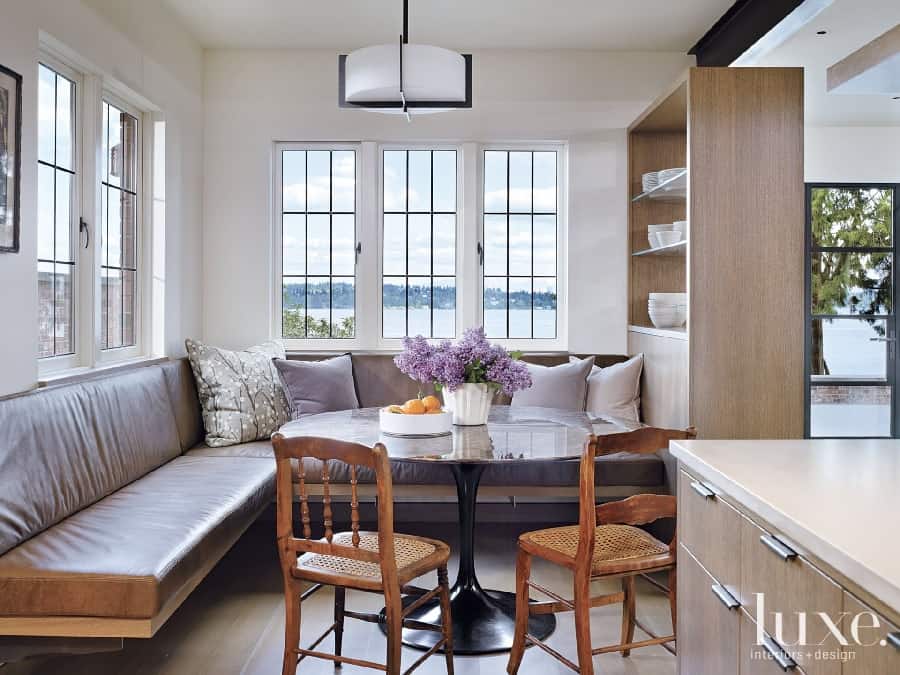 A breakfast nook is a great way to add some extra seating and storage, and it can be a fun DIY project.
Banquette seating is a great option for a breakfast nook, as it can be customized to fit your space and style. Also, you upholster the banquette with fabric or leather as you wish. You can add pillows and curtains for an extra comfort and aesthetically pleasing, or keep it simple with clean lines and neutral colors.
7. Breakfast Nook Bar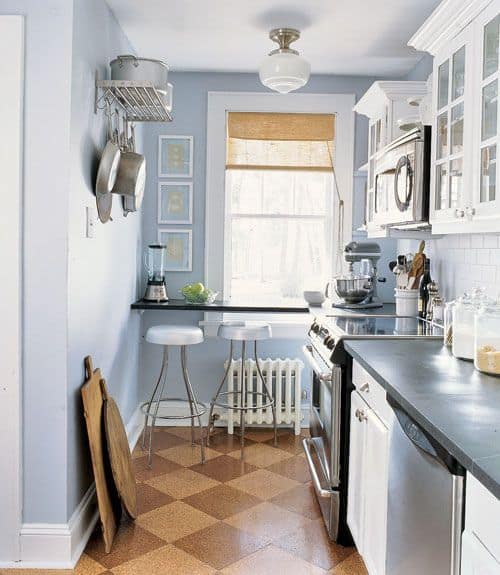 Make your kitchen breakfast nook look cool with the bar setup. To create your own breakfast nook bar, start by measuring the space you have available. Then, choose a style that fits your decor and make sure it has enough storage for all of your breakfast essentials.
Once you have everything you need, it's time to get creative! Add some cool accessories like bar stools, countertop plants, or even a mini fridge.
8. DIY Built-in Breakfast Nook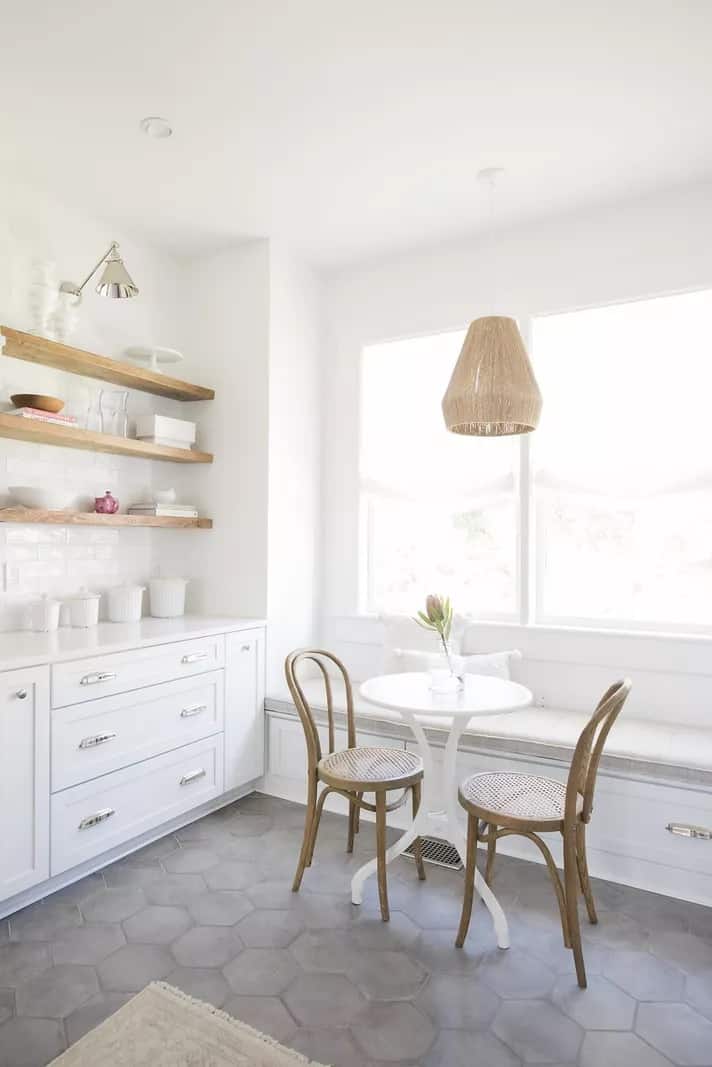 This built-in breakfast nook is the perfect addition to any kitchen. It's both stylish and functional, and it can be easily built with just a few tools and some basic carpentry skills. The best part is that it won't break the bank – this project can be completed for under $200.
A built-in bench is a popular option, as it provides ample seating and can be customized to fit any space. If you've decided on your seating, it's time to add some storage. A couple of shelves or cabinets will do the trick, and they'll help to keep your nook feeling tidy and organized. Finally, add some personal touches like throw pillows or a table runner to make the space your own.
9. How to Build a kitchen Breakfast Nook Easily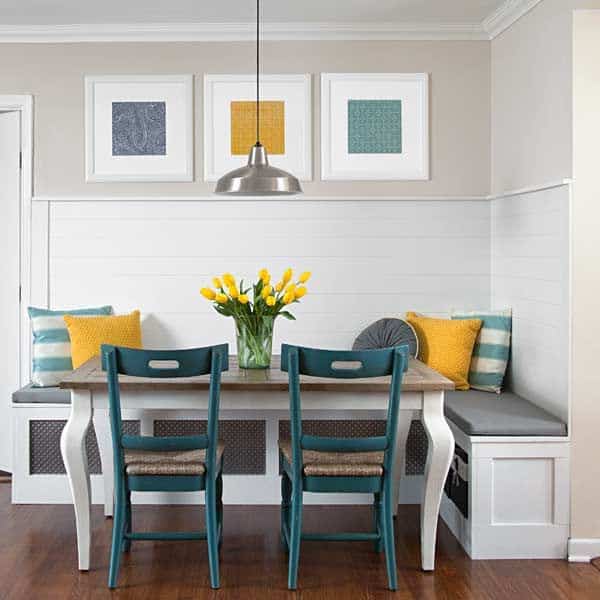 There is nothing to worry about creating your own kitchen breakfast nook if you are a beginner in woodworking. Only with some basic tools and supplies, you can get a cozy breakfast nook like really quick with the following steps:
Choose a location for your nook. A corner is often the best spot, as it makes the most efficient use of space.
Measure the dimensions of your chosen location and create a floor plan.
Cut lumber to size and assemble the frame of your nook. Be sure to use construction adhesive and screws for added stability.
Install drywall or paneling to enclose the frame. Add trim around the edges for a finished look.
Hang curtains or install blinds if desired. For extra comfort, add cushions to the seating area.
10. Corner Breakfast Nook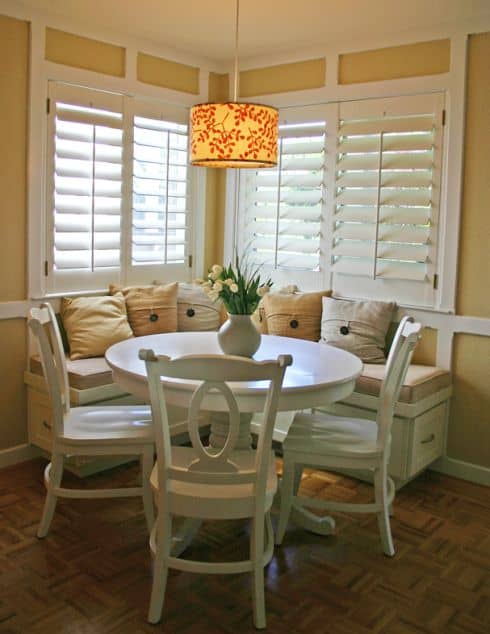 Maximize the available space in your kitchen that will be perfect for a small breakfast nook by using the corner area. This can be done by creating a built-in banquette or bench with storage beneath it. You can also add a round table to this space along with some chairs.
Add some decor to the area such as a plant or vase of flowers to make it more inviting. On the other side, you can install some shelves to hold cookbooks or other kitchen items.
11. Small Breakfast Nook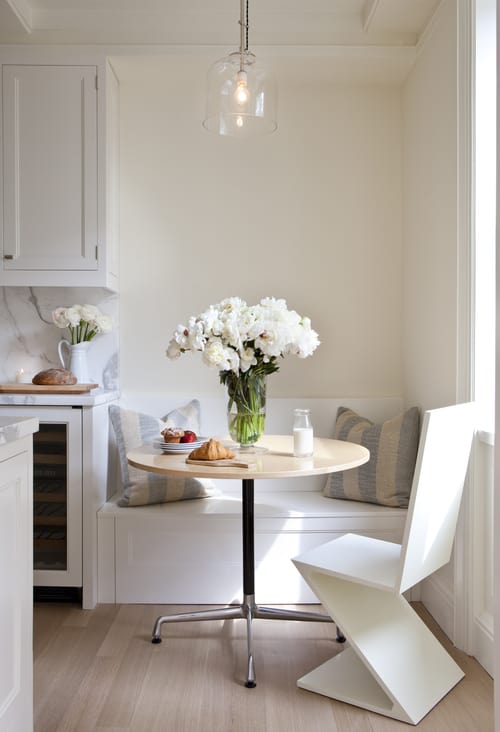 This project is actually basic, and with a few basic materials and some careful planning, you can create a beautiful breakfast nook that will be the perfect place to enjoy your morning coffee or tea.
To get started, you'll need to choose a spot in your kitchen where you want your breakfast nook to be. Then, measure the space and cut your lumber accordingly. Once you have your lumber cut, it's time to start assembling the frame of your nook. Position the boards so that they form a rectangle, and then use screws or nails to attach them together.
12. Breakfast Nook for Apartment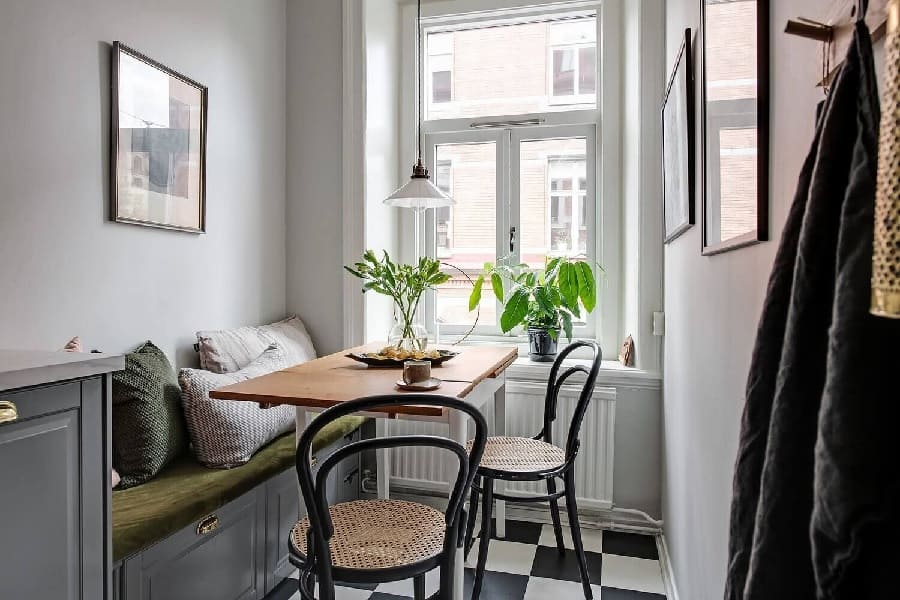 Make your apartment look more stunning with the additional feature of the breakfast nook. It will be a cozy spot for breakfast while also being a great way to add extra seating to your living space.
Start by finding a corner in your kitchen that has enough space for a small table and chairs. Then, add a cushioned bench or booth to one side of the table for additional seating. Finally, decorate your nook with some cozy throw pillows and curtains for added privacy and warmth.
13. Breakfast Nook with Extra Storage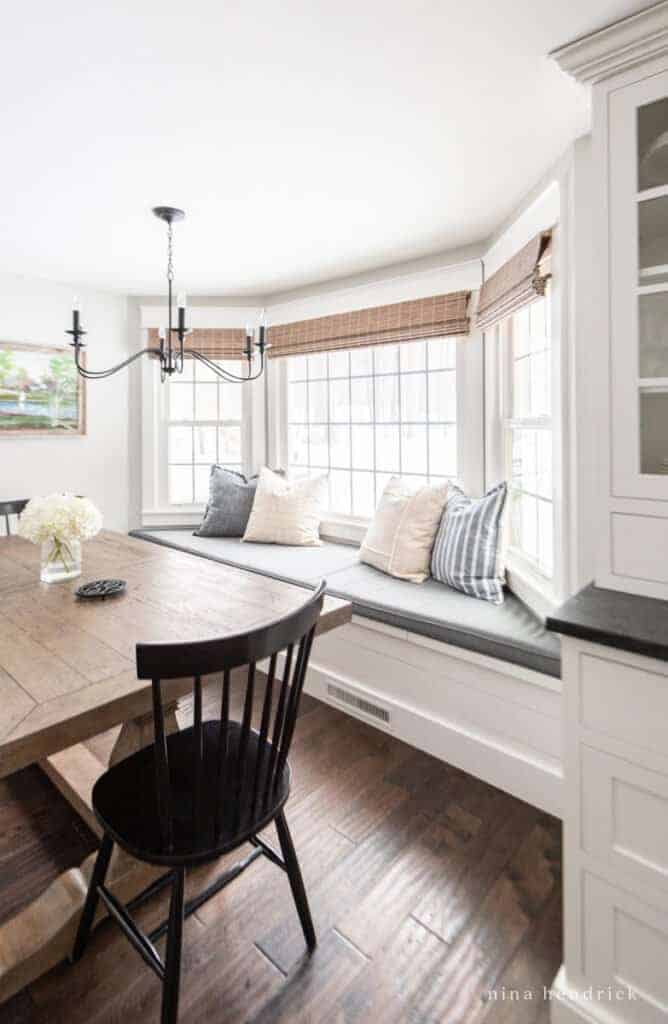 If you're tight on space in your kitchen, a breakfast nook is a great way to save space and still have a place to eat. This breakfast nook has extra storage underneath the benches, so you can keep things like table linens and place mats close at hand.
The benches also have hooks on the back, so you can hang things like oven mitts and aprons. And since the table is attached to the wall, you don't have to worry about it taking up too much space.
14. Kid-Friendly Breakfast Nook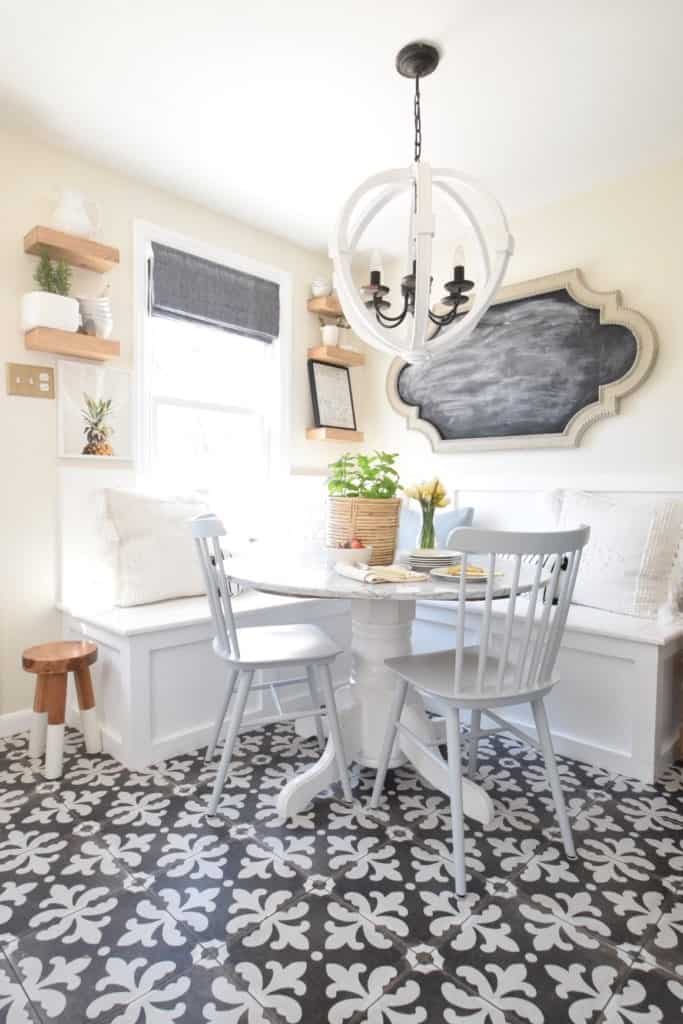 This great project is easy to put together and provides a cozy spot for your little ones to enjoy their morning meals. The best part is that it's easily customizable to fit any space, just use whatever furniture you have on hand.
To start, simply choose a corner of your kitchen and arrange the furniture to create a small seating area. Then, add some playful details like colorful pillows and blankets. Your kids will love spending time in their new breakfast nook, and you'll love how much easier it is to get them out the door in the mornings.
15. Breakfast Nook With Stools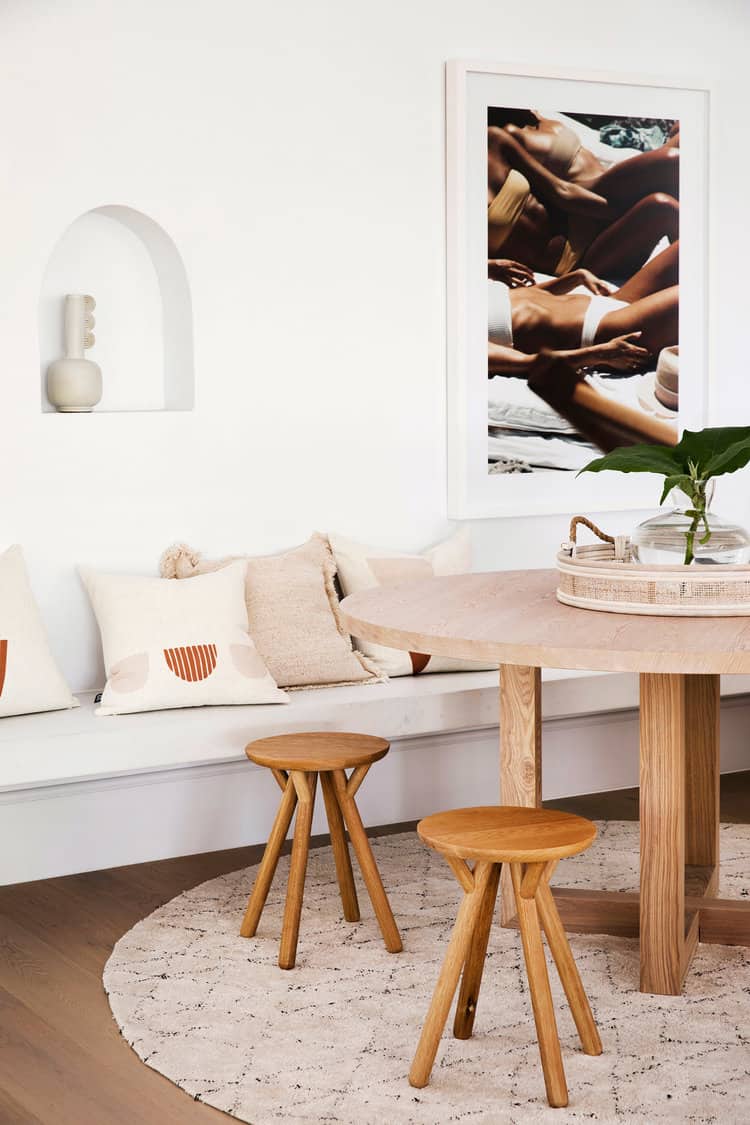 This small, intimate space is perfect for enjoying leisurely meals with family and friends. Plus, it's a great spot for reading the morning paper or catching up on your favorite book. All you need is a corner of your kitchen and a few simple pieces of furniture.
Start by placing a small table in the corner, then add a couple of stools or chairs. If you want to get really cozy, add a bench with cushions. To finish the look, add some decor items like a vase of flowers or a framed print.
16. Rustic Breakfast Nook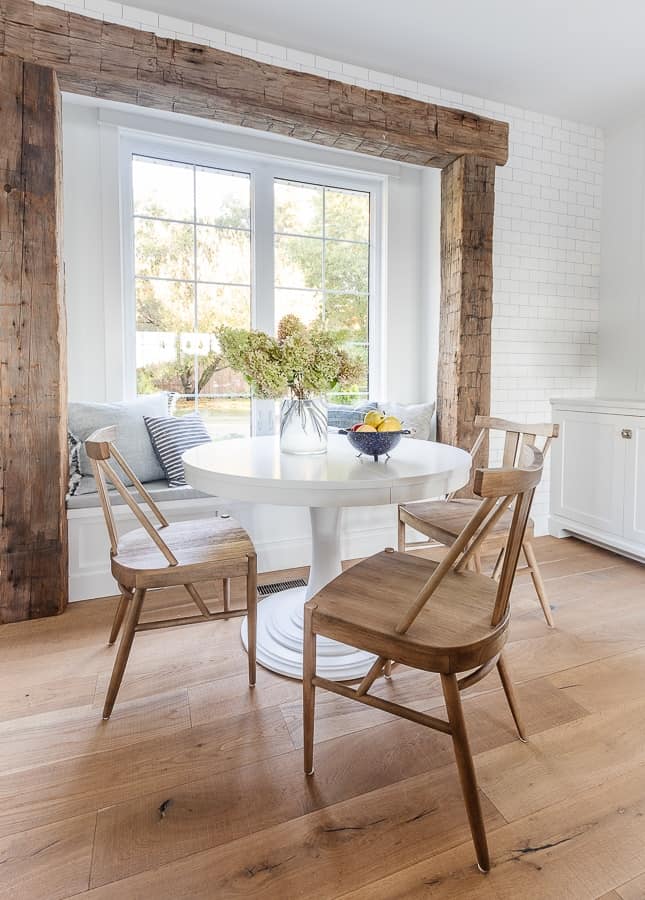 By repurposing a few simple pieces of furniture and adding some personal touches, you can create a charming space that reflects your style and fits seamlessly into your kitchen. If you're going for a rustic look, start with a small table and benches made from reclaimed wood.
Paint them in a light color to brighten up the space, then add some comfy cushions and pillows in coordinating fabrics. Then accessorize with plates, mugs, and other items in coordinating colors and patterns. On the other side,the wooden beam installation work to highlight the rustic style.
17. Cozy Breakfast Nook
The cozy breakfast nook can simply be created by adding a small table and a few chairs to an unused corner in your kitchen. If you have the space, you can also add a bench or settee to the breakfast nook for additional seating.
To make the space feel cozier, add some pillows and throws to the bench or settee. Make the breakfast nook look more appealing by installing the wall-mounted shelves to display some decorative pieces.
18. Traditional Breakfast Nook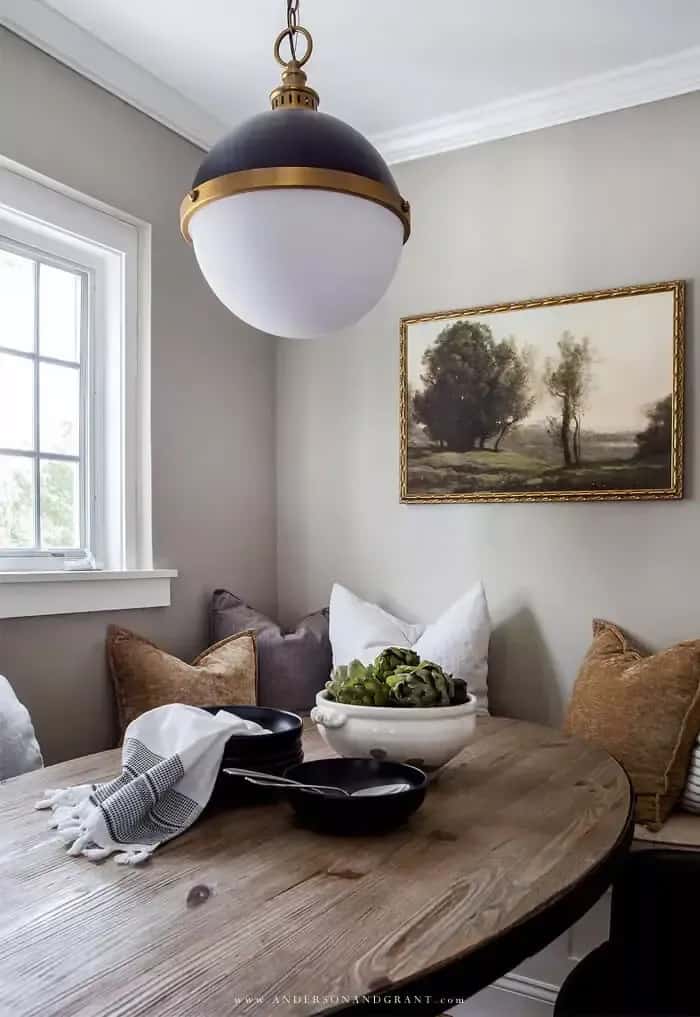 The traditional design will give your breakfast nook a warm and inviting feeling. To achieve this look, start with a wood table and benches. Add in some colorful cushions or seat covers to add comfort and style. Finish the space with a few decorative items such as a vase of flowers or a statement piece of art.
19. Farmhouse Breakfast Nook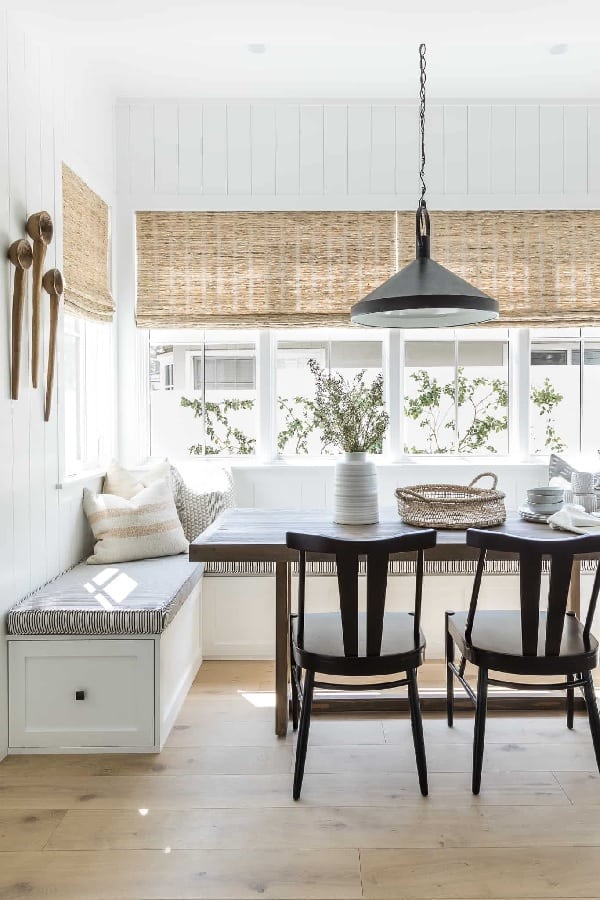 The beauty of farmhouse style can simply never be overstated. This particular breakfast nook design takes things to a whole new level, though, with its gorgeous woodwork and overall aesthetic.
Dominated by the white color and distressed finishing, this breakfast nook is the epitome of farmhouse chic.
20. Mid-century Breakfast Nook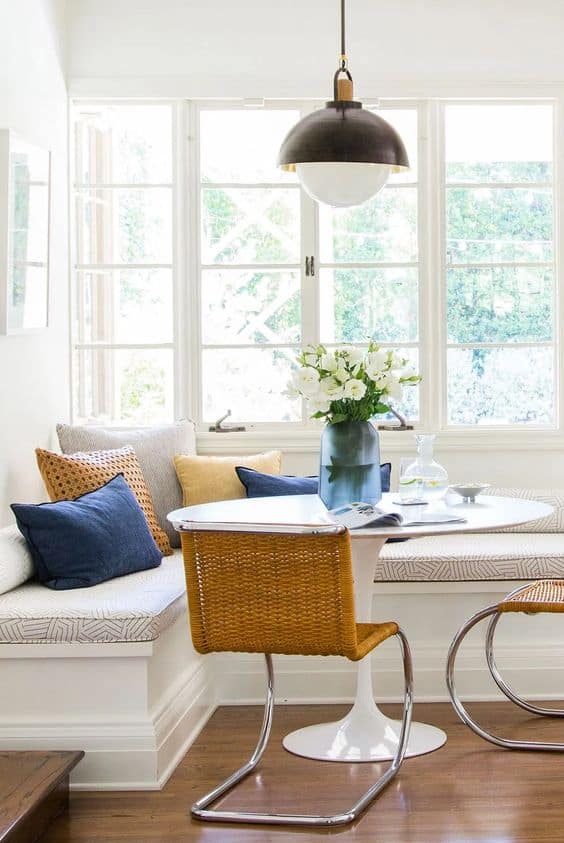 By simply adding a few pieces of furniture and some decor, you can create a cozy spot for enjoying your morning coffee or reading the paper. If you're not sure where to start, here are a few ideas to get you started.
First, choose a corner of your kitchen that receives plenty of natural light. Then, add a small table and chairs. For added comfort, consider adding a bench or window seat. Finally, add some personal touches like pillows, blankets, and plants to make it feel like your own.
21. Eclectic Breakfast Nook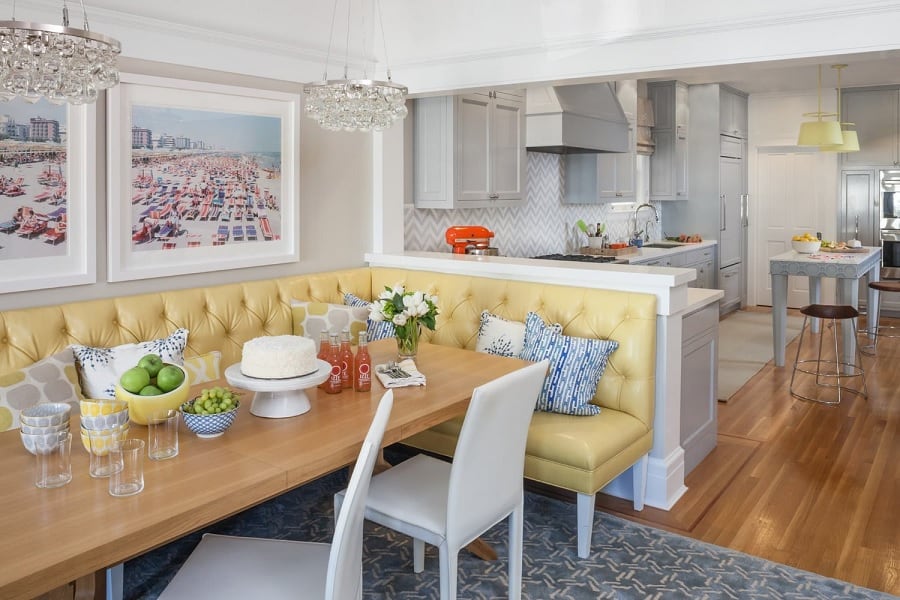 An eclectic breakfast nook can add personality and charm to any kitchen, and it's a great way to make the most of limited space. You can use an existing table or bench, or repurpose an old piece of furniture. Add some colorful cushions or pillows and hang some art on the wall. Then just add some finishing touches like flowers or place mats.
22. Minimalist Kitchen Breakfast Nook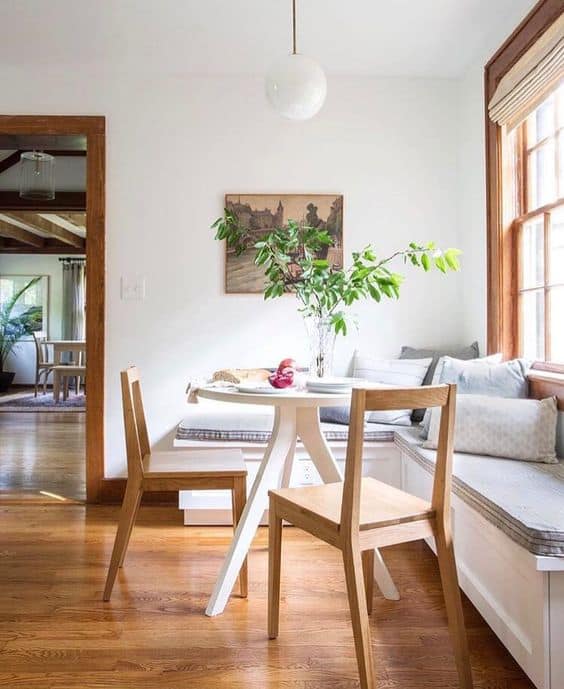 For a sleek and elegant kitchen breakfast nook, go minimal with your design. A simple table and chairs in a neutral color palette will blend seamlessly into your kitchen. Add a few simple decorations, like a vase of flowers or a fruit bowl, to complete the look.
This type of breakfast nook is perfect for small spaces, as it won't overwhelm the room. Plus, it's easy to clean and maintain, so you can relax and enjoy your meals.
23. Scandinavian Breakfast Nook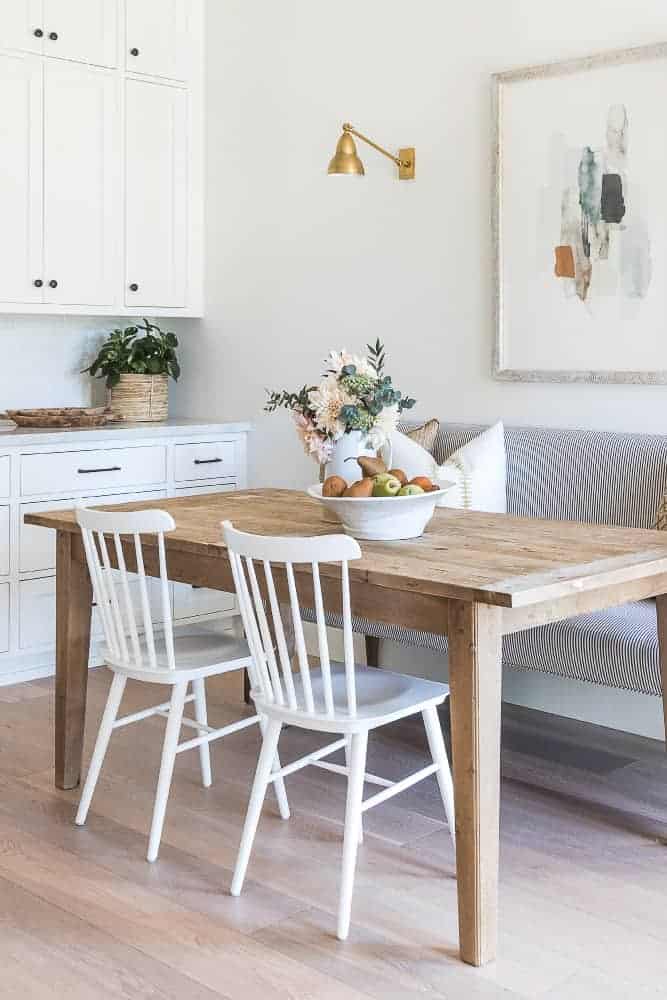 This style features clean lines and simple designs, and it often uses light and airy colors to create a warm and inviting space. If you're interested in creating a Scandinavian breakfast nook in your own home, there are a few things you'll need to keep in mind.
First, remember to keep the space feeling light and airy by using light-colored furniture and decor. Second, make sure the furniture is comfortable, so you can enjoy your breakfast in peace. And lastly, don't forget to add some personal touches to make the space your own.
24. Glamorous Breakfast Nook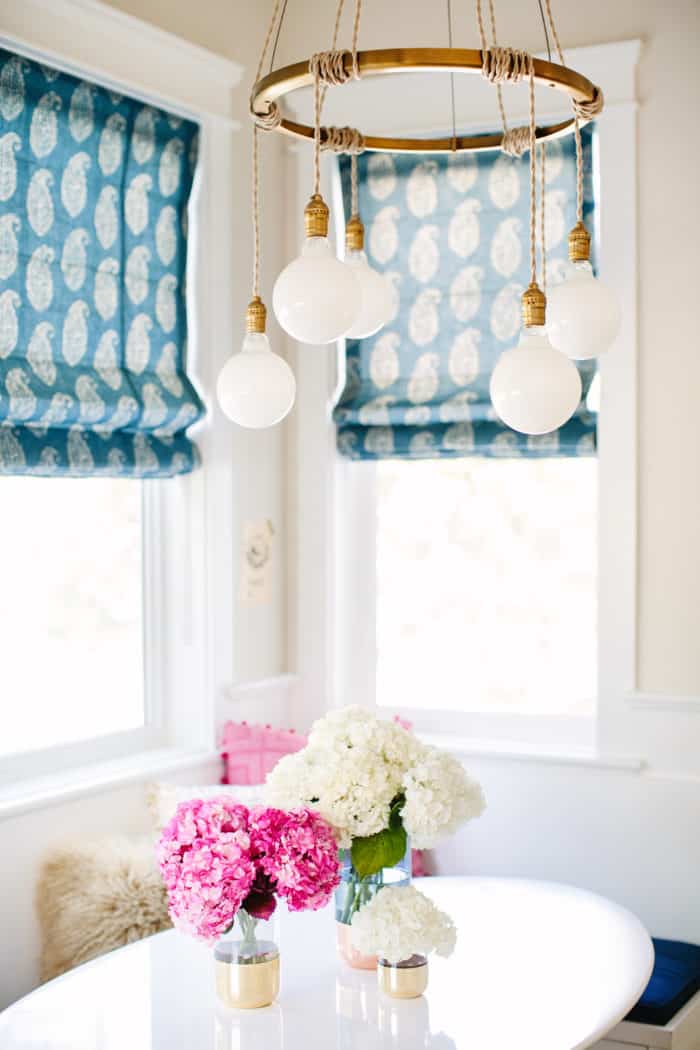 A chandelier is a great way to add some glamour to your breakfast nook. It's also a great way to get some extra light in the space. The best part about this project is that it doesn't require any major renovation or construction.
You only need to simply added a few touches to the existing kitchen table and chairs to give them a more glamorous look. You can replace your plain white plates with some gold-rimmed ones and add a few sparkling votive candles and a vase of fresh flowers.
25. Boho-Chic Breakfast Nook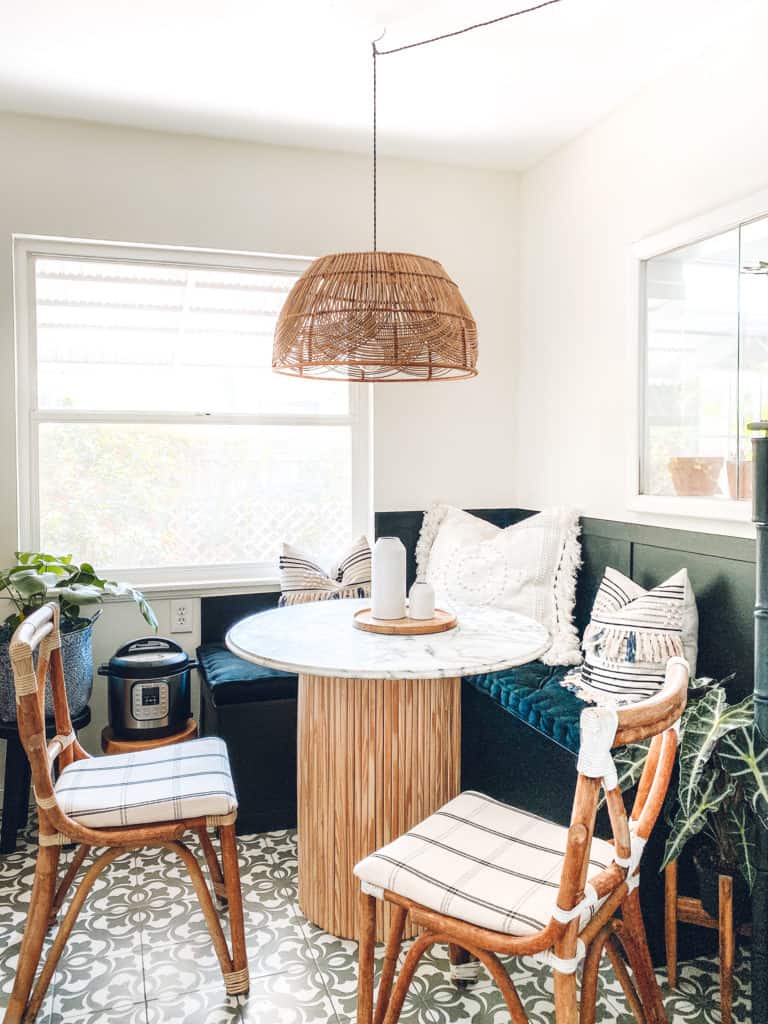 Boho-chic is all about mixing traditional and modern elements to create a unique and beautiful space. With just a few simple materials, you can transform your kitchen into a stylish and inviting boho haven.
Start by painting the walls in a light, neutral color. Then add some woven textures with a rattan table and chairs, or add some greenery with some potted plants. Finally, accessorize with some white throws and pillows, and you're all set.
26. Modern Farmhouse Breakfast Nook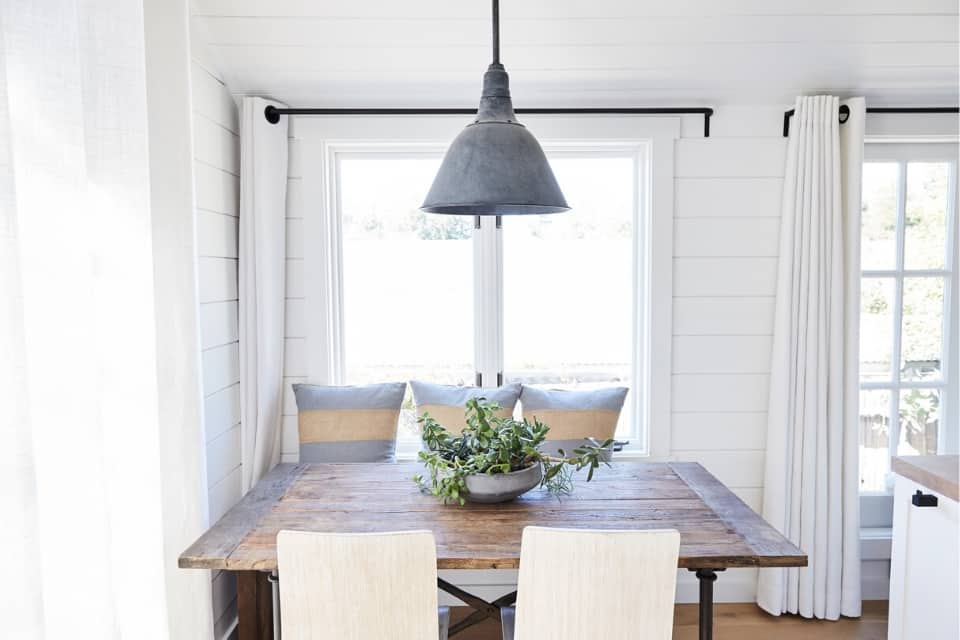 A modern farmhouse breakfast nook is the perfect blend of rustic and chic. This style is achieved by combining natural materials like wood and stone with ship lap walls and industrial lighting.
To get this look, start with a breakfast nook table made of reclaimed wood or distressed metal. Then add benches or chairs upholstered in neutral fabrics. Lastly, finish the space with modern farmhouse decor like mason jars filled with fresh flowers or greenery.
27. Coastal breakfast nook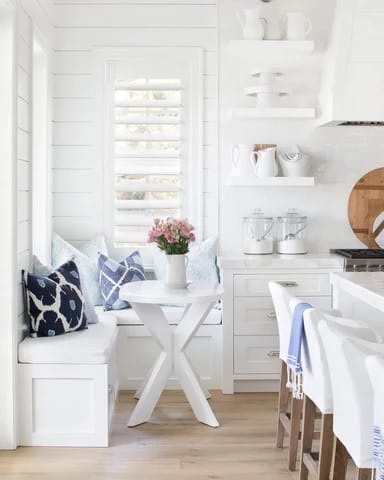 Conjure up the summer holiday feeling all year round with a breakfast nook in cool blue and white tones. Paint walls and tongue-and-groove paneling, then team with striped upholstery and cane furniture for an airy seaside feel.
Add character with vintage finds such as this blue glass bottle, which can be used as a vase or utensil holder.
28. French Country Breakfast Nook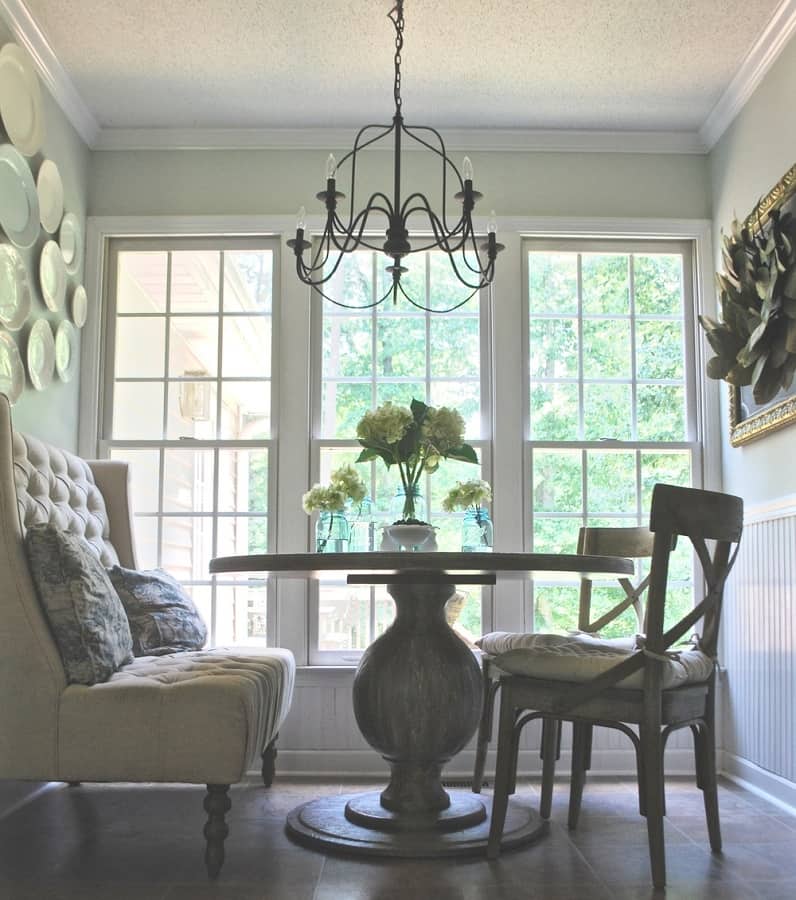 For a French country-inspired look, start with a small table and chairs. Then, add some cushions or benches for additional seating. To complete the look, hang some curtains or install some shelves for storage.
On the other side, you can also play with the atmosphere of the nook by choosing the bright color, then pair it with the chandelier and some other wall decorative pieces as well.
29. Transitional Breakfast Nook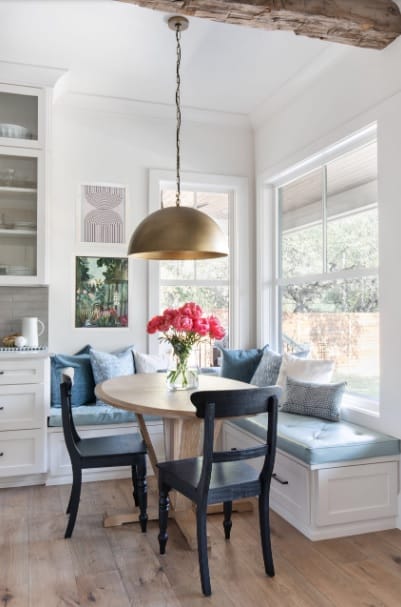 This style combines elements of both traditional and contemporary design, resulting in a warm and inviting space that can be easily tailored to your own personal taste. To start, consider adding a built-in bench along one wall of the kitchen.
It will provide ample seating for the whole family and can be easily dressed up with throws and pillows for added comfort. Then, add a small table and chairs in the center of the space. A round table is ideal for this type of nook, as it encourages conversation and creates a cozier feel.
Finally, finish the space with some fun and stylish accessories. Wall art, table lamps, and fresh flowers are all great ways to add personality to your kitchen breakfast nook.
Whether you're looking for a cozy spot to enjoy your morning coffee or want an extra place to sit during family dinners, a breakfast nook is the perfect solution. And with these clever ideas, you can create one that perfectly fits your needs and style.