A well-organized makeup bag can save you time and keep your beauty essentials within easy reach. Instead of spending a fortune on a store-bought makeup bag, why not get creative and make your own?
In this article, we'll explore ten stylish and practical DIY makeup bag ideas that will not only help you stay organized but also add a personal touch to your beauty routine. So let's dive in and unleash our creativity!
1. Handmade Makeup Bag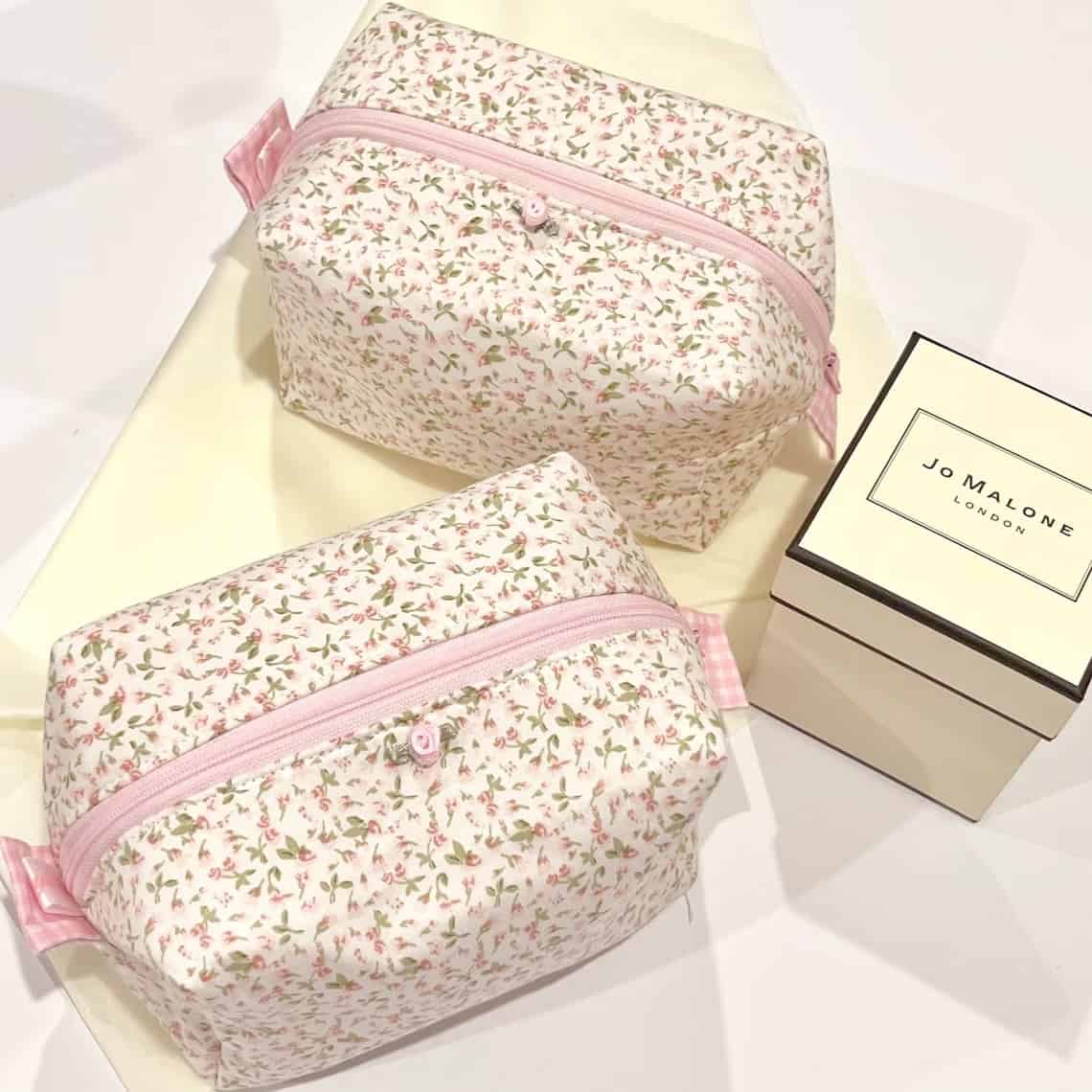 There's something special about a handmade item, and a handmade makeup bag is no exception. Use your favorite fabric and sewing supplies to create a personalized makeup bag that reflects your style and personality.
From selecting the cute floral fabric to stitching it all together, this project is sure to be a labor of love.
2. Makeup Bag Sewing Pattern DIY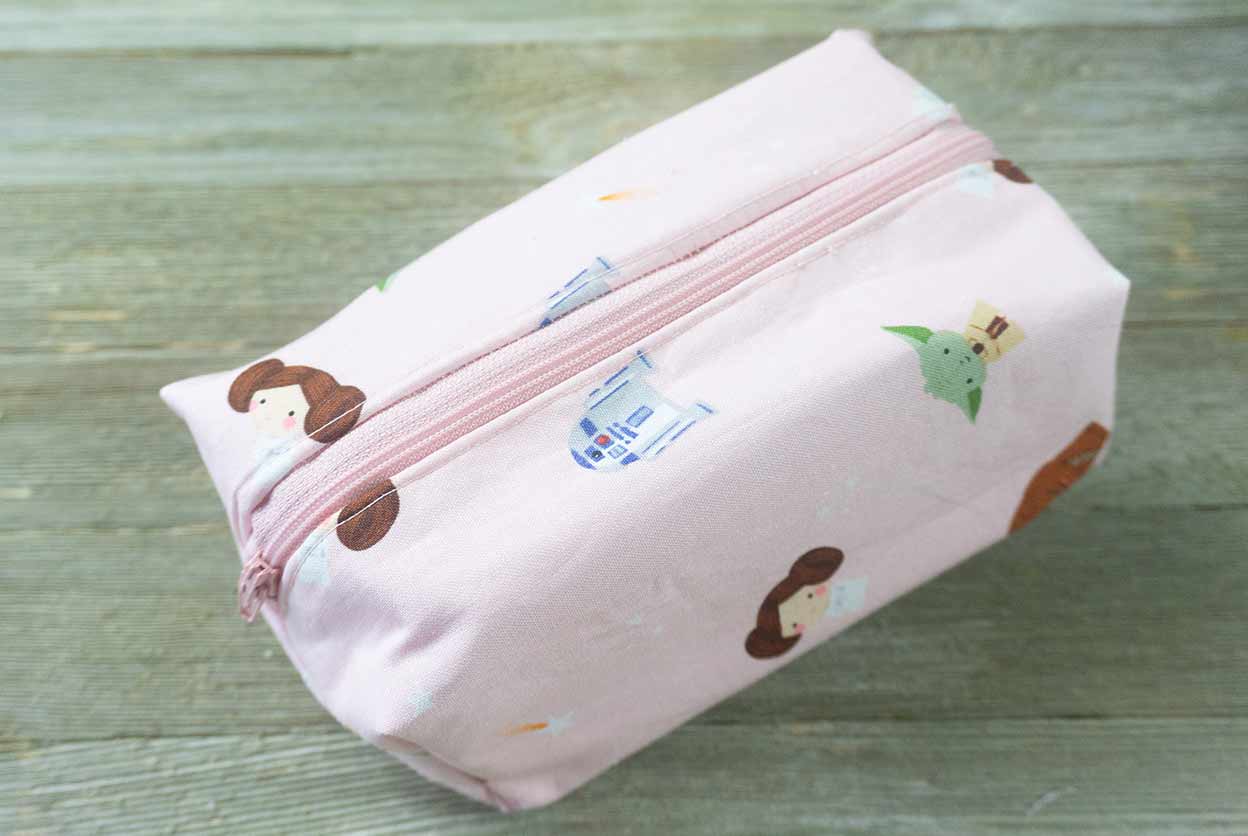 Sewing your own makeup bag not only allows you to showcase your creativity but also provides a practical and stylish solution to keep your cosmetics organized.
So grab your sewing machine, choose a delightful fabric pattern, and let your imagination run wild as you create a unique and charming makeup bag that will make your beauty routine even more enjoyable.
But first, gather the following materials:
Patterned fabric
Zipper
Fusible interfacing light to medium weight
Thread to match
Iron
Bias tape
Thread
Sewing clips
Scissors
Pencil
Rotary cutter, Cutting mat, Ruller
3. DIY Cosmetic Case
For a more compact and portable option, try making a DIY cosmetic case. This case typically features multiple compartments and pockets to keep your cosmetics organized.
You can customize the size, shape, and interior layout to accommodate your specific makeup collection.
4. DIY Makeup Bag With Vinyl Lining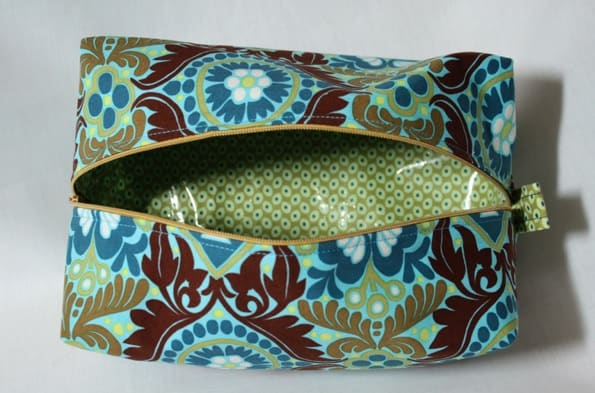 If you want a makeup bag that's easy to clean and water-resistant, consider adding a vinyl lining. This lining will protect the fabric from spills and stains, making it a practical choice for everyday use.
Combine different fabrics and colors to create a stylish and functional makeup bag.
5. DIY Makeup Pouch Bag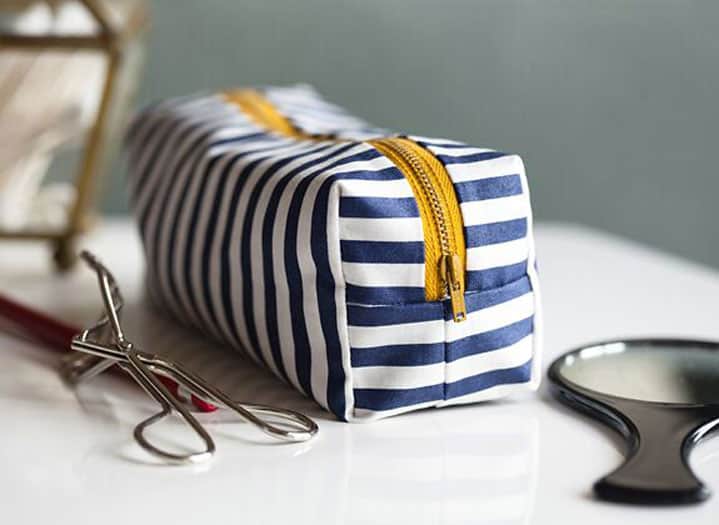 A makeup pouch bag is a simple and versatile option for storing your cosmetics. It's usually smaller in size and ideal for carrying essentials on-the-go.
Get the supplies:
Two coordinating fabric
Zipper
Coordinating thread
Pins
Sewing machine
Scissors
Ruler
Instructions:
Cut two pieces of each fabric to your desired size.
Take one of the outer fabrics and lay it down. Place the zipper on top.
Pin along the top edge to secure the zipper.
Baste the pinned edge using a needle and thread. Sew along the top edge using a zipper foot.
Take the second lining fabric and place it on top.
Pin, baste, and sew along the top edge using a zipper foot.
Iron the outer fabric pieces to flatten them, and then fold them together.
Pin the fabric at the opposite side of the zipper and sew along the bottom edge.
Move the zipper to the middle, unzip it halfway, and sew along the two sides.
Pinch each edge inward.
Use a pen to mark a line, then pin next to it.
Fold the fabric inside out.
6. DIY Stylish Makeup Bag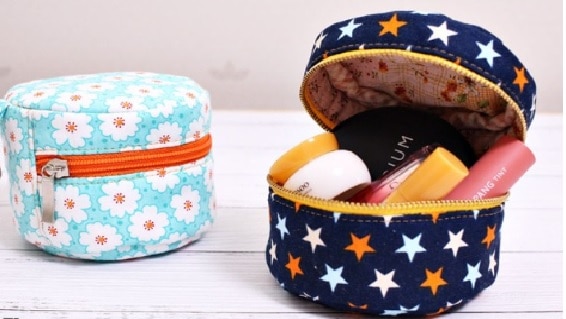 If you're a fashion enthusiast, you'll appreciate a stylish makeup bag that complements your outfits. Experiment with bold prints, unique textures, or embellishments to make a statement.
This macaroon makeup bag can be such a great solution if you want to bring your makeup bag wherever you want.
7. DIY Beginners Cosmetic Bag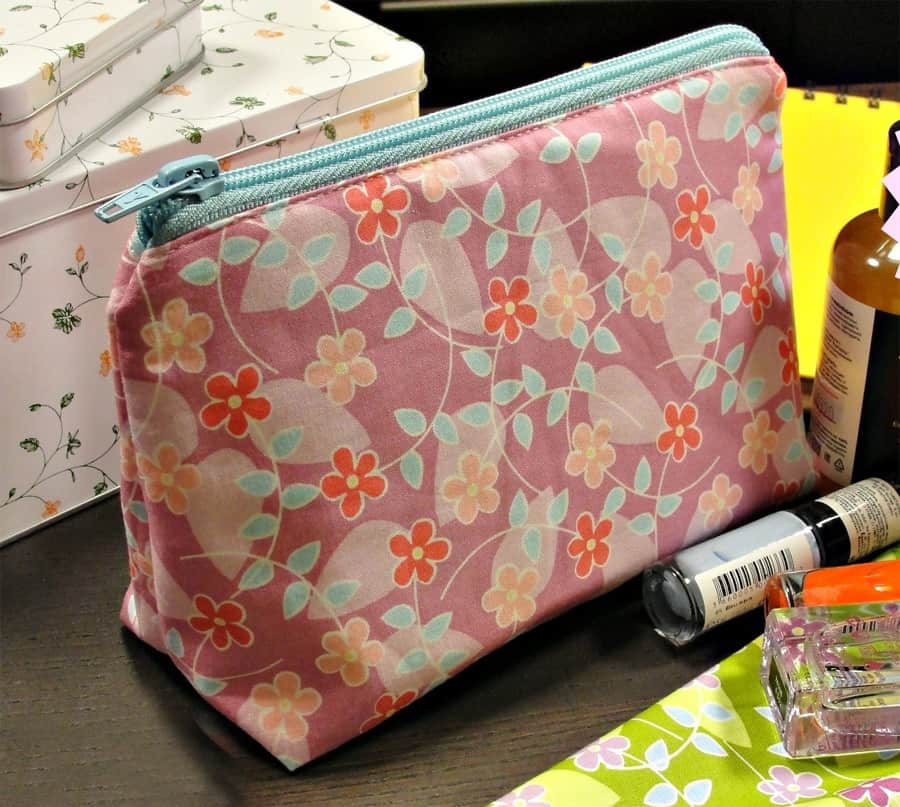 Are you new to sewing or crafting? Don't worry!
Start with a beginner-friendly cosmetic bag project with the material below.
Material:
2 Rectangles patterned fabric
2 Rectangles fabric for the lining
Glue interfacing
Thread to match
Zipper
Ruler
Scissors
Cutter and cutting mat
Vanishing marker on fabric
Pins
8. DIY Travel Makeup Bag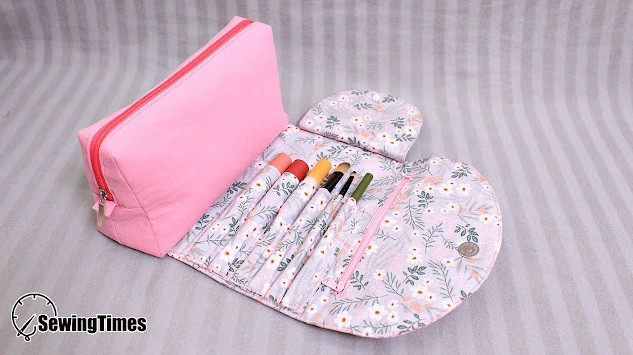 Traveling often requires a compact and travel-friendly makeup bag.
Design a DIY travel makeup bag that's not only functional but also meets airport security regulations. Include brush holder, small bottles, and travel-sized cosmetics to keep everything organized and within reach.
With this kind of makeup travel bag, you can bring your beauty essentials easily.
9. Patched Makeup Bag from Old Jeans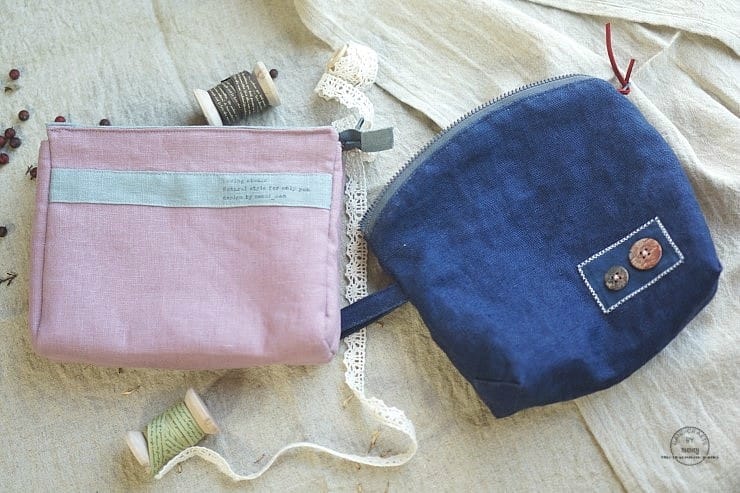 Recycle and repurpose old jeans by transforming them into a unique patched makeup bag. Cut out interesting sections of the jeans, sew them together, and add a lining. The resulting makeup bag will have a trendy and eco-friendly touch.
On the other side, you can also add a touch of decorative pieces to the bag with the button or lace.
10. Leather Makeup Bag with Studs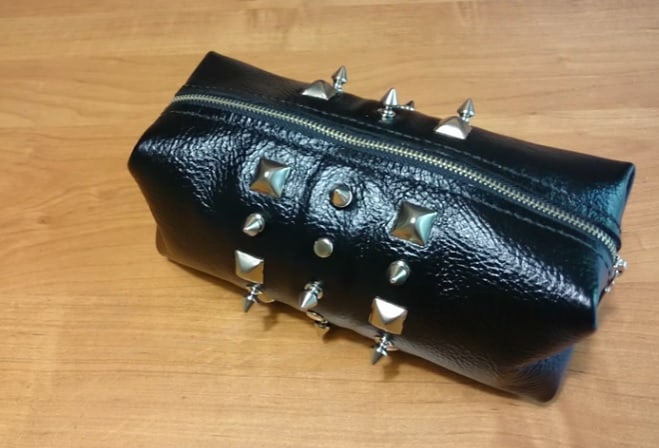 For those who love edgy and glamorous accessories, a leather makeup bag with studs is an excellent choice. Use faux leather or repurpose an old leather item, then add studs or metal accents to create a rock-inspired look.
This DIY project is perfect for those who enjoy working with leather and want to showcase their creativity.
11. DIY Clear Makeup Bag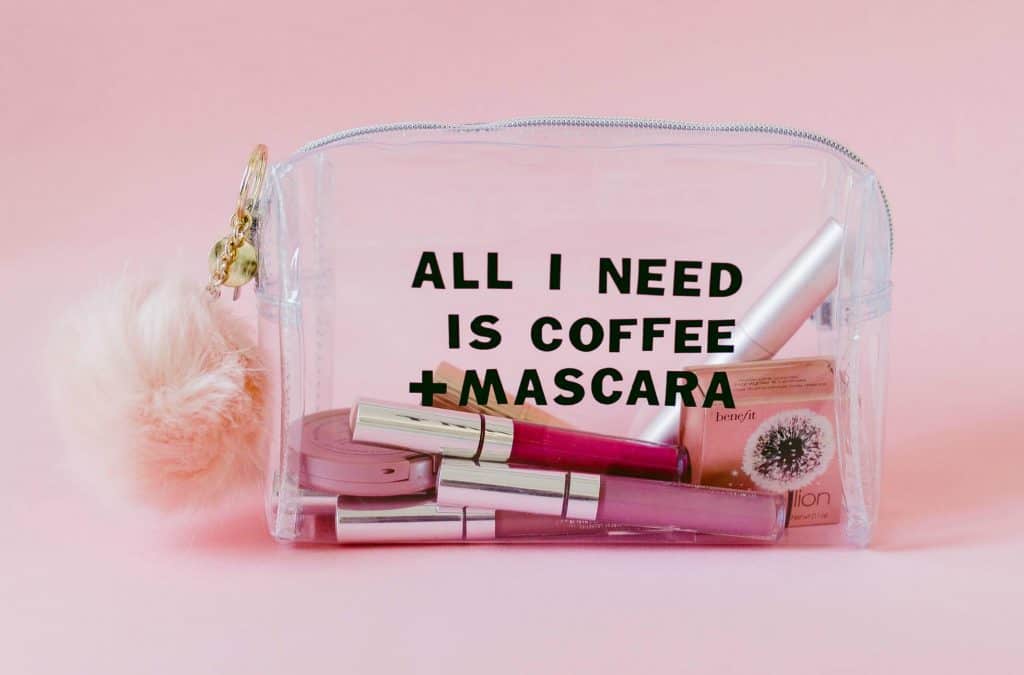 A clear makeup bag is not only trendy but also practical for quickly finding your cosmetics. Select a clear plastic or vinyl material and combine it with colorful trims or zippers for a stylish touch. This transparent bag allows you to see your products at a glance while keeping them secure.
Plus, decorate it with the phrase that will make your makeup bag look more fabulous.
12. DIY Quilted Makeup Bag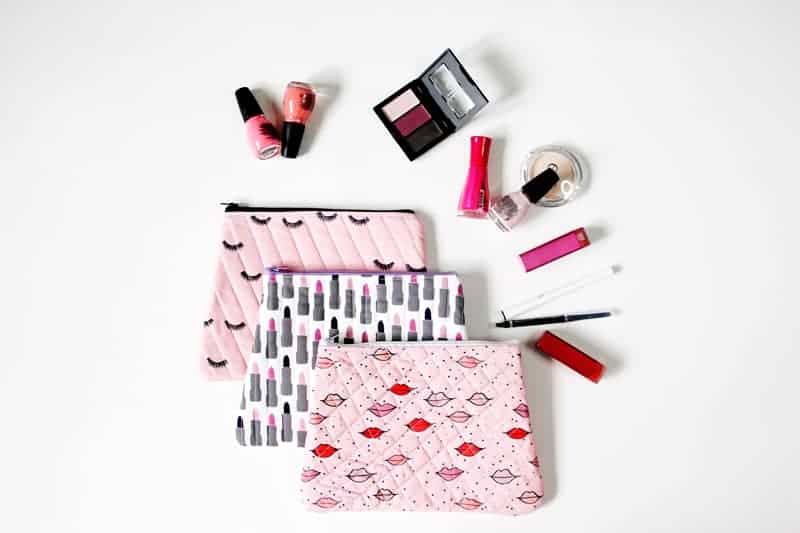 Quilting adds texture and a cozy feel to any project. Create a quilted makeup bag using your favorite fabric patterns and colors.
This technique not only enhances the bag's appearance but also provides extra padding and protection for your cosmetics.
13. DIY Makeup Bag with Zipper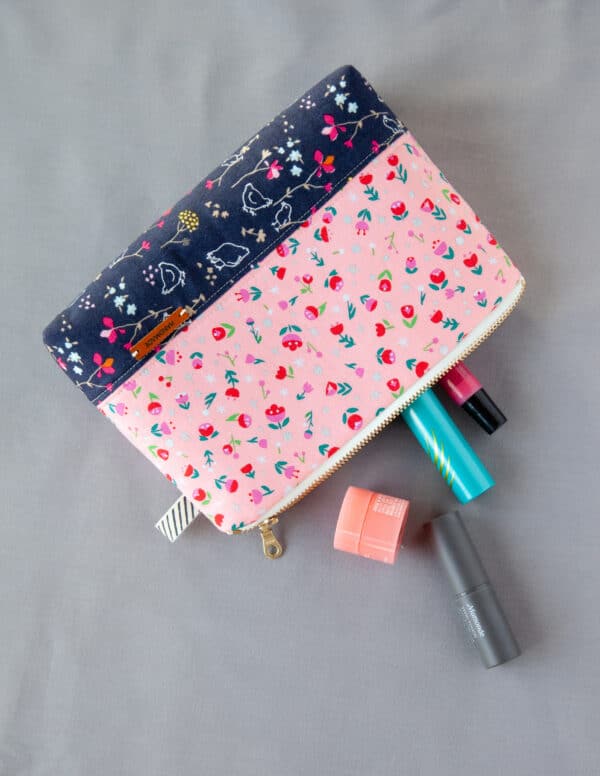 A zipper closure ensures that your makeup bag stays securely closed, preventing any spills or accidents. Learn how to sew a zipper into your DIY makeup bag to achieve a professional finish.
This essential skill will come in handy for various sewing projects.
14. How to Sew a Makeup Bag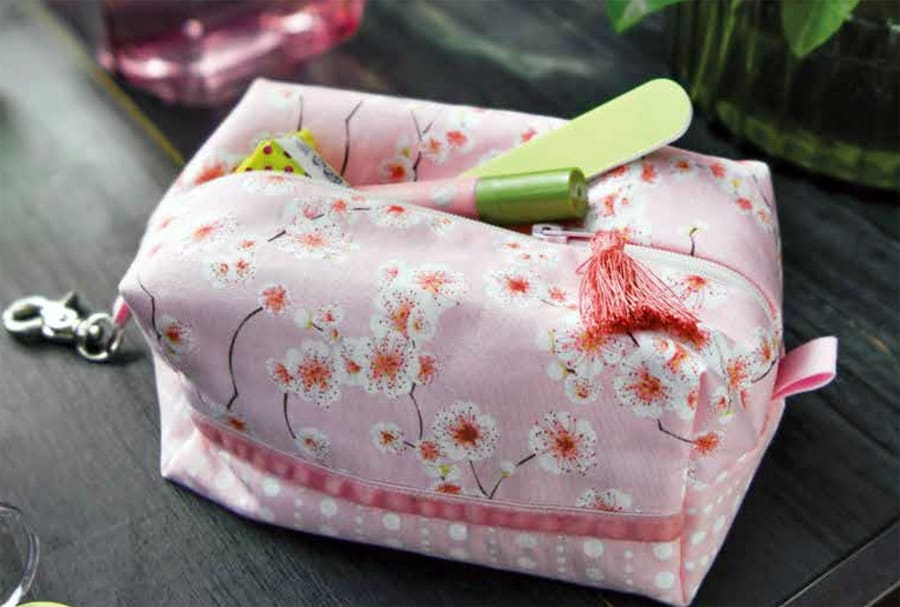 Sewing your own makeup bag can be a rewarding experience. Follow a step-by-step tutorial that explains the entire sewing process, from cutting the fabric to attaching the final details.
Learn essential sewing techniques such as stitching, turning corners, and finishing seams to create a polished and durable makeup bag. Add a touch of an artistic touch through the tassel you can tie on zipper.
15. DIY Miniature Makeup Bag
If you prefer a compact makeup bag for carrying only a few essential items, a DIY miniature makeup bag is perfect for you.
Adjust the size and proportions to your liking and create a tiny bag that's both adorable and functional.
Start with the materials you will need:
Fabric
Fabric glue
Paintbrush
Scissors
Low grip velcro
16. DIY Makeup Bag Pattern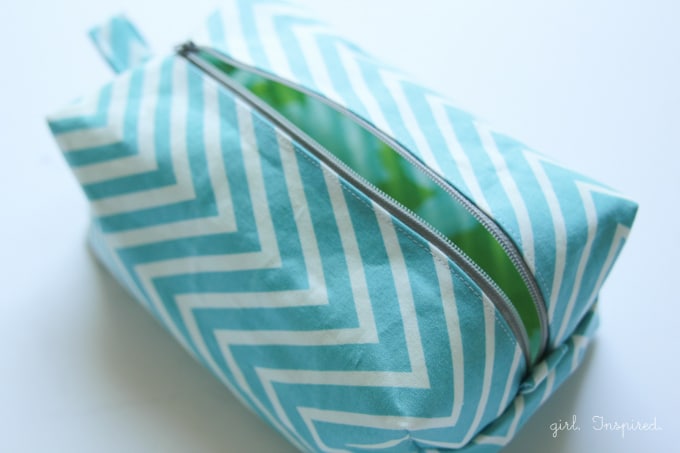 Creating your own makeup bag pattern allows you to customize the size, shape, and features according to your needs. Learn how to draft a pattern and modify it to suit your preferences.
With a personalized pattern, you can make makeup bags in different sizes for various purposes.
This green patterned makeup bag is both functional to carry your beauty essentials and also help you to boost your style as well.
17. Easy Cosmetics Bag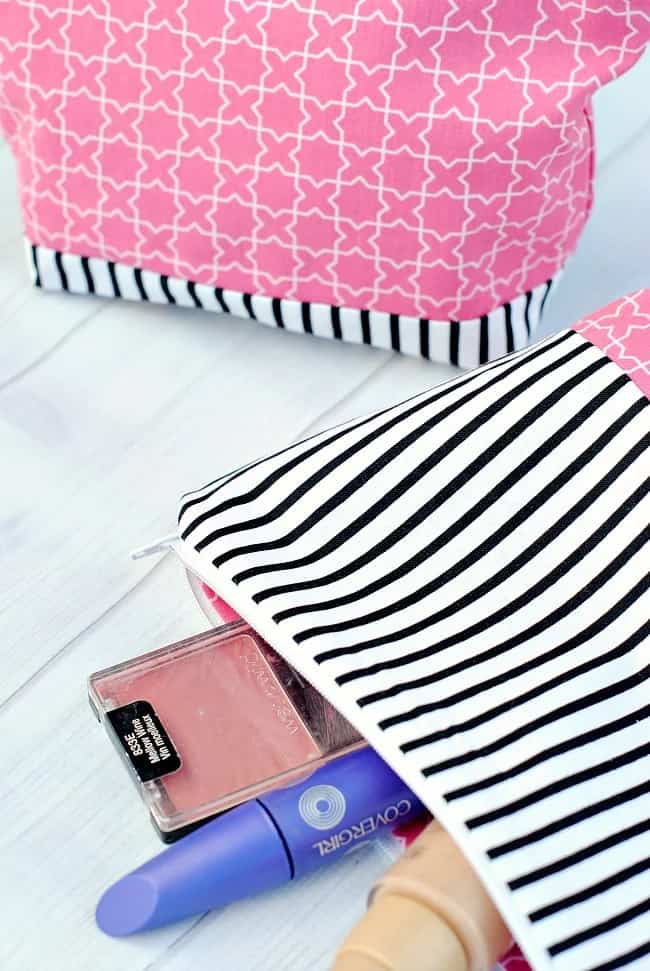 For those seeking simplicity and ease, an easy cosmetics bag pattern is the way to go. Look for patterns specifically designed for beginners or minimalists.
These patterns often require fewer steps and materials, making the construction process quicker and more straightforward.
Combine the black and white striped fabric then combine it with any pattern as you wish.
18. DIY Leather Makeup Bag for Biker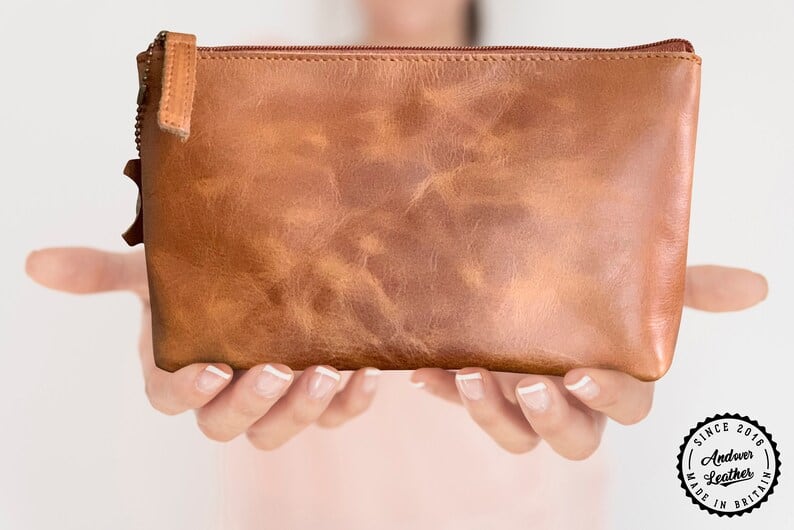 If you're a biker or enjoy a rugged aesthetic, design a DIY leather makeup bag with a motorcycle-inspired theme.
Incorporate metal accents to make it looks cool. And if you want to keep it simple, then leave it plain without any decorative pieces.
19. DIY Drawstring Cosmetic Bag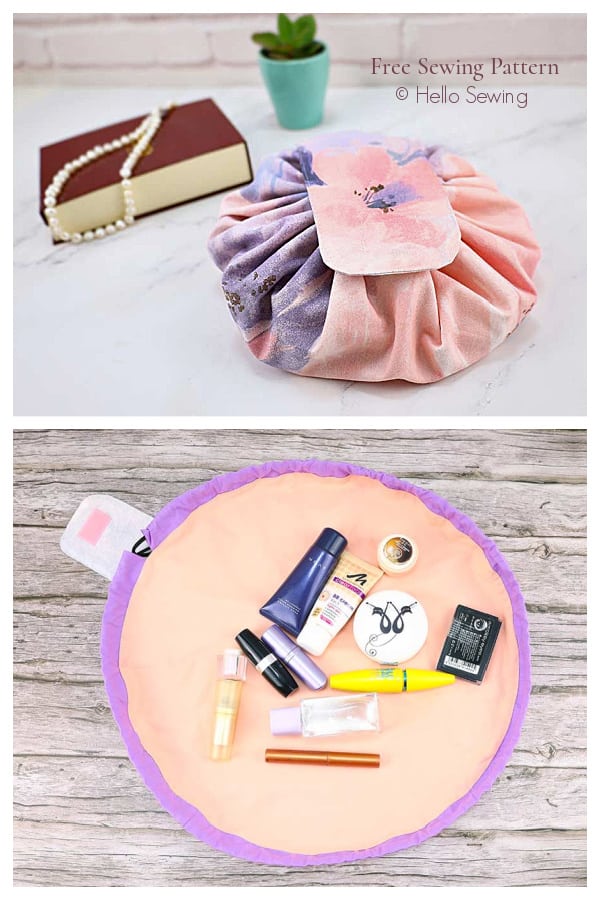 A drawstring cosmetic bag offers a convenient and effortless closure mechanism. Sew a bag with a drawstring closure using fabric of your choice.
Customize the size and length of the drawstring to suit your needs.
20. Matching Makeup Bag Set with Contrasting Zippers
Create a coordinated set of makeup bags with different sizes but matching designs. Use fabrics in complementary colors or patterns and add contrasting zippers for an eye-catching detail.
This set allows you to organize your cosmetics efficiently while maintaining a cohesive aesthetic.
21. Cute Origami Bag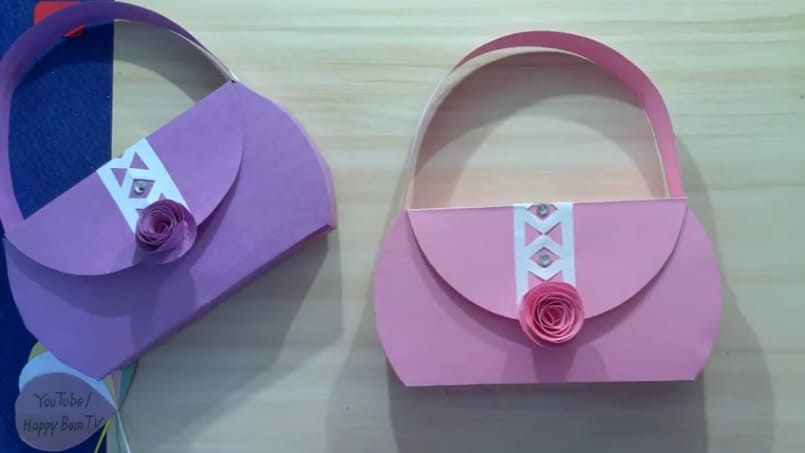 Add a touch of origami-inspired design to your makeup bag collection. Construct a cute origami bag using simple folding techniques.
Experiment with different shapes, such as triangles or rectangles, to create an intriguing and visually appealing makeup bag. The flower accent work both functionally and aesthetically at the same time on this makeup bag.
22. Simple Zipper Top Bags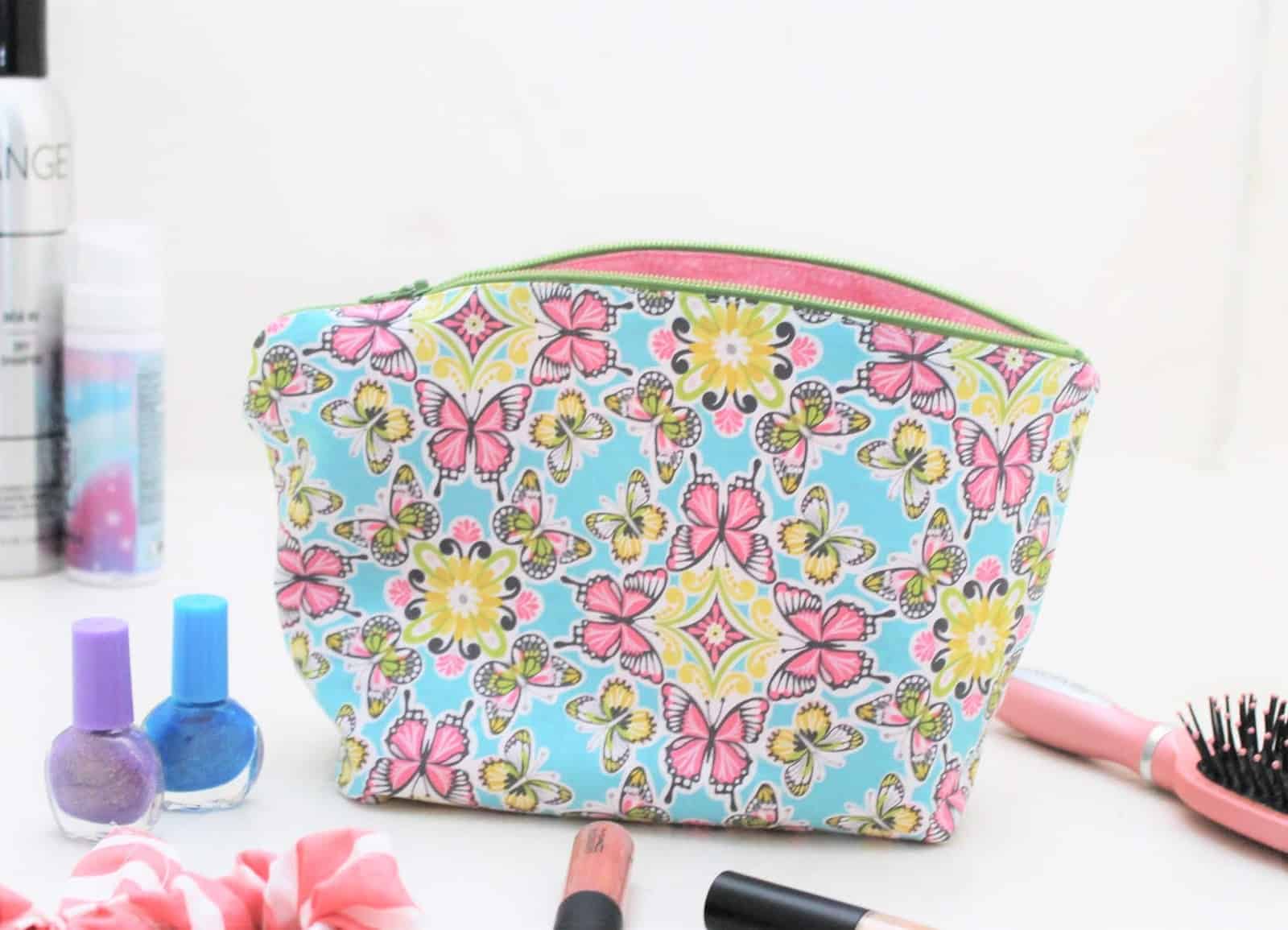 Sometimes, simplicity is key. Make simple zipper top bags that focus on functionality and ease of use. Use patterned fabrics and select zippers that match or contrast with the bag's color for a clean and understated look.
The butterfly pattern match adorably with the green zipper on top of the makeup bag.
23. Kitty Cat Cosmetic Bag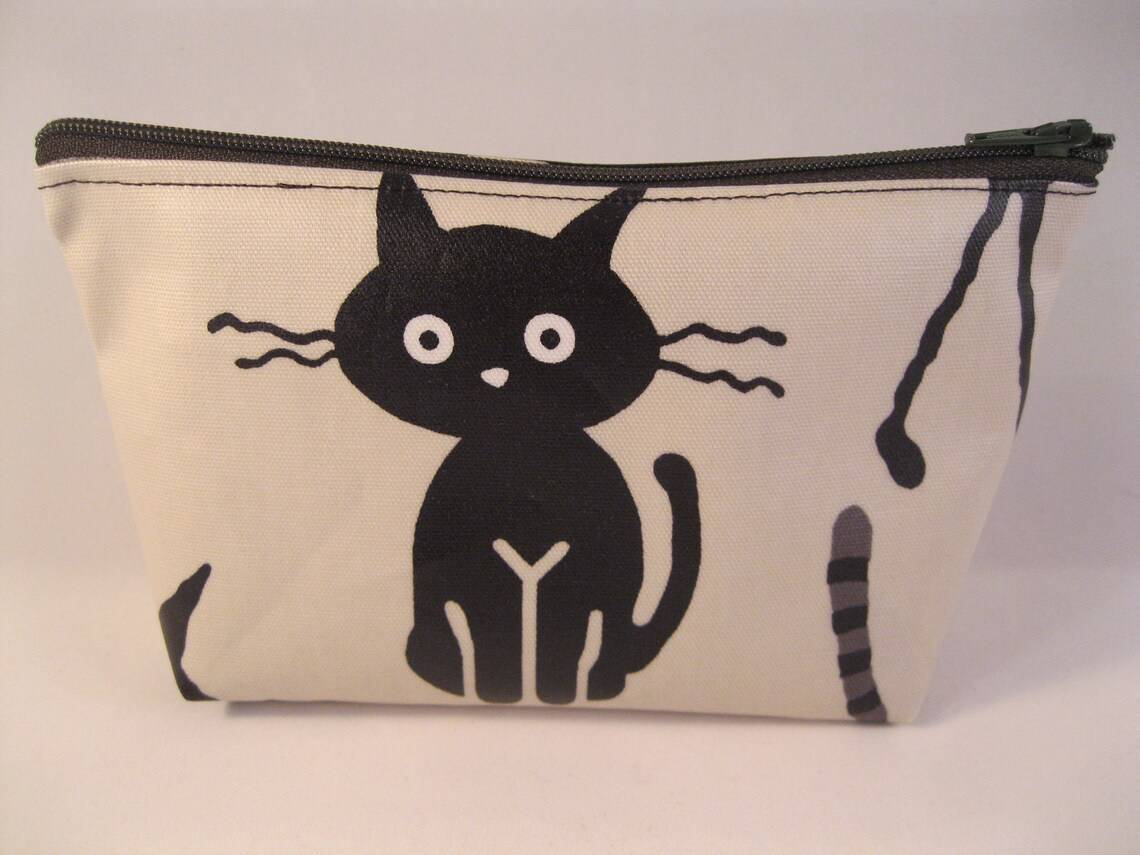 Embrace your love for felines by crafting a kitty cat-themed cosmetic bag. Use fabric with cute cat patterns, or sew on felt cat ears and whiskers to bring your bag to life. This whimsical accessory will add a playful touch to your makeup collection.
24. Kiss-Shaped Makeup Bag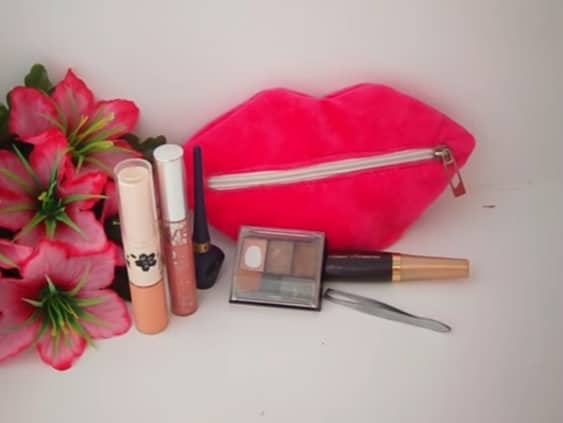 For a fun and flirtatious design, create a kiss-shaped makeup bag. Use two coordinating fabrics to construct the upper and lower lips, and add a zipper or snap closure at the center.
This unique shape will undoubtedly make your makeup bag stand out.
25. Crescent-Shaped Cosmetics Bag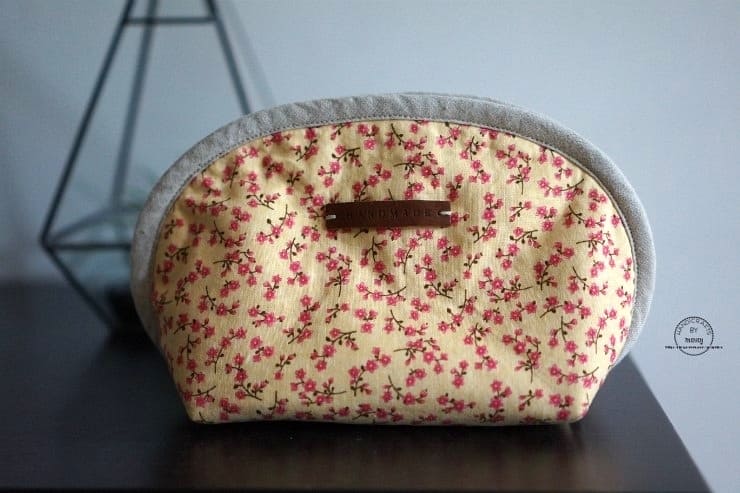 Break away from traditional rectangular shapes and try making a crescent-shaped cosmetics bag. This curved design offers a fresh and contemporary look while providing ample storage space for your cosmetics. Experiment with different fabrics and closures to make it your own.
26. Duct Tape Cosmetic Bag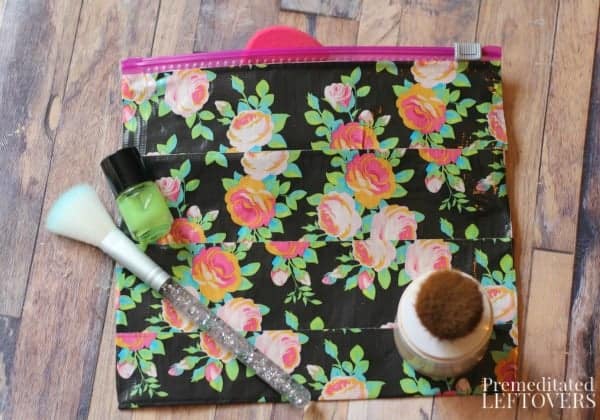 If you're feeling adventurous and enjoy unconventional materials, make a duct tape cosmetic bag. This project involves creating the bag's structure using duct tape and then lining it with fabric for a finished look.
Explore different colors and patterns of duct tape to achieve a one-of-a-kind design.
27. Kawaii Candy Makeup Bag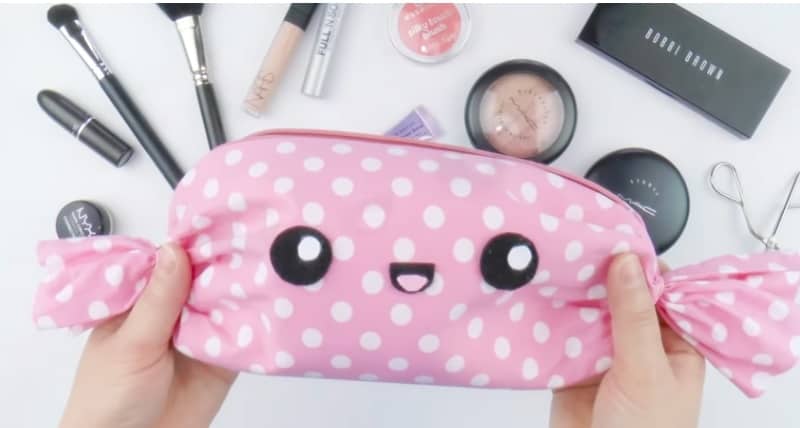 Embrace the cute and colorful world of Kawaii by designing a candy-themed makeup bag. Use bright and pastel-colored fabrics, add felt or fabric appliqués in the shape of candy, and incorporate playful details like pom-poms or ribbons. This sweet and whimsical bag will surely bring a smile to your face.
28. Translucent Polka Dotted Makeup Bag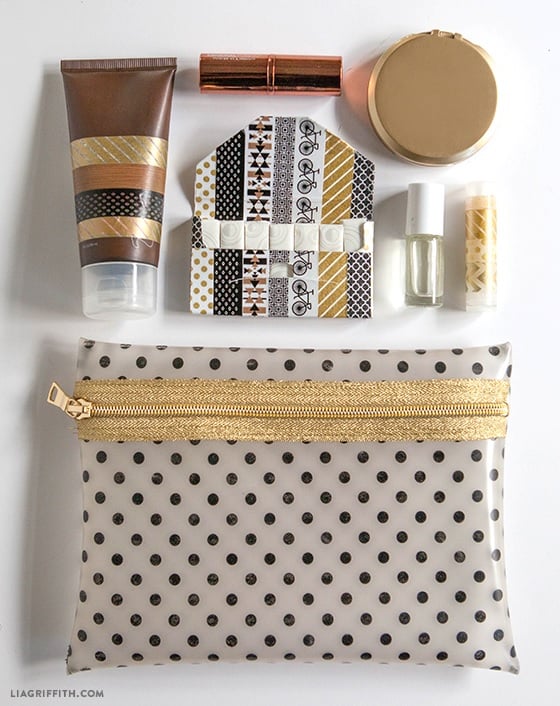 Combine transparency and polka dots to create a charming and practical makeup bag. Use a clear vinyl material with polka dot prints to make a bag that allows you to see your cosmetics while adding a playful touch.
Add a fabric lining for a polished finish. Or, you can also use the golden zipper to add an elegant look.
29. Wide Bottom Makeup Bag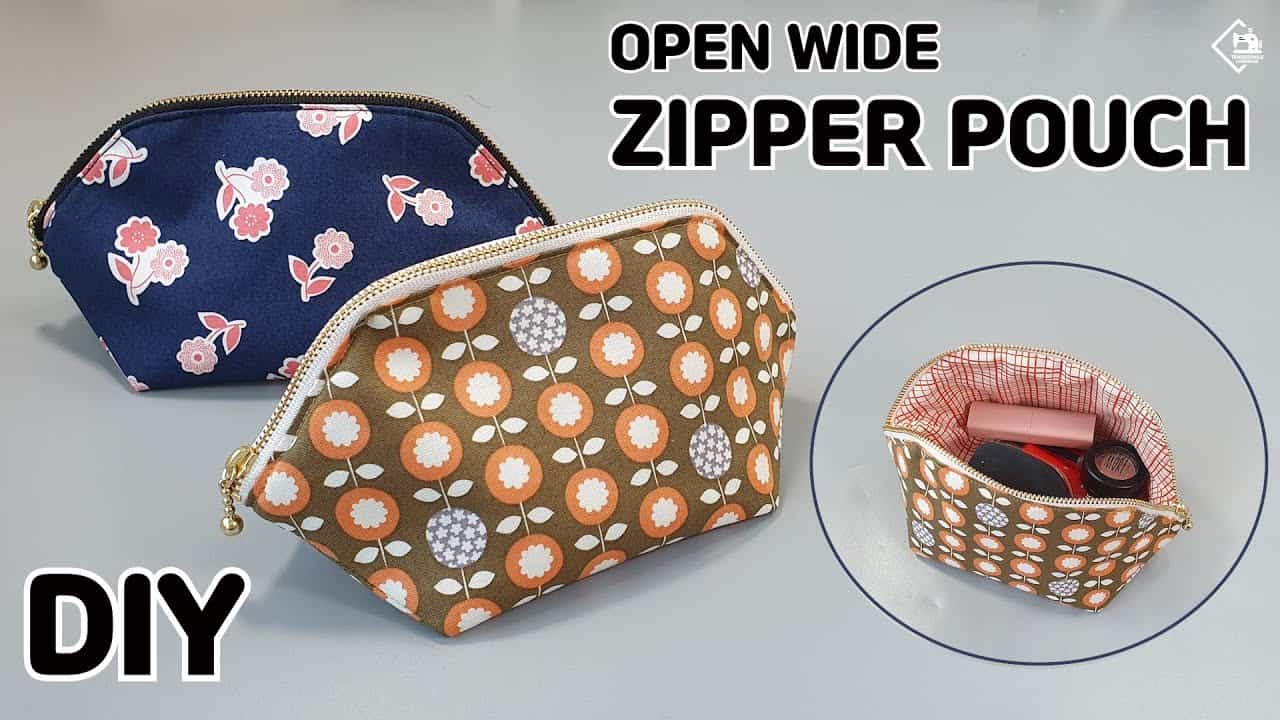 If you have a lot of cosmetics or prefer a spacious makeup bag, opt for a wide bottom design. This bag features a wider base, allowing it to stand upright and provide easy access to your products.
Add pockets or compartments to keep your items organized and prevent them from rolling around.
30. Vintage-Inspired Cylinder Makeup Bag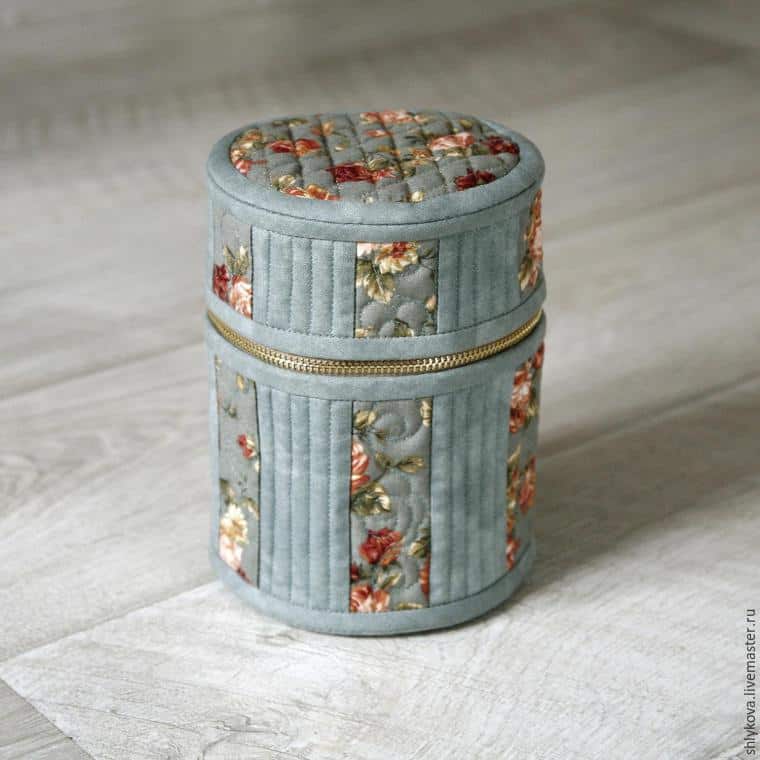 Take inspiration from the past and create a vintage-inspired cylinder makeup bag. Choose vintage-inspired fabrics, such as floral prints or retro patterns, and sew them into a cylindrical shape. Add a drawstring closure or a zipper for a functional yet nostalgic touch.
Creating your own DIY makeup bag allows you to showcase your creativity while enjoying a practical and personalized accessory. From handmade options to specialized designs, there are countless ideas to explore.
Whether you're a beginner or an experienced crafter, this comprehensive guide has provided you with inspiration and guidance to embark on your DIY makeup bag ideas. Start crafting, and enjoy the process of making something truly unique and functional!