A DIY kitchen table is one of the most used pieces of furniture in the home. It's where we gather for family meals, where we do homework, and where we catch up with friends over coffee. Because it gets so much used, it's important to choose a table that is both stylish and functional.
With a little imagination and some basic carpentry skills, it is surprisingly easy to build your own kitchen table.
For a rustic look, try using reclaimed wood from an old fence or barn. If you want something more modern, consider using metal or concrete. Add some embellishments like carvings or inlays, or use different finishes to create a one-of-a-kind table that will be the centerpiece of your kitchen for years to come.
In this blog post, we will discuss 20+ cheap and chic tables that you can make yourself. We will also provide the materials and instructions necessary to get the job done.
So what are you waiting for? Start browsing through these amazing DIY kitchen table ideas today.
Repurpose An Unused Old Door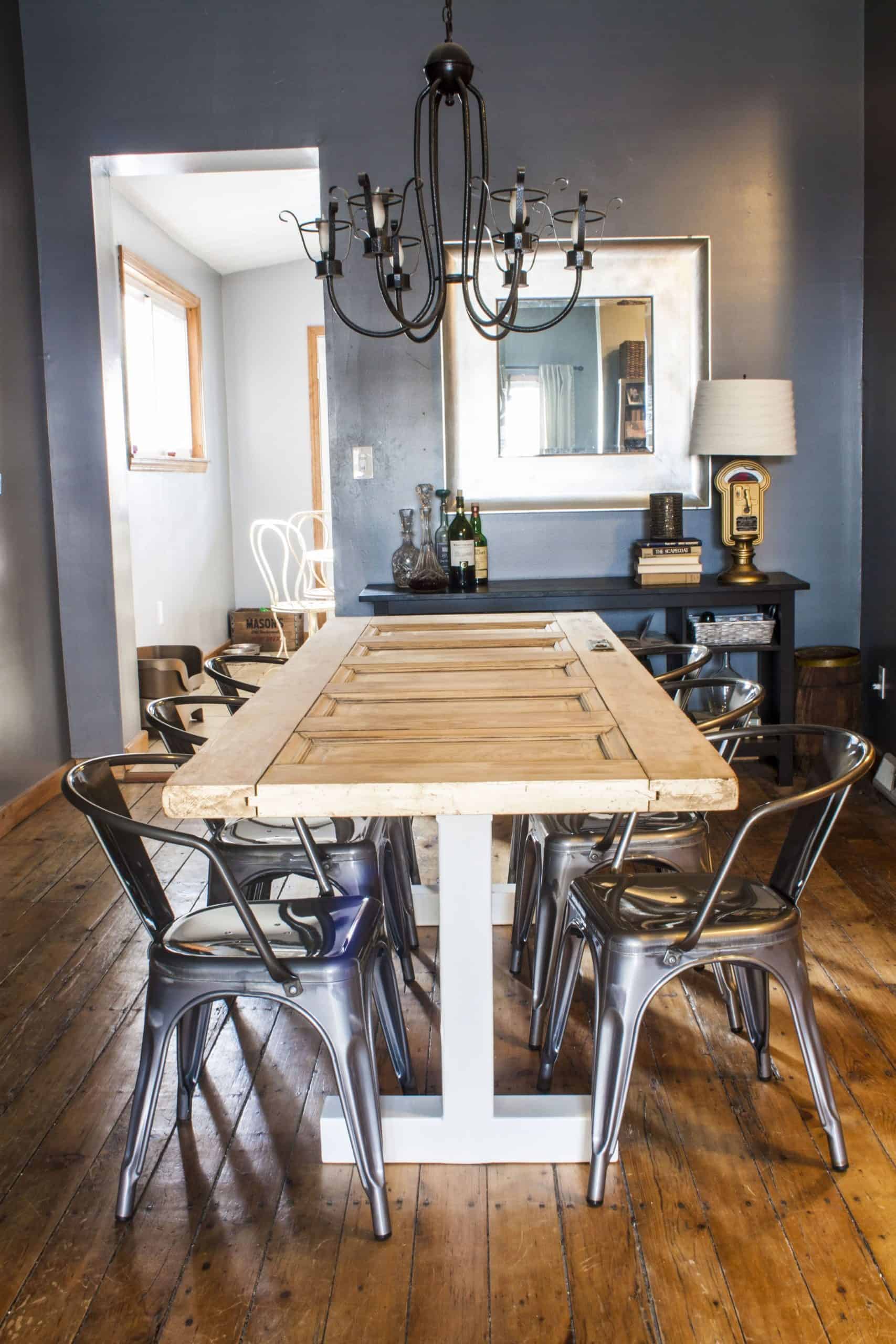 It's no secret that kitchen tables can be expensive. If you're looking for a unique, yet affordable option, consider repurposing an old door into a DIY kitchen table.
To make it work, simply sand down the door to make a smooth surface. Then, add legs to the door using either L- brackets or heavy-duty screws. You may also want to add a coat of paint or stain to protect the door from spills and scratches.
For a truly one-of-a-kind table, personalize it with some decorative accents like stencils or decoupage. With a little effort, you can create a stylish and sturdy table that will last for years to come.
Use Barrels As Legs For A Unique Look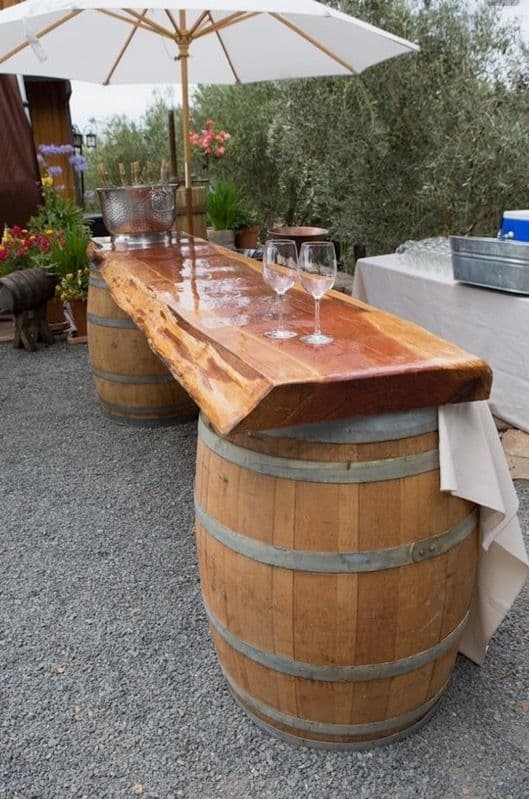 Using barrels as legs for your table will give it a unique look that will definitely stand out.
Just make sure to measure the height of your table before you buy the legs so you know how tall they need to be. Once you have the legs, simply attach them to your table with screws or nails and you're all set.
This outdoor table would be perfect for your outdoor mealtime.
Or The To Add Some Personality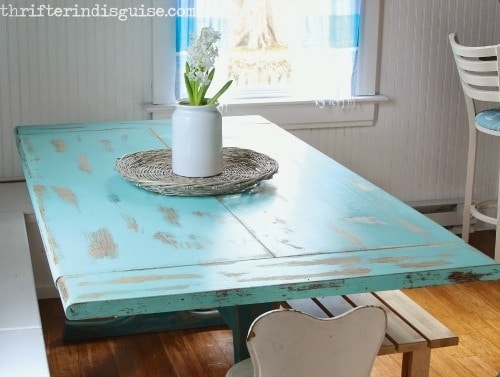 One of the easiest ways to personalize a kitchen table is to give it a fresh coat of paint. If you're feeling bold, try a bright color that will really stand out.
For a more subtle look, try a trendy neutral shade. You can also add some interest by painting the legs of the table in a different color than the top. Another easy way to customize a kitchen table is to stain it in a desired color.
This DIY furniture is a great option if you want the grain of the wood to show through. If you decide to go this route, make sure to test the stain on a small section of the table first to see how it will look. Whichever route you choose, adding a pop of color to your kitchen table is a great way to give it new life.
Add Decorative Details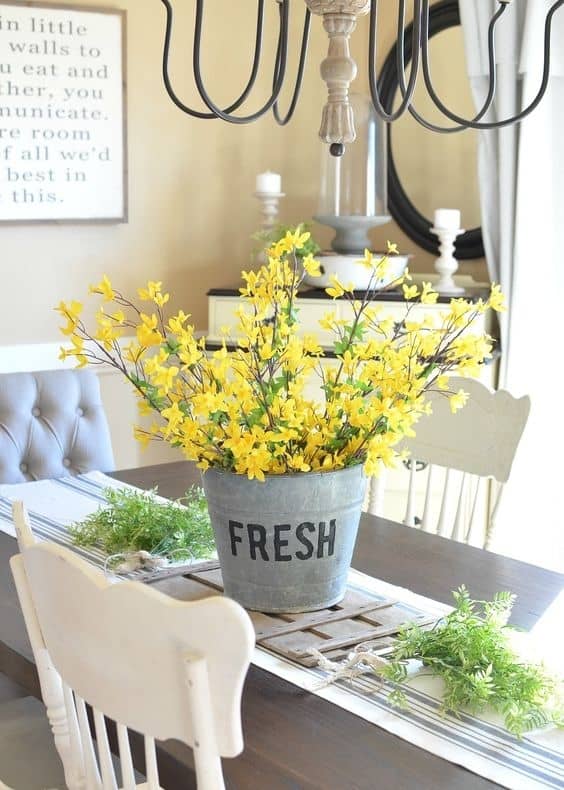 A kitchen table is a necessary piece of furniture in any home, but that doesn't mean it has to be boring. With a little creativity and some basic DIY skills, you can transform a plain table into a work of art.
One easy way to add some personality to your kitchen table is to decorate it with flowers or leaves. You can either arrange them in a vase or glue them directly to the table. Another option is to use stencils or stickers to create patterns or images on the tabletop.
Or, if you're feeling really creative, you can even paint directly on the table surface. Whatever approach you choose, adding some decorative details is a great way to make your kitchen table stand out.
Use Chalkboard On The Tabletop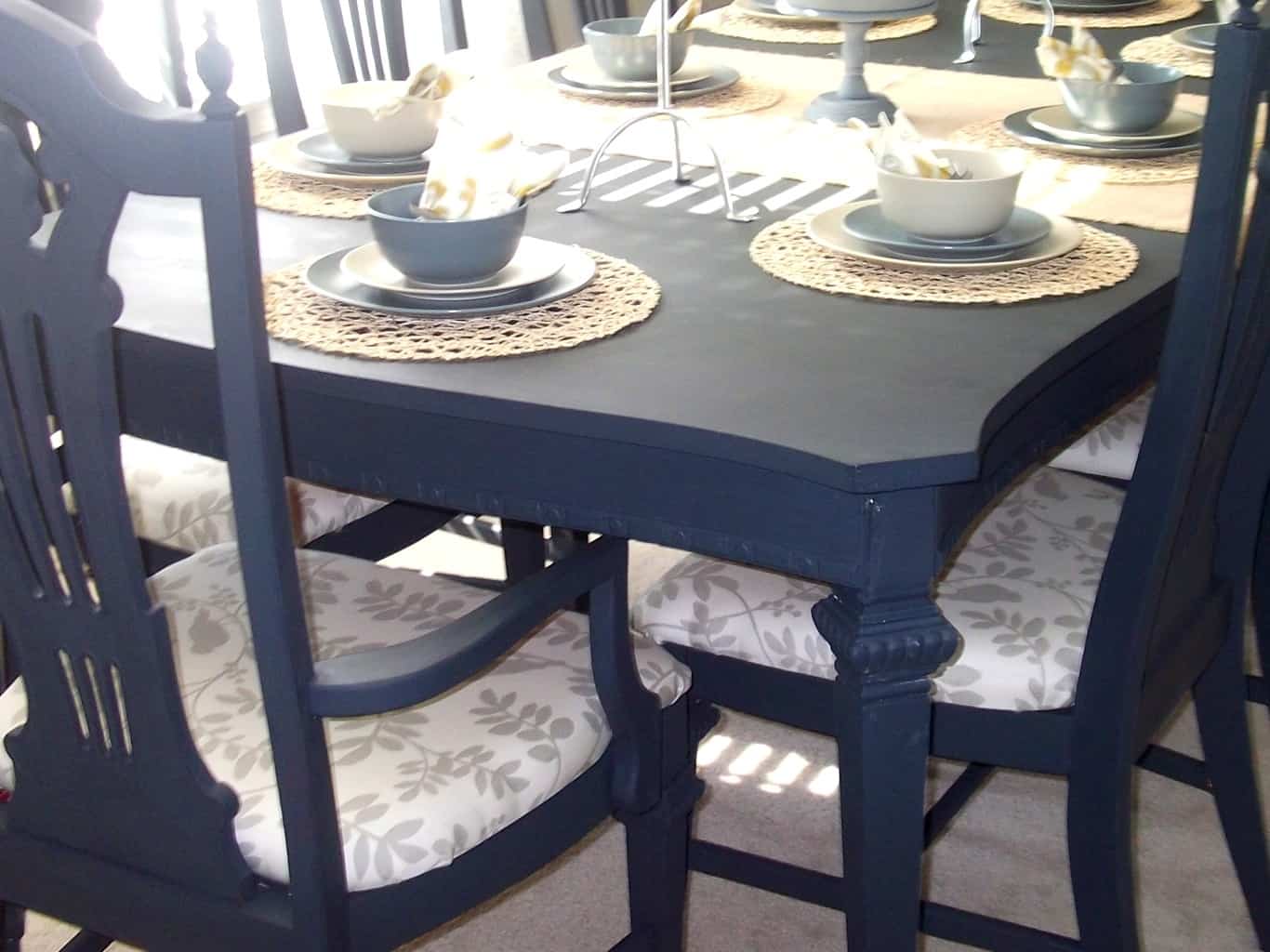 There are all sorts of ways to customize a kitchen table, and the popular option is to use chalk paint on the tabletop.
This can be a great way to write down recipes or notes, as well as to add a bit of personality to the table. Chalkboard paint is easy to apply, and it can be found at most hardware stores. Once the paint is dry, you can start writing on the tabletop.
Be sure to use chalk that is designed for use on chalkboards, as regular chalk can damage the paint. When you're finished writing, simply erase the chalk with a damp cloth. This DIY project is inexpensive and easy to do, and it's a great way to add a unique touch to your kitchen.
Make It Effortlessly Chic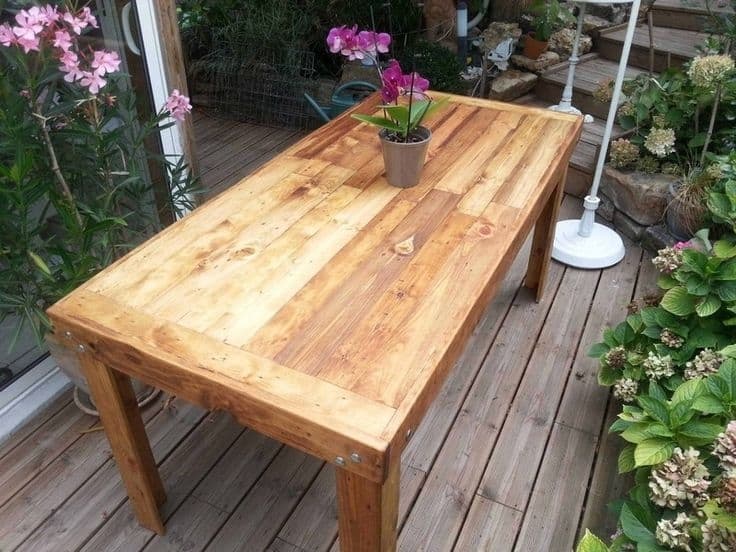 Upcycling is a great way to save money when you're furnishing your home. If you've got some old wood lying around, then why not upcycle it into a beautiful kitchen table?
It's a lot cheaper than buying new, and you can add your own personal touch to the piece. To get started, simply sand down the wood and give it a fresh coat of paint. Then, choose a finish that suits your style – whether it's rustic or modern.
You can also add some unique details, like distressed edges or a potted flower. With a sense of creativity, you can transform an old piece of wood into a stunning kitchen table that will be the centerpiece of your home.
Inexpensive DIY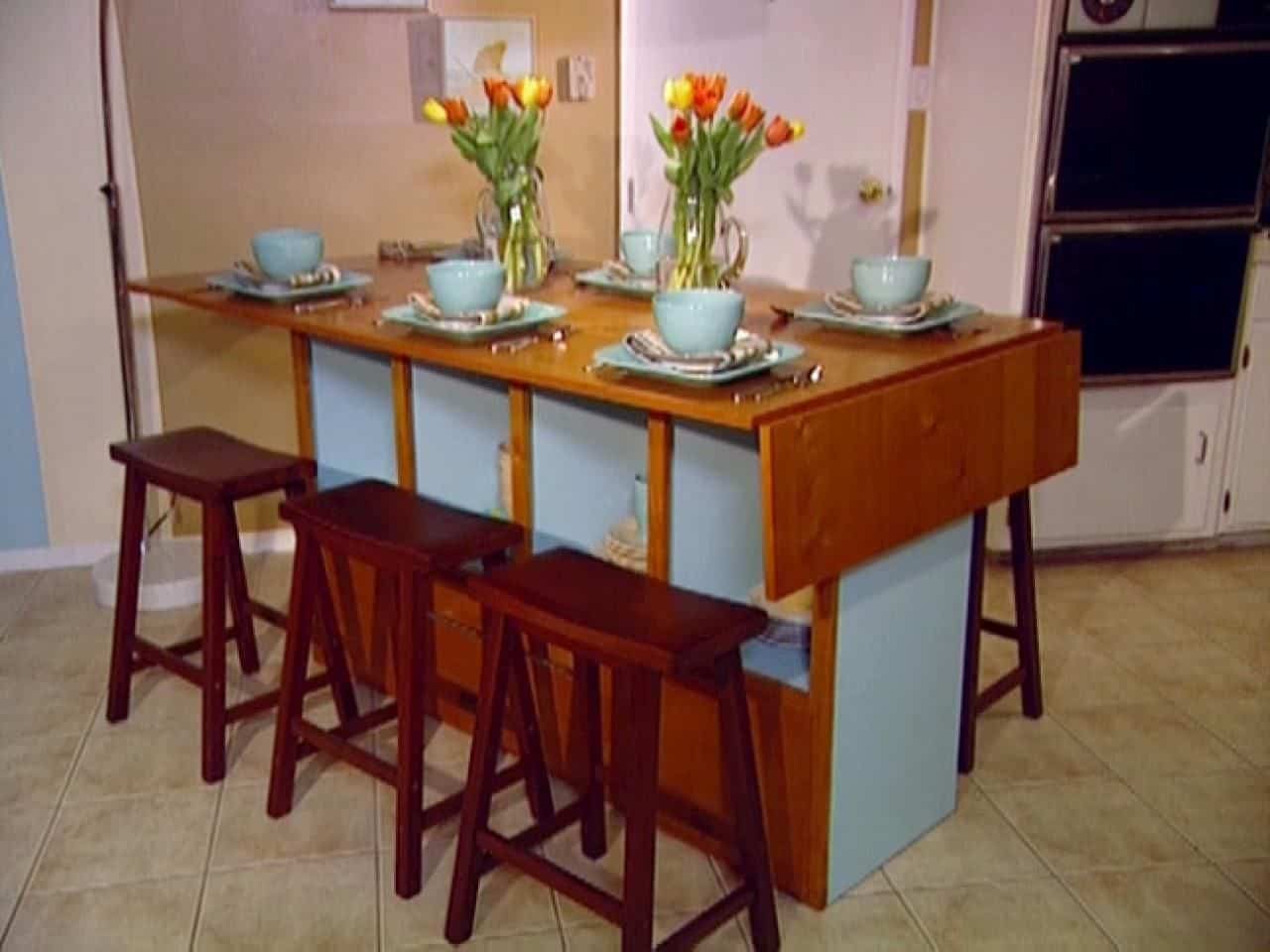 To make a proper kitchen table, you don't need to spend much money. For a start, you can try painting your existing table in a new color. If you don't have the time or patience for that, then you could try simply sanding down the surface and staining it in a new shade.
Alternatively, if you want to add a bit of extra storage to your kitchen, then you could build a simple shelves unit underneath your table. You could also use this space to store cookbooks or other kitchen essentials. And if you really want to go all out, then you could even build a complete kitchen island using reclaimed wood. 
Cover The Top With The Glass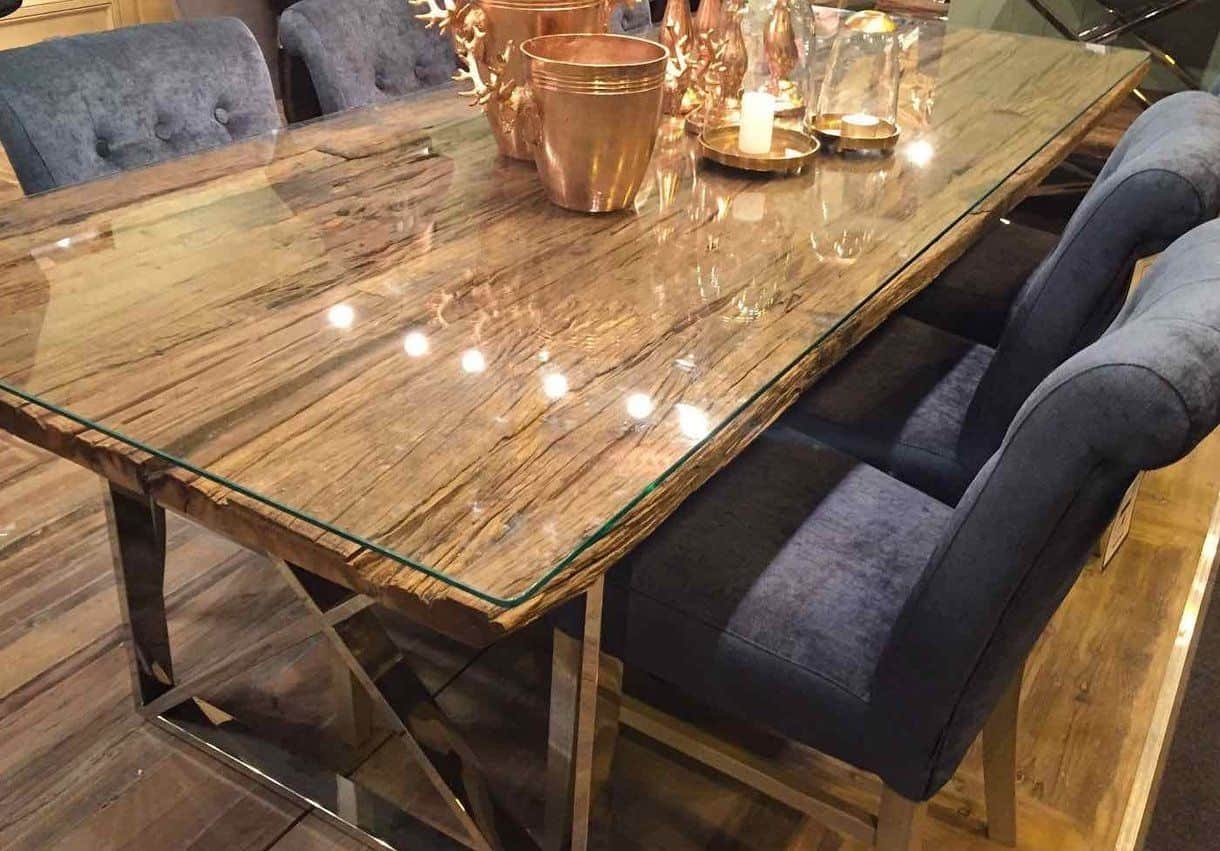 Consider creating your own kitchen table if you're looking for a sleek, minimalist look. Start by choosing a material that will complement your existing decor, such as glass or metal. Then, select a simple design that will allow the materials to shine.
For added interest, consider incorporating unique details, expose the natural texture and pattern of the wood. By taking the time to DIY your kitchen table, you can create a stylish and functional focal point for your home.
The Hairpin Legs Table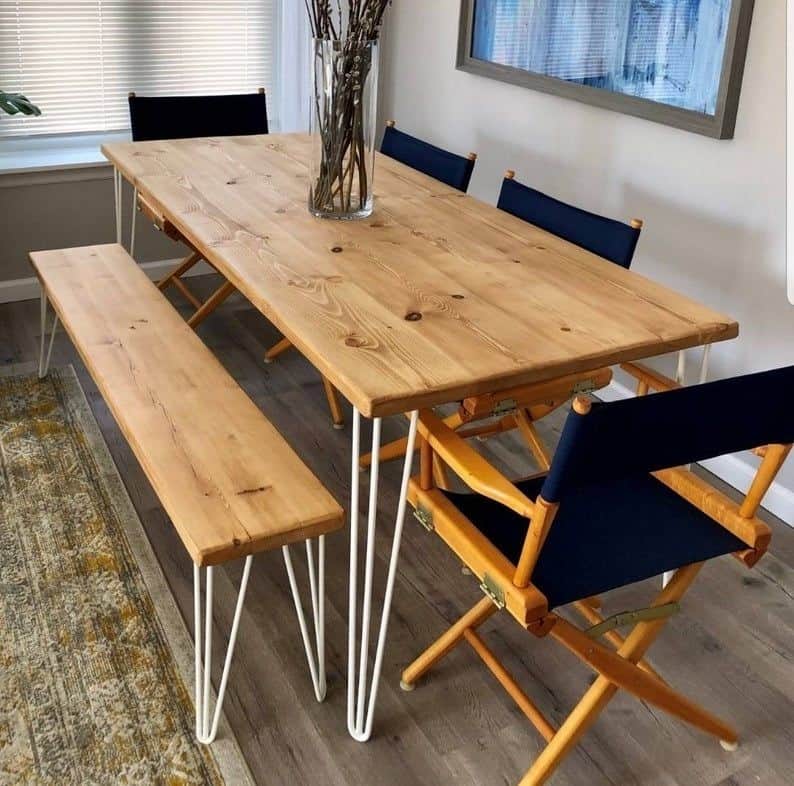 It is not a big deal to create an effortless kitchen table. You can use old materials. If you want to make it more stable, then use a wooden board as the base. Make sure that the surface is even and sand it down if necessary. Next, take four hairpin legs and screw them into the board. Once everything is screwed in tightly, your table is complete.
You can style this table any way you want. Add a plant or vase in the middle for decoration, or keep it bare and simple. This project is cheap, easy, and doesn't take very long to complete. So if you need a quick and easy solution for a kitchen table, try this out.
Industrial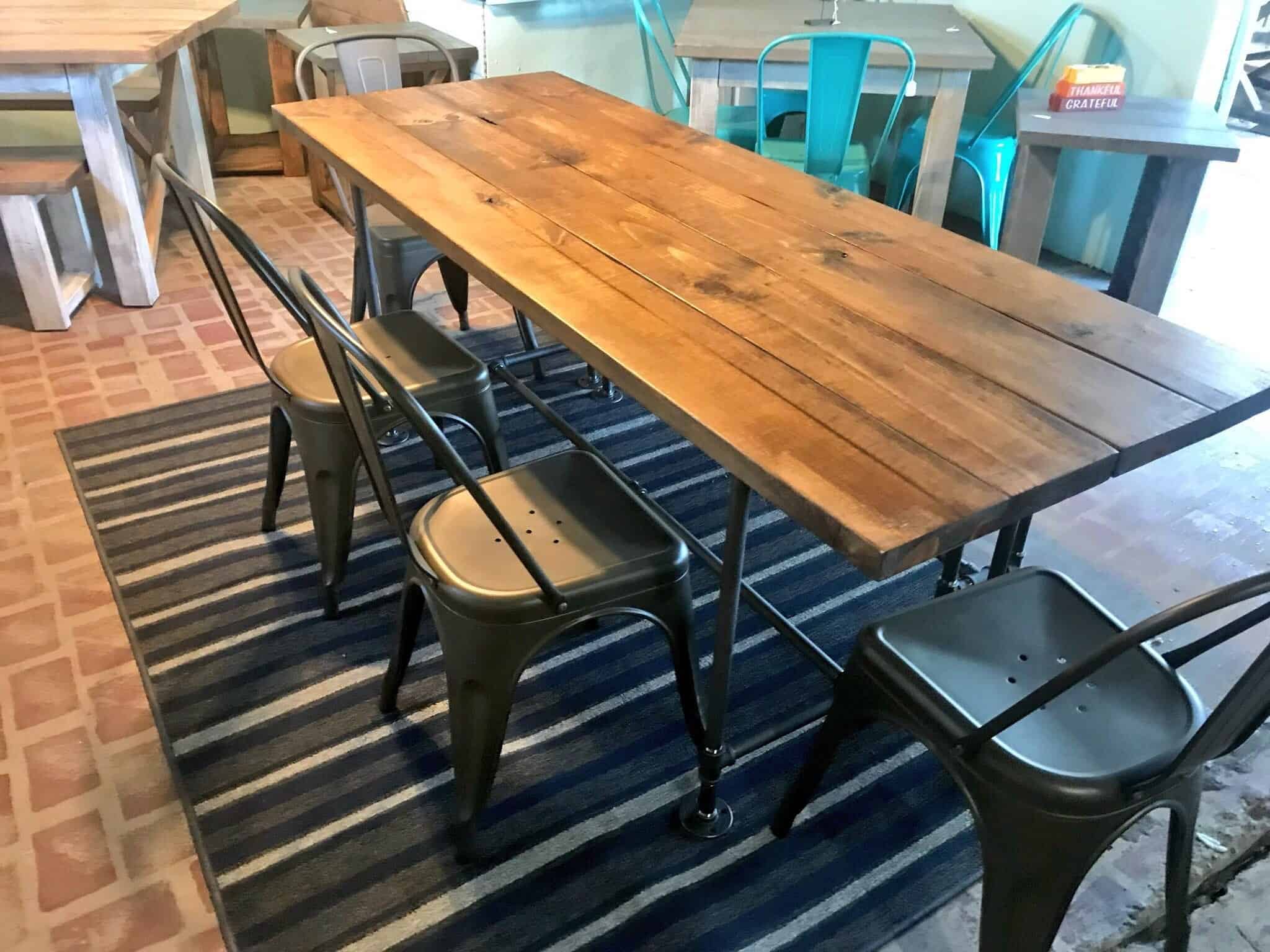 The beauty of industrial style will be such a great addition to your kitchen. It has a timeless look that can be easily incorporated into any kitchen design. It is simply made from the following materials:
A sturdy metal frame

A thick wooden top

Heavy duty casters
This table is perfect for those who love to entertain. It can easily accommodate large gatherings and the wheels make it easy to move around. This table will be a beautiful addition to your kitchen.
Small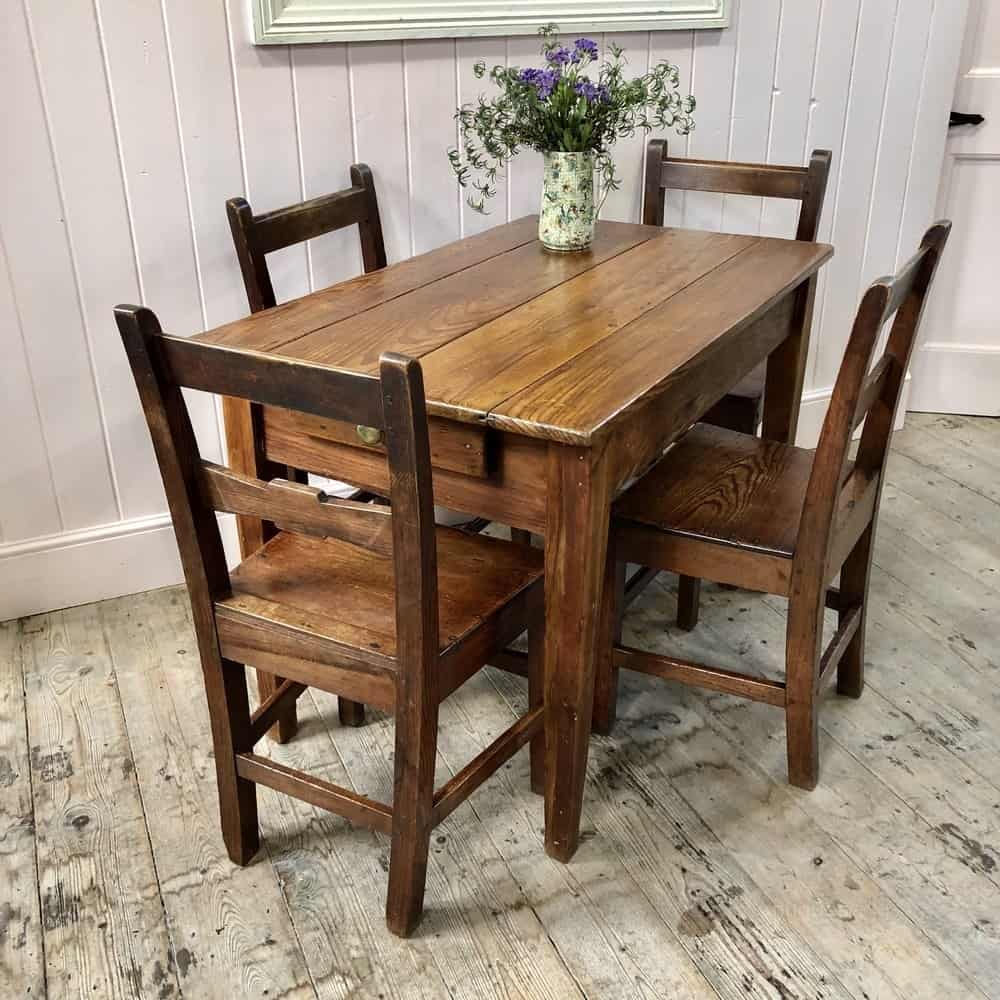 When you don't have any spacious area or just simply want to keep the kitchen looks bigger, then this DIY table must be the best option. The sleek and simple design will save a lot of space while adding a touch of style to your kitchen.
This small kitchen table is perfect for those who live in an apartment or have a small space. The table can seat up to four people, making it perfect for families or couples.
Be Up-To-Date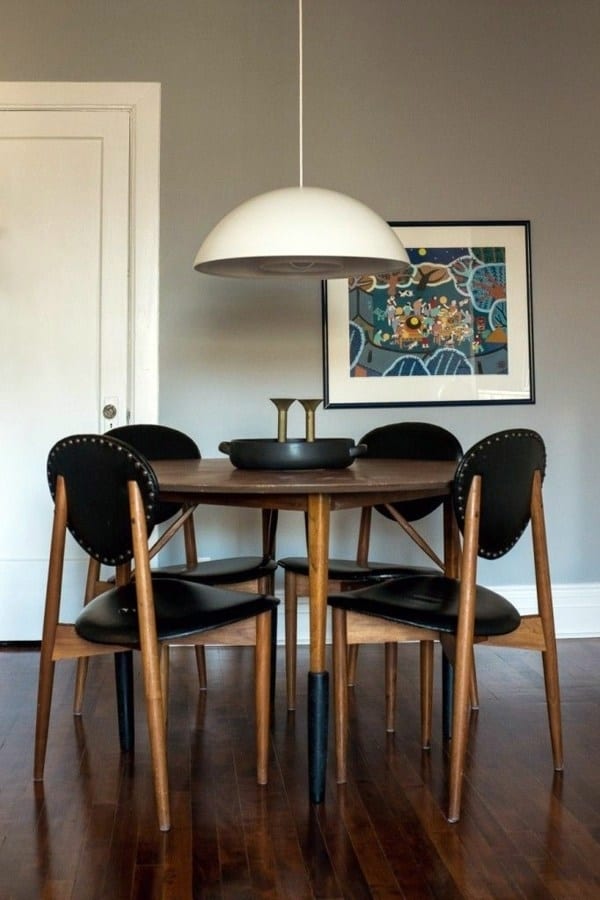 When talking about modern style, it can be beautifully applied to the kitchen table. A modern kitchen table will usually be made out of glass or metal, and will have a sleek design. Still, it can be made out of wood material.
The legs of the table are often thin and elegant, which gives the table a light and airy feel. The tabletop is usually clear, so that it does not take away from the rest of the kitchen.
A modern kitchen table is the perfect addition to any kind of kitchen. You can play with the finishing or the shape of the table as you wish to make a modern table.
Contemporary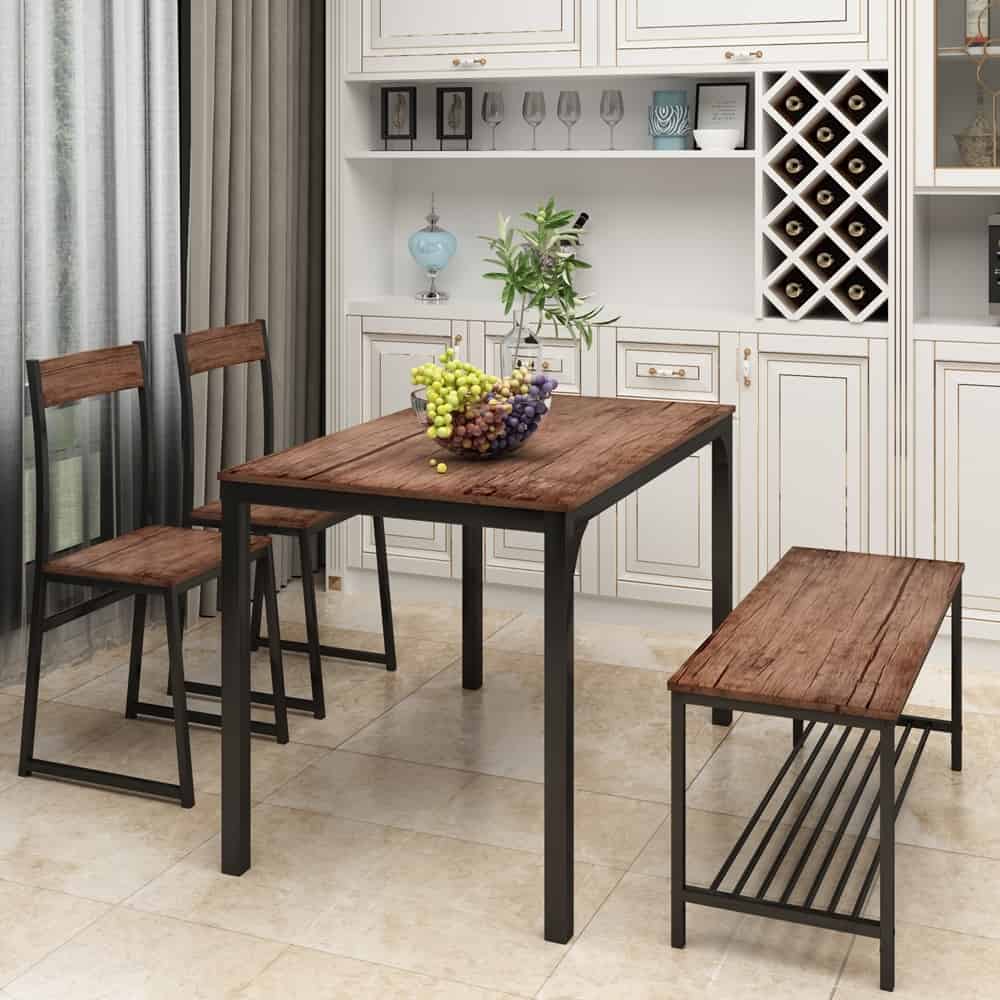 This sleek and modern table is perfect for a small kitchen or dining area. The simple design means it won't take up too much space, but it's still big enough to seat four people comfortably. And the best part is that it's easy to make! You'll just need a few pieces of wood, some screws, and a bit of elbow grease.
You'll be so proud of yourself when you're done and it'll be the perfect addition to your home. Don't wait any longer. Get started today.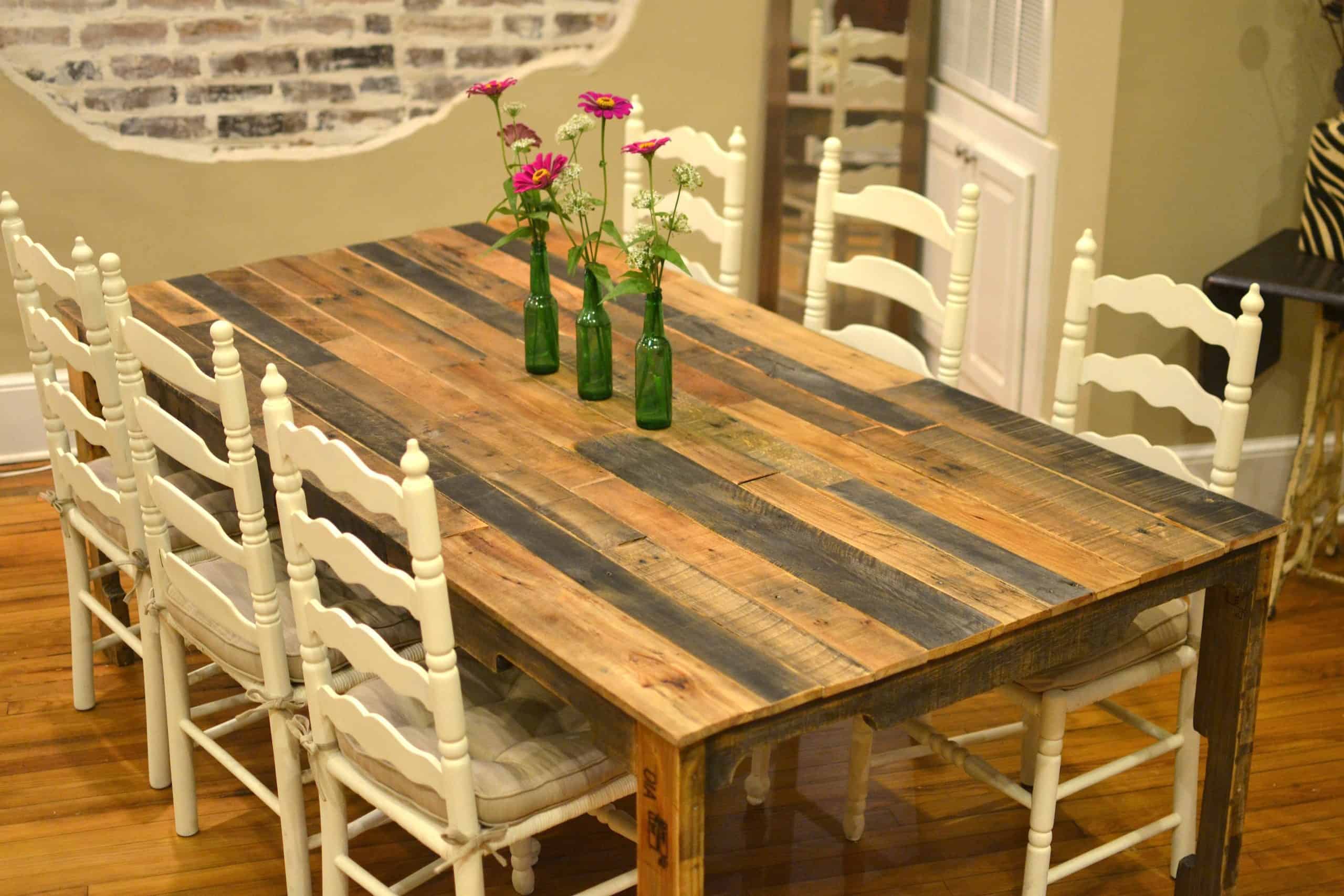 The DIY farmhouse dining table is typically made from wood, which gives them a warm, rustic look. But you don't have to use traditional lumber; recycled wood pallets make great substitutes. And for a truly unique table, consider using reclaimed barn wood or floorboards from an old house.
If you're handy with tools and have some basic woodworking skills, however, there's no need to break the bank.
With a little time and effort, you can build an attractive DIY farmhouse table that will become the centerpiece of your home. Once you have your wood, the next step is to choose a design.
The X-Legs Installation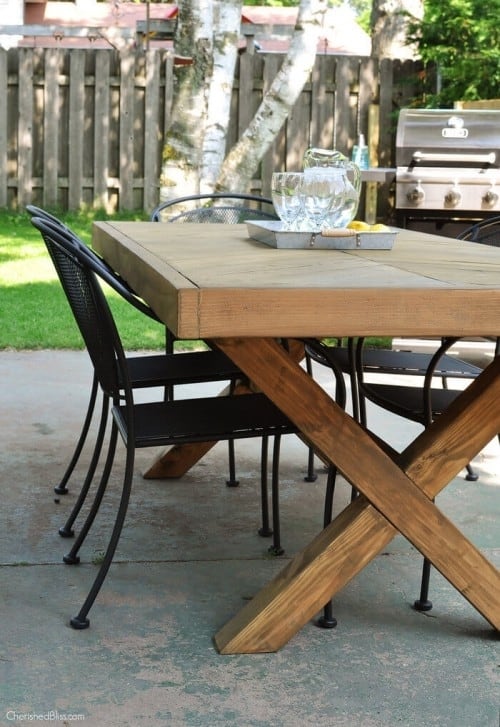 One of the most popular trends in home decor right now is the X-Leg kitchen table. These tables are stylish and modern, but they also offer a number of practical benefits. The biggest advantages of this table leg is that it is extremely stable.
Because the legs are positioned at the corners of the table, there is no risk of them wobbling or tipping over. This makes them ideal for families with small children or pets. In addition, X-Leg tables are very versatile and can be adapted to fit almost any style of kitchen.
Whether you want a rustic farmhouse style table or a sleek and modern dining room table, you can achieve the look with an X-Leg table.
Make Use Of The Old Door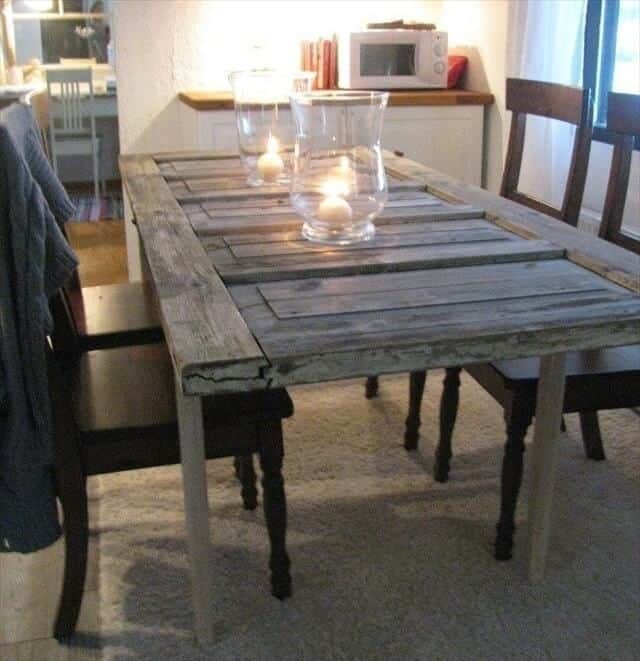 A rustic kitchen table is the perfect way to bring the beauty of nature into your home. There's something about the rough-hewn wood and simple design that just screams "homey". And best of all, it's easy to find affordable DIY kitchen table ideas that will fit any budget.
You can repurpose an old door into a stunning rustic table. Get the materials you will need and get ready to make yours:
An old door

saw

Drill

Plywood

Sandpaper

or
Repurposed Pallets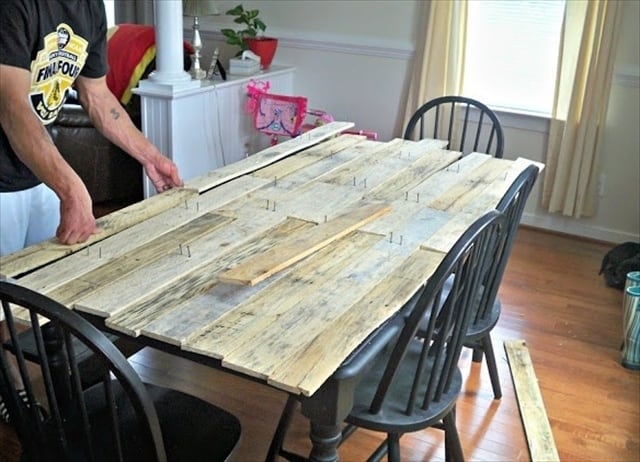 The great way to save money on kitchen furnishings is to DIY your own table. Pallets are a great material to use for this purpose, as they are sturdy and easy to work with. To make a pallet kitchen table, first sand down the pallet and then stain or paint it to your desired color.
Once the pallet is dry, attach four legs to the corners using screws or nails.
For a finishing touch, add some decorative trim around the edges of the table. You can create a unique and stylish kitchen table that will save you money and look great in your home.
A La Carte Farmhouse Round Dining Table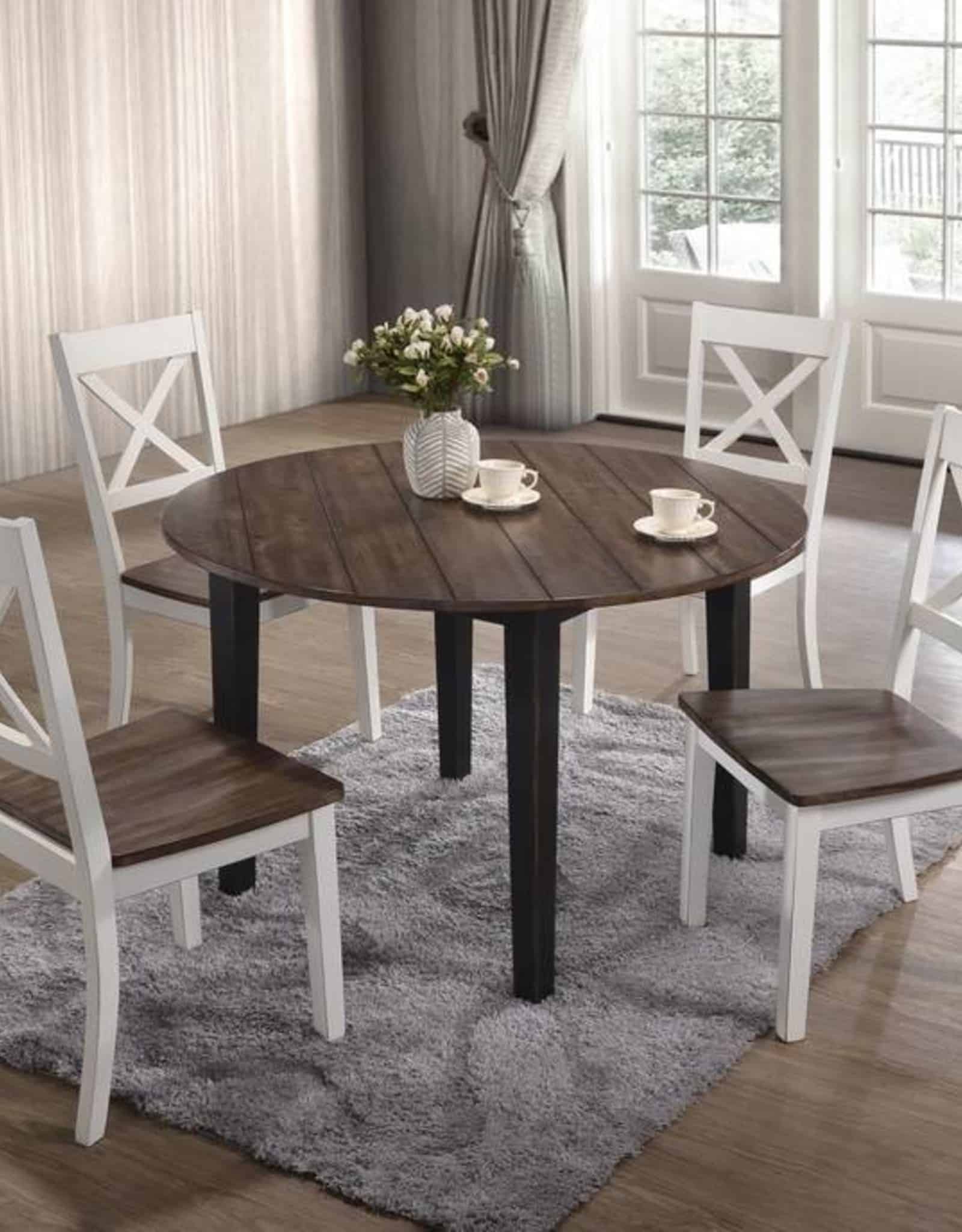 A rounded kitchen table provides a versatile space for both dining and working. With its simple design, it can easily be incorporated into any kitchen decor. And with a few DIY hacks, it can be transformed into a stylish and functional piece of furniture.
By adding a few coats, you can create a focal point for your kitchen. Or, if you want to add a bit of storage to your space, you can attach some baskets or bins underneath the table. Whether you're looking for a way to update your kitchen or simply need more work surface, the round tables are a great option.
DIY Octagon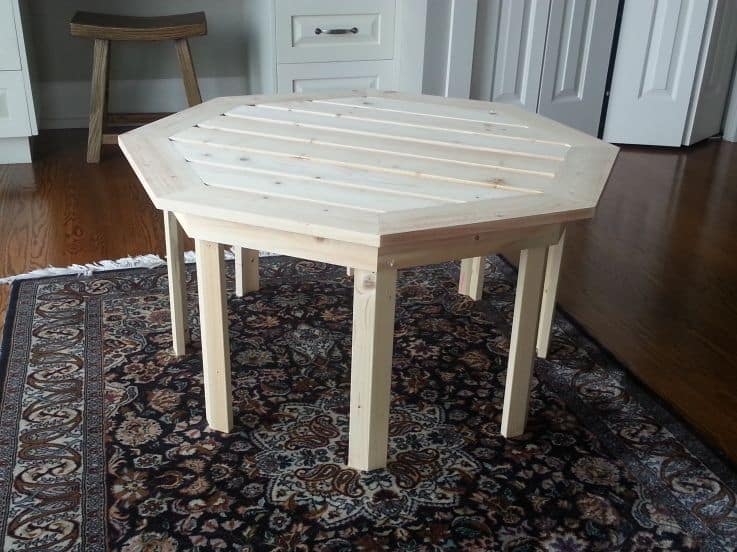 Having a boring old kitchen table is no fun. But who has the time or money to go out and buy a new one?
Fortunately, there are plenty of ways to spruce up your existing table. One simple and stylish option is to build an octagon-shaped table top. This can be done with some basic woodworking skills and a few tools.
Once you have the octagon shape cut out, you can sand it down, paint it, or stain it to match your existing kitchen decor. Then just attach it to your old table base and you're all set. With this easy upgrade, you'll have a whole new look for your kitchen table without breaking the bank.
White Farmhouse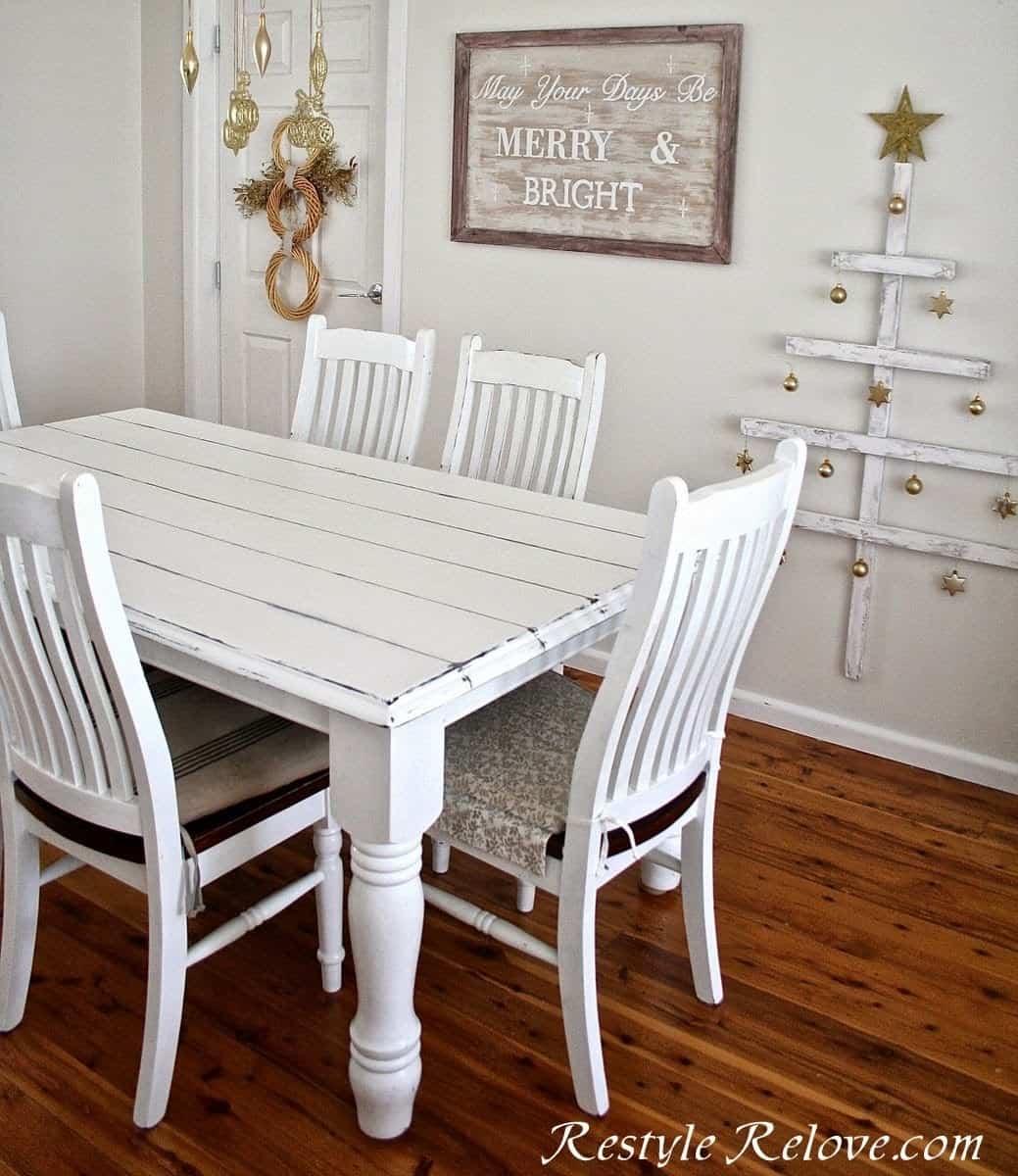 Building your own table can be a fun and satisfying project. In this tutorial, we'll show you how to build a beautiful wood kitchen table.
The first step is to choose the right wood for your table. We recommend using pine or cedar, as they're both durable and easy to work with.
Once you've selected your wood, cut it to size using a saw. Next, sand the wood smooth and stain or paint it to your desired finish.
Then, build the frame of your table using 2x4s or other lumber. To finish off your table, add a tabletop to your choice.
Finally, add some legs to your table and Voila! You've now built a beautiful and functional kitchen table.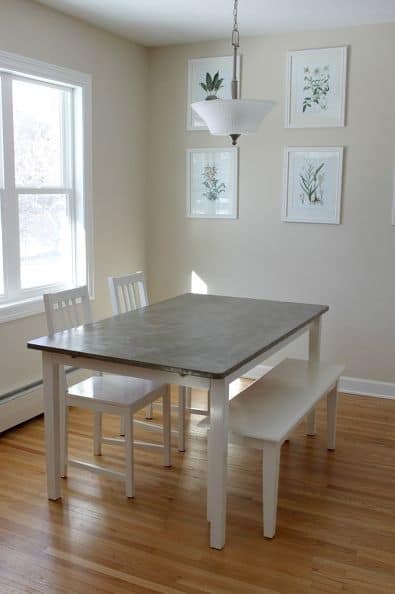 When it comes to concrete, most people think of drab gray sidewalks or industrial buildings. But concrete can actually be quite versatile, as evidenced by this DIY kitchen table.
To build this unique table, start with a sheet of 1/2-inch plywood cut to size. Then, use a jigsaw to cut out a rectangular hole in the center of the plywood. Next, mix up a batch of concrete and pour it into the hole, using a trowel to smooth it out.
Once the concrete has hardened, sand down any rough edges and apply a sealer to protect it from stains. For a final touch, add some legs to the table (this can be as simple as screwing in some furniture feet). With its clean lines and modern look, this concrete kitchen table is sure to be a conversation starter.
Also, it would be perfect if you are planning to create an outdoor dining table.
An Elegant Touch Of The Granite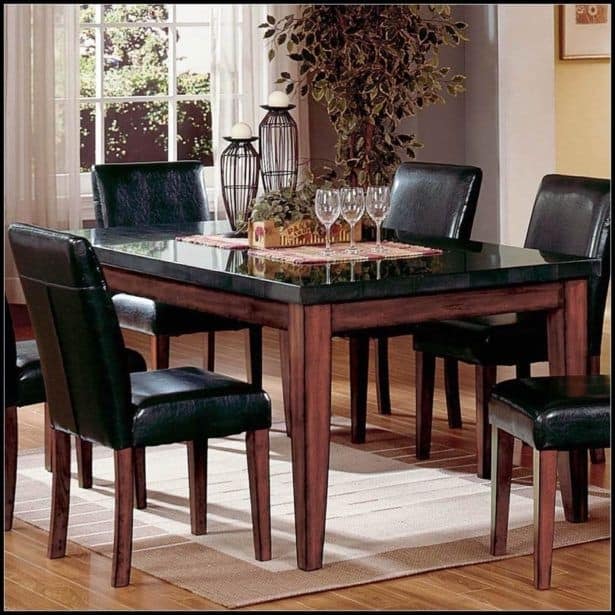 A granite kitchen table can give your kitchen an elegant flair. You can create one yourself by following these simple steps. First, measure the dimensions of your kitchen table and cut a piece of granite to fit.
Next, use an adhesive to attach the granite to the table. Be sure to spread the adhesive evenly to avoid any bubbling or unevenness. Once the granite is in place, allow it to dry completely before using the table. You can then add chairs and enjoy your new kitchen table.
How To Make Marble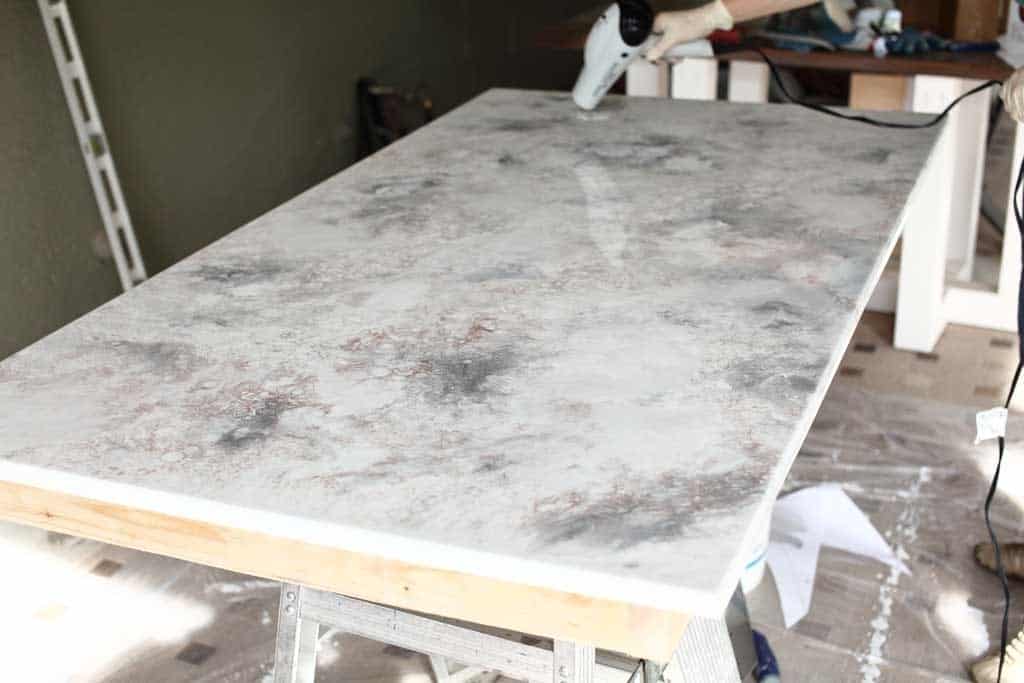 While marble can be expensive, it's worth the investment for its durability and timeless beauty. Plus, you can easily find ways to incorporate marble into your DIY kitchen table project.
Try using marble tiles as a tabletop surface or inserting a marble slab into the center of a wooden table.You can create a one-of-a-kind kitchen table that will impress your guests and make mealtime feel even more special.
Add A Modern Hint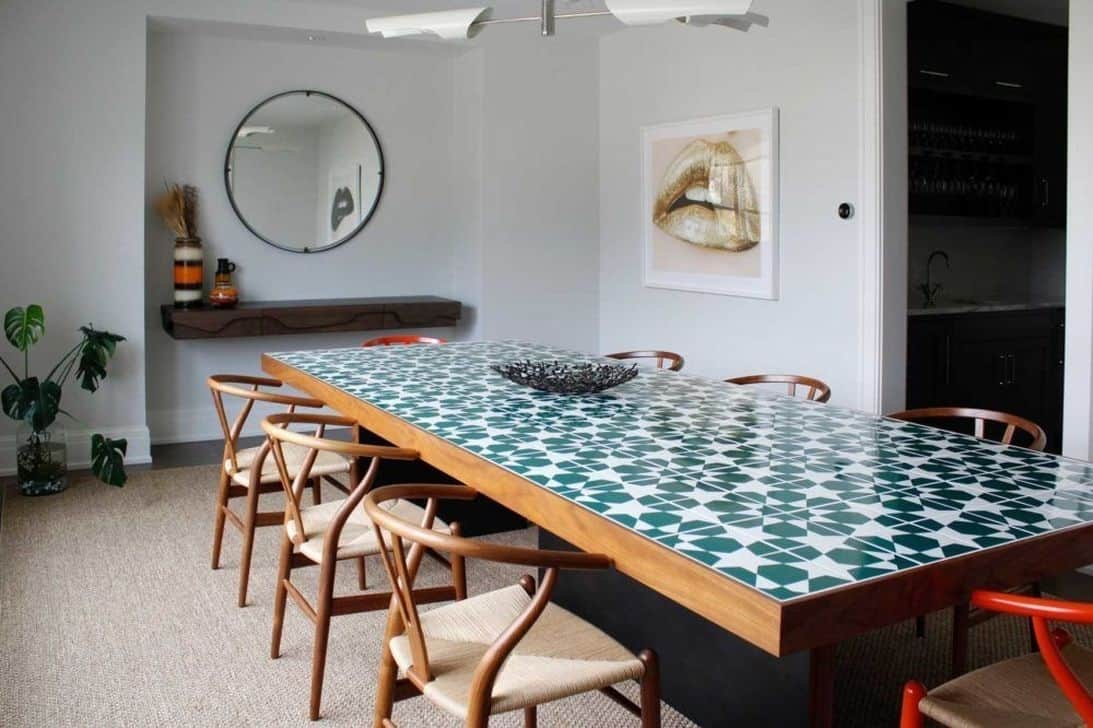 It's important to choose a table that is both durable and easy to clean. A tile kitchen table is a great option for busy families. The tile surface is easy to wipe down, and the smooth surface is ideal for rolling out dough or working on craft projects.
Plus, the tile top is heat resistant, so you can set down hot pots without worrying about damaging the table. It would be such a brilliant option if you're looking for a kitchen table that will stand up to everyday wear and tear.
A tile top table is a great choice. On the other side, this can be a weather-friendly furniture. You can serve your meal on this patio table where you can enjoy the summer vibe.
Expose The Natural Texture And Shape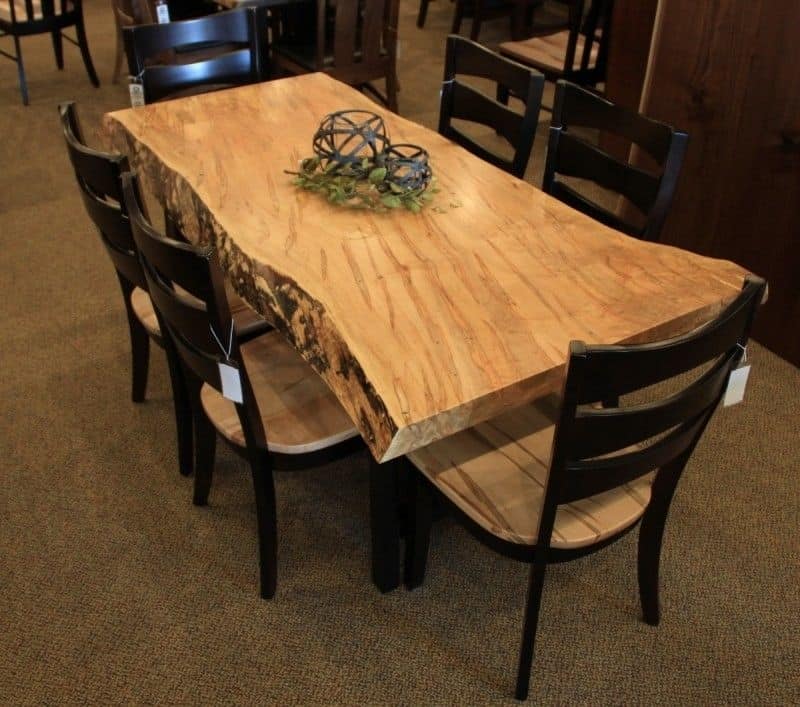 For a rustic yet modern look, consider exposing the natural shape of the wood in your kitchen table. This can be a great DIY project, and it will make a statement to the rest of your kitchen.
To do this, start by finding a slab of wood that you like. You can either use a piece of reclaimed wood or purchase a new piece from a lumberyard. Once you have your wood, sand it down until it is smooth. Then, apply for a finish of your choice. For a more natural look, you can simply use a clear sealant.
If you want to add some color, consider staining or painting the wood. Once the finish is dry, place the slab on two sawhorses or trestles and enjoy your new kitchen table.
There are many different options when it comes to kitchen tables, and each has its own unique benefits.
Whether you choose a concrete table, a granite table, or a wooden slab table, you're sure to love the results. So get creative and start building your perfect kitchen table today.