Since the countertop takes part in making the look of the overall kitchen, it is time to sit back and think about how to choose the best countertop for your kitchen. If you want the elegance of the natural look, consider the butcher block countertop.
Get the best DIY butcher block countertop projects that would be the answer to your needs. Not only offers you the beauty of natural look, it also challenges your woodworking skills, which even boost your skills to the next level. With the brief description and tutorial on how to make the DIY butcher block countertop, your job would be much easier.
Let's take a look at the list of the ideas down below!
1. DIY Butcher Block Countertop Projects: Simple Project for Beginners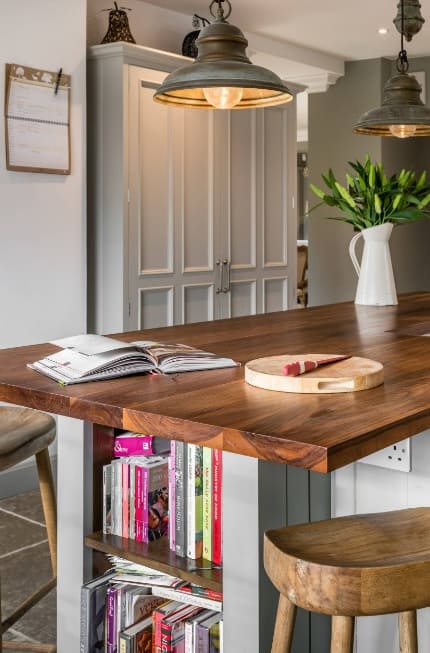 It is not a big deal to make your own butcher block countertop even if you are a beginner in woodworking skills.
With the limited materials and skills you have, you can start making your own butcher block countertop with the following material list below.
Material list:
2 Pieces prefabricated butcher block countertop
Titebond III food safe wood glue
Pipe Clamps
Router
Router Bit
Instructions:
First, measure and cut the top into the size you desire.
Second, glue the top together and keep the whole thing together using giant pipe clamps.
Next, install it onto base cabinets or legs as you wish.
Last, polish it with the stain to highlight the natural wood.
2. The Affordable project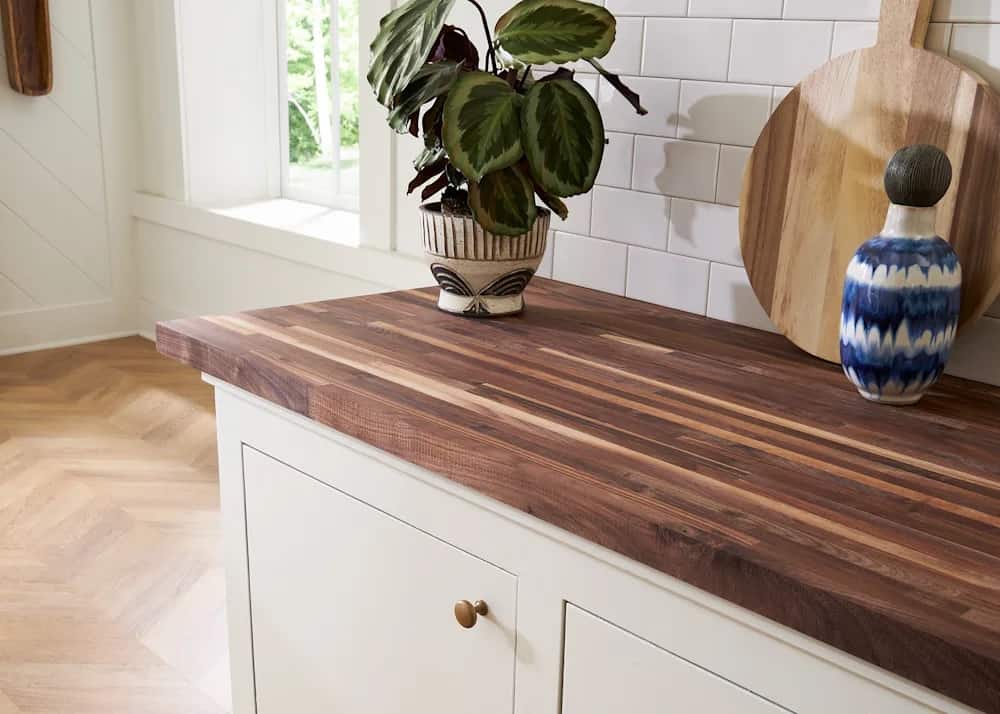 With just a few simple steps, you can transform any countertop into something that looks expensive without breaking the bank. All you need is the right materials and some basic woodworking skills, and before you know it, you'll have a beautiful, custom butcher block countertop that will last for years!
Plus, with its natural beauty and timelessness, it's sure to stay in style no matter what kind of trends come and go. So fetch yourself some supplies and get ready to spruce up your cooking space with an affordable, yet striking addition today.
3. DIY Small Butcher Block Countertop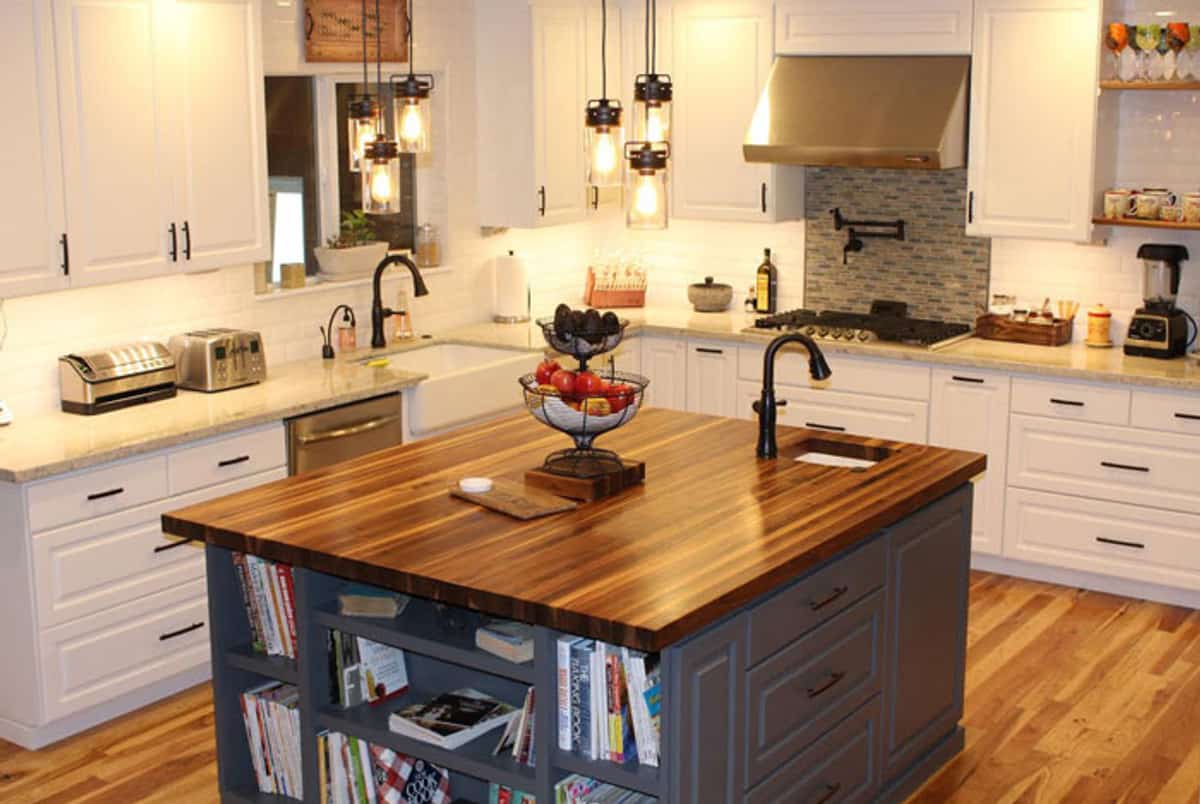 You can now take pride in making your own works of art with a beautiful and practical small butcher block countertop. Not only is it easy to install, but with the right materials and tools, you can make the perfect size and shape of countertop for any space.
A butcher block countertop adds an instant artisan touch to your kitchen or workspace, while typically being much more cost-efficient than purchasing a custom made one. To make installation easier, be sure to select pre-finished wood and use a water-resistant glue so that there won't be any problems down the line.
4. Modernize the Kitchen with Butcher Block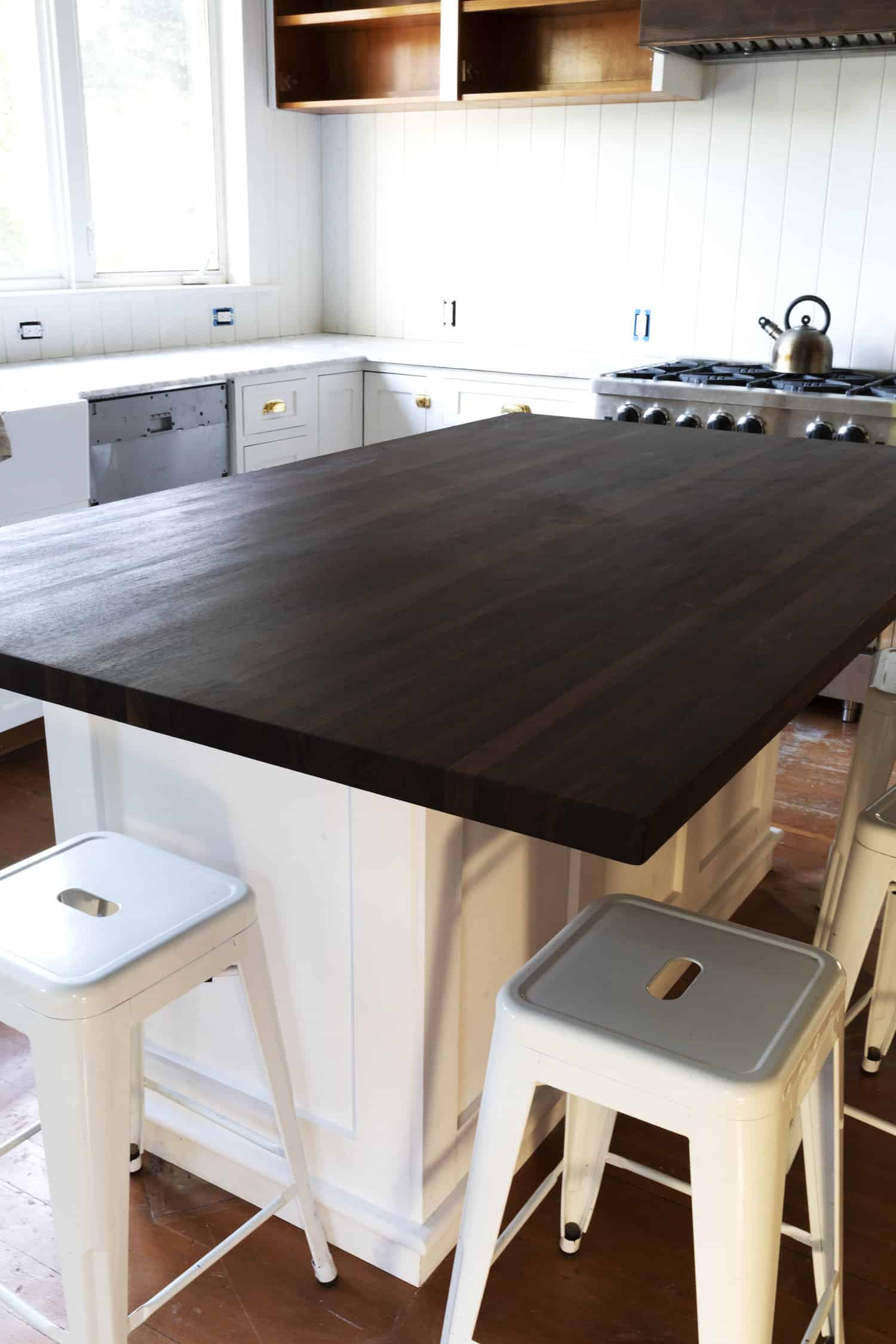 A butcher block project is one of the most straightforward and inexpensive options for modernizing your kitchen. They make for a low-cost, DIY project that can add beautiful character and charm to any space. From cutting boards, shelving, and more, these modern wood pieces offer plenty of design possibilities to fit both modern and traditional looks.
Refinishing options include staining or oiling the blocks to suit any color palette you may have in mind. Plus, they are easy to install provided you have some basic tools handy.
5. How to Make Butcher Block Countertop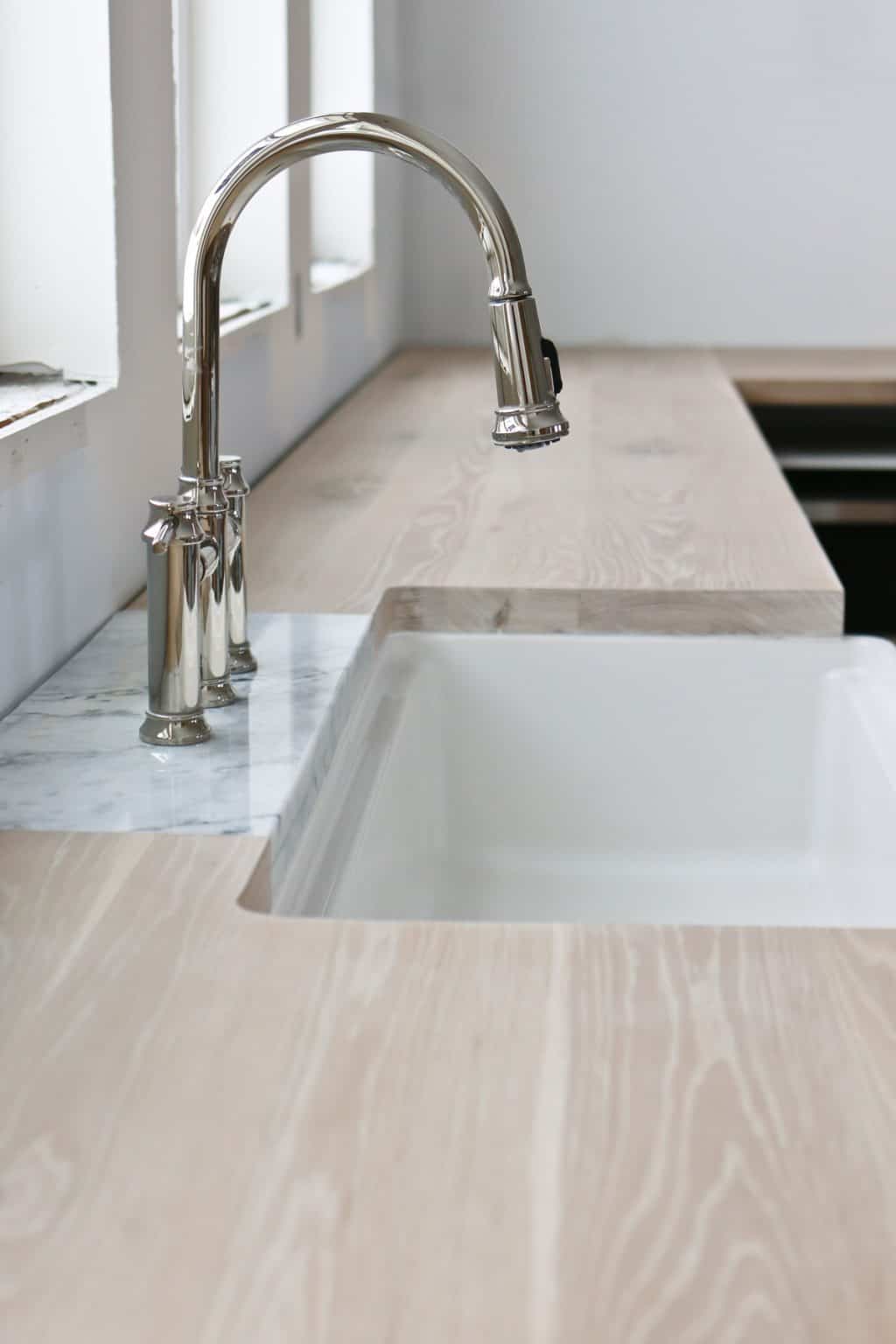 A DIY butcher block countertop project may be just what you're looking for. Butcher block countertops are easy to install, and offer a great look for any type of kitchen. With some basic tools, lumber, and a few other supplies, you can have butcher block countertops in no time.
From staining the wood to applying the finish sealer, there are many steps involved that can help make your countertops look beautiful while also protecting them from damage.
6. Get the Style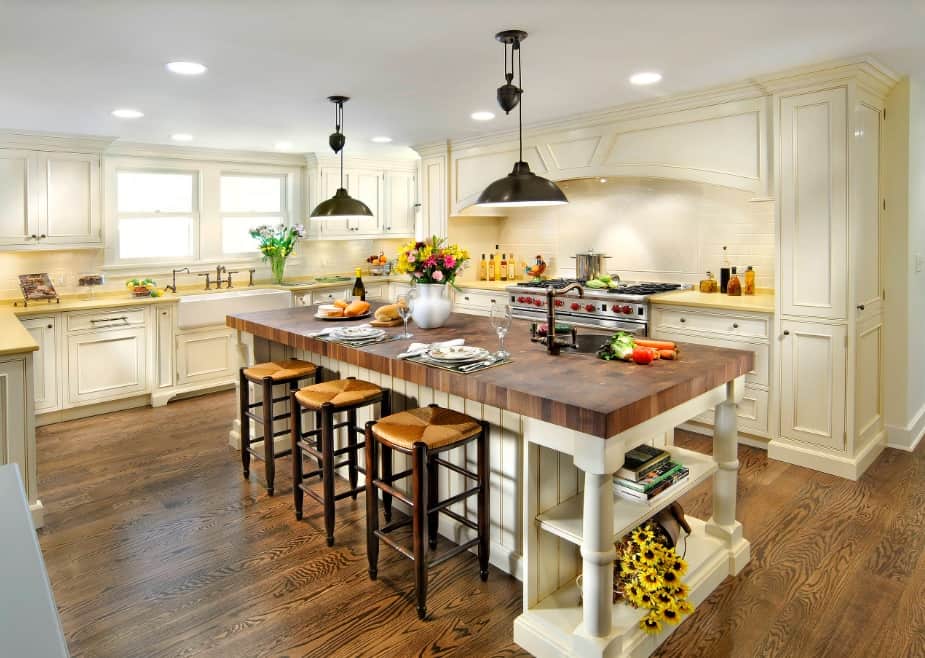 It's an incredibly popular and stylish option that gives your space a cozy feel; plus, it can give you peace of mind that your surfaces are built with the highest quality materials.
The best part about butcher block countertops is that they are generally easy to install, and you would be amazed at the transformation in the look and feel of your kitchen or bar area once you've completed your project.
7. Make Use of the Scrap Wood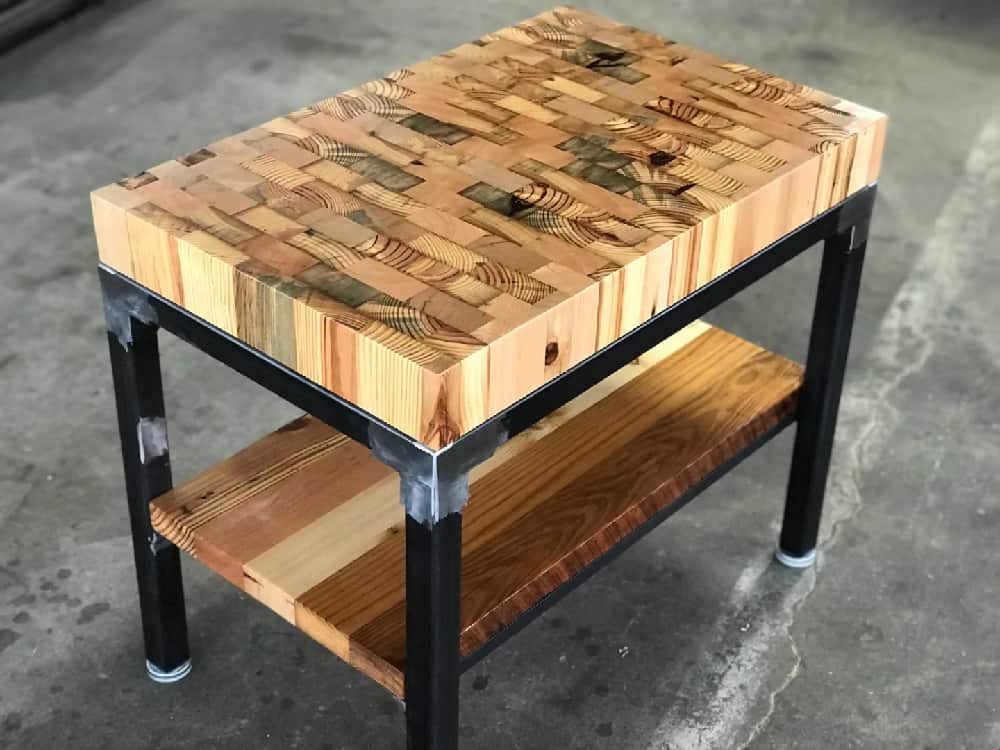 Source: workshopdetroit.com
Rather than sending the leftover pieces to the landfill, you can easily turn them into stunning home decor for family and friends. With just a few simple tools, such as sandpaper, a saw, and plans for pre-cut pieces, you can quickly craft unique kitchen islands or seating benches that are both practical and attractive.
Not only are these projects eco-friendly and easy to do with DIY instructions, but they also give any room an upscale look with little cost in materials and time.
8. Butcher Block Countertop from Reclaimed Wood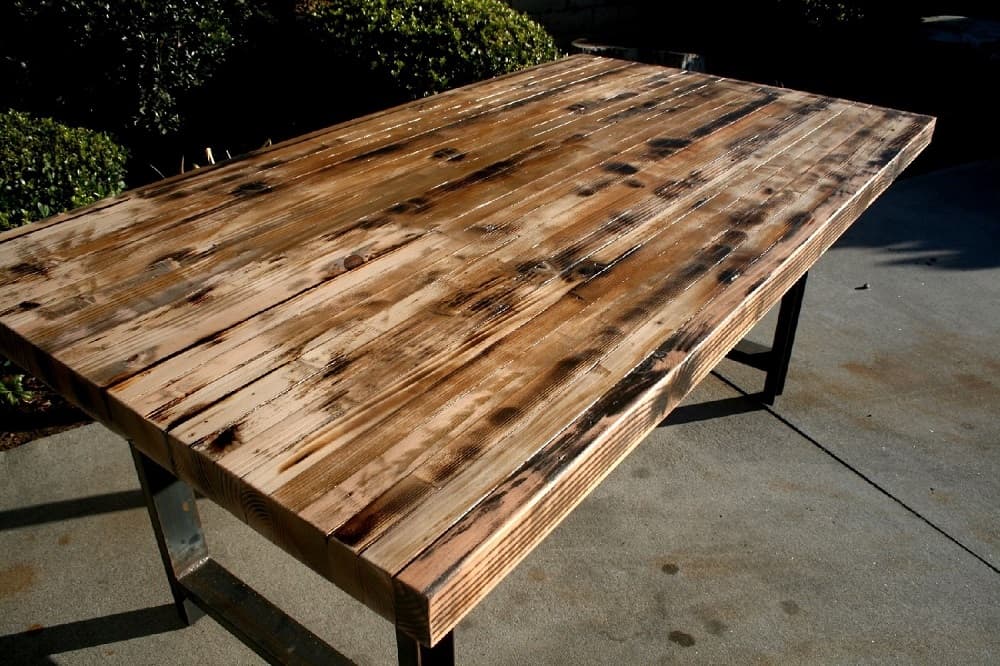 Reclaimed wood is an excellent material choice for this unique endeavor as it adds both texture and character to any kitchen which makes each project truly one of a kind.
Creating your own butcher block countertop also offers endless possibilities when it comes to customization, allowing you to create a look that is not only beautiful but also perfectly tailored to your taste and style. As a bonus, reclaimed wood provides an eco-friendly alternative that allows you to repurpose existing materials rather than purchasing new ones.
9. Illuminated Butcher Block Countertop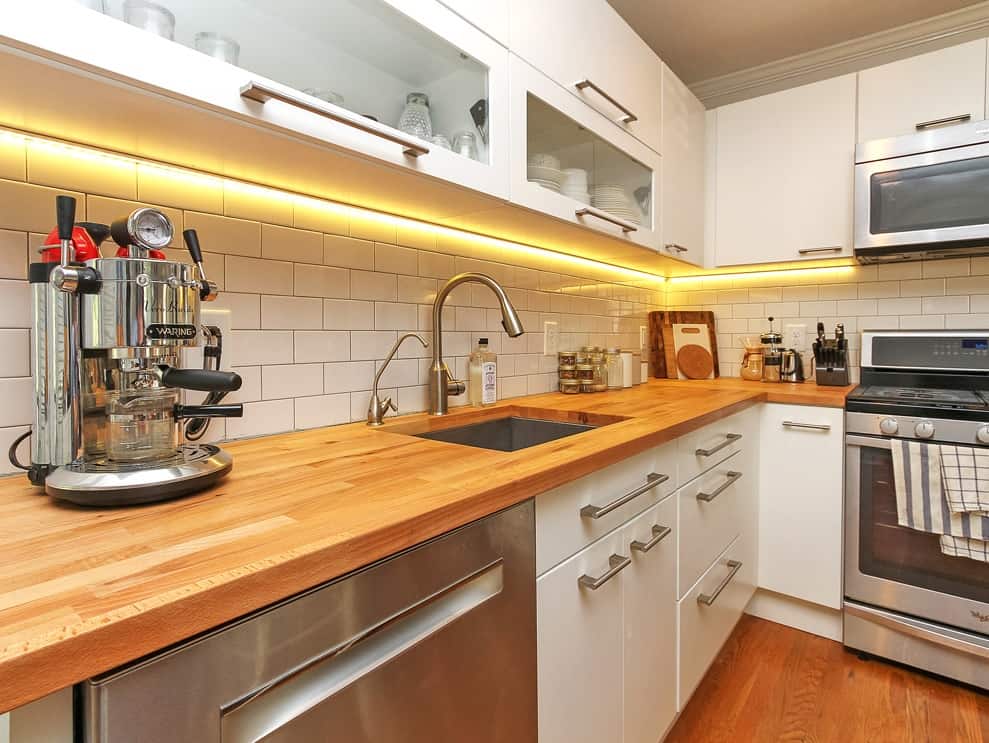 This easy DIY project is perfect for getting creative in the kitchen and adding some style to your setup. All you need is some butcher block, a rolling shelf, lighting fixtures, and a power drill. Configure the shelf to fit your countertop and the fixtures correctly, then use the drill to put them in place.
Once everything is installed, you'll have an illuminated butcher block countertop that will draw attention from everyone who steps into your kitchen.
10. Make your Kitchen Feel Bright and Airy with Butcher Block Countertop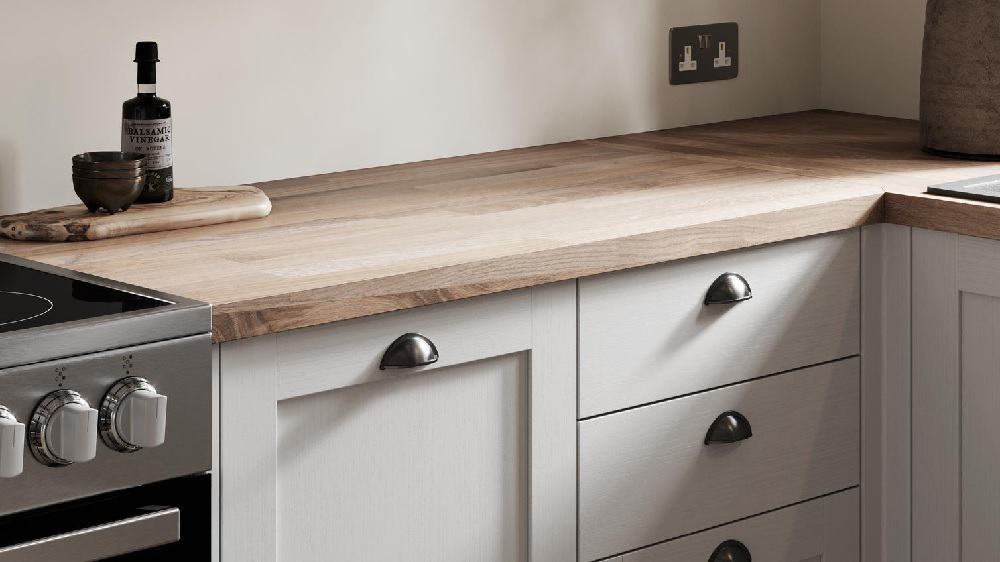 A bright, white butcher block countertop adds a luxurious touch to any kitchen and is easy to customize with different finishes.
Start by sanding and oiling the wood, then apply a bright finishing that complements your existing design scheme. If you're looking to get creative with texture in your kitchen, contrast the bright white of the butcher block wood by adding an island with a more natural finish to draw the eye and warm up the space.
11. Get a Unique Look with Reclaimed Wood Countertops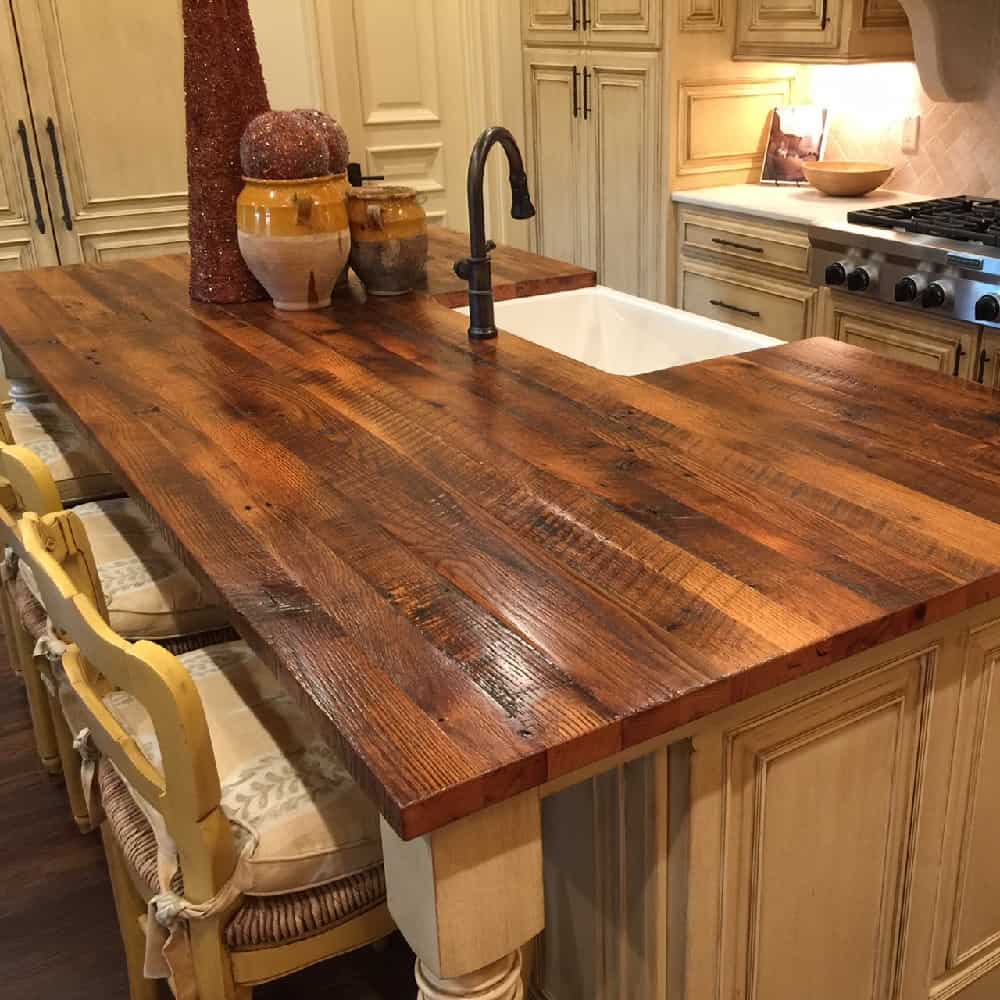 Get that unique look without breaking the bank by doing a DIY butcher block countertop project with reclaimed wood countertops.
Reclaimed wood is unique and has a rustic charm that you just can't get with store bought materials; plus, it's much more eco-friendly too. You can pick up wood slabs from specialty stores or antique shops, allowing you to customize your pieces for the perfect look.
12. Refinishing the Old Butcher Block Countertop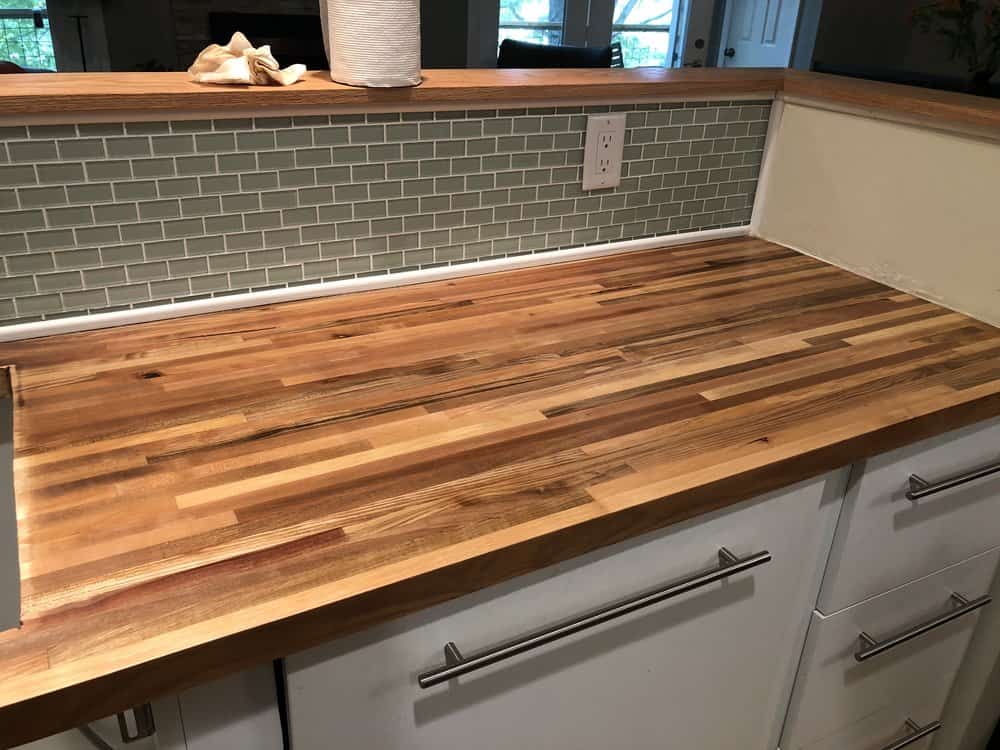 Refinishing an old butcher block countertop can be a fun DIY project that can give any home kitchen a brand-new look.
To begin, sand down the butcher block countertop, making sure to wear protective gear such as goggles and gloves. Once it's been fully sanded, clean the surface of any dust particles using a soft cloth and wood cleaner. Then apply new wood finish of your choosing, such as tung oil or hard-wax oil, coating the surface with even strokes and wiping off any points where there may be an excess buildup.
13. Wooden Table Tops on a Budget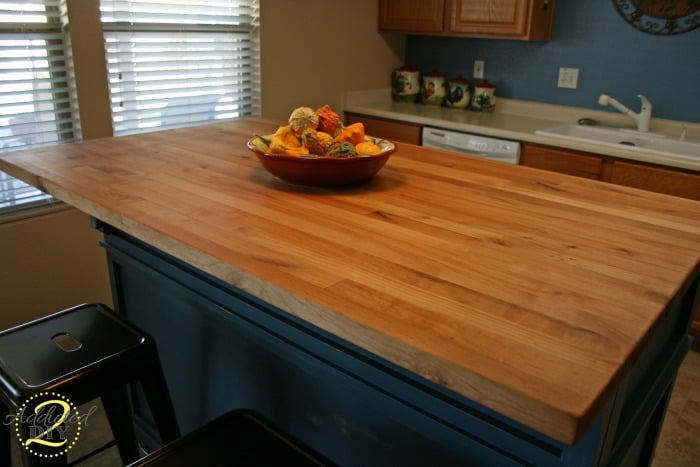 DIY butcher block countertop projects are easy, require minimal tools, and allow you to customize the size of the countertop to fit your space. Not only that, but by using wooden table tops you can add much-needed warmth and texture to any kitchen or dining room.
Wood is also cost effective, which means that you can get the look for much less than other materials such as granite or quartz. Plus, making the countertops yourself ensures that they will be unique, custom pieces made with care and precision.
14. Build a Mobile Kitchen Island with Wheels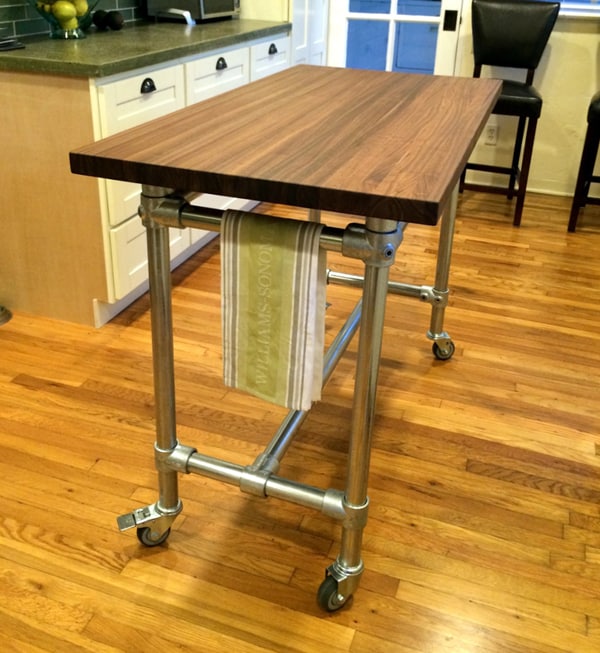 One of the most popular projects is building a mobile kitchen island with wheels that can be wheeled from one place to another as desired. With four lockable wheels, you can easily maneuver it wherever needed.
The beauty of this project is that you can choose the size, color and material for your island, depending on your budget and personal taste. Plus, butcher block countertops offer many benefits such as increased durability, an elegant look that complements modern decor styles and easy maintenance.
15. DIY Reclaimed Wood and Copper Countertops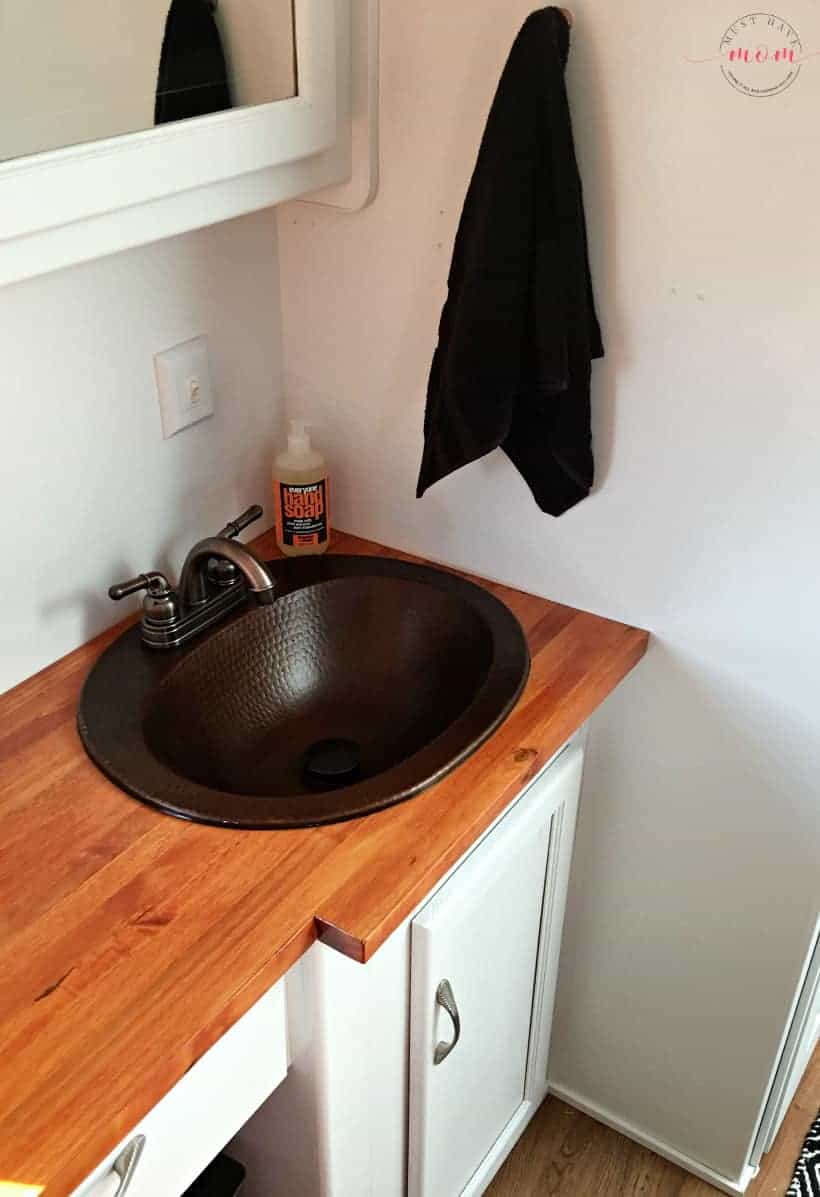 Reclaimed wood brings both texture and charm to the space, while copper adds a modern element with its pleasant sparkle. They offer a rustic yet elegant touch, and best of all, they are surprisingly easy to install.
For those looking for something even more unique, reclaimed wood and copper countertops create an eye-catching design statement. Using salvaged materials like old beams or barnwood transformed into a custom-made butcher block can add warmth and character to the space. When paired with aged copper accents like sink basins or range hoods, they create an industrial yet homey look that can elevate any kitchen.
16. Refinishing the Old Butcher Block Countertop with Modern Design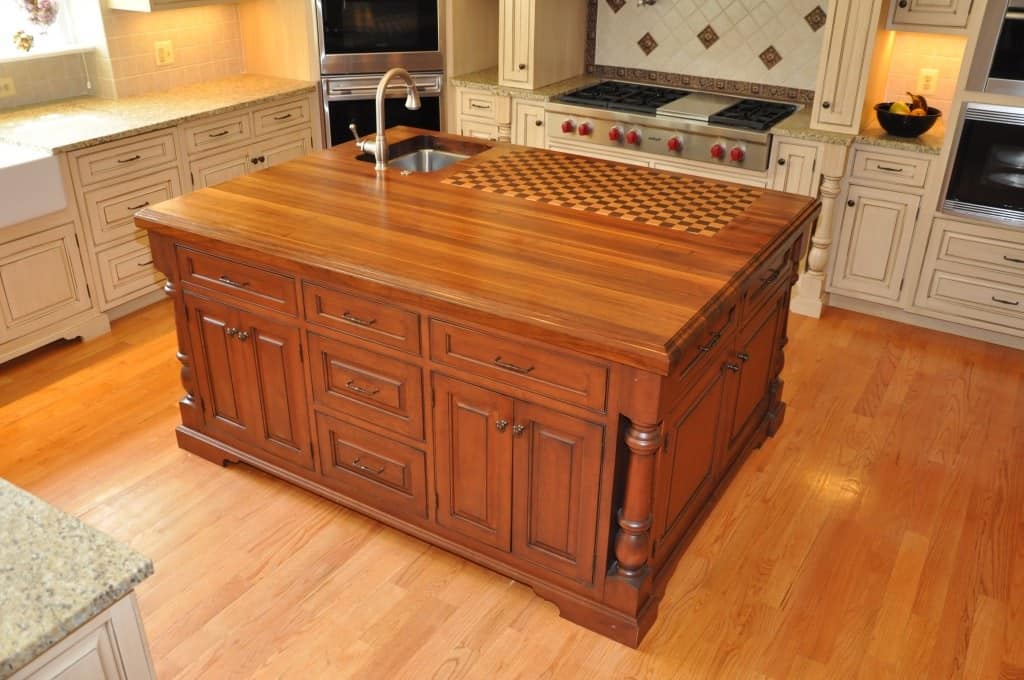 The process of refinishing an old countertop can be broken down into several distinct steps. For best results, start with a good thorough sanding using sandpaper and then apply a coat of wood stain according to manufacturer instructions.
To add detail to your newly refinished project, consider salvaging pieces from thrift stores and vintage finds or go for something more contemporary with textured wallpapers, glass tiles, or any other low cost ideas you come up with.
17. Wooden Island Tops with Metal Accents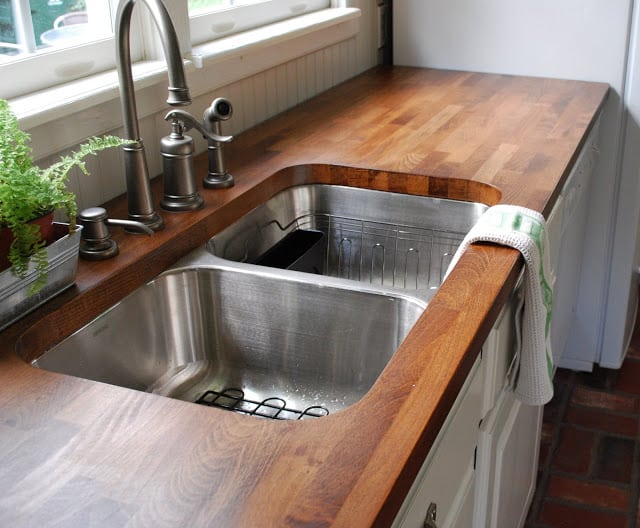 Wooden island tops are eye-catching and timeless, adding warmth to the room with their natural beauty and charm. And when paired with accents of metals like stainless steel, antique copper or bronze, they can really stand out and become an even more unique part of the design.
On the other side, wooden island tops with metal accents perfectly strike the right balance between modern and classic. Plus, they provide a beautiful surface that's durable enough for prepping food and making meals.
18. Wooden Kitchen Islands with LED Lighting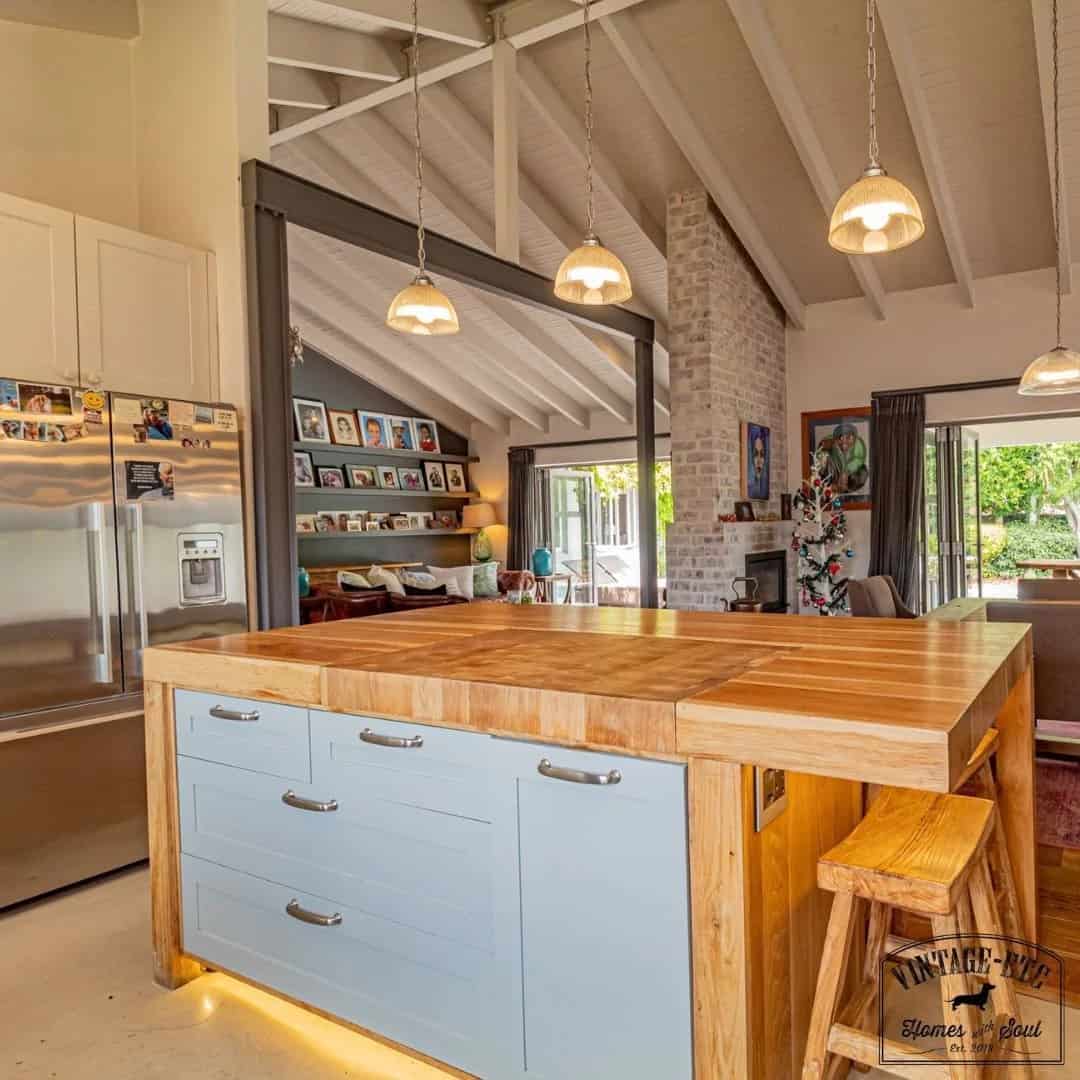 Wooden kitchen islands with LED lighting create a breathtaking focal point, with the soft wood tones of the butcher block providing a beautiful contrast with the blue-white light of the LEDs. The combination of the two creates an inviting atmosphere that encourages family and friends to linger in the kitchen.
The LED lighting also provides functional illumination for meal preparation, allowing you to see every detail of your ingredients and dishes. With plenty of storage space below, these islands are perfect for keeping everything organized and easily accessible.
19. Corner Kitchen Islands for Small Spaces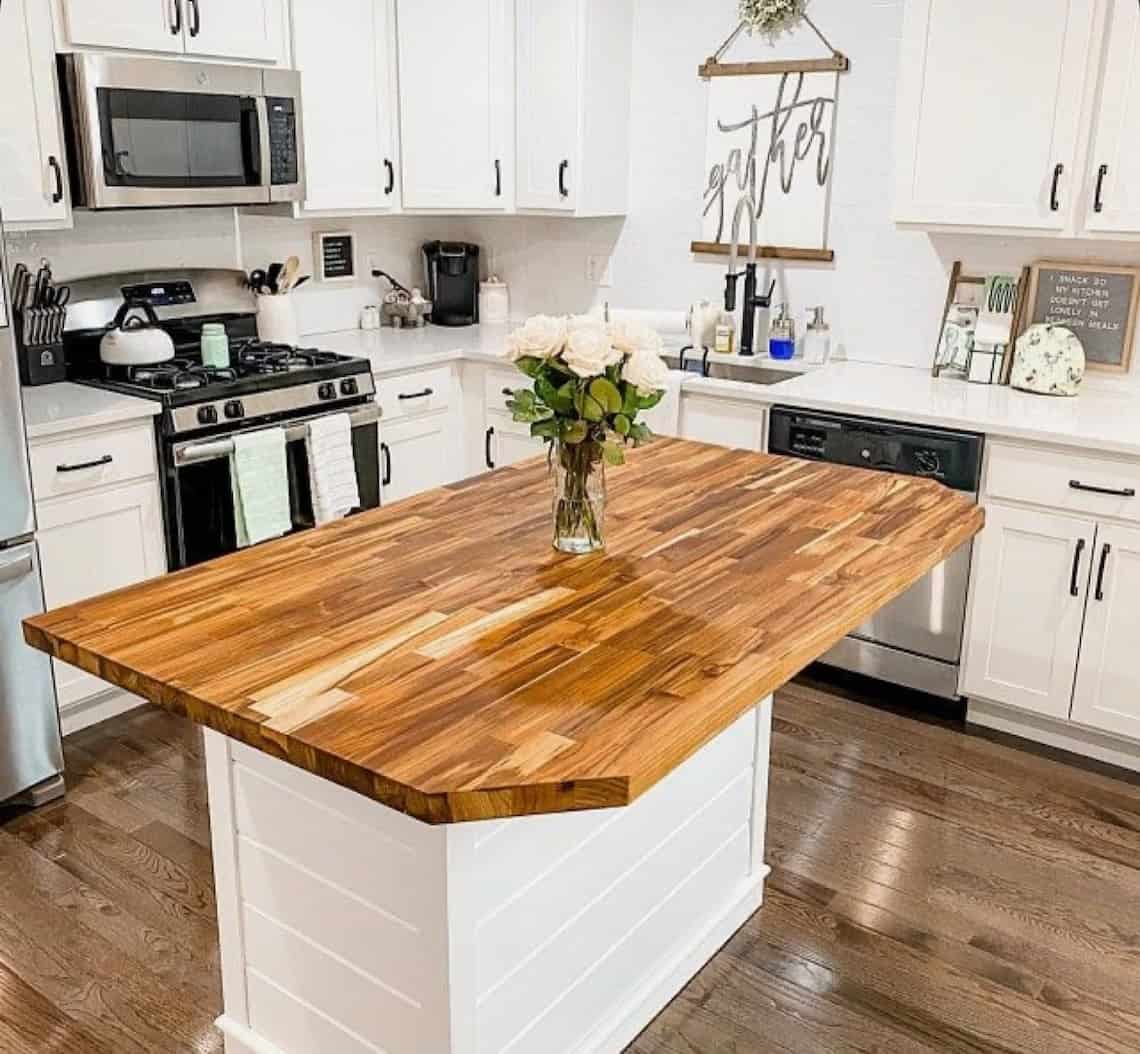 A DIY butcher block countertop is a great way to spruce up a corner kitchen island and create both style and function. This easy project requires basic carpentry skills but makes a big impact. Installing the butcher block top onto the island gives this small space an updated, modern look while providing extra workspace for meal preparation and dining.
20. Kitchen Island with Built-In Seating and Storage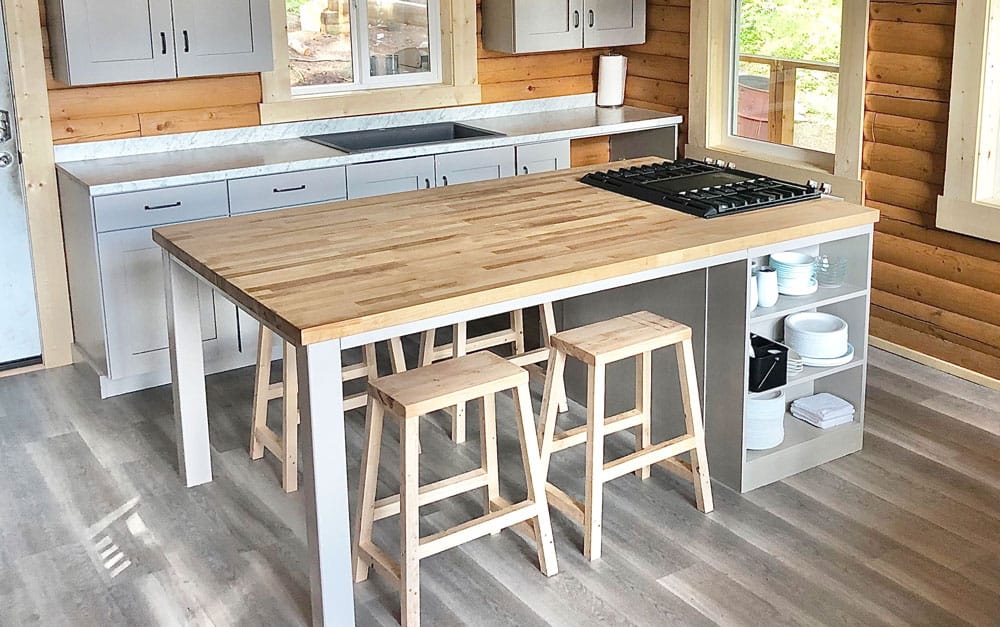 This particular project involves using butcher block wood to construct a beautiful kitchen island that not only adds a stunning aesthetic, but provides plenty of extra storage and seating as well. With just the right combination of materials, tools, and hard work, this fun DIY project can help you create an attractive and functional centerpiece for your kitchen.
21. DIY Butcher Block Countertops with Granite Inserts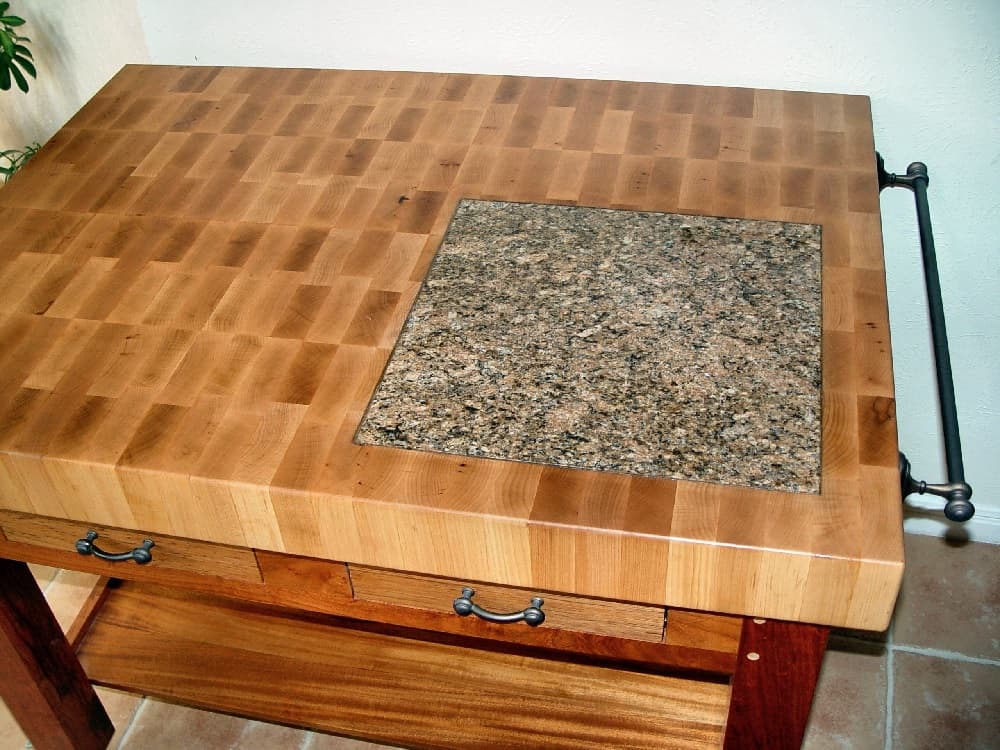 By combining natural wood with the durability of stone, you'll create a luxurious look that will last for years.
Best of all, you won't have to start from scratch – prefabricating kits are available at home improvement stores that let you get creative while still making sure the job gets done right. Make the kitchen beautiful, interesting and easy to maintain with this timeless style that is ideal in any décor.
22. Create Industrial-Style Butcher Block Countertops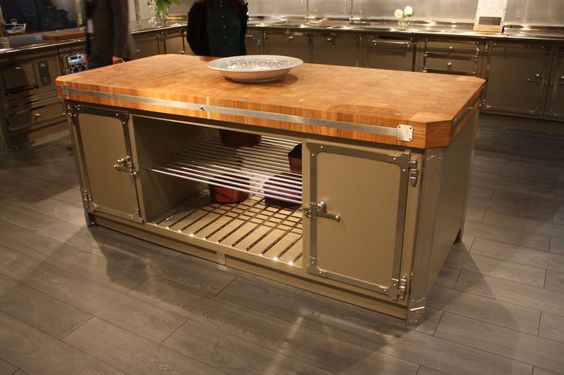 Constructing a butcher block countertop is relatively straightforward and gives room to be creative with different design features, such as stained edges, intricate patterns, and different types of wood. For a dramatic effect, try cutting out strips of wood and laying them in an interesting pattern before securing them together with glue or screws.
23. Butcher Block Countertops with Angled Cuts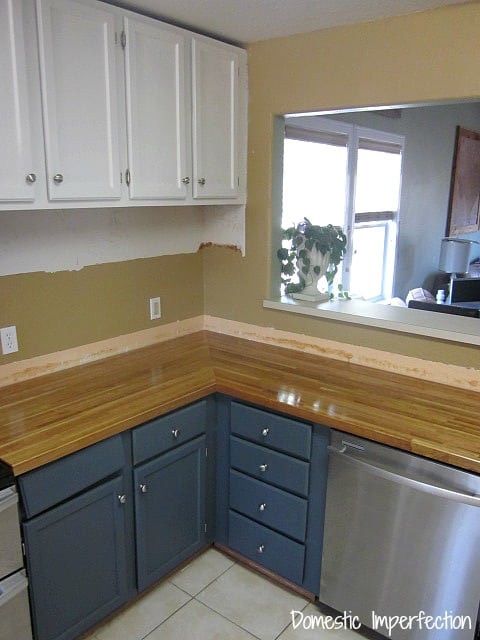 For those who are looking to bring something unique and different to their kitchen, or any other countertop-related space, then angling the cuts of your butcher block countertop might just be what's needed.
Angled cuts add an extra layer of dimension and complexity to a wood-based countertop and can transform it into a classic and eye-catching feature that can help turn an ordinary kitchen into something extraordinary.
24. Outdoor Kitchen Islands with Butcher Block Top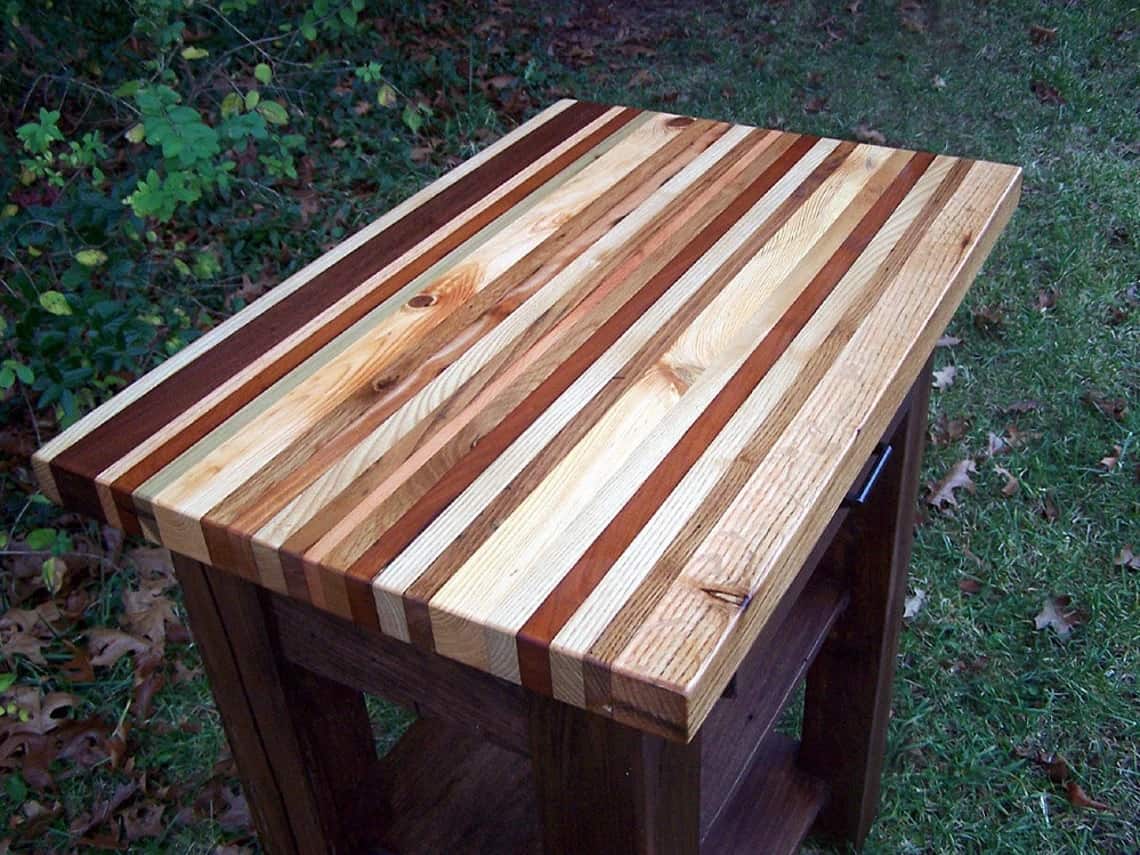 Butcher block tops are incredibly durable and aesthetically appealing; not to mention, they provide an ideal surface for slicing and dicing food. With its beautiful array of wood grains and patterns, this type of countertop will give your outdoor kitchen island a rustic yet refined look that won't go unnoticed by any guests you have over.
The typically unfinished edges of the butcher block make for an eye-catching contrast against textured metal or concrete.
25. Easy Butcher Block Countertops for a Professional Kitchen Look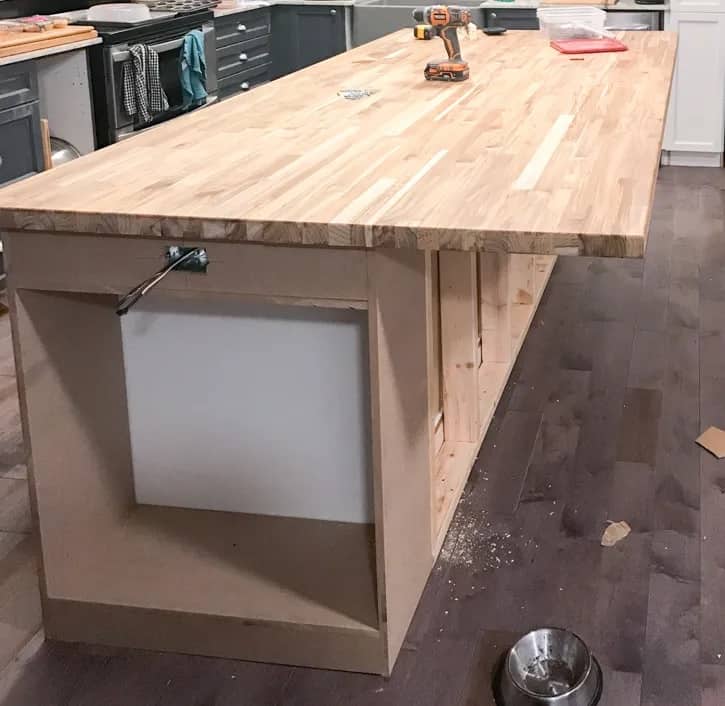 Easy to customize and install, butcher block surfaces provide an attractive and traditional look that adds warmth and style to the kitchen. In addition to being affordable, butcher block is also low maintenance – just re-oil it every few months for a fresh look and long lasting life.
With minimal time and effort, you can easily upgrade your kitchen with beautiful and stylish butcher block countertops for a one-of-a-kind look that's sure to impress.
26. Kitchen Island with Storage and Seating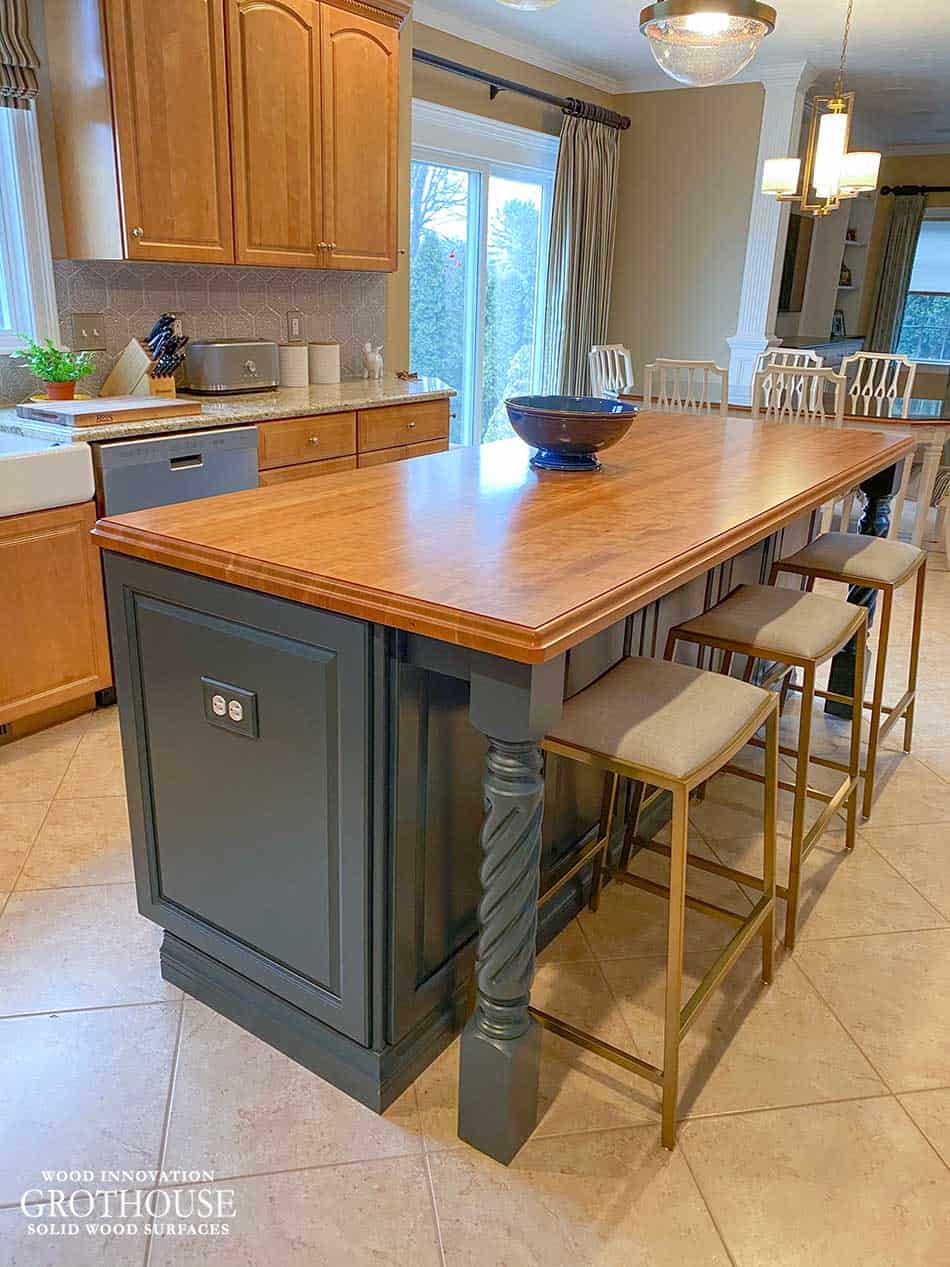 This kitchen island is the perfect spot for preparing meals, extra counter space, extra seating and extra storage. Even if you have to pay for some extra parts or hire someone to help, you'll love being able to hang out around one of these beautiful islands when all is said and done.
What you will need:
Kitchen island
Butcherblock countertops
Cabinets
Stools/chairs/benches
Appliances of your choice
27. How to Refinish a Butcher Block Countertop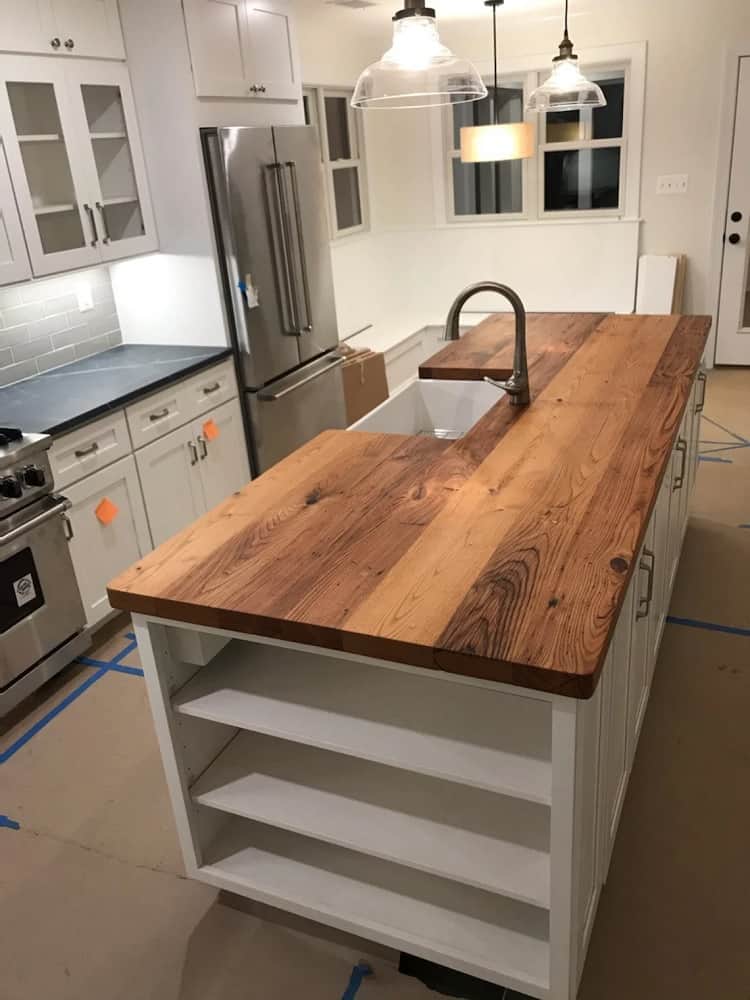 Refinishing a butcher block countertop is the perfect DIY project for anyone who loves the look of wood in their kitchen! The key to a great refinishing job starts with sanding the wood down and removing old layers of polyurethane or wax coatings.
Once prepped, apply new coats of polyurethane or mineral oil to seal in the beauty of the countertop. After all your coats are applied, you can admire the stunning new look of your butcher block countertop.
After seeing the amazing range of colors, textures, and designs you can achieve with just a few materials, pieces of wood, a saw, and some elbow grease, there's no doubt 27 DIY Butcher Block Countertop Projects are the way to go. Whether you're trying to create something modern or rustic, these projects will help you add an eye-catching feature to any room in your home. Don't forget all of the other creative ways you can use butcher block, like for shelves or fireplaces.