Love the look of classic barn doors, but don't have time or money to commission a professional carpenter to build you one from scratch? Try out a do-it-yourself project. DIY barn door projects give you the freedom to express yourself with different colors, textures, and materials that can fit in with many different styles.
With just some basic supplies, like scrap wood and sheet metal, you can transform simple materials into elegant barn door staples. See how far your creative juices can take you.
Get ready for some serious inspiration because we're highlighting several project ideas that are completely customizable.
1. Add a Rustic Touch to Your Home with a Barn Door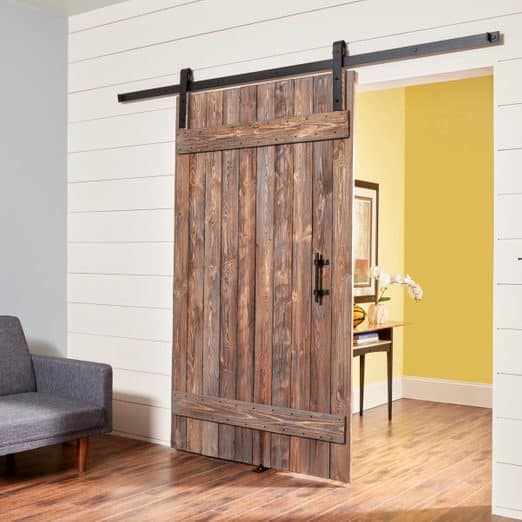 Using a few tools and basic woodworking skills, you can create a stunning barn door that looks expensive while adding character to any room. The great thing about these projects is that you can customize them however you like to make it match your personality or home decor style.
What you will need:
1-1/2-in. wrought-head nails
1×6 x 8 ft. No. 2 pine boards
Barn door hardware kit
Brush or roller for poly
Dark stain
Gray stain
Knot cup brush for grinder
Light gold stain
Polyurethane
2. Hang a Barn Door on an Existing Door Frame for an Easy Project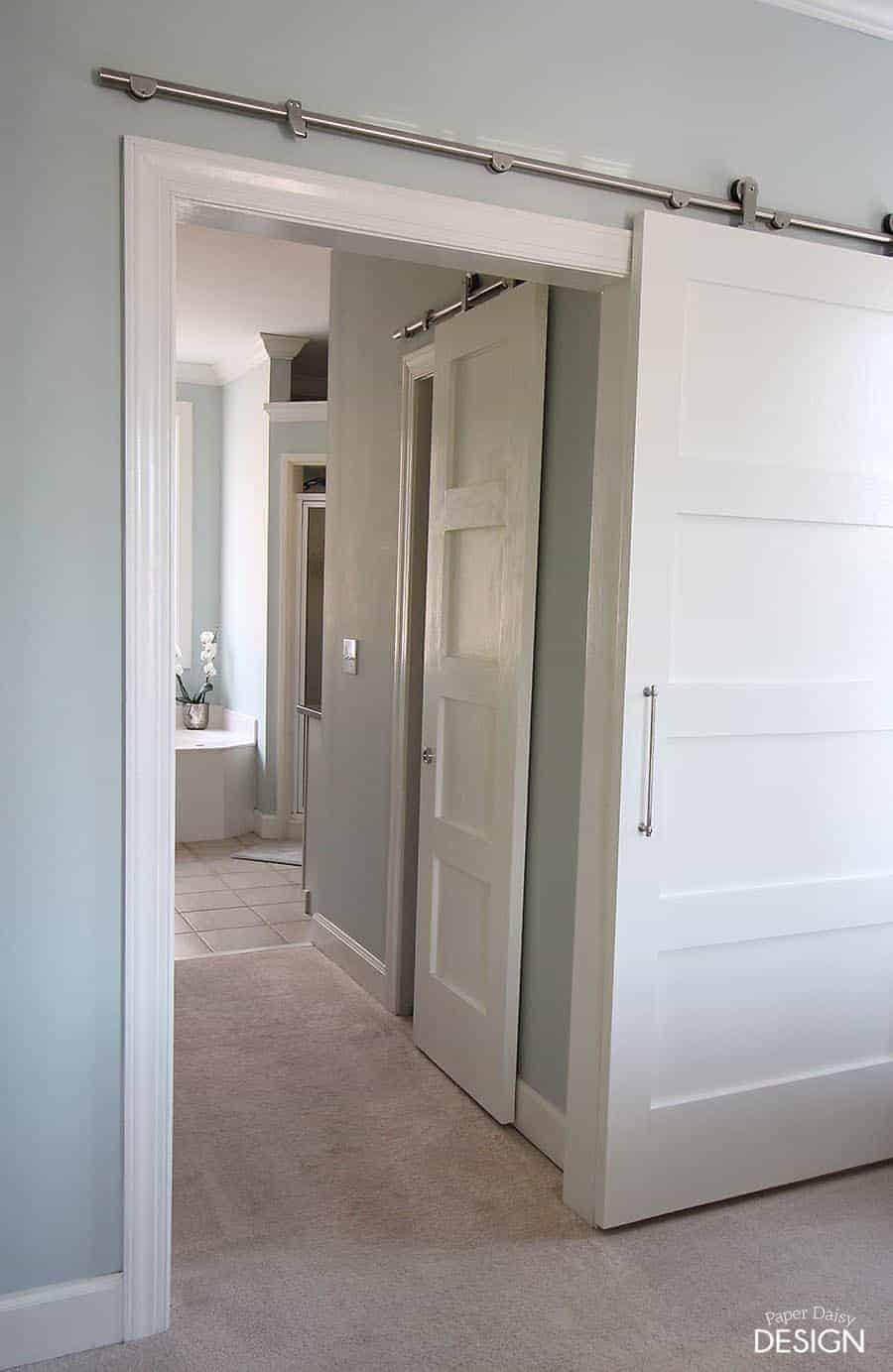 Hanging a barn door on an existing door frame is a great DIY project for the homeowner looking to add a rustic charm to their home. Not only does this project create an aesthetically pleasing look, but it also adds character and allows for more privacy in certain rooms.
To begin, measure your door frame and select a door that fits snugly within the space. From there, install the hanging hardware onto the frame and secure it with screws. Once everything is hung up correctly, give your new door some extra TLC with sanding, staining, or even paint before you hang your new door.
3. Add Some Hardware to a Plain Barn Door for a More Finished Look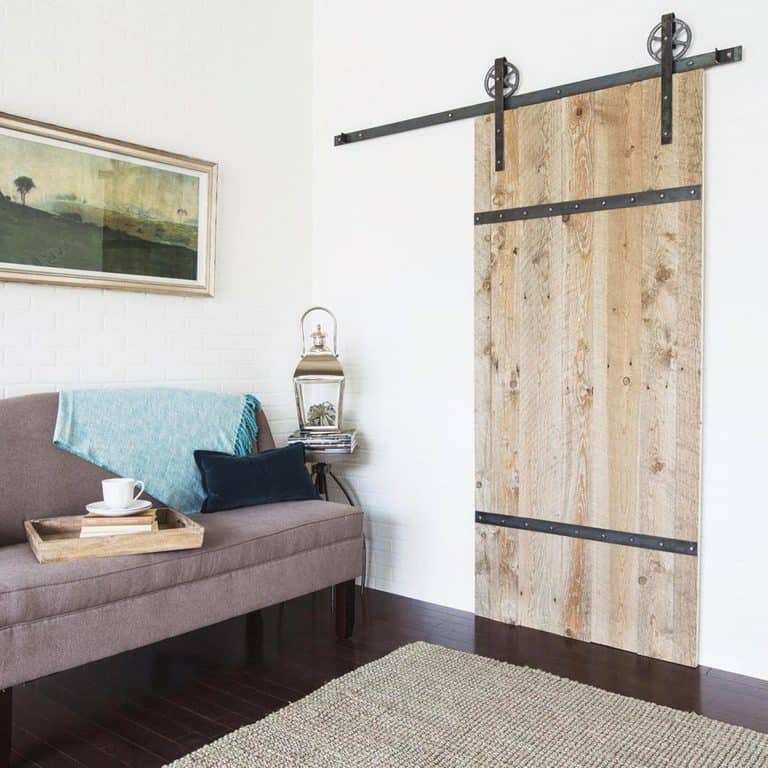 Re-invent your barn door with metal accents to add a more finished, stylish look. With some metal hardware, you can transform your basic barn door into an eye-catching statement piece.
You don't need to be a pro to make the switch either; metal accents come in many shapes, sizes and styles so there are plenty of options for creating the perfect look. Whether you want knobs and handles or sliding hardware components, metal accents are an easy exchange that will really elevate the aesthetic of your old barn door.
4. Paint or Stain Your Barn Door to Match Your Home's Décor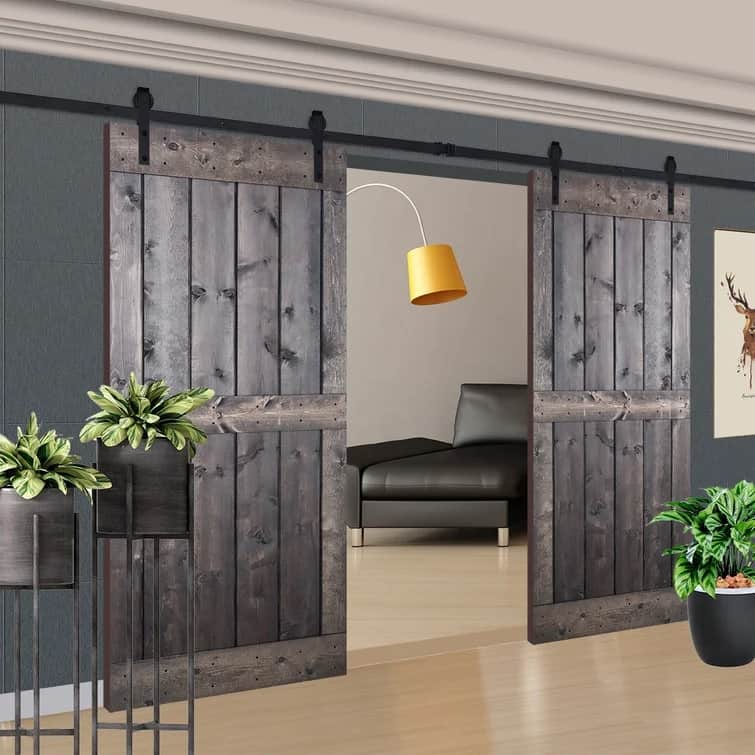 One of the most dramatic transformations you can make is giving your barn door a fresh coat of paint or stain to match the existing palette of color in your home. Using just a bit of preparation beforehand, you can quite easily do this yourself.
The right shade of paint or stain will help enhance the overall look and feel of your home and give it that extra bit of personality that only user-created projects provide.
5. Hang a wreath on your barn door for a festive touch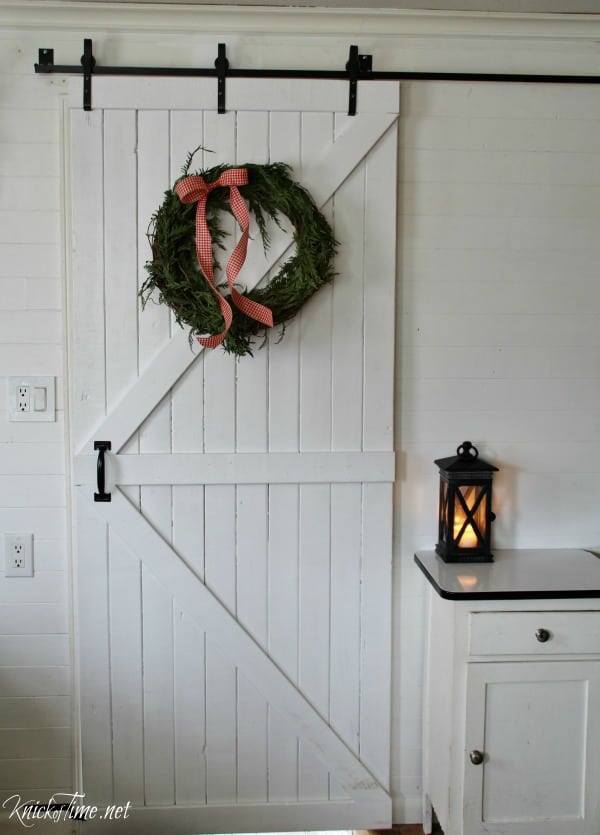 Consider hanging a wreath to your barn door! It's not only an eye-catching décor option, it also brightens up the mood in any room because of its connection to the festive season. You can make your own wreath with natural materials from your yard, like pine cones, dried berries, and foliage.
You can even start with a pre-made wreath and dress it up with Christmas ribbons or bells for added appeal.
6. Modern Barn Door Project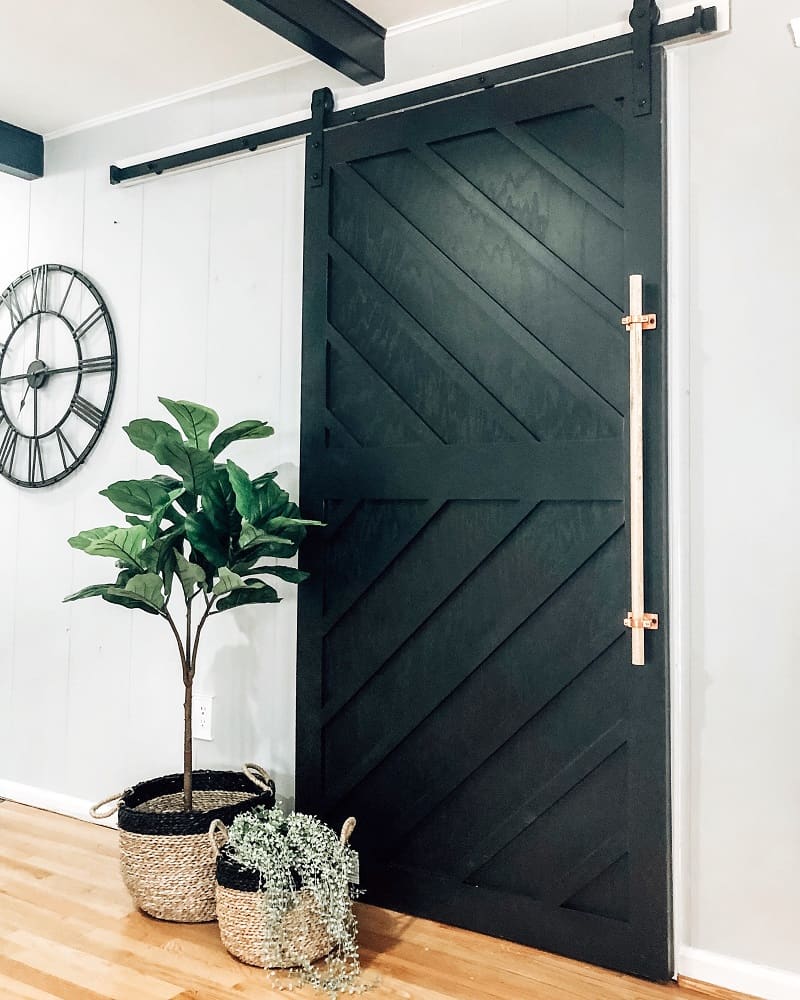 This DIY project is more straightforward than you think; with some basic tools and a couple hours of work, you can create an amazing statement piece for any room. Barn doors can add style and character to what may have been an otherwise dull space, creating an element of rustic charm and modern sophistication that makes your home stand out.
Supplies needed:
Barn door hardware kit
Wood planks
Saw
Drill
Sandpaper
Paint
7. Create a Sliding Barn Door from Two Separate Doors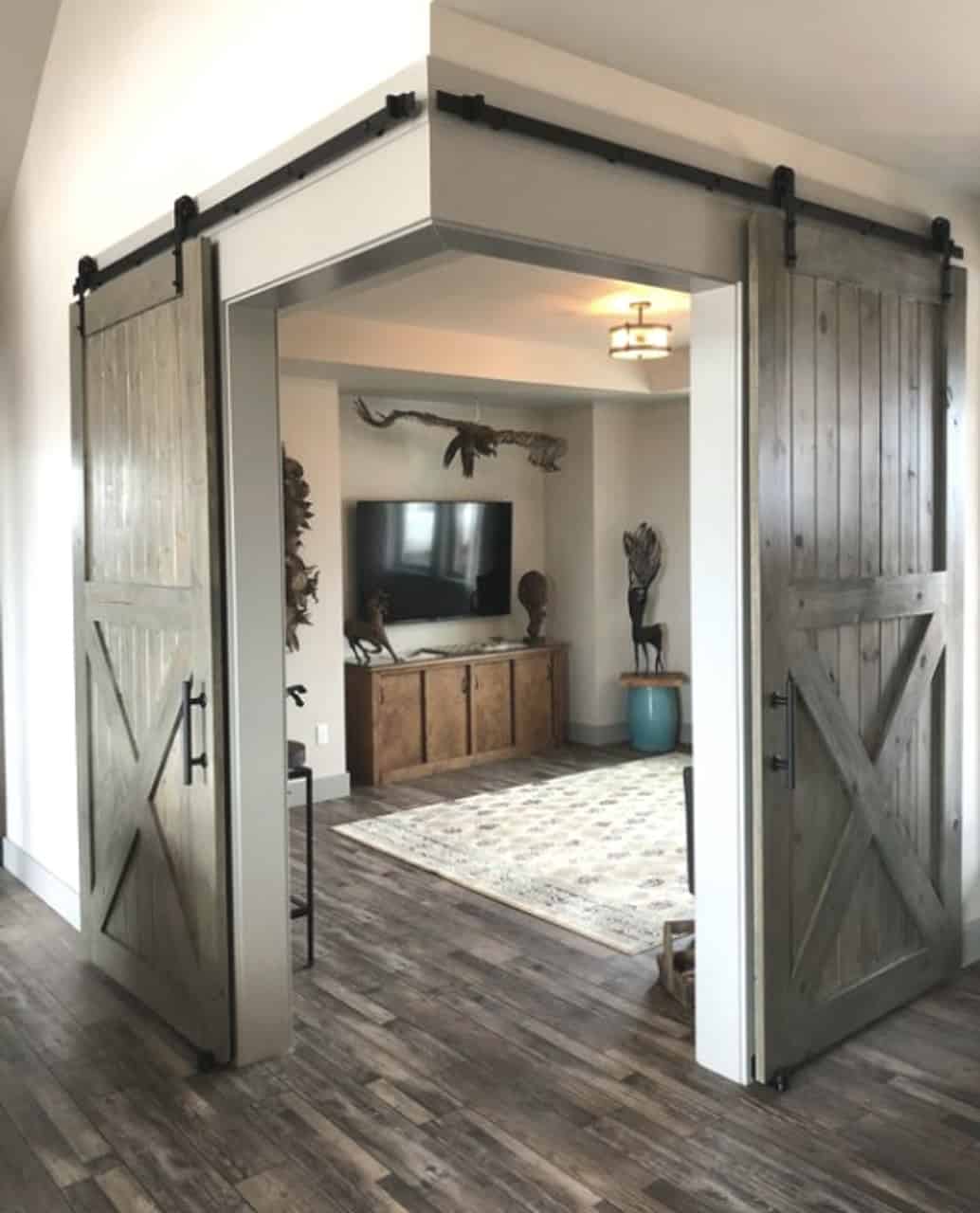 DIY barn door projects can save you a lot of space while adding style and charm to your home. One great example is creating a sliding barn door from two separate doors. This allows you to save space that would otherwise be taken up by a single larger door.
You don't need any special hardware as the top of each door contains its own track, allowing them to slide across each other when opened and closed.
8. Mount a Barn Door on Hinges and Use it as a Closet Door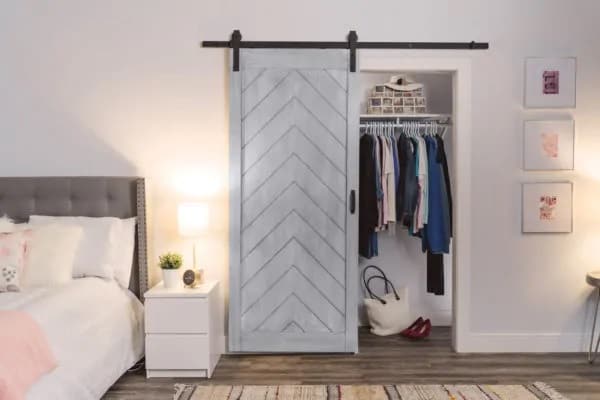 Converting a regular closet door into a vintage-inspired barn door involves some basic installation techniques but the result is totally worth it! All you need to do is mount your barn door on sturdy hinges, making sure it slides easily when opening and closing. This will instantly transform what was once an ordinary closet into something much more eye-catching.
9. DIY Barn Door Projects: Sliding Window Shutter for Privacy and Light Control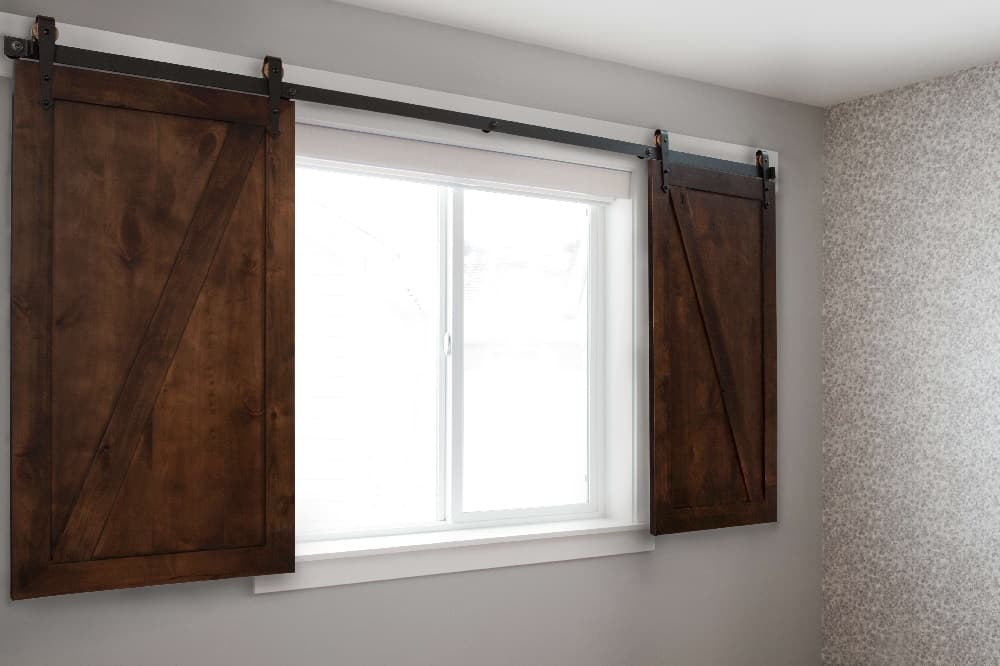 By repurposing a salvaged piece of history and upcycling it into something unique and chic, you can use your do-it-yourself project to add warmth and ambiance to any room in your house. A rustic barn door can also be used to control natural light streaming through windows while giving you complete privacy when fully shut.
Material list:
Wooden planks
Barn door hardware kit
Saw
Drill
Sandpaper
Hinges
Paint or stain
10. Hang a Mirror on a Barn Door for a Unique Home Décor Item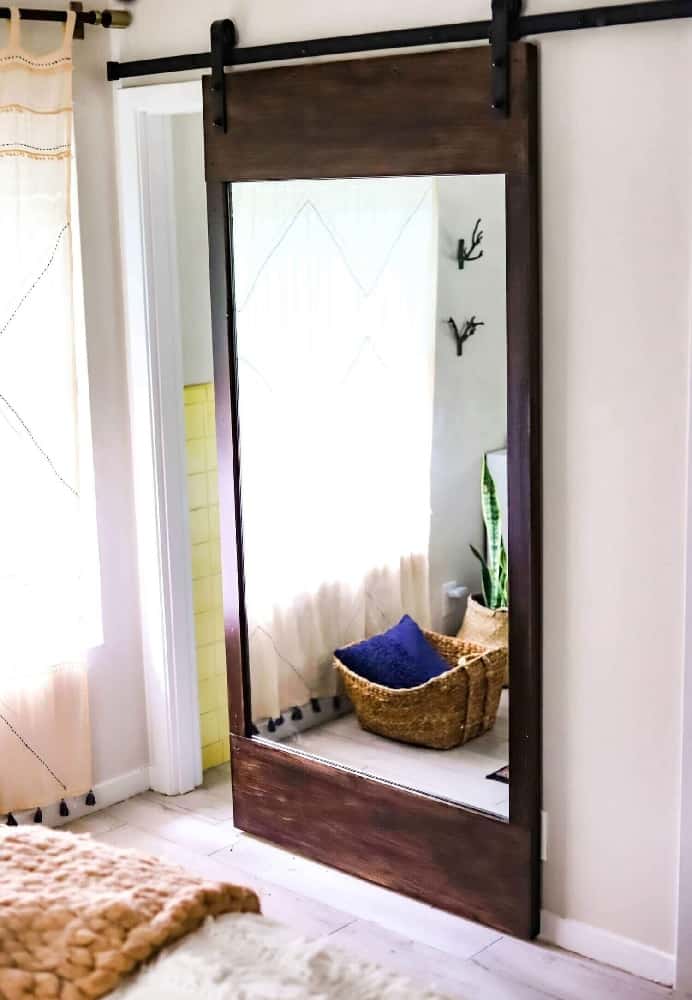 Installing a large mirror on to the barn door panel is a great way to visually open up any room and add more natural light. This unusual combination of rustic and modern creates an eye-catching statement piece for any home.
Only with minimal effort, you can update your living space with this unique design element. Additionally, you can use decorative hinges or cutouts in a variety of shapes for additional interest.
11. DIY White Barn Door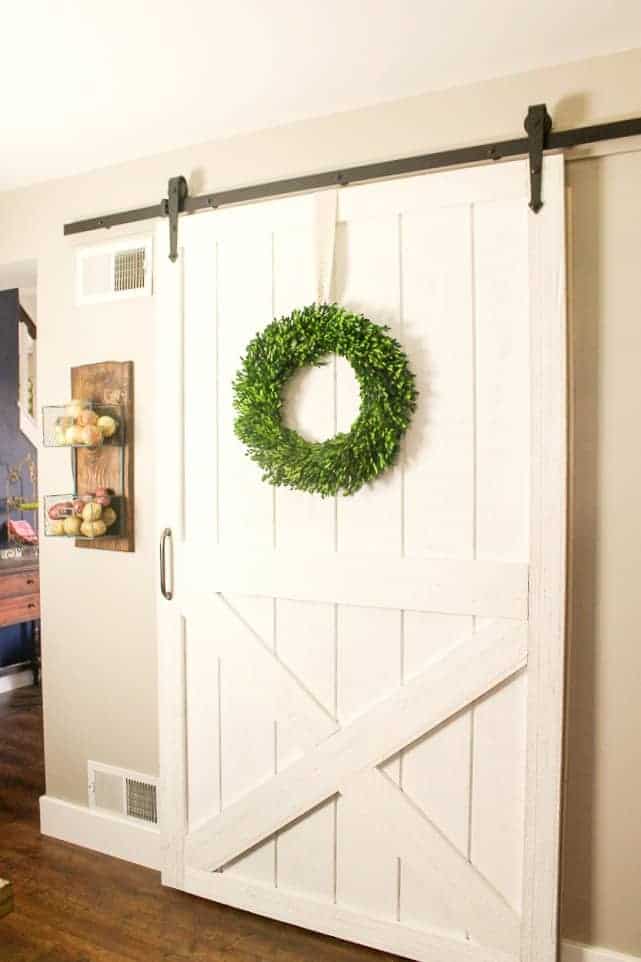 The white barn door is classic and timeless – perfect for adding a modern touch to any interior. It's also versatile, so it can be used indoors or outdoors. Plus, the look and feel of a white barn door give off the quintessential farmhouse atmosphere.
Getting started with this project is easy too, you only need some of the following supplies:
Wooden planks
Barn door hardware kit
Paint or stain
Saw
Drill and screws
Sandpaper
12. Use Reclaimed Wood to Make Your Own Barn Door for an Upcycled Look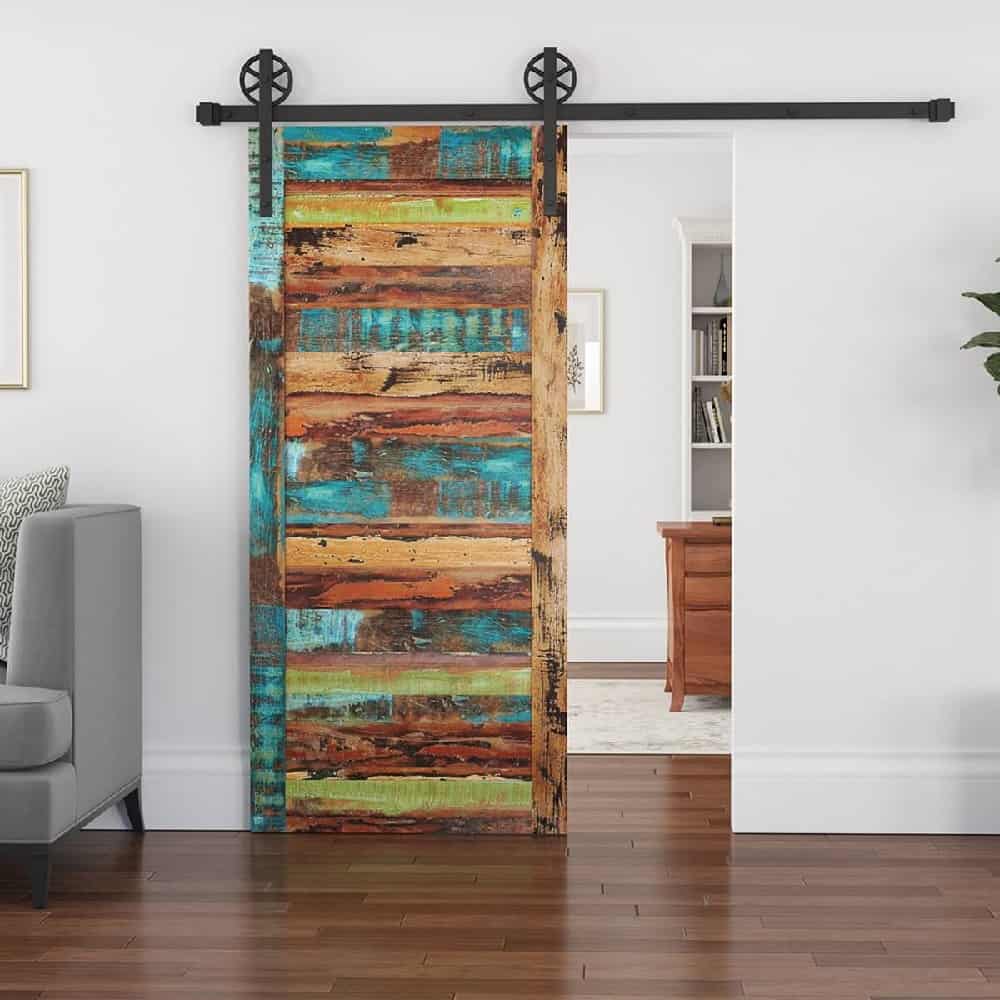 When it comes to making your own barn door for a totally custom look, using reclaimed wood is the way to go. It might mean taking apart an old shed, or simply purchasing some vintage boards from a salvage shop.
With just a few tools, some sandpaper and paint, you can create a stunning, upcycled piece that will transform any room in your home.
13. Hang a Chalkboard on Your Barn Door for a Custom Message Board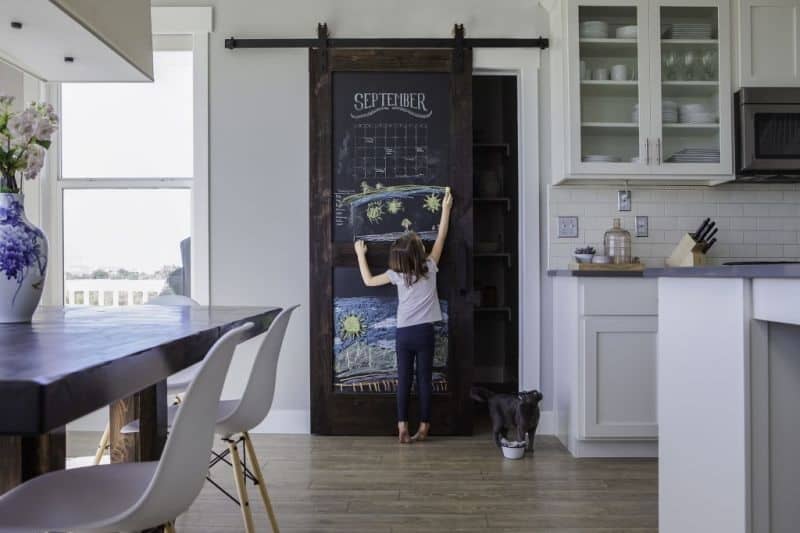 A great DIY project is to hang a chalkboard on your barn door so you have a custom message board that is both stylish and functional. You'll have endless opportunities to write notes, grocery lists, important reminders, and creative doodles!
Plus, hanging the chalkboard can be such a great bonding activity for the whole family as you spend time together creating something special.
14. Install a Magnetic Latch on Your Barn Door for Added Security and Peace of Mind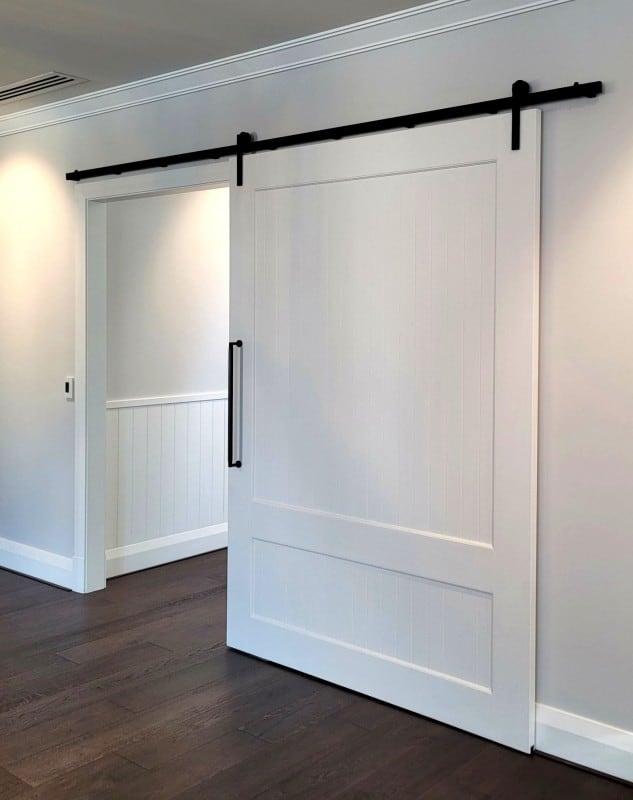 To ensure a complete sense of security, consider adding a convenient magnetic latch for your barn door. Besides being incredibly reliable, these nifty little pieces of hardware are simple to install in just a few minutes and won't detract from the aesthetic you spent so much time perfecting.
Whether you love the rustic charm of an old-fashioned barn door or prefer something sleeker and modern, safety comes first.
15. Use a Barn Door Track System to Easily Open and Close Your Door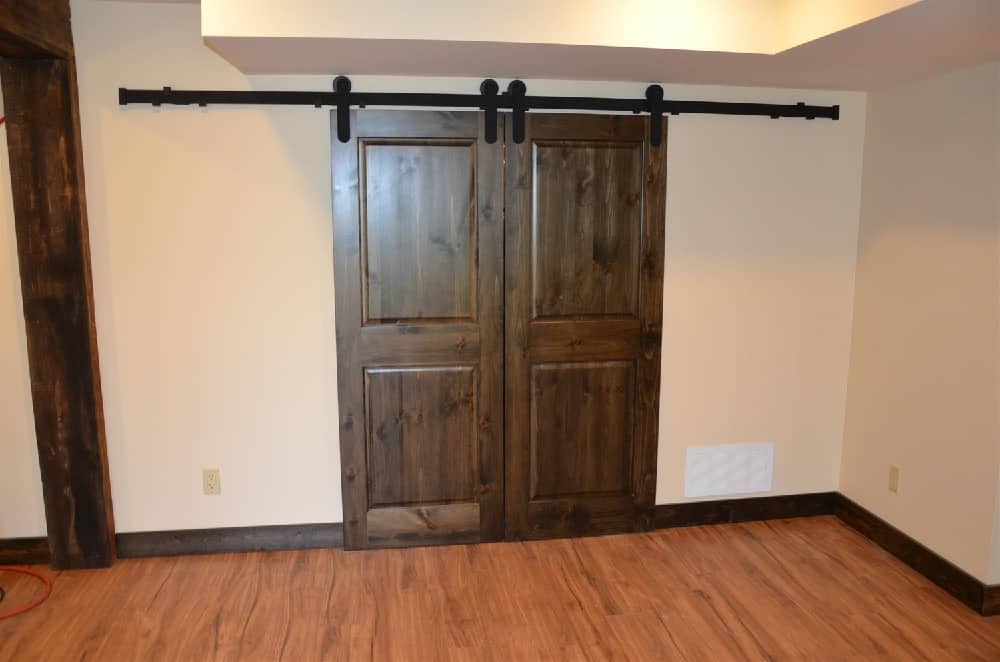 Build your very own smart door with a DIY barn door project. Using a barn door track system, you can make your entranceway smart and sleek, as well as easy to open and close.
The system operates similarly to other sliding doors; it is composed of two pieces (a lead piece which slides over the ground track), connected through rollers on either end of the door. Open up extra space and remake your entire room with this smart and stylish accent.
16. Install a Barn Door Latch and Handle for a More Finished Look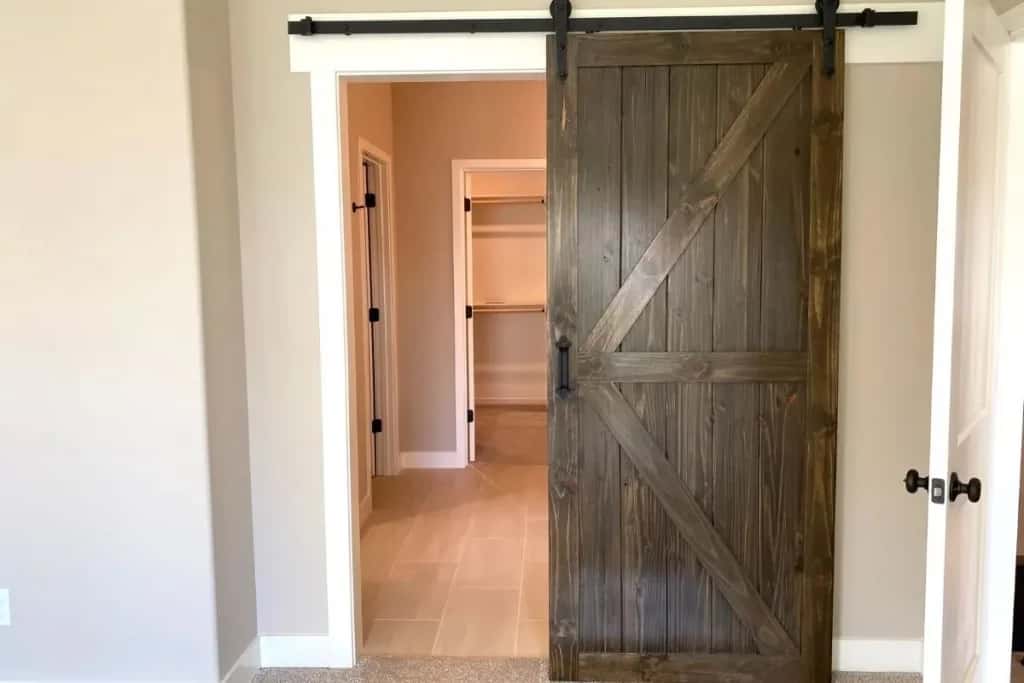 Installing a latch and handle on your DIY barn door is the icing on the cake for a truly finished look. It's an inexpensive upgrade, and you can choose from lever handles and rustic latches for different styles of sophisticated charm. To make sure your barn door closes securely, consider adding a strike plate to that latch.
You won't have to worry about bumps or rattles when the door is closed. It'll be smooth sailing
17. Use Creative Hardware to Give Your DIY Barn Door Project an Original Twist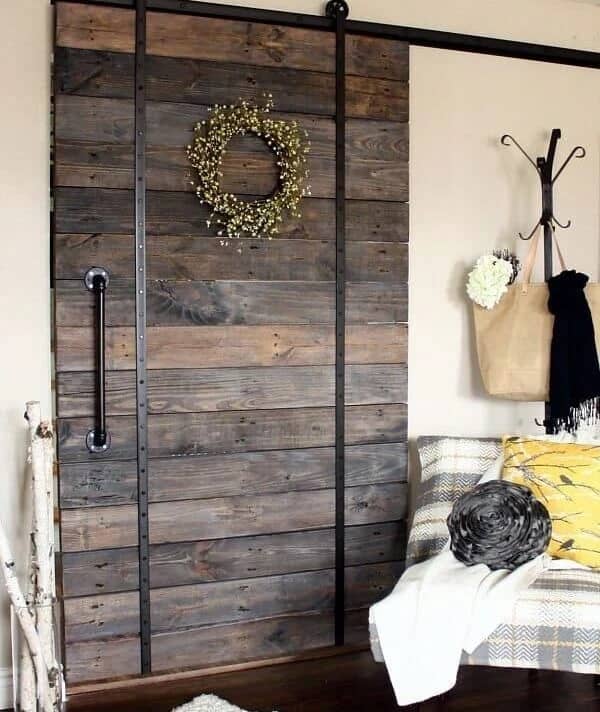 Getting creative with your DIY barn door project is a great way to show off your unique style and make it stand out from the crowd. One way to do this is by installing creative hardware – like patterned handles, intricate clasps, or even door pulls that are designed with nature-inspired shapes like branches or leaves.
You can easily find hardware in an array of colors and finishes which will help you get the perfect aesthetic for your home. Even simple changes can really bring personality to your barn door project, making it a center piece of any room.
18. Hang Stained Glass Panels on DIY Barn Doors to Add Privacy while Still Letting Light in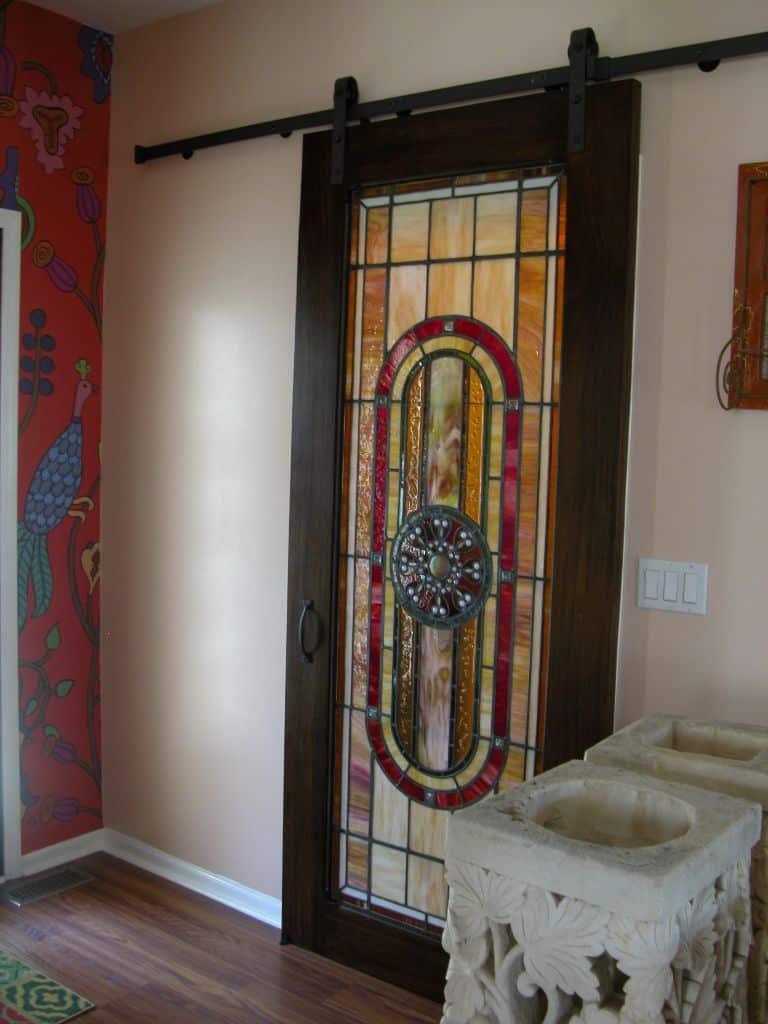 Consider adding stained glass panels to the outside of your doors. Not only do they look beautiful, but you can also customize them to coordinate with existing colors in your home. Plus, the glass panels will allow light to enter into the room from a different angle, giving it more dimension and airiness.
If you have an outdoor area that could use some added privacy, such as a patio or screened porch, inserting stained glass panels onto DIY barn doors is the perfect combination of aesthetics and functionality.
19. Paint The Door in a Two-tone Design for an Eye-catching Look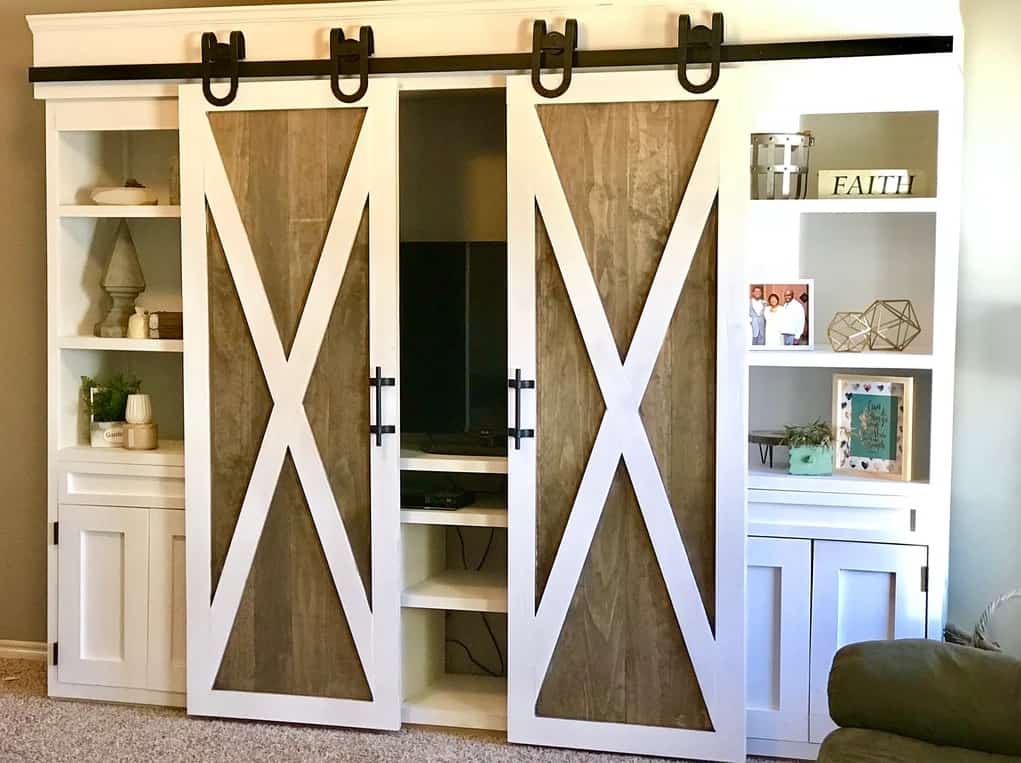 Adding a unique touch to your home has never been easier than with DIY barn door projects. Painting the door in a two-tone design is a great way of giving it an eye-catching look. It's really simple to do and adds an interesting, complex effect with minimal effort. All you need is two different colored paints, some masking tape, and a steady hand to achieve the desired two-tone effect. Whether you choose bold primary colors or muted neutrals, it's easy to make your personal style come alive with this particular project.
20. Unique and Welcoming Entrance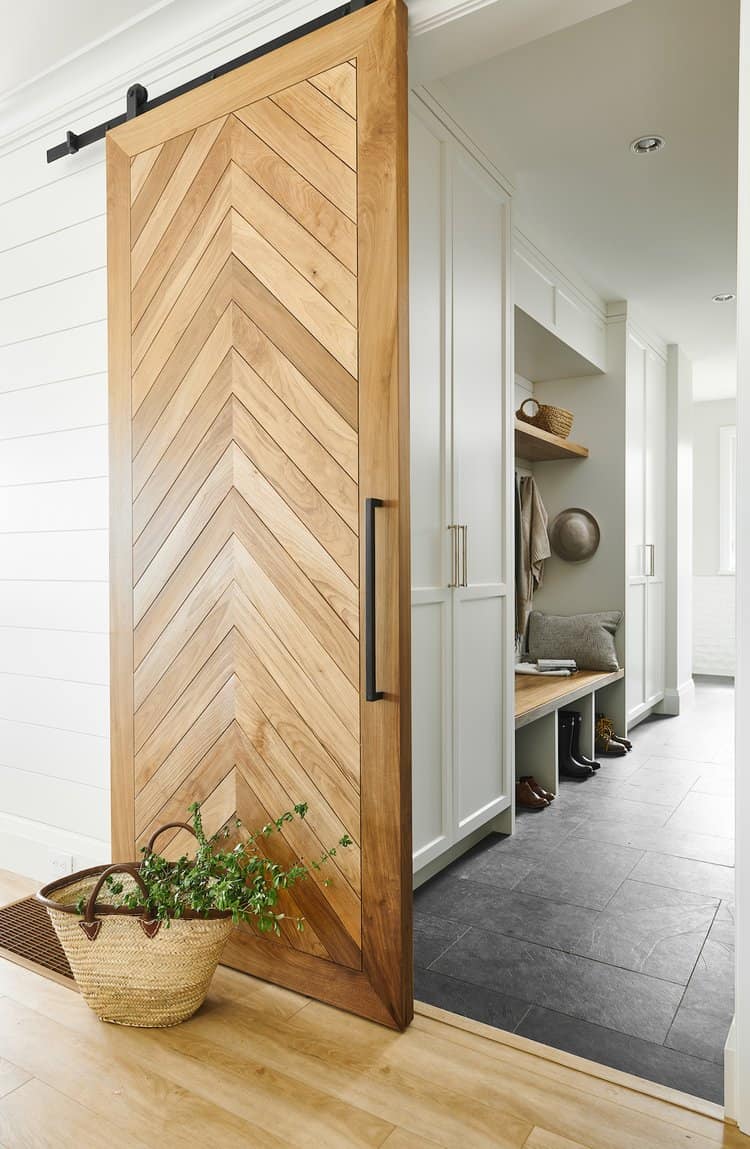 Installing a barn door as part of your entryway not only makes it look unique, but also helps you make a statement and give guests a warm welcome when they come visit. Not only do these DIY barn doors open up the space and make it look larger with increased visibility, but they are relatively simple and affordable compared to completing more traditional renovation projects.
21. Hang a DIY Barn Door in Your Kitchen for a Convenient Way to Hide Clutter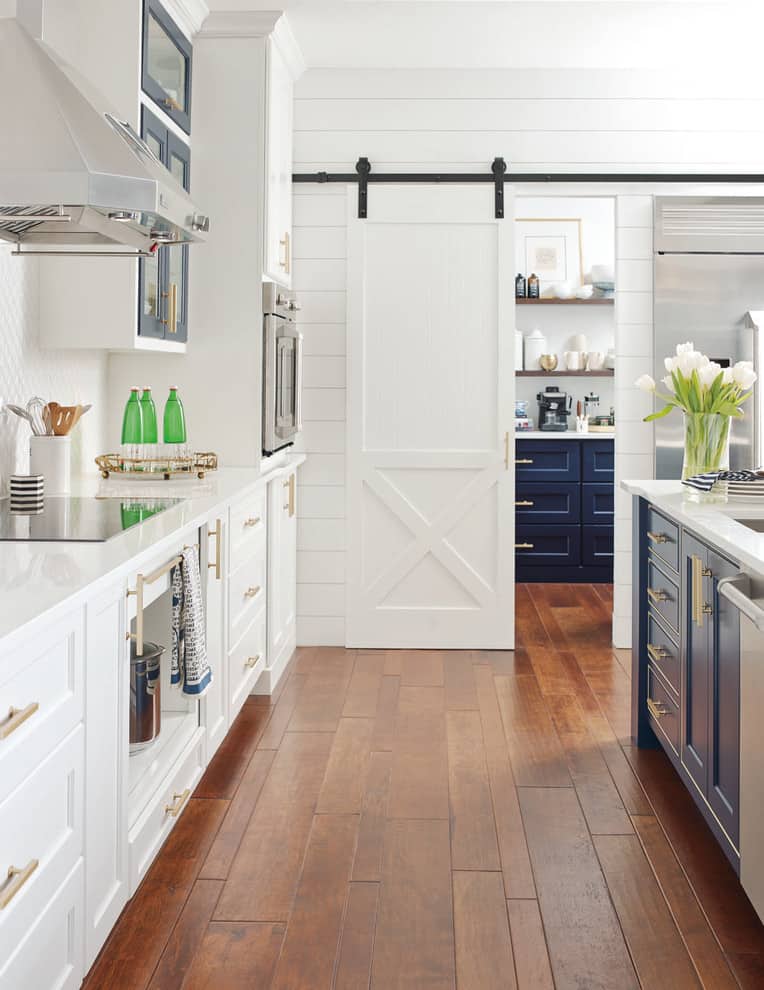 If you have an extra room that could use a little pizzazz, a DIY barn door can give it an eye-catching style element with added functionality. For those living in smaller homes with limited storage space, one of the best places to hang a barn door is in the kitchen.
Hanging one in your kitchen offers a convenient and stylish way to hide any clutter while still making sure everything you need is within reach. Plus, there's no need to worry about being stuck with limited options since projects like these come in lots of different shapes, sizes, and colors.
22. Simple DIY Barn Door Projects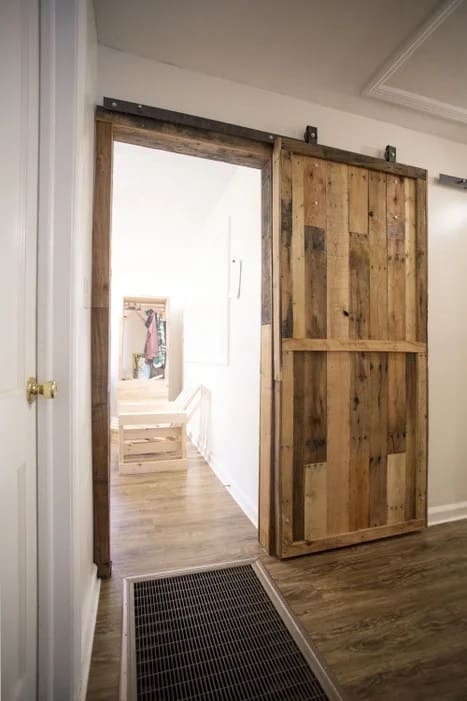 Reclaimed pallet wood is perfect for this project if you want to give your door an earthy, rustic feel.
Not only are there many different designs to choose from, but these projects can easily be tailored to fit the style of any home. With only simple tools and materials, you can build a customized barn door that fits perfectly in your home.
23. Frame a DIY Barn Door with Wood Trim for a Timeless Look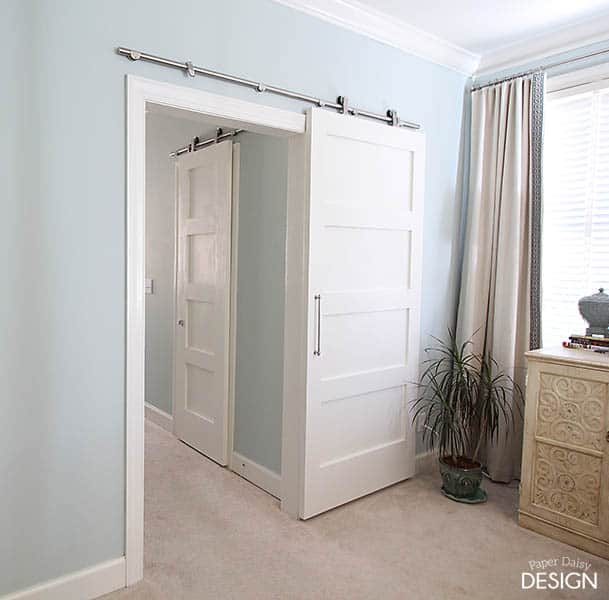 Give your doorway a timeless, classic look by framing it with wood trim. Not only do wood trim frames look great, they're also relatively inexpensive and easy to install; anyone with basic carpentry skills can build one in a couple of hours.
With such versatility, you can paint, stain or leave the frame natural, depending on the color palette of your room and personal preference.
Materials needed:
Wood trim
Wood screws
Wood glue
Saws
Instructions:
Measure the width and height of your doorway and cut the wood trim accordingly.
Glue and attach the pieces together to form a frame around the door opening.
Use wood screws to secure the frame in place.
Sand and finish the frame as desired.
24. Customize a DIY Barn Door with Intricate Designs and Patterns for a Truly Unique Project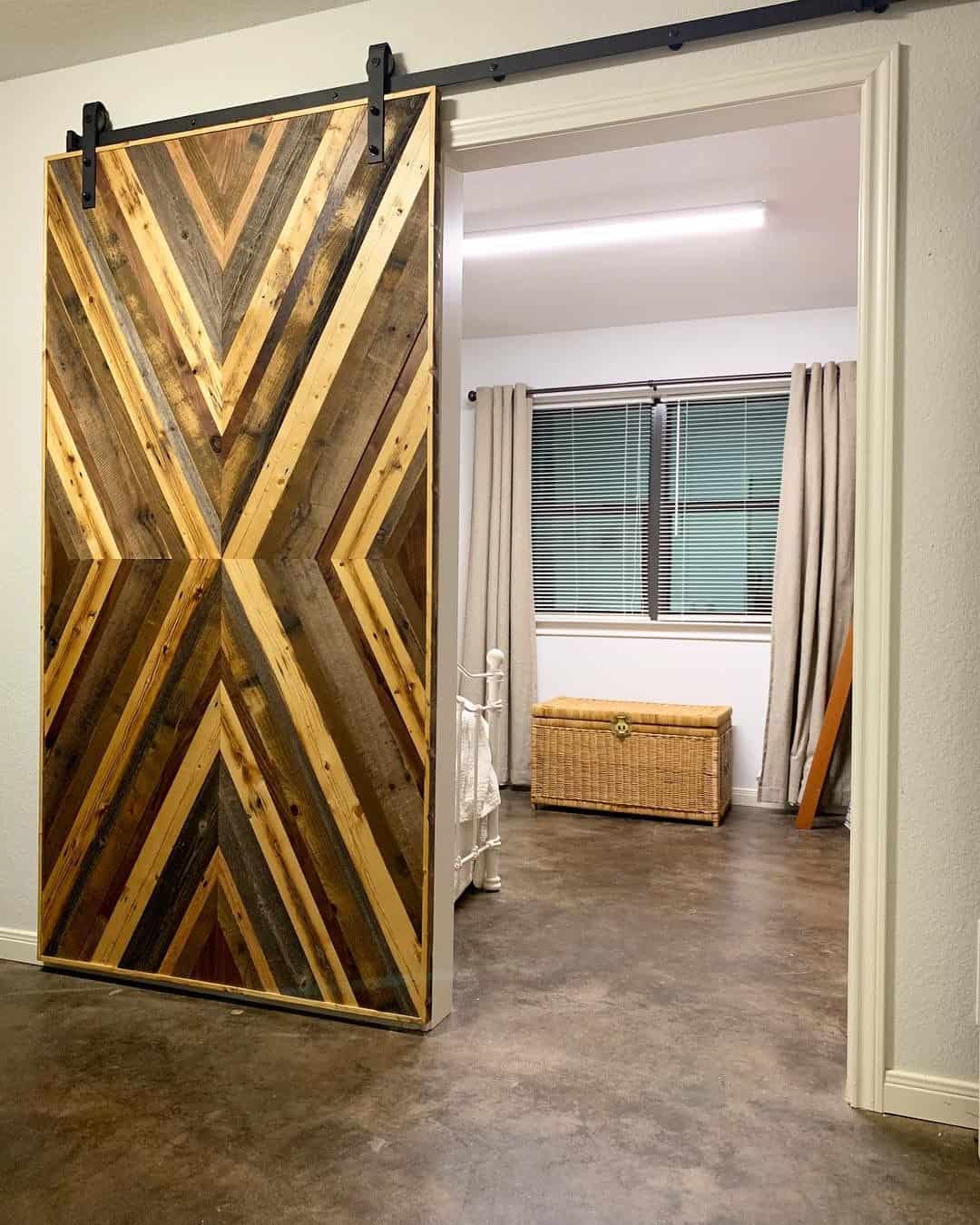 Adding intricate designs and patterns to your door will give it a sophisticated look. This method involves measuring and laying out details precisely onto the door itself, so take your time and be patient with the process.
With various tools to choose from such as routers, hole saws, chisels and carving tools you'll have full creative control in designing distinctive doors each time you embark on this project.
DIY barn door projects continue to be popular with homeowners everywhere because they are incredibly customizable and perfect for multiple uses, both practical and aesthetic.
Not only that, but their rustic charm can instantly add an interesting new element to any home design