Kitchen cabinets are a pivotal part of any kitchen design. They can make or break the look of your kitchen, and if you're not careful, they can also make it feel smaller and more cramped than it actually is. If you're looking for a way to add some extra sophistication to your kitchen without breaking the bank, then black kitchen cabinets might be just what you need.
With their sleek lines and elegant style, black cabinets can instantly transform any space into something chic and sophisticated.
In this blog post, we will share some of our best ideas for styling your black kitchen cabinets. We'll also provide tips on how to care for and maintain your new cabinets.
So if you're ready to make a stylish and sophisticated statement in your home, read on.
1. Modern Best Black Kitchens Cabinets Ideas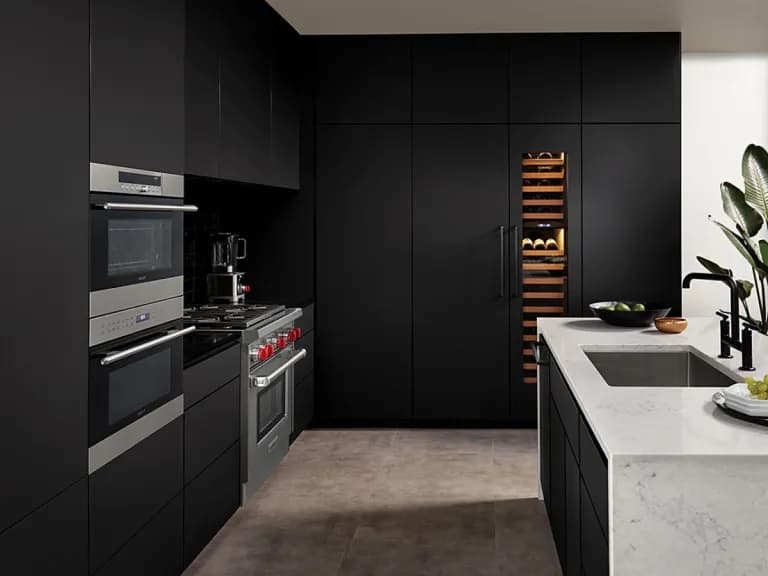 This trend has been gaining popularity in recent years, and for good reason. Black cabinets bring a modern and sophisticated look to any kitchen. Plus, they can be easily paired with other bold colors or accents for added interest. When choosing black cabinets, be sure to mix up the finishes for added dimension.
Opt for matte cabinets along with a few glossy ones, or mix materials like wood and glass. And don't forget about hardware. Unique knobs or handles in brass or gold can really make the look pop.
2. Industrial-Inspired Black Kitchen Cabinet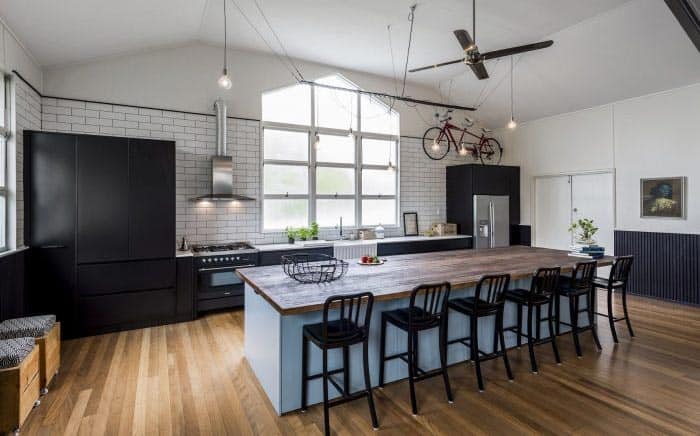 The industrial black cabinet trend has been taking off in a major way, adding a sleek and contemporary look to any kitchen space. One cool idea is to mix black cabinets with exposed metal ductwork or metallic accents for that cool industrial vibe.
Alternatively, use black cabinets as a bold contrast against white walls and light wood finishes for a modern and elegant touch. Another cool option is to incorporate black cabinets into your kitchen island for an unexpected pop of color and texture.
3. Traditional Black Color Kitchen Cabinet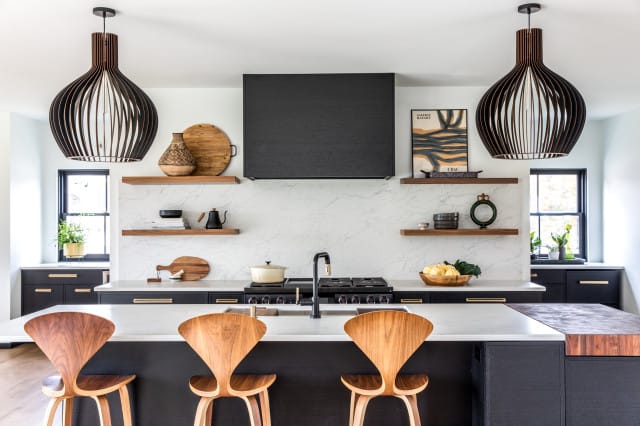 One way to amp up this traditional style is by opting for shaker cabinets. Their simple design pairs beautifully with the bold hue of black. For added texture and contrast, consider incorporating different materials such as marble countertops or brass hardware.
Another option is to bring in some traditional elements, such as crown molding or glass-front cabinets, for a timeless look.
4. Rustic Vibe with Reclaimed Natural Wood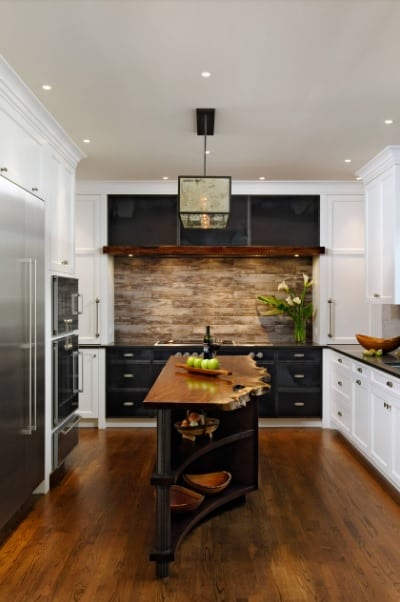 This design combines the charm of rustic wood textures with the boldness of black paint for a truly unique look. To really play up the rustic vibe, use reclaimed wood or distressed cabinetry. And mix in minimalist and industrial elements like exposed metal hardware or concrete countertops for an edgy contrast.
Don't be afraid to go big with statement lighting or backsplash tile too. With this type of cabinet, the more eclectic the better! Go for a warm, cozy feel by blending in earthy tones like deep browns and greens, or opt for a cool and moody atmosphere with grays and blues.
5. Black Glossy Finish Kitchen Cabinet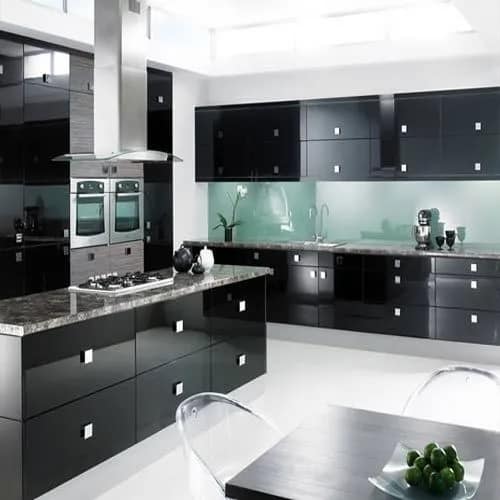 A glossy finish amplifies an elegant touch even more, giving off a chic and luxurious vibe. If you want something a little more unique, opt for black cabinets with a textured finish or patterned design on them. Or, try mixing and matching different shades of black for an edgy look.
To tone down the darkness, pair your black cabinets with lighter countertops and backsplashes in white or gray.
6. Black Gray Kitchen Cabinet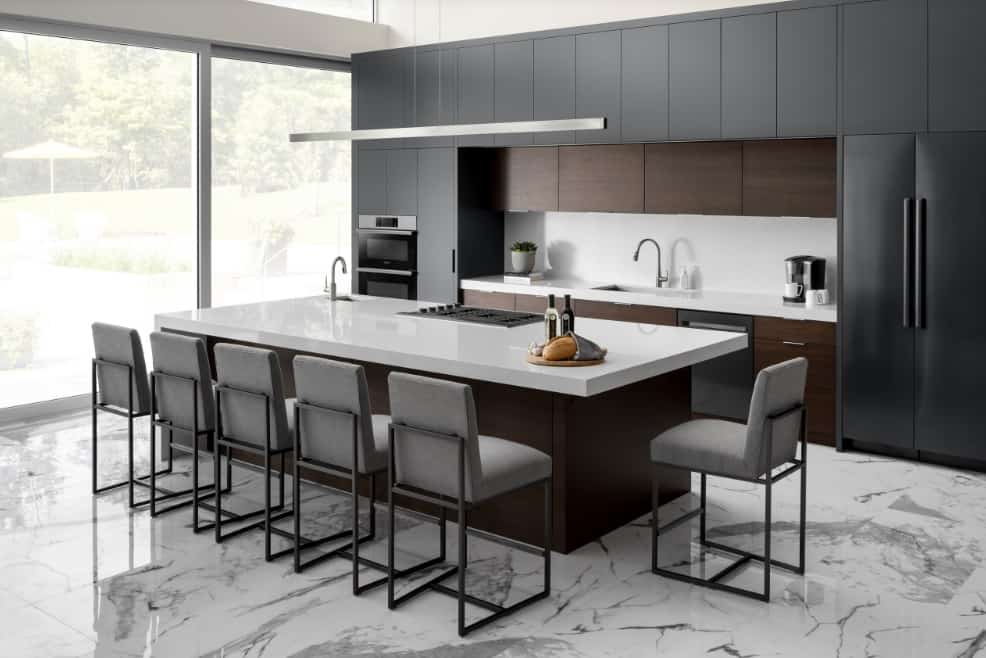 Black kitchen cabinets are a bold and stylish choice for any modern kitchen. Adding in some gray can create a dual tone look that adds depth and dimension to your space. This contrast can add interest and dimension to the space while still keeping things neutral.
Consider pairing matte black lower cabinets with sleek, glossy white countertop for a chic contrast.
7. Black and White Kitchen Cabinet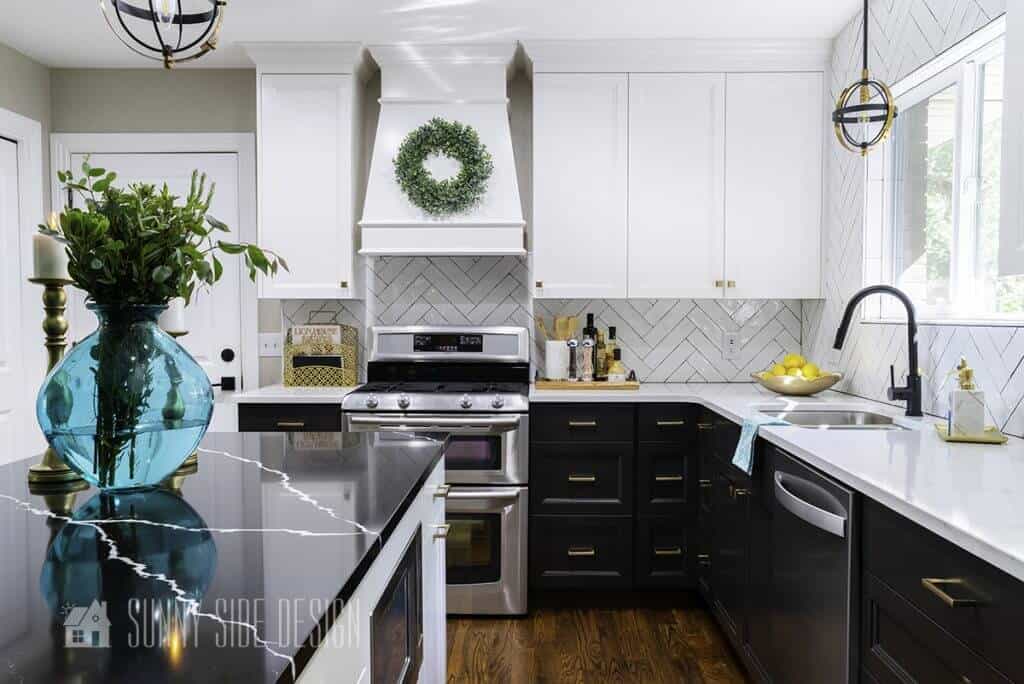 The black and white will always be one of the best options for a kitchen cabinet. If you have a white countertop, then the best way to make it pop is by having black cabinets. It will give your kitchen an elegant and sophisticated look that you will love.
On the other side, it is easier to blend the white cabinets with a black countertop. You can also add a pop of color to your kitchen by having black and white cabinets with a colored backsplash.
8. Black Kitchen Cabinet with Stainless Steel Appliances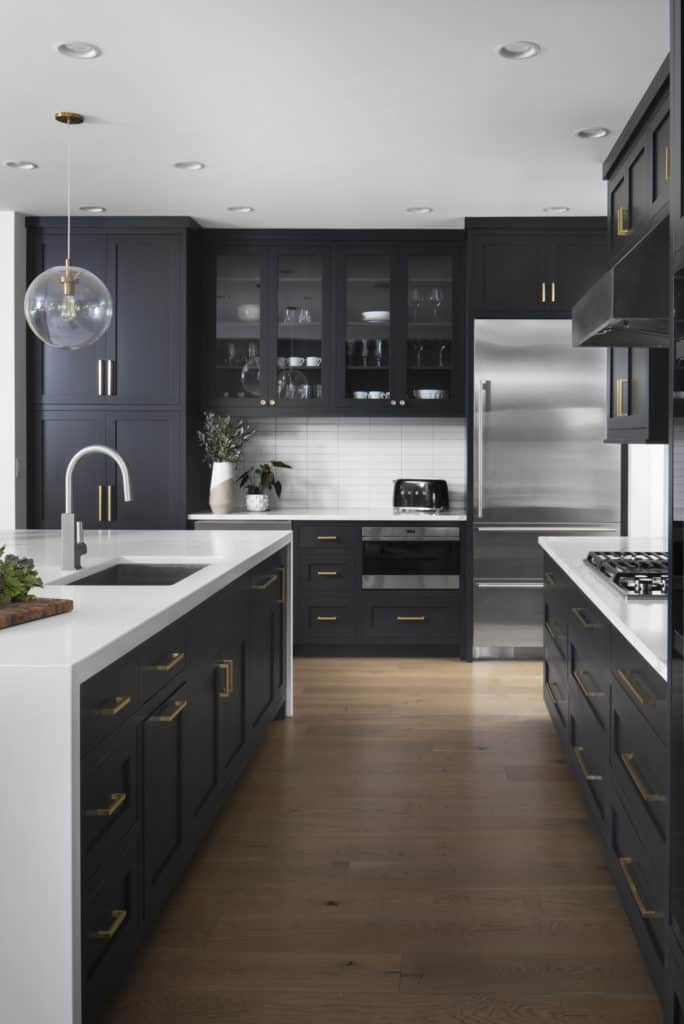 Add some edge to your kitchen with black cabinets, which will be a great choice you need to consider. Pair them with stainless steel appliances for a sleek, modern look. Or, go for a contrasting mix by adding pops of color with your countertops and backsplash. You can also create contrast in texture by choosing materials like marble or wood for your countertops.
9. Black Cooking Space with Glass Doors
One of my favorite black kitchen cabinet ideas is to use clear glass doors. This allows you to showcase beautiful dishes or glassware, while still maintaining the sleek and modern feel of black cabinets. Plus, clear glass doors can make your kitchen appear brighter and more open.
Another bonus is that clear glass doors are easier to clean than solid ones, making them a low-maintenance option. If you're concerned about privacy, consider frosted or textured glass instead of clear. Or, mix and match clear and solid doors for both function and style.
10. Black Kitchen Cabinet with Marble Countertop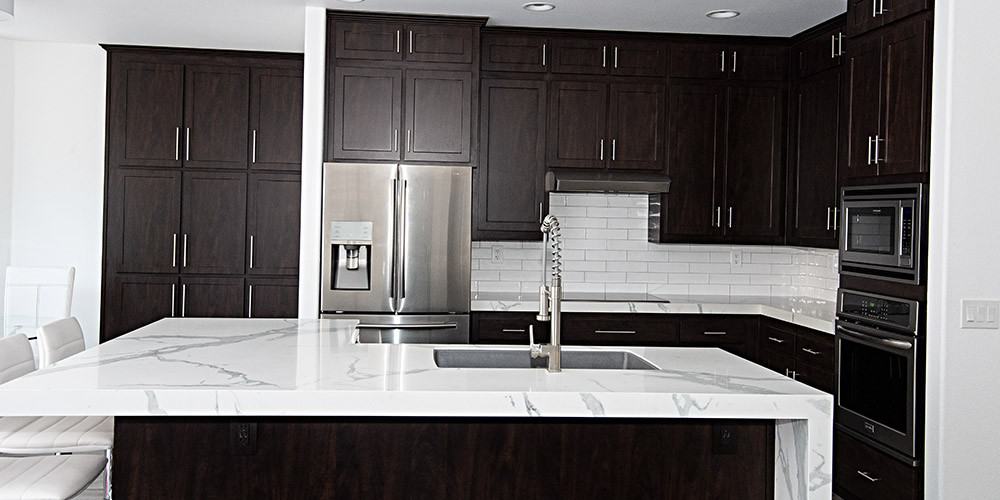 Black kitchen cabinets create a glossy, fancy look, and pairing them with marble countertops just takes the design to the next level. The sleek black cabinets provide a strong contrast against the delicate veining in the marble, resulting in a luxurious, high-end aesthetic.
This combination also works well in both traditional and modern kitchen designs, making it versatile and timeless. Plus, the dark color of the cabinets helps to hide any smudges or spills on the surface as an added bonus.
11. Black and Gold Kitchen Decor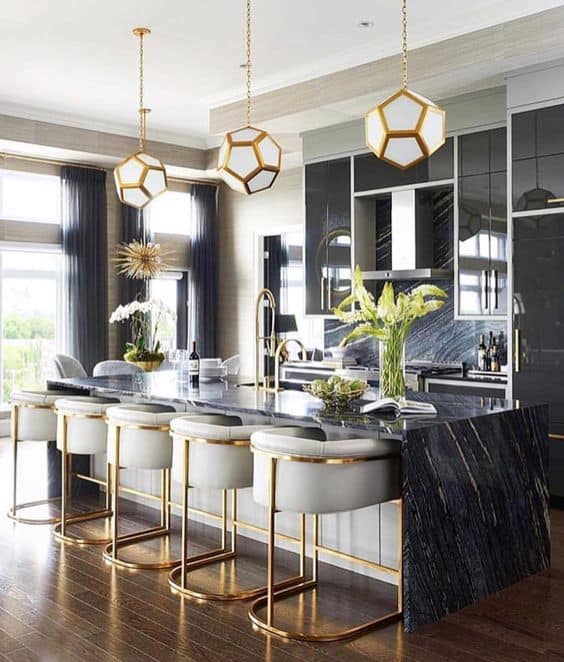 This sleek color combo exudes elegance and sophistication, while still being minimalist enough to work in a modern space. Plus, the gold hardware adds just the right amount of shimmer and shine. Plus, you can also incorporate other metallic accents, such as stainless steel appliances or copper pots and pans hanging from a sleek black pot rack.
12. Two-Tone Kitchen Cabinet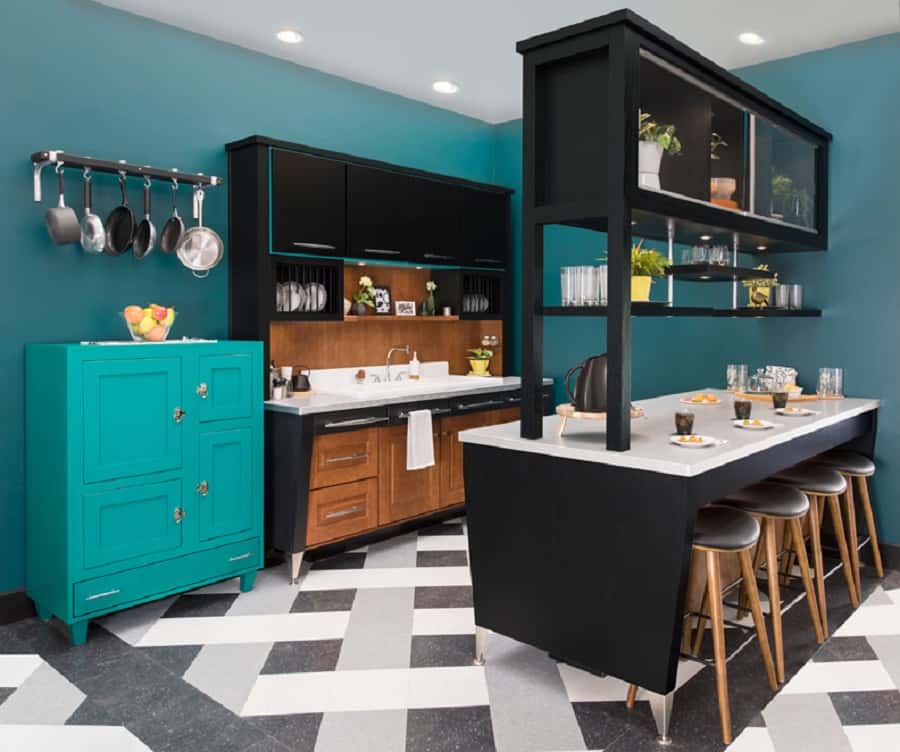 It's a unique spin on the classic all-black cabinets and adds some dimension to your kitchen space. You can either pair black cabinets with a lighter shade like ivory or white, or add in a pop of color like navy blue or hunter green.
Not only does it add visual variety, but it also allows for more flexibility in terms of where you place your cabinets. Mix and match the two colors on the cabinet for added aesthetic appeal.
13. Black and Brown Kitchen Cabinet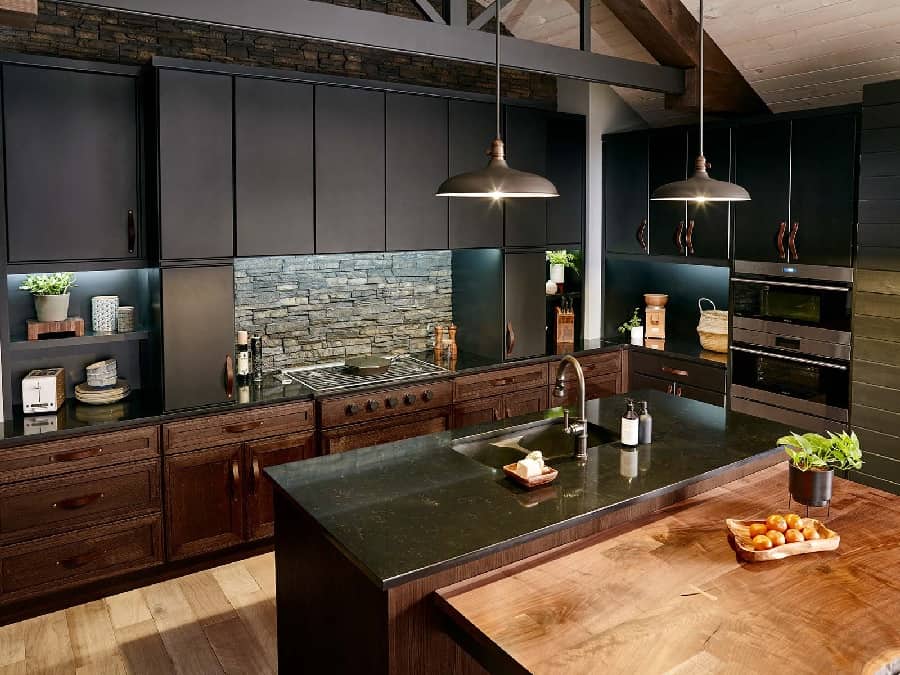 Black and brown cabinets are a classic combination that can create a sophisticated and modern aesthetic in any space. One idea is to paint the upper cabinets black and keep the lower cabinets a warm brown shade, creating visual interest and dimension.
Another option is to play with texture by using matte black cabinets on the top and matte brown cabinets on the bottom. For added depth, incorporate different shades of black and brown throughout the rest of the kitchen think dark wood floors or bronze hardware.
14. Espresso Kitchen Cabinet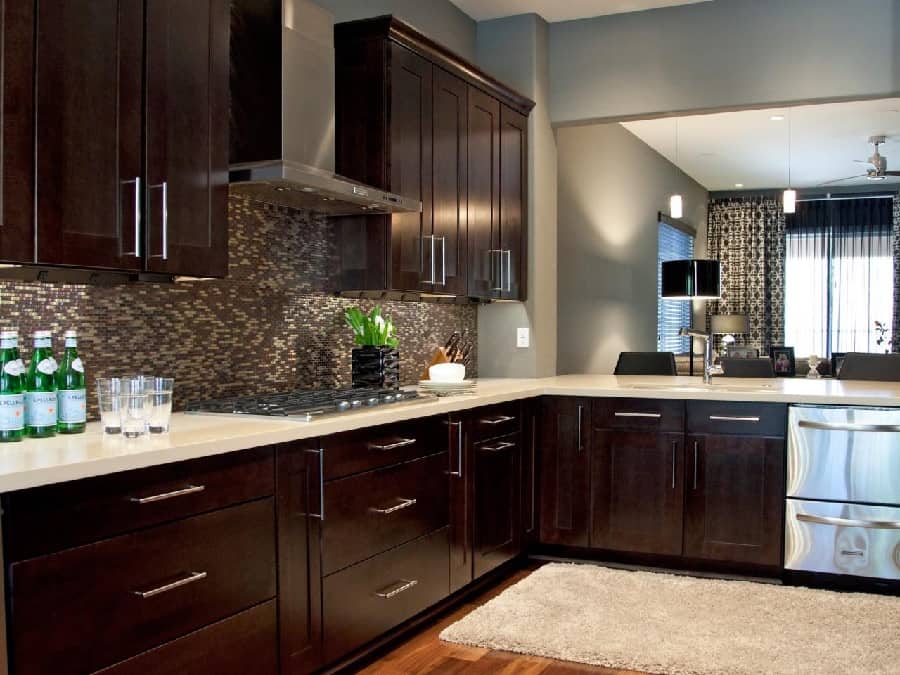 Consider going with espresso cabinets if you want a bold and modern look in your kitchen. Not only do they add a touch of elegance with their rich, dark hue, but they also pair well with a variety of design styles.
Plus, the rich color hides fingerprints and smudges better than lighter shades. For a sleek and sophisticated look, opt for glossy espresso cabinets paired with stainless steel appliances. Or, for a contrasting mix of materials, try pairing espresso cabinets with white countertops or glossy tile backsplash.
15. Glossy Black Kitchen Cabinet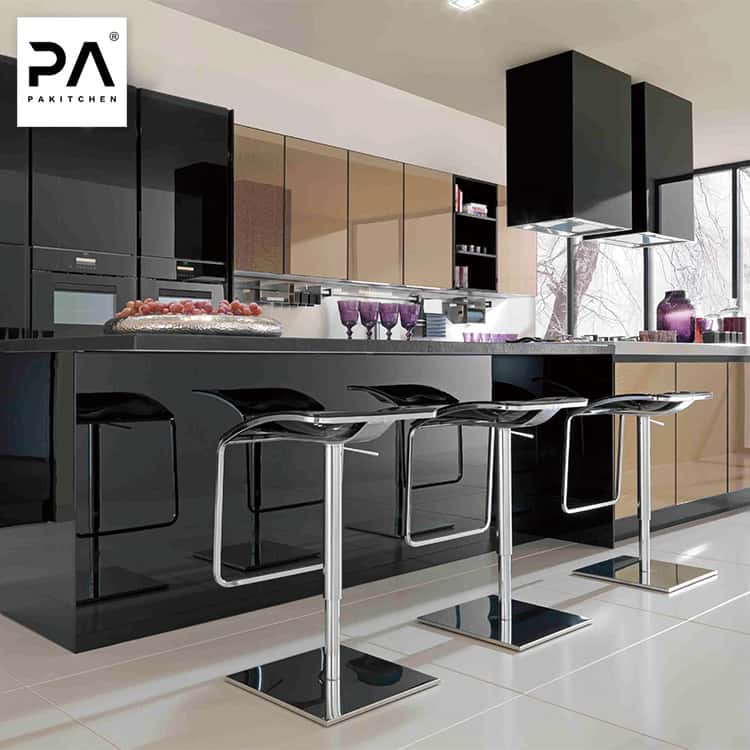 The glossy finishing will make your kitchen look more luxurious and high-class. It will also reflect light beautifully, making your kitchen appear brighter and bigger. If you want to make a statement with your black cabinets, go for a glossy finish.
The reflective surface brings an added level of glamour, and also helps to make a small space appear larger. Pair these sleek cabinets with marble countertops for a luxurious look, or add pops of color with bright accent pieces for a modern aesthetic.
16. High Gloss Black Kitchen Cabinet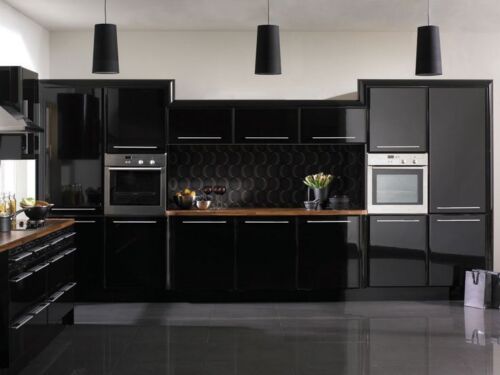 The shiny finish reflects light, creating a sleek and contemporary look. Plus, it's easy to clean and maintain the glossy finish. Another option is to mix and match different cabinet styles, like combining black cabinets with glass or frosted panels.
This adds visual interest and dimension to your kitchen design. And don't be afraid to play with texture. Incorporating black cabinets with butcher block countertops or natural wood accents can add warmth to the space.
17. Matte Black Kitchen Cabinet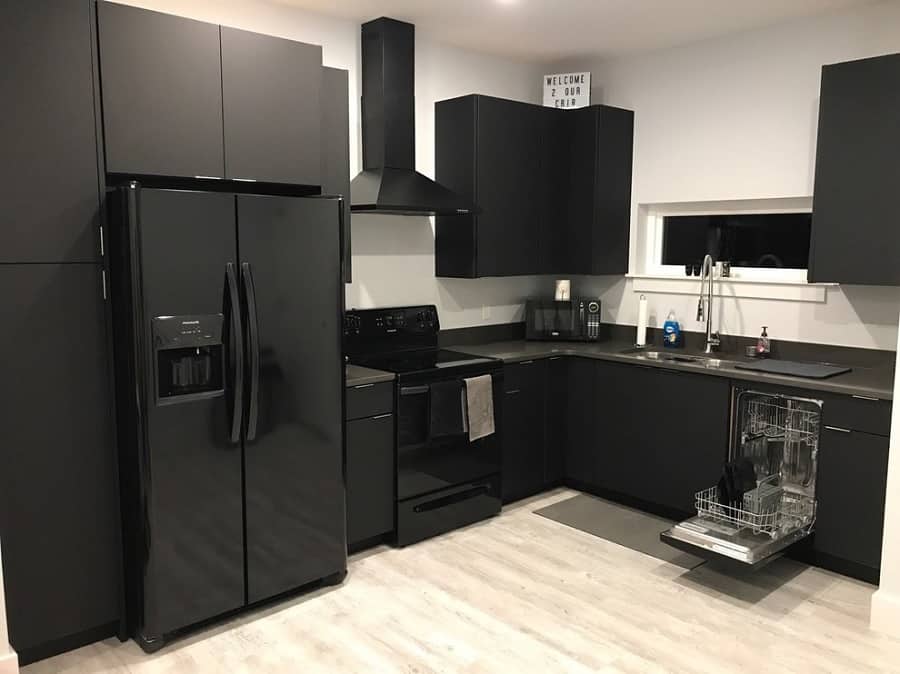 Matte black cabinets create a cozy and sophisticated feel, while still offering a bold statement in the kitchen. And because it's not a high shine finish, it's also less likely to show smudges and fingerprints.
Finally, don't be afraid to bring in other colors and materials to complement your black cabinets a dark grey countertops or white wall can really make them stand out even more.
18. Metallic Black Kitchen Cabinet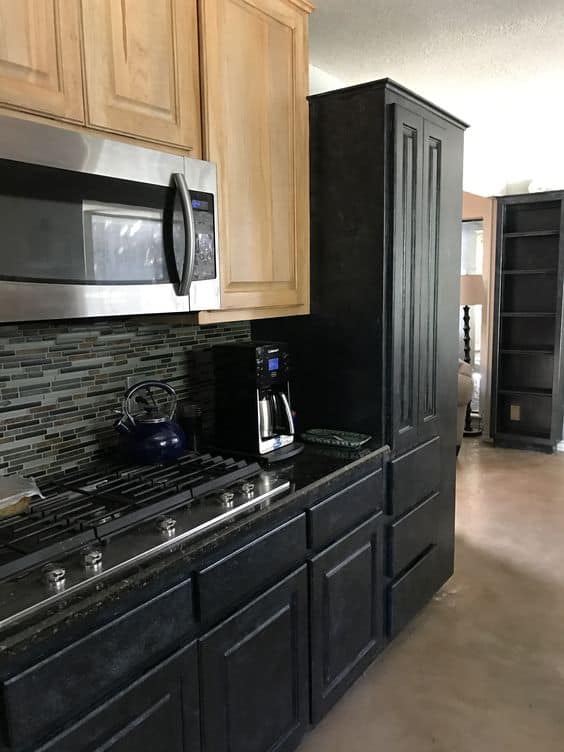 The flat finish adds a modern, sleek feel to the space while still being understated. Plus, it pairs well with a variety of other shades and materials, such as white marble countertops or stainless steel appliances. If you're feeling bold, you can even try mixing in some metallic accents for a bold contrast.
On the other side, if you want a more traditional look, you can pair your black cabinets with warm wood tones. This creates a beautiful and timeless aesthetic.
19. Pearl White and Black Kitchen Cabinet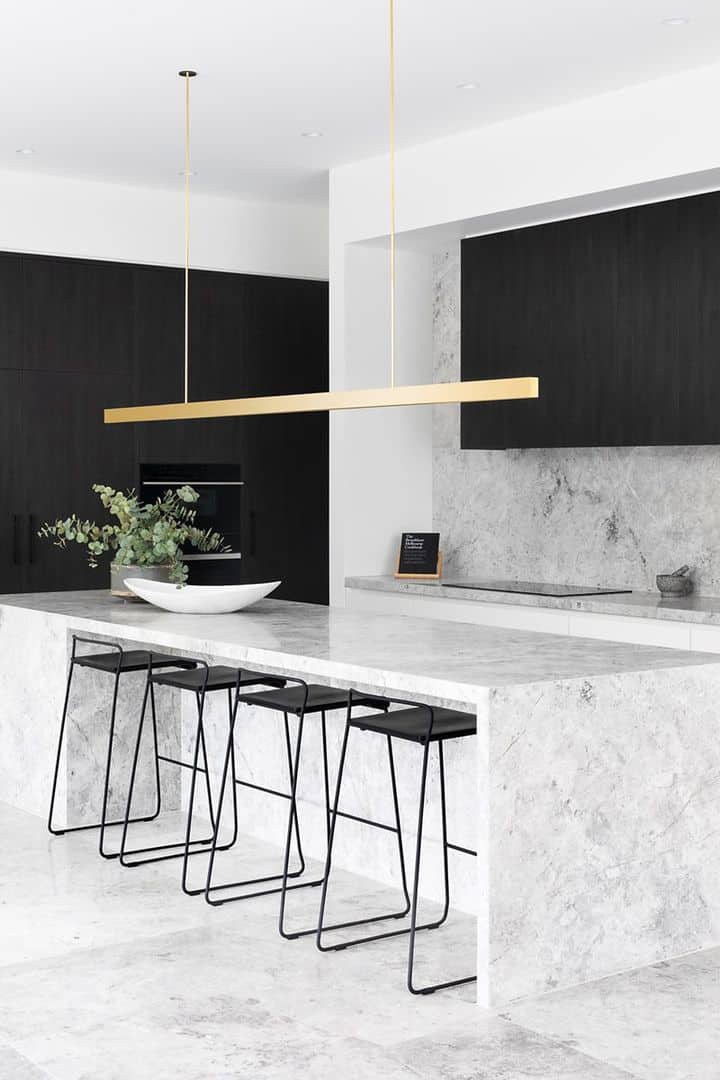 This combo adds a touch of elegance with the pearlescent finish, while the black adds a sleek and modern vibe. Plus, the contrast of the two colors adds visual interest to your kitchen space. In terms of design ideas, a great way to incorporate this color combo is by pairing it with marble countertops or stainless steel appliances.
You could also add in pops of color with accessories or accent pieces like brightly colored dish towels or bold patterned wall tiles. Ultimately, this combo can really elevate your kitchen's design while still keeping a clean and sophisticated look.
20. Solid Wood Black Kitchen Cabinet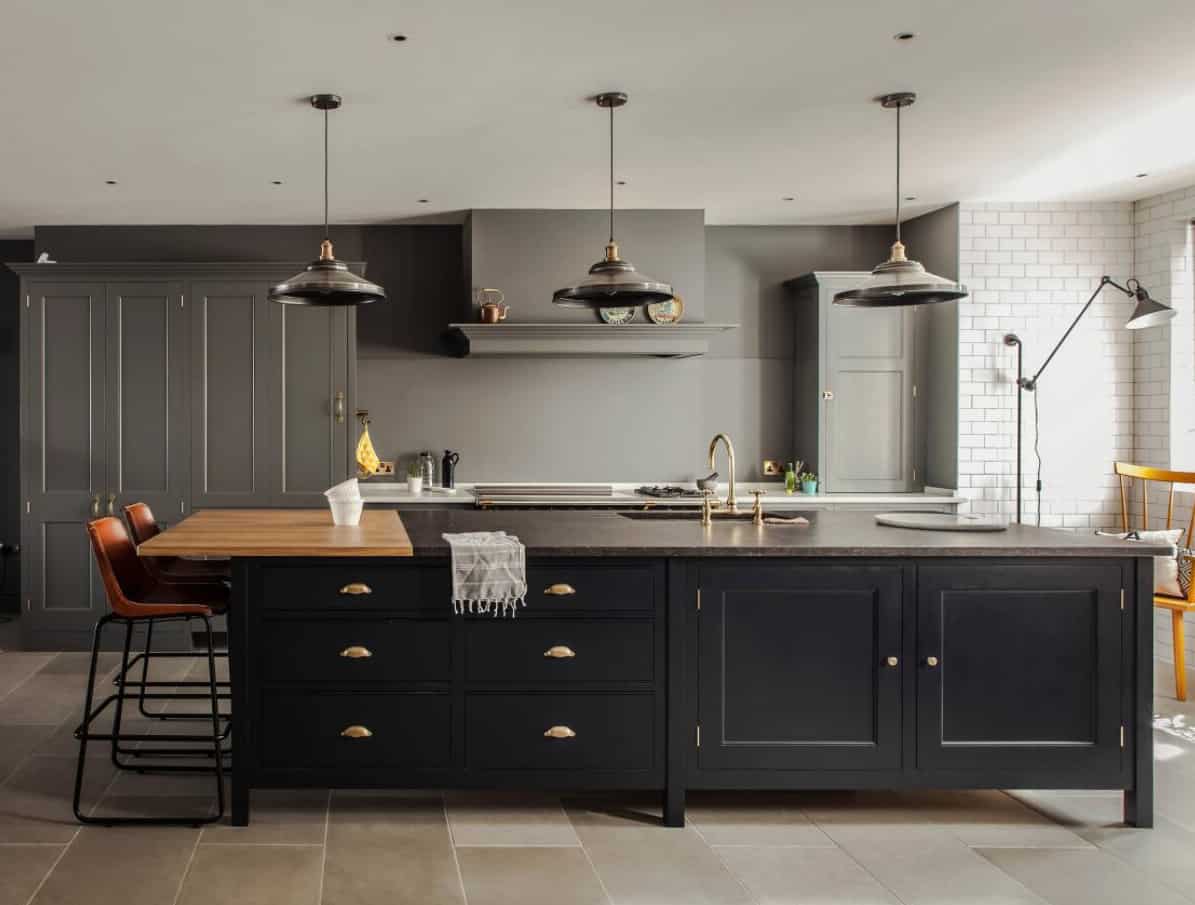 Solid wood black cabinets create a sleek, modern look and pair beautifully with stainless steel appliances and granite countertops. Plus, they add a touch of finesse and elegance to any kitchen.
One great idea is to mix and match solid wood black cabinets with white or light colored cabinets for an eye-catching contrast. Or, keep it simple and uniform by using black cabinets throughout the entire kitchen.
21. Distressed Black Kitchen Cabinet
This gives the cabinets a rustic and vintage feel, adding character to your kitchen. The best part about this style is that it's completely customizable. You can choose how much distressing you want, whether it be subtle scratches or major gouges.
You can even add in a pop of color by distressing the paint to reveal a different shade on each corner. Another great aspect of this look is that it doesn't have to be perfect. The imperfections only add to its charm.
22. Hand Painted Black Kitchen Cabinet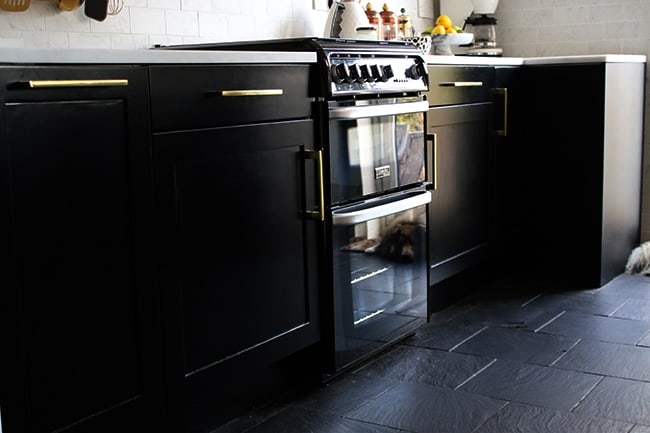 Hand painted black cabinets might be just the thing. It gives each cabinet its own unique touch, which is perfect for adding personality to your kitchen. By opting for hand painted cabinets, you can customize the finish to complement the rest of your kitchen design.
For a bold, trendy look, consider high gloss or matte black. For a more subtle touch, try a distressed or antique finish. You can also play with texture by choosing cabinets with raised panels or interesting patterns.
23. Reclaimed Wood Black Kitchen Cabinet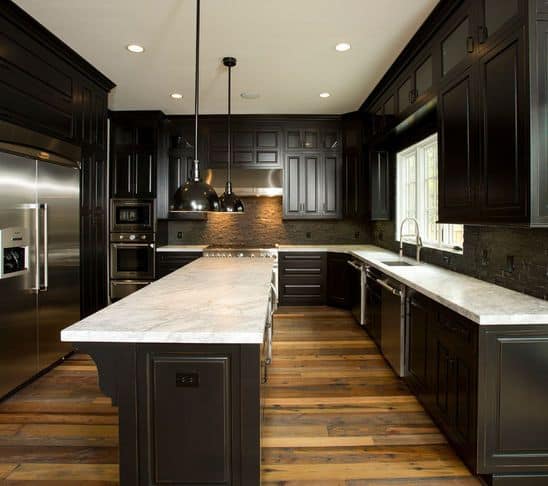 This type of cabinet pairs well with industrial or rustic decor, adding texture and depth to the room. Plus, using reclaimed wood is a sustainable option that helps reduce waste. For added contrast, consider installing white countertops or using brass hardware.
Another idea is to incorporate pops of color through accessories like dish towels and appliances. Plus, the natural variations in the wood grain will create a one-of-a-kind look that can't be found in mass-produced cabinet options.
24. Upcycled Black Kitchen Cabinet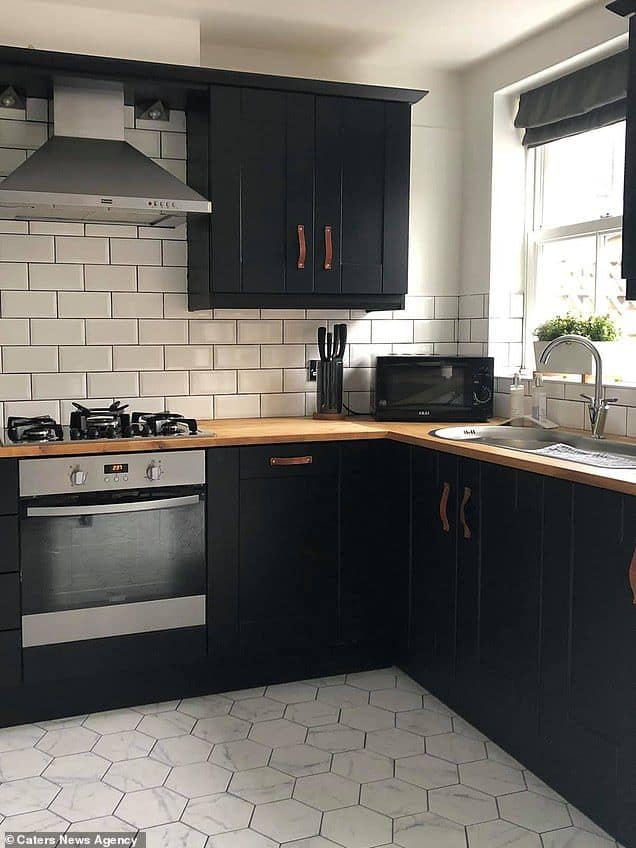 Instead of opting for the traditional smooth black cabinet doors, try adding some texture by using reclaimed wood or adding intricate designs with stencils. Or, if you want a pop of color, consider painting the cabinets and then distressing them for an antique look.
Upcycling your black cabinets will give your kitchen a one-of-a-kind look that's sure to impress. Plus, it's a great way to show off your creative skills while being environmentally friendly.
25. Base Molding for Black Kitchen Cabinet
Base molding can add visual interest, breaking up the monotony of all black cabinets and creating a clean, finished look. It can also make the cabinets appear taller, adding to the overall sense of luxury in the space.
One option for a striking look is to choose contrasting base molding in a lighter shade, such as white or cream. For a more subtle approach, opt for base molding in a dark shade that matches the cabinets or in dark wood for a touch of warmth. Experiment with different heights and styles to find the perfect fit for your black kitchen cabinet setup.
26. Stained Black Kitchen Cabinet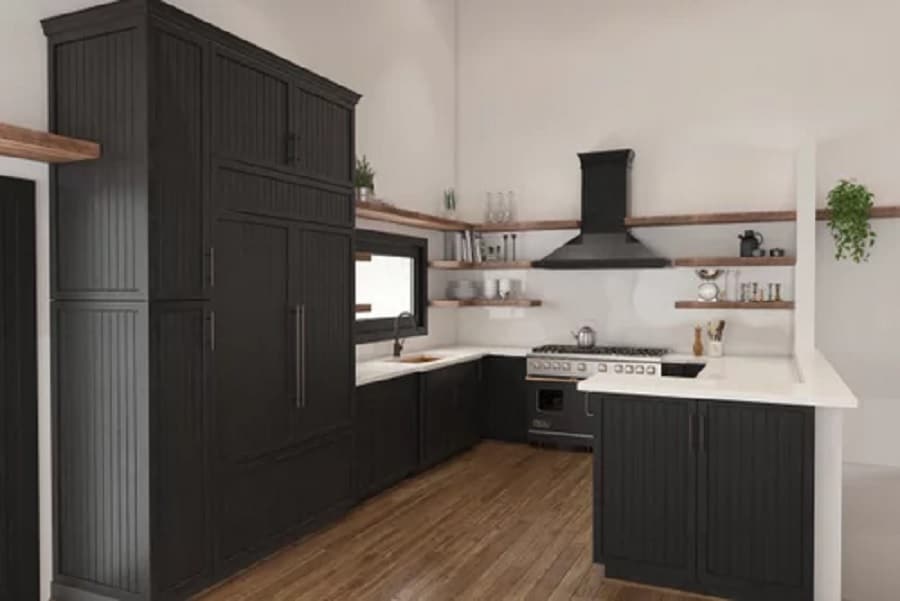 Stained cabinets allow you to keep the bold, dramatic look of black while also adding depth and dimension through different shades and hues. Plus, they offer a more traditional style compared to painted or lacquered options. You can also add some contrast by pairing stained black cabinets with lighter accents, like exposed shelving or whitewashed countertops.
27. Wall Mounted/Hanging Black Kitchen Cabinet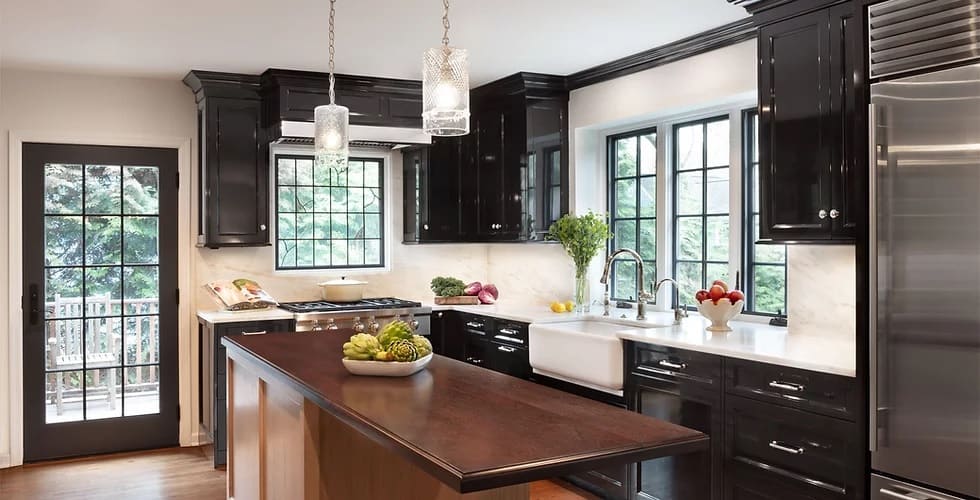 Hanging the black cabinets can be a smart solution if you want to create a sleek and modern look to the kitchen. Besides they are saving valuable floor space, they also add a chic touch to any kitchen.
Plus, because the cabinets are mounted on the wall, you have easy access to everything in your kitchen without having to kneel down or dig through deep shelves. And if you want to add some contrast, try pairing the hanging black cabinets with light-colored countertops or walls.
28. Decorative Hardware for Black Kitchen Cabinet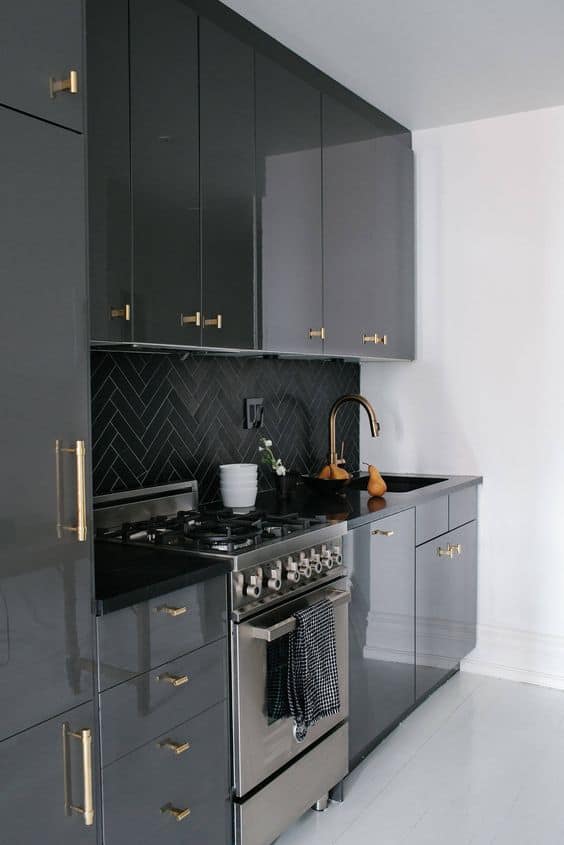 If you want to elevate the look of your kitchen effortlessly and affordably, consider installing the decorative hardware to your kitchen cabinet. You can try applying the matte black knobs or try something more unique like brushed brass, which will take a huge part in making your kitchen look adorable in no time.
Plus, shiny silver or brass handles and knobs will stand out against the dark cabinets, creating visual interest in your space. Alternatively, you could choose hardware in a sleek black finish for a more streamlined look.
29. Curved Black Kitchen Cabinet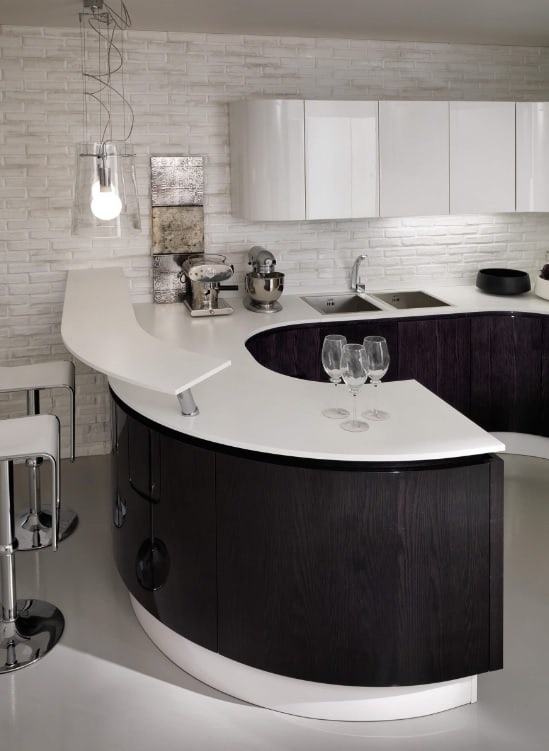 The curve may be subtle, but it adds a hint of drama to this otherwise simple black kitchen cabinet. It adds an unexpected touch and adds visual interest, making it a standout choice for those looking to add some personality to their space. Plus, the curved design provides extra storage space, allowing you to maximize your cabinet space without sacrificing style.
This cabinet also pairs well with other black elements in the kitchen for a cohesive and modern look, or paired with lighter colors for contrast.
30. Angled Black Kitchen Cabinet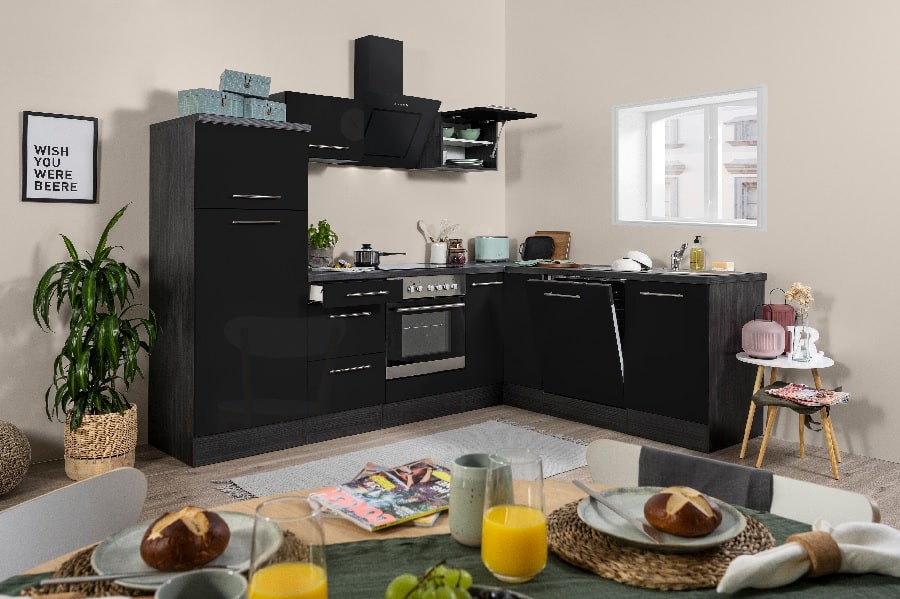 One idea to really make them stand out is to go for an angled design. This adds visual interest, as well as extra storage space in the corners. Plus, it gives you the opportunity to play with contrasting colors and materials on the adjacent walls or countertops.
Instead of sticking with all-black, try adding in some wood accents or a bold pop of color for a modern and eclectic look. Or, keep it all black for a sleek and minimalist aesthetic. Either way, opting for an angled cabinet design is a unique twist on a classic black kitchen cabinet look.
31. L-Shape Black Kitchen Cabinet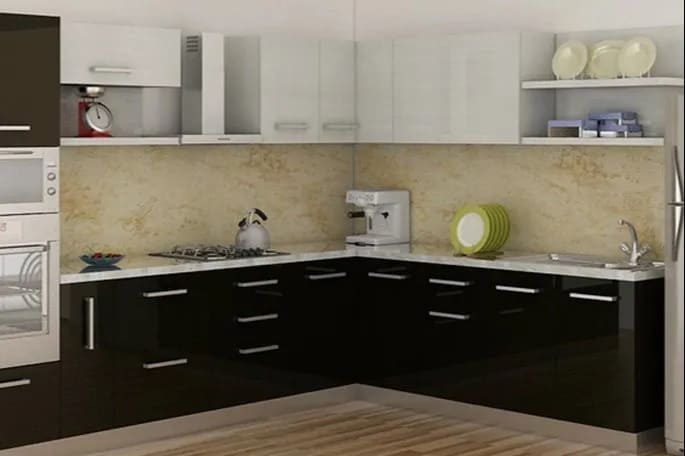 If you're considering going dark with your cabinets, an L-shape layout is a great option. This layout allows for efficient storage and easy movement around the kitchen, and the black cabinets give it a modern edge. One idea for this type of layout is to pair black cabinets with lighter countertops, like white marble or light wood, to create contrast and add visual interest.
Another option is to go all-black by using black countertops as well, creating a bold monochromatic look.
32. Corner Black Kitchen Cabinet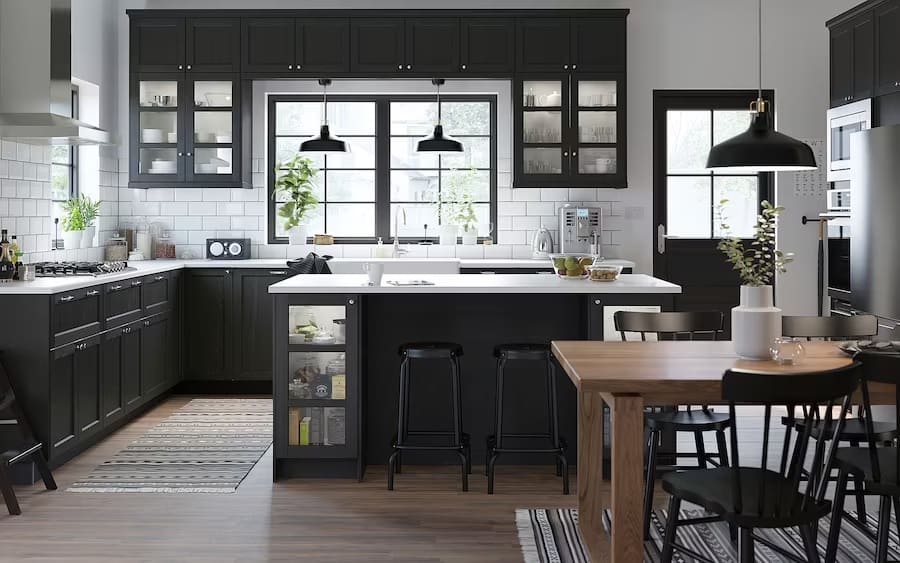 These small but mighty cabinets are often overlooked, but they can add so much style and functionality to your kitchen. The dark color adds a dramatic touch, and the corner placement gives you extra storage without taking up valuable floor space.
Plus, if you want to go for a monochrome look, a corner black cabinet pairs perfectly with other black accents like countertops, appliances, and hardware.
33. Island Black Kitchen Cabinet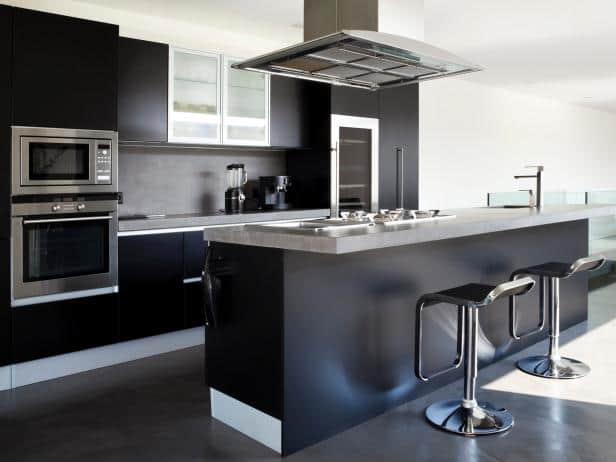 While white kitchens will always be timeless and classic, there's something so chic and elegant about a black kitchen. One idea for incorporating black cabinets into your design is with an island. A black kitchen island not only adds a bold statement, but it also allows for a contrast against lighter cabinets or countertops. Plus, a black island can serve as an extra workspace and storage solution in the kitchen. Another option is to just go all out and have both your upper and lower cabinets in black.
Overall, black kitchen cabinets are a great way to achieve a sophisticated and stylish look in your kitchen. They can be used in a variety of design styles from traditional to contemporary. If you're thinking about painting your kitchen cabinets black, consider using a high-gloss paint for a unique look.