Whether you're a professional chef or just someone who likes to cook at home, you know that having a good knife block is key. But if you're anything like me, you don't want to spend a ton of money on something that's just going to sit on your kitchen counter.
That's why I've gathered 30 of the best DIY knife block ideas out there. From simple solutions made from scrap wood, to more complicated builds with marble and other materials, there's sure to be an idea here that will work for you.
So get inspired, and start building your own DIY knife block today.
1. Use an Old Block of Wood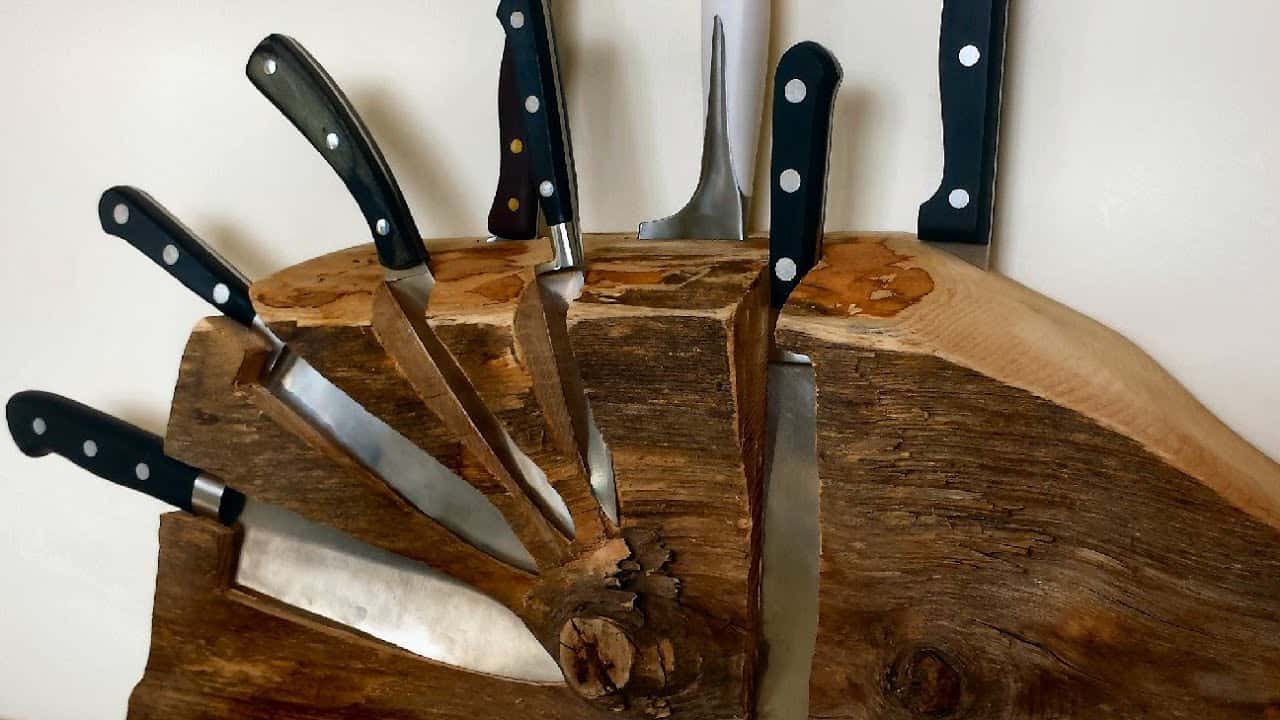 A simple and budget-friendly option is to repurpose an old block of wood. All you have to do is sand it down, stain or paint it in a color that complements your kitchen decor, and then drill holes for the knives to fit into. Or, add some creativity by using different materials such as bamboo skewers or leather straps to hold the knives in place.
Not only will this knife block add charm to your kitchen countertop, but it also frees up drawer space and keeps your knives easily accessible while cooking.
2. Turn a Mason Jar Into a Knife Block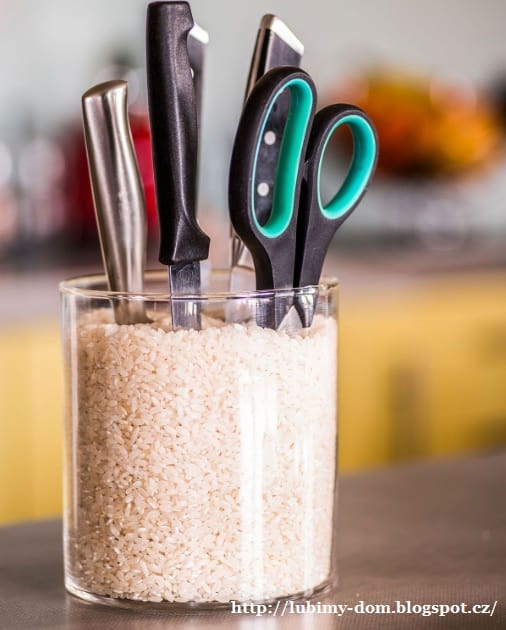 Repurposing the mason jar will be such a great option, as it is a nice, compact way to store your knives. You can simply fill the jar with rice, then insert your knives into the openings. This will help keep your knives protected and stored safely, while also adding a decorative touch to your kitchen.
Also, if you have other kitchen tools or utensils that you need to store, you can simply use another jar for those items and create an all-in-one DIY knife block.
3. Make a Knife Block Out of Wine Corks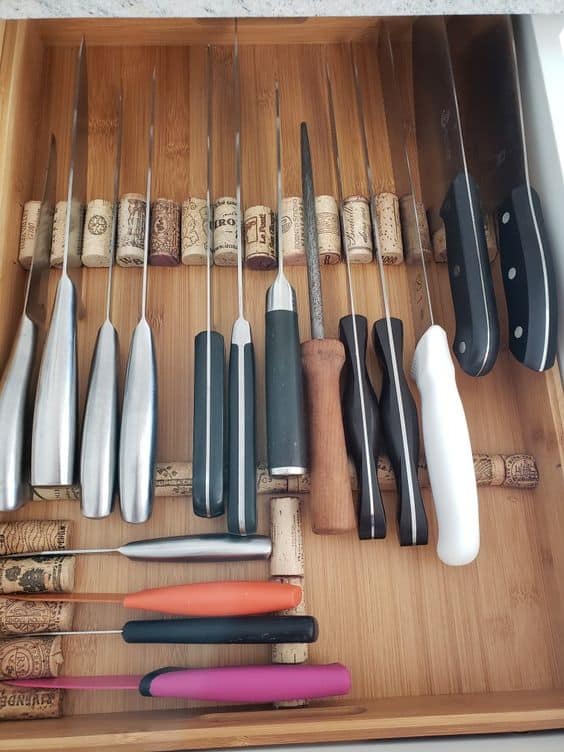 Upcycle the wine corks into a unique and functional DIY knife block. This project is easy to do and only requires a few basic materials. To make a DIY knife block out of wine corks, start by sorting your wine corks.
The knives are now safely stored in their own special drawer! When the glue has dried, place each of your prized possessions into its own cork-filled cubby for safekeeping.
4. Use an Old Wooden Cutting Board as a Base for Your Knife Block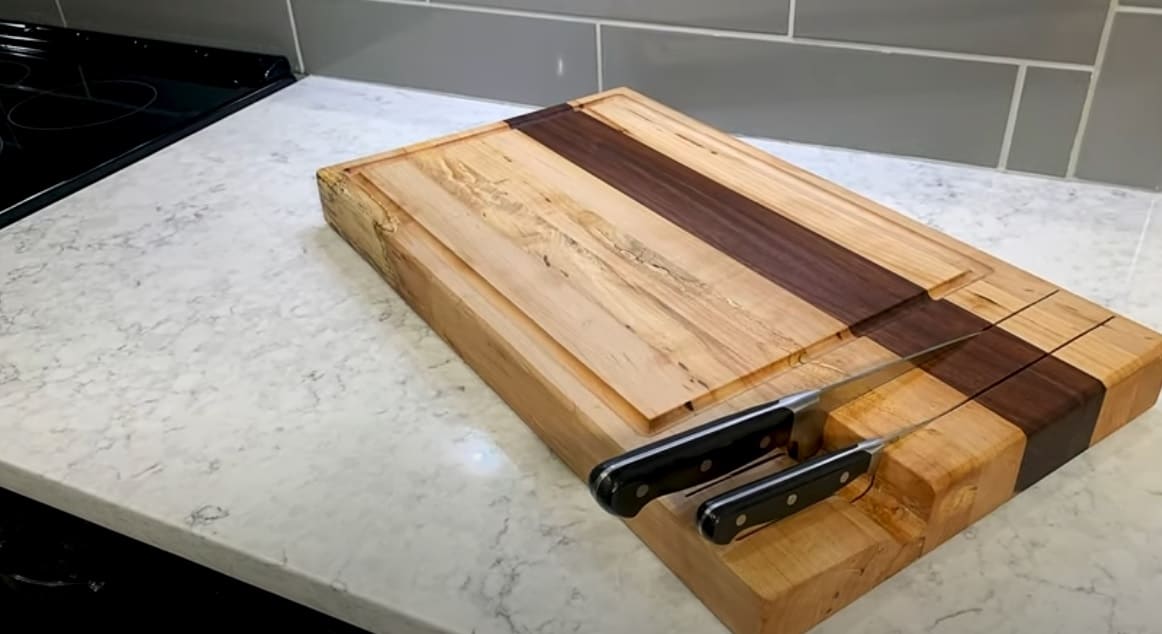 An old wooden cutting board makes the perfect base for a DIY knife block. Simply measure and mark where the knives will go, then use a drill to create holes in those spots. A functional and unique knife block made from repurposed materials.
This will both save you money and also adds an artistic touch to your kitchen. Plus, if the wood ever becomes worn or damaged, simply replace it with another used cutting board and give your knife block a new look.
5. Get Creative with Recycled Materials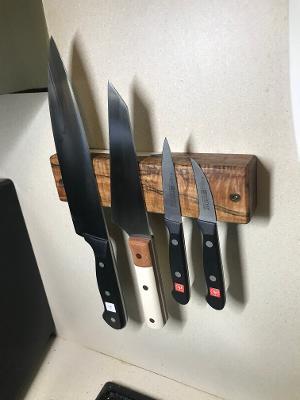 Try repurposing an old wooden pallet and hanging knives in a farmhouse-chic style. With the following materials, your knives will perfectly stored while also adding a statement to the kitchen effortlessly and affordably in one.
Supplies needed:
Wood
Magnets
Drill
Router (or hammer and chisel)
Sander (or paper)
2 Part Epoxy/ CA glue/ Hot glue
Screws
6. Make a Magnetic Knife Strip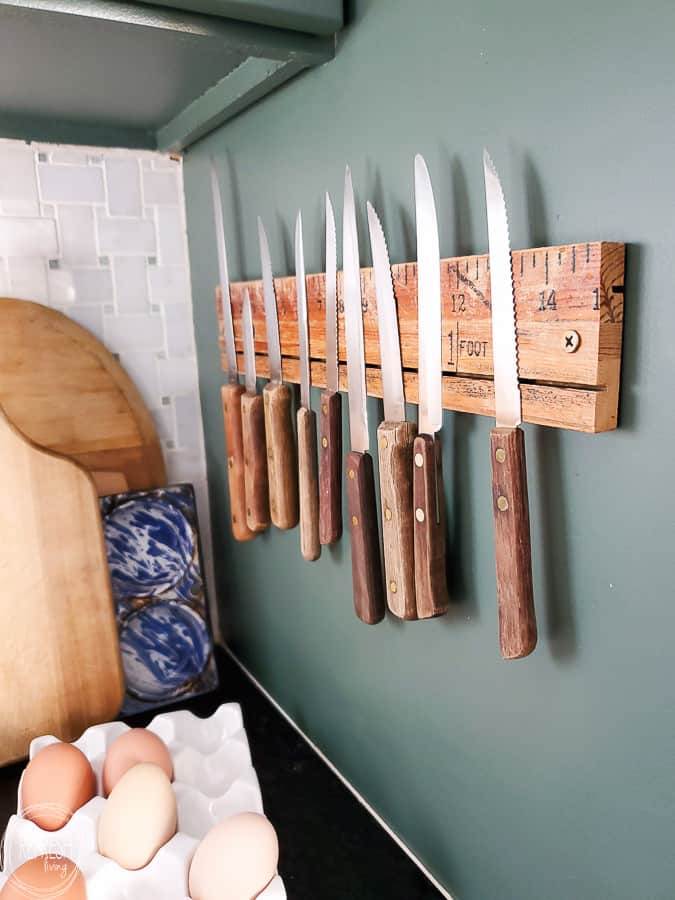 Simply find a piece of wood or metal, sand it down, and adhere magnets to the surface at regular intervals. Then, just hang it on the wall and presto instant knife storage. Not only does it keep your knives within easy reach, but it also adds a unique design element to your kitchen. Plus, you can customize the size and shape to fit perfectly with your space.
7. Hang Your Knives on The Wall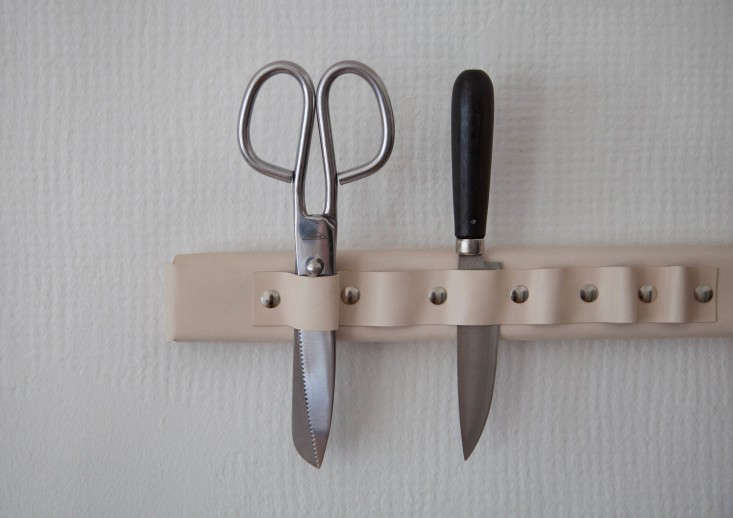 All you need is:
Wood cut to the desired length
Leather hide, at least 14 by 7 inches
A handful of pushpins or nails
Sandpaper
Scissors
A hammer
An awl
First, sand down the wood, then place atop of the flipped leather. Secure the leather in place with the pushpins. Create the knife holder by cutting a strip of leather that is done about one-inch thick. Push the leather against itself until it makes a loop, then secure it with a pushpin. After all, attach it to the wall and it is ready to use.
8. Use a Utensil Holder as a Knife Block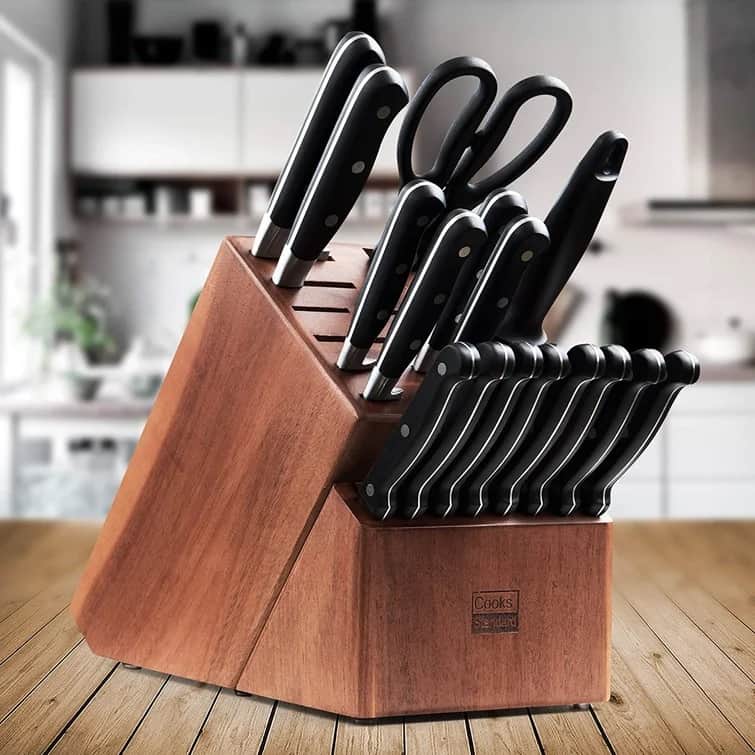 Simply slip the blades into the slots normally reserved for spatulas and serving spoons, and voila-instant knife block.
Not only does it free up counter space, but it also adds a quirky touch to your kitchen decor. Additionally, this hack allows for easy customization of the knife block's size and layout. Are you constantly reaching for that trusty bread knife. Simply rearrange the utensil holder so that it's within easy reach. Want to add new knives to the collection.
9. Repurpose an Old Silverware Tray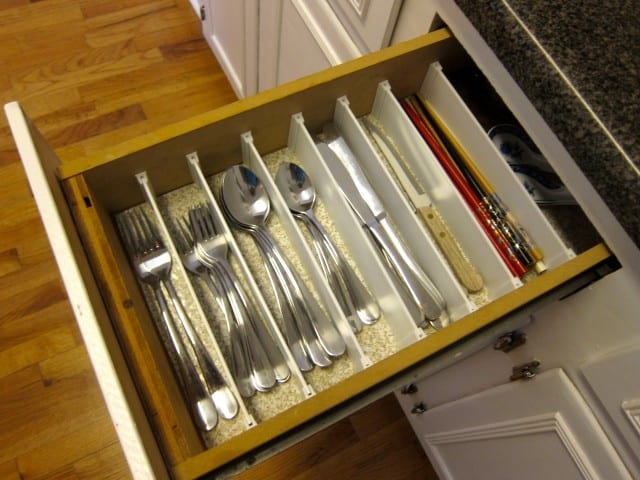 It's time to get organized with a DIY knife block! One creative idea is to repurpose an old silverware tray. Simply arrange all of your knives in the different compartments and set it upright on your counter.
This solution save valuable drawer space while also adding a touch of retro charm to your kitchen decor. Another option is to use an old wine rack and insert your knives into the slots vertically.
10. Create a Shadow Box Knife Block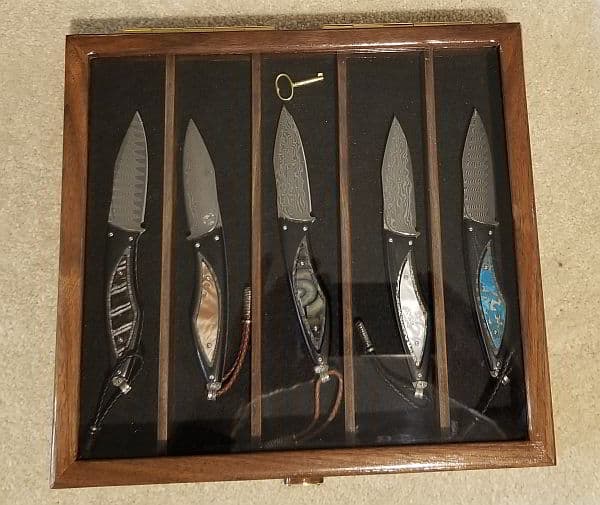 One idea is to repurpose an old shadow box into a knife holder. Simply remove any glass or backing from the frame and add small wooden dowels to create slots for your knives. If you want to add some extra personality, try decorating the frame with paint or decoupage.
This unique knife block will free up space on your countertop, and also makes a fun statement piece in your kitchen. Plus, using an old shadow box means you can easily switch out and update the design whenever you want.
11. Find a Pretty Tray to Display Your Knives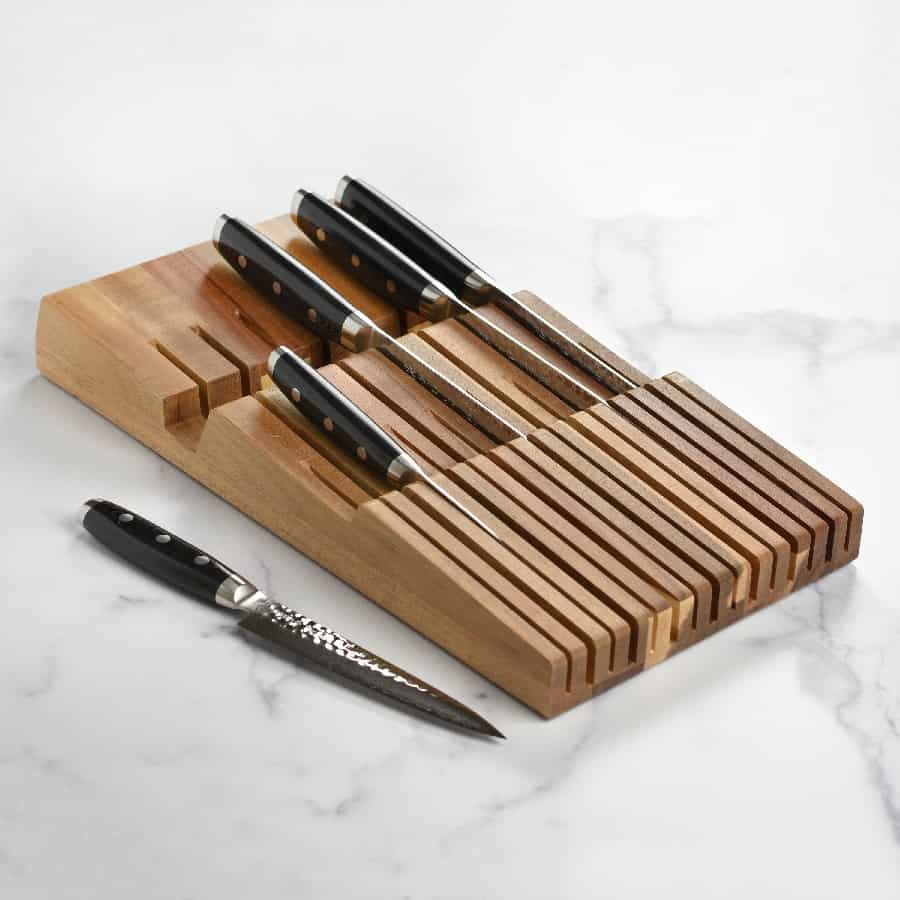 Ditch the traditional knife block and try using a tray instead. It's a great way to add some personality to your kitchen and declutter those cluttered drawers. Plus, with a tray, you can easily grab what you need without rummaging through stacks of utensils.
A wooden or metal tray will provide a sturdy surface for your knives while also elevating the look of countertops.
12. Use an Old Knife Rack as the Base for Your Knife Block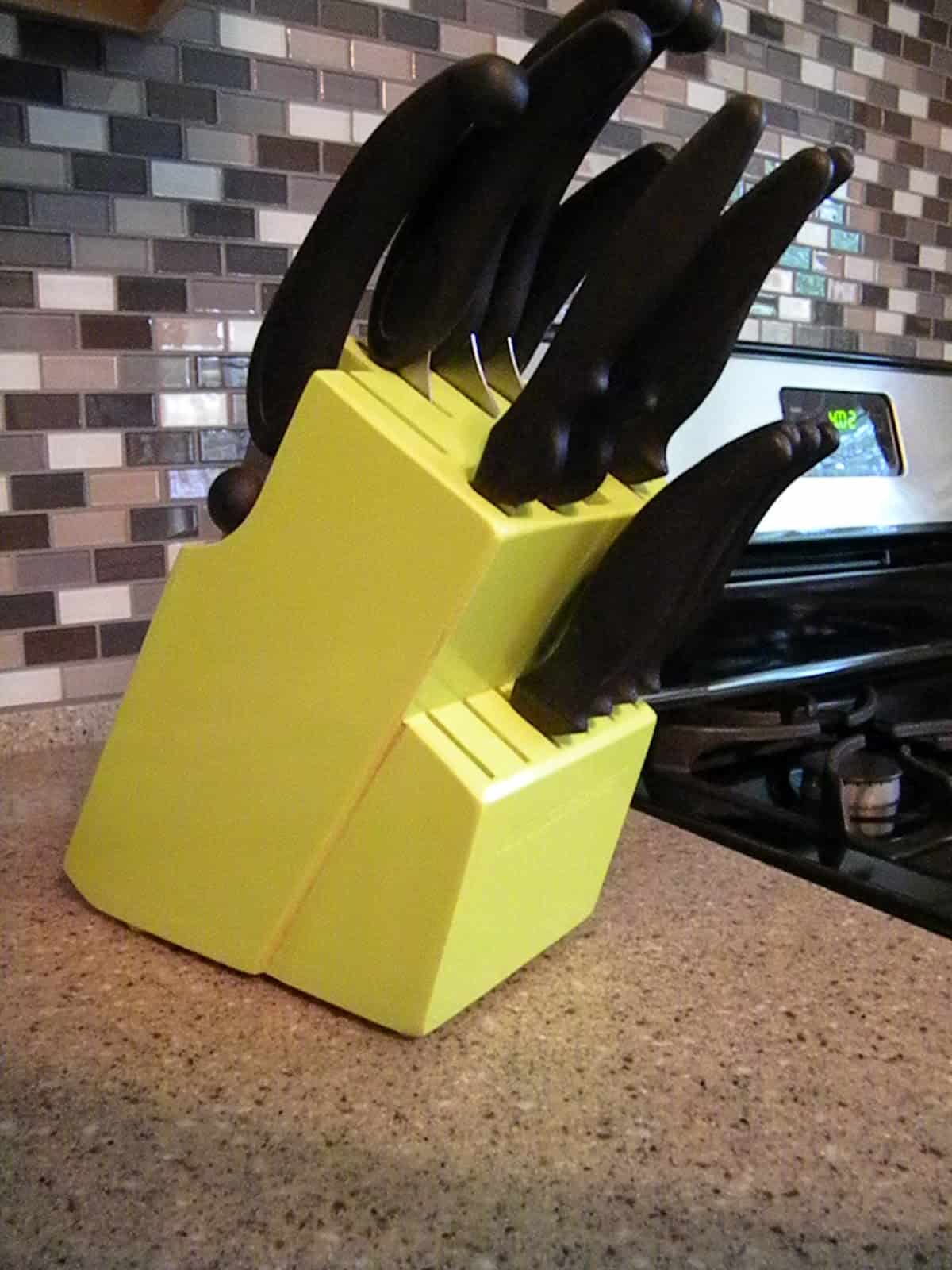 An old knife rack can be repurposed to serve as the base for your very own DIY knife block. Simply fill the slots with various kitchen knives, or if the slots are too small, hot glue magnets onto the back of each knife and stick them onto the surface of the rack.
It's a colorful and unique solution that also helps to declutter your kitchen drawers. Plus, it's environmentally friendly since you're giving new life to something that may have otherwise ended up in a landfill.
13. Try a DIY Knife Block Made from Wooden Slab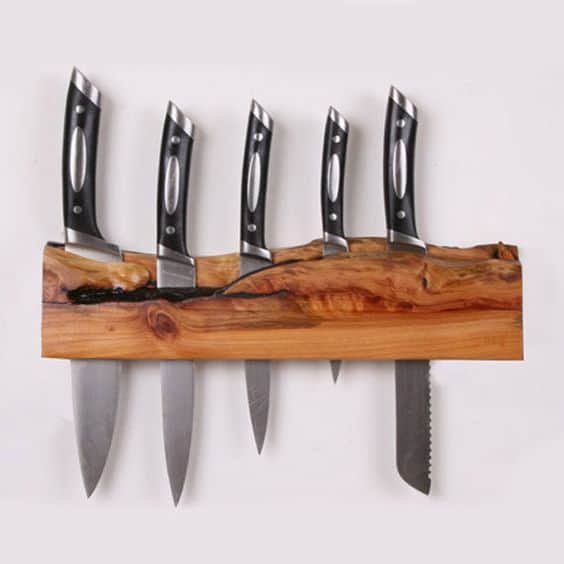 It is not a big deal to make a knife block from wooden slab. All you have to do is cut a piece of wooden slab to fit your knives, and make the hole that fits the size of the knives. Opt for the finishing you desire that will make a perfect focal point in your kitchen.
If you want to highlight the natural look, consider the clear coat, which will highlight the natural texture and color of the wood. After all, attach it to the wall.
14. Make it Flexible for Any Size of the Knives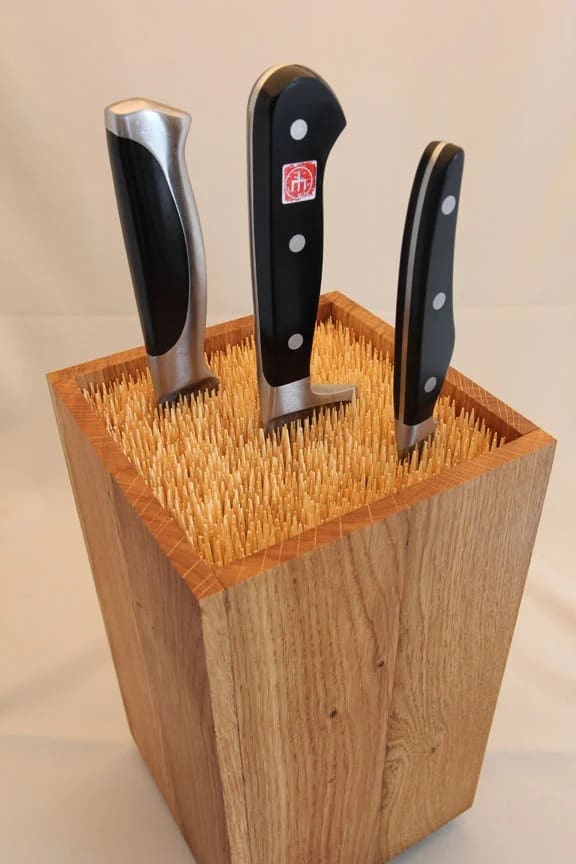 It's time to upgrade to a knife block. This DIY option will save money, plus, it also adds a rustic touch to your kitchen decor. All you will need is the wooden box, wood glue, wood oil, then bamboo skewers.
Fill in the wooden box with the bamboo skewers, then trim the bottom part of the bamboo skewers. Apply the wood oil to make the the box looks more beautiful. Last, Put the knives to the box.
15. Upcycle an Old Books Into a Knife Block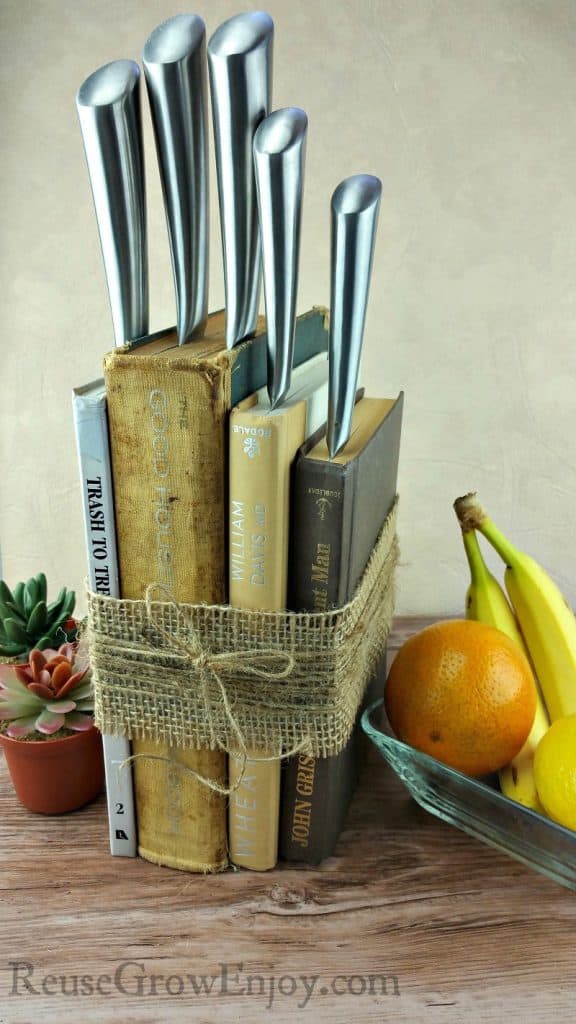 By upcycling some old books, you can easily create a unique and functional knife block.
Supplies needed:
4 to 5 books
Wide tape
Scissors
Wide burlap ribbon
Twine
Wrap the books with the tape to make it stands stably. Then, cover the tape with the burlap ribbon and twine. It will bring in the rustic style effortlessly.
16. Try a Knife Rack Made from Wire Mesh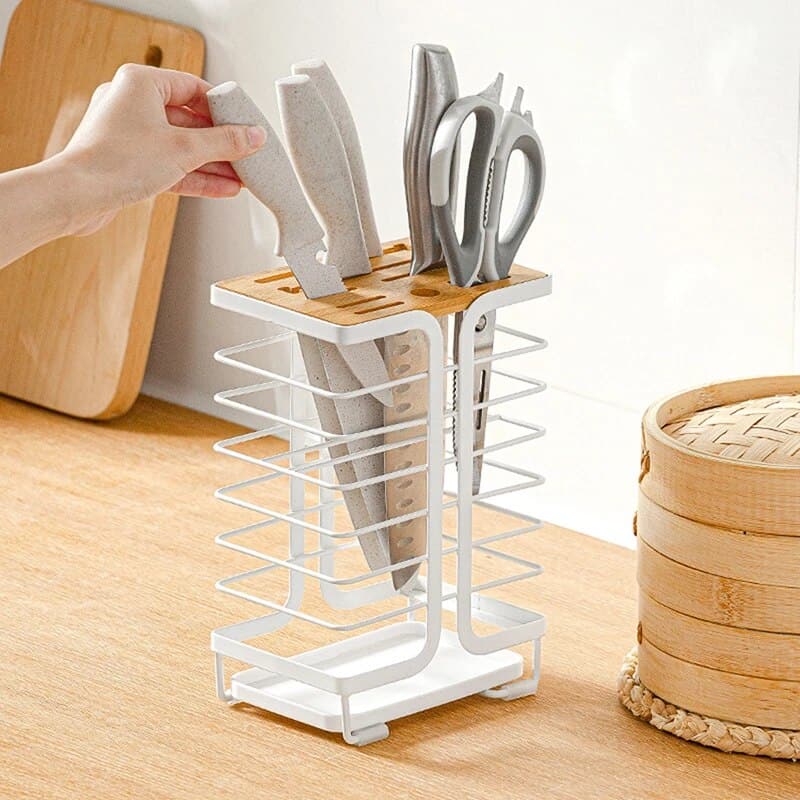 Most spice racks come with several vertical slots, making them perfect for storing knives. And if you don't have a spare spice rack lying around, any container with enough room for your knives' blades can work.
17. Try Creating a Custom Drawer Insert to Hold Your Knives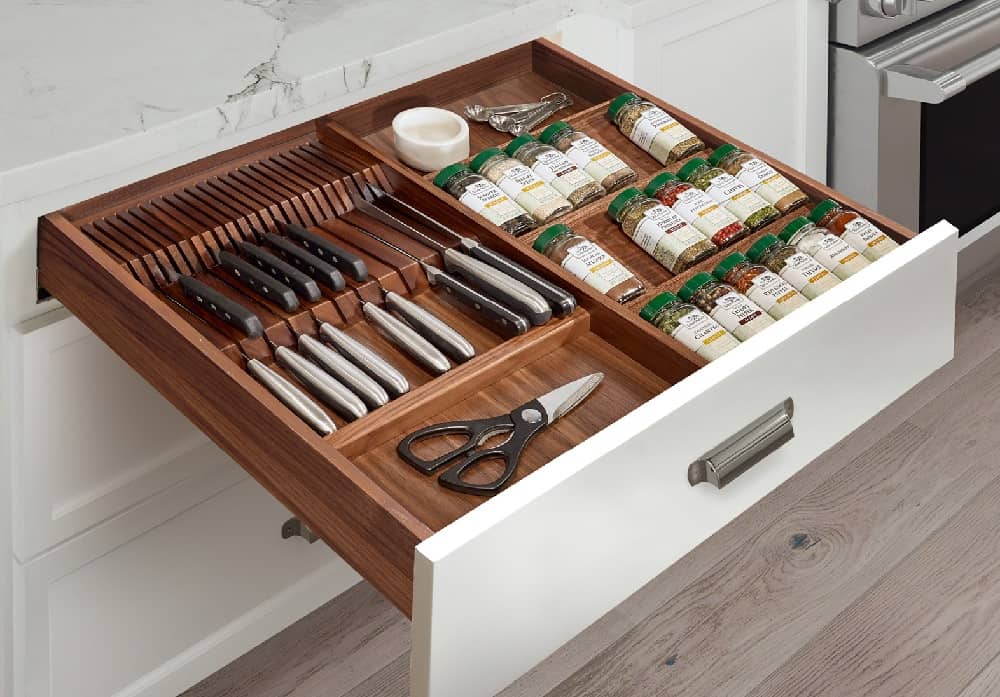 A simple DIY knife block can easily be made by removing a drawer divider and inserting wood blocks, cut to size, to hold all your knives securely.
Not only is this an easy and inexpensive solution, but it also maximizes the storage potential of your kitchen space. And if you're feeling crafty, you can even paint or stain the wood blocks for added style. So ditch those bulky knife blocks taking up valuable counter space and try creating your own unique drawer insert instead.
18. Using Other Kitchen Items, Such as Cutting Board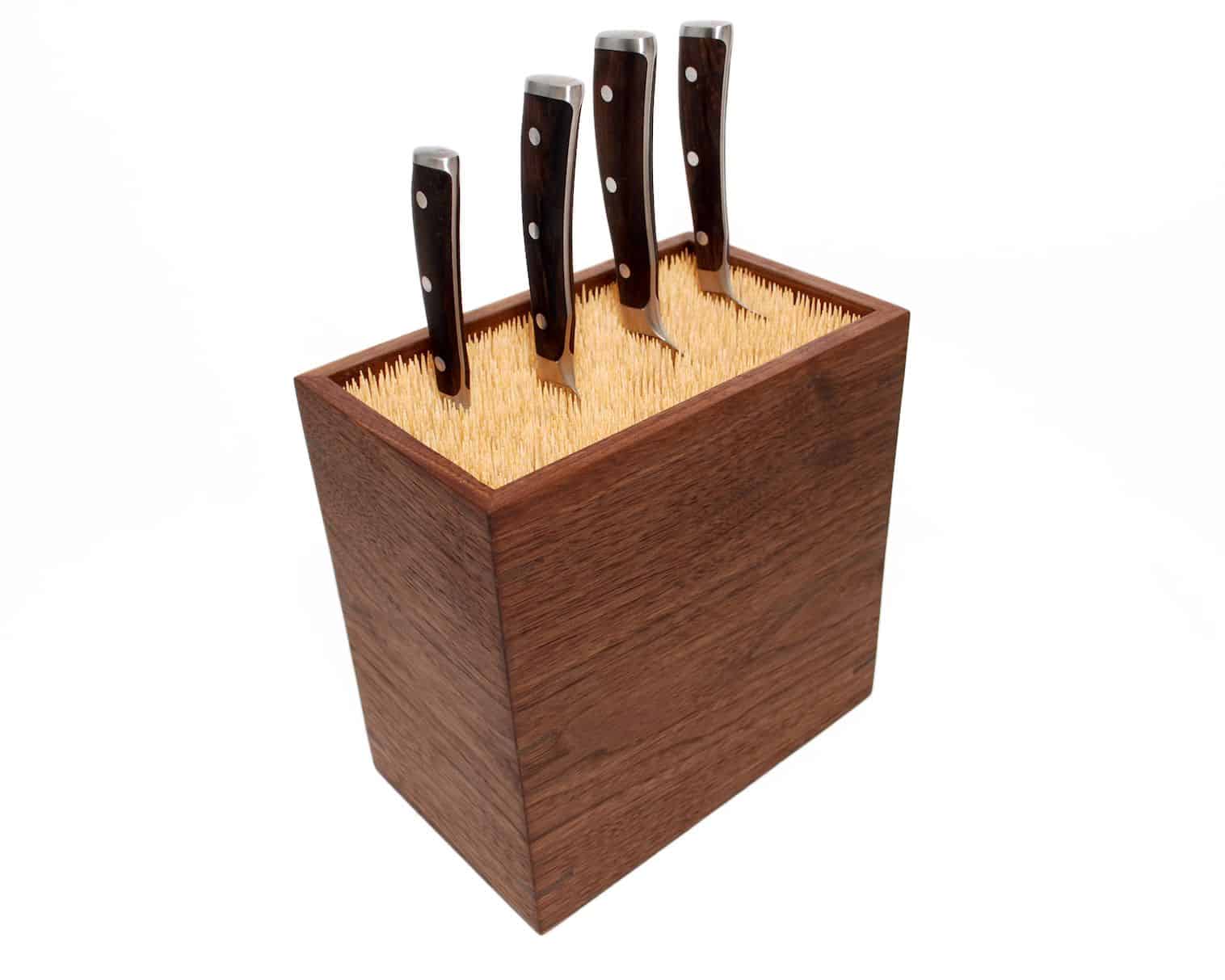 Try upcycling the cutting board and transform it into DIY knife block. Simply arrange the cutting boards vertically on the counter, insert bamboo skewers or small dowels as knife holders, and place your knives in between. It will both free up drawer space, and adds a unique touch to your kitchen decor in one.
You can mix and match different types and sizes of cookie sheets or cutting boards for added visual interest.
19. Try a DIY knife block made from wine crates or boxes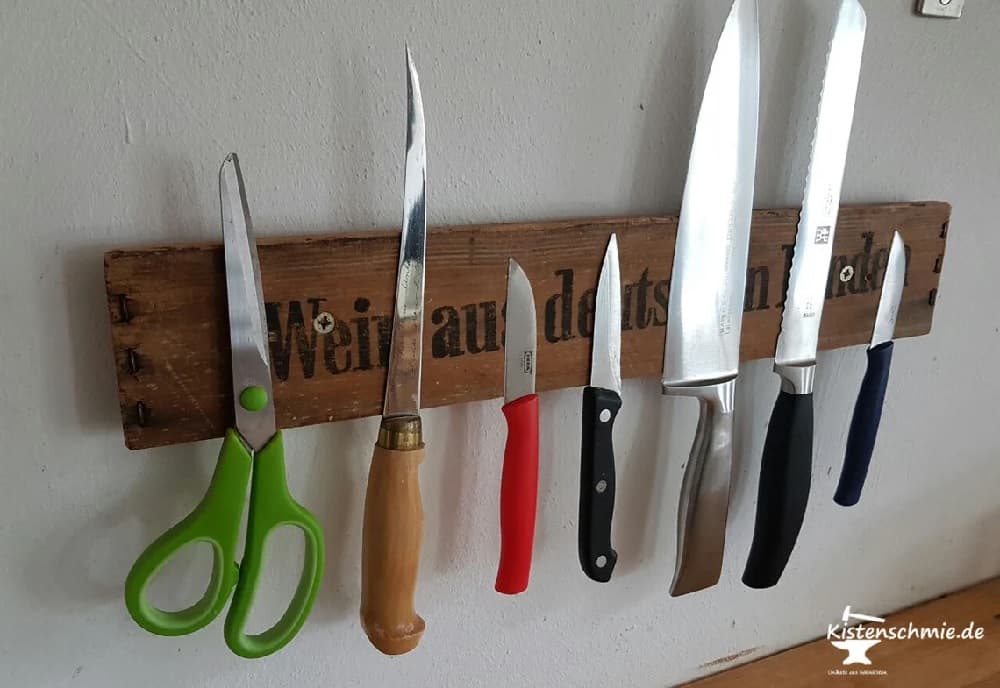 This wine crates can make a good impact to your kitchen, making the look of your knives more organized and easy to grab. They also make a nice conversation piece on display, as they add a rustic charm to the room.
To create a DIY knife block using wine crates or boxes, simply follow these steps:
Opt for the best quality of the wine crate, then cut it to the size you desire.
Attach the magnetic strip behind the wooden crate, and ensure it perfectly attached.
Attach the wooden crate to the wall, then you can start putting your knives collection that will be adorably displayed on the wall.
20. Consider Using a Base with Built-in Drawers, Like an Old End Table or Nightstand.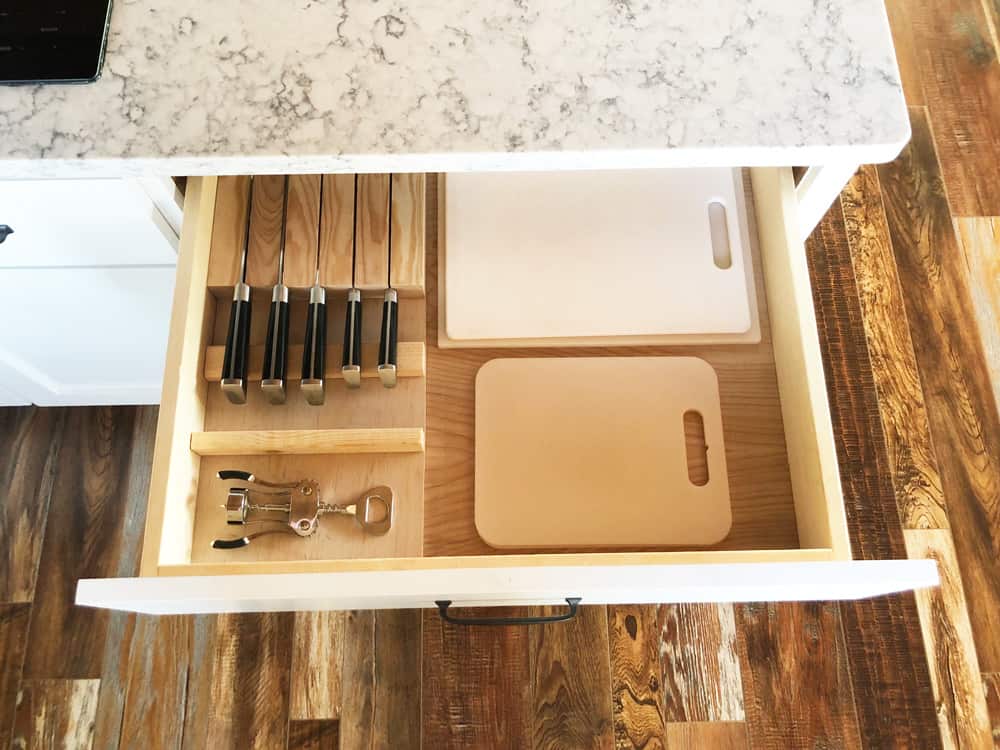 An end table or nightstand with built-in drawers can easily be transformed into the perfect knife storage solution. Simply use some sandpaper to smooth out any rough edges, and then line the drawers with felt or foam to protect your knives.
This DIY option allows you to customize the layout of your knives, and also adds a fun vintage touch to your kitchen decor. Plus, upcycling furniture is good for the environment and wallet.
21. Try Creating a Custom Drawer Insert to Hold Your Knives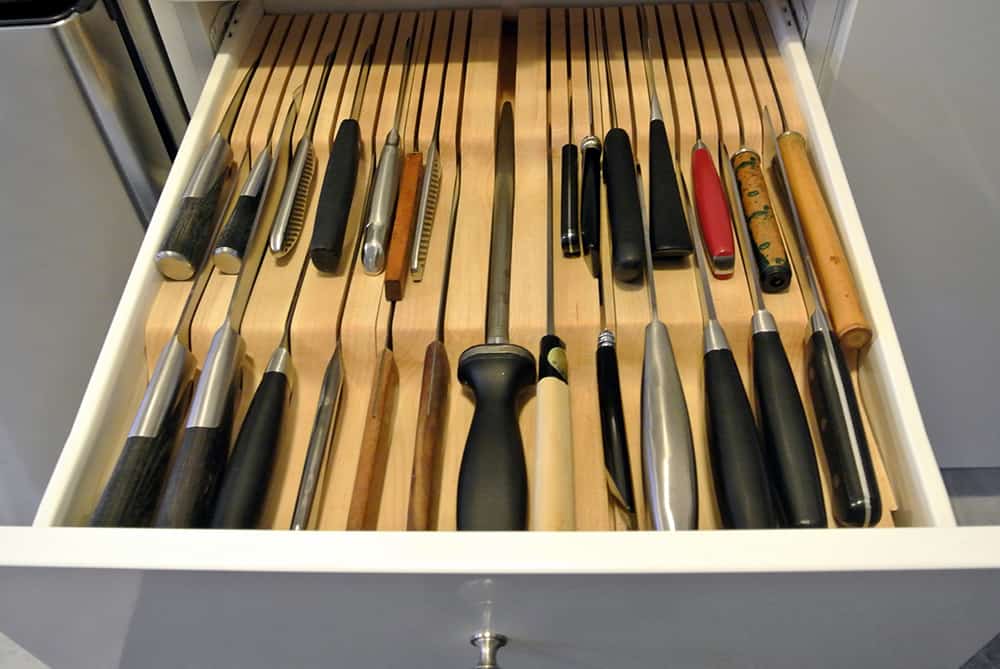 One fun DIY option is to use a drawer base as your knife storage solution. Not only is it compact and space-saving, but it also gives you easy access to all your knives at once. Wood or plastic drawer organizers can usually be purchased for a fraction of the cost of a traditional knife block, and the options for customization are endless.
Consider upgrading with chalkboard labels or even painting or staining the drawer to match your kitchen's design aesthetic. With a little creativity, a drawer base can easily serve as a stylish and practical knife storage solution.
22. DIY Unique Knife Block Ideas
The unique knife block will make a statement to your kitchen effortlessly. It is also functional to hold your knives collection in one, helping you to get everything easily.
It has 5-piece knife set knives with various sizes and types and also feature 360-degree rotatable board Stable & firm stainless steel stand, superior quality wooden board. With this kind of knife block, you'll get an eye-catching hint in the kitchen while also being functional at the same time.
23. Wooden Knife Block Ideas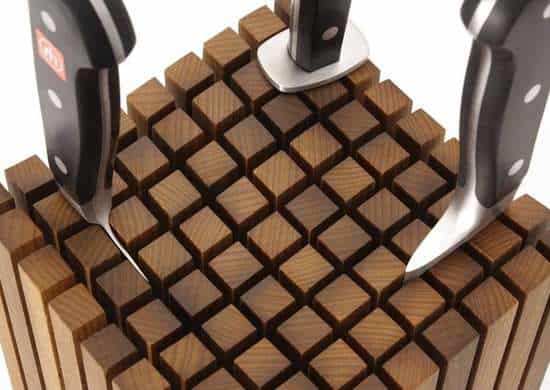 To make a basic knife block, simply glue small blocks of wood onto a larger base in a rectangular pattern. Be sure to leave enough space between the blocks for each knife to fit comfortably.
Give the whole block a few coats of paint or stain, and let dry before displaying your knives. For an extra touch of personalization, use wood burning tools to carve designs or even initials into the blocks before painting. Want to go even more creative? Try using spools or slices of tree branches instead of uniform blocks for an eclectic look.
24. Repurposed DIY Knife Block Ideas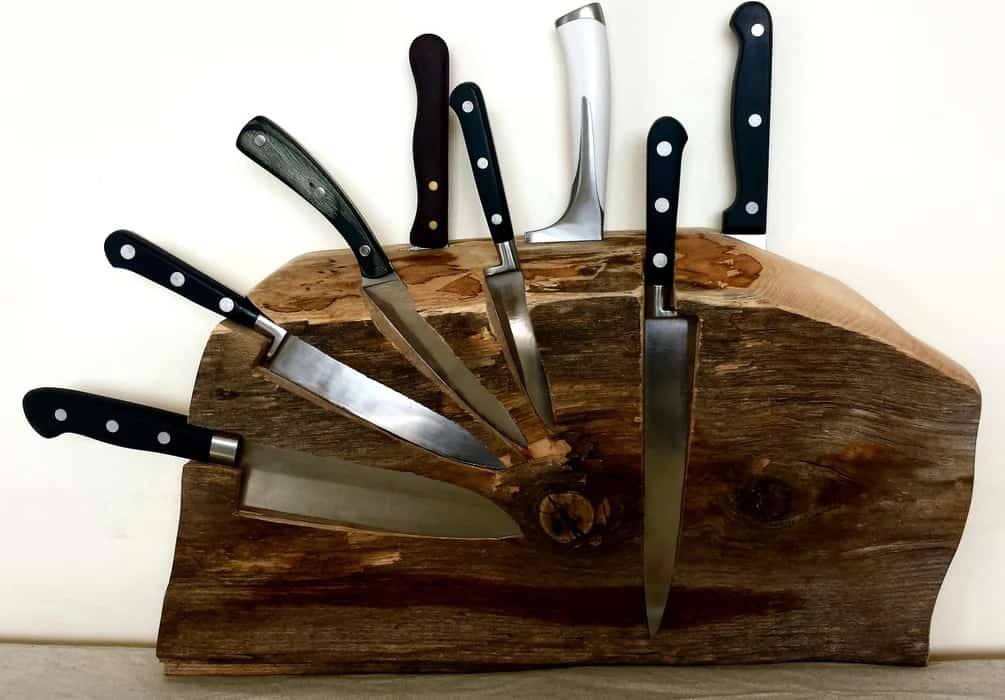 An easy solution is to build your own knife block using wooden materials. One option is to create a traditional knife block using slices of wood that will bring in the beauty of nature to the kitchen and works functionally at the same time. It works both displaying the knives while also keeping them stay in place properly at the same time.
25. Contemporary DIY Knife Block Ideas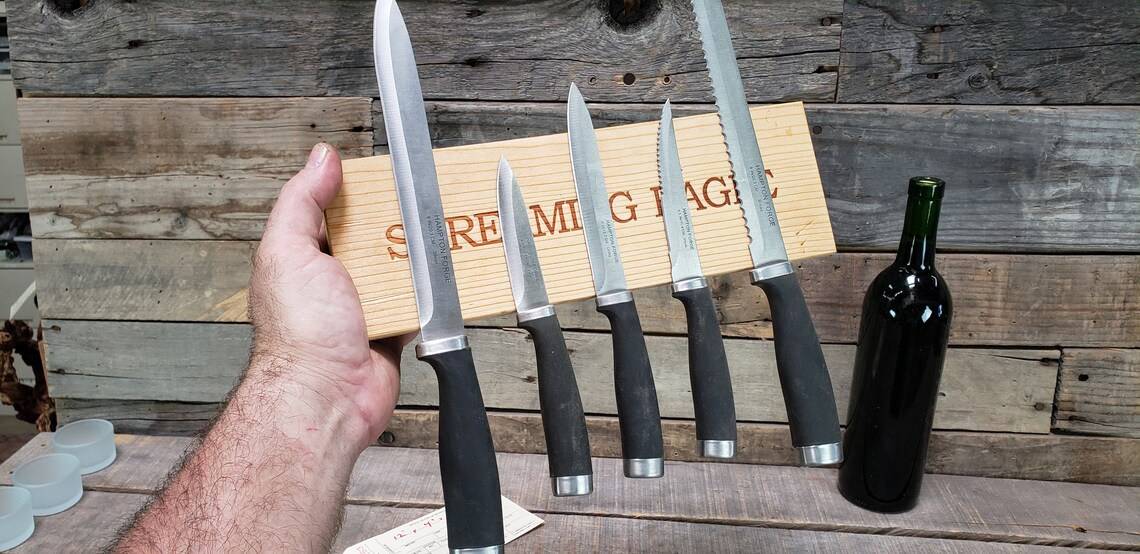 Give a touch of contemporary style to your kitchen tools with this versatile knife block, which will also keep the kitchen way tidier. One quick and easy option is to use an old wine crate as a knife holder.
Simply remove any excess dividers and sand down the wood for a smooth finish. You can also spray paint it in a fun color for added flair. Its small compartments are perfect for organizing all your different knives, and its sleek design adds a modern touch to any kitchen.
With this list of 25 ways to make your own knife block, you should be able to find the perfect solution for your kitchen. No matter what style or materials you prefer, there's a DIY Knife Block here that will suit your needs. So get ready to get crafty, and put those old knives to good use.