The desk is the most important part of a child's room. It is where they do their homework, play with their toys, draw pictures, and be creative.
It can also help keep their room tidy and organized. By providing a place for your child to sit and do homework, you can create a positive learning environment at home.
Creating the DIY kid desk plans can be easy and inexpensive. You can use old furniture, buy new pieces, or build something from scratch. You can also add storage bins or boxes underneath the desk to help keep things organized.
Ready for some inspiration? Let's take a look at this list of the DIY Kids Desk ideas down below.
1. The Small Desk for Kids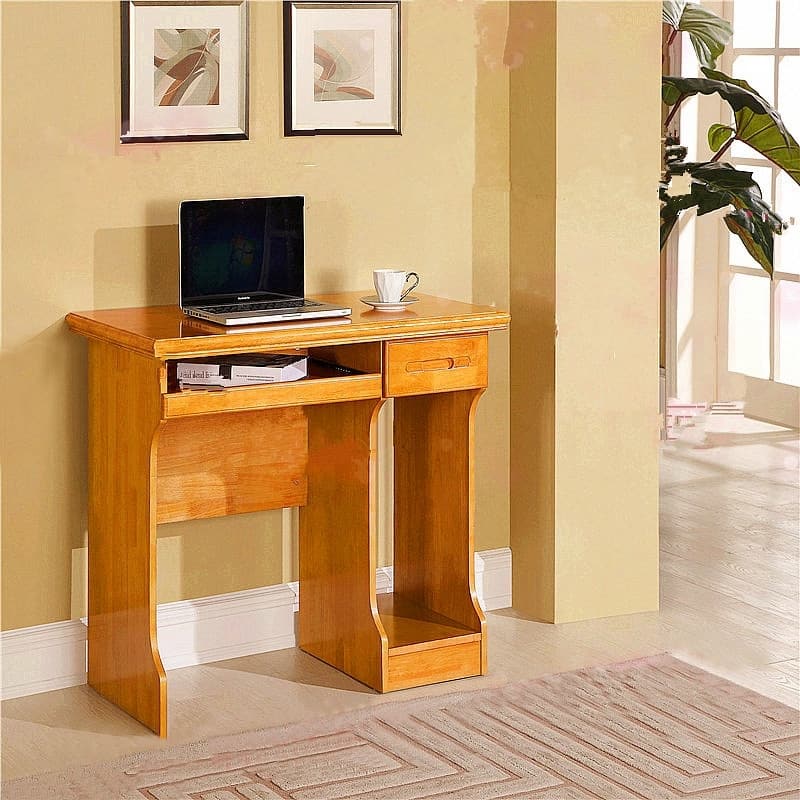 The kids will need a spacious surface if they are planning to use it for homework and other projects. But if you are tight on space, you can still find a smaller desk that will suit your needs.
Just make sure that the desk has enough storage for all of the child's supplies.
To make this small kid's desk, you will need:
1/2 inch MDF
1×2 inch lumber
Kreg Jig
Drill
Circular saw
Paint or Stain
Polyurethane
2. Decide on a Fun and Creative Desk Design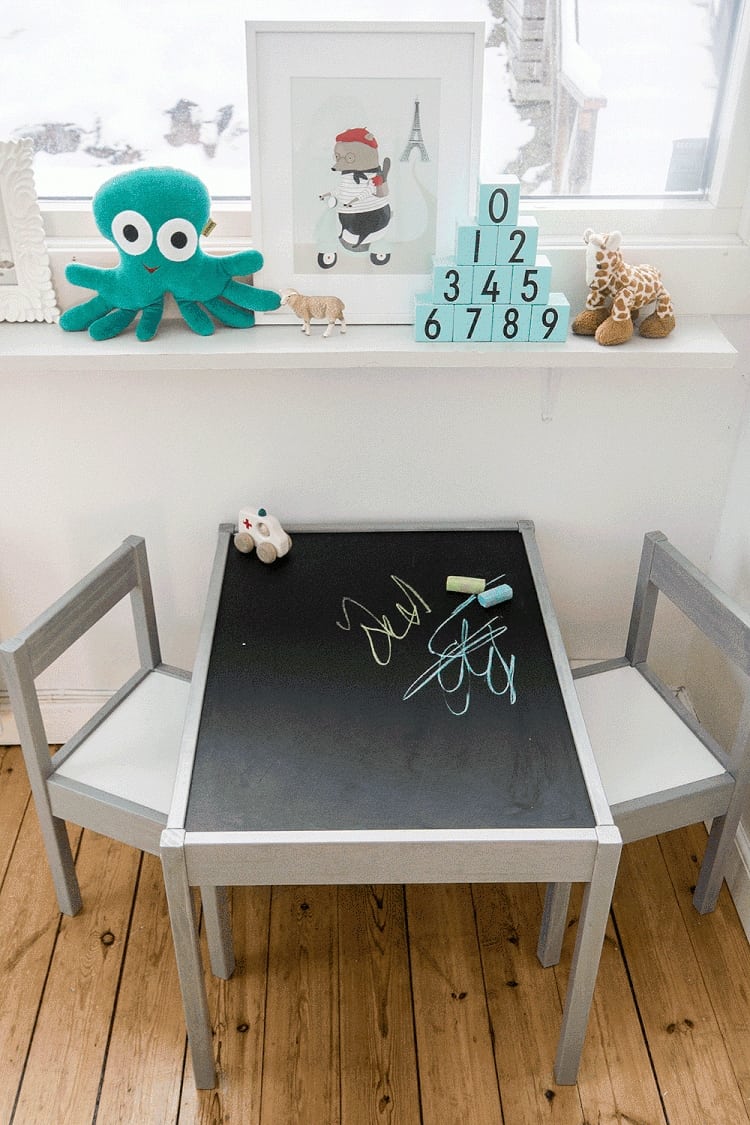 Consider creating the creative desk for your kids to avoid they are getting bored easily while studying or doing their projects.
You can make the desk with the chalkboard tabletop so they can draw or write something on it while working. If you want to make it more attractive, add some colorful decals on the board.
3. Desk with Drawers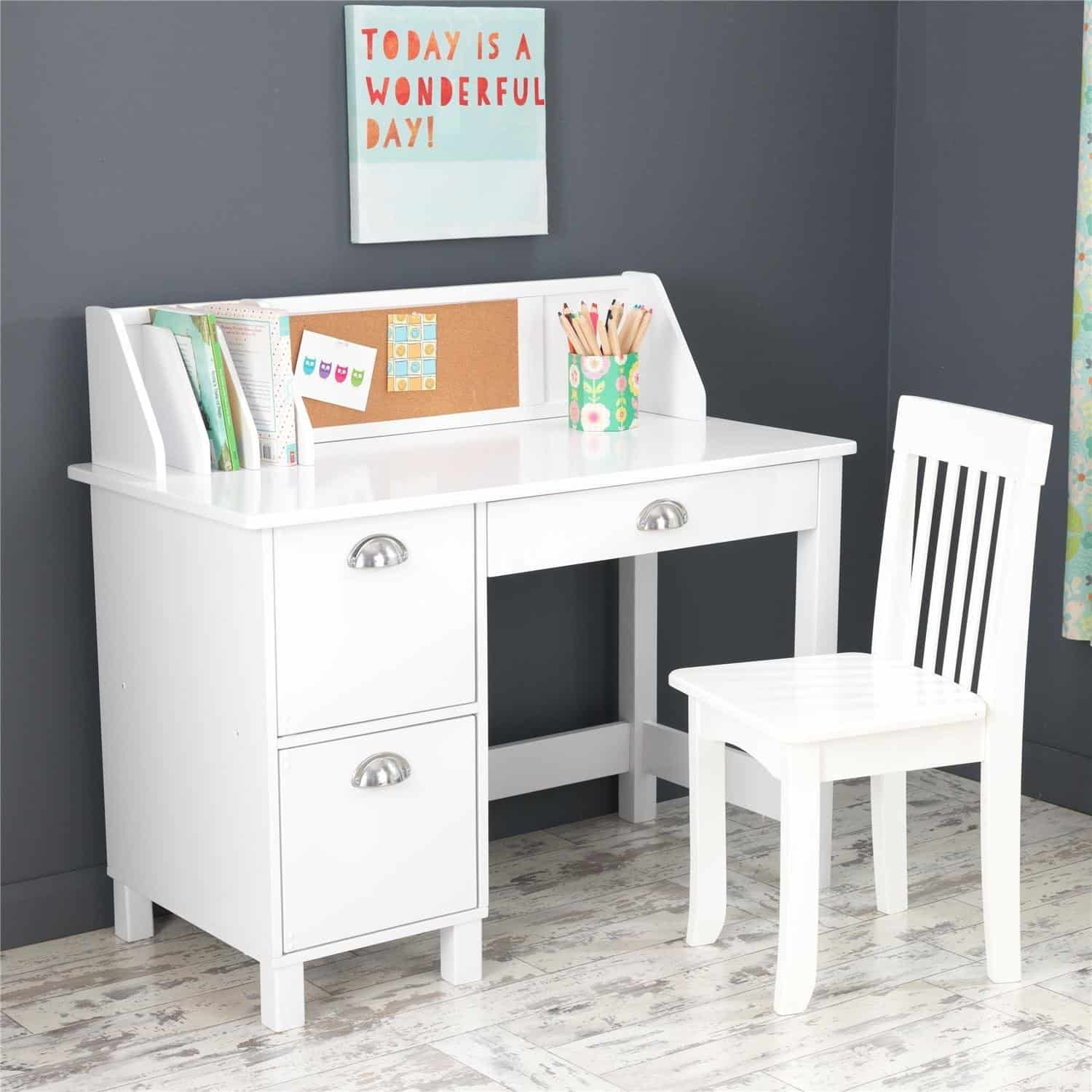 With this desk, you don't need to worry about the messy desk with lots of toys, books, and art supplies that are scattered around the room. No worries, it is a practical project you can do during your leisure time. The desk has extra storage space to keep everything organized.
You can use old drawers, baskets, or even bins to create this project. You can also add a board on top of the desk to create a flat surface.
Just make sure that the board is secured, so it doesn't fall and hurt anyone.
4. Reclaimed Wood DIY Kids Desk Plans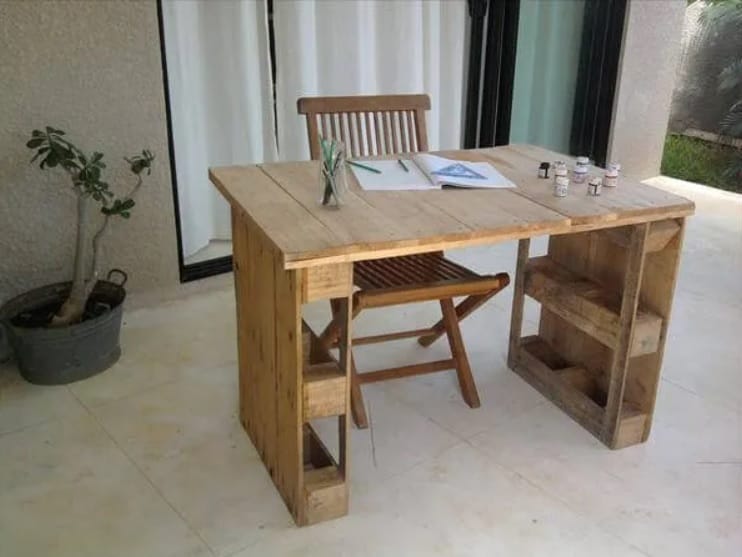 Made from simple reclaimed wood planks, this desk is sturdy and stylish. To get started, you will need to gather some supplies. First, you will need to find some reclaimed wood.
This can be anything from old pallets to scrap lumber from a construction site. When you have your wood, you will need to sand it down and remove any nails or splinters. Then, you can cut the wood to the desired size and shape using a saw or power drill.
Next, it's time to assemble the desk. Begin by attaching the legs to the top of the desk using screws or nails. Then, add the sides. You can use adhesive or screws to attach these pieces, depending on your preference. Finally, add a finish of your choice to protect the wood and give the desk a polished look.
5. Paint or Decorate the Desk to Match Your Child's Personality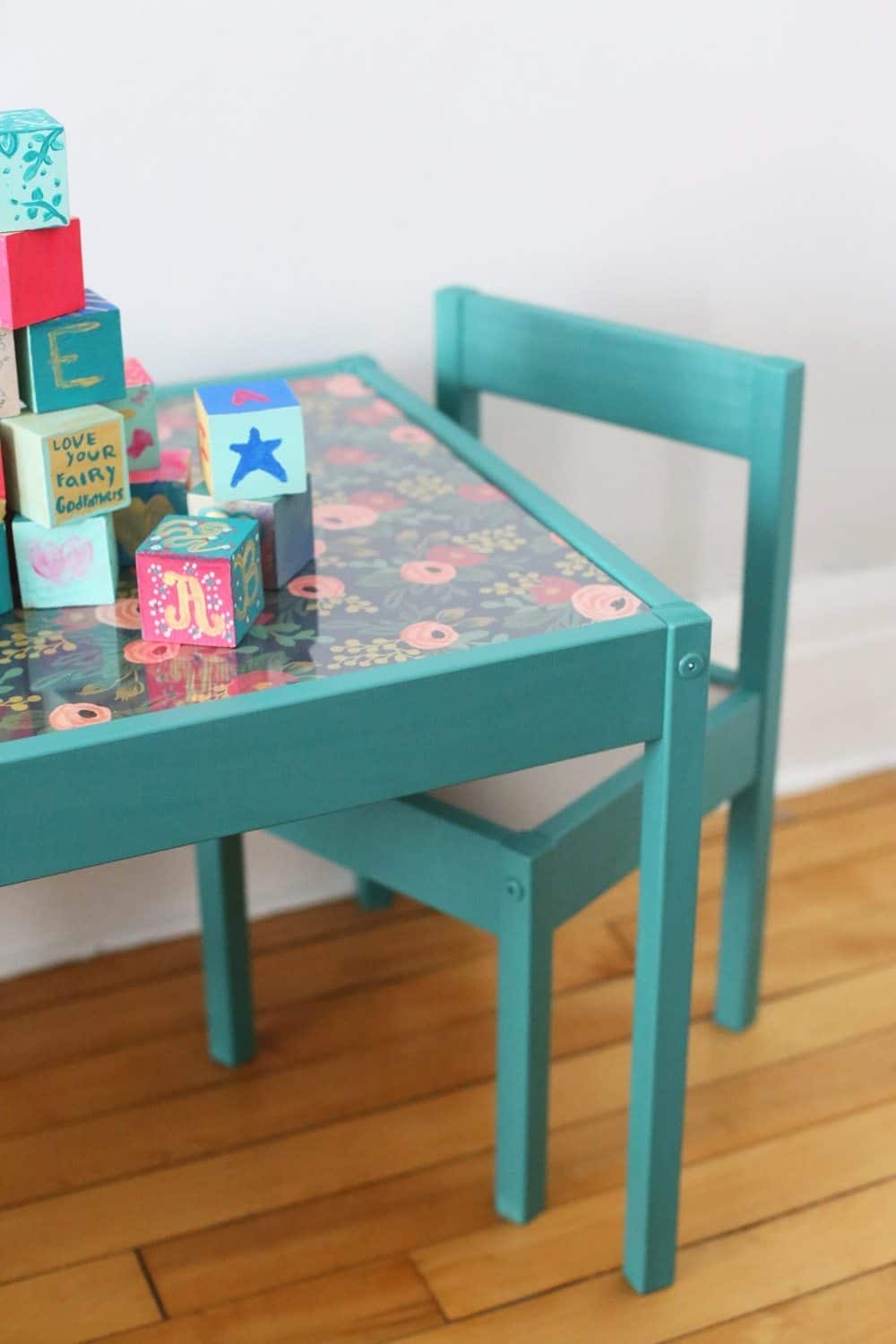 Painting the kid desk will be such a perfect option to matches the kid's personality. If your child is into bright colors, consider painting the desk in their favorite shade. For a more funky look, try using stencils or decals to add pattern and depth.
If your child is more subdued, try painting the desk a solid color and adding some fun hardware. Regardless of your child's style, a little paint (or even just a new coat of clear varnish) can go a long way in giving an old desk new life.
6. Add a Chair or Stool for Extra Seating Space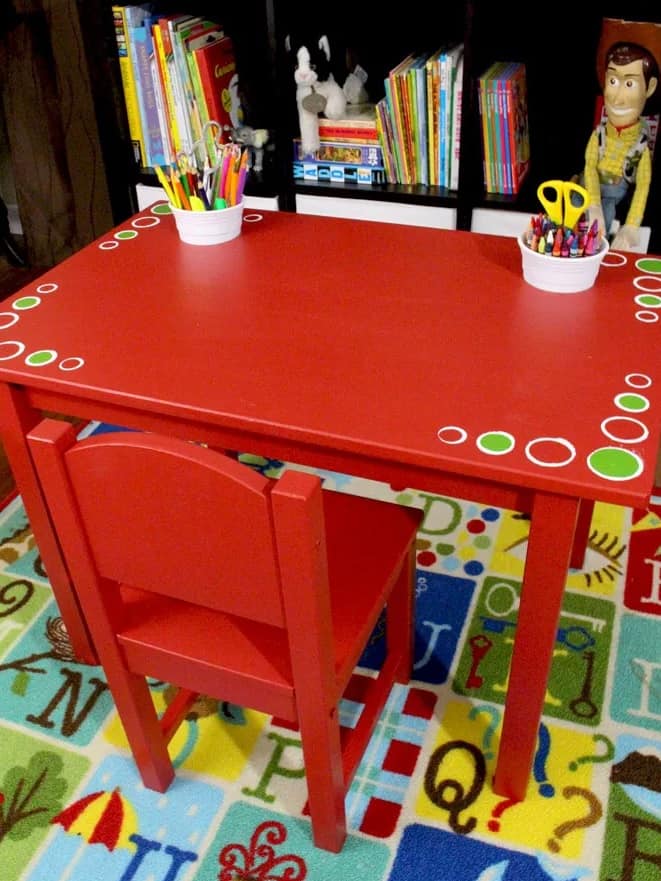 Choose the right chair or stool to complement the desk, which will create a comfortable study station.
Ensure you choose the matching colours to create a cohesive and stylish desk. So, besides creating extra storage space, a DIY kids desk also can function as an extra seating option in your home.
Get the materials:
Wood boards, screws, sandpaper, paint color, wood glue, drill.
Cut the boards to size and then sand them down until they're smooth. Paint or stain them in your desired finish and then let them dry completely.
To assemble the desk, start by attaching the side panels to the front and back panels using wood screws. Then, add the shelves to the side panels. When everything is securely in place, sand down the entire desk and then apply a top coat of paint or varnish.
7. Add Drawers and Shelves for Additional Storage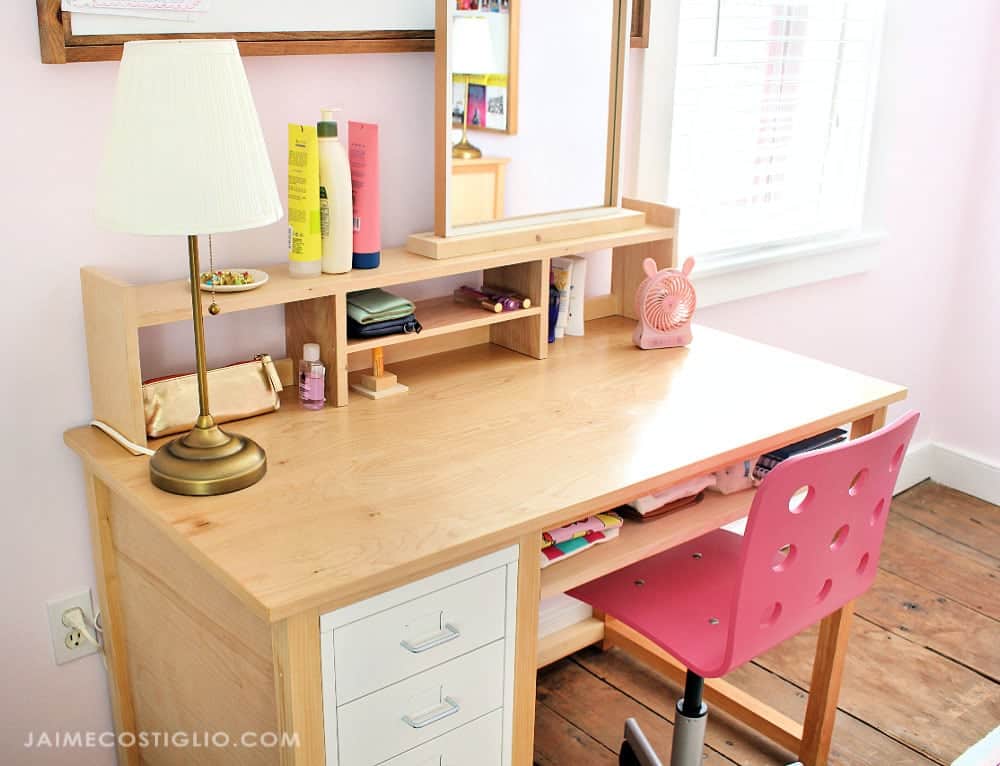 By adding shelves or drawers, you can create additional storage space for textbooks, school supplies, and more. It is not a big deal to add shelves or drawers to the kid's desk. The shelves can be installed under the desk top.
If it makes you uncomfortable, then install the shelves over the desk top. After all, you can put some of the stuff on it to keep everything stay in place.
8. Choose Fun and Colorful Desk Accessories to Spruce Up the Space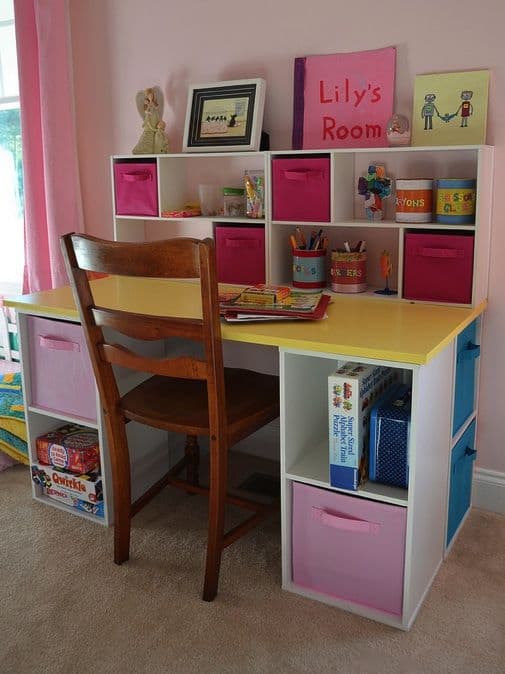 Make the desk look colorful that offers you a fun and cheerful atmosphere, which is perfect for your kid.
You can add some fun desk accessories, such as a pencil holder. One easy option is to repurpose some old mason jars into colorful pencil holders.
Simply paint the jars with your child's favorite colors, and then let them decorate them with stickers or other embellishments.
9. Label everything so your child knows where everything goes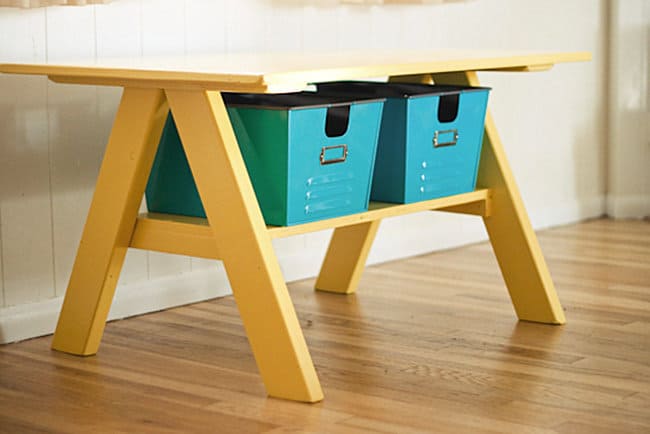 One of the best ways to keep the kids desk tidy and well-organized is by taking back the stuff to the place. You can simply add some baskets to the desk where the kids can store everything. The first step is to label the baskets so your child knows where everything goes.
You can use different colors for different items, or you can use pictures if your child is still learning to read. Either way, this will help your child know where everything goes and make it easier for them to keep their desk tidy.
Once the baskets are labelled, your child can start putting their things away. They can put their school supplies in one basket, their toys in another, and their clothes in another.
10. Foldable Kids Plywood Desk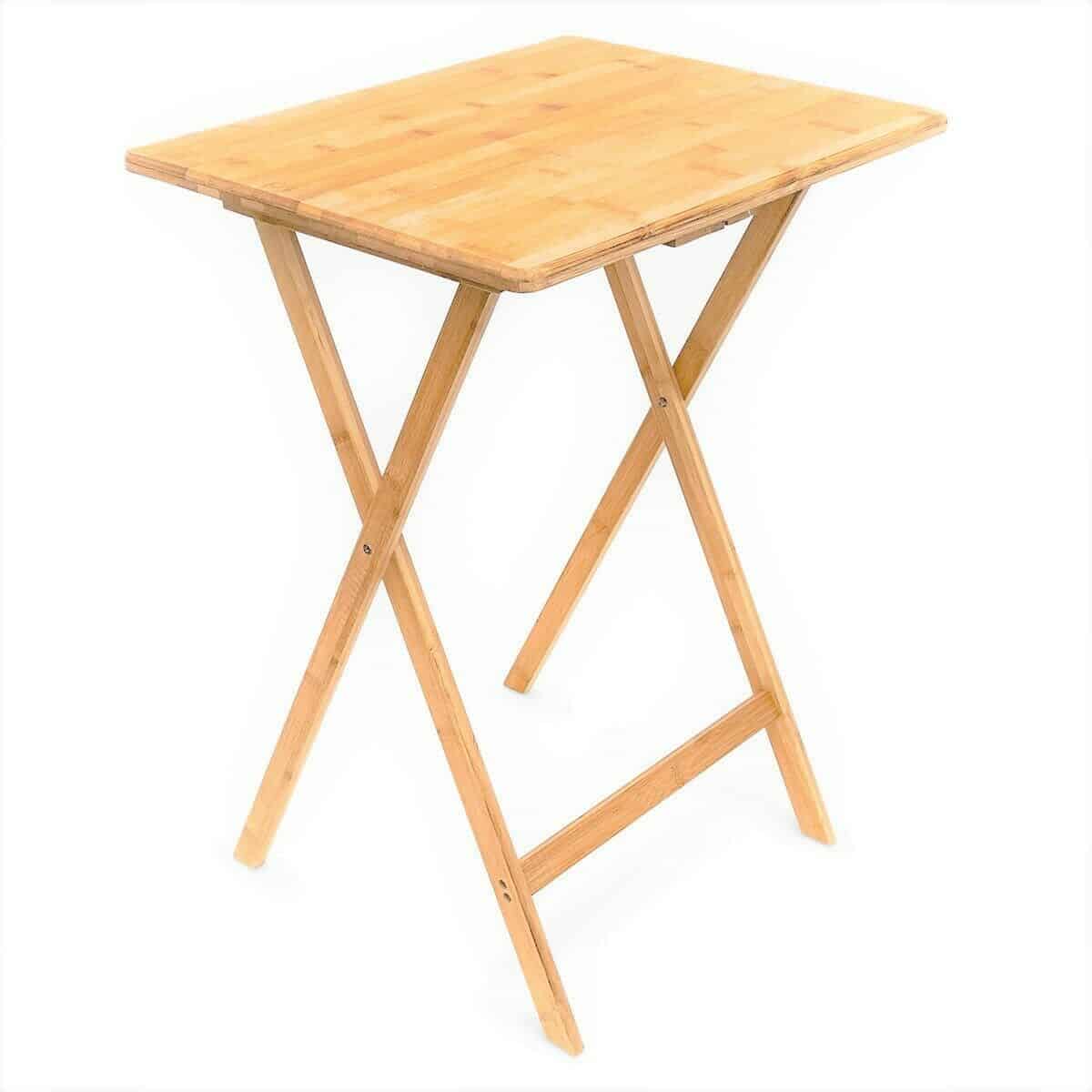 You can consider making this kind of desk if you want to keep your kids' room feel spacious. The desk top is made from a sturdy piece of plywood, and the legs fold up so that the desk can be stored away when not in use.
To make this desk, you'll need a piece of plywood, some 2x4s, and some hinges. You'll also need a drill and some screws. First, cut the plywood to size. Then, attach the 2x4s to the sides of the plywood using the hinges.
Make sure that the 2x4s are flush with the top of the plywood. Then, drill holes in the 2x4s and screw them into place.
11. Compact Students Desk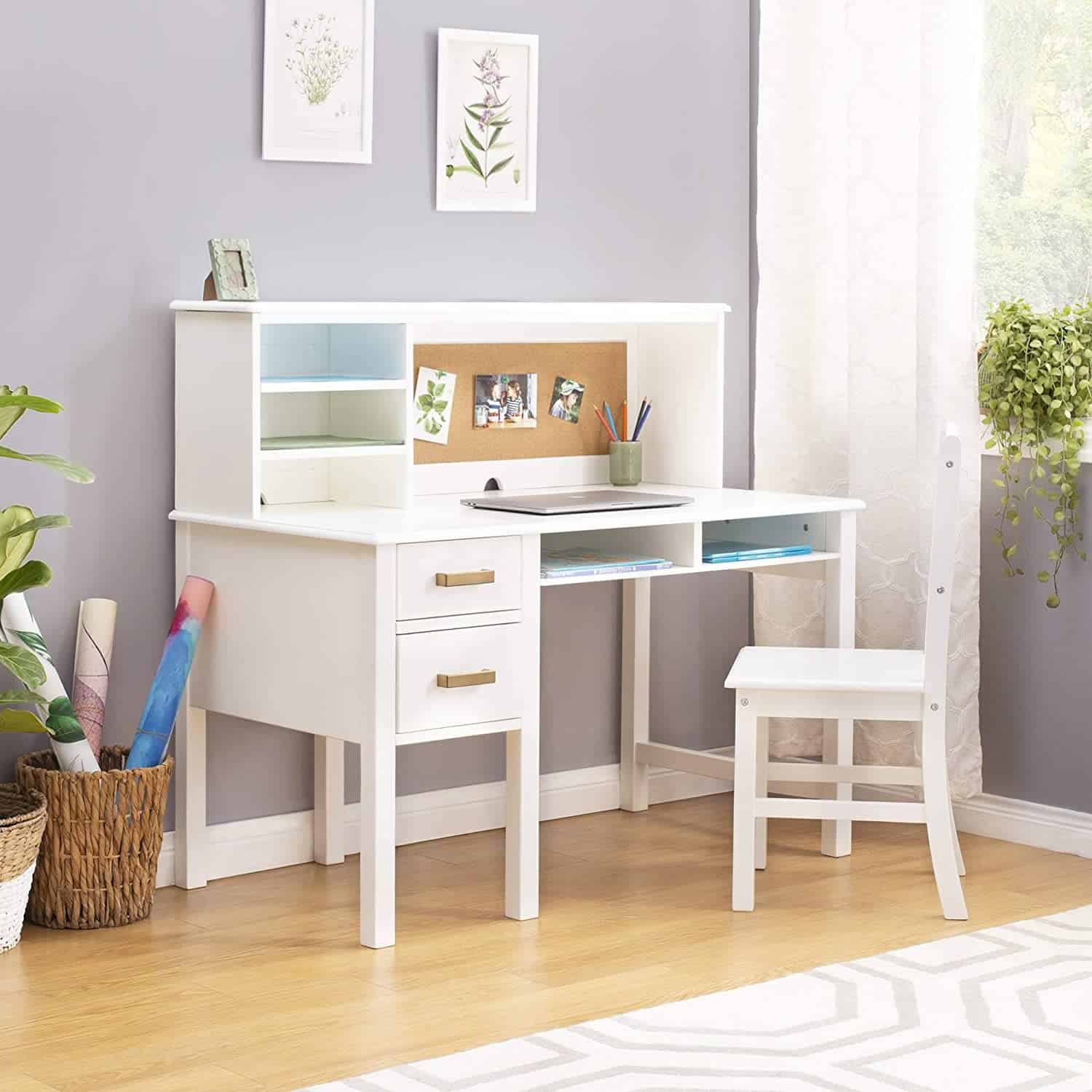 This compact desk is the perfect solution for small spaces. It features two shelves for storing books, pencils, and other essentials, and the top of the desk can be used for homework or art projects.
The desk also has a built-in corkboard, which is perfect for hanging pictures or notes.
What you will need:
1/2 sheet of plywood
1×2 lumber
Corkboard
Paint or stain
Pencil
Ruler or measuring tape
Circular saw
Jigsaw
Drill
Screws
Nails
Hammer
12. Space themed kids desk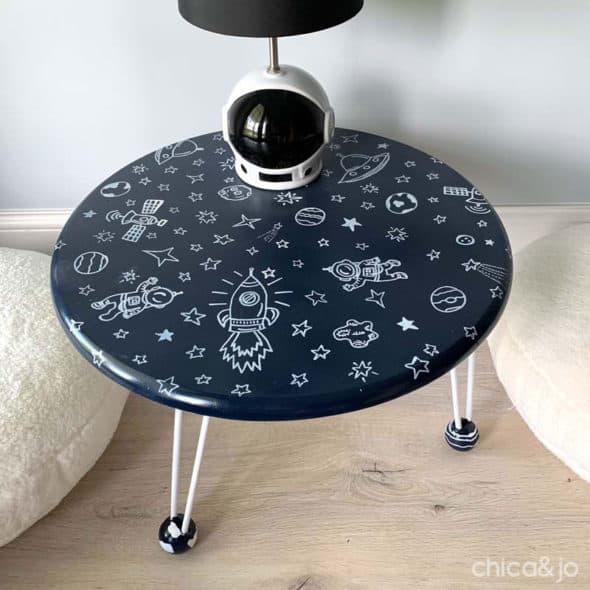 This space-themed desk is perfect for budding astronauts and wannabe astronomers.
You can makeover your old rounded desk and transform it into a cool one. You can start spray paint the top with navy blue color, then you can draw the outer space design.
If you're not good at drawing, you can use white transfer paper to trace the images. Make it permanent with the white paint pen.
13. Desk with a Chalkboard Top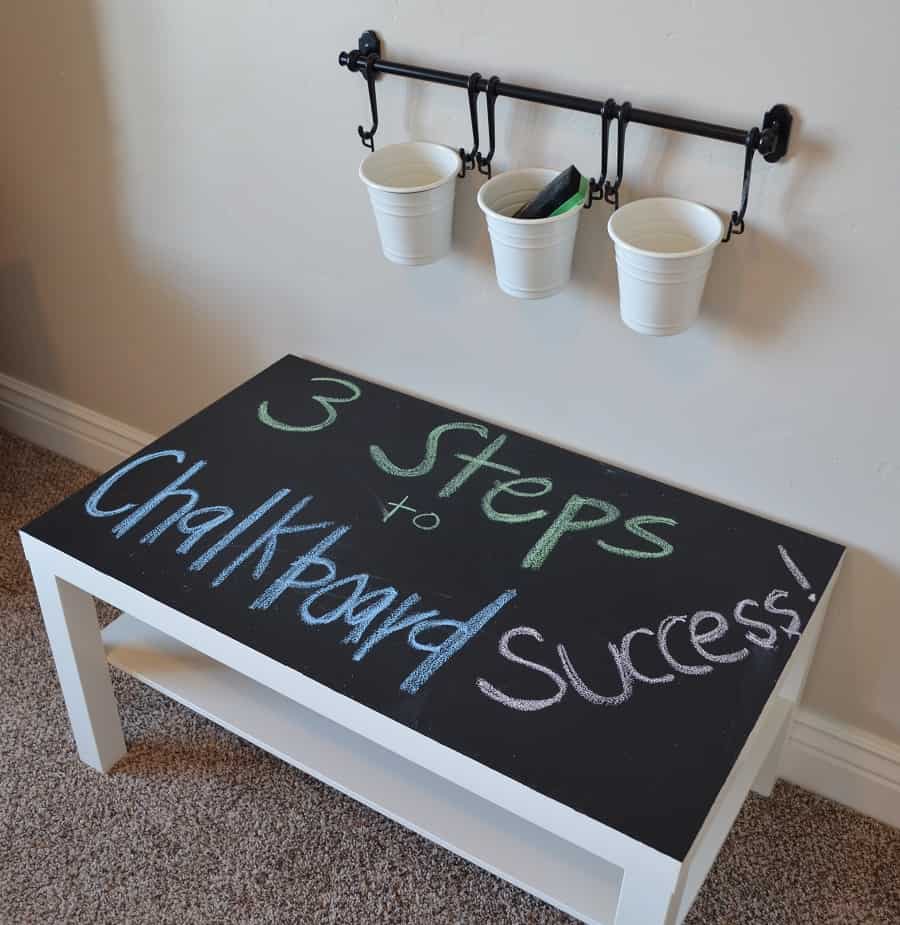 Bring in a unique and functional desk made out of the desk with the chalkboard top. The desk features a chalkboard top, providing a surface on which your child can unleash their creativity.
The desk also includes a storage shelf, perfect for keeping art supplies within easy reach. And because it's designed to be wall-mounted, it won't take up precious floor space in your child's bedroom or playroom.
14. Inexpensive Kid Desk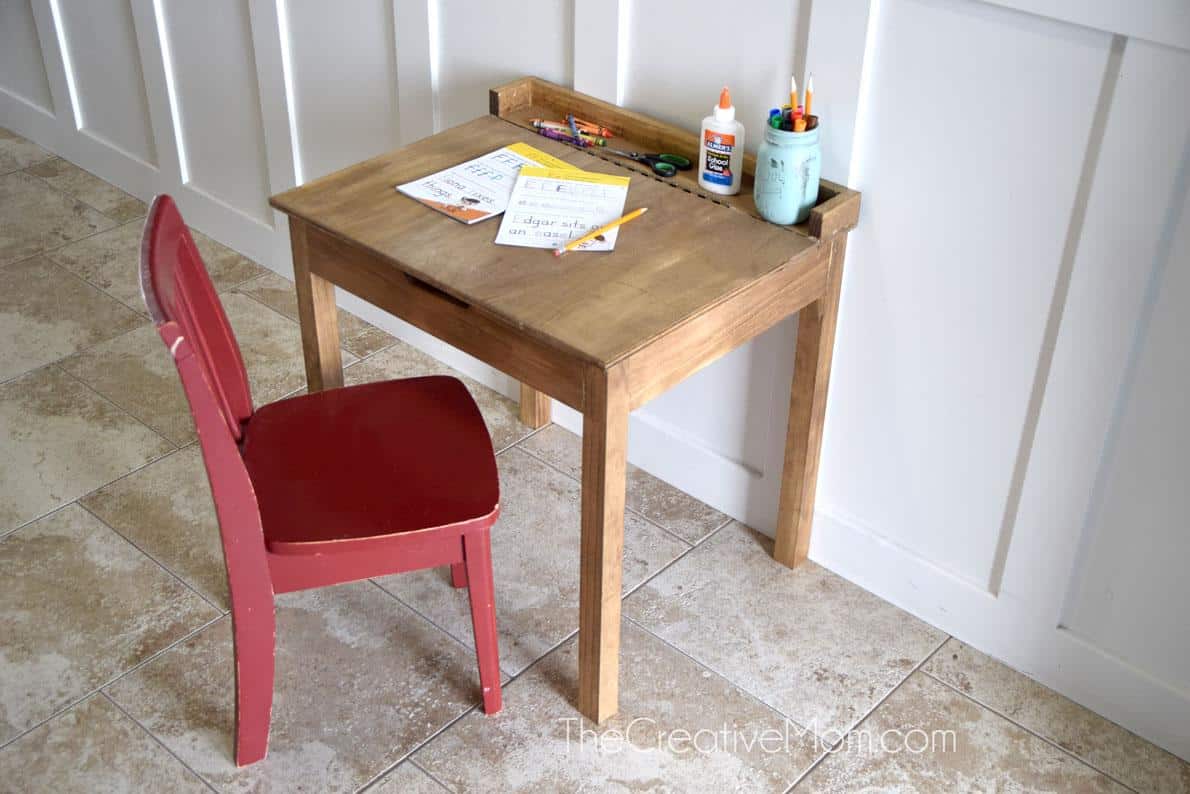 You don't need to spend lots of money to create a proper desk for your kid. One option is to repurpose an old bookshelf or TV stand by adding a few boards to create a flat surface. Another option is to build a desk using simple materials like plywood and lumber.
To start, you'll need to gather your materials and woodwork tools. Then, you'll cut the plywood and lumber to size and assemble the desk using screws or nails. After all, you can add a finish of your choice. You can paint or stain the desk to match your child's room decor.
15. Adjustable Desk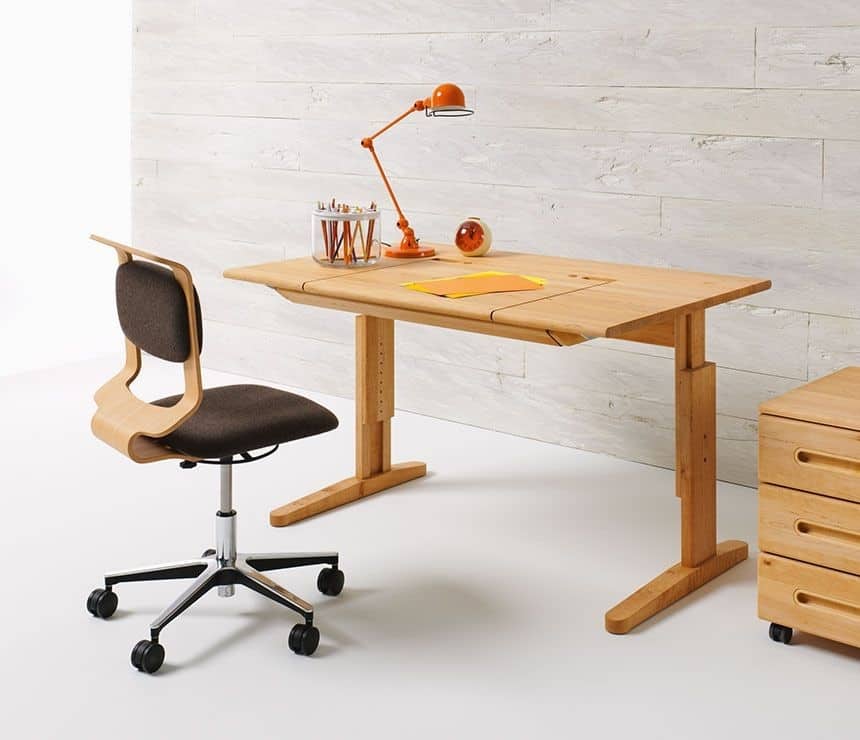 The perk of this type of desk is it can be easily adjusted to accommodate kids of all ages, making it a great investment that will grow with your child.
The desk features a built-in hutch for storage and a pull-out drawer for supplies. The legs are adjustable, so you can easily raise or lower the desk to suit your child's needs.
The materials you will need:
1×4 lumber
2×4 lumber
MDF or plywood pieces
Kreg jig
Drill
1 1/2″ hole saw
Jigsaw
Paint or stain
Hardware
16. Simple Desk For The Young Artist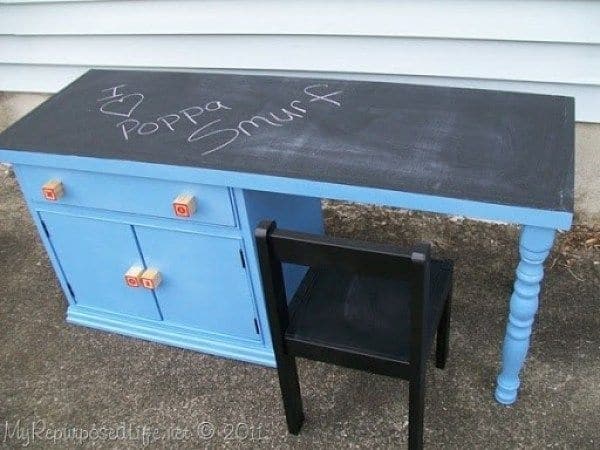 This desk features a blackboard top, perfect for your kids who need a place to express their creativity. The chalkboard surface is also ideal for jotting down homework assignments or important reminders.
The desk also includes two shelves, providing plenty of storage space for school supplies, books, and other items. And because it's made from simple plywood and 2x4s, this desk is easy and inexpensive to build.
17. Princess Themed Kids Desk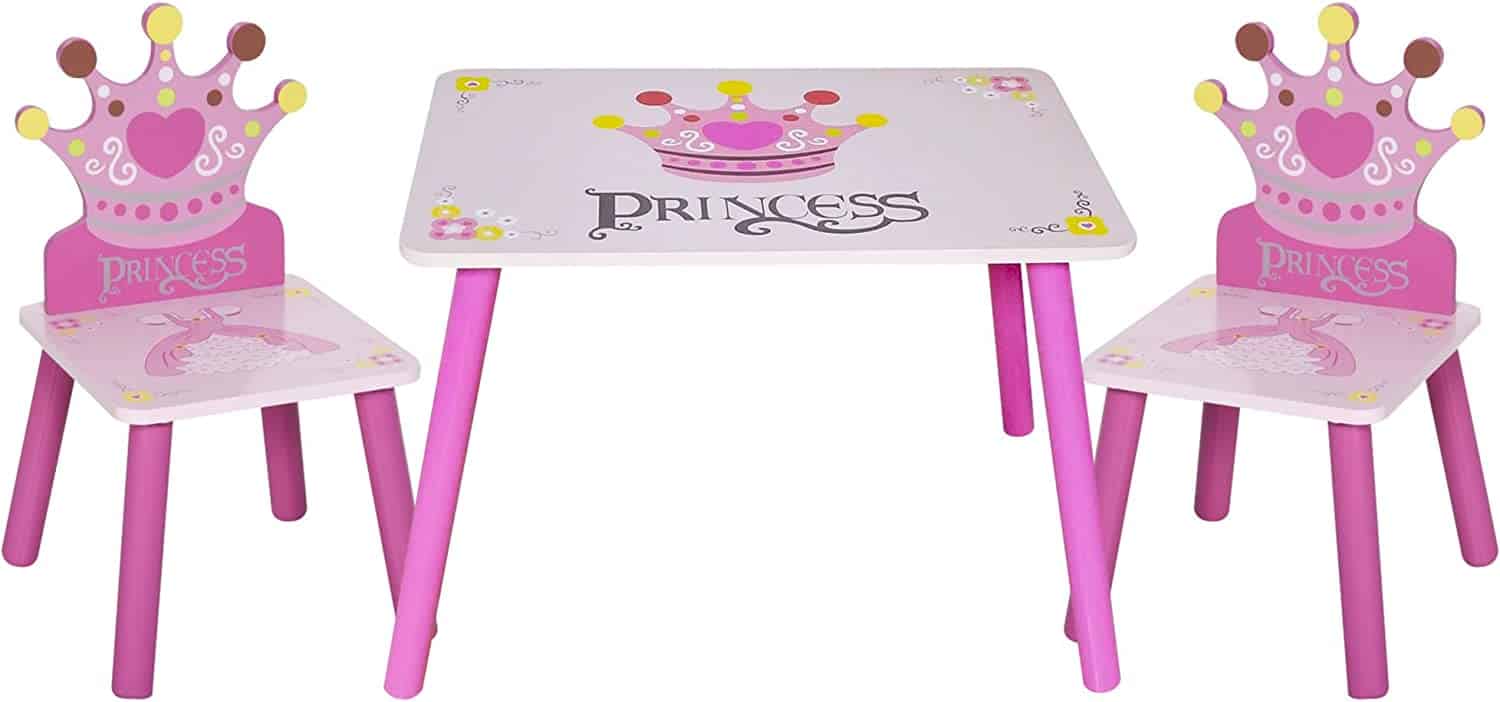 This DIY desk plan is perfect for creating a special workspace for your little princess. The desk features a beautiful curved top and sides, as well as intricate scrollwork details.
The plans also include a matching chair, which can be upholstered in a plush fabric to add an extra touch of luxury.
With this kind of desk, your kid won't get bored easily. Other than that, it adds an aesthetical point in the house.
18. Pallet Wood Simple Kids Desk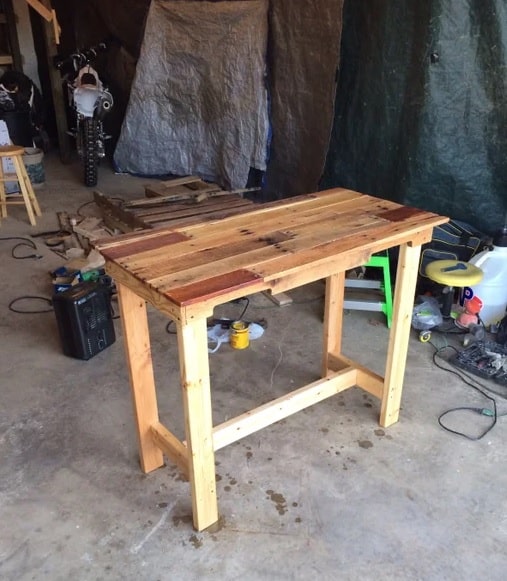 Pallet wood is a great option for this project, as it is sturdy and has a rustic charm. Plus, it can be stained or painted to match any décor.
The basic design of this desk is a simple rectangular shape, but it can be customized to fit your child's needs.
First, get some supplies:
2 hammers
Drill
Saw
Screw and nails
Drill bits
Sander
Tape measure
Level
Pencil
Start by cutting the pallets down to size. Then, use the jigsaw to create a hole in the center of each pallet. This will be where the legs of the desk will go. Once the holes are cut, sand the edges of the pallets to smooth them out. Then, paint or stain the wood as desired.
Lastly, attach the legs to the desk and enjoy.
19. Racecar Themed Kids Desk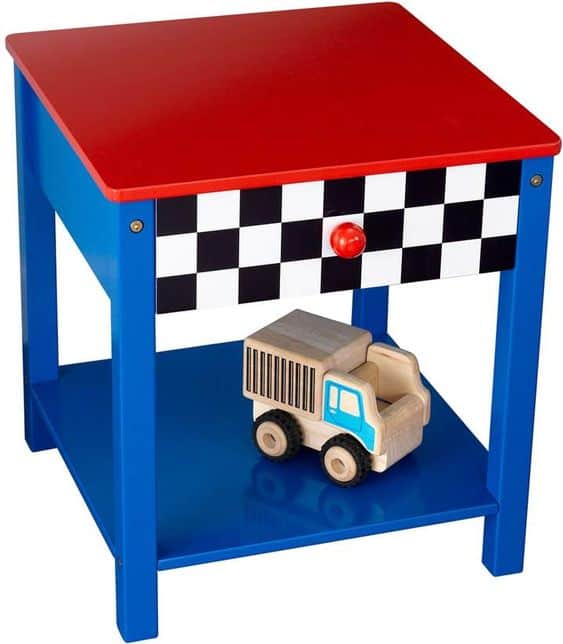 The desk features a sleek, minimalist design that is perfect for small spaces. And best of all, it can be easily assembled using just a few basic tools.
The desk includes a wide surface for writing and drawing, as well as a drawer for storing books and other supplies. Plus, the fun racecar graphics are sure to please any little car enthusiast.
20. Choose the Minimalist Style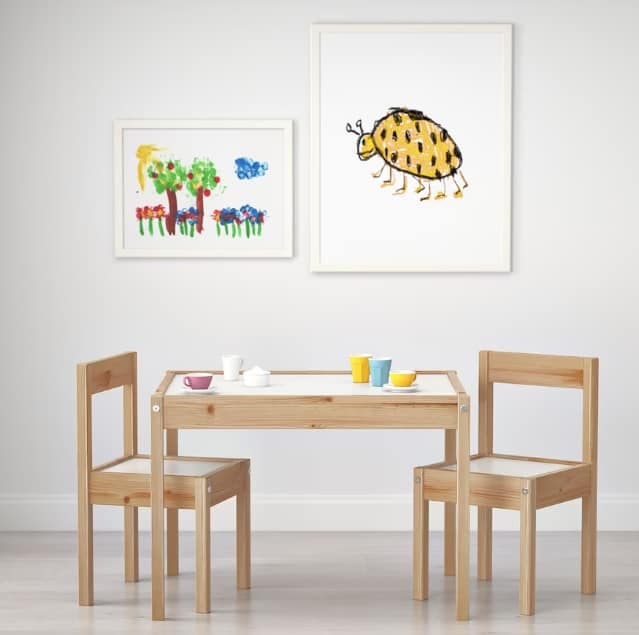 To make this desk, you'll need a few supplies, including a sheet of solid pine, a saw, some sandpaper, paint or stain, and some hardware.
After you have the supplies, the first step is to cut the plywood to size. You'll then sand the edges smooth and paint or stain the desk top according to your preference. To finish, simply add some hardware to the underside of the desk top so that it can be attached to the legs.
21. Floating Kids Desk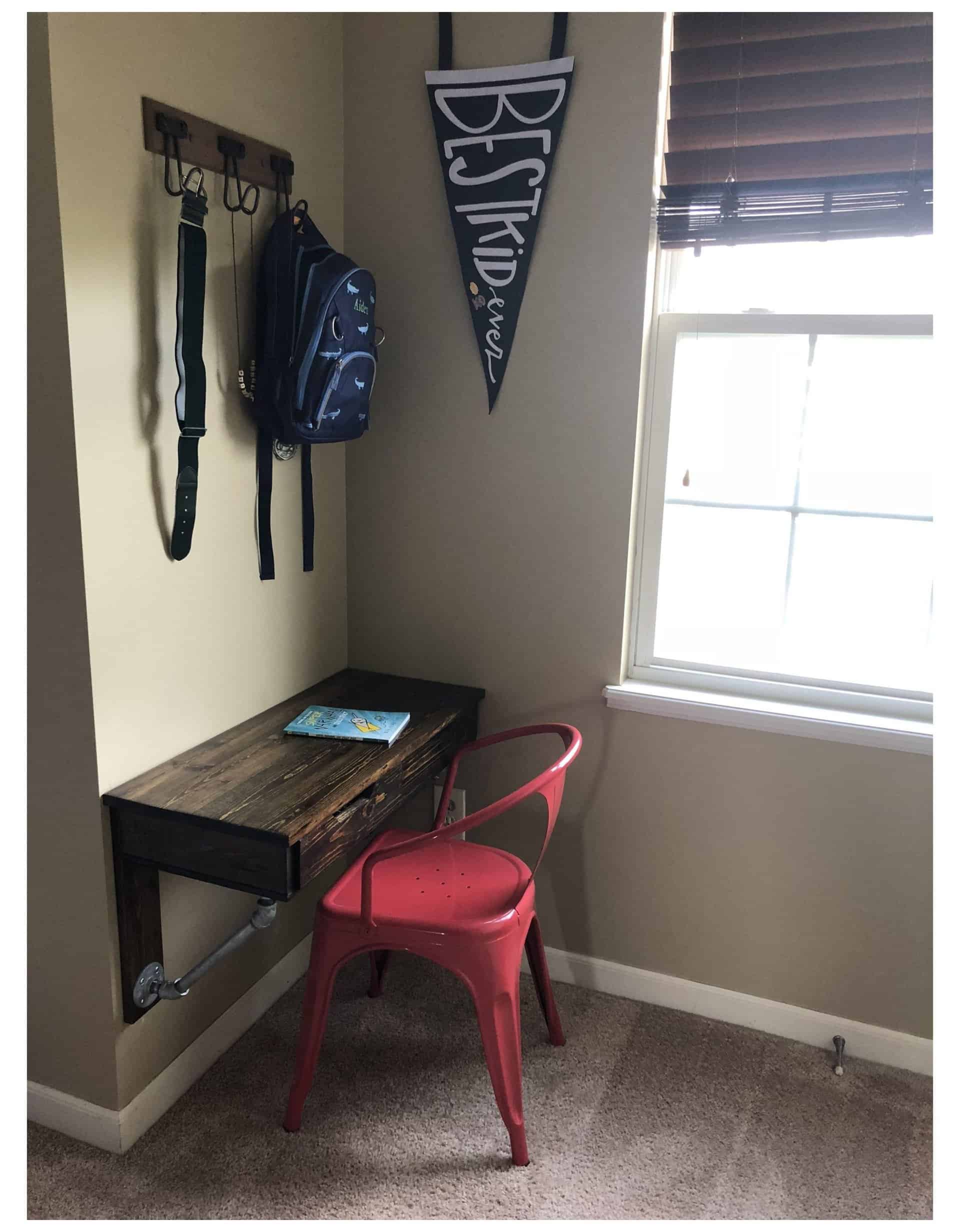 This floating kids desk is the perfect solution for small spaces. It's easy to build and can be assembled in an afternoon. Other than that, your kids will love the finished product.
Let's figure out the detailed instructions below:
The first step is to cut the plywood to size. You'll need two pieces that are 24 inches wide by 16 inches deep. Then, use a jigsaw to cut out a hole in the center of one of the pieces. This will be the desktop.
Next, attach the two pieces of plywood together using pipes. Then, sand the entire desk until it's smooth. Finally, paint or stain the desk in your desired finish.
22. Built-In Kids Desk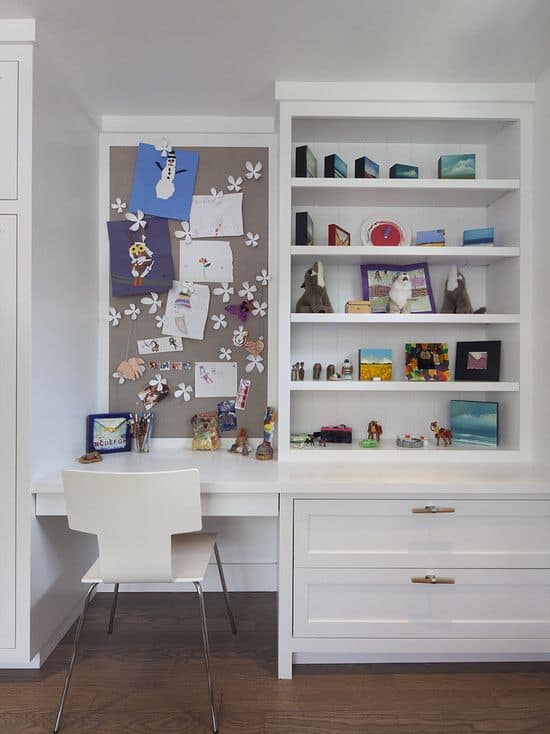 To accommodate all of your kid's stuff, they need a built-in desk. This will give them plenty of space to work on homework, projects, and anything else they need to do.
Plus, it will help keep their room organized and tidy. The white furniture will highlight the decorative pieces on the desk as well.
23. Kids Desk with Storage Compartments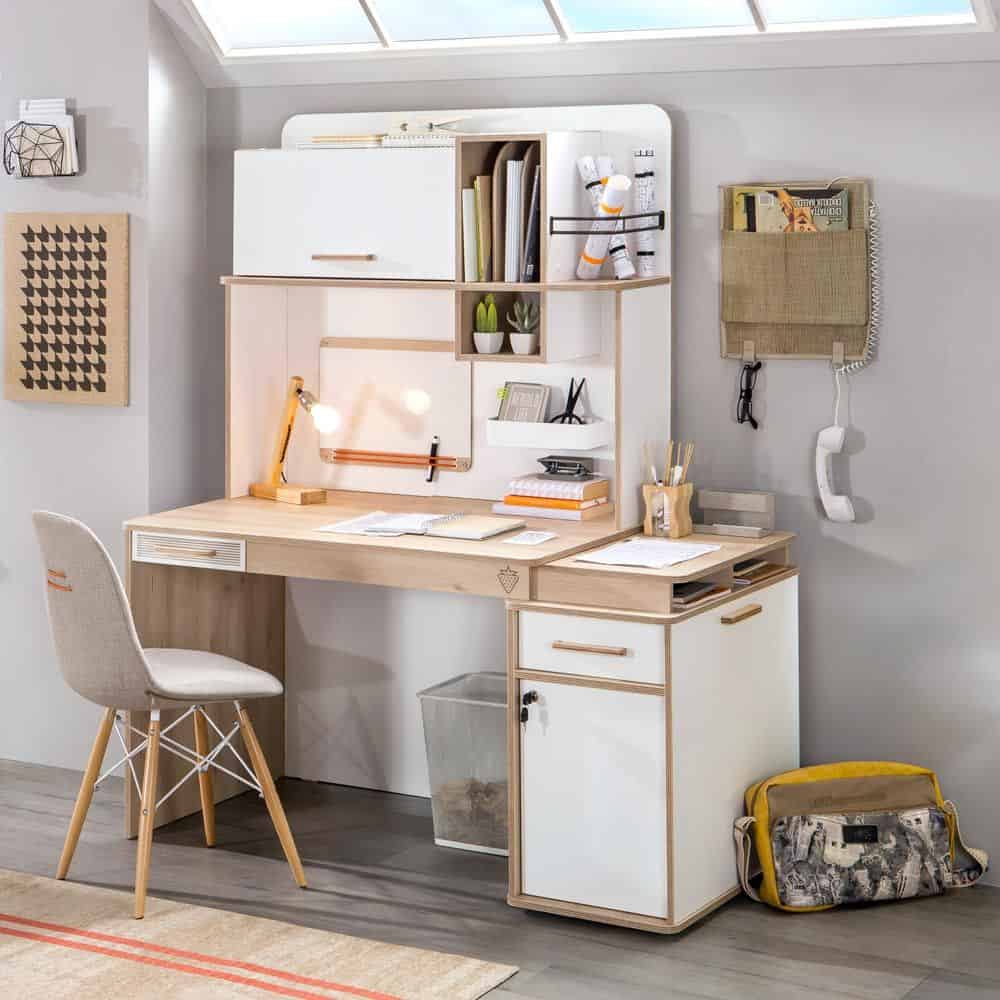 This easy-to-build desk features plenty of storage for all of the kid's school supplies, so they can easily stay organized. To get started, you'll need to gather some basic supplies.
For the desk itself, you'll need a piece of plywood, some 2x4s, and a sheet of MDF. For the storage portion, you'll need some additional MDF, as well as some dowels and screws. With these materials on hand, you'll be ready to start building your desk.
Begin by cutting the plywood to size using a circular saw. Next, attach the 2x4s around the perimeter of the plywood using wood glue and screws. Then, cut the MDF into panels that will create three drawers.
Assemble the drawers using dowels and screws, and then attach them to the front of the desk using more screws. Finally, add any trim or moulding that you desire to give the desk a finished look.
24. IKEA Hack Homework Desk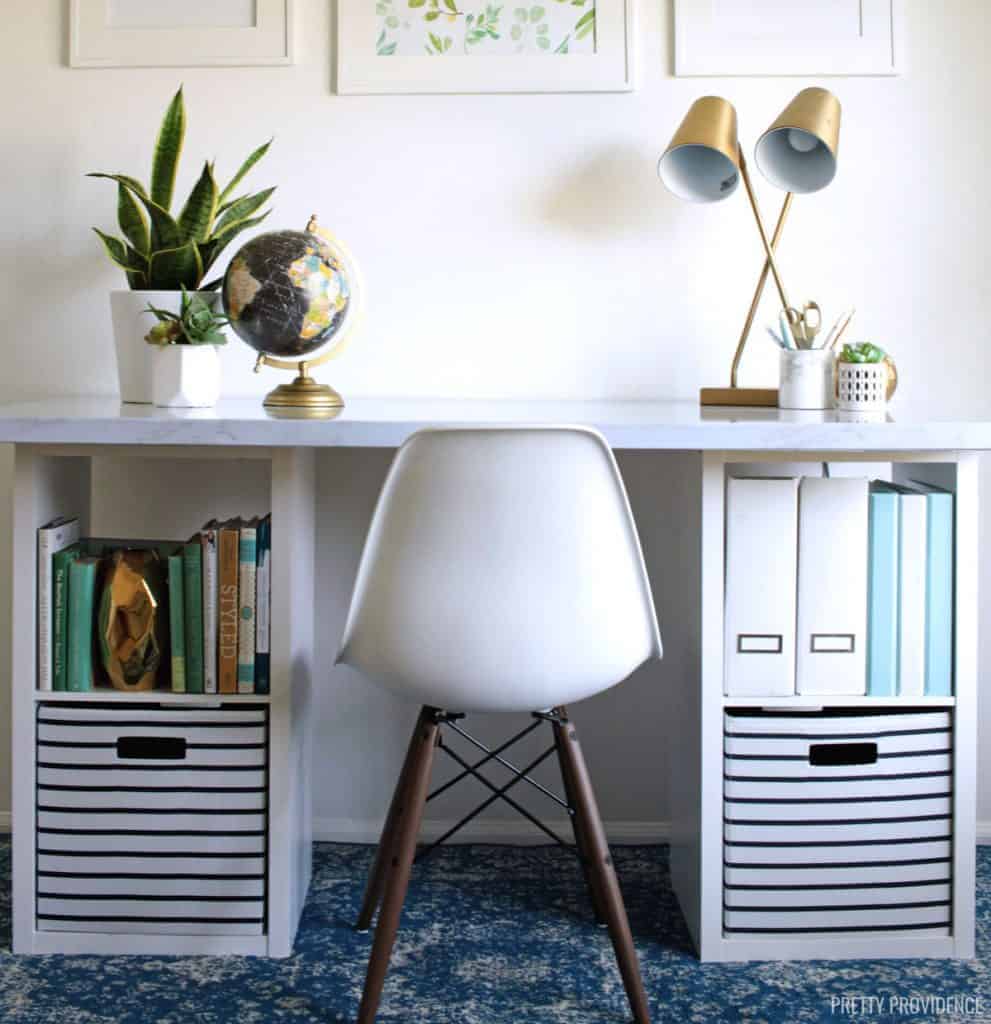 Consider using an IKEA desk that will make it easy for you to create a beautiful and functional desk for your child. This IKEA hack kid desk is a great option that will provide plenty of storage space for your child to keep their things organized.
To start, place the bookshelves on the bottom of the desktop, then drill it. When it is perfectly screwed, flip the desk over. You can add a basket on each bookshelf to keep the things stay in place.
25. Rustic Kid Desk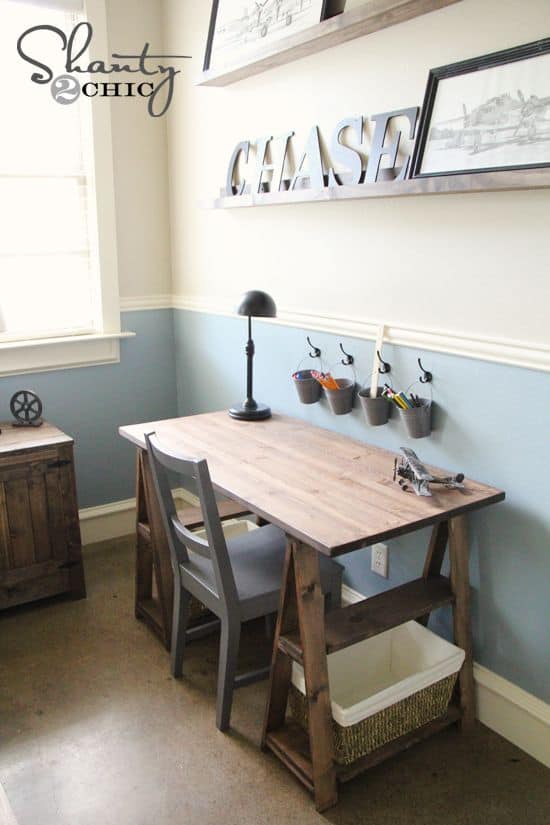 Bring in the rustic style to your kids' room with this functional desk.
This piece is perfect for adding a touch of charm and can be used as a homework station or craft space. The desk features plenty of storage for all of your child's supplies, making it easy to keep their room tidy.
This type of desk features a simple frame made from reclaimed wood or pallets. The top of the desk is usually left unfinished, allowing your child to personalize it with paint, stains, or decoupage.
Add a few storage boxes or baskets underneath the desk to keep pens, paper, and other supplies organized.
26. Murphy Bed and Desk Combo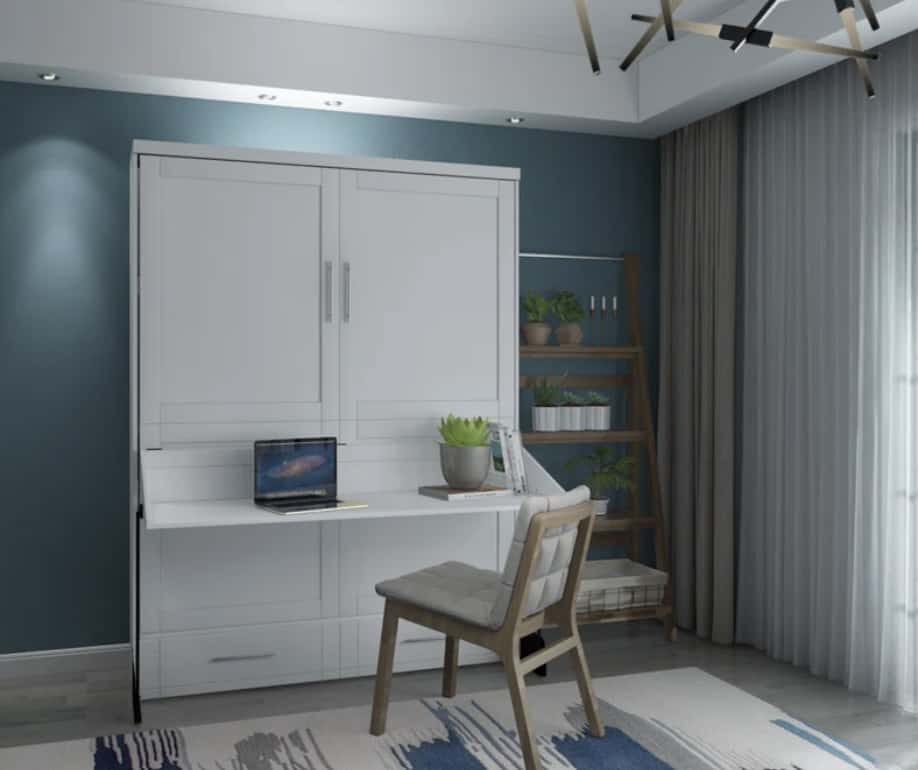 With this Murphy bed and desk combo, you can have the best of both worlds. The desk folds up into the bed when not in use, and the bed can be folded up into the wall when not in use.
Supplies needed:
1×4 lumber
Miter saw
Drill
Kreg jig
Drill bit
Paint or stain
27. Farmhouse Kid Desk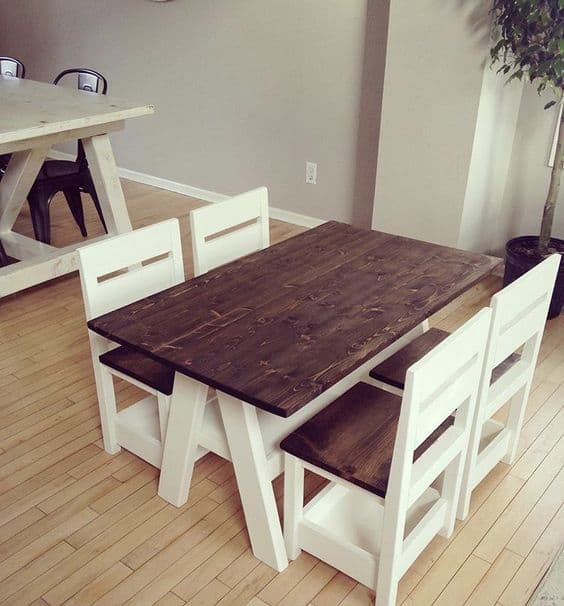 It is the perfect addition to any child's bedroom or playroom.
Start by measuring and cutting the boards for the top and sides of the desk. Then, use wood glue and a nail gun to assemble the frame. Next, add the plywood bottom and secure it in place with screws. Finally, finish off the desk by staining or painting it to match your child's room.
28. Modern Kid Desk
This modern kid desk features a beautiful design with tapered legs and an open shelf. The modern style will be perfect for your home if you want something a little different.
This desk is easy to DIY and only requires a few materials. Also, it is easy to make, which is fine if you are a beginner in woodworking.
The neutral finishing will give you desk a timeless appeal and bringing in the modern hint. If you want to add a personalized touch, apply the stencil to the desk can be a smart option.
29. Treehouse Bed with Desk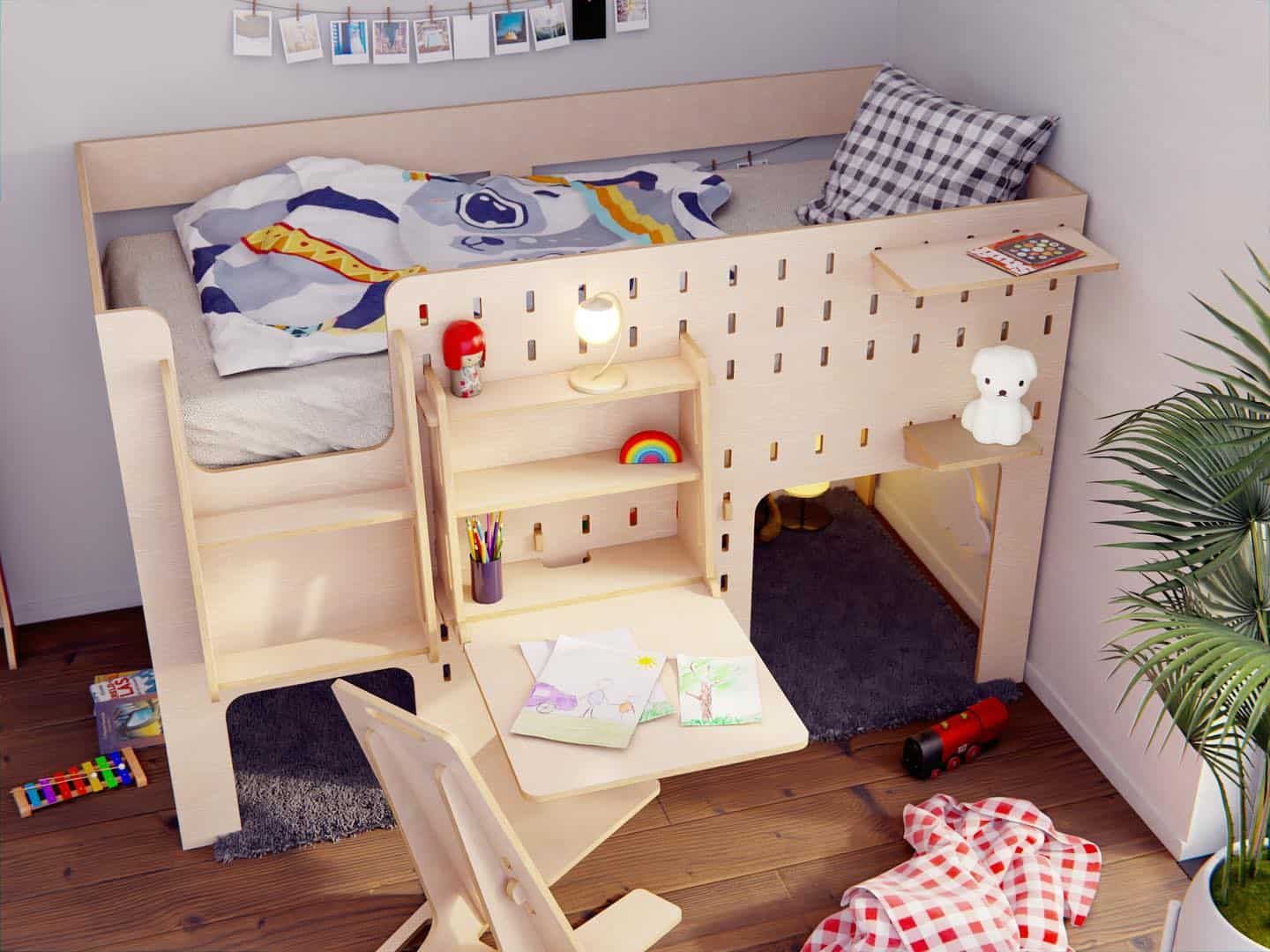 It would be a perfect project for kids who love to play in treehouses and fortresses. This bed is not only sure to be a hit with your kids, but it will also save you money since you won't have to buy a separate bed and desk.
To get started, you'll need some basic carpentry tools and materials. The first step is to build the frame of the bed, which will serve as the base for the rest of the project. Once the frame is complete, you can then start adding the walls and roof. And finally, you'll add the desk and other finishing touches.
Kids' desks can be a great way to help kids organize their belongings and keep their room clean. These 29 creative DIY plans will give you plenty of ideas for creating the perfect desk for your child.