A daybed might be the perfect solution for you if you need a place to sleep during the day, or if you have guests over often and need an extra bed. Not only are they stylish and cozy, but they can also be really affordable to build yourself. It would be a perfect choice if you are planning to improve your woodworking skills.
In this blog post, we will share with you 26 different DIY daybeds plans that you can build in your home. Daybeds are versatile pieces of furniture that can be used in a variety of ways. Whether you're looking for a simple design or something more intricate, there's a daybed out there that's perfect for you.
1.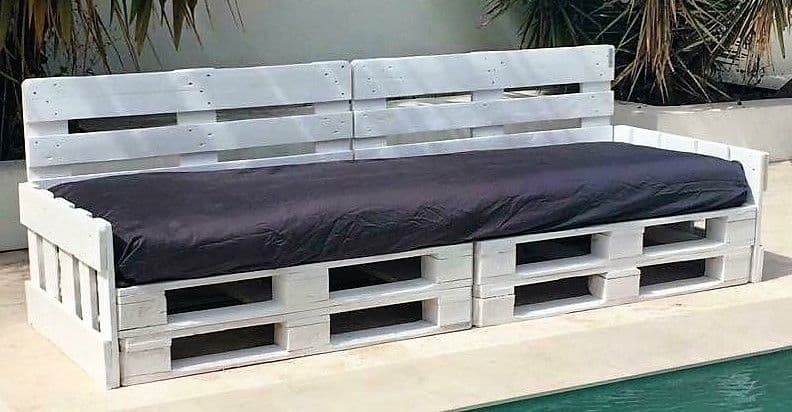 Pallet wood is a great material to use for a daybed because it's strong and durable, yet easy to work with. Plus, it has a rustic look that adds character to any room. To get started, you'll need to gather some supplies. You'll need four wooden pallets, screws, nails, sandpaper, and wood glue. Once you have your materials, you'll need to disassemble the pallets so that you have two long side pieces and two shorter end pieces. Then, sand down the rough edges of the wood and assemble the bed frame using screws or nails.
Once the frame is complete, add a layer of plywood or particleboard to create a flat surface for the mattress. Finally, cover the daybed with a comforter or quilt and add some pillows for extra comfort.
2. Use Reclaimed Wood For a Rustic Design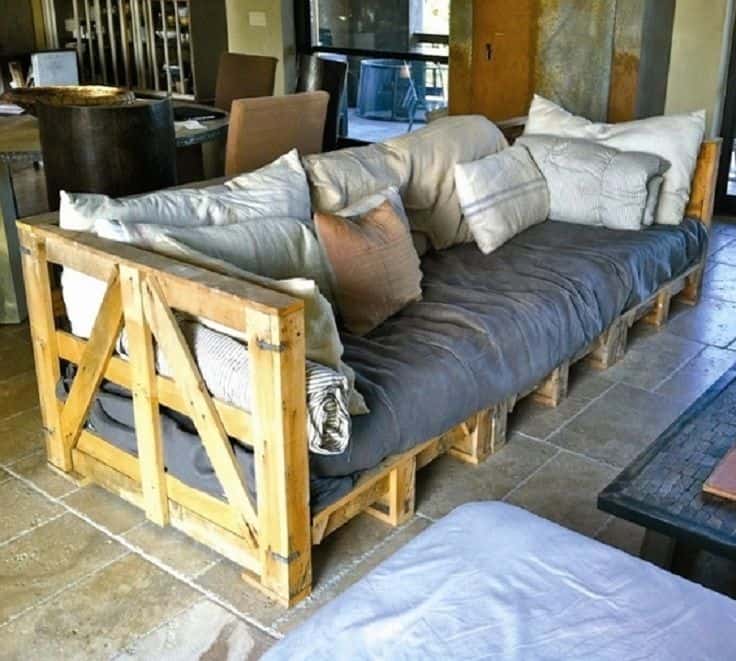 This project is relatively easy to build, and you can customize it to suit your style. For a rustic look, try using reclaimed wood or distressed paint. And for extra comfort, add some throw pillows and a soft blanket.
What you will need:
Reclaimed or distressed paint

Throw pillows

Soft blanket
3. Industrial

Plans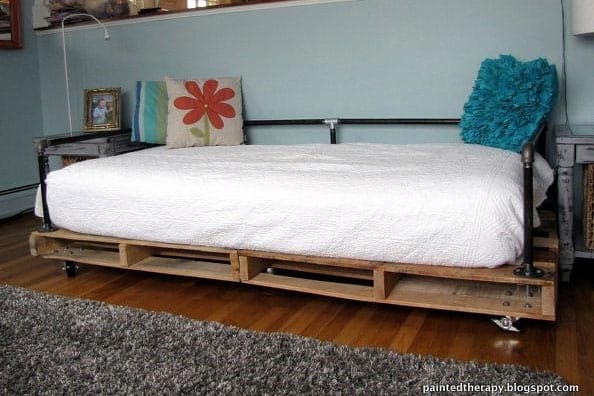 Pipe daybeds have a cool, industrial look that can easily be incorporated into any home décor. Plus, they're super easy to build! If you're looking for a project that will give you a beautiful piece of furniture and won't take a lot of time or money, then this is the perfect plan for you. The best part is, you can customize the plans to fit your space and style perfectly. If you want to make it movable, consider attaching the wheels.  
4. Affordable

Plans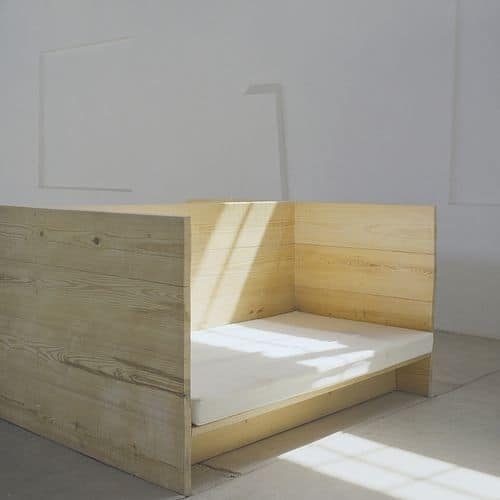 Building a daybed doesn't have to be expensive. In fact, with a little creative thinking and some DIY skills, you can easily create a wonderful daybed on a budget. The key is to find affordable daybed plans that suit your needs and style.
Supplies needed:
Wooden boards

Nails or screws

Paint or
5.

Plans

for Small Spaces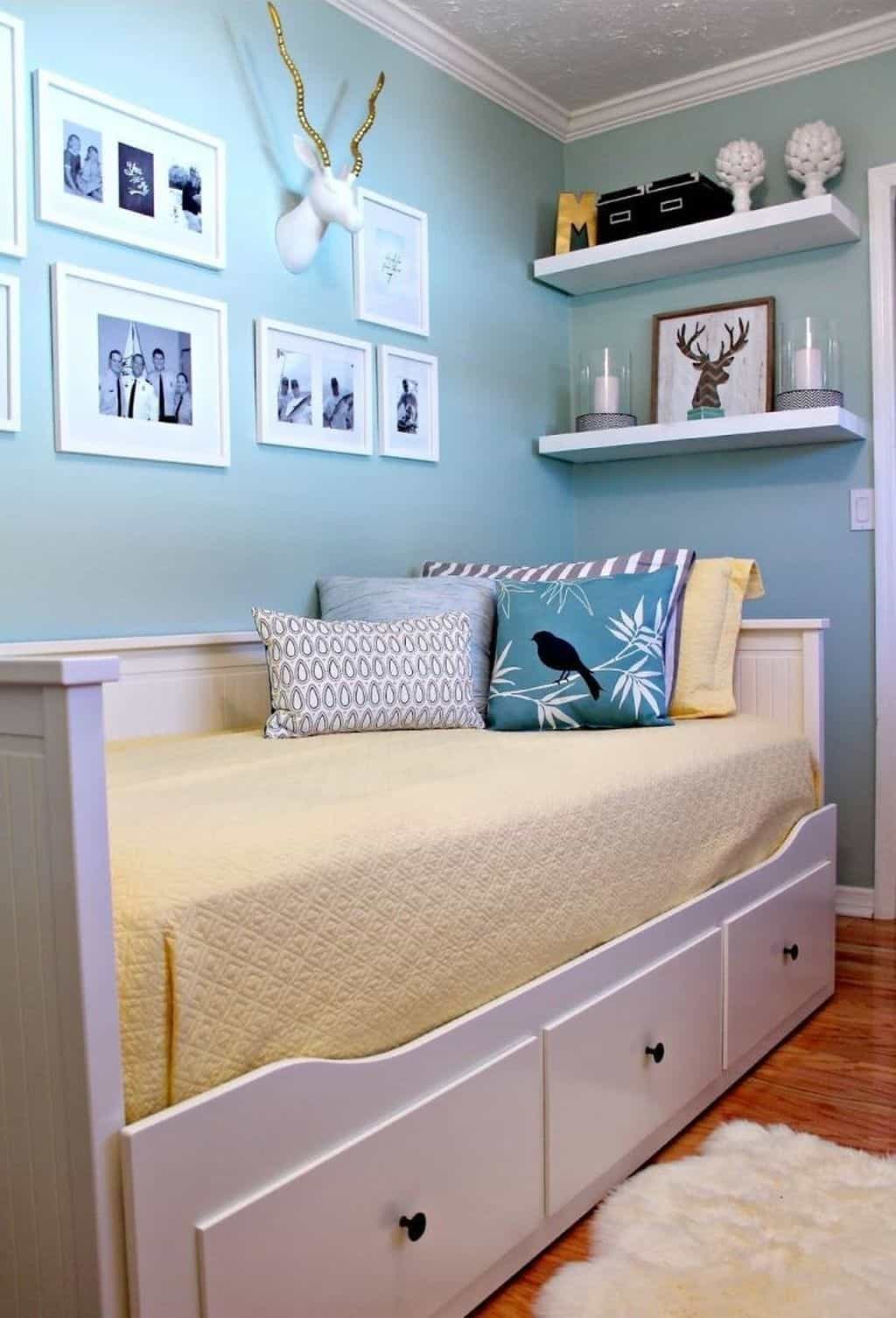 When it comes to finding the perfect furniture for small spaces, many people overlook the humble daybed. For a more modern look, choose a daybed with clean lines and simple hardware. Once you've selected your plans, the next step is to gather your materials. Most daybeds are made from wood, so you'll need to purchase lumber and other supplies from your local home improvement store.
6. Complement With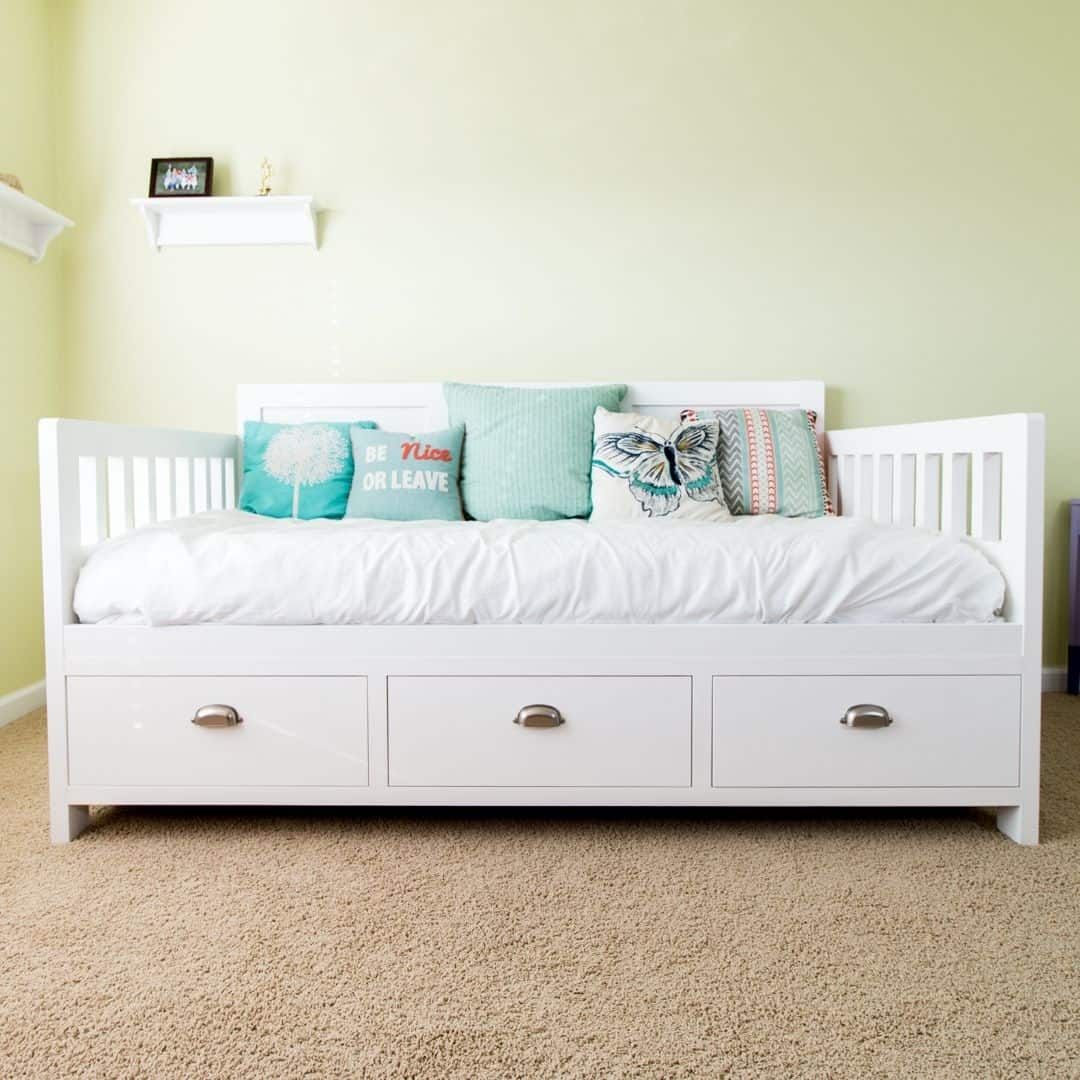 Daybeds are versatile pieces of furniture that can be used as a sofa during the day and a bed at night. They're perfect for small rooms or apartments where space is at a premium. And with some simple storage built in, they can also help you keep your bedroom organized and clutter-free.
The drawers are perfect for storing extra blankets, pillows, or clothes. And the best part is, they can be easily built with just a few tools and some basic woodworking skills.
7.

Plans

with Trundle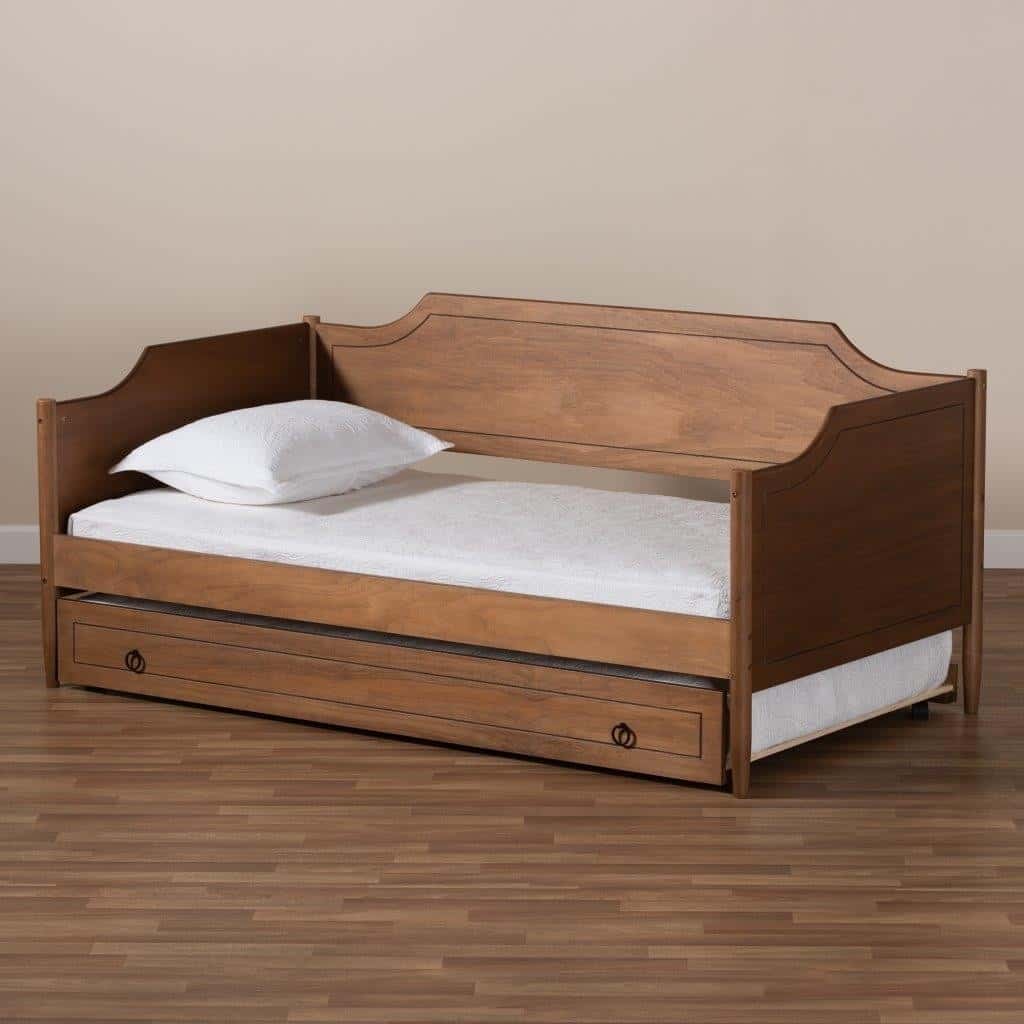 Daybeds with trundles are extra versatile, as the trundle can be used for extra seating or extra storage. This gorgeous daybed with a trundle is made out of solid wood and would be perfect for a guest room or child's room. The trundle can also be used as extra storage. To make this versatile daybed, you will need some basic woodworking skills to build this bed. This daybed would be perfect for a small living room. This daybed has a classic design and would be perfect for any room in your house. This daybed can be made out of any type of wood, but we recommend using pine or cedar for this DIY project.
8.

Plans

with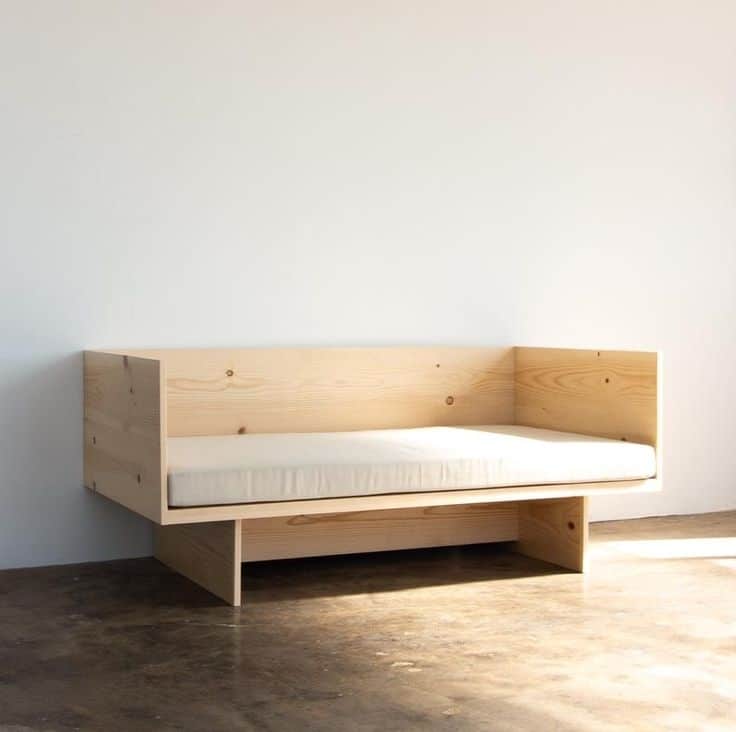 A mattress on the daybed is the key element of a comfortable feature for sleeping or relaxing. This daybed plan takes a little more time to construct than some of the others, but the results are worth it. Follow these detailed instructions to create an upholstered mattress and frame for your daybed.
What You'll Need:
Foam insulation

Batting

Fabric

Staple gun

Screws

L brackets
Start by cutting the plywood for the daybed frame following the cut list. Assemble the frame using screws and L brackets.
Next, cut the foam insulation to size and wrap it in batting. Place the foam on top of the frame and secure it with staples.
Finally, measure and cut the fabric for upholstering the daybed. Start by stapling the fabric to the back of the frame. Then, pull the fabric taut and staple it to the front of the frame. Trim any excess fabric and enjoy your new daybed.
9. The Minimalist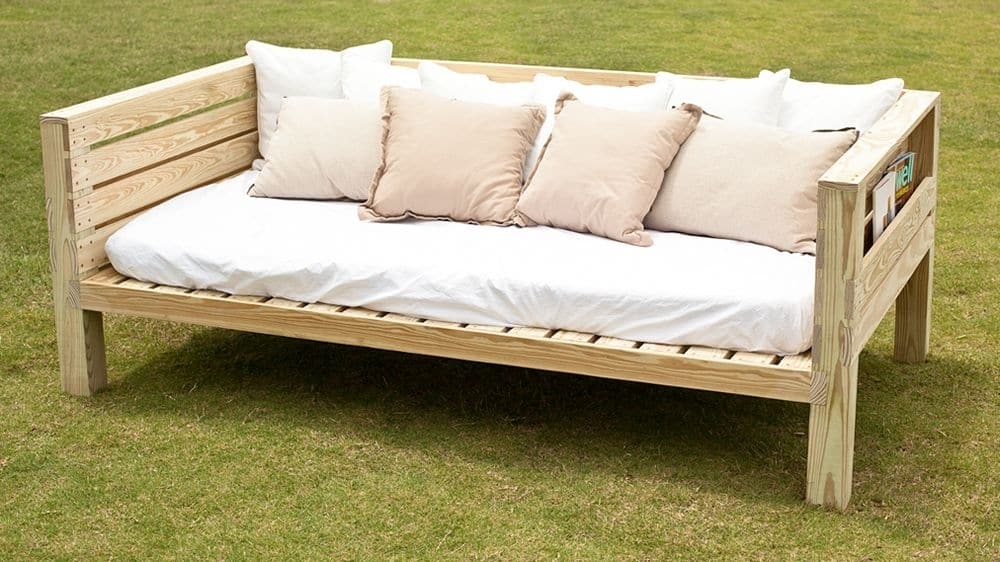 This minimalist daybed plan is the perfect project for anyone looking to add a little extra seating to your home. The simple design makes it easy to build, and the clean lines will blend in with any decor style. Plus, if you ever need another guest bedroom just convert this beautiful wood frame lean-to bed back into its original state – complete with headboard acted as nightstands or even coffee table space during daytime hours when not being used as a bed.
This project can be completed in just a few hours, and only requires basic woodworking skills.
What You'll Need:
Tape measure

Circular saw or jigsaw

Drill

(optional)
Paint or

Polyurethane
10.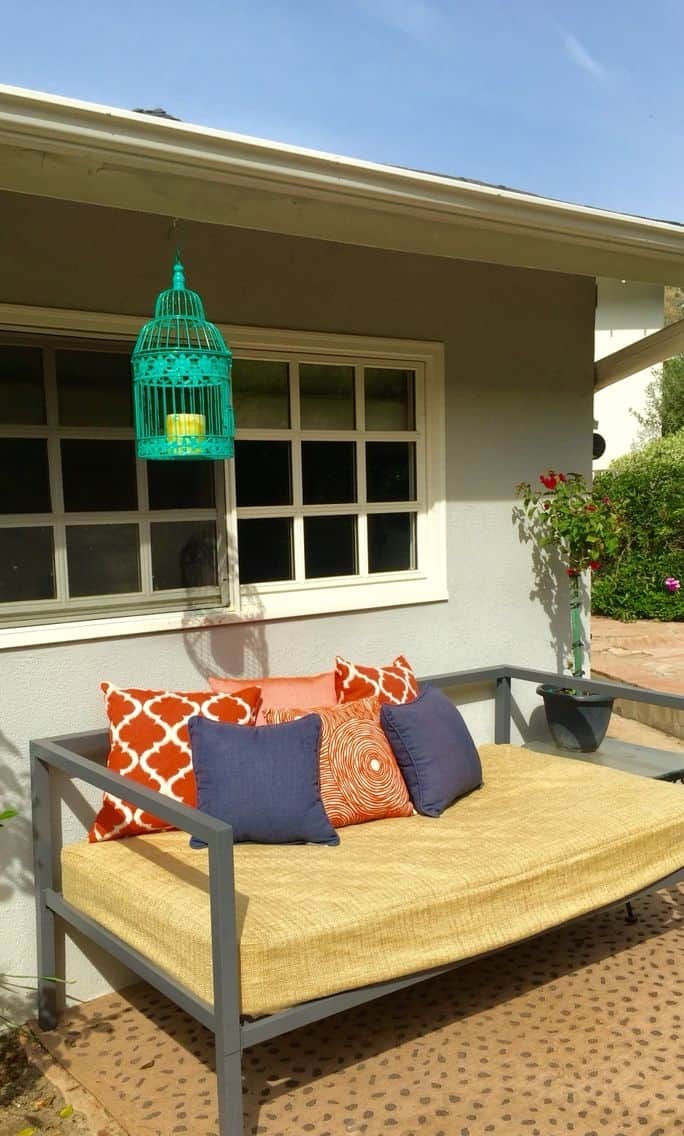 Daybeds are the perfect piece of furniture for spending lazy days outdoors. They're large enough to stretch out on, but they're also compact enough to fit in smaller spaces. If you're looking for a spot to enjoy the sun, choose a spot that gets plenty of natural light. If you want a more private spot to relax, look for an area that's sheltered from the wind. Once you've chosen the perfect location, it's time to start planning the build itself. For a simple daybed, you'll just need some basic construction materials and a mattress or cushions for comfort.
11.

Plans

for Kids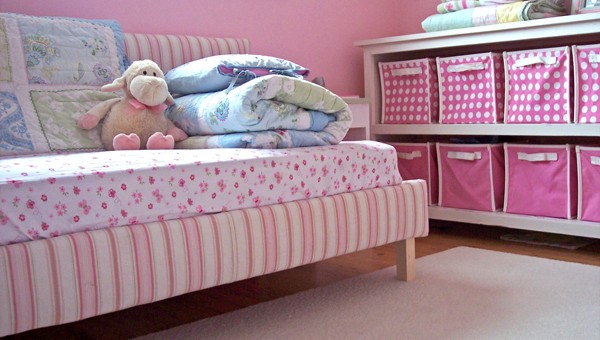 Daybeds are also a great option for kids, as they can provide a place to lounge and play during the day while still being large enough to accommodate a standard twin mattress. Daybed plans for kids come in a variety of styles, from simple and classic to fun and whimsical. For a child who loves animals, try building a daybed in the shape of their favorite pet. Or, for a more sophisticated look, go for an upholstered daybed with clean lines and crisp fabrics.
12.

Plans

with Curtains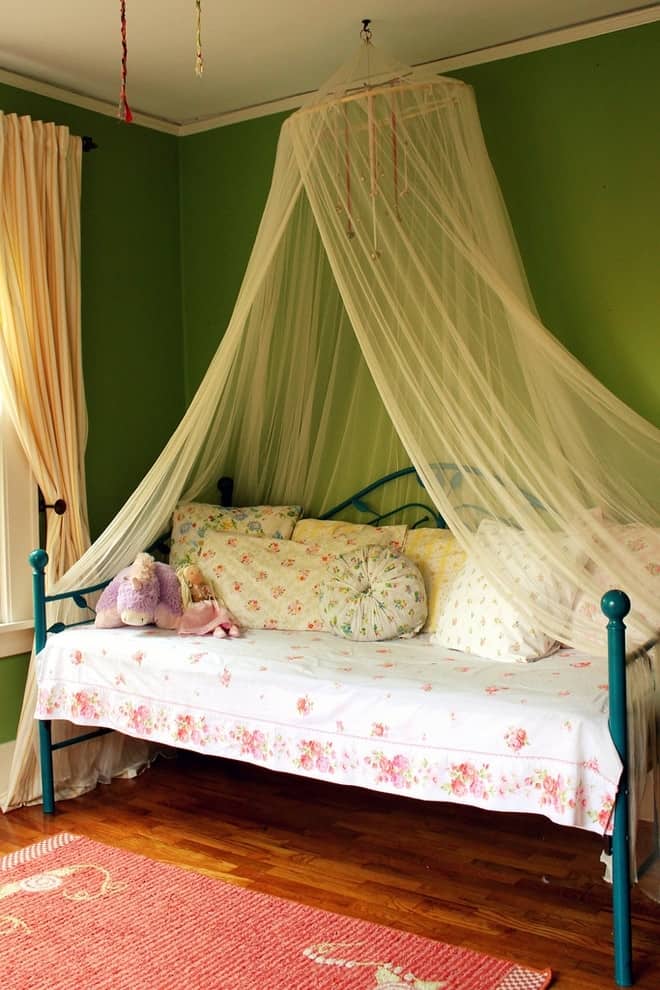 This type of daybed is perfect for those who want to add a bit of privacy to their space. On the other side, it offers you a romantic feel.
Building a daybed with curtains is relatively simple.
You will need the materials:
Ruler or a measuring tape

Jigsaw

Drill

Hammer

Nails

Screws

High-density foam

Batting material
First, you need to make the frame of the daybed. Cut the plywood into four equal pieces using a jigsaw. Make sure to smooth out the edges with sandpaper. Next, you need to create the mattress support. Cut two pieces of plywood to fit the frame and screw them into place. Now it's time to add the curtains. Measure the height of the frame and cut four curtain panels accordingly.
13.

Plans

for Adults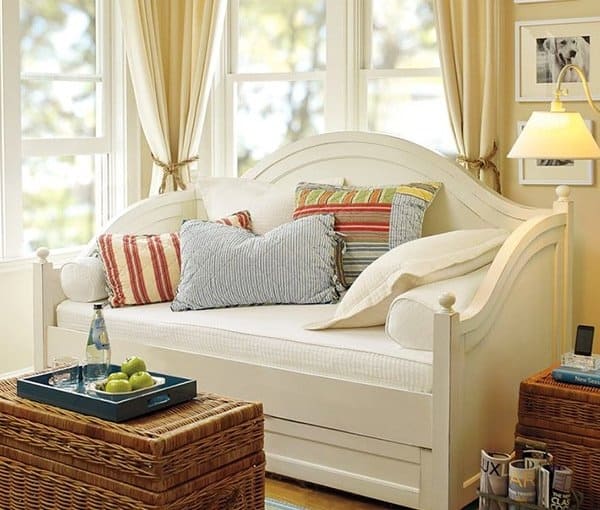 With a little time and effort, you can create a beautiful and functional piece of furniture that will last for years to come. For the frame of the daybed, you'll need two by fours, plywood, and screws or nails. The amount of each material will depend on the size of the daybed you're planning to build. For the mattress support, you'll need one by fours and screws or nails.
And finally, for the mattress itself, you'll need either foam or springs. With all of your materials gathered, it's time to start building. The first step is to cut all of your lumber to size. Once that's done, it's time to begin assembling the frame. The most important part of the frame is making sure that all of the corners are square. Once the frame is complete, it's time to add the supports for the mattress. The final step is to add the mattress itself. If you're using foam, simply place it on top of the supports and cover it with fabric.
14. Floating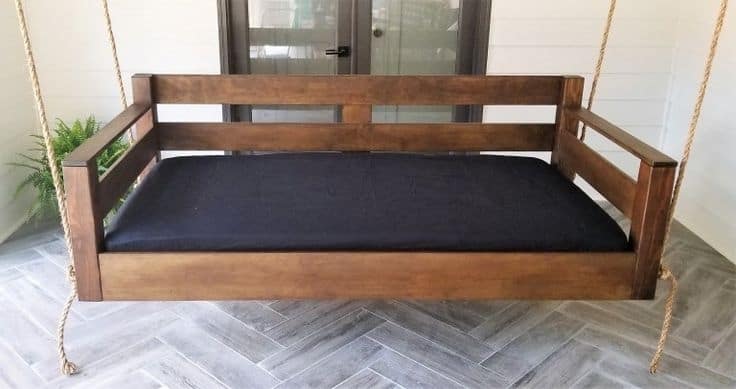 Building a floating daybed is a great way to add an extra sleeping spot to your home without taking up a lot of space. To get started, you'll need to gather some materials. First, you'll need two twin-sized mattresses. You'll also need some plywood, some 2x4s, and some deck screws. Once you have all of your materials, you can begin building your daybed. Start by attaching the plywood to the 2x4s using deck screws. Then, place the mattresses on top of the plywood and secure them in place.
15.

Plans

with Headboard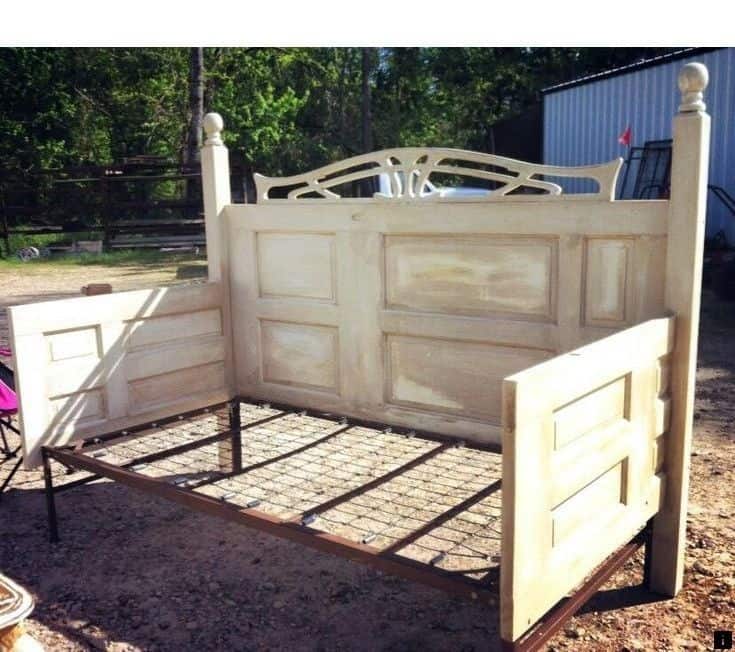 This type of daybed is both stylish and functional, and it can be easily customized to match the decor of your home. The thing is that it doesn't need any special tools and skills to make it work.
Plus, it can be done in just one weekend using the basic construction method and materials. The headboard is the most important part of this daybed. You can make it from recycled pallets, an old door, or even a headboard that you already have.
16.

Upholstered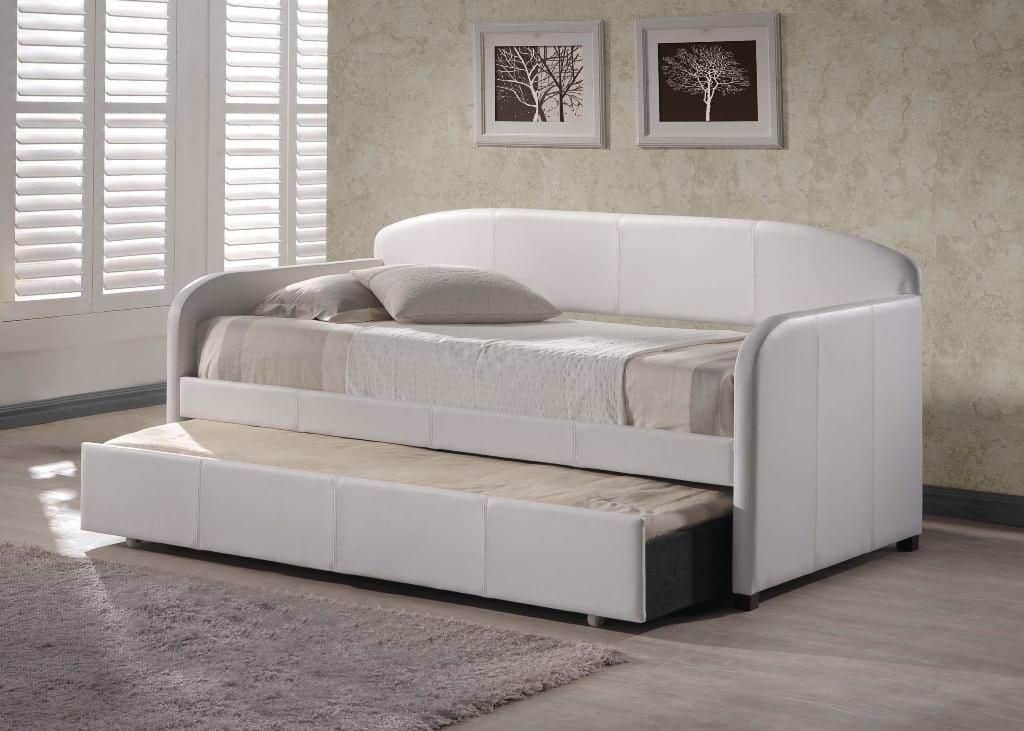 You can upholster a daybed in any fabric you choose and add your own personal touches to create a unique piece of furniture that will become a treasured part of your home. By building it yourself, you'll save money and end up with a higher-quality product.
The first step is to build the frame. You'll need two twin-sized mattresses for the top and bottom, and two pieces of plywood for the sides. Once the frame is assembled, it's time to add the upholstery. For a polished look, opt for a tufted design. Start by stapling fabric to the front of the frame and then attaching buttons for extra dimension. Finally, add some decorative pillows and blankets, and you're all set.
17. Add a Sleek Hint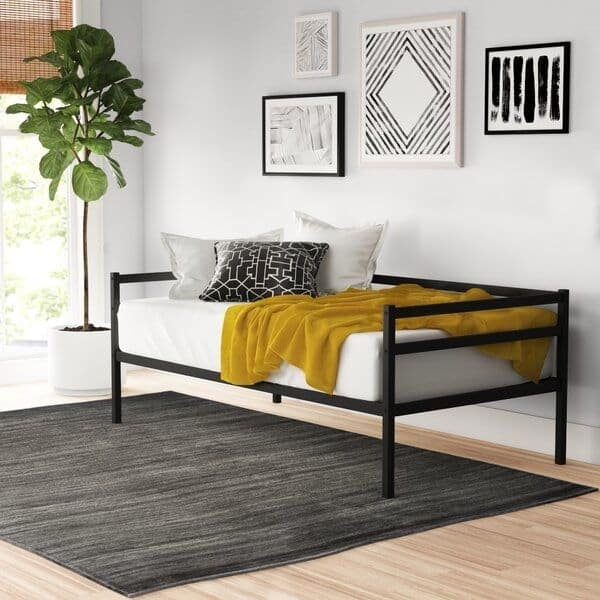 If you want to update the style of your home decoration, then this modern daybed must be on top of your lists. This piece of furniture is perfect for small space as it can serve as a seating area during the day and turn into a bed at night.
The sleek and simple design of this daybed will definitely give an instant makeover to any room. What makes this project even more interesting is that you can actually build it yourself with just some basic woodworking skills.
18. Farmhouse Style D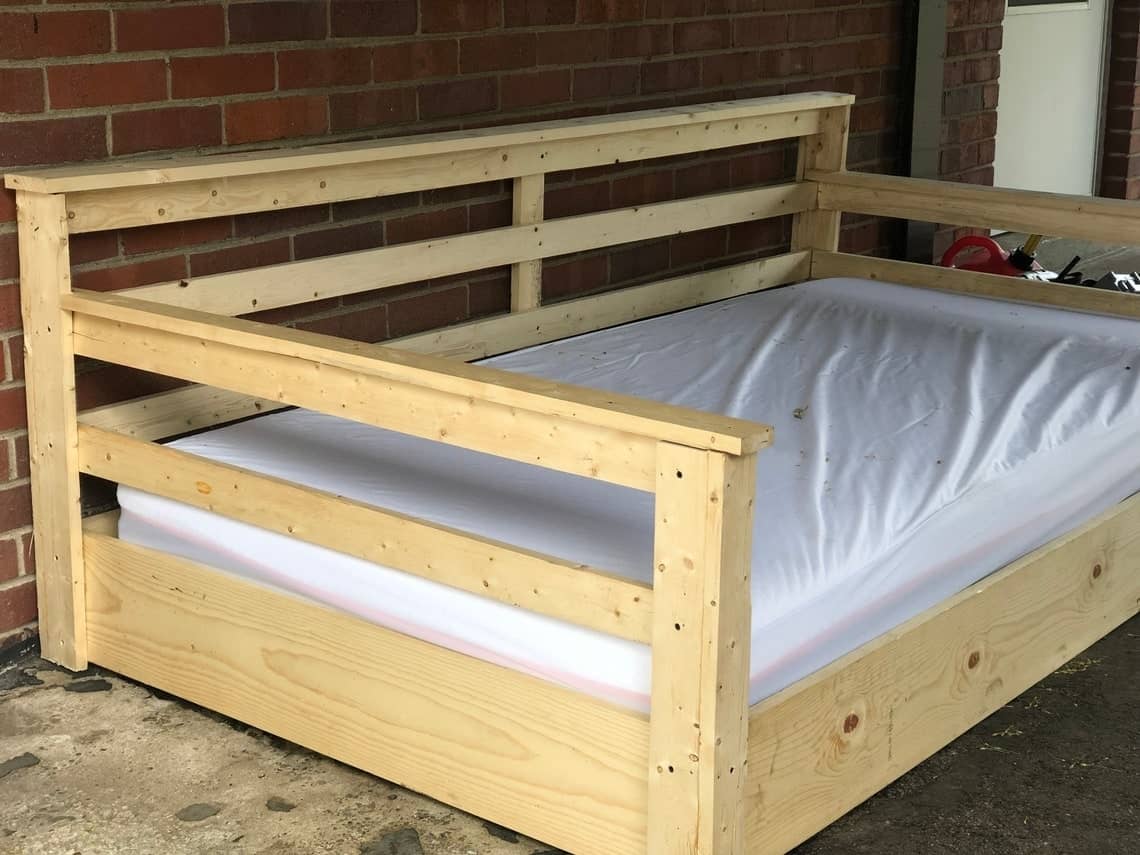 Farmhouse daybeds are characterized by their simple design and clean lines. They're often made from natural materials like wood or iron, which gives them a rustic appeal. Plus, they can be easily customized to match your existing decor. The frame is made from inexpensive lumber, and the mattress is a standard twin size. You can finish the daybed in any color or style that you like, making it truly your own.
19.

Plans

with Built in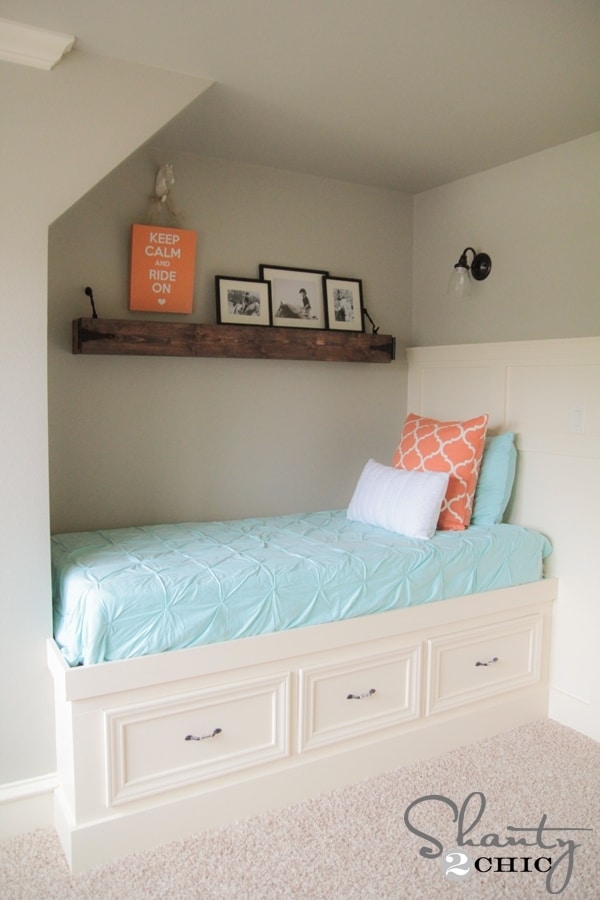 Built-in storage daybeds are the perfect solution for small spaces. By day, they provide a comfortable place to sleep. By night, they transform into a guest room, complete with bedding and pillows.
Best of all, they offer storage space for clothes, linens, and other belongings. modern daybed plans make it easy to build your own storage daybed. With just a few tools and some basic woodworking skills, you can create a stylish and functional piece of furniture that will serve you well for years to come.
20. The Compact Daybed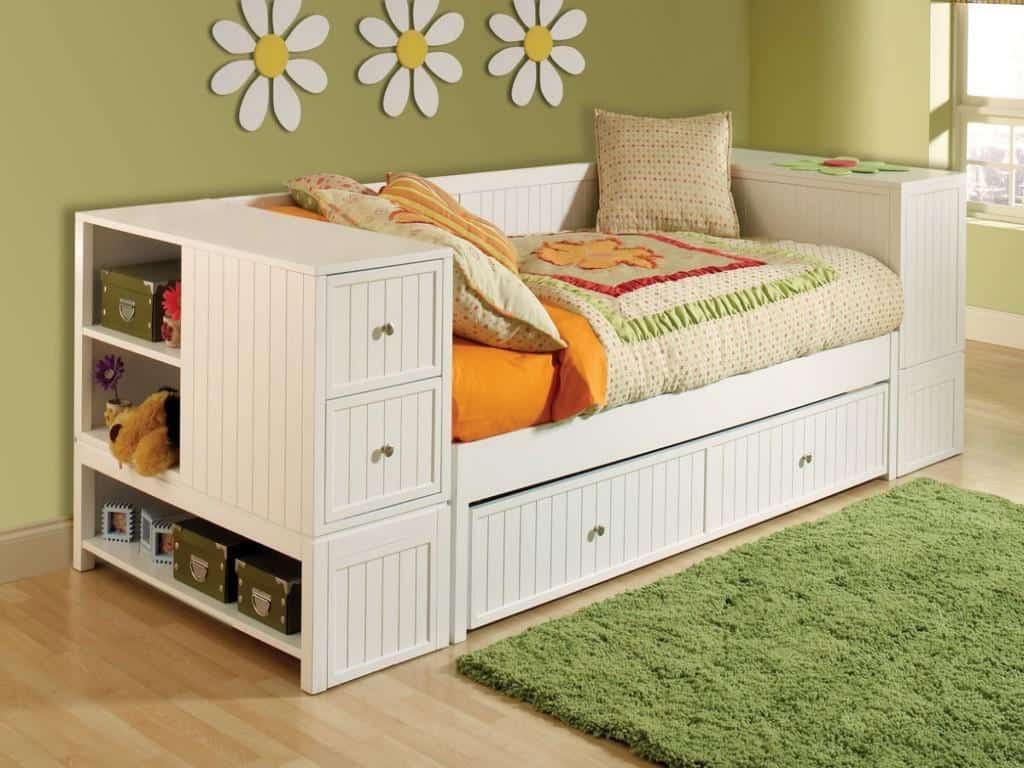 This project is perfect for small spaces because it takes up less floor space than a traditional bed and desk combo. Plus, the built-in desk means you don't have to worry about finding a place to put a separate desk.
To get started, you'll need some basic tools and materials, including a saw, drill, screws, and lumber. With the basic woodworking skills, this project can be done within hours during your leisure time. The big armrest can functionally be a desk, which is complemented by the storage underneath.
21. Upcycled Pallet Material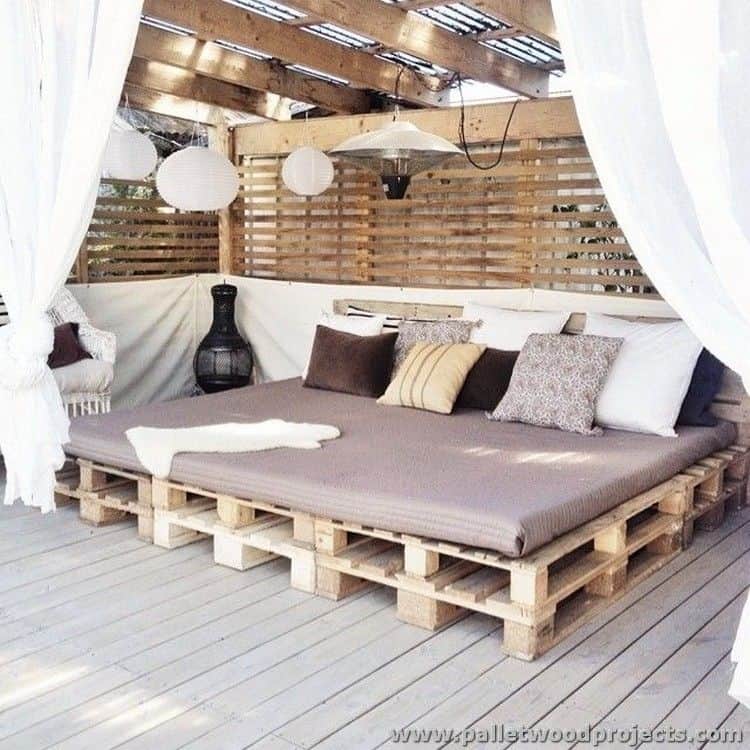 You can use pallets to create the frame of the bed, and then add a mattress, pillows, and blankets to make it into a comfortable sleeping spot. Or you can use pallets to create the sides of the bed and then add a headboard and footboard for a more traditional look. Either way, pallet daybed plans are a great way to add an extra sleeping space to your home without breaking the bank.
22. Simple

Plans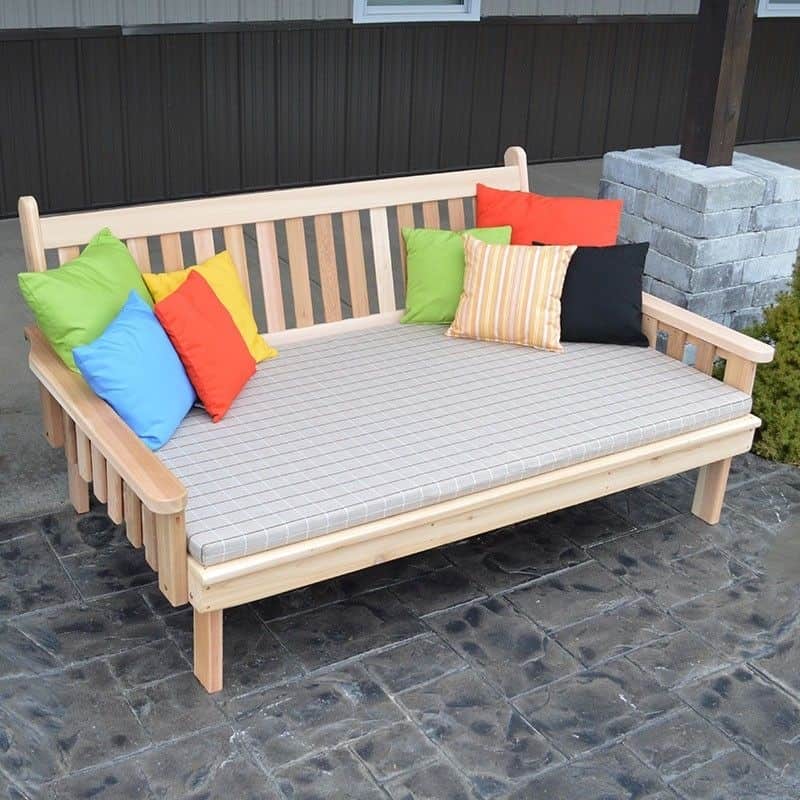 It is such a perfect project if you are w beginner in woodworking, which is planning to upgrade your skills. No matter your skill level, you can create a beautiful and functional daybed that will last for years to come. And because a daybed is relatively small, it's easy to find room for one in just about any space. What you will need:
Drill

Circular saw

Miter saw

Square

Level

Chalk line

Tape measure

Sandpaper

Safety glasses
23.

Twin Size D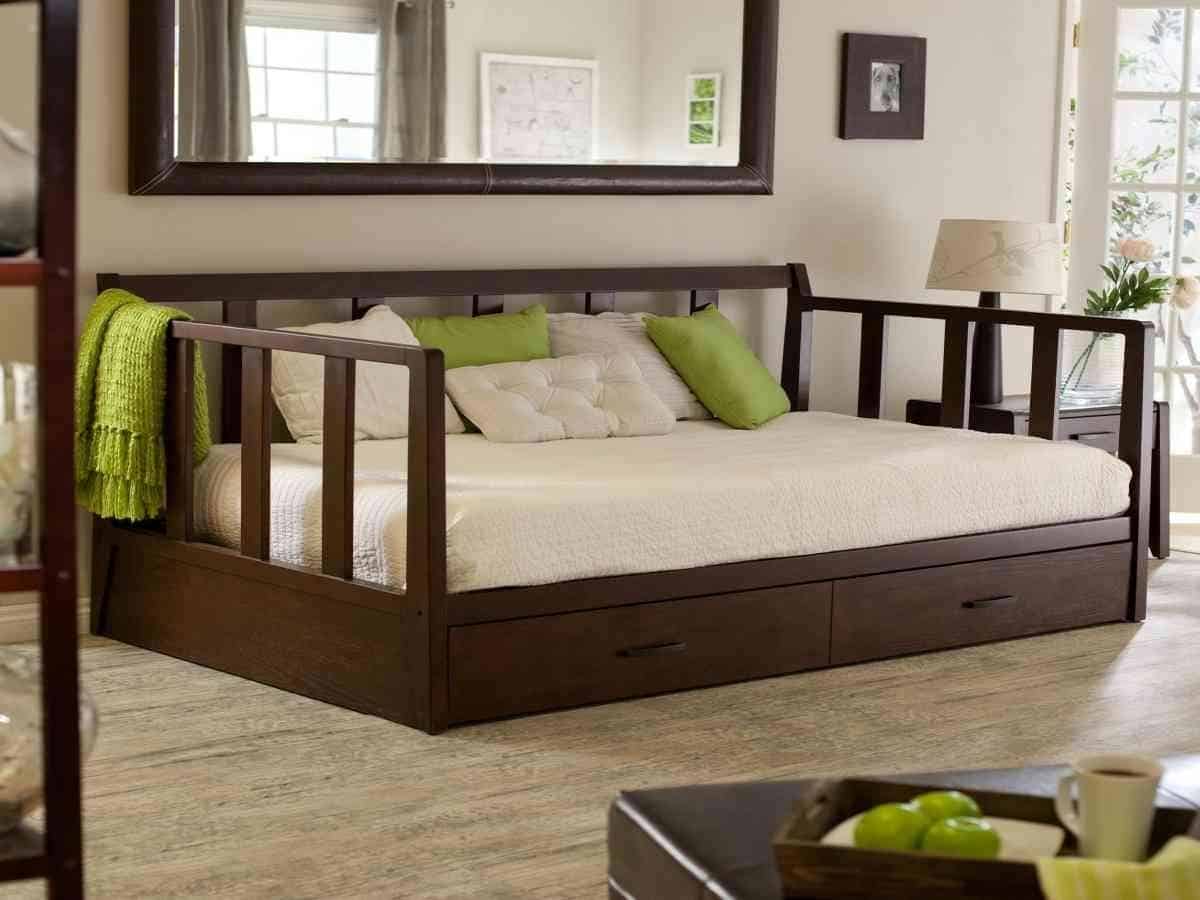 One popular option is to build a twin-size daybed. This two-in-one piece of furniture can be used as a couch during the day and comfortably sleeps two people at night. To get started, all you need is a twin-size mattress and some basic carpentry skills. Once you have the mattress, determine how big you want your daybed to be. Then, cut four wooden boards to the appropriate size and assemble them into a frame. Next, attach the frame to the wall using L-brackets or other supports. Finally, add a mattress and some pillows.
24.

Full Size Daybed Style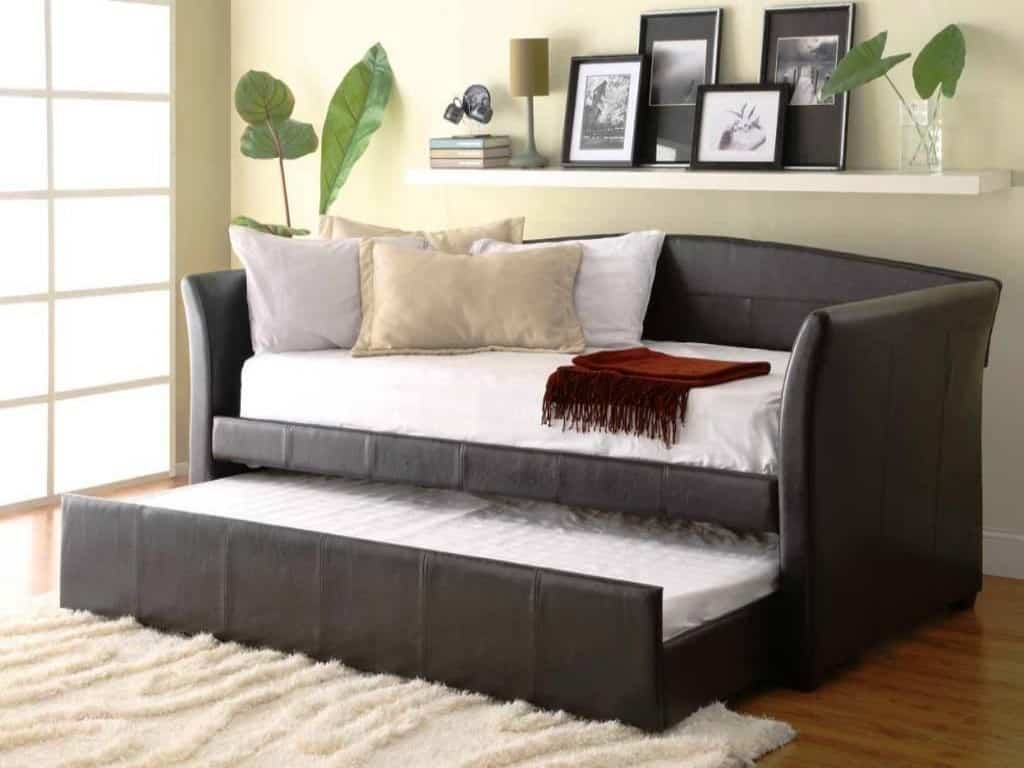 A full-size daybed will comfortably accommodate two adults, while a twin-size daybed is better suited for one person. Without lots of things to do, you can make your own daybed. You need to make sure that you have the following tools: a drill, saw (jigsaw, circular, or miter), screwdriver, screws and washers, sandpaper, level, tape measure.
25.

Plans

With Drawers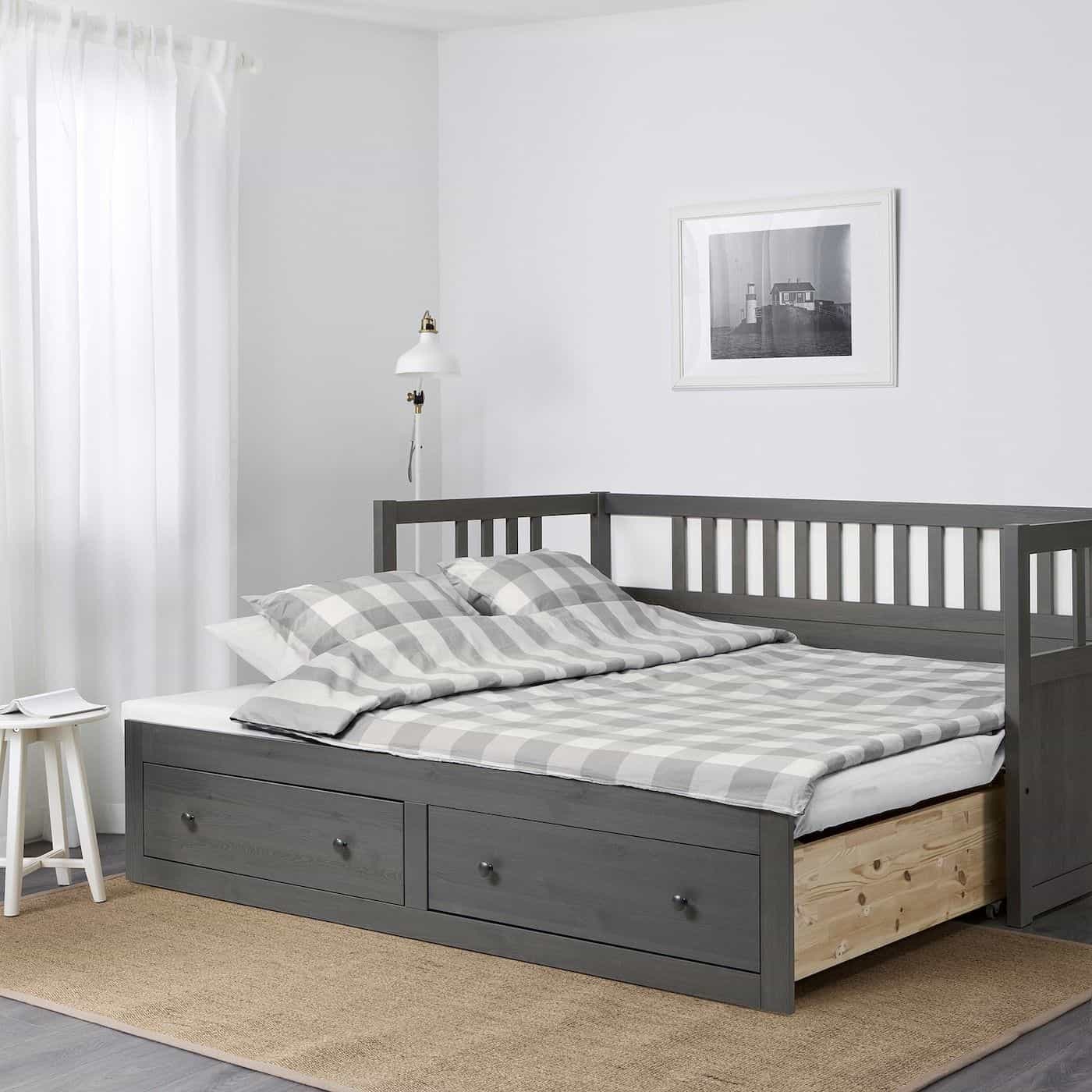 The daybed with drawer can be a smart hack if you have to deal with the limited space. The drawers can be used to store blankets, pillows, and other bedding items. Plus, they add an extra level of detail to the daybed. This can be easily achieved by mounting the daybed on casters and adding some DIY storage drawers underneath.
26.

Plans

with Lamps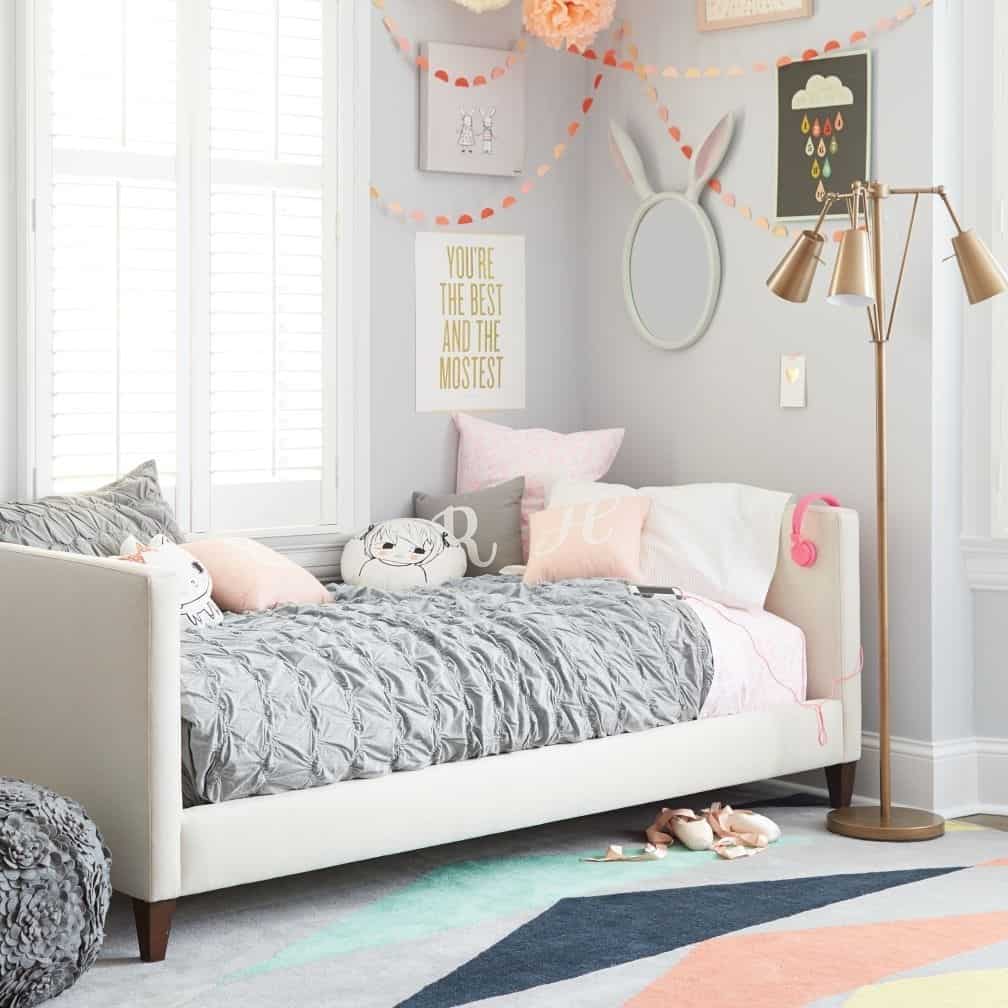 Next, it's time to get to work! Cut the lumber according to your measurements and then assemble the frame using screws and nails. Once the frame is complete, sand it down smooth and then paint or stain it according to your preference. Finally, add the fabric cushion and add the lamp that will infuse a warmer ambiance to your space.
27.Bring the Side Tables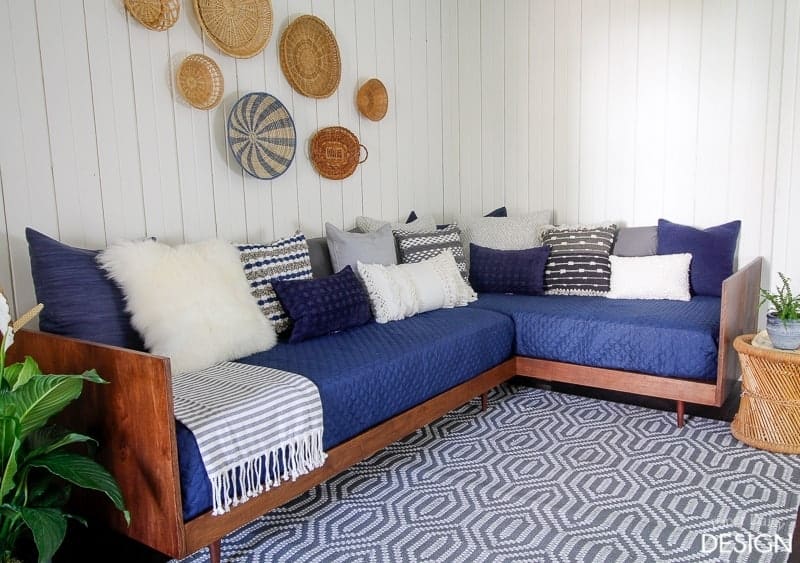 This kind of daybed is perfect for you. If you don't have a lot of time to spend on building a daybed from scratch, then this might be the best option for you. All you need are two side tables and a mattress. Place the side tables next to each other and then add the mattress on top. That's it! Now you have a functional and stylish daybed that will make your space more inviting.
Daybeds are versatile pieces of furniture that can be used in a variety of ways. Whether you're looking for a place to relax and read a book, take a nap, or host guests overnight, one of these daybed plans will surely fit your needs. Most of the plans featured here are simple enough that even beginner woodworkers can build them with ease, but still look stunning in any home.