Your kitchen sink is one of the most important pieces of furniture in your home. While it might seem like a small and unimportant fixture, your kitchen sink plays a big role in your daily life. From washing dishes to preparing food, your sink sees a lot of action. That's why it's important to keep it clean and tidy. So, the next time you're cleaning up your kitchen, take a few extra minutes to scrub your sink.
If you're trying to find some inspiration, we've rounded up 33 of the best kitchen sink ideas to help you decide. From sleek and stylish designs to functional and practical choices, there's something for everyone. Let's take a look and see which one is right for your home.
1. Undermount Sink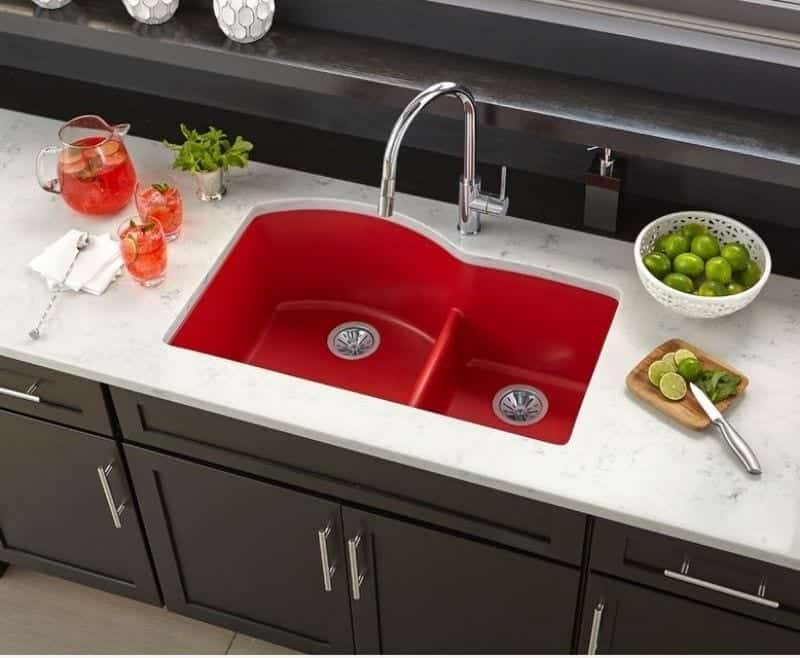 This undermount sink can be the best option if you want seamless and clean look. On the other side, it doesn't have a lip or edges that can collect dirt and grime, which makes it easier to clean.
You can choose from different materials like stainless steel, cast iron, composite, and porcelain. There are also different shapes and sizes to choose from depending on your needs.
Tips: Consider undermount sinks in different colors to add a pop of color to your kitchen.
2. Farmhouse Kitchen Sinks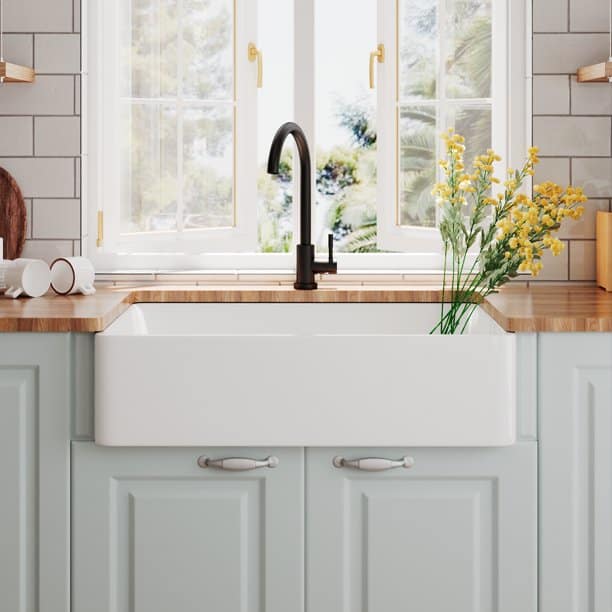 The traditional design of the farmhouse sink can be such a focal point in the kitchen while also being functional at the same time. This kind of sink has a deep basin and a wide front, making it ideal for washing large pots and pans. Try using the porcelain materials.
They are easy to keep clean and give the sink a classic look. The white sink will accentuate the farmhouse style, blending perfectly with the design of the kitchen as well.
3. Vessel Sinks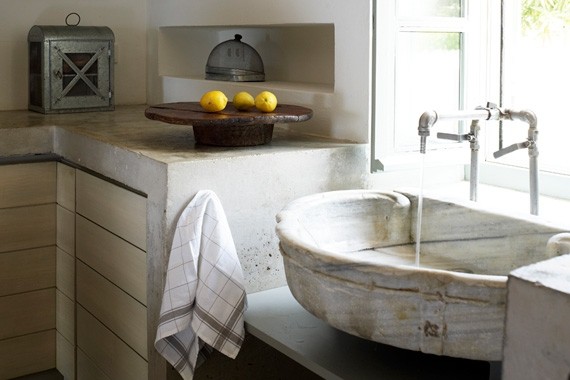 Vessel sinks can be installed above-counter or semi-recessed, making them a versatile option for many different countertop depths. One of the benefits of vessel sinks is that they provide a visual focal point in the room.
They can also help to make a small kitchen appear larger by creating the illusion of more space. Vessel sinks can be paired with a variety of faucet styles, from traditional to contemporary.
4. Drop-in Sinks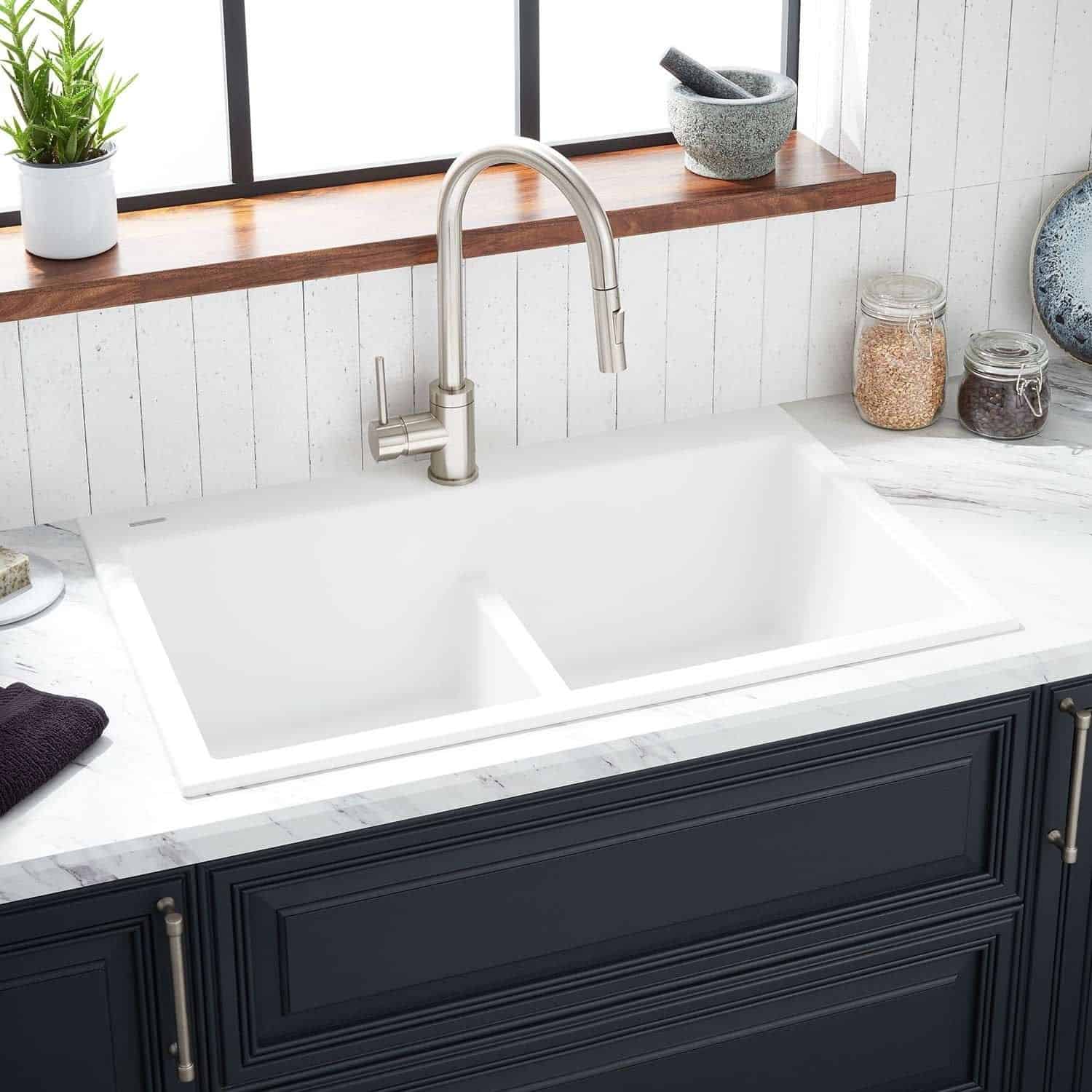 This type of sink is very versatile and can be used in a variety of different styles of kitchen. The installation of this sink is by dropping them into a cutout in the countertop. The sink then will sit on the countertop and will be flush with the rest of the counter. This type of sink is easy to clean because there are no crevices for dirt and grime to build up. Drop-in sinks come in a variety of materials such as stainless steel, porcelain, enameled cast iron, and solid surface.
One of the best things about drop-in sinks is that they can be easily replaced if they become damaged or stained. They are also very affordable and can be found at most home improvement stores.
5. Black Kitchen Sink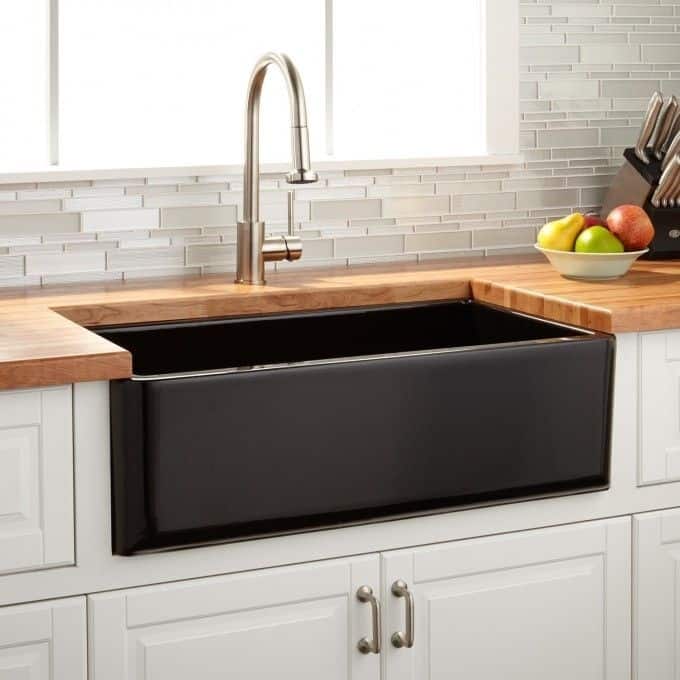 Black kitchen sinks are perfect for creating a stylish and modern design, and they can also help to make small kitchens appear larger and more open. When paired with the right accessories, a black kitchen sink can really stand out and become the focal point of your kitchen.
In addition to their visual appeal, black sinks are also very practical. They are easy to clean and maintain, and they are highly resistant to scratches and stains.
6. Single Bowl Sink for Small Space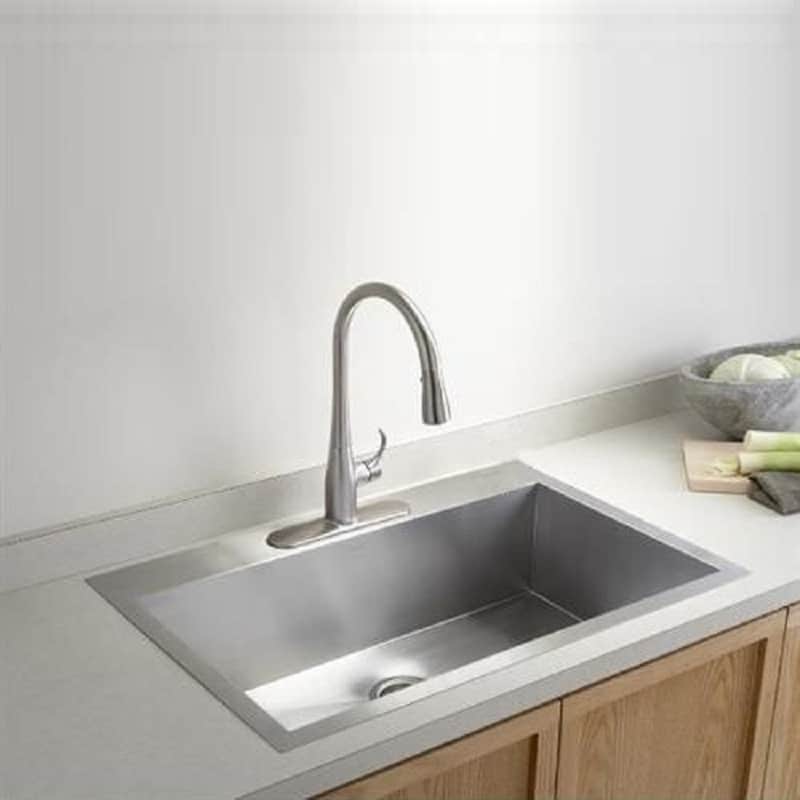 Single bowl sinks are ideal for small kitchens as they take up less counter space. They're also easier to clean, as there is no divider between the basin and the drain. With no divider between the bowls, you will have more space to wash larger items.
Choose the stainless-steel material for a timeless look. On the other side, it is also durable and low maintenance. You can also go for a white finish to add a touch of elegance to your kitchen.
7. The Versatile Double Sinks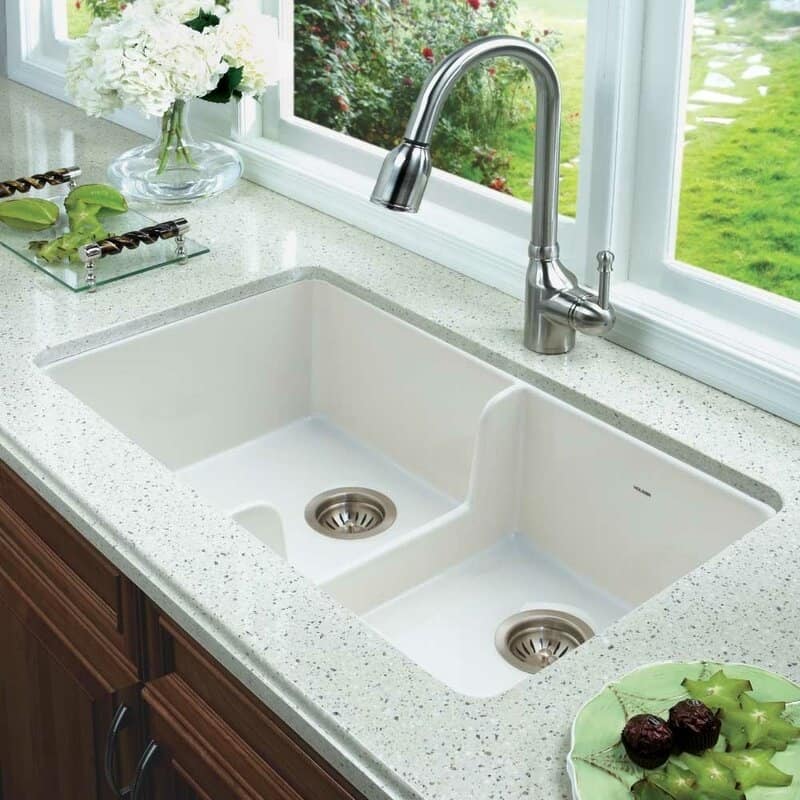 Double bowl sinks are a great option for busy families, as they offer plenty of space for washing up. Plus, they can help to keep your kitchen counters tidy by providing a dedicated space for dirty dishes.
You can choose a double kitchen sink with a large basin on one side for washing bulky pots and pans, and a smaller basin on the other side for preparing food or cleaning up smaller items. Or, if you often entertain, you might opt for a double bowl sink with an extra-large basin that can accommodate multiple guests at once.
8. An Elegant Stainless-Steel Sinks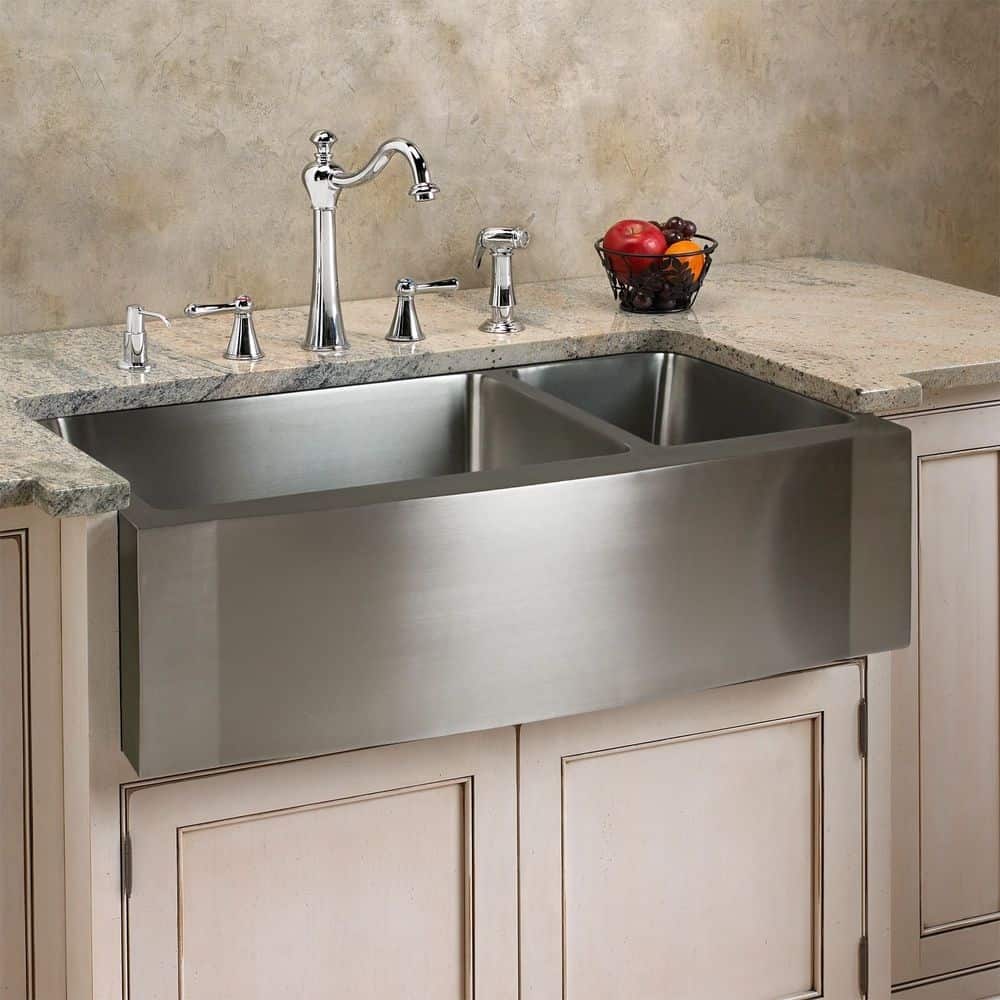 One of the most wanted sinks is the stainless steel, which you can consider due to its durability, easy maintenance, and elegant appearance. Some people worry that stainless steel will show fingerprints and smudges, but there are a number of ways to prevent this.
For example, you can opt for a brushed finish or choose a sink with a special coating that resists smudging. Unlike other materials, stainless steel won't chip, stain, or rust over time. Plus, it's easy to keep clean with just a little soap and water.
9. Composite Sinks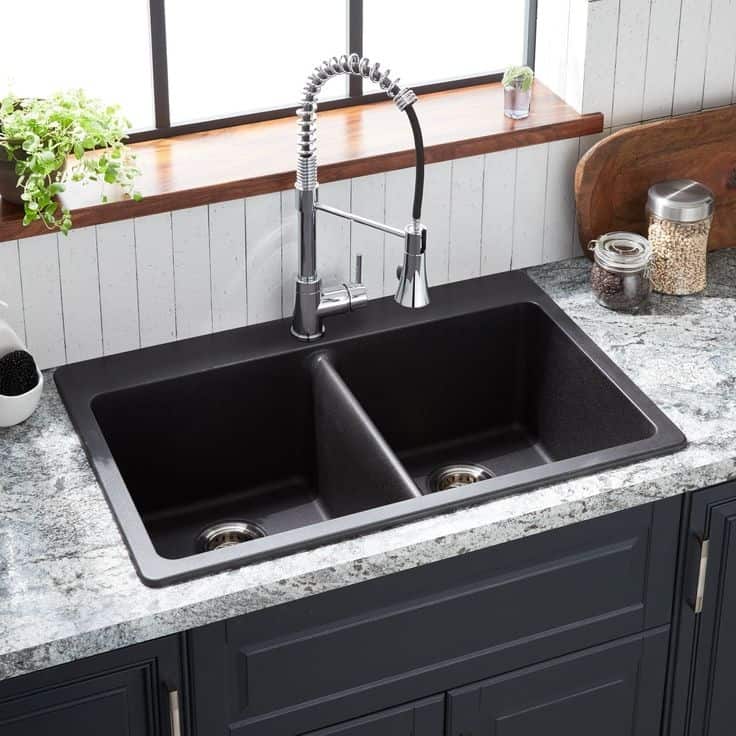 Composite sinks are made from a variety of materials, including granite, quartz, and even recycled plastic. As a result, they offer a number of advantages over traditional stainless-steel sinks.
For one thing, they are much more heat-resistant, so you won't have to worry about warping or discoloration. They are also resistant to scratches and staining, making them a low-maintenance option for busy kitchens.
10. Granite Sinks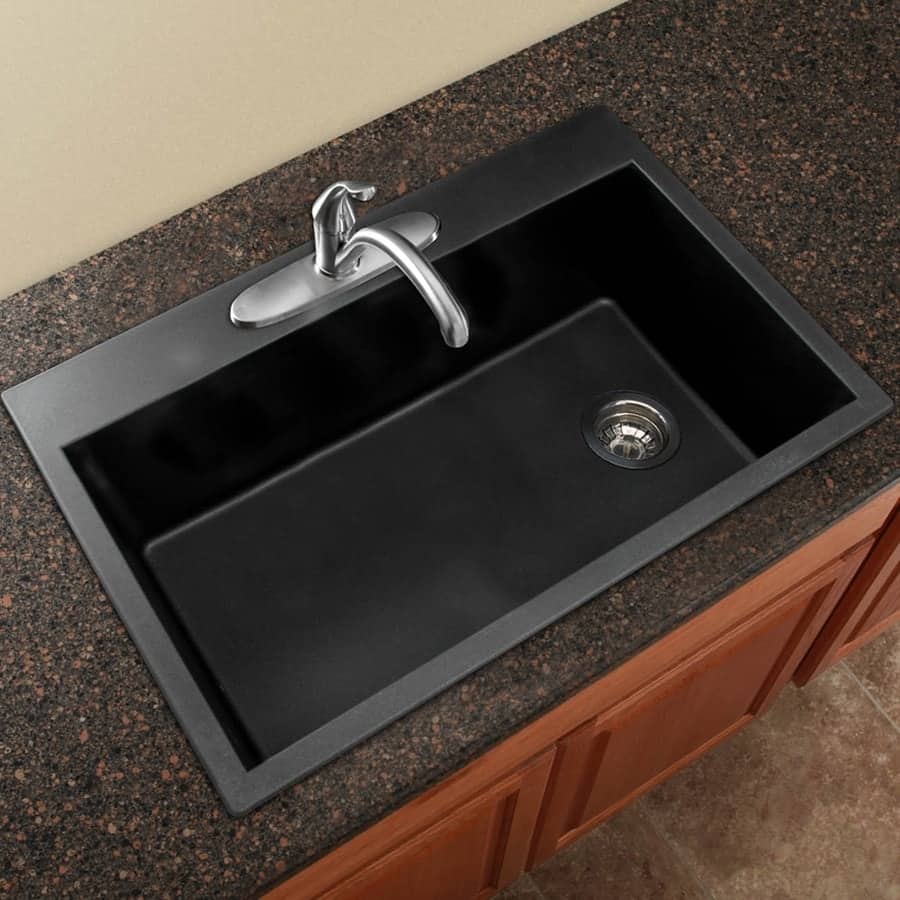 One of the biggest benefits of granite sinks is that they are made from durable material. Granite is a very hard material, and it is resistant to scratches and chips. In addition, granite sinks are also easy to clean and maintain.
They are non-porous, so they will not absorb stains or odors, and they can be easily cleaned with soap and water. Another benefit of granite sinks is that they come in a wide range of bold colors and styles. It will bring you an elegant touch to the kitchen effortlessly.
11. Cast Iron Sinks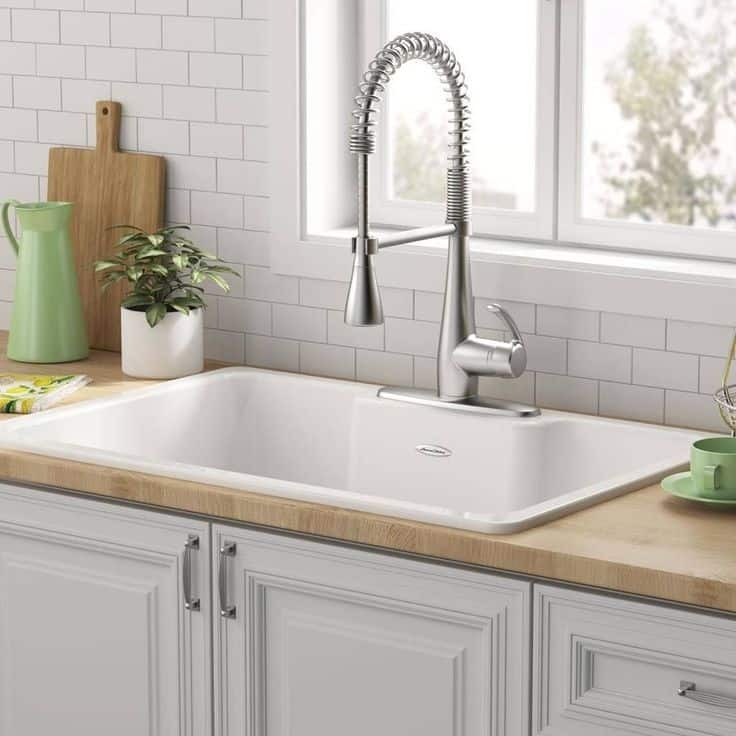 This sink is made from a single piece of cast iron, which makes them extremely resistant to chipping and scratching. And because they're non-porous, stains won't be able to stick to the material either.
Cast iron sinks are also heat-resistant, so you don't have to worry about putting hot pots and pans in them. And if you're looking for a sink that will give your kitchen a vintage feel, cast iron is the way to go.
12. Copper Kitchen Sinks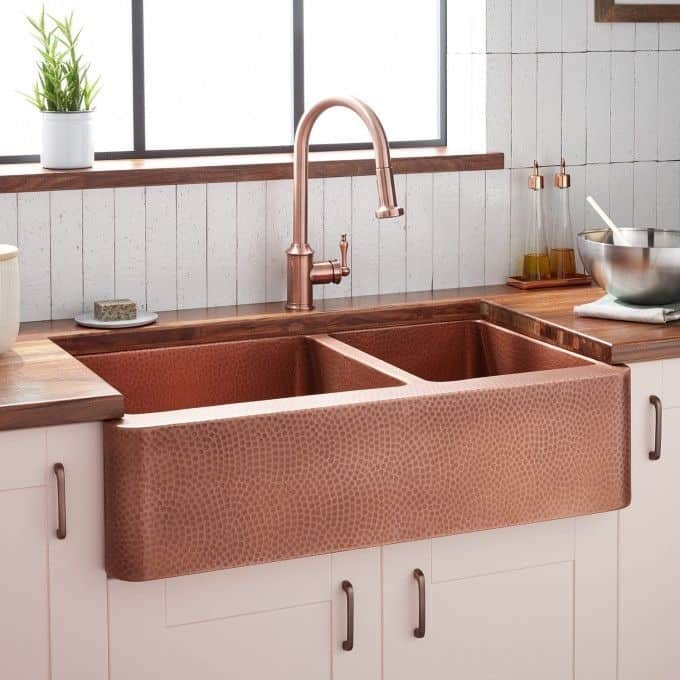 A copper sink is a unique addition to any kitchen. Copper is a beautiful material that ages gracefully, developing a rich patina over time. Copper is also an excellent conductor of heat, making it a great choice for those who enjoy cooking.
In addition, copper is naturally antimicrobial, so it's an ideal material for food preparation. While copper sinks can be costly, they're definitely worth the investment that creates a unique and functional focal point in the kitchen.
13. Glass Kitchen Sink Ideas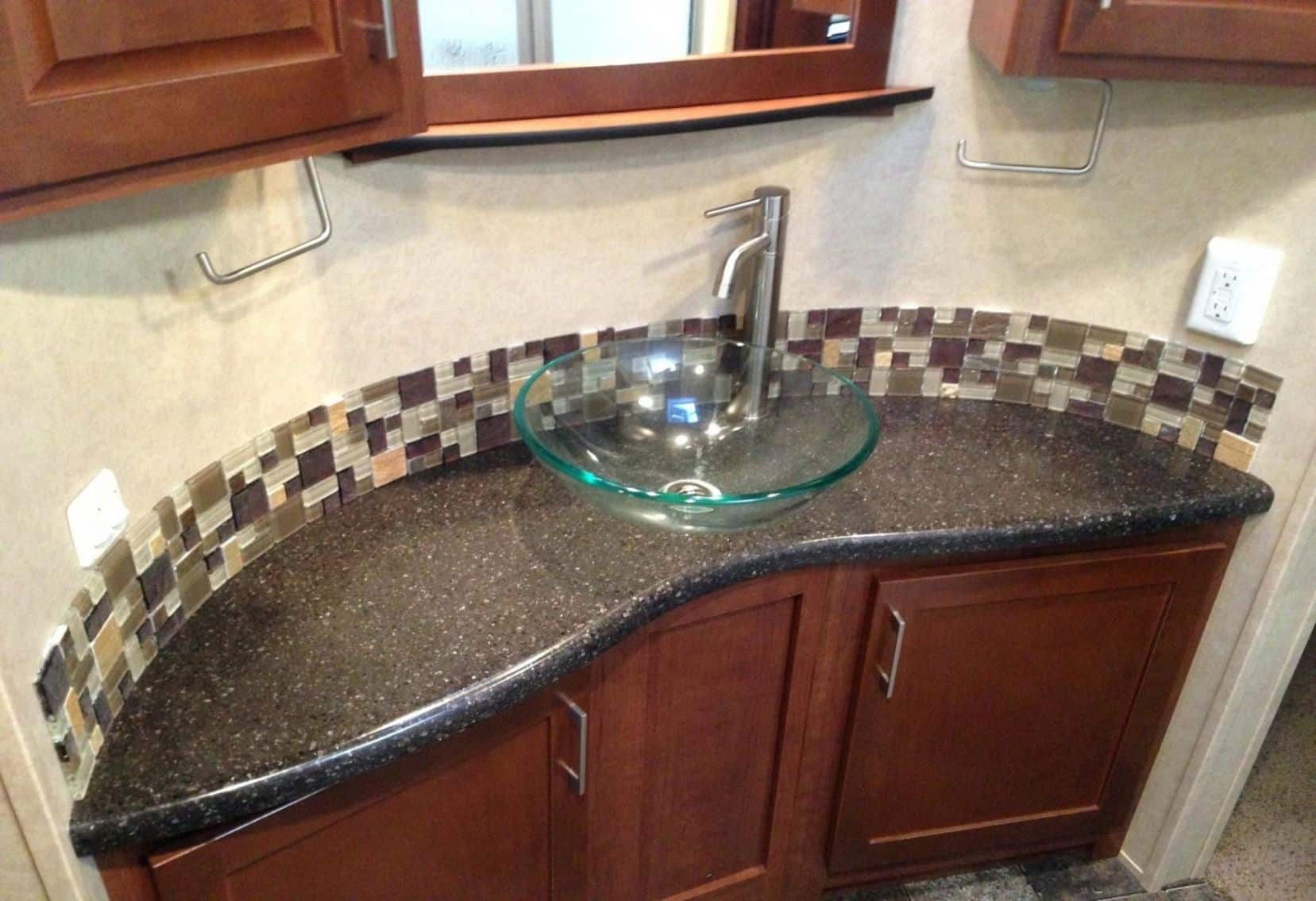 Add the classy touch to your kitchen by installing the glass kitchen sink. It is a great way to make your kitchen look modern and chic. One of the benefits of a glass sink is that it is easy to clean. Glass is non-porous, so it won't absorb stains or harbor bacteria.
Glass sinks are also heat-resistant, so you can safely place hot pans directly in the sink. Another advantage of glass sinks is that they are very durable. With proper care, a glass sink can last for many years.
14. Corner Kitchen Sink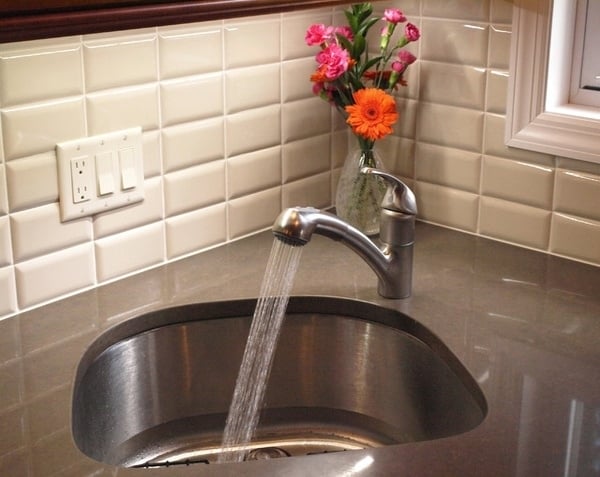 This can help maximize the blank kitchen space in the corner of the kitchen and make it more functional at the same time. To prevent the boring look, choose a corner sink that has an interesting shape. This will also help add character to the space.
On the other side, you can also choose the classic square shape for your corner kitchen sink. If you want to make it look more interesting, you can add a tile backsplash in a contrasting color. This will help create a focal point in the space.
15. Outdoor Kitchen Sinks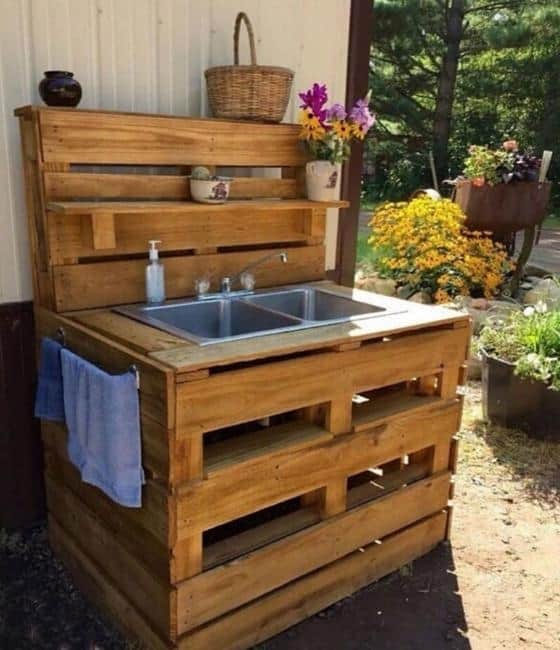 Complement the outdoor kitchen of your dreams with one of these best kitchen sink ideas.
Outdoor kitchen sinks are a necessary component of any backyard cooking space, whether you're planning a full-fledged outdoor kitchen or just want to be able to wash dishes without traipsing through the house. Opt for the best kitchen sink for your needs by considering the size of your outdoor cooking space, what type of sink best meets your needs and which style will best complement your overall design.
When selecting an outdoor kitchen sink, consider how you will use it most often. If you entertain frequently or have a large family, choose a model that can accommodate plenty of dishes. If you typically use your outdoor kitchen for quick meals or solo cooking, a smaller sink will suffice.
16. Large Copper Kitchen Sinks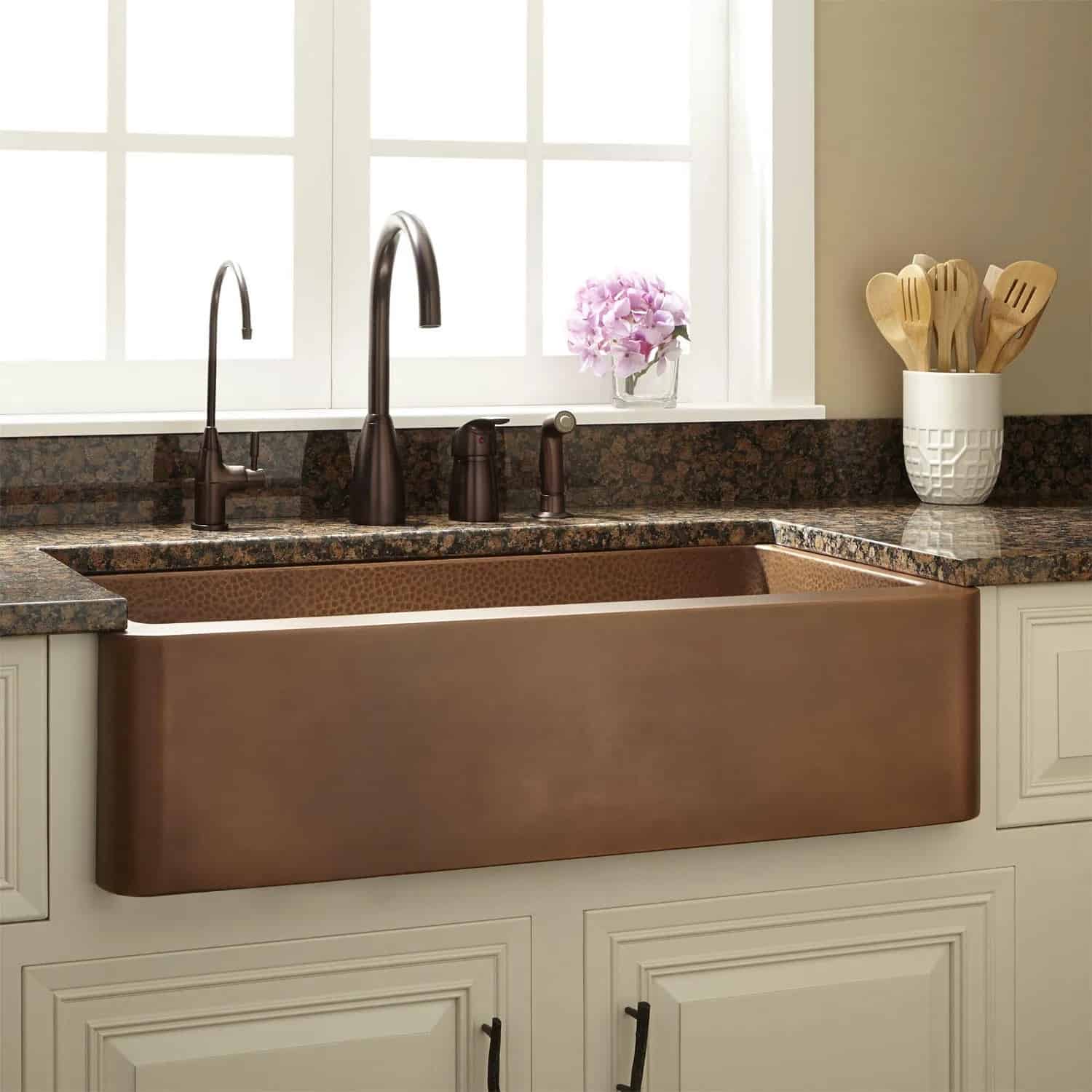 A large kitchen sink can be very versatile, accommodating everything from pots and pans to dishes and silverware. They're also perfect for food preparation and cleanup. With this large kitchen sink, you can keep your countertop stay clean without any unnecessary clutter, making life easier on everyone.
The extra space will be perfect for all of those delicious dishes you've been wanting to prepare, but haven't had the room before.
17. Kitchen Sink Base Cabinet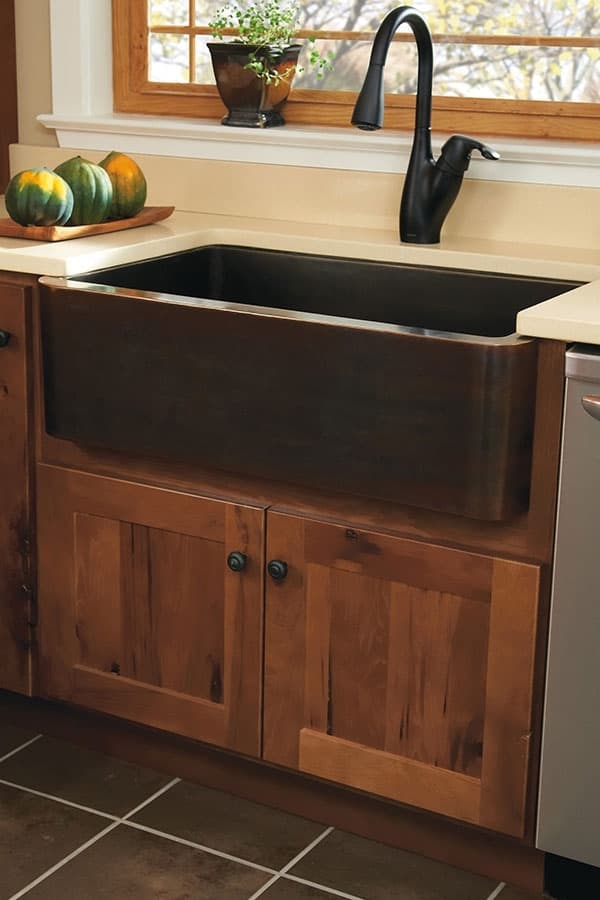 A base cabinet sink is a great choice for those who want plenty of storage space beneath their sink. It plays a vital role in supporting the weight of the sink and keeping it level. It also determines the height of the sink, which can affect both comfort and function.
There are many different styles of base cabinets to choose from. Some have doors, some have drawers, and some are open shelving.
18. Small Kitchen Sinks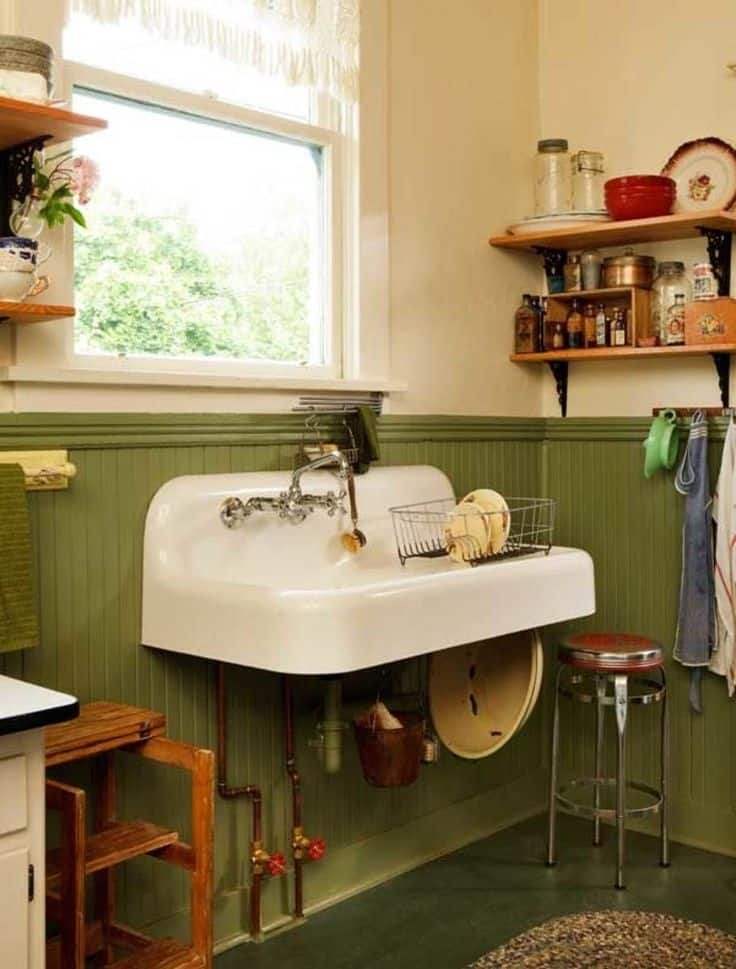 If you're limited in space in your kitchen, you might want to consider a small kitchen sink. Small sinks are great for limited counter space and can make your kitchen feel more open. Wall-mounted sinks provide plenty of space for cleaning and prep work, and they're also easy to keep clean.
This will also create the illusion of more space by making the floor look larger than it actually is.
19. Kitchen Sinks with Drainboards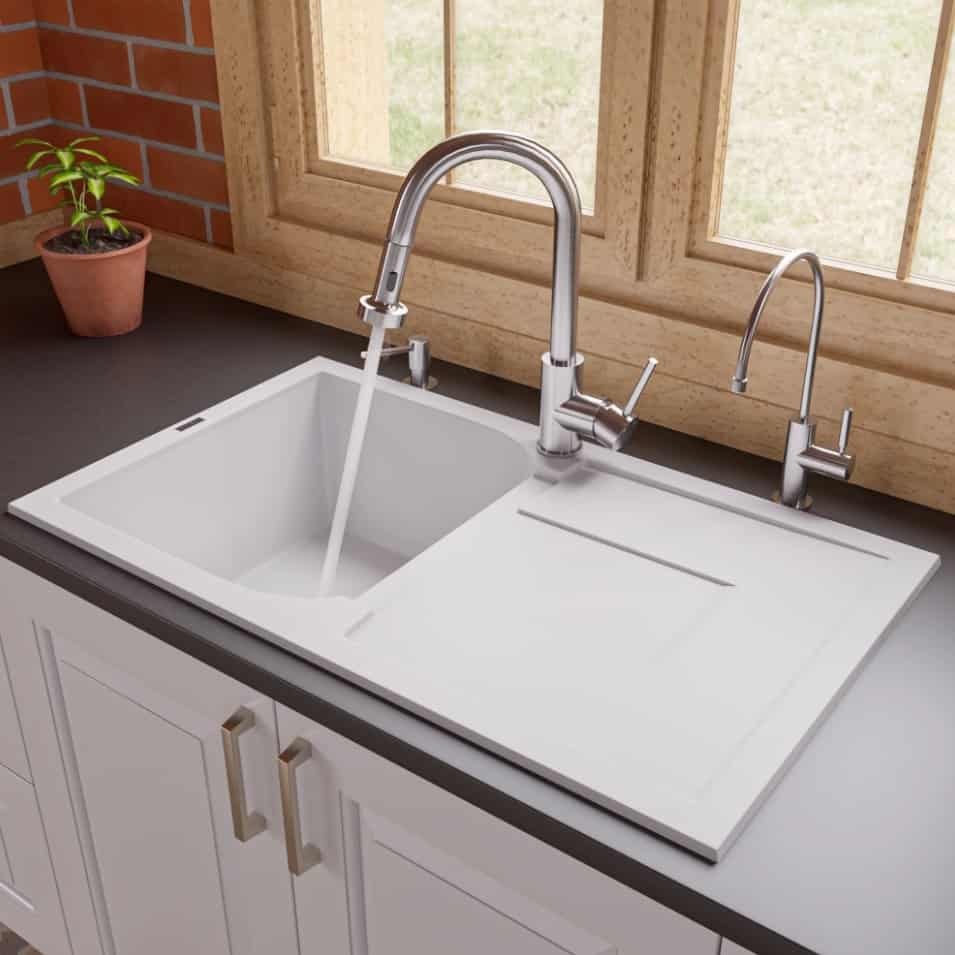 Drainboards are a practical addition to any kitchen sink, providing additional prep space and making it easy to keep your counters clean. They also happen to be incredibly stylish, and can be used to create a range of different looks.
For a traditional take on the drainboard sink, opt for a white porcelain model with classic detailing. Or, for something a little more contemporary, try a stainless-steel sink with integrated drainboards. You could even go for an eye-catching farmhouse style sink in enameled cast iron.
20. Cheap Kitchen Sinks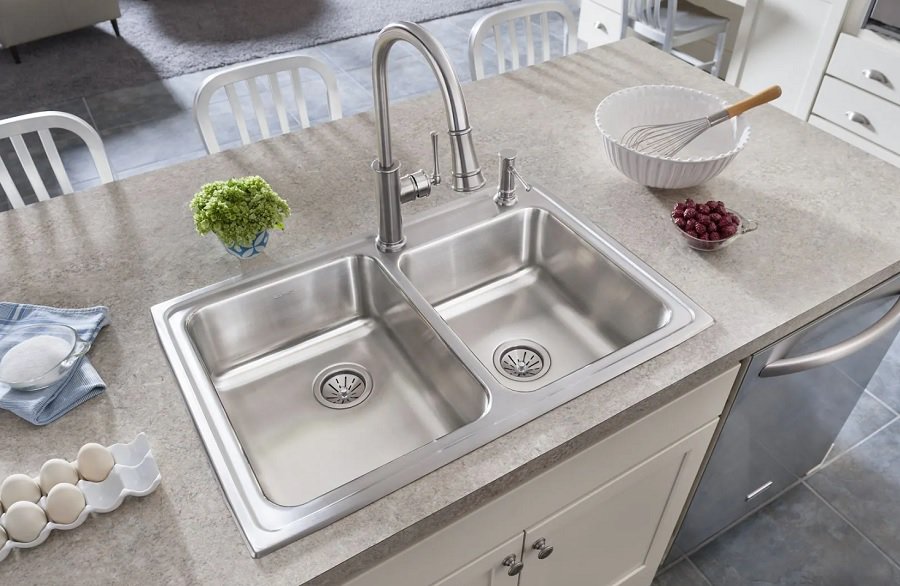 This affordable kitchen sink will be the best answer if you are on a tight budget. It is made of high-quality materials and features a simple design that will complement any kitchen decor. With its double bowl configuration, this sink is perfect for busy families or couples who love to cook together.
On the other side, the drainer is sloped to ensure that water drains quickly and efficiently. You will also appreciate the extra-deep basin that can accommodate large pots and pans.
21. White Sinks with Tile Kitchen Backsplash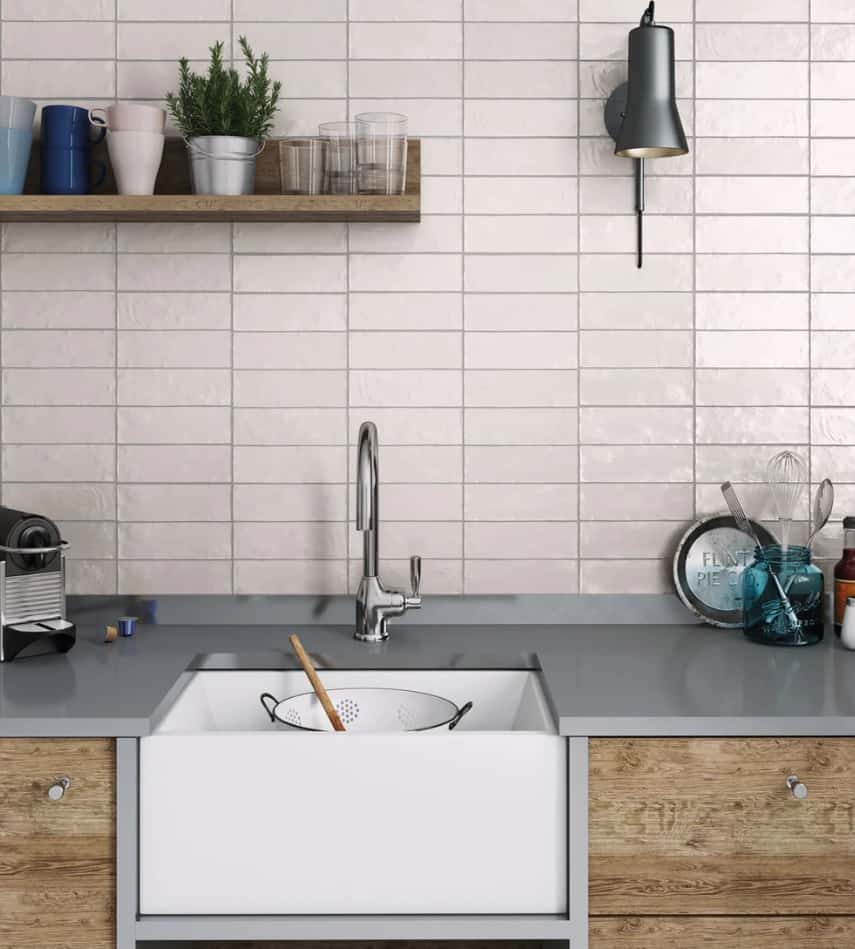 Add a little bit of extra flair to the kitchen with the sink with a backsplash. A kitchen sink with backsplash can add both style and function to your kitchen. Backsplashes can protect your walls from splashes and spills, and they can also provide a decorative focal point.
Try choosing the white tile backsplash with the porcelain sink that will be good together and make a statement to the kitchen while also being versatile at the same time.
22. Rustic Stone Sink Design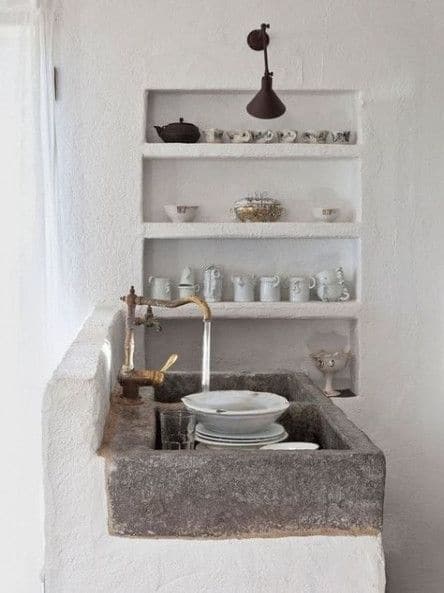 Stone sinks have a natural look that can complement any type of kitchen decor. Made from materials like granite, marble, and soapstone, stone sinks add a touch of luxury to any kitchen. And because they're natural materials, it is resistant to wear and tear, so you can be sure your sink will last for years to come.
However, stone sinks can be quite heavy, so make sure you consult a professional before installation.
23. Kitchen Sinks with Towel Rack
Towel racks are a popular kitchen sink accessory, as they provide a convenient place to hang towels within reach. While most towel racks are designed to be installed underneath the sink, there are also some styles that can be mounted on the side of the sink.
In addition to providing a place to hang towels, some towel racks also include features such as shelves or hooks, which can be used to store other kitchen essentials.
24. Modern Kitchen Sinks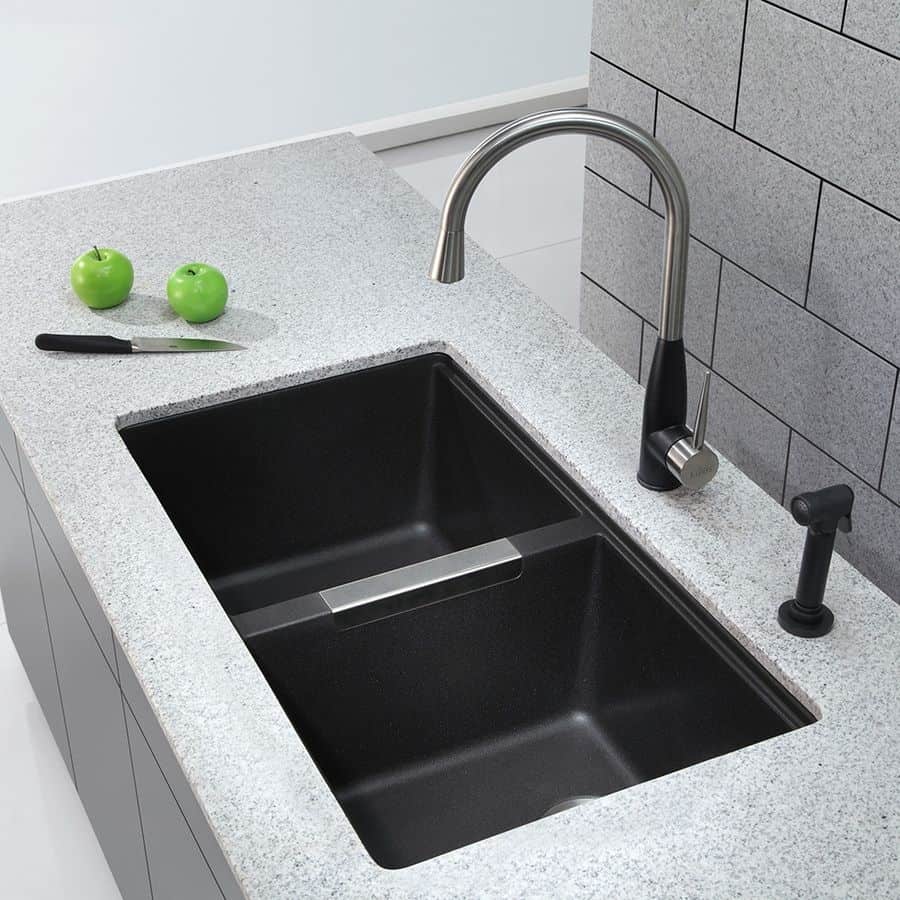 When it comes to the modern kitchen sink, try using the stainless-steel material to accentuate the modern look. Choose the undermount sink made of stainless steel to make it more durable. Practically, this kind of sink is easy to clean and maintain.
You can combine the stainless-steel sink with a granite countertop to make it look more elegant. On the other side, you can choose the one that has a double bowl. This kind of sink will be very useful if you have a large family and need to do many tasks in the kitchen at the same time.
25. Kitchen Sinks with Hidden Storage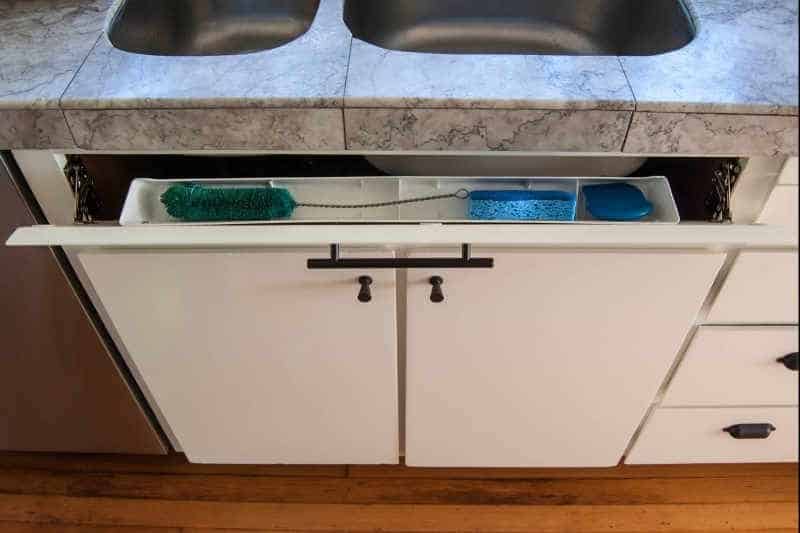 Hidden storage is a great way to keep your kitchen sink tidy and organized. It also adds a touch of style to your kitchen. One option is to install a false drawer in front. This can be done by removing the existing drawer front and adding a new one that is shallower.
This will create a space behind the drawer that can be used for storing cleaning supplies or other items. Another option is to install shelves above the sink. This can provide additional space for storing dish soap, sponges, and other supplies. Finally, you can add a towel rack to the back of the sink.
26. Kitchen Sinks with Water Filter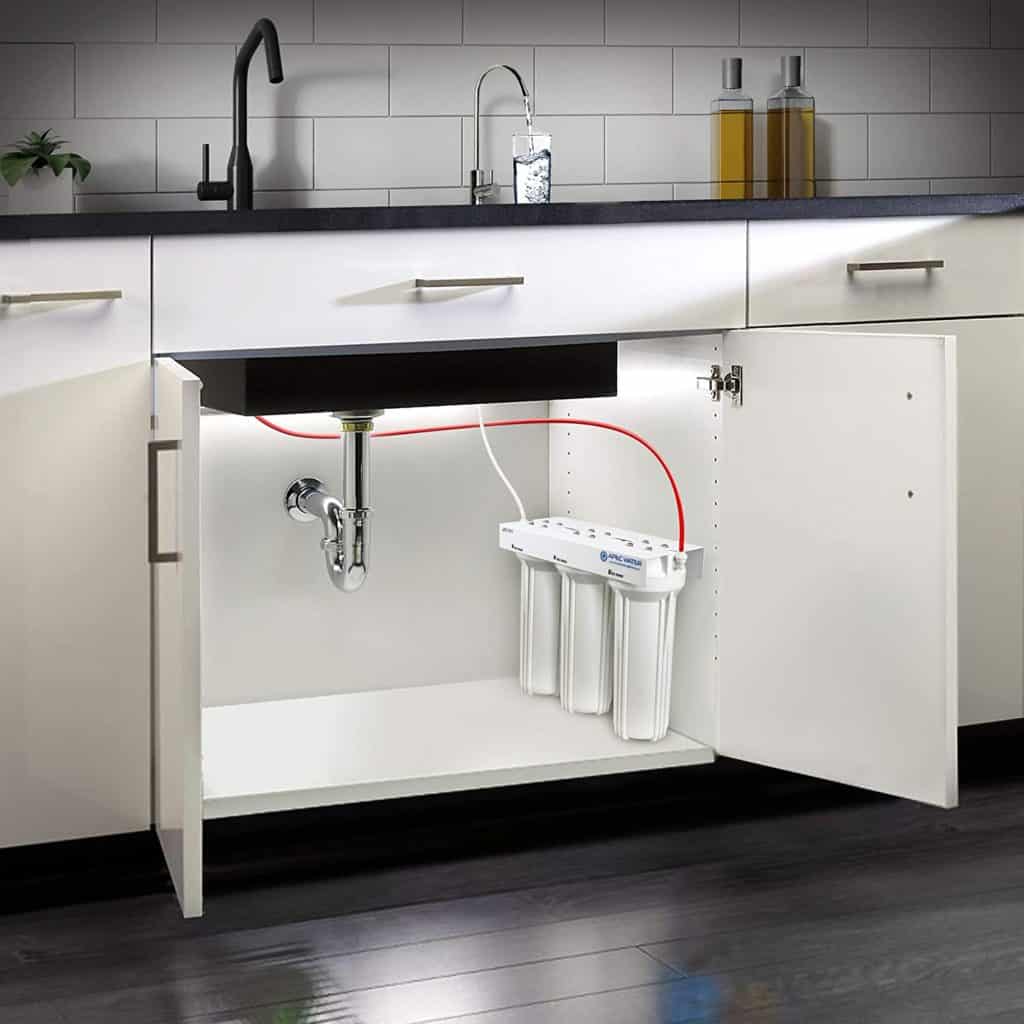 One of the perks of installing the kitchen sink with a water filter is that you can get clean and filtered water right at your kitchen sink. This is a great way to save money on buying bottled water, and it is also more environmentally friendly. Not only do they provide filtered water for drinking and cooking, but they can also help to reduce the amount of chlorine and other chemicals that can build up in your pipes.
In addition, kitchen sinks with water filters can be used to wash fruits and vegetables, providing you with clean, healthy produce.
27. Long Party Kitchen Sinks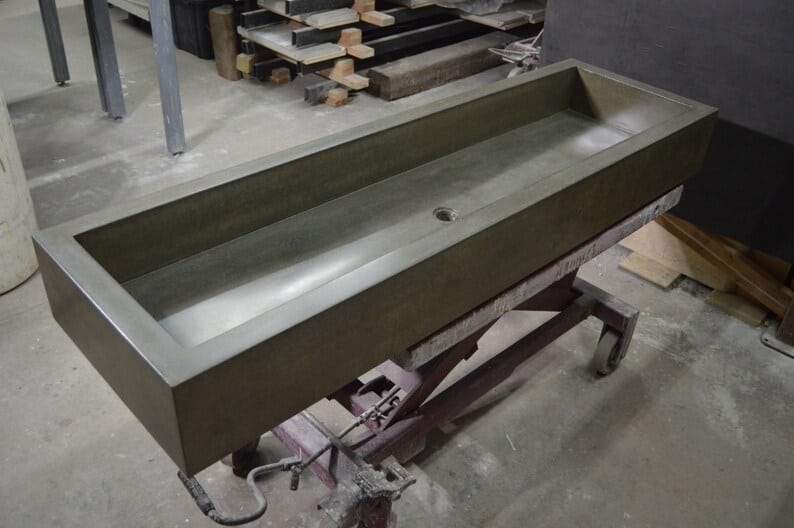 A party sink is just what it sounds like – a longer, wider version of a standard kitchen sink. This gives you extra space for prepping food, washing dishes, and even mingling with guests. Plus, a party sink is a great way to show off your personal style.
Whether you choose a traditional concrete sink or something more colorful and unique, a party sink is sure to make a lasting impression on your guests. The most important thing is that the party kitchen sink comes with multiple basins that can make cleanup way much easier.
28. Narrow Kitchen Sinks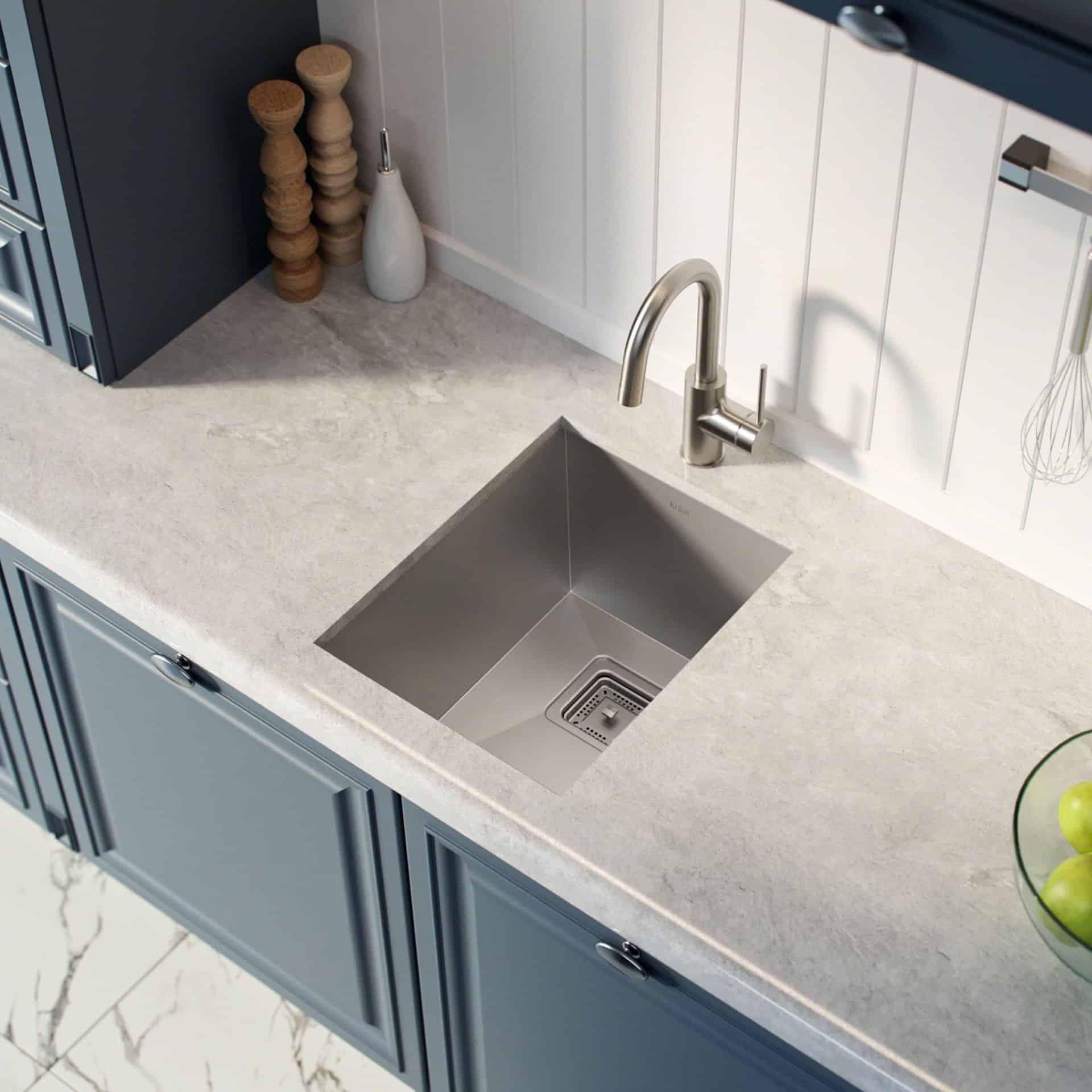 Narrow kitchen sinks are a great option for small kitchens because they take up less counter space and leave more room for other things. And since it has less surface area, there are fewer nooks and crannies for dirt and debris to collect.
This type of sink is durable and easy to clean, making it a great choice for busy kitchens. Plus, it has a modern look, as the stainless-steel material can complement any style of kitchen.
29. Drop Leaf Kitchen Sinks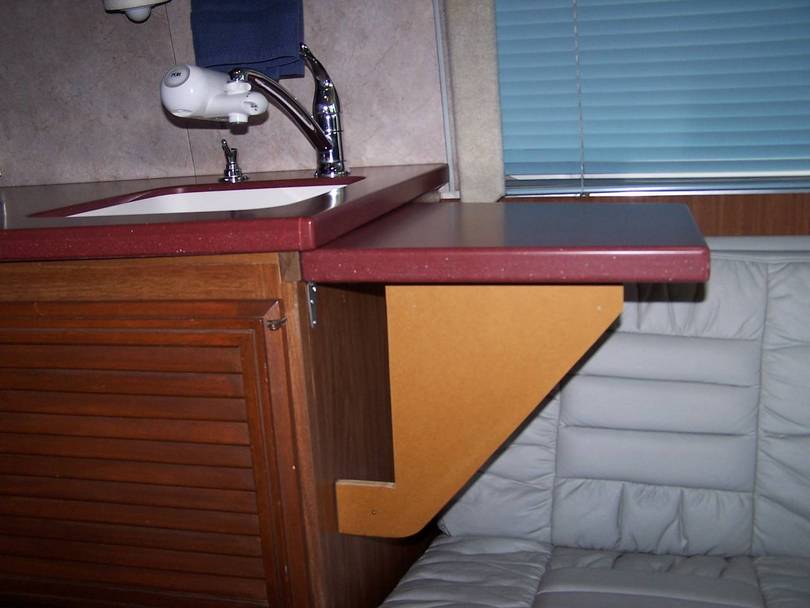 Drop leaf kitchen sinks are a great option for those who want to make the most of their space. These sinks have a built-in shelf that can be lowered when not in use, providing extra counter space. When it's time to do the dishes, simply raise the leaf and enjoy the full range of sink features. In addition, drop leaf sinks are easy to clean.
There is no need to reach around and behind the sink to scrub it clean. And, because the leaves can be lowered, it is easy to access all areas of the sink for cleaning.
30. DIY Kitchen Sinks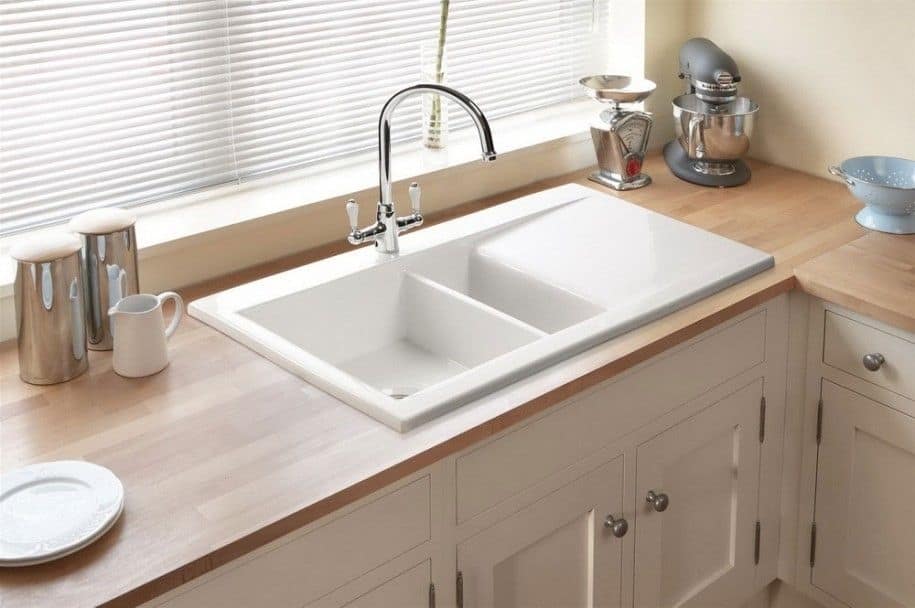 It is not a big matter to create your own kitchen sink with the limited supplies and skills. Farmhouse sinks are commonly made from ceramic sink or porcelain, and they feature a deep basin that is perfect for scrubbing pots and pans.
To make this cool kitchen sink, you will need:
A drill
Jigsaw
Measuring tape
Level
Chalk line
Tile saw (or a wet saw)
Tiles (in the desired color and pattern)
Thinset mortar mix
A kitchen sink is a key focal point in any kitchen. It's important to choose one that not only looks great, but also fits your needs. We've provided 30 of the best kitchen sink ideas to help you get started on your remodel or renovation. So, get ready and make your own sinks.